This post may contain affiliate links to tours and hotels. These help us earn a small commission at no additional charge to you.
Seoul is a cool combination of the old and the new; where historic neighbourhoods and traditional tea-rooms blend seamlessly with decadent dive bars and a melee of modern restaurants and attractions.
From the usual touristy areas like Myeongdong or Lotte World to the less explored activities like container malls, we've done some 'Seoul' searching to bring you the ultimate guide to things to do in Seoul (including Seoul by night).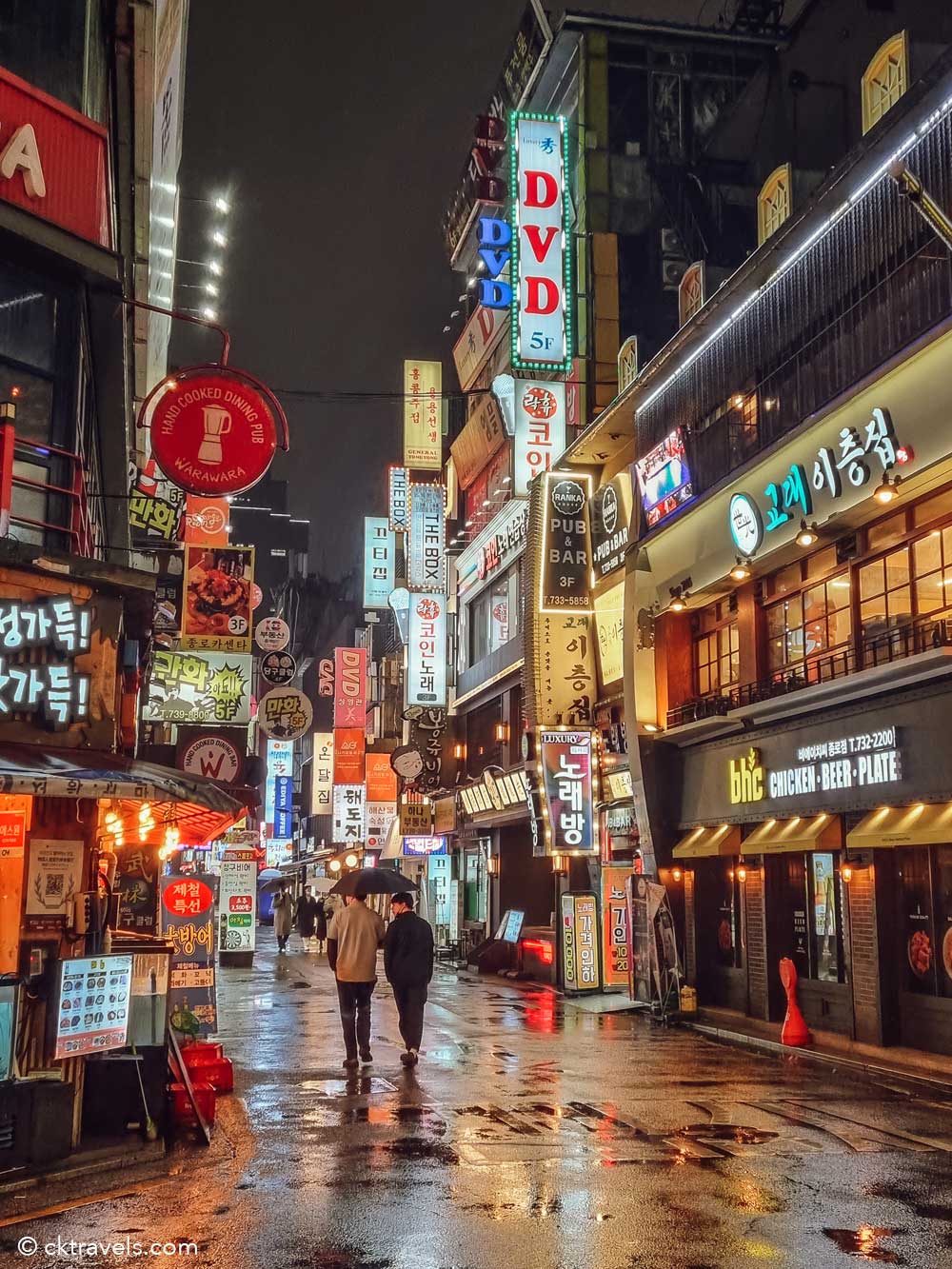 From colourful cafes to historic hanoks, cute character stores and selfie booths to scary monster statues, there is something to suit all tastes and budgets (and don't get us started on K-Pop!).
Seoul has so many distinctive neighbourhoods to visit – from the hipster hangouts and secret bars of Seongsu-dong and Euljiro to the 24/ 7 entertainment of Gangnam and Hongdae, there are so many top things to do in Seoul, South Korea.
Plus Seoul doesn't need to be expensive as many of these activities and parks are free to visit.
Here is our guide to the top things to do in Seoul, South Korea in 2023:
Accommodation in Seoul
We'd recommend these hotels in Seoul:
Budget
Hotel 8 Hours
Budget hotel is located a 5 minute walk from Myeongdong subway City Hall station exit. Rooms are compact but modern and hotel facilities include TV, refrigerator, shower booth, hairdryer and free toiletries. Check out prices and availability for Hotel 8 Hours.
Luxury
L7 Myeongdong by LOTTE
This trendy 4-star hotel is located right by Myeongdong subway station and within a few minutes of the shopping areas. Facilities include a rooftop bar which has views of the city and Mount Namsan. Check out prices and availability for L7 Myeongdong.
InterContinental Seoul COEX, an IHG Hotel
Located inside the World Trade Centre, this luxurious 5-star hotel includes four restaurants and bars (including an Italian restaurant with a skyline view), casino, golf practice room, outdoor spa pool and indoor pool. Check out prices and availability for InterContinental Seoul COEX, an IHG Hotel
Looking for cheap Seoul day-trips, attractions or group/private tours? We recommend visiting Viator, GetYourGuide, and Klook!
Things to do in Seoul
1. Catch a Seoul baseball game
South Korea's most popular sport is baseball so after a day of exploring Seoul, why not catch a game of baseball at the Jamsil baseball ground.
The baseball season in South Korea runs approximately from April to September every year, and Seoul is fortunate enough to have two home baseball teams – the Doosan Bears and the LG Twins.
There will often be several baseball games a week played at Jamsil stadium (it is a huge stadium, holding 25,000 spectators).
Foreigners can buy Seoul baseball tickets at Jamsil stadium for as little as 13,000 Won (around £8 / $10 USD).
We went to see the Doosan Bears take on the Samsung Lions at Jamsil Stadium and had an amazing time watching the baseball (and eating, singing, dancing…)
Click here to read our guide on how to buy Seoul baseball tickets >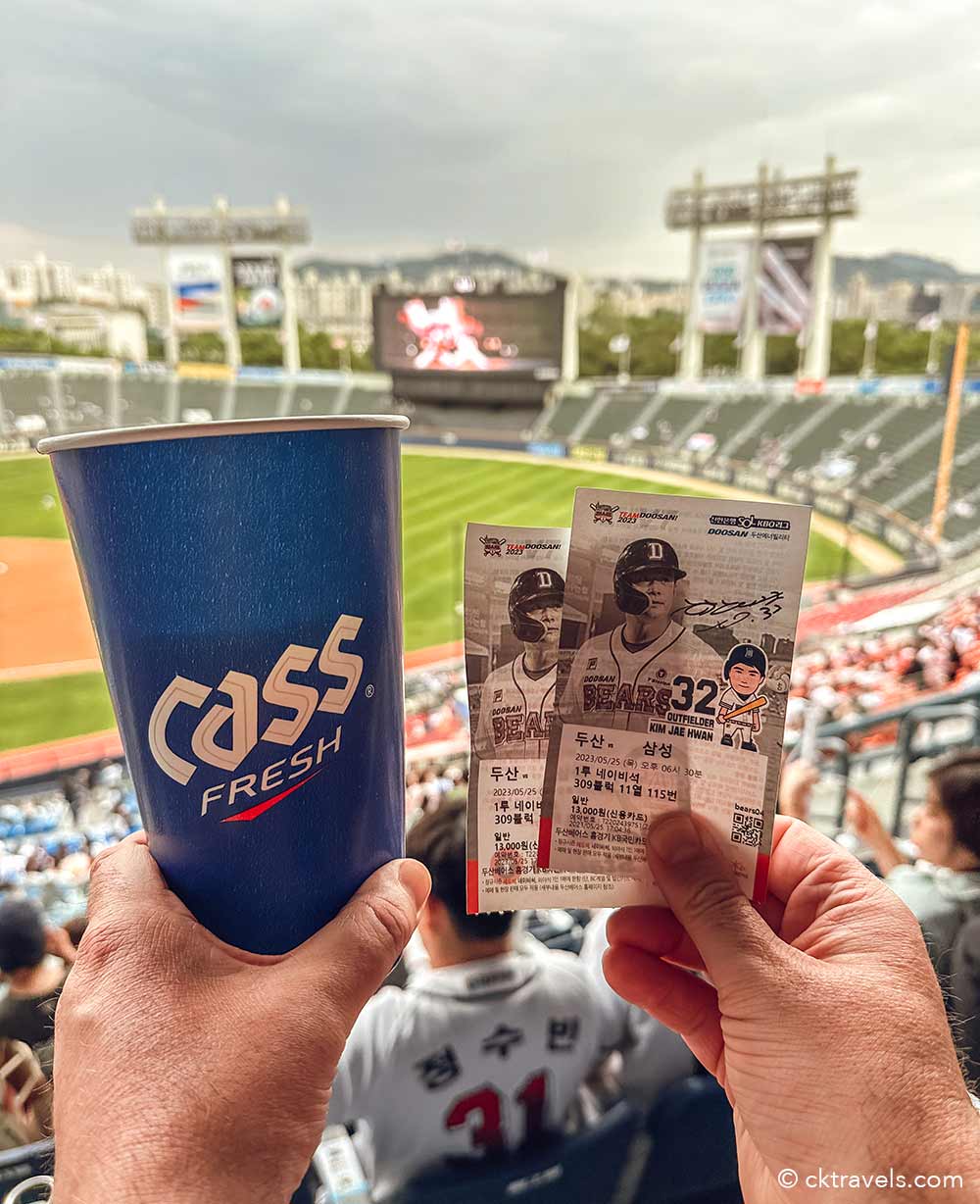 ---
2. Ikseondong Hanok Village
A nice neighbourhood to explore, Ikseondong Hanok Village is a quiet and quirky area packed full of alleyways and lots of prime photo spots.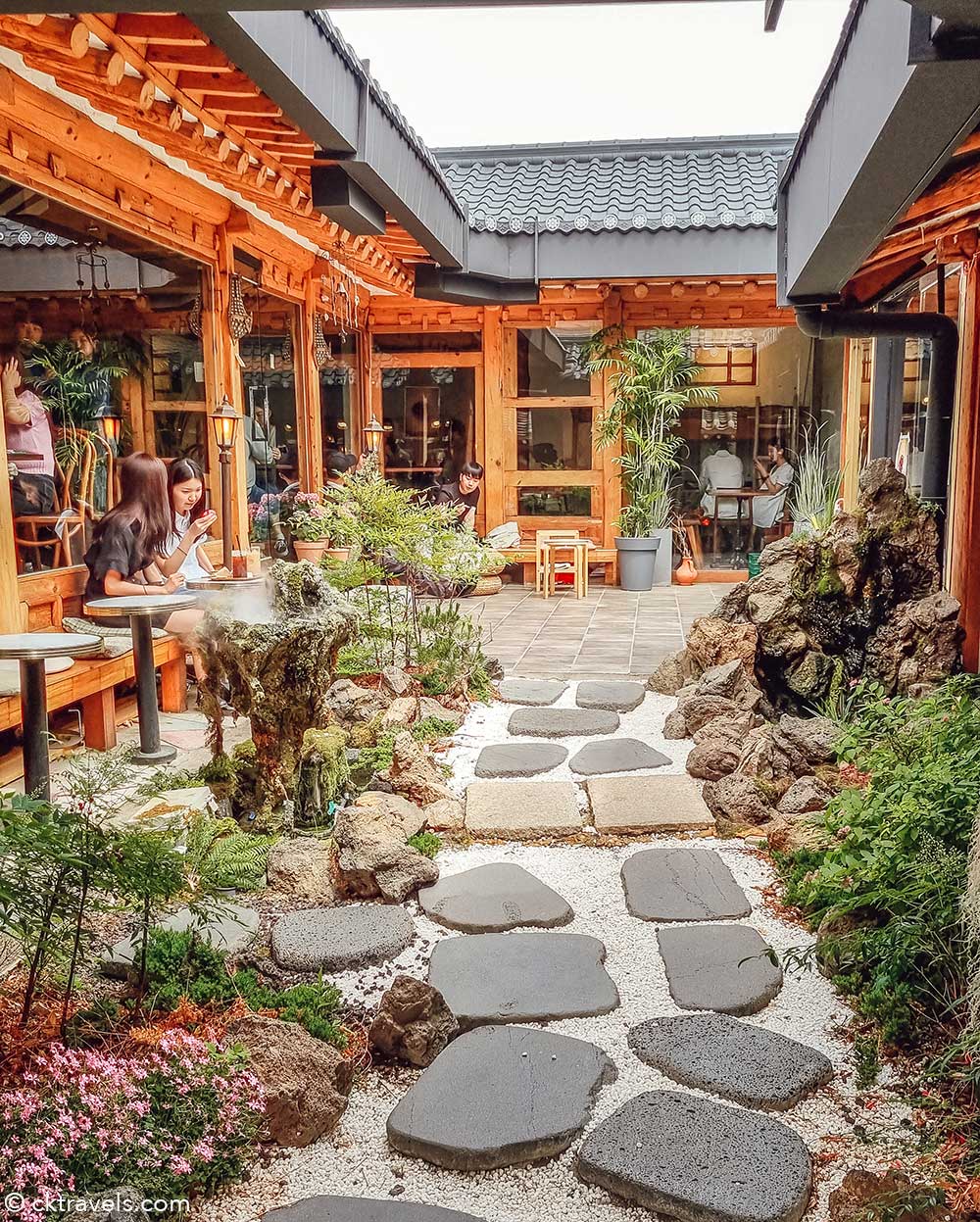 Built around 100 years ago in the 1920s, Ikseondong has awesome street-food, cafes and coffee shops plus some of the best restaurants in the area.
Keep an eye out for Cheongsudang, a Hanok style cute café with a charming garden and traditional decor.
Read more in our guide to Ikseondong Hanok Village >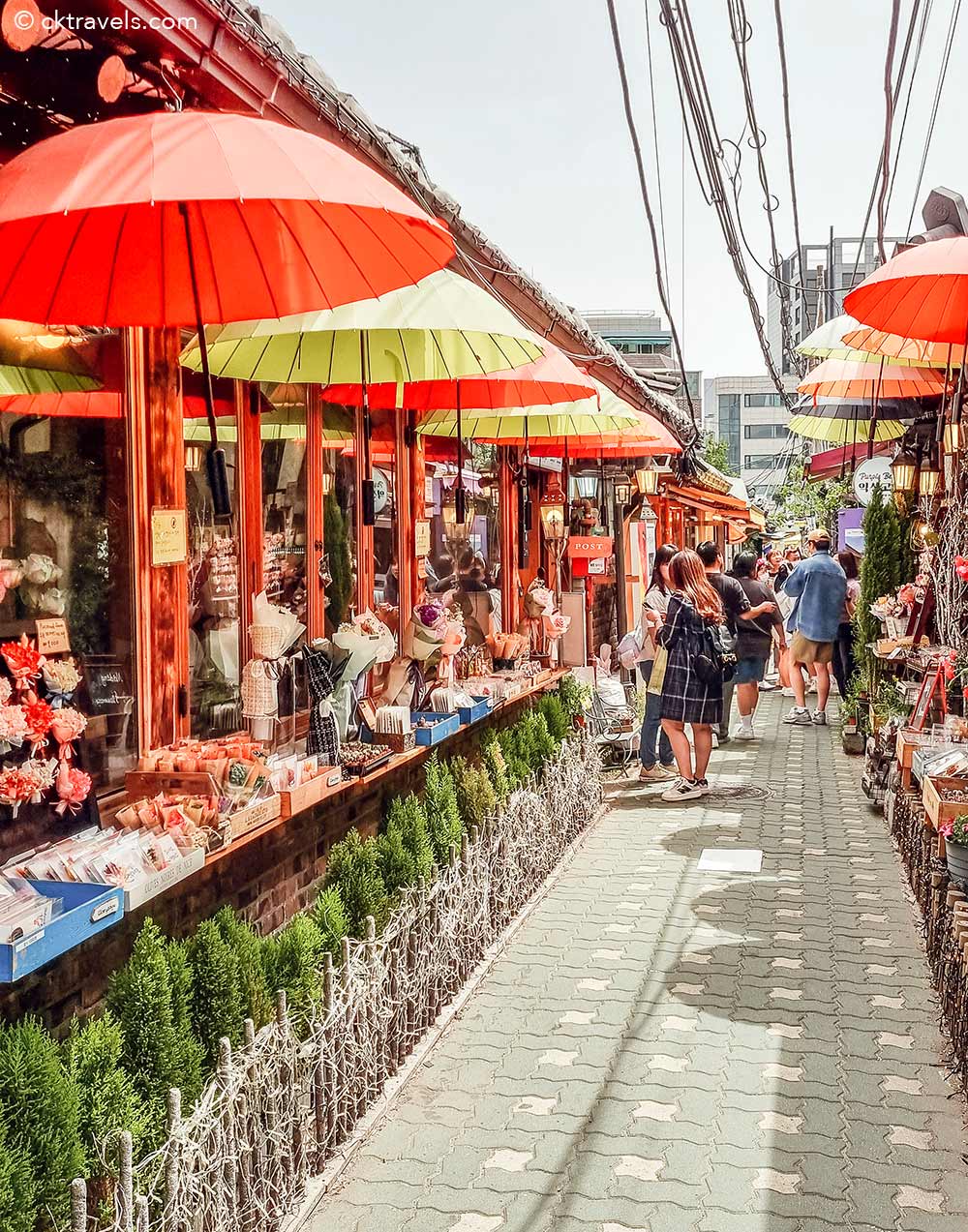 ---
3. Dine at Seoul's Famous Myeongdong Kyoja Restaurant
One of Seoul's most popular and inexpensive restaurants, Myeongdong Kyoja has been serving up delicious hand-made dumplings and hand cut noodles to hungry locals for decades.
Founded in the 1960s, Myeongdong Kyoja has a simple but succulent menu comprising just a handful of dishes.
With just a handful of branches in Seoul, Kyoja is one of the most popular cheap eats in the city and queues of diners dying for delicious dumpling and knife-cut noodles is not uncommon.
From marvellous freshly steamed mandu to banging bibimguksu, read our guide to all things Myeongdong Kyoja Restaurant in Seoul >
You might like – K-BBQ Party Experience with Local Koreans >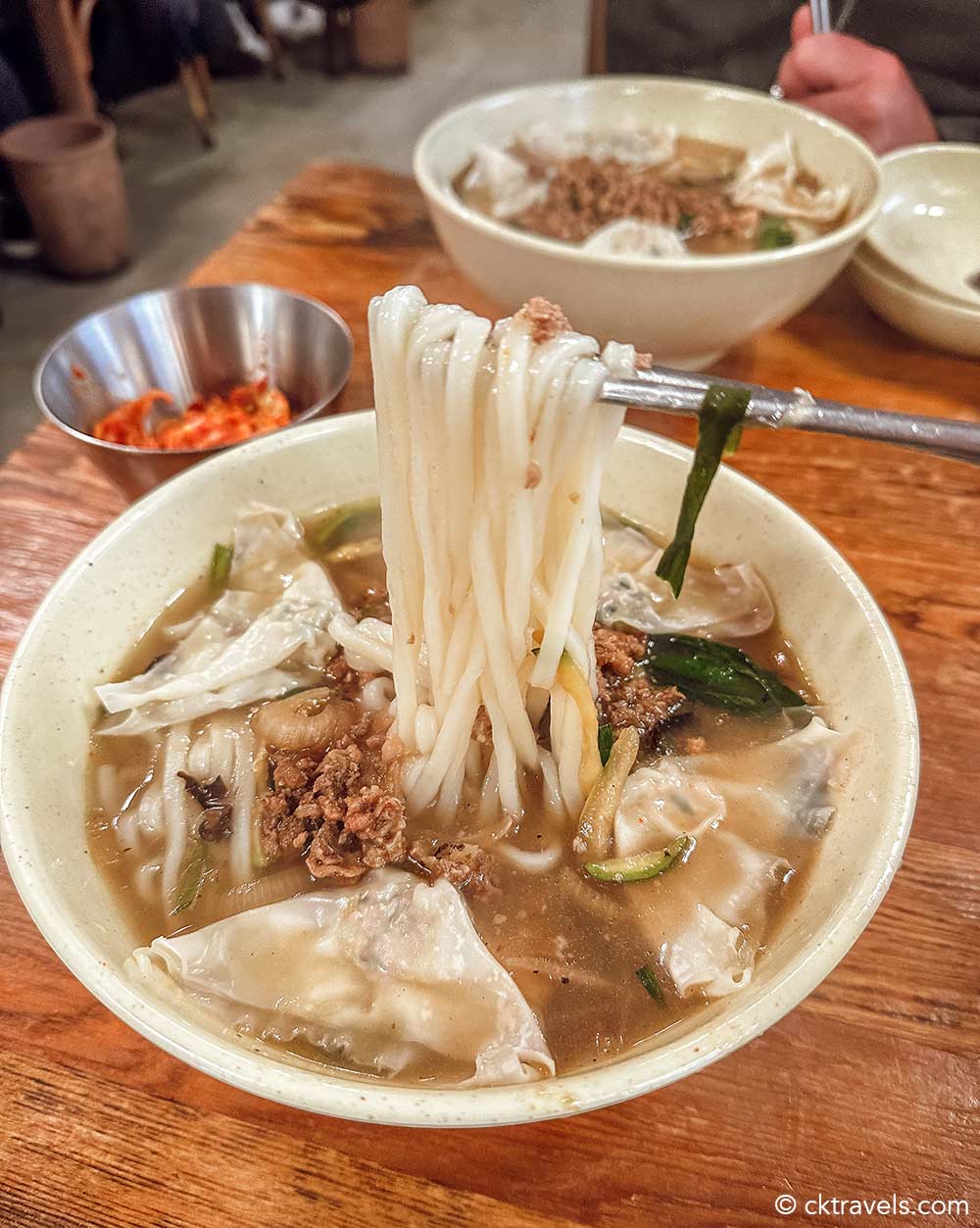 ---
4. Be Seen in Seongsu-dong
Now a nice neighbourhood and hipster hang-out, Seongsu-dong in Seoul was once an enclave of industry with limited appeal.
Since its trendy transformation, it is well loved by locals, a happening hybrid of street-art, pop up shops with weird and wonderful warehouse spaces.
A cradle of counterculture and the place to be seen in Seoul, Seongsu-Dong is a chock full of cool spots from shipping container malls to cute coffee shops and clothing stores to craft beer brewery bars.
Still mainly under the radar to most visitors to Seoul, there are also gorgeous green spaces and some village vibes to enjoy in Seongsu-dong, Seoul.
You might like – top things to do in Seongsu-dong, Seoul >
---
5. Lotte World
What a 'Lotte' fun! One of Seoul's largest theme parks and similar to Disney World in style and lay-out, Lotte World is well worth a visit (and not just for kids).
With a huge indoor amusement centre and outdoor Magic Island, Lotte World is fun for all ages and also includes various entertainment like daily parades and live music shows.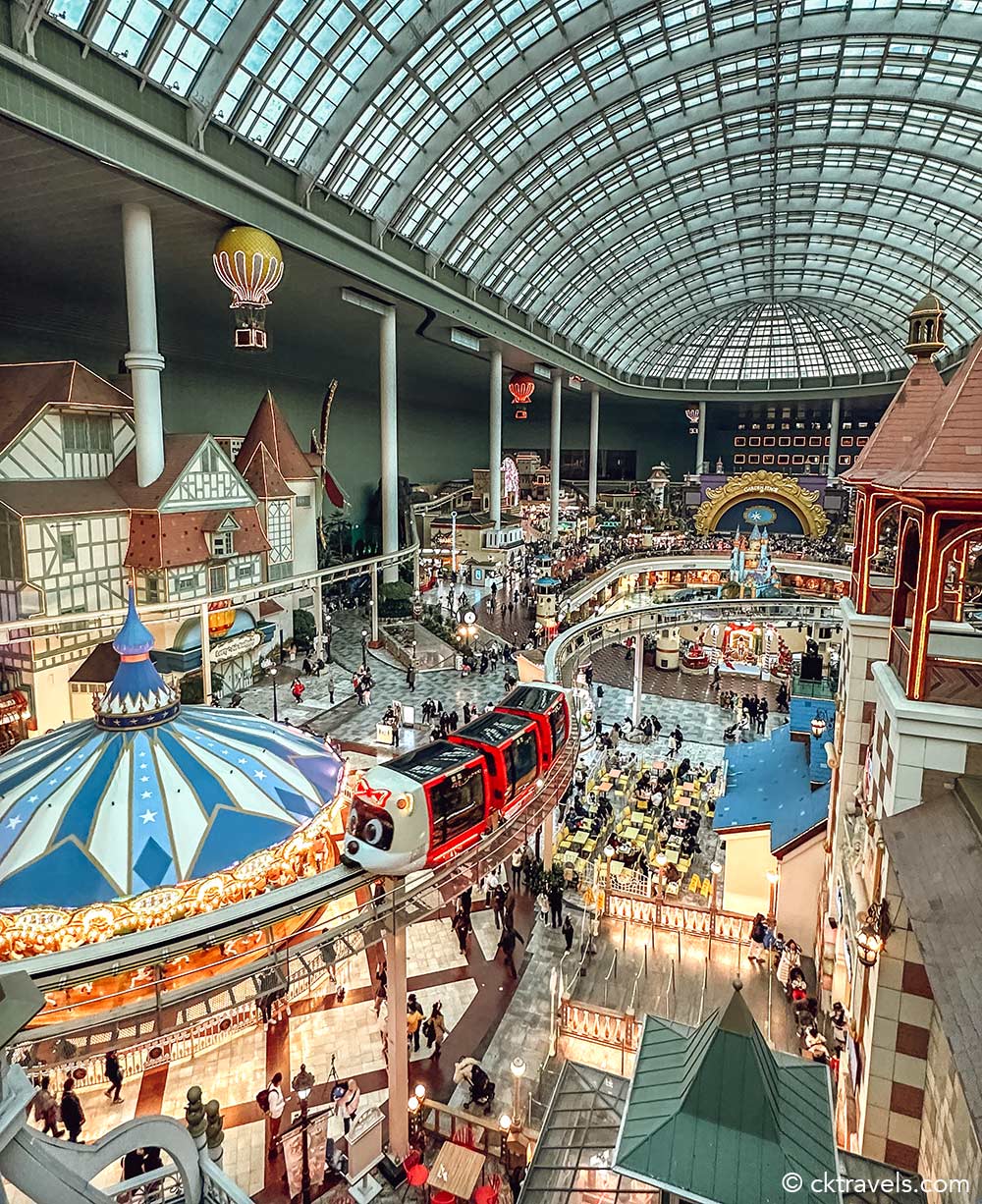 If your trip to Seoul and Lotte World coincides with Winter, Lotte World in November / December and much of the park is themed with Christmas activities (read more about Seoul Christmas lights and Christmas events).
Note that Lotte World gets incredibly busy after school with students visiting in large groups making some of the ride queue times hours long – so try and arrive at Lotte World early to tackle the bigger rides.
Tip – if you have a Discover Seoul Pass or Go City Pass, Lotte World is the best value / biggest discount attraction featured on the passes.
Skip the queues – book your discounted Lotte World tickets in advance >
---
6. Statue of Gangnam Style
One of the most curious things to do in Seoul is visit (and possibly dance in front of) the statue of Gangnam Style, a bronze style sculpture located just outside the East Gate of COEX Mall and COEX exhibition centre.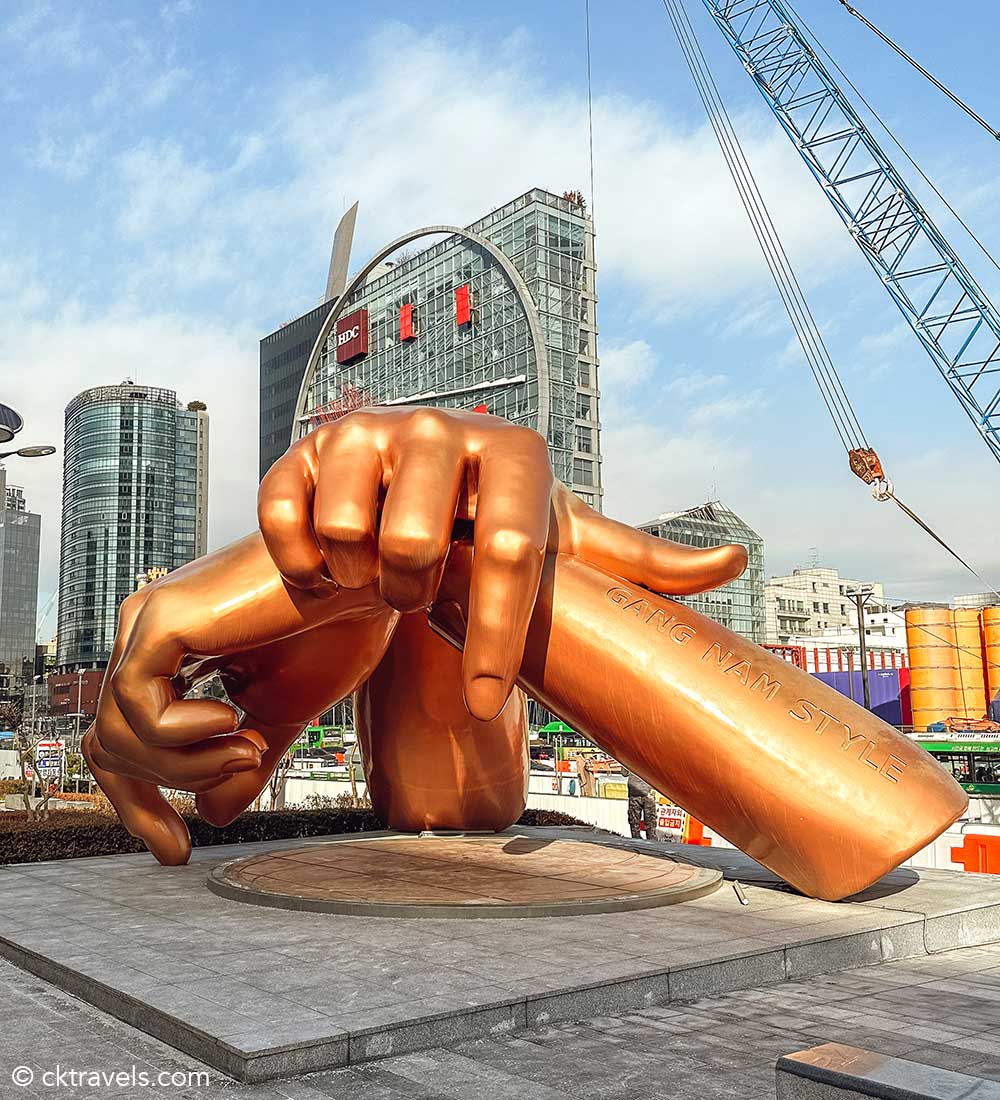 And yes, we and several other bystanders during our visit felt it only appropriate to recreate Psy's iconic dance in front of the giant pair of hands.
Unveiled in 2015, the Statue of Gangnam style is the ultimate tribute to Psy and his global 'Gangnam Style' hit (part of Psy's Gangnam Style video was filmed here).
Fact fans – Psy's legendary dance moves were partly filmed outside exit 5 of Gangnam Station.
Check out our things to do in Gangnam guide >
---
You might like – Discover the Korean Wave in Gangnam private tour >
---
7. Euljiro District
Euljiro is a relatively unknown Seoul neighborhood (at least in terms of being a destination to tourists).
Just a few minutes walk from Myeongdong, Euljiro is one of hippest neighbourhoods in Seoul, packed full of dive bars, speakeasy style sipping joints and incredible foodie adventures.
Euljiro is a little rough around the edges but this once industrial area now has small alley-ways and side-streets hidden with 'secret' bars' and new restaurants popping up all the time.
There are also several craft breweries here including the neon wonderland that is Euljiro Brewing.
Check out our things to do in Euljiro guide >
---
8. Gwangjang Market
Gwangjang Market is Seoul's most famous food market, a myriad of market street food stalls selling some of the best food you'll taste in Seoul (or anywhere in South Korea).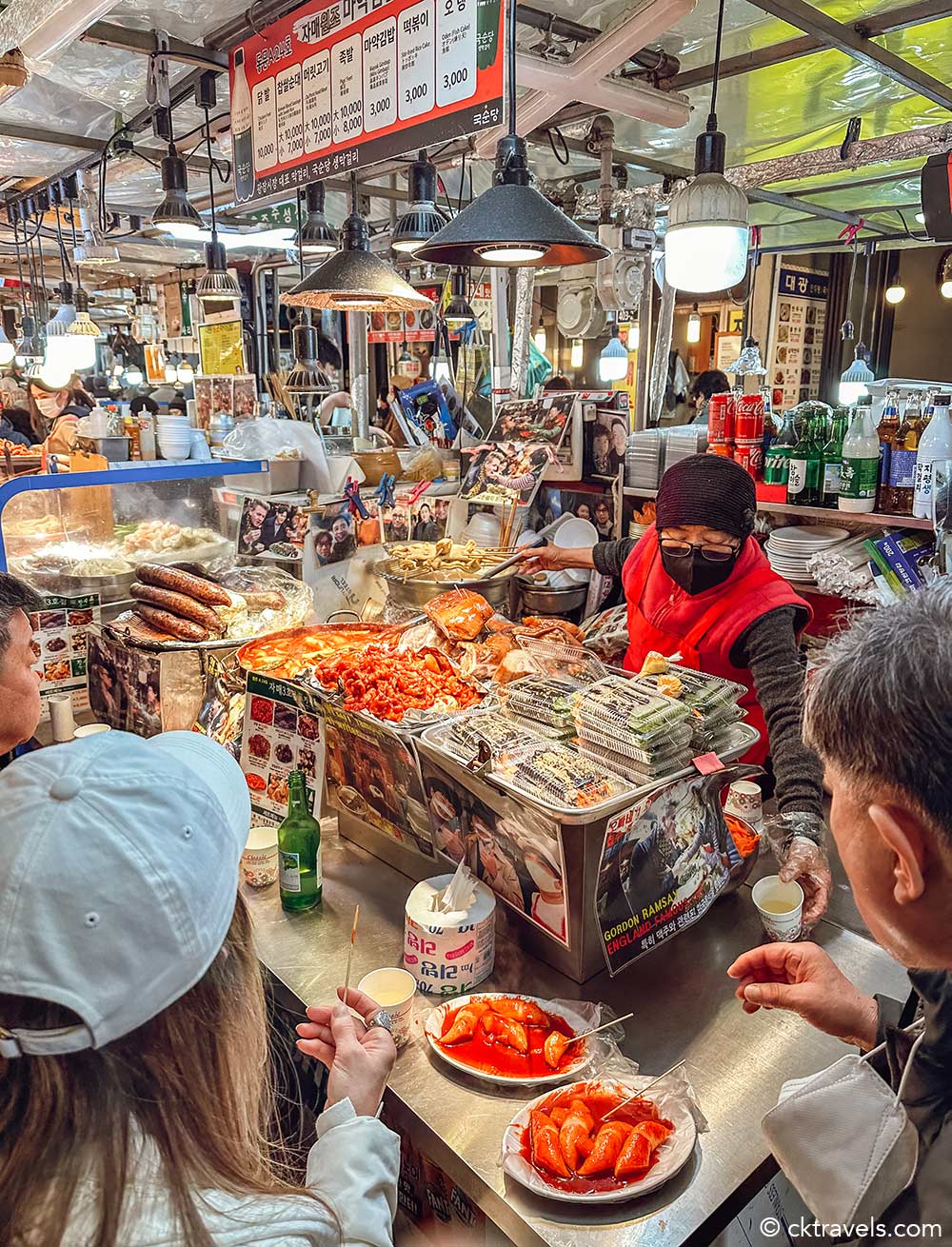 Gwangjang Market has bags of character, from the numerous (and competitive) stallholders who beckon you over ("Sit. SIT"!) to the huge array of awesome and authentic street food available.
Boiling hot in the summer and bitterly cold in the Winter, Gwangjang Market is a foodie's dream and a must visit when in Seoul.
Check out our full guide to Gwangjang Market in Seoul >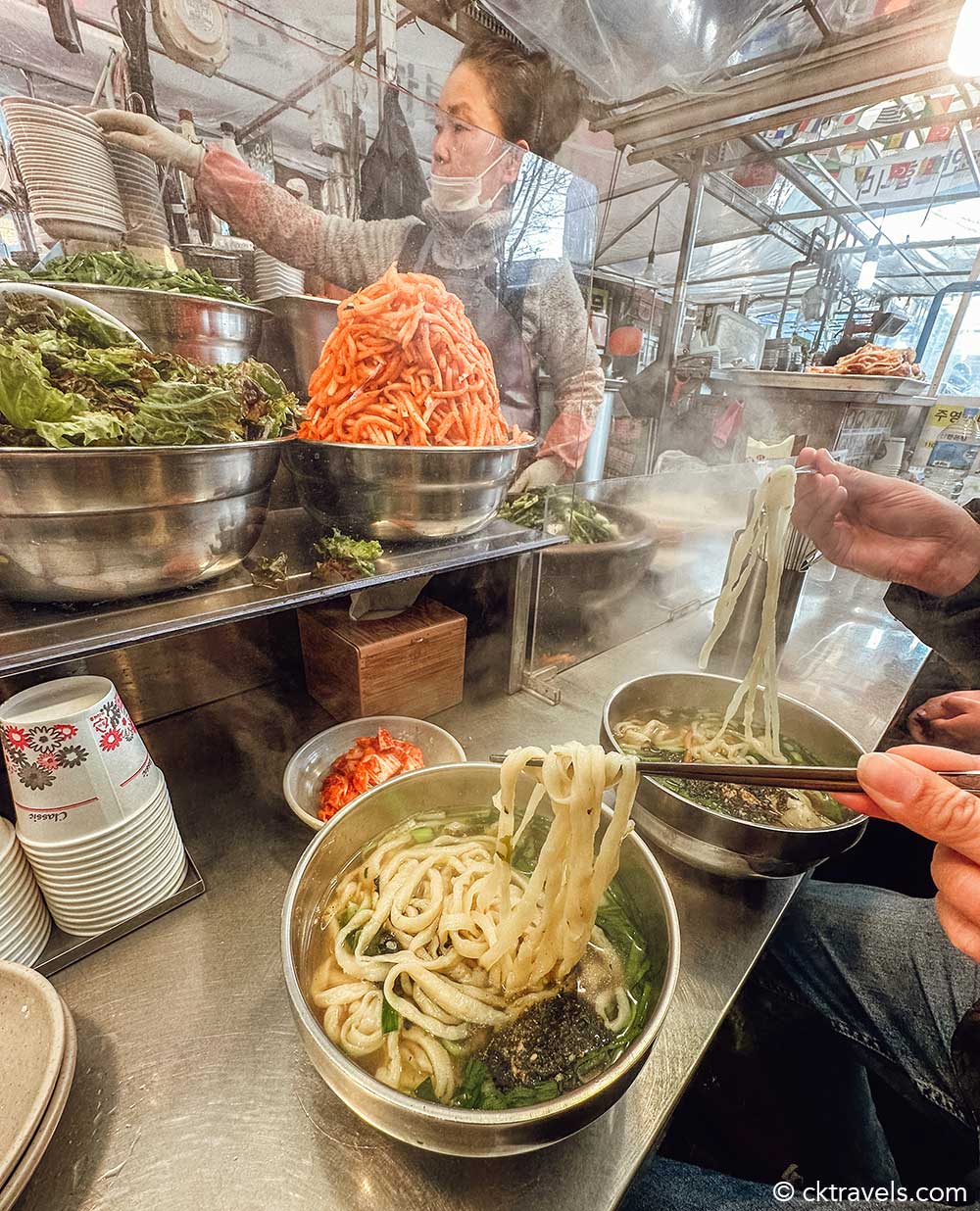 ---
9. Street Performers on Hongdae Street and Festival Street
The heart and 'Seoul' (ahem) of Hongdae, this is the central area where many street performers, pop-up stalls and chicken and beer restaurants congregate.
The busiest area in Hongdae (and possibly what you'd call tourist central), there are sights and food to enjoy 24/7 here.
In the summer, both streets are home to pop-up markets and scores of street performers and singers. The K Pop stars of tomorrow all have to start somewhere and Hongdae is a breeding ground for up and coming street performers.
On all of our daytime visits to Hongdae (particularly at the weekends in summer), we saw dozens of street performers from girl groups to accordionists, street-rappers to beatboxers.
Check out our things to do in Hongdae guide >
---
10. Seoul Forest Park
Seoul isn't short on superb outdoor spaces but Seoul Forest Park in Seongsu-dong is certainly one of the best.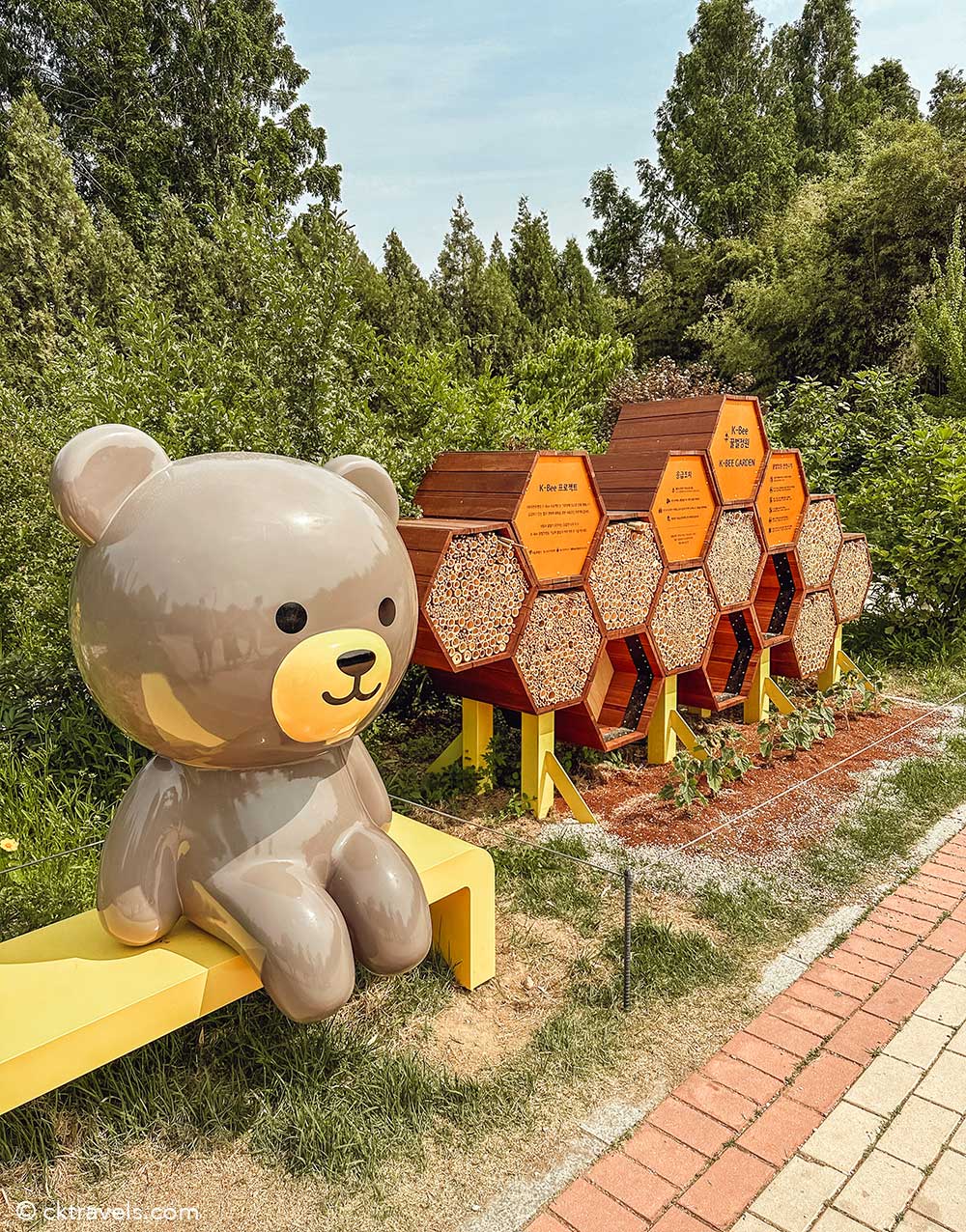 The third largest park in the city, not only does it have 3,000 acres of green space and ponds to peruse but also several free to visit wildlife areas like a deer park and butterfly house.
Opened in 2005, Seoul Forest Park is popular with locals and widely enjoyed for picnics, recreation and summer festivals.
Best of all, there is much woodland and wildlife to enjoy. For us, the highlight of Seoul Forest Park was the deer corral where you could see dozens of deer. There is an insect house too plus a honey-bee garden and rose garden.
You might like – Private Customized Seoul Tour with Your Korean Buddy >
---
11. Insadong
Seoul in South Korea is a joyous mix of the old and new, and no more so than Insadong, one of Seoul's most popular neighbourhoods and shopping streets with a historic heart.
From traditional tea-houses hidden down back alleys and ancient pagodas to modern shopping centres and even retro vinyl LP bars, Insadong has got it going on.
Read our full guide to the top things to do in Insadong, Seoul >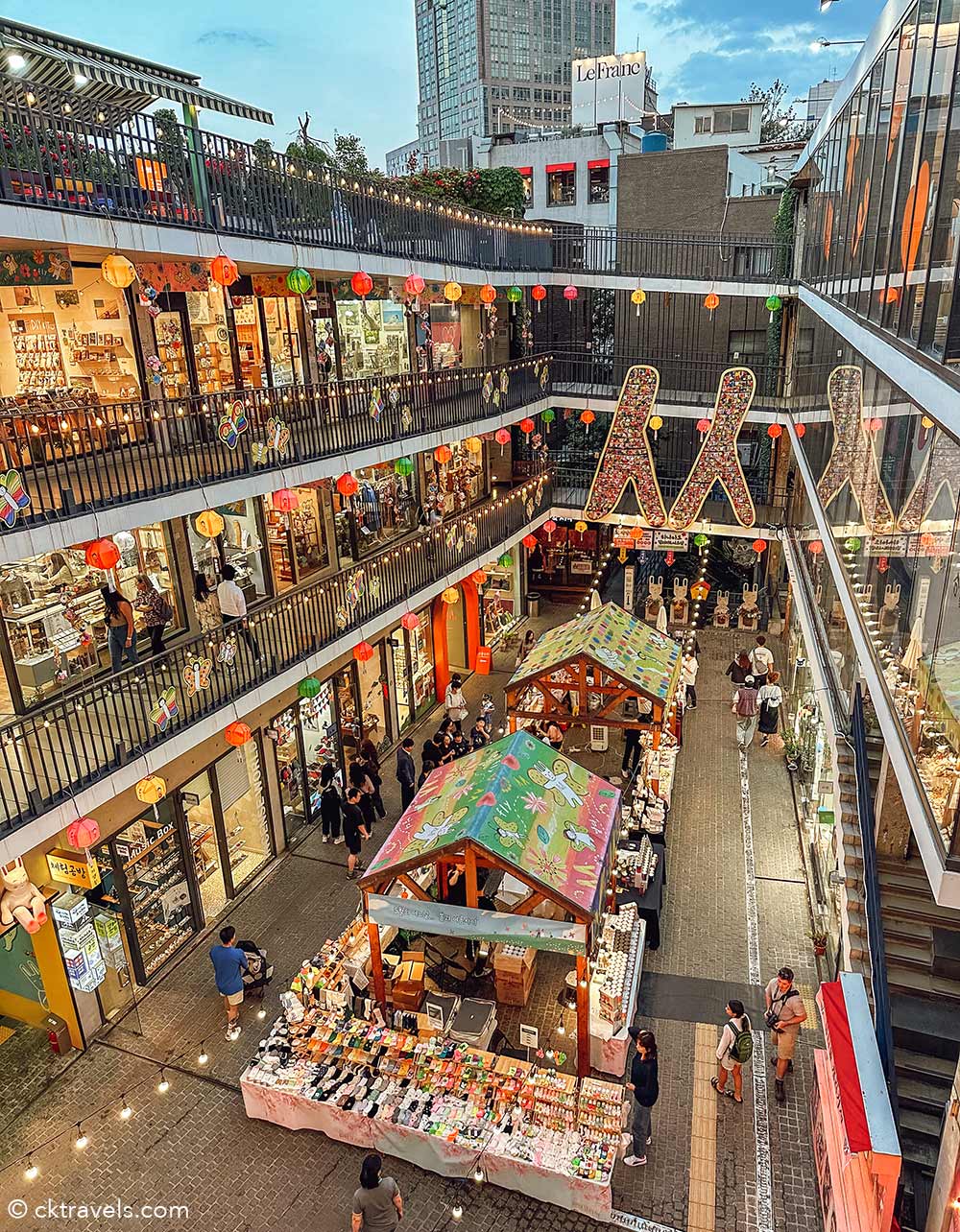 ---
12. Cheonggyecheon River Walk
One of the best walks in Seoul any time of day, the Cheonggyecheon is a downtown public park and river walk that is lit up and open 24 hours.
Cheonggyecheon is an example of urban regeneration whereby this formerly neglected and run down riverside area was transformed in the early 2000s into a wonderful walk along a river, complete with benches, stepping stone bridges and a long concrete walkway (also ideal for jogging).
During festivals and Christmas, the Cheonggyecheon stream sometimes has special lights and pop-up events.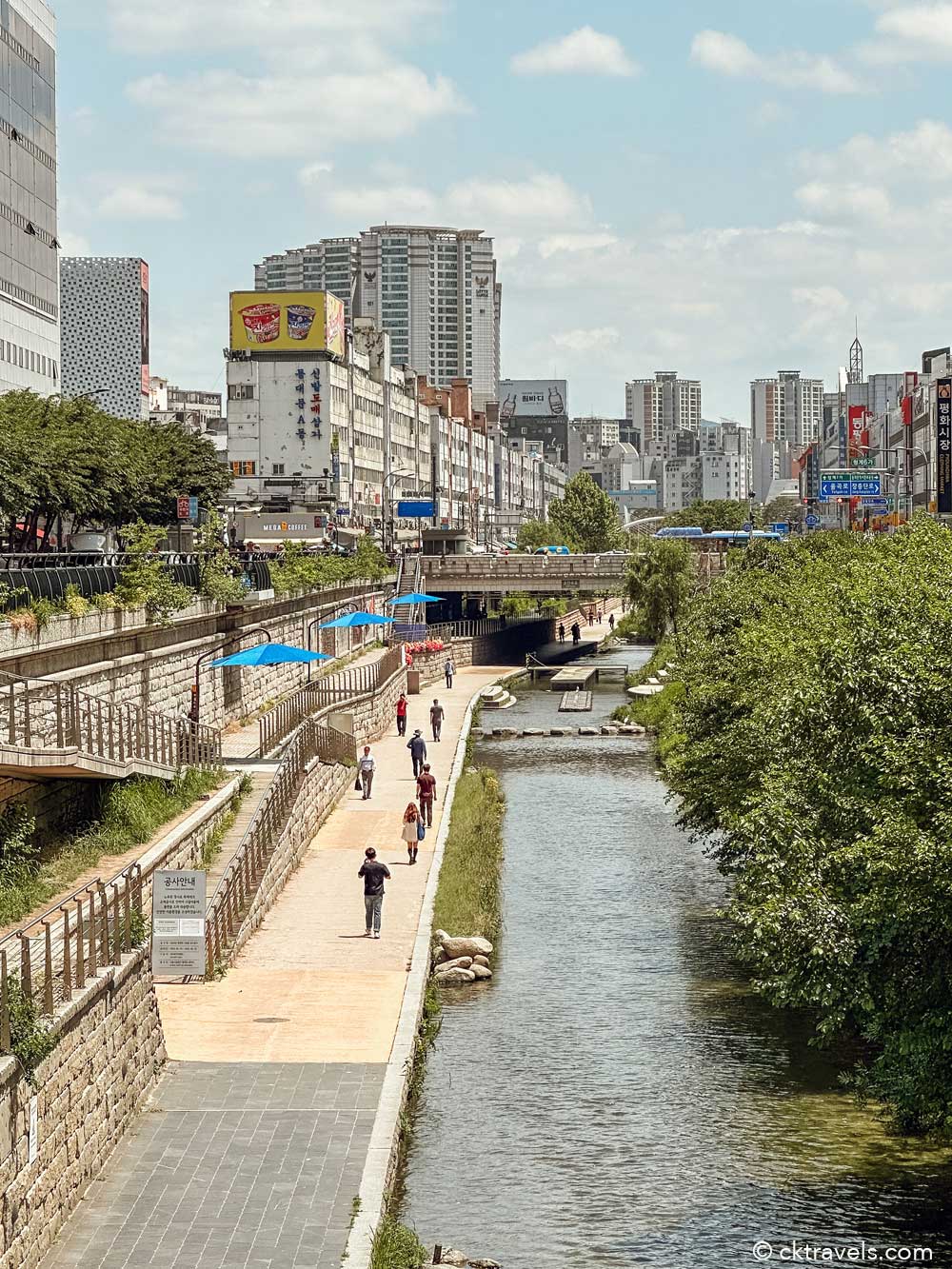 ---
You might like – Mount Seorak + Nami Island + Garden of Morning Calm Day Trip from Seoul >
---
13. Gyeongbokgung Palace
We won't dwell on all of the five Royal Palaces in Seoul as these are easily the most popular tourist attractions in Seoul and so well known:
Gyeongbokgung Palace
Changdeokgung Palace
Changgyeonggung Palace
Deoksugung Palace
Gyeonghuigung Palace
If you only have time for one Royal Palace, we'd recommend the grand Gyeongbokgung Palace, built in the 1390s and the largest and most majestic Royal Residence in Seoul.
Try to time your visit to Gyeongbokgung Palace with the changing of the Palace Royal Guard at 10am and 2pm (very theatrical but the costumes and instruments are stunning).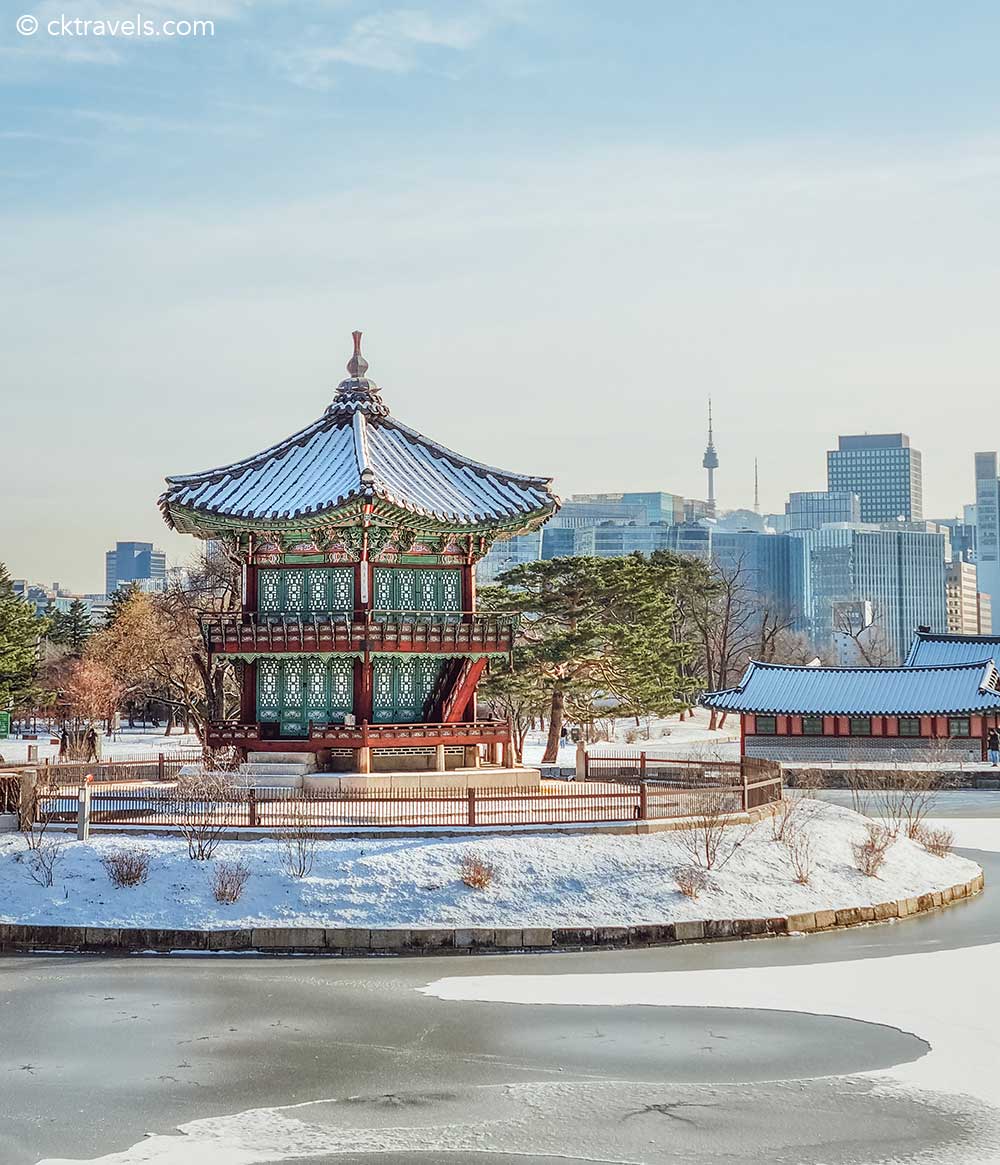 If you intend to visit all of the Palaces, make sure you buy a combined admission ticket as it works out a lot cheaper than individual tickets for each Royal Palace in Seoul.
Unlike most other historic attractions in Seoul, please note that Gyeonbokgung is closed on Tuesdays – this means it can be visited on Mondays when most of the other Seoul city historic attractions are closed.
---
You might like – Full-Day Palace Tour in Seoul >
---
14. Changdeokgung
If you have time for two royal palaces then Changdeokhung is one of the most beautiful of Seoul's former Royal residences, built in the 15th century as part of the Joseon dynasty.
A UNESCO World Cultural Heritage site in Seoul, it was originally constructed as a smaller second palace to the much bigger Gyeongbokgung but is a much more pretty palace to explore. It is also the best preserved of all the Seoul Royal Palaces.
Most locals and tourists visit the Huwon Secret Garden, a sprawling sublime green sanctuary with pavilions and ponds – this can be visited as part of a guided tour and is in addition to the Palace entry cost.
---
15. Common Ground, Seongsu-dong
Located on the outer edges of Seoul's Seongsu-dong district, Common Ground could definitely be described as one of the more unique shopping malls in Seoul.
Built out of tonnes of brightly painted shipping container units, this creative and cultural container park is the first of its type in South Korea, having opened in 2015.
Based over three levels, Common Ground Seoul shopping mall comprises a Street Market section, a Market Hall and a Terrace Market. We also really liked how it made great use of the space with stores and restaurants both inside and out, across multiple levels.
Flagship tenants and shops at Common Ground include a multi-level Nike store, an Under Armour store, Adidas Originals plus a series of ever changing pop-up shops and events.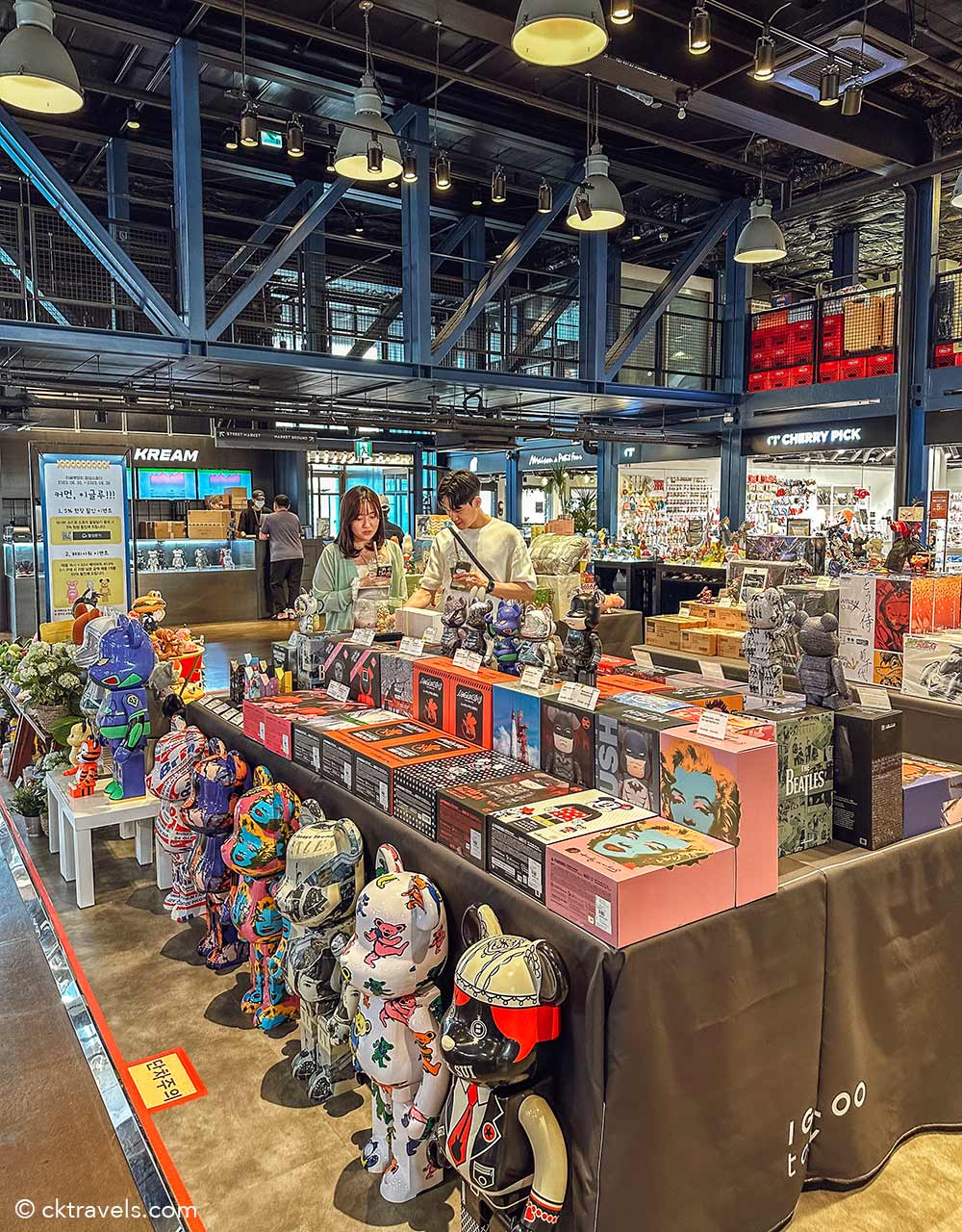 ---
You might like – Top 5 beaches in Busan >
---
16. Myeongdong Night Market
One of Seoul's most popular night markets and easily accessible by the Metro, Myeongdong Night Market is a tasty, treasure trove of cheap Korean street food and evening eats.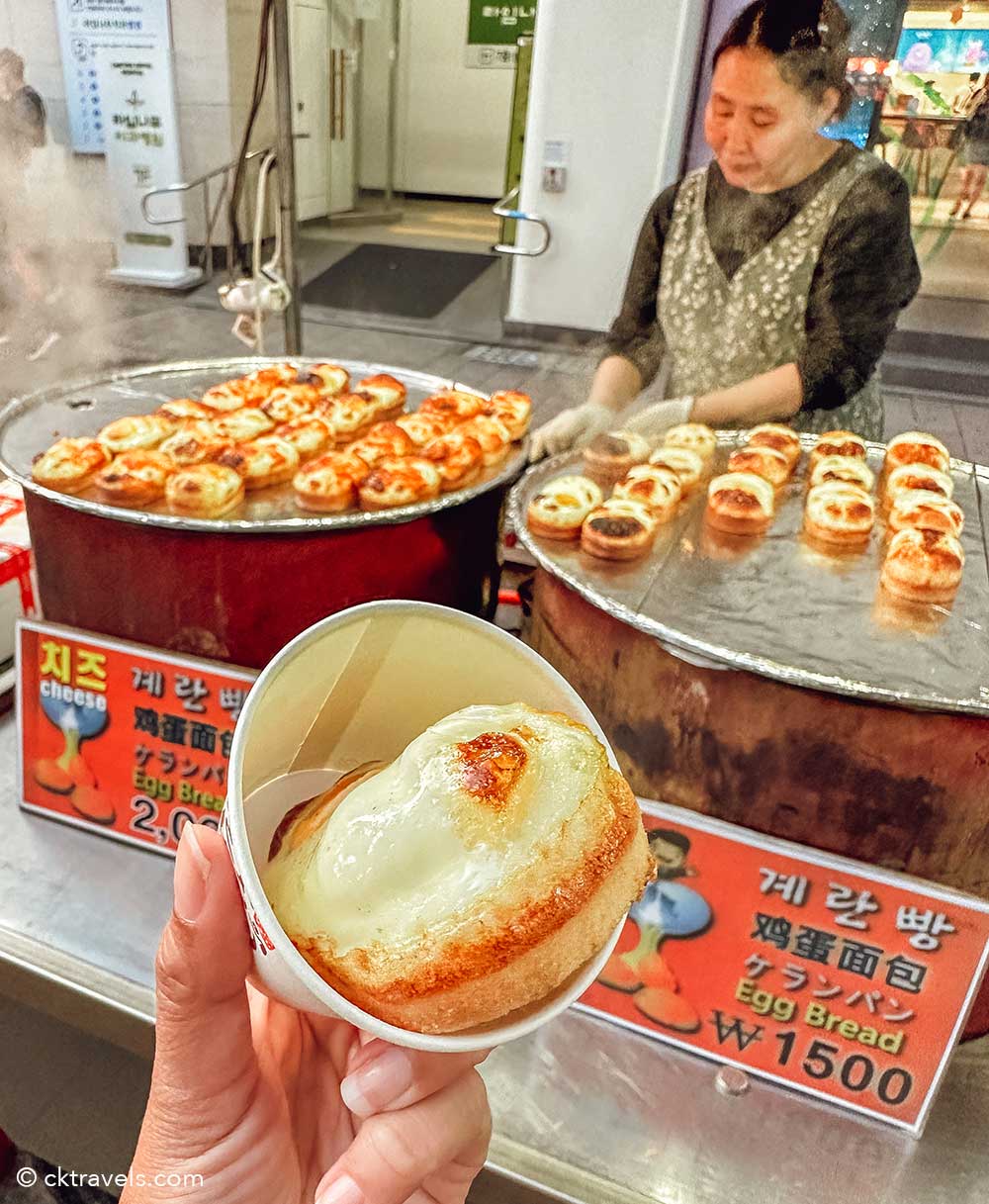 By day, Myeongdong is a bustling neighbourhood chock full of shops and restaurants, but by night, it really comes into its own with its night market of over 150 stalls of incredible street-food, fashion items and souvenirs.
From K-Pop to pork belly, Busan fish cakes to beauty products, there is plenty to suit all tastes (and budgets) at Myeongdong Night Market.
Open 7 days a week until late, read our full 2023 guide to Myeongdong Night Market >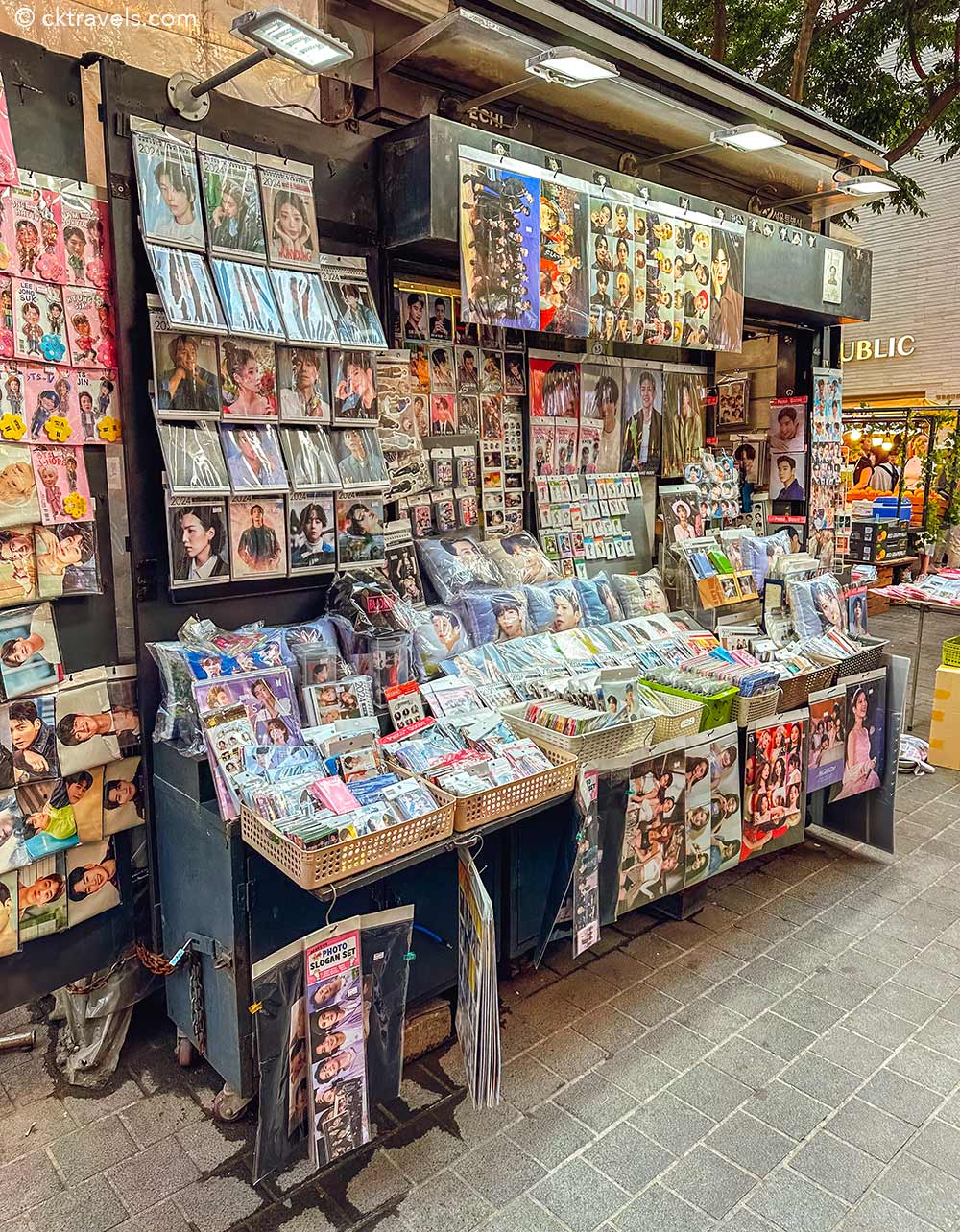 ---
17. Dongdaemun Design Plaza (DDP)
By daytime, Dongdaemun Design Plaza (DDP) in Seoul is an aesthetically awesome design centre containing a design museum (certain exhibitions are free), the design lab and a conference center, plus a handful of shops, restaurants and cafes. From afar, it looks like a huge silver UFO has landed in the centre of Seoul.
The DDP also lights up in the winter months (especially around Christmas time in Seoul) with a free, festive winter light show.
The DDP Seoul Light show features illuminations and projections on the side of the curved and ultra sleek building.
Since its first edition in 2019, the DDP light show has attracted over 1 million visitors and is one of the most popular free, evening activities in Seoul.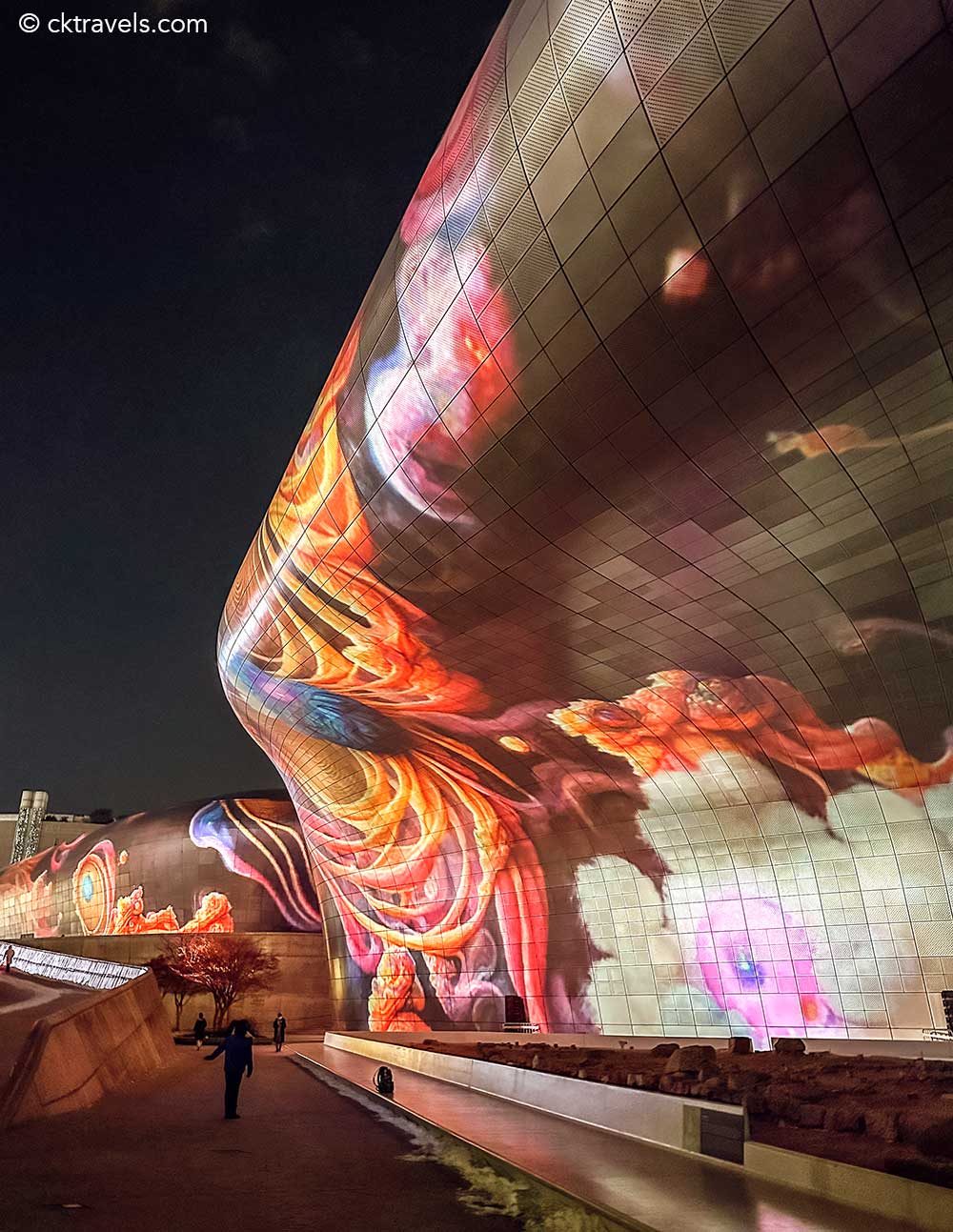 ---
You might like – Seoul Kimchi & Culture Experience >
---
18. Bukchon Hanok Village
One of the most popular free things to do in Seoul (watch for the constant stream of tour buses), Bukchon Hanok Village is a historic hillside neighbourhood that is home to dozens of traditional houses ("hanok", that date back to the Joseon dynasty).
We have a love / hate relationship with Bukchon Hanok Village – it is so pretty but it is teeming with tourists between 10am and 4pm so try to get there early or late and explore the traditional settlement.
The views are stunning and many people also hire traditional hanbok costume from the clothing rental stores at the main entrance or from nearby Gyeongbokgung Palace.
Please remember that Bukchon Hanok Village is a residential area so please be mindful of people's property and privacy – there are even local volunteers who monitor noise-levels and 'shhhhush' you if you are over exuberant.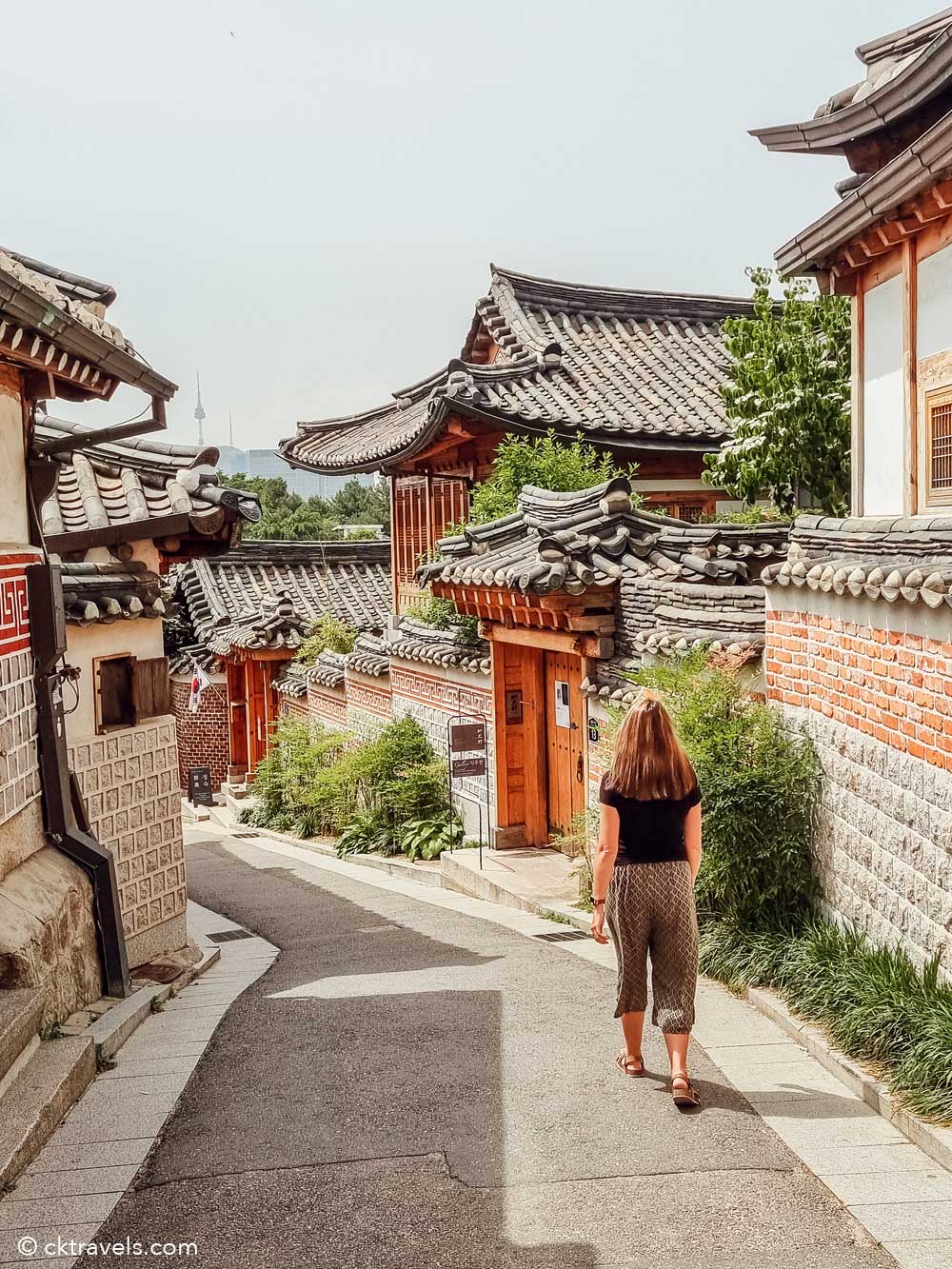 ---
You might like – Traditional Seoul Gourmet Tour in Bukchon >
---
19. Daelim Changgo
One of the best known coffee shops in Seoul (and certainly the most Instagrammed), Daelim Changgo is a wonderful warehouse coffee shop in Seongsu-dong.
'Changgo' is actually Korean for 'warehouse' and you could quite easily miss this colossal coffee shop if you didn't know about it. There are no giveaways from the outside as to what to expect inside other than a huge wooden door on the outside that simply says 'Open'.
Inside, you'll find an artisan array of baked goods and sweet treats plus two huge warehouse rooms with art installations and pop-up exhibitions.
---
You might like – 70+ things to do in Busan, South Korea >
---
20. Bongeunsa Temple
Easily one of the most beautiful temples in Seoul, Bongeunsa is a Buddhist temple that originally dates from the 8th century – although most of the current site dates back from the 20th century as much of it was destroyed during the wars.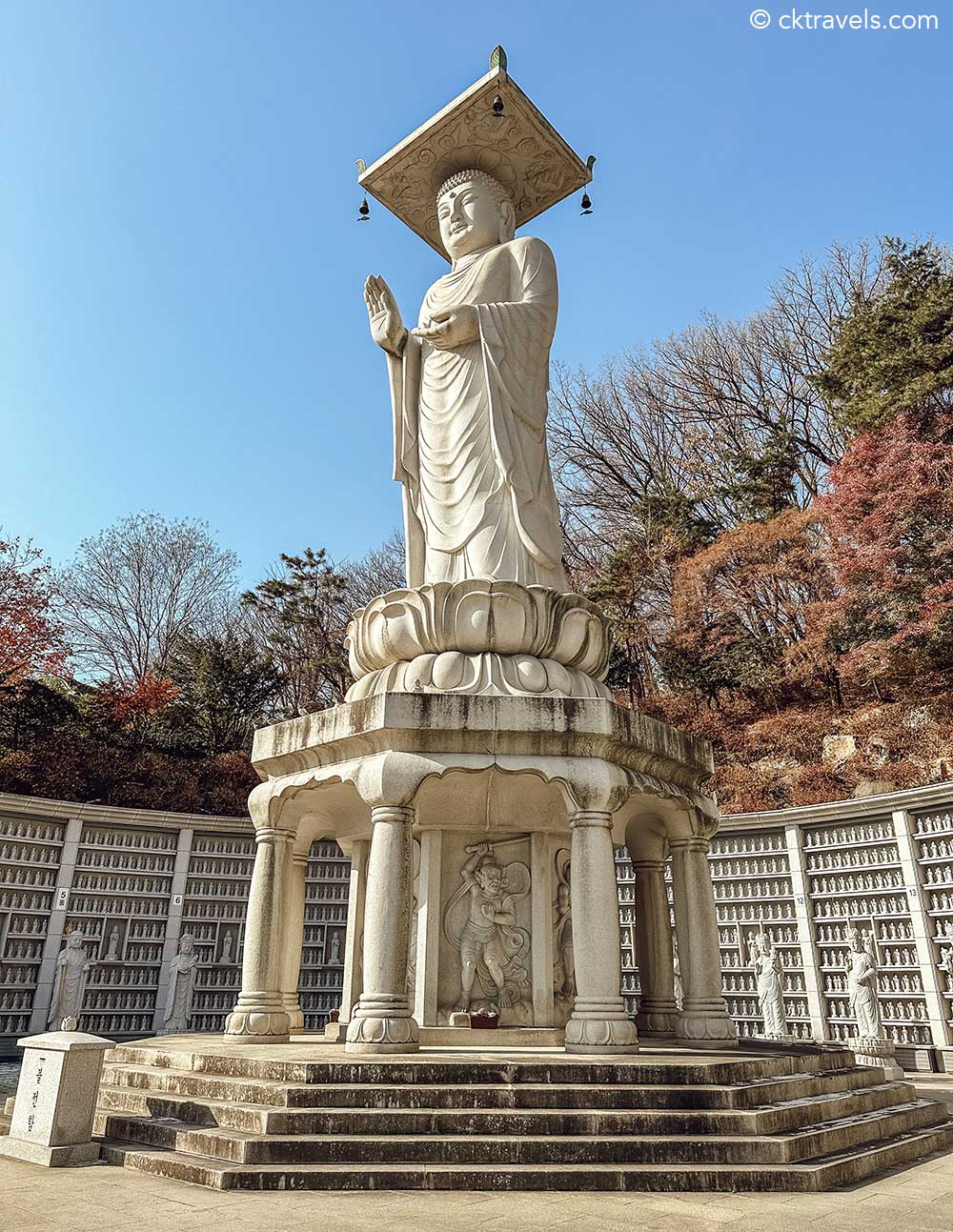 It has a huge complex of memorials, places to worship plus it even has its own home stay in a temple scheme.
Bongeunsa temple is free to visit (donations are appreciated) and we were blown away by how big this place of worship is.
One of the many highlights was the serene hillside location where a huge 100ft stone statue of Maitreya, the Future Buddha looks out over Gangnam-su.
---
You might like – A colouful guide to Gamcheon Culture Village in Busan >
---
21. Namdaemun Market
Located just a few hundred metres from the main Myeongdong action, Namdaemun Market is a sprawling shopping area frequented by locals and tourists alike in search of bargains.
There are thousands of market stalls and shops in Namdaemun Market, spread across several blocks so navigating it can seem quite tricky when you first arrive.
Handily, Namdaemun Market is handily broken down into several sections where the same types of shops and products are grouped together – for instance, Hardware Street or Children's Wear Street.
Namdaemun Night Market update – we revisited Namdaemun Market in June 2023 and it is very busy by day but we can't verify if this is truly a night market as most stalls and areas (including Kalguksu Alley) seem to close early in the evening.
---
You might like – Namdaemun Market Street Food Tour >
---
22. Kalguksu Alley
Also located in Seoul's Namdaemun Market, Kalguksu alley is an alleyway hot-bed (emphasis on the 'hot') of inexpensive noodle and dumpling stalls..
Inside, you find an alley with two parallel lines of small food and drink stores, each with several chairs around them – think Gwangjang Market but in a much more compact space.
When the food stalls at Kalguksu Alley are full, it can be very hard to walk down the central walkway – we also visited on a 28c degree summer day and it was incredibly hot there.
The food stalls at Kalguksu Alley all looked incredible with noodles, dumplings and bibimbap, the most popular Korean street food dishes to try – you can eat really well here for around 6,000 to 8,000 Korean Won a dish.
---
You might like – Busan at night guide >
---
23. See a Seoul Theater Show at NANTA Theatre
There are many theatre shows to see in Seoul at night but perhaps the most famous (and long-running) is the NANTA theatre show.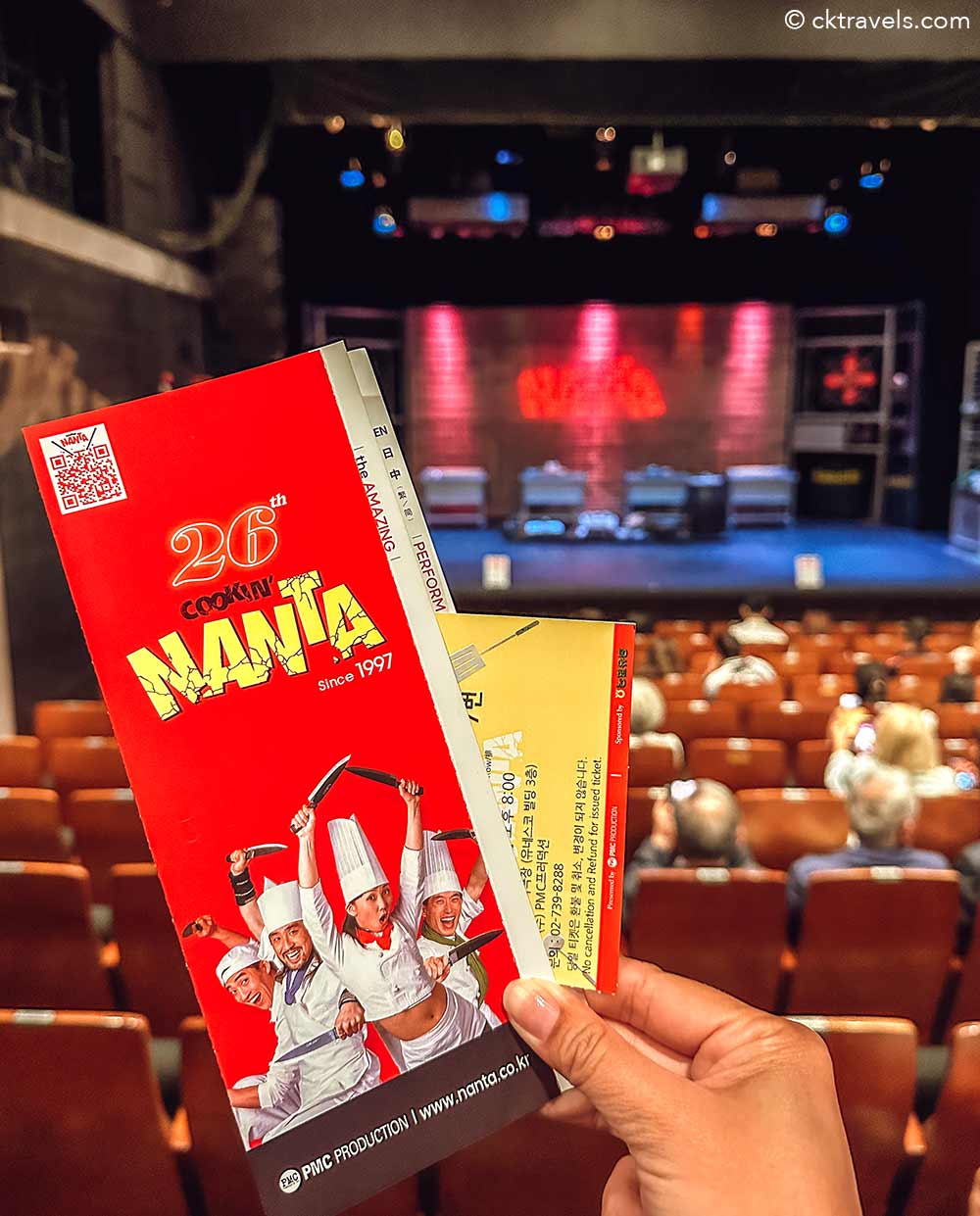 This world renowned comedy cooking show has been packing in audiences worldwide since 1997. Possibly the best known Korean theatre show, NANTA Theatre has been performed over 50,000 times in over 60 countries and is a fun mix of slapstick and physical comedy.
There are very few spoken words used throughout so not understanding Korean (or English) won't be an issue.
Myeongdong NANTA Theatre has at least two NANTA performances every day, with evening shows held at 5pm and 8pm Monday to Saturday (on Sundays, it is 2pm and 5pm).
BOOK IT: Myeongdong Nanta Theater Show Ticket >
We visited the Myeongdong NANTA Theatre using the Go City Seoul Pass. Read more about our experience using the pass >
---
24. Enjoy 'Seoul' Food
Mashisoyo" as they say in South Korea – this is the word for 'delicious' that you'll continually be using when you try Seoul street food straight from the source.
South Korean street-food is some of the world's best street food, which will keep you coming back for more (and more, and MORE…).
Most street food is inexpensive and readily available in multiple markets like Gwangjang Market or Myeongdong night market – although these can be a little 'touristy'.
From Buchimgae to bibimbap, hotteoks to Tteok-bokki, read our guide to the best South Korean street foods >
---
25. Starfield COEX Mall
For us, Starfield Mall is definitely one of our favourite shopping malls in Seoul and this retail nirvana is one of the best shopping malls in Seoul; especially due to the presence of the incredible Starfield Library in the centre of the complex (more on this later).
A nice mix of fashion, culture, food and entertainment, Starfield COEX Mall is located over several levels and could easily be a day trip in itself if you take your shopping seriously. Flagship stores at Seoul's Starfield Coex Mall include Zara, H&M and ABC Mart.
Starfield Mall has over 200 stores plus just under 100 eating establishments and dining options to choose from.
What we really liked about Starfield COEX Mall is that they had clearly marked 'food alleys' on the map meaning you could easily find something to eat.
Read about the best shopping malls and shopping centres in Seoul >
---
You might like – Where to stay in Seoul / Best Neighborhoods Guide >
---
26. Starfield Library
As well as stellar shopping at Starfield COEX Mall, you'll also see Starfield Library, one of the most memorable and aesthetically pleasing spaces we've ever encountered in a Seoul shopping mall.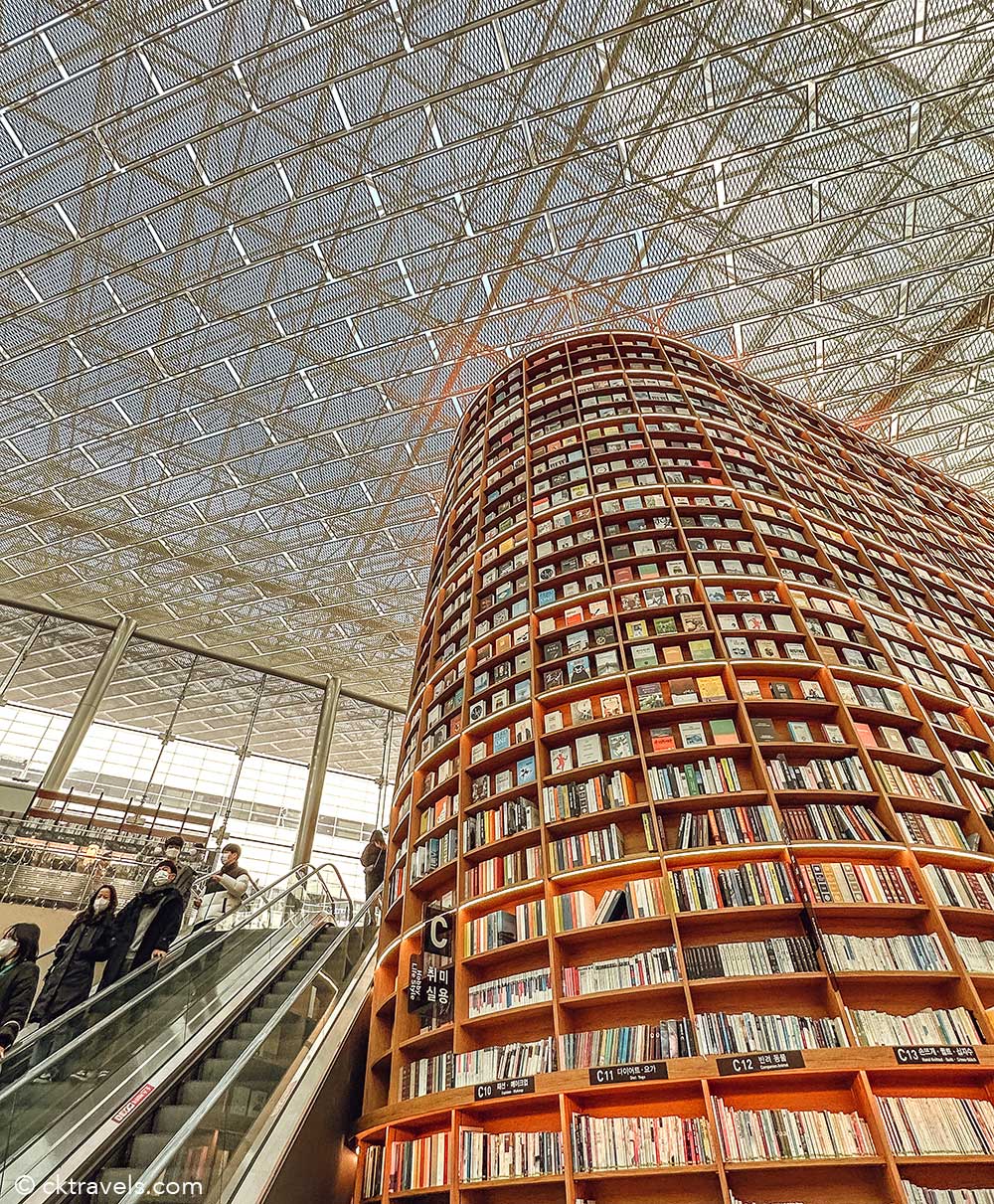 Surely this has to be the best looking and most accessible library in the world? So much so that it can be hard to get a book from the shelves with all the posing and photography going on (for real).
Unlike other libraries, you don't need to be a registered user to read the books, and several cafes and coffee shops are 'hidden' amongst the gigantic bookshelves.
---
You might like – Gangnam District Tour in Seoul Including COEX Aquarium and Han River Cruise >
---
27. Myeongdong Cathedral
South Korea's oldest Roman Catholic Cathedral was consecrated in 1898 and can be accessed via a steep flight of steps a short walk from the main Myeongdong Walking Street.
Although Myeongdong Cathedral usually closes around 7pm (8pm on Sundays), they sometimes stay open late for special services (although photography is forbidden).
Below the cathedral, you'll discover a rather nice underground shopping centre with cafes, bookshops, restaurants, a Subway plus one of the biggest 7-Elevens in Seoul – praise be!
If you visit Seoul at Christmas or in the winter months, the Myeongdong Cathedral gardens are normally awash with classic white LED lights plus Christmas phrases in many languages from all over the world appear in neon above the Church shop.
---
You might like – The 10 Tastings of Seoul With Locals: Private Street Food Tour >
---
28. Korean Selfie Booths
Usually open 24 hours, Selfie booths and shops are a super big business in South Korea (mainly to fill all the empty shops that were left after COVID).
The selfie kiosks are usually brightly painted small shops where you can borrow clothes and all sorts of fun props (like big sunglasses, animal heads etc) and then pose for selfies or take photos in booths for a small fee.
Often these Korean selfie photo booths allow you to print out stickers as a lasting reminder – popular selfie booth locations include Gangnam, Hongdae, Itaewon, Ikseon-Dong and Seongsu-Dong.
---
You might like – Seoul Hallyu Kpop Tour >
---
29. Netflix Knife-Cut Noodle Lady
Enjoyed the Netflix series Street Food: Asia? Next time you visit Seoul's Gwangjang Market, make sure you take time to visit Cho Yonsoon's Kalguksu knife-cut noodle stall (but be prepared to queue to savour this delicious 'Seoul food'…).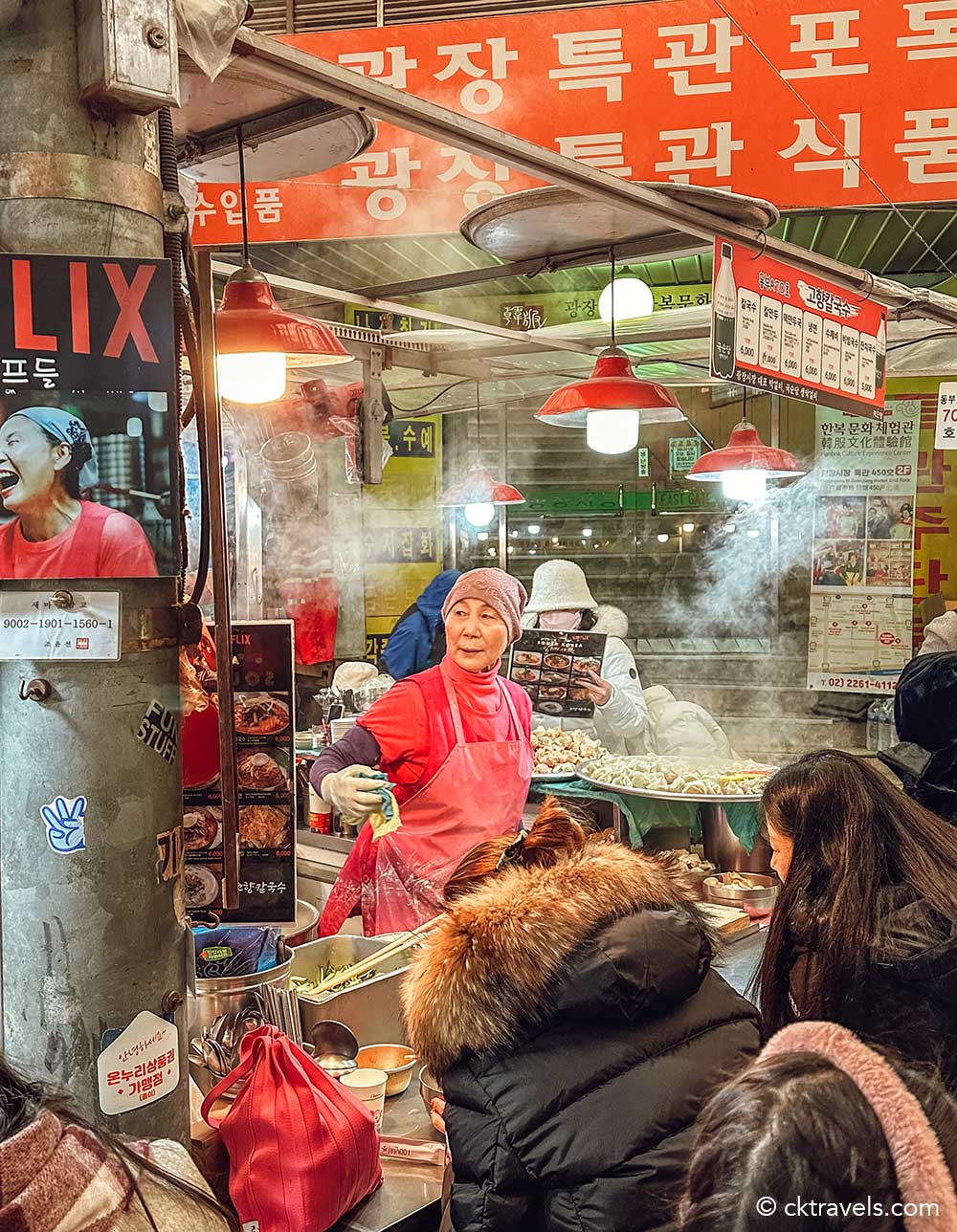 We were fortunate enough to get the prime spot in front of Cho Yonsoon herself.
We could watch her legendary knife-cut noodle skills up-close (like watching Netflix but IRL!), before tasting steaming bowls of sublime Gohyang Kalguksu dishes.
Here is our guide to visiting Cho Yoonsun's Gohyang Kalguksu knife-cut noodle stall in Gwangjang Market, Seoul >
---
30. N Seoul Tower & Namsan Tower
The most popular viewing tower in Seoul is N Seoul Tower, located in Namsan Park. The views of Seoul and the surrounding park are stunning plus there are two levels to explore, one with a rather nice cafe looking out over Seoul.
Almost 800 metres high, the N Seoul Tower is open until 10pm on weekdays and until 11pm on weekends (times correct as of August 2023) – so you can even enjoy the Seoul sunset or Seoul at night.
Namsan Park is open until 10pm most days so you can even enjoy sunset or night time views. Love locks adorn all the fences too in and around the immediate area – quite the romantic place – although many of the locks are now quite rusty and orange!
Namsan Park peak is walkable but the paths are quite steep so you may want to make use of the Namsan Cable Car.
Namsan Park also hosts free cultural shows several times a day where you can enjoy traditional musicians and martial arts – there is lots of audience participation too!
Book your N Seoul Tower ticket here with Klook >
N Seoul Tower is also one of the included attractions of the Discover Seoul Pass and Go City Seoul Pass.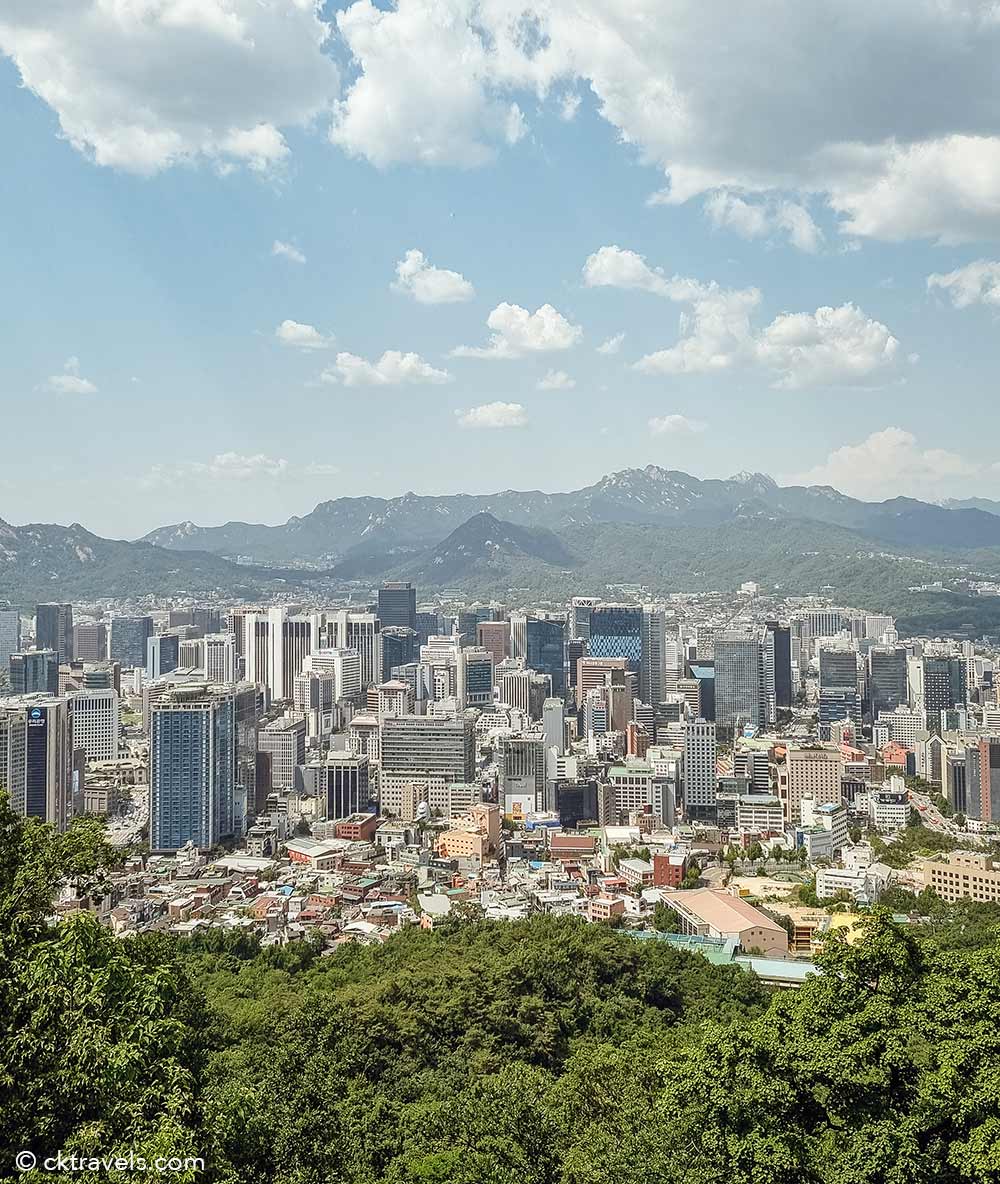 ---
31. Donut Jungsu Ikseon
A decadent and delicious donut place that makes full use of its homely hanok setting, Donut Jungsu Ikseon is one of the 'sweetest' things to do in Seoul, at Ikseon Dong Hanok Village.
The choice of makgeolli donut here is incredible from choco banana donuts to udo peanut butter donuts and of course matcha tea donuts.
We sat in the wooden panelled ground floor cafe section of Donut Jungsu Ikseon as not only could you see the fresh donuts being brought out, but there were also nice views of the garden and nearby pedestrianised streets.
Donut Jungsu Ikseon has seating over several levels plus one of the best rooftop views in Ikseon-dong. Highly recommended.
---
You might like – Seoul City Sightseeing Tour Including Gyeongbokgung Palace, N Seoul Tower, and Namsangol Hanok Village >
---
32. K Star Road (AKA GangnamDol bears)
One of the most frequently visited things to do in Seoul and Gangnam are the brightly coloured K-pop bears of K Star Road.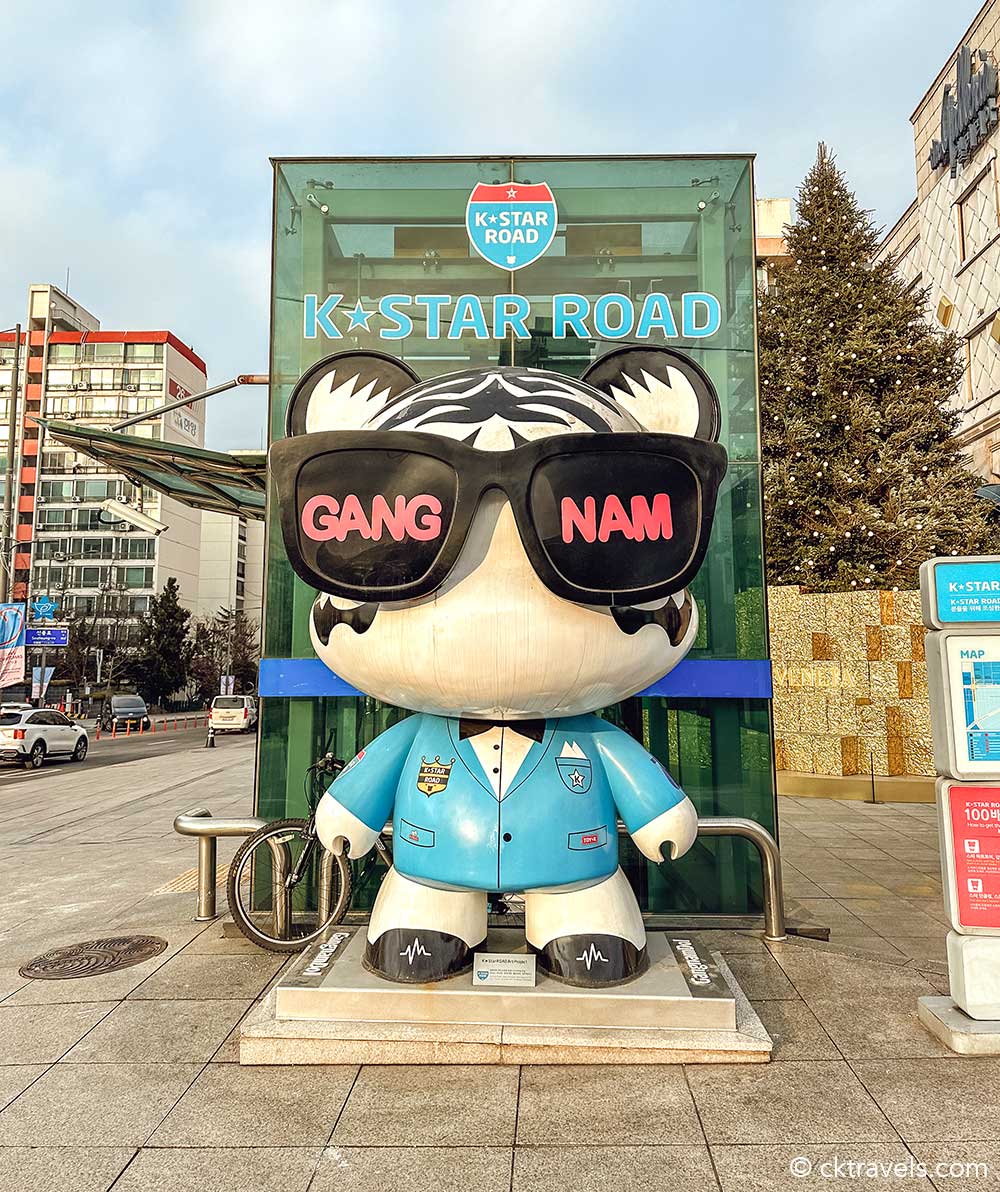 These 'GangnamDols' (brightly coloured teddy bear style dolls – they're not furry though!) line a 1 km stretch of road with around 20 big bears representing the cream of K-pop talent and famous K-pop dolls.
As you'd expect, the 'star' of K Star Road is a huge Psy bear / GangnamDol (near Apgujeong Rodeo Station exit 2), but other bears include Girl's Generation, Miss A and 4Minute – and yes, the BTS Gangnam-su bear is incredibly popular.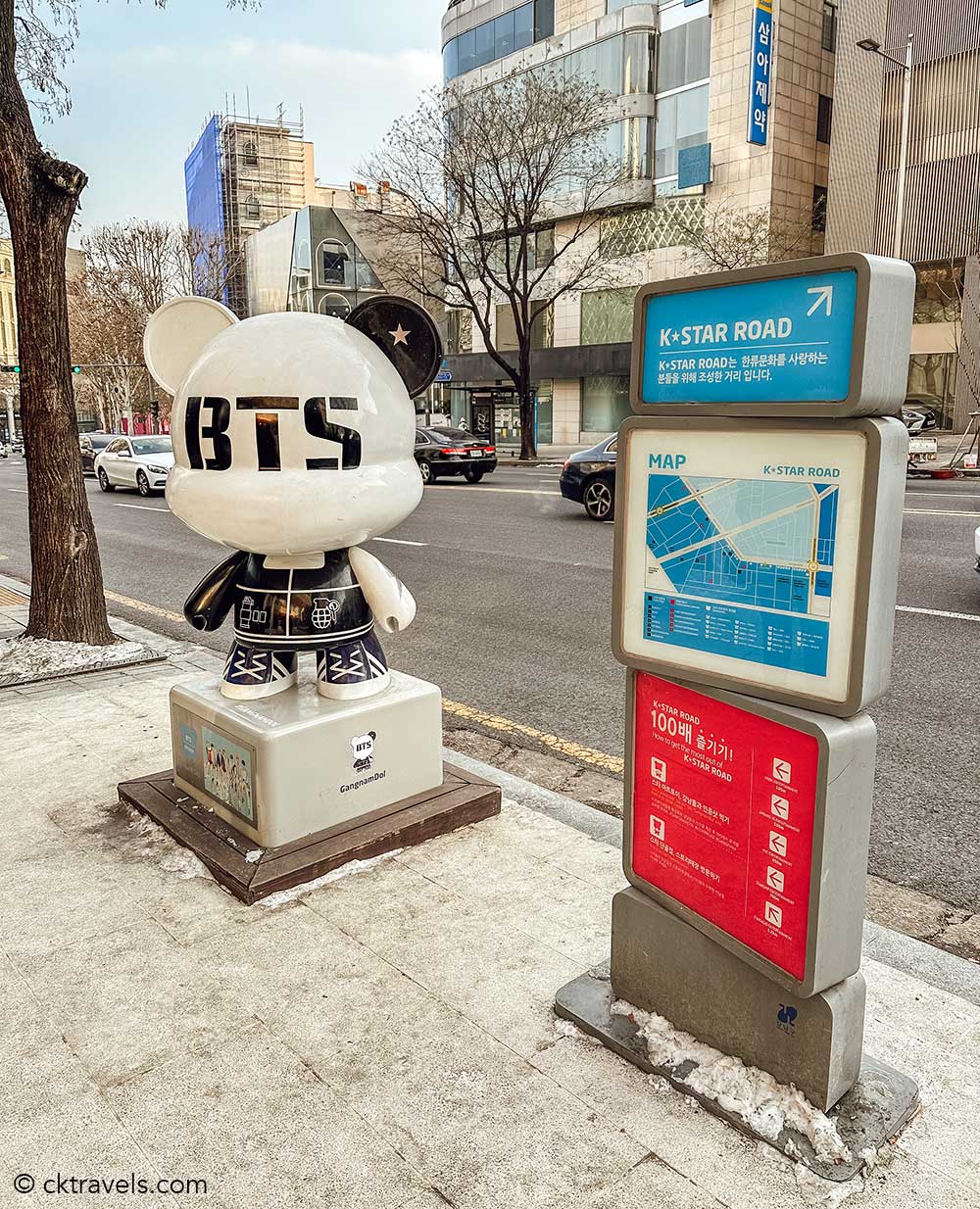 ---
You might like – Gangnam District tour >
---
33. Drink at a Seoul Craft Beer Bar
Seoul is renowned for its craft beer bars and one of the best things to do in Seoul (especially in Seoul at night) is to grab a pint of beer direct from a brewery or taproom.
This could also be a nice way to reward yourself after a day of sightseeing or shopping.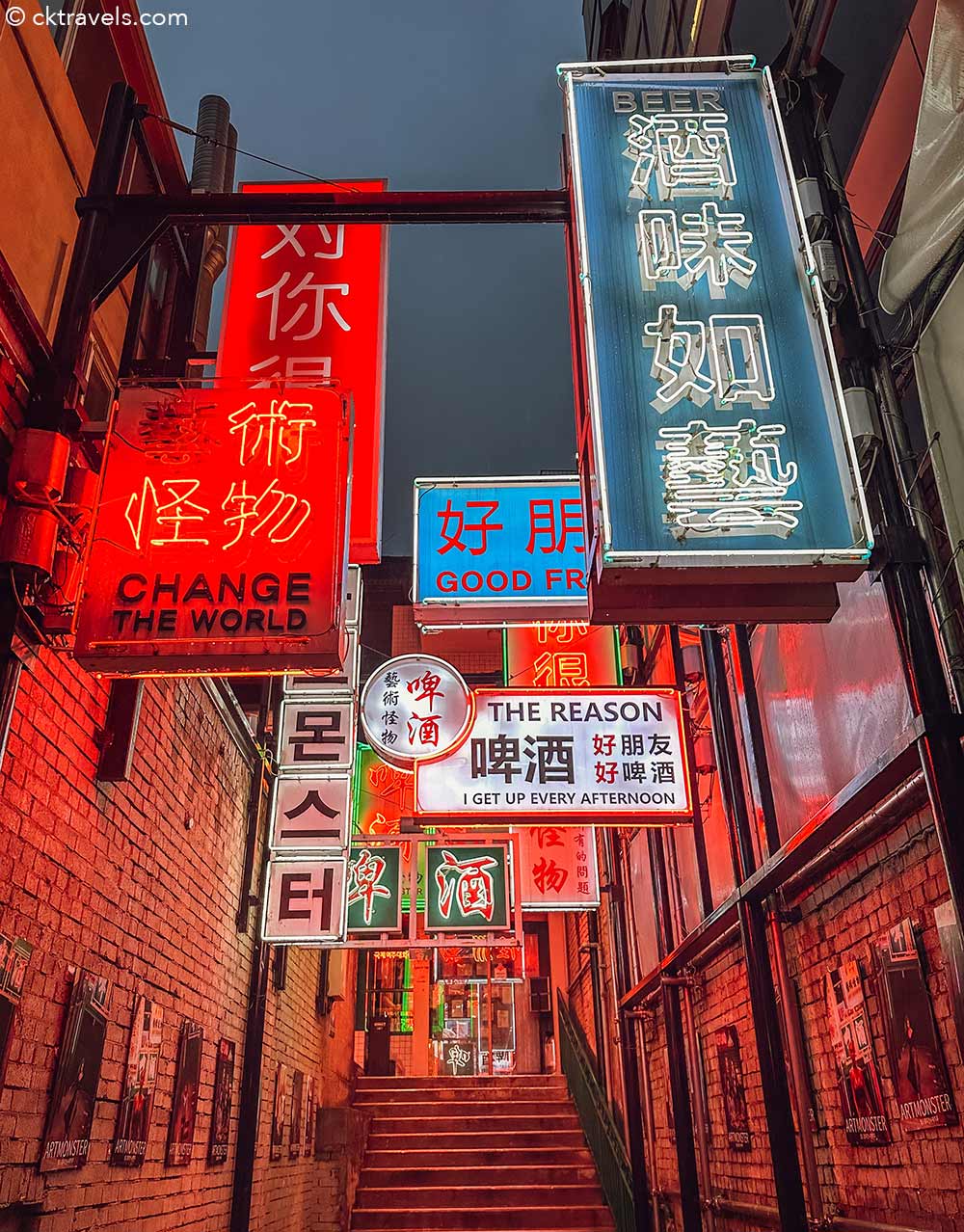 From the bright neon lights and self pour pint machines of Artmonster in Gangnam to the 'sickest' brewery in Euljiro plus a secret brewery taproom hidden behind a fridge door, here is our guide to the 10+ best craft beer bars in Seoul >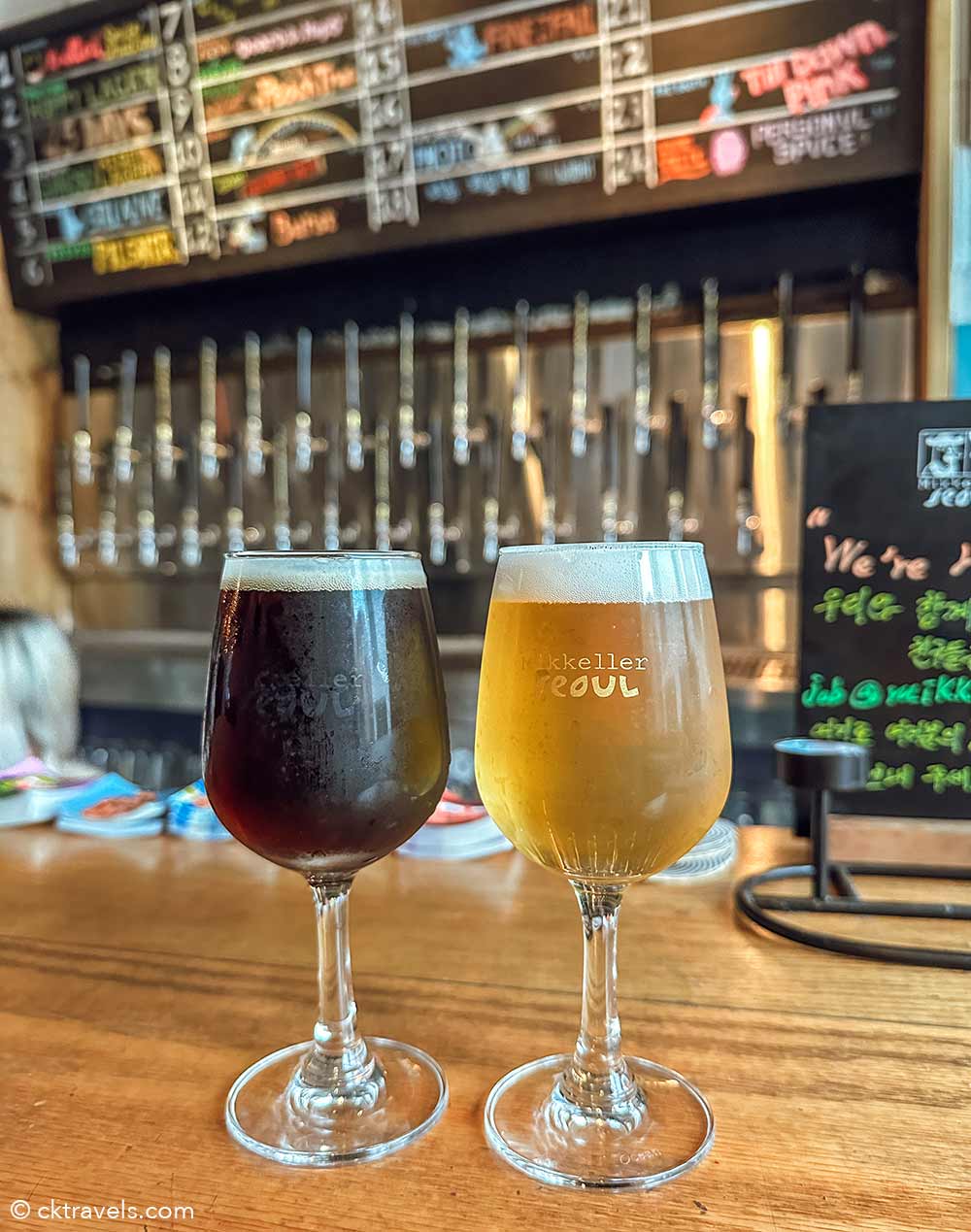 ---
34. Myeongdong Walking Street
A UNESCO listed street no less, Myeongdong Walking Street is the epicentre of Seoul's retail and fashion world, with hundreds of shops to choose from, plus numerous bars and restaurants hidden along its alleys.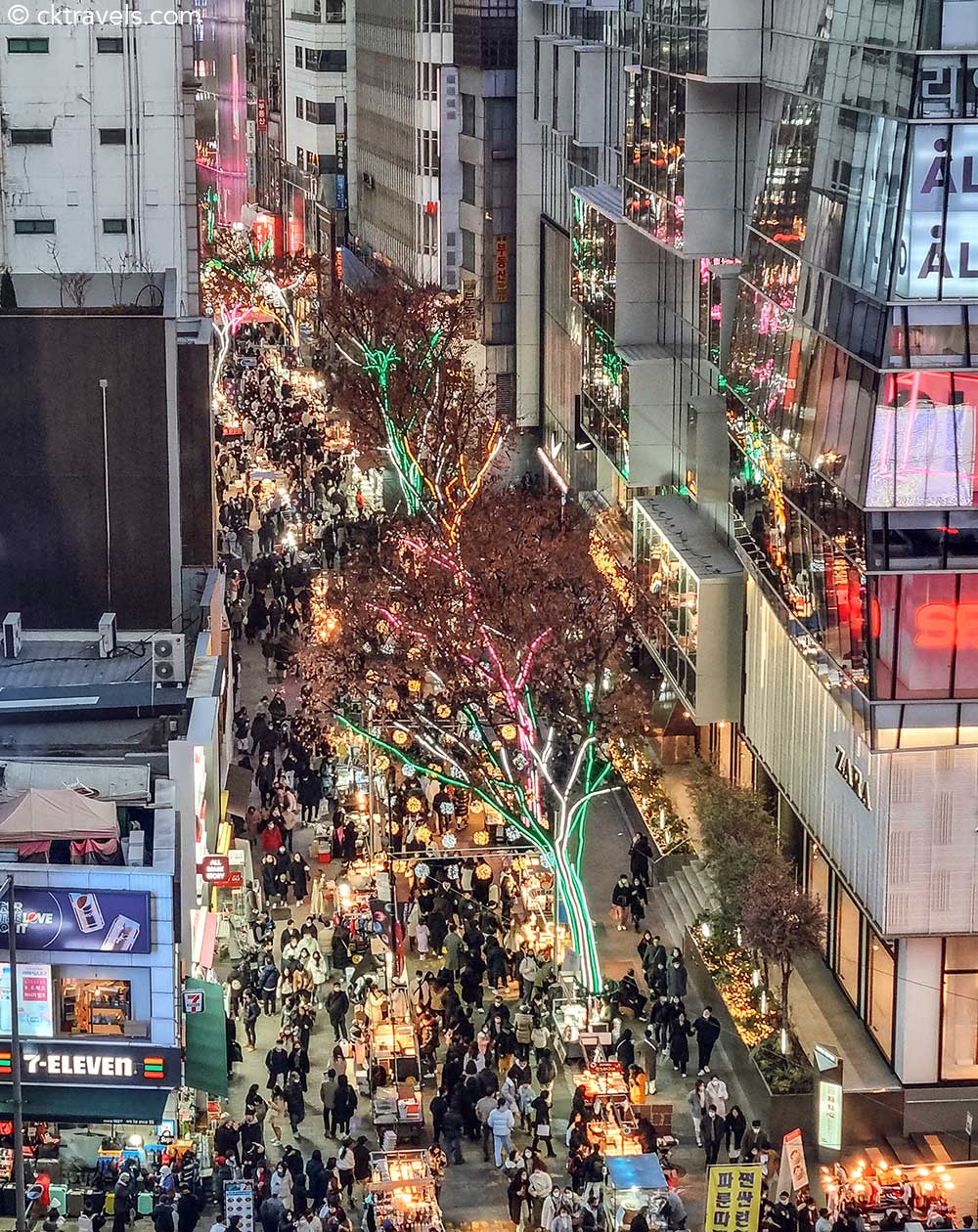 Designated a special tourist zone and pretty much pedestrianised other than the occasional taxi trying to do a hotel drop off, Myeongdong Walking Street is a top tourist thing to do in Seoul.
It is also worth a visit both in the day and at night, as in the evening, all the streets are lit with an array of neon signs and bright lights – very cool to see.
With around 4 million visitors a year, Myeongdong Walking Street can get very busy (especially at night when the street food vendors start) so it may be worth planning several visits here whilst in Seoul so you can see it all.
Check out our guide to the best things to do in Myeongdong >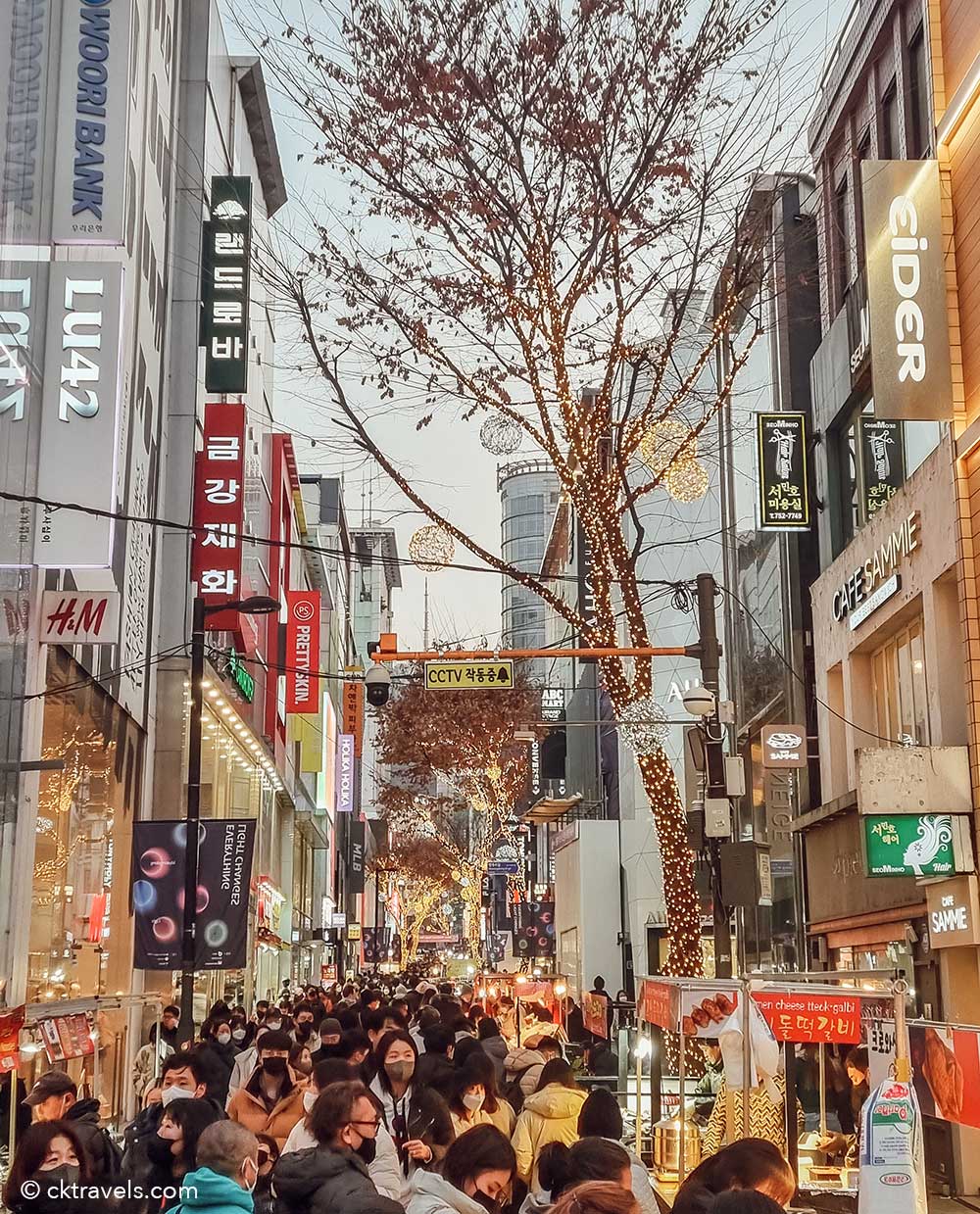 ---
35. Seoul Shopping Malls
Seoul is shopping heaven, from high end fashion to cute and quirky malls – South Korea's capital city Seoul is packed full of big shopping, many of which have incredible opulent interiors (plus incredible food halls to 'reward' yourself afterwards in).
There are a 'Lotte' shopping malls in Seoul to choose from. Given how big some of the shopping malls are plus all their awesome attractions inside like aquariums or adventure parks, cinemas or rooftop gardens, you could easily spend the whole day shopping in one mall in Seoul (if your credit card will allow it!).
From the sublime stylings of Seoul Times Square to the high-end Hyundai Seoul (Seoul's newest and most beautiful shopping centre), read our guide to the best shopping malls in Seoul >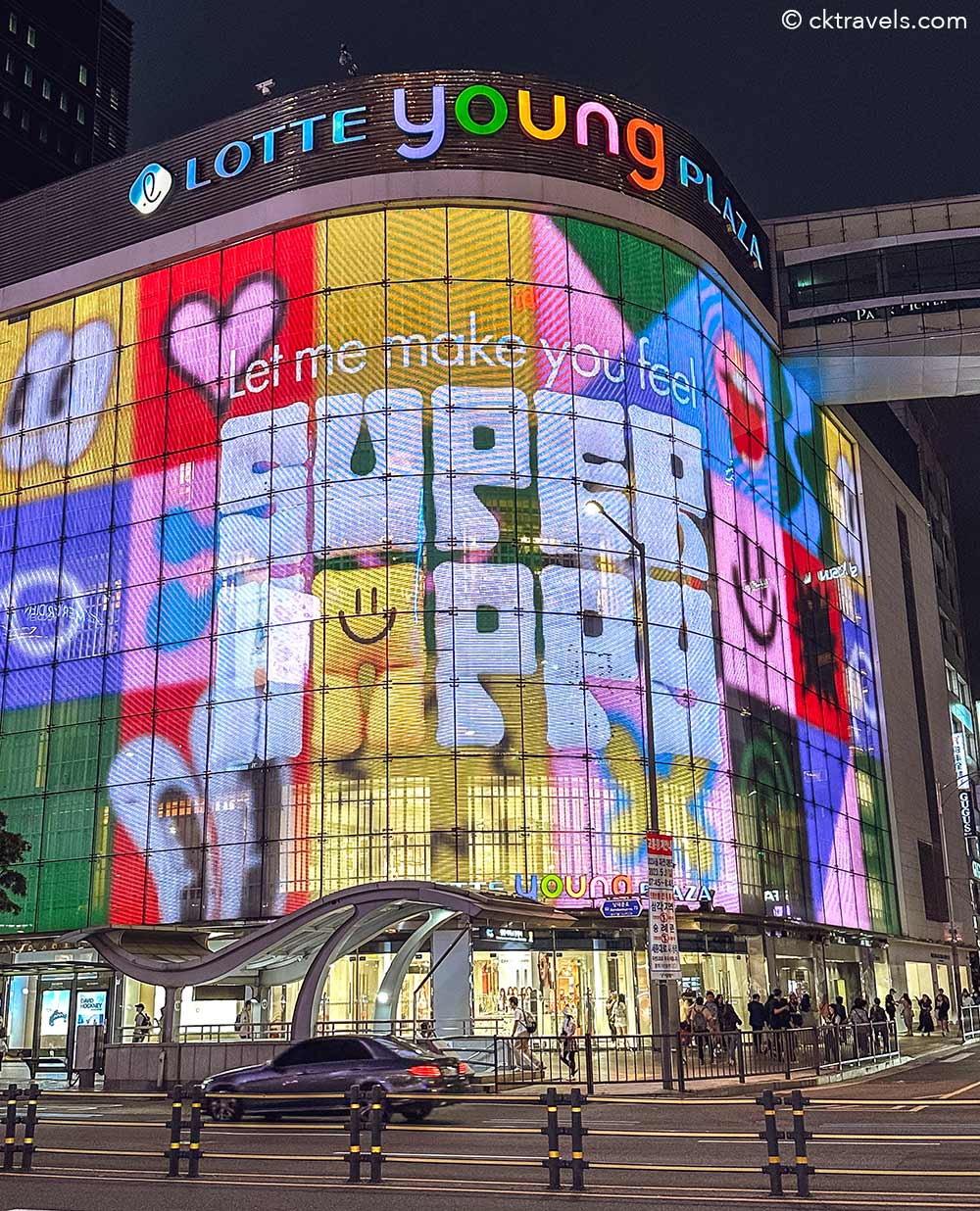 ---
You might like – Seoul Shopping Tour with a Professional K-fashion Stylist in Seoul >
---
36. Cute character stores galore in Seoul
If you like your cartoon characters charming and cutesy, you are spoiled for choice in Seoul with all the super cute character shops.
The best known of these are the Line Friends Flagship Stores where you can create your own merchandise as well as pose with your favourite furry friends.
You can also visit Kakao Friends Stores, another famous chain of stores in Seoul that feature ever so cute and fluffy adorable animals across a variety of merchandise.
Popular locations in Seoul for cartoon shops include Gangnam and Hongdae.
---
You might like – Essential Gangnam Tour (Including dinner) >
---
37. Visit a historic Korean tea house
Visiting a traditional tea-house is a tea-riffic thing to do in Seoul, especially in the Insadong neighbourhood.
In terms of tea-tasting and historic tea-houses, you are spoiled for choice in Insadong.
Down one particular alley (8 and 9 Insadong – gil), you'll find both Shin Old Teahouse (Sinyet chatjip) and Namusae Tea house – both are hidden away and ooze history.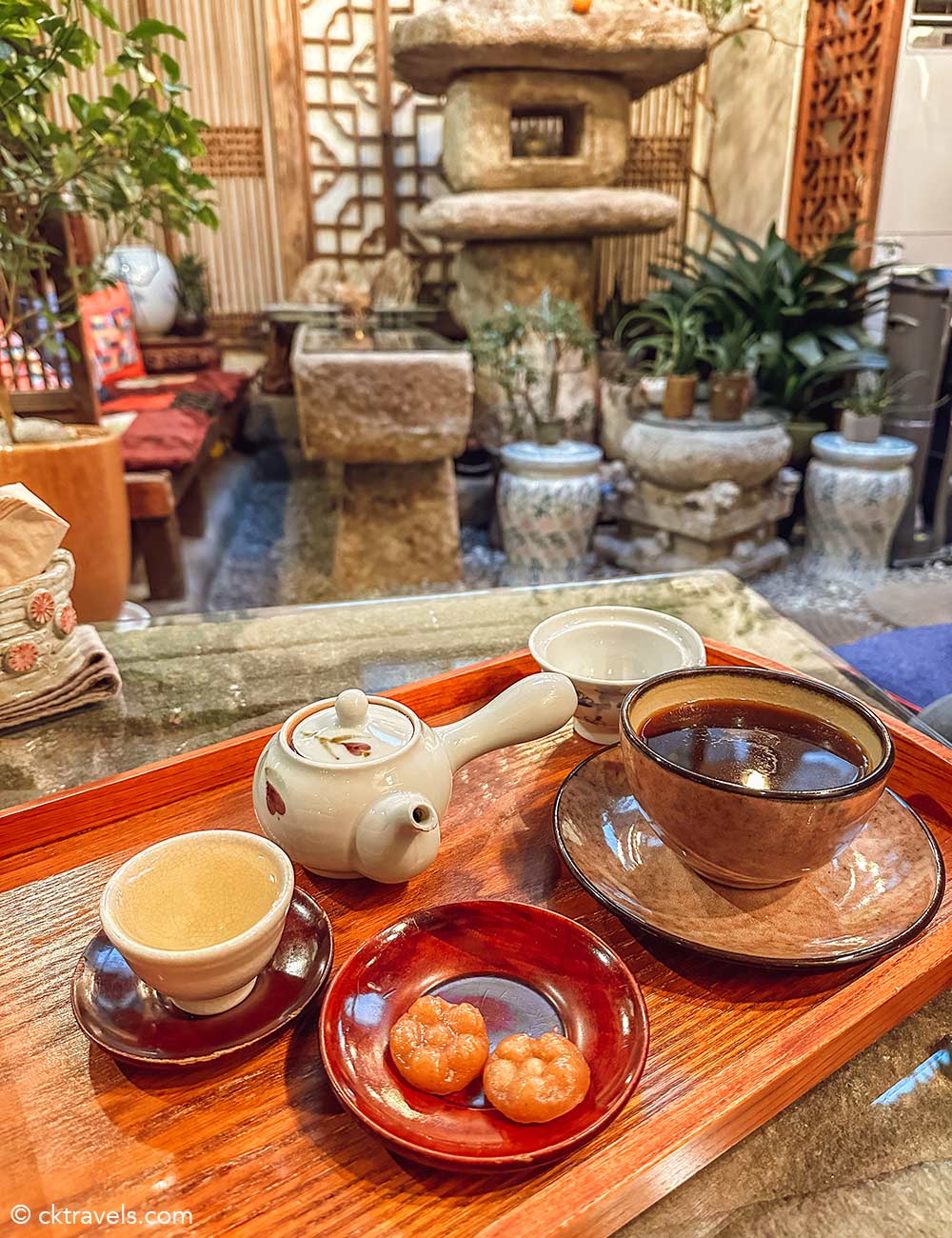 We visited Shin Old Teahouse one rainy afternoon and were amazed by its interior – the teahouse is wooden timbered with a variety of old furniture, warm snugs and indoor gardens.
Upon entry at Shin Old Teahouse, you are given a menu and you then find a seat before going back to the counter to place and order and pay. It was 7,000 Won for most teas.
Other top traditional tea houses in Insadong include Moon Bird and Dawon Traditional Tea House.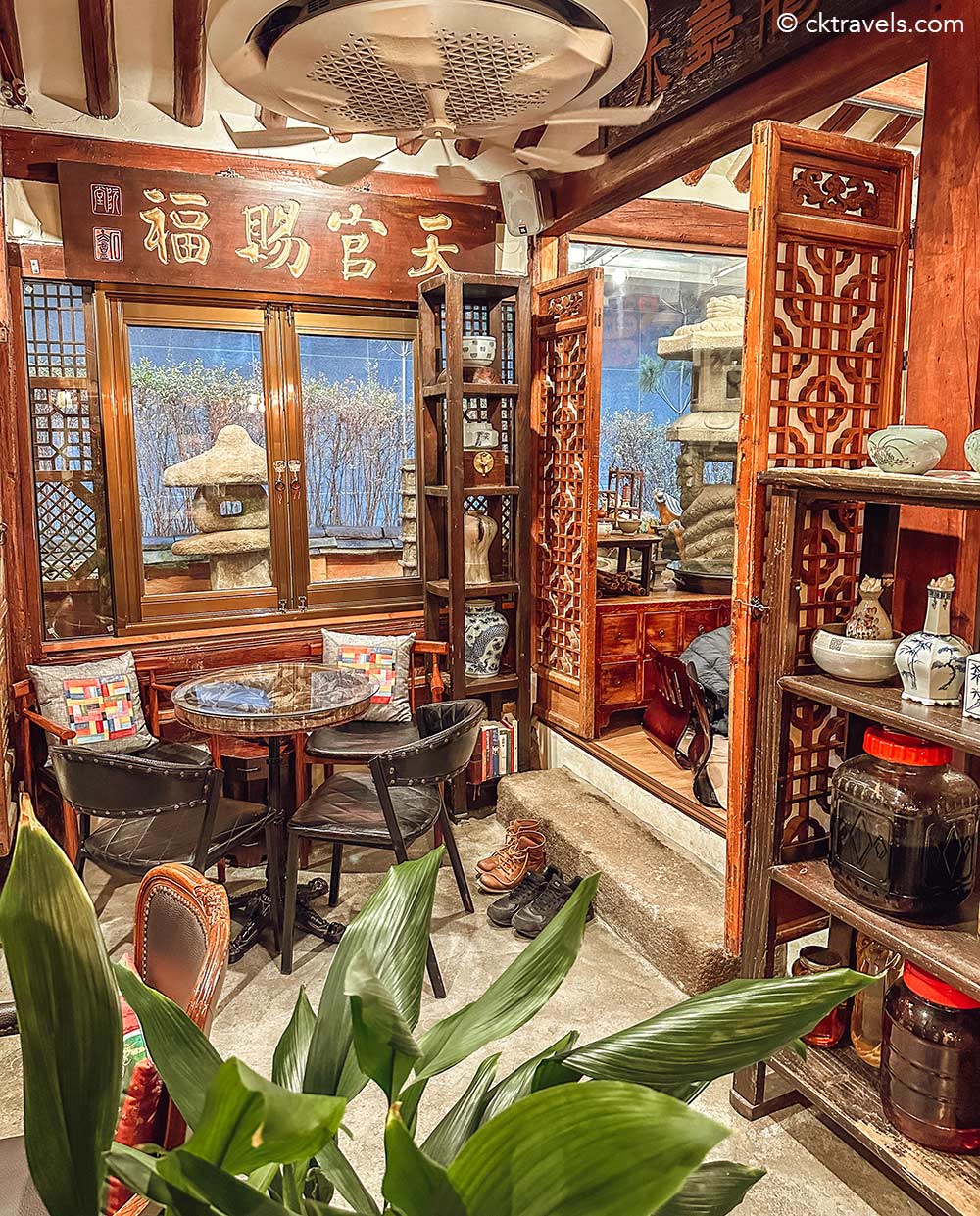 ---
You might like – Korean Cooking Class with Full-Course Meal & Local Market Tour in Seoul >
---
38. Shopping for Korean Skincare and Beauty Stores
There are many places to buy beauty products (especially late at night) but Myeongdong is the ultimate shopping destination if you are looking for some K-beauty and skincare products and the newest beauty trends.
There are several flagship shops to check out in the neighbourhood and popular places include Olive Young, Nature Republic, Holika Holika, Skin Food, Laneige, Innisfree and StyleNanda 3CE.
For instance, the Olive Young Myeongdong Flagship is open until 10.30pm every evening, 7 days a week.
---
39. Com Com Play retro gaming arcade
As you approach Com Com play, the title above the doorway states this is a 'World Best Korean Style Game Centre' so you know you are in for a treat (the huge glitter ball when you first enter also helps set the scene!)
Fitting right in with the hipster Ikseon-dong bars and hanok hang-outs, Com Com Play Ikseon has two floors of modern and gaming machines dating from the 1980s to present day.
The first game we spotted when we first entered Com Com Play was a super cool Go Fish / Go Fishing arcade table, which a cute couple were really getting into.
Other arcade machines in Ikseon Com Com Play include Speed Hockey (Air Hockey), baseball hoops and multiple Konami Bishi-bashi booths.
---
You might like – Guide to Haeundae Blueline Park in Busan, South Korea >
---
40. Seoul Shooting Ranges
After a busy day of exploring, it might be time to relieve some stress in Seoul! You might be surprised to hear that shooting galleries are very popular in South Korea with locations in Ikseon-dong, Gangnam and Hongdae.
An indoor shooting range where you shoot at targets using BBQ guns, Seoul shooting ranges are popular with the younger crowds who often hold mini competitions in groups to see who is the sharpest shooter.
Better yet, you can usually win prizes at shooting clubs if you are on target plus you can either take home your hopefully 'holey' target or decorate it and add it to the walls of the shooting club.
---
41. Fried Chicken and Beer ('Chimaek')
One of the best foods in South Korea, no trip to Seoul at night is complete without some 'clucking good' fried chicken (and possibly beer).
Known locally as 'Dakgangjeong', Korean Fried Chicken usually consists of chicken wings or boneless chicken covered in a spicy and sweet sauce glaze with additional seasonings like cut up peanuts or sesame seed.
It can be bought from street food stalls but we'd recommend trying Dakgangjeong / Korean fried chicken with a nice pint of cold Korean beer (like Cass) in a craft beer bar. Fried chicken and beer combined is known as 'Chimaek' in Korean – so cheers to Chimaek at night!
One of the best places to have Korean fried chicken in Seoul at night is beer and chicken street in Myeongdong or in Hongdae or Gangnam.
Have you ever tried fried chicken ice-cream? Read more about it here >
You might like – Authentic Seoul chicken and beer experience >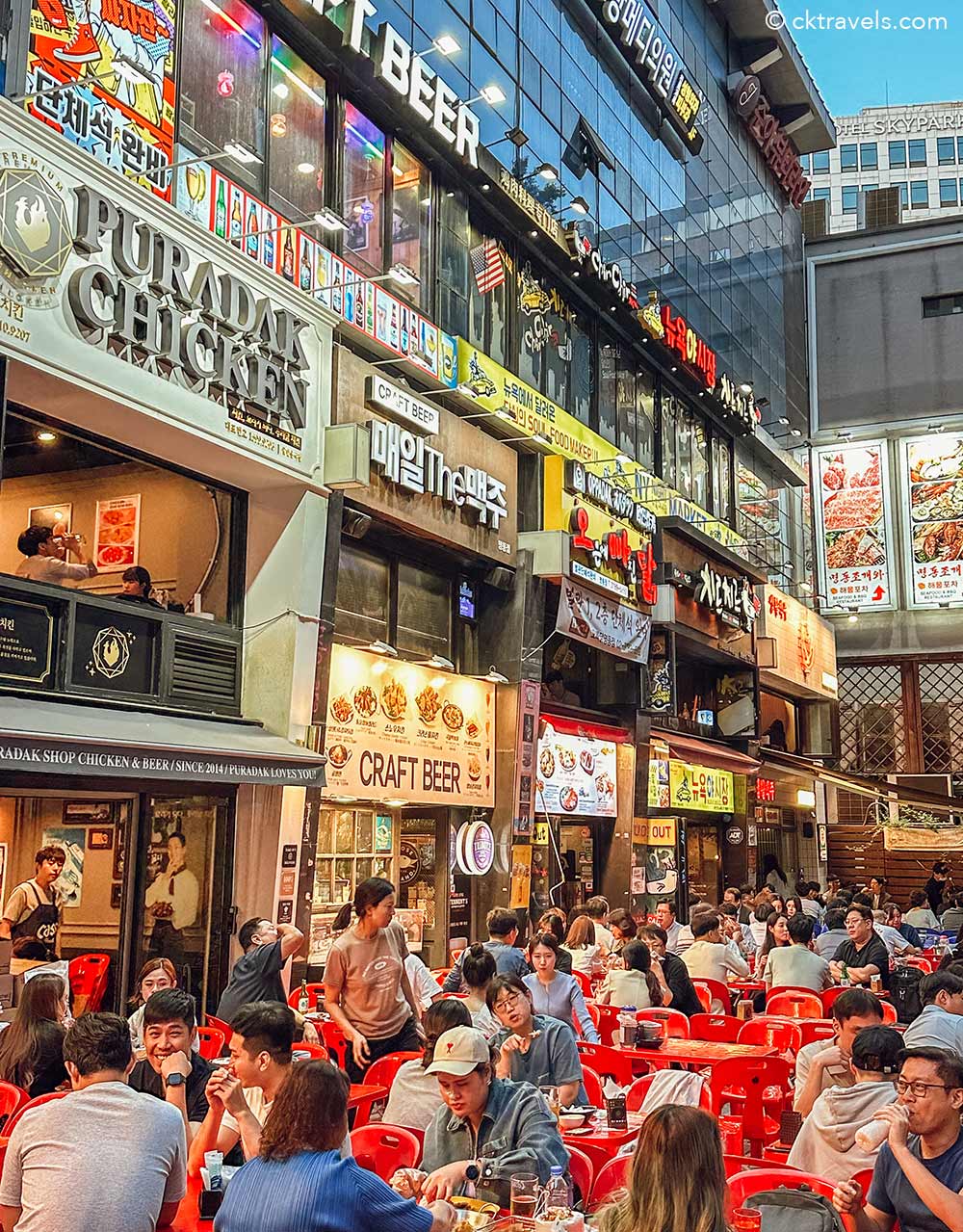 ---
42. Ddong Café AKA Poop Cafe
'Crap' thing to do in Seoul alert! First up, this is not be confused with Poop World – a similar 'sh*tty' themed attraction in Insadong that has now permanently closed (sh*t business eh).
Ddong Cafe is basically a poo / poop themed cafe located on the top-floor of the Ssamziegil complex, popular with all ages (not just kids). From drinks and food served in toilet bowls to turd themed interiors, Ddong Cafe in Insadong is quite the experience.
Sitting amongst poo emoji cushion chairs and faux toilet cubicles with plastic poos may not be everyone's cup of tea (or crappy coffee even).
It is one of the more fun and silly things you can do in Seoul and to be fair, the coffee we got was actually better (stronger) than most Seoul coffee shops we went too – one of the best things to do in Seoul with kids too.
Fan of 'crap' things? Check out our 'Modern Toilet' restaurant review in Taipei, Taiwan >
---
You might like – Things to do in Insadong >
---
43. Namsangol Hanok Village (Free)
A free to visit village of traditional houses in the shadow of Namsan Mountain and N.Seoul Tower, Namsangol Hanok Village is one of Seoul's hidden gems.
It is a superb way to get a sense of what life used to be like in Seoul, prior to the tower block boom. Kids will love walking around the historic site and running around the courtyard.
Close to Euljiro and Chungmuro station, Namsangol Hanok Village is open daily (except Mondays), the Namsangol Hanok Village was officially opened in the late 1990s and has several restored hanok houses, a tranquil traditional garden, performance stages and an ornate pavilion.
---
You might like – things to do in Euljiro, Seoul >
---
44. Itaewon
Popular with expats who have moved to South Korea and want to set up in Seoul, Itaewon is one of Seoul's trendiest dining and shopping districts with many international flavors.
Still a little gritty around the edges, Itaewon is renowned for its coffee culture, Seoul craft beer scene and late night venues including many LGBTQ+ pubs and clubs.
Whilst in Itaewon, check out Yongsan Haebangchon Village, an awesome avenue of cafes, bars and restaurants with views of Namsan Park and N Seoul Tower. Passion 5 is also highly recommended; a palace of puddings and delightful desserts.
It should be mentioned that since the awful Halloween tragedy that occurred in Itaewon in October 2022, the area is a lot quieter than it used to be as many locals are too upset to return.
---
45. Catch a fish auction at Noryangjin Fish Market
One of the more unusual (fishy even) Seoul things to do, Noryangjin Fish Market is open 24 hours a day to buy fresh fish – you can also have your fresh catch of the day cooked upstairs in one of the numerous restaurants on level 2.
As featured in the Seoul episode of Netflix series Somebody Feed Phil, Noryangjin Fish Market is an interesting place to visit although not for the squeamish. Many of the fish and sea creatures here like octopuses (octopi?) are still alive – they seem very keen to escape!
Noryangjin Fish Market often has early morning fish auctions at around 3am. Note that whilst the site is open 24 hours, most of the stalls and restaurants close for large chunks of the day so check in advance before visiting.
You might like: An evening food tour at Noryangjin Fish Market >
---
46. Zzang Games Arcade
A very 'amusing' thing to do in Hongdae, Zzang Games Arcade is a four floor palace of new and retro games, from electronic darts machines to dance mats, claw machines to driving simulators.
Seriously, Zzang Games was buZzing when we visited. Open until 2am every morning (and until 3am on Friday nights), Hongdae's Zzang Games Arcade is located on Festival Street and offers free admission, with games charged individually.
---
47. Euljiro Nogari Alley
An 'epic epicurean enclave of Euljiro eateries is how we'd describe Nogary Alley (try saying that after several rice wines!).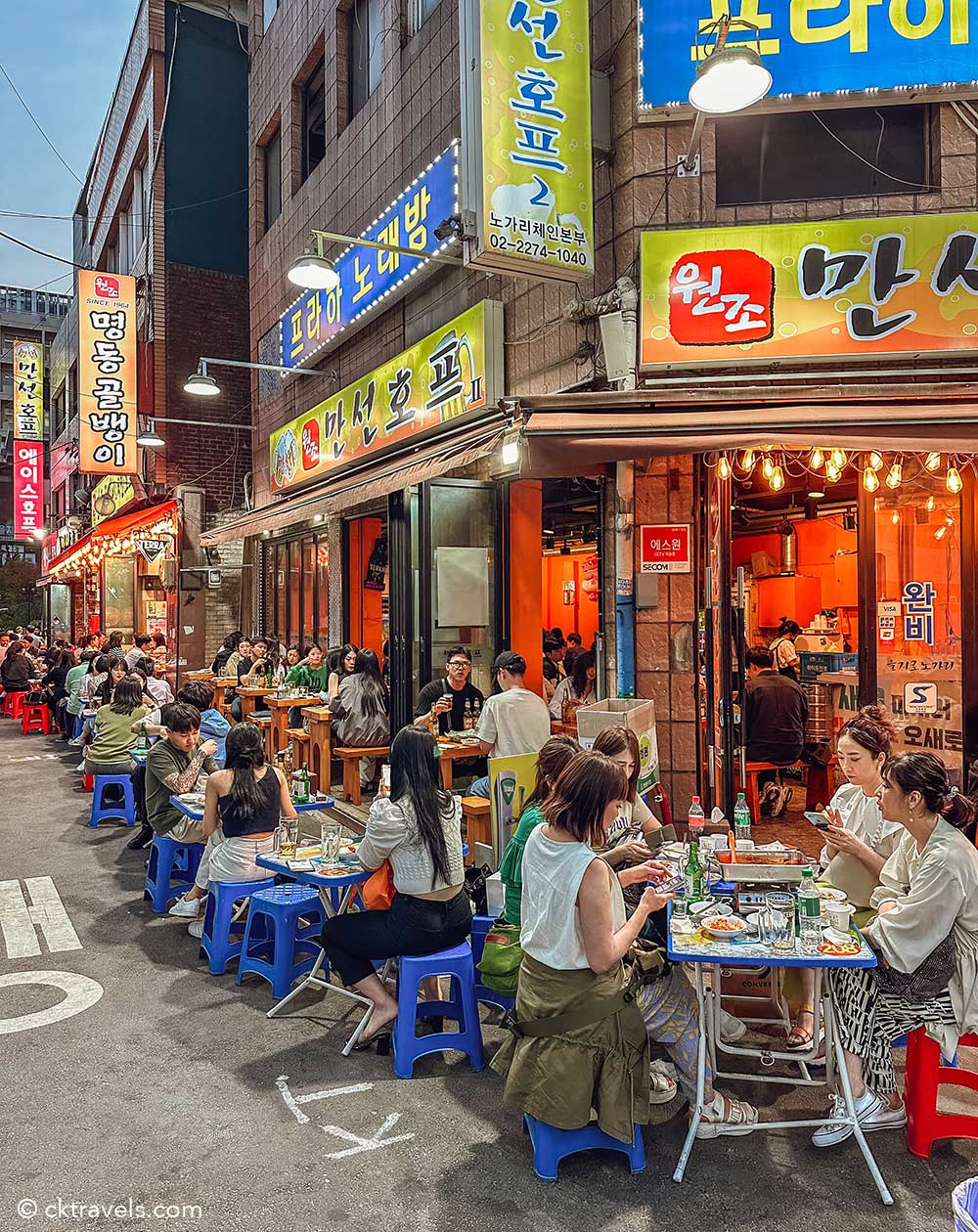 Popular with locals, particularly the afterwork crowd, Euljiro Nogari Alley is an L-shaped street packed full of local restaurants and hole-in-wall establishments that is open for business every night.
The antithesis of Gwangjang Market and Myeongdong Night Market, this is an awesome and authentic thing to do in Seoul.
Euljiro Nogari Alley is such a special Seoul street food place, where you can eat with the locals and enjoy garlic crusted fried chicken with an ice-cold beer (or seven).
---
You might like – Immersive Korean BBQ, Market, and Secret Pub Experience in Seoul >
---
48. The Hidden Bar AKA Ranch Brewery
Possibly the most quirky brewery in Seoul, a visit to Euljiro's Ranch Brewing Company bar starts through a hidden fridge doorway (you'll notice 'secret' bars are a very popular thing to do in Euljiro – there is a trend emerging!)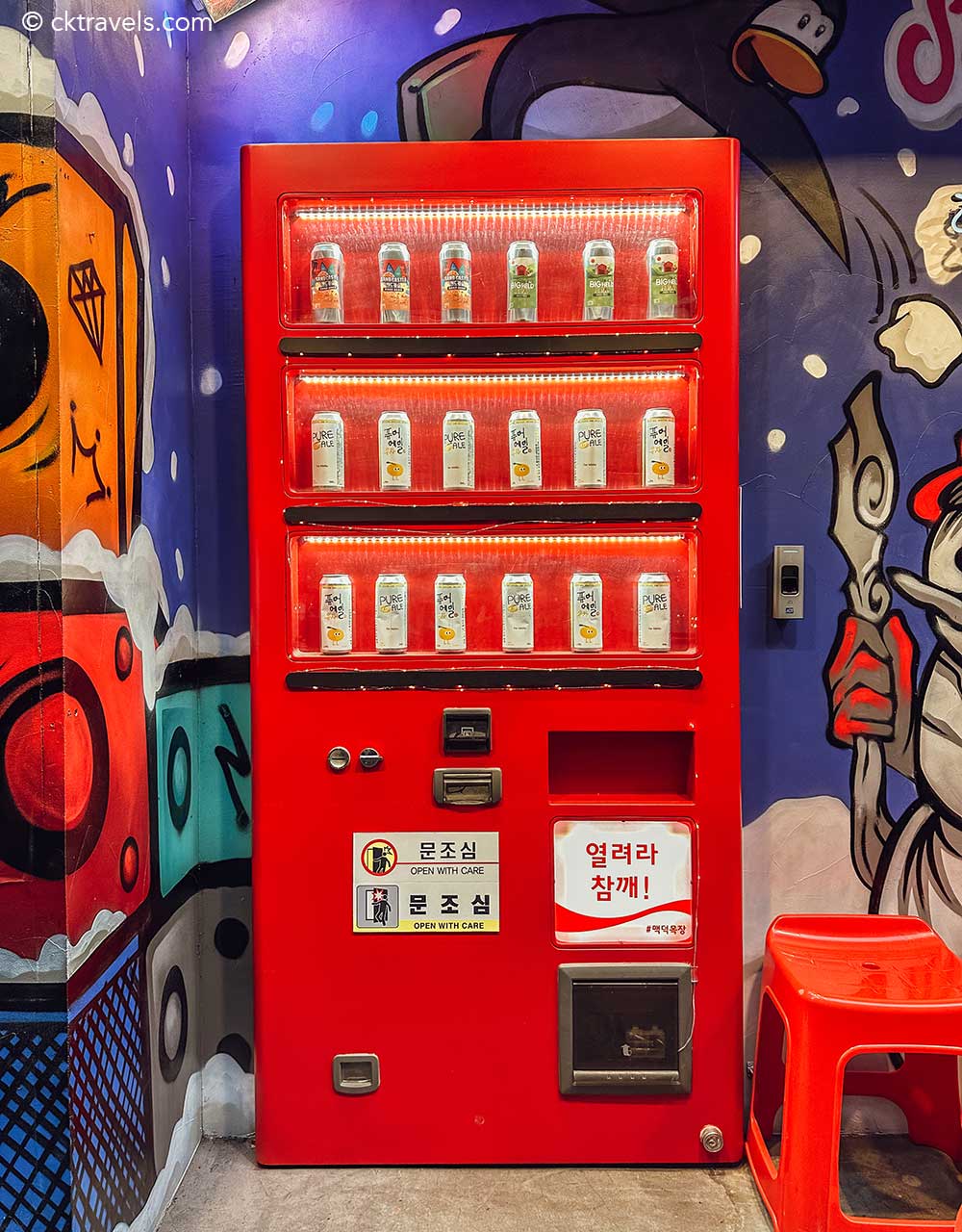 Once you've opened the huge, metallic red fridge door, the warmth and chatter that emanates from the taproom is a welcome sight – bring on the beers!
This taproom hidden behind a vending machine door often quickly fills up (and is particularly popular with female groups) – there are over 10 taps of beer behind the bar too; cheers!
Read more about the Ranch Brewery in our top craft beer bars in Seoul guide >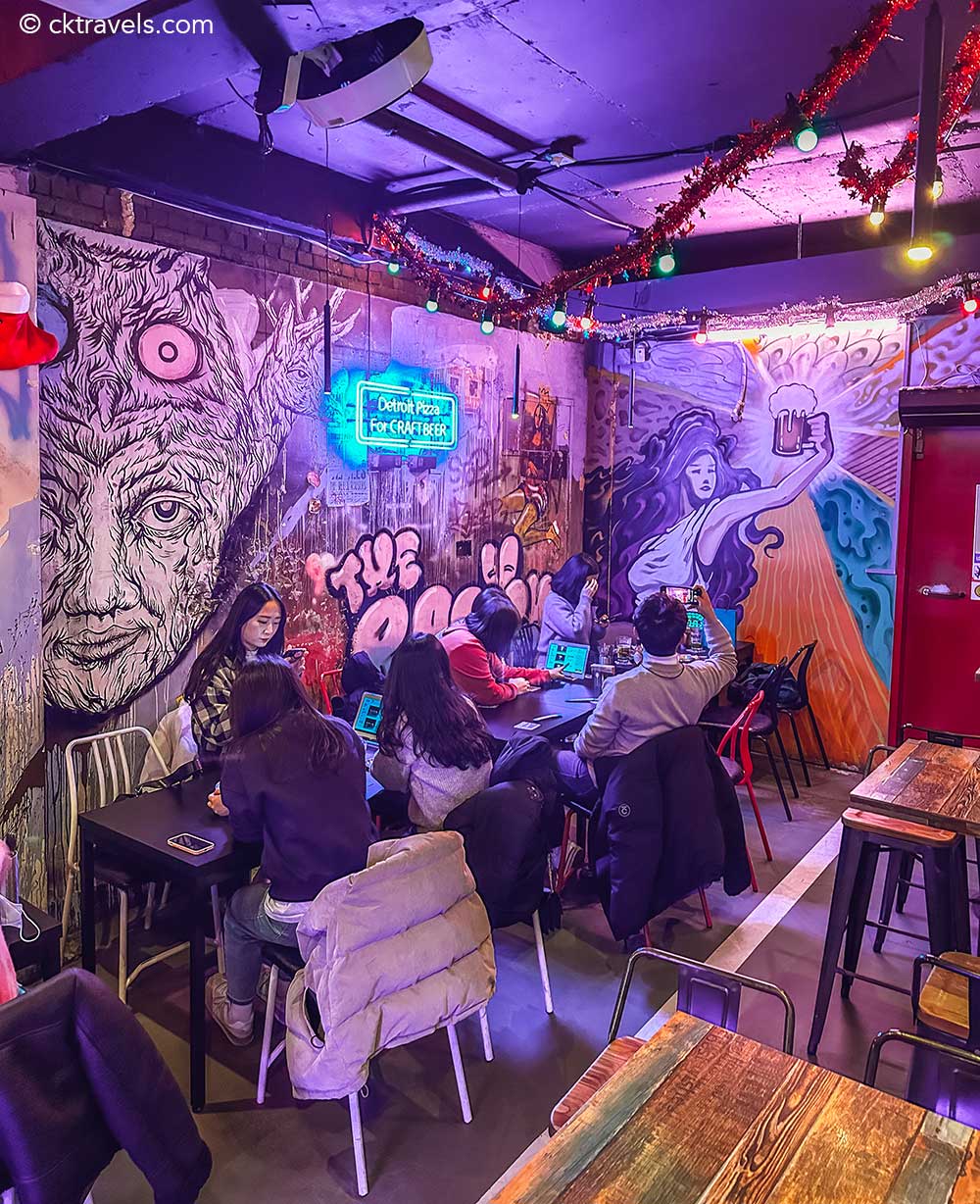 ---
49. The Host Monster Sculpture
One of the best South Korean horror movies in recent years, Bong Joon-ho's The Host was a 2006 smash which saw a huge monster created by toxic waste inhabit the River Han and devour humans (if you haven't seen it, stream it NOW!).
In 2015, a highly detailed 5-ton sculpture of the monster was installed in the park next to Yeouido Han River which apparently cost 108 million won (around £65,000) – many locals actually think it is too realistic and scary so prefer not to visit it.
A homage for any K-Film fan, pay a visit to see this 'horrible' Host sculpture (but don't get too close…)
---
You might like – Seoul Tasting Tour: Seoullo7017, Namdaemun Market & Myeongdong >
---
50. Seoul City Wall / Fortress Wall
For one of the best views in Seoul, take a stroll along Seoul's historic City Wall (one of the main access points and best gates – Heunginjimun Gate – is a short walk from the DDP.
With the first part of the wall built in the 1390s to deter invaders, (to coincide with the construction of Gyeongbokgung Palace), Seoul City Wall is just under 20 km in length (although not all of it is fully walkable).
It has been destroyed and rebuilt many times over the ensuing centuries. The highlights at Seoul Fortress Wall are the eight gate towers, especially the East Main Gate – Heunginjimun Gate.
A free thing to do in Seoul, one of the best and most sections of the Fortress Wall to explore is in Naksan Park. We'd also recommend combining a Seoul City Wall with a visit to nearby Ihwa Mural Village.
---
You might like – 9-Day Tasty Journey Around South Korea Tour >
---
51. Ihwa Mural Village
A hillside artist's retreat and residential village renowned for its street illustrations, Ihwa Mural Village is a nice escape from the hustle and bustle of Seoul's city streets below
The area was due for demolition around 20 years ago as it had been established without the necessary city planning.
However, murals and other artistic flourishes encouraged by the MInistry of Culture turned the Ihwa Mural Village into a rather curious visitor attraction.
​Art is always in the eye of the beholder BUT if we are being honest, there isn't that much surviving street art left in Ihwa Mural Village with most of the street art being pretty run down and decrepit (based on our visit in summer 2023).
We've also read a lot of the Ihwa Mural Village residents don't like all the tourists overrunning their homes so took matters into their own hands and painted over lots of the artwork.
If you are in the area, check out the Naksan Pagoda nearby, one of the most serene places in Seoul with a hillside vantage point and lovely panoramic view.
---
You might like – Seoul: Dark Side of the City and Ghost Stories Walking Tour >
---
52. Seoul Comic Book / Cartoon Road Seoul (Zaemiro)
Seoul's Comic Book / Cartoon Road comes to life with a colourful cavalcade of street art and murals adorning many buildings (with many cartoon statues and public art thrown in for good measure).
Also known as Zamiro, Seoul's Cartoon Street begins from Myeongdong Station and extends to Seoul Animation Center / Centre.
Literally a street of fun, there are several posing and photo spots along the route and can be visited any time of the day.
As part of Cartoon Road, also look out for the quirkiest bus stop in the whole of Seoul (it is a huge cartoon bus).
---
You might like – From Seoul: Evening Tour to UNESCO Suwon Hwaseong Fortress >
---
53. COEX Aquarium
Located within the COEX Mall, this awesome aquatic adventure is a welcome respite from the shops and boutique stores that surround it.
With 16 themed zones and a huge number of sea species (including sharks), the COEX Aquarium is the largest aquarium in Seoul. Highlights include a 'real-life' mermaid, a parade of penguins plus jelly-fish galore.
Prices start from $18.65 per child and $19.45 per adult as of summer 2023 when booked in advance.
---
54. Jogyesa Temple
Dating back to the 14th century (although rebuilt in the early 1900s due to a fire), Jogyesa Temple in Insadong is one of Seoul's most historic temples and the main temple of the Jogye Order of Korean Buddhism.
The Dharma Hall of Jogyesa Temple hosts several Buddhist events and celebrations throughout the year – for the Buddha's birthday, the Jogyesa Temple holds a lantern festival.
We were lucky enough to revisit Jogyesa Temple in Insa-dong recently during the 2023 Seoul lantern festival (held every year usually in May). The temple is bedecked with thousands of lanterns hanging from the roof plus there are huge lantern statues in the grounds.
The temple also gives out thousands of colourful lanterns to worshippers and well wishers to raise aloft during the grand lantern festival parade, which goes past the temple.
Jogyesa Temple is free to visit – donations are appreciated.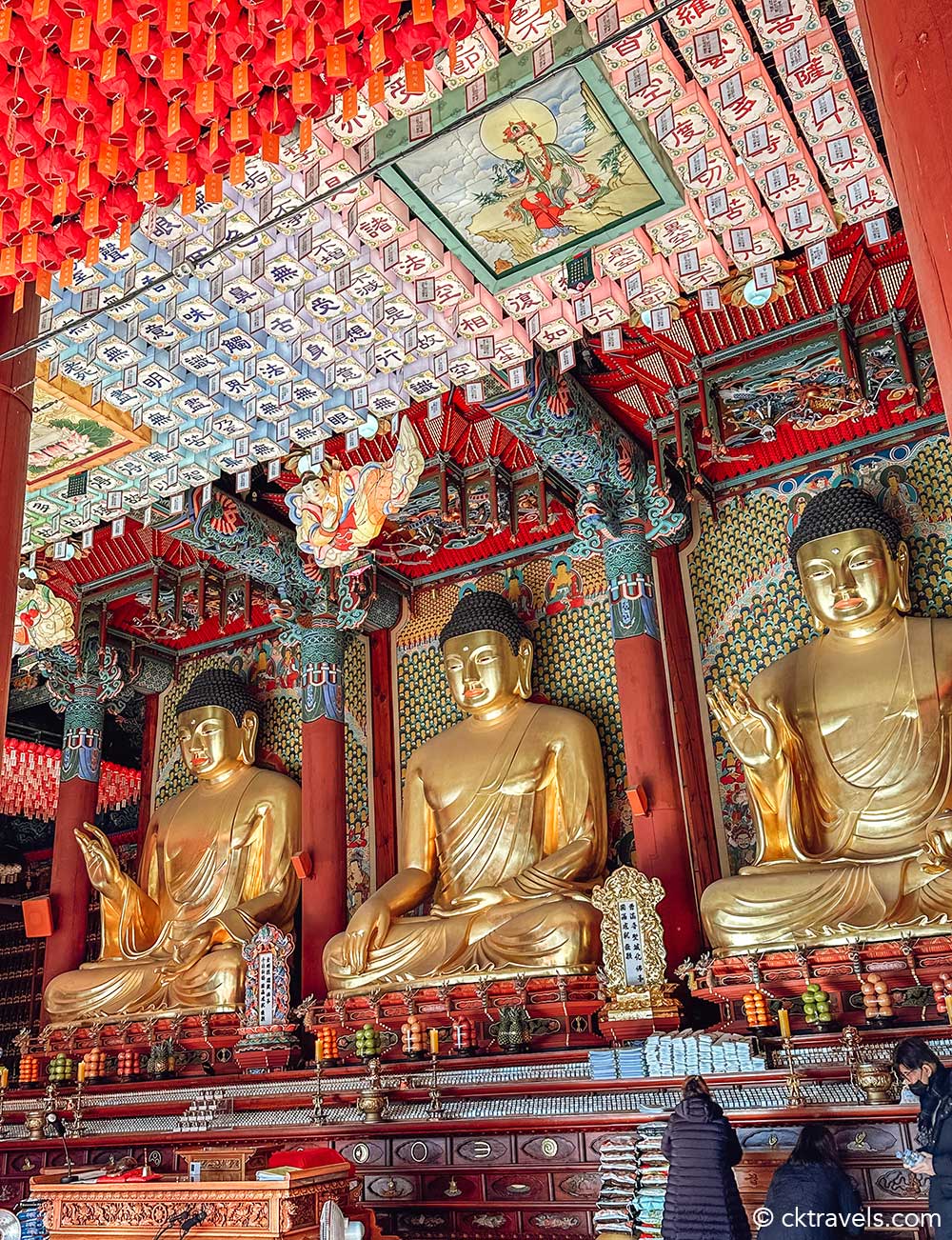 ---
You might like – Seoul Night Tour with a Local >
---
55. Apgujeong Rodeo Street / Cheongdam Fashion Street
A firm fashion favourite on the Seoul shopping scene, Apgujeong Rodeo Street in Gangnam is a trendy treasure trove of boutique stores and bling (putting the 'style' into 'Gangnam style').
It is also signposted by a 'I <heart> Rodeo' golden statue man. As well as independent and artisan stores, you'll find the famous Galleria Department Store and iconic luxury brands like Prada, Gucci and Armani.
We were surprised too by the sheer number of luxury sports cars and cabriolet cars driving along Apgujeong Rodeo Street when we visited – very bling!
---
You might like – Gangnam K-Beauty Makeup Tour >
---
56. Seoul Karaoke Time
Time to let off a little steam after traipsing around the streets of Seoul all day – Hongdae is the go-to place in Seoul for karaoke and letter your inner K-Pop escape.
With dozens of private karaoke booths in huge high-rise karaoke 'towers', sing to your heart's content in Hongdae without fear of anyone hearing you (unless you want to be heard).
A lot of the karaoke rooms here have huge glass windows meaning you can watch people sing (and dance!) from the streets.
Private karaoke booths in Seoul at night are charged on an hourly rate (prices vary depending on the time of day) and they sometimes do special tourist discounts if you show your overseas ID or passport. Also daytime karaoke rates are generally cheaper than at night in Seoul.
There is an extensive food and drink menu (note there is a minimum spend on food and drink on top of the karaoke booth hire). English, Japanese and Korean songs are usually available as part of the karaoke song selection.
You might like – Seoul Sunset Karaoke Tour >
---
57. Lotte World Tower & Seoul Sky
Get high in Seoul – Lotte World Tower is the tallest tower in South Korea (and the sixth tallest in the world). It opened to great fanfare in 2017 and offers incredible panoramic views of the Seoul skyline.
The observation deck area is called 'Seoul Sky' which is spread across several floors (levels 117 to 123). At the tip, you'll find a glass floor walkway (not for the faint hearted plus a posh lounge, a couple of cafes and a sky terrace.
Lotte World Tower is open daily from 10.30am until 10pm (last admission to Seoul Sky is at 9pm).
Discounted Lotte World Tower tickets can be bought in advance from Klook >
---
58. Han River Cruise
Take a daytime or sunset cruise on the River Han with E-Land Cruises.
This is a short Seoul river cruise on the Han River with an audio commentary. There are several cruises per day, starting from early afternoon with a sunset cruise at 6pm in the summer. There are sometimes later cruises that include dinner and live music.
We joined a packed river cruise (they're very popular with tour groups) and enjoyed a trip down the river. As we joined the cruise on a warm sunny evening, the parks along the River Han were packed with picnickers and street food stalls so it was a really nice sight; we were so close you could smell the BBQs!
Book a River Han sunset cruise with Klook >
Feeling flush? Take a private catamaran yacht tour on the River Han that includes sunset >
The cruise is also included 'free' as part of the Discover Seoul Pass or Go City Seoul Pass.
---
59. Hanbok / Traditional Korean Costume Rental
The Royal Palaces of Seoul are a must visit when visiting South Korea's capital – many visitors hire hanboks and traditional Korean costumes whilst exploring these historic sites.
Most of the Seoul Palaces have costume rental stores near them such as the 15th century Changdeokgung Palace as well as Bukchon Hanok Village.
Hanbok style clothing has been around for over 1500 years and a popular family activity in Seoul is to dress up as a family and take pictures in the historical palaces – some families even hire professional photographers (fancy!)
Book your hanbok costume via Klook here or as part of a photoshoot >
Book your Gyeongbokgung Palace Hanbok Rental Experience in Seoul here >
---
60. The ColorPool Museum (Colourpool)
AnInstagrammer's delight The ColorPool Museum is located on the top floor of the Anyoung Insadong shopping complex and is like an explosion in a rainbow factory.
The Colorpool Museum comprises 9 rooms (or zones), each with its own colour (sorry, color) theme – think pink ball pits, unicorn utopias, rainbow walls and more inflatables than your local swimming pool.
Open from 10am to 9pm, The ColorPool Museum costs 15,000 KRW (South Korean Won – about £9.30) as of summer 2023.
Want to visit the Colorpool Museum for 'free'? Colorpool Museum admission is included as part of both the Discover Seoul Pass and the Go City Seoul Pass.
---
61. 63 Art Observatory Deck & Aqua Planet 63
This superb Seoul activity is actually three attractions in one – an observation deck, a superb art museum and an awesome aquarium.
Billed as the world's highest art gallery, 63 Art is located on the 60th floor of the '63 Building', a stone's throw from the River Han, meaning incredible panoramic views of the city and riverside area.
Also as part of the 63 Art Observatory ticket, you can visit Aqua Planet on the basement level. This subterranean seascape features many aquatic exhibits including sting rays, otters and penguins plus an hourly mermaid show when someone dons a costume and swims with the fishes.
Book 63 Art Observatory Deck & Aqua Planet 63 on Klook >
You can visit 63 Art Observatory Deck & Aqua Planet 63 as part of both the Discover Seoul Pass and the Go City Seoul Pass.
---
62. Alive Museum
Alive Museum is best described as a trick art selfie gallery where you can pose for some really fun photos in several zoned areas.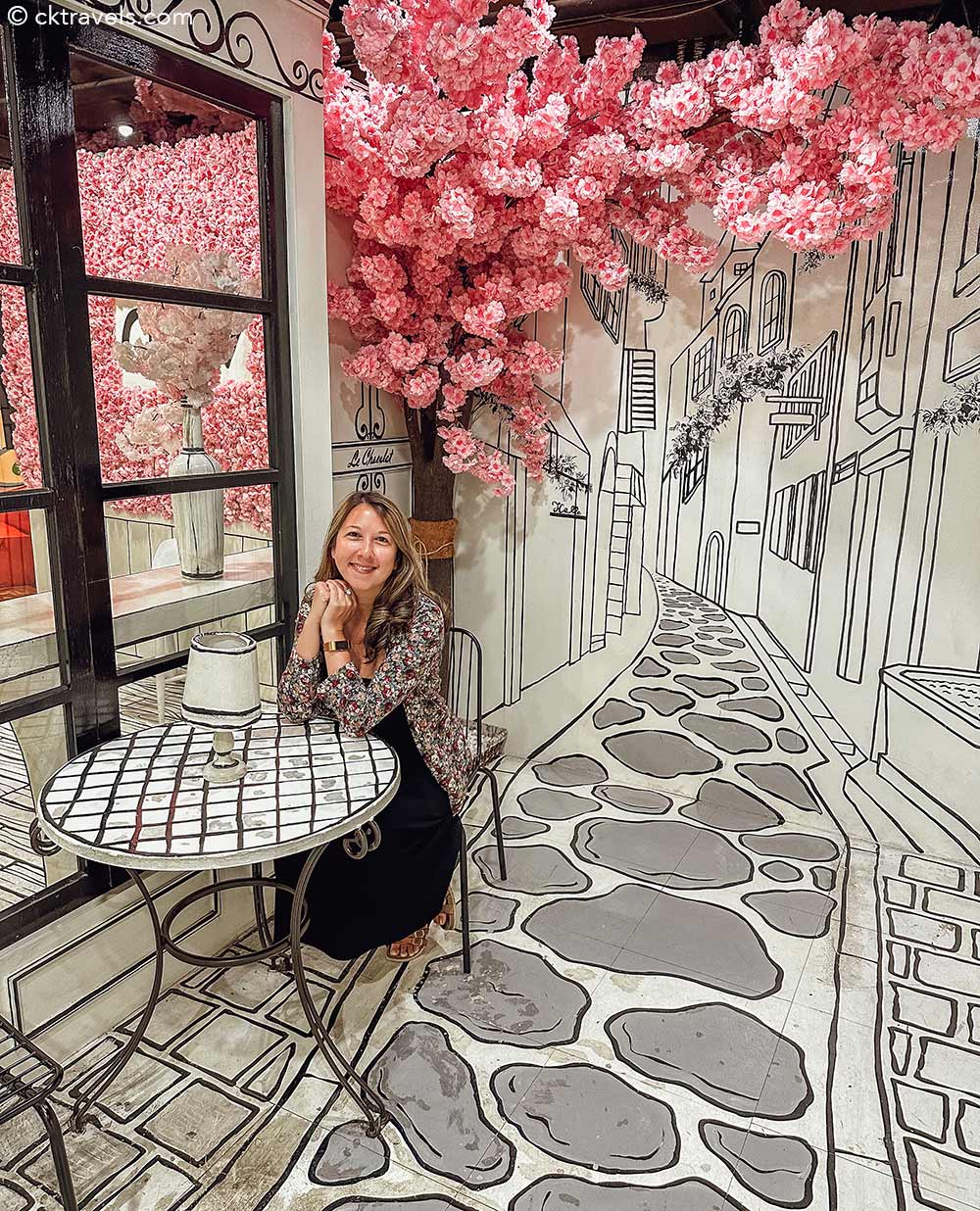 We particularly liked the gaming zone where you could pop up like Super Mario in a huge pipe plus a 3d black and white illustrated cafe- very instagrammable!
Along the way at Alive Museum, collect stamps on your map and swap these for free candies and sweets at the end.
Even though this is aimed at kids, we had great fun fooling around and posing for pics – one of the more memorable modern attractions and fun things to do in Seoul.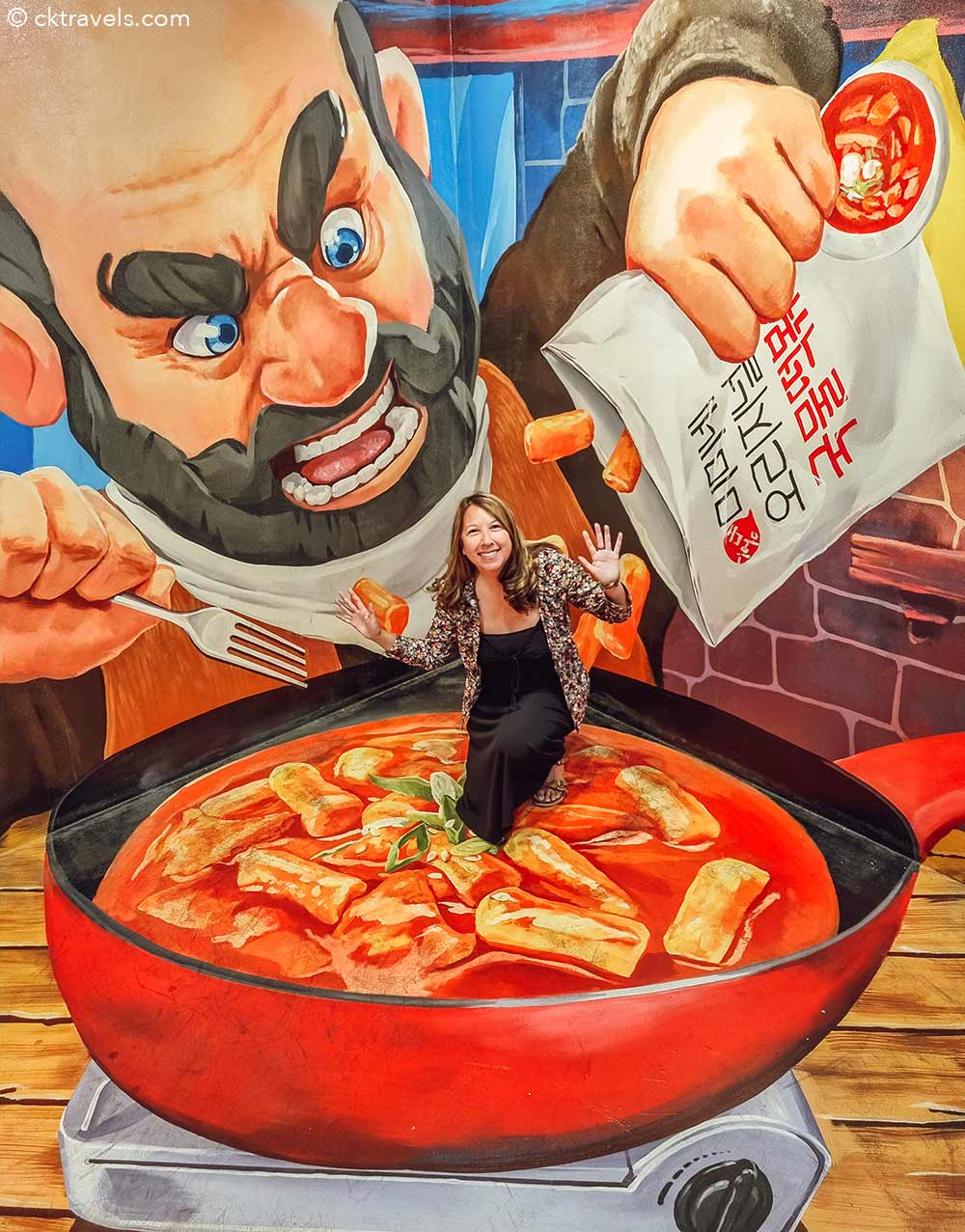 ---
63. Buy Socks
Forgot your usual souvenirs of magnets or postcards – Seoul is all about sock shopping!
Like, shed loads of socks! Literally every other stall in Myeongdong (ish) – including Myeong-dong Underground Mall – sells funky, quirky pop socks or cartoon character socks.
Mainly made in South Korea, the socks are cheap too with cutesy colourful ankle socks starting from 1,500 Korean Won (less than a £1) a pop.
From Hello Kitty and Doraemon to slightly non legit branded socks like Starbucks or 7-Eleven, sock shopping in Seoul is a silly and fun shopping trip (although from our experience, most of the socks don't last longer than a couple of months – lots of walking innit).
---
64. Everland
Never ever(land) will you have so much fun in Seoul if you love theme parks– along with Lotte World adventure park, this is one of the best things to do in Seoul for a fun day out.
Everland is the biggest theme park in South Korea with five themed zones including Magic Land, American Adventure and European Adventure. Note that Everland is in Yongin, around 40 kilometres from the capital Seoul.
New for 2023 at Everland, families can see Chinese giant pandas Le Bao and Fu Bao eating bamboo leaves and playing in the Panda World of Everland Resort. The resort also includes a separate water park, Caribbean Bay, which opens to families in the summer months.
Buy your discounted family pass for Everland in Seoul here via Klook >
Everland admission is included as part of the Discover Seoul Pass.
---
65. DMZ Tour from Seoul
The DMZ is the heavily controlled border separating North and South Korea.
This is a half day tour that starts with a visit to Imjingak Pyeonghwa-Nuri Park (where you can see the famed Bridge to Freedom and buy North Korean money as souvenirs).
Given the history and complex relationship of North and South Korea, this is an interesting way to learn about this important piece of history and is an easy day trip from Seoul (many tours are available).
At Imjingak Pyeonghwa-Nuri Park you get to look across into North Korea from the Dorasan Observatory. Using telescopes and state of the art electronic cameras, you can see guards on patrol in North Korea plus farmers and local residents go about their daily work.
Finally, take a long, dark walk down into the 3rd Infiltration Tunnel, built by North Korea as a means of invasion (although they still deny this, even though four such infiltration tunnels exist).
If you are planning on doing lots of activities and attractions in Seoul, this DMZ tour is available as part of the Go City Seoul Pass.
---
66. See a movie at the largest cinema screen in the world
Most of the biggest movie theatres can be found in Seoul shopping malls – IMAX screens are second nature in Seoul meaning you can see the latest releases with incredible picture and sound quality.
One of the best cinemas in Seoul is the CGV Starium movie theatre located in Times Square Mall, CGV Starium is home to the largest cinema screen in the world, as listed in the Guinness World Record Book.
With almost 3,000 seats and 12 screens spread over 5 floors, you'll be spoilt for cinematic choice here. You can even hire a private cinema or go Gold Class!
The Megabox Cinema COEX at Starfield COEX Mall in Gangnam is also recommended.
---
67. Seoul Animation Centre
Seoul Animation Centre is easy to spot as the front entrance is adorned with a huge army of cartoon character statues (a very good and fun photo opp). It is also one of the best things to do in Seoul with kids.
Seoul Animation Center is a huge cultural complex launched in 1999 by the local Government to help promote the South Korean animation industry.
It has a cartoon library, cinema and hosts temporary exhibitions as well as housing a permanent Ani Land / Town cartoon park for children, and is located across from Myeongdong Station.
---
68. Things to in Seoul at Christmas
Seoul comes alive every Christmas and New Year with a feast of festive favourites and classic Christmas lights and events.
Seoul has countless Christmas events from shopping mall Christmas light displays to huge Christmas trees plus skating rinks, snow-covered winter villages and special Christmas markets
Whilst the winter nights in Seoul may be cold, these South Korean Christmas lights and events warm the heart and see in both Christmas and celebrate the end of the year – easily one of the best times for families to visit Seoul.
Seoul has plenty of Christmas events for kids, markets and lights so here is our updated guide to Seoul's best Christmas lights, displays and events >
---
69. Take a tour bus around Seoul
There are several open top bus operators in Seoul, all of which provide hop-on hop-off routes of the city – these include the Seoul Hop-On Hop-Off Downtown Palace Course with Seoul City Bus Tours (available from Viator and Klook), plus the Seoul Yellow Balloon City Bus Tour.
As well as daytime tour buses, you can now take a Seoul City Tour Bus and Seoul at night – buses depart year round every evening and you'll see the Han River and N Seoul at night.
The night time tour bus departure time varies depending on the time of year but it is usually 7.30 pm or 8pm in the warmer / lighter summer months and 7pm in the darker / winter months.
Book a Seoul City Tour Bus Night View pass here >
---
70. Banpo Rainbow Bridge Fountain
Alas not a year round activity, but the Seoul Banpo Rainbow Bridge Fountain has almost 400 water jets that light up and spout around five to six days a day between April to October.
By day, the Banpo Rainbow Bridge Fountain springs into life with a water show that is meant to be reminiscent of willow trees swaying in the wind.
However if you can, visit this attraction in Seoul at night as it becomes the ultimate light show (AKA the Banpo Bridge Moonlight Fountain Show) where the 1 km stretch of fountains on either side of the bridge illuminate.
This fantastic fun fountain is a free thing to do in Seoul and is in the Guinness Book of World Records as the "…world's longest bridge fountain" (no word on who is second).
---
71. Seoul Children's Grand Park
Fact – the music video for the world famous K-Pop song 'Gangnam Style' by Psy was partially filmed in Seoul Children's Grand Park (at the children's roundabout).
If that wasn't cool enough, there are loads for families to enjoy at Seoul Children's Grand Park including a zoo, animal rides, a beautiful botanical garden, a small theme park, a marine exhibition and of course the merry-go-round.
It is also very lush and verdant with forest trails and hiking paths suitable for all ages.
---
You might like – things to do at Haeundae Beach in Busan >
---
72. Isaac Toast
Isaac Toast is a top toasted sandwich store in Seoul and a cheap and cheerful hot snack. Isaac Toast can be found all over South Korea (700 outlets and counting) and is a cheap and popular toasted sandwich chain.
Their classic sandwich consists of ham, cheese, egg, pickle and diced cabbage covered in swathes of sauce, covered in toasted butter sweet bread.
Whilst not gourmet cuisine, most sandwiches cost around the 3,000 to 4,000 Korean Won mark and each toastie is cooked fresh, so it is perfect for a cheap meal.
Like toasties? – read our guide to 7 Eleven toastie flavours in Thailand here >
---
73. Picnics and street food in Yeouido Hangang Park
One of the most popular things to do in Seoul for locals on warm summer nights is to congregate in the Yeouido Hangang Park by the River Han.
Street food kiosks and tent hire stalls do a brisk business as big groups and romantic couples have picnics in the park or rent tents by the day to escape the searing heat.
You can also pose with the I Love Seoul sign or there are numerous river cruises to enjoy along this section – there is even a huge 7-Eleven a little further east on the Han River trail that has a HUGE outdoor seating area with several hot water noodle machines outside.
---
You might like – Gwangalli Beach in Busan guide (including a weekly drone show!) >
---
74. Gyeongui Line Book Street
Calling all culture vultures – this is one 'novel' thing to do in Hongdae that you don't need to 'book' in advance…sorry not sorry.
A long line of book shops and open air libraries located along a disused stretch of railway, this Gyeongui Line Book Street consists of around 10 different book shops and kiosks located in a quiet park area close to all the bars and restaurants Hongdae Street.
Check out our things to do in Hongdae guide >
---
75. Olympic Park
Even if you aren't the biggest Olympics fan, the gorgeous green gem of a public is a reminder of the 1988 Olympic Games that took place in Seoul.
There are several museums to discover at Olympic Park including SOMA (the Seoul Museum of Olympic Art) and the Seoul Baekje Museum, which focuses on the culture and ancient history of Seoul.
The main focal point at Olympic Park is the World Peace Gate, a winged entrance with a colourful mural that was built to welcome visitors to the '88 Olympic Games.
Outdoors, there are lots of alfresco pieces of art plus interactive installations and sculptures – make a day of it and catch a baseball game at Jamsil Stadium afterwards.
---
76. Try traditional Korean Taffy-Ta-Ra / Dragon's Breath Candy
Myeongdong Night Market has lots of tasty street food stalls but a couple of stalls in particular are famous for their 'dragon's breath candy' and fun storytelling tales (very popular with children).
Traditionally known as Korean Taffy Ta Ra or Korean court cake Ta Ra, it is made of ripened honey and malt (which was once presented to the King and the Korean Royal Family hence the name 'court cake').
Taffy-Ta-Ra comprises thousands of cold fluffy strands (it looks like candy floss) although not too sweet and less sticky to your teeths and gums– many Koreans also enjoy it with tea, given it is so cold and often frozen.
---
77. 7-Eleven Stores (24-hour Seoul shopping)
7-Eleven in Seoul is big business – there are now over 11,000 (!) 7-Eleven stores in the Republic of Korea. In fact, worldwide, only Thailand and Japan have more 7-Elevens than South Korea.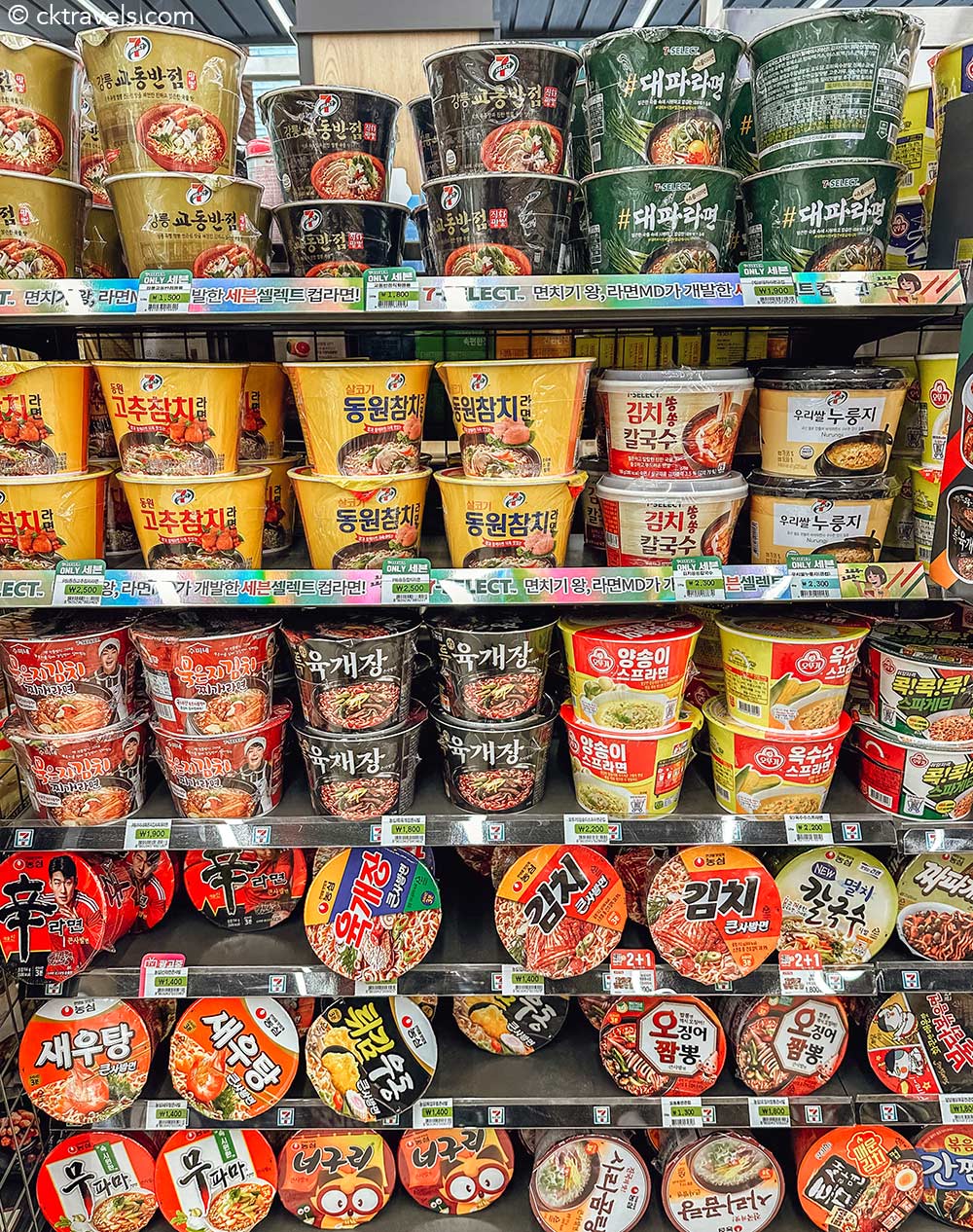 Most (but not all) 7-Elevens in Seoul are open 24 hours so if you want a late night snack or oodles of instant noodles, 7 Eleven is the best place to cure your midnight munchies.
From banana milk to bento boxes and fried chicken to fruit sandwiches, read our guide to all the food you can buy at night in Seoul's 7-Eleven stores >
You might like – Guide to all the themed 7-Elevens in Taipei or a visit to the world's largest 7-Eleven in Pattaya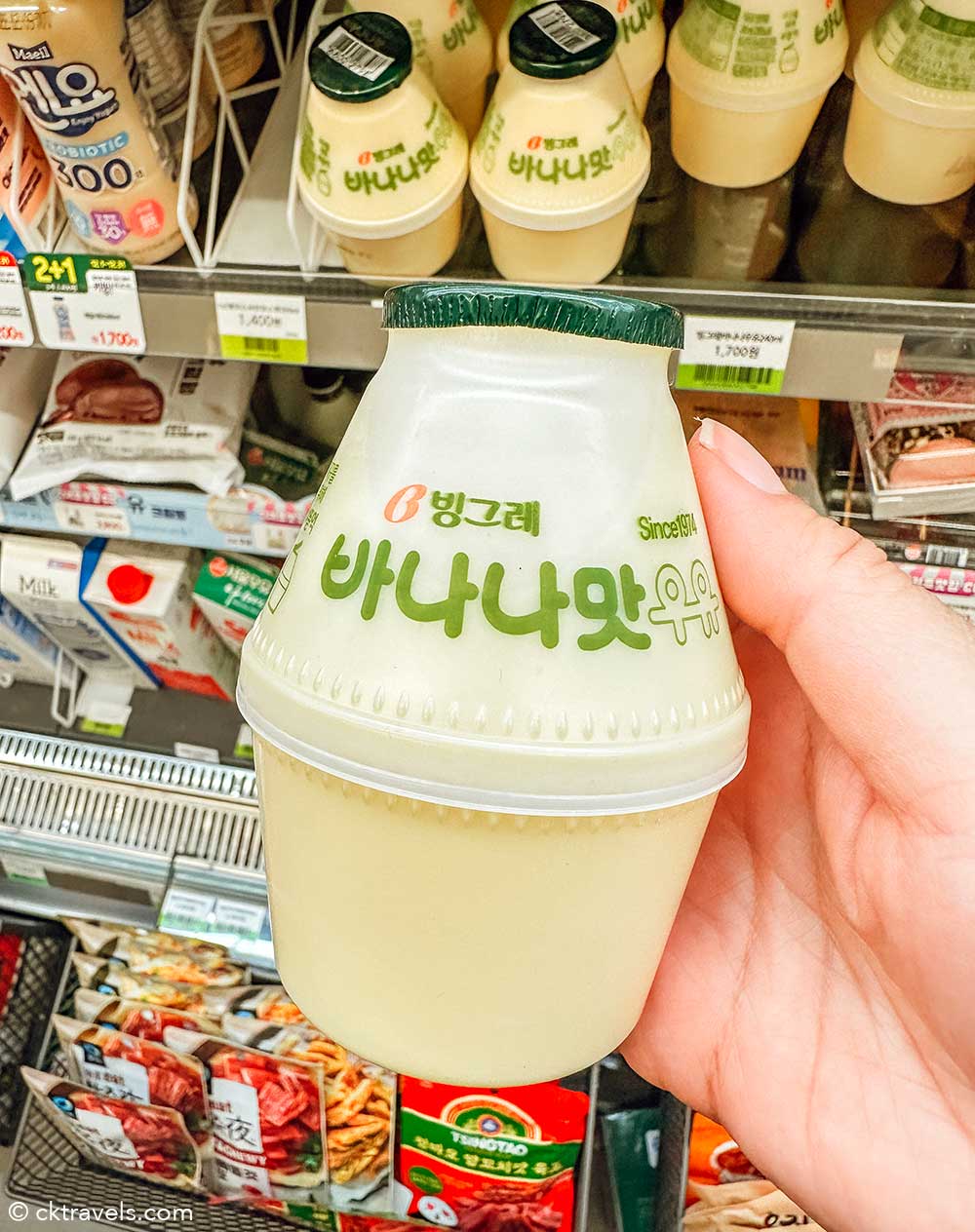 ---
78. Gyeongui Line Forest Park / Yeonnam-dong
A pleasant way to start your trip to the neighbourhood and one of the best free things to do in Hongdae, the Gyeongui Line Forest Park is a peaceful walk that transforms an urban area into a gorgeous green space.
As well as luscious lawns and babbling streams, the Yeonnam-dong section of the Gyeongui Line Forest Park is surrounded by cute cafes, craft beer bars and all manner of boutique shops and independent stores.
A former disused Seoul railway line now transformed into a verdant green walkway, the full park stretches over 6 km (that said, we'd recommend exploring the first 1km Yeonnam-dong section where all the bars and cafes are).
---
You might like – Night time Hidden Gems Walking Tour >
---
79. Seoul at night tours
If you'd rather someone else lead the way with their local knowledge and expertise, there are lots of good tours of Seoul by night including:
---
80. Get a Cartoon Caricature or Funny Illustration
Both Insadong and Ikseon-dong Hanok Village are home to quirky cartoon caricature studios, where street cartoonists have set up studios to do fun family portraits.
Prices vary but starting at 9,000 South Korean Won per person based on a minimum of two people, these are really good value caricatures.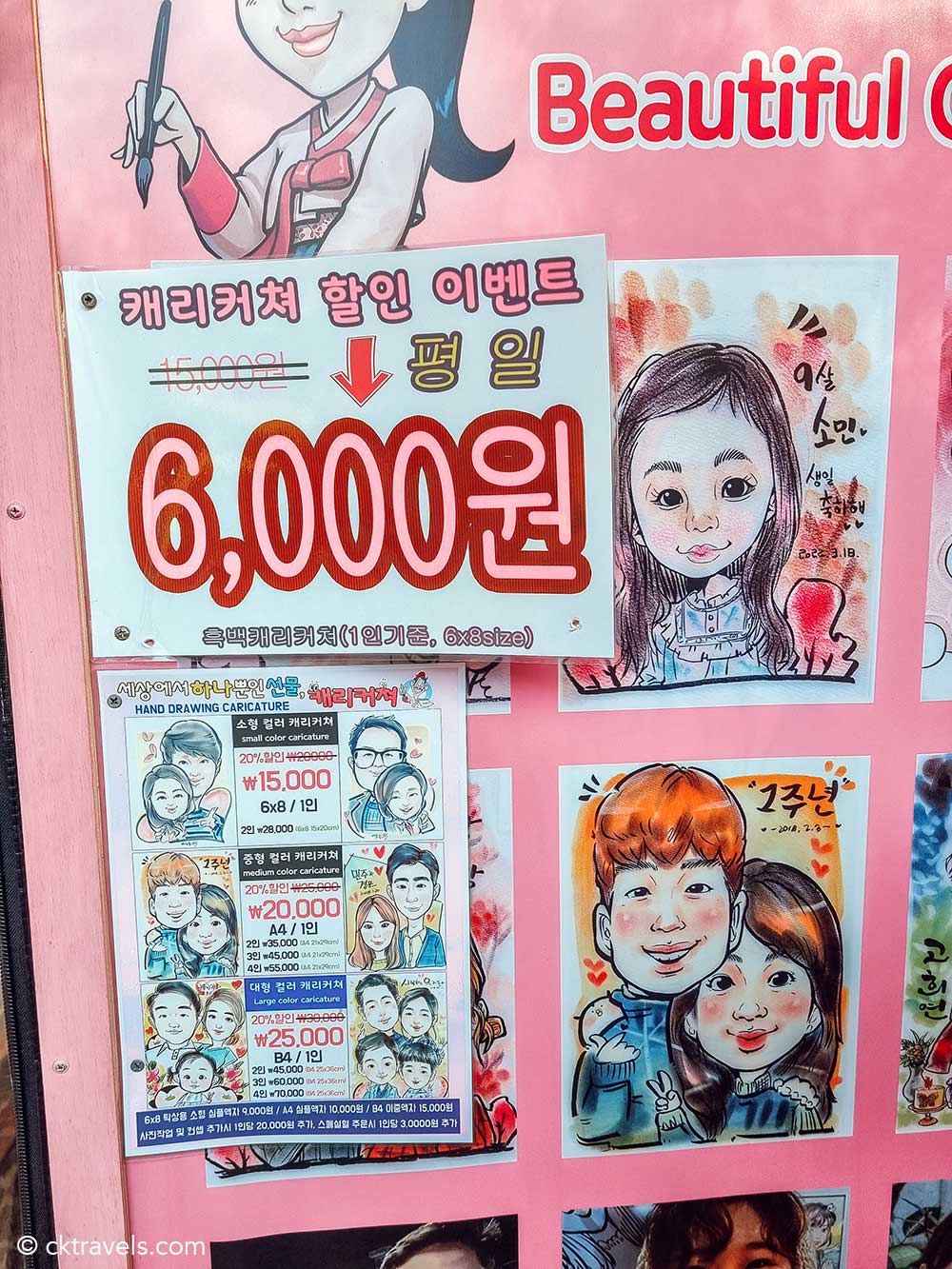 ---
81. Seoul Land
Great for kids, Seoul Land was the first full-scale theme park to open in the city of Seoul, coinciding with the Seoul Olympic Games in 1988 – gold!
With everything from giant swings to roller coasters, cable cars to bumper cars, there is much for the family to enjoy with over 40 rides to climb aboard. Plus watch as the dinosaurs roam Jurassic Land or get up close to real life animals at Seoul Land Zoo.
Get your Seoul Land family tickets here >
---
82. Seoul Attractions Passes
Buying separate tickets for lots of Seoul attractions can be expensive – for instance, 2 adult tickets to Lotte World with two children under twelve costs 210,000 Korean Won as of summer 2023 (approx £126 or 150 Euros / $160 USD).
So these cool things to do in Seoul and all the attractions can add up. One way to save money is to look at buying a Discover Seoul Pass or Go City Seoul Pass as they include both Lotte World and Everland plus selected other attractions like the Alive Museum, hanbok costume rental and ColorPool.
Find out more about our experience with the Discover Seoul Pass here >
Find out more about our experience with the Go City Seoul pass here >
---
83. Kidzania Seoul
Family fun comes to Seoul with this indoor city centre created and curated especially for children at Lotte World – there is even a second Kidzania in South Korea in Busan.
From flying an aeroplane to TV broadcasting, there are lots of awesome activities and 'jobs' that children can undertake and earn kidZos (a unique currency) that they buy rewards with in store. This shows them a world of grown-up jobs but in a fun way!
Book your KidZania Seoul ticket online with Klook >
---
84. Unhyeongung Palace
Dating back to the 1860s, Unhyeongung Palace is a short walk from the main Insa-dong Cultural street and free to visit. It is a peaceful spot to explore with a huge courtyard in the centre.
Unhyeoongung Palace was the former house of Yi Ha-eung and his family – it was then expanded to become the residence of King Gojong.
This former Korean Royal residence went through a period of neglect and so the residence was taken over by the Japanese administration in 1912.
Since the 1990s, Unhyeongung Palace has had significant restoration work to try and return it to its former glory – it is now a designated 'Historic Site' of Seoul and traditional Korean music performances are regularly held here.
---
85. Oil Tank Culture Park
Oil be! A former oil refinery and storage depot facility in the Mapo-gu area of Seoul, the Oil Tank Culture Park is renowned for its pop-up exhibitions and performances and is a popular meeting place and picnic spot (where you meet your Seoul-mates!).
A handful of big oil tanks remain on site and they have been turned into performance spaces and theatre stages – so the ultimate place in Seoul to literally see theatre 'in the round'.
---
86. Visit the Tallest Daiso in South Korea
Most people have been to a branch of the famous Japanese discount store Daiso before but did you know a 12 storey Daiso recently reopened in Myeongdong in early 2023 after a major renovation?
Said to be either the tallest Daiso in South Korea, the 12 storey Myeongdong Daiso takes over an entire building with a different theme / range on each floor.
Each of the 12 Daiso stories is themed e.g. one floor is food and drink, one homewares and sports etc. This is a great place to stock on travel essentials too like padlocks or inflatable pillows.
---
87. HBAF Stores
We were H-Baffled at first by the sheer number of these stores in and around the tourist areas of Seoul (particularly Myeongdong Walking Street). We lost count after five – some HBAF stores in this area were also like only four shops apart.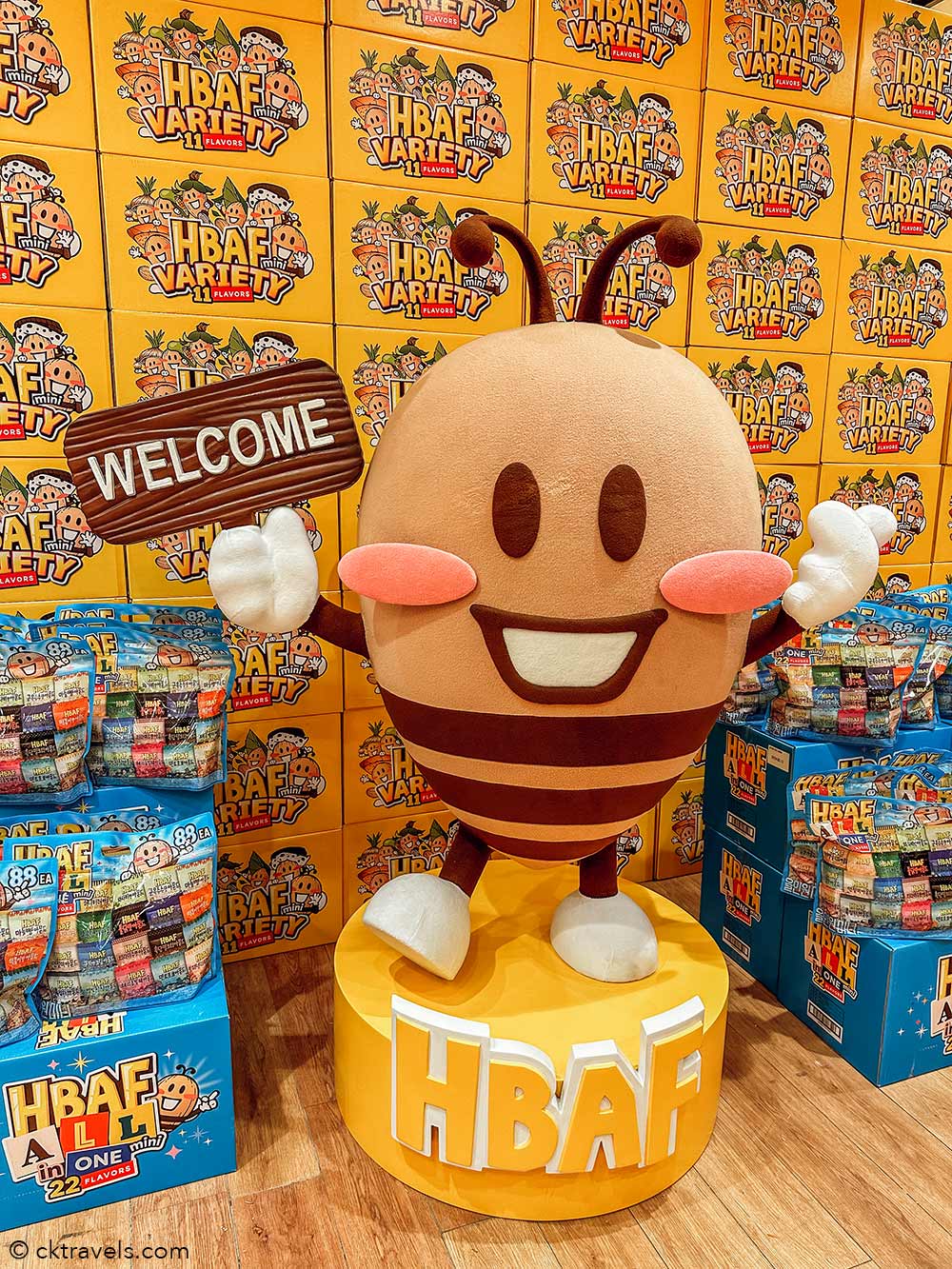 HBAF is a food / snacking company that sells all manner of nuts, snacks and coated goodies like honey butter almonds, wasabi almonds, mini caramel salted pretzels.
Apparently it is mainly tourists that buy them to take back home (some even bring empty suitcase to fill them up – 'nuts' about HBAF eh).
The HBAF stores are brightly lit with huge nut like cartoon character malls and rammed to the rafters with colourful food packaging and sachets. The HBAF products are also stocked in many big stores like Olive Young and Korean Mart.
---
Our final 'things to do in Seoul' suggestion:
88. Ikseon Goro Purpleberry ice-cream
Surely one of the n-ice-est things to do in Seoul is the Ikseon Goro Purpleberry ice-cream?
This famous Ikseon-dong ice-cream shop may give you a sense of deja-vu when you first arrive as it is likely one of the most popular Instagram spots in Seoul – seriously, half the people visiting Ikseon Goro let their ice-creams melt as they take numerous pics (we were guilty too).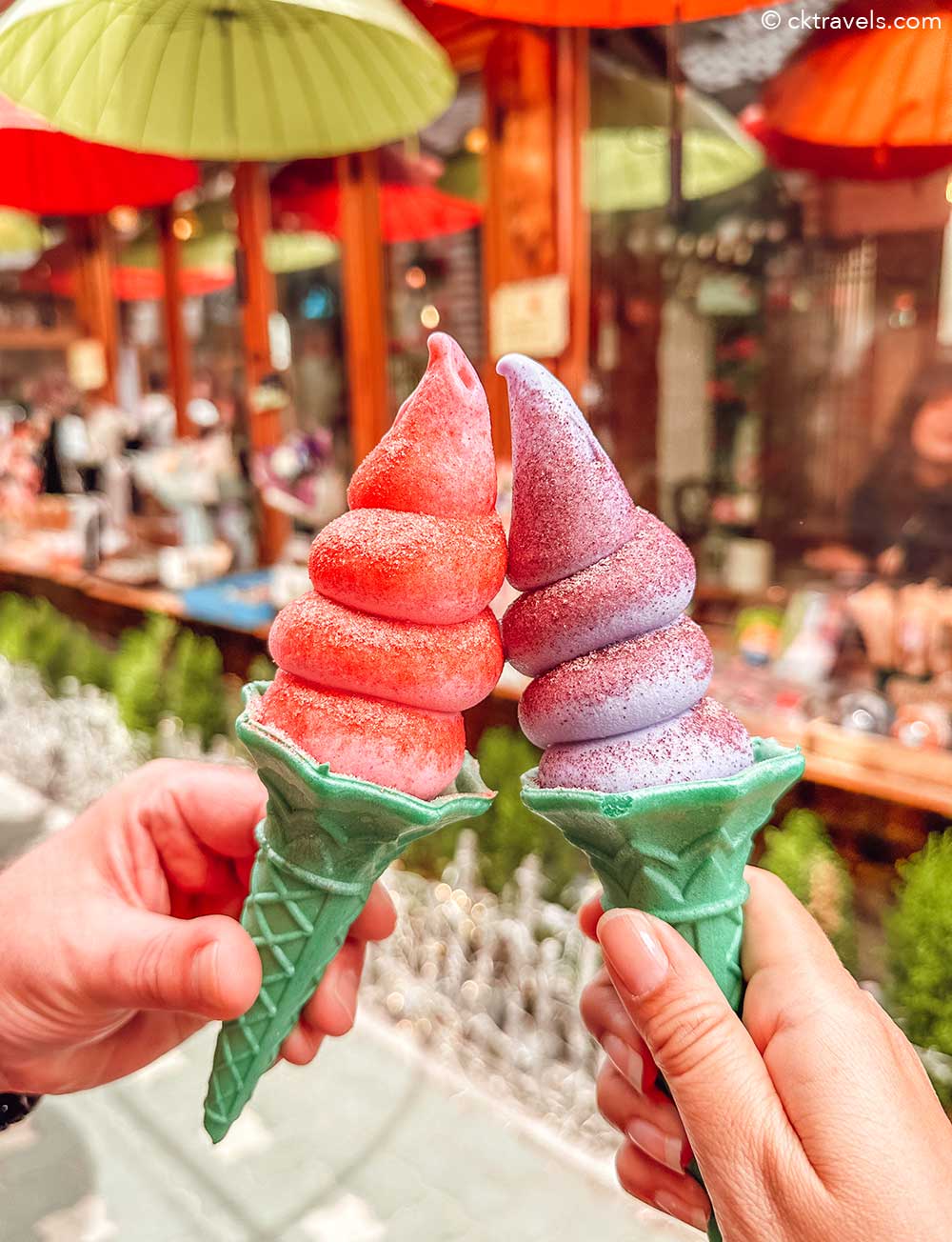 For once, the hype is justified as not only do the Ikseon Goro ice-creams look the part (complete with green cones), they also taste incredible and are really cheap compared to many of the other dessert offerings in Ikseon-dong – soft whip ice-creams are only 2,500 Won (as at 2023).
We tried a blueberry / purpleberry ice-cream and a pink berry / strawberry ice-cream. Both Ikseon Goro ice-cream tasted amazing (although the purpleberry just pipped it for us).
---
Other South Korea posts you might like
Did you enjoy our things to do in Seoul guide blog post? Let us know in the comments or by sharing it on social media.
You can follow CK Travels on:
Instagram
Facebook
TikTok
YouTube
Pinterest