This post may contain affiliate links to tours and hotels. These help us earn a small commission at no additional charge to you.
Baseball is a BIG hitter in South Korea – it is in fact South Korea's most popular sport! So if you are visiting Seoul any time soon, make sure you catch a baseball game at Jamsil stadium. Seoul baseball game tickets are easy to purchase (and very cheap) plus the main stadium has good transport links with its very own Subway station.
From purchasing Seoul baseball tickets through to what types of food, drink and live entertainment you can expect at the stadium, here is our guide to all things baseball in Seoul in 2023: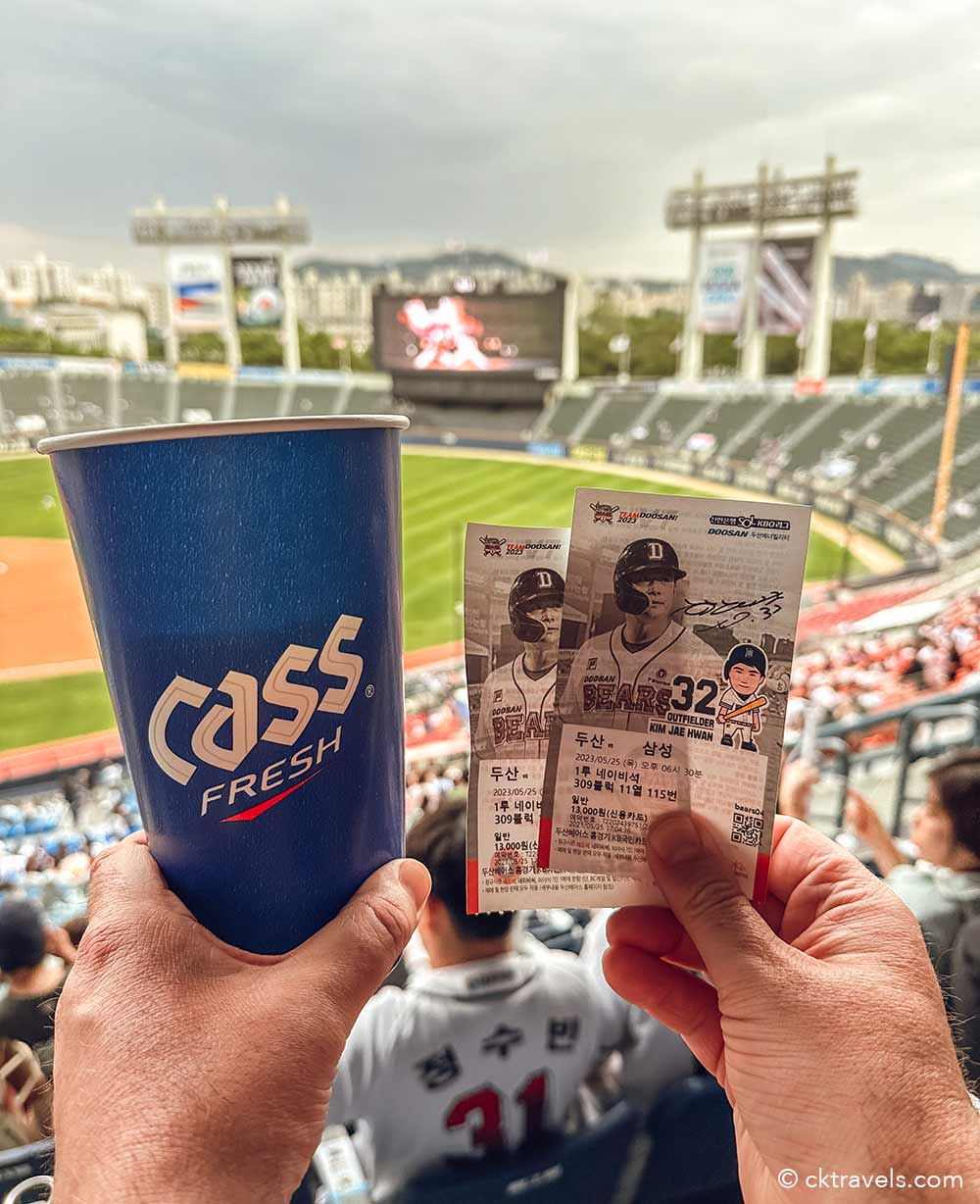 ---
You might like – Top things to do in Seoul – the ultimate guide >
---
A brief overview of KBO / South Korean baseball
The baseball season in South Korea runs approximately from April to September every year. Baseball is a huge sport in Korea, since it was introduced by the Americans in the early 1900s.
The main baseball league in South Korea is the KBO League. There are 10 teams in the KBO league (two of which are Seoul baseball teams) and each team plays each other 16 times a year.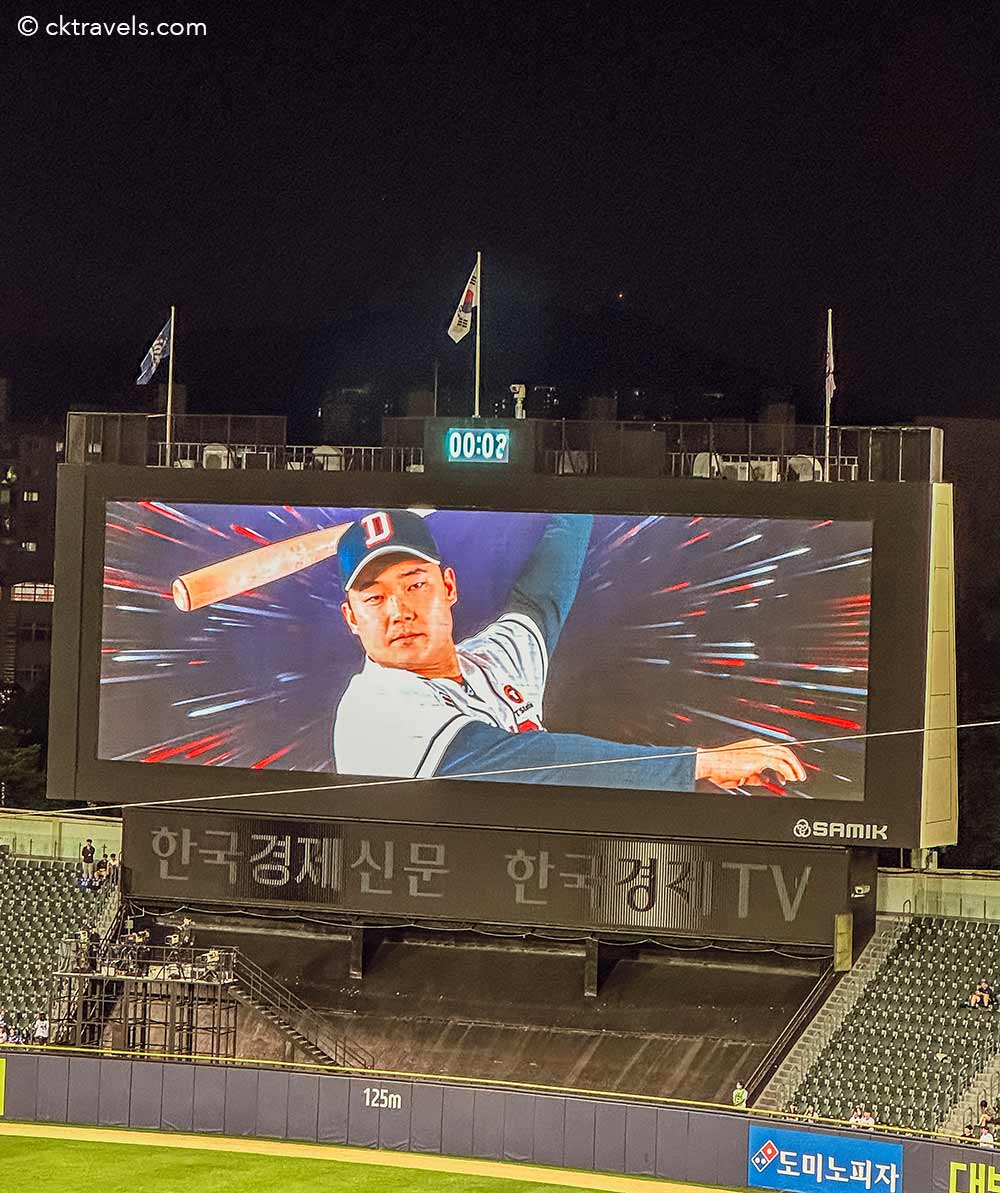 The KBO / baseball games in South Korea can be seen 6 days a week- it is only Monday when there are no baseball games played.
This means that if you are visiting Seoul during the April to September baseball / KBO season, there will likely be several Seoul baseball games a week you can catch live at the Jamsil stadium or Gocheok Sky Dome.
Alternatively, all KBO baseball games are televised – most Seoul pubs and bars also show the live or recorded baseball games.
---
You might like – Weird and unique Seoul attractions >
---
Seoul's Baseball Teams and Stadiums
Seoul is fortunate enough to have two baseball teams that call Jamsil Stadium home – the Doosan Bears and the LG Twins.
Jamsil Stadium in Seoul is South Korea's largest baseball stadium with a capacity of 25,000.
The other Seoul baseball stadium is Gocheok Sky Dome (16,000 capacity) and home to Seoul's third KBO baseball team, Kiwoom Heroes.
The majority of professional baseball players in the KBO are Korean but each team is allowed up to three foreign players per season.
Looking for cheap Seoul day-trips, attractions or group/private tours? We recommend visiting Viator, GetYourGuide, and Klook!
Buying Seoul Baseball tickets / KBO tickets
We recently attended a baseball game at Jamsil Baseball Stadium in Seoul in 2023 – Doosan Bears vs Samsung Lions
You may ask – 'How do I get baseball tickets in Seoul if I'm visiting from overseas? It is actually surprisingly easy. You could attempt to buy Seoul baseball tickets online (especially if you want to get your baseball tickets well before) but we found that most online sites selling KBO / Seoul baseball tickets required a Korean phone number or debit card to allow a purchase.
Many of these online baseball ticket sellers and sites also require you to create an account / log-in which is easier said than done when you don't have a Korean based address.
As such, we bought our Seoul Doosan Bears baseball tickets at the Jamsil Stadium on the day of the game.
---
You might like – Where to stay in Seoul / Best Neighborhoods Guide >
---
Buying Seoul Baseball tickets at Jamsil Stadium
We went to the Jamsil baseball stadium one week night in summer 2023 and bought KBO baseball tickets for the Doosan Bears baseball game that night.
The Jamsil stadium box office opens 90 minutes before the game so that anyone (including visitors from overseas) can buy baseball tickets. On a weekend the box office opens 2 hours before the game starts.
There are several seating areas and zones to choose from at Jamsil Stadium, the cheapest of which are the Navy coloured zones. Seating plans and baseball ticket prices can be seen on display at the Jamsil baseball box office (posters in the windows and above the counters).
---
YOU MIGHT LIKE: Top things to do in Seoul at night >
---
How much do baseball tickets cost in Seoul? Jamsil Baseball ticket costs
Foreigners can buy Seoul baseball tickets at Jamsil stadium for as little as 13,000 Won (around £8 / $10 USD). Note that 13,000 Won is the weekday baseball ticket price at Seoul's Jamsil stadium – the same tickets cost 15,000 Won during weekend baseball games or on public holiday games.
We went to see the Doosan Bears take on the Samsung Lions at Jamsil Stadium and bought tickets on the gate for 13,000 Won sitting in the navy section – such incredible value.
We couldn't believe how cheap Seoul baseball tickets were. Even the most expensive centre VIP baseball tickets in Seoul were around the 70,000 Won mark – all baseball ticket types and seating areas can be purchased at the box office.
Baseball tickets at Jamsil stadium can be purchased using either card or debit card / contactless payment. We used a UK debit card (Starling) which worked fine.
---
You might like – Things to do in Busan, South Korea >
---
Buying KBO / Seoul Baseball Tickets online
You can also buy Seoul baseball tickets online via ticket sellers but we found it much easier to buy them on the day at Jamsil station box office.
We weren't easily able to buy Seoul baseball tickets online but others recommend Ticketlink (the most popular South Korean site to buy baseball tickets), Interpark or Bunjang – although we haven't tried them ourselves.
Ticketlink is also the Korean baseball ticket website that is promoted around Jamsil station.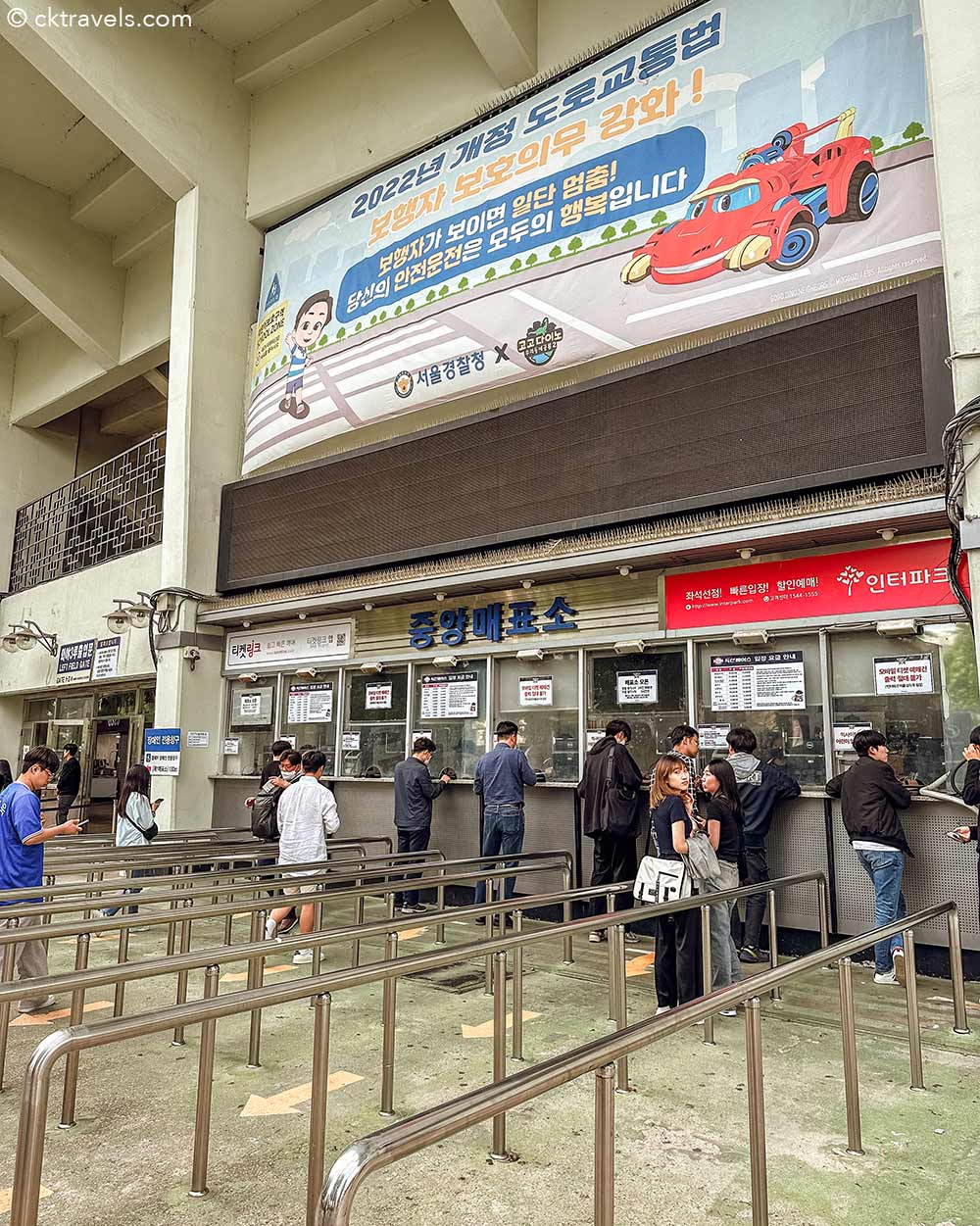 How to read your Seoul baseball tickets
Once you've purchased your KBO tickets at the box office, you'll see three numbers and some Korean. In order, these read as Block number, Level / row number and Seat Number – or BLS (and definitely not to be confused with K Pop favourites BTS!)
Food and Drink at a South Korean baseball game
After we'd purchased our baseball tickets to see the Doosan Bears take on the Samsung Lions, we explored the outer area of Jamsil Stadium.
There were many food and drink places outside the baseball stadium (including Korean fried chicken chains like BBQ olive chicken, Mom's Touch chicken and BHC Chicken (plus KFC).
Other food and drink restaurants outside Jamsil Stadium in Seoul included a Korean Milk cafe, Mr Pizza and Domino's Pizza. We spotted lots of pop up street food stalls too right next to the Jamsil Underground entrance / exit immediately in front of the stadium.
There were a couple of G25 Convenience stores outside the stadium with small seating areas. as we got to the baseball game very early, we bought a couple of beers at G25 and drank them outside.
There were also a couple of bars selling beer outside the stadium – the main beers available were Cass and Terra. Not a great choice for Seoul craft beer brewery fans.
Food and drink purchased outside is allowed to be taken into Jamsil Stadium.
Food at Seoul baseball games is cheap, comparably e.g. at Mom's Touch, you could get two chicken burgers and two large Cokes for 13000 won (£8 / $10 USD).
The most popular food and drink combo in the baseball stadium itself seemed to be a pint of draft beer with a round serving dish attached on top, full of fried chicken and chips with lots of sauce. Now that is one cracking combo we can get down with!
---
YOU MIGHT LIKE: Guide to South Korean 7-Elevens
---
Alcohol and Beer at South Korean Baseball Games
Beer and alcohol are allowed at KBO / baseball games – inside Jamsil station, you can either buy cans of beer from G25 convenience stores (around 2,500 Won for a can of beer like Cass) or you can buy draft beer from Terra beer stands.
Like Japanese baseball games, there are also a few beer servers who roam the stands with a big canister / vat of beer on their backs so you can buy draft beers, but they are few and far between.
All in all, beer is comparatively cheap at South Korean baseball games – although note they stop serving alcohol around the 6th innings (at Jamsil).
---
YOU MIGHT LIKE: Things To Do In Hongdae, Seoul
---
Souvenirs and Merchandise
You can buy Korean baseball / KBO merchandise at the game – most of the merchandise will likely be branded whatever home team is playing at Jamsil stadium that night (in our case, Doosan Bears). We also saw one stall selling merchandise for the away baseball team (Samsung Lions that night).
The most popular baseball merchandise that we could see were the inflatable Pow Pow baseball branded with the Doosan Bears logo – these made a great sound when people banged them together in the stadium, any time the Bears did anything brill!
South Korean baseball game atmosphere / cheering culture
We'd been to baseball games before in Asia where the fans are quite reserved (especially in Japan) but South Korean baseball is quite different.
The home baseball crowd at Seoul were very loud and proud (possibly fuelled by all that cheap beer and fried chicken), especially in the Entertainment Zone. This is where cheerleaders, an MC, dance stage and drummers have all set up to keep the crowd amused all night – talk about whipping up the crowd!
So many songs were sung and the cheerleaders / dance troupe really got the crowd into a good mood. In fact, South Korea is well known for its 'baseball cheering culture'.
Better yet, each KBO team has its own signature song (fight song) plus all of the big hitters have their own individual fight songs which the crowd belt out when they are batting.
One big difference we noticed between South Korean baseball and Japanese baseball is that the music, dancing and cheering continues even mid game in South Korea – the players don't seem to be easily distracted so it must all be part of the cheering culture – we loved it!
---
You might like – Best things to do in Seoul, South Korea >
---
Is it worth going to a KBO game if you aren't a baseball fan?
A big, fat YES! South Korea and Seoul baseball tickets are really cheap and the atmosphere inside is electric – we were so distracted by all the singing and dancing in the 'entertainment zones' that we kinda forgot there was also a baseball game being played out on the field!
Food and drink prices inside and outside Jamsil stadium are very reasonable especially if you just buy your drinks from the G25 convenience stores inside – all that cheap beer and loud music made for a very enjoyable baseball game!
How to get to Jamsil Stadium
If you are going to a baseball game in Seoul at Jamsil Stadium, getting to the baseball game is easy – your best form of public transport to Jamsil Stadium is to use the Seoul subway / underground line 2 (the Green line).
Jamsil Stadium has its own exit (exit 5) entitled 'Sports Complex Station'. Trains to and from Jamsil baseball stadium / Sports Complex Station run approximately every four to five minutes – expect long queues and large crowds at the end of every baseball game.

Other South Korea posts you might like
Did you enjoy our Seoul Baseball Tickets guide blog post? Let us know in the comments or by sharing it on social media.
You can follow CK Travels on: 
Instagram
Facebook
TikTok 
YouTube
Pinterest