This post may contain affiliate links to tours and hotels. These help us earn a small commission at no additional charge to you.
7-Eleven convenience stores are a big business in South Korea – explore most streets or neighbourhoods and you'll come across at least one small store (if not two or three within the same block). There are lots of different convenience store brands to choose from in South Korea including CU stores, Family Mart and E-Mart but one of the most popular remains 7-Eleven.
7-Eleven in South Korea has been around for over 30 years, with the first store opening at the Olympic Village in Seoul in 1989. There are now over 11,000 (!) 7-Eleven stores in the Republic of Korea; worldwide, only Thailand and Japan have more than South Korea.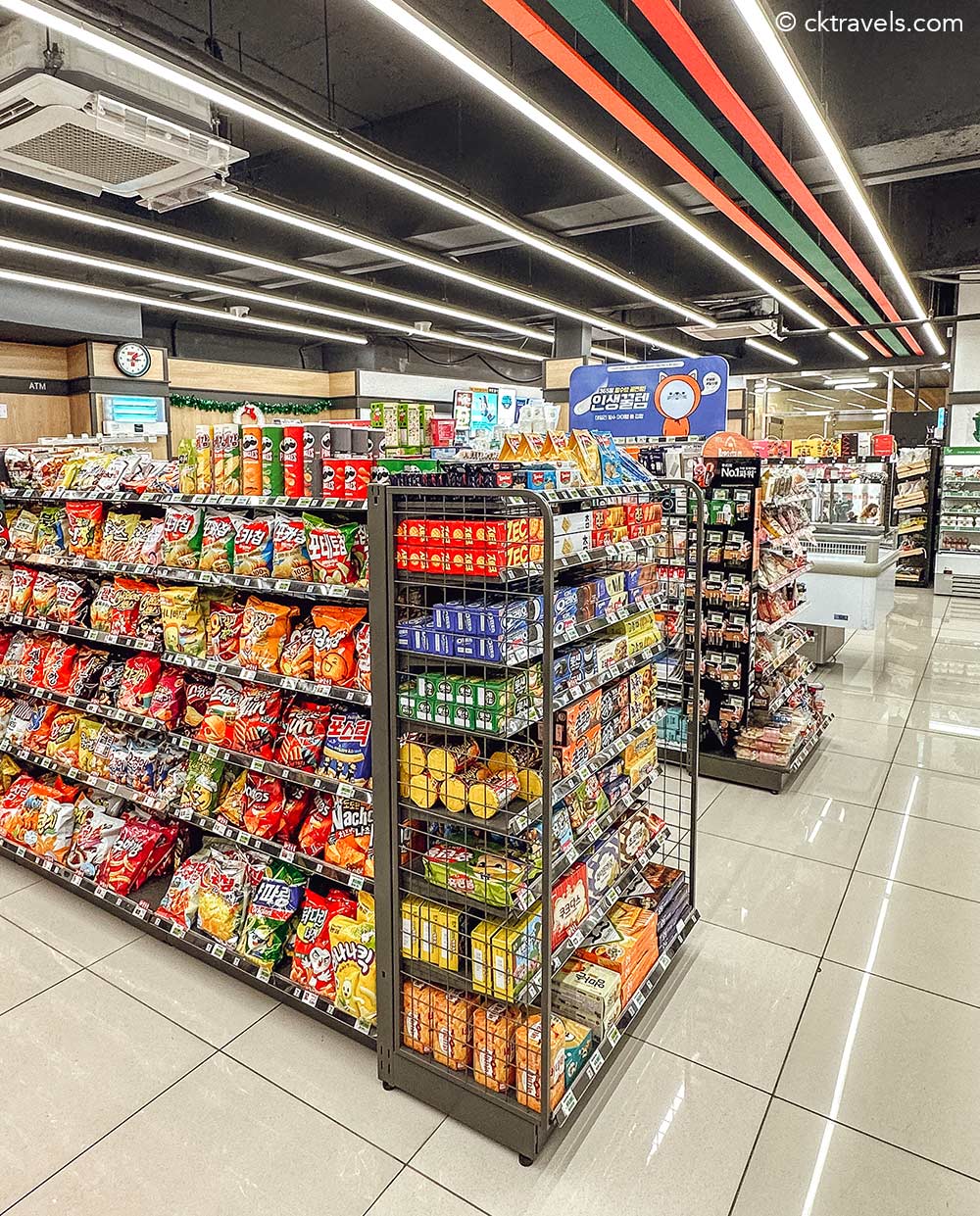 Visiting 7-Elevens in South Korea became a fascination of ours (slight obsession even), trying all the various foods and drinks available. Handily, all Korean 7-Elevens have microwave or hot water sections meaning you can prepare any food you've bought (making them very 'convenient' stores).
From banana milk to bento boxes and fried chicken to fruit sandwiches, these is our guide to 7-Elevens in South Korea and all the food and drink you can buy: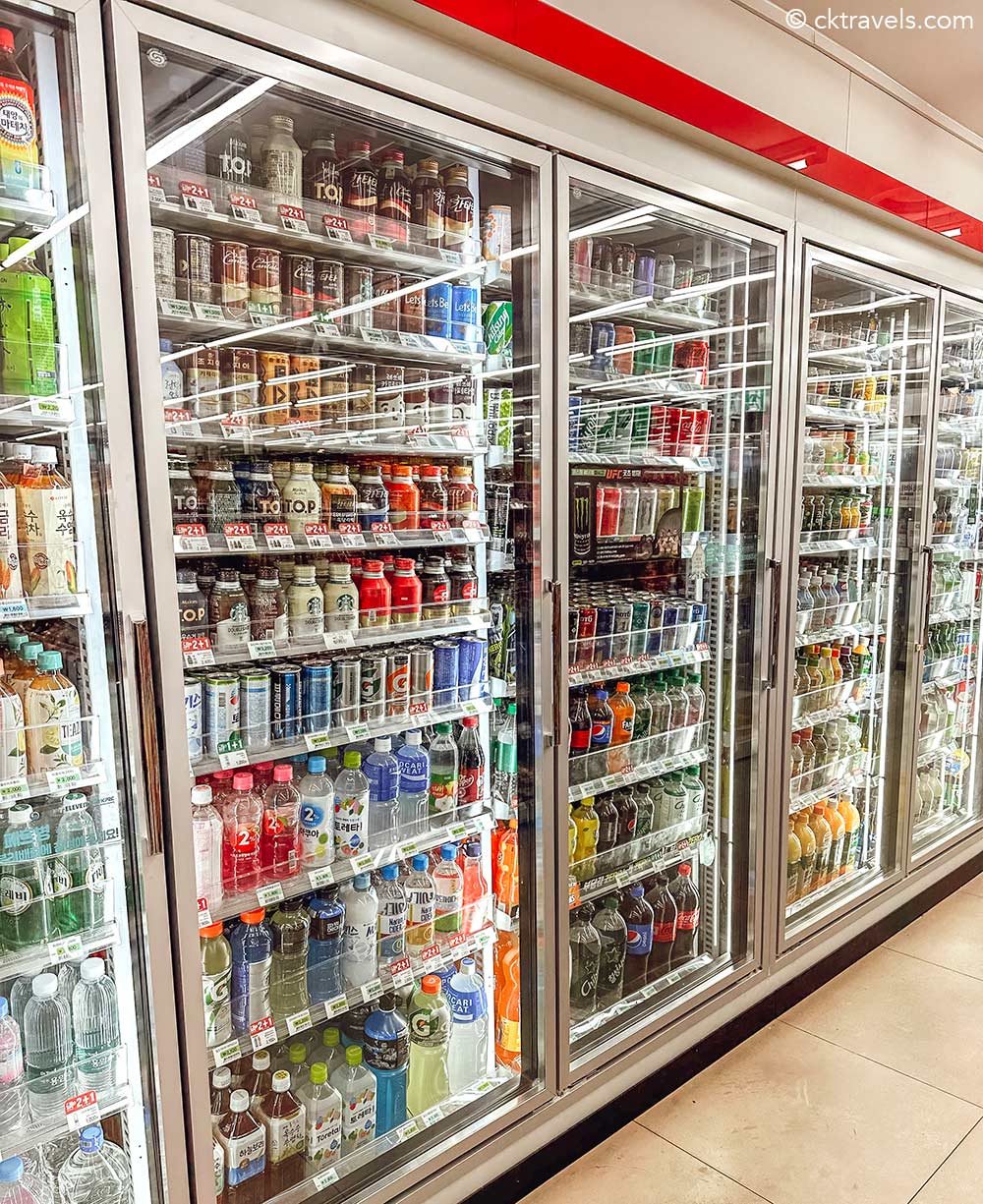 What you can find at 7-Eleven Stores in South Korea
1. Instant Noodles
Ramen noodles have dedicated sections in South Korean 7-Elevens – you can usually find a dedicated aisle chock full of choice ramen flavours like sriracha, tteokbokki and fried chicken.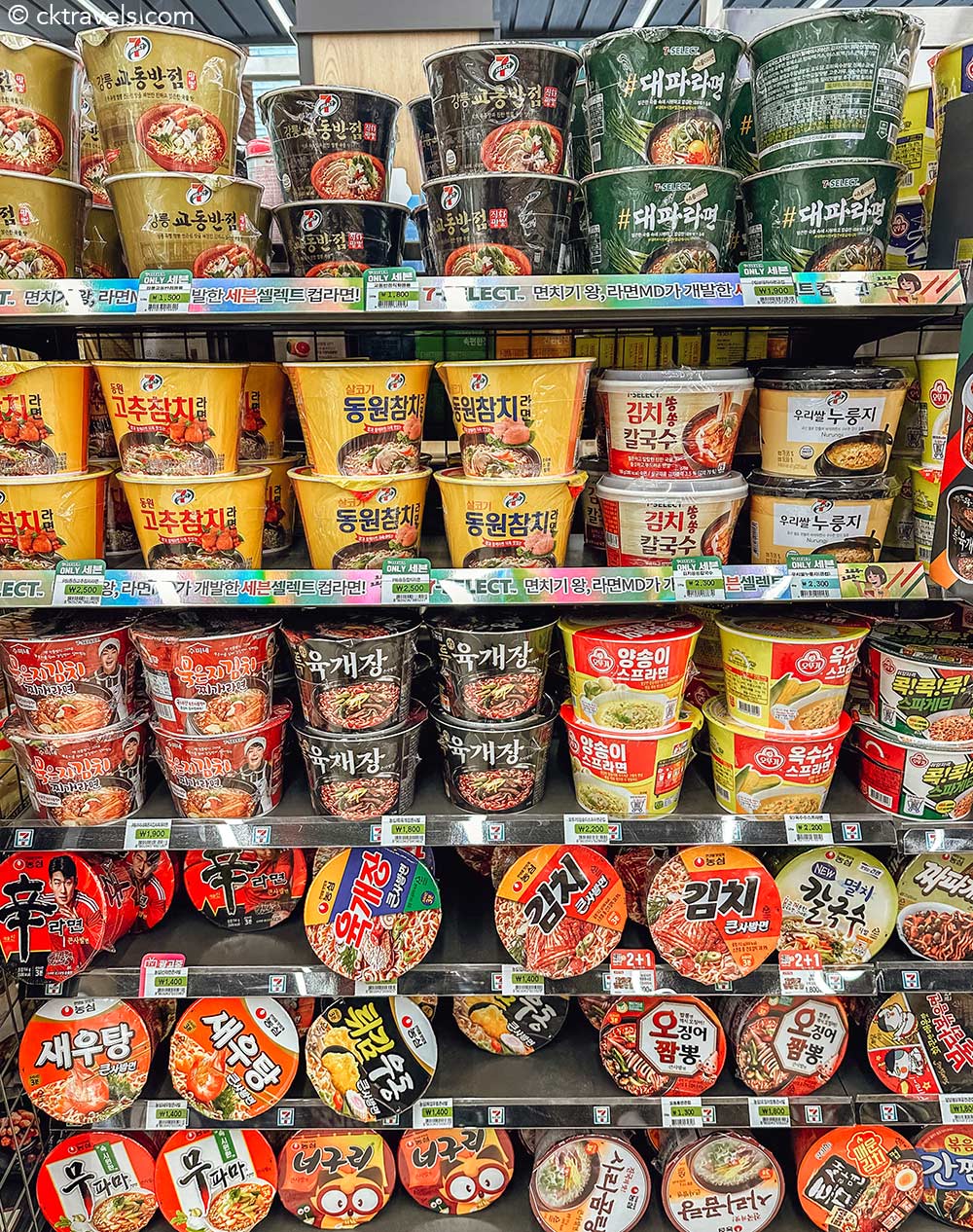 Even better, most 7-Elevens in South Korea include either a hot water vat / urn or plumbed system where you pour boiling hot water on your noodles and then slurp away in the store or on the go.
---
2. Bento Boxes (Dosirak)
Bento boxes are a big thing at 7-Eleven South Korea – literally! These huge boxes come in a variety of flavours with a huge assortment of sides like pickles, soft boiled eggs, fishcakes and kimchi plus loads of rice to accompany your main dish.
From chicken cutlets to spicy pork, bento boxes are a mainstay of Korean 7-Elevens and often have shelf upon shelf of choices.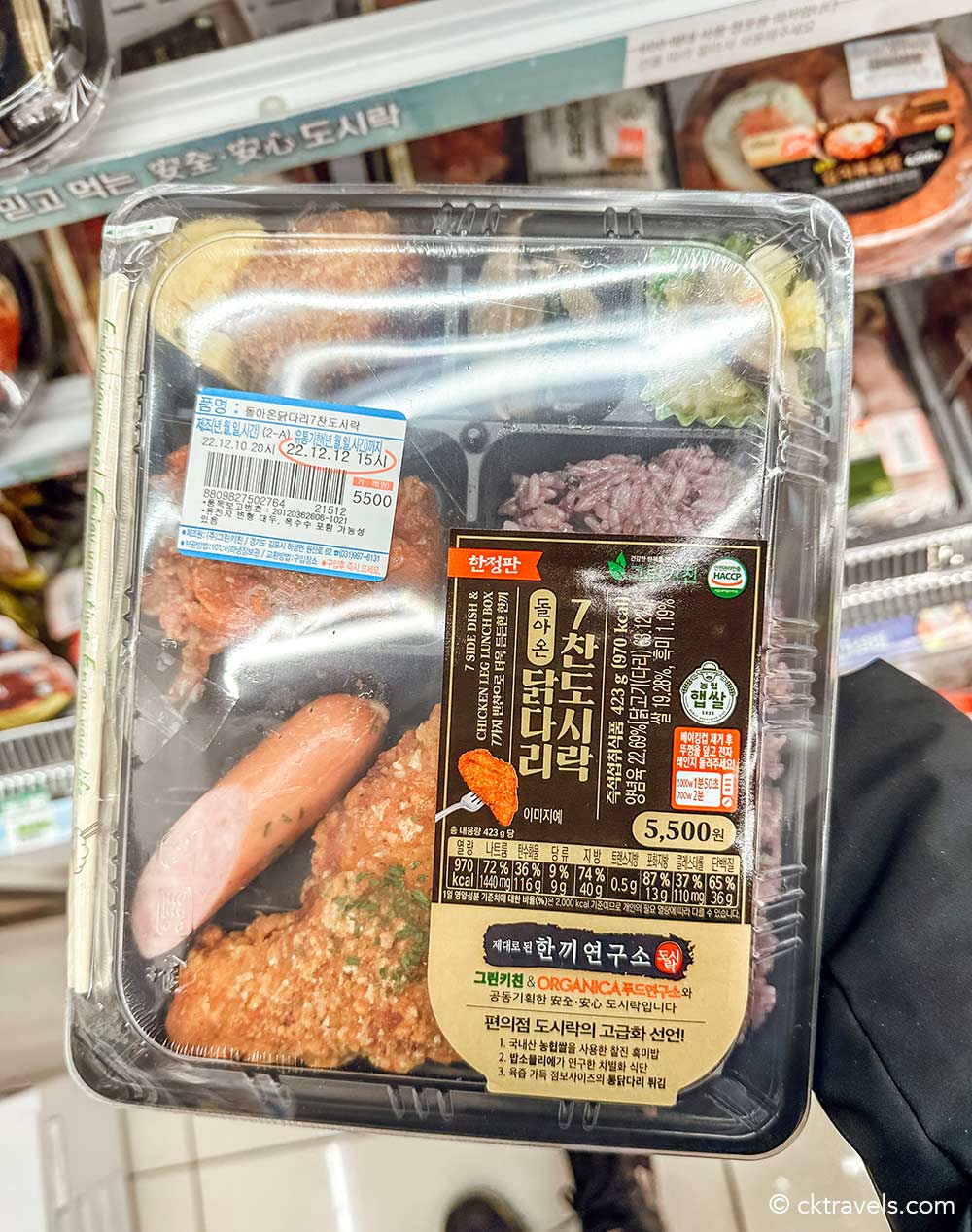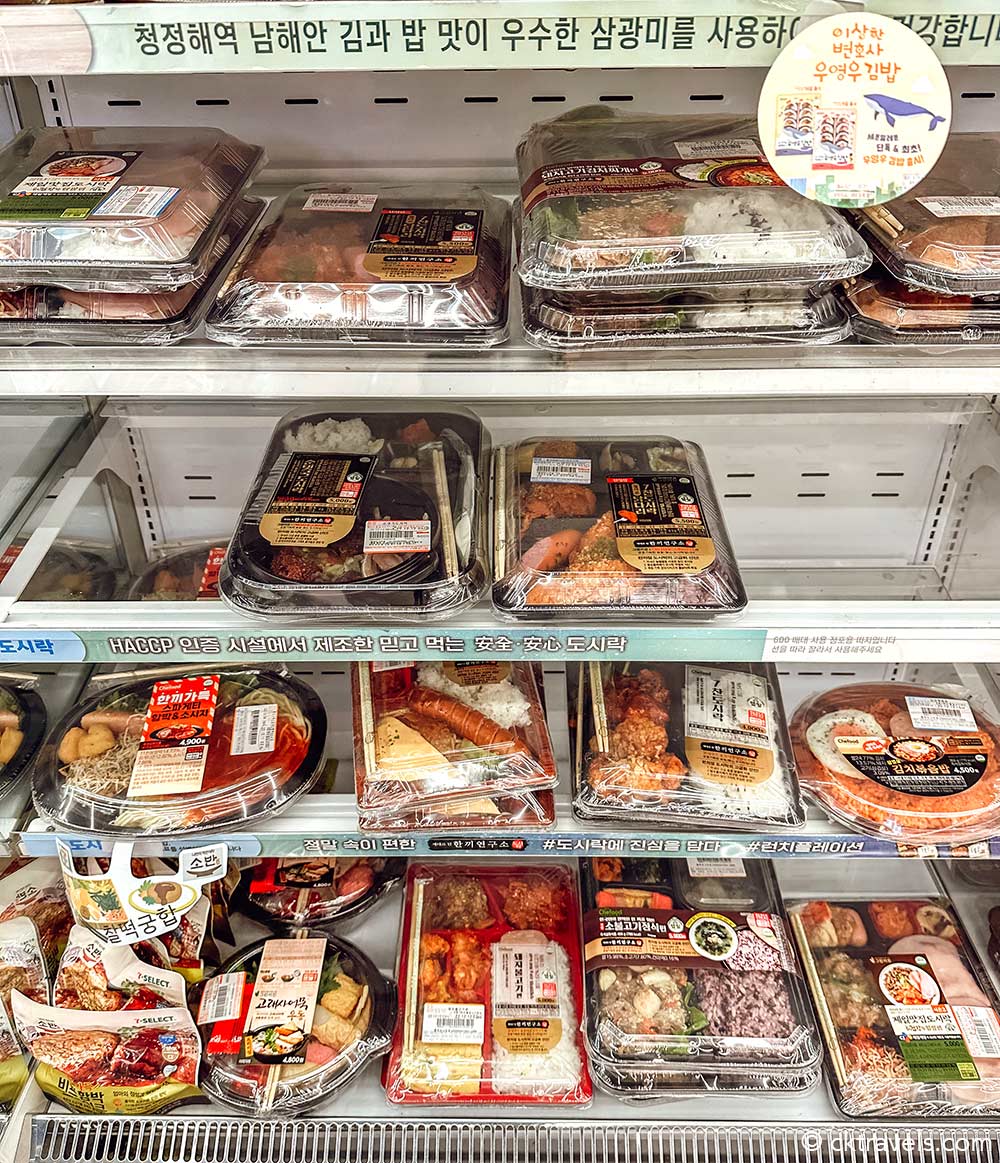 ---
3. Kimchi
We used to buy kimchi regularly from the Korean shops in London so no small wonder it is widely available to buy and take home in sealed foil packets to cook as you wish.
This bright red and spicy pickled cabbage dish is a Korean mainstay and served as a side / garnish with lots of meals including the bento boxes available in 7-Elevens in South Korea.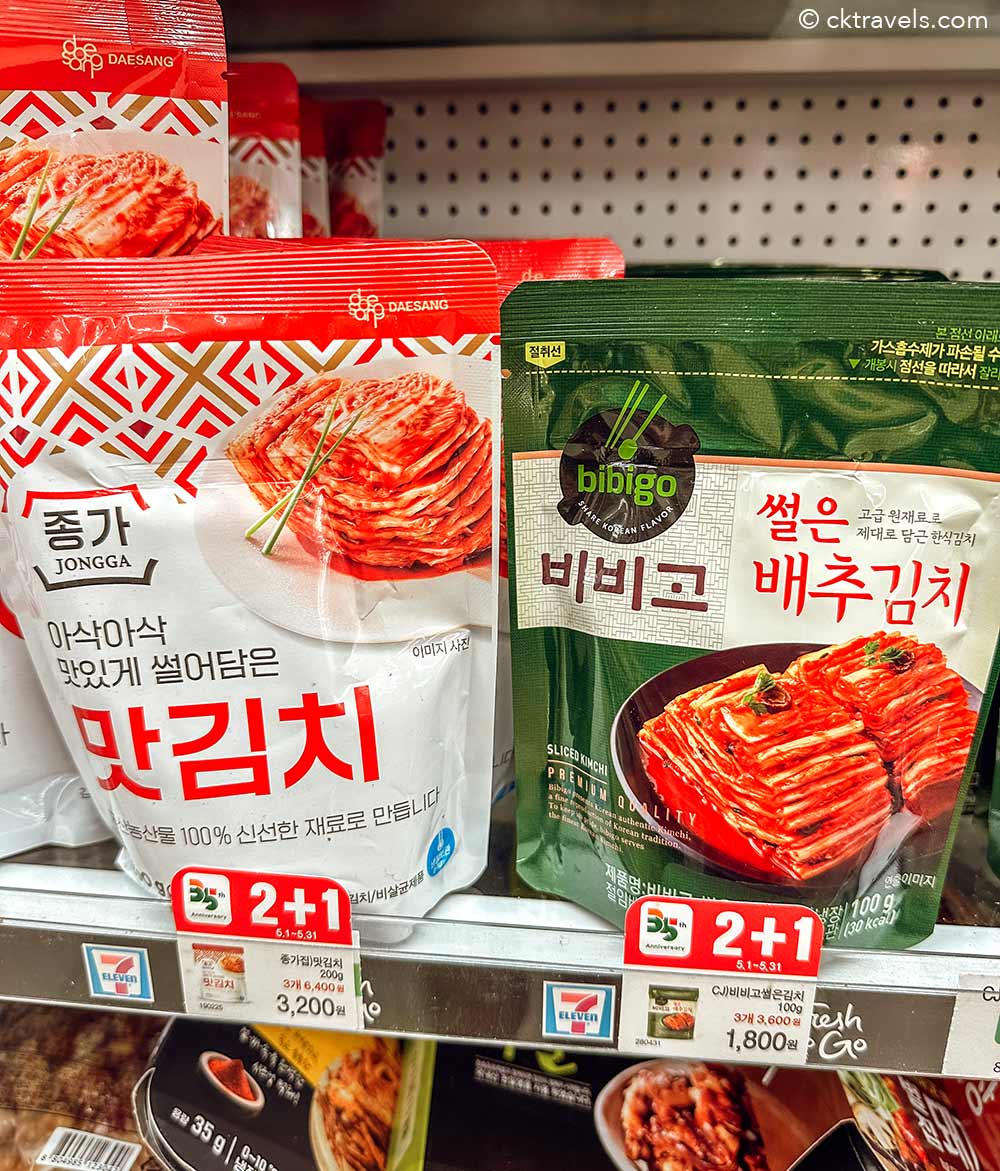 ---
4. Hot Bar
Meat and fish on sticks are a very popular and inexpensive snack in 7-Elevens and at street-food market stalls in Seoul.
At 7-Eleven in South Korea, you find a whole 'hot bar (usually by the counter so staff can regularly replenish it) with all manner of hot meats on sticks like fish balls and sausages, usually served with spicy sausages.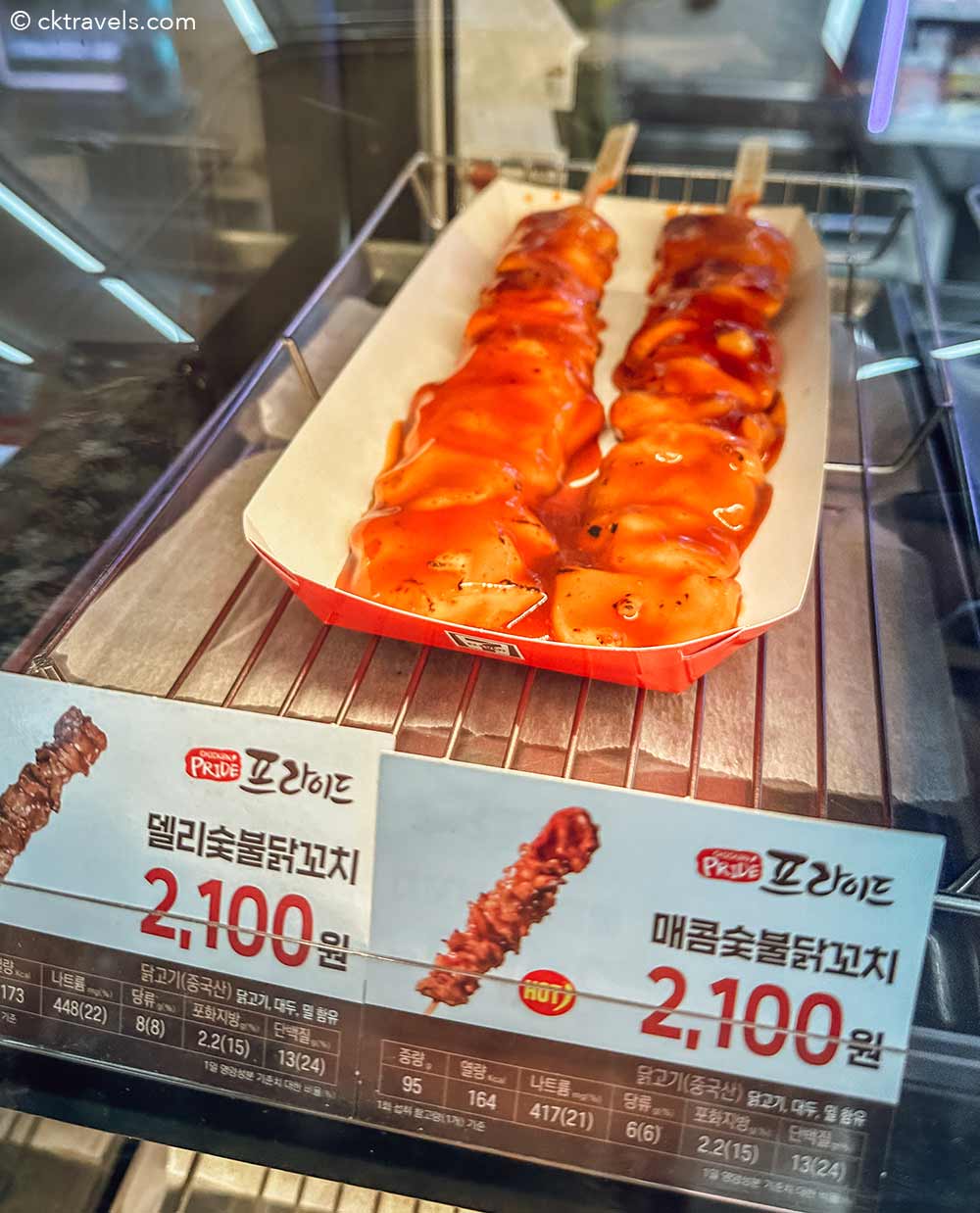 ---
YOU MIGHT LIKE: foods and drinks to try at Gwangjang Market, Seoul
---
5. Fruit Sandwiches
Forget cheese and ham or chicken mayo; South Korean sandwiches do come in savoury varieties but you can also get sweet sandwiches at 7-Eleven. One such sandwich was a Jeju milk sandwich with grapes and tangerine. We also saw strawberry sandwiches too.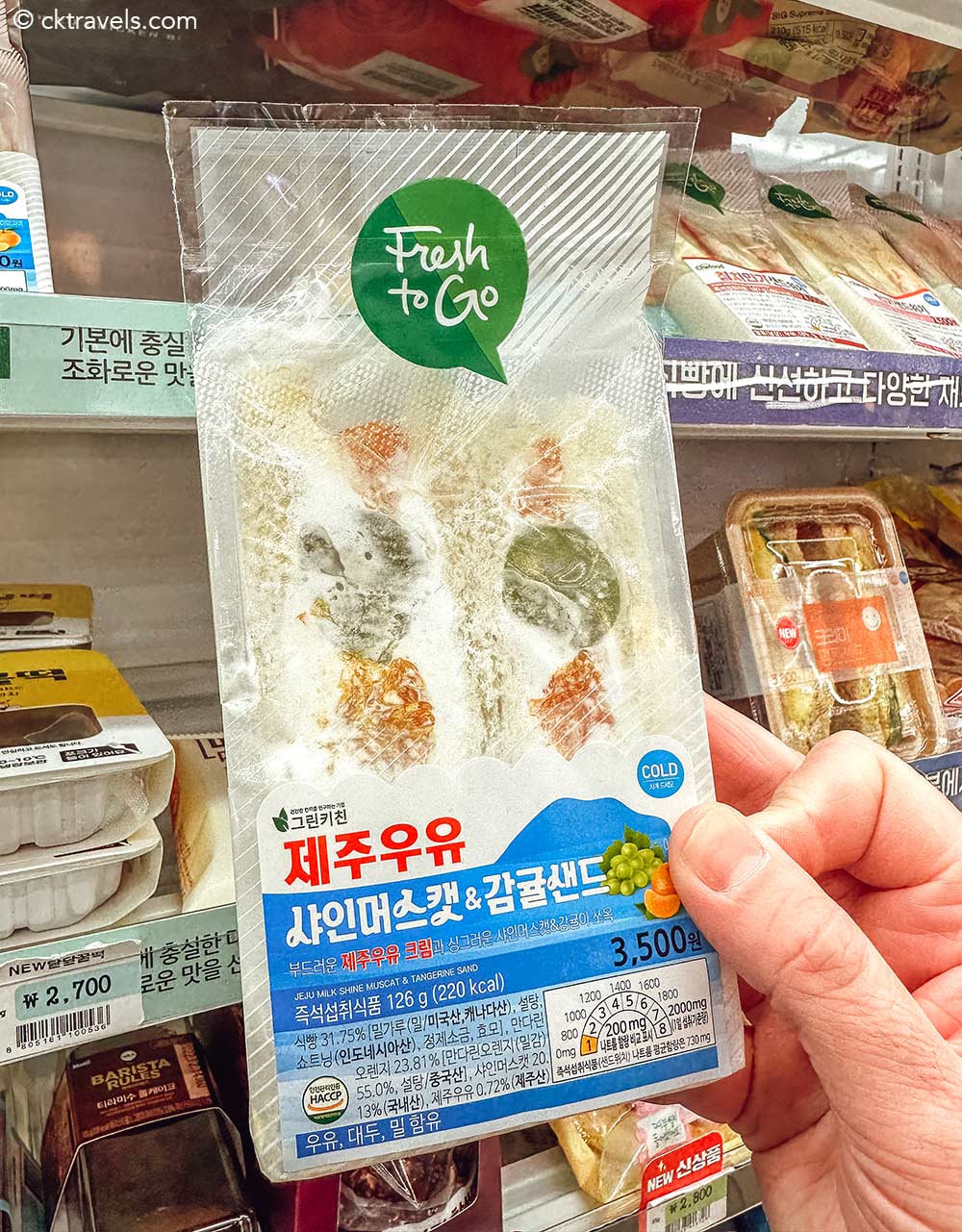 ---
6. Crisps / Potato Chips
Here at CK Travels, we are big fans of working our way through crisp flavours whilst exploring convenience stores – for instance, read about the time we tried all the various Lay's crisp flavours in Thailand 7 Elevens.
South Korean 7-Elevens are no different with aisle upon aisle of crisp flavours and different styles of crisps.
One of our favourites (and most popular in South Korea) is the shrimp flavour which tastes just like prawn crackers. Delicious (but not ideal in small, confined hotel rooms!). We also liked the Sindang-dong tteokbokki snack crisps.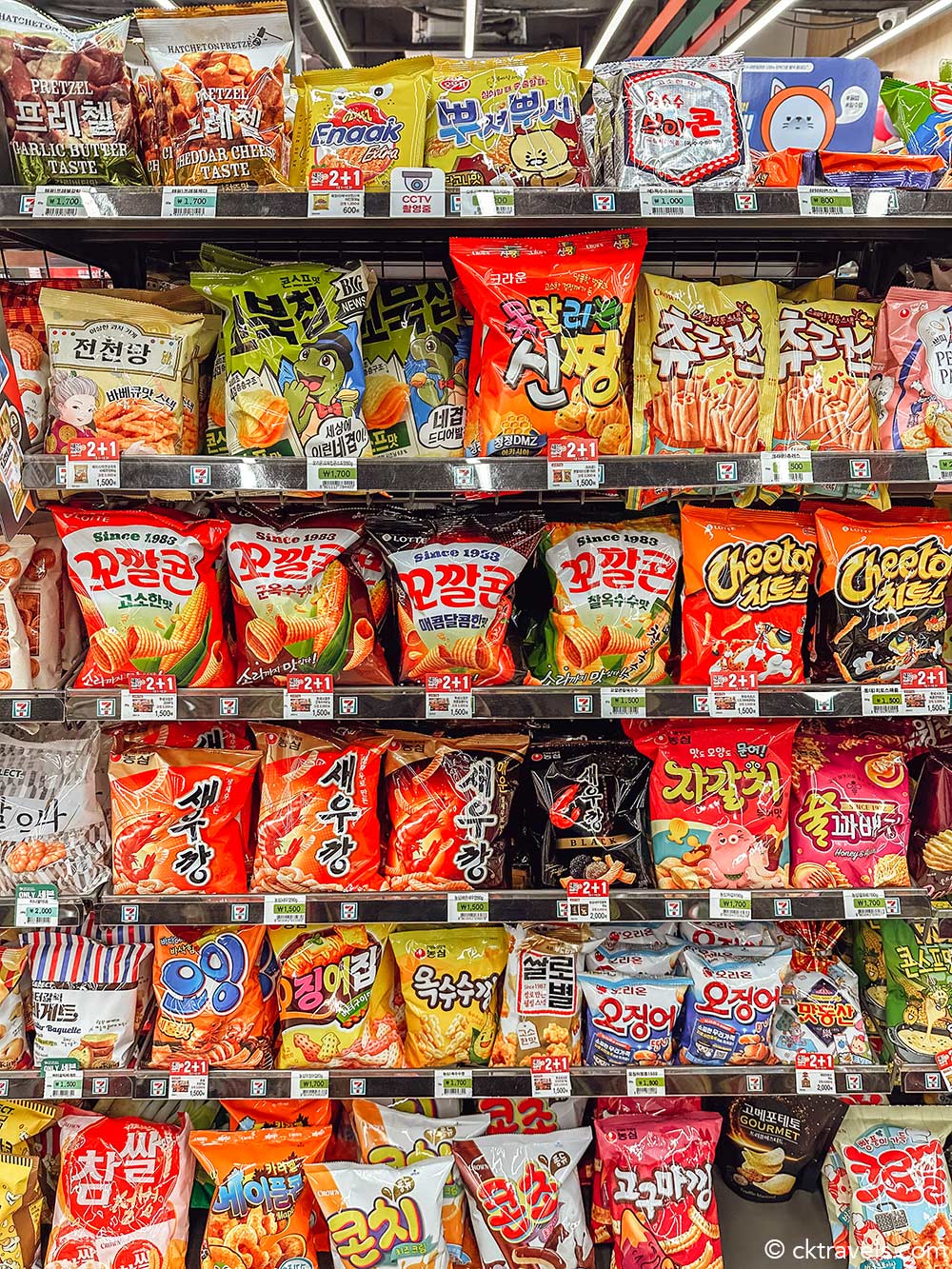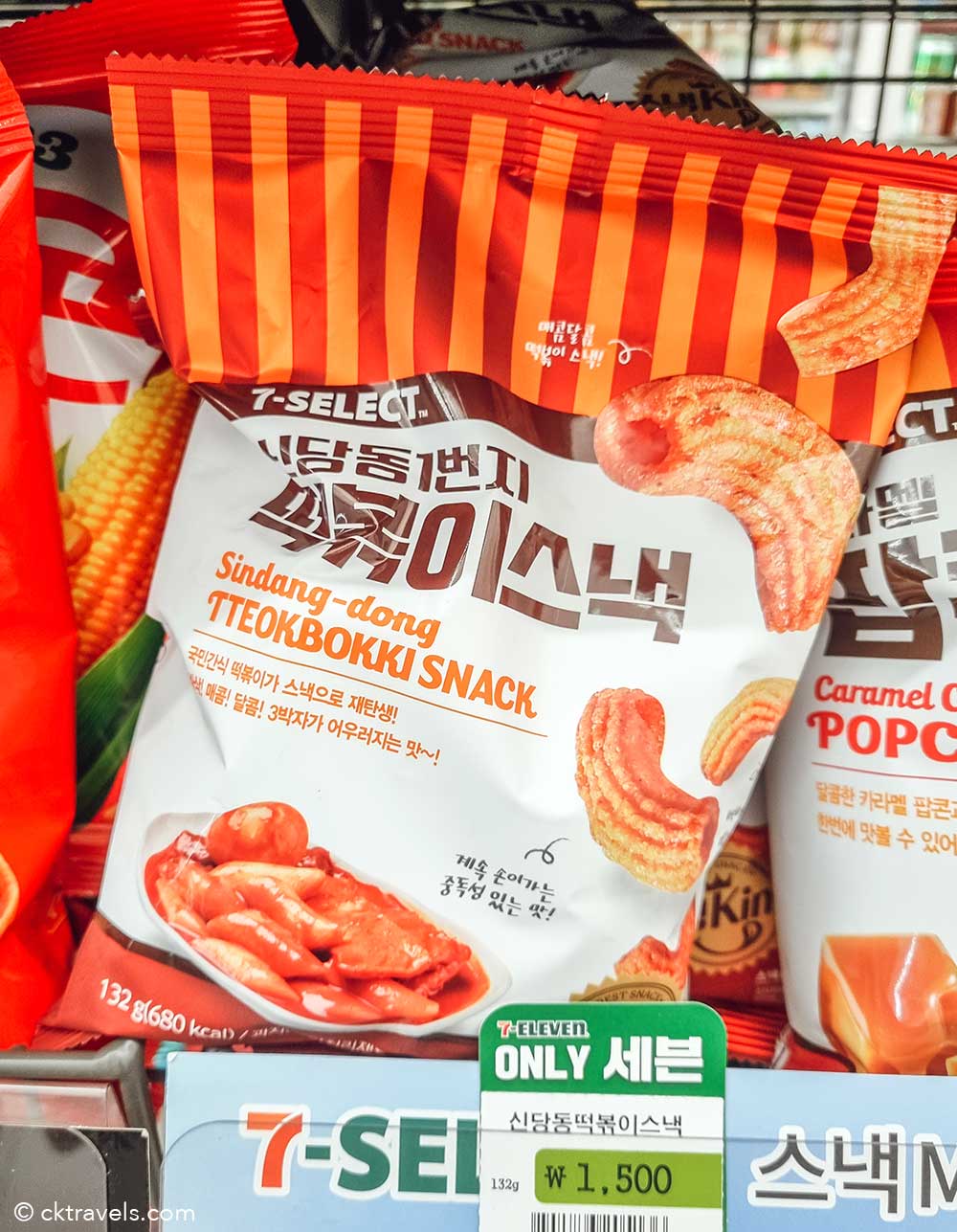 ---
7. Banana Milk (Binggrae)
Bangin' banana milk (Binggrae) is super popular in South Korea, particularly with the young.
We tried South Korean banana milk a few times as it is very refreshing after the spicier kimchi dishes some street food stalls produce – but this particular banana milk reminds us so much of Nesquik banana powder milk (which isn't a bad thing).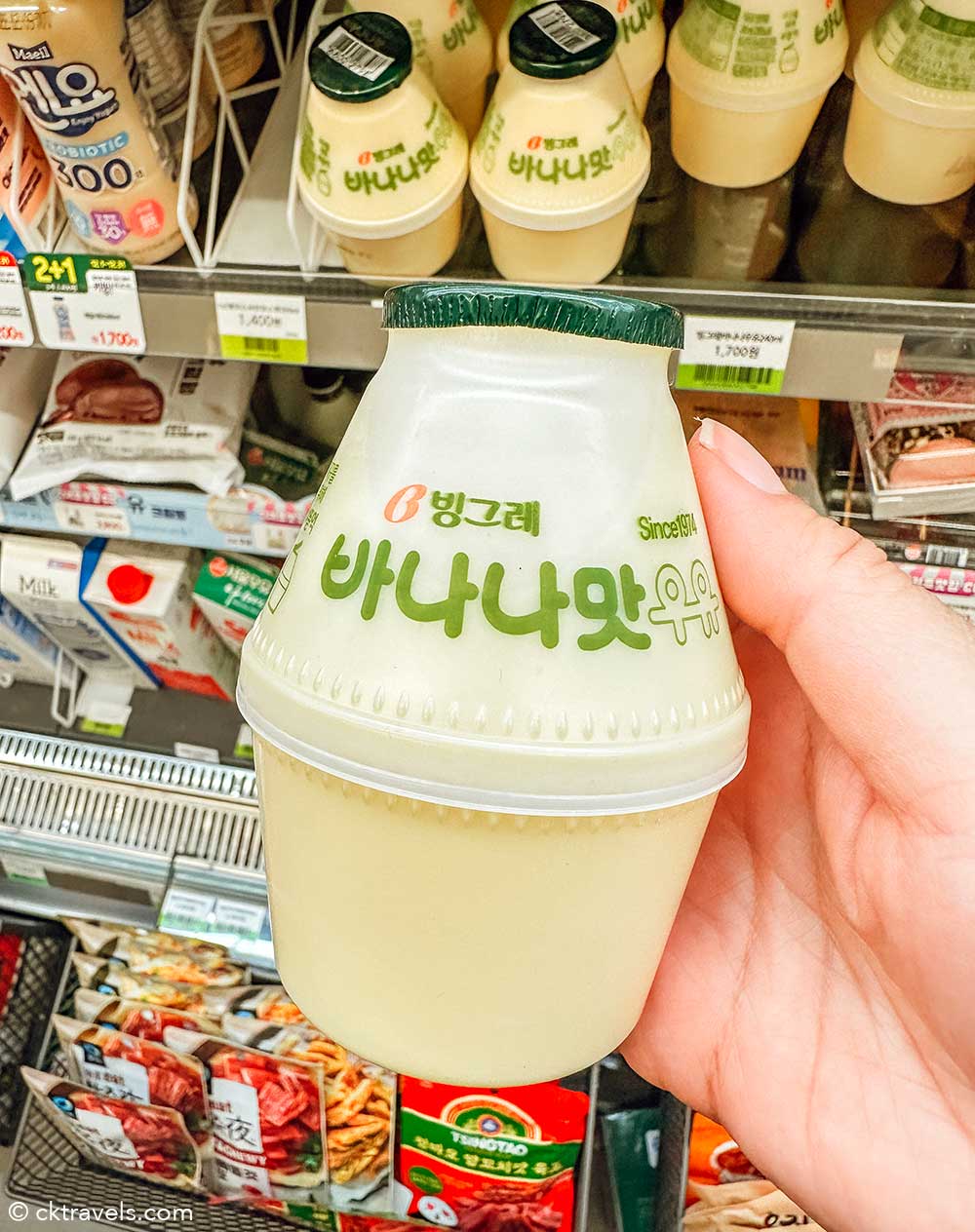 ---
7. Iced Coffees
Iced coffee (and coffee in general) is popular in South Korea, although often weaker than what you'd get in the west unless you go to a multinational like Starbucks.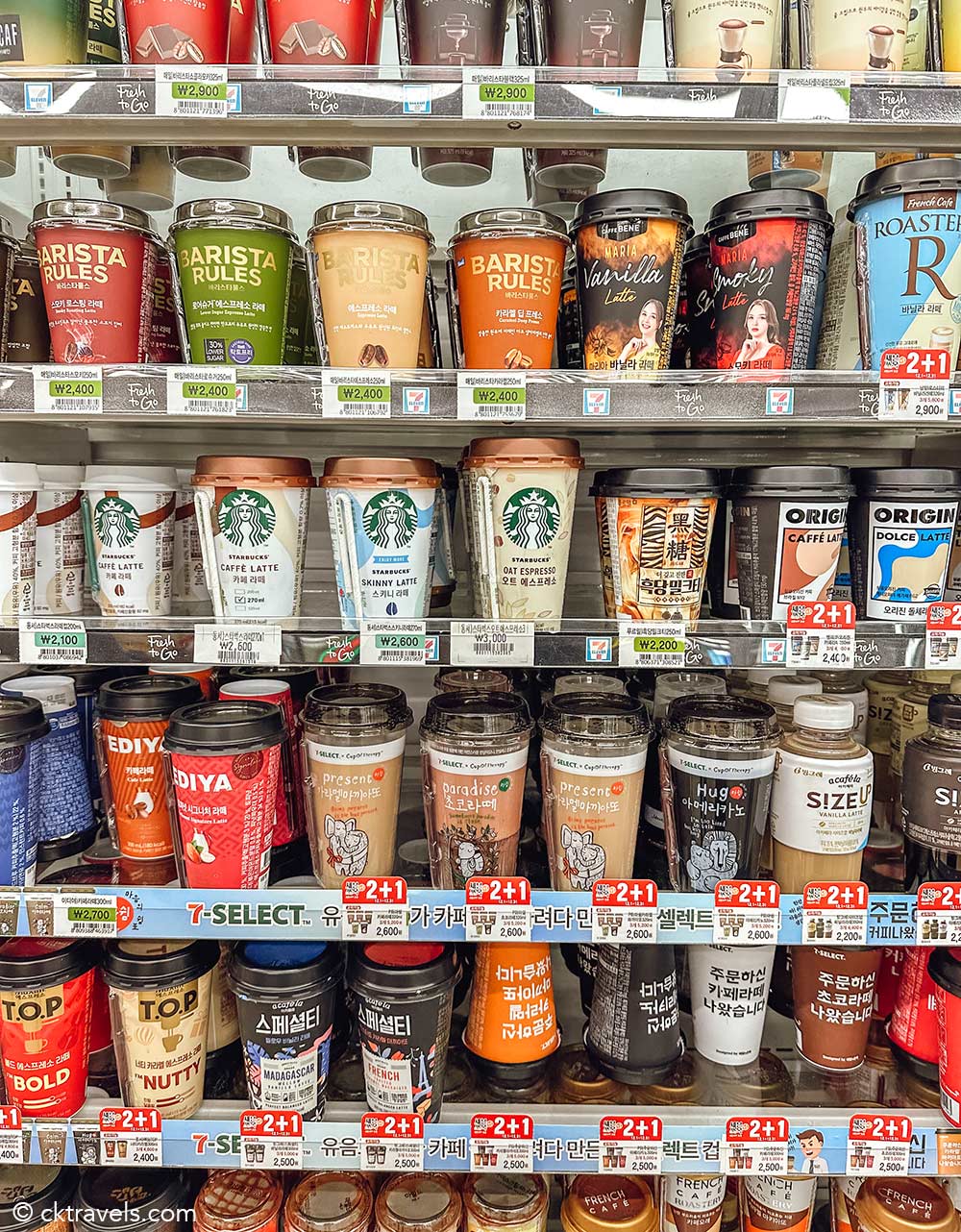 Canned / cold coffee is big here, often with a dedicated fridge in 7-Eleven just for cold coffees and teas. Expect to pay around 1,000 Korean Won for a small can of coffee such as Lotte mild mocha.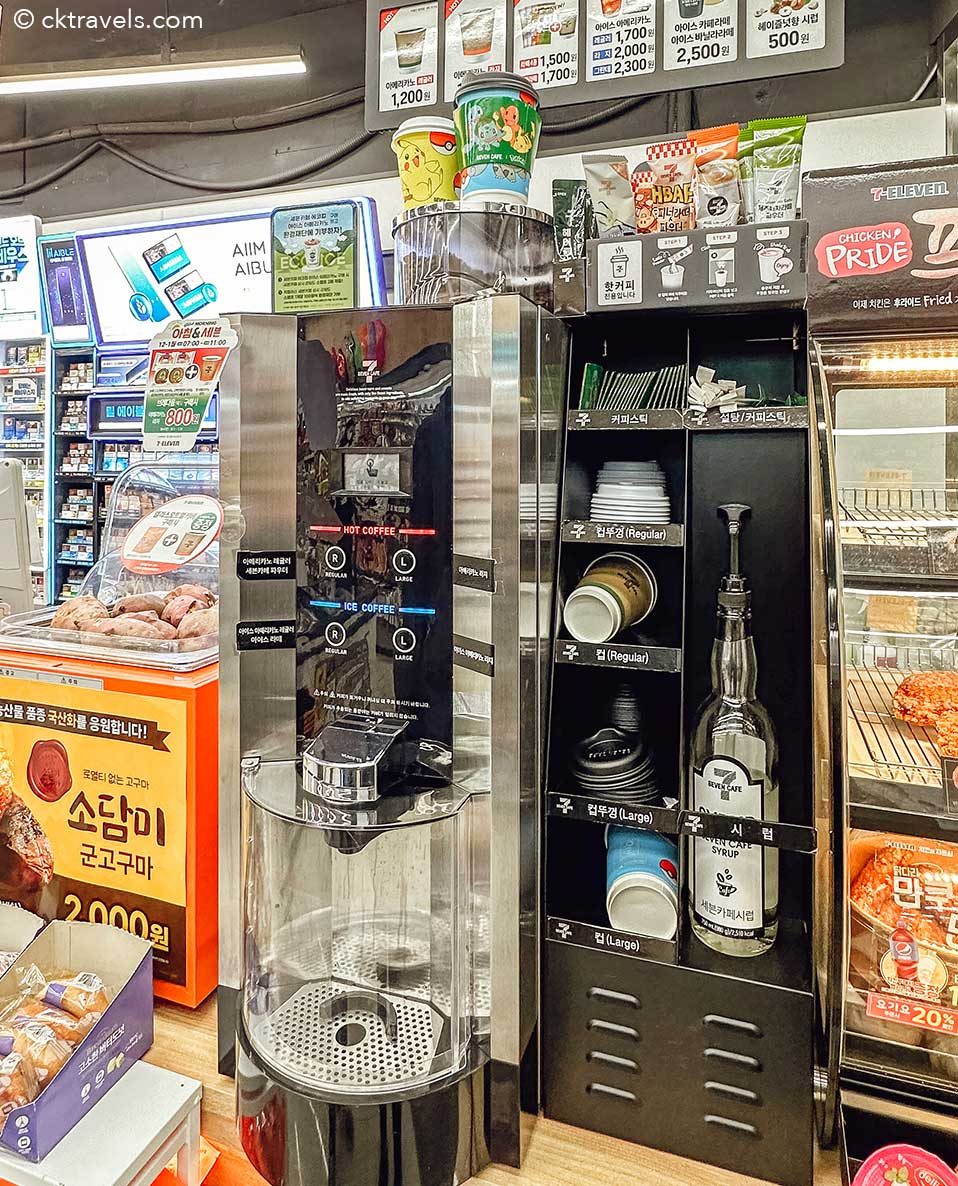 ---
8. Korean Fried Chicken
Fried chicken (often accompanied with cold beer) is synonymous with South Korea, and so many 7-Elevens have dedicated hot fried chicken cabinets with various flavours (often spicy).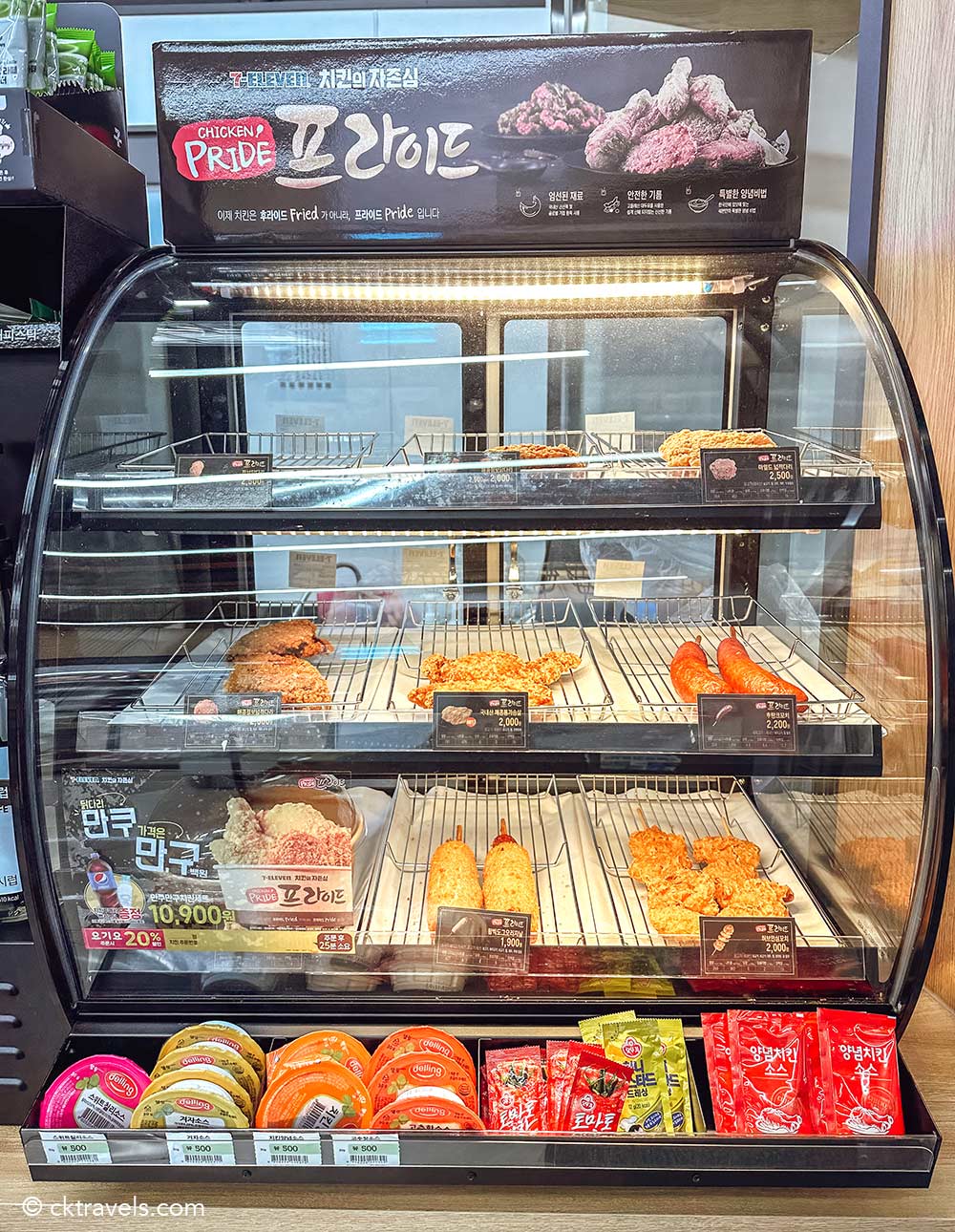 ---
9. Ice Cream
Ok, so every time we've been to Seoul, it has been the winter so we've yet to immerse ourselves in the selection of 7-Eleven ice-creams in South Korea, but suffice to say there is a huge range of frozen favourites in the ice-cream cabinet.
Lotte Ghana chocolate ice-creams seemed to be the most widely available, a spin off of the popular choccy bar range.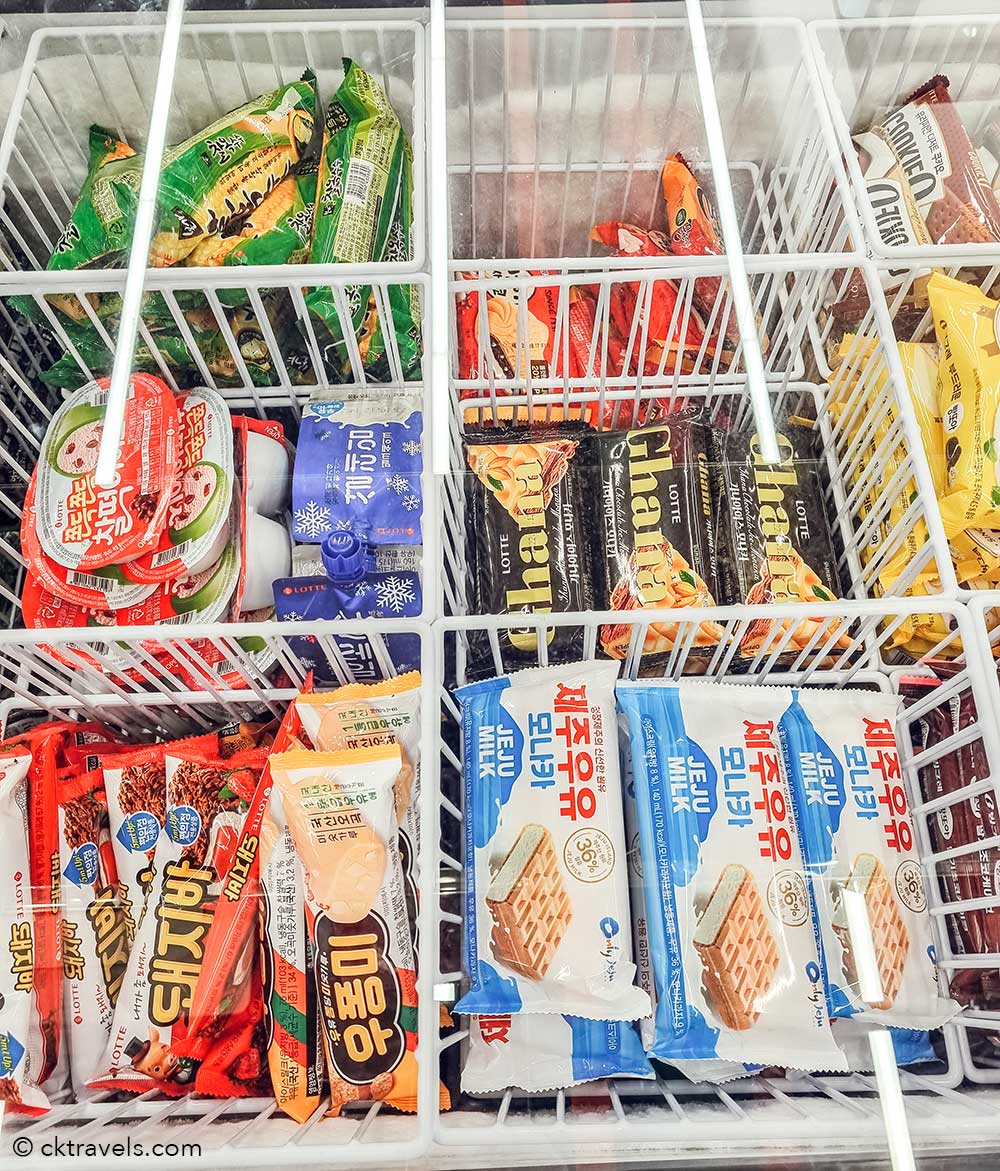 ---
10. Chocolate
Dozens of chocolate bar flavours are available in store but we were addicted to Crunky chocolate which is available in many forms and flavours, containing chocolate bits. The Crunky cookies and cream bar is one of the best tasting chocolate bars we've ever tried.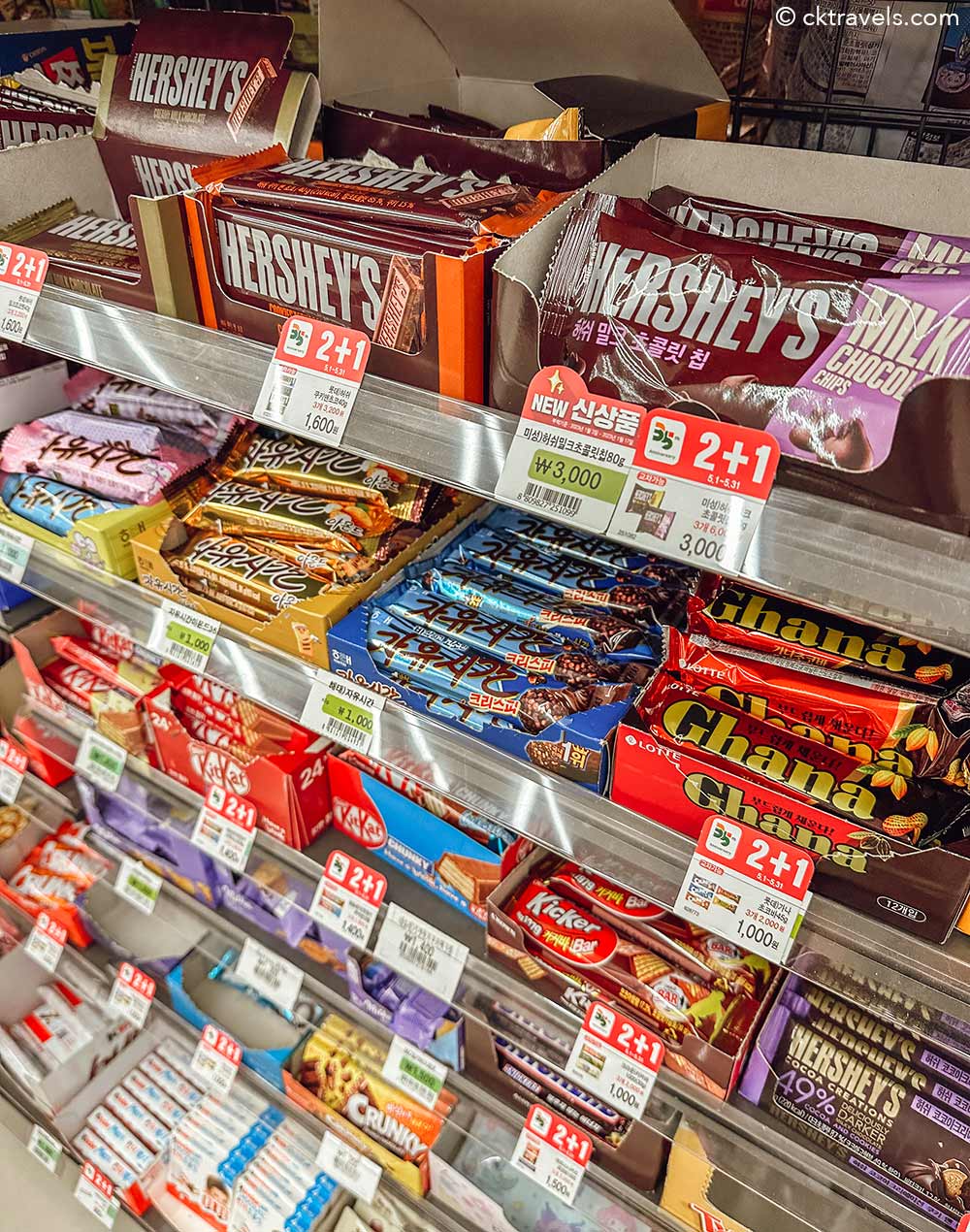 ---
YOU MIGHT LIKE: Best things you can buy in Thailand's 7-Eleven stores
---
11. Plastic Wrapped Sausages
We aren't sure if we've used the right term but these are packaged meat like chicken or pork bought cold that are served in rolled up plastic packages, a little like saveloy sausages or pate (which can also be microwaved).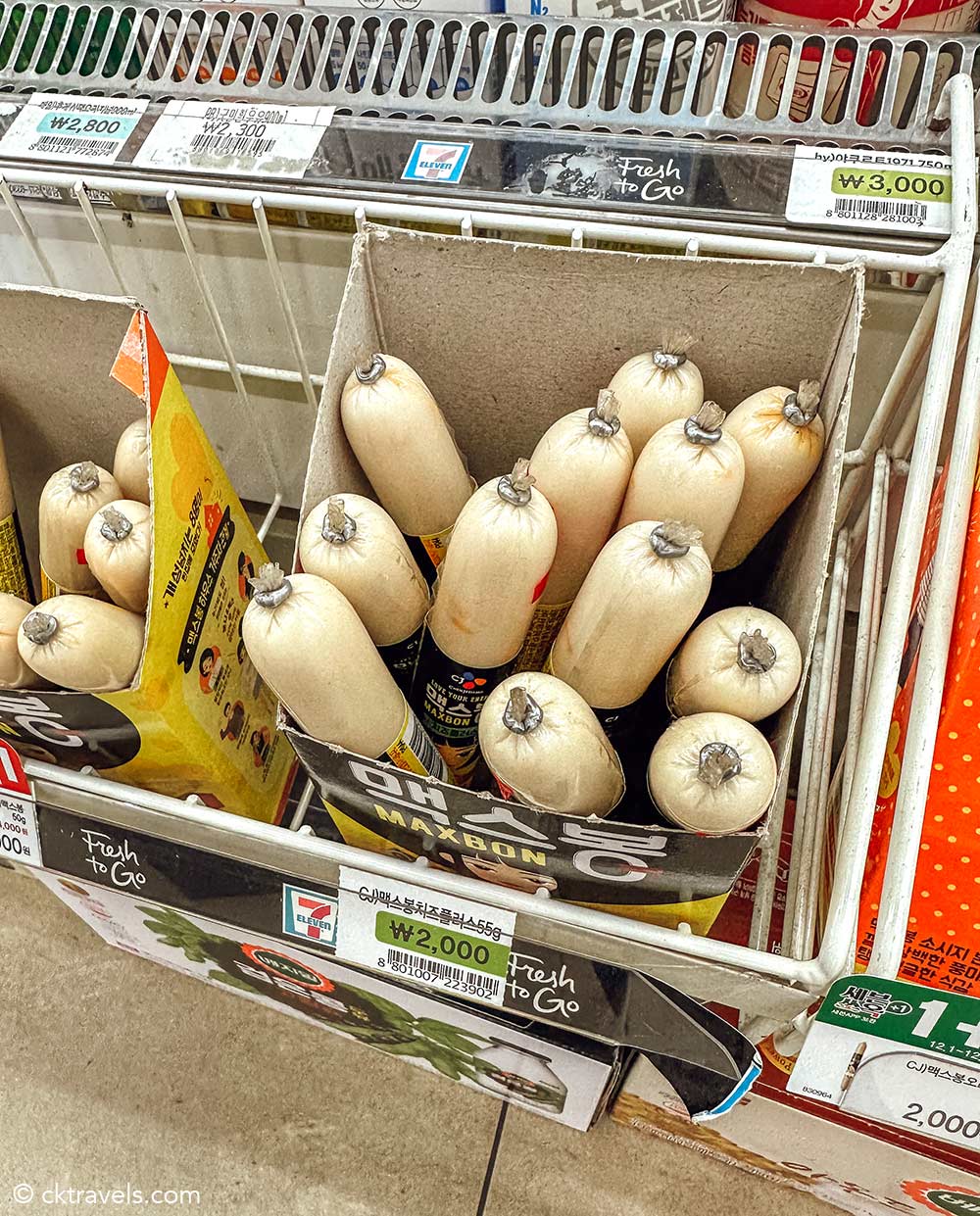 Kept in the refrigerated sections with descriptions like 'mini Vienna sausage, these were one of the few foods on this 7-Eleven in South Korea that we didn't try ourselves so can't really comment on their consistency or taste (next time).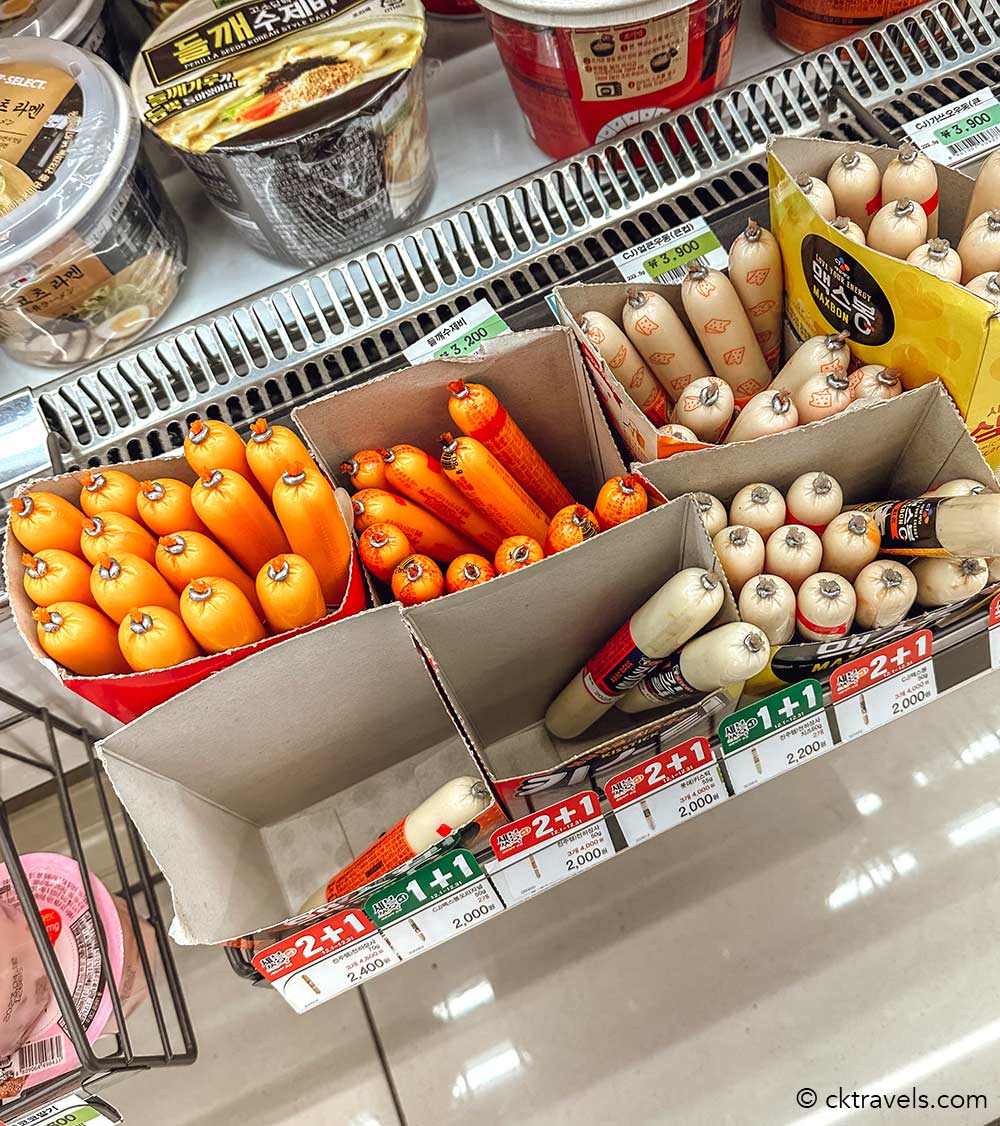 ---
12. SPAM
So we know SPAM used to be popular in lots of places, but we were quite surprised to see lots of SPAM products in 7-Eleven stores in South Korea. We aren't just talking about the tinned cans of original SPAM – we are talking SPAM fritters, SPAM luncheon boxes etc – SPAMALOT!
---
13. Refrigerated Salads at 7-Eleven in South Korea
Whilst 7-Elevens don't generally have dedicated salad bars, they do have extensive salad selections in South Korea like green leaves with grilled chicken breast salad and an almond soy milk dressing.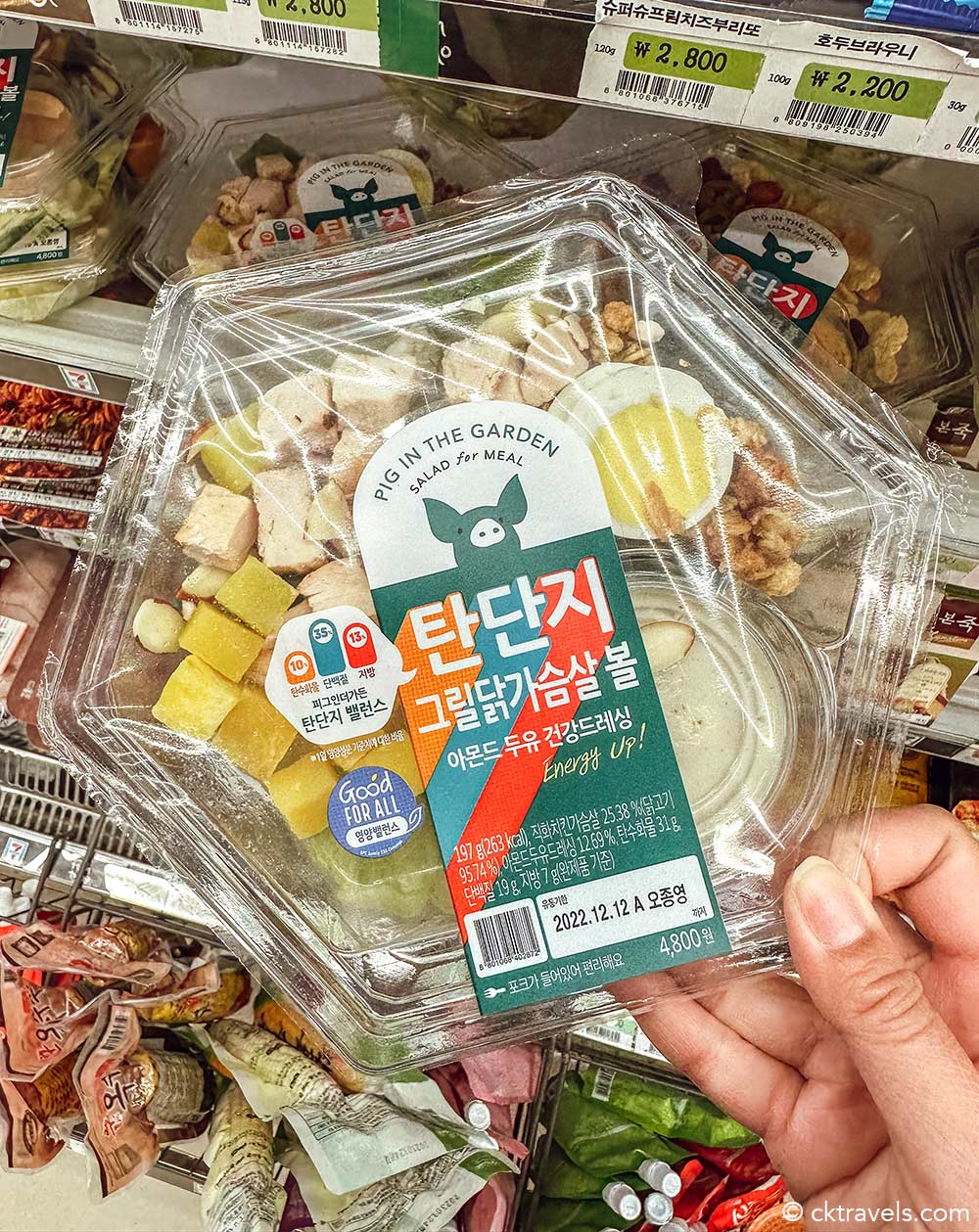 ---
14. Soft Boiled / Salted Eggs
An eggs-cellent (sorry not sorry) choice of snack and source of protein from 7-Eleven South Korea, these pre-packed free range salted eggs can be found in most chiller sections and are pretty cheap (cheap). Don't be a 'chicken' and try one on your next visit.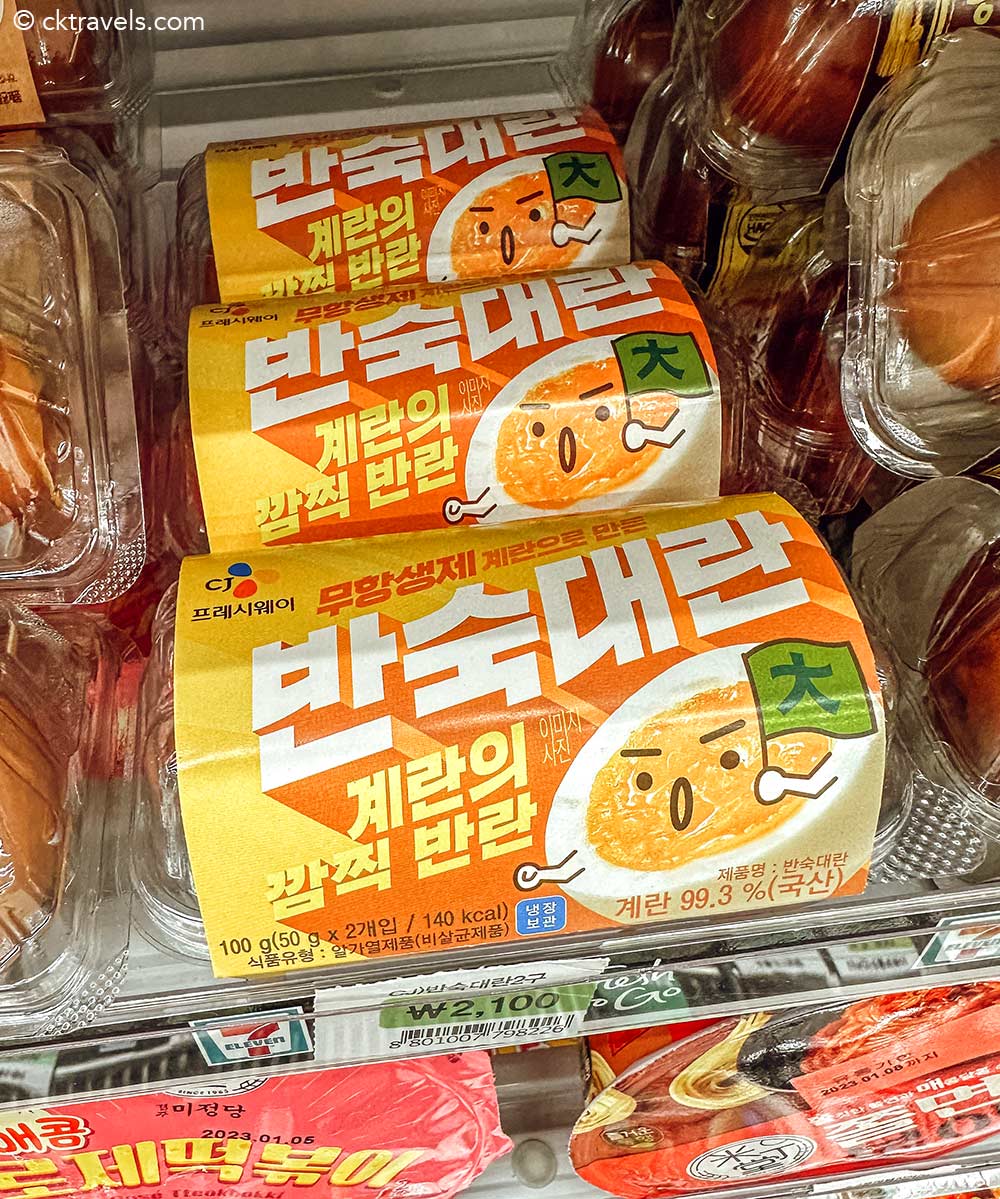 ---
YOU MIGHT LIKE: top things to do in Insadong, Seoul
---
15. Hot Sweet Potatoes
Although not available in every 7-Eleven in South Korea (and possibly a winter speciality), we saw several Seoul 7-Eleven stores selling hot roasted sweet potatoes from a dedicated hot bar at the counters. This purple sweet potato is 2,000 Korean Won per spud.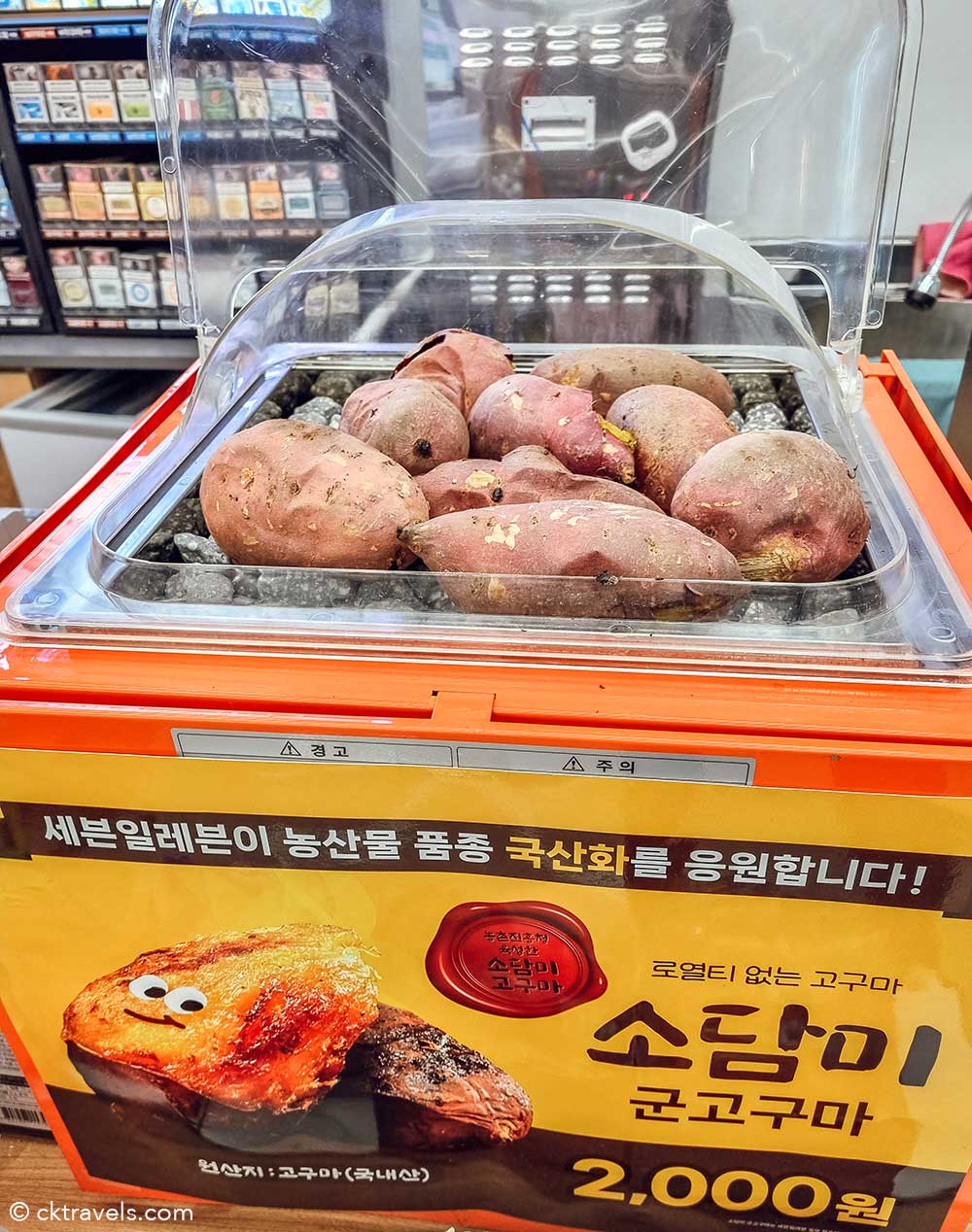 ---
16. Korean K-Pop merchandise / branded goods
Obviously the K-pop phenomenon is huge in South Korea and now globally, so you'd expect, all manner of K-pop merchandise is available in 7-Elevens in Korea like branded mobile phone chargers.
Also, so many food and drink products feature K-Pop bands so you can't escape them in any Korean convenience stores. For instance, when we visited last, there a a range of Lotte produced BTS chewing gum plus Snickers bars with BTS song titles on that replace the usual Snickers logo!
---
---
17. Triangular rice (Samgak Kimbap)
Nice rice triangles! Although we never figured out properly how to open a Samgak Kimbap from 7-Eleven (we always made a mess), these healthy snacks are available in a range of flavours like Spam egg mayo, tuna and bulgogi. They are also available in cylindrical versions.
---
18. Toiletries and cosmetics
From the daily necessities like toothpaste and hand-wash to some of the more South Korean specific products like whitening face cream.
---
YOU MIGHT LIKE: The best themed 7-Eleven stores in Taipei, Taiwan 
---
19. COVID-19 products
A relatively new addition to 7-Eleven stores in South Korea since the onset of COVID-19 worldwide in late 2019 / early 2020, you'll be glad to hear face-masks, COVID testing kits and antibacterial hand-wash are all available at affordable prices.
When we visited South Korea last in December 2022, most people were still wearing masks indoors and out, so if you ever lose a mask whilst in transit, this is a good place to reequip.
---
YOU MIGHT LIKE: Guide to Taiwan 7-Eleven Toasted Sandwiches >
---
20. Beer
Mainstream beers like Cass and Terra dominate the beer sections at 7-Eleven in South Korea but some also include craft beer and small batch brewery cans.
One of the more unusual beers we tried from 7-Eleven in Seoul was the Fil Goodbeer which is from the Oriental brewery and is more of a rice beer and slightly lower strength. As it is partially rice based and a lower ABV, the tax to produce it is cheaper so it is cheaper than say Cass or Terra.
Unlike 7-Elevens in say Thailand where there are stricter alcohol laws meaning you can't buy alcohol at certain times of the day, you can buy beer at 7-Elevens in South Korea during opening hours.
Tip – for whatever reason, buying beer in bottles in 7-Elevens in South Korea seemed to be way cheaper than buying beer in cans. For instance, a 500ml bottle of Cass beer was 2,200 Korea Won whilst a can of Cass beer the same size cost 2,800 Korean Won, as at December 2022.
Also unlike other countries that have 7-Elevens (e.g. Canada), you don't need to pay a bottle deposit at Korean 7 Elevens.
Love beer? Us too! Read about the best craft beers bars in Seoul, South Korea here >
---
21. Soju
So-ju like… sorry, so you like alcoholic drinks? Then 'Korean vodka' might be for you as it is widely available at 7-Elevens in South Korea and cheap as – it is cheaper than beer and generally available for less than 1,500 Korean Won (£1 / 1 USD for a small bottle).
Produced from cassava, soju is hugely popular in Korea and usually consumed neat. It is around 9 to 20% ABV (so half that of vodka). We found it quite an acquired taste but everyone else loved it so there you go!
---
22. Rice Wine
One of our lasting memories of spending time in Seoul was seeing the amount of people old and young enjoying rice wine (makgeolli) and being VERY merry on it, particularly at Gwangjang Market where you could buy it at stalls or sneak it in from the 7-Elevens and CU stores on the market fringes!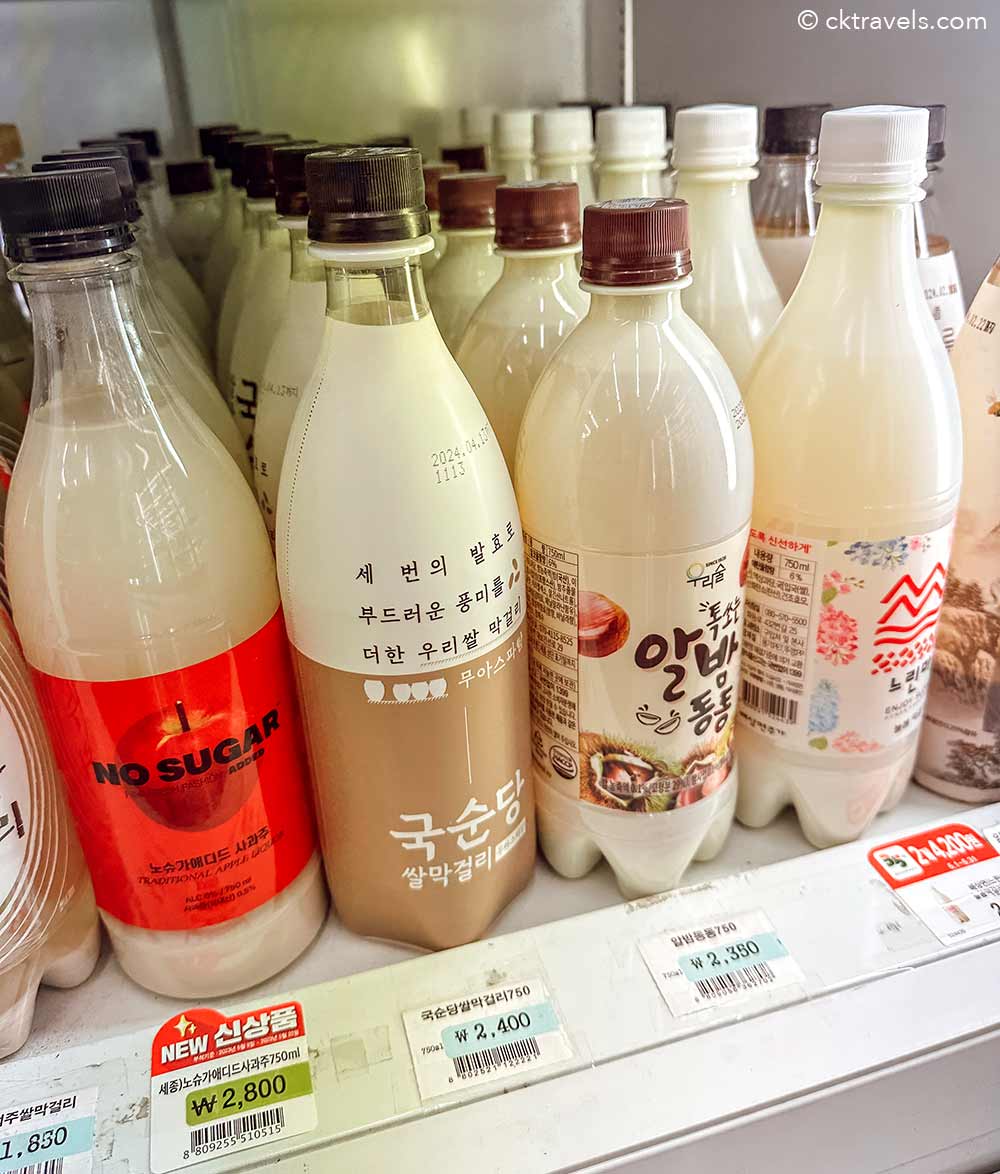 Around 6% to 9% ABV, it is stronger than beer and much cheaper too making it an incredibly popular drink. Quite milky and 'sharp' in taste, it can be bought in huge bottles for very little money (usually 2,000 to 2,500 Korean Won).
---
23. Soft Drinks at 7-Eleven in South Korea
As well as the usual soft drink types like Coca-Cola and Pepsi, there were lots of soft drinks to try in 7-Elevens in South Korea including Chilsung Cider, Korea's No.1 original sparkling soft drink (not cider like we know it in the UK or US – this is a lemon and lime carbonated drink, very similar to Sprite).
We also took a shine to Pineapple flavoured Fanta which we hadn't seen anywhere else outside of South Korea.
As you'd expect, there were also numerous soft drinks in South Korean 7-Eleven's relating to cutesy cartoon character like Hello Kitty shaped water bottles and the Kakao characters.
---
24. Korean Hot Dogs
Usually found in the fried / hot chicken cabinet at 7-Elevens, Korean hot dogs are a very popular fast-food in South Korea. They are essentially a traditional hot dog sausage wrapped in panko bread crumbs with cheese served with mustard and sometimes ketchup.
---
25. Bakery sections at 7-Eleven in South Korea
You can find lots of bakery and bread related products in Korean 7-Elevens, particularly sweet breads and garlic / honey butter related products. You can also find pre-packaged goods like sweet cake, croissants and waffles.
---
YOU MIGHT LIKE: A visit to the world's largest 7-Eleven in Pattaya, Thailand
---
26. Frozen sections at 7-Eleven in South Korea
Although not all 7-Elevens we visited in Seoul and South Korea had dedicated frozen sections, most have at least one freezer cabinet (the largest 7-Eleven we found in Seoul under Myeongdong Cathedral had a massive frozen section).
7-Eleven frozen sections in South Korea included take home goods like gyozas, chicken nuggets and frozen ready meals.
---
27. Second hand goods at Korean 7-Elevens
Yes, you read that right – you can now (sort of) purchase and pick-up second hand items at 7-Eleven South Korea.
In 2022. 7-Eleven signed a new deal with Joonggonara, a second-hand marketplace platform, whereby you can pick up second hand goods purchased on the platform from the assigned store.
When the product is purchased online, the buyer can pick it up at a 7 Eleven store in South Korea at a time of their choosing.
---
28. Transport cards and top-up vouchers at Korean 7-Elevens
Finally, 7-Eleven (and other convenience stores) is your go to place to top up for transport (T Zone cards) or get calling card or pre-paid vouchers, like Netflix, Apple Music or Spotify.
---
Other South Korea posts you might like
Did you enjoy our best food and drink at 7-Eleven in South Korea guide blog post? Let us know in the comments or by sharing it on social media.
You can follow CK Travels on:
Instagram
Facebook
TikTok
YouTube