This post may contain affiliate links to tours and hotels. These help us earn a small commission at no additional charge to you.
Seoul comes alive every Christmas and New Year with a feast of festive favourite and classic Christmas lights and events – Seoul at Christmas 2023 is no different.
Seoul has countless Christmas events from shopping mall Christmas light displays to huge Christmas trees plus skating rinks, snow-covered winter villages and special Christmas markets.
Whilst Seoul at night in winter may be cold, these South Korean Christmas lights and events warm the heart and see in both Christmas and celebrate the end of the year.
Seoul has plenty of Christmas events, markets and lights so here is our updated guide to Seoul's best Christmas lights, displays and events in 2023:
Note many of the Seoul Christmas events and Seoul Christmas lights still have 2023 dates to be confirmed – we'll be updating these as they get announced so don't forget to bookmark this Christmas in Seoul page…
---
You might like – Best things to do in Seoul, South Korea
---
Top Christmas lights and Christmas events in Seoul
1. Myeongdong Cathedral Christmas Lights – 2023 / 24 dates TBC
One of the best Christmas light displays we encountered in 2022 in Seoul was at Myeongdong Cathedral, South Korea's oldest Roman Catholic cathedral consecrated in 1898 (also check out the swish subterranean shopping centre directly below – plenty of cafes and boutique stores, many with Christmas displays).
The exterior of Myeongdong Cathedral in Seoul lights up at Christmas with a huge hillside of Christmas lights – very popular with 'wishing trees' set up so people can write down their wishes for the new year. Christmas masses are also held at Myeongdong Cathedral.
There is also a nativity scene at Myeongdong Cathedral plus Christmas gifts galore at Myeongdong Night Market.
CK Travels Christmas tip – for the best views of the Christmas lights at Myeongdong Cathedral, grab a hot drink on the alfresco balcony at Molto Italian Espresso Bar, directly overlooking Myeongdong Cathedral.
Looking for cheap Seoul day-trips, attractions or group/private tours? We recommend visiting Viator, GetYourGuide, and Klook!
---
You might like – things to do in Myeongdong, Seoul or our guide to the Myeongdong Night Market.
---
2. Christmas tree and ice skating at Seoul City Hall – 2023 / 24 dates TBC
Seoul City Hall plays host to a huge Christmas tree every Christmas and 2023 in no exception. The Seoul City Hall Christmas tree looks good at any time of day; colourful with bright baubles and red bows by daytime, and classic bright white when it lights up in the evening.
Towards mid / late December every year, Seoul City Hall also plays host to an ice-skating rink and winter village which usually runs until late February. When we visited in mid December 2022, the skating rink was alas still under construction (due to open on 21st December 2022).
---
Visiting Seoul for Christmas?
The perfect Christmas gift is the Discover Seoul pass or Go City Seoul pass – save money on dozens of Seoul attractions.
---
3. Shinsegae Department Store – 2023 / 24 dates TBC
Shinsegae Department Store (one of the best malls in Seoul) must have a massive electricity bill at Christmas as the store exterior becomes a HUGE multimedia light show, having heavily invested in millions of LED lights (in 2022, they've used apparently 3.5 million LEDs to bring the display to life).
It is hard to miss the Shinsegae 'Magical Winter Fantasy' display as the effect of the lights is incredible – it lights up the surrounding area so brightly that your eyes are drawn to it as soon as you leave the vibrant Myeongdong Walking street and Myeongdong Night Market area.
Such is the draw of the Shinsegae Department store Christmas lights in Seoul that extra traffic cops patrol in December at night time due to all the extra traffic cars (often full to the brim with families) who want to see the Christmas lights up close.
Inside Shinsegae Department Store, there are numerous Christmas gifts available to purchase (plus Christmas gift wrapping stations) plus a colossal Christmas tree that hangs high above the main escalator section.
---
YOU MIGHT LIKE: Seoul Night Tour with Nanta Show >
---
4. Lotte Department Store – 2023 / 24 dates TBC
Fighting it out (but in a fun festive way) with nearby Shinsegae Department Store for Myeongdong's best Christmas display, Lotte Department Store's display is a kaleidoscope of lights, both on the side of the building plus in the trees at the rear plaza.
The Lotte World shopping centre Christmas display (entitled 'Christmas Dream Moments') also includes several animated window displays. Being from the UK, this genuinely felt like being back home in London, similar to the Hamley's or Harrods Christmas window displays.
We thought Lotte Department Store's display was fantastic and also very well organised with lots of security guards and helpers on hand at night to ensure everyone's safety.
Inside Lotte Department store, there are festive decorations plus the food hall has special seasonal food to eat there or take home to share with the family.
---
YOU MIGHT LIKE: the best shopping malls and shopping centres in Seoul
---
5. Lotte World Adventure – Miracle Winter: Lights Up – 2023 / 24 dates TBC
Given how cold the Christmas weather can be in Seoul, this indoor theme park is a good place to visit in the winter months, with an annual celebration of all things festive and fun promised.
Lotte Adventure World is also one of the best things to do in Seoul with kids at Christmas (or any time of the year).
This year's Christmas theme is Miracle Winter: Lights Up, which brings the park to life with incredible displays of Christmas lights indoors and out, and various festive themed performances and shows (on until December 31, 2022).
The highlight has to be the magical Snow Castle, a beautiful snowy structure of fairytale proportions. Indoors, make a wish at the Miracle Tree and see Santa at home in his grotto ('Santa Big Lotty' – hmmmm).
Lotte World Seoul Theme Park is available to visit at Christmas and included as part of both the Discover Seoul Pass and Go City Seoul Pass.
---
You might like – Things to do in Busan, South Korea >
---
6. Myeongdong Walking Street Christmas lights – 2023 / 24 dates TBC
For our most recent visit to Seoul, we based ourselves in the Myeongdong area of Seoul.
It is a wonderful place to explore but particularly at night along the main Myeongdong Walking Street area, where the main streets become awash with street food traders (you won't go hungry – literally there are dozens of food vendors) plus gift / craft stalls.
At Christmas, the Myeongdong Walking Street is even busier, with huge numbers of Seoul families visiting to see the Christmas lights and giant Christmas tree (located outside the Myeongdong Theatre) – all of the real trees around the area are lit up with LED lights too.
The Myeongdong area feels particularly festive in December as you'll constantly hear the sound of bells ringing (peeling), as the Salvation Army has numerous donation points, manned by volunteer families.
YOU MIGHT LIKE: top things to do in Myeongdong, Seoul
You might like these Seoul neighbourhood guides:
Hongdae
Myeongdong
Insadong
Ikseon-dong 
Gangnam
Seongsu-dong
Euljiro
7. The Hyundai Seoul Mall – 2023 / 24 dates TBC
In one word, wow! Of all the Seoul shopping malls and complexes we visited for Christmas in Seoul, The Hyundai Seoul had the busiest Christmas display we went to (and we went around 3pm on a weekday as we'd been told to avoid weekends and evenings).
The Hyundai Seoul is a chic mall spread over multiple levels, with the Hyundai Seoul Christmas village taking over the 6th floor – expect huge queues just to take a picture with the main Christmas tree.
The festive set-up here is so well done, with several alpine village style chalets selling Christmas gifts and food, plus a bear workshop – cutesy as.
Get to the Christmas display at the Hyundail Seoul early if you want to get good pics and not have to queue – we'd have love to see the 'bears' in their workshop up close but the queues were just too much.
---
YOU MIGHT LIKE: Best Craft Beer Bars and Breweries in Seoul
---
8. Cheong-gye-cheon at Christmas – 2023 / 24 dates TBC
Cheong-gye-cheon is 'cool' to visit at any time of the year, a brilliant example of city regeneration whereby a previously underused and unutilized area has been reborn.
This revitalized stream has been transformed to become a popular walk-way through the heart of Seoul, consisting of landscaped gardens, stepping stone walkways and public artworks including the famous red and blue sea-shell.
It is here at the Cheong-gye-cheon sea-shell that the annual Cheong-gye-cheon Christmas festivities take place with a festive winter village, photo opps galore plus a huge (slightly fake looking) Christmas tree.
Note in 2022, the usual Christmas lanterns that adorn Cheong-gye-cheon stream will be moved to Gwanghwamun Square to celebrate the new pedestrian areas.
---
YOU MIGHT LIKE: Things to do in Seoul at night >
---
9. Ssamziegil shopping complex at Insadong – 2023 / 24 dates TBC
For us, the most creative and quirky shopping centre in Seoul has to be the Ssamziegil shopping centre in Insadong.
Full of cute character stalls and fun retail shops like caricature stalls or make your own gift, at Christmas, the already colourful Ssamziegil mall (mainly outdoors) is festooned with festive decorations.
We visited Insadong one Sunday and the streets are pedestranised at the weekends making a safe shopping experience with lots going on at Christmas.
Ssamziegil was definitely the most popular mall with families in the area, looking for unique gifts – truly a good market to visit for Christmas.
Also check out Idus (Place) if you visit Ssamziegil at Christmas – a charming cafe and gift store located on the Ssamziegil rooftop, Idus store has a huge LED screen depicting Christmas scenes plus Christmas gifts galore.
---
You might like – things to do in Ikseon-dong Hanok Village >
---
10. Insadong Anyoung Shopping Centre / Jaturi Christmas Market – 2023 / 24 dates TBC
One of the newest shopping centres in Seoul in the Insadong / Jongno area, Anyoung , you know you've arrived at Anyoung as you are greeting by a statue of one the Line characters looking out onto the main street in Insadong. This is because there is a Line character store at Anyoung so there are huge characters dotted all over the mall.
At Christmas, Anyoung shopping centre has weekend Christmas markets (Jaturi market) selling artisans crafts and independent wares – you'll find it just in front of the Haribo exhibition.
---
YOU MIGHT LIKE: things to do in Insadong, Seoul
---
11. Namdaemun Market Christmas stalls – 2023 / 24 dates TBC
Not so much a Christmas attraction and more of a place to buy Christmas decorations in Seoul, if you truly want to get in get in the Christmas spirit in 2023, go for a walk along the busy alleyways around Namdaemun Christmas Market, whereby wholesalers are retailing all manner of Christmas decorations and Christmas lights.
From dancing Santas with saxophones playing Christmas tunes to magical lamp-posts that have snow covered alpine village scenes inside, no matter what Christmas decoration you are after, you'll find it at Namdaemun Market.
To note to a lesser extent, we also found several Christmas decoration stalls at Gwangjang Market but nowhere near as many as Namdaemun.
---
You might like – Where to stay in Seoul / Best Neighborhoods Guide >
---
12. Yeongdeungpo Times Square – 2023 / 24 dates TBC
Yeongdeungpo Times Square is one of the biggest and most popular shopping malls in Seoul, a fun spot for families in Seoul with kids particularly at Christmas.
For Christmas 2023, Times Square will become a wonderful Winter Wonderland – we'll be visiting Times Square soon so keep checking back for new pictures and an overview.
---
YOU MIGHT LIKE: Netflix knife-cut noodle lady at Gwangjang Market, Seoul
---
13. Coex Mall Starfield Byeol Madang Library – 2023 / 24 dates TBC
The stars are coming to Starfield Mall in Gangnam – well sort of. Possibly the biggest and best mall Christmas tree in the mall, the library inside Coex Mall Starfield is an Instagrammers delight with a picture perfect Christmas tree located amongst all the books.
---
YOU MIGHT LIKE: Top things to see and do in Gangnam, Seoul
---
14. Dongdaemun Design Plaza (DDP) Christmas / Winter Lights Festival – 2023 / 24 dates TBC
Seoul's legendary cultural plaza chock full of museums, galleries and boutique shops, the Dongdaemun Design Plaza (DDP) lights up at Christmas with a festive winter light show.
The DDP Seoul Light show features illuminations and projections on the side of the curved and ultra sleek building. Since its first edition in 2019, the light show has attracted over 1 million visitors and is one of the more popular winter festivals in Seoul.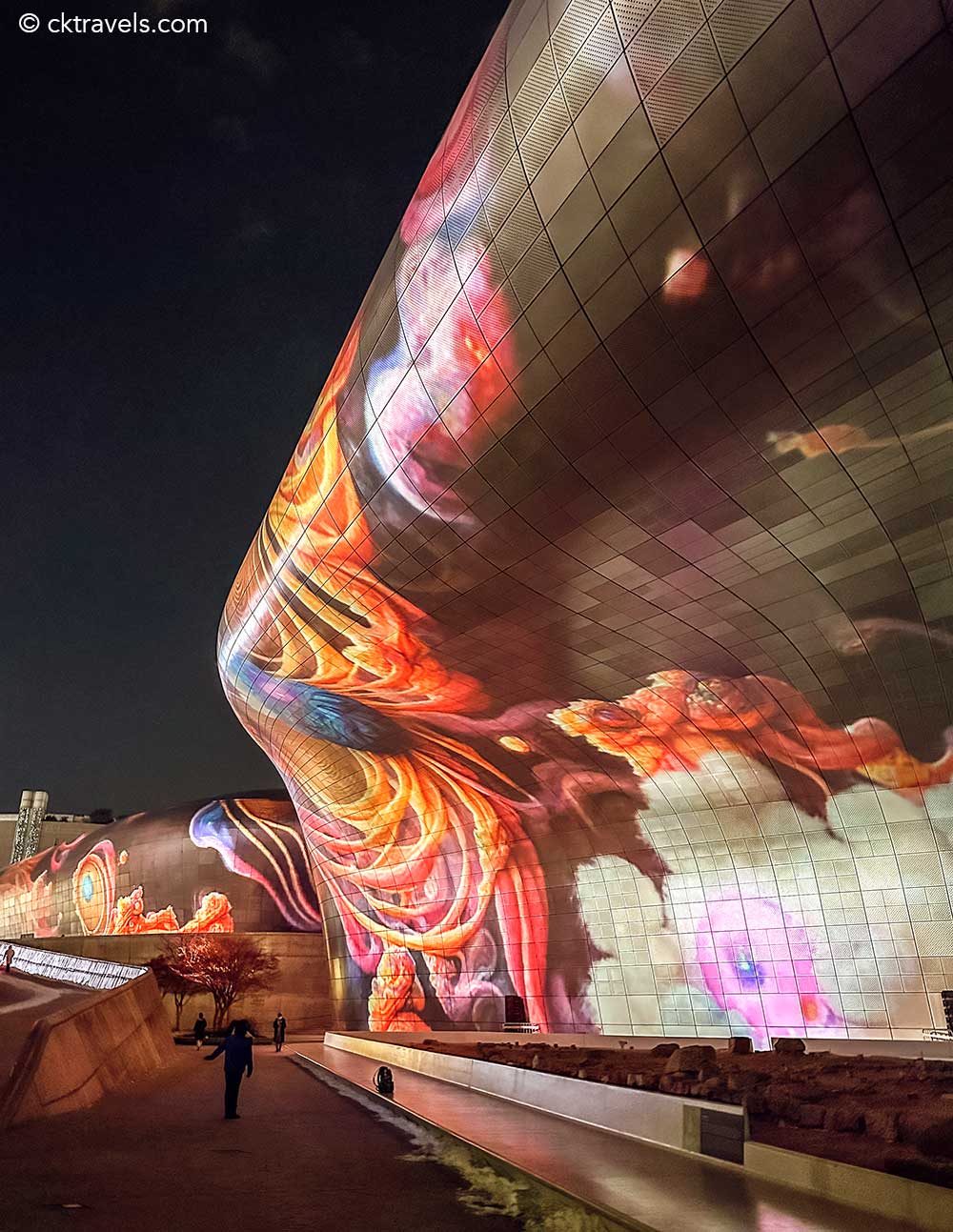 The Dongdaemun Design Plaza (DDP) Christmas / Winter Lights Festival theme for 2022 "Designing Life at the Universe." – we're promised tales of intergalactic holidays and encounters with other life forms.
---
YOU MIGHT LIKE: Things to do in Seongsu-dong, Seoul >
---
15. Seoul Lantern Festival at Gwanghwamun Square – 2023 / 24 dates TBC
This year's Seoul lantern festival moves from Cheong-gye-cheon stream to Gwanghwamun Square to celebrate the newly pedestrianised areas within the park.
Starting in 2009, the annual Seoul Lantern Festival has become one of the most well attended festivals in Seoul and is a firm family favourite at Christmas.
The annual Seoul lantern festival is now a Christmas tradition in the South Korea capital, featuring thousands of lit up paper lanterns and light sculptures.
Gwanghwamun Square lantern festival 2022 opened on December 16 2022 and runs until December 31, 2022, between 6pm and 10pm daily. The Seoul lantern festival in 2023 is free admission.
---
16. Everland Winter Festival / Christmas Parade – 2023 / 24 dates TBC
Everland comes alive at Christmas bursting with brilliant Christmas lights, a wonderful winter village and fun and festive Christmas parades, suitable for all the family.
Everland is the biggest theme park in South Korea with five themed zones including Magic Land, American Adventure and European Adventure.
Everland at Christmas admission is included as part of the Discover Seoul pass and Go City Seoul pass.
---
You might like – 70+ Things to do in Busan, South Korea >
---
17. IFC Mall – 2023 / 24 dates TBC
P-p-p -p pick up a penguin. The penguins have taken over the IFC Mall – for Christmas 2022 in Seoul, the IFC shopping mall complex has been bedecked with penguins galore.
From huge penguins at the main doors to smaller penguins hidden all over the IFC Mall (clue – look up!), the Christmas decorations are in full festive swing.
Also, on the ground floor of IFC Mall in Seoul, you'll also see a winter village in pastel colours, complete with a Christmas Hotel.
---
18. A Christmas Carol Cruise with E-Land Cruise – 2023 / 24 dates TBC
Every Saturday in December 2022 plus on Christmas Day itself (Saturday 25 December), take a Carol Cruise with E-Land cruises.
Set sail on the Han River listening to the enchanted carols sung by the Ecruise singers whilst seeing the city of Seoul from the water's edge.
---
19. Hot Mulled Wine / Vin Chaud at Gwangjang Market
A winter warmer, we always love a mug of warm mulled wine – it is like Christmas in a glass!
Around Christmas time in Seoul, Gwangjang Market usually has a pop-up Vin Chaud / mulled wine stall bedecked with a huge Christmas tree.
It was the delicious fruity, cinnamon aroma that first alerted us to this Seoul mulled wine stall costing 4000 Won a glass.
Read our updated 2023 guide to the food and drink available at Gwangjang Market in Seoul here >
---
You might like – Best Korean street foods you must try in South Korea >
---
20. Hongdae Street at Christmas
The heart and 'Seoul' (ahem) of Hongdae, this is the central area where many street performers, pop-up stalls and chicken and beer restaurants congregate.
The busiest area in Hongdae (and possibly what you'd call tourist central), there are sights and food to enjoy 24/7 here.
In the summer, Hongdae Street is home to pop-up markets and scores of street performers and singers but during Christmas in Seoul, Hongdae Street Hongdae has dozens of Christmas lights and LED plus Christmas displays.
Many of the South Korean street food traders here also start selling hot food in the winter months.
---
You might like – things to do in Hongdae, Seoul >
---
21. Our final suggestion for a Christmas in Seoul
If you are visiting Seoul for Christmas, a cracking Christmas present for 2023/ 24 would be to buy a Discover Seoul Pass or Go City Seoul Pass; you can visit dozens of Seoul attractions (including Everland at Christmas and Lotte World at Christmas) for one small price.
---
Our recent Winter / Christmas in Seoul trip!
---
Other South Korea posts you might like
Did you enjoy our Christmas lights and things to do at Christmas in Seoul guide blog post? Let us know in the comments or by sharing it on social media.
You can follow CK Travels on:
Instagram
Facebook
TikTok
YouTube
Pinterest