This post may contain affiliate links to tours and hotels. These help us earn a small commission at no additional charge to you.
Planning a trip to Seoul with kids? Seoul is a safe, family friendly city in South Korea with lots of children's museum, colourful attractions, cute character stores and fun things to do
From top theme parks to real-life underwater mermaids, the world's largest cinema screen to fantastic flavored ice-creams, there is something to suit all tastes when visiting Seoul with kids (including a poo themed cafe!)
And Seoul doesn't have to be expensive for families – many attractions are free or inexpensive like butterfly farms or baseball.
Here is our guide to the best things to with kids in Seoul, South Korea in 2023:
Check out all our South Korea guides here >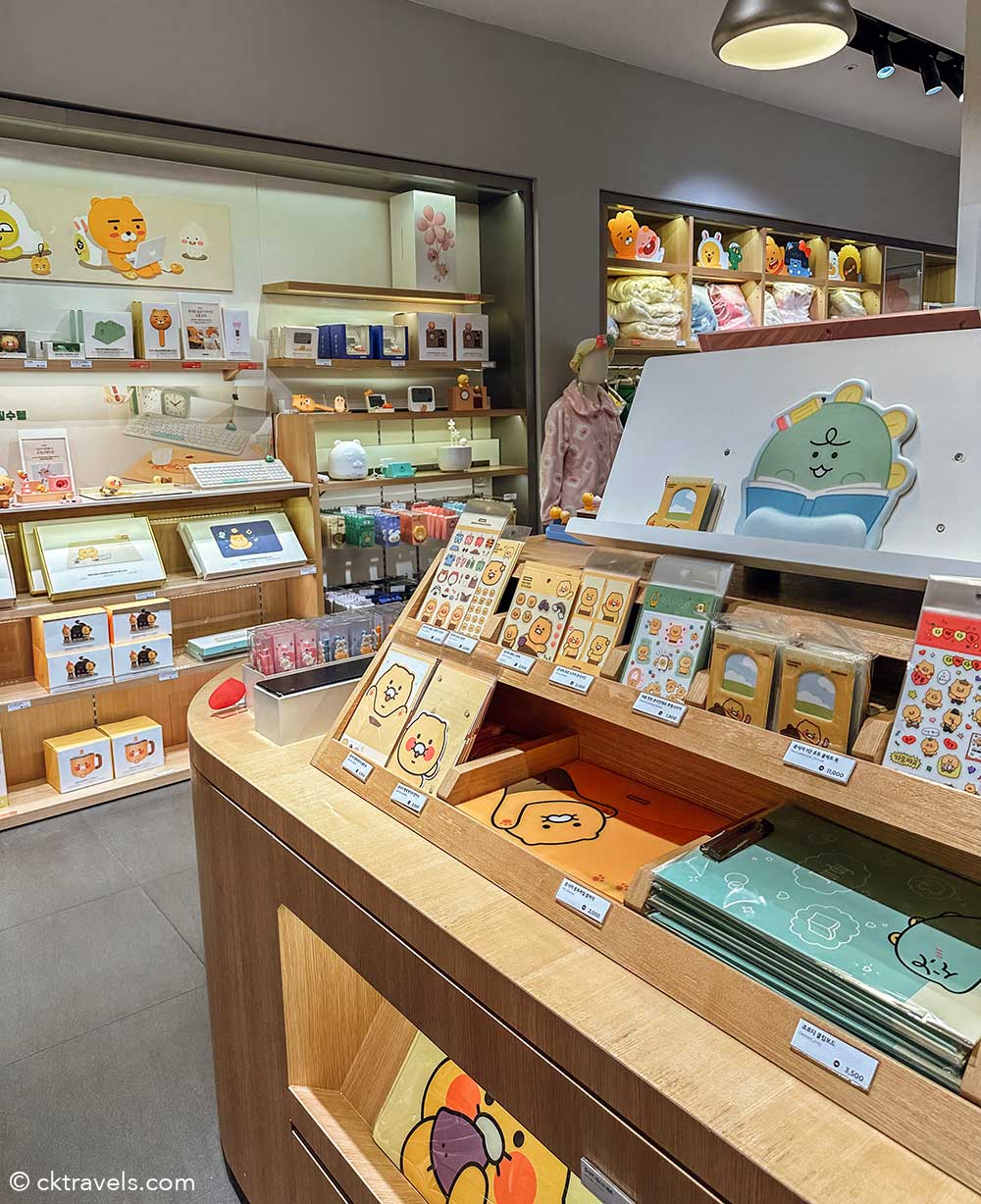 Where to stay in Seoul with Children?
There are numerous neighborhoods in Seoul to choose from with some of the most popular areas including Hongdae, Myeongdong, Jamsil, Gangnam and Insadong.
There are also hotel bargains to be had in the likes of Euljiro and Ikseon-dong (walkable to the central areas of Seoul but a lot cheaper).
We'd personally rate the best area in Seoul to stay for families as Insadong as there are lots of family museums and activities along Insadong Cultural Street plus two very cute shopping malls with lots of character shops like Line Friends.
Insadong is also with walking distance of popular areas like Myeongdong, Ikseon-Dong Hanok Village and Bukchon Hanok Village.
---
You might like – Best things to do in Seoul, South Korea >
---
Seoul Accommodation for families
Hi Guesthouse Insadong
Highly rated budget family rooms with bunk beds, fridge and a flat screen TV. Other facilities include a rooftop terrace. Check out prices and availability for Hi Guesthouse Insadong
Seoul Garden Hotel
Large family rooms located in a quiet neighbourhood just a short walk from the subway station. Many restaurants nearby. Check out prices and availability for Seoul Garden Hotel
Orakai Insadong Suites
Luxurious self-catering apartments located in the popular neighbourhood of Insadong. Facilities include an indoor swimming pool, fitness centre and sauna. Check out prices and availability for Orakai Insadong Suites
Lotte World Hotel Seoul
A five star hotel in the heart of all the Lotte World theme park activity – perfect for families looking for a fun stay in Seoul complete with an indoor swimming pool. Check out prices and availability for Lotte World Hotel Seoul
InterContinental Seoul COEX, an IHG Hotel
Located inside the World Trade Centre, this luxurious 5-star hotel includes four restaurants and bars (including an Italian restaurant with a skyline view), casino, golf practice room, outdoor spa pool and indoor pool. Check out prices and availability for InterContinental Seoul COEX, an IHG Hotel
---
1. Ddong Café AKA Poop Cafe
Our first fun thing to do in Seoul with kids is the Ddong Café AKA Poop Cafe (we promise it isn't too cr*ppy).
Ddong Cafe is basically a poo / poop themed cafe located on the top-floor of the Ssamziegil complex, popular with all small and big kids (when we visited, we say it was half families, half adults).
From drinks and food served in toilet bowls to turd themed interiors, Ddong / Poop Cafe in Insadong is quite the experience and small drink sizes are available for children.
Sitting amongst poo emoji cushion chairs and faux toilet cubicles with plastic poos may not be everyone's cup of tea (or crappy coffee even), but it is one of the more fun and silly things you can do in Seoul with kids.
You can enjoy your Mojito latte (nicer than it sounds) and rose latte at Ddong cafe served in small toilet bowls for 7,000 Korean Won as of 2023, plus accompany it with a chocolate poo shaped waffle for 1,500 Won.
---
You might like – things to do in Insadong, Seoul >
---
2. Lotte World
Lotte World is an epic theme-park on the edge of Seoul near the river Han that has a huge indoor area plus outdoor Magic island area (kinda like a Seoul version of the Disney Castle for kids).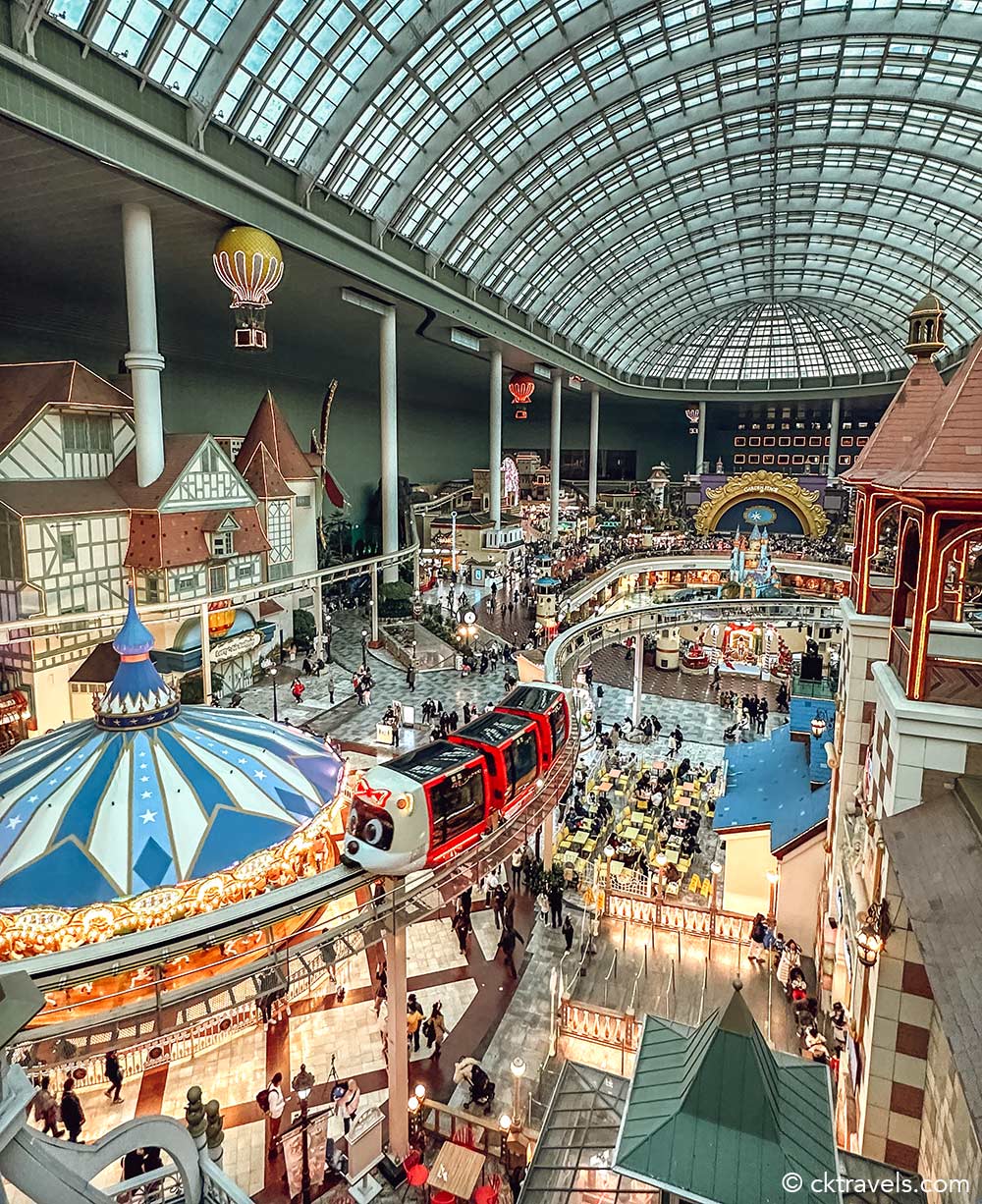 There are attractions for all ages at Lotte World from a sedate monorail that goes around the park through to log flumes, pirate ships plus a brand new VR walkthrough ride 'Battlegrounds World Agent' based on the hit video game.
Best of all, families will also enjoy the Lotte World character parade with a cast of hundreds and dozens of brightly lit floats – highly recommended.
Lotte World admission is included as part of the Go City pass (admission alone is worth around $44 USD per adult) or you can book a discounted Lotte World family one day pass via Klook.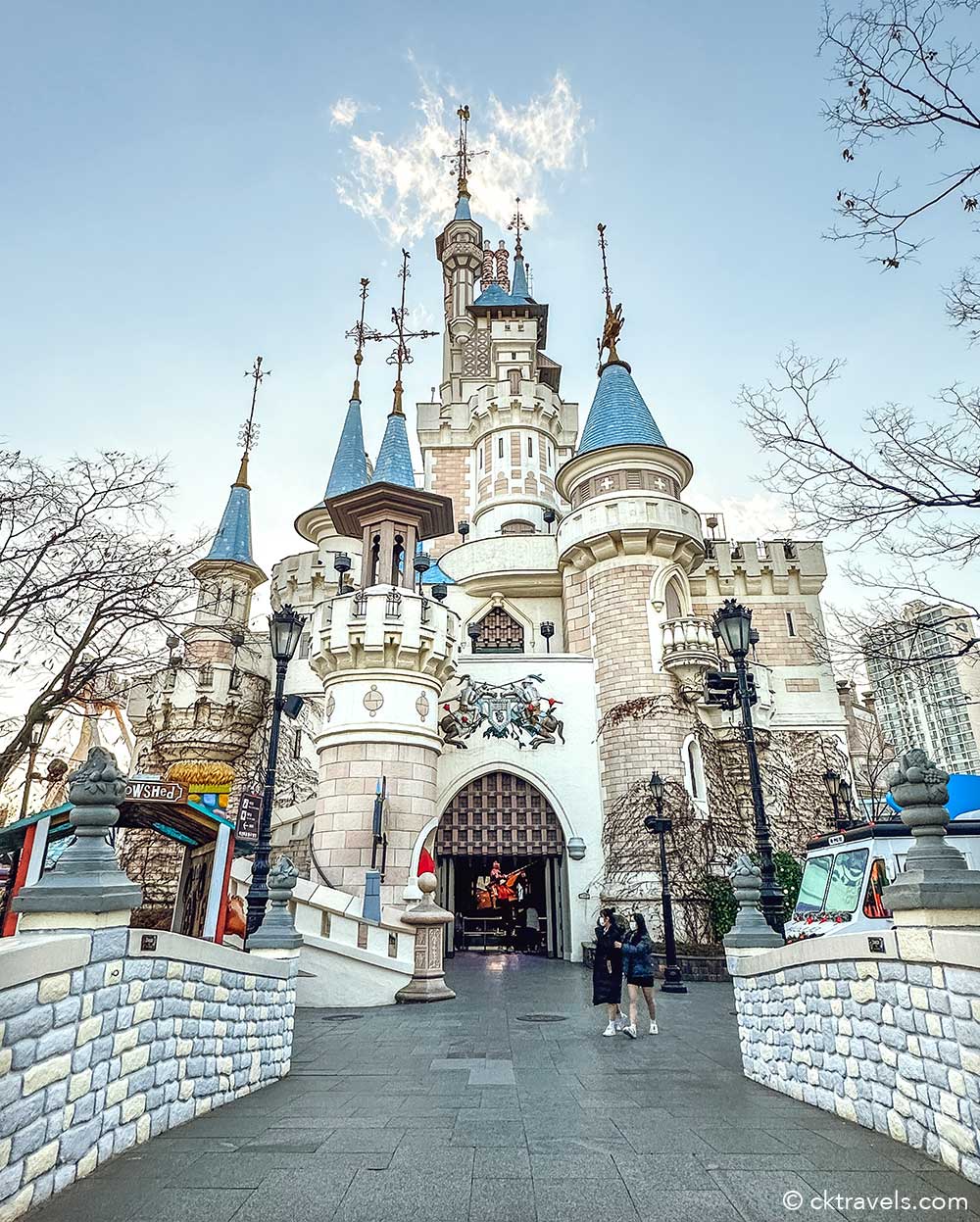 ---
You might like – 25+ different South Korean street foods to try >
---
3. NANTA Theatre Show
What's cooking?! We'd highly recommend the famous NANTA Theatre comedy and cookery show, which has been packing in audiences worldwide since 1997.
Possibly the best known Korean theater show, the NANTA cooking show has been performed over 50,000 times in over 60 countries.
Located in a dedicated NANTA Theatre in Myeong-dong, this 90 minute high energy performance is the tale of 4 chefs and a kitchen manager preparing a sumptuous meal for a big wedding banquet in real-time.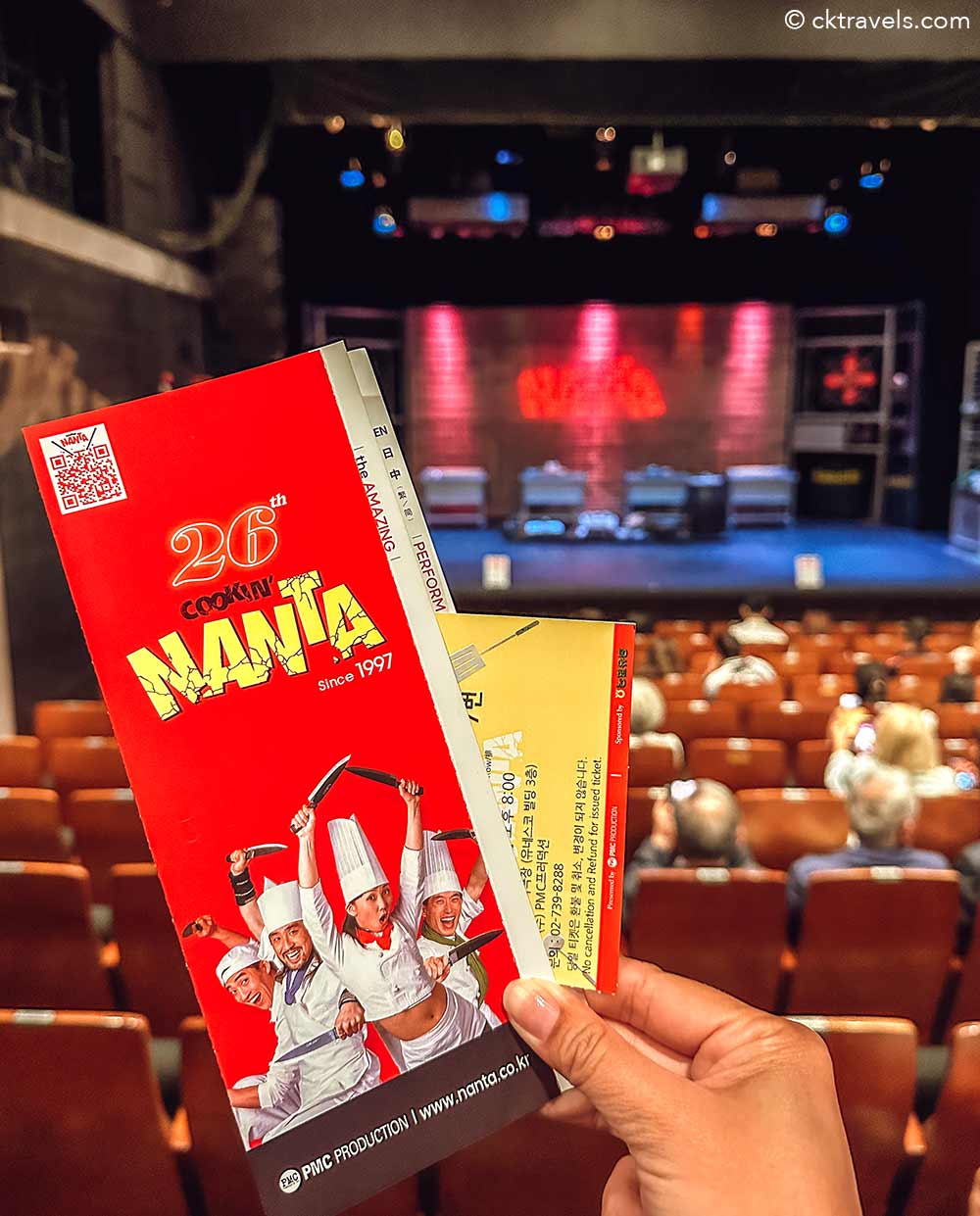 When we visited the NANTA Theatre Show in summer 2023, there were lots of kids and families in the audience – it was often the children who laughed the loudest.
There are very few spoken words in the NANTA show (definitely no swearing) and the physical slapstick performance is suited to kids. We'd say this is the best all year round Seoul theater show for kids and adults to enjoy together.
Knives, kitchen utensils and real food are used as props and turned into musical instruments by the performers. High octane and very enjoyable, you might also become part of the show!
See NANTA as part of the Go City Seoul Pass or book your discounted NANTA Theater tickets via Klook or Get Your Guide.
---
You might like – other things to do in Myeongdong, Seoul >
---
4. Alive Museum
Alive Museum is best described as a trick art selfie gallery where you can pose for some really fun photos in several zoned areas.
We particularly liked the gaming zone where you could pop up like Super Mario in a huge pipe plus a 3D black and white illustrated cafe – very instagrammable!
Kids will love the Alive Museum as there are so many different places where you can pose – you can even become a flying Superman or astronaut in space.
Along the way at Alive Museum, collect stamps on your map and swap these for free candies and sweets at the end.
Squarely aimed at families and children, this is a really fun thing to do with kids in Seoul. Alive Museum also has another attraction onsite called the Dynamic Maze (additional costs apply).
The Alive Museum admission is included as part of the Go City Seoul pass, or discounted family tickets to Alive Museum in Seoul can be bought via Klook.
---
You might like – Things to do in Seoul at night >
---
5. Kakao Friends stores
Whilst in South Korea and Seoul, make sure you visit one of the cute Kakao Friends stores, chock full of charming cartoon character merchandise.
Along with Line Friends (more on these later), Kakao Friends are the most popular chain of cartoon character stores in Seoul.
From Ryan the Lion to Choonsik the Cat, Con the Crocodile to Frodo the Dog, you'll find all the Kakao Friends across mucho merchandise, both in terms of huge cartoon models or rows upon rows of branded products – everything from phone chargers to kids clothes and even super cute humidifiers.
The two best Kakao Friends stores to visit are in Gangnam at the Times Square Mall and the Hongdae Kakao Friends flagship store.
---
You might like – things to do in Gangnam, Seoul >
---
6. Ssamzigil Shopping Mall
A colourful and cute shopping complex located in the heart of Insadong, we'd rate this as one of the best shopping malls in Seoul for kids, given how quirky and creative it is.
From the bright courtyard at its center to the six floors of cute character and craft based shops and stores, visiting Ssamzigil is quite the experience. There are also lots of hands-on activities for kids like making your own bags or cartoon caricature stalls.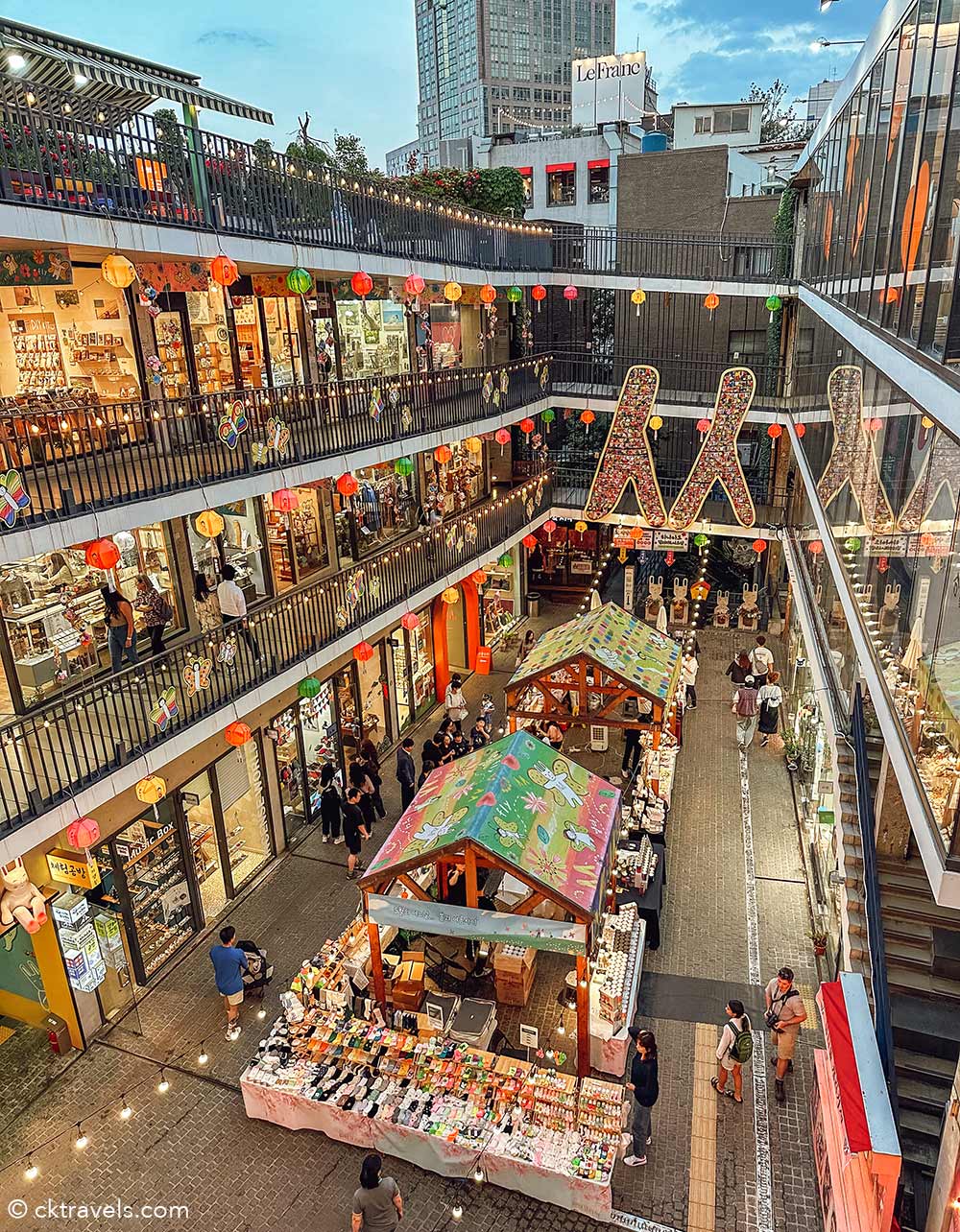 There are DIY craft stalls, cartoon character shops, homeware and jewellery vendors plus much more at Ssamzigil complex. In addition, there are several cafes and restaurants including one on the outdoor rooftop with nice views of Insadong.
Also keep an eye out for curious design features like a herd of metallic giraffes on the roof. We love the Ssamzigil Insadong complex and could buy so much stuff from here!
Looking for cheap Seoul day-trips, attractions or group/private tours? We recommend visiting Viator, GetYourGuide, and Klook!
7. COEX Aquarium
Located within the COEX Mall in Gangnam, this awesome aquatic adventure is a welcome respite from the shops and boutique stores that surround it.
With 16 themed zones and a huge number of sea species (including sharks), the COEX Aquarium is the largest aquarium in Seoul – the perfect Seoul activity for kids and families
Highlights include a 'real-life' mermaid, a parade of penguins plus jelly-fish galore.
Prices start from $18.65 per child and $19.45 per adult as of summer 2023 when booked in advance.
---
8. Enjoy the Cheonggyecheon River Walk
One of the best family walks in Seoul and on the edge of the Euljiro district, the Cheonggyecheon is a downtown public park and river walk that is open 24 hours.
Along the way, you'll see an abundance of wildlife (especially birds trying to catch fish) plus joggers galore – it is also a popular way to walk to Gwangjang Market from the city.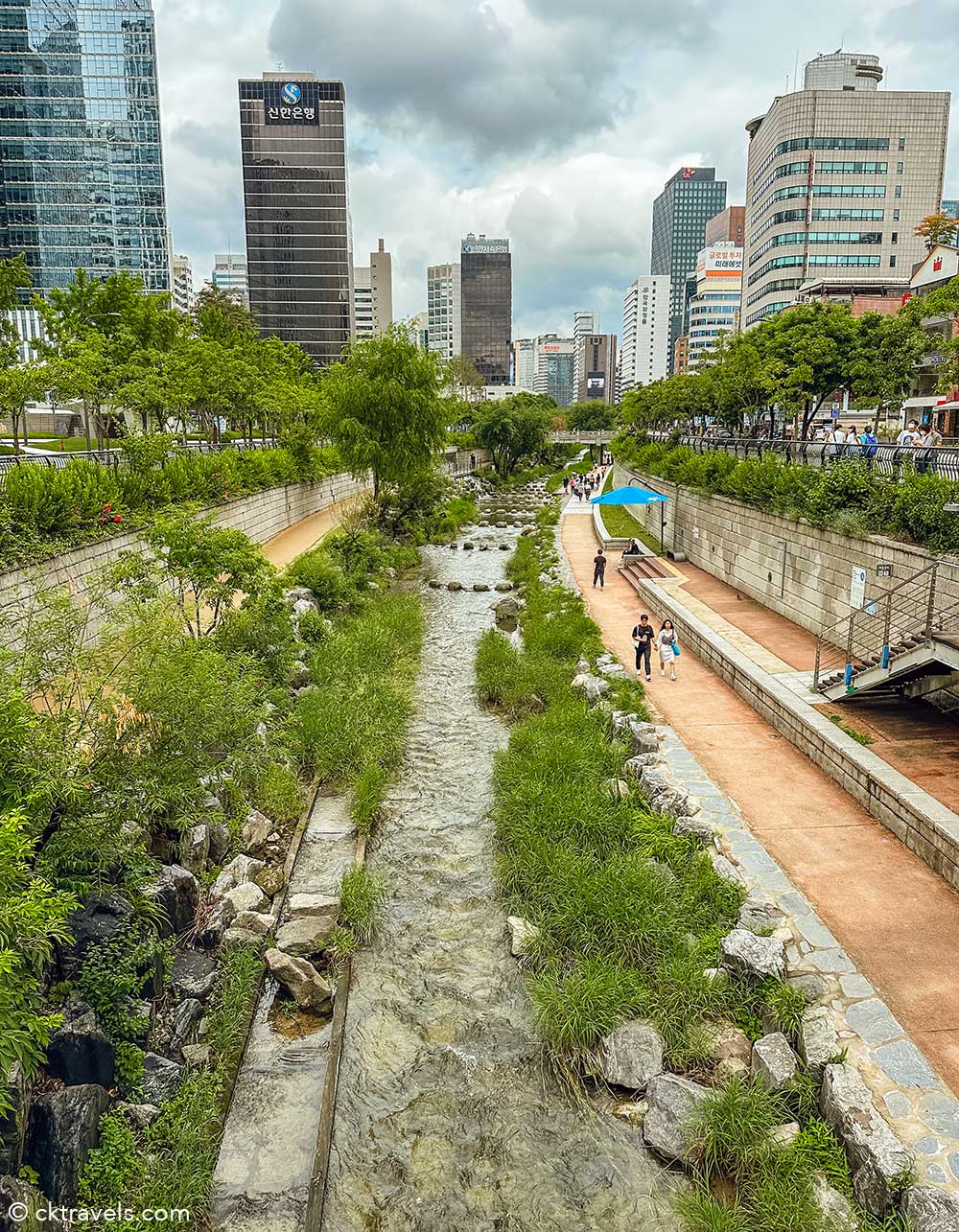 Cheonggyecheon is an example of urban regeneration in Seoul whereby this formerly neglected and run down riverside area was transformed in the early 2000s into a wonderful walk along a river, complete with benches, stepping stone bridges (kids in Seoul will love this) and a long concrete walkway.
The full stretch of the Cheonggyecheon stream through the city is around 10 km but the best bit to walk is between Cheonggye Plaza (in downtown Seoul) and Gwangjang Market.
---
You might like – food and drink to try at Gwangjang Market, Seoul >
---
9. Go to a Seoul KBO Baseball Game
Baseball is a BIG hitter in South Korea – it is in fact South Korea's most popular sport! So if you are visiting Seoul any time soon, make sure you catch a baseball game at Jamsil stadium with the family.
Kids will love it, especially all the mascot costumes and singing and dancing that the whole crowd gets involved in.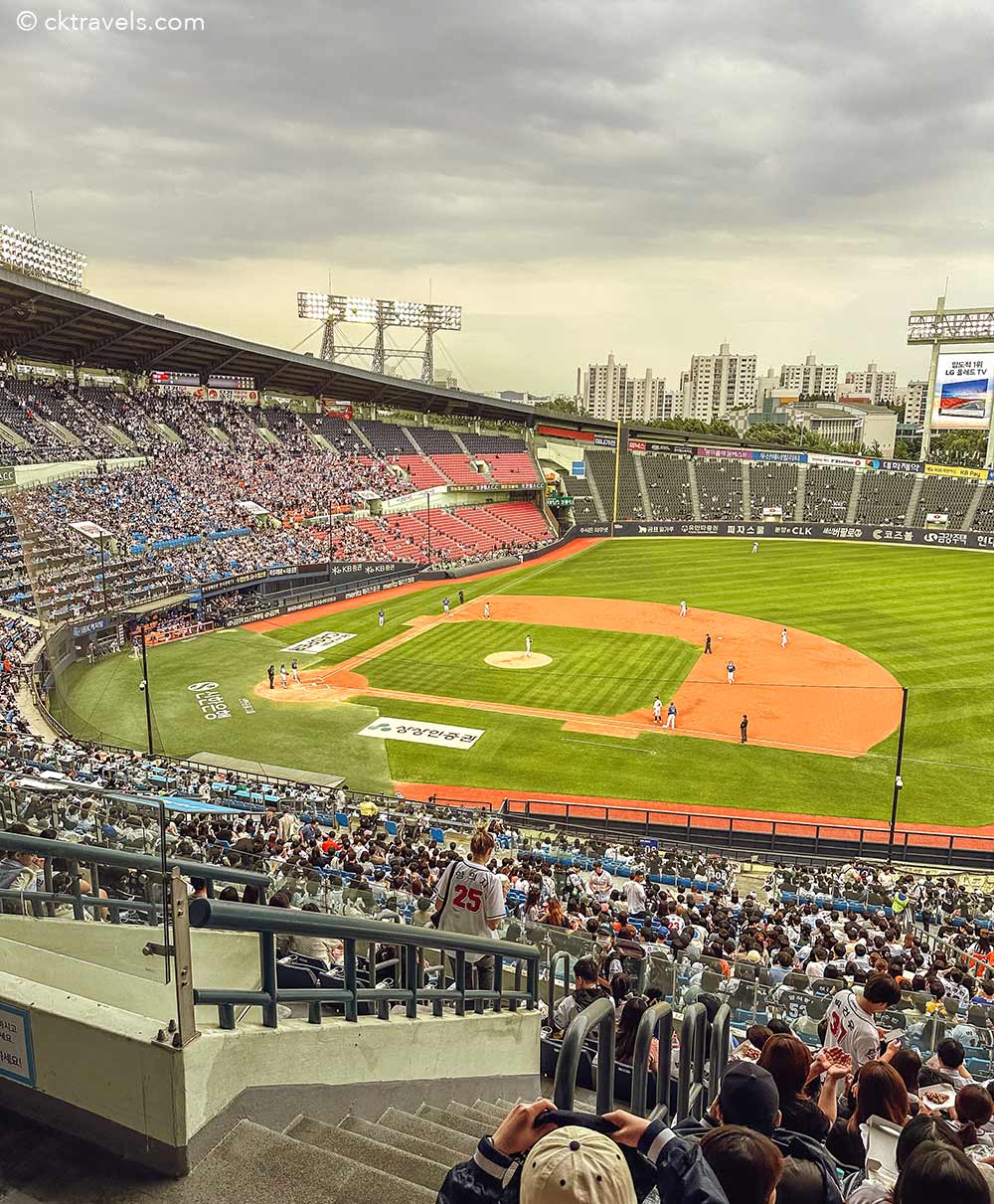 Seoul is fortunate enough to have two baseball teams that call Jamsil Stadium home – the Doosan Bears and the LG Twins meaning there are plenty of opportunities to take your family along. The South Korean baseball season generally runs from April to September.
Families can buy Seoul baseball tickets at Jamsil stadium for as little as 13,000 Won per adult (around £8 / $10 USD).
Seoul baseball game tickets are easy to purchase (and very cheap) plus the main stadium has good transport links with its very own Subway station.
From purchasing Seoul baseball tickets through to what types of food, drink and live entertainment you can expect at the stadium, here is our guide to all things baseball in Seoul in 2023 >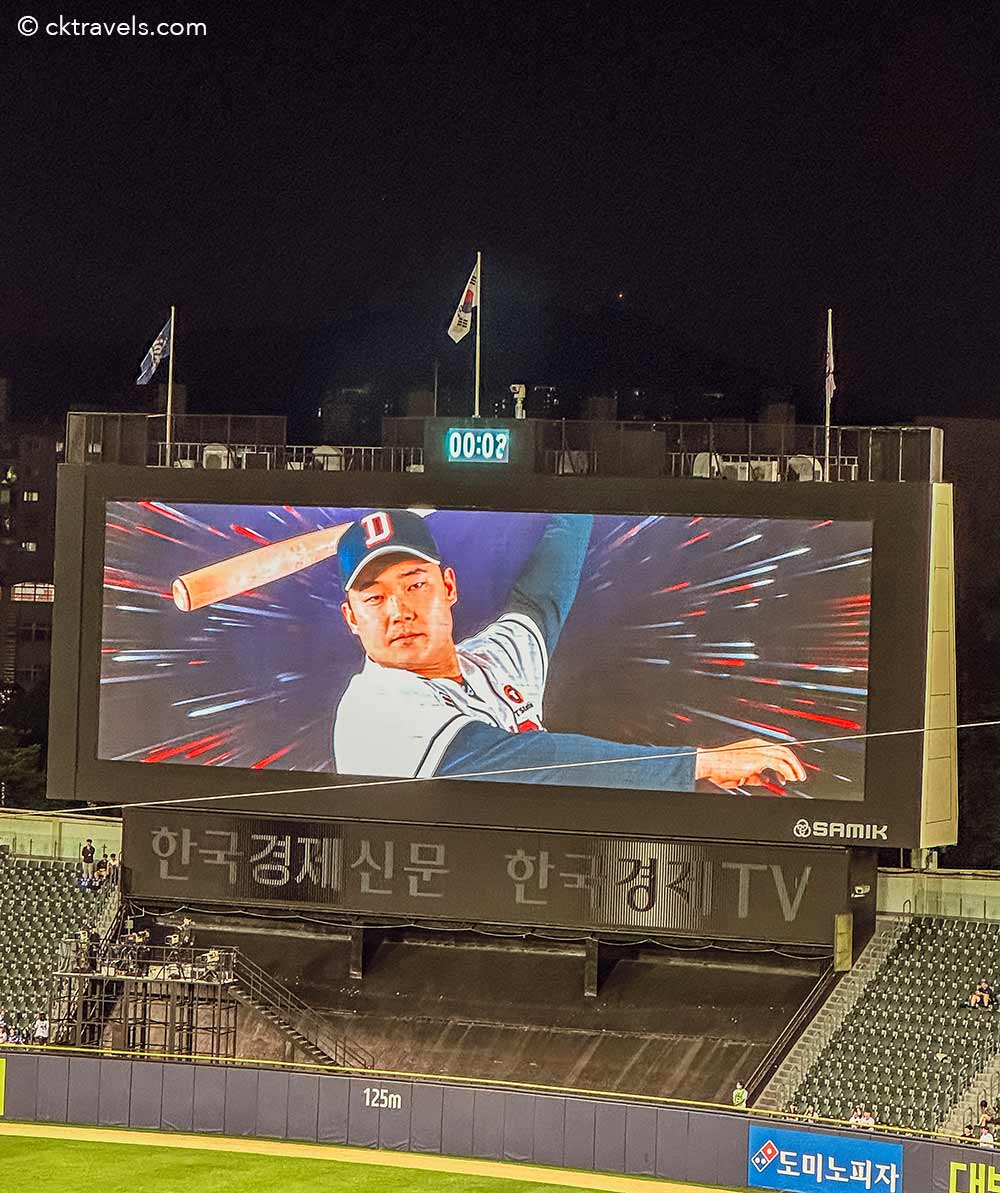 ---
10. Everland
Never ever(land) will your kids in Seoul have so much fun – along with Lotte World adventure park, this is the most popular activity for families in Seoul.
Everland is the biggest theme park in South Korea with five themed zones including Magic Land, American Adventure and European Adventure. Note that Everland is in Yongin, around 40 kilometers from the capital Seoul.
New for 2023 at Everland, families can see Chinese giant pandas Le Bao and Fu Bao eating bamboo leaves and playing in the Panda World of Everland Resort. The resort also includes a separate water park, Caribbean Bay, which opens to families in the summer months.
Everland also comes alive at Christmas bursting with brilliant Christmas lights, a wonderful winter village and fun and festive Christmas parades, suitable for all the family. Seoul in Christmas is magical.
Buy your discounted family pass for Everland in Seoul here via Klook >
Everland admission is included as part of the Discover Seoul pass.
---
11. Zoolung Zoolung
So nice, they named it twice. Zoolung Zoolung (bless you) is a family zoo where children can get up close to animals and even pet some of the smaller ones.
Located across the fourth and fifth floor of Times Square, one of Seoul's best malls, Zoolung Zoolung has around 50 species animals and birds from Africa and Amazon like toucans, meerkats, aardvarks and parrots.
Korea's first and largest indoor hands-on zoo, also keep an eye out for the Pirate Ship galleon cafe – so much fun for all the family and a great thing to do in Seoul with kids.
Get your discounted Zoolung Zoolung family pass via Klook here >
---
You might like – Seoul's best shopping malls >
---
12. N Seoul Tower and Namsan Park (free family shows)
For the best views of downtown Seoul from Namsan Mountain, head up to the top of N Seoul Tower. The views of the city and the surrounding park are stunning plus there are two levels to explore, one with a rather nice cafe looking out over the green hills and the River Han.
Almost 800 metres high, the N Seoul Tower in Namsan Park is open until 10pm most days so you can even enjoy sunset or night time views. The lift up also has cool graphics that children / kids will enjoy plus there is a pick and mix sweet store at the top (albeit pretty expensive).
Love locks also adorn all the fences in and around the immediate area – locks are available to buy from the 7-Eleven below N Seoul Tower if you want to leave a family lock.
Namsan Park also hosts free, family cultural shows several times a day. Our visit to Namsan Park coincided with the 3pm cultural show where we saw traditional musicians and martial arts – there was lots of audience participation too!
Admission to N Seoul Tower to the observation N Seoul Tower is 21,000 Won per adult and 16,000 WON per child (as of July 2023).
To be fair, we think this is quite expensive for a family – so we'd recommend buying a Discover Seoul Pass and Go City Seoul pass as family admission to lots of Seoul attractions are included.
Alternatively get discounted N Seoul Tower family tickets here via Klook >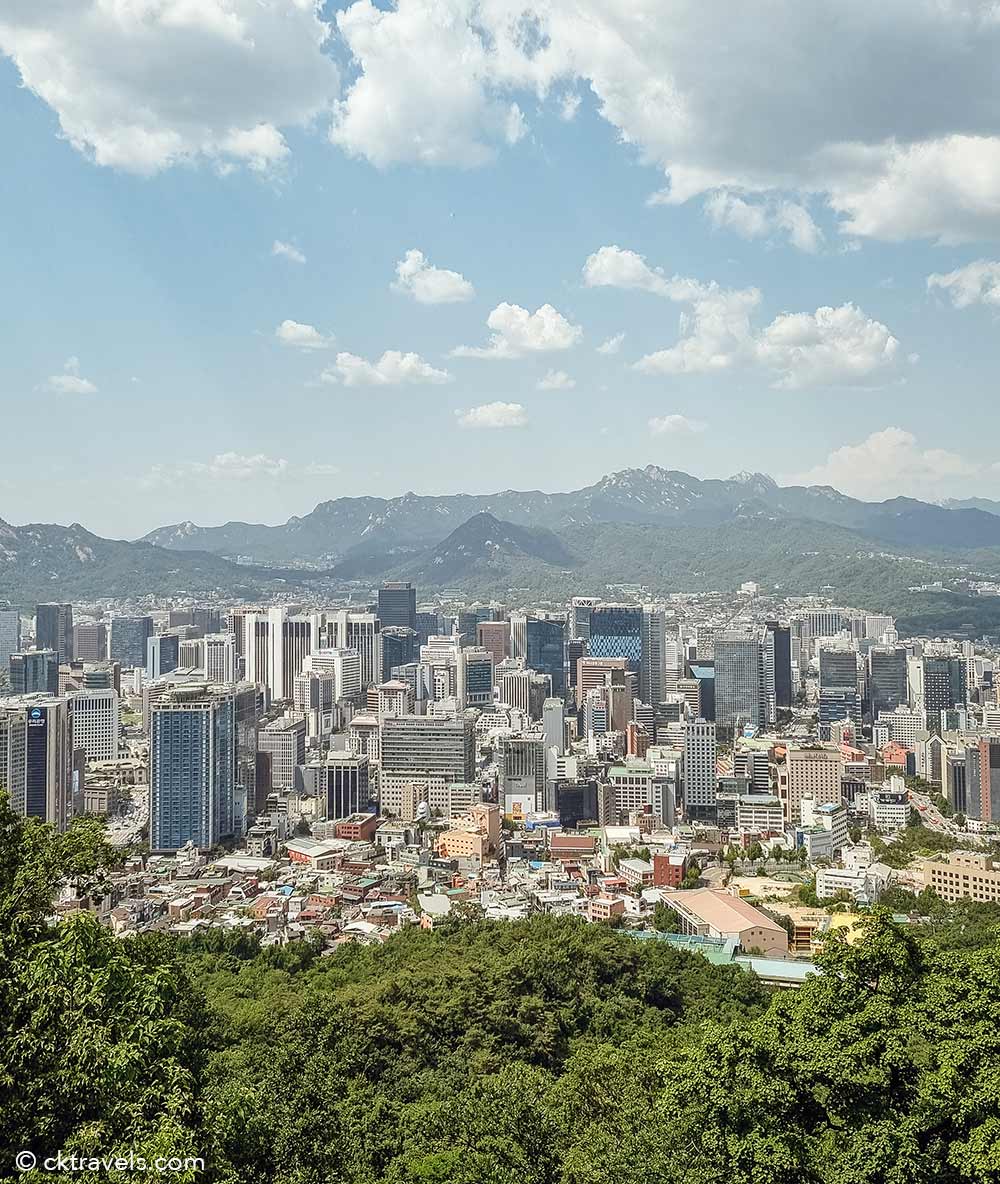 ---
You might like – things you can buy in 7-Eleven Seoul >
---
13. DMZ Tour from Seoul
The DMZ is the heavily controlled border separating North and South Korea.
This is a half day tour that starts with a visit to Imjingak Pyeonghwa-Nuri Park (where you can see the famed Bridge to Freedom and buy North Korean money as souvenirs).
Given the history and complex relationship of North and South Korea, this is an interesting way to show to children about this important piece of history and is an easy day trip from Seoul for kids (many tours are available).
At Imjingak Pyeonghwa-Nuri Park you get to look across into North Korea from the Dorasan Observatory. Using telescopes and state of the art electronic cameras, you can see guards on patrol in North Korea plus farmers and local residents go about their daily work (we were lucky to visit on a very clear day). There are also lots of fun statues to pose with for kids.
Finally, take a long, dark walk down into the 3rd Infiltration Tunnel, built by North Korea as a means of invasion (although they still deny this, even though four such infiltration tunnels exist).
Note this tour is a very early start for kids – we had to meet our tour guide in the Myeong-dong neighbourhood at 6.20am.
Passports are also required for inspection by the military police. Photography is allowed apart from inside the 3rd Infiltration Tunnel.
If you are planning on doing lots of kids and family activities in Seoul, this DMZ tour is available as part of the Go City Seoul Pass.
---
14. Han River Cruise
A sunset river cruise on the River Han with E-Land Cruises is the perfect way for a family to see Seoul from a different perspective.
This is a short river cruise on the Han River with an audio commentary. There are several cruises per day, starting from early afternoon with a sunset cruise at 6pm in the summer.
We joined a packed boat (very popular with large tour groups) and enjoyed a trip down the river. As we joined the cruise on a warm sunny evening, the parks along the River Han were packed with picnickers and street food stalls so it was a really nice sight; we were so close you could smell the BBQs!
Kids can also feed the seagulls along the way (this was very popular on our cruise).
Book your Han River cruise via Viator or Klook.
---
15. Hanbok / Traditional Korean Costume Rental for Kids
The Royal Palaces of Seoul are a must visit when visiting South Korea's capital – to keep the kids entertained whilst exploring these historic sites, hire hanboks and traditional Korean costumes.
Most of the Seoul Palaces have costume rental stores near them such as the 15th century Changdeokgung Palace as well as Bukchon Hanok Village.
Hanbok style clothing has been around for over 1500 years and a popular family activity in Seoul is to dress up as a family and take pictures in the historical palaces – some families even hire professional photographers (fancy!)
Book your hanbok costume via Klook here or as part of a photoshoot.
Book your Gyeongbokgung Palace Hanbok Rental Experience in Seoul here >
---
16. Kidzania Seoul
Family fun comes to Seoul with this indoor city centre created and curated especially for children at Lotte World. Kidzania children's towns are slowly taking over the world with sites in locations like Shepherd's Bush in West London, Porto in Portugal plus Kuala Lumpur here is even a second Kidzania in South Korea in Busan.
From flying an airplane to TV broadcasting, there are lots of awesome activities and 'jobs' that children can undertake and earn kidZos (a unique currency) that they buy rewards with in store. This shows them a world of grown-up jobs but in a fun way!
Book your KidZania Seoul ticket online with Klook >
---
17. Zzang Games Arcade
A very 'amusing' thing to do in Hongdae, Zzang Games Arcade is a four floor palace of new and retro games, from electronic darts machines to dance mats, claw machines to driving simulators – we would say this is more suitable for teenagers more than smaller children.
Seriously, Zzang Games was buZzing when we visited (and great to see the sport of darts taking 'flight' in Seoul, especially given Seoul baseball is so popular).
---
18. Seoul at Christmas
Seoul comes alive every Christmas and New Year with a feast of festive favourites and classic Christmas lights and events.
Seoul has countless Christmas events for kids from shopping mall Christmas light displays to huge Christmas trees plus skating rinks, snow-covered winter villages and special Christmas markets.
Whilst the winter nights in Seoul may be cold, these South Korean Christmas lights and events warm the heart and see in both Christmas and celebrate the end of the year – easily one of the best times for families to visit Seoul.
Seoul has plenty of Christmas events for kids, markets and lights so here is our updated guide to Seoul's best Christmas lights, displays and events in 2023 >
---
19. K Star Road (AKA GangnamDol bears)
One of the most frequently visited family activities in Gangnam are the brightly coloured K-pop teddy bears of K Star Road.
Although they may appeal more to teenagers who are into music, the cute looking bears can be enjoyed by children of all ages.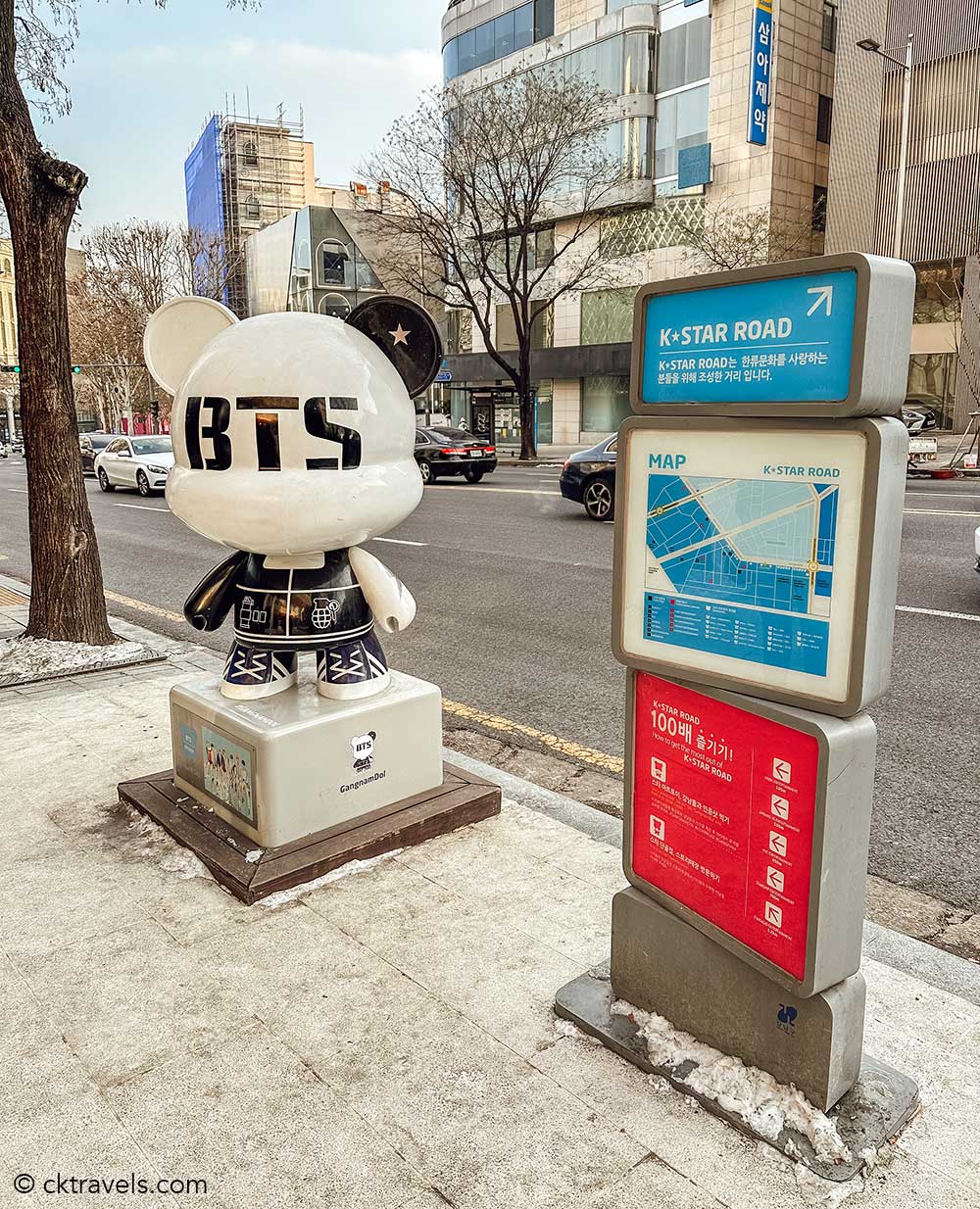 These 'GangnamDols' (brightly coloured bear dolls) line a 1 km stretch of road with around 20 big bears representing the cream of K-pop talent and famous K-pop dolls.
As you'd expect, the 'star' of K Star Road is a huge Psy bear / GangnamDol (near Apgujeong Rodeo Station exit 2), but other bears include Girl's Generation, Miss A and 4Minute – and yes, the BTS Gangnam-su bear is incredibly popular.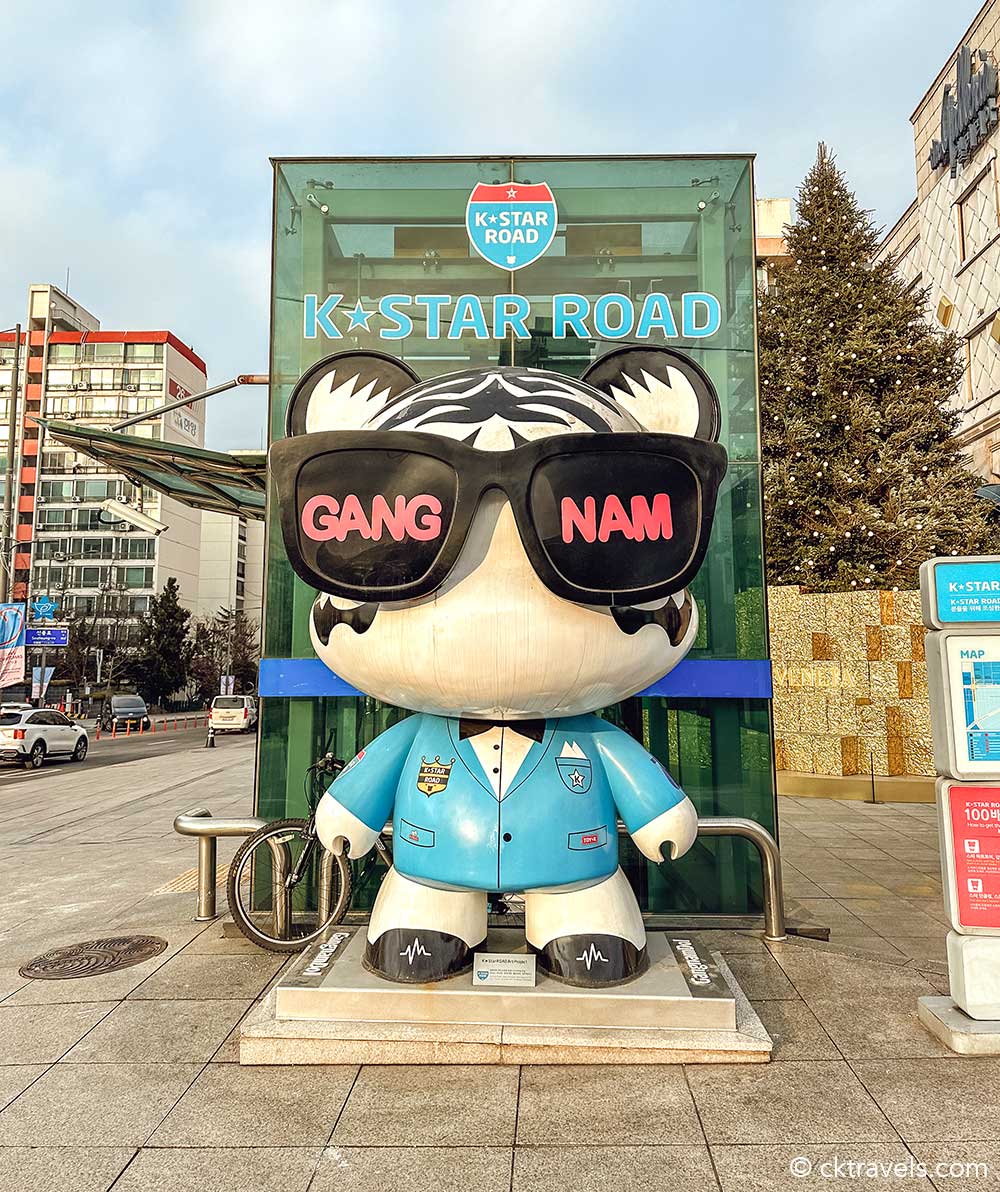 ---
20. Korean Selfie Booths
One of the most fun things to do in Seoul for families (and in Seoul at night), Korean selfie booth stores are dotted all over South Korea's capital.
Selfie kiosks are brightly coloured stores in Seoul where the whole family can borrow clothes and fun props (like vegetable hats, big sunglasses, animal paw gloves etc) and then pose for selfies or take photos in booths for a small fee. A cool souvenir for kids visiting Seoul to take home too.
Often these Korean selfie photo booths allow you to print out stickers as a lasting reminder – popular Seoul selfie booth locations include Gangnam, Itaewon, Ikseon-Dong, Seongsu-dong and Hongdae.
---
21. See a Kids Film in a Seoul Cinema
Take the family to the largest cinema screen in the world!
If you are looking for wet-weather family activities in Seoul, other than fun museums like Alive Museum or ColorPool, one of your best bets is going to the cinema – big boxes of popcorn ahoy!
Two of the best cinemas for families in Seoul are the CGV Starium and Megabox Cinema Gangnam.
Times Square Mall is home to the CGV Starium – the largest cinema screen in the world (as listed in the Guinness World Record Book). With almost 3,000 seats and 12 screens spread over 5 floors, you'll be spoilt for cinematic choice here. You can even hire a private cinema or go Gold Class!
Megabox Cinema in Gangnam is located in the basement area of COEX Mall. This good-looking Gangnam movie theater has 17 screens plus one hell of a beautiful coffee shop in its lobby. Megabox COEX cinema screens a variety of movies including arthouse fare and occasional live streams of events.
---
22. The ColorPool Museum (Colourpool)
A firm family favourite and fun children's activity in Seoul, The ColorPool Museum is located on the top floor of the Anyoung Insadong shopping complex and is like a rainbow brought to life.
The Colorpool Museum in Insadong, Seoul comprises 9 rooms (or zones), each with its own colour (sorry, color) theme – think pink ball pits, unicorn utopias, rainbow walls and more inflatables than your local swimming pool.
This is also a Seoul family activity that can easily be combined with the Alive Museum as they are within 5 minutes walk of each other – Insadong as a whole is a really good place for families in Seoul to enjoy together.
---
23. Seoul Children's Grand Park
Fact – the music video for the world famous K-Pop song 'Gangnam Style' by Psy was partially filmed in Seoul Children's Grand Park (at the children's roundabout).
If that wasn't cool enough, there are loads for families to enjoy at Seoul Children's Grand Park including a zoo, animal rides, a beautiful botanical garden, a small theme park, a marine exhibition and of course the merry-go-round.
It is also very lush and verdant with forest trails and hiking paths suitable for all ages.
---
24. Seoul Forest Park
Seoul isn't short on superb outdoor spaces but Seoul Forest Park in Seongsu-dong is certainly one of the best outdoor free family activities in Seoul.
The third largest park in the city, not only does it have 3,000 acres of green space and ponds to peruse but also several free to visit wildlife areas like a deer park and butterfly house.
Opened in 2005, Seoul Forest Park is popular with locals and widely enjoyed for picnics, recreation and summer festivals.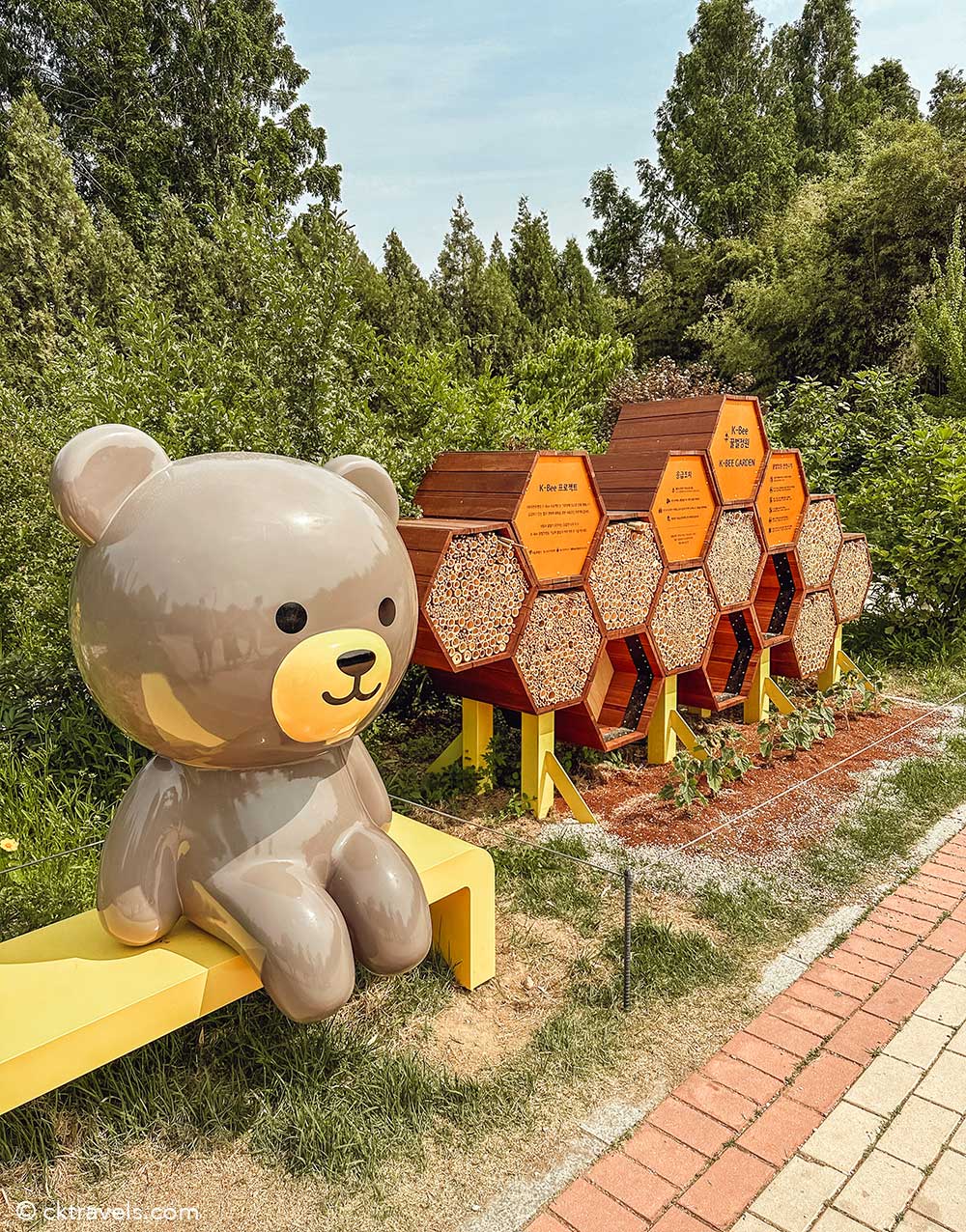 Best of all, there is much woodland and wildlife to enjoy. For many families and kids, the highlight of Seoul Forest Park is the deer corral where you could see dozens of docile deer.
For a better view, head up on the aerial walkway which allows both an aerial perspective of the deer plus nice views of the forest and waterways. There is a ramp up making it accessible by pushchair / buggy. There is an insect house too plus a honey-bee garden (with a cute cartoon model bee) and rose garden.
The most popular family spot in Seoul Forest Park seems to be the lawns and seating areas around the main lake – kids can run around freely whilst parents enjoy picnics. Many visitors had brought coffees and treats from the nearby cafes and dessert stores in Seongsu-dong Village.
---
You might like – things to do in Seongsu-dong, Seoul >
---
25. Seoul Animation Centre
Seoul Animation Centre in Myeongdong is easy to spot as the front entrance is adorned with a huge army of cartoon character statues (a very good and fun photo opp).
Seoul Animation Center is a huge cultural complex launched in 1999 by the local Government to help promote the South Korean animation industry, popular with local children.
It has a cartoon library, cinema and hosts temporary exhibitions as well as housing a permanent Ani Land / Town cartoon park for children, and is located across from Myeongdong Station.
---
You might like – a visit to Myeongdong Night Market >
---
26. Ikseon Goro Purpleberry ice-cream
Surely one of the n-'ice'-est family activities to do with kids in Seoul? Head on over to Ikseon-dong Hanok Village for this sublime sweet treat that looks superb too!
This famous Ikseon-dong ice-cream shop may give you a sense of deja-vu when you first arrive as it is likely one of the most popular Instagram spots in Seoul. Seriously, half the people visiting Ikseon Goro let their ice-creams melt as they take numerous pics (we were guilty too).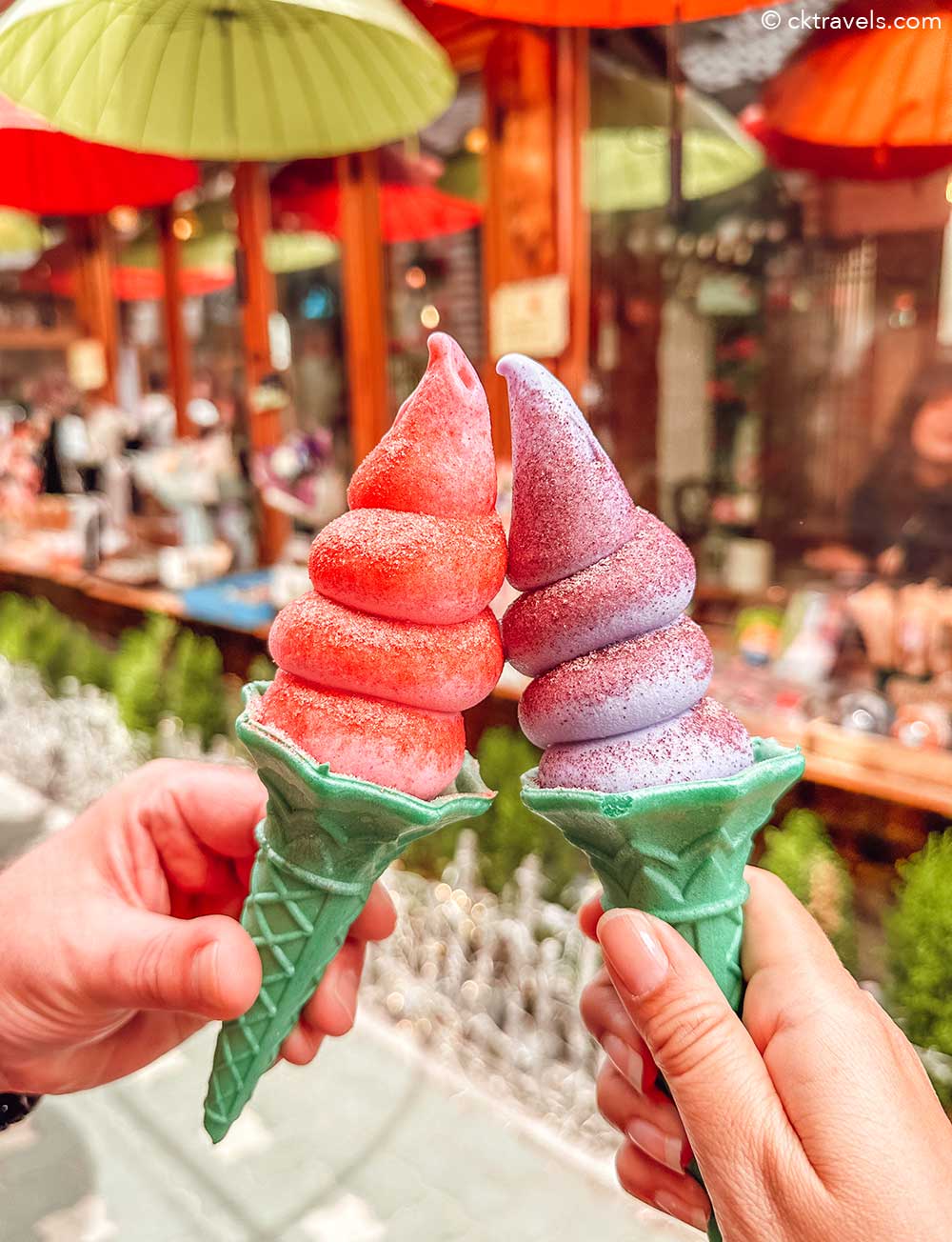 For once, the hype is justified as not only do the Ikseon Goro ice-creams look the part (complete with green cones), they also taste incredible and are really cheap compared to many of the other dessert offerings in Ikseon-dong.
Soft whip ice-creams are only 2,500 Won (as at 2023) so don't worry too much if the kids drop them.
We tried a blueberry / purpleberry ice-cream and a pink berry / strawberry ice-cream. Both Ikseon Goro ice-creams tasted amazing (although the purpleberry just pipped it for us).
---
You might like – things to do in Ikseon-dong Hanok Village Seoul >
---
27. HBAF Stores
We were H-Baffled at first by the sheer number of the HBAF stores in and around Myeongdong Walking Street.
Very popular with tourists and families, HBAF are flavoured snacks (usually almonds or nuts) that have cute cartoon characters on their packaging and in their HBAF stores (a bit like what you'd see in Kakao Friends or Line Friends).
We lost count of the HBAF stores in Myeongdong after six – some HBAF stores in this area were also like only four shops apart.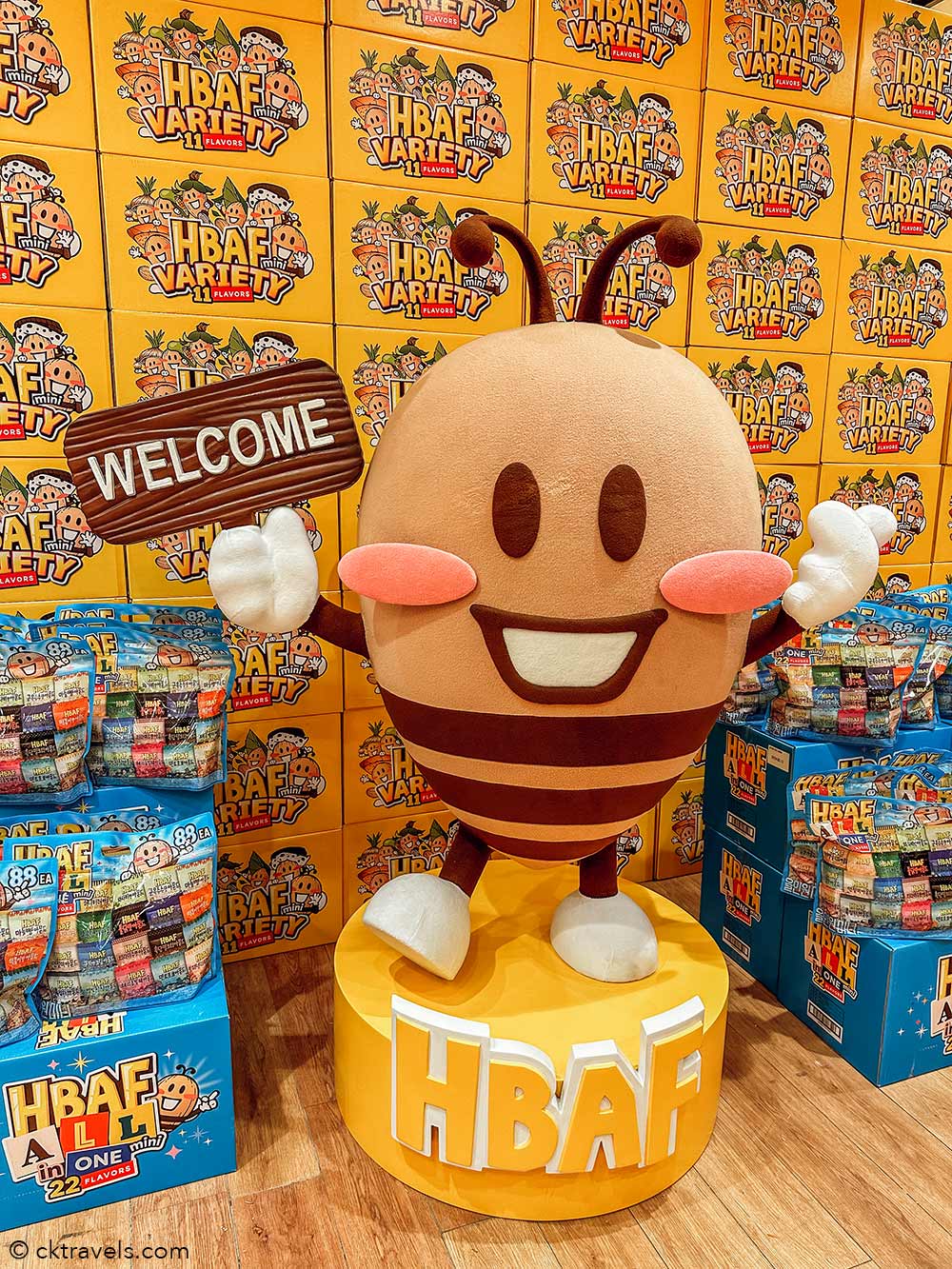 HBAF is a food / snacking company that sells all manner of nuts, snacks and coated goodies like honey butter almonds, wasabi almonds, mini caramel salted pretzels – apparently it is mainly tourists in Myeongdong that buy them to take back home.
The HBAF stores are brightly lit with huge nut like cartoon character malls and rammed to the rafters with colourful food packaging and sachets. The HBAF products are also stocked in many big stores like Olive Young and Korean Mart.
---
You might like – Top things to do in Busan – Ultimate Guide >
---
28. 63 Art Observatory Deck & Aqua Planet 63
Art Observatory Deck and Aqua Planet 63 actually ended up being three family friendly Seoul attractions in one – an observation deck, a superb art museum and an awesome aquarium.
Billed as the world's highest art gallery, 63 Art is located on the 60th floor of the '63 Building', a stone's throw from the River Han, meaning incredible panoramic views of the city and riverside area.
Also as part of the 63 Art Observatory ticket, you can visit Aqua Planet on the basement level.
This subterranean seascape features many aquatic exhibits including sting rays, otters and penguins plus an hourly mermaid show when someone dons a costume and swims with the fishes – how very 'Ariel'! This is the perfect family activity for kids in Seoul.
Book your discounted Art Observatory Deck & Aqua Planet 63 family tickets here, or buy a Go City Seoul pass as tickets are included
---
29. Seoul Kids and Family Attractions Passes
Buying separate tickets for all these Seoul family attractions can be expensive – for instance, 2 adult tickets to Lotte World with two children under twelve costs 210,000 Korean Won as of summer 2023 (approx £126 or 150 Euros / $160 USD).
So these family activities in Seoul can add up – one way to save money is to look at buying a Discover Seoul Pass or Go City Pass as they include both Lotte World and Everland plus selected other attractions like the Alive Museum, hanbok costume rental and ColorPool.
Find out more about our experience with the Discover Seoul Pass here >
Find out more about our experience with the Go City Seoul pass here >
---
30. Look out for Line Friends
Line Friends characters are ever so popular in South Korea and in most parts of Asia (these are cute cartoon characters that help promote the Line messaging service).
Although there are lots of Line Friends stores all around Seoul where you can find Line Friends merchandise galore, we found the largest collection of large Line characters in Insadong at the Anyoung Insadong shopping complex, and in Hongdae where you can pose with Line Friends models (kids love it).
---
You might like – themed / cartoon 7-Elevens in Taipei, Taiwan >
---
31. Namsangol Hanok Village
A free to visit village of traditional houses in the shadow of Namsan Mountain and N.Seoul Tower, Namsangol Hanok Village is one of Seoul's hidden gems and a superb way to get a sense of what life used to be like in Seoul, prior to the tower block boom. Kids will love walking around the historic site and running around the courtyard.
Close to Euljiro and Chungmuro station, Namsangol Hanok Village is open daily (except Mondays), the Namsangol Hanok Village was officially opened in the late 1990s and has several restored hanok houses, a tranquil traditional garden, performance stages and an ornate pavilion.
---
You might like – things to do in Euljiro, Seoul >
---
32. Seoul Open Top Bus Tours
There are several open top bus operators in Seoul, all of which provide hop-on hop-off routes of the city – these include the Seoul Hop-On Hop-Off Downtown Palace Course with Seoul City Bus Tours (available from Viator and Klook) plus the Seoul Yellow Balloon City Bus Tour.
These Seoul bus tours are perfect for families as you can jump off along the way, if kids want to see certain Seoul attractions – families are also provided with headsets so they can listen to the audio commentary in the language of their choice.
We tried the Seoul Yellow Balloon City bus, a hop-on hop-off bus company that runs several routes and has buses that depart the Dongdaemun Design Plaza (DDP) every 40 mins or so from 9.30am to 5pm.
The Yellow Balloon City Seoul Bus usually costs 20,000 Korean Won per person or available as part of the Go City Seoul pass or Seoul Discovery pass.
---
33. Lolol Culture and Comics, Times Square Mall
One rather cool place to check out at Times Square Mall (a fine Seoul shopping mall) is located in the upper levels next to the CGV cinema ticket desk.
Lolol comic book library is a cool looking space where you can chill out in comfy booths reading comics or books from their huge collection. Prices start from 2,000 Won for 30 minutes (price correct as at June 2023).
---
34. Get a family portrait / children's caricature
Both Insadong and Ikseon-dong Hanok Village are home to quirky cartoon caricature studios, where street cartoonists have set up studios to do fun family portraits.
Prices vary but starting at 9,000 South Korean Won per person based on a minimum of two people, these are really good value caricatures.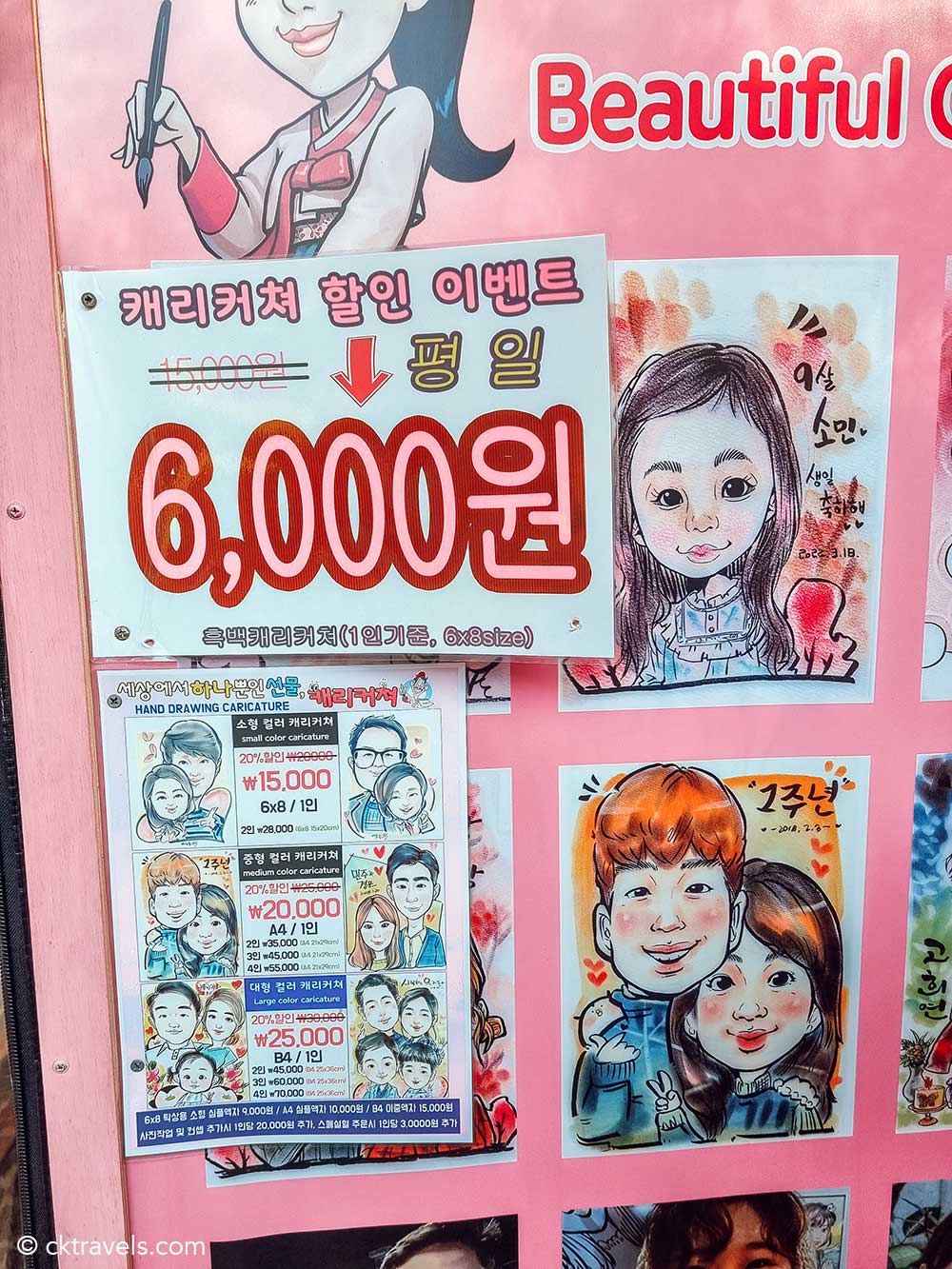 ---
35. Seoul Land
Great for kids, Seoul Land was the first full-scale theme park to open in the city of Seoul, coinciding with the Seoul Olympic Games in 1988 – gold!
With everything from giant swings to roller coasters, cable cars to bumper cars, there is much for the family to enjoy with over 40 rides to climb aboard- plus watch as the dinosaurs roam Jurassic Land or get up close to real life animals at Seoul Land Zoo.
Get your Seoul Land family tickets here >
---
36. Seoul Comic Book / Cartoon Road Seoul (Zaemiro)
Across the road from Myeongdong Station and on the edge of the Walking Street, Seoul's Comic Book / Cartoon Road comes to life with a colourful cavalcade of street art and murals adorning many buildings (with many cartoon statues and public art thrown in for good measure).
Also known as Zamiro, Seoul's Cartoon Street begins from Myeongdong Station and extends to Seoul Animation Center / Centre. Literally a street of fun, there are several posing and photo spots along the route and can be visited any time of the day.
As part of Cartoon Road, also look out for the quirkiest bus stop in the whole of Seoul (it is a huge cartoon bus).
---
37. Starfield Library at COEX Mall
Although kids aren't generally fans of libraries (especially whilst on holiday), they may make an exception for Starfield Library at COEX Mall.
This has to be the loveliest looking libraries ever and a cool space to hang out in with a coffee or juice. Unlike other libraries, you don't need to be a registered user to read the comic books here (great for kids), and several cafes and coffee shops are 'hidden' amongst the gigantic bookshelves.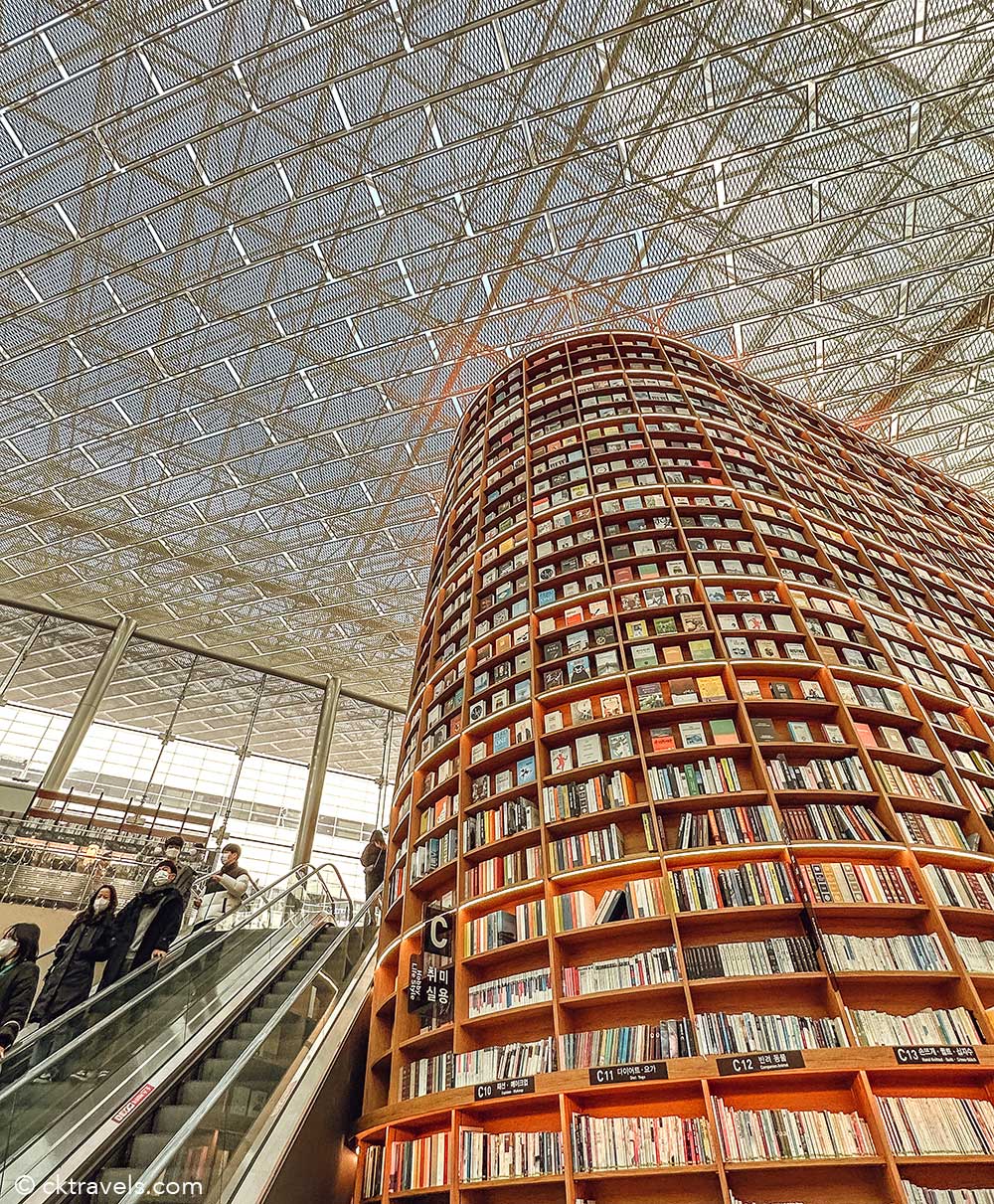 ---
You might like – one for adults; the best craft beer bars in Seoul >
---
38. Fruit Hard Candy (Ddalgi Satang)
Whilst certainly not unique to Korea, this is super popular in many Asian night markets and particularly so in Korean night markets (although a little expensive compared to other street food so possibly aimed more at tourists).
It might also be a novel way to encourage your kids to have one of their five fruits a day!
Ddalgi satang are pieces of fruit such as grapes and strawberries which have been glazed with a sugar coating and skewered on a stick like a kebab. They are sweet and crunchy on the outside and soft and fruity on the inside.
Fruit Hard Candy (Ddalgi Satang) is available all over Seoul including Myeongdong Night Market.
---
39. Fell & Cole Ice-Cream
A n-'ice' thing to do in Hongdae is visit the Fell & Cole ice-cream parlour, hidden away in the back-streets.
Famous for both their flavourful ice-cream and sublime sorbets, we paid a visit to Fell & Cole one sunny Saturday afternoon and tried their lemon sour ice-cream plus the more traditional stracciatella.
Prices are 6,000 Korean Won (around $4.50 USD / £3.70) for a large scoop or 11,000 Won for two scoops.
Other fantastic ice-cream flavours that big and small kids will love at Fell & Cole include cafe au lait, pink rose, perilla leaf, red bean, M&M's vanilla plus a vegan 'raspberry rose' sorbet.
---
Our final thing to do in Seoul for kids and families
40. Get your teenagers to design their own personalised Nike gear
Noon Square Fashion Mall in Myeongdong is home to a popular Nike custom store, where you can design your own personalised Nike merchandise.
Here, pick your own Nike transfers and graphics from thousands on display in-store to create your very own unique Nike wear – nice! To customise your own Nike merch, you need to get a ticket early in the morning as this usually sells out most days.
Given the cost, this might be best as a (VERY) special Seoul souvenir treat for teenagers to take back and show off to friends back at home.
---
Other South Korea posts you might like
Did you enjoy our Best things to do in Seoul with kids / children blog post? Let us know in the comments or by sharing it on social media.
You can follow CK Travels on:
Instagram
Facebook
TikTok
YouTube
Pinterest