This post may contain affiliate links to tours and hotels. These help us earn a small commission at no additional charge to you.
Busan bound? Lucky you – South Korea's second biggest city Busan is bustling, blessed with beachside activities, hipster hangouts and 24/7 entertainment – there are so many things to do in Busan, South Korea.
Not only can you enjoy Busan's most beautiful beaches but there is so much sublime street food and Busan at night is a magical place – from free aerial drone shows on the beach to sunset cruises and craft beer bars, there is something to suit all budgets and tastes in Busan.
Busan highlights include traditional temples by the sea, coastal cable-cars and Gamcheon Cultural Village, the most colourful place in the whole of South Korea.
From ocean observation decks to the Oryukdo Islands, outlandish lighthouses to light shows, here is out guide to the best things to do in Busan, South Korea in 2023:
Getting to Busan
Busan bound? There are several ways to get to Busan in South Korea:
Fly to Busan
You can fly directly to and from Busan Gimhae International Airport (PUS) from Japan, Thailand, the Philippines, Vietnam, Taiwan, Singapore, China and Malaysia.
There are dozens of domestic daily flights to Busan from Seoul and Jeju – we found these to be very cost effective, often the same price as cross-country coaches but much quicker.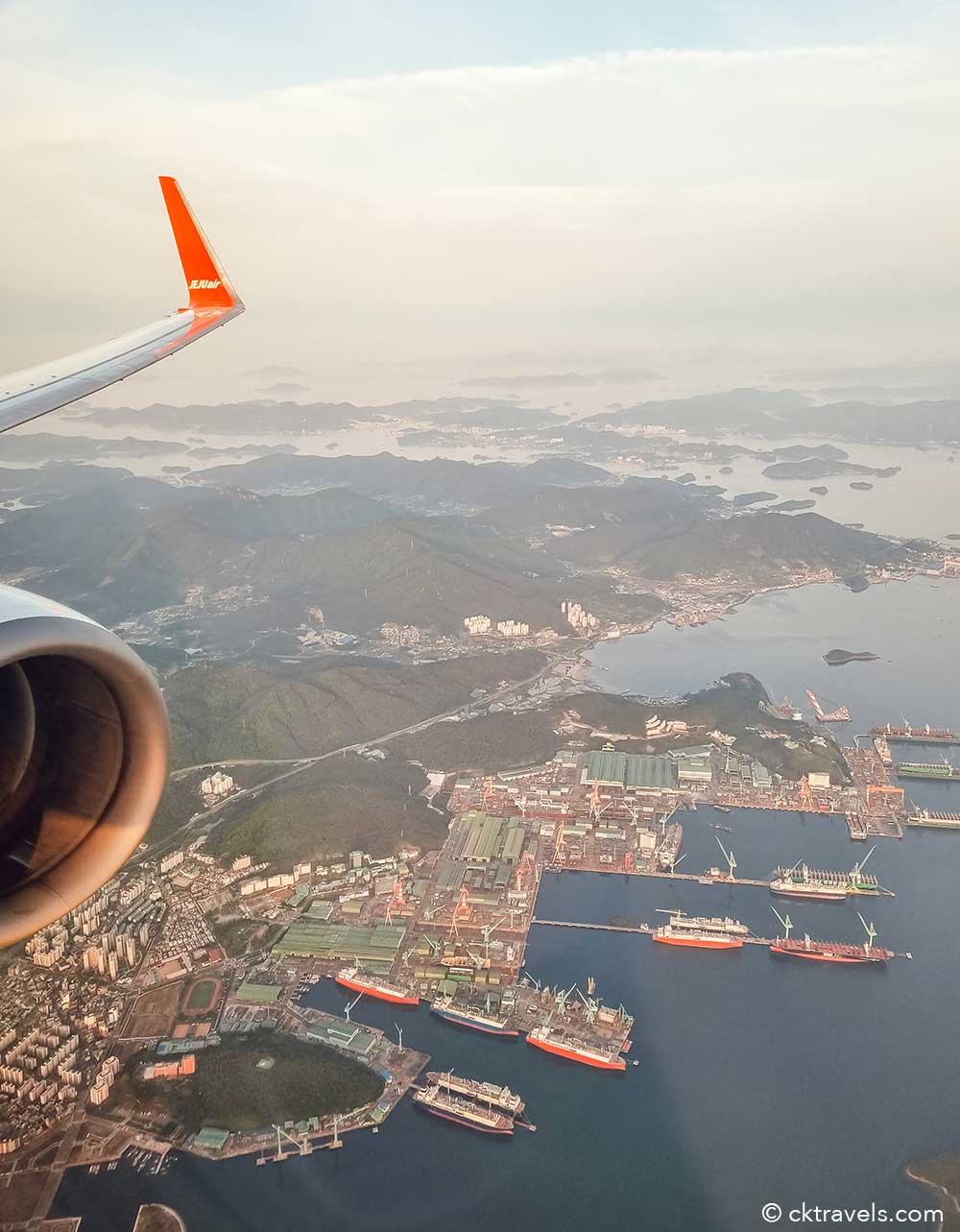 Ferry to Busan
Go by sea! There is a direct ferry from Fukuoka in Japan to Busan.
Book the Queen Beetle One-way Jet Ferry between Fukuoka and Busan here >
Train to Busan
Very different from the Korean movie of the same name, there are usually no zombies on this particular train to Busan – it is a quick and efficient way to get to Busan from Seoul.
The KTX train Korea is the fastest train to get to Busan in the south of the country, often taking less than 3 hours and running one or two times an hour.
Alternatively, foreign travellers can benefit from discounted rates with a Korea Rail Pass – this is also better value if you are travelling long distances by train in South Korea for two or more days.
Book your Korea Rail Pass (2, 3, 4, or 5 Days) here >
Busan Private Tour
Given how big Busan is, if you are short on time, you can organise your own customised private tour of Busan or do a Premium One Day Private group Tour from Busan to 10 cities.
Highly Rated Busan Accommodation and Hotels
Lotte Hotel Busan
Luxury hotel located a 5 minute walk from the metro. Facilities include an on-site duty-free store, department store, movie theatre, indoor and outdoor pool, sauna, fitness centre and restaurants. Check out prices and availability for Lotte Hotel
Kent Hotel Gwangalli by Kensington
Highly rated hotel located on the shore of Gwangalli Beach. Rooms are modern with city views or sea views. Check out prices and availability for Kent Hotel Gwangalli by Kensington
Mipo Oceanside Hotel
Highly rated hotel offering both Western and Korean-style rooms. Some rooms have sea views. Check out prices and availability for Mipo Oceanside Hotel
Signiel Busan
Luxury hotel located between the 3rd and 19th floors of the LCT Tower. Rooms have panoramic views and facilities include an infinity pool, luxury spa, kids outdoor activity garden and dim sum restaurant. Check out prices and availability for Signiel
Things to do in Busan, South Korea, 2023
1. Gamcheon Culture Village
If you are only going to do a handful of things in Busan, make sure you visit Gamcheon Cultural Village.
Gamcheon culture village is easily one of the most visited places in Busan, and probably the most Instagrammed place in Busan too given how colourful it is.
Brightly painted terraced dwellings, labyrinth alley-ways and maze-like backstreets are all part of the charm.
Not to mention cute coffee shops galore, several of which have incredible rooftops that provide postcard perfect panoramic views of Gamcheon Culture Village and Busan Port.
Formerly a mundane mountainside area where refugees settled after the Korean war, houseproud tenants initially painted their roofs and walls in bright colours and others followed suit.
Today, thousands of tourists flock to Gamcheon culture village every day. Whilst you could refer to it as one of Busan's tourist traps, it is a jubilant and joyful place to explore with incredible panoramic vistas at every corner and dozens of alley-ways, and nooks.
Other than the panoramic pastel views, highlights at Gamcheon Culture Village include:
The Mural Of Jungkook & Jimin (band members from BTS who were born in Busan)
The statues of The Little Prince And The Fox (the most popular selfie spot in Busan)
The painted book staircase
'I Love Gamcheon' rainbow sign.
We'd recommend bringing sunglasses when visiting the vivid village colours of Gamcheon, especially on sunny days. It is so bright, it is often referred to as Korea's Machu Picchu.
Tip – easily the best free viewpoint in Gamcheon Cultural Village is the Haneulmaru roof terrace, which sits on top of a former residential dwelling now transformed into a museum and gift shop.
We'd also recommend the Wooin Cafe Rooftop too just across from Haneulmaru for super colourful smoothies or iced coffee blessed with beautiful views.
Read more in our guide to Gamcheon Cultural Village >
---
You might like – Busan: Day Trip with Gamcheon Culture Village and Sky Walk >
---
2. Gwangalli M Drone aerial show – every Saturday night
Busan's Gwangalli Beach is the place to be every Saturday night with the weekly Gwangalli M Drone display high up over the night sky.
Every Saturday night at 8pm and 10pm (October – December 7pm and 9pm), over 300 aerial drones take to the skies of Gwangalli Beach and create an incredible skyborne spectacle, with various scenes and characters created.
The characters and images created by the Gwangalli M drones vary weekly so you never know what to expect from the aerial display.
There are often bonus aerial drone shows at different locations on public holidays and at festivals and major events.
You might like – Night Yacht Tour including the Gwangalli Drone Light Show >
---
You might like – things to do in Gwangalli Beach, Busan >
---
3. Seomyeon and Jeonpo Entertainment Districts
The Seomyeon and Jeonpo districts in Busan are many things – from the centre of coffee shop culture along Jeonpo Cafe Street in Busan through to shopping mall mania and many night delights, these are some of the coolest neighborhoods in Busan, where the night owls hang out.
Offering craft beer bars to casinos, colourful cake shops to beautiful bakeries, Seomyeon and Jeonpo are hipster hangouts; very popular with students and teens (especially along 'Seomyeon Young Street').
The heart and soul of Busan entertainment district, Seomyeon and Jeonpo have something to offer all tastes at any time of day – from stress relieving shooting galleries to selfie kiosks, thrift and vintage threads to gachapon toy stores galore.
Read our guide to all the things to Busan's Seomyeon and Jeonpo districts here >
---
4. Haedong Yonggungsa Temple
A short bus ride from Gwangalli Beach, Haedong Yonggungsa Temple is described as the 'most beautiful temple in Korea' with stunning panoramic views of the sea and surrounding coastline.
Incredibly popular (especially with coach groups), the original Haedong Yonggungsa temple was built in the 14th century but later destroyed by bombing and rebuilt in the 1930s.
During celebrations and religious festivals like Buddha's birthday, Haedong Yonggungsa Temple is adorned with lots of bright lanterns across all its paths and roofs making it even more beautiful.
The one downside is that it is included on a lot of Busan 1 day itineraries and day trips organised by coach companies so it can get very busy. For a slightly quieter temple experience in Busan, try Baengnyeonsa Temple or Okryeonseonwon Temple.
---
You might like – Busan day trip including Haedong Yonggungsa Temple, Camellias Island & More >
---
5. Haeundae Beach
Haeundae Beach is not only one of the best beaches in Busan but also one of the best beaches in South Korea. With its vast ocean views, sprawling sandy beach and towering skyscrapers immediately behind, Haeundae Beach is a must do when in Busan.
Where the sea meets the city, Haeundae Beach is brilliant for swimming and watersports and stretches over 1 mile – so even when it gets very busy, you can usually find a spot.
Sunset and sunrise at Haeundae Beach in Busan are special and every New Year's Day, thousands of residents visit to see the first sunrise of the New Year.
Even if you aren't a big beach fan, Haeundae Beach has a lot to offer from beachside bars to charming coastal walks, sand festivals to sublime panoramic views.
Read our guide to the 25+ top things to Haeundae Beach here >
---
6. Go to a Busan Baseball Game
Baseball is a BIG hitter in Busan – it is in fact South Korea's most popular sport! Better yet, did you know baseball is in fact one of the cheapest things to do in Busan at night?!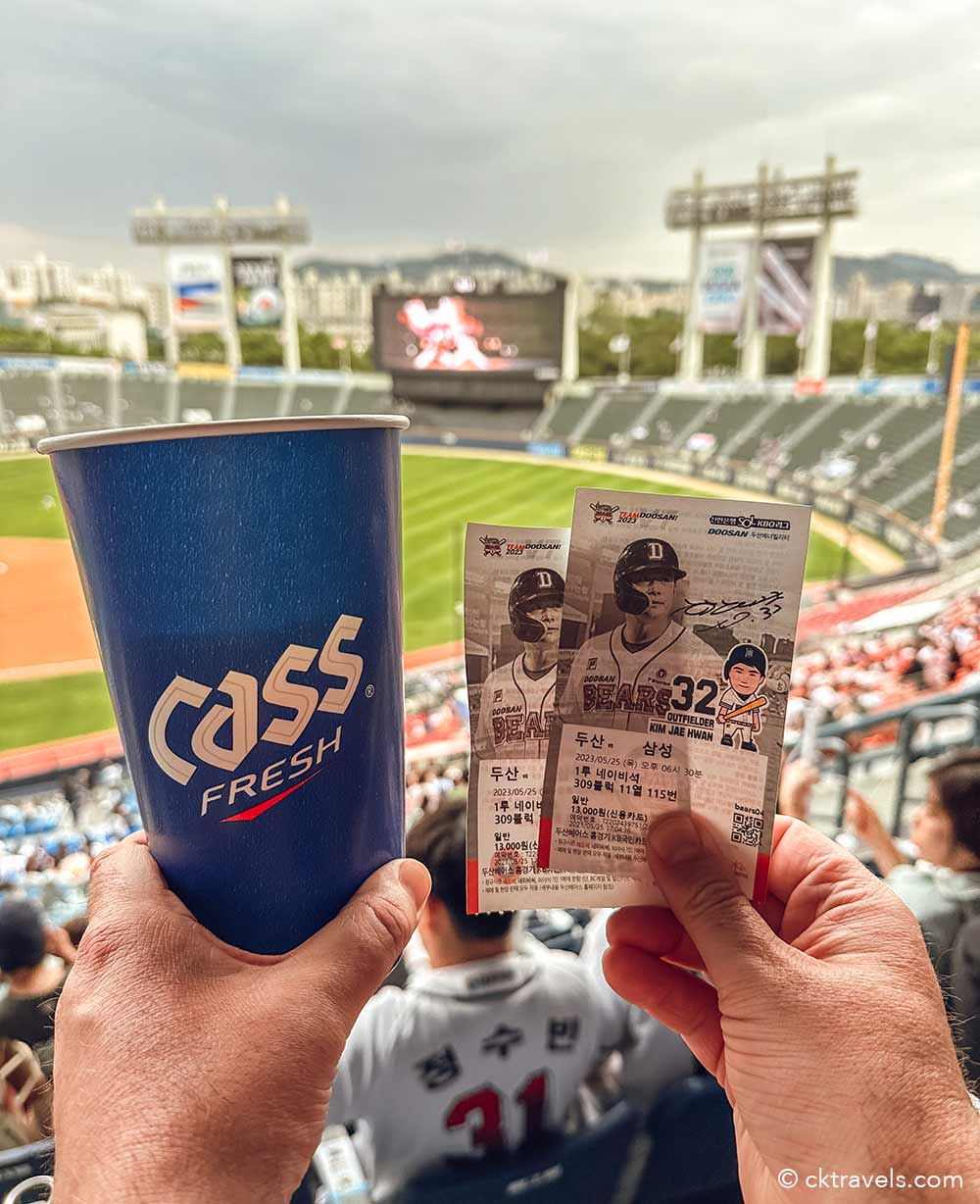 Baseball tickets at Busan's Sajik Stadium can be bought for as little as 13,000 Korean Won (around £8 / $10 USD) at the box office on the night of the game.
Sajik Stadium is home to the Lotte Giants and baseball games are often played several nights a week in Busan during the South Korean / KBO baseball season (usually April to September).
The Busan baseball stadium is easy to get to via Sajik station on Busan Metro Line 3.
---
You might like – Guide to going to a KBO baseball game in Seoul >
---
7. Millac The Market
Overlooking the harbor at Gwangalli Beach with huge bay windows facing towards the ocean and Millak Port, Millac the Market is a popular Gwangan food market and contemporary cultural space.
It is one of the newest attractions in Busan having opened in 2022 on the site of an old fish market.
A sleek and shiny food court with red brick walls, steel interiors and street art on the walls, this is one of the coolest (and tastiest) things to do in Busan (and only a short walk from Gwangalli Beach itself).
We visited Millac The Market one Saturday afternoon in Busan and were amazed to see hundreds of people sitting on the steps eating their street food and watching two live performers. Busy and buzzing, you can see why this is now one of Busan's most popular and modern street food markets and food halls.
The set-up here is really nice at Millac The Market, with all types of street food kitchens and restaurants with cuisine from all around the world plus a few craft shops and a craft beer brewery bar courtesy of Naked Ape.
---
You might like – Guide to Gwangjang Market in Seoul >
---
8. Busan Pass
Save money on Busan attractions with the visit Busan Pass!
Newly launched in 2023 and very similar to the highly successful Discover Seoul pass, the Visit Busan pass provides 'free' access to a selection of 30 tourism attractions in Busan for 24/48 hours.
Visit Busan tourist attractions included on the pass include Lotte World Busan, Busan Tower, Skyline Luge Busan, Busan X the Sky, Songdo Cable Car and free hanbok rental.
Incredibly good value for money, buy your Visit Busan pass here via Klook >
---
Visiting Seoul? You might like the Discover Seoul pass (our review) or our Go City Seoul Pass Guide (is it worth it)?
---
9. Haeundae Blue line Park
You might get a sense of deja-vu when you first see the Haeundae Blue Line Park – the multicolored Sky Capsules (monorail) that travel along the coast with incredible sea views are very popular on social media.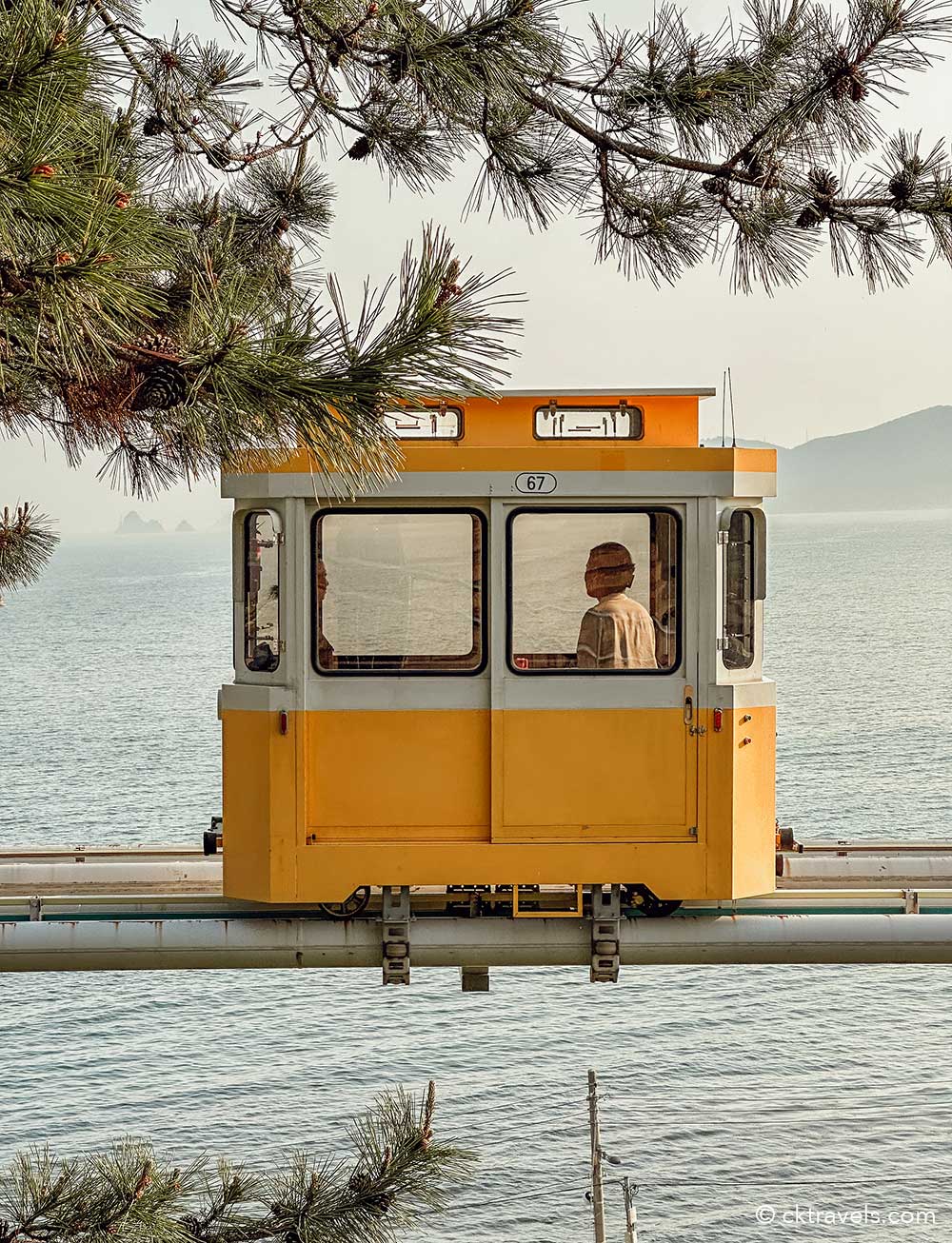 The Haeundae Blue Line Park is one of Busan's newest tourist attractions, opening in late 2020 and consisting of the iconic Sky Capsules and a separate Beach Train that follows the Busan Green Railway coastal walking trail (note the trail partially collapsed in 2022 but the railway remains unaffected).
Following the old Donghae Nambu Line, the 5km coastal Beach Train journey starts from Haeundae Beach's Mipo Station to Dalmaji Tunnel, Cheongsapom Daritdol Skywalk (very cool and free), Gudeokpo and Songjeong, taking about 30 minutes, and gives stunning unspoilt views of East Busan's coastline.
The Sky Capsule runs from Haeundae Mipo to Cheongsapo along an aerial railway. Given its popularity, it is recommended you book the Haeundae Blue line Park in advance especially during peak periods – although you can easily jump on the parallel Beach Train without pre-booking.
You might like – Busan Must-visit 1 Day Tour: Blue line Sky Capsule & Beach Train >
The Haeundae Blue Line Park Beach Train is also included as one of included attractions in the newly launched Visit Busan pass.
Read more about the Haeundae Beach Train and Sky Capsules in our Haeundae Blueline Park guide >
---
10. Gwangalli Beach
One of Busan's best beaches and top food and drink destinations, Gwangalli is also one of South Korea's premier beach resorts. Gwangalli Beach is a sandy shore stretching almost 1.5km along the Busan coastline – in a word, heaven!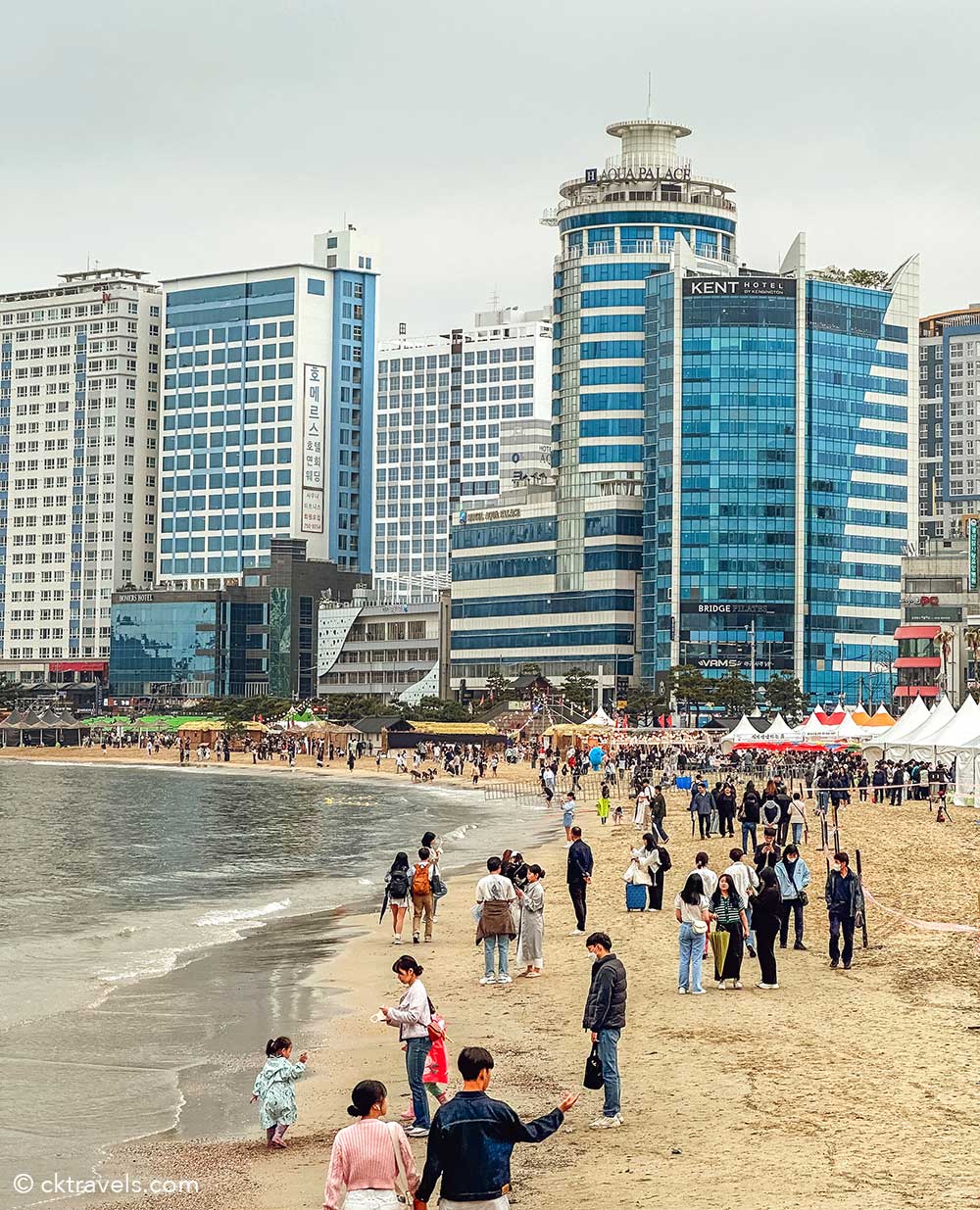 Popular for sunbathing, watersports and picnicking, Gwangalli Beach has a tropical vibe with straw parasols dotted along the beach (great if you want to escape the sun – or the Busan rain).
Along the seafront at Gwangalli Beach, there are numerous bars, pubs and restaurants looking out over the water meaning you can sunbathe by day then relax by night.
The water is perfect for swimming at Gwangalli Beach as it is in a relatively sheltered bay with very few waves (so not ideal for surfing). Many Busan boat trips and yacht tours also allows you to see Gwangalli Beach from the ocean.
At night, you can enjoy the Gwangan Bridge light show from the beach plus the weekly Gwangalli M drone show every Saturday.
You might like – East & West Busan Exploration with Busan Skywalks, Gamcheon Culture Village, and Haedong Yonggungsa Temple Day Tour >
---
11. Songjeong Beach
Often referred to as the best surfing beach in Busan, Songjeong is the perfect place for watersports and seaside action.
Given its location a little further north of the main city, Songjeong is a stunning yet less well known beach in Busan meaning it feels a little less busy than the likes of Haeundae and Gwangalli.
With relatively shallow waters and waves all year round (as this is where the south sea meets the east sea), Songjeong Beach is popular year round with the surfing community.
The sandy shore at Songjeong Beach is around 1.2km in length meaning there is plenty of room for both surfers and sunbathers. It is also one of Busan's best beaches for paddle-boarding; 'sup!
We'd rate Songjeong Beach as one of the best 5 beaches in Busan.
You might like – Busan Main Attractions One Day Tour >
Looking for cheap Busan day-trips, attractions or group/private tours? We recommend visiting Viator, GetYourGuide, and Klook!
12. Gwangandaegyo Bridge / Diamond Bridge
Gwangandaegyo Bridge in Gwangalli Beach is one 'lit' bridge – literally.
Gwangandaegyo Bridge (AKA Gwangan Bridge) has the world's largest set of LED lights and thumping sound equipment; it shines so bright it has been nicknamed Busan's Diamond Bridge.
South's Korea's sublime suspension bridge in Busan is the second longest bridge in South Korea (after Incheon Bridge in Seoul) and spans over 7 km (and 'daegyo' literally means 'big bridge' in Korea).
Gwangan Bridge in Busan lights up every evening, with different times depending on the year. Generally, Gwangan Bridge becomes a beacon of light every evening from sunset until the early hours (usually 1am on weekdays and until 2am on weekends and public holidays).
---
You might like – things do in Busan at night guide >
---
13. BUSAN X the SKY
For the best panoramic views of Haeundae Beach and the Busan coastline, head up to the 100th floor of Busan X the Sky, a newly constructed mixed use skyscraper that at over 400 metres high, is the tallest building in Busan and the second largest tower in South Korea (after the Lotte World Tower in Seoul).
As well as the incredible views of Haeundae Beach and the whole of Busan, there is an indoor glass walkway – the Shocking Bridge, where you can see Haeundae Beach directly below your feet (if you dare look down!). The Sky Cruize lift to the top floor is also quite the spectacle with OTT graphics.
As well as the observation deck, you'll find art installations and restaurants at the top of BUSAN X the Sky (plus the world's tallest Starbucks – more on this later).
​Book a discounted BUSAN X the Sky ticket here >
Busan X the Sky is also included as part of the Visit Busan pass >
---
14. BIFF square
Busan is world famous for its annual Busan International Film Festival (BIFF), held every October – BIFF Square has become the epicenter of this cinematic celebration.
As well as modern malls and movie theaters, this is the place where you'll see golden handprints of world wide movie stars and directors who visited the BIFF previously like Jeremy Irons.
Prior to the inaugural BIFF in 1996, the area mainly comprised of two decades old cinemas but was transformed to launch the festival and has been one of the most famous places in Busan ever since. The area around BIFF Square is divided into two – Festival Street and Star Street – and is also close to the Jagalchi fish market.
Most days, you'll find an array of street food traders here selling everything from dumplings to noodles – the food stalls and market at BIFF Square was quite touristy and overpriced in our own 'unexpert' opinion.
Unless you are a big Korean film or 'Hallyuwood' fan, BIFF Square isn't really worth a special trip – however, it is cool to see all the golden stars and prints of international film stars, kind of like Busan's version of the Hollywood Walk of Fame.
---
15. Gukje Market AKA Nampodong International Market
This market is well known to locals in Busan not only as one of the best street food markets but also as the star of the eponymous K-movie 'Gukje Market'.
Open daily from 9am to 7pm, Gukje market is a warren of fabric, hardware and homeware shops and stalls (watch out for the odd errant moped too that zoom through making deliveries).
Also look out for the cute displays on the bridges that go between businesses on the second level – note this this not so much a food market but there is a Gukje Market Food Street next door.
Bupyeong Kkangtong Market and Changseon-dong Food can be found in the same area and are also popular with locals.
---
You might like – the best street food in South Korea >
---
16. Arirang Street Food Street / Gukje Market Food Street
We discovered Gukje Market Food Street quite by chance but it is a Busan institution, with outdoor food stalls operating here for over 50 years.
It is essentially a street of pop-up food stalls manned by old ladies who make delicious dishes like knife-cut noodles (kalguksu), dumplings (mandu), kimbap and Pajeon (Korean pancake).
As you walk down Arirang Street next to Gukje Market, the old ladies beckon you over and frantically wave menus at you (but in a nice way), trying to entice you to their alfresco seating areas – competition is fierce.
As you sit down, they'll make your dish in front of your very eyes (and might even take back your bibimbap to mix it themselves if you don't do a very good job!)
---
You might like – things to do in Seoul's Seongsu-dong neighbourhood >
---
17. Bupyeong Kkangtong Market AKA Tin Can Alley
Bupyeong Kkangtong Market is located right next to Gukje Market so you can visit both at the same time! They actually both look quite similar so it can be hard to differentiate them.
Bupyeong Kkangtong Market however is more about the food and here you'll find many Korean snacks, plus seafood, fruit, vegetables and side dishes.
The market is open at night for eating and drinking with plastic tables and chairs and multiple mini cart bars set up down the alleys.
Bupyeong Kkangtong Market is also known as Tin Can Alley – 'Kkangtong' means 'tin can' in Korean and originates from many years ago when the market used to sell canned food from the US Army during the Vietnam War.
---
18. Busan Diamond Tower and Yongdusan Park
Whilst now dwarfed by the likes of newer skyscrapers like BUSAN X The SKY, one of Busan's most beloved viewing towers is Busan Diamond Tower, found in Yongdusan Park.
120 meters high and built in the 1970s with extensive renovations in 2021, Busan Diamond Tower is open until 10pm every evening meaning you can get sublime sunset views of Busan port and the nearby hills.
There is a coffee shop onsite with Dataro, the coffee making robot (he is full of 'beans' apparently). Yongdusan Park is also a nice, quiet place to relax, with ample shade amongst the trees, a small Buddhist temple and huge flower clock.
Busan Tower tickets are included as part of the Visit Busan pass.
---
You might like – a visit to the famous Netflix knife-cut noodle lady stall >
---
19. Busan at Night / Busan Night Tours
Busan is a 24/7 city, with many late night activities (not just bars and restaurants).
From night time markets to light displays, read our guide to 25+ things to do in Busan at night >
If you're limited on time and what to do a lot of things in Busan at night in a short space, there are several Busan night tours available:
---
You might like – Guide to the best night time activities in Seoul >
---
20. Haeundae Food Alley / Haeundae Traditional Market
Looking for superb street food or late night bites in Busan? Then head to Haeundae Traditional Market, a couple of blocks back from Haeundae Beach and within easy walk of Gunam-ro Busan.
Here at Haeundae Food Alley / Haeundae Traditional Market, you'll find a treasure trove of traditional Korean restaurants plus dozens of seafood restaurants with the freshest fish and seafood given the close proximity to the coast.
From tteokbokki to tempura, squid to mandu, you'll find lots of fine South Korean street food, plus given there are so many restaurants who all want your custom, prices at Haeundae Traditional Market are very reasonable.
If you don't want to sit down and just grab and go, most restaurants have a takeaway counter out front too.
Look out for the famous honeycomb ice-cream and honey hotteok available at Haeundae Traditional Market as this one of the biggest lines we saw.
---
You might like – Gyeongju The Old Capital of Korea One Day Tour from Busan >
---
21. SPA LAND Centum City
Relax and unwind in Busan's biggest public bathhouse and spa, Spa Land Centum in Haeundae Beach (known as a "jimjil-bang" in Korea).
Located in the Shinsegae Department Store Centum City, this is an authentic South Korean spa and sauna experience which stays open in the evening. Spa Land Centum uses hot spring water full of sodium bicarbonate, which is pulled up from underground wells.
There are almost 20 different hot springs and 13 theme spas to choose from including the Ice Room and Pyramid Steam Room.
SPA LAND Centum is open daily from 9am to 10pm – last entry is usually an hour before closing.
Book your discounted Busan LAND Centum tickets here >
---
22. Haeridan-gil
Possibly the most hipster neighbourhood in Haeundae Beach, Haeridan-gil is an up and coming district near to Haeundae Station where an old residential district has been transformed to become a hotchpotch hotpot of cool coffee shops and restaurants.
Once you get to Haeridan-gil, you'll also spot street art and murals on most walls. Very much a village vibe, Haeridan-gil is hipster central, a bit like Ikseon-Dong Hanok Village in Seoul (but on a much smaller and slightly more modern scale).
---
Like Haeridan-gil? You might also like our things to do in Hongdae, Seoul guide >
---
23. Dadaepo Beach
Very different from the eastern Busan beaches of Haeundae, Songjeong and Gwangalli, Dadaepo Beach is famed for its coastal boardwalks, sculptures and nearby green parks.
Less built up than other Busan beaches, Dadaepo is also the widest sandy beach of them all, meaning it is a perfect spot for all the family to enjoy the sea, with lots of room to run around.
Whilst at Dadaepo Beach, check out the Morundae Seaside Walkway and Morundae Sunset Observatory. These are oceanside trails that take in the Morundae Peninsula through gorgeous green groves and woodlands – one of the best walks in Busan!
To the southern side of Dadaepo Beach, Watersports equipment and gear can be hired such as kitesurfing and paddleboarding (these seem to only be open during the summer months or on selected weekends).
---
You might like – Best Beaches in Busan, South Korea >
---
24. Judko Park and Pavillion
Located at the far end of the Songjeong beach, this is a wonderful woodland park with incredible beach views ('Judko' derives from all the bamboo trees located within it).
This is a shaded spot so it is popular with picnickers, plus look out for the Songiljeong Pavilion, a peaceful pagoda and the closest spot to the ocean (very popular for sunrise and sunset in Songjeong Beach).
---
You might like – things to do in Insadong, Seoul >
---
The Best Busan Festivals
There are several famous annual festivals and events in Busan including:
25. Busan Haeundae Beach Sand Festival
Taking place every year (usually in May or June), the Haeundae Beach Sand Festival is one of the most popular annual things to do in Busan.
We were lucky enough to coincide our 2023 trip to Busan with the Sand Festival and we highly recommend attending to see sand sculptures – taking your own bucket and spade is optional!
The Haeundae Sand Festival sees stunning sandcastles built all over Haeundae Beach by sandcastle designers from all over the world. In 2023, they even had a gigantic Busan BTS sandcastle (K-pop fans rejoice) plus another half dozen or so colossal castles.
As well as sandcastles, there are lots of beach events during the programme. The Busan Haeundae Beach Sand Festival is free to visit.
---
26. Gwangalli Eobang Festival
Something fishy is going on in Gwangalli Beach… that'll be the annual Gwangalli Eobang Festival, a celebration of the Busan fishing industry that takes place on the beach every May in Busan.
We were fortunate enough to be in Busan for the 2023 Gwangalli Eobang Festival and it was so much fun, with dozens of beach-based events held over three days (Friday through Sunday).
Some of the big Gwangalli Eobang Festival events in Busan include a street parade through Gwangalli, a historic Korean folk village brought to life on Gwangalli Beach (very cool!) plus a children's fishing competition where they have to catch live fish with their bare hands.
Other Gwangalli Eobang festival highlights included outdoor musicals and opera, dozens of pop-up seafood stalls on the beach, a huge drone show plus DJs on the beach at night.
Out to sea, a line of fishing boats and private yachts circle around Gwangalli Beach and Gwangan Bridge with bright lights and beacons against the backdrop of the lit up bridge – magical.
Other popular South Korea festivals in Busan include the Polar Bear Swim Festival (icy cold plunges) every December and the Haeundae Lights Festival in winter.
---
You might like – Busan Haeundae River Cruise >
---
27. Bosu-Dung Book Street
As you'd expect from somewhere called Bosu-Dung Book Street, this busy Busan thoroughfare has the highest concentration of booksellers and bookshops of anywhere in the city.
This bookstore alley in Bosu-dong was originally started by a refugee couple in the 1950s who sold used magazines. Starting with Bomun Book Store, there was once up to 70 different stores here selling books (although it is much fewer these days).
A couple of the stores here have been painted to look like giant novels plus there are several statues depicting scenes of reading and the bookshops. Take a leaf out of our book and pay a visit to Bosu-Dung Book street in Busan (or 'bookmark' this page). Sorry not sorry…
---
You might like – things to do in Myeongdong, Seoul >
---
28. Cheongsapo Daritdol Observatory
Easily accessible from Haeundae Beach when taking the Beach Train from Haeundae Blue line Park (it has its own stop), Cheongsapo Daritdol Observatory is a unique glass walkway that curves over the ocean, 20 metres up from the sea.
As of summer 2023, Cheongsapo Daritdol Observatory is free to visit but under maintenance when we visited (so partially open) – we hope they fix the cracked panels on the glass walkway – eek!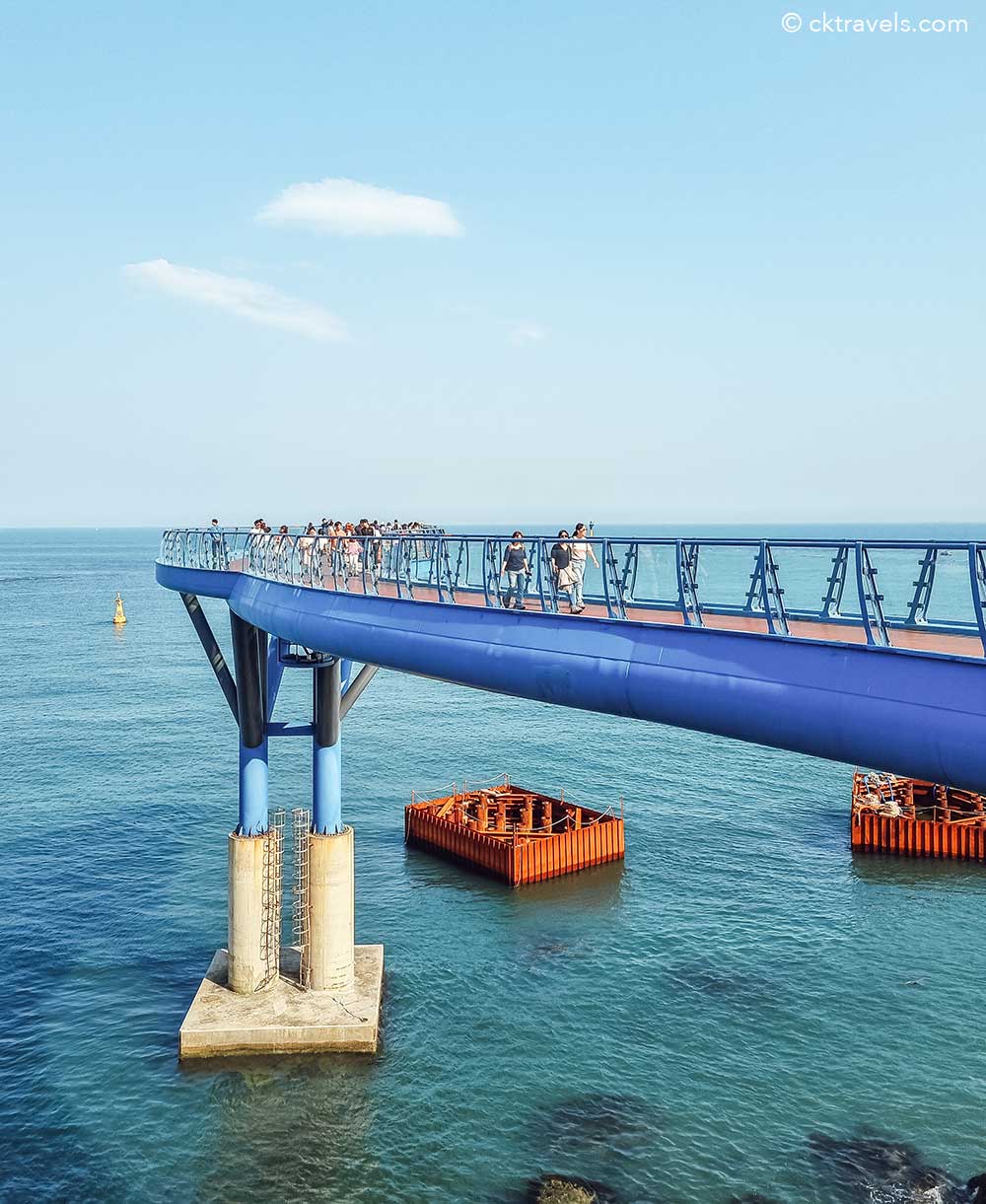 ---
You might like – Busan's top 5 tourist attractions one Day & Night tour >
---
29. Lotte World Busan
Busan's biggest and newest theme park and following in the footsteps of Lotte Adventure World in Seoul, Lotte World Busan opened last year (in 2022) – it is actually about a fifth bigger than the Seoul Lotte theme Park so a boon for Busan!
Lotte World Busan features several special themed zones including Joyful Meadows and Rainbow Springs) with 17 rides and attractions including the Giant Digger rollercoaster with three 360 degree loops (maybe have lunch after you ride!).
As well as rides for all ages, there are daily parades and shows at Lotte World Busan including the Lotus Magic Forest Parade and the Magic Fairy Band.
Book your discounted Lotte World Busan tickets via Klook >
---
You might like – Things to do in Seoul with kids >
---
30. Jagalchi Fish Market
No trip to Busan is complete without a walk around Jagalchi Fish Market, South Korea's biggest seafood market. Unlike other fish markets, the stalls and counters are just inside the complex.
There are dozens of stalls outside all with their own seating areas, vying for your attention and custom – and we are talking seriously fresh (so fresh, you can eat dishes like octopus whilst the tentacles are still wriggling).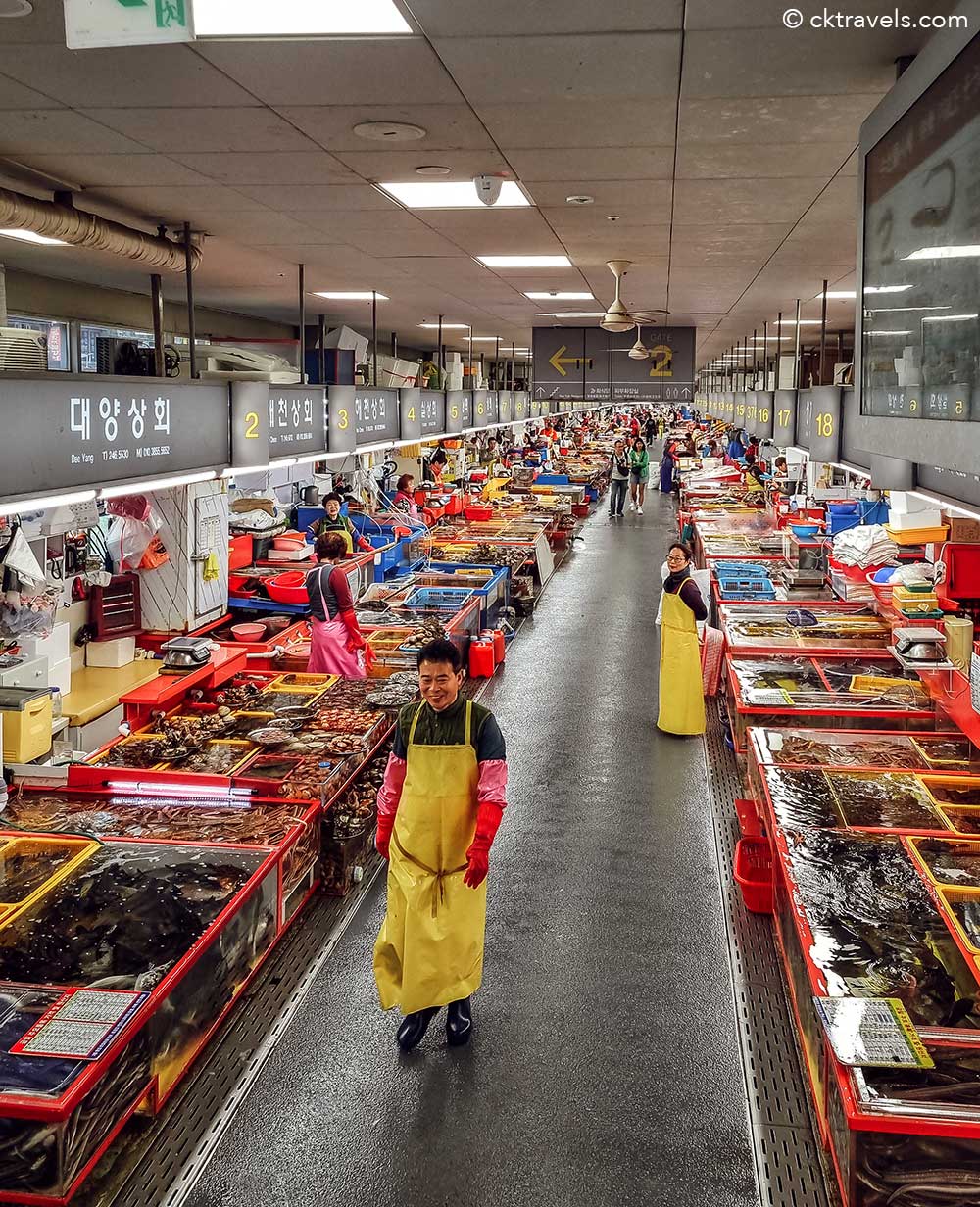 Although predominantly a day-time activity, many of the interior stalls and restaurants within Jagalchi Fish Market are open until early evening.
Jagalchi Fish Market also allows you to purchase your own fresh fish on the ground floor (or via the stalls outside) and then have it cooked by one of the restaurants on the upper levels.
If you aren't feeling as adventurous, there are also seafood buffets inside Jagalchi Fish Market where the fish is already selected and prepared.
Jagalchi Fish Market in Busan is open from 5am until 10pm (closed first and third Tuesday of every month). Please be aware individual restaurant opening times and fish auction times may vary.
Tip – there is an incredible roof terrace at Jagalchi Fish Market that is free to visit and offers stunning views of Busan port and the hillside towns and villages.
You might like – Jagalchi Fish Market & Korean Food Market Tour in Busan with Local Chef or Cruise from Jagalchi Fish Market >
---
31. Skyline Luge in Busan
One of the newest things to do in Busan and tourist attractions, Busan Luge opened in summer 2021 and can be found at the OSIRIA tourist complex in Gijang-gun, close to Lotte Adventure World Busan and Haedong Yonggungsa Temple.
The full Skyline luge in Busan experience includes taking a hillside skyride to the starting point of the luge track then enjoy the ride down on a luge cart that consists of four tracks that are around 2.4km long.
Skyline Luge in Busan prices start from 25,650 Korean Won for two luge sessions when booked online (up to 5 sessions costs 34,200 Korean Won). Busan luge prices correct as of July 2023.
The Skyline Luge in Busan is also included as part of the Visit Busan pass, whereby you can visit 30 Busan attractions for one low price.
One of the best luges in the world can be found in Queenstown, New Zealand – check out our 5 day Queenstown NZ itinerary here >
---
32. Songdo Beach
The first public beach in South Korea, Songdo Beach doesn't often get that many visits from overseas visitors, as it isn't close to any Metro stations and requires a bus. This also means it is a lot easier to get a space on the beach so kind of a Busan bonus beach!
An artificial man-made beach, Songdo, is surrounded by various attractions like the Songdo Gureum (Cloud) Walk and the Busan / Air Cruise Songdo Marine Cable Car (the latter of which you can see from the beach itself), and is a pleasant respite from the usual hustle and bustle of Busan.
Perfect for sunbathing, Songdo Beach is also surrounded by cute coffee shops, restaurants and bars all which look toward the ocean (although not many are directly on the beach).
---
You might like – Busan + Gyeongju One Day Tour from Busan >
---
33. Songdo Gureum Cloudwalk and Geobukseon Island
Yes, Busan does have an awful lot of skywalks and glass walkways but this one is free to visit and easily accessible from Songdo Beach. It is also the longest skywalk in Korea plus also the very first curve shaped walkway in the country.
The Songdo Cloudwalk is a 350+ metres glass walkway that allows you to get up close to the ocean (be careful not to drop your phone through the cracks).
Immediately next to Songdo Cloudwalk is Geobukseon Island (Turtle Island), a man-made walkway with huge statues including a turtle egg and romantic couple. A very nic(h)e walk in Busan and also free to visit.
---
You might like – Gyeongju One Day Trip from Seoul & Optional Drop off in Busan >
---
34. Craft Beer Bars in Busan
After a busy day exploring Busan, grab a cold beer (or three) at one of Busan's craft beer bars.
The craft beer and brewery bar scene is blissful in Busan, South Korea – you are spoiled for choice when looking for craft beers in cool settings.
From the bright lights of Gwangalli's and Haeundae's beachside brewery bars to the inner city delights of Seomyeon, there is a bevy of craft beer goodness to enjoy in Busan.
Our best craft beer bars in Busan include Gorilla Brewing in Gwangalli Beach, Wildcat Brewing Co in Seomyeon, Beer Store Seomyeon, Abnormal Taproom in Haeundae and Galmegi Brewing, one of the Busan craft beer pioneers with taprooms all over the city.
Read in more detail about all these Busan bars and many more in our guide to the best craft beer bars and breweries in Busan >
---
You might like – Busan late night bar crawl in Haeundae or Seomyeon >
---
35. Pojangmacha stalls
Head to the night-life district of Seomyeon in Busan at night to enjoy an epicurean experience in these street-tents, open until the wee small hours.
All manner of South Korean street food is served in these Pojangmacha food stalls plus alcoholic beverages like soju and beer.
Given Busan's proximity to the coast, seafood pojangmacha stalls are popular – chicken and pork trotters are other typical Korean dishes available.
Such is their popularity, these late night Busan stalls often appear in Korean dramas and TV programmes – they are also popular in Jeju and Seoul.
There is a dedicated street in Busan nicknamed Seomyeon Pojangmacha Street (just to the rear of the Lotte Hotel Busan) where these types of stalls are set up from the early evening (usually around 5pm to 6pm).
---
36. Visit the tallest Starbucks in the world
Have you 'bean' to the world's highest coffee shop? Busan X the Sky is home to the world's tallest / highest Starbucks.
Located on the 99th floor of Busan X the Sky, the Starbucks here serves coffee with real altitude – the beachside views to accompany your beans are a bonus, plus treat yourself to a pastry with the best panoramic views of Busan.
To get to Starbucks Busan X the Sky, you need to alight on the 98th floor and walk up the flight of stairs to level 99.
Note to visit Busan X in the Sky Starbucks at Haeundae Beach, you must purchase an admission ticket to Busan X the Sky first.
---
37. Songdo Marine Cable Car / Busan Air Cruise
A very cool way to 'get high' at night in Busan; the Busan Air Cruise is a brilliant cable car that journeys over the sea – stunning seaside views come as standard!
Around 40 cabins (of which a dozen are totally transparent) run back and forth over the ocean on a 2 km line, from Songdo Beach (Songrim Park) to Amnam Park with lots of themed attractions to enjoy.
Best of all, the Songdo Cable Car / Busan Air Cruise is open until 9pm daily so you can easily time your trip to coincide with sunset, or even a journey into darkness if you are a night owl.
Book your discounted Busan Air Cruise tickets here >
---
38. Millak Waterside Park
Korea's first waterfront park, Millak Waterside Park near Gwangalli Beach is a popular local place to take street food or picnics and enjoy ocean views (possibly with the odd soju or three).
Thousands flock to Millak Waterside Park to see the Gwangalli sunset every evening (it can accommodate up to 40,000 people) and you'll find benches, shade huts, flower gardens and a colorful pathway with rainbow blocks – you can even dip your toes in the ocean at high tide.
---
39. Busan Sea-Life Aquarium
It isn't just the ocean at Haeundae Beach that has fish and aquatic life – Busan Sea Life Aquarium has over 40 exhibits, which includes fish (obviously) penguins, otters, piranhas, turtles and a touch tank for a close up "hands on" experience (fairly sure piranhas won't be in the touch tank though!)
Go under the sea at Busan Sea Life Aquarium across three aquatic zones including a 180 degree underwater glass tunnel experience and new bingo zone.
Book your discounted Busan Sea-Life Aquarium tickets with Klook >
---
40. Huinnyeoul Culture Village / Huinnyeoul Munhwa Maul
This coastal walkway and village was easily one of our top things to do in Busan – reminiscent of Greeks islands like Santorini, Huinnyeoul Munhwa Maul is white-washed residential village is a treasure trove of shops and trinket stalls, plus cute coffee shops that offer panoramic views of the Busan sea.
After the war, Huinneyeoul Culture Village was formerly an area where refugees gathered and settled.
It is one of the most famous places in Busan to see Busan Port and South Port and has featured in several K-dramas and programmes, most notably the films 'The Attorney' and 'War Against Crime'.
A beautiful hillside village, whilst not on the scale of Gamcheon Cultural Village, Huinnyeoul Huinnyeoul Munhwa Maul is very much worth your time and is a lot more tranquil than peaceful – a prime spot to enjoy a coffee or afternoon tea on a terrace enjoying the sea-breeze and ocean vistas.
Huinnyeoul culture village is simply sublime to explore by yourself or as part of a tour.
Ck Travels tip – if you are walking from downtown to Huinnyeoul Munhwa Maul, the best way to get here is the waterside walk from Namhang Grand Bridge Waterside Park / Namhang Lighthouse via the Jurong Coastal Entrance.
This is a flat coastal trail that is brightly painted blue to mirror the ocean and a popular spot with dog walkers and joggers too (plus the occasional local fisherman).
---
You might like – Busan Wall Painting Village Tour >
---
41. Seomyeon Shopping Street / Seomyeon Young Street
The main outdoor shopping area in Seomyeon, this is where all the cool kids hang out day and night (hence why it is also known as Seomyeon Young Street).
Similar to Myeongdong in Seoul, this is an avenue of shops, bars and restaurants that is lit up at night with bright lights and neon signs.
You'll find all the usual food and fashion chains here like Artbox, Olive Young, Twosome Coffee etc plus fast food fare like Mom's Touch (Korea's number 1 burger chain) and McDonalds.
Seomyeon Young Street is also a good place to check out gadget and gachapon toy stores and stock up on Korean beauty products (many of the stores are open until late in Busan at night).
On Seomyeon Shopping Street, you'll see lots of cool silver sculptures and public street art like a giant diamond ring or cartwheeling figures.
---
42. Korean Selfie Booths
One of the most fun things to do in Busan at night (or any time of day really), Korean selfie booth stores are dotted all throughout Busan.
Selfie kiosks are brightly coloured stores in Busan where you can borrow clothes and fun props (like vegetable hats, big sunglasses, animal paw gloves etc) and then pose for selfies or take photos in booths for a small fee.
Often these Korean selfie photo booths allow you to print out stickers as a lasting reminder – some of the most popular Korean selfie photo booths in Seomyeon / Jongpo include Photo Lab, Studio Switch and pic dot.
---
43. Huinyeoul Coastal Tunnel
Heard about the Huinyeoul Coastal Tunnel, a free to visit attraction in Busan?
A short walk down some rainbow steps from Huinyeoul Cultural Village, this is a small passageway that has been cut out through the mountains that leads to a small secluded beach, offering sublime ocean views.
Note this this area is VERY popular with Korean teenagers for doing selfie snaps or group shots with tripods so you may have to queue for the best spots.
You can also continue along the Jeoryeong Coastal Walk from here towards Yeongdo Haneul (Sky) Observation Deck and Taejongdae. You're welcome!
---
44. Baengnyeonsa Temple
Not so much a famous temple in Busan, just one that has incredible views and is a serene place.
We discovered Baengnyeonsa Temple after walking up the hill from the Huinyeoul Coastal Tunnel and were drawn to its steep hillside steps and brightly coloured lanterns.
Breathtakingly beautiful with a small bell tower and shrine at the top, sometimes the more simple things in life are the most sublime.
Although nowhere near the scale or beauty of Busan's Haedong Yonggungsa Temple, this also means it has now crowds and offers an unspoilt view of the Busan coastline from the top.
On our visit to Baengnyeonsa Temple, it was just ourselves and the recording Buddhist chantings of the monks on loop – be advised that the walk up the tarmaced drive is quite steep to the temple (but worth it, if you can manage it).
---
45. Busan Premium Yacht Tour and Sunset Cruise
Enjoy Busan from a different perspective at night on a luxury yacht – soak up sunkist views of Gwangalli and Haeundae Beach whilst enjoying complimentary beer or soft drinks.
The yacht crew are also on hand to look after you and take photos as a lasting memory of your visit to Busan at night.
You might like – Sunset Busan Premium Yacht Tour >
---
46. Dongbaekseom Park and Coastal Trail
For us, one of the best things to do in Haeundae is to take the short walk from the beach along the coastal trail to Dongbaekseom Park – the views of the coast here are unparalleled and the boardwalks make the cliff-sides very accessible.
The waters look tropical and azure as you walk along the huge wooden walkways and look out to the ocean – you'll also get to encounter a suspension bridge (safer than it sounds) and the Princess Hwangok Statue.
This whole area used to be known as Dongbaekseom island but the coastal trail is now connected to the mainland through decades of sedimentation.
---
47. Get (Home) Cooking in Busan
Although there are plenty of food and drink places to enjoy in Busan, you may want to enjoy a home-cooked meal made by your own fair hands.
Why not make a home-cooked meal at a traditional cooking class in Busan, near to Haeundae Beach. Learn how to make bibimbap, seaweed soup and Korean pancake before enjoying your own creations with the rest of the small group – afterwards, finish off with Korean desserts and tea.
Read more about Korean cooking class in Haeundae, Busan >
---
48. Taejongdae
Taejongdae is one of the best known seaside parks in Busan, located at the south-end of Yeongdo Island. As you'd expect, Taejongdae offers incredible panoramic views of the ocean – on a clear day, you can see as far as Tsushima Island.
Taejongdae has a plethora of paths along the coast to explore plus the famed Taejongdae Observation Deck.
Other highlights include the "Light Beyond Limitation" statue by Ji Sul Won Kyung Lee – you may well have seen this on social media before visiting Busan (a giant red and blue ring sculpture against an ocean backdrop) and the Yeongdo Lighthouse.
If you don't fancy the walk, let the Danubi Train take the strain, a cute toy train type set-up that drops you off at several places in Taejongdae park, the first being Taejongdae Observation Deck.
To get to Taejongdae, take the Busan Metro line 1 to Nampo Station and alight via exit number 6 – from here, take bus 8, 30, 66, 88 or 186 and get off at the Taejongdae stop.
---
49. Busan Live Shooting Range / Seomyeon real shooting gallery
After a busy day of shopping, it might be time to relieve some stress in Busan! You might be surprised to hear that amongst all the stores and street-food, there is a very popular shooting range in Seomyeon called Busan Real Shooting Club.
Similar to the shooting ranges you find in Ikseon-dong and Hongdae in Seoul, these are popular indoor shooting galleries where you fire at targets. However, in Busan, you can fire real live bullets.
Assistants will train you on how to fire a gun if you're a novice and you can try different types of weapons.
Busan Shooting Club is popular with the younger crowds who often hold mini competitions in groups to see who is the sharpest shooter.
---
50. Dalmaji-gil Road
Damaji-gil Road is one of the best areas for local driving in Busan as it is packed full of pine trees and cherry trees – this also makes it a top spot for Busan in the cherry blossom / spring season.
The road is also famous and popular with young people in Busan for its range of modern art galleries, pretty coffee shops and even as a spot to enjoy the magnificent moonrise. Dalmaji Moonrise has been selected as one of the eight 'magnificent scenes in Korea'.
---
51. Seomyeon Nightlife
Akin to Gangnam in Seoul, Seomyeon is the mecca for late night entertainment in Busan, a hustling and bustling area packed full of clubs, street performers, craft beer bars and restaurants that stay open until very late – you can also find late night shopping here too.
Known for its bright lights and late nights, this is where a lot of the younger generation in Busan head out – bars and late night venues such as Thursday Party (cos Thursday is the new Friday), Moma, Savoy and Output are all popular venues.
For the best mix of bars, restaurants and shoppings, head to Seomyeon Shopping Street and the surrounding alley-ways as you likely stumble across something to suit all tastes.
You might like – Busan pub crawl >
---
You might like – Busan Night Tour with Songdo Cable Car, The Bay 101, Gwangalli Beach, and Yeongdo Seaside Park >
---
52. Daemado Island and Oryukdo Islands
On a clear day in Haeundae, it is possible to see Daemado Island from Busan, located approx 50 km offshore. Given the ever changabble weather in Busan, the number of days Daemado Island is visible from the shore equates to around only two months a year (60 days or so).
Closer to Haeundae Beach, Oryukdo Islands (translates to 'five or six' islands as depending on the time of day, it can look like either) are full of cliffs, caves and wildlife.
The Oryukdo islands were joined to Haeundae over 100,000 years ago but coastal erosion saw them become islands – it is perhaps most famous now for the Oryukdo Skywalk, a free glass walkway (they really do love glass walkways in Busan!)
---
53. Jeonpo Cafe Street
If you see a huge coffee cup hanging down from a lamp-post in Seomyeon, you know you are on the right track to Jeonpo Cafe Street.
Packed with cute coffee shops, pretty patisseries and blissful bakeries, Jeonpo Cafe Street has dozens of aesthetically awesome artisan cafes, popular with students and young couples (you'll see lots of selfie snaps going on).
Previously featured in The New York Times' 'World Destinations of the Year', Jeonpo Cafe Street is a colorful and cultural coffee shop destination to get your caffeine fix.
---
54 Ryan's Holiday in Busan
Located just next to Haeundae Beach, Kakao Friend's 'roarsome' Ryan the Lion now has his own holiday home set-up in Busan!
From Ryan the Lion to Choonsik the Cat, Con the Crocodile to Frodo the Dog, you'll find all the Kakao Friends here. You can enjoy 4DX indoor rides and trick arts in this immersive fun space, plus there is a super cute cafe and Kakao Friends gift-shop.
Book Ryan's Holiday in Busan here >
Ryan's Holiday is one of the 'free attractions' included on the Visit Busan pass.
---
55. Busan Museum of Art
A nice rainy day diversion of culture vultures and art fans, Busan Museum of Art is a small but perfectly formed exhibition space that hosts a combination of temporary exhibitions plus permanent galleries showcasing the works of famous South Korean artists like Ufan Lee.
Many of the exhibits at Busan Museum of Art are free entry and there is an alfresco sculpture area to explore too.
---
56. Beomeosa Temple
One of the major temples of Youngnam along with the Tongdo temple and the Haeinsa Temple, the Beomeosa Temple was established in 678 AD but was almost razed to the floor during the Japanese Invasion in the 1590s.
Geumjeongsan Mountain Beomeosa Temple was named after the golden fish ('nirvana fish') that were said to come down from the sky, the golden well and the mountain.
Note that Beomeosa temple is quite far out of the city in northern Busan. As such, the best way to get to Beomeosa temple is to take the Metro line 1 to Beomeosa Temple Station then transfer to bus number 90.
---
57. Busan outlandish lighthouses
One of the more weird and wonderful things to spot in Busan is the unusual and outlandish lighthouses they have out to shore.
Given its coastal location, Busan has over 100 lighthouses dotted about its shore but some are more unusual than others. There is even a baseball lighthouse (no, no really!) which looks like a baseball, baseball hat and catching mitt.
Other quirky lighthouses in Busan include a baby bottle lighthouse, a chariot-shaped lighthouse (AKA "Cockscomb Lighthouse"), an eel shaped lighthouse and a seagull lighthouse.
Haeundae Beach also has another quirky lotus shaped lighthouse around 1 km off-shore, which was built to commemorate the 13th APEC summit in Busan.
---
58. Namcheon-dong Cherry-blossom Street (in Spring)
Alas we weren't able to see this ourselves as we visited Busan in May 2023 a couple of months after the South Korea cherry blossom season.
A well known cherry blossom spot in Busan, Namcheon-dong (AKA Busan Cherry Blossom Street) is a residential area chock full of cherry blossom trees that 'spring' into life every year. Cherry blossom season in Busan is generally from late March to early April.
---
59. Seomyeon Market
Busan's bustling Seomyeon Market is the place to head to for traditional Korean restaurants, South Korean street food stalls and all manner of delicious dishes. It is located very close to the Lotte Busan mall and Lucky Seven Casino.
Look out for dishes such as kalguksu / knife cut noodle soup, mandu (dumplings), tteokbokki sundae (pig's blood sausage) plus pig's trotter (jokbal).
---
60. Dadaepo Sunset Fountain of Dreams
Splish, splash, I was taking a bath…in the Dadaepo Sunset Fountain of Dreams. Families visiting Busan will love this, especially splashing in the fountains.
Dadaepo Sunset Fountain of Dreams is a magical musical fountain that has lots of LED lights that usually runs from April to October.
Probably not worth a special journey in itself, this is more of a Busan activity to combine with a visit to Dadaepo Beach itself – the beach is literally a 60 second walk from the fountain.
---
61. Poo Poo Land
Could this be described as one of the 'crappiest' things to do in Busan? Billed as "…South Korea's first poop inspired theme park…" (no, really), this attraction might not be for everyone (don't poo-poo the idea) but kids will surely love it.
Meet Ssari the poop and Mari the toilet paper friend (never ever a sentence I thought I'd write!) as you explore the Poo Poo Land's activity areas and take pictures in a variety of photo zones.
You can even explore a replica digestive system during an epic maze escape activity – so not too 'sh*tty' then.
Book Poo Poo Land in Seomyeon, Busan >
---
Busan Shopping Centers
There are several huge shopping centers and malls in Busan including:
62. NC Department Store
Of the best known shopping malls in Busan, NC department store in Seomyeon has seven storeys of shopping split into two distinct sections – Young Hall and Fashion.
Part luxury brand store, part discount mall, this is a good one stop shop in Seomyeon and retail heaven.
We found this a really good shopping mall in Busan particularly for sports wear like sneakers and trainers (there were several outlet shops selling brands like Skechers, Nike and Adidas). Art Box also is a cute store for character goods, gizmos and gadgets.
Film fans will appreciate the CGV cinema on the top floor and there are several restaurants on the seventh floor. NC Department Store Seomyeon is open daily from 9am until 9pm Monday to Thursday and 10pm Friday through Sunday.
---
63. Lotte Department Store Busan; Seomyeon Branch
Just when you thought it isn't possible to fit any more shops into Seomyeon, along comes Lotte Department Store Busan, a retail mecca and fashion palace fit for a king (or queen)!
A fine looking Busan shopping center, Lotte Department Store is one of the biggest retailers in South Korea (you might recognise them from the Lotte adventure parks or Lotte hotels.
Lotte Department Store Busan is packed full of local and international brands like Muji, Lush and Uniqlo plus a huge Lotte food court for cheap eats and street food snacks.
On the 8th floor, you'll also find Lotte Duty Free Busan, where you can shop and claim your retail tax (so you can spend the savings on more Busan tours). Luxury brands here include Prada, Coach and Bulgari.
---
64. Shinsegae Centumcity Mall
The biggest shopping mall in Busan*Shinsegae Centumcity Mall is the go to place in Busan to shop until you drop (or when your debit card maxes out!).
Located close to Haeundae Beach, explore 14 storeys of retail stores, department stores plus spas, cinemas and even a golf driving range – luxury brands are also in abundance in the Shinsegae Duty Free Busan section.
*So many articles still state that Shinsegae Centumcity Mall is the largest shopping mall in the world but this simply isn't true any more – it is BIG, but not that big!
---
You might like – the best shopping malls and shopping centers in Seoul >
---
65. Okryeonseonwon Temple
Located north of and just behind Milak Waterside Park, Okryeonseonwon Temple is the best known temple in Gwangalli Beach, attracting hundreds of worshippers and tourists every day.
This Jogyesa hillside temple is free to visit and features large white statues including a huge Buddha statue – compared to say nearby Haedong Yonggungsa Temple, it is very calm and understated and not too busy.
During celebrations and festivities such as Buddha's Birthday, Gwangalli's Okryeonseonwon Temple is decorated with colourful paper lanterns – given its hillside setting, the views of Gwangalli's skyline are also superb.
Admission to Okryeonseonwon Temple is free but there is a small parking charge if you bring a car (around 2,000 Won).
---
You might like – Busan / Gyeongju SUV Charter with driver >
---
66. Busan Citizens Park
A huge gorgeous gem of a green space towards the northern Seomyeon neighborhoods, Busan Citizens Park is enjoyed by locals and tourists alike.
Sprawling over 100 acres with the modern city metropolis serving as a back-drop you can enjoy an arts village and fun amusements for all the family including an artificial beach and a 25 metre waterfall.
It was once an enormous Busan Army Base but has now been donated to the citizens of Busan to enjoy and will celebrate its 10th anniversary in 2024.
---
67. Seven Luck Casino
Located in Lotte Hotel Busan, Seven Luck casino is a late night Seomyeon venue and gambling palace that is only able to be used by overseas visitors to Busan. The casino is open 24 hours a day and there is a bar and restaurant area.
Unlike say Las Vegas or Macau, gambling isn't that big in South Korea with only a handful of casinos operating in the country. Games available at Seven Luck Casino include Blackjack, Roulette, Baccarat and Tai Sai plus over 100 slot machines.
---
68. Seomyeon Medical Street
The Seomyeon Medical Street is found around Bujeon-dong in Jin-gu. Visitors to Busan will find access to over 100 different beauty and medical institutes along this one street as well as numerous shops and stores.
Services provided along Seomyeon Medical Street include cosmetic surgery, dermatology and dentistry and is one of several medical districts to be approved by the Busan Government, in an attempt to encourage more medical visits to Busan.
Try this – K-Beauty Experience – Rejuvenate Your Skin >
---
69. Bujeon Market
One of the two main fish markets in Busan (the other being Jagalchi Fish Market), this market near to Seomyeon sells mainly fresh seafood and fish, plus lots of fruit, fresh vegetables and meat.
Some of the more famous stalls at Bujeon Market include Goraesa Fish Cake Shop, Bujeon Ginseng Market and Somunnan Kalguksu & Mayak Gimbap.
Popular with locals, Bujeon Market is open daily from 6am to 7pm and is a nice way to get accustomed to traditional South Korean ingredients and dishes.
Note that a lot of the seafood is still alive (a wet market) and you may encounter the likes of octopuses and crabs trying to escape so if this is likely to upset you, it is best to avoid Bujeon Market.
---
70. Busan Yangjojang Makgeolli Brewery (양조장)
Not a Busan beer brewery but why not try a trip to a makgeolli brewery in Busan. Makgeolli is an alcoholic milky, sparkling rice wine that is very popular in South Korea particularly in Seoul and Busan.
Yangjojang Makgeolli Brewery makes several types of Makgeolli with a small seating area to enjoy their brews. This is a traditional Korean rice wine brewery famed for its high quality makgeolli and much better than the mass produced Makgeolli you'd find in 7-Eleven in South Korea.
Note most makgeolli in South Korea is around 6% to 9% ABV so it is stronger than beer and often cheaper too making it a very popular drink in Busan.
---
71. Randy's Donuts Busan
In South Korea, there are lots of American food and drink chains like Starbucks and Krispy Kreme – one of the most popular American franchises is Randy's Doughnuts, originally hailing from California in the 1950s.
Randy's Donuts' flagship in Busan is at Gwangalli Beach, a couple of blocks back from the waterfront – it is easy to spot as the queue often snakes out the door (or just look for the giant donut in the window!).
Retro styled to look like a vintage American diner, the interior at Randy's Donuts is as enticing as the sweet treats themselves; bright light, chrome services and friendly staff.
Classic flavours at Randy's Donut include maple iced cake and chocolate sprinkles, plus you can get premium donuts like filled lemon jelly and raised butter crumb for around 3,200 Korean won (£1.90 / $2.50 USD).
Randy's Donuts also has a very popular store in Seoul in the Hongdae district plus a second Gwangalli Beach branch at Millac the Market.
---
Our final thing to do in Busan, South Korea
72. 7-Eleven South Korea
7-Eleven in Busan is big business – there are now over 11,000 (!) 7-Eleven stores in the Republic of Korea. In fact, worldwide, only Thailand and Japan have more 7-Elevens than South Korea.
Most (but not all) 7-Elevens in Busan are open 24 hours so if you want a late night snack or oodles of instant noodles, 7-Eleven is the best place to cure your midnight munchies.
From banana milk to bento boxes and fried chicken to fruit sandwiches, read our guide to all the food you can buy at night in South Korea's 7 Eleven stores >
---
73. Busan Hanbok Hire / School Uniform hire
Hire traditional Korean costumes (hanbok) or even the more modern school uniforms is big business in Busan.
If you fancy doing something a little different, a popular Korean tradition amongst young adults in Busan is to visit Lotte World Busan wearing school uniform that you can hire.
Or you'll find several traditional hanbok costume rental shops in Gamcheon Cultural Village. Here you can rent both traditional Korean hanbok costumes or even school uniforms so you can walk around the village in style!
Try these:
Gamcheon Culture Village Hanbok Rental with Hair Styling and Accessories >
Top South Korea Costume Dress Up Experiences >
Gyobokmall Korean School Uniform Rental Busan Lotte World >
---
74. Slow Postboxes / Happy Mailboxes
There are several cities in South Korea with Slow Mailboxes – one area to find find these in is Gamcheon Cultural Village in Busan.
These South Korea slow mailboxes (or happy post boxes as they are sometimes referred to) are designed to promote 'slow living' and remind us of the importance of the written form and postal communications.
If you post a letter at these special red letter boxes in Gamcheon Cultural Village with the correct stamps, it will be delivered in around one year's time.
---
75. Alice Donut
We've mentioned Randy's Doughnuts already but another decadent doughnut treat awaits in Busan – this time, Alice Donut which is blessed with a view of Cheongsapo Harbour and close to Seongjong Beach, one of Busan's best beaches.
Imagine a blissful Busan donut shop with ocean views, gorgeous garden terraces and dozens of flavours to choose from – Alice Donut is sweet treat heaven.
On our last visit, you could get everything from Oreo donuts to salted caramel donuts, even ones iced like the Ace of Hearts playing card.
Alice Donut is easy to find – just look for the giant donut next to the red lighthouse in Cheongsapo Harbour. You will not be disappointed as sea breezes and donuts are always a delightful dessert combination.
---
76. Namhang Market
We discovered Namhang Market quite by chance, whilst on our way to Huinnyeoul Culture Village / Huinnyeoul Munhwa Maul – very much a local market, we were the only tourists there when we visited.
Whilst not a Busan market on the scale of say Jagalchi Fish Market or Seomyeon Market, Namhang Market is close to the port and famed for its seafood – its prices are often cheaper so many people visit due to the inexpensive seafood restaurants here.
And it isn't just seafood at Namhang Market – here you'll find fruit and veg stalls, sock shops and homemade kimchi stalls plus several wallet friendly restaurant.
We found a knife-cut noodle soup restaurant whereby a huge bowl of noodle soup or bibimbap was served with a whole host of sides for just 5,000 Won.
---
Did you enjoy our Things to do in Busan blog post? Let us know in the comments or by sharing it on social media.
You can follow CK Travels on:
Instagram
Facebook
TikTok
YouTube