This post may contain affiliate links to tours and hotels. These help us earn a small commission at no additional charge to you.
One of Busan's best beaches and top food and drink destinations, Gwangalli is also one of South Korea's premier beach resorts.
From traditional temples to waterside parks, fantastic festivals to weekly aerial drone shows there are a lot of things to do in Gwangalli Beach, South Korea – and of course it is great for sunbathing!
Even if you aren't a fan of beach fun and frolics, Gwangalli Beach is still worth a visit – there are dozens of cool coffee shops and beachside bars with ocean views; the locals in Gwangalli Beach really know how to have a good sunset session.
A urban beach area with bags of character and good food galore, here are the top things to do in Gwangalli Beach in Busan (South Korea) in 2023:
---
You might also like – things to do in Haeundae Beach, Busan >
---
Getting to Busan / Gwangalli Beach
Fly to Busan
You can fly directly to and from Busan Gimhae International Airport (PUS) from Japan, Thailand the Philippines, Vietnam, Taiwan, Singapore, China and Malaysia.
There are dozens of domestic daily flights to Busan from Seoul and Jeju.
Train to Busan
Thankfully not the (in)famous South Korean zombie movie of the same name but a cheap and speedy way to get to Busan from Seoul.
The KTX train Korea is the fastest train to get to Busan in the south of the country, often taking less than 3 hours and running one or two times an hour.
Alternatively, foreign travellers can benefit from discounted rates with a Korea Rail Pass– this is also better value if you are travelling long distances by train in South Korea for two or more days.
Book your Korea Rail Pass (2, 3, 4, or 5 Days) here >
---
Getting to Gwangalli Beach
The easiest way to get to Gwangalli is via the Busan Metro system to Gwangan Station (take Metro line 2).
The closest Metro exits to Gwangalli Beach itself are exits 3 or 5 – it is then an approximately 700 meter walk from Gwangan Station to Gwangalli Beach.
There is also a comprehensive bus network in Busan but based on our experience, if you are coming from downtown Busan, the journey takes longer.
---
Gwangalli Customised Private Tour
Given how big Busan is, if you are short on time, you can organise your own customised private tour of Busan or do a Premium One Day Private group Tour from Busan to 10 cities.
---
Things to do in Gwangalli Beach in Busan, South Korea 2023
1. Gwangalli Beach
We start our 'things to do in Gwangalli Beach' with the obvious, the beach itself. One of the best beaches in both Busan and South Korea, Gwangalli Beach is a sandy shore stretching almost 1.5km along the Busan coastline – in a word, heaven!
Popular for sunbathing, watersports and picnicking, Gwangalli Beach has a tropical vibe with straw parasols dotted along the beach (great if you want to escape the sun – or rain).
Along the seafront at Gwangalli Beach, there are numerous bars, pubs and restaurants looking out over the water meaning you can sunbathe by day then relax by night. At night, you can enjoy the Gwangan Bridge light show from the beach plus the weekly Gwangalli M drone show every Saturday (more on this in a mo).
The water is perfect for swimming at Gwangalli Beach as it is in a relatively sheltered bay with very few waves (so not ideal for surfing) – many Busan boat trips and yacht tours also allows you to see Gwangalli Beach from the ocean.
Did you know that part of the Marvel movie Blank Panther was filmed at Gwangalli Beach (namely the car chase scene)?
---
You might like – new for 2023, the Visit Busan pass includes 30 attractions for one fixed price >
---
2. Gwangalli M Drone Show (Free)
Busan's Gwangalli Beach is the place to be every Saturday night with the weekly Gwangalli M Drone display over the night sky. Seriously for us, this had to be one of the top 5 things to do in the whole of Busan, not just Gwangalli.
Every Saturday night at 8pm and 10pm (October- December 7pm and 9pm), over 300 aerial drones take to the skies of Gwangalli Beach and create an incredible skyborne spectacle, with various scenes and characters created.
One of the most popular ever drone shows at Gwangalli Beach recreated all of the members of BTS – we suspect half the beach screamed or fainted that night…
The characters and images created by the Gwangalli M drones change every week so you never know what to expect. One of our favourite bits about the Gwangalli M weekly drone show is the audible gasps and sighs from the audience gathered on the beachfront every Saturday.
We were lucky enough to see the Gwangalli M Drone Show a couple of times whilst in Busan during the Gwangalli Eobang Festival fishing festival so the beach was literally heaving with thousands of visitors and locals eager to catch a glimpse of the drones
Along with Gwangalli Beach itself, we rate the weekly Gwangalli M Drone Show as the best free thing to do in Gwangalli Beach and Busan.
---
You might like – Things to do in Busan at night
---
3. Millac The Market
Overlooking the harbor at Gwangalli Beach with huge bay windows facing towards the ocean and Millak Port, Millac the Market is a popular Gwangan food market and contemporary cultural space that kind of reminds us of the cultural parks in Taiwan. We guess you'd call Millac The Market 'warehouse chic'.
An old fish market converted into a sleek and shiny food court with red brick walls, steel interiors and street art on the walls, this is one of the coolest (and tastiest) places to visit in Gwangalli Beach (and only a short walk eastwards along the coast from the beach itself).
We visited Millac The Market one Saturday afternoon in Busan and were amazed to see hundreds of people sitting on the steps eating their street food and watching two live performers.
The set-up here is really nice, with all types of street food kitchens and restaurants with cuisine from all around the world plus a few craft shops and a craft beer brewery bar courtesy of Naked Ape.
---
You might like – Guide to Gwangjang Market in Seoul >
---
4. Gwangalli Eobang Festival
Something fishy is going on in Gwangalli Beach… that'll be the annual Gwangalli Eobang Festival, a celebration of the Busan fishing industry that takes place on the beach every May in Busan.
We were fortunate enough to be in Busan for the 2023 Gwangalli Eobang Festival and it was so much fun, with dozens of beach-based events held over three days (Friday through Sunday).
Some of the big Gwangalli Eobang Festival events in Busan include a street parade through Gwangalli, a historic Korean folk village brought to life on Gwangalli Beach (very cool!) plus a children's fishing competition where they have to catch live fish with their bare hands.
We even witnessed a full scale Gwangalli Eobang classical concert and musical performance that ended up with everyone dancing with K-pop beacons.
Other Gwangalli Eobang festival highlights included dozens of pop-up seafood stalls on the beach, a huge drone show plus DJs on the beach at night.
Out to sea, a line of fishing boats and private yachts circle around Gwangalli Beach and Gwangan Bridge with bright lights and beacons against the backdrop of the lit up bridge – magical.
---
You might like – Busan Main Attractions One Day Tour >
---
5. Millak Waterside Park
Korea's first waterfront park, Millak Waterside Park is a popular local place to take street food or picnics and enjoy ocean views (possibly with the odd soju or three).
Thousands flock to Millak Waterside Park to see the Gwangalli sunset every evening (it can accommodate up to 40,000 people) and you'll find benches, shade huts, flower gardens and a colorful pathway with rainbow blocks – you can even dip your toes in the ocean at high tide.
---
You might like – the best South Korean street foods >
---
6. Gwangandaegyo Bridge / Diamond Bridge
Wow, the Gwangandaegyo Bridge in Gwangalli Beach is one 'lit' bridge – literally, Gwangandaegyo Bridge (AKA Gwangan Bridge) has the world's largest set of LED lights and sound equipment; it shines so bright it has been nicknamed Busan's Diamond Bridge.
South's Korea's sublime suspension bridge in Busan is the second longest bridge in South Korea (after Incheon Bridge in Seoul) and spans over 7 km (one BIG bridge – and daegyo' literally translates as this) – but who cares about this when the best bit is that it lights up at night!
Gwangan Bridge in Busan lights up every evening, with different times depending on the year. Generally, Gwangan Bridge becomes a beacon of light every evening from sunset until the early hours (usually 1am on weekdays and until 2am on weekends and public holidays).
So grab a beer from a nearby 7-Eleven or CU store or sit in a Gwangalli beachside bar and enjoy the nightly lights.
If your Busan itinerary allows it, we'd highly recommend combining the Gwangan Bridge lights with the weekly Gwangalli aerial drone show held every Saturday night.
---
You might like – 7-Eleven South Korea; all the things you can buy >
---
7. Namcheon-dong Cherryblossom Street (in Spring)
Alas we weren't able to see this ourselves as we visited Busan in May 2023 a couple of months after the South Korea cherry blossom season.
A well known cherry blossom spot in Busan, Namcheon-dong (AKA Busan Cherry Blossom Street) is a residential area chock full of cherry blossom trees that 'spring' into life every year. Cherry blossom season in Busan is generally from late March to early April.
---
You might like – Busan Night Tour with Songdo Cable Car, The Bay 101, Gwangalli Beach, and Yeongdo Seaside Park
---
8. Okryeonseonwon Temple
Located north of and just behind Milak Waterside Park, Okryeonseonwon Temple is the best known temple in Gwangalli Beach, attracting hundreds of worshippers and tourists every day.
This Jogyesa hillside temple is free to visit and features large white statues include a huge Buddha statue – compared to say nearby Haedong Yonggungsa Temple, it is very calm and understated and not too busy.
During celebrations and festivities such as Buddha's Birthday, Gwangalli's Okryeonseonwon Temple is decorated with colourful paper lanterns – given its hillside setting, the views of Gwangalli's skyline are also superb.
Admission to Okryeonseonwon Temple is free but there is a small parking charge if you bring a car (around 2,000 Won).
---
You might like – how to get KBO baseball tickets in Seoul, South Korea >
---
9. Gwangan Beach Park
Gwangan Beach Park is a small area at the east end of Gwangalli Beach that is a nice spot to view the coastline or enjoy beachside bars and restaurants looking out towards the ocean.
Whilst we would describe it more as a beach promenade than a park, it is the best way to walk to Millac the Market and Millak Waterside Park and is popular with street performers and buskers.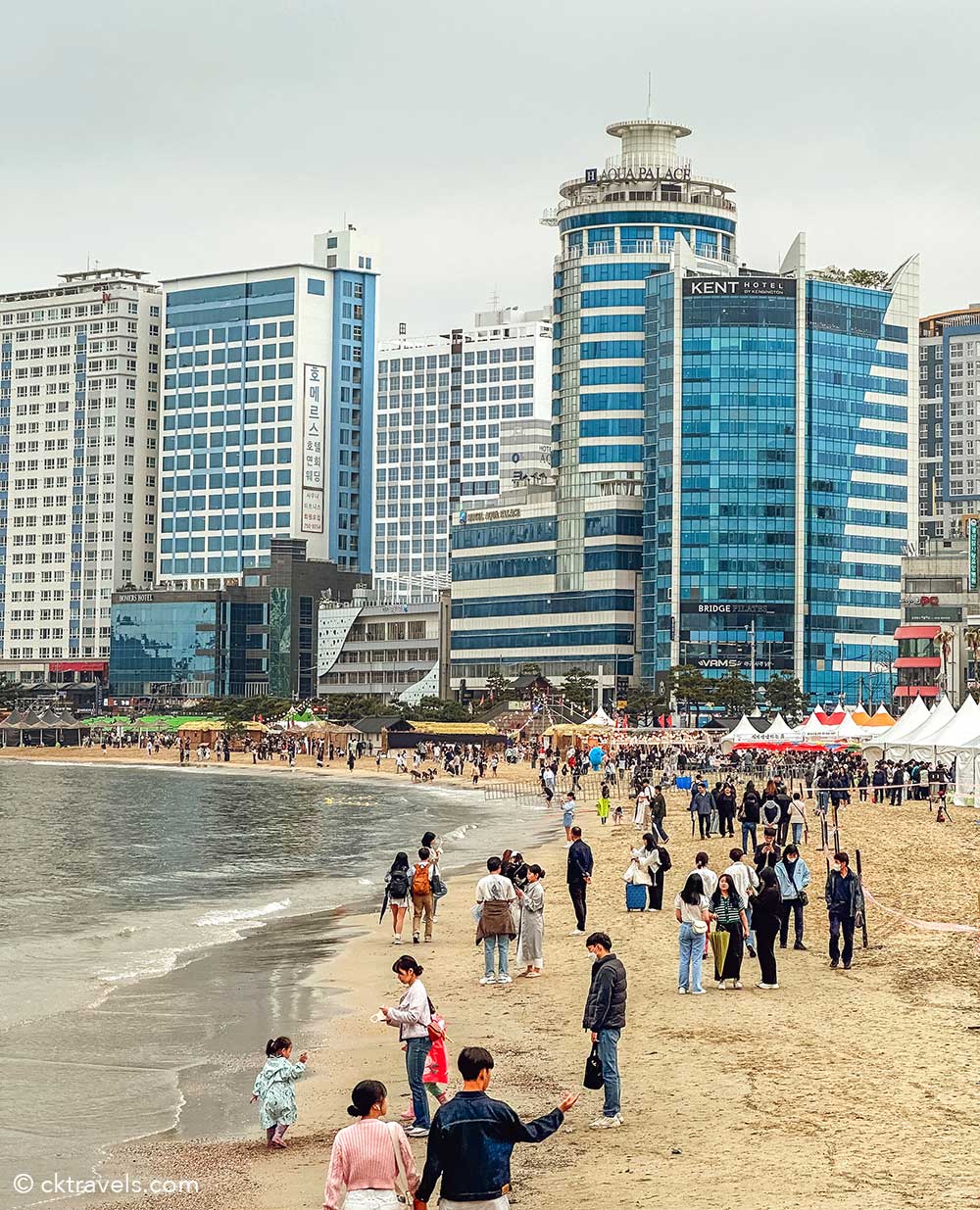 One of our best memories of Gwangalli Beach was watching a very talented street performer here having to contend with lots of old Korean men dancing very drunkenly to his music – quite the sight!
This is also a really good spot to watch the Saturday Gwangalli Beach aerial drone show if you don't want to get sand in your shoes!
---
You might like – Things to do in Busan – Ultimate Guide >
---
Gwangalli Beach Craft Beer Bars and Breweries in Busan
After a busy day exploring Gwangalli Beach, grab a cold beer at one of these Gwangalli Beach craft beer bars and breweries:
You might like – Best Busan craft beer bars (and breweries) >
10. Gorilla Brewing Gwangalli
Gorilla Brewing is a Busan based British craft beer brewery (try saying that after a pint!) with two locations – Haeundae Beach and this Gwangalli Beach taproom.
Gorilla Brewing Gwangalli Beach has a huge brewery taproom with around 20 different craft beers on tap when we last visited. As well regular craft beer styles like dark lager and IPAs, some of the more unusual craft beers at Gorilla Brewing Gwangalli include Popsicle IPA, Imperial Gose tomato and Hop Bomb DIPA.
We also really liked the cool can designs available from the chiller / fridge next to the bar – there are regular events at Gorilla Brewing Gwangalli including a weekly running club that includes a free pint – talk about motivation!
We tried the pulled pork burger and pork ribs and both were delicious. Go monkey nuts at Gorilla Brewing, Gwangalli Beach's bustling brewery bar.
---
You might like – Gyeongju The Old Capital of Korea One Day Tour from Busan >
---
11. Galmegi Brewing Gwangan
A Busan brewery born and bred, Galmegi Brewing started life almost 10 years ago in 2014 as a small microbrewery pub; Galmegi Brewing now has several taproom and craft beer bar locations in Busan including Haeundae Beach, Gwangalli Beach, Seomyeon and Nampo.
We visited Galmegi Brewing Gwangan early one Saturday during the Gwangalli Eobang Festival festival and really enjoyed our experience. The staff were very friendly and the bar area at Galmegi Brewing Gwangan almost has a loft feel.
It also had a small balcony looking out on the streets of Gwangalli and brewing merchandise available like beer glasses for 8000 Won. Tasting flights of all the Galmegi Brewing craft beers were available – we opted for the Galmegi Brewing stout and IPA; both were impeccable!
Galmegi Brewing Haeundae is open until 4pm to 1am most days (closed Sundays and opens at 2pm Friday and Saturdays). Detroit style pizza was available to enjoy with the beers.
---
You might like – ​Book a discounted BUSAN X the Sky ticket here >
---
12. Naked Ape @ Millac The Market
Nice name, cool beers – Naked Ape is a newly opened brewery bar at Millac The Market from the Gorilla Brewing Team. 10 taps of craft beer are usually on tap at Naked Ape Busan.
During our visit, there were several craft beers exclusive to Millac the Market including Millac Pilsner, Millac IPA and Millac double IPA.
These Busan craft beers can be enjoyed with fried or popcorn whilst sitting amongst the brewery vats and listening to the musicians and buskers who perform in the auditorium just in front of the bar. Cheers!
---
You might like – Korean cooking class in Haeundae, Busan >
---
Other craft beer bars, breweries and pubs in Gwangjang Beach, Busan include:
Rainbow Beer
British style craft beer pub chain with several branches across Busan, all with big bright rainbow umbrellas as decoration.
Yangjojang Makgeolli Brewery (양조장)
Not a beer brewery but a makgeolli brewery. Makgeolli is an alcoholic milky, sparkling rice wine that is very popular in South Korea. Yangjojang Makgeolli Brewery makes several types of Makgeolli with a small seating area to enjoy their brews.
Happy Monk
A Gwangalli Beachfront bar and cocktail palace with incredible views of the sea – get there early to guarantee a seat.
Thursday Party
Because Thursday is the new Friday. Thursday Party is a chain of Busan based western style pubs with locations in Gwangalli and Seomyeon.
Cocky Pub
With one of the best terraces overlooking Gwangalli Beach, this is a prime pint place, perfect for sunset sips. And yes, Cocky pub also do cocky-tees (cocktails).
Fuzzy Navel
American style bar with diner fare with branches in Gwangalli and Haeundae.
---
You might like – best craft beer bars in Seoul, South Korea
---
13. Gwangalli Beach Premium Yacht Tour
Enjoy Gwangalli Beach from a different perspective on a luxury yacht – soak up sunkist views of Gwangalli and Haeundae Beach whilst enjoying complimentary beer or soft drinks.
The staff are also on hand to look after you and take pictures as a lasting memory of Gwangalli Beach.
All aboard the Gwangalli Beach Premium Yacht Tour – book with Klook >
---
You might like – Jagalchi Fish Market & Korean Food Market Tour in Busan with Local Chef >
---
14. Randy's Donuts
In South Korea, there are lots of American food and drink chains like Starbucks and Krispy Kreme – one of the most popular American franchises in Busan is Randy's Doughnuts, originally hailing from California in the 1950s.
Randy's Donuts in Gwangalli Beach is a couple of blocks back from the waterfront – it is easy to spot as the queue often snakes out the door (or just look for the giant donut in the window!).
Retro styled to look like a vintage American diner, the interior at Busan Randy's Donuts is as enticing as the sweet treats themselves; bright light, chrome services and friendly staff.
Classic flavours at Randy's Donut include maple iced cake and chocolate sprinkles, plus you can get premium donuts like filled lemon jelly and raised butter crumb for around 3,200 Korean won (£1.90 / $2.50 USD).
Randy's Donuts also has a very popular store in Seoul in the Hongdae district plus a second Gwangalli Beach branch at Millac the Market.
---
You might like – things to do in Myeongdong, Seoul >
---
Our final thing to do in Gwangalli Beach, Busan
15. Korean Selfie Booths
One of the most fun things to do in Gwangalli Beach (and in Busan at night), Korean selfie booth stores are dotted all throughout the neighbourhood.
Selfie kiosks are brightly coloured stores in Busan where you can borrow clothes and fun props (like vegetable hats, big sunglasses, animal paw gloves etc) and then pose for selfies or take photos in booths for a small fee.
Often these Korean selfie photo booths allow you to print out stickers as a lasting reminder – one of the most popular Korean selfie photo booths in Gwangalli Beach is Photo Drink High Self Photo Studio.
---
YOU MIGHT LIKE – Things to do in Seomyeon and Jeonpo, Busan
---
Other things to do near Gwangalli Beach, Busan
Haeundae Beach
Haeundae Beach is not only one of the best beaches in Busan but also one of the best beaches in South Korea – with its vast ocean views, sprawling sandy beach and towering skyscrapers immediately behind, Haeundae Beach is world-class.
Brilliant for swimming and watersports, Haeundae Beach stretches over 1 mile and is also famous for its annual Busan Sand Festival whereby dozens of huge sandcastles are built on the beach by artists from all over the world.
---
Centum Spa Land Busan
Relax and unwind in Busan's biggest public bathhouse and spa, Spa Land Centum (known as a "jimjil-bang" in Korea).
Located in the Shinsegae Department Store Centum City, this is an authentic South Korean spa and sauna experience. Spa Land Centum uses hot spring water full of sodium bicarbonate, which is pulled up from underground wells.
There are almost 20 different hot springs and 13 theme spas to choose from including the Ice Room and Pyramid Steam Room.
Don't miss out on the best Busan spa experience – book your discounted Spa Land Centum tickets with Klook.
---
Dongbaekseom Park and Coastal Trail
Walk from Haeundae Beach to Gwangalli Beach via the coastal trail to Dongbaekseom Park – the views of the coast here are unparalleled and the boardwalks make the cliff-sides very accessible.
Based on our experience, this (along with the coastal walk from Haeundae Beach to Songjeong) is one of the most scenic walks in Busan.
The waters look tropical and azure as walk along the huge wooden walkways – you'll also get to encounter a suspension bridge (safer than it sounds),
---
You might like – Busan Haeundae River Cruise >
---
Lotte World Busan
Busan's biggest and newest theme park and following in the footsteps of Lotte Adventure World in Seoul, Lotte World Busan opened last year (in 2022) – it is actually about a fifth bigger than the Seoul Lotte theme Park so a boon for Busan!
Lotte World Busan features several special themed zones including Joyful Meadows and Rainbow Springs) with 17 rides and attractions including the Giant Digger rollercoaster with three 360 degree loops (maybe have lunch after you ride!).
As well as rides for all ages, there are daily parades and shows at Lotte World Busan including the Lotus Magic Forest Parade and the Magic Fairy Band.
Book your discounted Lotte World Busan tickets via Klook >
---
Haeundae Blue Line Park Train
You might get a sense of deja-vu when you first see the Haeundae Blue Line Park – the colorful Sky Capsules (monorail) that travel along the coast with incredible sea views are very popular on social media.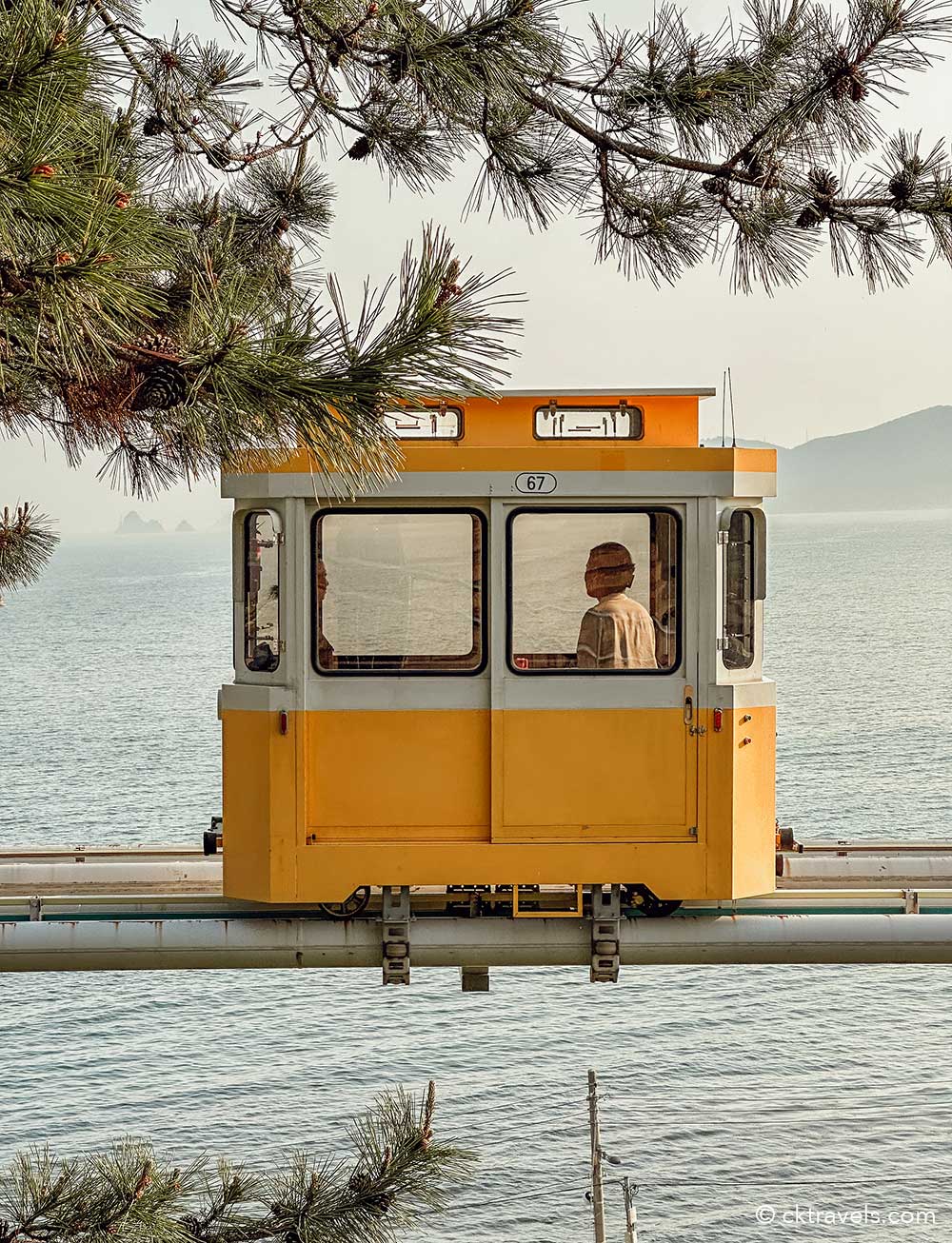 Both the Sky Capsules and separate Beach Train follows the old Donghae Nambu railway Line from Songjeong to Haeundae, providing unspoilt views of East Busan's coastline.
Book your advance Busan Blue Line Park tickets as part of a Busan day trip >
Read more about the Beach Train and Sky Capsules in our Haeundae Blueline Park Guide >
---
Haedong Yonggungsa Temple
A short bus ride from Gwangalli Beach, Haedong Yonggungsa Temple is described as the most beautiful temple in Korea (well so says the sign on the wall) with stunning panoramic views of the sea.
Incredibly popular (especially with coach groups), the original temple was built in the 14th century but later destroyed by bombing and rebuilt in the 1930s.
We were lucky enough to visit Haedong Yonggungsa Temple in the run-up to the Buddha's birthday so the site and coastal paths here were decorated with colourful paper lanterns.
You might like – East & West Busan Exploration with Busan Skywalks, Gamcheon Culture Village, and Haedong Yonggungsa Temple Day Tour >
---
Save money on Busan attractions with the visit Busan Pass
Newly launched in 2023 and very similar to the highly successful Visit Seoul pass (read our review here), the Visit Busan pass provides 'free' access to a selection of 30 tourism attractions in Busan for 24/48 hours.
Visit Busan tourist attractions included on the pass include Lotte World Busan, Busan Tower, Skyline Luge Busan, Busan X the Sky admission, Songdo Cable Car and free hanbok rental.
Incredibly good value for money, buy your Visit Busan pass here via Klook >
---
Visiting Seoul? You might like the Discover Seoul pass (our review) or our Go City Seoul Pass Guide (is it worth it)?
---
Accommodation and hotels in Gwangalli Beach, Busan in South Korea
Kent Hotel Gwangalli by Kensington
Highly rated hotel located on the shore of Gwangalli Beach. Rooms are modern with city views or sea views. Check out prices and availability for Kent Hotel Gwangalli by Kensington
H Avenue Gwanganri Beach
Affordable hotel located 200 metres from Gwangalli Beach with some rooms having a balcony and sea views. Check out prices and availability for H Avenue Gwanganri Beach
---
Other South Korea posts you might like
Did you enjoy our Things to do in Gwangalli Beach, Busan? Let us know in the comments or by sharing it on social media.
You can follow CK Travels on:
Instagram
Facebook
TikTok
YouTube