This post may contain affiliate links to tours and hotels. These help us earn a small commission at no additional charge to you.
Seoul in South Korea is a joyous mix of the old and new, and no more so than Insadong, one of Seoul's most popular neighbourhoods and shopping streets with a historic heart.
From traditional tea-houses hidden down back alleys and ancient pagodas to modern shopping centres and even retro vinyl LP bars, Insa-dong has got it going on.
Here is our guide to the top things to do in Insadong, Seoul (2023):
---
You might like – Best things to do in Seoul, South Korea >
---
Things to do in Insadong, Seoul
1. Insadong Cultural Street
On the weekend (Saturday and Sundays), the main street in Insa-dong (AKA Insa-dong Cultural Street) is closed to traffic between 10am and 10pm meaning it becomes a popular shopping spot with the streets lined with various street food stalls and craft carts.
We really liked our Sunday visit to Insadong as the neighbourhood was thronging with families, all visiting the various shops and stores along the street without fearing about traffic or errant mopeds.
There aren't that many other car free shopping streets areas in Seoul (Myeongdong is another good example of a pedestranised street at certain times of the week).
---
You might like – Where to stay in Seoul / Best Neighborhoods Guide >
---
2. Visit a historic Korean tea house in Insadong – Sinyet chatjip
Visiting a traditional tea-house is a must thing to do when in South Korea, and one of the best (and most tasty) things to do in Insadong, Seoul.
In terms of tea-tasting and historic tea-houses, you are spoilt for choice in Insadong. Down one particular alley (8 and 9 Insadong – gil), you'll find both Shin Old Teahouse (Sinyet chatjip) and Namusae Tea house – both are hidden away and ooze history.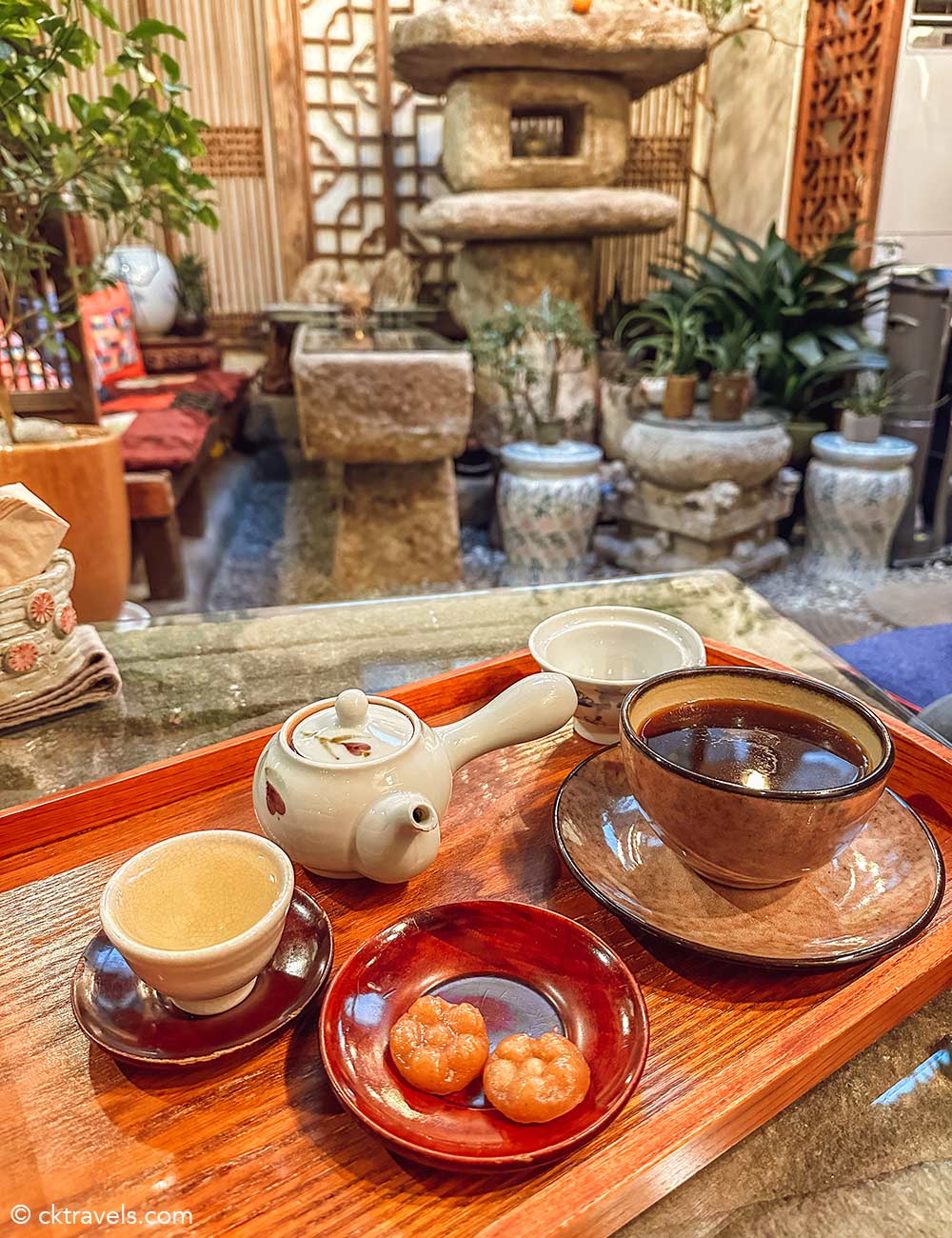 We visited Shin Old Teahouse one rainy afternoon and were amazing by its interior – the teahouse is wooden timbered with a variety of old furniture, warm snugs and indoor gardens.
Upon entry at Shin Old Teahouse, you are given a menu and you then find a seat before going back to the counter to place and order and pay. It was 7,000 Won for most teas and 5,000 Won for an Americano (in case you don't like tea!) – tea house prices as at June 2023.
Tea options at Shin Old Teahouse Insadong include the classic green tea, chrysanthemum tea plus ssanghwa tea (a mixture of herbs) which is effective (apparently) for physical and mental fatigue.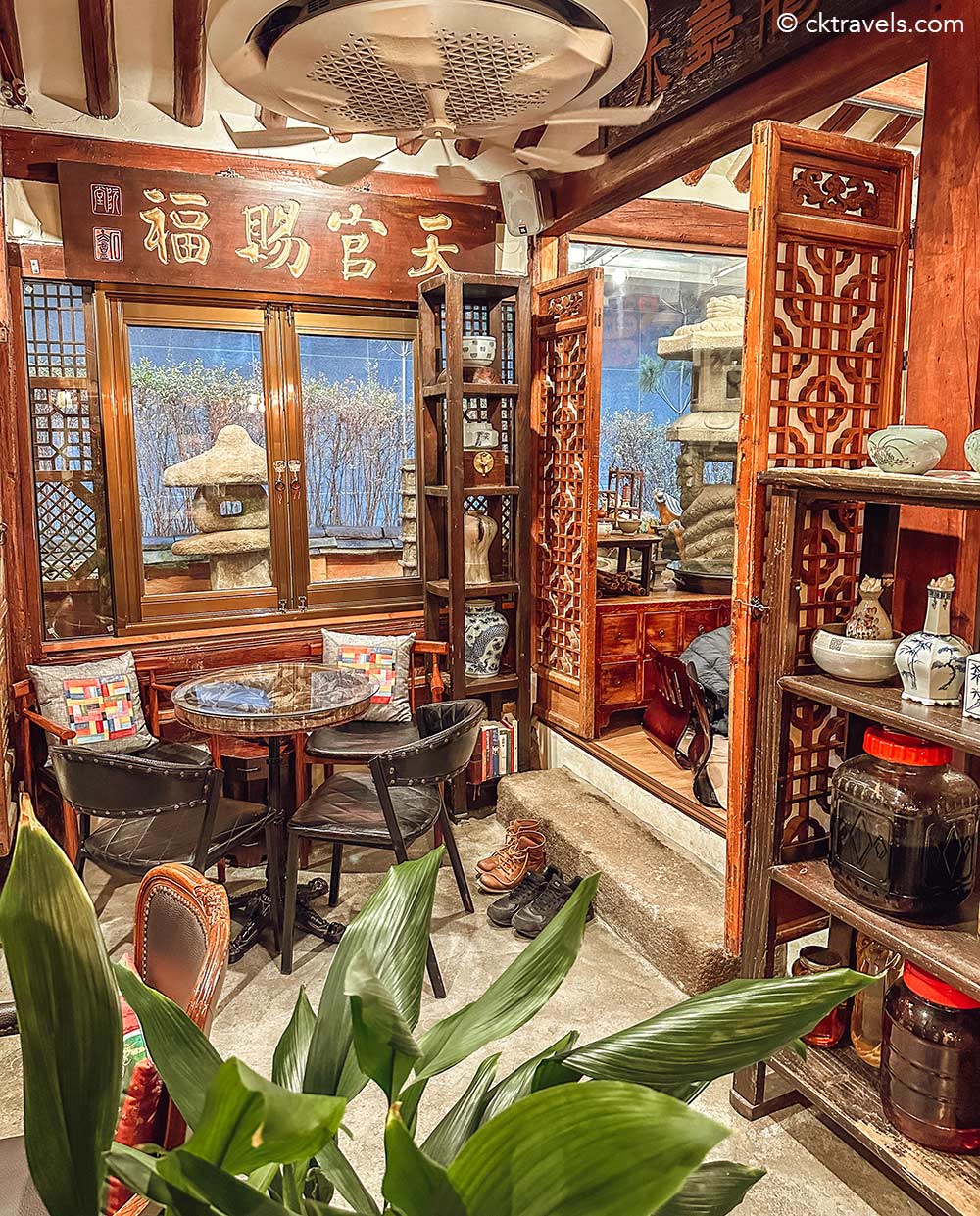 Other available tea types included quince tea, ginger tea, omija tea plus a small snack menu with sweet rice cakes, hangwa (traditional Korean sweets) and sweet red bean porridge. Shin Old Teahouse prices and info correct as at December 2022.
Alternative famous tea houses in Insadong include Moon Bird and Dawon Traditional Tea House (located in the courtyard of Kyung-in Museum of Fine Art).
Looking for cheap Seoul day-trips, attractions or group/private tours? We recommend visiting Viator, GetYourGuide, and Klook!
3. Ssamzigil Shopping Mall
A colourful and cute as shopping complex located in the heart of Insadong, we'd rate this as one of the best shopping centers in Seoul, given how quaint and quirky it is.
This is genuinely like no other mall in Seoul. In fact, we'd go as far as saying this is possibly our favourite shopping centre in the whole of the city, with mainly small and independent stalls.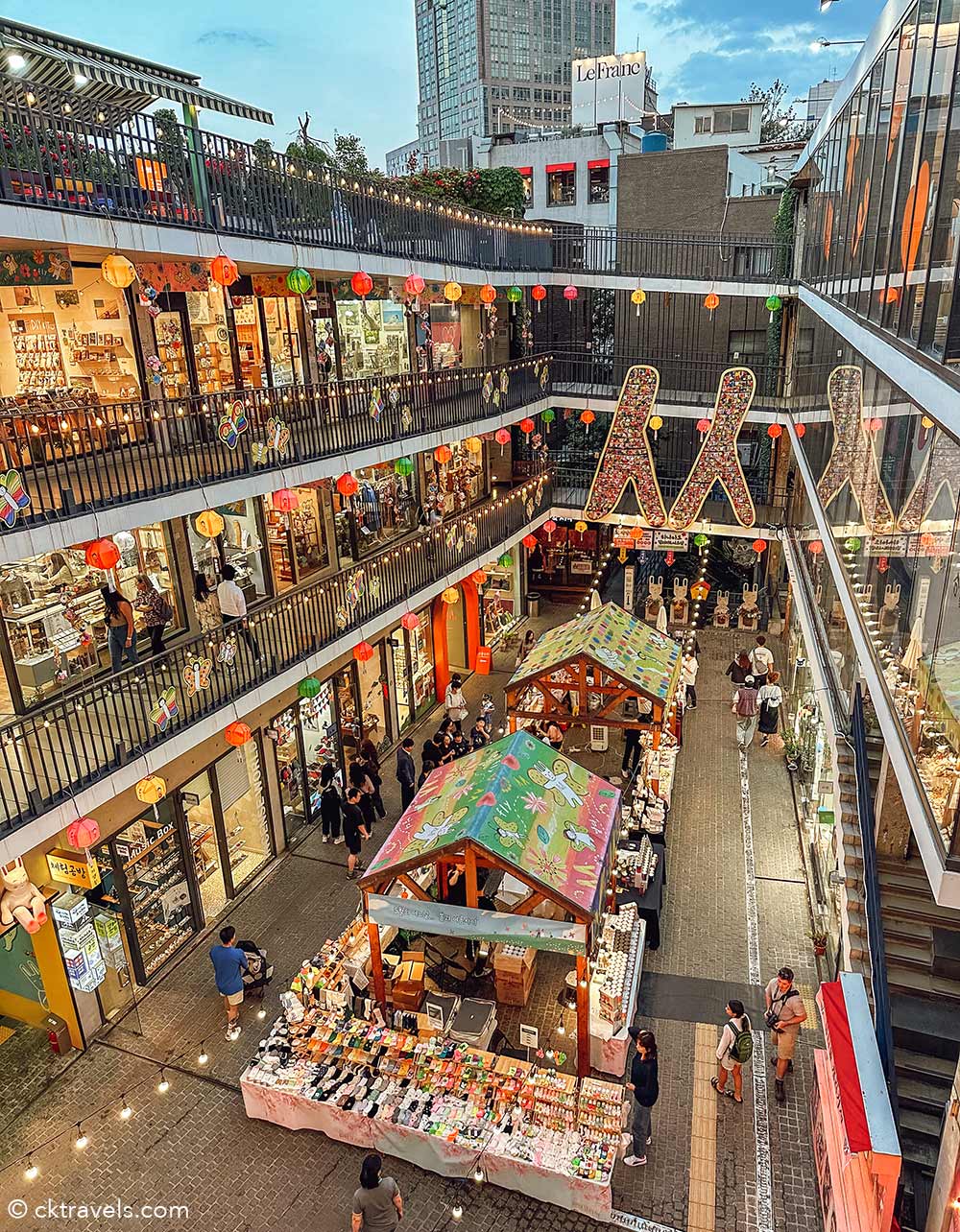 From the bright courtyard at its centre to the six floors of quirky character and craft based shops and stores, visiting Ssamzigil is quite the experience.
It isn't slick and flashy like all the other malls and the design is unique in the sense that you can visit all the stores on all levels by following a ramp footpath (similar to that of the exhibition hall at Seoul's Dongdaemun Design Plaza).
There are DIY craft stalls, cartoon character shops, homeware and jewellery vendors plus much more at Ssamzigil complex. In addition, there are several cafes and restaurants including one on the outdoor rooftop with nice views of Insadong.
Also keep an eye out for curious design features like a herd of metallic giraffes on the roof. We love the Ssamzigil Insadong complex and could buy so much stuff from here!
---
YOU MIGHT LIKE – the best shopping centers and malls in Seoul, South Korea >
---
4. Tapgol Park / Pagoda Park
The first 'modern' park to be be built in Seoul and now a popular hang-out for the neighbourhoods elderly community, this small but serene city park is most famous for its 10 story pagoda, designated National Treasure No 2, built in the 15th century (now protected behind a glass tower).
The pagoda at Tapgol Park (formerly Pagoda Park) is 12 metres high and all that remains of the Wongaksa temple once built by King Sejo (so the placard says) – it is made from marble and it is incredible to find such an old structure in the heart of the modern metropolis that is Seoul city centre.
---
You might like – Weird and unique Seoul attractions >
---
5. Bukchon Son Mandu Insadong
There are SO many restaurants and bars in Insadong to choose – frankly, you are spoilt for choice with alley way upon alley way of dining options.
One such restaurant we discovered totally by chance and which was delicious and inexpensive was Bukchon Son Mandu (dumpling restaurant). We found it purely because of the huge plume of steam that emanated in a little side street just across from the Ssamziegil complex.
The very first time we visited Bukchon Son Mandu Insadong, it was a bitterly cold winter's day so the steam was like a warm beacon to us – we were not disappointed and managed to grab the last available spot inside the small restaurant before a massive queue formed outside.
The dumplings at Bukchon Son Mandu Insadong were out of this world and some of the best dumplings / mandu we had during our entire time in Seoul. Could this small Insa-dong restaurant have the best dumplings in Seoul? If you visit and eat meat, you absolutely must try the beef rib dumplings – they are incredible.
We ordered three dishes (dumpling and noodle soup bowls plus two types of dumplings) and it cost less than 20,000 Won (prices correct as at June 2023). Recommended (but be prepared to queue if you are arriving during peak dining hours).
---
YOU MIGHT LIKE: Best Korean street foods you must try in South Korea
---
6. Ddong Café AKA Poop Cafe
'Crap' thing to do in Insadong alert! First up, this is not be confused with Poop World – a similar 'sh*tty' and weird Seoul attraction in Insadong that has now permanently closed (sh*t business eh).
Ddong Cafe is a basically a poo / poop themed cafe located on the top-floor of the Ssamziegil complex, popular with all ages (not just kids).
From drinks and food served in toilet bowls to turd themed interiors, Ddong Cafe in Insadong is quite the experience.
Sitting amongst poo emoji cushion chairs and faux toilet cubicles with plastic poos may not be everyone's cup of tea (or crappy coffee even), but it is one of the more fun and silly things you can do in Seoul and to be fair, the coffee we got was actually better (stronger) than most Seoul coffee shops we went too.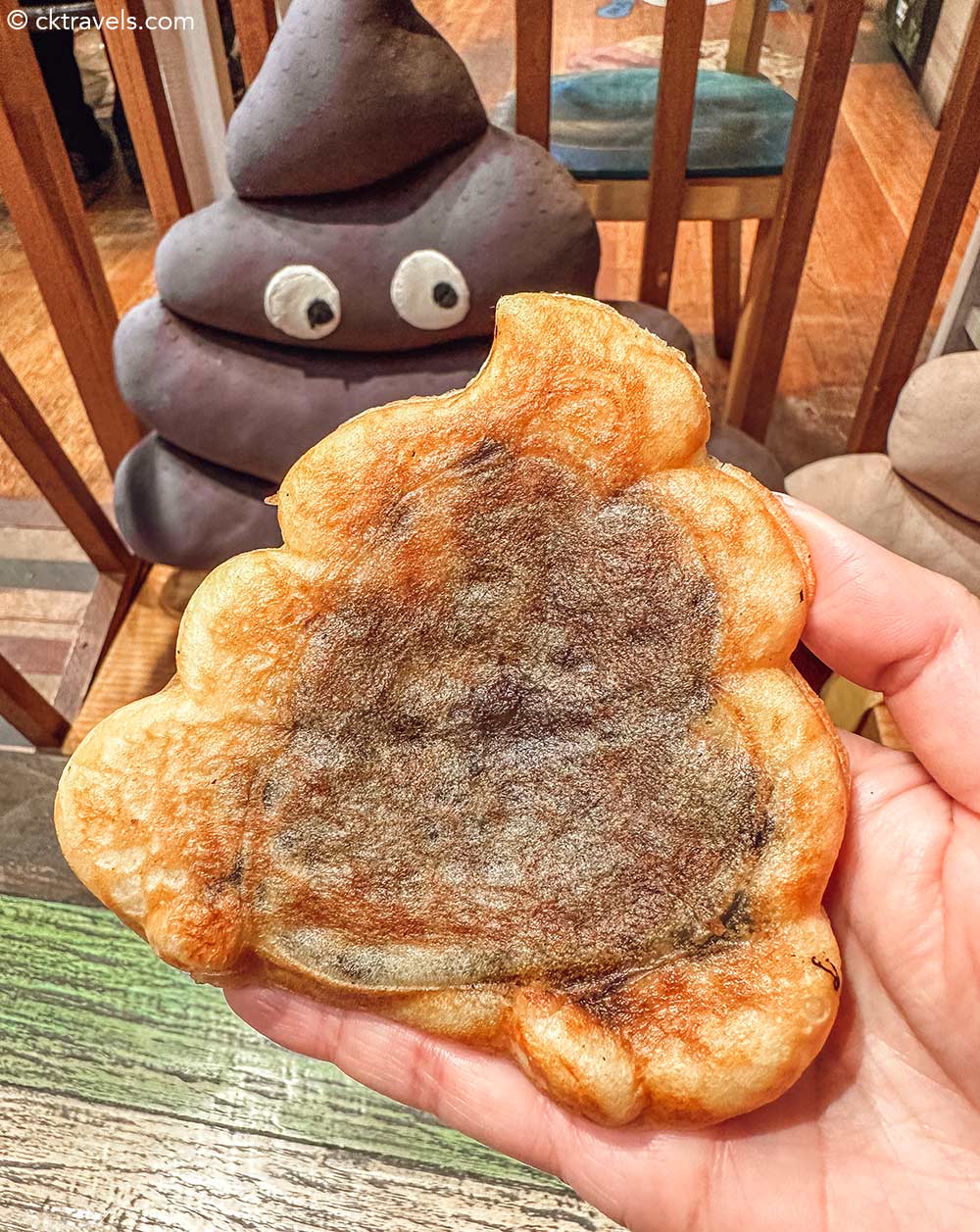 You can enjoy your Mojito latte (nicer than it sounds) and Rose latte at Ddong cafe served in small toilet bowls for 7,000 Korean Won as at 2023, plus accompany it with a chocolate poo shaped waffle for 1500 Won.
The one thing we didn't like at Ddong cafe was that the toilet cups were cracked and chipped AF; they badly need replacing – truly sh*t.
---
7. Insadong Art Galleries
Insadong may be known for its pedestrianised shopping street and traditional tea houses but is also has numerous galleries to explore.
Perhaps the best known is the Korean Craft and Design Foundation Gallery, a cultural centre selling arts and crafts by known and up and coming Korean artists and designers.
The KCDF has two floors of exhibition space, a rooftop garden plus a large shop and basement library. Other galleries to visit in Insadong include the Dongduk Art Gallery and the Ara Modern Art Museum, showing contemporary creative exhibitions.
---
8. Anyoung Insadong shopping centre
One of the newest shopping centres in Seoul which opened in 2019 – so much so that we couldn't find that much information about it! We stumbled across Anyoung Insadong shopping centre, a bright and breezy mall and cultural complex whilst visiting Insadong one busy Sunday morning.
Anyoung Insadong shopping centre was packed with families when we visited, likely because of all the cool character shops and temporary exhibitions aimed at younger people.
There is currently a temporary exhibition celebrating Haribo's 100th anniversary which has now been extended to August 2023– 'sweet'! Check out the Haribo gift shop for free too on the basement level of Anyoung Insadong.
Although a lot smaller than many other malls (it is tiny compared to say Seoul's Times Square), it is a worth while visit given it houses some cool shops, bars, cafes and two museums too.
---
9. Tea Story – The Beautiful Tea Museum
The self-titled 'Beautiful Tea Museum' (nice to see such confidence in your tea) in Insadong is a one-stop shop for all things tea related.
Housed in a homely hanok, its mission is to promote the very best of Korean tea culture (and Insadong is the perfect location given the number of traditional tea houses in the area).
As well as exquisite and historic tea pots and cups, you can also visit the onsite cafe to put your tea-tasting skills to the test, plus there is a tea shop where you can buy tea leaves from all over the world – tea-riffic etc.
---
10. Museum Kimchikan / Kimchi Museum
The Museum Kimchikan (formerly Kimchi Museum – because even kimchi deserves a rebrand) is a uniquely South Korea museum and once named as one of the top food museums in the world by CNN (hands-up if you can name the other 10).
The process of making kimchi is UNESCO designated, such is its cultural significance. At Museum Kimchikan, you can learn about the history of kimchi, the different types and how it is made. Note the museum is closed on Mondays and admission price is 5,000 Won per adult (around £3) as at June 2023.
If you are a massive Kimchi convert like we are, then most restaurants in Seoul offer it as a free side dish from help yourself style buffet counters.
You can also hone your kimchi culinary schools at the nearby Kimchi Academy where you spend several hours learning about the history of this spicy dish before attempting to make some yourself.
---
11. Jogyesa Temple
Dating back to the 14th century (although rebuilt in the early 1900s due to a fire), Jogyesa Temple in Insadong is one of Seoul's most historic temples and the main temple of the Jogye Order of Korean Buddhism.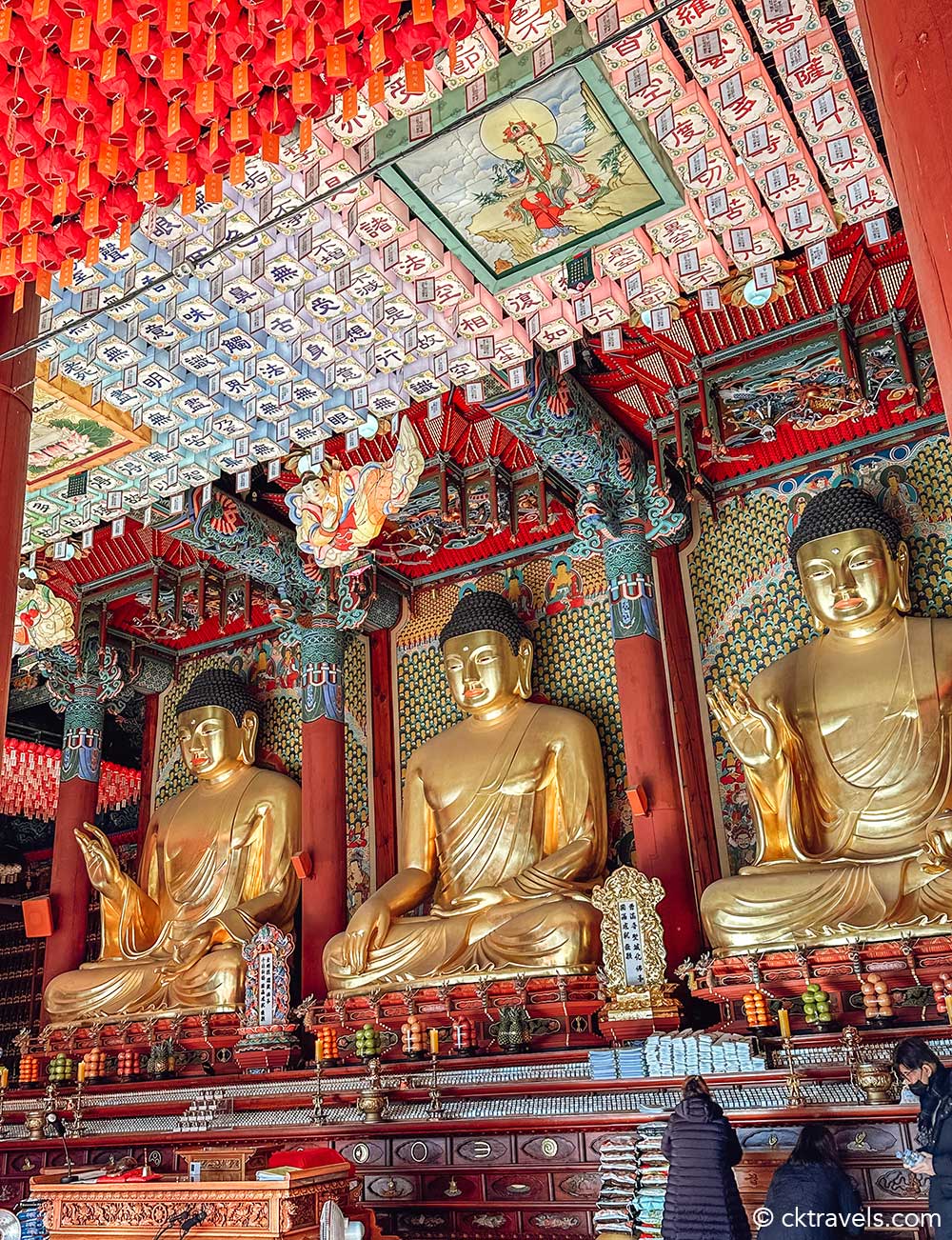 The Dharma Hall of Jogyesa Temple hosts several Buddhist events and celebrations throughout the year – for the Buddha's birthday, the Jogyesa Temple holds a lantern festival.
We were lucky enough to revisit Jogyesa Temple in Insa-dong recently during the 2023 Seoul lantern festival (held every year usually in May). The temple is bedecked with thousands of lanterns hanging from the roof plus there are huge lantern statues in the grounds.
The temple also gives out thousands of colourful lanterns to worshippers and well wishers to raise aloft during the grand lantern festival parade, which goes past the temple.
During the 2023 Seoul lantern festival, the main road outside Jogyesa Temple was closed off to traffic for one day with hundreds of stalls and big parade taking place – definitely try to visit Insadong your visit to Seoul coincides with the annual lantern festival.
Jogyesa Temple is free to visit – donations are appreciated.
---
YOU MIGHT LIKE: Things To Do In Hongdae, Seoul
---
12. Insadong Restaurant Alley
Hidden away from the main Insadong drag (high street), you find a warren of restaurants hidden along a series of side streets and alleyways. Literally dozens of small eateries (some with huge queues) selling all manner of food, from dumplings and BBQ beef to vegan restaurants and seafood dining.
Most of these restaurants are dotted along Insadong 14-gil and even if you aren't hungry, it is quite the experience winding your way through the continuous warren of dining places. At night, it is a whole new experience as these dimly lit alleys become lit up with huge neon signs and bright restaurant sites.
There are so many restaurants to try in Insadong – we generally looked for ones that appeared fairly busy with a small line of locals outside and were not disappointed.
---
YOU MIGHT LIKE: Best things to do in Myeongdong, Seoul
---
13. Get a quirky caricature
Insadong is home to a quirky cartoon caricature studio, where street cartoonists have set up a studio in the creative and crafty Ssamziegil complex.
Prices vary but starting at 9,000 South Korean Won per person based on a minimum of two people, these are really good value caricatures. Compared to some of the street artists we've seen back home in Leicester Square in London (DO NOT get a cartoon drawing done in Leicester Square – they are always bad), these are amazing in comparison.
Even if you don't want a caricature while in Insadong, Seoul, it is quite fun to watch the cartoonists at work as the subjects awkwardly smile. Truly impressive, you can get your illustrations down with the courtyard of the Ssamziegil complex.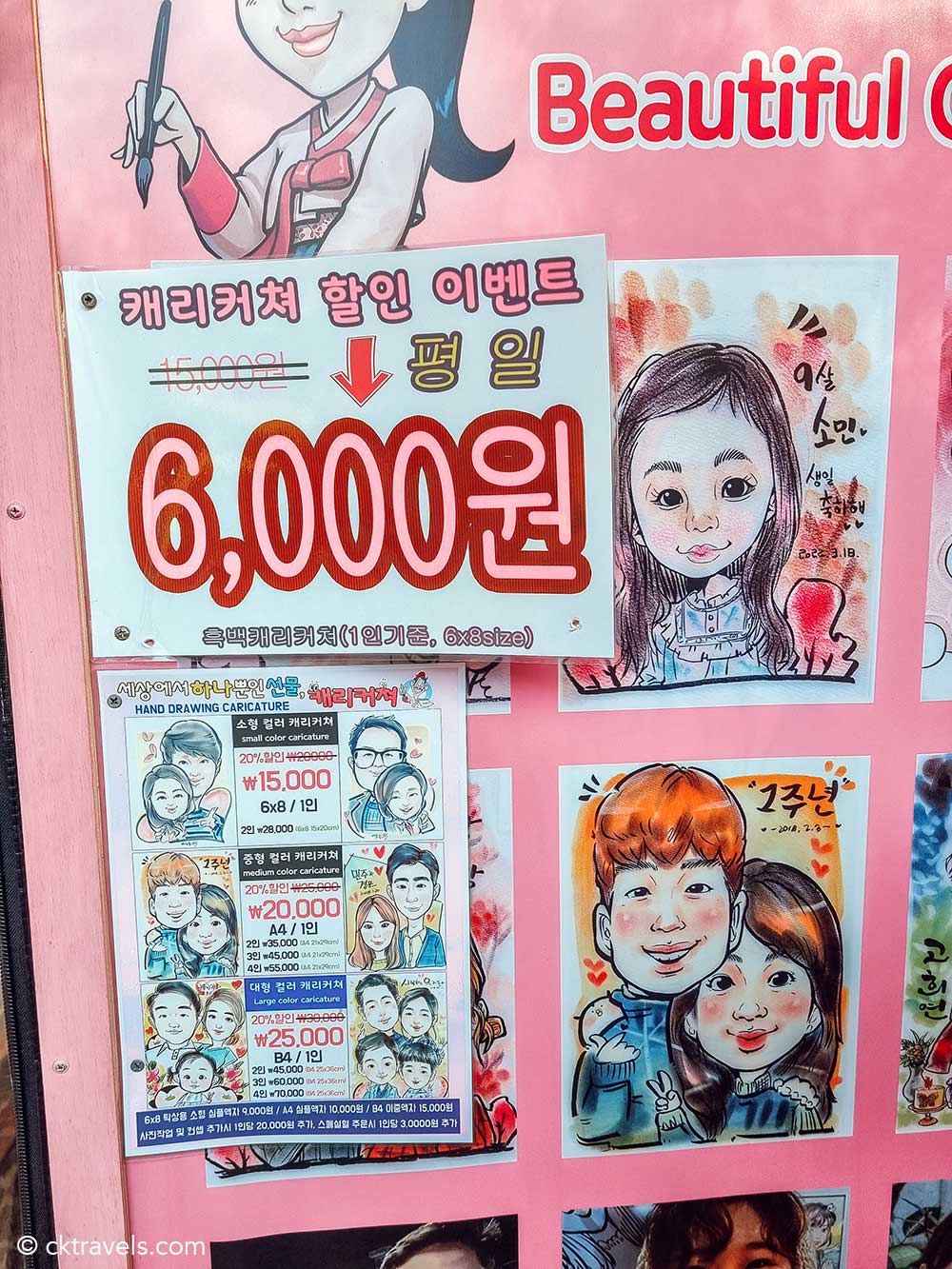 ---
You might like – Things to do in Busan – Ultimate Guide >
---
14. The ColorPool Museum (Colourpool)
Also known as a Instagrammer's wet-dream (probably), The ColorPool Museum is located on the top floor of the Anyoung Insadong shopping complex and is like a rainbow brought to life.
The Colorpool Museum in Insadong, Seoul comprises of 9 rooms (or zones), each with its own colour (sorry, color) theme – think pink ball pits, unicorn utopias, rainbow walls and more inflatables than your local swimming pool.
Open from 10am to 9pm, The ColorPool Museum costs 15,000 KRW (South Korean Won – about £9.30) as at June 2023.
Want to visit the Colorpool Museum for 'free'? Colorpool Museum admission is included as part of both the Discover Seoul Pass and the Go City Seoul Pass.
---
15. The Music Complex Seoul
Insadong is home to the largest vinyl LP cafe in the whole of South Korea – also a great way to escape K-pop if you aren't a fan!
Located on the upper levels of the Anyoung Insadong shopping complex and retro as, the Music Complex Seoul is the place to enjoy a beer of coffee whilst listening to classic LPs or modern vinyl records. Vinyl LP cafes are a big thing in Seoul as you can ensure you only listen to the music you want to.
At Music Complex Seoul, the interiors are beautiful and there are over 20,000 LPs to choose from. Each table has a vinyl record player – talk about fantastic plastic! Music Complex Seoul is open daily from noon until midnight.
---
16. Look our for Line characters in Insadong
Line Friends characters are ever so popular in South Korea and in most parts of Asia (these are cutesy cartoon characters that help promote the Line messaging service).
Although there are lots of Line Friends stores all around Seoul where you can merchandise galore, in Insadong, we found the largest collection of large Line characters than you can pose with including a huge one on the main Insadong street that you can pose with (kids love it).
The Line Friends store in Insadong can be found in the Anyoung Insadong shopping complex. Note that the Line Friends store opens a little later than most of the other shops. Line Friends Insa-dong is open 11.30am to 7:30pm Monday to Friday and 11am to 8.30pm Saturday and Sunday.
---
17. Alive Museum
Alive Museum is best described as a trick art selfie gallery where you can pose for some really fun photos in several zoned areas.
We particularly liked the gaming zone where you could pop up like Super Mario in a huge pipe plus a 3d black and white illustrated cafe- very instagrammable!
Along the way at Alive Museum, collect stamps on your map and swap these for free candies and sweets at the end. Even though this is aimed at kids, we had great fun fooling and posing for pics – one of the more memorable modern attractions in Seoul.
Want to visit the Alive Museum in Insa-dong for 'free'? Alive Museum admission is included as part of both the Discover Seoul Pass and the Go City Seoul Pass.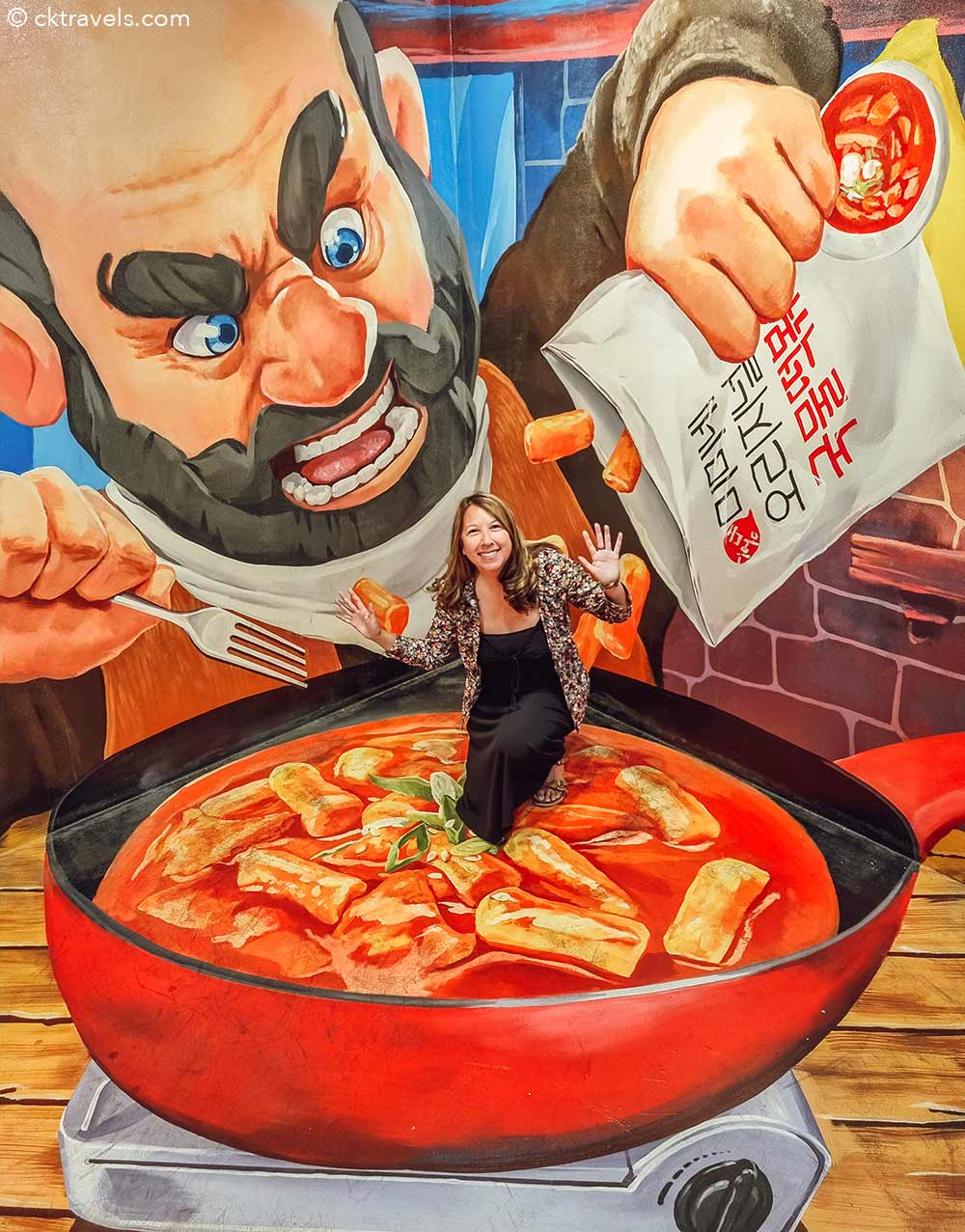 ---
18. Insadong Souvenir Shopping
Whether you see it as tasteful tourist trinkets or tacky travel tat, there are many large souvenir shops (and smaller street stalls) to suit all tastes and budgets at Insadong.
At the start of the Insadong shopping street (as you approach from the Myeongdong area), you'll find two of the largest souvenir shops in Seoul – although they call themselves traditional Korean crafts.
You are free to browse these stores at your leisure without being hassled, making it a pleasant Seoul shopping experience.
---
YOU MIGHT LIKE: Top things to see and do in Gangnam, Seoul
---
19. Vegan restaurants in Insadong
It can sometimes be quite the challenge to find a vegan restaurant in Seoul given most restaurants seemingly focus on meat and fish with scant regard to vegans and vegetarians.
Whilst exploring Insadong, we discovered several vegan restaurants all within a couple minutes walk of each other, making it the highest concentration of dedicated vegan restaurants in Seoul (we reckon – let's just go with it for now).
Osegye Hyang is currently the most well known and best reviewed vegan restaurant in the Insadong neighbourhood, located down a small alley (often there is a queue outside). When you first sit down, you are offered free tea, plus the menu is in English and Korean and includes meat based alternatives like soy.
Nearby, there is also a vegan gelato place (Vegan Agitato) which also does vegan pizza plus Han Gwa Chae vegan buffet and Maru Vegan restaurant.
---
20. Ikseondong Hanok Village
A nice neighbourhood to explore in Insadong, Ikseondong Hanok Village is a quiet and quirky area packed full of alleyways and lots of prime photo spots.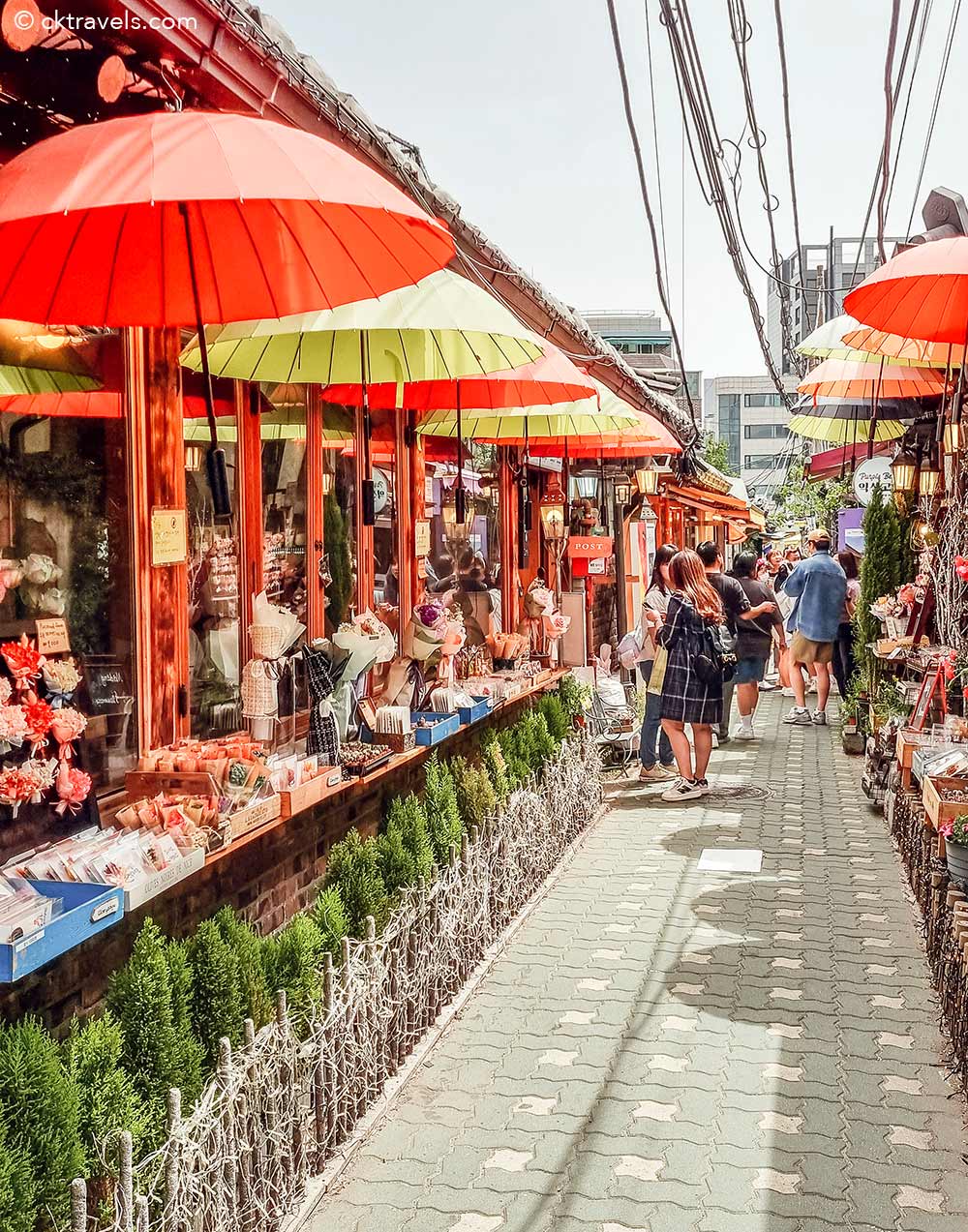 Built around 100 years ago in the 1920s, Ikseondong has awesome street, cafes and coffee shops plus some of the best restaurants in the area. Keep an eye out for Cheongsudang, a Hanok style cute café with a charming garden and traditional decor.
Read more in our guide to Ikseondong >
---
21. Insadong Street Art and Sculptures
Insadong is renowned for its interesting illustrations, alleyway art and striking sculptures. All around as you explore Insadong, you'll stumble across street art. The beauty of the street art anywhere (including Insadong) is that it is constantly changing so you'll never know what you'll uncover.
One of the more permanent pieces of street art that stand out in Insadong is the huge calligraphy brush (a nod to the calligraphy heritage of Insadong (many calligraphy brush shops can still be found here).
The calligraphy sculpture can be found at the northwestern end of Insadong-gil at the intersection with Yulgok-ro. There is also a cool tiled mosaic at the other end of Insadong-gil, if you are heading there via Tapgol Park.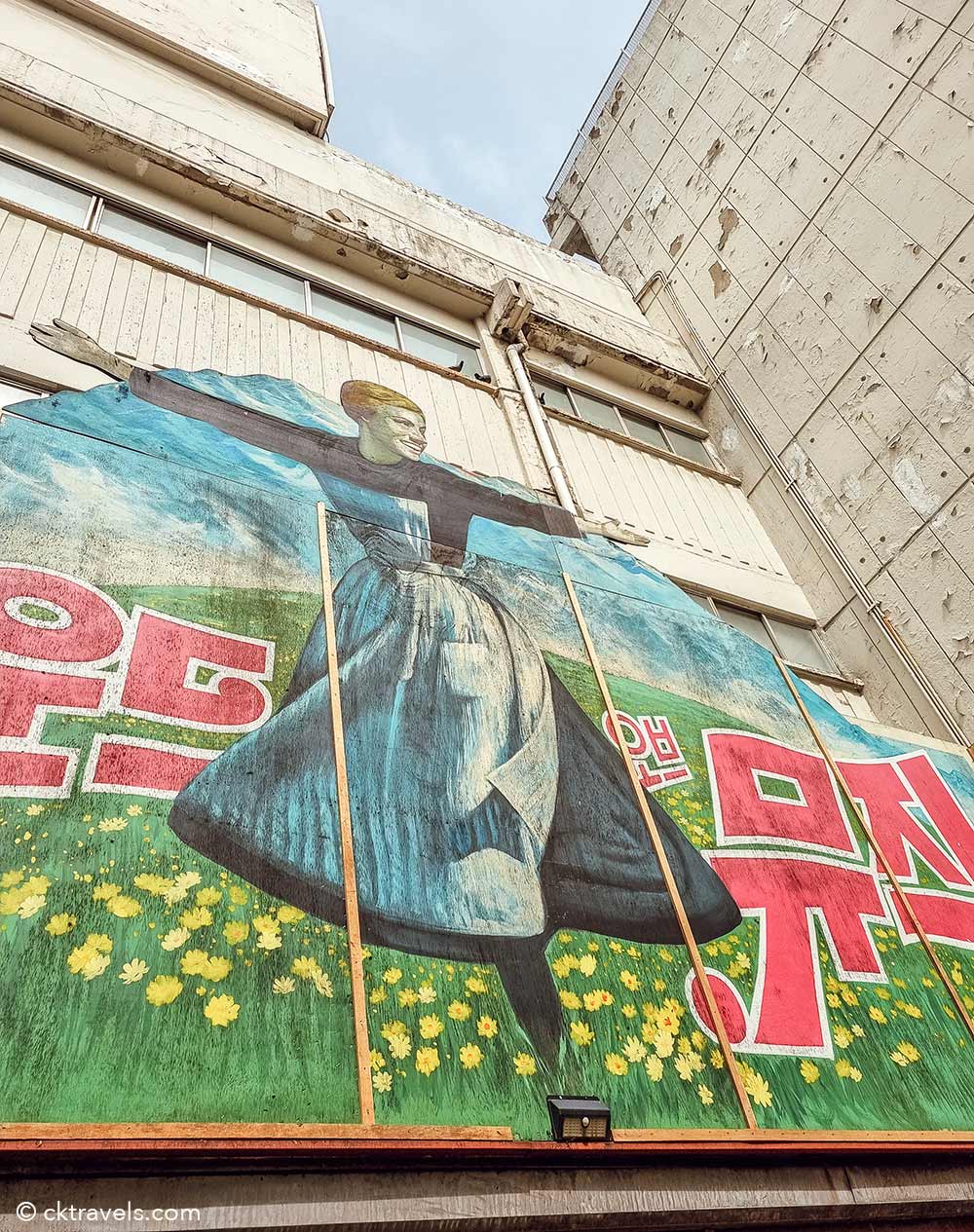 ---
22. Unhyeongung Palace
Dating back to the 1860s, Unhyeongung Palace is a short walk from the main Insa-dong Cultural street and free to visit. It is a peaceful spot to explore with a huge courtyard in the centre.
Unhyeoongung Palace was the former house of Yi Ha-eung and his family – it was then expanded to become the residence of King Gojong. This former Korean Royal residence went through a period of neglect and so the residence was taken over by the Japanese administration in 1912.
Since the 1990s, Unhyeongung Palace has had significant restoration work to try and return it to its former glory – it is a now a designated 'Historic Site' of Seoul and traditional Korean music performances are regularly held here.
---
23 Try traditional Korean Taffy-Ta-Ra
Also known as Korean court cake or Dragon's Beard candy, Taffy Ta Ra is made of ripened honey and malt (which was once presented to the King and his important guests hence 'court cake').
KKultarae / Ggultarae is one of the most famous Taffy Ta Ra stalls in Seoul and can be found along the main Insa-dong Culture Street. It is very popular with children and the people on the stall often have wonderful and fantastical stories to tell about dragons as they make the sweet treat.
Taffy-Ta-Ra is made with thousands of strands (a bit like cold candy floss) although not overly sweet and not sticky to teeth – many Koreans also enjoy it with tea, given it is so cold and often frozen.
---
Insa-dong Tourist Information
If you want more information on things to do in Insa-dong when you are visiting the area, there are two tourist information booths / kiosks at either end of the main Insa-dong thoroughfare – Buk Insa Tourist information and Nam Insa tourist information.
---
Getting to Insa-dong
There are number of ways to get to Insa-dong by public transport – it is also within walking distance of Myeong-dong.
Taking the subway / metro to Insadong
Subway line 1 exit 1 at Jongno-3 ga station / exit 3 at Jonggak station
Subway line 3 exit 1 at Jongno-3 ga station / exit 6 at Anguk station
Subway line 5 exit 5 at Jongno-3 ga station
Taking the public bus to Insadong
Towards Anguk station – buses 109, 151, 162, 171, 172, 272, 601, 7025
Toward Jogyesa temple – buses 151, 162, 172, 401, 704, 7022
Other South Korea posts you might like
Did you enjoy our things to do in Insadong, Seoul guide blog post? Let us know in the comments or by sharing it on social media.
You can follow CK Travels on: 
Instagram
Facebook
TikTok 
YouTube
Pinterest