This post may contain affiliate links to tours and hotels. These help us earn a small commission at no additional charge to you.
Visiting Seoul soon and thinking of buying a Go City: Seoul pass? Is it worth it?
We recently used a Go City Seoul Pass to save over $260 in two days between two of us. Here is our guide to making the most out of this Seoul pass.
Things to do in Seoul
There are lots of things to do in Seoul, South Korea including tonnes of tourist attractions from huge theme parks like Lotte Adventure World through to more unique activities like hiring historic hanbok costumes.
In addition there are interesting ways to get around Seoul like hop-on hop-off buses or river cruises along the River Han.
Further afield, day trips from Seoul include visiting the fairy tale village of Nami Island plus tours of the DMZ on the North Korea / South Korea border.
If you are on a tight travel budget, the expense and combined costs of visiting many tourist attractions and doing day trips in Seoul can start to add up. So how can you do lots of Seoul attractions on a tight budget?
---
You might like – Where to stay in Seoul / Best Neighborhoods Guide >
---
Introducing the Go City Seoul Pass
Thankfully there is an easy and cost efficient way to save money when visiting multiple attractions in Seoul – the Go City: Seoul Pass which includes around 30 Seoul activities, tours and modes of transport.
We recently used a two day all inclusive Go City Seoul Pass and used it at eight different attractions, tourist transportation and day trips from Seoul.
Here is what we discovered about using the Go City: Seoul Pass in 2023.
What is the Go City Pass?
Go City passes are available to use in around 30 different cities including Las Vegas, Sydney and London – we have also previously used a Go City Bangkok pass which you can read about here >
There are two types of Go City Pass available (durations and prices depend on the city you are using it in):
Go City Explorer Passes
You decide on the number of attractions you want to visit in your chosen city over a 60 day period. You can choose between 3 to 7 attractions – the more attractions you pick, the more you pay (but the combined package should save you more money).
Go City All Inclusive passes
If you are limited on time and want to see and do a lot in a short space of time, you can buy a Go City All Inclusive pass. These are generally 1 to 5 days in length and you can visit as many attractions on the pass as you want.
Once purchased, download the Go City app on your phone where your passes / QR code will be available – as soon as you visit your first attraction the QR code is scanned on your phone and your Go City pass begins.
For the full range of Go City Passes and cities, find out more here >
What is a Go City: Seoul Pass?
There are two different types of Go City pass that can be used in Seoul – the Go City: All Inclusive pass can be used for either 1, 2, 3, 4 or 5 days.
There is also a Go City: Seoul Explorer Pass, available to use on 3, 4, 5, 6 or 7 attractions of your choosing (Go City prices vary depending on the pass type).
In South Korea, the Go City: Seoul Pass can be used at around 30 different venues for free admission, free transport or free tours and day trips (the latter is generally the best value of the included Go City activities). This is one of the best selling tourist attraction passes / discount cards for international travellers in Seoul.
The Go City: Seoul Pass starts as soon as you have your QR code scanned at your first attraction (in our case, a pre-booked day trip to the DMZ).
We recently used a Go City: Seoul All Inclusive pass for two days and visited eight attractions and tours over a 48 hour period.
Here is what we discovered about using a Go City: Seoul Pass in 2023.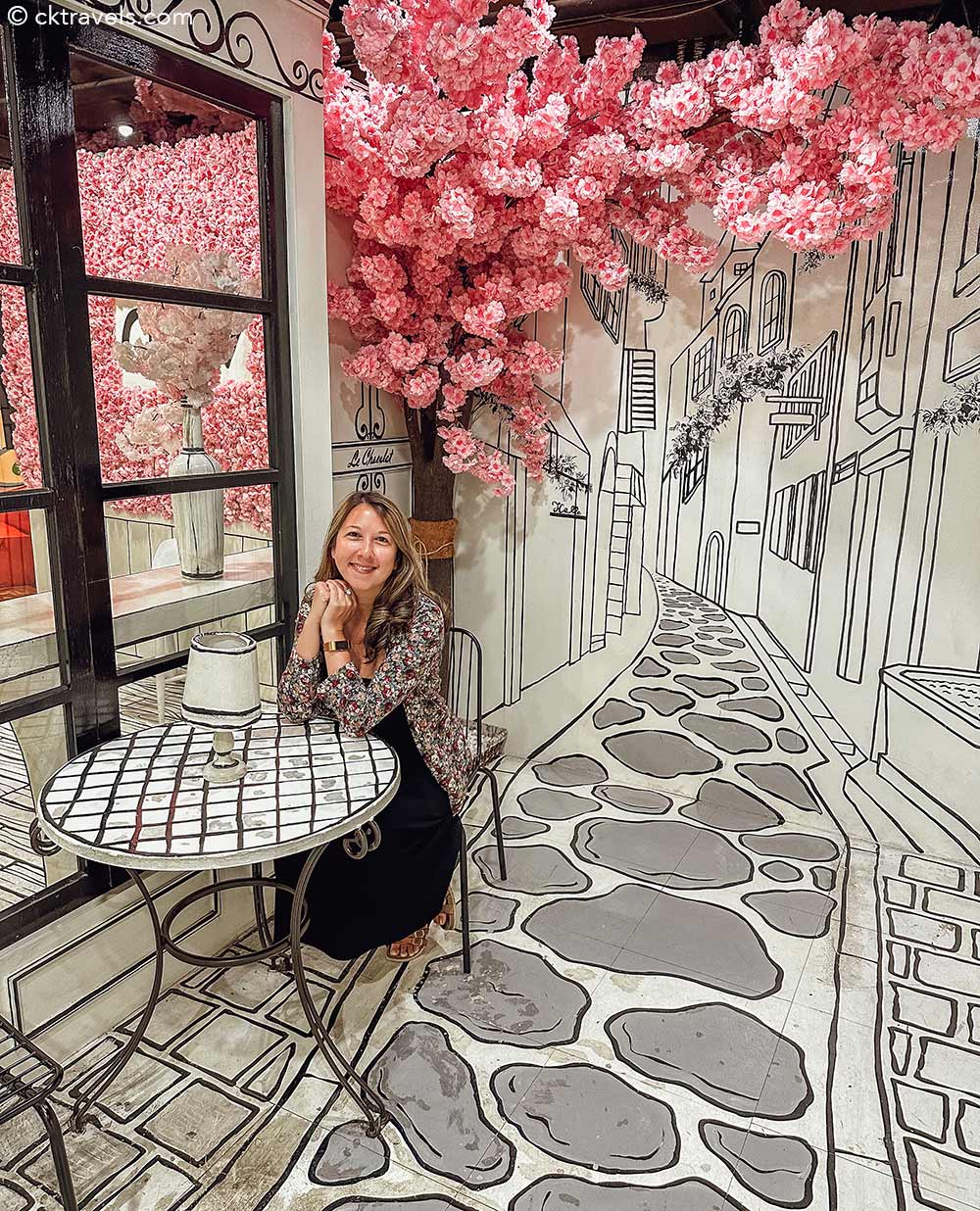 Looking for cheap Seoul day-trips, attractions or group/private tours? We recommend visiting Viator, GetYourGuide, and Klook!
How can you buy the Go City: Seoul Pass?
You can purchase a Go City: Seoul Pass here. It is an online / app based pass.
The mobile pass / QR code can be downloaded instantly (via the Go City app) once purchased via the Go City website.
Go City passes are all online based – so if you don't have mobile data whilst in Seoul, make sure you screengrab your pass when you have WIFI at your accommodation or before you depart.
Alternatively, you can buy a South Korea SIM here (incidentally, you can get a free Korean SIM as part of the Go City: Seoul Explorer Pass but only once the pass is activated).
Once purchased, you can start to use the Go City: Seoul pass immediately but we'd recommend buying the Go City: Seoul Pass at least a few days before so you can plan your activities.
Also, some (but not all) activities like the day trips and the NANTA theatre show need to be booked in advance (more on how easy this is to do later) – so availability is better if you contact them several days (or even weeks) before.
How much are the Go City: Seoul All Inclusive passes and Go City: Seoul Explorer passes?
As at June 2023, the price of the Go City: Seoul attraction passes are as follows:
Go City: Seoul All Inclusive Pass based on adult prices (child prices are cheaper)
1 day unlimited attractions pass – $65 USD (approx £53 / 86,000 Won / €60)
2 day unlimited attractions pass – $103 USD (approx £83 / 136,000 Won / €96)
3 day unlimited attractions pass – $132 USD (approx £107 / 175,000 Won / €123)
4 day unlimited attractions pass – $152 USD (approx £127 / 201,000 Won / €142)
5 day unlimited attractions pass – $167 USD (approx £136 / 221,000 Won / €156)
Go City: Seoul Explorer Pass based on adult prices (child prices are cheaper)
3 attractions in 60 days – $59 USD (approx £48 / 78,000 Won / €55)
4 attractions in 60 days – $69 USD (approx £56 / 91,000 Won / €64)
5 attractions in 60 days –$88 USD (approx £71 / 117,000 Won / €82)
6 attractions in 60 days – $98 USD (approx £79 / 130,000 Won / €91)
7 attractions in 60 days – $118 USD (approx £96 / 156,000 Won / €110)
What are the best attractions on the pass?
As you'd expect, the 'best' attractions on the Go City: Seoul All Inclusive and Explorer passes are down to what you want to see and do – but if you are looking for 'best' value, we would recommend the below Seoul attractions as the highlights and best money savers:
Demilitarised Zone (DMZ) Tour from Seoul – worth $64
Lotte World Adventure Theme Park and Folk Museum – worth $50
Nanta Comedy Cooking and Musical Theatre Show – worth $44
Seoul Land Combo Pass (includes zoo and cable car) – worth $44
Traditional Korean Costume (Hanbok) rental – worth $32
63 Art Observatory Tower and Aqua Planet Combo Pass – worth $26
Nami Island Return Shuttle Bus – worth $21
---
YOU MIGHT LIKE: Brilliant things to do in Seoul at night >
---
Our experience with the Go City pass
Purchasing a Go City: Seoul All Inclusive Pass is very simple
After purchasing a Go City: Seoul All Inclusive 2 day pass via the Go City website, you receive a code to your registered email address.
You then download the Go City app via the Google Play or Apple store on your mobile device.
Once the Go City app is downloaded, enter the code from your confirmation email into the Go City app and your passes sync / appear electronically within the app almost immediately.
Remember the passes do not begin until you commence your first activity – meaning you can pre-book some Seoul day trips well in advance, availability permitting.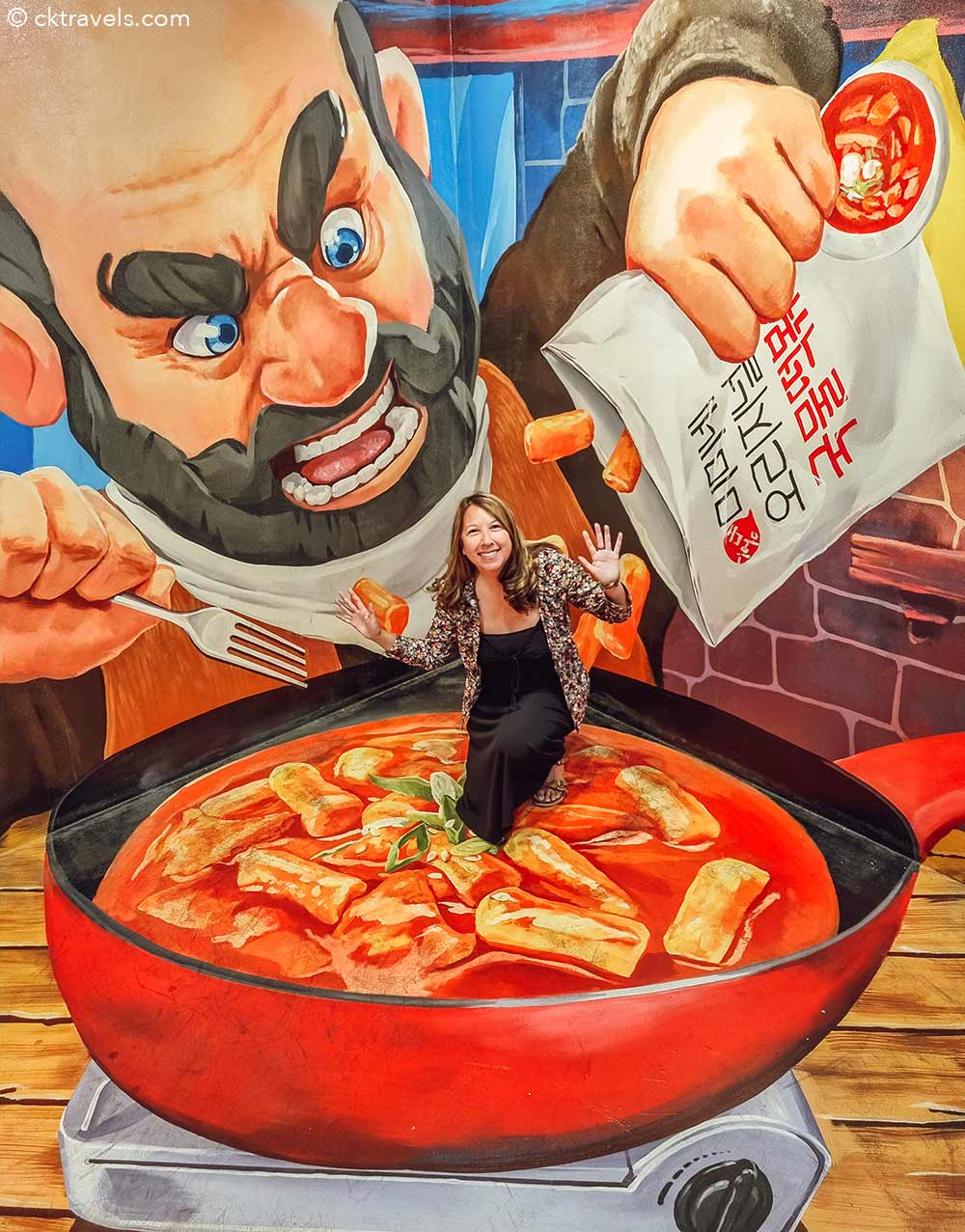 When is the best time to buy your Go City: Seoul Pass?
The Go City website is very practical to use and one of the best features is that it tells you which of the attractions are likely to book out early (you need to pre-book many Seoul tours and classes in advance).
Some attractions like the 63 Art Observatory Tower, Aqua Planet, N. Seoul Tower and the Han River Cruise allow you to turn up on the day and show the QR code on your phone – no pre-booking is necessary.
Knowing we had to book some of the tours in advance, we activated our Go City: Seoul Passes a couple of months before we intended to use them and started contacting the various attraction providers with our Seoul pass reference number.
As an example, of the three pre-booked activities we did, two were booked using a Google Form that you could link to via the Go City website (which the tour companies then confirmed via email within 24 hours) whilst another activity (Lotte Adventure World) had to be pre booked via email.
We found availability on all the pre-bookable tours and activities we wanted to do. To note we used our Go City pass in May 2023 which is peak season so it is highly recommended you book the most popular tours like the DMZ tour way in advance.
Go City – All Inclusive Passes vs Individual Attraction Explorer Passes
There is no doubt that the longer passes are 'best value' in terms of cost savings if you are staying in South Korea / Seoul for several days – you can do more of the higher value attractions.
After much research, we discovered that the key five or six attractions and day trips we wanted to do whilst visiting Seoul could be done in a couple of days.
We decided to use a Go City All Inclusive Seoul pass as we wanted to do a lot of attractions in a short space of time as opposed to doing less over a longer period.
With the best will in the world and incredible planning, likely the most attractions you can effectively do on a 2 day all inclusive pass is 8 or 9.
If you want to do more than that, it is likely worthwhile to buy a longer Go City: Seoul All Inclusive pass.
Separate Activities
One thing we really liked about the Go City pass app and QR code system was that as a couple, we could do tours and attractions together but there was also the ability to do separate things.
Whilst we didn't do separate activities this time in Seoul, we have done this previously with the Go City pass in Bangkok – e.g. whilst one of us did a Bangkok cycling tour, the other did a Bangkok walking tour then we met up to resume the rest of the activities together.
---
You might like – Things to do in Busan – Ultimate Guide >
---
Attractions we visited on a 2 day Go City: Seoul All Inclusive Pass
We managed eight attractions and tours in Seoul with our two day Seoul All Inclusive Pass.
Our 2 Day Go City: Seoul All Inclusive pass itinerary:
DAY 1
6am – Demilitarized Zone (DMZ) Tour from Seoul (half day tour)
2.30pm – N Seoul Tower
8pm – Nanta Theatre Comedy and Cooking Show
DAY 2
10am – Alive Museum
11am – Color Pool Museum
12.30pm – Lotte Adventure World and Folk Museum
5pm – Art 63 Observatory and Aqua Planet
6pm – Han River Sunset Cruise
Activity 1 – The DMZ Tour from Seoul
Hands up this was our number one reason for using the Go City Seoul Pass (and also the highest value attraction included on the pass). The DMZ is the heavily controlled border separating North and South Korea.
This is a half day tour that starts with a visit to Imjingak Pyeonghwa-Nuri Park (where you can see the famed Bridge to Freedom and buy North Korean money as souvenirs).
From here, you get to look across into North Korea from the Dorasan Observatory. Using telescopes and state of the art electronic cameras, you can see guards on patrol in North Korea plus farmers and local residents go about their daily work (we were lucky to visit on a very clear day).
Finally, take a long, dark walk down into the 3rd Infiltration Tunnel, built by North Korea as a means of invasion (although they still deny this, even though four such infiltration tunnels exist).
Unlike a previous DMZ tour we did many years ago, this didn't include a 'forced' stop at a ginseng factory (bonus). Our tour guide Sunny was also incredibly helpful especially in terms of explaining the complicated political situation.
Note this tour is a very early start – we had to meet our tour guide in Myeong-dong at 6.20am. Passports are also required for inspection by the military police. Photography is also allowed apart from inside the 3rd Infiltration Tunnel.
Activity 2 – N Seoul Tower AKA Namsan Tower
After we were dropped off by our DMZ tour bus in Myeong-dong around 1.30pm, we then walked around the corner and got the cable car up to Namsan Park.
Here at the top, we used our Go City pass to head up to the top of N Seoul Tower. The views of Seoul and the surrounding park are stunning plus there are two levels to explore, one with a rather nice cafe looking out over Seoul.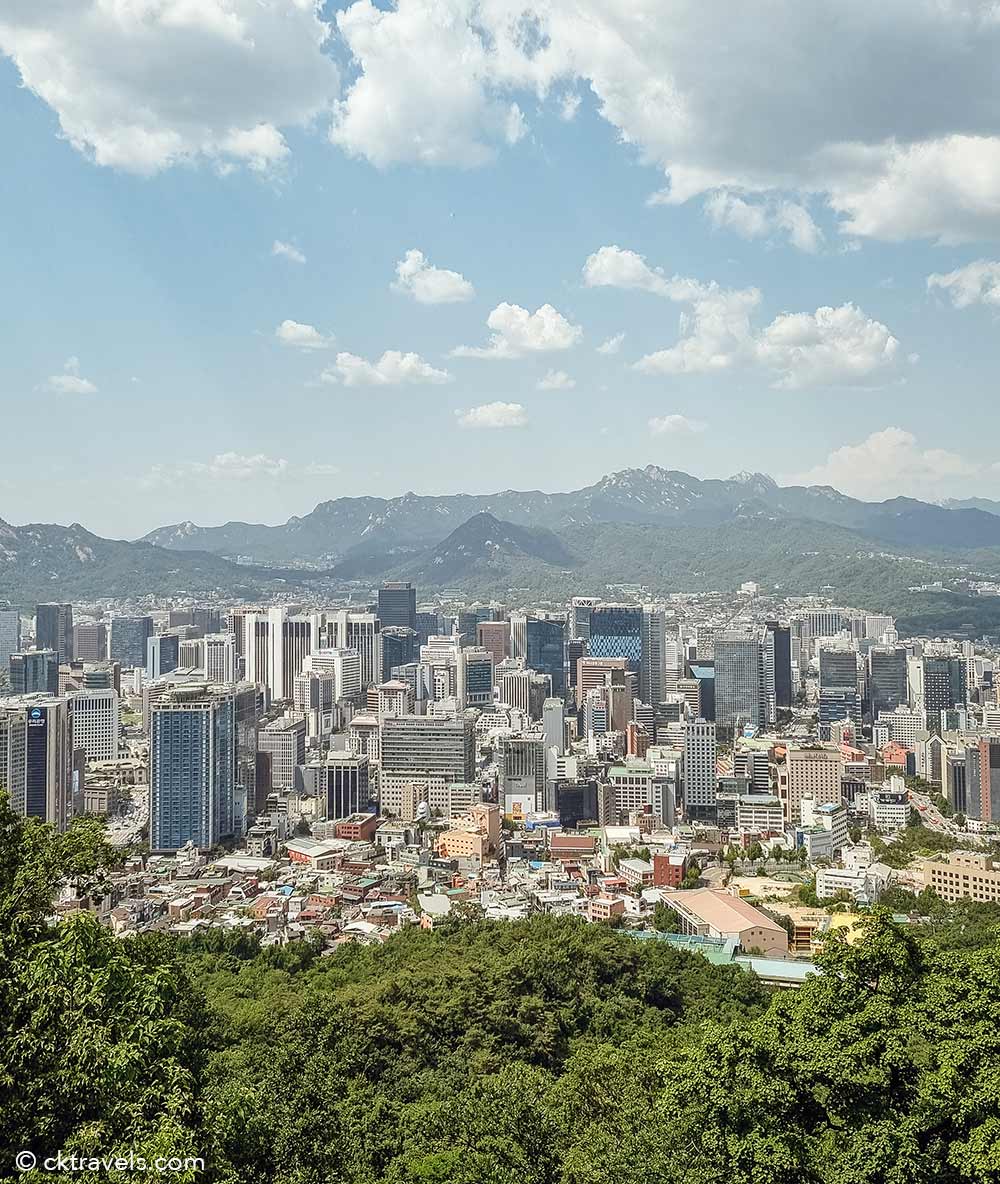 Almost 800 metres high, the N Seoul Tower in Namsan Park is open until 10pm most days so you can even enjoy sunset or night time views. Also, the elevator ride to the top is quite the experience with very over the top graphics and sound effects (kids will love it).
Namsan Park also hosts free cultural shows several times a day. Our visit to Namsan Park coincided with the 3pm cultural show where we saw traditional musicians and martial arts – there was lots of audience participation too!
Check out all the love locks in the area too (although some are rather rusty!)
The N Seoul Tower usually costs 16,000 Korean Won per adult.
Activity 3 – NANTA Theatre Cookery and Musical Show
What's cooking?! Our last Go City Seoul pass activity on day 1 was the famous NANTA Theatre comedy and cookery show, which has been packing in audiences worldwide since 1997.
Possibly the best known Korean theater show, the NANTA cooking show has been performed over 50,000 times in over 60 countries. Located in a dedicated NANTA Theatre in Myeong-dong, this 90 minute high energy performance is the tale of 4 chefs and a kitchen manager preparing a sumptuous meal for a big wedding banquet in real-time.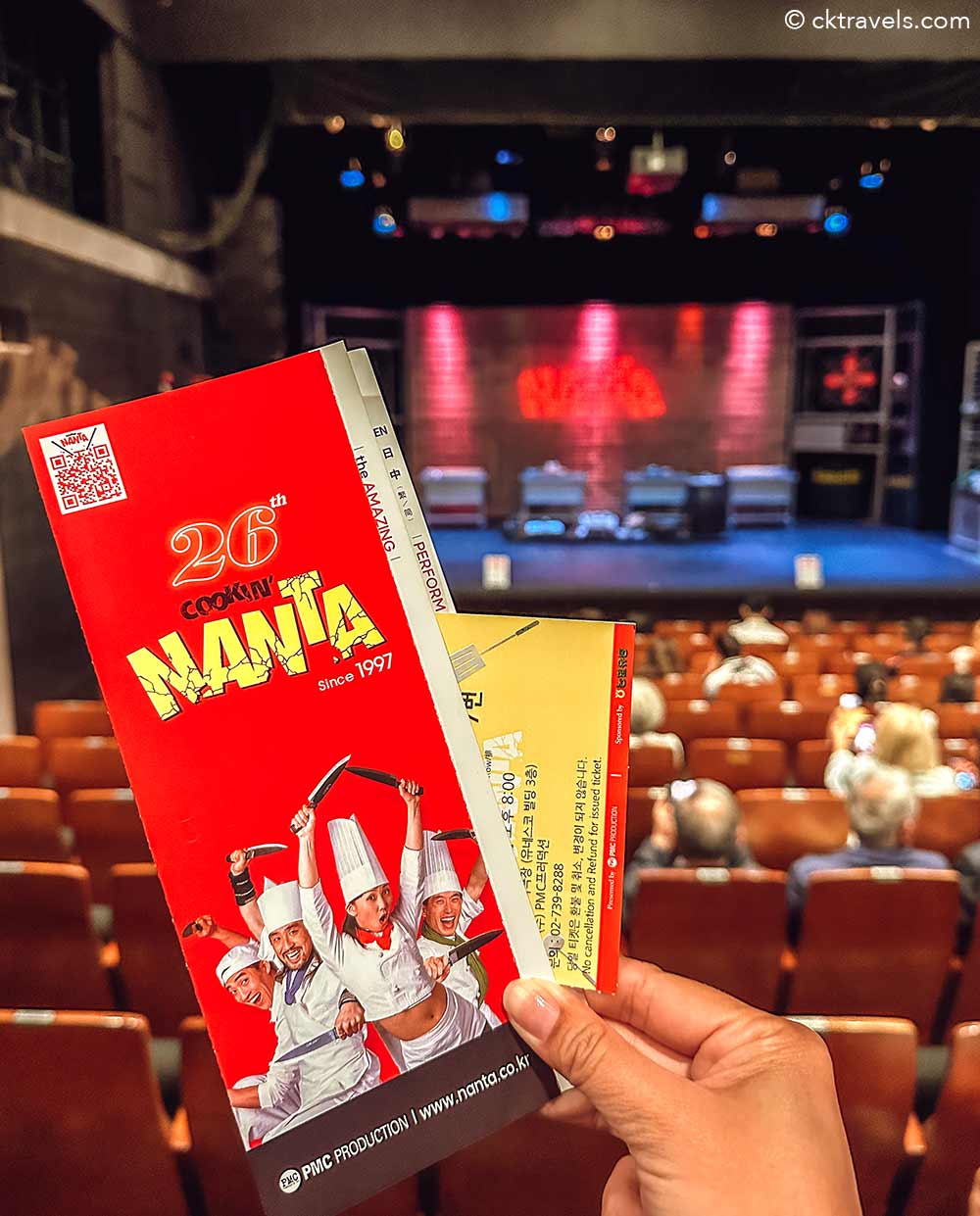 Knives, kitchen utensils and real food are used as props and turned into musical instruments by the performers. High octane and very enjoyable, you might also become part of the show!
Nanta Theatre must be booked in advance when using the Go City Seoul pass.
---
YOU MIGHT LIKE: things to do in Myeongdong >
---
Day 2
Activity 4 – The Alive Museum
We started day 2 with a visit to the Alive Museum in Insadong – it opens at 10am and being the first visitors of the day, we had the whole place to ourselves.
Alive Museum is best described as a trick art selfie gallery where you can pose for some really fun photos in several zoned areas. We particularly liked the gaming zone where you could pop up like Super Mario in a huge pipe plus a 3d black and white illustrated cafe- very instagrammable!
Along the way at Alive Museum, collect stamps on your map and swap these for free candies and sweets at the end. Even though this is aimed at kids, we had great fun fooling and posing for pics – one of the more memorable modern attractions in Seoul.
Activity 5 – Color Pool
Also in Insadong and just a short walk away from Alive Museum, Color Pool is another photo friendly attraction which encourages you to take pictures in several themed zones, all based around different colors (or rainbows).
For instance, when you first walk in, the first room is all pink themed with a huge pink flamingo and pink ball pit.
Alas, when we got to Color Pool, the museum was closed for a photo-shoot which hadn't been mentioned on the Go City app or website – so whilst we did visit, we didn't actually get to enjoy the rooms.
As such, if you are making a special visit to an attraction, you may want to check directly with them or on their social channels that they are definitely open. As we were already in the area visiting Alive Museum, this wasn't a huge hindrance to us.
Activity 6 – Lotte World Adventure Theme Park
One of the best value activities on the Go City pass (worth around $44), Lotte World is an epic theme-park on the edge of Seoul near the river Han that has a huge indoor area plus outdoor Magic island area.
There are attractions for all ages from a sedate monorail that goes around the park through to log flumes, pirate ships plus a brand new VR walkthrough ride 'Battlegrounds World Agent' based on the hit video game. Note that whilst most Lotte World rides are included / free in the park admission, a few require an extra charge.
We also really enjoyed the Lotte World character parade with a cast of hundreds and dozens of brightly lit floats – highly recommended.
Adult admission to Lotte World is usually 62,000 Korean Won ($43.40 USD) so this is an amazing inclusion on the Go City Seoul Pass.
Note: we only spent a few hours at Lotte World, but if you wanted to make more of a day of it, we'd recommend skipping the Alive Museum and Color Pool Museum, and head straight to Lotte World Adventure instead.
Activity 7 – 63 Art Observatory Deck & Aqua Planet 63
This actually ended up being three attractions in one – an observation deck, a superb art museum and an awesome aquarium.
Billed as the world's highest art gallery, 63 Art is located on the 60th floor of the '63 Building', a stone's throw from the River Han, meaning incredible panoramic views of the city and riverside area.
During our visit to 63 Art, there was an exhibition showcasing the work of New York artist and Wes Anderson collaborator Max Dalton – it made great use of the space. There is also a nice coffee shop at the top with views of the River Han.
Also as part of the 63 Art Observatory ticket, you can visit Aqua Planet on the basement level. This subterranean seascape features many aquatic exhibits including sting rays, otters and penguins plus an hourly mermaid show when someone dons a costume and swims with the fishes – how very 'Ariel'!
Art 63 and Aqua Planet was one of our favourite attractions in Seoul and likely something we'd do again as there was so much to see and do here.
Activity 8 – Han River Cruise (E-Land)
Our eighth and final Go City Seoul pass activity on day two was a sunset river cruise on the River Han with E-Land Cruises.
This is a short river cruise on the Han River with an audio commentary. There are several cruises per day, starting from early afternoon with a sunset cruise at 6pm in the summer.
We joined a packed boat (very popular with large tour groups) and enjoyed a trip down the river. As we joined the cruise on a warm sunny evening, the parks along the River Han were packed with picnickers and street food stalls so it was a really nice sight; we were so close you could smell the BBQs!
All Inclusive Pass savings
Based on our itinerary above, the value of our combined attractions and tours was over $225 each ($225.43 based on Go City's website in May 2023).
The cost of our Go City: Seoul All Inclusive Pass for two days was $95 USD each ($190USD for two of us), meaning a HUGE $260 USD saving between us.
So using May 2023 conversions, we each saved £105, 173,000 Korean Won or €121 each after taking away the original cost of the Go City pass.
Is the Go City Seoul All Inclusive Pass good value?
Yes, as we have just demonstrated, based on our own experience we saved $260 between us in two days. Although your saving obviously depends on how many attractions you visit and the cost of these.
If you use this pass for the higher cost attractions like Lotte World and the DMZ tour (usually over $110pp for the two alone), you'll be saving money straight away, anything else you visit will be a bonus.
In summary, Go City: Seoul All Inclusive 2-day pass:
Total retail price of attractions visited (1 person) = $225.43 USD
1 x 2 day Seoul All Inclusive Passes = $95 USD
We each saved 57.85 % = $130.43
How to use the Go City: Seoul Pass tactically
The key thing to remember about a Go City: Seoul pass is you can purchase it in advance, or during your actual visit to Seoul – the timer only starts to count down (on the app) at the first point of redemption i.e. when you hand over your phone to an attraction ticket desk and they scan the QR code.
To get the best use out of say a two day pass, make sure you start the first day with an early tour – e,g, our DMZ half day tour on day one started at 6.20am meaning we had plenty of time later that day to do other activities like the Nanta Theatre show which began at 8pm or the observation decks which close around 10pm.
The same principles apply to the 3, 4 and 5 Go City: Seoul All Inclusive passes.
Can you get a refund on the pass if you don't use it?
Yes, you may cancel the Go City activity pass within 90 days of the payment date – this is the Go City risk free guarantee. However, if you use the pass and it is activated and you cannot get a refund.
How long is the pass valid?
It depends on the type of Go City Seoul pass you have purchased.
If you have purchased an Explorer Pass, you'll have 60 days from first use to visit your remaining attractions.
With an All-Inclusive Pass, it will activate when you visit your first Seoul attraction or day tour and then be valid for the number of days you've purchased.
Non-activated Go City Explorer and All-Inclusive passes are valid for two years from the date of purchase.
Are there any downsides to using a Go City All Inclusive Pass?
No, not really (other than feeling knackered after doing 8 activities in 2 days!).
One thing we noticed is that the tour length descriptions (likely provided by the tour companies themselves) weren't always accurate meaning it can get tricky if you are trying to fit in several activities in one day without much time between them.
So for instance, our DMZ half day tour was advertised as beginning at 7.30am but we received a whats app message the night before from the tour guide saying it had been brought forward to 6.30am. Also our 1 hour River Han cruise only lasted 30 minutes.
If your timings are tight, do check directly with the tour companies when their activities begin and finish.
Also as mentioned, we found the Color Pool Museum closed on the morning we visited for a 'special event' which wasn't mentioned on the Go City app. As we had a tight schedule on the final day of our pass, we didn't have time to revisit later that day. So you may want to double check directly (e.g. on the attraction's social channels) before you visit if you are making a special effort to get there.
Go City: Seoul All Inclusive Pass Summary
We received a 2 day Go City: Seoul All Inclusive Pass online and found it very easy to purchase, set-up and use within the Go City app.
We used our Go City: Seoul All Inclusive Pass on 8 different attractions and tours over a two day period and made a saving of over $260 USD between us (or around a 58% saving).
If you plan and make your bookings in advance, you can definitely get more value out of the pass.
This is the second time we have used a Go City pass successfully – read our review of using a Go City Bangkok pass here >
When we return to Seoul, we would definitely consider purchasing another Go City pass – find out more about other Go City Passes >
You can find out more about the specific Go City: Seoul passes here >
You might like to watch our Go City Bangkok Pass Video
Other South Korea posts you might like
Did you enjoy our Go City Seoul Pass – is it worth it? blog post? Let us know in the comments or by sharing it on social media.
Disclosure: Our 2 day Go City Seoul Passes were gifted, but all views are our own.
You can follow CK Travels on:
Instagram
Facebook
TikTok
YouTube
Pinterest