This post may contain affiliate links to tours and hotels. These help us earn a small commission at no additional charge to you.
Now a nice neighbourhood and hipster hang-out, Seongsu-dong in Seoul was once an enclave of industry with limited appeal. Since its trendy transformation, it is well loved by locals, a happening hybrid of street-art, pop up shops with weird and wonderful warehouse spaces.
A cradle of counterculture and the place to be seen in Seoul, Seongsu-Dong is a chock full of cool spots from shipping container malls to cute coffee shops and clothing stores to craft beer brewery bars.
Still mainly under the radar to most visitors to Seoul, there are also gorgeous green spaces and some village vibes to enjoy in Seongsu-dong, Seoul
Here is our guide to the top things to do in Seongsu-dong, Seoul in 2023:
---
You might like – Best things to do in Seoul, South Korea >
---
How To Get To Seongsu-dong in Seoul
Seongsu-dong is easily accessible by public transport – nearby stations include Konkuk University (Seoul Subway Line 2 or 7), Ttukseom Station (Seoul Subway Line 2) or the eponymous Seongsu Station (Seoul Subway Line 2).
Alternatively it is easy to take a taxi to Seongsu-dong.
CK Travels tip: If you have time, we'd alternatively recommend starting your trip to Seongsu-dong by getting the subway to Ttukseom Station and taking a walk through Seoul Forest Park, or by taking the subway to Seongsu Station and start your walk at Common Ground shipping container shopping mall.
This means that after all that walking in the park or shopping, you can reward yourself in one of our highlighted Seongsu-dong cafes or craft beer bars. You're welcome!
---
You might like – Where to stay in Seoul / Best Neighborhoods Guide >
---
1. Seoul Forest Park
Seoul isn't short on superb outdoor spaces but Seoul Forest Park in Seongsu-dong is certainly one of the best.
The third largest park in the city, not only does it have 3,000 acres of green space and ponds to peruse but also several free to visit wildlife areas like a deer park and butterfly house.
Opened in 2005, Seoul Forest Park is popular with locals and widely enjoyed for picnics, recreation and summer festivals.
Best of all, there is much woodland and wildlife to enjoy – for us, the highlight of Seoul Forest Park was the deer corral where you could see dozens of deer.
For a better view, you can head up on the aerial walkway which allows both an aerial perspective of the deer plus nice views of the forest and waterways. There is an insect house too plus a honey-bee garden and rose garden.
The most popular spot in Seoul Forest Park seem to be the lawns and seating areas around the main lake – many visitors had brought coffees and treats from the nearby cafes and dessert stores in Seongsu-dong Village.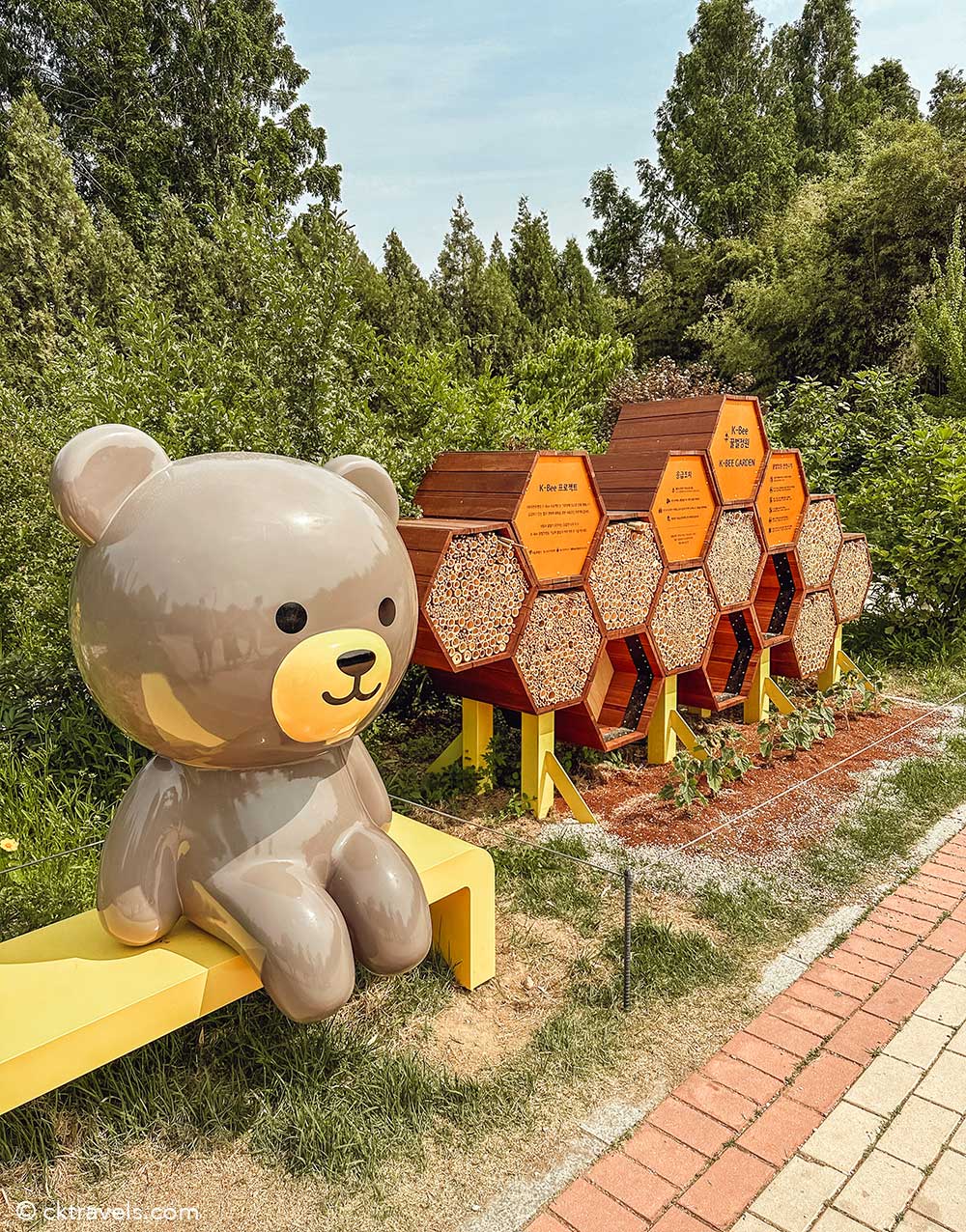 ---
YOU MIGHT LIKE: Things to do in Hongdae Seoul guide >
---
Shopping in Seongsu-Dong
In need of a bit of retail therapy in Seoul or a fashion fix? From shipping container malls to pop up shops, shopping in Seongsu-Dong is a satisfying experience:
2. Common Ground, Seongsu-dong
Located on the outer edges of Seoul's Seongsu-dong district, Common Ground could definitely be described as one of the more unique shopping malls in Seoul.
Built out of tonnes of brightly painted shipping container units, this creative and cultural container park is the first of its type in South Korea, having opened in 2015.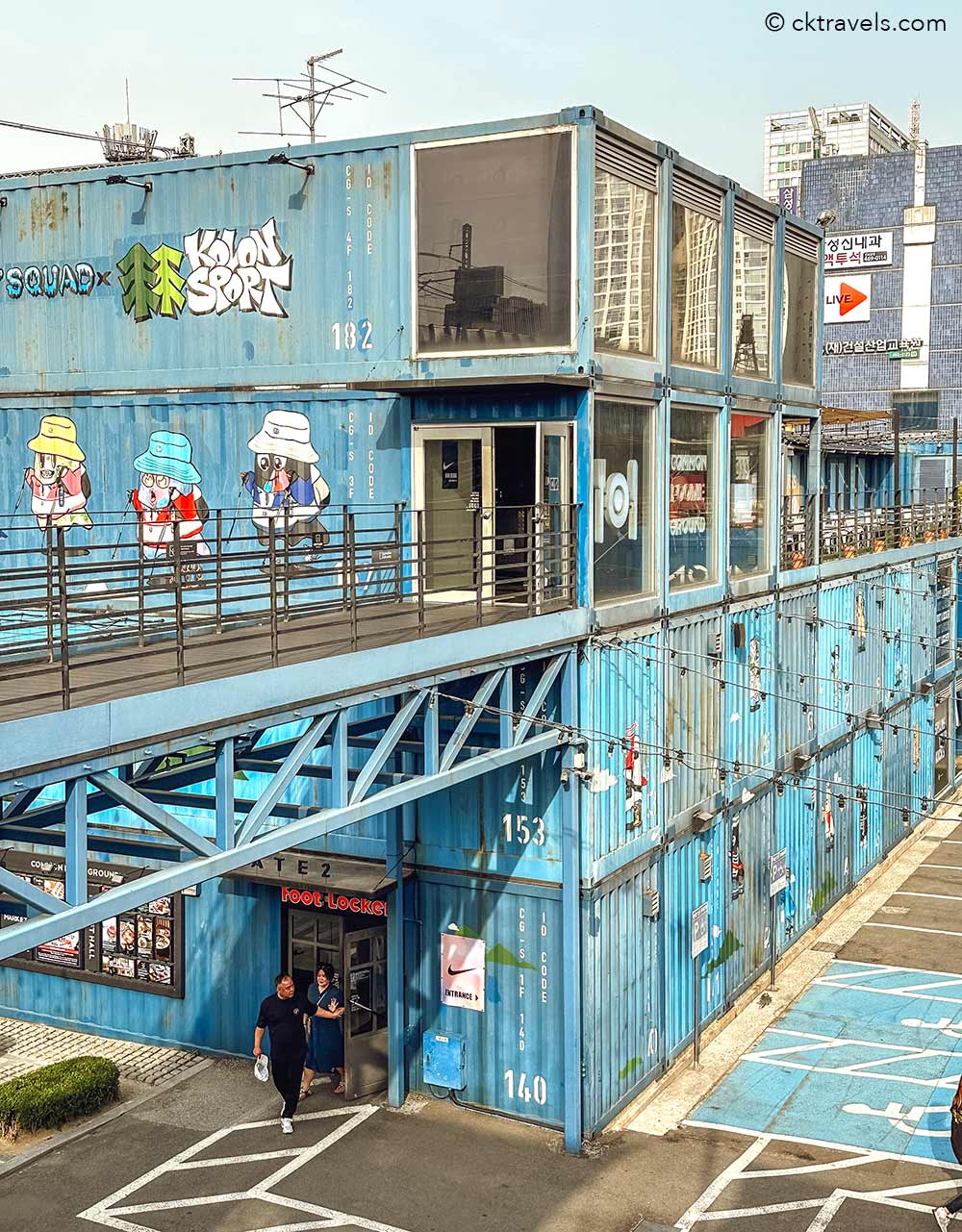 Based over three levels, Common Ground shopping mall comprises a Street Market section, a Market Hall and a Terrace Market. We also really liked how it made great use of the space with stores and restaurants both inside and out, across multiple levels.
Flagship tenants and shops at Common Ground include a multi-level Nike store, an Under Armour store, Adidas Originals plus a series of ever changing pop-up shops and events.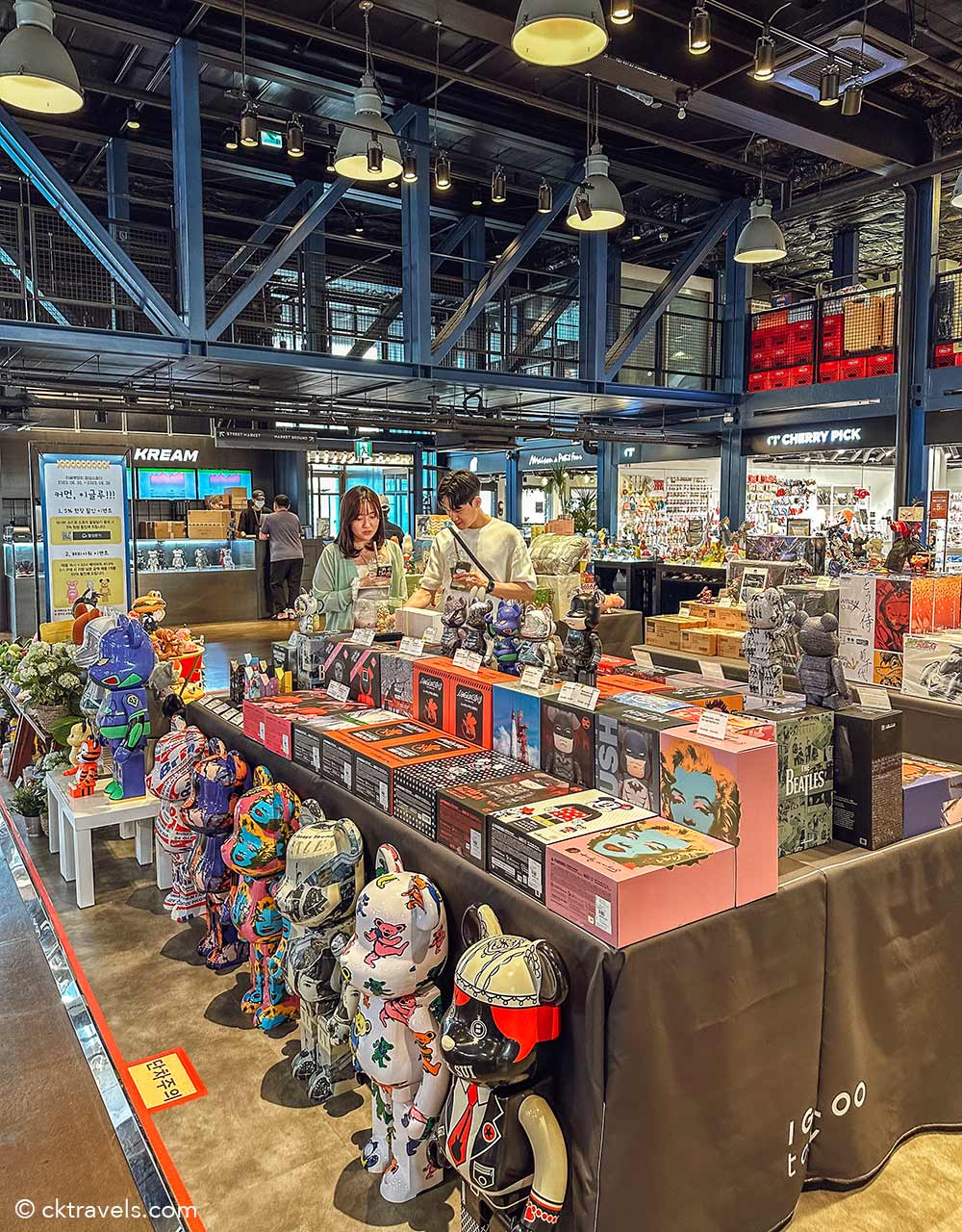 When we first approached Common Ground in Seoul, we weren't too sure what to expect as all we could see was a bright blue corrugated iron entrance way – but don't be put off by first appearances. Once inside, there are tonnes of super chic and cool clothing shops, sneaker stores plus lots of great geeky toys like gachapon machines and claw machines.
Common Ground Mall in Seongsu-Dong is ppen daily from 11am to 10pm (some Common Ground food outlets stay open until 1am).
---
YOU MIGHT LIKE: Guide to all the best shopping malls in Seoul, South Korea >
---
3. SUPY Seongsu
S'up Seoul! SUPY is a super cool South Korean concept and fashion store with branches in Myeongdong, Hongdae and this one in Seongsu.
Launched in 2015, each of SUPY's three stores has its own unique identities and the great thing is they aren't just your standard clothes shops. Each store is almost like an art museum with clothes, chock full of hip items, sports gear and unique sculptures – even their entrance ways are generally quite hidden away.
The SUPY Seongsu-Seoul branch is no different – like the Daelim Changgo coffee shop just across the street, the entrance is pretty discreet with no clear sign as to what to expect inside.
Past an unmarked entrance and then through a revolving door, you emerge into a neon wonderland of cool clothes, top tunes and fun fashion – if only all clothes shops were such an adventure.
---
You might like – things to do in Insadong, Seoul >
---
4. Luxury stores in Seongsu
As well as independent fashion retailers, you'll also find fine fashion and luxury goods in Seongsu-dong.
For instance, the luxury fashion and clothing company DIOR has an epic Seoul store here – DIOR Seongsu. It is actually meant to be a semi-permanent pop-up DIOR store, having opened in late 2022.
DIOR Seongsu is scheduled to stay there for several years – such is the interest and 'bling' of this store, it seemed to be one of the most popular photo-shoots in Seongsu.
Across the road DIOR Seongsu, you'll also discover one of Tanburin's flagship Seoul stores – Tamburin, a famous South Korean skincare and cosmetic brand from the brains behind luxury optical brand Gentle Monster.
---
You might like – Things to do in Myeongdong, Seoul >
---
5. Seongsu Pop-up shops
Seriously, based on our visits in summer 2023, Seongsu-Dong / Seongdong-gu has to be the place for pop-up shops and one-off stores in Seoul – almost every street corner or high street had some form of warehouse or industrial unit transformed into a temporary fashion store or bar.
When we explored Seongsu-dong, we spotted around a dozen or so pop-up stores including a big and bold Mark Gonzales shipping container store (SOOOO yellow) chock full of skateboard wear, a Chanel summer pop-up plus even a KODAK photography clothing store.
A couple of beer breweries also set up temporary bars so you could try their new beers – cheers to that!
---
You might like – things to do in Ikseon-dong Hanok Village, Seoul >
---
6. 'paperdollmate atelier'
One of the most striking stores in Seongsu can be found on Seoulsup 2-gil, where the exterior replicates a doll's house and arcade claw machine. The delightfully designed store sells South Korean style character dolls, cute cartoon stationery plus illustrated items.
---
7. Seongsu-dong Street Art
Like many Seoul neighborhoods, Seongsu-dong is splashed with superb street-art from small scrawls in the side-streets to colossal canvases on the sides of buildings.
Even on our last visit, a Seoul street artist was putting the finishing touches to a sublime Spider-man in Seoul mural hidden away in the side-streets of Seongsu-Dong.
The best bit of Seoul's street art scene is that the alfresco artwork and colourful creations on buildings are forever changing, so you never know what you'll see.
We found the best areas for street art in Seongsu-dong were the side streets off Yeonmujang-gil (this is where we saw the Spiderman street art being painted) plus in the Seongsu-dong Village / Seoulsup-gil area near Seoul Forest Park.
We were lucky enough to also see the finishing touches being added to a incredible illustration of Joaquin Phoenix being added to the front of Lowide Coffee Bakery (possibly to promote his 2023 movie 'Beau is Afraid') – either way, the Seongsu-dong street art scene is some of the best in Seoul.
---
You might like – the best street art in the world or London's street art capital, Shoreditch
---
Coffee Shops in Seongsu-dong
Given the industrial setting of eastern Seongsu-dong and the village setting of western Seongsu-dong ( Seoulsup-gil) that has leafy borders with Seoul Forest Park, the cafe and coffee scene is perhaps the best in Seoul.
If you haven't 'bean' to a Seongsu-dong coffee shop to get your caffeine fix, you haven't really experience Seoul's coffee shops.
Some of the best coffee shops and cafes in Seongsu-dong, Seoul include:
8. Daelim Changgo
Possibly the best known coffee-shop in Seongsu-Dong (and certainly the most Instagrammed), Daelim Changgo is a wonderful warehouse coffee shop that is like no other in Seoul.
'Changgo' is actually Korean for 'warehouse' and you could quite easily miss this colossal coffee shop if you didn't know about it. There are no giveaways from the outside as to what to expect inside other than a huge wooden door on the outside that simply says 'Open'.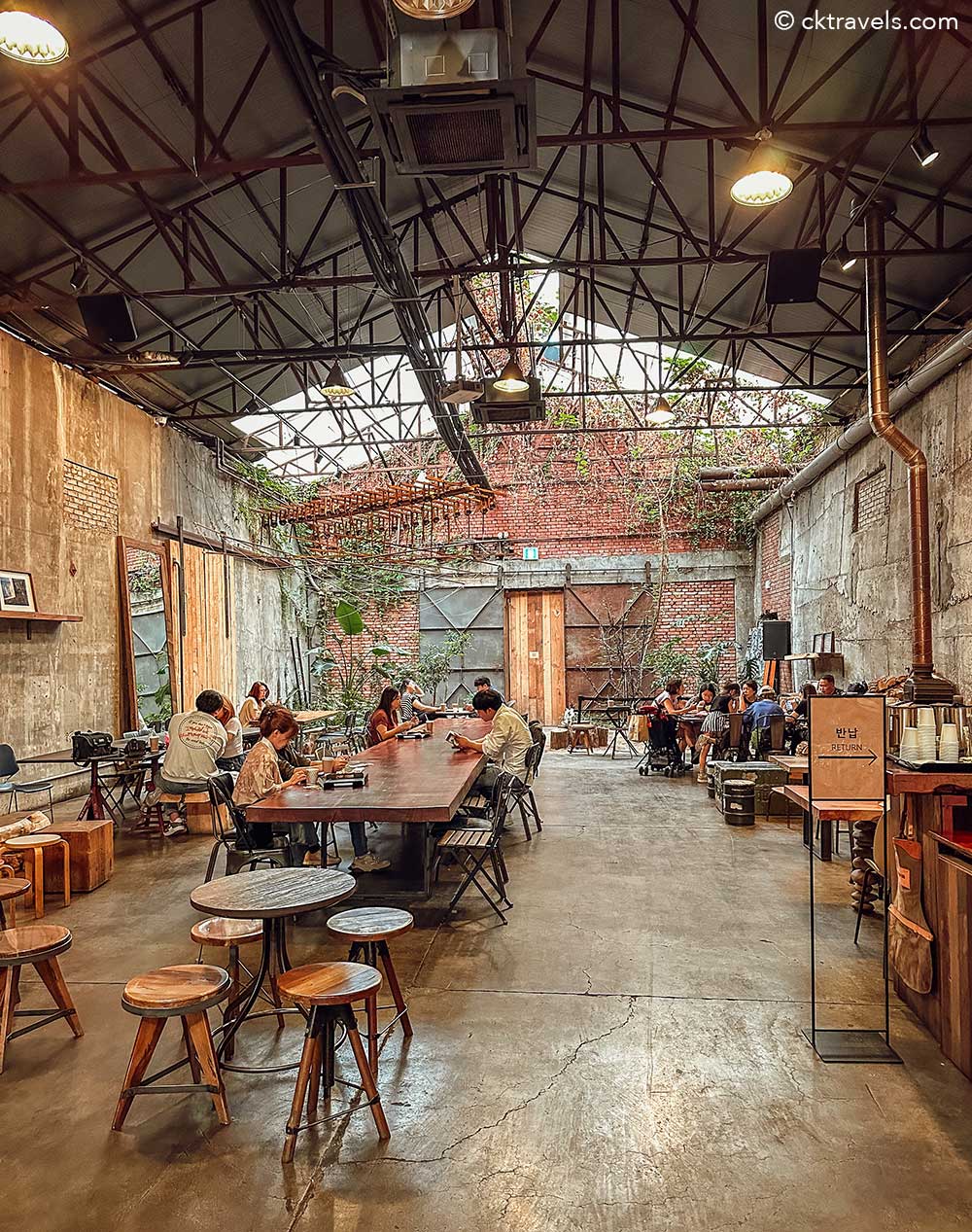 Inside, you'll find an artisan array of baked goods and sweet treats plus two huge warehouse rooms with art installations and pop-up exhibitions.
When we visited Daelim Changgo in Seongsu-dong, we found it so hard to choose what we wanted in the bakery section – on offer were amazing pastries like earl grey tea canales or dark chocolate croffins and coconut croissants. Please, just take all our money now!
---
You might like – Things to do in Gangnam, Seoul >
---
9. Perment Bake Shop
Located along Seoulsup 2-gil, you know you are getting close to Perment Bake Shop when you can smell the fresh bread and croissants baking and wafting down the street.
Baked fresh every day, Permanent's Bake Shops bakery range includes baguettes, pretzels, cinnamon rolls and pain au chocolat (and of course coffee) – we were smitten by their Maple Montblancs (c'est bon)!
If you want a quiet spot to read, work or simply sip your latte in peace, the basement level at Perment Bake Shop in Seongdong-gu is a child free and pet free zone.
---
You might like – going to a Seoul baseball game and how to buy tickets >
---
10. Lowide Coffee Bakery
As mentioned briefly in theSeongdong-gu street-art section, we discovered Lowide Coffee Bakery at the time, artists were painting a massive Joaquin Phoenix mural on the outer walls – surely this is the most colourful cafe in Seongdong-gu? Hopefully the mural is still there when you visit.
Signature sweet treats at the Lowide Coffee Bakery include earl grey egg tart, chunky carrot cake and salt bread. Pretty as a picture and serving great coffee and ice lattes, it is also a great place to people watch or grab a takeaway coffee to take into Seoul Forest Park next door.
---
You might like – Netflix Knife Cut Noodle Lady stall at Seoul's Gwangjang Market >
---
11. MARK 69
A warehouse style coffee shop Seongsu-dong village, this colossal coffee shop and bar makes good use of the high ceilings and industrial interiors. As well as lattes and tea, Mark 69 also serves international beers plus has a wide selection of wine and spirits.
---
You might like – the Go City Seoul Pass – is it worth it? >
---
12. Useful Atelier
Part coffee shop, part opticians and clothing store, Useful Atelier is a cute as a button Seongsu-dong coffee shop that backs onto Seoul Forest Park.
The ethos at Useful Atelier is that guests should have a pleasant time whilst visiting and not just purchase products – there is also a nice outdoor sun terrace at Useful Atelier.
Given the side-street location, this is also one of the more relaxing coffee shops in Seong-Du.
---
You might like – Guide to Gwangjang Market in Seoul >
---
13. Teddy's Oven Seongsu
Although the name sounds like an underground horror film, this light and bright Teddy's Oven coffee shop has one of the biggest outdoor terraces in Seongsu (perfect for summer).
Although described as a 'Parisian cafe' in style, it actually kinda feels like an English tea house with all its floral patterns and white linen table cloths.
And yes, you can get sweet treats and desserts with teddies on them (although some people may find this level of cafe cuteness a bit too un-BEAR-able).
---
You might like – the Discover Seoul attractions pass – is it worth it? >
---
14. Milky Shop Sungsu Dessert Cafe
"Bring me donuts, not flowers". Our final Seongsu-Dong cafe is an honourable mention to Milky Shop, a bakery and 'donut' market with attitude – specialising in cronuts, doughnuts and pie, this American style diner has a small outdoor eating area.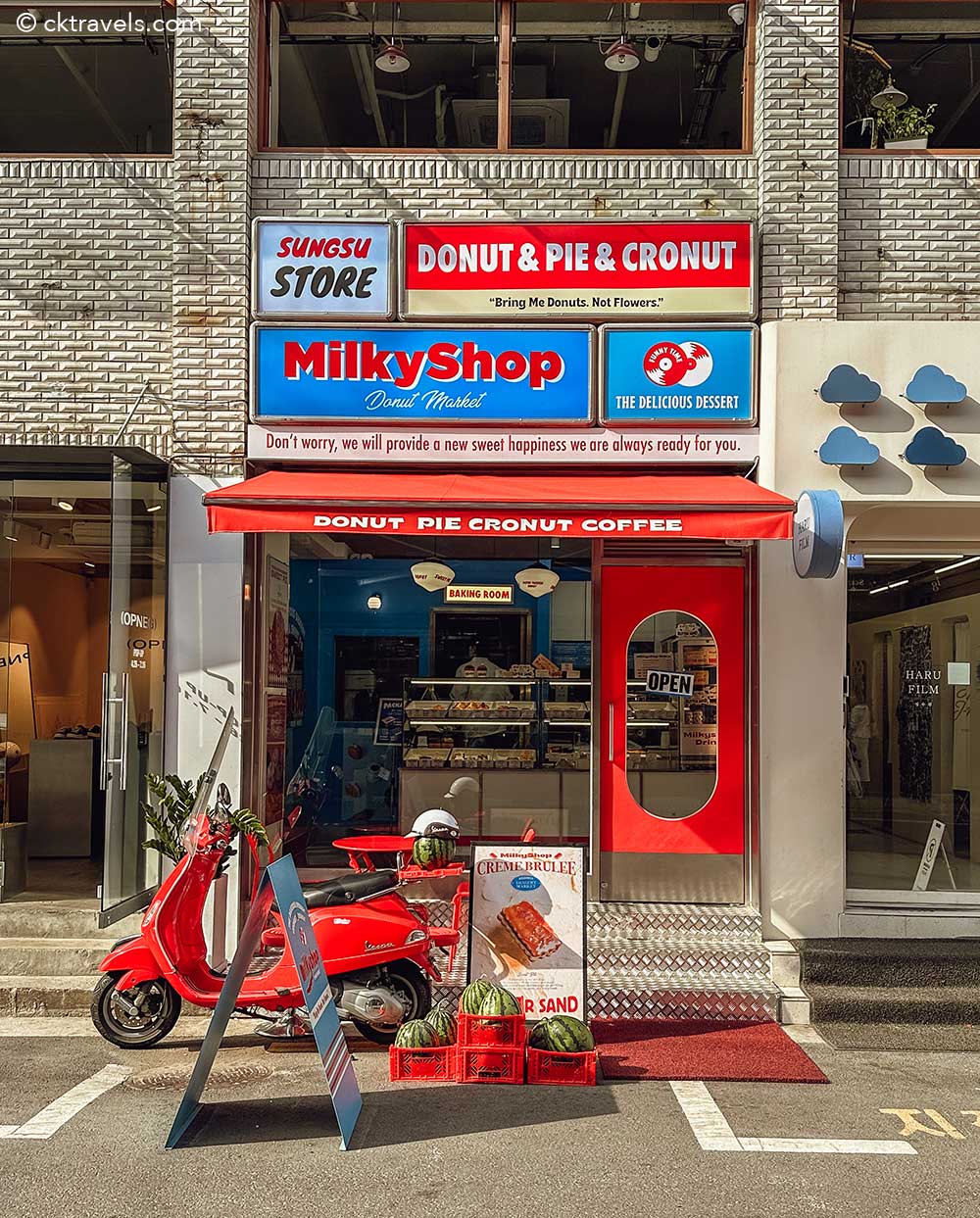 ---
You might like – the best street food in South Korea >
---
Craft beer bars in Seongsu-dong, Seoul
The burgeoning craft beer bar scene is Seoul is represented well in Seongsu-dong, with a couple of brewery bars in the neighbourhood, both of which have outdoor terraces and cool, modern interiors:
15. Seoul Brewery Seongsu
The newest Seoul brewery taproom and craft beer bar at the time of writing (summer 2023), Seoul Brewery Seongsu opened in April 2023 and is one good looking Seongsu-dong bar.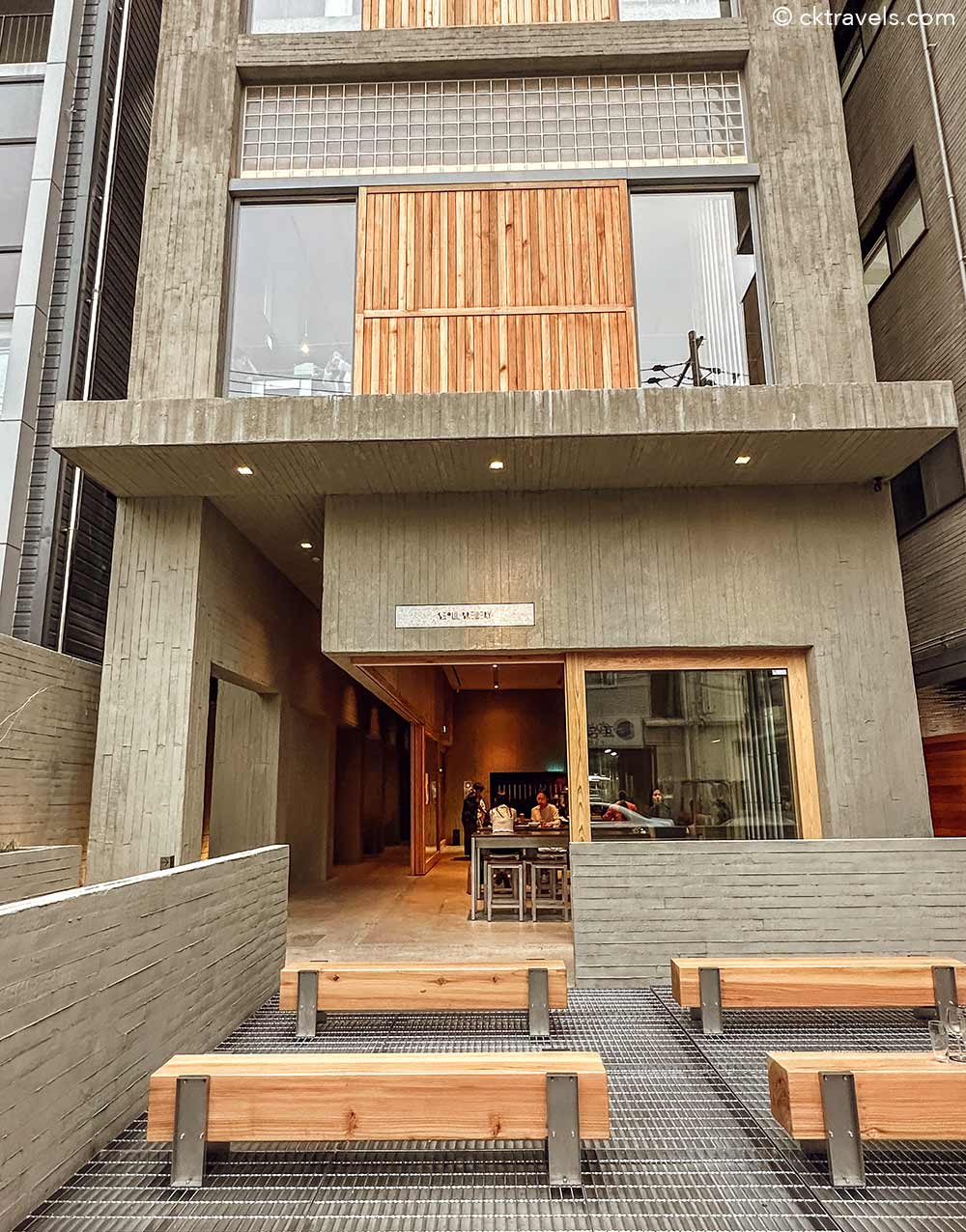 The Seoul Brewery Seongsu taproom is modern and minimalist with lots of wood, glass and light fixtures – if MUJI were to build a craft beer brewery bar in Seoul, this would be it.
Hidden in the backstreets of Seongsu, this good looking brewery taproom also does some fine craft beers – this new brewery site in Seoul also sprawls over several floors with the upper levels due to include more brewing equipment, bars and restaurants.
---
You might like – Things to do in Busan, South Korea >
---
16. Amazing Brewing Company Seongsu-Dong
With a name like 'Amazing Brewing Company', you have to admire this Seoul brewery's confidence – lucky their Seongdong gu taproom and beer garden delivers. As the brewery sign says when you first enter, "Blood, Sweat and Beer' went into creating this classy craft beer experience.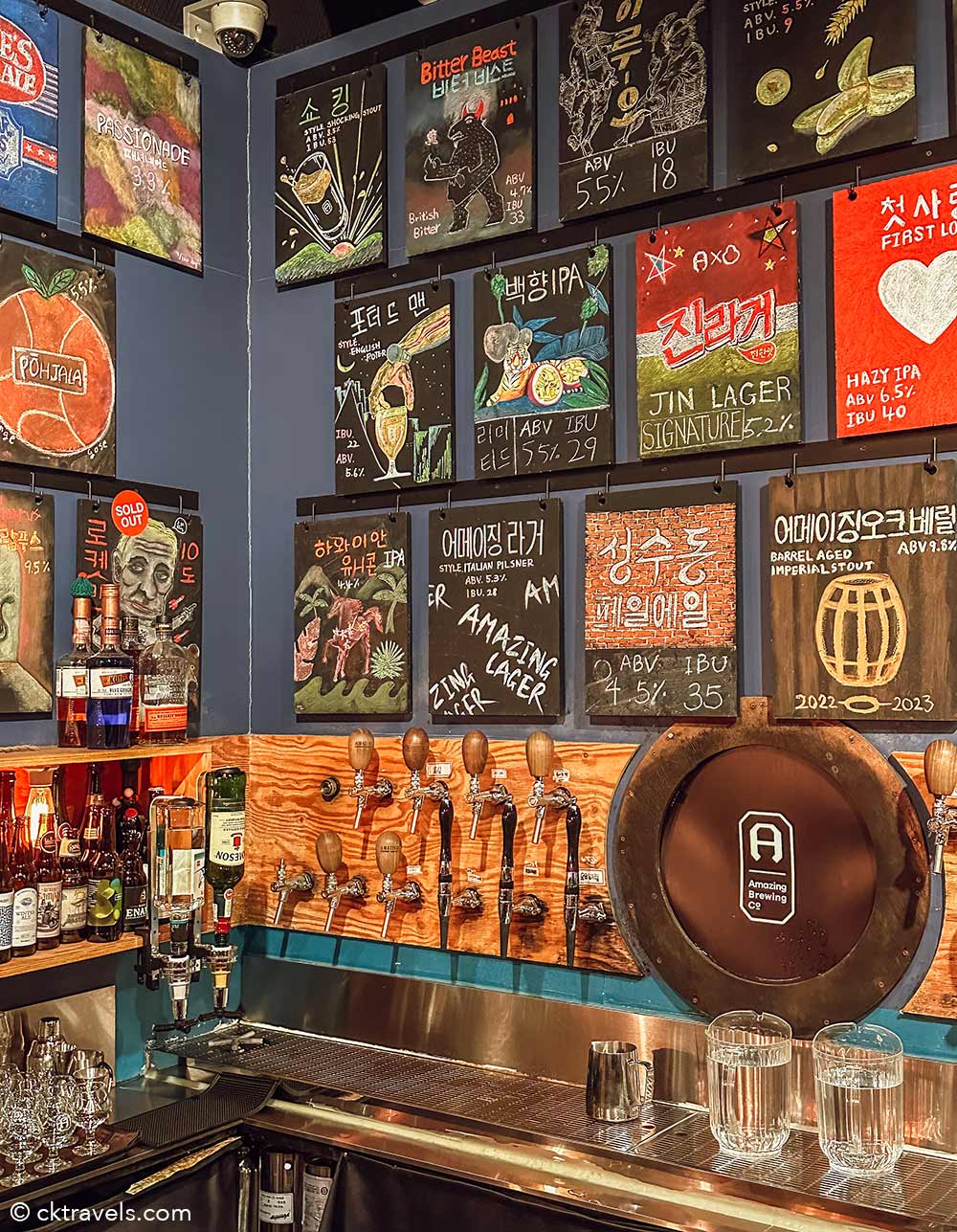 Definitely one of the slickest and best looking tap-rooms we encountered in Seongsu-Dong, Amazing Brewery Company's bustling taproom is split into three main areas.
A big lounge bar complete with beer barrel tables, a large outside beer garden terrace plus a reception area where you pour your own beers or take cans home.
If you want to spend an afternoon in Seongsu-Dong working your way through lots of craft beers, then Amazing Brewing Company is for you! We think we counted over 30 craft beers on tap – so plenty of choice and great reward after finishing off all the other things to do in Seongsu-Dong.
---
Like this? Read our guide to the best breweries and craft beer bars in Seoul
---
17. Korean Selfie Booths
One of the most fun things to do in Seong-su (and in Seoul at night), Korean selfie booth stores are dotted all throughout the neighbourhood, especially along Seoulsup 2-gil in West Seongdong-gu.
Selfie kiosks are brightly coloured stores in Seoul where you can borrow clothes and fun props (like vegetable hats, big sunglasses, animal paw gloves etc) and then pose for selfies or take photos in booths for a small fee.
Often these Korean selfie photo booths allow you to print out stickers as a lasting reminder – popular selfie booth locations include Gangnam, Itaewon, Ikseon-Dong and Hongdae.
Some of the most popular booths in Seong-su are Haru Film (open 24 hours), Photoism and Photo Signature.
---
You might like – A Seoul Photo Studio Experience >
---
18. Other things to do in Seongdong-gu / Seongsu
'Enjoy the smell' says the large neon side in the window. Make your own perfume in Seongsu at Hippocampus
Taste a little piece of Italy at Picky Nicky's Lasagna joint (also available for takeaway to nearby Seoul Forest Park)
Get 'lucky' looking for new Seoul sportswear at Lucky Marche on Seoulsup 2-gil
---
Other South Korea posts you might like
Did you enjoy our Things to do in Seongsu-dong, Seoul blog post? Let us know in the comments or by sharing it on social media.
You can follow CK Travels on:
Instagram
Facebook
TikTok
YouTube
Pinterest