This post may contain affiliate links to tours and hotels. These help us earn a small commission at no additional charge to you.
Gwangjang Market is Seoul's most famous food market, a myriad of market street food stalls selling some of the best food you'll likely taste in Seoul.
Gwangjang Market has bags of character, from the numerous (and competitive) stallholders who beckon you over ("Sit. SIT"!) to the wide variety of different street food available. Boiling hot in the summer and bitterly cold in the Winter, Gwangjang Market is a foodie's dream and a must visit when in Seoul.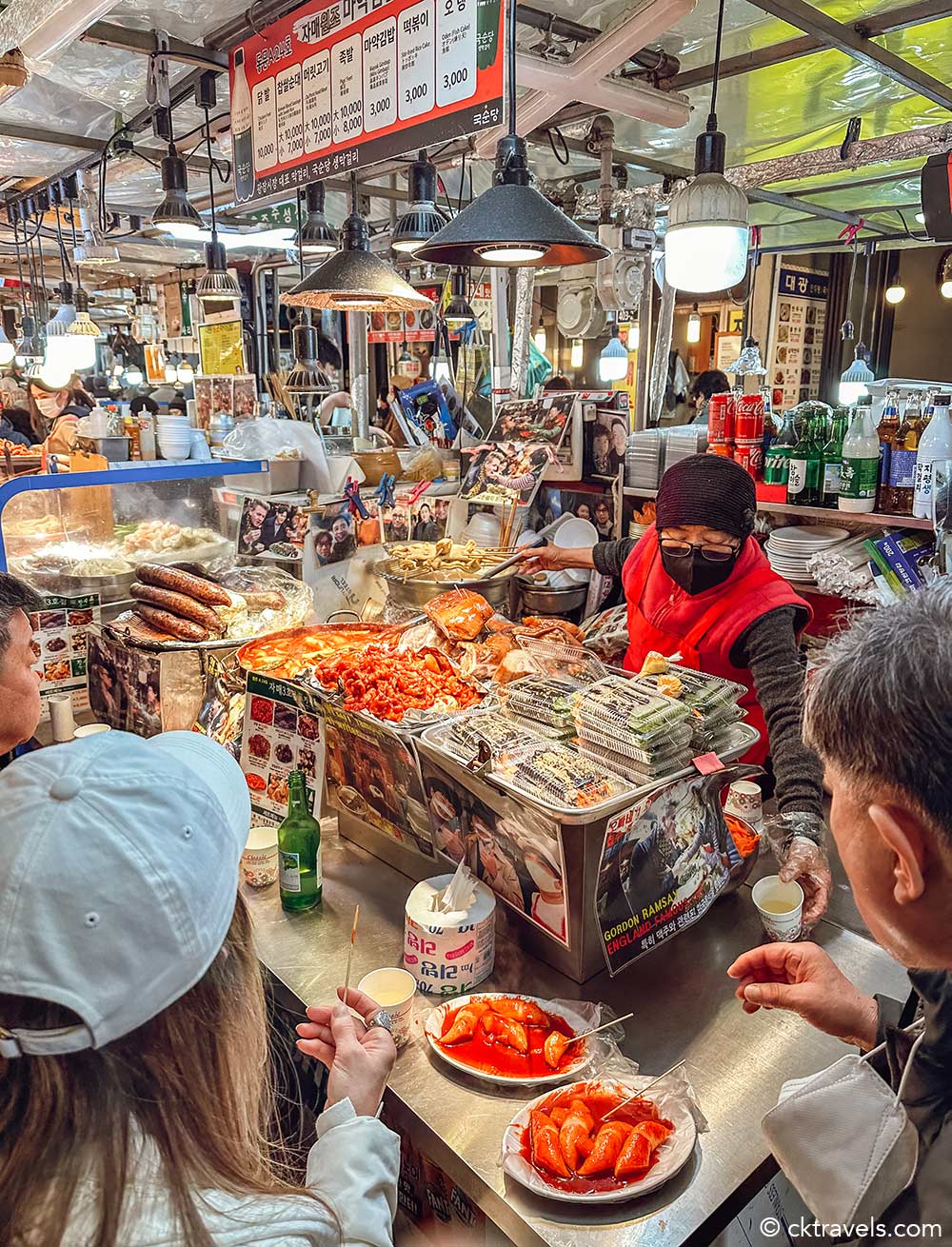 Gwangjang Market food has featured in numerous TV shows including Korean's 'Running Man', 'Somebody Feed Phil' on Netflix, but is perhaps best known to tourists from the Netflix Street Food: Asia show, whereby the story of Cho Yonsoon and her knife-cut noodles thrilled millions (read more about visiting her stall here).
Here is our guide to all the things to do at Gwangjang Markets, including all the street-foods at Gwangjang Market you must try (updated in 2023 with new Gwangjang Market stalls):
How to get to Gwangjang Market in Seoul
To get to Gwangjang Market in Seoul by public transport, you can take the metro to either Jongno 5-ga Station (on line 1) or Euljiro 4-ga Station (on lines 2 and 5). There are also several bus routes which also stop nearby.
We recommend downloading the Korean Naver Map app to plan your journey to Gwangjang Market as Google Maps does not function very well in South Korea.
---
You might like – Where to stay in Seoul / Best Neighborhoods Guide >
---
When to visit Gwangjang Market and opening times
Gwangjang Market is officially open seven days a week but most stalls close on a Sunday or a Monday. If you visit on either of these days, there will be a handful of stalls open still but the choice will be more limited.
The best time to visit to avoid crowds at Gwangjang Market is first thing in the morning, or late afternoon/evening on a weekday.
Peak hours are around lunchtimes (noon to 3pm) and also any time at the weekend. Many stalls open from around 11am but this is specific for each stall.
Note that Google says Gwangjang Market is open from 9am to 11pm but most stalls do not open until 11am or noon (particularly the more popular stalls that don't need the early trade).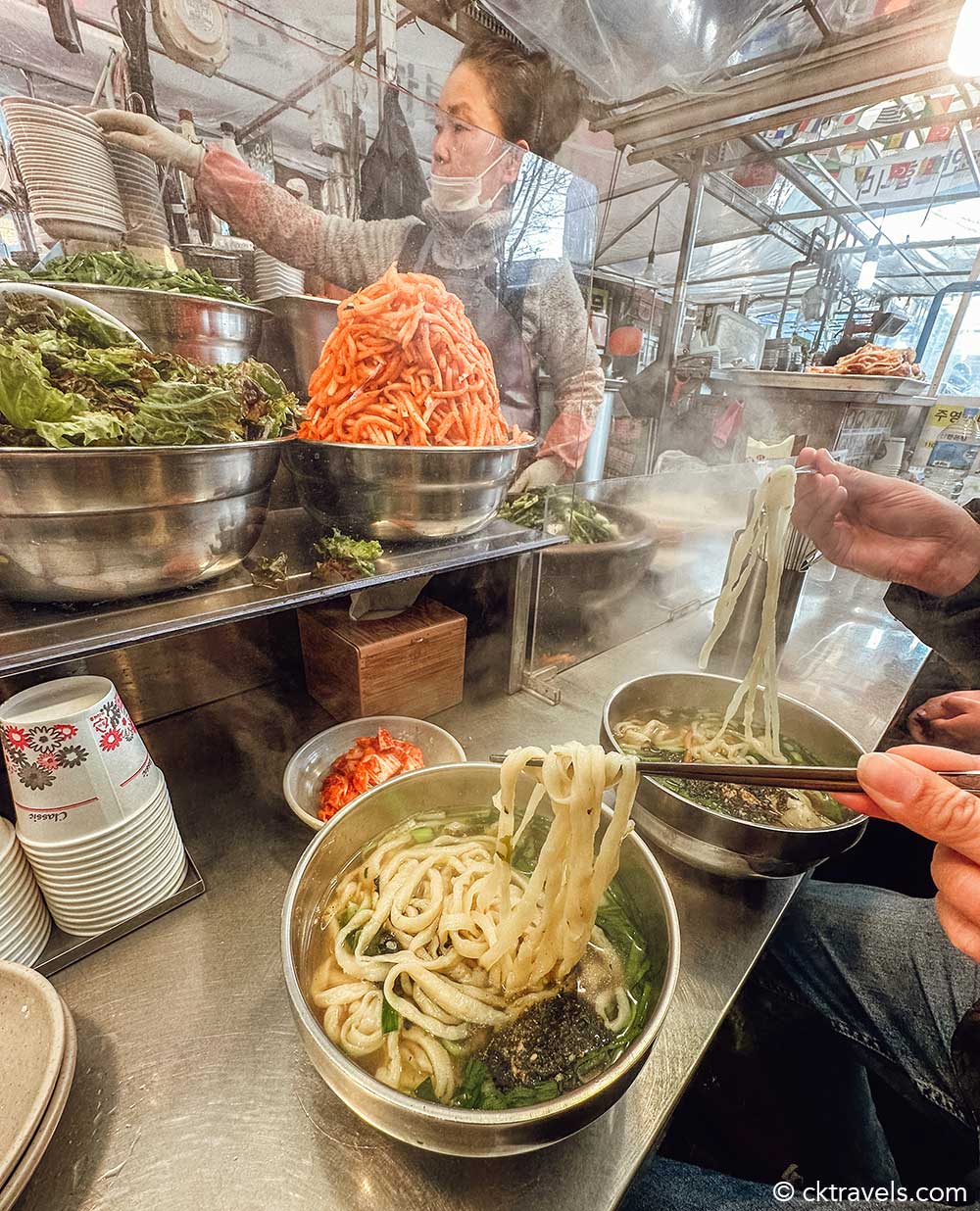 Gwangjang Market opening times 2023.
We revisited Gwangjang Market several times in summer 2023. We noticed that when we visited on a Sunday, most food stalls were still closed but there were a few knife cut noodle and dumpling stalls open, plus most of the restaurants were open.
One Gwangjang Market stall open on Sundays is Pinchang Noodles, operating since 1977 selling noodle dishes from 6,000 Won and 6 gimbaps for 3,000 Won.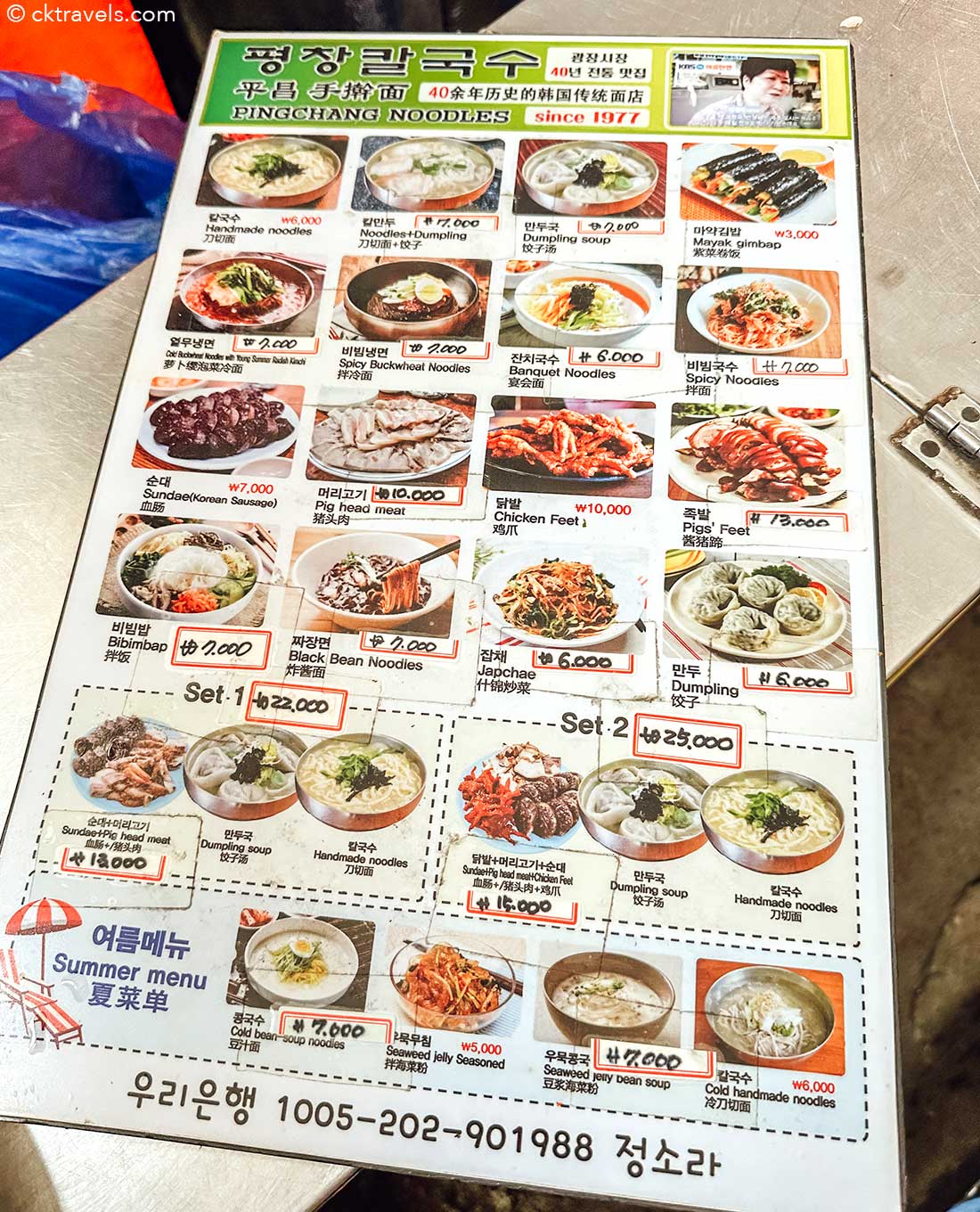 Looking for cheap Seoul day-trips, attractions or group/private tours? We recommend visiting Viator, GetYourGuide, and Klook!
How Gwangjang Market has changed
We've been to Gwangjang Market several times – a couple of times in 2016 and many times in winter 2022 and summer 2023.
We went to the market most days on our latest trip as our hotel (Hotel Venue G) was close and it was an easy walk along the Cheonggyecheon river. To us, the difference in visitor numbers now compared to years ago is noticeably different.
We aren't sure whether this is down to local trends or the Netflix effect, when Gwangjang Market was featured in an episode of Netflix's hugely popular Street Food: Asia series (well worth a watch).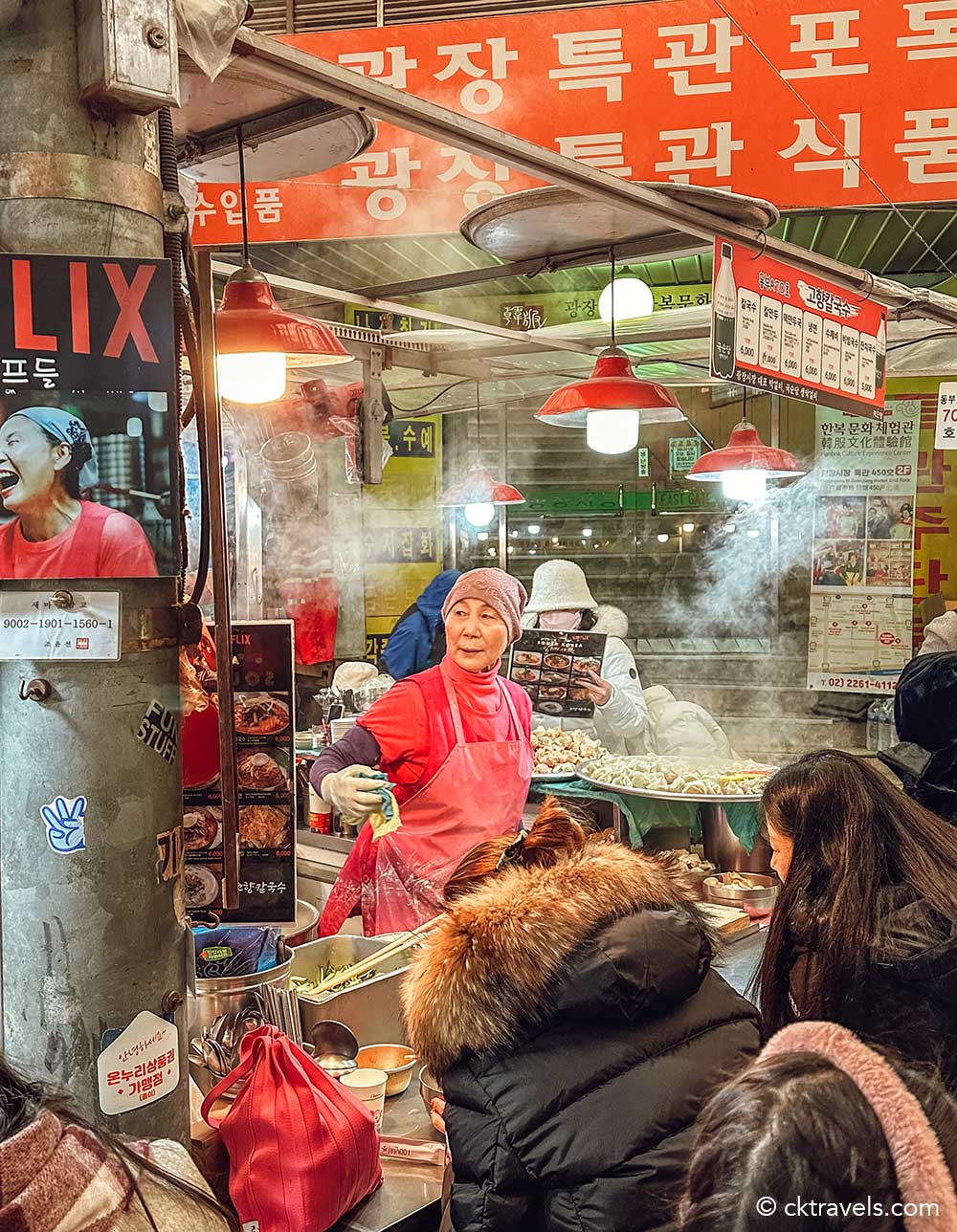 We found it quite easy to navigate Gwangjang Market in previous years and it was never hard to get a seat at most stalls. When we visited in 2022 and 2023, it was densely packed with huge queues for the better known stalls – all this made it very photogenic and atmospheric.
---
YOU MIGHT LIKE: Top things to see and do in Gangnam, Seoul
---
Street Foods to eat at Gwangjang Market, Seoul
With hundreds of food stalls at Gwangjang Market, there is a lot of street food to taste and try. Here is our guide to what Seoul street food to eat in Gwangjang Market:
All Gwangjang Market prices mentioned are correct as at summer 2023 but Gwangjang Market prices can vary from stall to stall.
1. Bibimbap
For us, the bibimbap at Gwangjang Market was one of the most delicious South Korean street foods we tried during our time in Seoul.
A dish which is served in a bowl with a whole heap of vegetables, barley, kimchi and usually a fried egg on top (and sometimes with meat), bibimbap is blimmin delicious.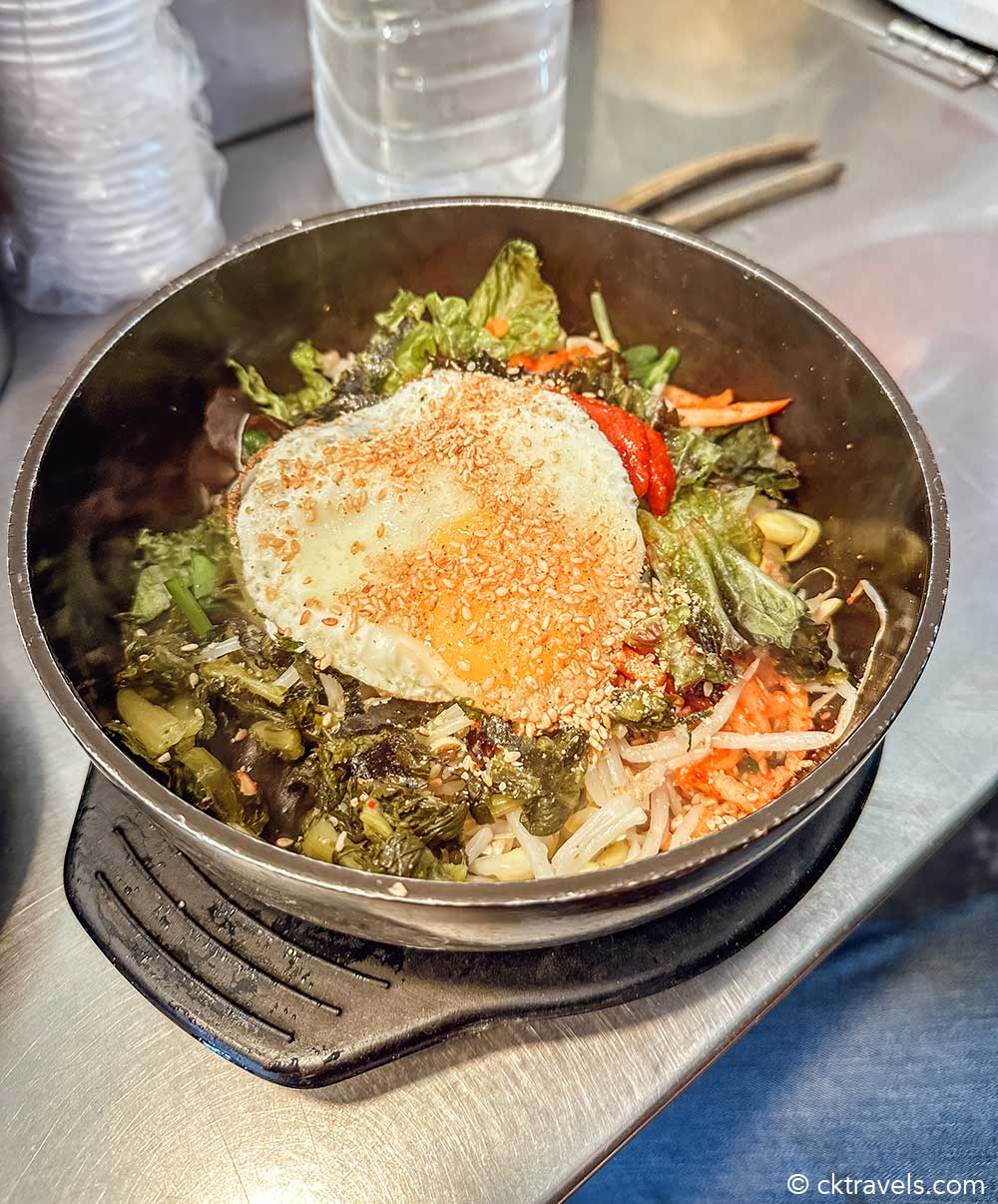 Regular bibimbap generally costs 6,000 Won at Gwangjang Market, whilst the hot-stone bibimbap (popular in winter) cost 7,000 Won.
CK Travels tip: try the bibimbap at Gwangjang Market stall 11 – seriously the best bibimbap we tried in Seoul and hugely popular with the locals. Be warned that if you don't stir it enough, the lady running the stall will come over to you and take matters into her own hands and stir the dish for you – you have no say in the matter but it is done in a very fun way.
---
You might like – Best things to do in Seoul, South Korea >
---
2. Knife-Cut Noodles (Gohyang Kalguksu)
No doubt a huge part of Gwangjang's Market recent popularity has come from its recent starring role in the Netflix series 'Street Food: Asia'.
Whilst this episode focused mainly on one particular Gohyang Kalguksu stall (read about our visit to her stall in this dedicated blog here), there are also many Gohyang Kalguksu stalls to try at Gwangjang Market.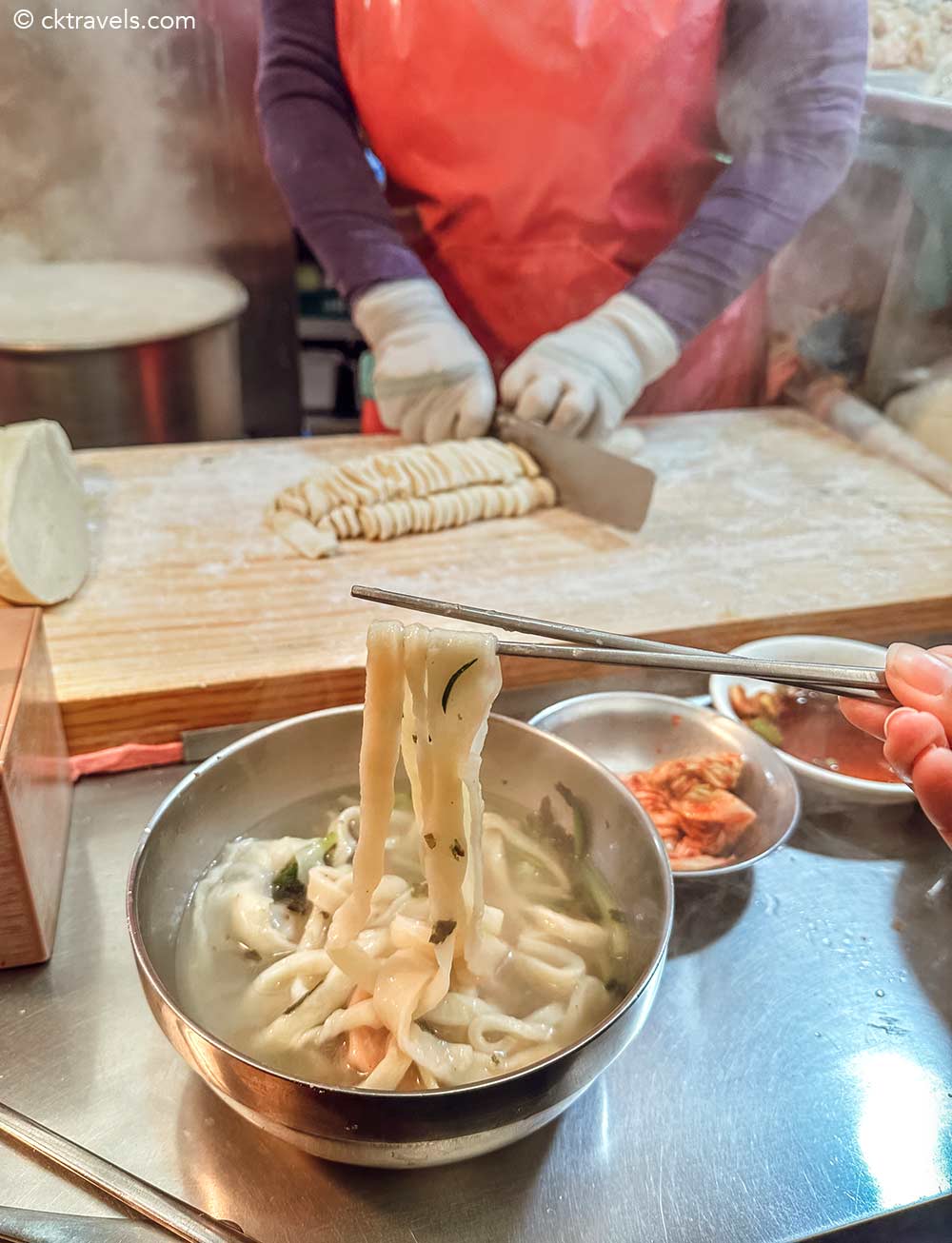 Witness the home-made knife-cut noodles being rolled, kneaded and cut up close and savour their delicious taste in soupy broths – often with dumplings.
A bowl of Gohyang Kalguksu / knife cut noodles at Gwangjang Market costs 6,000 Korean won and with dumplings for 7,000 Korean Won.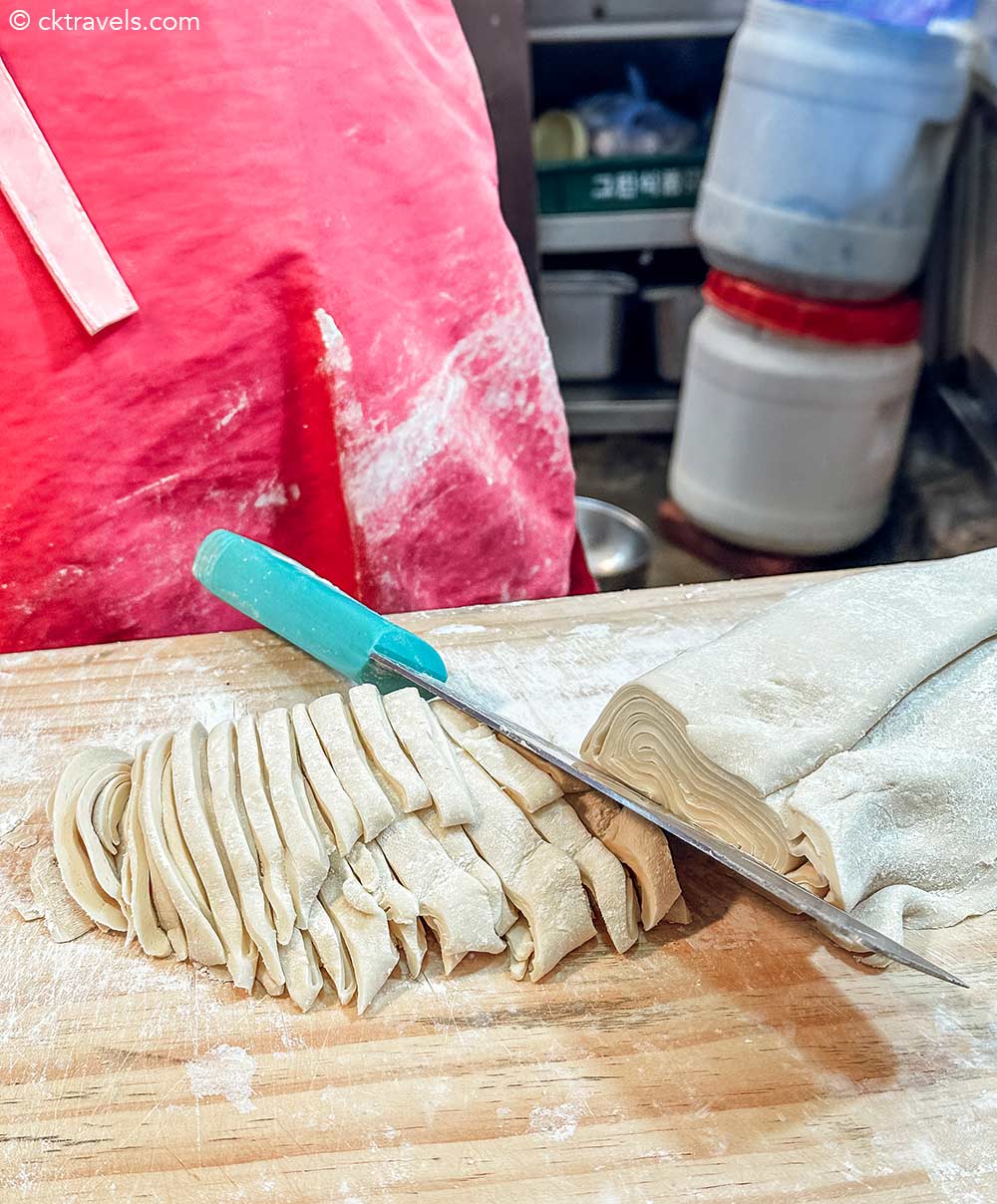 ---
You might like – Myeongdong Kyoja in Seoul – A Popular Kalguksu Restaurant >
---
3. Dumplings (Mandu)
Mandu are Korean dumplings and there are multiple stalls in Gwangjang Market selling them. You can order them in a noodle soup, or served steamed just by themselves.
The two most common versions of mandu sold in Gwangjang Market are either minced pork or kimchi.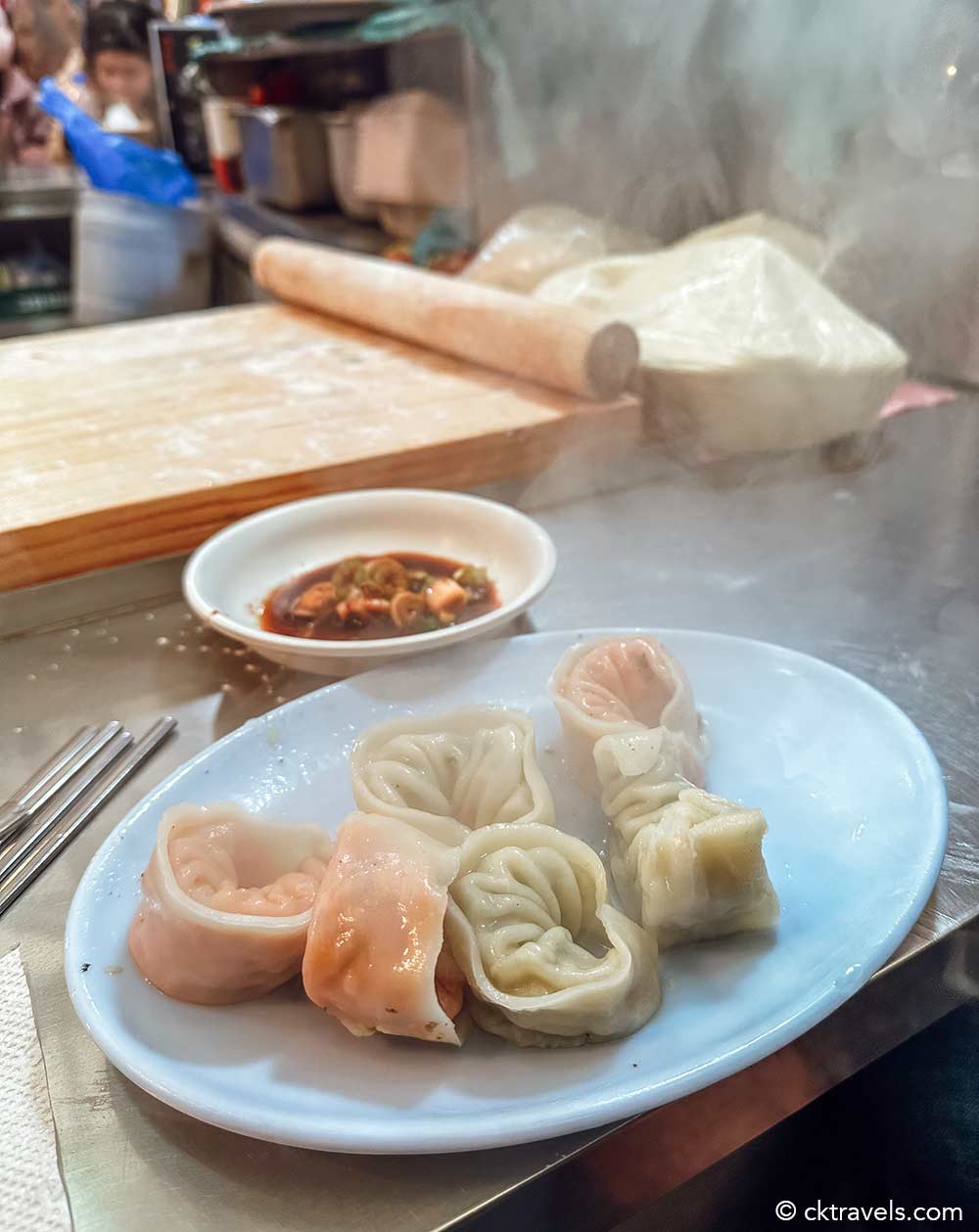 ---
4. Mung Bean Pancake (Bindaetteok)
Based on what we saw, Bindaetteok was the street-food that had the highest number of stalls in Gwangjang Market.
There were lots of Bindaetteok stalls with numerous grinding mills and wheels crushing up mung beans, ready to be put into a batter mix. Kimchi and various spices / seasonings like garlic are then added and the whole Bindaetteok batter mix is dropped into a huge vat of boiling oil.
Whilst not healthy, it is very hearty and warming food, retailing at around 5,000 Won for one huge, thick mung bean pancake.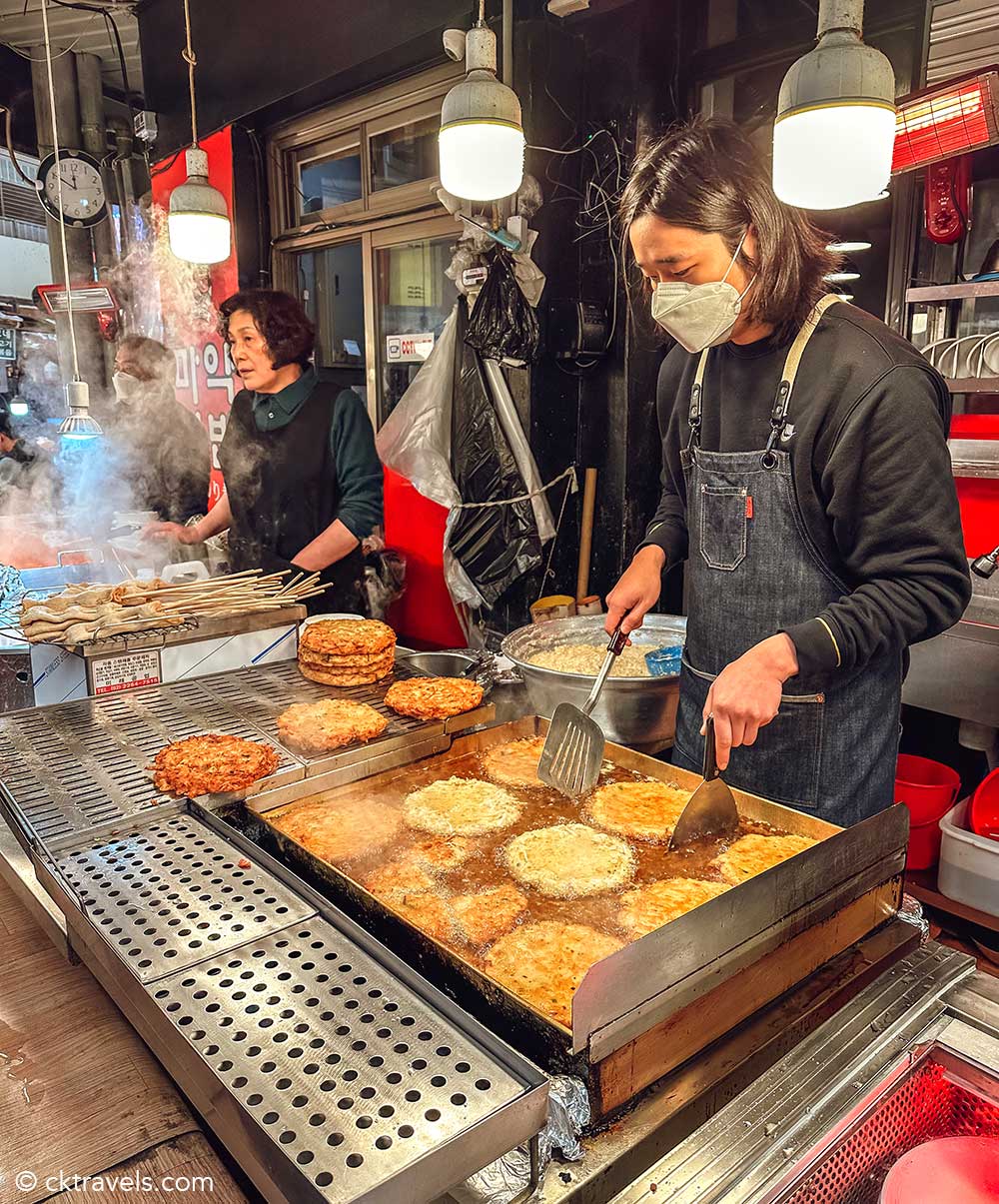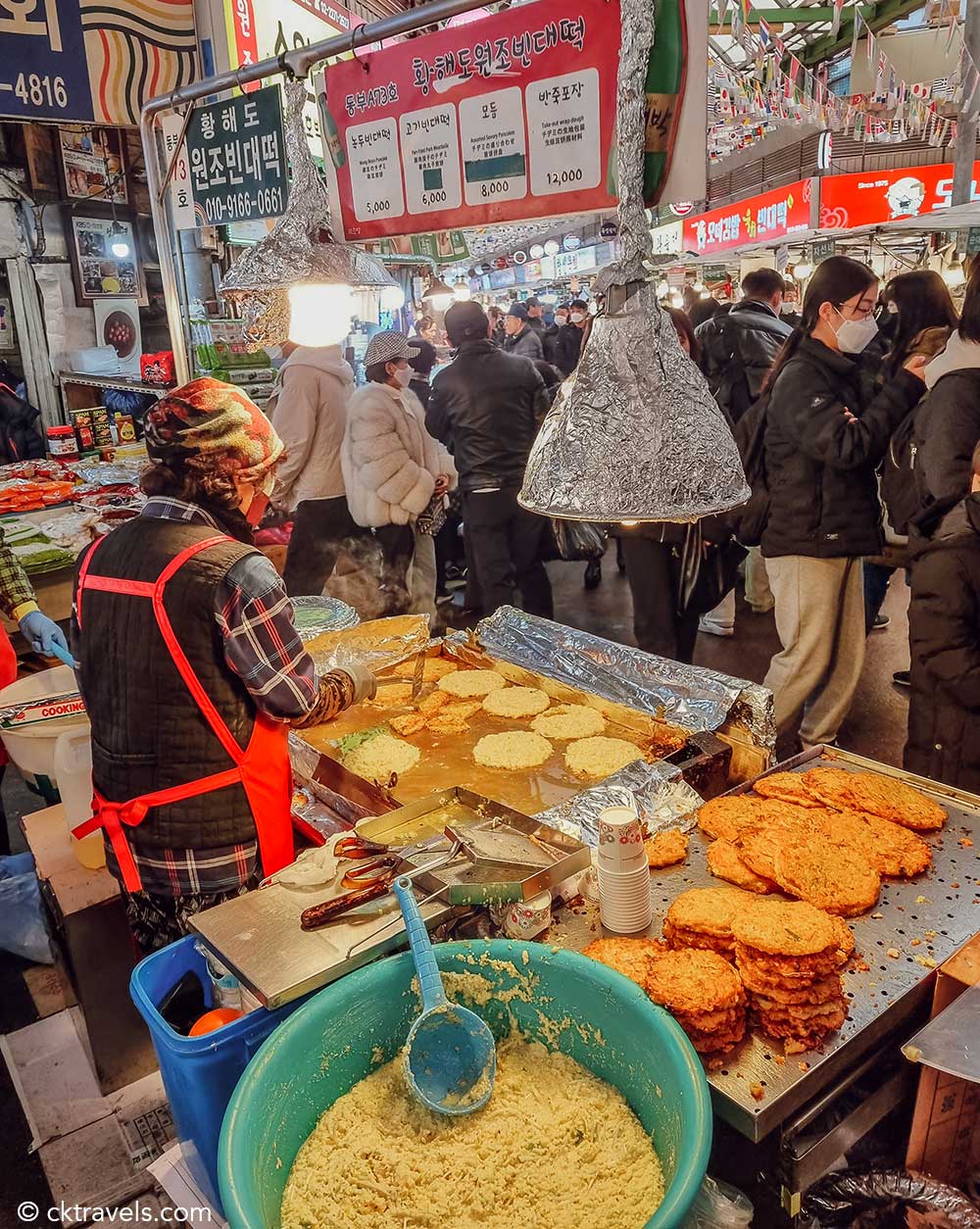 ---
5. Rice Cakes (Tteokbokki)
Popular as and a very nice rice cake, Tteok-bokki is huge at Gwangjang Market with most stalls selling it either as a main or side (and often served with eomuk – like a fishcake).
Served in a sweet syrupy spicy anchovy sauce, tteok-bokki is a must try food (albeit sometimes quite chewy) and retails for around 4,000 Korean Won.
---
You might like – Things to do in Busan, South Korea >
---
6. Korean Blood sausage (Ssondae / Ssundae)
This was one of only a couple of Seoul street foods on this list we haven't tried ourselves but we did sit literally nose-to-nose with one whilst eating at a stall so we know what it smells like.
These huge sausages are massive compared to what you'd find in the United States or Europe and it is sliced before being served. Ssondae / Korean blood sausage is usually made from pig blood and noodles / rice, making for a slightly gummy texture.
On our most recent visit to taste more street-food at Gwangjang Market, we also saw one of the largest queues ever for a old lady sat in the middle of one of the lane-ways, just selling blood sausage (her queue almost rivalled that of Cho Yonsoon, the Netflix knife-cut noodle lady!).
Although she had no stall as such, she sat on a small wooden chair chopping up blood sausage with a line of about 30 people waiting to take it away and eat at home or nearby.
---
7. Live Octopus (Sannakji)
A delicacy in South Korea and something we first saw on the Seoul episode of Netflix's 'Somebody Feel Phil', this isn't something we're comfortable eating so we are just flagging there are stalls that sell it, in case you need to know.
It also wasn't that commonly available on the open stalls and more in the restaurants so if this makes you queasy, you shouldn't need to worry about seeing it. Again, we aren't judging, we are just saying live octopus is available to eat at Gwangjang Market.
---
YOU MIGHT LIKE: top things to do in Myeongdong, Seoul
---
8. Korean Pancakes (Buchimgae)
Buchimgae is a comforting and crispy Korean savoury pancake made with wheat flour which is very popular in Gwangjang Market. It is made by pan frying a thick batter into a thin flat pancake shaped fritter.
There are a few different flavour varieties such as kimchi and chives. The pancake is served in cut up pieces with a dipping sauce.
---
YOU MIGHT LIKE: Things to do in Ikseondong Hanok Village, Seoul
---
9. Soy Raw Crab
As featured on Netflix's Street Food Asia programme, locals often enjoy soy sauce marinated raw / cold blue crabs. This is more available in the fresh ingredients and restaurants section of Gwangjang Market as opposed to the main food stall corridor.
Soy Raw Crab is often served with sides and garnishes and one crab should set you back around 20,000 Won.
---
10. Twisted Donuts / doughnuts (Kkwabaegi)
We first discovered twisted doughnuts (donuts) at Gwangjang Market purely by stumbling over the huge queue that went round the block.
Seriously, this queue for Donut Twists even rivalled the queue for Netflix Noodle lady Cho Yonsoon. The Twisted Donuts line was much longer but went at a faster pace as the donuts are takeaway.
Cheap as chips (or should that be donuts) at 1,500 Won, these deep fried dessert delights are a tad tougher than traditional donuts and very much loved by the locals, particularly the younger generation.
---
YOU MIGHT LIKE: Tasty Korean street foods you must try in South Korea
---
11. Korean Sweet Pancake (Hotteok)
Right next to the Twisted Donut stall at Gwangjang Markets lies an equally delicious hotteok stall.
For us, this is the most tasty dessert in the whole market – a delicious sweet and sticky Korean dessert pancake. We went for the honey hotteok but there are several flavours to choose from, starting at 1,500 Korean Won.
As hotteoks as often served straight out of boiling fat (you could call it a VERY HOT-teok!), we'd recommend you give it a few minutes to cool down first.
---
12. Pizza Pie at Onion Cafe Gwangjang
Another Gwangjang Market street food we discovered by chance (and partly because of the small queue we saw), Onion Cafe specialises in 'pizza pie'. This is essentially layers of flaky sweet puff pastry served with a side of sticky strawberry jam to spread all over plus a syrup glaze on top.
Delicious (sweet baby jesus!) but messy as – Onion Cafe's Pizza Pie costs 4,000 Korean Won a slice plus you can take home a huge whole round pie in a pizza box!
---
13. Korean Hot Dog
A very popular fast-food in South Korea, Korean Hot Dogs are basically a traditional hot dog sausage wrapped in panko bread crumbs with cheese served with mustard and sometimes ketch-up.
'Dirty as' (in a good way i.e. a little unhealthy) with a couple of stalls selling them in Gwangjang Market, the essential Korean hot dog with no other toppings sells for 2,500 Korean Won.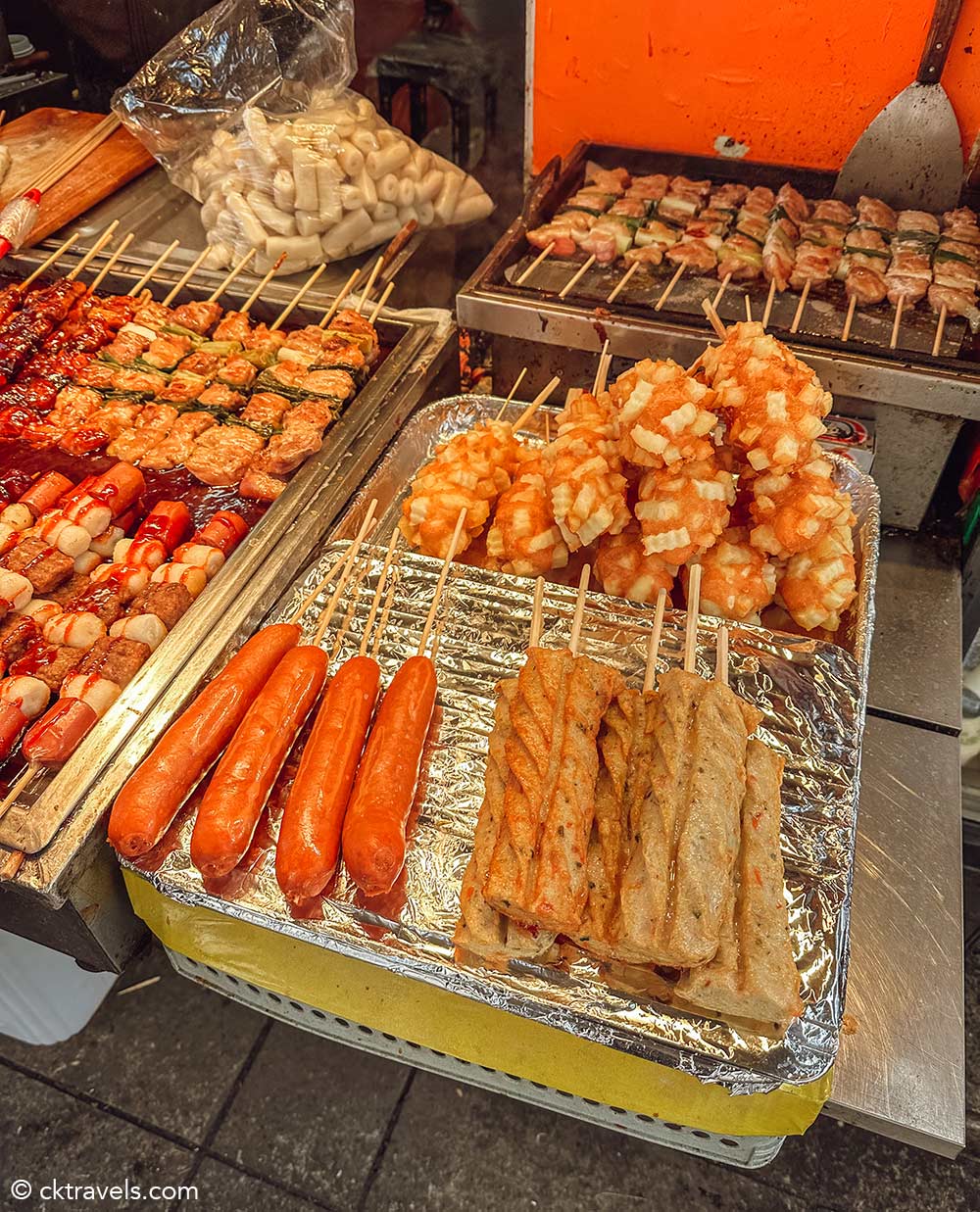 ---
14. Chicken Feet and Pig Feet
Marinated chicken feet and pig feet were both available at numerous stalls in Gwangjang Market. Costing around 10,000 Korean Won portion, hot 'foot' it to Gwangjang Market to give them a try.
---
YOU MIGHT LIKE: Gwangjang Market Food Tour >
---
15. Mayak Kimbap / Ggoma Gimbap
Arrive early at Gwangjang Market and you'll be greeted by numerous stall holders prepping for the day, wrapping up Mayak Kimbap rolls in their thousands.
Similar to sushi rolls, the literal meaning of 'mayak' in Korean is drugs or dope, so highly addictive and moorish are these little snack rolls!
Versions differ from place to place but at Gwangjang Market, most mayak kimbaps seem to consist of carrot, yellow pickled radish and green leaves.
Thanks for checking out our blog!
As of Autumn 2023 we are currently digital nomading / travelling around Asia (Thailand, Malaysia, Singapore and South Korea). Check out our daily travel diaries on Instagram @.c.k.travels >
16. Pan-fried Rice Cake (Bukkumi)
We were intrigued by this pancake stall, which had a small but steady queue at Gwangjang Market (the stall was self-titled 'the Master of Bukkumi'). Confidence we like! Bukkumi is a pan-fried tteok made with glutinous rice flour that comes in several flavours – and colours!
Bukkumi varieties at Gwangjang Market included sweet potato, sweet pumpkin and sticky rice all costing 2,500 Korean Won.
---
YOU MIGHT LIKE: Drinking and Eating through the Alleys of Seoul tour >
---
17. 10 Won Cheese Bread / Pancake
A new street food stall in Gwangjang Market that opened in 2023, capitalising on the ever so popular 10 Yen cheese pancake trend in Japan.
We saw 10 Yen cheese pancakes sold all over Japan with massive queues in the big cities particularly in Osaka, Tokyo and Kyoto (one of the most popular sellers was Don Don Donki!).
Jumping on the 10 Yen cheese bread trend, Gwangjang Market's latest 'Seoul' food is the 10 Won cheese bread stall – it even has the 'Bank of Korea' burned into the side.
A coin-shaped pancake packed full of cheese that becomes ever so gooey and stringy when heated up and eaten, each one takes around 3 to 4 minutes to make.
The 10 Won Cheese pancake however isn't that cheap – a pancake costs 3,000 Won each!
---
YOU MIGHT LIKE: Brilliant things to do in Myeongdong, Seoul
---
18. Walnut Cookies (Hodugwaja)
We're 'nuts' about this sweet as walnut cake – made from cake batter mixed with chopped walnuts, these Hodugwaja street-food stalls can be seen (and smelt!) all over Seoul, with several vendors in Gwangjang Market too.
These cute as cookies / cake are baked in walnut shaped baking trays so that the finished Hodugwaja is even shaped like a walnut (that must confuse the squirrels). Several Hodugwaja flavours are available at Gwangjang Market including custard or red bean.
Given the small sizes of each Hodugwaja cookie at Gwangjang Market, you normally buy several at a time – for instance, 6 hodugwaja cost 3,000 Won whilst 11 cookies can be bought for 5,000 Won.
---
19. Korean Honeycomb Candy (Dalgona or Ppopgi)
Popularised overseas by its appearance in Netflix's global streaming hit Squid Game, a couple of street food vendors around the outskirts of Gwangjang Market sell the honeycomb biscuit (dalgona) with placards showing the Squid Game characters.
Dalgona is made with sugar and baking soda. As in the Netflix show Squid Game, many street food vendors sell versions with shapes ready to be carved out by you (if you dare!).
---
YOU MIGHT LIKE: Things To Do In Hongdae, Seoul
---
20. Cold Soybean Soup (Kongguksu)
A popular Gwangjang Market street food in the summer months, Kongguksu is a dish served cold. It comprises of hand cut noodles dished up in a bowl of cold soybean soup.
Kongguksu sells at Gwangjang Market for around 8,000 Korean Won a bowl.
---
21. Hand-Pulled Dough Soup (Sujebi)
A very similar dish to the Kalguksu knife-cut noodle soup mentioned earlier, but instead of the dough being cut into noodles, Sujebi is a dish that uses dough pulled apart by hand instead, forming chunks of chewy dumpling like pieces.
---
22. Beef Tartare / Steak Americain (Yukhoe)
Raw meat isn't for everyone so luckily, you'll find most of the Yukhoe / Beef tartare stalls confined to one single side-alley indoors at Gwangjang Market.
Although usually beef, yukhoe can refer to any raw meat that isn't served with any form of condiments. An acquired taste and one of only a couple of things in this list we didn't try ourselves at Gwangjang Market.
---
Drinks to try in Gwangjang Market, Seoul
There are several types of drink available in Gwangjang Market:
23. Beer
Beer is available from most stalls in Gwangjang Market, particularly the restaurants on the outer edges. The two most popular types of beer and most widely available here are Cass and Terra.
Terra is a European Pale Lager style beer brewed by Hite Brewery Company whilst Cass is an American style beer (tastes quite like Budweiser).
---
24. Fruit Juices / Smoothies
There are several fruit smoothie and fruit juice stalls at Gwangjang Market. One of the most popular fruit juice stalls at Gwangjang Market is the Square Salon Dessert Cafe, founded in 1961.
Using oodles of fresh fruit and with blended juices starting from 3,000 Won, this is a good way to get part of your fruit intake whilst travelling. We tried an orange and grapefruit blended fruit juice costing 5,000 Won – very refreshing on a hot day!
---
25. Rice Wine (Makgeolli)
One of our lasting memories of Gwangjang Market is visiting one cold weekend afternoon in December and witnessing the amount of people old and young enjoying rice wine (makgeolli) and being VERY merry on it.
Around 6% to 9% ABV, it is stronger than beer and much cheaper too making it the most popular drink. We also noticed many backpackers had discovered its 'qualities too' whilst sitting down for street food at Gwangjang Market.
---
26. Korean Spirit (Soju)
Produced from cassava and also known as 'Korean vodka', soju is hugely popular in Korea and usually consumed neat. It is around 9 to 20% ABV (so half that of vodka). We found it quite an acquired taste but everyone else loved it so there you go!
---
27. Korean Barley Tea (Boricha)
Korean barley tea (boricha) is made with roasted barley and water and is served throughout the winter months by most stall holders as part of your meal – very warming!
---
28. Vin Chaud / Mulled Wine
A winter warmer and basically a variety of mulled wine, we spotted a Vin Chaud stall at Gwangjang Market one Christmas in Seoul with a huge Xmas tree pinpointing the stall. It was the delicious fruity, cinnamon aroma that first alerted us to it, costing 4,000 Won a glass.
---
Gwangjang Market food tours you might like
---
Other South Korea posts you might like
Did you enjoy our foods and drinks to try at Gwangjang Market, Seoul blog post? Let us know in the comments or by sharing it on social media.
You can follow CK Travels on: 
Instagram
Facebook
TikTok 
YouTube
Pinterest