This post may contain affiliate links to tours and hotels. These help us earn a small commission at no additional charge to you.
Walthamstow's restaurant scene has evolved over the years to one of the must-visit food and drink destinations in London, offering the best of international and British cuisine.
From the gamut of gastropubs and restaurants concentrated around charming Walthamstow Village to the numerous pop-ups in industrial environs, there is a Walthamstow restaurant for all tastes and budgets.
Located at the end of the Victoria London Underground line (which is also part of the Night Tube – handy for late night bites), Walthamstow has traditional tastes as well as the weird and wonderful, from nibbles in a neon nirvana to gourmet dishes on a disused Tube carriage.
E17 has good food galore so here are the best places to eat in Walthamstow for you try:
Walthamstow restaurants map
Walthamstow restaurants
1. SpiceBox Restaurant Walthamstow
This modern plant based cafe serves up some creative vegan interpretations of traditional Indian dishes, specialising in curries and sides such as slaw, pickles, chutney and raita. They are open most evenings for dinner and at weekends with a special brunch menu.
Some of our favourite dishes here include the spicy jackfruit jalfrezi and cashew and coconut chick'n korma. This is one of the best vegan friendly restaurants in Walthamstow and advance booking is recommended (they have also just opened another branch in nearby Leytonstone).
Address: 58 Hoe Street, Walthamstow, E17 4PG
---
YOU MIGHT LIKE: Walthamstow Village in London – a local's guide
---
2. Sodo Pizza (our favourite pizza restaurant in Walthamstow)
This popular Walthamstow restaurant is based in an old industrial building and serves incredibly delicious sourdough pizzas along with an excellent selection of craft beers. Service is attentive, and the decor inside the restaurant is rustic and cosy with candlelit tables at night.
There is a good range of pizzas on the menu with something for everyone including vegan options, plus white pizzas (without the tomato).
This is also a really popular place to eat in Walthamstow so you'll need to book ahead for peak times (you have to call as you cannot book online). Sodo Pizza also has branches in Clapton, Hoxton and Bethnal Green.
Address: 21-23 Hatherley Mews, E17 4QP
---
YOU MIGHT LIKE: Leytonstone Beer Mile guide >
---
3. Froth&Rind
This cool little cafe in Walthamstow Village serves up cheese, coffee and craft beer all under one roof. Here you can sample a range of artisan cheeses from the East London Cheese Board as well as a range of cheese toasties, coffee, cakes and pastries, plus craft beers from local Walthamstow based breweries.
Address: 37 Orford Road, Walthamstow E17 9NL
---
YOU MIGHT LIKE: Guide to the Walthamstow Wetlands
---
4. Supperclub.tube
One of Walthamstow's best kept secrets is this awesome dining experience where you can eat inside an old Victoria line London Underground tube carriage!
Supperclub.tube is located inside the Walthamstow Pumphouse Museum and is open every Thursday, Friday and Saturday night, offering a six-course tasting menu by head chef Beatriz Maldonado Carreño who originally hails from Bogotá in Colombia. The food is inspired by south American cuisine and you can expect to find delicious dishes such as Hake and prawns cured in lime and chilli and sweet corn dumplings.
This is a must for fans of the London Underground, and is a really fun and quirky restaurant experience, You will definitely need to book in advance as the carriage can only sit 35 guests per night, with pricing starting from £49 per person which includes a drink on arrival (a vegan menu is also available). Read more about our visit to Supperclub. tube >
Address: Walthamstow Pumphouse Museum, South Access Road, Walthamstow E17 8AX
---
YOU MIGHT LIKE: Guide to the Blackhorse / Walthamstow Beer Mile >
---
5. Eat 17 restaurant (the best Sunday roast restaurant in Walthamstow)
This modern British Walthamstow restaurant is one of the most renowned spots to eat in the village, serving a range of hearty comfort foods such as burgers, fish, curries and steaks. Eat 17 is open for breakfast, lunch and dinner with separate menus for each, but we recommend visiting on a Sunday for their traditional roast dinners as they are absolutely delicious!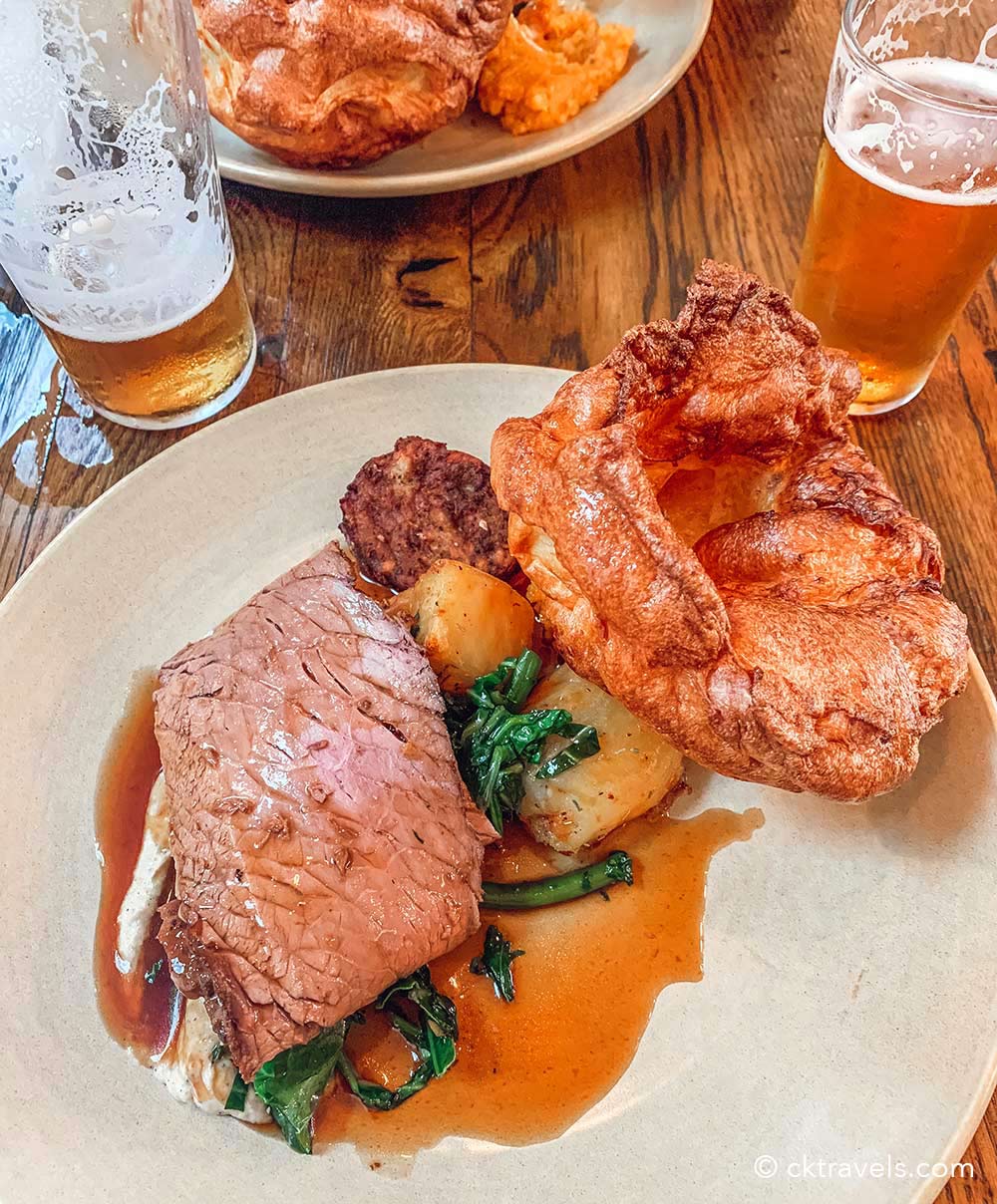 Eat 17 own the SPAR next door too which is one of the best mini supermarkets we've ever visited – check out the huge craft beer section and the fresh sushi counter.They also make their own brand of 'bacon jam' which is sold in there, and you can find it in many supermarkets and delis across London.
Address: 28-30 Orford Road, Walthamstow, E17 9NJ
---
YOU MIGHT LIKE: The best neighbourhoods in east London
---
6. Arte e Pasta
This new Italian Walthamstow restaurant is located a short walk from the village and has been a hit with the locals. The restaurant is always packed – most likely because the service here is really amazing and the food is tasty and affordable.
The menu has several smallsharing plate options, and a handful of main course options. To start we ordered the olive tapanade, salami platter and the 'Focaccia, Grissini and Taralli' breads, then followed this with a lobster ravioli main dish each. The portion sizes were generous and we managed to polish off everything on our plates as the food was so good (the cocktails were excellent too).
Arte e Pasta doubles as a gallery which is managed by Wood Street Walls, who created the fantastic mural on the front of the building.
Address: 93 Shernhall Street, E17 9HS
---
7. The Kitchen Walthamstow
This small and cosy restaurant in Walthamstow village serves up modern European dishes and has separate brunch and dinner menus. We visited one evening for dinner and it was hard to decide what to eat as every dish sounded amazing – expect to find main courses such as Thai green curry, linguine clams, Jamaican jerk chicken, rib eye steak and pan fried sea bass!
The Kitchen is always a busy spot and their outdoor tables in summer are always packed. Apparently their Sunday roasts are rather good too.
Address: 41 Orford Road, London E17 9NJ
---
8. Peeld (Poke, Acai and Noodle Soup)
This new healthy eating cafe opened up this year and is super popular with the locals in Walthamstow village. The fresh poke bowls are huge and out of this world – we tried a spicy raw tuna bowl which came with mango salsa, carrots, edamame beans and crispy shallots on top of a base of sushi rice and rainbow slaw, drizzled with Sriracha mayo on top.
In addition, Peeld Poke & Acai offer a range of fresh juices, smoothies, coffees, pastries and acai bowls (a Brazilian thick smoothie bowl loaded with toppings). Plus a recent new addition for the winter months is the introduction of the Tonkotsu and pulled brisket noodle bowl – yum!
Peeld also have a small takeaway stall inside the SPAR supermarket just down the road selling fresh juices and frozen yoghurt bowls.
Address: 69 Orford Road, London E17 9NJ
---
9. Ohbaleaf Sushi
After a successful run inside the Walthamstow Village SPAR supermarket, Ohbaleaf have now opened their own takeaway restaurant down the road. Here you can order a huge range of sushi options, plus some hot dishes such as katsu curry and salmon teriyaki.
The sushi is freshly prepared after you've placed your order and is speedily made for you whilst you wait, oryou can eat-in as there are a handful of seats by the counter.
This is the best place to get sushi in Walthamstow, and they are on Deliveroo if you fancy getting a delivery to your door.
Address: 125 Grove Road, London E17 9BU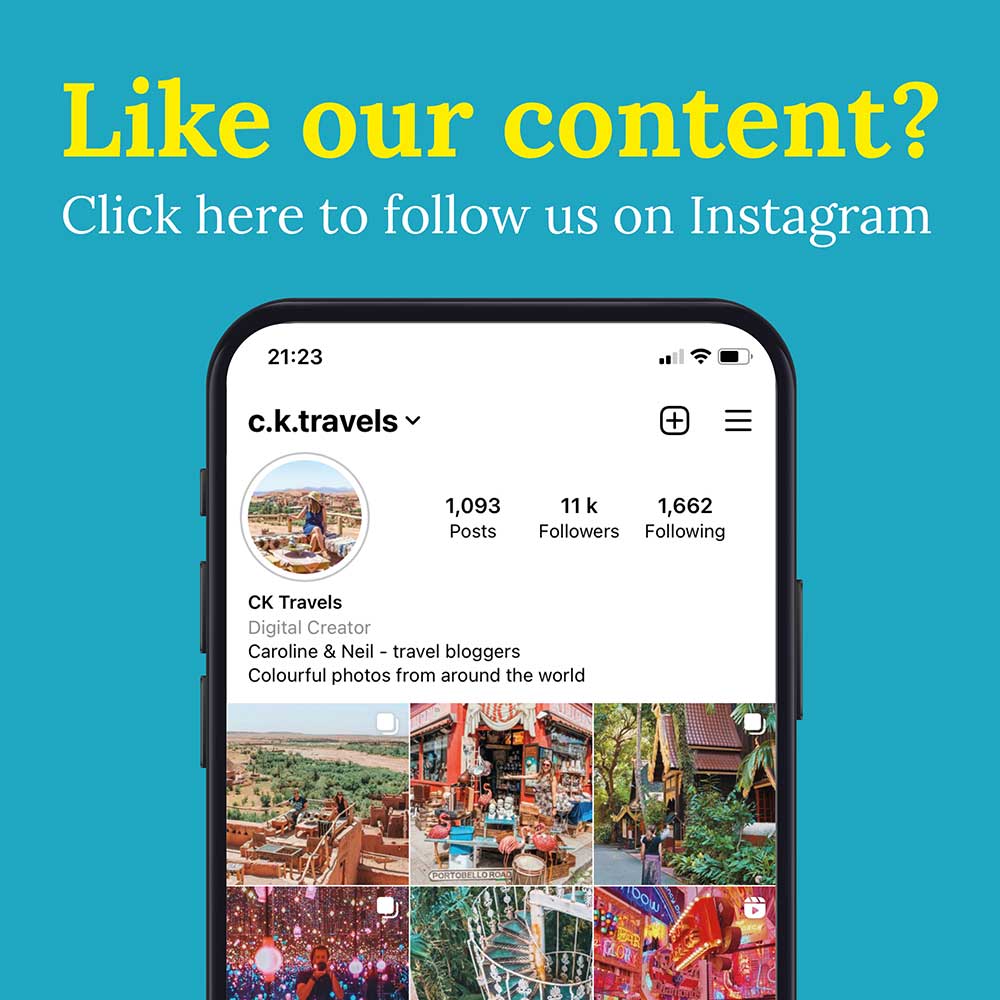 ---
10. The Collab, Walthamstow
As you'd expect from the name, this is a mash-up between award winning Walthamstow brewery Signature Brew and critically acclaimed restaurant We Serve Humans (the 'Best Burger in Britain' apparently). The menu has a great range of burgers, chicken wings and sides, with a really good selection of options for vegans.
On our first visit we tried the truffle mac and cheese burger and the buffalo chicken wings which were great, but on our second visit the wings were really soggy – so the food can be a bit hit and miss based on our own experience. However the beer and atmosphere are great and it is only located a few minutes walkfrom Walthamstow Central station.
On the weekends there is a bottomless brunch menu, and on Wednesday's it is 50% off chicken wings.
Address: 198 Hoe Street, Walthamstow, E17 4BF
---
YOU MIGHT LIKE: Guide to Walthamstow Village >
---
11. Beer + Burger Store Walthamstow (closed)
2023 UPDATE: Beer + Burger Store is now permanently closed
This new burger restaurant in Walthamstow opened this year and has an awesome menu of fast food style American burgers, loaded dirty fries, and sides such as slaw, mac and cheese balls and gravy (yum).
There are several large refrigerators jam packed with hundreds of colourful cans of craft beer. The restaurant is cosy and compact with room for only a handful of customers, but you can also order a delivery on Deliveroo.
Head to Beer + Burger on the last Tuesday of the month for 50% off food. You can also find other branches of Beer + Burger in Dalston, Kings Cross, Willesden Green and the 02 Arena.
Address: 368 Hoe Street, London E17 9AL
---
12. Orford Saloon Tapas Bar
This cosy Spanish tapas bar has been around in the village for many years and serves up lots of tasty sharing plates, plus large pans of authentic paella on pretty tiled tables.
Service at Orford Saloon is sometimes a little hit and miss, but the prices are reasonable and there is a good selection of yummy tapas on the menu. There is also a deli counter at the front of the restaurant selling Spanish products and outdoor seating in the summer.
Address: 32 Orford Road, London E17 9NJ
---
13. Homies on Donkeys (closed)
2023 UPDATE: Homies on Donkeys is now permanently closed
Tucked away at the back Walthamstow's Wood Street Indoor Market, Homies on Donkeys serves Mexican street tacos made from scratch and these are possibly the best tacos we've tasted in London (seriously). Given its local reputation and small interior / limited seating area, there can sometimes be long queues but when the food is this good, the wait is worth it.
On our most recent trip, we tried the pulled pork tacos and they were sublime. Vegan / veggie options are also available, and next door to the main stall, they now have a decadently decorated pop up beer fridge and sauce stall.
Address: Unit 38 Wood Street Indoor Market, 98 Wood Street, London E17 3HX
---
14. Bühler and Co
This tiny veggie cafe was recently listed in the Sunday Times 50 best vegetarian restaurants in the UK and has a lovely brunch menu with dishes such as vegan fry ups, vegan bagels and gado gado (Indonesian salad), plus coffee, fresh juices/smoothies and cocktails.
Prices aren't on the cheap side here but the food quality is excellent and the avocadoon sourdough toast was really tasty. There is limited seating inside but there is also a large outdoor area at the back.
Address: 8 Chingford Road, E17 4PJ
---
15. Oishī Don at Tavern on the Hill
2022 UPDATE:Oishī Don are no longer serving food at Tavern on the Hill. JamShack now operate and are serving Caribbean cuisine. We will update this section soon. Apparently their Sunday roasts are incredible!
This Walthamstow pub is a new venture from the brains behind the local Wildcard Brewery and has a superb Japanese food menu from Oishi Don (served from Monday-Saturday, 5pm-9pm).
You can expect Japanese classics such as donburi, gyozas and okonomiyaki, plus western dishes with a Japanese twist such as aonori fries and fried chicken tatsuta-age burger. The steak don (pictured) was really delicious and we can't wait to go back and try some more items off the menu.
Address: 318 Higham Hill Road, London E17 5RG
---
16. TheGreen Grill / Chickenish Walthamstowat CRATE St James Street
CRATE St James Street is a container village with a collection of food and drink outlets, workspaces and shops (a little bit like BOXPARK in Shoreditch), just a few minutes walk away from St James Street Overground station. Sharing the same shipping container are two vegan brands – Chickenish and Green Grill, both offering creative plant-based junk food.
Green Grill are popular for their instagrammable burgers withbright red, green and black coloured buns, and also offer vegan seitan hot dawgs, chkn bites, mac n cheeze and kimchi loaded fries.
Chickenish re-creates classic chicken shop dishes and are famous for their soy based chicken drumsticks ina gluten-free batter. They also serve up chicken bites, burgers and lots of side dishes such as cajun fries, beans, gravy and coleslaw. When I last visited I tried the chicken drumsticks which weren't really to my taste, but the fries, truffle mayo and vegan gravy were absolutely delicious.
Prices are reasonable and for £10 you can order a meal deal of chicken bites, chips, dipping sauce and a drink. Seating in CRATE is outdoor communal style so you can mix and match food from different restaurants, which is handy if you're eating with non-vegan friends.
Address: CRATE, 35 St James Street, E17 7FY
---
YOU MIGHT LIKE: The best pubs & breweries in Leytonstone & Leyton >
---
17. Green Choy at CRATE St James Street
New to CRATESt James Street (replacing Hanoi Ca Phe) is this fabulous street food stall which offers a modern twist on Korean food.
The menu is packed with mouthwatering food including popular traditional Korean dishes such as bibimbap and Korean fried chicken, plus other items such as dumplings, bao buns, soft shell crab burgers and tiger prawn and scallop burgers (served in a bright pink bun!). There is also a great variety of both vegan and vegetarian dishes using tofu, cauliflower and mushroom bulgogi.
Address: CRATE Building, 35 St James Street, E17 7FY
---
18. Hanoi Ca Phe at CRATE St James Street
2023 UPDATE: Hanoi Ca Phe are no longer trading at CRATE, and have relocated to nearby Argall Avenue in Leyton.
One of the most popular food outlets at CRATE is this small Vietnamese joint serving fresh and authentic street food favourites such as Pho (traditional noodle soup), Banh Mi (Vietnamese baguettes) and Bun Cha (noodle salad).
Seating in CRATE is outdoor, communal style so you can mix and match food from different restaurants. You can also find another branch ofHanoi Ca Phe in nearby Leyton, plus a totally vegan version in Hackney Bridge in Hackney Wick.
Address: CRATE Building, 35 St James Street, E17 7FY
---
19. Etles Uyghur Restaurant
Located on Hoe Street, Etles Uyghur is a Walthamstow institution and serves up delicious Central and Northern Asian cuisine. Fans of this restaurant travel from all over the city to eat their leghmen (home-made pulled noodles) as it is one of just two authentic uyghur restaurants in London.
The restaurant is small but homely – it feels a bit like someone's living room with traditional artwork and musical instruments adorning the walls. The menu is packed with mouth watering savoury dishes such as steamed manta dumplings, skewers, samosas and shredded beef, plus honey cake for dessert. It is also BYOB (there is an off-licence two doors down).
Address: 235 Hoe Street, London E17 9PP
---
20. Yard Sale Pizza
This trendy restaurant set in a beautiful old glass factory serves up simple, qualitystone-baked pizza with a creative mix of toppings, plus a menu chock full of delicious sounding dips. There are 3 plant based pizzas on the menu so vegans won't go hungry.
There is a limited amount of both indoor and outdoor seating in the restaurant, or you can order a pizza online for collection/delivery. You can also order a Yard Sale pizza to eat alongside your beer at nearby Clapton Craft, Wild Card Brewery, Hackney Brewery & High Hill Taproom or Exale Brewery. Yard Sale pizza also have other branches across London including Leytonstone, Finsbury Park and Clapton.
Address: 15 Hoe Street, Walthamstow, London E17 4SD
---
21.Chaiiwala Walthamstow
Head to Hoe Street for one of Walthamstow's best breakfasts at Chaiiwala. As featured in Time Out London's most recent 'top cheap eats', Chaiiwala has over 40 stores across the UK, specialising in desi food and affectionately referred to as the Indian Starbucks.
We liked our 'All Day Desi Breakfast', which consisted of an omelette, spicy beans or dahl, roti and our favourite, karak chai- a strong (and incredibly sweet!) blend of tea, milk, spices and sugar. Cheap as but given the store is quite compact and often very popular (especially for Deliveroo orders), you may have to wait for a table if you want to sit in at Chaiiwala Walthamstow.
Address: 225 Hoe Street, London E17 9PP
---
22. Tonkotsu Walthamstow
This well-known Japanese ramen chain restaurant recently opened in the Stow with a gorgeous interior decor and a solid menu of noodle soups, katsu curries plus tasty side dishes.
We were in two minds whether to include this as on our list as on our most recent visit we ordered the chilli prawn ramen noodle soup which was a bit disappointing (the battered prawns were soggy, and it lacked a spicy punch), however the chicken kara-age side dish was absolutely divine and we would head back again just to eat that again. We were also the only customers in the restaurant at the time and our noodle soup dish took 45 minutes to arrive.
We are willing to go back and try it again to see if the noodle soup/service has improved, and being located near Walthamstow Central station is pretty handy for anyone looking for somewhere to eat before/after a tube journey.
Address: Unit 4, 202 Hoe Street, London E17 4BS
---
23. Pizza at The Nags Head pub
This cosy pub in Walthamstow Village has a decent pizza menu which is always very popular with the locals. The pizzas here are not as delicious as nearby Sodo or Yard Sale restaurants, but tare pretty good value. On the weekends they also serve burgers and hot dogs.
On Sunday nights they have live jazz inside, and it is also an adults only pub so you can enjoy your food without screaming children running around – bliss.
There is outdoor seating in front of the pub, as well as a large beer garden in the rear. The Nag's Head has a couple of cute resident cats who roam around the pub and will probably come and sit next to you as soon as your pizza is delivered to your table haha!
Address: 9 Orford Road, Walthamstow, E17 9LP
---
YOU MIGHT LIKE: Top things to do in Walthamstow >
---
24. Rolling Scones Cafe at God's Own Junkyard
Did you know that inside Walthamstow's most famous attraction is this little cafe/bar? The Rolling Scones Cafe is located inside the museum so you can eat and drink amongst all the fantastic neon signs!
The food items served here are quite basic and you can order hot dishes such as fried breakfasts, burgers, toasties, fish finger baps and nachos, plus cakes, scones and afternoon tea (advance booking is required for the afternoon tea).
Address: Unit 12, Ravenswood Industrial Estate, Shernhall Street, London E17 9HQ
---
YOU MIGHT LIKE: Visiting God's Own Junkyard – London's neon nirvana
---
25. The Village Pub
One of the most popular pubs in Walthamstow, The Village has a big heated beer garden and a menu of pub grub favourites. You can order from a large range of gourmet burgers, loaded fries, salads, small snack plates and classics such as scampi and fish and chips. Vegan options include banana flower 'fish and chips' and plant based 'scampi'.
Head to the Village pub on a weekday between 12pm-3pm and you can order a burger for £5. We popped down recently for lunch and found the dishes a bit hit and miss. The buffalo chicken burger was superb, but the classic beef burger just didn't hit the spot sadly.
Address: 31 Orford Road, London E17 9NL
---
26. Orford's Fish & Chips
A recent opening to Walthamstow Village, this is a retro style fish and chip shop. Prices are a little higher than local chippies, but the quality of the food is excellent with perfectly battered fish and crispy chips, plus portion sizes are generous – one large fish and chips will probably feed two people.
They also serve up a range of pies including a couple of plant based ones from Young Vegans.
Address: 59 Orford Road, London E17 9NJ
---
27. L. Manze Walthamstow (closed)
2023 UPDATE: L.Manze has now permanently closed
This pie and mash shop on Walthamstow high streetfirst opened in 1929 and is located in a beautiful Grade ll listed Art Deco building with it's original ornate ceiling and tiled walls intact.
We weren't blown away by the food here, but the service was wonderful and the decor was lovely, and we would recommend it is a good spot to try some propertraditional east end pie and mash.
Address: 76 High Street, Walthamstow, London E17 7LD
---
28. Lloyd Park Saturday market
Lloyd Park market is Walthamstow's must do on a Saturday morning! This popular outdoor farmers market is located just outside the William Morris Gallery and sells a range of gourmet delights, plus a cracking collection of street food.
You'll find several stalls selling local produce such as fruit and veg, cheese, bread, pastries and meat, as well as a handful of hot food options from popular vendors. I wasn't able to find a list of them available online but you'll most likely find vendors such as Crosstown Doughnuts, Sandwiche (Ribeye steak sandwiches), Horn OK Please (Indian dosa), filigrillz (Filipino BBQ street food) and many more.
The market is open from 10am-4pm every Saturday, but we usually head down before 11am when it is quieter, as after that the queues for places such as Crosstown Doughnuts are massive!
---
29. Pizza at The Wild Card Brewery Barrel Store
We've been regular visitors to Walthamstow's Wildcard brewery over the years, particularly their Barrel Store near to God's Own Junkyard and have often popped in for a pint, accompanying with some street food from their varying line-up of vendors.
Now, Wildcard have invested in a pizza oven (fired up directly next to the indoor bar) meaning you can now enjoy some pepperoni perfection with your pale-ale.
It is enjoyable to sit on the tables outside watching the world go by (and the site is dog friendly too so there are usually a few cute pooches). Pizzas started from around £7 for the basic options and is a nice way to spend an alfresco afternoon, supping in Wildcard (plus combined with a possible visit to nearby Pillars Brewery & Mother's Ruin Gin Palace).
Address: Shernhall Street, London E17 9HQ
---
30. Taro Walthamstow
A new branch of this Japanese ramen chain restaurant is coming soon to Walthamstow (they said sometime in October 2022 but we are still waiting!). It will be located inside the old grade-II listed L Manze restaurant. We will update this section soon when we know more!
Address: 76 High Street, London E17 7LD
---
Other Walthamstow blog posts
Other London blog posts you might like
---
Did you enjoy our Top places to eat in Walthamstow / best Walthamstow restaurants blog post? Let us know in the comments or by sharing the blog on social media. You can follow us on Instagram and YouTube!
Best Walthamstow restaurants – add to Pinterest