This post may contain affiliate links to tours and hotels. These help us earn a small commission at no additional charge to you.
Literally translated as a 'perfect' region', Jeonju's laid back low-rise charm and historic heart are the antithesis of the hustle and bustle of Seoul or Busan.
Whilst perhaps most famous for its Jeonju hanok village (South Korea's largest hanok) and the home of the mighty Joseon dynasty, there are also more modern aspects and attractions to enjoy.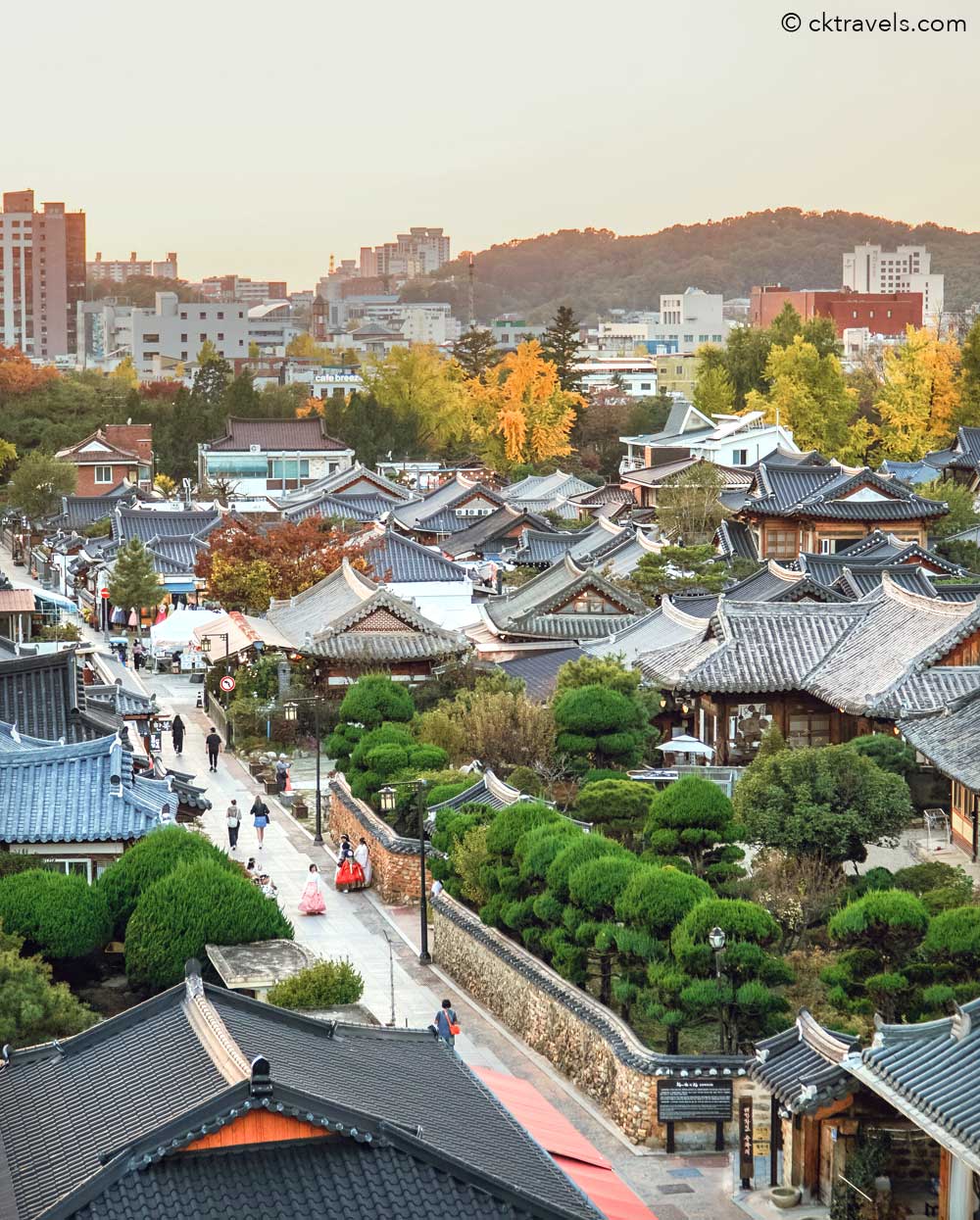 Celebrated for its Jeonju bibimbap dish, hanok restaurants and street food stalls, Jeonju-si has been designated as a 'UNESCO City of Gastronomy' – there is something to suit all tastes and budgets.
From rooftop cafes and hillside shrines overlooking the hanok to craft beer bars and the best bibimbap, there are lots of things to do in Jeonju both by day and night.
A short trip from Seoul, here is our guide to the best things to do in Jeonju, South Korea.
---
You might like – Things to do in Seoul, South Korea >
---
How to get to Jeonju
Located in the west of South Korea halfway between Seoul and Busan, Jeonju is easy to reach by either highway bus or by KTX high-speed train.
Note there is currently no international airport in Jeonju (although there is one planned for 2025).
The closest international airport to Jeonju is Incheon Seoul international airport, or domestically Gunsan airport (around 50km away from Jeonju).
The train journey duration from Seoul to Jeonju can be as little as 2 hours and arrives at KTX Jeonju Train Station.
The bus journey duration from Seoul is around 2 hours 45 minutes and arrives at Jeonju Express Bus Terminal.
---
You might like – Things to do in Jeju Island, South Korea >
---
Getting around Jeonju
The best way to get around Jeonju by public transport is by local bus – there is no subway / metro in Jeonju.
Jeonju Bus Route Information
To get to Jeonju Hanok Village, take the following Jeonju public buses:
From Jeonju train station – take bus 119, 536, 542, 546, 508 or 79 and alight at Jeondong Catholic Church or Hanok Village.
From Jeonju Express Bus Terminal – take bus 149, 430, 536, 542, 545, 546, 506, 684, 1001, 970, 165, 87, 89, 110, 752, 410, 401, 402 or 403 and alight at Jeondong Catholic Church or Hanok Village.
From Jeonju Intercity Bus Terminal – take bus 149,430, 536, 542. 545, 546, 508, 1001, 165, 970, 87 or 89 and alight at Jeondong Catholic Church or Hanok Village.
You can use money to buy your Jeonju bus tickets to get around town but we'd recommend getting a T Money card from a station or convenience store and topping it up.
T Money cards initially cost 5,000 Won but last indefinitely and are very convenient to hop on and off public transport in Jeonju and the rest of South Korea.
---
You might like – Guide to going to a Seoul baseball game >
---
Where to stay in Jeonju, South Korea
The big decision to make whilst staying in Jeonju – whether to choose hanok style accommodation in the village or a hotel nearby. There are over 160 hanok accommodations to choose from in Jeonju Hanok Village.
Our recommended places to stay in Jeonju include:
Best Western Jeonju
We stayed at the Jeonju Best Western. This recently renovated hotel seems very popular with celebrities given the wall of signatures signed by Korean movie stars and actors (plus the Incheon K-League football team stayed here).
Just a 10 minute walk from the Jeonju historical hanok village, there is also a small pool to use in summer plus a free laundry room.
Check rates and availability at Best Western Jeonju >
Lahan Hotel Jeonju
A 4* hotel with the best view over Jeonju hanok village, this is the best appointed hotel, literally overlooking the historic heart of town.
Check rates and availability at Lahan Hotel Jeonju >
N Bridge Hotel Jeonju
One of the newest hotels, N Bridge Hotel is close to all the shrines and hanok village with large rooms.
Check rates and availability at N Bridge Hotel Jeonju >
Jeonju Hanok Hotel Kung
Hanok style accommodation with private bathrooms and flatscreen TVs.
Check rates and availability at Jeonju Hanok Hotel Kung >
1. Jeonju Hanok Village
With around 900 hanok houses and buildings, Jeonju's hanok village is the largest such hanok in South Korea and is a popular place to experience the traditional culture of Korea.
Not only is Jeonju Hanok Village very pretty (especially when you get into the side streets and escape the main tourist drag), you can enjoy good food, wear hanbok (traditional clothing) and explore numerous hanoks (traditional houses).
There are lots of free sites and museums to visit in Jeonju Hanok Village from the Jeonju Hyanggyo Confucian School famed for its centuries old gingko trees, to the Traditional Alcoholic Drink Museum or even a recreation of a Korean school playground where you can play games (more on these later).
Continually growing with more hanoks being built all the time, the hanok village in Jeonju is a interesting mix of the old and new.
Read more in our guide to Jeonju Hanok Village >
---
You might like – Seoul to Jeonju by bus (and how to buy tickets) >
---
2. Jeonju Hanok Village Hanbok rental
Many visitors to Jeonju wear hanboks and traditional Korean costumes whilst exploring the Jeonju hanok village – they can be easily hired at dozens of hanbok rental shops all around the village (such bright colours too).
Hanbok style clothing has been around for over 1,500 years – a popular family / tourist activity in Jeonju is to dress up as a family and take pictures in the historical village and nearby at Gyeonggijeon Shrine. Some families even hire professional photographers (fancy!).
Try this – Jeonju Hanok Village Hanbok Rental Experience >
---
You might like – Things to do in Seoul, South Korea >
---
3. Gyeonggijeon Shrine & Royal Portrait Museum
Originally built in 1410 and set in stunning gardens (including a small bamboo grove), Gyeonggijeon Shrine is likely the most visited and photographed place in the whole of Jeonju Hanok Village.
In fact, based on our observations, pretty much every other person is dressed up in historic hanbok costumes and posing for pictures galore.
The original Gyeonggijeon Shrine from the 15th century was destroyed in 1597 and rebuilt in 1614, and is now a popular filming location for K-movies and dramas.
The Main Hall is the stand out building at Gyeonggijeon Shrine, plus you can also pop your head inside the Jeonju History Archive (a small building on stilts) and see the Jogyeongmyo shrine.
Whilst small compared to the likes of the famous shrines and Royal Palaces in Seoul, Gyeonggijeon Shrine is a nice, peaceful place to explore and escape the nearby hustle and bustle of the village (and the ubiquitous electronic buggies in bright colours that many tourists drive aren't allowed in here – bonus).
Gyeonggijeon Shrine in Jeonju is 3,000 Won admission per adult (£1.90 / $2.30 USD / 2.10 Euros) and open from 9am daily (closes 6pm Nov to Feb, 8pm Jun to Aug and 7pm at all other times).
At the time of writing (November 2023), the Royal Portrait Museum located Gyeonggijeon Shrine is closed for refurbishment.
---
You might like – things to do in Busan, South Korea >
---
4. Nambu Night Market / Jeonju Night Market
Nambu Market is a traditional Korean market that by day is pretty sleepy – it is mainly frequented by locals (and the odd pigeon) and has a few fresh food stalls, bibimbap restaurants and little else.
There is also a 'Youth Market' on the second floor which generally seems to be closed. If you are only here in the daytime, Nambu Market isn't really worth a special trip.
However at the weekend, Nambu night market takes over with around 30 or so hot food stalls, selling some of South Korea's best street food plus international cuisine like pork tacos, shrimp sushi and Vietnamese spring rolls.
Jeonju's best night market, most dishes at Nambu Night Market sell for around 4,000 to 7,000 Won. For instance, 5 flame grilled garlic shrimp or beef sushi were 6,000 Won, octopus skewers 3,500 Won and 2 pork belly gimbaps for 4,000 Won.
We found the weekend night market a much cheaper way of eating out than in the tourist-centric restaurants.
Nambu Night Market in Jeonju is open on Fridays and Saturdays from 5pm to 11pm – all times and prices correct as of November 2023.
---
You might like – Guide to Myeongdong Night Market in Seoul >
---
5. Cafe Jeonmang (for the best aerial view of Jeonju Hanok Village)
For rooftop brews with views, head to Cafe Jeonmang, located across the fourth and fifth levels and one of the few 'high rise' buildings in Jeonju (well, high compared to most of the one story buildings in the Jeonju hanok).
Cafe Jeonmang has the best panoramic view of Jeonju Hanok Village (even better than Omokdae hillside shrine) and has an opening air deck on the very top floor). We'd rate this as the best spot for sunset views of Jeonju Hanok Village too.
Prices at Cafe Jeonmang are pretty reasonable too – we paid 6,500 Won each for an iced latte and blagged a table upstairs looking out across the hanok. Cakes and other sweet treats (plus beer!) are also available.
---
You might like – the best South Korean street foods >
---
6. Jamsan Mural Village
Once a dilapidated village inhabited by refugees during the Korean War, Jamsan has reinvented itself as 'Jamsan Mural Village', a colourful community of street art, murals and illustrations.
On our visit to Jamsan Mural Village, we spotted characters such as My Neighbour Totoro and an incredible sketch of The Yellow Submarine and The Beatles. As well as the main street, be sure to check out the back-streets.
Like many 'mural villages', this Jeonju's Jamsan is OK but nothing spectacular. On our visit, it was mainly us and a few stray cats – sadly most of the colourful cafes were empty or closed.
Thanks for checking out our blog!
We are currently digital nomading / travelling for the next few months around London and Asia (Thailand, Malaysia and Taiwan). Check out our travel diaries on Instagram @.c.k.travels, Tik Tok @cktravels and on Facebook.
7. Omokdae and Imokdae hillside shrines
Not only is this a tranquil hillside shrine where locals come to relax and exercise, Omokdae is also one of the best viewpoints to Jeonju Hanok Village from above (although the view is partially obscured by trees and leaves in summer months).
The walk to reach Omakdae and Imokdae shrines isn't too taxing and involves a boardwalk from the hanok village to this prime vantage point – be sure to take off you shoes if you want to go inside Omokdae (a simple but beautifully painted wooden structure).
Omokdae was made famous as the site where Lee Seong-gye (who became King Taejo) held a big feast to celebrate a big battle in 1380.
---
8. Jeondong Catholic Church
Very similar in style to Myeongdong Cathedral in Seoul (they were both designed by the priest Victor Louis Poisnel), Jeongdong Catholic Church was opened in 1914 on the historic site of where the first Korean Catholic martyrs were killed in the 18th century.
There are daily masses and services held here – whilst no photos are allowed inside Jeondong Catholic Church, the outside is a popular place for hanbok pictures.
---
You might like – Things to do in Busan at night >
---
9. Watch a K-League Game at Jeonju World Cup Stadium
The perfect way to 'kick-off' your trip to Jeonju, K League football (or soccer) is a popular sport, up there with baseball.
Jeonju is home to the Jeonbuk Hyundai Motors football team who play in the top flight of K-League soccer at the nearby Jeonju World Cup Stadium.
South Korea K League game tickets are easy to purchase (and very cheap) plus the World Cup Stadium in Jeonju has good transport links by bus.
We've been to a Jeonbuk game (vs FC Seoul) and the Jeonbuk fans are certainly some of the loudest in the league (especially when they are winning!).
The K League football season in South Korea runs from February / March to November and matches generally take place on Fridays through Sundays.
---
You might like – Guide to getting K-League tickets in Seoul >
---
10. Jeolla Gamyeong
Once the administrative center of the Jeolla-do during the Joseon Dynasty, the historic Jeolla Gamyeong site was largely restored by the local Government in recent years and reopened in late 2020 as a cultural center, known for its live music and concerts (less several buildings which have been knocked down).
Even on the day we visited, by chance they were setting up for an evening concert and lots of local volunteers were enthusiastically beckoning us over to try on free hanbok costumes or play traditional Korean games like Jegi Chagi.
Jeolla Gamyeong is open daily and free to visit (although there isn't a lot to see here).
---
Best Jeonju Bibimbap Restaurants
The spiritual home of bibimbap, there are plenty of good / recommend bibimap restaurants in Jeonju restaurants. Jeonju Bibimbap is made with rice cooked with bean sprouts and with various garnishes – each restaurant is different.
Popular bibimbap garnishes in Jeonju include egg, gingko, chestnuts, pine nuts and fresh seasonal vegetables.
Our favourite Jeonju bibimbap restaurants included:
11. Hankook Jib Bibimbap
Reputedly the oldest Jeonju bibimbap restaurant dating back to the 1950s (and certainly the busiest we dined in), Hankookjib in Korean means 'Korean House' which may explain the warm welcome and homely restaurant.
Hankook Jib takes pride in their homemade chilli paste and soy sauce with rice that has been cooked with bean sprouts to give it a unique flavour.
Standard bulgogi bibimbap at Hankook Jib cost 15,000 Won and are served with 6 side dishes to share plus a bowl of bean sprouts.
We also liked this particular Jeonju bibimbap restaurant as they offered the choice of hot stone bibimbap (which we gladly took up – not many Jeonju restaurants seem to have hot stone bibimbaps).
12. Family House Bibimbap
Located on the second floor of a former archives centre, Family House Bibimbap restaurant wins the prize for the most side dishes.
Along with our bibimbaps, we were served up 10 side dishes (!), a bowl of soup each plus the centrepiece, a hot stone steamed egg dish – all this for 14,000 Won each.
Family House Bibimbap restaurant offer three dishes – Jeonju bibimbap for 14,000 Won, Yukhoe Bibimbap (Korean beef tartare) for 17,000 Won and tteokgalbi (short rib beef patties) rice bowl for 13,000 Won.
13. Jeondong Ddeokgalbi
For us, this was actually our favourite bibimbap in Jeonju as the meat and vegetable quality was really good and they didn't skimp on the spicy sauce.
A large bibimbap with 8 shared sides (including japchae noodles) cost 12,000 Won and included bowl of soup – so much food and it was one of the cheapest bibimbaps in Jeonju.
Jeondong Ddeokgalbi also specialise in handmade tteok-galbi which are grilled short rib patties (like a very upmarket beef burger).
One of their set meals is handmade tteok-galbi (x 2) with two bibimbaps and lots of sides for 38,000 Won based on two sharing.
For us, Jeondong Ddeokgalbi was the best Jeonju bibimbap (the meat quality was so good) and cheaper than most too.
---
You might like – Guide to all of the 30+ South Korea HBAF almond flavours >
---
Recommended Food and Drink in Jeonju
14. Nomadic Brewing Jeonju Taproom and Nomadic Beer Garden
The craft beer scene in Jeonju isn't massive but thankfully, the Nomadic Brewing Company is here to serve all your craft beer needs whilst in Jeonju.
Owned and operated by Hannah and Jonny (a Michigan native and American brewery master), Nomadic Brewing Jeonju have two craft beer bars to enjoy – a newly opened Nomadic Brewing Jeonju Taproom next to their main brewery, plus Nomadic Beer Garden – a charming bar and garden in the Jeonju Hanok Village.
We visited both Nomadic Brewing venues and worked our way through their 15+ own brewed beers and ales. We particularly liked their American IPA and stouts – plus the free popcorn was really appreciated.
Craft beers at Nomadic Brewing start from around 5,500 Won for a medium / 390 ml glass.
---
You might like – Guide to the best breweries in Seoul or craft beer bars in Busan
---
15. Veteran kalguksu noodles and dumplings (mandu)
A cheap as Korean restaurant located yards away from Gyeonggijeon Shrine, Veteran has been around for years serving up delicious dumplings and choice kalguksu noodle soup.
We dined on 8 meat dumplings for 5,500 Won (also available in kimchi flavour) plus a MASSIVE bowl of Kalguksu noodle soup full of flavour for 8,000 Won. Veteran is highly recommended if you are tired of bibimbap or want something hearty to warm you up.
---
You might like – Guide to Haeundae Traditional Market in Busan >
---
16. Gyodong Croquettes
One of the most popular takeaway street foods in Gyodong, these Jeonju Gyodong croquettes fly off the shelves like hot potatoes…sorry, like hot croquettes.
Costing from 2,500 to 4,000 Won depending on the flavour, we tried their 'best' croquette which is the 'Jeonju bibimbap croquette' for 3,000 Won – the spicy vegetables inside worked well with the crispy breadcrumb coating.
Other flavours included potato or curry croquettes, plus a Jeonju bulgogi bibimbap – nice!
17. Kotori Cook
A small Japanese sushi restaurant and sleek bar run by a 'one man chef', Kotori Cook is one of the coolest bars in town – it is easy to spot as it has a huge Totoro statue by the door.
Drink highballs or Asahi beer with Woosam Yaki udon and more – you will not be disappointed.
18. Deoksu Super Market / Beer Street
The brightest bar in Jeonju, we spotted this picture perfect pub whilst walking back from the Nomadic Brewing taproom.
With a bar seemingly made from beer boxes and brightly coloured tables and chairs outside, this is a popular place for beer, highballs and cocktails paired with simple dishes like ramen and dried fish.
---
You might like – Seoul's best shopping malls >
---
19. PNB Bakery Choco Pies
Possibly the most famous sweet treat in Jeonju, PNB Bakery are famous for their chocolate pies.
PNB Bakery in Jeonju started in 1951 and now has multiple bakery branches across Jeonju including one in the hanok village.
They have multiple choco pie flavours (including strawberry choco pie, mocha and banana choco pie) with prices starting from 1,800 Won for the original PNB choco pie. Larger gift sets containing multiple wrapped treats are also available.
---
You might like – things to do in Gangnam, Seoul >
---
20. Pungnammun Gate
The only remaining gate amongst four that were once built for the Jeonjupseong fortress, Punganammun Gate has had a chequered history having been damaged, rebuilt and then burned down again during the reign of King Yeongjo.
Punganmmun means 'the south gate of Pung' in Korean (Pung is an old nickname for Jeonju) – the other three city gates were sadly demolished during urban development in the early 20th century – 'progress' eh.
---
You might like – things to do in Seoul at night >
---
21. Jeonju Hyannggyo (Confucian School)
One of the busiest parts of the hanok to village and free entry, the Jeonju Hyannggyo is a former school that was set up to serve as a shrine to Confucious and learn about poetry, history and Confucian classics.
Originally established in 1354, the Jeonju Hyannggyoschool moved due to complaints about noise (kids eh!) and was then destroyed in 1597 – the current site dates back to around 1603.
As well as shrines and an upper level that you can explore to get aerial views of the site, Jeonju Hyannggyo is famous for its ginkgo trees, some of which are several hundred years old.
We visited in Autumn as the yellow ginkgo leaves were falling (and who knew rotting gingko leaves smelt so bad?!) This is also a popular filming location, with a notice board outside showing movie posters for the K-dramas filmed here.
Join our Facebook South Korea Travel Planning and Tips Group! (New for November 2023)
Need help with your itinerary or have any South Korea related questions? Head on over to our Facebook group!
Click here to join our group >
22. Gaekridan-gil Road & Jeonju City Centre
Most people visit Jeonju for the historical hanok village but if you want to visit a more urban area, Gaekridan-gil Road and the surrounding areas are the place to visit (sometimes also referred to as 'Youth Street'
Around here, you'll find K beauty brands like Olive Young and Nature Republic plus lots of convenience stores, cute cafes and fast food style restaurants – there is also a rather curious covered walkway here that lights up at night.
---
You might like – Guide to the best K-Pop shops in Myeongdong, Seoul >
---
23. Jeonju Traditional Alcoholic Drink Museum
A free museum in Jeonju's historical hanok, this is a cultural centre where many alcohol-related activities and classes are taught like how to make your own jubangmun, a special Korean liquor recipe popular in the Joseon Dynasty times.
The two room museum has various videos and display cases plus a 'VR' headset video where you can virtually drink with historic characters (we prefer the real thing).
A few years ago, BTS dropped by Jeonju to film some videos and j-hope and SUGA of BTS visited the Jeonju Traditional Alcoholic Drink Museum tomake their very own BTS home-brew liquor.
Even though this was four years ago, they still have the poster outside and you can even do a BTS themed alcohol making course – let's hope their home brew was 'Dynamite'.
---
You might like – best things to do in Seoul with kids >
---
24. Gingko Tree Avenue
Jeonju is renowned for its numerous and historic gingko trees dotted all over town.
Located in the heart of Jeonju's historical hanok village, Gingko Tree Avenue has several such trees – marked by a stone plaque, there is a particularly beautiful gingko that goes gold in autumn and is a popular hanbok photography and selfie spot.
You can also find golden gingko trees around the Gyeonggijeon Shrine plus a 600 year old gingko tree by Jeonju Hyanggyo Confucian School (next to the Jeonju Hanbyuk Cultural Center) – the latter has featured in several K-dramas like 'Love in the Moonlight'.
---
25. Kakao friends Jeonju
Close to Jeondong Catholic Cathedral, you'll find a branch of South Korea's most cute and charming cartoon characters, Kakao Friends – it is easy to spot as there is a huge Ryan the Lion model depicting him in traditional dress.
In fact, Jeonju Kakao Friends store is fantastic is you are a Kakao Friends fan or collector as there are unique toys only available in this store with Ryan and Choonsik the cat dressed in Jeonju outfits
From Ryan the Lion to Choonsik the Cat, Con the Crocodile to Frodo the Dog, you'll find all the Kakao Friends across many bits of merchandise – everything from phone chargers to shower heads and even super cute humidifiers. Make sure you have ample suitcase space before visiting!
---
You might like – the 5 best beaches in Busan, South Korea >
---
26. Play Ddakji at Maroodal Traditional Playground Museum
Relive 'Squid Games' by playing the classic Korean card game 'ddakji' at rhe Traditional Playground Maroodal Museum' in the Jeonju hanok village.
This free to visit Jeonju museum recreates a playground school rooms in its inner courtyard and staff are happy to show how to play the ddakji card game.
Or have a go at Jegichagi, the Korean playground game of keeping a paper jegi (like a shuttlecock) with your feet (kinda like football keep me-ups).
---
Try this – Jeonju Hanok Village One Day Tour from Seoul >
---
27. Korean Photo Booths in Jeonju
Selfie studios and Korean photo booths are popping up everywhere in South Korea but the selfie booths in Jeonju are a little different.
Most are located in historic looking hanok style buildings (some historic, some modern recreations) and visitors often arrive wearing traditional hanbok / Korean dress.
If you haven't been to one before, Selfie kiosks are brightly coloured stores dotted around Jeonju where you can borrow clothes and fun props (like vegetable hats, big sunglasses, animal paw gloves etc) and then pose for selfies or take photos in booths for a small fee. Printed out photograph sets start from around 4,000 Won
Some of the most popular hanok style Korean selfie photo booths in Jeongju include Photoism, Signature, Broom Studio and Photo Fit.
CK Travels tip – you can also see hanok style selfie booths in Seoul's Ikseondong Hanok Village >
Read more in our guide to Korean photo booths >
---
Try this – Jeonju Hanok Village & Jangtaesan & Daedunsan Tour from Seoul >
---
28. Cheongyeollu Pavilion and Namcheongyo Bridge
A nice spot to get aerial views of the stream and mountain background, Namcheongyo Bridge is the 'gateway' to Jeonju Hanok Village – on both sides of the bridge, there are riverside walks and trails.
On the bridge itself, Cheongyeollu / Cheongyeonru is a pavilion popular (complete with library books) which local people come to relax in and meet up, with a stunning painted roof and nice riverside views – shoes must be taken off to enter the pavilion.
---
You might like – Guide to visiting Lotte World in Busan >
---
29. Ajung lake
One of the best night walks in Jeonju and a popular recreational spot by day, Ajung Lake is a former reservoir that has now been transformed into an 'eco park' with nature spots and environmentally friendly kid's playgrounds.
The boardwalks illuminate at night around Ajung Lake so it can be visited at any time of day.
---
30. Jeonju Zoo
Home to hippos, giraffes, gorillas and tigers, Jeonju Zoo is a little out of town and had a starring role in the K-movie 'Secret Zoo' – whilst not the biggest zoo, it is mildly amusing diversion and a great Jeonju activity for kids.
The Jeonju Theme Park Dreamland (whose carousel featured in the BTS 'Love Yourself' music video) located next door to Jeonju Zoo is temporarily closed as of November 2023 for a major refurbishment programme.
---
31. Get a cartoon caricature
Jeonju Hanok Village and the surrounding environs are home to several quirky cartoon caricature studios, where street cartoonists have set up studios to do fun family portraits.
Particularly popular at the Jeonju cartoon caricature stalls seemed to be couples being drawn dressed in hanboks complete with their pet dogs – maybe the artist starts with a 'woof outline?
Prices vary but start at 5,000 Won based on a teeny tiny drawing.
---
Try this – Jeonju Hanok Village Day Tour from Seoul >
---
32. Seohak-dong Art Village
If you cross the Namcheongyo Bridge from Jeonju's Historic Village, you'll discover Seohak-dong Art Village (similar to the Jamsan Mural Village).
Established when artists and painters set-up studios in East seohak-dong, the area is now home to various workshops, galleries and cafes with a village vibe – that said, unlike a lot of 'artist villages'.
There aren't any colourful murals or street art so it probably isn't worth a special trip (unless you are already in the area).
---
33. Hire an electronic buggy
Love them or loathe them, there is no doubt the electronic buggies / scooters are a very popular way to get around Jeonju, especially around the hanok area.
Brightly coloured and similar to a golf cart, it is quite fun to spot couples dressed up in traditional hanbok outfits whizzing around in modern day motor buggies – some even dress up in chauffeur costumes to get into the spirit.
You can also hire electric motorbikes (many of which are bizarrely brazened with British Unon Jacks – we aren't sure why!
---
34. Donggosa temple
A little way out of town, Donggosa Temple on Seungamsan Mountain offers panoramic views of Jeonju and is a beautiful Buddhist Temple belonging to the Taego Order.
Free to visit, Donggosaa Temple was established over a thousand years ago by a Korean prince who wanted to become a monk
Involving a short hike up, the bus ride to Donggosa Temple from downtown Jeonju takes around 45 minutes to 1 hour.
---
You might like – the best neighbourhoods to visit in Seoul >
---
35. Jeonju Bibimbap Festival every autumn
Held annually in the autumn (usually October) at Hyanggyo-gil and the Hanok Village Area, Jeonju Bibimbap festival is a culinary classic, extolling the very best local ingredients and regional bibimbap variations.
Expect everything from bibimbap cook-offs to set menu specials galore over a three day period.
---
36. Jeonju Hanok Rail Bike
Open on weekdays from 9am to 5pm, the Jeonju Hanok Rail Bike is a fun way to explore one of the quieter parts of Jeonju along an old abandoned railroad track.
Riding in parallel to actual trains and through a colourful tunnel of lights, the riding distance is just over 3km along a flat stretch with prices starting from 25,000 Won for a two seater bike – the journey is approx 25 minutes each way.
---
37. Korean Traditional Cultural Centre
We discovered the Jeonju Korean Traditional Center quite by chance as it is located right behind our hotel (Best Western Jeonju).
The Korean Traditional Cultural Centre offers lots of classes and workshops including Korean paper-making, cookery workshops plus even a bibimbap buffet.
That said, it is quite a modern building so you may prefer to attend similar activities in the older style buildings down the road in Jeonju hanok village.
---
You might like – Things to do in Insadong, Seoul >
---
38. Samcheon Makgeolli town
Mad about your Makgeolli? Think sparkling rice wine is nice? Then stroll on over to Samcheon Makgeolli town on the outskirts of Jeonju (although if you have too much, you might be crawling back).
Jeonju is famous for its high quality makgeolli due to its mountain water and at this area out of town, there are over 30 restaurants and bars that serve makgeolli.
To be honest, there are lots of bar more central where you can taste traditional rice wine so unless you are a Makgeolli maven, this might be one to save for a rainy day in Jeonju.
---
39. Palbok Factory of Contemporary Arts
A former cassette factory on the outskirts of town now converted in a culture park, the Palbok Factory of contemporary Arts is home to pop up art exhibitions and quirky cafes and cute coffee shops.
It takes around 30 minutes to reach Palbok Factory of contemporary Arts from downtown Jeonju by bus.
If you want to enjoy diverse experimental art exhibitions, the Factory of Contemporary Arts in Palbok is the perfect place for you to visit! It's located in a deserted industrial complex from the 1960s and 1970s.
The factory used to produce cassette tapes, and after being abandoned for 25 years, it was reborn as a culture and arts "power station." Here, you can enjoy unique exhibitions and drink coffee in a café with a unique industrial interior.
---
40. Jeonju Nanjang Museum
A veritable feast of vintage goods for nostalgia lovers, Jeonju Nanjang is a small museum where you can pose for photos with 'props' from the past (1940's to 1990's), and enjoy retro arcade machines, old school rooms and even a K-Pop karaoke room.
---
Our final thing to do in Jeonju, South Korea
41. Jeonju Hanji Museum
Get the hang of Hanji crafts, a traditional Korean paper that is normally very durable and comes in lots of different colours.
You can also try making your own Hanji paper (a cool souvenir to take home) or take a gander at the ancient books and documents on display.
Other South Korea posts you might like
Did you like our things to do in Jeonju blog? Let us know in the comments below:
You can follow CK Travels on:
Instagram
Facebook
TikTok
YouTube
Pinterest