This post may contain affiliate links to tours and hotels. These help us earn a small commission at no additional charge to you.
Gamcheon Cultural Village has to be one of the most colourful places in Busan. Often referred to as the Santorini of South Korea, if you are only going to do a handful of things in Busan, make sure you visit Gamcheon Cultural Village.
Gamcheon culture village is one of the most popular places in Busan, and probably the most Instagrammed place in Busan too given how fantastical and flamboyant it is (we'd liken it to an explosion in a pastel paint factory!).
Brightly painted terraced dwellings, labyrinth alley-ways and maze-like backstreets are all part of the charm, plus there are cute and colourful coffee shops offering postcard perfect panoramic views.
From the Little Prince and Fox statues to sublime selfie spots and the best views, here is our guide to all the best things to do in Gamcheon Cultural Village in Busan, 2023.
---
You might like – the 70+ top things to do in Busan, South Korea >
---
Getting to Busan
Busan bound? There are several ways to get to Busan in South Korea:
Fly to Busan
You can fly directly to and from Busan Gimhae International Airport (PUS) from Japan, Thailand, the Philippines, Vietnam, Taiwan, Singapore, China and Malaysia.
There are dozens of domestic daily flights to Busan from Seoul and Jeju – we found these to be very cost effective, often the same price as cross-country coaches but much quicker.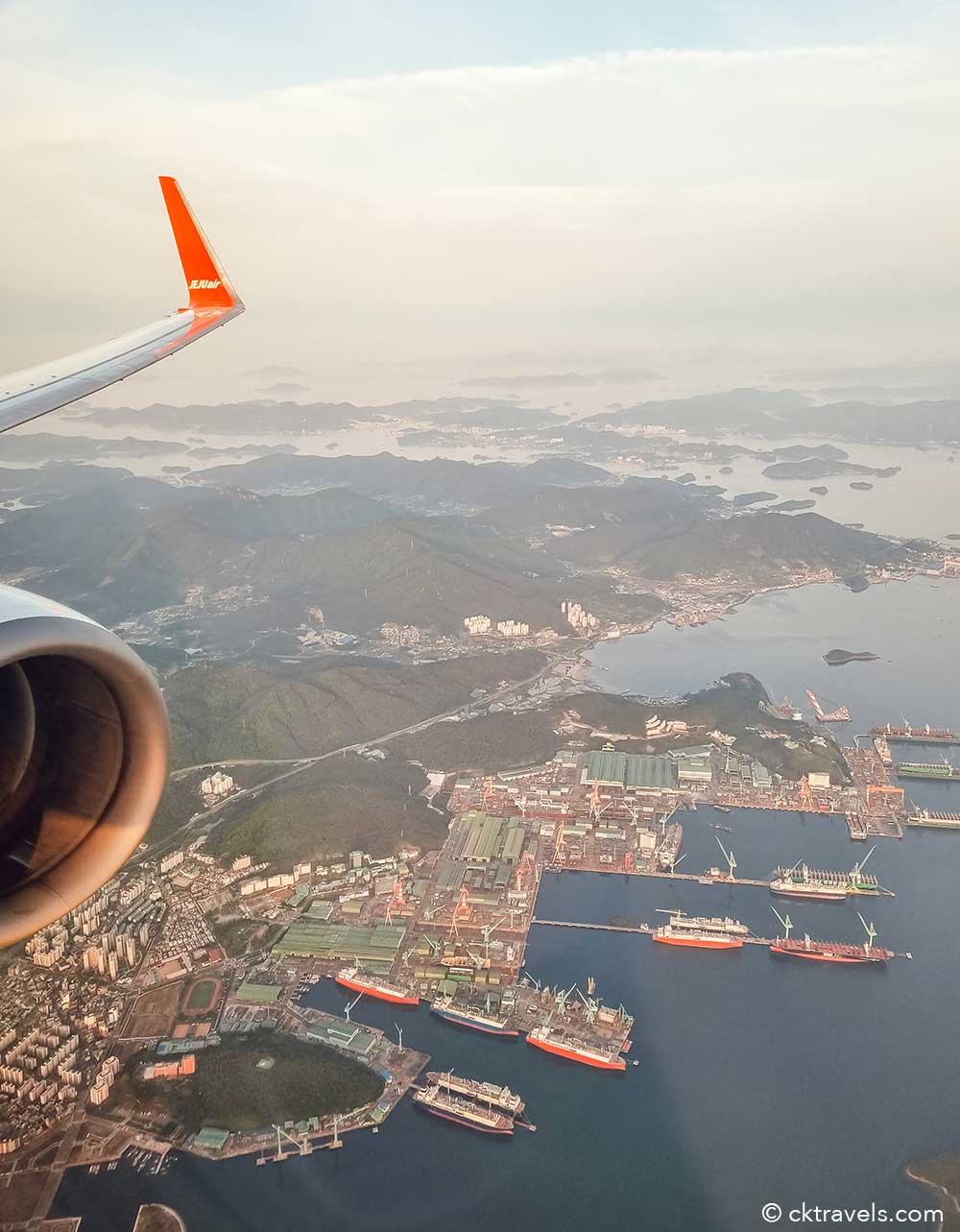 Ferry to Busan
Go by sea! There is a direct ferry from Fukuoka in Japan to Busan.
Book the Queen Beetle One-way Jet Ferry between Fukuoka and Busan here >
Train to Busan
Unlike the movie of the same, there are no zombies on this particular train to Busan (well, probably…) – the train to Busan is a quick and efficient way to get to the southern part of South Korea from Seoul.
The KTX train Korea is the fastest train to get to Busan, often taking less than 3 hours and running one or two times an hour. Zoom zoom!
Alternatively, foreign travellers can benefit from discounted rates with a Korea Rail Pass – this is also better value if you are travelling long distances by train in South Korea for two or more days.
Book your Korea Rail Pass (2, 3, 4, or 5 Days) here >
Busan Private Tour
Given how big Busan is with a sprawling coastline, if you are short on time, you can organise your own customised private tour of Busan or do a Premium One Day Private group Tour from Busan to 10 cities.
Busan Pass
Save money on Busan attractions with the Visit Busan Pass!
Newly launched in 2023 and very similar to the highly successful Discover Seoul Pass, the Visit Busan pass provides 'free' access to a selection of 30 tourism attractions in Busan for 24/48 hours.
Visit Busan tourist attractions included on the pass include Lotte World Busan, Busan Tower, Skyline Luge Busan, Busan X the Sky, Songdo Cable Car and free hanbok rental.
Incredibly good value for money, buy your Visit Busan pass here via Klook >
---
You might like – Busan: Day Trip with Gamcheon Culture Village and Sky Walk >
---
Highly Rated Busan Accommodation and Hotels
Here is our pick of the best hotels in Busan to suit all budgets:
Lotte Hotel Busan
Luxury hotel located a 5 minute walk from the metro. Facilities include an on-site duty-free store, department store, movie theatre, indoor and outdoor pool, sauna, fitness centre and restaurants. Check out prices and availability for Lotte Hotel
Kent Hotel Gwangalli by Kensington
Highly rated hotel located on the shore of Gwangalli Beach. Rooms are modern with city views or sea views. Check out prices and availability for Kent Hotel Gwangalli by Kensington
Mipo Oceanside Hotel
Highly rated hotel offering both Western and Korean-style rooms. Some rooms have sea views. Check out prices and availability for Mipo Oceanside Hotel
Signiel Busan
Luxury hotel located between the 3rd and 19th floors of the LCT Tower. Rooms have panoramic views and facilities include an infinity pool, luxury spa, kids outdoor activity garden and dim sum restaurant. Check out prices and availability for Signiel
---
You might like – things to do in Haeundae Beach, Busan >
---
How to get to Busan's Gamcheon Cultural Village
The closest Busan Metro station to Gamcheon Cultural Village is Toseong Station on Metro line 1 – take Metro exit 6.
Once out of exit 6, Walk straight, turn right at first junction and walk up the hill onto Kkachigogae-ro towards Busan University Hospital.
Take bus Saha-gu 1-1 or bus Seo-gu 2 or 2-2 to the Gamcheon Culture Village stop, which usually takes just over 10 minutes. The stop will be announced in both Korean and then English by an automated voice-over.
Alternatively, you can walk from Toseong Station (we did this) and follow the bus route but it is quite steep.
Alternatively, there are usually Busan taxi cabs waiting outside Toseong station (some drivers can be a little forward based on our experience and will approach you without being asked).
---
You might like – things to do in Gwangalli Beach, Busan >
---
History of Busan Gamcheon Cultural Village
Formerly a mundane mountainside area where refugees settled after the Korean war, Gamcheon Village originally dates back to the 1920s. It boomed in the 1950s as the hilly landscape made it an affordable place to build family homes for the refugees.
Refugees from all over the country were attracted to the area and the area rapidly grew with a hotch-potch of hastily constructed hillside homes – this also gave the street lay-out a labyrinth like quality, with hundreds of hidden side-streets and alleys.
Fast forward to the early 2000's whereby Gamcheon Village was falling into disrepair, thanks largely to an aging population and younger families moving elsewhere.
In conjunction with the local Saha-gu Government, houseproud tenants painted their roofs and walls in bright colours and others followed suit, to try and instill a new found sense of pride in the area.
The most colourful village in Busan was born with picturesque and panoramic views attracting tourists from all over the world.
Try this Tours and Tickets to Experience Gamcheon Culture Village >
---
You might like – things to do in Busan at night >
---
Gamcheon Cultural Village Today
So what to expect from a visit to Gamcheon Cultural Village? It is packed with brightly painted homes and houses, labyrinth alley-ways and maze-like backstreets which are all part of the charm.
Not to mention cute coffee shops galore, several of which have incredible rooftops that provide postcard perfect panoramic views of Gamcheon Culture Village and Busan Port.
Coach loads of tourists descend here every day and as you'd expect, this has attracted lots of shops, cafes and small businesses – the area is bustling in the day time and it is one of the most popular tourist attractions in Busan.
Over 1 million people visit Gamcheon Cultural Village each year and around 150 inhabitants live there permanently (many of the shops are operated by traders who live away from the village).
Whilst you could refer to it as one of Busan's tourist traps, it is a jubilant and joyful place to explore with incredible panoramic vistas at every corner – it is also a nice way to escape the beaches of Busan or bright lights of Seomyeon.
---
You might like – Gyeongju The Old Capital of Korea One Day Tour from Busan >
---
Things to do in Busan Gamcheon Cultural Village
There are lots of things to see and do in Busan's Gamcheon Cultural Village including:
The Mural Of Jungkook & Jimin – band members from BTS who were born in Busan
The statues of The Little Prince And The Fox – the most popular selfie spot in Busan
Cheon Deok Su – a painted book staircase including a Harry Potter book (there is also a small well at the top of the steps)
'I Love Gamcheon' sign – a popular spot for selfie snaps and group photos
Happy Postboxes – post a letter at these special red letter boxes in Gamcheon Cultural Village – put a stamp on your card and it will be delivered in one year's time – so it could be a message to your future self or good wishes to a friend.
Gamcheon Cultural Village Little Museum – a tiny treasure trove of traditional Korean household objects donated by local residents.
Cloud Observatory
Fortune-telling gachapon machines – Pay 1,000 Won to get your fortune told!
---
You might like – things to do in Seomyeon and Jeonpo, Busan >
---
Busan Gamcheon Cultural Village Best Viewpoints
Although there are dozens of natural Gamcheon Cultural Village viewpoints dotted all around offering panoramic views, we would recommend the following spots and observation decks:
Haneuel Maru Observatory / Haneul Maru Rooftop
Easily the best free viewpoint in Gamcheon Cultural Village is the Haneulmaru roof terrace, which sits on top of a former residential dwelling now transformed into a museum and gift shop.
This is the best Gamcheon Cultural Village viewing point and observation deck as it is elevated and high on the hillside, offering unparalleled views of the port and with obstructions.
There is even a small seating area at the top with benches that have solar powered charging points for your phone – so cool!
Whilst Haneuel Maru Observatory is free to visit, donations or purchases in the gift shop below are appreciated.
---
You might like – the five best beaches in Busan >
---
Wooin Cafe Rooftop
We'd also recommend the Wooin Cafe Rooftop too just across from Haneulmaru for super colourful smoothies or iced coffee blessed with beautiful views.
This is a very popular Gamcheon Cultural Village viewpoint – it was recently visited by the Indonesian president and its terrace has been used in numerous TV productions and ads including a Samsung TV commercial.
To note the rooftop at Wooin Cafe Rooftop is accessed by a semi hidden stairway to the right of the serving area – order your drinks (we liked the smoothies!) and then bag a table on the alfresco upstairs terrace.
This is also one of the best food and drink places in Gamcheon Cultural Village (although as it can get very busy, service at Wooin Cafe can be a little slow).
---
You might like – things to do in Seoul at night >
---
Gamcheon Bus Stop with Figures
If you are getting the bus up to Gamcheon Cultural Village or walking up the hill, look out on the right hand side for a small bus stop complete with uniformed statues that has an excellent terrace looking out over Busan.
Looking for cheap Busan day-trips, attractions or group/private tours? We recommend visiting Viator, GetYourGuide, and Klook!
Observatory Where the Clouds Rest
Our final Gamcheon Cultural Village recommendation for best view points is another one that is one the journey up to the village, entitled Observatory where the Clouds Rest (well, that was what Google translate says).
This is another excellent viewpoint on the way into Gamcheon Cultural Village on the left hand side when going up the hill towards the village. Here you'll find some really outlandish cartoon statues – quite the welcome!
---
You might like – Our guide to going to a South Korea baseball game >
---
Gamcheon Cultural Village Shops
Given the coach-loads of international visitors that visit Busan cultural village daily, most of the shops in Gamcheon Cultural Village are very tourist focused – you can buy everything from mini beer bottle keyrings through to postcards and magnets.
There aren't any supermarkets or 7-Eleven / CU convenience stores in Gamcheon Cultural Village but it is easy to get cold drinks from nearby cafes or the various cold drink vending machines that South Korea is so famous for, which are dotted all around the village.
We'd recommend the Pineapple Fanta from the Gamcheon Cultural Village vending machines as not only is it so tasty, the bright yellow can also colour-co-ordinates quite nicely with the pastel colours of the village! You're welcome!
---
Other shops in Gamcheon Cultural Village include:
The GIF Photo Store Gamcheon Cultural Village
Where you can film and make your own personalised photographic flipbook.
You could call this a 'flipping' excellent souvenir from Gamcheon Cultural Village.
Book a Hand-flipped Photobook Making Class Experience in Gamcheon Cultural Village >
Gamcheon Cultural Village Costume Rental Shop – Hanbok and School Uniforms
Near to the Wooin Cafe and Haneuel Maru Observatory, you'll find a costume rental shop in Gamcheon Cultural Village (picture below).
Here you can rent both traditional Korean hanbok costumes or even school uniforms so you can walk around the village in style!
There are several other costume rental shops in Busan. Try these:
Gamcheon Culture Station
This is a super cute pin badge and earring store that also sells all manner of super cool souvenirs like scratch-off maps.
It is located very close to the Little Prince Statue (about 1 minute downhill) or to the immediate right of the Cheon Deok Su colourful book-steps / Harry Potter stairs.
Prices of the pin badges are cheap and you can also get things like Coca-Cola bottle earrings or South Korean beer bottle keyrings.
Gamcheon Culture Station was the cheapest shop we found in Gamcheon Cultural Village for these types of souvenirs. Note no photography is allowed in the store.
Also keep an eye for the cuddly cat outside Gamcheon Culture Station who keeps trying to get into the store – the cat has his own little feeding area by the main door.
---
You might like – Things to do in Seoul with Kids >
---
Character Cotton Candy
One of Gamcheon Cultural Village's most popular shops is the Character Cotton Candy store, whereby sugary candy floss is crafted and shaped into super cute cartoon characters – you may well recognise it from Instagram.
---
You might like – the best South Korean street foods >
---
Frozen Beer
For all you Busan craft beer fans, one way to cool down after a hot day walking around Gamcheon Cultural Village is to grab a frozen beer slushie.
This is a 'snowflake' smoothie made from beer and a honey top. Surely one of the best Busan food and drink snacks to try?! Cheers!
---
You might like – Our guide to Busan's best craft beer bars and breweries >
---
Other Names for Busan Gamcheon Cultural Village
Given how colourful it is, the Gamcheon Cultural Village is also sometimes referred to as the Machu Picchu of Busan / South Korea or the Santorini of South Korea.
Please note there is another Busan Cultural Village called Huinnyeoul Culture Village / Huinnyeoul Munhwa Maul – whilst also vibrant and with coastal views, this is different from Gamcheon Cultural Village.
---
Practical Tips for Visiting Gamcheon Cultural Village
Ready to head to Busan's most beautiful cultural village? Here are some tips for making the most of your time in Gamcheon Cultural Village
It can get very busy with coach-trips during the day so if you want the viewpoints to yourself, head to the village first thing or at sunset when most coaches have departed Busan by night.
On sunny days, all the brightly coloured buildings can be quite dazzling so take sunglasses to Gamcheon Cultural Village and make sure to wear sun-screen
Take the bus if you don't like hill walking. We opted to walk up the steep hills along the road from Metro Line Toseong Station. Whilst this does mean you get to take in all the views at your leisure and see all the local groups of old women gossiping, it can be quite tiring – the choice is yours.
There aren't any big supermarkets in Gamcheon Cultural Village (just vending machines and small shops) so if you are particular about what you want to eat and drink, bring your own supplies.
The hills are steep so wear trainers or walking boots – flip flops (jandals or thongs) are not recommended.
During winter months, the roads and streets around Gamcheon Cultural Village can be icy so be prepared and wear sensible footwear.
Please remember whilst a popular Busan tourist attraction, Gamcheon Cultural Village is also the home of local residents so please be mindful of their privacy and respectful of their property.
---
The other Busan cultural village
Huinnyeoul Culture Village / Huinnyeoul Munhwa Maul
This coastal walkway and village was easily one of our top things to do in Busan – reminiscent of Greeks islands like Santorini, Huinnyeoul Munhwa Maul is white-washed residential village is a treasure trove of shops and trinket stalls, plus cute coffee shops that offer panoramic views of the Busan sea.
After the war, Huinneyeoul Culture Village was formerly an area where refugees gathered and settled.
It is one of the most famous places in Busan to see Busan Port and South Port and has featured in several K-dramas and programmes, most notably the films 'The Attorney' and 'War Against Crime'.
A beautiful hillside village, whilst not on the scale of Gamcheon Cultural Village, Huinnyeoul Huinnyeoul Munhwa Maul is very much worth your time and is a lot more tranquil than peaceful – a prime spot to enjoy a coffee or afternoon tea on a terrace enjoying the sea-breeze and ocean vistas.
Huinnyeoul culture village in Busan is simply sublime to explore by yourself or as part of a tour >
CK Travels tip – if you are walking from downtown to Huinnyeoul Munhwa Maul culture village, the best way to get here is the waterside walk from Namhang Grand Bridge Waterside Park / Namhang Lighthouse via the Jurong Coastal Entrance.
This is a flat coastal trail that is brightly painted blue to mirror the ocean and a popular spot with dog walkers and joggers too (plus the occasional local fisherman).
---
Other South Korea posts you might like

Did you enjoy our Things to do in Gamcheon Cultural Village in Busan blog post? Let us know in the comments or by sharing it on social media.
You can follow CK Travels on:
Instagram
Facebook
TikTok
YouTube