This post may contain affiliate links to tours and hotels. These help us earn a small commission at no additional charge to you.
Easily one of Busan's best beaches and one of South Korea's most colourful coastal getaways, Haeundae Beach has a whole lot going on.
From beachside bars to charming coastal walks, sand festivals to sublime panoramic views, there are a lot of things to do in Haeundae Beach, Busan, South Korea (it even has the world's highest Starbucks).
Even if you aren't a big beach fan, there is something to suit all tastes in Haeundae, from the village vibe and cool coffee shops of Haeridan-gil to the South Korean street food delights of Haeundae Traditional Market.
You can also experience one of the world's greatest (and most Instagrammable) ocean facing railway journeys at Haeundae Blue Line Park.
A urban beach area that is a marvellous mix of traditional and trendy, here are the top things to do in Haeundae Beach in Busan (South Korea) in 2023:
---
Getting to Busan
Fly to Busan
You can fly directly to and from Busan Gimhae International Airport (PUS) from Japan, Thailand, the Philippines, Vietnam, Taiwan, Singapore, China and Malaysia.
There are dozens of domestic daily flights to Busan from Seoul and Jeju.
Train to Busan
Eek – not the famous South Korean zombie movie of the same name but a fast and economical way to get to Busan from Seoul.
The KTX train Korea is the fastest train to get to Busan in the south of the country, often taking less than 3 hours and running one or two times an hour.
Alternatively, foreign travellers can benefit from discounted rates with a Korea Rail Pass – this is also better value if you are travelling long distances by train in South Korea for two or more days.
Book your Korea Rail Pass (2, 3, 4, or 5 Days) here >
---
Getting to Haeundae Beach
The easiest way to get to Haeundae Beach is via the Busan Metro system to Haeundae Station (take line 2). The closest Metro exits to Haeundae Beach itself are exits 3 or 5 – or take exit 4 if you are visiting Haeundae traditional market or Haeridan-gil.
There is also a comprehensive bus network in Busan but based on our experience, if you are coming from downtown Busan, the journey takes longer.
Haeundae Customised Private Tour
Given how big Busan is, if you are short on time, you can organise your own customised private tour of Busan >
---
Accommodation in Haeundae Beach
Budget
MAMA Guesthouse Haeundae
Private ensuite rooms with shared kitchen and a shared lounge, located 300 metres from Haeundae Beach. Check out prices and availability for MAMA Guesthouse Haeundae
Mid Range
Mipo Oceanside Hotel
Highly rated hotel offering both Western and Korean-style rooms. Some rooms have sea views. Check out prices and availability for Mipo Oceanside Hotel
Luxury
Signiel Busan
Luxury hotel located between the 3rd and 19th floors of the LCT Tower. Rooms have panoramic views and facilities include an infinity pool, luxury spa, kids outdoor activity garden and dim sum restaurant. Check out prices and availability for Signiel Busan
---
Things to do in Haeundae Beach, Busan 2023:
1. Haeundae Beach
As you'd expect, we start our 'things to do in Haeundae Beach' article with Haeundae Beach itself.
Haeundae Beach is not only one of the best beaches in Busan but also one of the best beaches in South Korea.
With its vast ocean views, sprawling sandy beach and towering skyscrapers immediately behind, Haeundae Beach is world-class (it reminds us of the skyscraper sea coast-line in Gold Coast, Australia).
One of nearest beaches anywhere to the city in Busan, Haeundae Beach is brilliant for swimming and watersports and stretches over 1 mile – so even when it gets very busy, you can usually find a spot.
The only downside on blissful Haeundae Beach is that some of the skyscrapers cost long shadows at certain times of the time so choose your sunbathing spot carefully!
Our visit to Haeundae Beach coincided with the popular annual Haeundae Sand Festival (more on this later) and Haeundae has several well known beach festivals including the popular Polar Bear Swim Festival (icy cold plunges) every December and the Haeundae Lights Festival (mid-late Nov to Late Jan).
Sunset and sunrise at Haeundae Beach in Busan are special and every New Year's Day, thousands of Busan residents visit Haeundae Beach to see the first sunrise of the New Year.
From surfing to sunbathing, beachside bars to beach walks, Haeundae Beach has you covered.
---
You might like – Busan Main Attractions One Day Tour >
---
2. Haeundae Blueline Park
You might get a sense of deja-vu when you first see the Haeundae Blueline Park – the colourful Sky Capsules (monorail) that travel along the coast with incredible sea views are very popular on social media.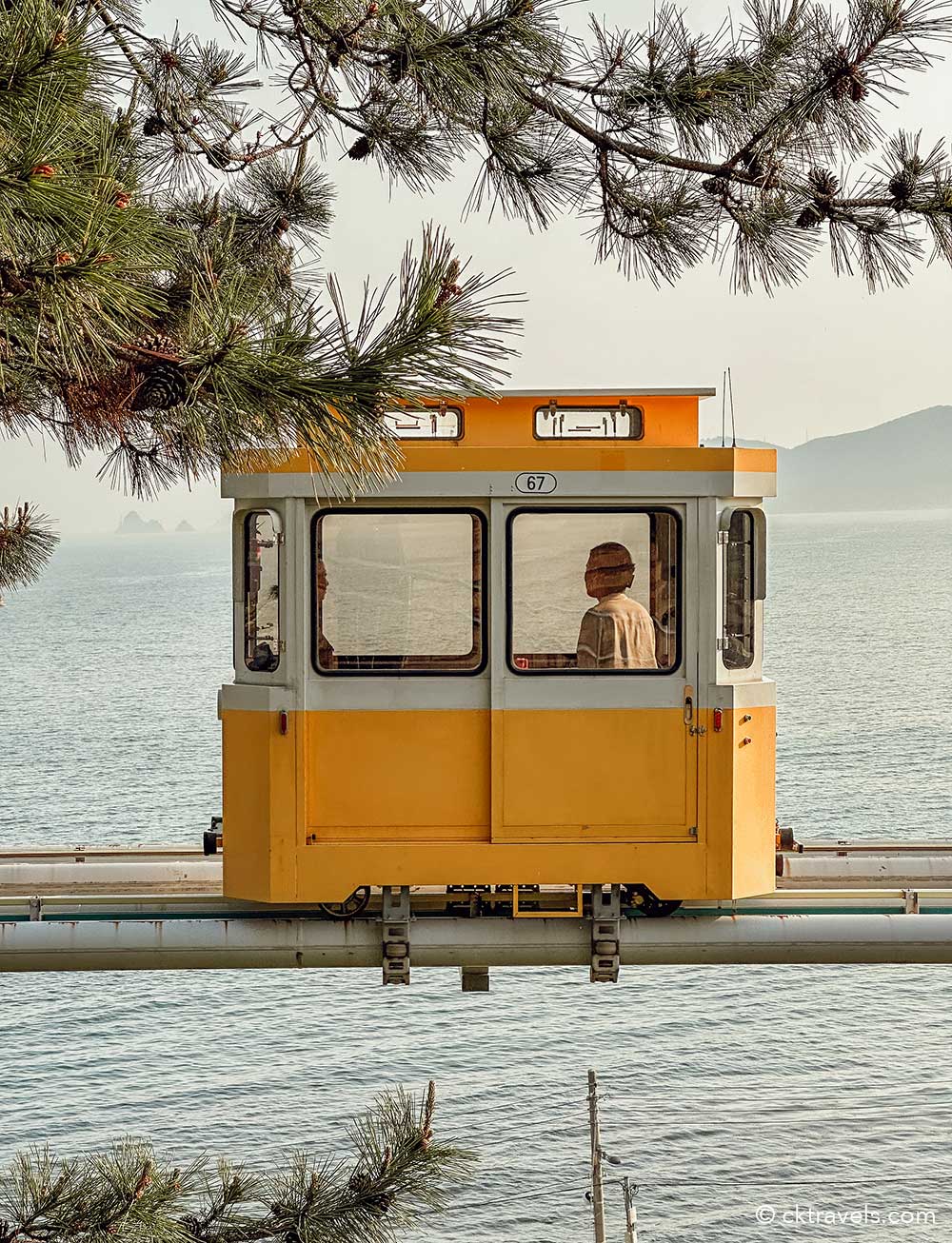 The Haeundae Blue Line Park is a top thing to do in Haeundae Beach, consisting of the Sky Capsules and a separate Beach Train, that follows the Busan Green Railway coastal walking trail (note the trail partially collapsed in 2022 but the railway remains unaffected).
Following the old Donghae Nambu Line, the 5km coastal Beach Train journey starts from Haeundae Beach station to Dalmaji Tunnel, Cheongsapom Daritdol Skywalk (very cool and free), Gudeokpo and Songjeong, taking about 30 minutes, and gives stunning unspoilt views of East Busan's coastline.
The Sky Capsule runs from Haeundae Mipo to Cheongsapo along an aerial railway. Given its popularity, it is recommended you book the Haeundae Blue line Park in advance especially during peak periods – although you can easily jump on the parallel Beach Train without pre-booking.
Read our dedicated guide to the Beach Train and Sky Capsules at Haeundae Blueline Park >
You can book as part the as part of a Busan Must-visit 1 Day Tour, and it is also included as one of included attractions in the newly launched Visit Busan pass >
Looking for cheap Busan day-trips, attractions or group/private tours? We recommend visiting Viator, GetYourGuide, and Klook!
3. BUSAN X the SKY
For the best panoramic views of Haeundae Beach and the Busan coastline, head up to the 100th floor of Busan X the Sky, a newly constructed mixed use skyscraper that at over 400 metres high, is the tallest building in Busan and the second largest tower in South Korea (after the Lotte World Tower in Seoul).
Take the Sky Cruize (an elevator, not Tom Cruise's daughter) to the 100th floor in less than 1 minute – the multimedia graphics in the Busan X the Sky lift are also great entertainment for big kids and small kids alike.
As well as the incredible views of Haeundae Beach and the whole of Busan, there is an indoor glass walkway – the Shocking Bridge where you can see Haeundae Beach directly below your feet (if you dare look down!)
As well as the observation deck, you'll find art installations and restaurants at the top of BUSAN X the Sky (plus the world's tallest Starbucks – more on this later).
​Book a discounted BUSAN X the Sky ticket here >
Busan X the Sky is also included as part of the Visit Busan pass >
---
You might like – things to do in Seoul at night >
---
4. Haeundae Food Alley / Haeundae Traditional Market
Looking for superb street food or late night bites in Busan? Then head to Haeundae Traditional Market, a couple of blocks back from Haeundae Beach and within easy walk of Gunam-ro Busan.
Here at Haeundae Food Alley / Haeundae Traditional Market, you'll find a treasure trove of traditional Korean restaurants plus dozens of seafood restaurants with the freshest fish and seafood given the close proximity to the coast.
From tteokbokki to tempura, squid to mandu, you'll find lots of fine South Korean street food, plus given there are so many restaurants who all want your custom, prices at Haeundae Traditional Market are very reasonable. If you don't want to sit down and just grab and go, most restaurants have a takeaway counter out front too.
Look out for the famous honeycomb ice-cream and honey hotteoks available at Haeundae Traditional Market as this one of the biggest lines we saw.
---
You might like – guide to South Korean street-food >
---
5. Haeridan-gil
Possibly the most hipster neighbourhood in Haeundae Beach, Haeridan-gil is an up and coming district near to Haeundae Station where an old residential neighbourhood has been transformed to become a hotchpotch hotpot of cool coffee shops and restaurants.
Once you get to Haeridan-gil, you'll also spot street-art and murals on most walls – very much a village vibe, Haeridan-gil is hipster central, a bit like Ikseon-Dong Hanok Village in Seoul (but on a much smaller and slightly more modern scale).
Next door to Haeridan-gil, there is also a disused railway line that you can walk along reclaimed by nature; one of the most popular walking spots in Haeundae Beach.
---
You might like – Things to do in Busan – Ultimate Guide >
---
6. Busan Haeundae Beach Sand Festival / sandcastle competition
Taking place annually every May or June, the Haeundae Beach Sand Festival is one of the most popular events in Busan – we were lucky enough to coincide our 2023 trip to Busan to coincide with the Sand Festival and we highly recommend going – taking your own bucket and spade is optional!
Billed as the "…only sand-related eco-festival in Korea…" (no, us neither), the Haeundae Sand Festival sees stunning sand castles built all over Haeundae Beach by sand castle designers from all over the world.
Seriously, the Busan Sand Festival sand castles have to be seen to be believed – in 2023, they even had a gigantic Busan BTS sand-castle (K-pop fans rejoice) plus several themed sand castles like a science sand castle.
As well as seeing sand castles, there are lots of beach events during the programme – the Busan Haeundae Beach Sand Festival is free to visit.
---
You might like – Gyeongju The Old Capital of Korea One Day Tour from Busan >
---
7. Gunam-ro Busan Cultural Square
Although many of the things to do in Haeundae Beach are obviously beach and coast-line focussed, Gunam-ro Busan Cultural Square is just a few steps away from the beach and is a nice area in the commercial district to explore surrounded by bars, cafes and restaurants.
This is one of the best places in Busan to explore at night after it has gone dark on Haeundae Beach.
Gunam-ro Busan also has convenience stores galore should you want to have a few beers on the beach – we are speaking from experience; cheers and drink responsibly).
In the summer months, Gunam-ro Busan Cultural Square has lots of flower displays and seating areas. During our visit in summer 2023, there were huge floral displays of other cities in the world, to help promote Busan's imminent Busan Expo bid for 2030. Did you know Busan has an expo?
---
You might like – how to get KBO baseball tickets in South Korea >
---
8. Busan Sea-Life Aquarium
It isn't just the ocean at Haeundae Beach that has fish and aquatic life – Busan SeaLofe Aquarium has over 40 exhibits, which includes fish (obviously) penguins, otters, piranhas, turtles and a touch tank for a close up "hands on" experience (fairly sure piranhas won't be in the touch tank though!)
Go under the sea at Busan Sea Life Aquarium across three aquatic zones including a 180 degree underwater glass tunnel experience and new Bingo zone.
Book your discounted Busan Sea-LIfe Aquarium tickets with Klook here >
---
Busan Haeundae Beach Craft Beer bars and Brewery Bars
After a busy day spent on Haeundae Beach or as a treat after the Blue Line Park Train, grab a cold beer at one of these Haeundae Beach craft beer bars and breweries.
9. Abnormal Taphouse and Cantina
An 'Abnormal' day in Busan – a recent visit to Abnormal Tap House & Cantina was a good way to finish off a day of coastal walks and sunset views on the beach.
Located literally just a few yards away from the beach, Busan's Abnormal Taproom has 12 taps plus free popcorn – we were on the Magpie Brewing Pale Ale and Hand and Malt Mocha Stout – definitely one to return to for their weekly Taco Tuesday deals.
---
10. Galmegi Brewing Haeundae
A Busan brewery born and bred, Galmegi Brewing started life almost 10 years ago as a small microbrewery pub.
Galmegi Brewing now has several taproom and craft beer bar locations in Busan including Haeundae Beach, Gwangalli Beach, Seomyeon and Nampo.
Galmegi Brewing Haeundae is open until 1am every night of the week (until 2am Friday and Saturdays) and is renowned for its hearty pub style fare like mac and cheese or pizza.
Start your beachside beer session with the fittingly name Hae hazy IPA (or grab a flight of craft beers, if you want to try several before committing).
---
You might like – Best Beaches in Busan, South Korea
---
11. Gorilla Brewing Co Haeundae
Gorilla Brewing is a Busan based craft beer brewery with two locations – Haeundae Beach and Gwangalli Beach (cos lifes a beach when drinking ice cold beers eh).
What we really like about Gorilla Brewing are the cool can designs and huge range of draft craft beers on tap (we think Gorilla Brewing may have the largest craft beer selection in Gorilla). Inside, choose a can from the well stocked chiller or take a look at the chalkboard menu behind the bar.
We tried the pulled pork burger and the pork ribs and both were delicious. Go ape in Gorilla Brewing, Haeundae Beach's bustling brewery bar.
---
You might like – 10+ Best Craft Beer Bars and Breweries in Busan >
---
12. Enjoy a coffee in the tallest Starbucks in the world
We are back to Busan X the Sky as Haeundae Beach in South Korea is home to the world's tallest / highest Starbucks.
Located on the 99th floor of Busan X the Sky, the Starbucks here serves coffee with real altitude – the beachside views to accompany your beans are a bonus, plus treat yourself to a pastry with the best panoramic views of Busan. And yes, you can buy South Korean branded Starbucks mugs here.
To get to Starbucks Busan X the Sky, you need to alight on the 98th floor and walk up the flight of stairs to level 99.
Note to visit Busan X in the Sky Starbucks at Haeundae Beach, you must purchase an admission ticket to Busan X in the Sky first.
---
You might like – things to do in Insadong, Seoul >
---
13. Dongbaekseom Park and Coastal Trail
For us, one of the best free things to do in Haeundae Beach (apart from the beach itself) is to take the short walk from the beach along the coastal trail to Dongbaekseom Park – the views of the coast here are unparalleled and the boardwalks make the cliff-sides very accessible.
Based on our experience, this (along with the coastal walk from Haeundae Beach to Songjeong) is one of the most scenic walks in Busan.
The waters look tropical and azure as walk along the huge wooden walkways – you'll also get to encounter a suspension bridge (safer than it sounds).
This whole area used to be known as Dongbaekseom island but the coastal trail is now connected to the mainland through decades of sedimentation.
---
You might like – Busan Haeundae River Cruise >
---
14. Dongbaekseom Lighthouse
Towards the middle section of the Dongbaekseom Island Coastal Trail, you'll come across the Dongbaekseom Lighthouse, a well-loved coastal look-out (popular for selfies and family photos too).
This lighthouse is a good spot to take in distant views of Gwangandaegyo Bridge (Diamond Bridge) and look out to sea.
---
You might like – things to do in Euljiro, Seoul >
---
15. Lotus Lighthouse
You've seen one light-house, you've seen them all right? Busan is renowned for its unusual lighthouses including a baseball lighthouse (no, no really!) which looks like a baseball, baseball hat and catching mitt.
However, Haeundae Beach also has another quirky lotus shaped lighthouse around 1 km off-shore.
The lotus lighthouse was built to commemorate the 13th APEC summit in Busan and is shaped to resemble a fully bloomed lotus to express Busan's development and future prosperity.
---
You might like – how to get KBO baseball tickets in Seoul, South Korea >
---
16. Princess Hwangok Statue
A popular coastal statue in Haeundae Beach, the story goes that Princess Hwangok crossed the sea from the mermaid country, Naranda, to marry a King (how very Aqua Man).
However, she suffered from homesickness but was comforted every full moon by looking at the reflection of her country on Hwangok (a topaz bead).
This is the second Princess Hwangok Statue installed (in 1989) after the first was destroyed by a typhoon (its surviving upper body is now on display in Busan Museum).
---
You might like – things to do in Hongdae, Seoul >
---
17. Nurimaru APEC House
Free to visit, Nurimaru APEC House is located on Dongbaekseom Island and around a 20 minute walk from Haeundae Beach. Spectacular for its cliff setting and incredible panoramic views, this is part museum, part conference centre that has hosted many of the world's leaders in Busan over the years as part of APEC talks (Asia-Pacific Economic Cooperation).
With a roof reminiscent of a space-ship (it is meant to symbolise the ridgeline of Dongbaekseom Island) and a gorgeous green garden terrace overlooking the ocean, this is a good place to visit to escape the sun, grab a cold drink or check out their latest exhibition.
You can also easily spot Oryukdo Island, Gwangan Bridge and Dalmaji Hill from the Nurimaru APEC House alfresco terrace.
---
You might like – things to do in Myeongdong, Seoul including Myeongdong Night Market
---
18. Haeundae Beach Premium Yacht Tour
Enjoy Haeundae Beach from a different perspective on a luxury yacht – soak up sunkist views of Haeundae Beach and Gwangalli Beach whilst enjoying complimentary beer or soft drinks.
The staff are also on hand to look after you and take pictures as a lasting memory of Haeundae Beach.
All aboard the Haeundae Beach Premium Yacht Tour – book with Klook >
---
You might like – Things to do in Gwangalli Beach, Busan >
---
19. Spa Land Centum
Relax and unwind in Busan's biggest public bathhouse and spa, Spa Land Centum in Haeundae Beach (known as a "jimjil-bang" in Korea).
Located in the Shinsegae Department Store Centum City, this is an authentic South Korean spa and sauna experience. Spa Land Centum uses hot spring water full of sodium bicarbonate, which is pulled up from underground wells.
There are almost 20 different hot springs and 13 theme spas to choose from including the Ice Room and Pyramid Steam Room
Don't miss out on the best Busan spa experience – book your discounted Spa Land Centum tickets with Klook. You'll get more 'Jjimjilbang' for your Bucks – for an authentic South Korean sauna experience!
---
20. Get (Home) Cooking at Haeundae Beach
Although there are plenty of food and drink places to enjoy in Haeundae (particularly near the beach and in the Haeundae Traditional Market), you may want to enjoy a home-cooked meal made by your own fair hands.
Why not make a Haeundae home-cooked meal at a traditional cooking class in Busan, near to the beach. Learn how to make bibimbap, seaweed soup and Korean pancake before enjoying your own creations with the rest of the small group – afterwards, finish off with Korean desserts and tea.
Read more about Korean cooking class in Haeundae, Busan >
PS If you don't fancy making your own Korean food, we'd recommend LGO Gimbap just near Haeundae Blue Line Park. The food is good, prices cheap and the staff lovely and helpful. Better yet, it has an outdoor roof terrace with nice views of the Busan skyline.
---
You might like – Gwangjang Market in Seoul – visit the famous Netflix knife-cut noodle lady stall
---
21. Daemado Island and Oryukdo Islands
On a clear day in Haeundae Beach, it is possible to see Daemado Island from Busan, located approx 50 km offshore. The number of days it is visible is around 60 days a year.
Closer to Haeundae Beach, Oryukdo Islands (translates to 'five or six' islands as depending on the time of day, it can look like either) are full of cliffs, caves and wildlife.
The Oryukdo islands were joined to Haeundae over 100,000 years ago but coastal erosion saw them become islands – it is perhaps most famous now for the Oryukdo Skywalk, a free glass walkway (they really do love glass walkways in Busan!)
---
You might like – Ikseon-dong Hanok Village in Seoul >
---
22. Haeundae Beach sign
Love a selfie on the sand? Then make sure you pose with the famous Haeundae Beach sign – alas it isn't rainbow coloured like most famous city signs but it still makes a nice free souvenir from one of Busan's best beaches.
---
You might like – the best shopping malls in Seoul >
---
23. Ryan's Holiday in Busan
Located just next to Haeundae Beach, Kakao Friend's 'roarsome' Ryan the Lion now has his own holiday home set-up in Busan!
From Ryan the Lion to Choonsik the Cat, Con the Crocodile to Frodo the Dog, you'll find all the Kakao Friends here – you can enjoy 4DX indoor rides and trick arts in this immersive fun space. There is a super cute cafe and Kakao Friends gift-shop too
Book Ryan's Holiday in Busan here >
Or Ryan's Holiday is one of the 'free attractions' included on the Visit Busan pass.
---
Other Things to do Near to Haeundae Beach in Busan:
24. Lotte World Busan
Busan's biggest and newest theme park and following in the footsteps of Lotte Adventure World in Seoul, Lotte World Busan opened last year (in 2022) – it is actually about a fifth bigger than the Seoul Lotte theme Park so a boon for Busan!
Lotte World Busan features several special themed zones including Joyful Meadows and Rainbow Springs) with 17 rides and attractions including the Giant Digger rollercoaster with three 360 degree loops (maybe have lunch after you ride!).
As well as rides for all ages, there are daily parades and shows at Lotte World Busan including the Lotus Magic Forest Parade and the Magic Fairy Band.
Book your discounted Lotte World Busan tickets via Klook >
---
25. Gwangalli Beach
We visited a lot of beaches in Busan and other than Haeundae Beach, we thought the other best beach was Gwangalli Beach.
Like Haeundae Beach, it is popular for sunbathing and watersports activities plus has dozens of beachfront bars and restaurants.
Better yet, Gwangalli Beach holds a breathtaking aerial drone show every Saturday evening at 8pm and 10pm – the shows are different every week and for us, this is easily one of our top 5 free things to do in Busan.
---
26. Haedong Yonggungsa Temple AKA the Busan temple by the sea
A short bus ride from Haeundae Beach, Haedong Yonggungsa Temple is described as the most beautiful temple in Korea (well so says the sign on the wall).
Incredibly popular (especially with coach groups), the original temple was built in the 14th century but later destroyed by bombing and rebuilt in the 1930s.
We were lucky enough to visit Haedong Yonggungsa Temple in the run-up to the Buddha's birthday so the site and coastal paths here were decorated with colourful paper lanterns.
---
You might like – East & West Busan Exploration with Busan Skywalks, Gamcheon Culture Village, and Haedong Yonggungsa Temple Day Tour >
---
27. Cheongsapo Daritdol Observatory
Easily accessible from Haeundae Beach when taking the Beach Train from Haeundae Blue line Park (it has its own stop), Cheongsapo Daritdol Observatory is a unique glass walkway that curves over the ocean, 20 metres up from the sea.
As of summer 2023, Cheongsapo Daritdol Observatory is free to visit but under maintenance when we visited (so partially open) – we hope they fix the cracked panels on the glass walkway – eek!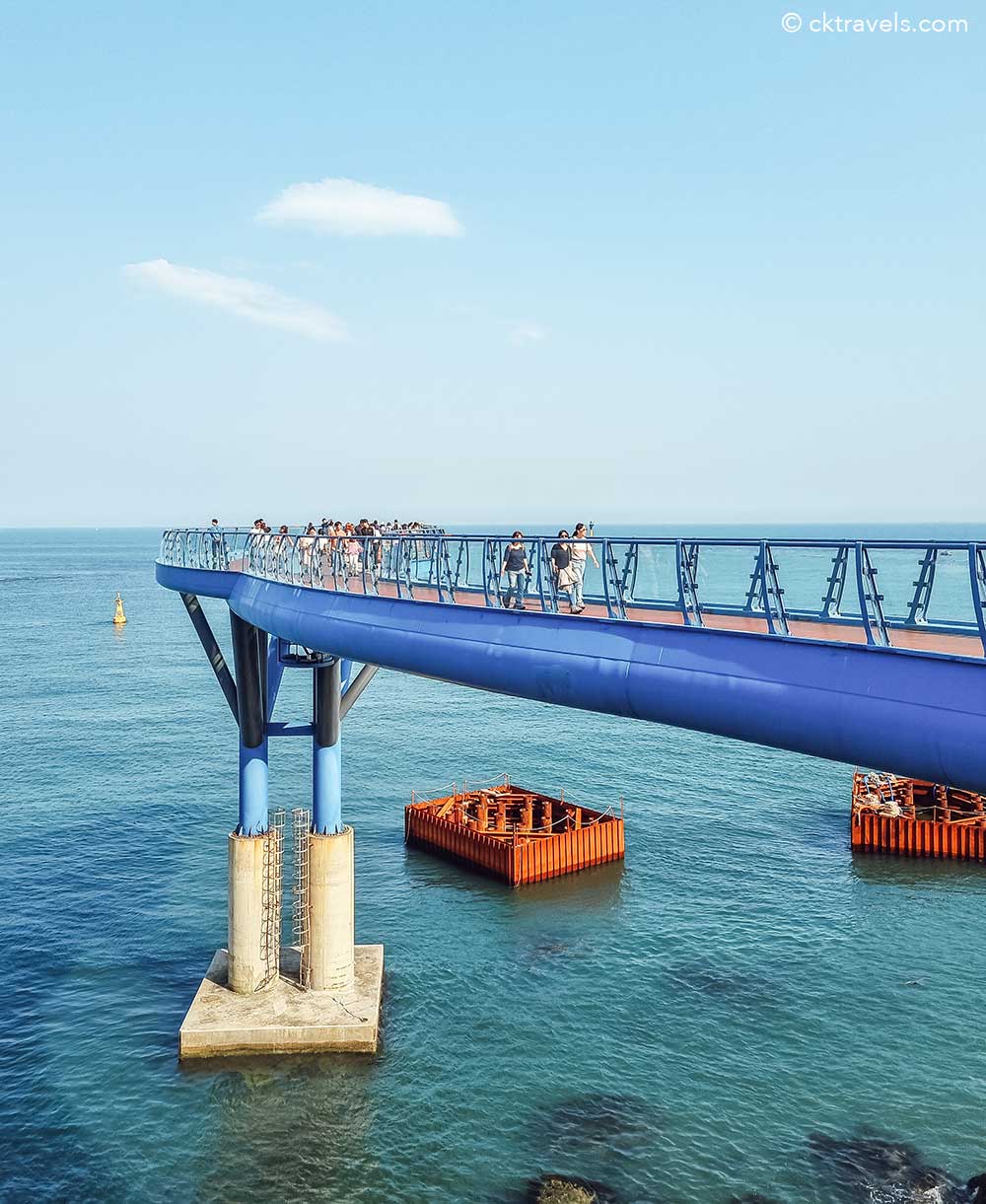 ---
Save money on Busan attractions with the visit Busan Pass
Newly launched in 2023 and very similar to the highly successful Visit Seoul pass (read our review here), the Visit Busan pass provides 'free' access to a selection of 30 tourism attractions in Busan for 24/48 hours.
Visit Busan tourist attractions included on the pass include Lotte World Busan, Busan Tower, Skyline Luge Busan, Busan X the Sky, Songdo Cable Car and free hanbok rental.
Incredibly good value for money, buy your Visit Busan pass here via Klook >
---
Visiting Seoul? You might like the Discover Seoul pass (our review) or our Go City Seoul Pass Guide.
---
Other South Korea posts you might like
Did you enjoy our Things to do in Haeundae Beach, Busan? Let us know in the comments or by sharing it on social media.
You can follow CK Travels on:
Instagram
Facebook
TikTok
YouTube