This post may contain affiliate links to tours and hotels. These help us earn a small commission at no additional charge to you.
Bangkok is brilliant by day but Bangkok at night is even better. One of the more 'interesting' things to do in Bangkok at night, Soi Cowboy is certainly a sight to behold.
More accessible and slightly less seedy than nearby Nana (best avoided as a casual tourist), we've been to Soi Cowboy in Sukhumvit many times over the years, mainly to people-watch and drink Happy Hour beers. Yee-hah!
An introduction to Soi Cowboy
Soi Cowboy in Bangkok isn't for everyone and rightly so. With all the bright lights and local girls (and boys) trying to beckon you inside, we were a little overwhelmed on our first visit to Soi Cowboy, gawping at what goes on and not sure entirely how to behave.
We've since discovered Soi Cowboy is one of the more 'tame' nightly delights in Thailand and probably your safest introduction to the slightly more seedy side of Bangkok's night for the purely 'curious'.
What happens at Soi Cowboy?
We are in no way condoning what goes on at Soi Cowboy and we are vehemently opposed to sex tourism.
We know we aren't exactly helping matters by visiting Soi Cowboy purely as observers but the fact remains it is still one of the most famous night-time places in Bangkok.
It is quite the experience to see all the comings and goings in Soi Cowboy with your own eyes and the bright lights and neon nights here are pretty cool.
We also haven't ever been inside any of the clubs, always opting to people-watch from the outdoor seating areas; so we can't vouch for exactly what goes on (or indeed doesn't) in those smoky rooms at the back of the bars that everyone talks about.
Soi Cowboy at Night
Although dead as a dodo during the daytime, by night the street is awash with lurid neon signs, bustling bars and local workers.
Soi Cowboy is quite the place and worthy of some of your tourist time, even if just to see what all the fuss is about. And if it isn't your thing or you want to leave as soon as you arrive, there are lots of other more mainstream bars and restaurants in the near vicinity.
Soi Cowboy Bars
There around around 25 to 30 bars along the main Soi Cowboy strip, many with young ladies (and lady boys) sitting outside trying to entice you in.
Pre-COVID and non-travel times, there were more bars in Soi Cowboy but still haven't reopened (as of summer 2023).
Most Soi Cowboys bars have small outdoor seating areas – most of the 'action' (including the pole dancing) takes place inside and away from prying eyes outside.
If you want to enjoy Soi Cowboy or just have a drink without fear of getting stung for some additional charges you weren't aware of, it is recommended you grab one of the outdoor tables at one of the bars where the drinks of prices are clearly signposted.
We'd also recommend taking a picture of the menu you are originally shown, in case the prices are switched / made higher when you come to pay.
Soi Cowboy 2023 Opening Hours
Soi Cowboy is open 7 days a week although most of the bars do not open until later afternoon.
If you visit in the daytime, it is just a pretty dirty street with nothing open.
Most bars seems to close before 2am – we last visited Soi Cowboy on a Friday night / Saturday morning in June 2023 and most of the bars were closed, with the ladies from the club grabbing supper from the nearby street food carts.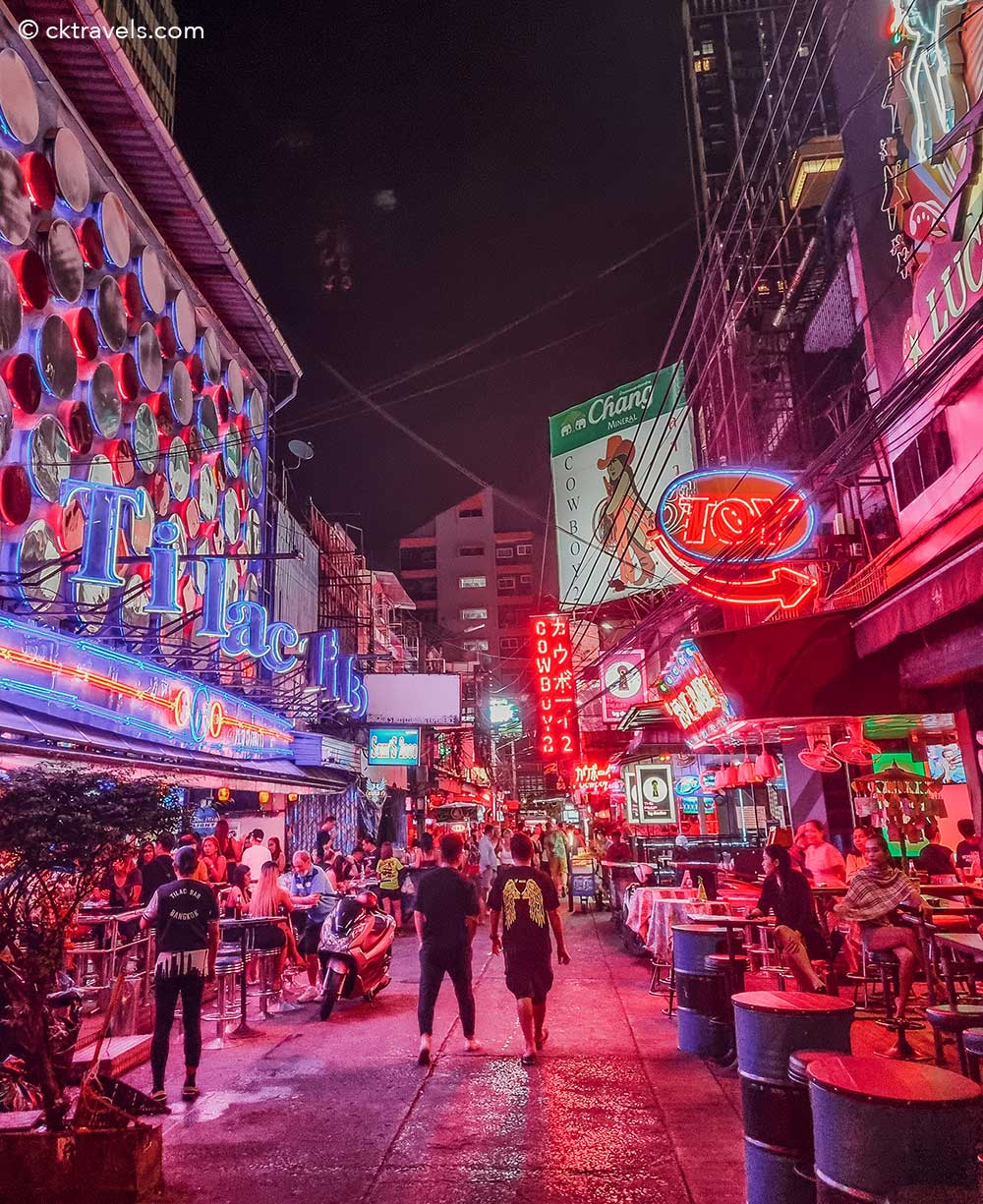 Solo Travellers
If possible, don't visit Soi Cowboy by yourself, especially as a solo female traveller. If you are solo backpacking, try and make some friends in the hostel beforehand and go as a group.
Visiting in groups to Soi Cowboy also makes it to ensure your drinks don't get spiked, if you all stick together.
Photography
Be careful taking pictures and especially videos. We always try and get some quick snaps at the edges of Soi Cowboy but tourists have been known to have their cameras snatched away, especially by club owners when taking pictures of particular clubs.
If you really want to take pictures at Soi Cowboy, be quick and you are best to use a less conspicuous camera phone (don't take your long lense!)
The safest time to visit Soi Cowboy
We found the best / safest time to visit Soi Cowboy purely just for drinks was around the 9pm to midnight period, as this is generally when the area is still very well populated and people aren't too intoxicated (probably).
This is also when the Soi Cowboy Happy Hour offers runs (usually from opening until 10pm (but happy hour times in Soi Cowboy vary from bar to bar).
Is Soi Cowboy safe?
Yes and no. We've never had any issues ourselves at Soi Cowboy as we always drink at the outdoor bars and seating terraces and haven't ever requested anything other than beer!
We always go for drinks outside the clubs in full view, where the drink prices are clearly displayed – if you go inside, you will likely be approached for dances or possibly more (not our thing, especially on a backpacker budget in Bangkok.
Some bars also hit you with a massive bar-tab with charges for tables, seats, service etc so make sure you know the prices before you start to buy.
There have been reports of drink-spiking / druggings in Soi Cowboy so always keep your drink in sight.
Generally, Soi Cowboy is much safer than the more notorious areas of Nana (near to Soi Cowboy) or Patpong Market and Thaniya Walking Street which are both in Silom.
Tipping
Tipping at Soi Cowboy bars and clubs is generally expected, even if you are just having a single casual drink in the outdoor seating areas.
Some staff are more assertive (some would say 'aggressive') than others when suggesting tipping amounts, so we generally round up to the nearest 50 THB note if we are only having one or two drinks.
Note that if you buy 'services' inside the bars and clubs at Soi Cowboy, you will possibly see lots of extra charges that accompany your final bill.
If you are unwilling to pay, the bouncers and bar staff may 'encourage' you to pay up in not so friendly ways. Caveat emptor!
Food at Soi Cowboy
You are best to eat before your visit to Soi Cowboy, but if you are peckish, there are several fruit and street-food vendors along Soi Cowboys, plus some expensive (for Thailand) restaurants on the outer edges of the street.
Either side of Soi Cowboy, you'll find a couple of 24 hour 7-Elevens, meaning you can have a toasted sandwich at all hours.
---
Read our guide to the 30+ Thailand 7 Eleven toasted sandwich flavours here >
---
In summary
Soi Cowboy is clearly an interesting place to visit and is an easy introduction to Bangkok's celebrated night time scene. As long as you keep your wits and act sensibly, Soi Cowboy should be a neon night to remember!
How to get to Soi Cowboy in Bangkok
The best way to get to Soi Cowboy in Bangkok is either by Bangkok Mass Transit System (the BTS Skyline) or via the Metro system.
To take the BTS Skyline line to Soi Cowboy, alight at the BTS Asok station and walk a couple of minutes – alternatively, the Sukhumvit MRT station exits directly next to Soi Cowboy without the need for crossing any roads.
---
SIM cards and Pocket WIFI
Having data on your phone whilst travelling is almost essential these days – from planning your route around the city, booking a Grab taxi or for staying connected with friends and family back home.
SIM cards are pretty cheap in Thailand with generous data allowances and are available to purchase from both of Bangkok's airports, malls and 7-Elevens (bring your passport along for identification purposes).
You can also prepay online and collect a SIM from Suvarnabhumi Airport, Don Muang Airport or Siam Centre. Just remember to make sure your phone is not locked to your local network provider before purchasing one.
Alternatively if you do not want to change your sim card then renting a pocket WIFI device might be for you. We've used them multiple times and love that we can both connect our devices to it. Pre-order one online with Klook for collection when you arrive at either Suvarnabhumi or Don Muang Airport.
---
More Bangkok blog posts
---
Did you enjoy our Guide to Soi Cowboy in Bangkok blog post? Let us know in the comments or by sharing it on social media.
You can follow CK Travels on: 
Instagram
Facebook
TikTok 
YouTube
Pinterest
Add to Pinterest!