This post may contain affiliate links to tours and hotels. These help us earn a small commission at no additional charge to you.
Hello to 'Hallyu'! Korean popular music has gone global, with K-Pop groups now worldwide stars – from BTS to Blackpink, Seventeen to Stray Kids, there are dozens of K-Pop groups to enjoy. If you are visiting Seoul soon and want to buy K-Pop music or merchandise, the highest concentration of Seoul K Pop stores is in Myeongdong.
And the Seoul K-Pop stores in South Korea don't just sell K Pop music or books – you'll find all manner of K-Pop merchandise from BTS Lego through to chocolate bars with your favourite K Pop bands etched on them (too good to eat?)
From Seoul K-Pop stores in malls to market stalls and shops, here is our guide to the 10 best K-Pop stores in Myeongdong: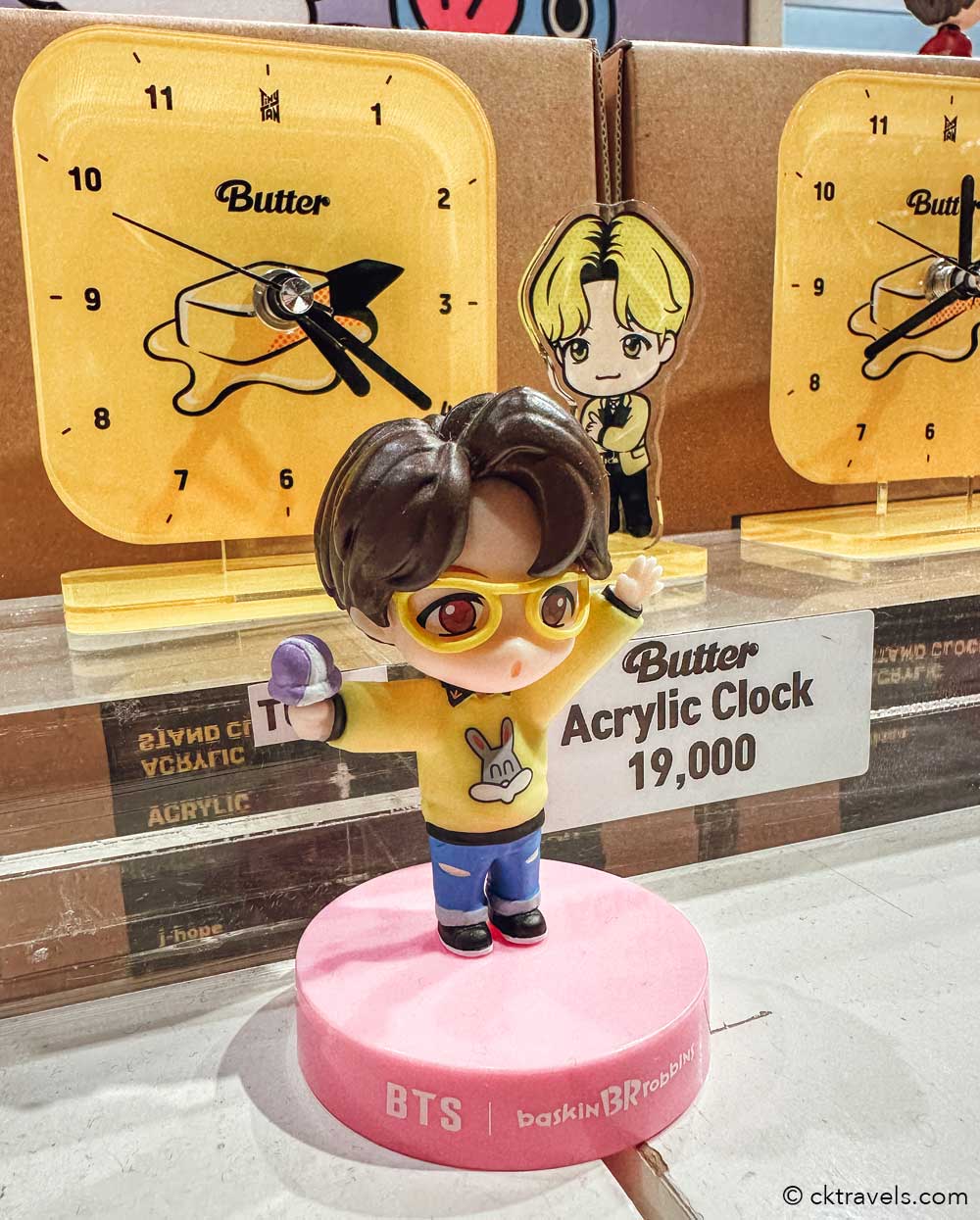 ---
You might like – the 85+ best things to do in Seoul, South Korea >
---
What is K-Pop and Hallyu?
K-Pop stands for Korean popular music, and became popular as a term in the early 2000s – it generally refers to well dressed solo artists or musical groups that are typically 'idols', characterized by catchy tunes.
HallyU (AKA the Korean Wave) refers to the rapid success of South Korean culture overseas such as K Dramas or Korean movies.
Recent examples of the HallyU phenomenon include Netflix's Squid Games TV series, Pop star Psy being the first artist on YouTube to break 1 billion global views, or the Academy Award winning film Parasite – the first ever foreign language movie to win the Best Picture Oscar.
---
Try this – Seoul Hallyu K-Pop Tour >
---
Who are the most popular K-Pop bands today?
At present, the most popular K-Pop Bands are Ateez, Seventeen, Treasure, BTS, Txt, Exo, Monsta x, Stray kids, Shinee, Twice, Red Velvet and BlackPink.
These were the K-Pop groups in Myeongdong's K-Pop shops that had the most product and retail space dedicated to them – so if you are fans of any of these K-Pop bands, you should easily be able to find their music and products in Seoul's Myeongdong K-Pop shops.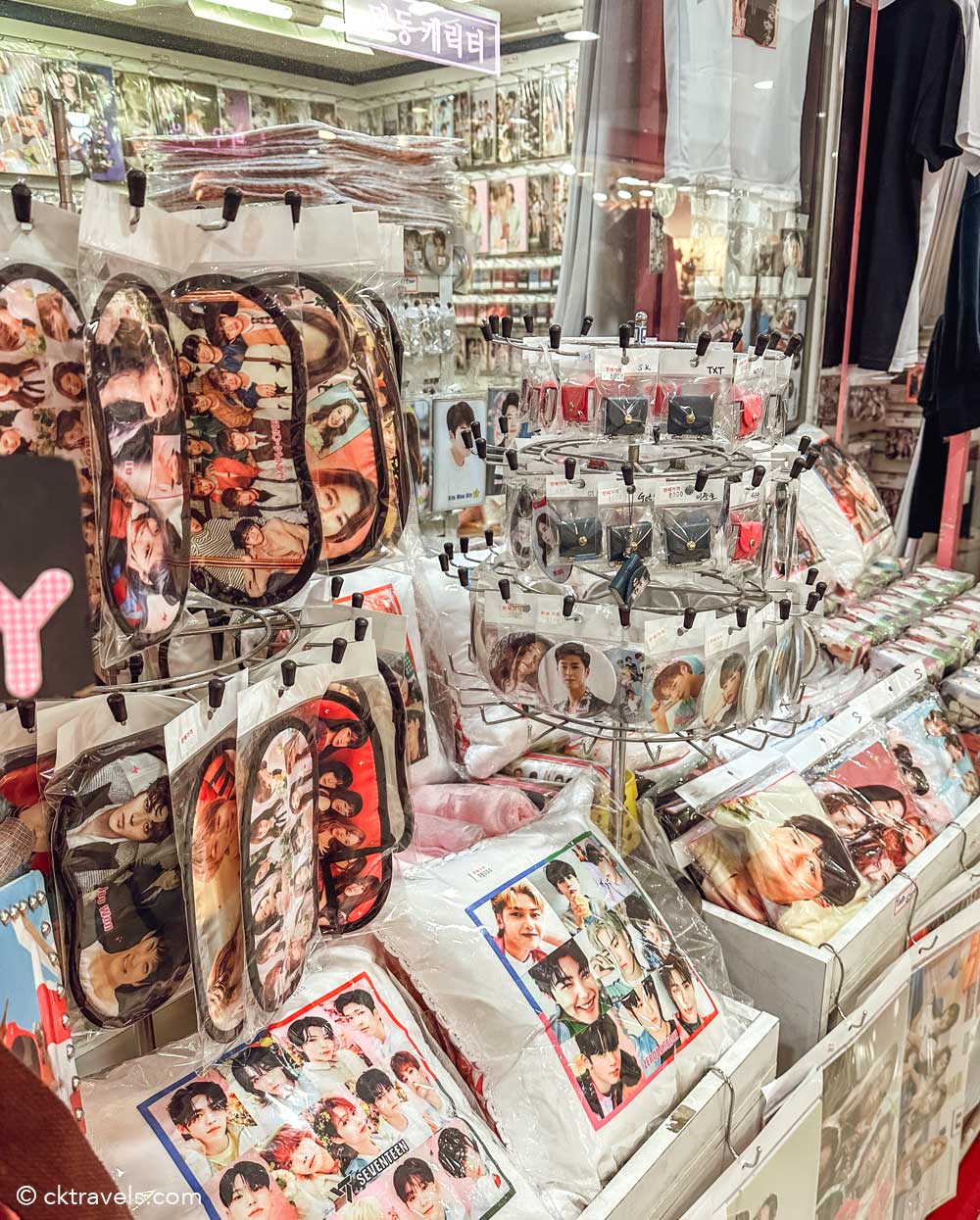 ---
You might like – Guide to Seoul's famous HBAF stores and flavoured almonds >
---
The 10 best K Pop stores in Myeongdong Seoul (2023)
These K-Pop shops are all open in Myeongdong as of November 2023:
1. Music Korea Myeongdong First Branch
One of the longest established K-Pop stores in Myeongdong, Music Korea has a couple of branches here.
This is the larger of the two Music Korea stores in Myeongdong, located on the third floor of Myeongdong's flagship Nature Republic store near Myeongdong Station.
Head up the stairs and the first thing you'll see at this Music Korea store is a small pink lounge with neon lights, a perfect place for pictures and a super selfie spot.
Music Korea mainly sells K-Pop CD's, vinyls and other recordings in various formats and special edition boxes plus lots of K-Pop books. Unlike other K-Pop stores in Myeongdong, it is all about the music and doesn't have so much fun stuff.
There are also dedicated K-Pop music sections to Ateez, Seventeen, Treasure, BTS, Txt, Exo, Monsta x and Stray kids in this branch of Music Korea.
Address: Music Korea Myeongdong First Branch, Nature Republic 3F, 52, Myeongdong 8-gil, Jung-gu, Seoul
---
Try this – Top South Korea Music Tours >
---
2. All That K
You may have seen this Myeongdong K-Pop music store on the 'gram before as it has K-Pop stairs that light up!
One of the largest K-Pop stores in Seoul spread over several levels, All That K has tonnes of K-Pop goodies and not just CDs and records. Here we found dozens of cute and kitsch K-Pop items including Seventeen themed instant tteokbokki (which we hadn't seen before).
Other K-Pop merchandise at All That K includes BTS Q posket dolls, K eyewear (although not on the scale of Gentle Monster) plus lots of video game and cartoon character merchandise like Zanmang Loopy dolls.
Address: All That K, 17 Myeongdong 8ga-gil, Jung-gu, Seoul (This can be quite hard to find on Google Maps / Naver so if in doubt, it is a few doors downhill from both Myeongdong TimHoWan and Myeongdong Ssada Gimbap)
---
Try this – Full Day Tour In The Soop BTS Ver in PyeongChang Filming Location >
---
3. Myeongdong Underground Mall K-Pop Shops
We'd rate Myeongdong Underground Mall as one of the most interesting shopping centres in Seoul, a warren of sock stores and a perfect place for some retail therapy in all weathers (a great rainy day activity in Seoul).
Almost all of the sock stores have K-Pop socks (BTS K-Pop socks seem to be available everywhere), but you will also find a couple of dedicated K-Pop stores in Myeongdong Underground Mall too.
Two of these K-Pop stores called "Myeong-dong Character' (D2) and 'Renaissance Music History' (MA 1) focuses on fun items like K-Pop stickers and badges / magnets.
The second K-Pop music stall in Myeongdong Underground Mall is called C.T Records and sells K-Pop music, vinyl and gift sets. This is one of the most popular stalls in the mall usually with dozens of music fans browsing the shelves.
Address: Myeongdong Underground Mall, Myeongdong Train Station (Line 4), Seoul
---
Try this – Private BTS Location Tour from Seoul City with Pickup >
---
4. Starfox Artist Chocolate Shop in Myeongdong, Sunshine Myeong-dong Branch
The most incredible K-Pop store in Seoul, let alone Myeongdong, the Starfox Artist Chocolate Sunshine store in Myeongdong has three floors of cool K-Pop merchandise, including a K-Pop chocolate shop and BTS section on the ground floor.
Here at the Starfox Artist Chocolate store, there are 28 different K-Pop groups that you can get an exclusive chocolate set of. Each chocolate box has 6 exclusive chocolates with band images printed / etched on each one.
They almost look too good to eat! From awesome Aespa chocolate to succulent Seventeen cocoa goodness and nice NCT 127 nibbles, this is the most unique K-Pop souvenir in Seoul.
We also noticed lots of other interesting K-Pop merchandise in Seoul's Sunshine Myeongdong branch including lots of BTS Tiny Tan gifts like Tiny Tan bandages or photo card key holders – there were even BTS 'Butter' branded facemasks and Butter branded acrylic clocks.
The other great thing about the Sunshine K-Pop store is that it has a Korean photo booths on floors 2 and 3 where you can pose (for free) with huge pictures of K-Pop bands including replicas of the chocolate downstairs.
P.S. Keep an eye out for the BTS Dynamite Lego set on the ground floor – alas not for sale but very cool! These can be bought at Seoul Lego stores (we found BTS Lego available at The Hyundai Seoul Lego branch).
Address: Sunshine Myeong-dong Branch / Starfox Artist Chocolate, 11, Myeongdong 8na-gil, Jung-gu, Seoul
---
Try this – Private Tour: Discover the Korean Wave in Gangnam >
---
5. Music Korea
Newly opened in 2023, there is now a second branch of Music Korea in Myeongdong, right next door to the famous 12 storey Daiso store.
This Music Korea store is smaller than the Music Korea branch across the road on level 3 of Nature Republic but is equally well stocked, focused on K-Pop albums, photobooks and multimedia sets, as opposed to say K-Pop toys and plushes.
This K-Pop store also sometimes has special events plus offers a 20% discount (excluding events) if you follow them on social media and sign up to the Music Korea website.
Address: Music Korea, 13-1 Myeong-dong, Jung-gu, Seoul
---
Try this – 1.5-hour Kpop Dance, Video & Photocard in Seoul >
---
6. Buruttrak
A proper old school music shop filled full of vinyls, CDs and more, Buruttrak is perhaps the best known K-Pop shop in Myeongdong as it has been open since the late 1970s (yes, there was K-pop before BTS).
Your classic record store, Buruttrak is all about the music and less about neon signs and plastic toys – one of the best features is the huge locked display cabinet that has signed memorabilia that can be purchased.
We also spotted a second hand CD section at Myeongdong's Buruttrak store that featured such classics as Echobelly, ABBA and Chris Cornell – so you don't have to just pick up K Pop whilst visiting!
Address: 37-1 Myeongdong 8na-gil, Jung-gu, Seoul
Thanks for checking out our blog!
We are currently digital nomading / travelling for the next few months around London and Asia (Thailand, Malaysia and Taiwan). Check out our travel diaries on Instagram @.c.k.travels, Tik Tok @cktravels and on Facebook.
7. Myeongdong Night Market
One of Seoul's most popular night markets and well loved by tourists, Myeongdong Night Market is a tasty, treasure trove of cheap eats and Korean street food and international bites.
Myeongdong night market also has several stalls selling K-Pop souvenirs and merchandise (not actual music / records as such).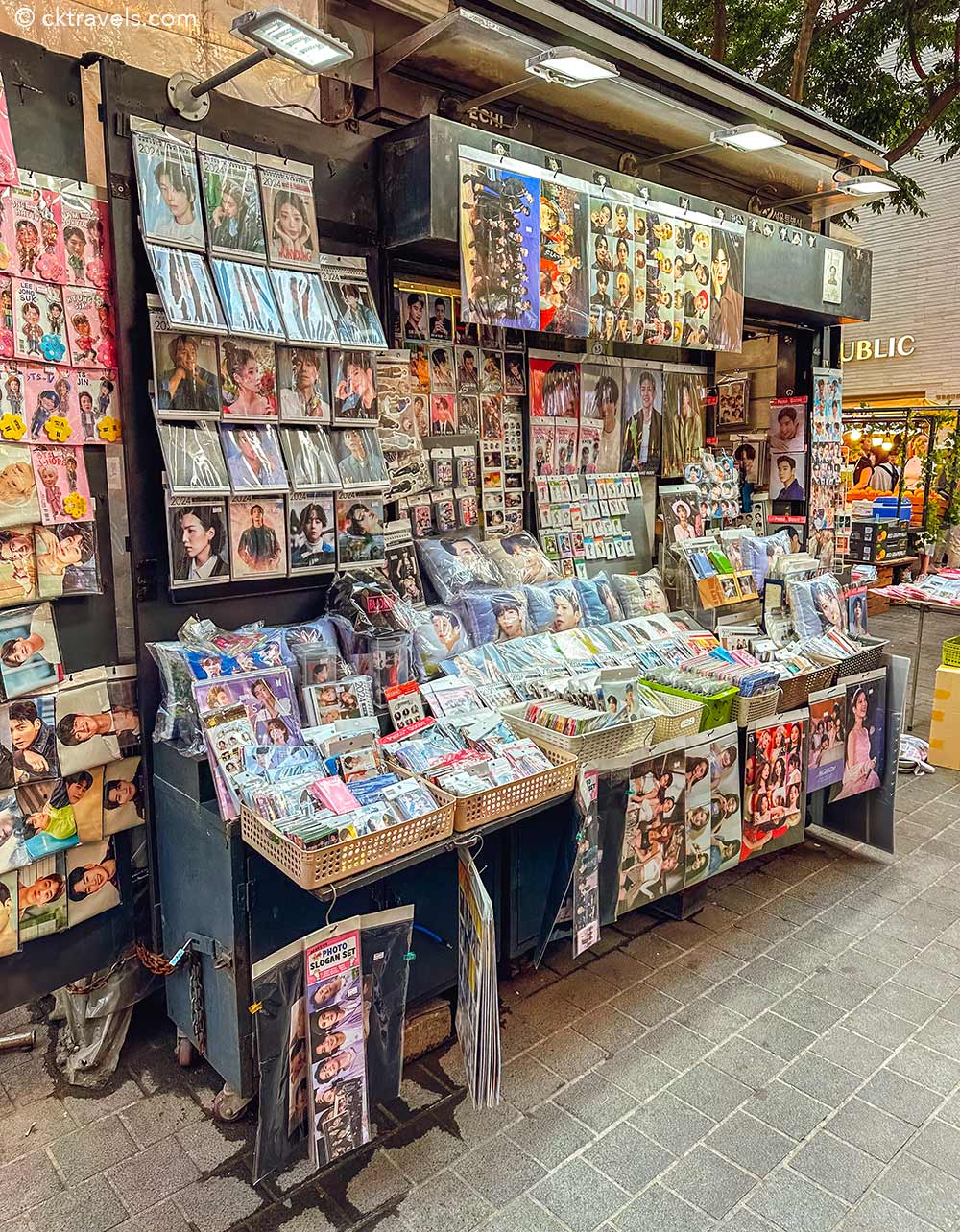 The most popular K-Pop items for sale at the Myeongdong Night Market seem to be laminated K-Pop photos and paparazzi style pics of artists and bands. Plus K-Pop cushion and pillow covers (yep, you can really sleep with BTS). K-Pop socks with photos on them are also very popular.
To 'K-Pop' along to Myeongdong Night Market in Seoul by public transport, you can take the Subway Line No.4 to Myeong-dong station, exit 8.
Alternatively, exits 6 and 7 of Myeong-dong station also come up near to Myeongdong Night Market.
Myeong-dong Night Market is open seven days a week, starting from around 3pm to 4pm in the afternoon until around 10pm.
Read more in our guide to Myeongdong Night Market >
---
Try this – Seoul: The Painters Live Art K-Pop Dance Show >
---
8. Lotte Young Plaza K-Pop Zone
Myeongdong actually has three Lotte malls (all connected via walkways), including its flagship Seoul Lotte Department store. However, for K-Pop goods and merchandise, head along to Lotte Young Plaza which has a basement store ('Palette') dedicated to K-Pop.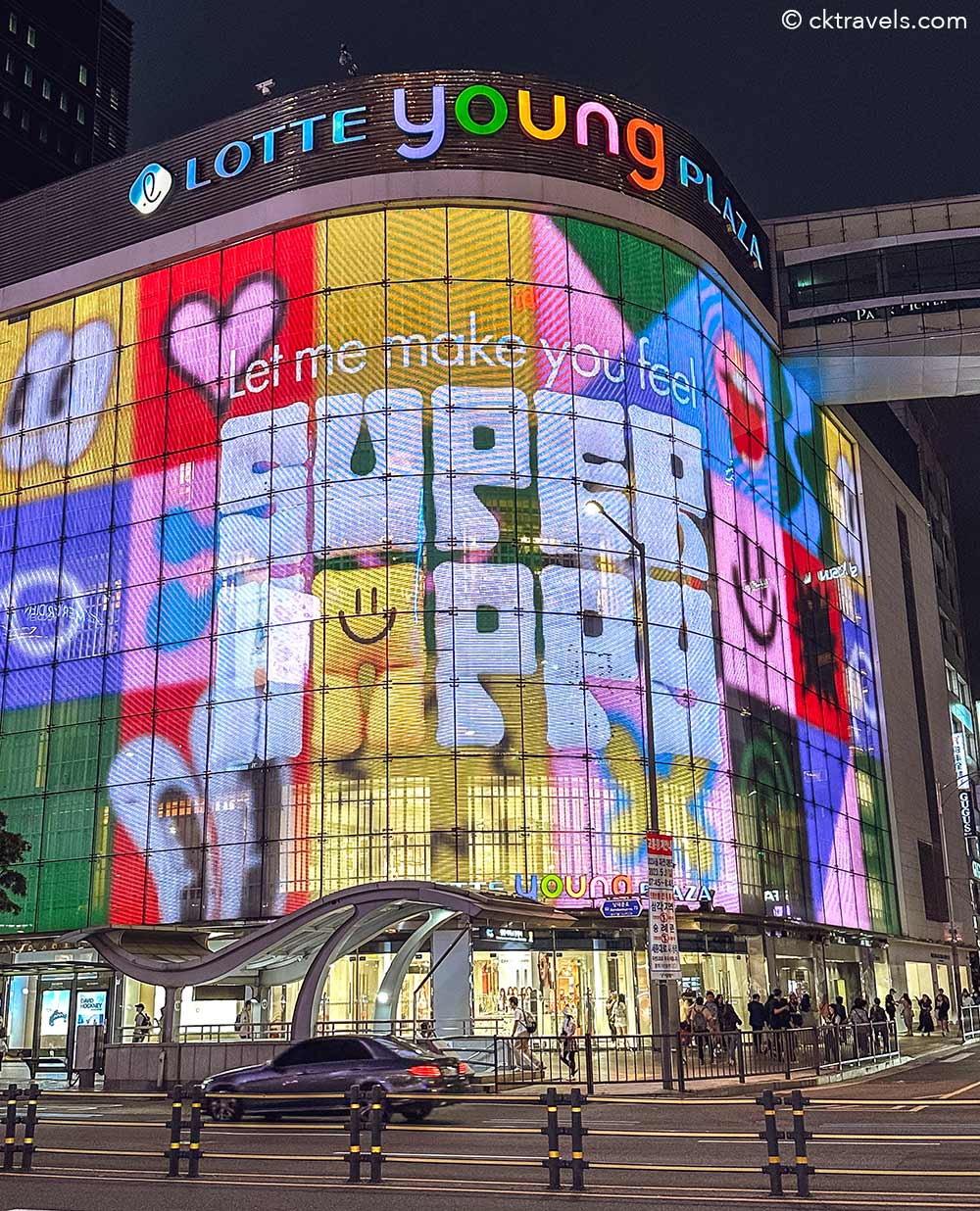 Palette is a K Pop concept store that is part record store, part pop up event space – for instance, when we last visited Palette at Lotte Young Plaza in December 2023 to see the Seoul Christmas lights, there was a Zero Base One pop-up store and immersive experience.
Lotte Young Plaza has six levels of shopping including Muji and Uniqlo stores. This is one of the best malls in Seoul for young shoppers and for K-Pop fans in Myeongdong.
Next to the K Pop shop in the basement level, you'll also find a cute Pop Mart selling thousands of collectible vinyl figures.
Address: Lotte Young Plaza Myeongdong, 81 Namdaemun-ro, Jung-gu, Seoul
---
You might like – The best things to do in Hongdae, Seoul >
---
9. Joint History K-Pop
A little off the radar and located along a Myeongdong side street near to The Spot Fabulous Tea House, Joint History is a small shop that specialises in K-Pop merchandise as opposed to CDs and records.
Joint History is a great place to buy K Pop lightstick badges in Myeongdong plus K-pop keyrings, calendars and other small gifts like K Pop socks. So if you want to get your NCT, Astro or Highlight fun fix, this is the place to go to.
Address: 83-6 Myeongdong 2-ga, Jung-gu, Seoul
---
You might like – Korean Photo Booths Ultimate Guide >
---
Our final Seoul K-Pop store in Myeongdong
10. Daiso Myeongdong Station (Bonus K-Pop store)
Whilst K-Pop shopping in Myeongdong (or should that be K-popping?), you can also pay a visit to the huge 12 storey Myeongdong Daiso located next door to Music Korea.
Whilst K-Pop items are only a very small part of Daiso's product range (each store has tens of thousands of items), it has some really cheap K-Pop goods like large BTS dolls for only 5,000 Won (£3 or $3.70 USD).
So if you want a gigantic Jin doll or a sizeable Suga toy, head on over to Daiso (they also have a huge range of K Beauty products at very low prices).
Address: The largest Myeongdong Daiso can be found by exit 1 of Myeongdong Station. The Google maps address for Daiso Myeongdong station is 134-1 퇴계로 Jung-gu, Seoul (although in South Korea, you are best to use the Naver app to get around as Google cannot calculate walking distances here).
Read more in our guide to Myeongdong's 12 storey Daiso store >
Join our Facebook South Korea Travel Planning and Tips Group! (New for November 2023)
Need help with your itinerary or have any South Korea related questions? Head on over to our Facebook group!
Click here to join our group >

Other South Korea posts you might like
---
Did you enjoy our Myeongdong K-Pop stores in Seoul blog post? Let us know in the comments or by sharing it on social media.
You can follow CK Travels on:
Instagram
Facebook
TikTok
YouTube
Pinterest