This post may contain affiliate links to tours and hotels. These help us earn a small commission at no additional charge to you.
Seoul is shopping heaven, from high end fashion to cutesy cartoon character stores – South Korea's capital city is packed full of big malls many of which have quirky interiors (plus incredible food halls to 'reward' yourself afterwards in).
From the sublime stylings of Starfield COEX mall to the high-end Hyundai Seoul (Seoul's newest and most beautiful shopping centre), here is our guide to the best shopping malls in Seoul.
Best shopping malls in Seoul map
Best shopping malls in Seoul
1. The Hyundai Seoul Mall
Seoul's newest high-end and high fashion shopping mall, Hyundai Seoul shopping centre opened in 2021 and already has made a reputation for itself as one of Seoul's best shopping malls with 12 floors of stores.
In celebration of its 50th anniversary, The Hyundai Department Store Group opened this largest store in Seoul, boasting over 600 boutiques, shops and food outlets – retail heaven!
We thought Hyundai Seoul was the best looking shopping centre we visited in Seoul, complete with a waterfall and huge glass atrium – bright white interiors and glowing gathering spaces make Hyundai a shopping mecca.
The food court here (in the basement levels) is also a thing of beauty. If you only have time to visit one mall in Seoul, we'd highly recommend The Hyundai Seoul. Plus if you are in Seoul at Christmas, The Hyundai Seoul has a cute Christmas display and winter village.
The Hyundai Seoul flagship stores
Nike Rise, Jo Malone, Balenciaga, YSL, Jimmy Choo
The Hyundai Seoul opening hours
10.30am to 8.30pm; 7 days a week
The Hyundai Seoul address
108 Yeoui-daero, Yeongdeungpo-gu, Seoul, South Korea
---
2. Starfield COEX Mall
At Starfield COEX mall, you can shop then 'study' (or just grab a latte) in one luscious looking library – if that is your (shopping) bag.
For us, this is definitely one of our favourite shopping experiences in Seoul and this clearly is one of the top shopping malls in Seoul. A marvellous mix of fashion, culture, food and entertainment, Starfield COEX Mall has a lot to offer and could quite easily be a day out in itself.
Starfield Mall has over 200 stores plus just under 100 eating establishments and dining options to choose from. What we really liked about Starfield COEX Mall is that they had clearly marked 'food alleys' on the map meaning you could easily find something to eat.
As well as shopping at Starfield COEX Mall, you'll also encounter Starfield Library, one of the most beautiful and well designed spaces we've ever encountered in Seoul and possibly the most beautiful library in the world.
Unlike other libraries, you don't need to be a member to read the books (just don't take them away) and several coffee shops are 'hidden' amongst their huge bookshelves.
ON the upper level, you'll also find something 'fishy' going on – the Starfield Aquarium too. – plus K Pop Square and a Gangnam Style statue. So there is lots to do and shop at Starfield COEX Mall!
If you fancy a peaceful start to your shopping trip, visit and pay your respects at the beautiful Bongeunsa temple just across the road from Starfield COEX Mall.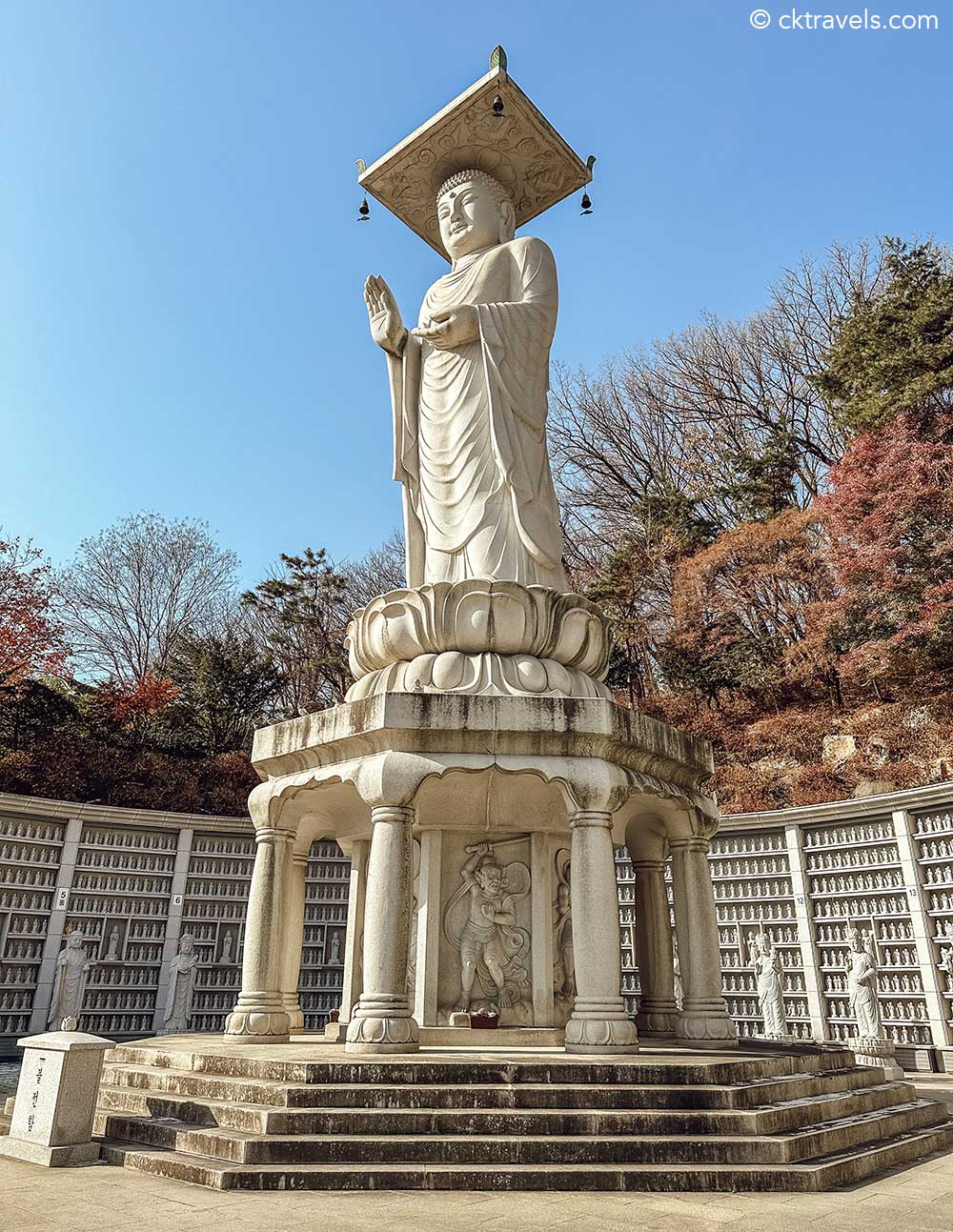 Starfield COEX Mall Flagship stores
Many famous brands can be found at Starfield Mall in Seoul including Uniqlo, Converse and Adidas
Starfield COEX Mall Opening Times
10.30am to 10pm; 7 days a week
Starfield COEX Mall Address
513 Yeongdong-daero, Gangnam-gu, Seoul, South Korea
---
3. IFC Mall, Seoul
We last visited the IFC Mall in Seoul during Christmas 2022 and were greeted by large pop-up penguins at every entrance. We found IFC Mall the perfect place to do all our Christmas shopping plus find a variety of clothes to suit all seasons.
It is billed as Seoul's "…first international style mall' where you can find a wide variety of well known international brands across three floors.
IFC Mall is sleek and shiny with shops and restaurants based across its North and South pavilions.
IFC Seoul flagship stores
Hollister, H&M, Uniqlo and Zara
IFC Mall Opening Hours
10am to 10pm; 7 days a week
IFC Mall Seoul address
10 Gukjegeumyung-ro, Yeongdeungpo-gu, Seoul, South Korea
---
YOU MIGHT LIKE: top things to do in Insadong, Seoul
---
4. Lotte Department Stores Myeongdong
Lotte dominates many of South Korea's markets, from food and beverage to entertainment and amusements. It is no different in shopping, with huge malls all over South Korea.
Myeongdong actually has three Lotte malls, including its flagship Lotte Department store.
Lotte Young Plaza has six levels of shopping including Muji and Uniqlo stores inside plus a basement level dedicated to K Pop and cartoon characters.
Lotte Department Store Avenuel branch has premium and upmarket stores whilst Lotte Department Store Main has numerous fashion, electronics, homeware and jewellery stores plus a rather good food court and luxury food store in the basement level. Lotte Myeongdong is also home to a classy cinema as well.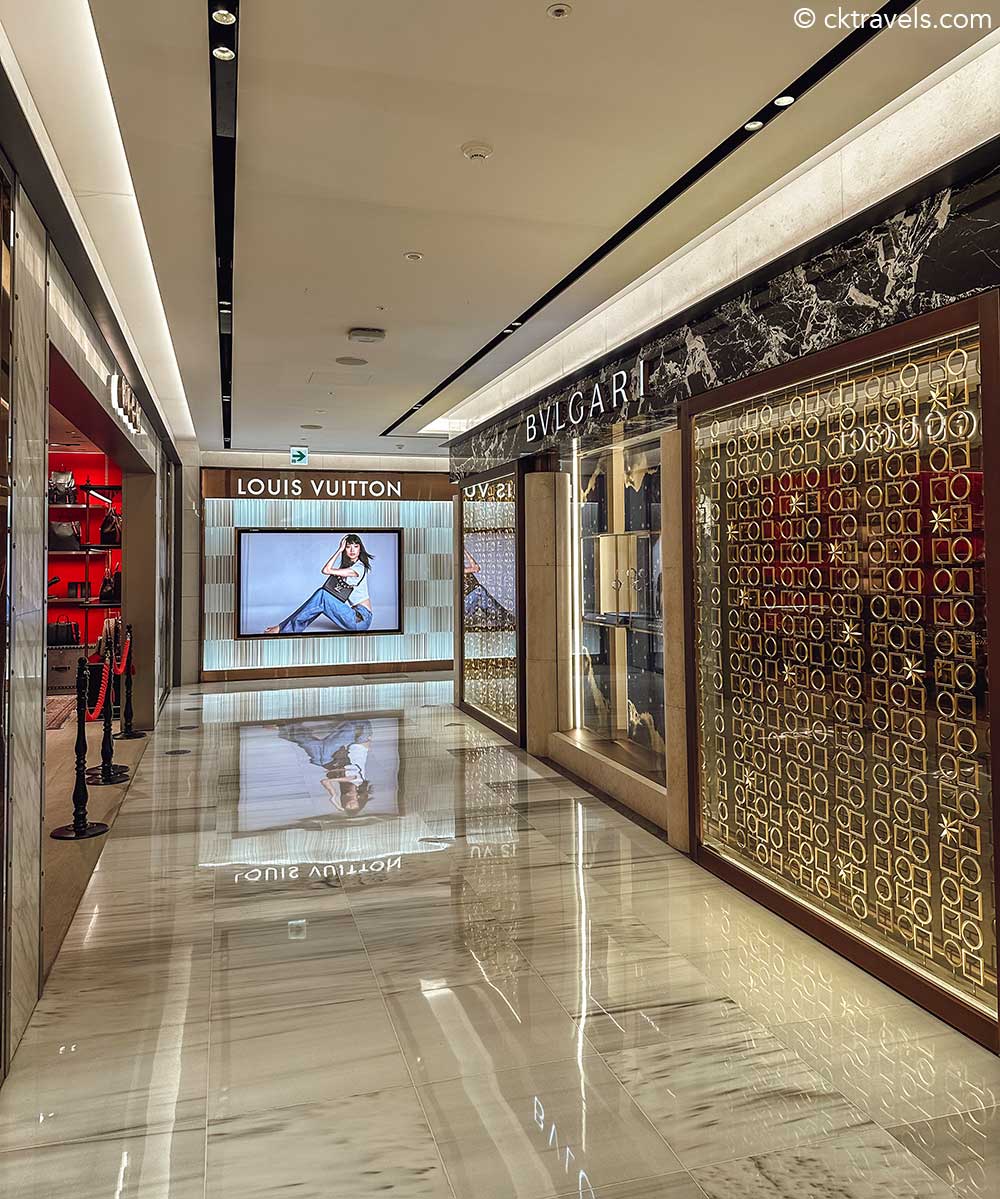 A food-court plus food stalls (similar to Harrods or Harvey Nicks in London) can be found in the basement of Lotte Department Store main branch. For the Lotte food-court, you order at a one of several counters that represent all the food stores – you then take a beacon and a member of serving staff will then bring you your food.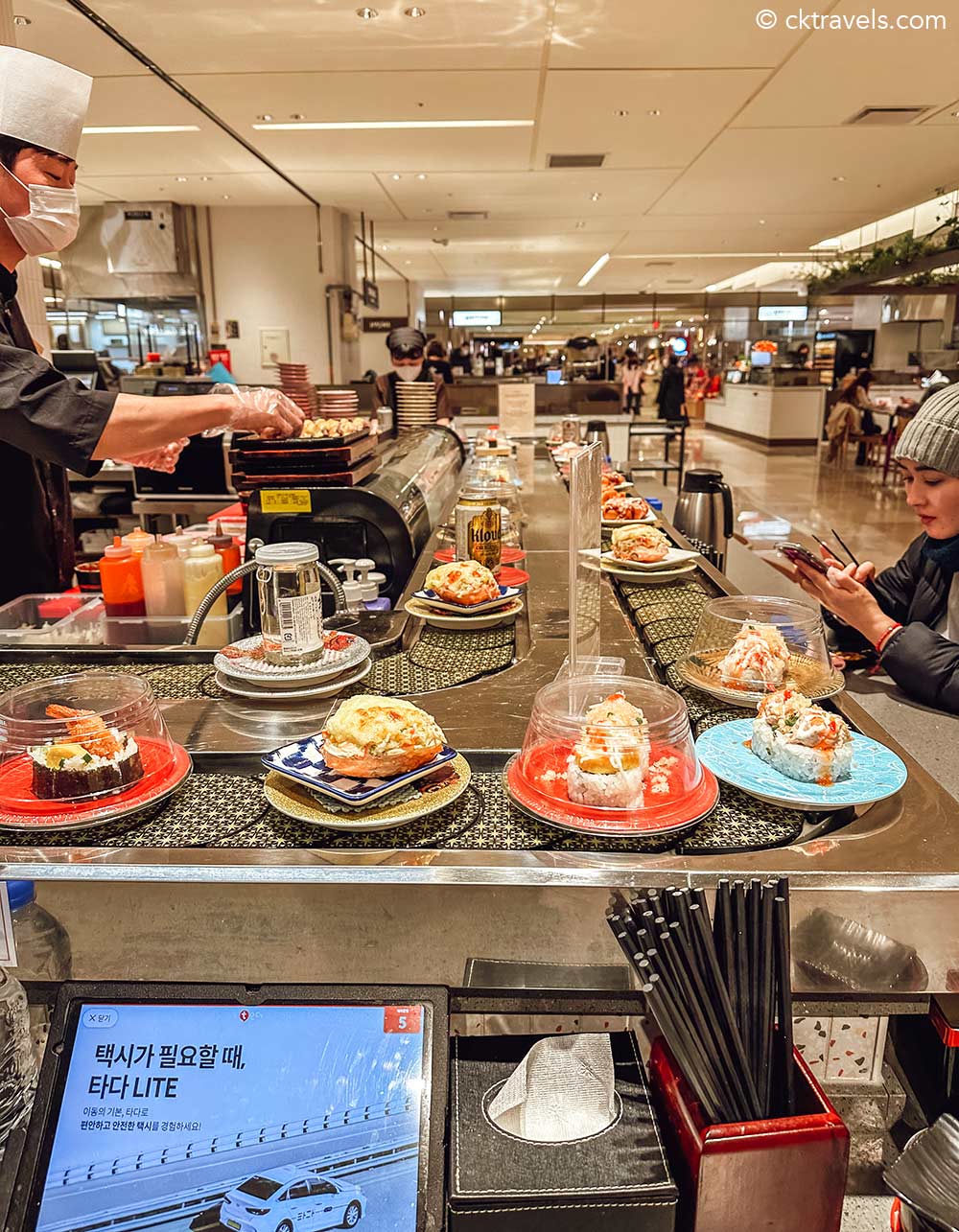 Tip – for a fantastic (and free) aerial view of Myeongdong Walking Street and Namsan Park, head up to the top floor of Lotte Young and take the air-bridge towards Lotte.
Lotte Myeongdong flagship stores
Uniqlo and Muji dominate Lotte Young
Lotte Myeongdong opening hours
10.30am to 8.30pm; seven days a week, although Lotte Myeongdong's opening hours may vary on public holidays.
Lotte Myeongdong address
81 Namdaemun-ro, Jung-gu, Seoul, South Korea
---
5. Shinsegae Shopping Mall Myeongdong
Similar to Lotte, Shinsegae has several malls and shopping complexes located within Myeongdong (and puts on an incredible light show at Christmas).
Shinsegae as a brand was the first to introduce the notion of shopping centres in South Korea and is well regarded by locals. This is their flagship store (in Myeongdong) with other department stores in Busan and at Incheon Seoul international airport.
Shinsegae's Main Store here consists of the 'Main Building' which is where you'll find the premium stores and outlets across 6 floors. plus the 'New Building, which is more of a traditional department store with 14 floors.
Shinsegae operates a Shinsegae Duty Free complex on the 8th to 12th floors – there is a roof garden and cafe on the top floor of Shinsegae Myeongdong too.
Seoul's Shinsegae Shopping centre at Myeongdong has around 10 restaurants in the basement level (B1F) of the 'New Building' including Teacher Kim, a kimbap restaurant and Ruby tteokbokki restaurant, plus coffee shops like Starbucks and Paul Bassett.
Shinsegae Mall opening times
Regular Hours : Mon. ~ Thurs. : 10:30am – 8pm
Special Hours : Fri. ~ Sun. & Holidays: 10:30am – 8:30pm
Shinsegae Myeongdong address
63 Sogong-ro, Jung-gu, Seoul, South Korea
---
YOU MIGHT LIKE: top things to do in Myeongdong, Seoul
---
6. Noon Square Fashion Mall
Whilst not as big as the neighbouring Lotte and Shinsegae malls, Noon Square Mall situated along Myeongdong Walking Street is a 10 floor fashion focussed shopping centre with several big brand shops like Nike plus a fifth floor dedicated to fashion and garments from new and up and coming designers.
There is no food-court as such at Noon Square but there are several cafes and restaurants – plus there are so many food options nearby on Myeongdong Walking Street.
Read our guide to all the things to do in Myeongdong Seoul here >
Noon Square flagship stores
Nike and H&M
Noon Square Opening Hours
Noon Square Fashion Mall is open daily from 11am to 10pm
Noon Square Seoul Address
14 Myeongdong-gil, Jung-gu, Seoul, South Korea
---
YOU MIGHT LIKE: Foods and drinks you must try at Gwangjang Market, Seoul
---
7. DOOTA Mall, Seoul
If you are visiting the Dandenong Design Plaza (DDP), the best mall close-by has to be DOOTA Mall, with lots of fashion stores aimed at the younger generation, particularly on the first five floors.
Floor 6 to 12 at DOOTA Mall is for Duty Free shopping. Whilst not as grand as many other malls in Seoul, it is one of the better fashion malls in this Dongdaemun area. On the second basement level of DOOTA Mall, you'll find storage lockers plus a help desk for overseas visitors
Seoul's Doota Mall has a food hall in the basement level, comprising around 15 stalls selling mainly Korean food (plus a random coffee shop that sells Auntie Anne's Pretzels. Unlike many food courts, you pay directly at the food outlet you order from and then they give you a buzzer that beeps when your food is ready
Doota Mall flagship shops
Doota Mall's biggest store is a Nike athletic footwear stall plus locals flock to the Shake Shack burger chain located right by its main entrance
Doota Mall opening times
10am to 11pm (times may vary at Doota Mall during public holidays)
DOOTA shopping mall address
Doosan Tower Building, 275 Jangchungdan-ro, Jung-gu, Seoul, South Korea
Tip  – if you happen to be doing some night shopping at Doota Mall, try and combine your retail visit with the nightly light shows at the Dandenong Design Plaza, which begins from 7pm.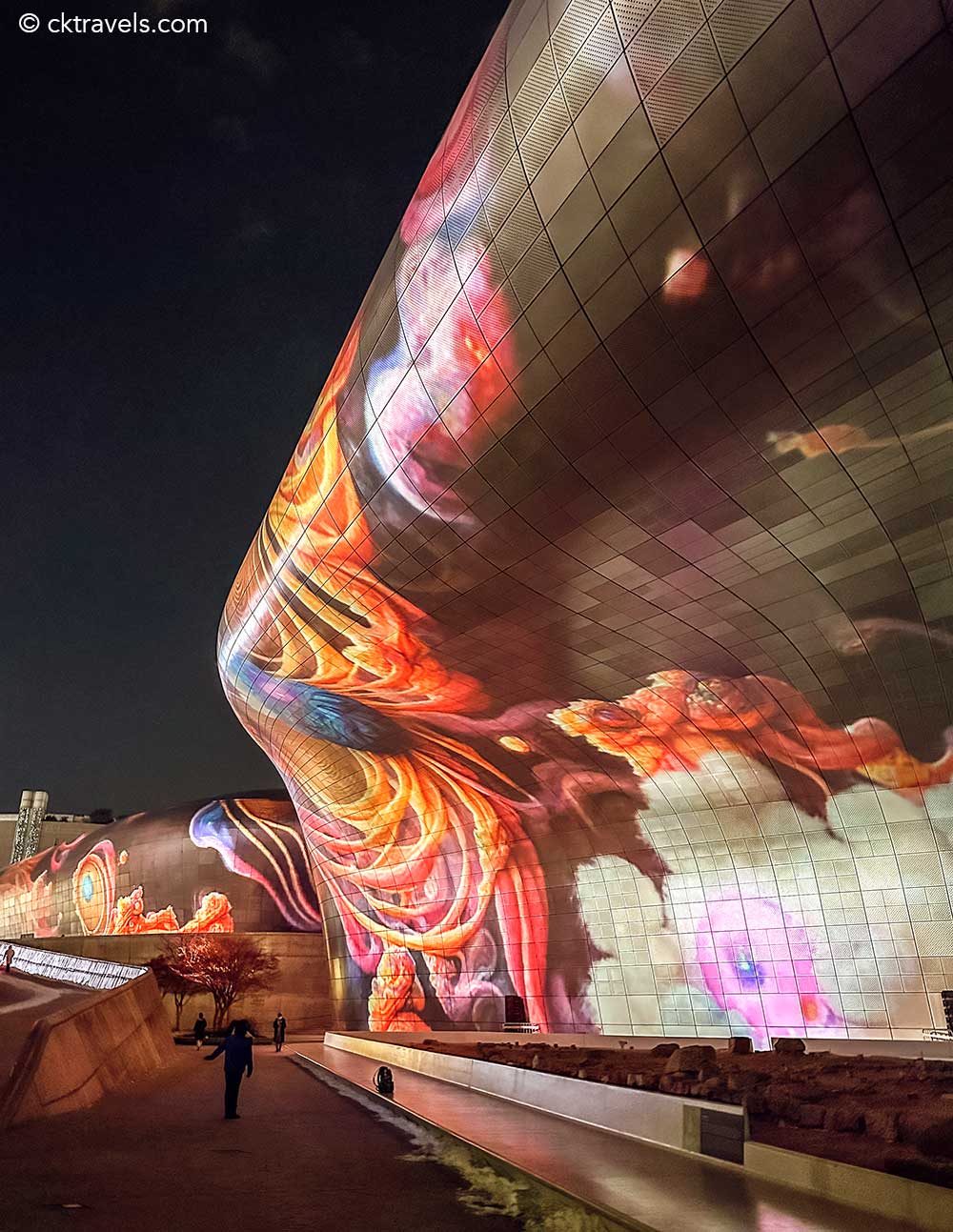 ---
8. Times Square Mall, Seoul
One of Seoul's largest shopping malls, Times Square has the largest shopping atrium in Asia meaning this is a bright and breezy shopping mall plus a charming roof terrace on the fifth floor.
If shopping isn't your thing, Time Square is also home to the CGV Starium, the largest cinema screen in the world, as listed in the Guinness World Record Book – with almost 3,000 seats and 12 screens, you'll be spoilt for cinematic choice here.
Times Square Seoul flagship stores
Kyobo Book Store, Shinsegae Department Store, CGV cinema
Times Square Seoul Address
15 Yeongjung-ro, Yeongdeungpo-gu, Seoul, South Korea
Times Square Opening Hours
10.30am to 10pm (hours may be different during public holidays)
Other South Korea posts you might like
Did you enjoy our best shopping centres and shopping malls in Seoul guide blog post? Let us know in the comments or by sharing it on social media. Follow us on Instagram!