This post may contain affiliate links to tours and hotels. These help us earn a small commission at no additional charge to you.
Seoul is shopping heaven, from high end fashion to cutesy cartoon character stores – South Korea's capital city Seoul is packed full of big malls, many of which have quirky interiors (plus incredible food halls to 'reward' yourself afterwards in).
There are a 'Lotte' shopping centers and shopping malls in Seoul to choose from.
Given how big some of the shopping malls are plus all their awesome attractions inside like aquariums or adventure parks, cinemas or rooftop gardens, you could easily spend the whole day shopping in one mall in Seoul (if your credit card will allow it!).
From the sublime stylings of Starfield COEX mall to the high-end Hyundai Seoul (Seoul's newest and most beautiful shopping centre), here is our guide to the best shopping malls in Seoul.
Best shopping malls in Seoul map
---
You might like – Best things to do in Seoul Guide >
---
Best shopping malls in Seoul
1. The Hyundai Seoul Mall
Seoul's newest high-end and high fashion shopping mall, Hyundai Seoul shopping centre opened in 2021 and already has made a reputation for itself as one of Seoul's best shopping malls with 12 floors of stores.
In celebration of its 50th anniversary, The Hyundai Department Store Group opened this largest store in Seoul, boasting over 600 boutiques, shops and food outlets – retail heaven!
So successful has The Hyundai Seoul Mall since opening, it recently reported its 80th million customer in 2023 after being open for just two years!
We thought Hyundai Seoul was the best looking shopping centre we visited in Seoul, complete with a waterfall and huge glass atrium – bright white interiors and glowing gathering spaces make Hyundai a shopping mecca.
The Hyundai Seoul Mall is very popular with younger, fashionable shoppers (think Millenials and Gen Z) plus tourists who come from overseas to fill up their suitcases with clothing and beauty products.
The Hyundai Seoul Mall also prides itself on its collaborations with K Pop stars and groups such as Blackpink, Aespa and BTS.
The food court at Hyundai Seoul Mall (in the basement levels) is also a thing of beauty. If you only have time to visit one mall in Seoul, we'd highly recommend The Hyundai Seoul. Plus if you are in Seoul at Christmas, The Hyundai Seoul has a cute Christmas display and winter village.
The Hyundai Seoul flagship stores
Nike Rise, Jo Malone, Balenciaga, YSL, Jimmy Choo
The Hyundai Seoul opening hours
10.30am to 8.30pm; 7 days a week
The Hyundai Seoul address
108 Yeoui-daero, Yeongdeungpo-gu, Seoul, South Korea
---
Do lots of attractions in Seoul for one small price. Find out about the Discover Seoul Pass >
---
2. Starfield COEX Mall
At Starfield COEX mall, you can shop then 'study' (or just grab a latte) in one luscious looking library – if that is your (shopping) bag.
For us, Starfield COEX in Gangnam is definitely one of our favourite retail destinations and this clearly is one of the top shopping malls in Seoul.
A marvellous mix of fashion, culture, food and entertainment, Starfield COEX Mall has a lot to offer and could quite easily be a day out in itself.
Starfield Mall has over 200 stores plus just under 100 eating establishments and dining options to choose from. What we really liked about Starfield COEX Mall is that they had clearly marked 'food alleys' on the map meaning you could easily find something to eat.
As well as shopping at Starfield COEX Mall, you'll also encounter Starfield Library, one of the most beautiful and well designed spaces we've ever encountered in Seoul and possibly the most beautiful library in the world.
Starfield COEX Mall also has a starring role in the Psy's iconic K Pop video for 'Gentleman' – how cool is that? You can see Psy and his dancers jumping around many Gangnam locations nearby including the library at Starfield COEX Mall.
Unlike other libraries in Seoul, you don't need to be a member to read the books here (just don't take them away) and several coffee shops are 'hidden' amongst their huge bookshelves.
On the upper level, you'll also find something 'fishy' going on – the Starfield Aquarium, plus K Pop Square and a 'Gangnam Style' statue. So there is lots to do and shop at Starfield COEX Mall!
If you fancy a peaceful start to your shopping trip, visit and pay your respects at the beautiful Bongeunsa temple just across the road from Starfield COEX Mall.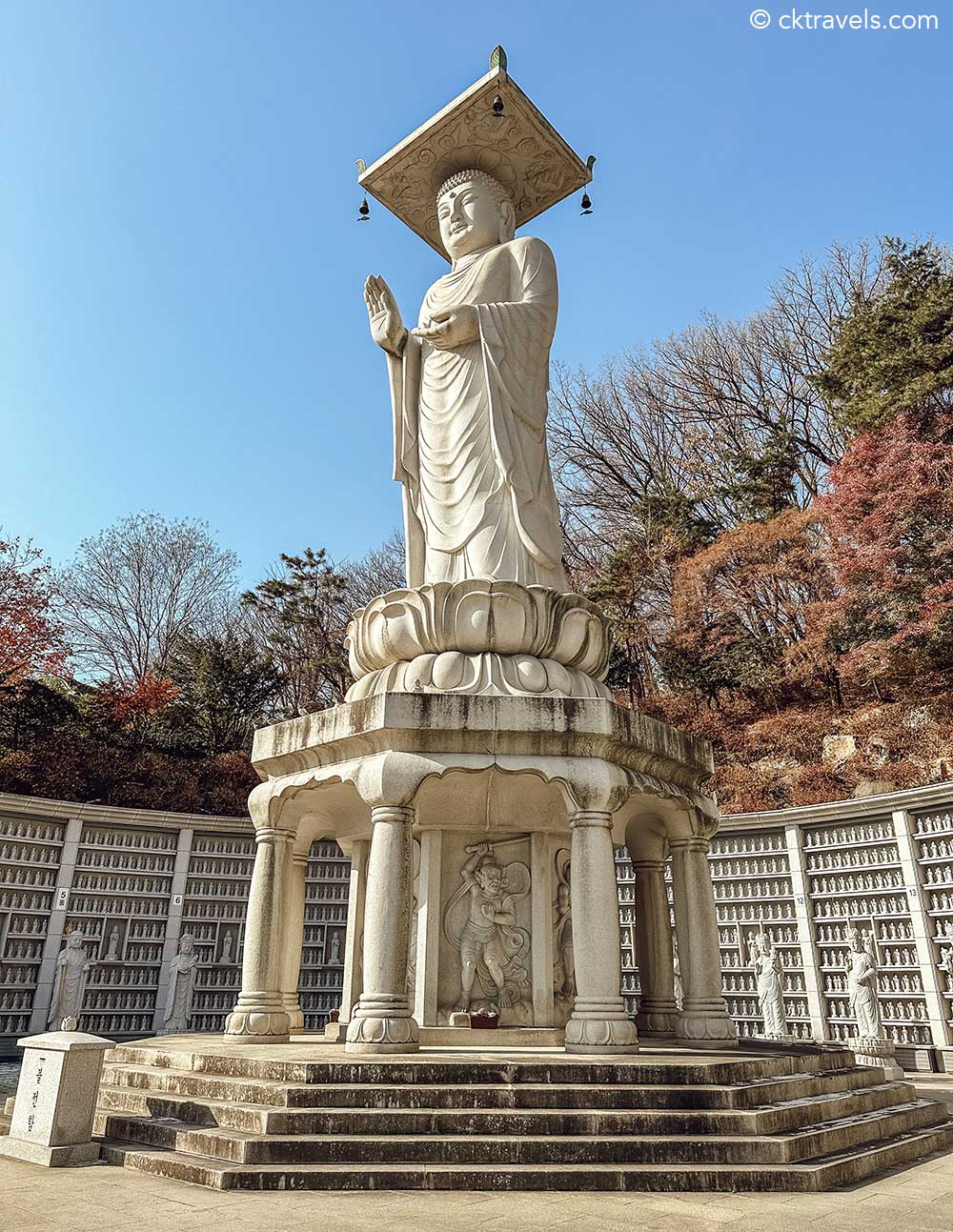 Starfield COEX Mall Flagship stores
Uniqlo, Converse and Adidas
Starfield COEX Mall Opening Times
10.30am to 10pm; 7 days a week
Starfield COEX Mall Address
513 Yeongdong-daero, Gangnam-gu, Seoul
---
YOU MIGHT LIKE: things to do in Gangnam, Seoul
---
3. Lotte Department Stores Myeongdong
Lotte dominates many of South Korea's markets and industries, from food and beverage to entertainment and amusement parks. It is no different in the world of shopping, with huge malls all over South Korea.
Myeongdong actually has three Lotte malls (all connected via walkways), including its flagship Seoul Lotte Department store.
Lotte Young Plaza has six levels of shopping including Muji and Uniqlo stores inside plus a basement level dedicated to K Pop and cartoon characters. This is one of the most popular places for young shoppers in Myeongdong.
Lotte Young Plaza is easy to find too as its exterior is brightly lit with flashy LED graphics making it like a beacon when walking down the main Myeongdong shopping streets nearby.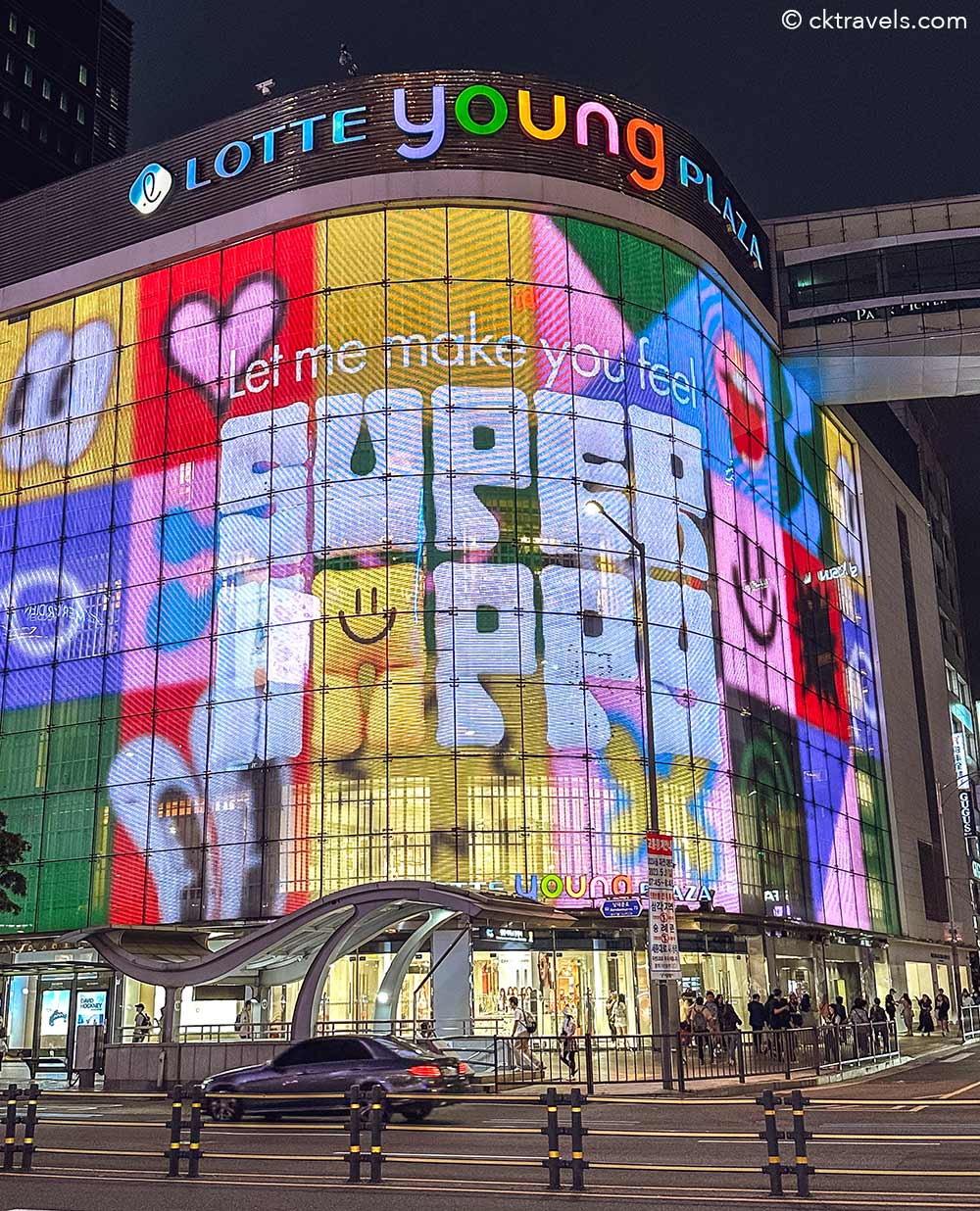 Lotte Department Store Avenuel branch has premium and upmarket stores whilst Lotte Department Store Main has numerous fashion, electronics, homeware and jewellery stores.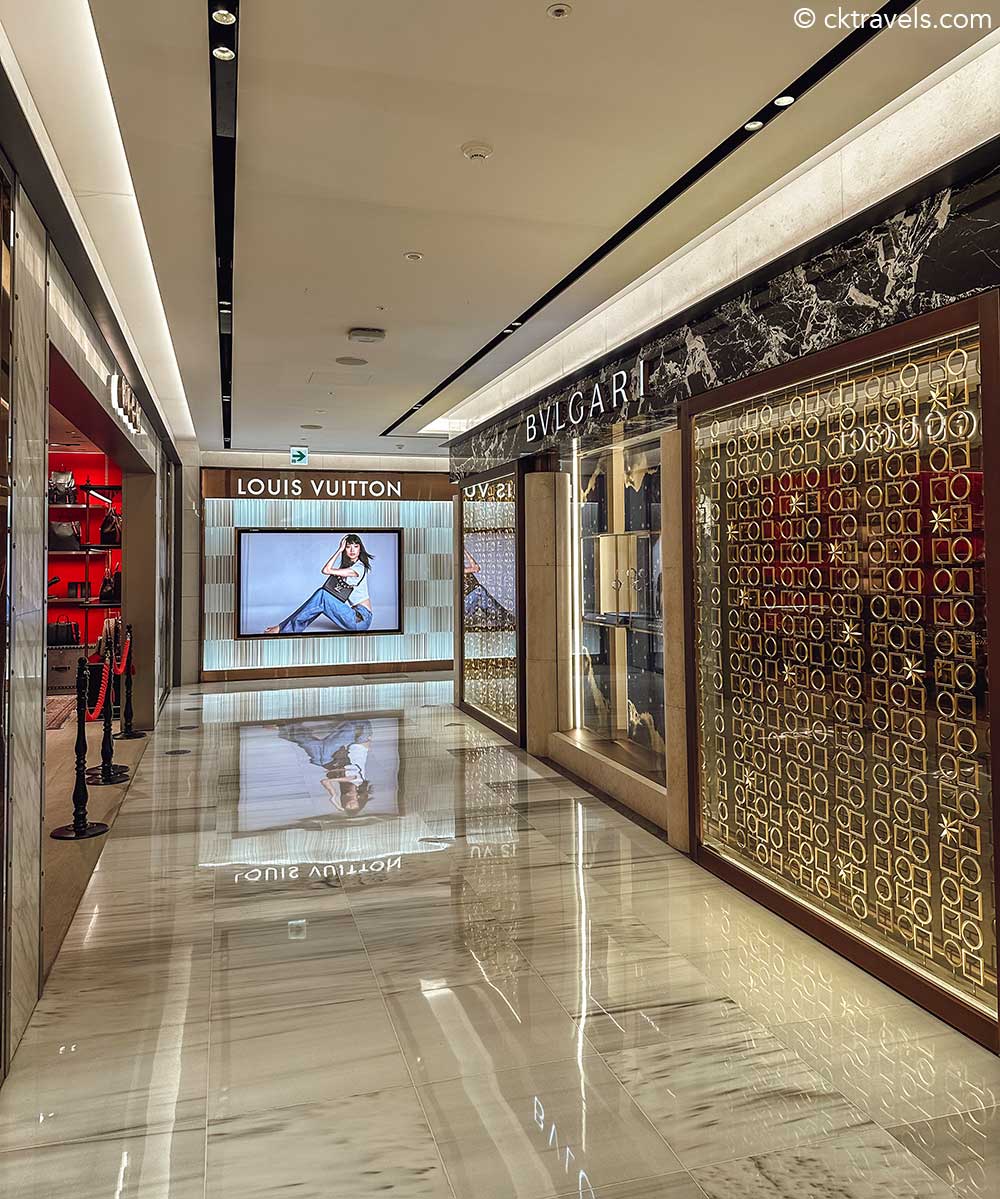 There is also a rather classy food court and luxury food store in the basement level of Lotte Department store. Better yet, here at Lotte Myeongdong, you see the latest movies at an upmarket cinema (Lotte Cinema Avenuel).
For the Lotte food-court, you order at one of several counters that represent all the food stores – you then take a beacon / buzzer and a member of serving staff will then bring you your food once it is ready.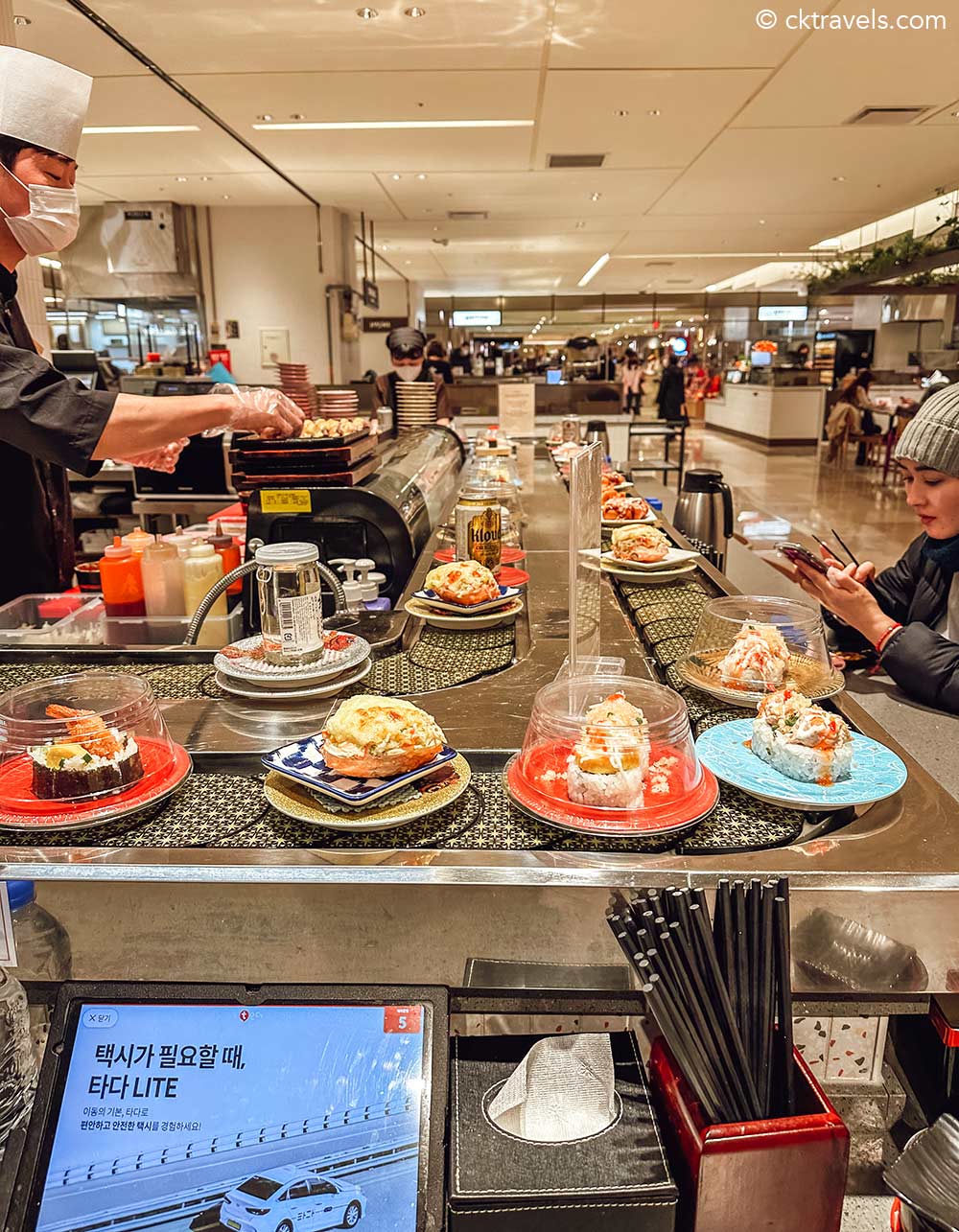 Tip – for a fantastic (and free) aerial view of Myeongdong Walking Street and Namsan Park, head up to the top floor of Lotte Young and take the air-bridge towards Lotte.
Lotte Myeongdong flagship stores
Uniqlo and Muji dominate Lotte Young
Lotte Myeongdong opening hours
10.30am to 8.30pm; seven days a week, although Lotte Myeongdong's opening hours may vary on public holidays.
Lotte Myeongdong address
81 Namdaemun-ro, Jung-gu, Seoul
---
YOU MIGHT LIKE: top things to do in Insadong, Seoul
---
4. Times Square Mall, Seoul
One of Seoul's largest shopping malls, Times Square has the largest shopping atrium in Asia meaning this is a bright and breezy shopping mall. It also has a charming roof terrace on the fifth floor (Sky Park) with a view of Seoul's surrounding hills and ample seating spaces to enjoy your food alfresco style.
When we first visited Times Square, we were taken aback by how sleek and modern it felt – lots of glass walkways with cafes looking out towards the main atrium on every level.
Two of our favourite stores at Times Square Mall were the ever so cutesy Kakao and Friends store (complete with huge character models both in and out the store) plus the beautifully laid out Kyobo Books store.
If shopping isn't your thing, Time Square is also home to the CGV Starium, the largest cinema screen in the world, as listed in the Guinness World Record Book. With almost 3,000 seats and 12 screens spread over 5 floors, you'll be spoilt for cinematic choice here. You can even hire a private cinema or go Gold Class!
One rather cool place to check out at Times Square Mall is located in the upper levels next to the CGV ticket desk – Lolol comic book library is a cool looking space where you can chill out in comfy booths reading comics or books from their huge collection. Prices start from 2,000 Won for 30 minutes (price correct as at June 2023).
Other attractions at the Times Square Mall in Seoul including bowling and archery (best not done at the same time) at Kolon Sporex plus Zoolung Zoolung indoor animal theme park – additional fees apply.
The food scene at Times Square Mall is exemplary – here you'll find dozens of restaurants to choose from including famous Asian chains such as Sushiro conveyor belt sushi and Din Tai Fung. We also tried the bun cha at the Vietnamese restaurant TinTin in the basement which we'd totally recommend.
Times Square Seoul flagship stores
Kyobo Book Store, Shinsegae Department Store, CGV cinema
Times Square Seoul Address
15 Yeongjung-ro, Yeongdeungpo-gu, Seoul
Times Square Opening Hours
10.30am to 10pm (hours may be different during public holidays)
Looking for cheap Seoul day-trips, attractions or group/private tours? We recommend visiting Viator, GetYourGuide, and Klook!
5. Shinsegae Shopping Mall, Myeongdong
Similar to Lotte, Shinsegae has several malls and shopping complexes located within Seoul (and puts on an incredible light show at Christmas).
Shinsegae as a brand was the first to introduce the notion of shopping centres in South Korea and is well regarded by Koreans. This is their flagship store located in Myeongdong, with other department stores across South Korea in Busan and at Incheon Seoul international airport.
Shinsegae's Main Store here consists of the 'Main Building' which is where you'll find the premium stores and outlets across 6 floors, plus the 'New Building', which is more of a traditional department store with 14 floors. On level 1, you'll find luxury goods stores like Chanel and Coach.
For us, our favourite part of the shopping experience at Shinsegae Shopping Mall Myeongdong is the incredible food hall in the basement (level B1F) – here you'll find gourmet foods and sit in restaurants from all over the world.
On our last visit to Shinsegae Shopping Mall Myeongdong in summer 2023, we saw (and smelt!) international cuisine like Italian ice-cream and gelato, Vietnamese Banh Mi, Japanese sushi, cheese cake, Gong Cha plus a vegan store selling NYC style falafel called 'Chick Peace' (amazing name!).
Additional restaurants can be found on the 5th and 6th floor of Shinsegae Shopping Mall Myeongdong.
Shinsegae operates a Shinsegae Duty Free complex on the 8th to 12th floors – there is a roof garden and cafe on the top floor of Shinsegae Myeongdong too.
Shinsegae Mall opening times
Mon – Thurs: 10:30am – 8pm; Fri – Sun: 10:30am – 8:30pm
Shinsegae Myeongdong address
63 Sogong-ro, Jung-gu, Seoul
---
YOU MIGHT LIKE: top things to do in Myeongdong, Seoul
---
6. Noon Square Fashion Mall, Myeongdong
Whilst not as big as the neighbouring Lotte and Shinsegae malls, Noon Square Mall situated along Myeongdong Walking Street is a 10-floor fashion focussed shopping centre with several big brand shops like Nike plus a fifth floor dedicated to fashion and garments from new and up and coming designers.
There is no food court as such at Noon Square but there are several cafes and restaurants including a sushi conveyor belt restaurant and BBQ restaurant on the lower levels – plus there are so many food options nearby on Myeongdong Walking Street.
On our last visit to Noon Square Fashion Mall, the most popular store seemed to be Nike on the ground floor, primarily due to its custom store where you can design your own personalised Nike merchandise.
Here, pick your own Nike transfers and graphics from thousands on display in-store to create your very own unique Nike wear – nice! To customise your own Nike merch, you need to get a ticket early in the morning as this usually sells out most days.
Next door to Noon Square Fashion Mall, you'll also find a branch of Zara – a very fashionable and fun shopping day in Seoul.
Read our guide to all the things to do in Myeongdong Seoul here >
Noon Square flagship stores
Nike and H&M
Noon Square Opening Hours
Noon Square Fashion Mall is open daily from 11am to 10pm
Noon Square Seoul Address
14 Myeongdong-gil, Jung-gu, Seoul
---
YOU MIGHT LIKE: Foods and drinks you must try at Gwangjang Market, Seoul
---
7. Ssamzigil, Insadong
A colourful and cute as shopping complex located in the heart of Insadong, we'd rate this as one of the best shopping centers in Seoul, given how quaint and quirky it is.
This is genuinely like no other mall in Seoul. In fact, we'd go as far as saying this is possibly our favourite shopping centre in the whole of the city, with mainly small and independent stalls.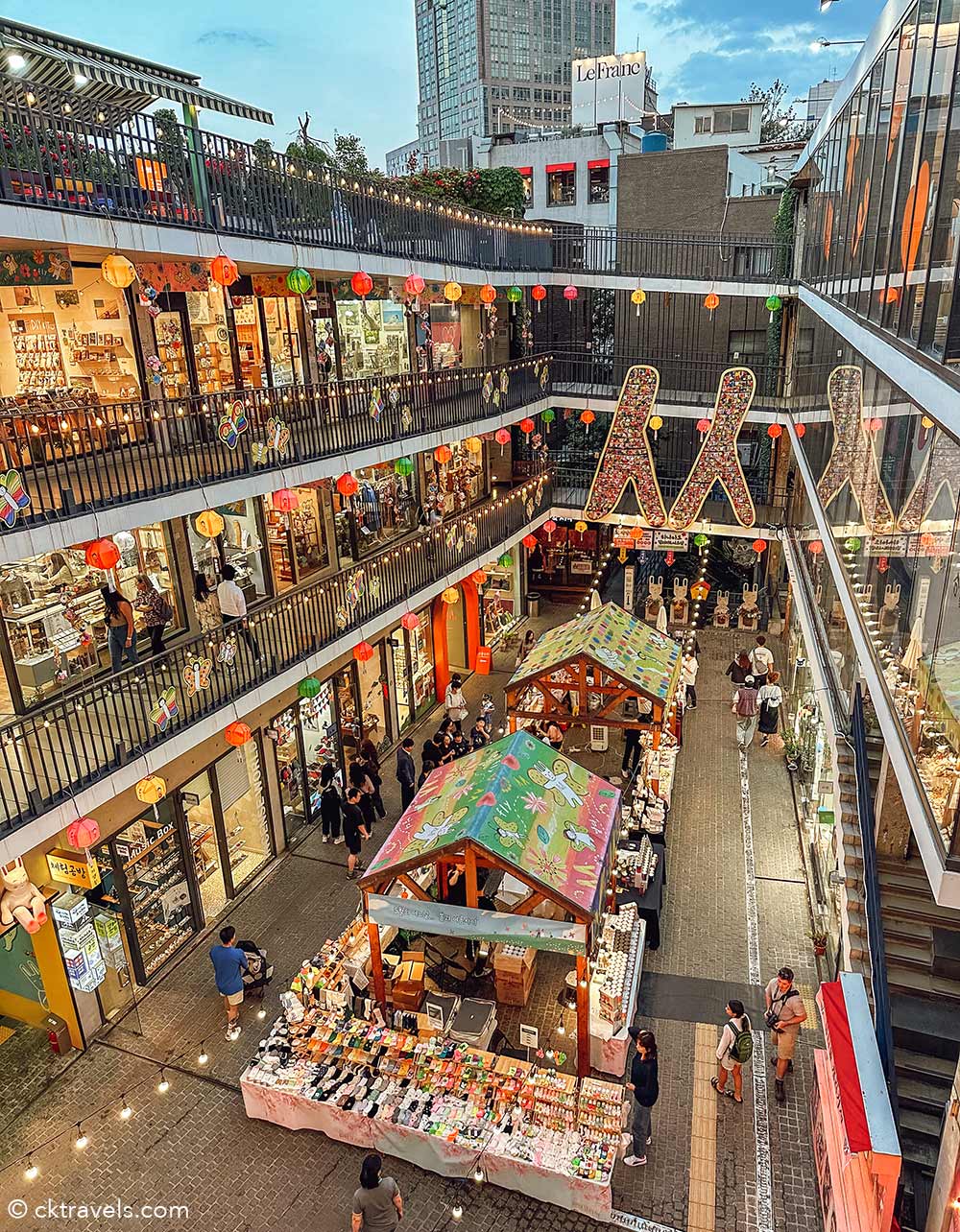 From the bright courtyard at its centre to the six floors of quirky character and craft based shops and stores, visiting Ssamzigil is quite the experience.
It isn't slick and flashy like all the other malls and the design is unique in the sense that you can visit all the stores on all levels by following a ramp footpath.
There are DIY craft stalls, cartoon character shops, homeware and jewellery vendors. In addition, there are several cafes and restaurants including one on the outdoor rooftop with nice views of Insadong.
Ssamzigil flagship stores
All the shops here are small, independent retailers – no big brands
Ssamzigil Opening Hours
Open daily from 10.30am to 8.30pm
Ssamzigil Seoul Address
44 Insadong-gil, Jongno-gu, Seoul
---
YOU MIGHT LIKE: Top things to do in Insadong, Seoul >
---
8. IFC Mall, Yeouido, Seoul
We last visited the IFC Mall in Seoul one cold winter's day and were greeted by large pop-up penguins at every entrance. We found IFC Mall the perfect place to do all our Christmas shopping plus find a variety of clothes to suit all seasons – Father Christmas would approve!
The IFC Mall is billed as Seoul's 'first international style mall' where you can find a wide variety of well known international brands across three floors like MUJI and Uniqlo.
IFC Mall is sleek and shiny with shops and restaurants based across its North and South pavilions. The huge glass windows at the top of the shopping center also make this feel like a very light and airy mall in Seoul.
IFC Seoul flagship stores
Hollister, H&M, Uniqlo, Muji and Zara
IFC Mall Opening Hours
10am to 10pm; 7 days a week
IFC Mall Seoul address
10 Gukjegeumyung-ro, Yeongdeungpo-gu, Seoul
---
You might like – Things to do in Busan, South Korea >
---
9. DOOTA Mall, Dongdaemun
If you are visiting the Dongdaemun Design Plaza (DDP), the best mall close-by has to be DOOTA Mall, with lots of fashion stores aimed at younger shoppers, particularly on the first five floors.
Floor 6 to 12 at DOOTA Mall is for Duty Free shopping. Whilst not as grand as many other shopping malls in Seoul, it is one of the better fashion malls in this Dongdaemun area.
On the second basement level of DOOTA Mall, you'll find storage lockers plus a help desk for overseas visitors (shopping discounts are available for foreign travellers).
Seoul's Doota Mall has a food hall in the basement level, comprising around 15 stalls selling mainly Korean food (plus a random coffee shop that sells Auntie Anne's Pretzels).
Unlike many food courts, you pay directly at the food outlet you order from and then they give you a buzzer that beeps when your food is ready.
The buzziest new shop and foodie experience at DOOTA Mall (opened in early 2023) is the Tap Shop Bar. We visited the TAP Shop Bar after it recently opened and it is one fine looking wine bar and drinking space (food is also available) located in the basement area. The racks are full of wine that you can either enjoy in the Tap Shop Bar itself or to take away and enjoy at home.
DOOTA Mall flagship shops
Doota Mall's biggest store is a Nike athletic footwear stall plus locals flock to the Shake Shack burger chain located right by its main entrance. Tap Shop Bar is a large scale wine bar in the basement of Doota Mall.
DOOTA Mall opening times
10am to 11pm (times may vary at DOOTA Mall during public holidays)
DOOTA shopping mall address
Doosan Tower Building, 275 Jangchungdan-ro, Jung-gu, Seoul
Tip – if you happen to be doing some night shopping at DOOTA Mall, try and combine your retail visit with the eclectic event schedule at the Dongdaemun Design Plaza, there is always plenty to see and do here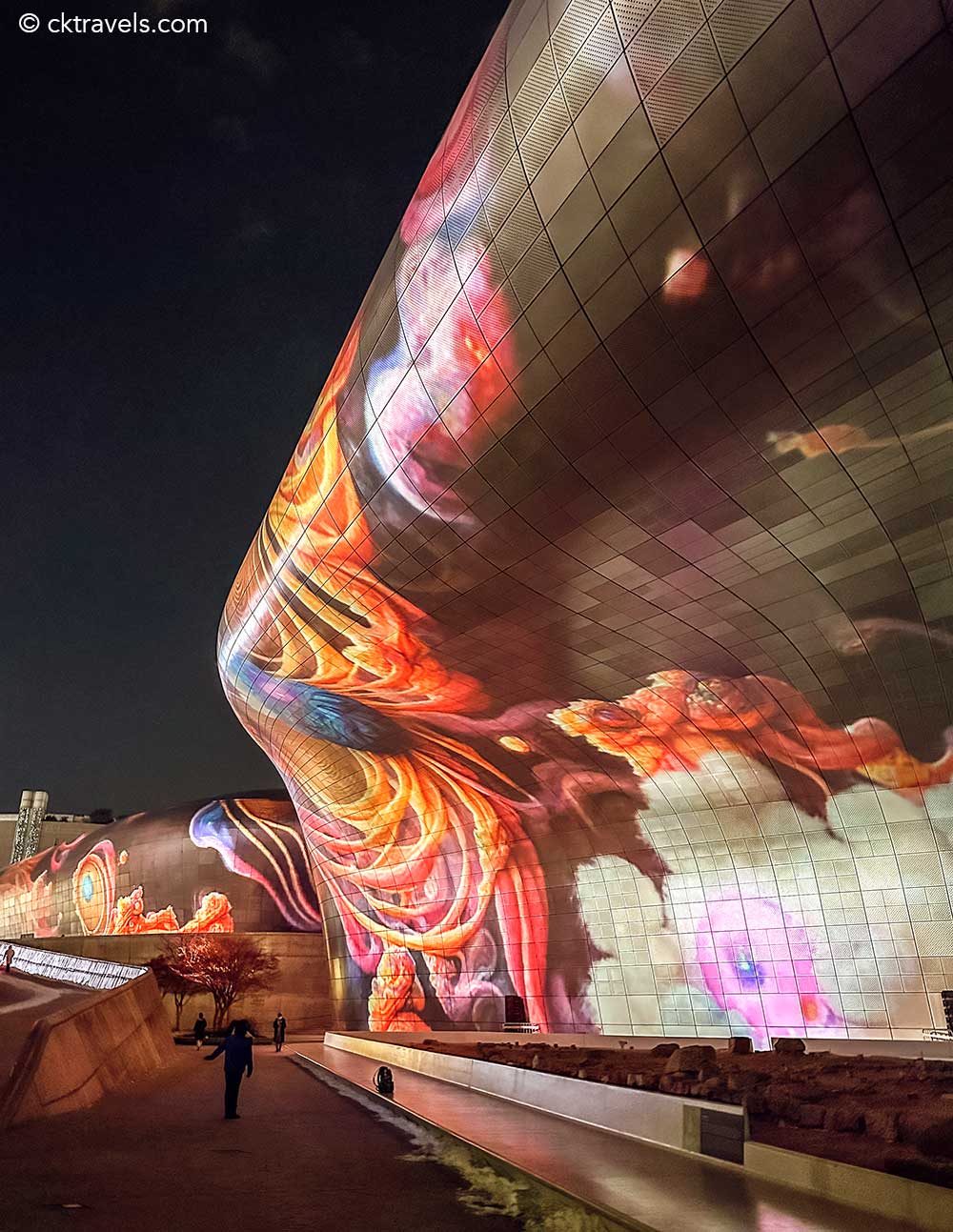 ---
10. Myeongdong Underground Shopping Center
Reminiscent of the underground shopping scene in Montreal, Canada, Myeongdong's subterranean shopping mall network is a much appreciated shopping center in Seoul on a rainy summer or cold winter's day.
Unlike other Seoul shopping malls on this list, this is a less glitzy and glamorous affair probably best combined with other things to do in Myeongdong – there is so much to see and do in the area, especially the Myeongdong night market.
This underground maze of shops (located around Myeongdong Metro station) are awash with sock shops, K-pop stores plus vinyl LP stores. In fact, we think this (and possibly Namdaemun Market) has the sweetest selection of shiny sock socks anywhere in Seoul (try saying that after a few craft beers).
The popularity of vinyl LPs in Seoul and South Korea has had a huge resurgence in recent years – there are lots of vinyl record stores plus vinyl LP cafes like the Music Complex Seoul in Insadong.
Myeongdong Underground Mall flagship shops
N/A – all the shops here are small, independent retailers – no big brands
Myeongdong Underground Mall Opening Hours
9am to 11pm; 7 days a week
Myeongdong Underground Mall Seoul address
124 Toegye-ro, Jung-gu, Seoul, South Korea
---
11. Lotte Mart ZETTAPLEX
We chanced upon the Lotte Mart ZETTAPLEX shopping mall purely by chance as we were visiting Lotte World Adventure Park.
This is one of the more unusual / quirky shopping malls in Seoul given its cute character theming in certain sections (mainly around the entrance to Lotte World adventure theme park) – here you'll find Lotte characters on the escalators plus several fun food courts.
If charming cartoon characters aren't your thing, you can head across the Lotte Mart Zettaplex which has all types of stores, from electrical departments to sports stores like DECATHLON, plus a food court on the upper levels.
One of the highlights is the Bottle Bunker – Korea's largest selection of wines and premium alcoholic beverages. There is also a huge Lotte food supermarket in the basement.
We were surprised to discover a roller rink here too – so get your skates on to Lotte Mart Zettaplex!
Tip – if you are planning on visiting Lotte World Adventure Theme Park in Seoul and other attractions, you can save a lot of money by buying a Go City Seoul pass or Discover Seoul pass as Lotte World is included. You can also visit Lotte Mart here without going into Lotte World.
Lotte Mart ZETTAPLEX opening hours
10am to 11pm seven days a week
Lotte Mart ZETTAPLAX address
240 Olympic-ro, Songpa-gu, Seoul, South Korea
---
12. Common Ground, Gwangjin-gu
Located on the outer edges of Seoul's Seongsu-dong district (a very happening and hipster neighbourhood), Common Ground could definitely be described as one of the more unique shopping malls in Seoul.
Built out of dozens of shipping container units, this creative and cultural container park is the first of its type in South Korea. It is also supposedly the biggest shipping container shopping mall in the world, having opened in 2015.
Based over three levels, Common Ground shopping mall comprises a Street Market section, a Market Hall and a Terrace Market. We also really liked how it made great use of the space with stores and restaurants both inside and out, across multiple levels.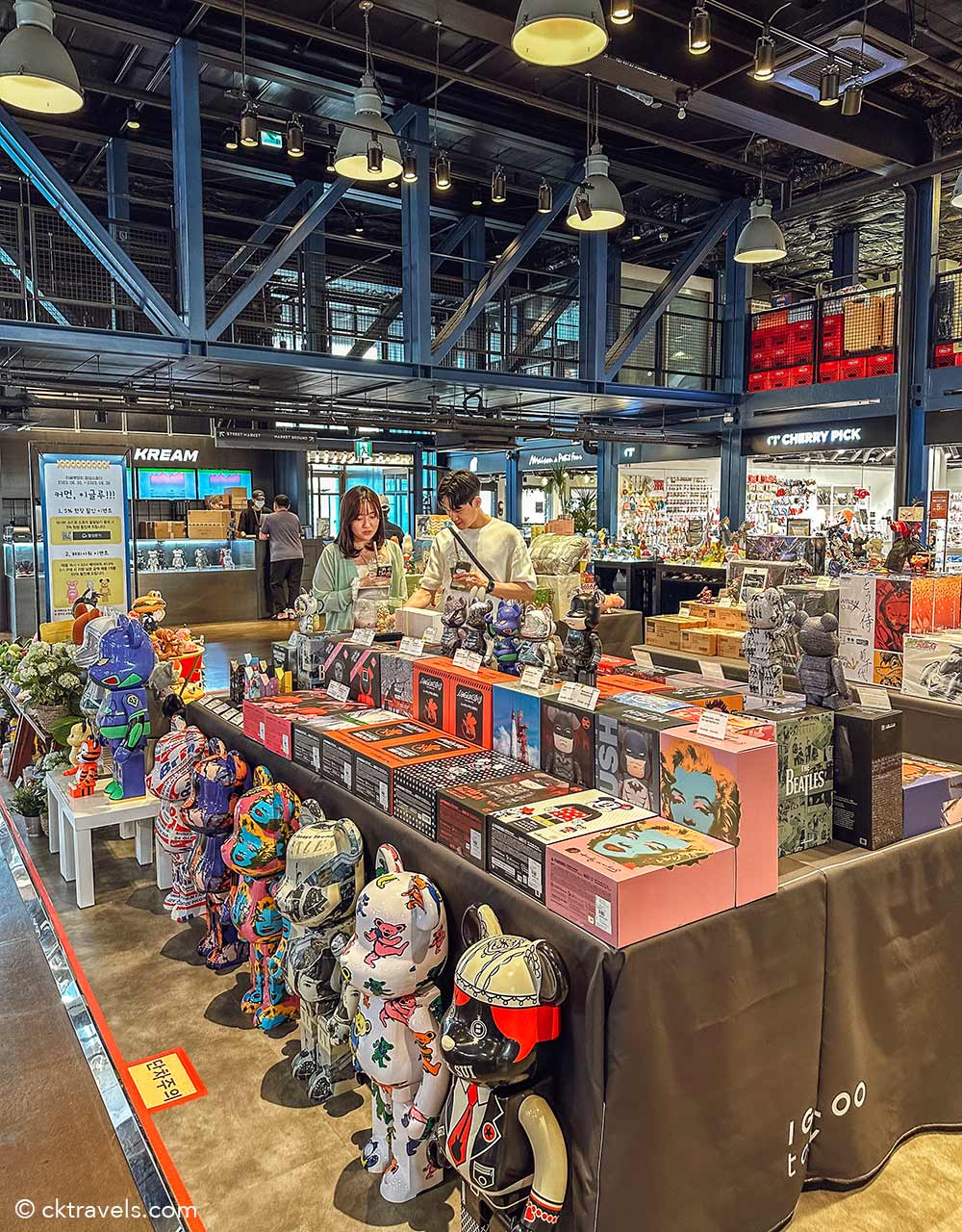 The terrace bars on the upper levels appeared to be most popular (like Analog Kitchen). Hot Bird Fried Chicken was doing a clucking good trade too.
Flagship tenants and shops at Common Ground include a multi-level Nike store, an Under Armour store, Adidas Originals plus a series of ever changing pop-up shops and events.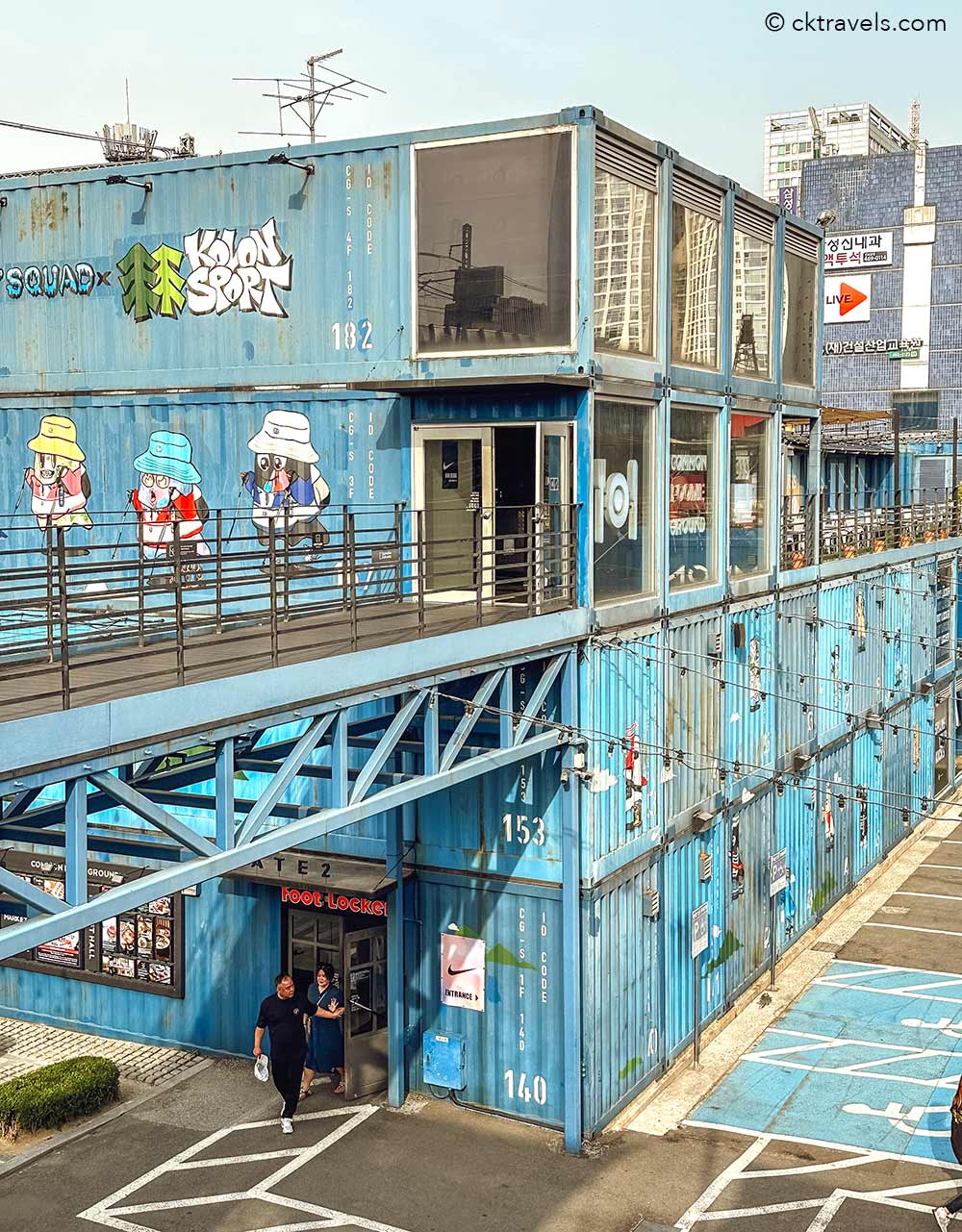 When we first approached Common Ground in Seoul, we weren't too sure what to expect as all we could see was a bright blue corrugated iron entrance way – but don't be put off by first appearances.
Once inside, you'll be surprise how good looking the set-up is, with tonnes of super cool clothing shops, sneaker stores plus lots of great geeky toys like gachapon machines and collectible toys.
Common Ground Mall flagship shops
Nike, Under Armour, Adidas Originals, Foot Locker
Common Ground Mall Opening Hours
Open daily from 11am to 10pm (some Common Ground food outlets stay open until 1am)
Common Ground Mall Seoul address
200 Achasan-ro, Gwangjin-gu, Seoul
If you are a fan of shipping container malls, also check out these other container malls: Jodd Fairs Market in Bangkok, BOXPARK Shoreditch in London and Pop! in Brixton, London.
---
YOU MIGHT LIKE: Things to do in Seongsu-dong, Seoul >
---
13. Anyoung Insadong Shopping Mall
One of the newest shopping centres in Seoul which opened in 2019 – so much so that we couldn't find that much information about it! We stumbled across Anyoung Insadong shopping centre, a bright and breezy mall and cultural complex whilst visiting Insadong one busy Sunday morning.
Anyoung Insadong shopping centre was packed with families when we visited, likely because of all the cool character shops and temporary exhibitions aimed at younger people.
There is currently a temporary exhibition celebrating Haribo's 100th anniversary which has now been extended to August 2023– 'sweet'! Check out the Haribo gift shop for free too on the basement level of Anyoung Insadong.
Although a lot smaller than many other malls (it is tiny compared to say Seoul's Times Square), it is a worth while visit given it houses some cool shops, bars, cafes and two museums too.
Anyoung Insadong flagship stores
Line Friends, Haribo, Colorpool Museum
Anyoung Insadong Opening Hours
Open daily from 10am to 10pm
Anyoung Insadong Seoul Address
49 Insadong-gil, Jongno-gu, Seoul
---
14. Hyundai City Outlets, Dongdaemun
Our final inclusion on this 'best shopping malls in Seoul guide' is the Hyundai City Outlets shopping center, located in between the Dongdaemun Design Plaza and nearby DOOTA shopping mall (so very easy to shop 'til you drop).
This fine looking shopping mall is the perfect place to grab discounted goods at bargain prices (although note not everything is discounted). There are high end fashion stores like Tommy Hilfiger plus dozens of fashionable furniture and international furnishing stores like Laura Ashley and Denby (best of British eh).
One of the stand out stores at Hyundai City Outlets is the Kyobo Book Store. On the 10th floor there is a CGV cinema – we were particularly taken by the karaoke booths that were in full swing when we visited one weekday afternoon.
Hyundai City Outlets in Seoul is also home to lots of pop-up shops and stores plus a gorgeous food court and restaurant area on the B2 level – the smell of fresh castella bread was a particular highlight for us (plus watch it wobble as it comes out of the oven!)
Hyundai City Outlets Seoul flagship stores
Kyobo Book Store, CGV cinema, Tommy Hilfiger
Hyundai City Outlets Opening Hours
10 am to 9pm weekdays / 9.30pm weekends (hours may be different during public holidays)
Hyundai City Outlets Seoul Address
20 Jangchungdan-ro 13-gil, Jung-gu, Seoul, South Korea
---
Other South Korea posts you might like
Did you enjoy our best shopping centres and shopping malls in Seoul guide blog post? Let us know in the comments or by sharing it on social media.
You can follow CK Travels on: 
Instagram
Facebook
TikTok 
YouTube
Pinterest