This post may contain affiliate links to tours and hotels. These help us earn a small commission at no additional charge to you.
The coastal setting of Busan makes for some of the best beaches in South Korea – blessed with beautiful beaches where the sea meets the city skyline, this is why you should be Busan bound for your big beach trip.
From surfing to paddleboarding, swimming to sunbathing, Busan offers a wonderful world of watersports and beach activities (not to mention beachside bars and restaurants).
From glass skywalks to incredible drone shows, beachside festivals to coastal walks, there are lots of beautiful Busan beaches to explore.
From the epic eastern Busan beaches to the more subdued southern beaches, here is our guide to the best beaches in Busan in 2023 (with map):
You might like – Things to do in Busan – Ultimate Guide >
Getting to Busan for a Beach Holiday
Fly to Busan
You can fly directly to and from Busan Gimhae International Airport (PUS) from Japan, Thailand, the Philippines, Vietnam, Taiwan, Singapore, China and Malaysia.
You can even get a ferry to Busan from Fukuoka in Japan.
There are dozens of domestic daily flights to Busan from Seoul and Jeju and it is the ideal place for a beach break in South Korea.
Train to Busan
No, not the scary zombie train (if you know, you know) but a fast and economical way to get to Busan from Seoul via rail.
The KTX train Korea is the fastest train to get to Busan in the south of the country, often taking less than 3 hours and often departing one or two times an hour.
Alternatively, foreign travellers can benefit from discounted rates with a Korea Rail Pass – this is also better value if you are travelling long distances by train in South Korea for two or more days.
Book your Korea Rail Pass (2, 3, 4, or 5 Days) here >
Busan Customised Private Tour
Given how big Busan is, if you are short on time, you can organise your own customised private tour of Busan meaning you can visit all of Busan's best beaches in one day (something not that easy to achieve with public transport).
The Best Beaches in Busan, South Korea in 2023 map
The 5 Best Beaches in Busan, South Korea in 2023 map
1. Haeundae Beach in Busan
Haeundae Beach, the best beach in Busan to stay for:
• First time visitors to Busan
• Beachside bars and Busan brewery fans
• Busan festival life and culture vultures
• Extended coastal walks
Easily one of Busan's best beaches and one of South Korea's most colourful coastal getaways, Haeundae Beach has a whole lot going on.
From beachside bars to charming coastal walks, sand festivals to sublime panoramic views, Haeundae is one of the most popular city beaches in Busan (it even has the world's highest Starbucks).
Haeundae Beach is brilliant for swimming and watersports and stretches over 1 mile – so even when it is very popular on sunny days and weekends, you can usually find a spot.
With its vast ocean views, sprawling sandy beach and towering skyscrapers immediately behind, Haeundae Beach is world-class and an all day beachside destination. You can sunbathe and swim by day and hit some of Busan's best bars by night.
Even if you aren't a big beach fan, there is something to suit all tastes in Haeundae, from the village vibe and cool coffee shops of Haeridan-gil to the South Korean street food delights of Haeundae Traditional Market.
Haeundae Beach Highlights
Haeundae Blue Line Park
You can also experience one of the world's greatest (and most Instagrammable) ocean facing railway journeys at Haeundae Blue Line Park >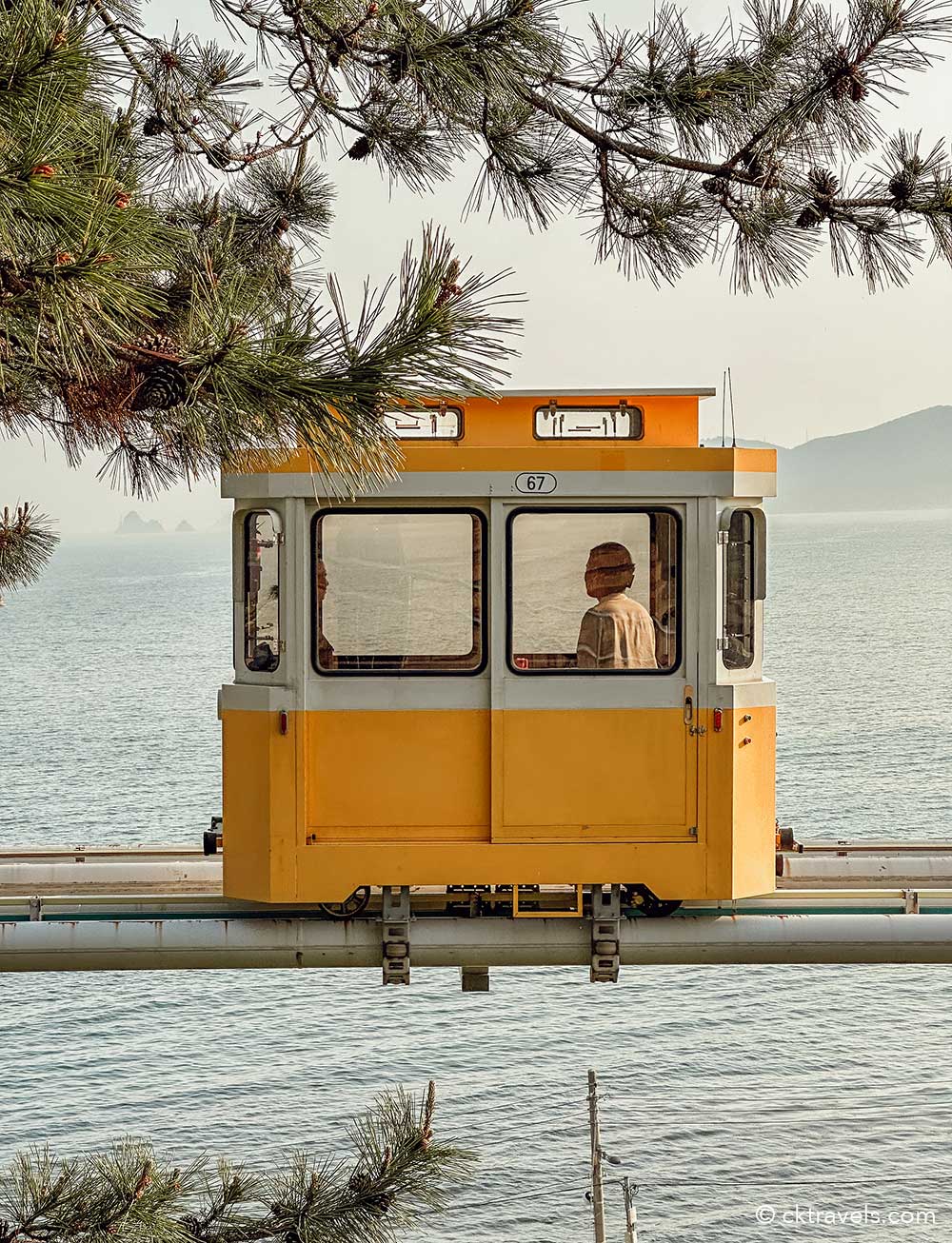 Busan X The Sky
For the best panoramic views of Haeundae Beach and the Busan coast. The observation deck is located on the 100th floor and it is the tallest building in Busan, and second tallest in South Korea. The world's tallest Starbucks can also be found at Busan X The Sky. ​
Book a discounted BUSAN X the Sky ticket here >
Haeridan-gil.
Possibly the most hipster neighbourhood in Haeundae Beach, Haeridan-gil is an up and coming district near to Haeundae Station where an old residential neighbourhood has been transformed to become a hotchpotch hotpot of cool coffee shops and restaurants.
Festivals
Festivals galore including the annual Haeundae Sand Festival in May / June, the Polar Bear Swim Festival (icy cold plunges) every December and the Haeundae Lights Festival in Winter time.
Haeundae is also a popular place for locals to see in the first day of the South Korean New Year.
Plus all these other things to do in Haeundae Beach, Busan >
Getting to Haeundae Beach in Busan
The easiest way to get to Haeundae Beach is via the Busan Metro system to Haeundae Station (take line 2).
The closest Metro exits to Haeundae Beach itself are exits 3 or 5 – or take exit 4 if you are visiting Haeundae traditional market or Haeridan-gil.
There is also a comprehensive bus network in Busan but based on our experience, if you are coming from downtown Busan, the journey takes longer.
Try this – a Busan Premium Yacht Tour; enjoy the beaches of Haeundae and Gwangalli in Busan from the sea on a luxury yacht >
Looking for cheap Busan day-trips, attractions or group/private tours? We recommend visiting Viator, GetYourGuide, and Klook!
2. Gwangalli Beach, Busan
Gwangalli Beach, the best beach in Busan to visit for:
• Night-time entertainment
• Waterside bars and restaurants
• The epic Gwangalli Eobang Festival (a three day festival on the beach and surrounding streets of Gwangan).
• Live street performers
One of Busan's best urban beaches with top food and drink destinations, Gwangalli Beach is a gorgeous gem of a seaside spot, postcard perfect in every way!
From traditional temples to waterside parks, fantastic festivals to weekly aerial drone shows there are a lot of things to do in Gwangalli Beach, South Korea – and of course it is great for sunbathing!
One of the best beaches in both Busan and South Korea, Gwangalli Beach is a sandy shore stretching almost 1.5km along the Busan coastline with views of Gwangandaegyo Bridge / Diamond Bridge (which lights up in a 'sea' of colours every night)
Popular for sunbathing, watersports and picnicking, Gwangalli Beach has a tropical vibe with straw parasols dotted along the beach – take a tiki trip to Gwangalli Beach in Busan!
Along the seafront at Gwangalli Beach, there are numerous bars, pubs and restaurants looking out over the water meaning you can sunbathe by day then relax by night.
On Saturday nights, the weekly Gwangalli M drone show is one of our top 5 things to do in Busan. It is amazing to see, with different aerial creations every week, like cartoon characters or BTS / K-pop bands.
Even if you aren't a fan of beach fun and frolics, Gwangalli Beach is still worth a visit – there are dozens of cool coffee shops and beachside bars with ocean views; the locals in Gwangalli Beach really know how to have a good sunset session.
Gwangalli Beach in Busan Highlights
Drone show
Gwangalli is so 'lit' with the nightly Diamond Bridge light show and the weekly aerial drone show – one of the best things to do in Busan at night.
Millak Waterside Park
Korea's first waterfront park, Millak Waterside Park is a popular local place to take Korean street food snacks or picnics and enjoy beach views. Thousands flock here on warm summer nights to see the Gwangalli Beach sunset every evening.
Millac The Market
Overlooking the harbor at Gwangalli Beach with huge bay windows facing towards the ocean, Millac the Market is a newly opened cultural complex that has dozens of trendy food and drink joints, and live music performances most weekends.
Okryeonseonwon Temple
Located north of and just behind Milak Waterside Park, Okryeonseonwon Temple is the best known temple in Gwangalli Beach, attracting hundreds of worshippers and tourists every day.
This Jogyesa hillside temple is free to visit and features large white statues including a huge Buddha statue.
Find out about more things to do in Gwangalli Beach in Busan here >
Getting to Gwangalli Beach
The easiest way to get to Gwangalli is via the Busan Metro system to Gwangan Station (take Metro line 2).
The closest Metro exits to Gwangalli Beach itself are exits 3 or 5 – it is then an approximately 700 meter walk from Gwangan Station to Gwangalli Beach.
---
You might like
Check out all our South Korea area guides here including Myeongdong, Hongdae, Ikseon-dong Hanok Village and Gangnam.
---
3. Songjeong Beach
Songjeong Beach, the best beach in Busan to visit for
• Surfing and watersports
• Cute coffee shops along the beach
• Close proximity to Lotte World Adventure Busan, Lotte Premium Outlet Busan and Haedong Yonggungsa Temple
Also known as the best surfing beach in Busan, Songjeong is the perfect place for watersports and all manner of aquatic awesomeness.
Given its location a little further north of the main city, Songjeong is a stunning yet less well known beach in Busan meaning it feels a little less busy than the likes of Haeundae and Gwangalli.
With relatively shallow waters and waves all year round (as this is where the south sea meets the east sea), Songjeong Beach is popular year round with the surfing community.
The sandy shore at Songjeong Beach is around 1.2km in length meaning there is plenty of room for both surfers and sunbathers. It is also one of Busan's best beaches for paddle-boarding; 'sup!
Interestingly, in the summer months, Songjeong Beach is often used by the Ministry of National Defense for combat swim training and army summer vacations.
Whilst at Songjeong Beach, walk south along this beautiful Busan beach to Cheongsapo Daritdol Observatory, a unique glass walkway that curves over the ocean, 20 metres up from the sea offering stunning views of the coast and Songjeong Beach itself.
As of summer 2023, Cheongsapo Daritdol Observatory is free to visit but under maintenance when we visited (so partially open) – alternatively, walk north towards Haedong Yonggungsa Temple, Busan's most beautiful temple on the sea.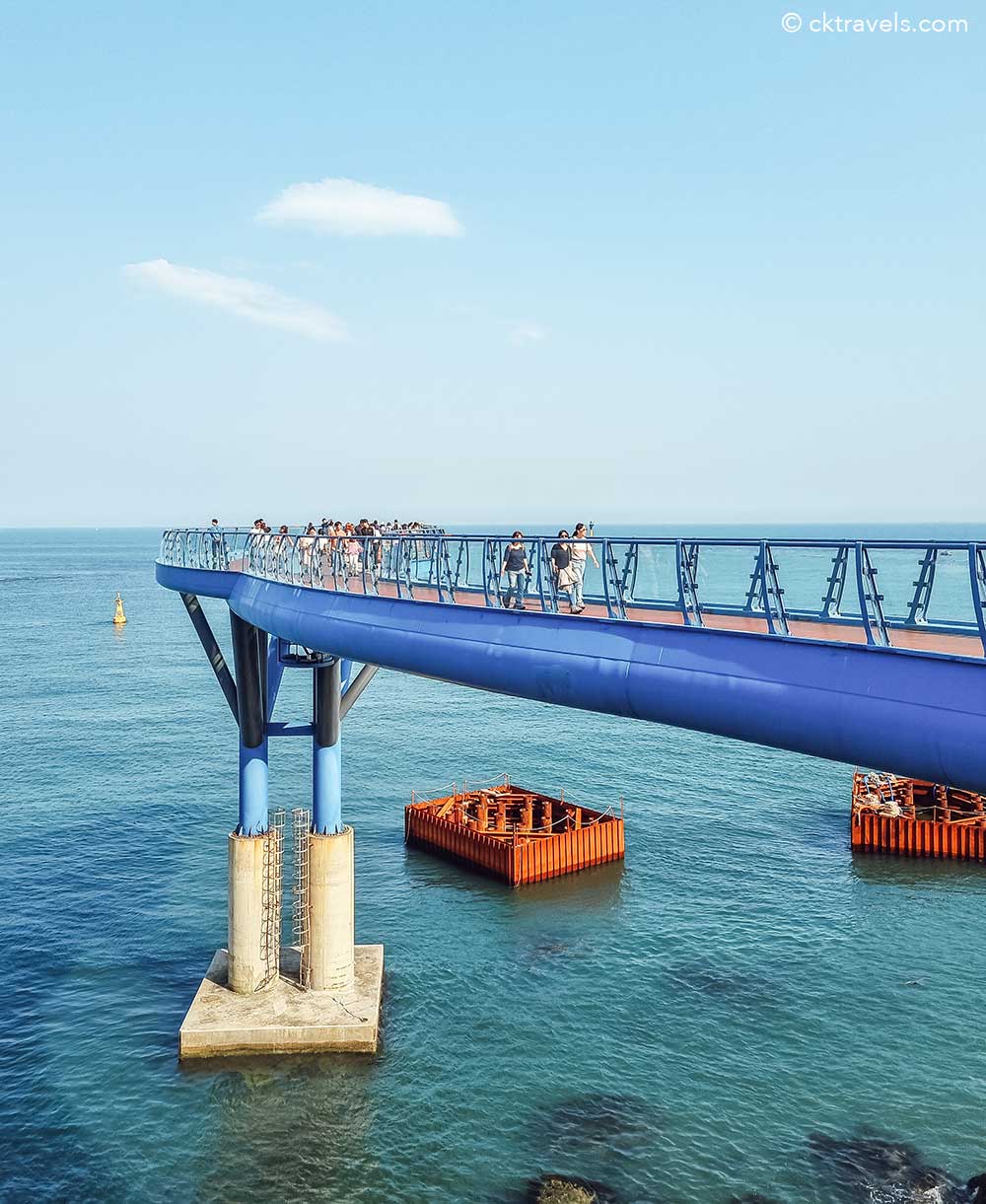 Songjeong Beach Highlights
Judko Park
Located at the far end of the beach, this is a wonderful woodland park with incredible beach views ('Judko' derives from all the bamboo trees located within it).
This is a shaded spot so it is popular with picnickers plus look out for the the Songiljeong Pavilion, a peaceful pagoda and the closest spot to the ocean (very popular for sunrise and sunset in Songjeong Beach).
Blue Line Park Beach Train
Songjeong Beach is the starting point for this unique coastal train that follows the Busan Green Railway coastal walking trail.
Following the old Donghae Nambu Line, the 5km coastal Beach Train journey starts from Songjeong Beach going all the way to Haeundae Beach taking about 30 minutes, offering stunning unspoilt views of East Busan's coastline.
The Blue Line Park Beach Train is included as part of the Visit Busan pass, whereby around 30 Busan attractions are included for one small price.
Haedong Yonggungsa Temple
It is described as the most beautiful temple in Korea (well so says the sign on the wall). Incredibly popular with worshippers and tourists, the original Haedong Yonggungsa temple was built in the 14th century but later destroyed by bombing and rebuilt in the 1930s.
If you are lucky enough to visit Haedong Yonggungsa Temple in the run-up to the Buddha's birthday, the temple is decorated with colourful paper lanterns.
Getting to Songjeong Beach
The best way to get to Songjeong Beach is via the Busan bus network as there is no Metro station with close proximity.
Take bus number 1001, 1003 or 40 from Busan station and alight at Songjeong Beach Bus Stop.
Alternatively take bus number 39, 63, 100 or 181 from nearby Haeundae Beach,
Songjeong train Station is now permanently closed.
---
You might like – Busan must-visit 1 Day Tour : Blue line Sky Capsule & Beach Train >
---
4. Dadaepo Beach in Busan
Dadaepo Beach, the best beach in Busan to visit for
• Coastal observation decks
• Relaxing times
• Family fun and free beachside attractions
• Proximity to nature
Very different from the eastern Busan beaches of Haeundae, Songjeong and Gwangalli, Dadaepo Beach is famed for its coastal boardwalks, beach art and nearby green parks.
Less built up than other Busan beaches, Dadaepo is also the widest sandy beach of them all, meaning it is a perfect spot for all the family to enjoy the sea, with lots of room to run around.
Dadaepo Beach is a sedimentary sandy beach made by the deposits from Busan's Nakdonggang River so the sand is some of the best in South Korea.
We found Dadaepo Beach to be the most fun beach in Busan as there are lots of free activities like the Dadaepo Sunset Fountain of Dreams, the coastal boardwalk that offers incredible views of Busan's coast plus some really interesting beach art sculptures that often change.
On our visit to Dadaepo Beach in summer 2023, there was a huge dog walking statue with the dog cocking his leg!
To the southern side of Dadaepo Beach, Watersports equipment and gear can be hired such as kitesurfing and paddleboarding (these seem to only be open during the summer months or on selected weekends).
In terms of food and drink near to Dadaepo Beach, the options seem quite limited and this is less of a waterside food and drink destination than say Gwangalli, so bring your own food to enjoy an awesome alfresco beachside picnic.
Alternatively, we really enjoyed the knife-cut noodles at Yangpyeong Kalguksu, just a couple of minutes from the beach and sunset fountain.
Looking for a coffee shop in Dadaepo Beach with nice ocean views? Check out A Twosome Place Busan on Saha-gu, overlooking Morundae bay, around 5 mins walk from Dadaepo Beach.
Dadaepo Beach Busan Highlights
Dadaepo Sunset Fountain of Dreams
Kids will love this, especially splashing in the fountains. Dadaepo Sunset Fountain of Dreams is a musical fountain set-up with lots of LED lights that usually runs from April to October.
Morundae Seaside Walkway and Morundae Sunset Observatory
A coastal path that takes in the Morundae Peninsula through groves and woodlands, easily accessible by well maintained wooden walkways – one of the best walks in Busan!
Beach art and regular sculpture festivals on the beach
The public art installations at Dadaepo Beach are forever changing so you never know what to expect; there was even a giant Smurf Statue once on Dadaepo Beach (alas no gone, probably gone back to their 'Cursed Land').
Getting to Dadaepo Beach
The best way to get to Dadaepo Beach is via the Busan Metro system to Dadaepo Station (take the Metro line no. 1 – station 095).
This is the last stop on the Number 1 Metro line when heading south west. The closest Metro exit to Dadaepo Beach itself is exit 4.
---
You might like – things to do in Seoul at night >
---
5. Songdo Beach in Busan
Songdo is the best beach in Busan to visit for:
• A quieter beach experience
• Coastal attractions like cable cars and walk-ways
• Morning walks and beachside strolls
The first public beach in South Korea, Songdo Beach doesn't often get that many visits from overseas visitors, as it isn't close to any Metro stations and requires a bus to get here. It is also the smallest Busan beach on this list.
That said, this man-made beach is still worthy of your time, as it is surrounded by various attractions like the Songdo Gureum (Cloud) Walk and the Busan / Air Cruise Songdo Marine Cable Car (the latter of which you can see from the beach itself) and is a pleasant respite from the usual hustle and bustle of Busan.
Perfect for sunbathing, Songdo Beach is also surrounded by cute coffee shops, restaurants and bars all which look toward the ocean (although not many are directly on the beach).
One of the best free attractions that is located on the beach is Geobukseon Island (Turtle Island), a man-made walkway with huge statues including a turtle egg and romantic couple.
Next door, the Songdo Cloudwalk is a 350+ metres glass walkway that allows you to get up close to the ocean (be careful not to drop your phone through the cracks).
Songdo Beach in Busan Highlights
Songdo Marine Cable Car / Busan Air Cruise
Around 40 cabins (of which a dozen are totally transparent) runs over the ocean around 2 km, from Songdo Beach (Songrim Park) to Amnam Park with lots of themed attractions.
Book your discounted Busan Air Cruise tickets here >
Songdo Gureum (Cloud) Walk
The longest skywalk in Korea plus also the very first curve shaped walkway in the country.
Promenade walkway
Walkway that takes in the whole beach, including a Songdo Beach sign.
Getting to Songdo Beach
The best way to get to Dadaepo Beach is via the Busan bus network as there is no Metro station with close proximity.
Take bus 26, 17 or 61 from Busan Station or get the Metro network to Nampo Station and take a bus towards Songdo Beach.
---
You might like – Busan Main Attractions One Day Tour >
---
Save money on Busan attractions with the visit Busan Pass
Newly launched in 2023 and very similar to the highly successful Discover Seoul pass (read our review here), the Visit Busan pass provides 'free' access to a selection of 30 tourism attractions in Busan for either 24 or 48 hours.
Visit Busan tourist attractions included on the pass include Lotte World Busan, Busan Tower, Skyline Luge Busan, Busan X the Sky admission, Songdo Cable Car and free hanbok rental.
Incredibly good value for money, buy your Visit Busan pass here via Klook >
---
Visiting Seoul? You might like the Discover Seoul pass (our review) or our Go City Seoul Pass Guide (is it worth it)?
---
Best Beaches in Busan Accommodation
Haeundae Beach
Mipo Oceanside Hotel
Highly rated hotel offering both Western and Korean-style rooms. Some rooms have sea views. Check out prices and availability for Mipo Oceanside Hotel
Signiel Busan
Luxury hotel located between the 3rd and 19th floors of the LCT Tower. Rooms have panoramic views and facilities include an infinity pool, luxury spa, kids outdoor activity garden and dim sum restaurant. Check out prices and availability for Signiel Busan
Gwangalli Beach
Kent Hotel Gwangalli by Kensington
Highly rated hotel located on the shore of Gwangalli Beach. Rooms are modern with city views or sea views. Check out prices and availability for Kent Hotel Gwangalli by Kensington
H Avenue Gwanganri Beach
Affordable hotel located 200 metres from Gwangalli Beach with some rooms having a balcony and sea views. Check out prices and availability for H Avenue Gwanganri Beach
Songjeong Beach
Songjeong Blue Castle Hotel
Spacious and modern hotel located close to the beach. Rooms come with a fully equipped kitchen and dining table. Check out prices and availability for Songjeong Blue Castle Hotel
Hotel Laon
Located right in front of the beach with the blue line beach train just a 2 minutes walk away. Many rooms have sea views. Check out prices and availability for Hotel Laon
Dadaepo Beach
Oia Hotel Dadaepo
Stylish and modern hotel, located by the harbour and close to the metro, and just a short drive to the beach. Check out prices and availability for Oia Hotel Dadaepo
Songdo Beach
Fairfield by Marriott Busan Songdo Beach
Clean and modern hotel a minute walk away from Songdo Beach. Facilities include an onsite restaurant on the 22nd floor and fitness centre. Check out prices and availability for Fairfield by Marriott Busan Songdo Beach
Grab The Ocean Songdo
4 star beach facing hotel with many rooms having sea views and a balcony. Check out prices and availability for Grab The Ocean Songdo
Looking for cheap Busan day-trips, attractions or group/private tours? We recommend visiting Viator, GetYourGuide, and Klook!
Other South Korea posts you might like
Did you enjoy our best beaches in Busan guide? Let us know in the comments or by sharing it on social media.
You can follow CK Travels on:
Instagram
Facebook
TikTok
YouTube