This post may contain affiliate links to tours and hotels. These help us earn a small commission at no additional charge to you.
South Korea's second biggest city is delightful by day but Busan at night is brilliant for night owls and culture vultures.
Busan at night comes alive with many things to do – from the bright neon lights of Seomyeon to sunset cruises along the eastern beaches, Busan is a bustling nocturnal nirvana and one of east Asia's best places to explore in the evening.
If your traveller tastes are gastronomic or curious, cultural or sporty, we have some epic evening Busan activities and sundown suggestions for you. From aerial drone shows to seaside temples, craft beer bars to sunset panoramas, Busan knows no bounds at night.
Get the best out of Busan at night with our guide to night-time Busan activities (2023):
---
You might like – our South Korea area guides >
---
Getting to Busan
Fly to Busan
You can fly directly to and from Busan Gimhae International Airport (PUS) from Japan, Thailand, the Philippines, Vietnam, Taiwan, Singapore, China and Malaysia.
There are dozens of domestic daily flights to Busan from Seoul and Jeju Island.
Train to Busan
The train to Busan in real-life is zombie free* and a fast and economical way to get to Busan from Seoul. *Google Train to Busan if you aren't sure what this refers to.
The KTX train Korea is the fastest train to get to Busan in the south of the country, often taking less than 3 hours and running one or two times an hour.
Alternatively, foreign travellers can benefit from discounted rates with a Korea Rail Pass – this is also better value if you are travelling long distances by train in South Korea for two or more days.
Book your Korea Rail Pass (2, 3, 4, or 5 Days) here >
Busan at Night Customised Private Tour
Given how big Busan is, if you are short on time, you can organise your own customised private tour of Busan.
Things to do in Busan at night, 2023
1. Gwangalli M Drone show – every Saturday night
Busan's Gwangalli Beach is the place to be every Saturday night with the weekly Gwangalli M Drone display over the night sky. Seriously for us, this has to be one of the top 5 things to do in Busan at night, not just Gwangalli.
Every Saturday night at 8pm and 10pm (October- December 7pm and 9pm), over 300 aerial drones take to the skies of Gwangalli Beach and create an incredible skyborne spectacle, with various scenes and characters created.
The characters and images created by the Gwangalli M drones vary weekly so you never know what to expect from the aerial display. One of our most memorable things about the Gwangalli M weekly drone show is the audible gasps and sighs from the audience gathered on the beachfront.
---
You might like – things to do in Gwangalli Beach, Busan >
---
2. Seomyeon nightlife
Akin to Gangnam in Seoul, Seomyeon is the mecca for late night entertainment in Busan, a hustling and bustling area packed full of clubs, street performers, craft beer bars and restaurants that stay open until very late – you can also find late night shopping here too.
Known for its bright lights and late nights, this is where a lot of the younger generation in Busan head out – bars and late night venues such as Thursday Party (cos Thursday is the new Friday), Moma, Savoy and Output are all popular venues.
For the best mix of bars, restaurants and shoppings, head to Seomyeon shopping street and the surrounding alley-ways as you likely stumble across something to suit all tastes.
---
You might like – things to do in Seomyeon, Busan >
---
3. Haeundae Beach
Easily one of Busan's best beaches and one of South Korea's most colourful coastal getaways, Haeundae Beach has a whole lot going on in the evening too. Busan's beaches at night provide some of the best evening entertainment.
From beachside bars to the cool coffee shops of Haeridan-gil and the nocturnal delights and street food bites of Haeundae Traditional Market, there is much to enjoy in Haeundae Beach once the sun has gone down.
---
You might like – guide to Haeundae Beach in Busan >
---
4. Craft Beer Bars in Busan
The night-time craft beer and brewery bar scene is blissful in Busan, South Korea – you are spoiled for choice when looking for craft beers in cool settings.
From the bright lights of Gwangalli's and Haeundae's beachside brewery bars to the inner city delights of Seomyeon, there is a bevy of craft beer goodness to enjoy in Busan.
Some of our favourite craft beer bars in Busan at night include:
Galmegi Brewing (multiple Busan brewery taprooms)
A Busan brewery born and bred, Galmegi Brewing started life almost 10 years ago in 2014 as a small microbrewery pub.
Galmegi Brewing now has several taproom and craft beer bar locations in Busan including Haeundae Beach, Gwangalli Beach, Seomyeon and Nampo – late night bites including Detroit style pizza are available to enjoy with your beers.
Gorilla Brewing Busan
Gorilla Brewing is a Busan based British craft beer brewery with two locations open until late at night – Haeundae Beach and this Gwangalli Beach taproom.
Gorilla Brewing Gwangalli Beach has a huge brewery taproom with around 20 different craft beers on tap – as well regular craft beer styles like dark lager and IPAs. It is open daily until midnight; cheers!
---
You might like – a Busan beer crawl >
---
Wildcat Brewing Co
The only brewery taproom in Seomyeon, Wildcat Brewing Co is open seven days a week until 12am (12.30am on Fridays and Saturdays). You can try their craft beer in a taproom that directly overlooks all the brewing vats at Wildcat Brewing.
If you aren't sure what to have, you can try a tasting tray of several beers plus free prawn crackers are provided – alternatively, their bar menu includes damn fine Korean fried chicken.
Abnormal Taphouse and Cantina, Haeundae
An 'Abnormally' good place to visit in Busan at night, Abnormal Tap House & Cantina is a good way to spend the evening after a day on Haeundae Beach or doing coastal walks.
Located literally just a few yards away from the beach, Busan's Abnormal Taproom has 12 taps plus free popcorn – so 'pop' along to Busan's Haeundae Beach in the evening.
---
For more craft beer bars in Busan at night, read our guide to Busan's best brewery bars here >
---
5. SPA LAND Centum City
Relax and unwind in Busan's biggest public bathhouse and spa, Spa Land Centum in Haeundae Beach (known as a "jimjil-bang" in Korea).
Located in the Shinsegae Department Store Centum City, this is an authentic South Korean spa and sauna experience which stays open in the evening. Spa Land Centum uses hot spring water full of sodium bicarbonate, which is pulled up from underground wells.
There are almost 20 different hot springs and 13 theme spas to choose from including the Ice Room and Pyramid Steam Room.
SPA LAND Centum is open daily from 9am to 10pm – last entry is usually an hour before closing.
Don't miss out on the best Busan spa experience – book your discounted Spa Land Centum tickets with Klook. You'll get more 'Jjimjilbang' for your Bucks – for an authentic South Korean sauna experience!
Looking for cheap Busan day-trips, attractions or group/private tours? We recommend visiting Viator, GetYourGuide, and Klook!
6. Gwangalli Beach
One of the best beaches in both Busan and South Korea, Gwangalli Beach is a sandy shore stretching almost 1.5km along the Busan coastline – whilst a great place for sunbathing or coastal walks by day, Gwangalli Beach comes alive at night.
Along the seafront at Gwangalli Beach, there are numerous bars, pubs and restaurants looking out over the water. At night, you can also enjoy the Gwangan Bridge light show from the beach plus the weekly Gwangalli M drone show every Saturday (more on this in a mo).
Read more in our things to do in Gwangalli Beach guide >
---
You might like – Busan Must-visit 1 Day Tour : Blue line Sky Capsule & Beach Train >
---
7. Busan Premium Yacht Tour and Sunset Cruise
Enjoy Busan from a different perspective at night on a luxury yacht – soak up sunkist views of Gwangalli and Haeundae Beach whilst enjoying complimentary beer or soft drinks.
The yacht crew are also on hand to look after you and take photos as a lasting memory of your visit to Busan at night.
You might like – Sunset Busan Premium Yacht Tour >
---
You might like – Best Beaches in Busan, South Korea >
---
8. Busan Diamond Tower and Yongdusan Park
Whilst dwarfed by the likes of BUSAN X The SKY, one of Busan's most beloved viewing towers is simply called 'Busan Tower' (or Diamond Tower), found in Yongdusan Park.
120 meters high and built in the 1970s with extensive renovations in 2021, Busan Diamond Tower is open until 10pm every evening meaning you can get sublime sunset views of Busan port and the nearby hills.
There is also a coffee shop onsite with Dataro, the coffee making robot (he is full of 'beans' apparently).
Busan Tower tickets are included as part of the Visit Busan pass >
---
You might like – Things to do in Busan – Ultimate Guide >
---
9. Gwangandaegyo Bridge / Diamond Bridge
Gwangandaegyo Bridge in Gwangalli Beach is one 'lit' bridge – literally, Gwangandaegyo Bridge (AKA Gwangan Bridge) has the world's largest set of LED lights and thumping sound equipment; it shines so bright it has been nicknamed Busan's Diamond Bridge.
South's Korea's sublime suspension bridge in Busan is the second longest bridge in South Korea (after Incheon Bridge in Seoul) and spans over 7 km (one BIG bridge – and 'daegyo' literally means 'big bridge' in Korea).
Gwangan Bridge in Busan lights up every evening, with different times depending on the year. Generally, Gwangan Bridge becomes a beacon of light every evening from sunset until the early hours (usually 1am on weekdays and until 2am on weekends and public holidays).
---
You might like – things to do in Myeongdong, Seoul >
---
10. Busan Night Tours
Hopefully by reading this 'Busan at night' blog, we're giving you an overview of all the best things to do in Busan at night.
If you are limited on time and what to do a lot of things in Busan at night in a short space, there are several Busan night tours available:
Busan: Night Viewpoints with Evening Cruise with Fireworks >
Busan Night Tour with Songdo Cable Car, The Bay 101, Gwangalli Beach, and Yeongdo Seaside Park >
Or consider a Busan Private Tour with a Local that starts later in the evening >
---
11. Haeundae Traditional Market
Looking for superb street food or late night bites in Busan? Then head to Haeundae Traditional Market, a couple of blocks back from Haeundae Beach and within easy walk of Gunam-ro Busan.
Here at Haeundae Food Alley / Haeundae Traditional Market, you'll find a treasure trove of traditional Korean restaurants plus dozens of seafood restaurants with the freshest fish and seafood given the close proximity to the coast. Most of the restaurants here stay open all day until around 10pm
From tteokbokki to tempura, squid to mandu, you'll find lots of fine South Korean street food, plus given there are so many restaurants who all want your custom, prices at Haeundae Traditional Market are pretty cheap.
Read more in our guide to Haeundae Traditional Market >
---
You might like – things to do in Gangnam, Seoul >
---
12. BUSAN X the SKY
For the best panoramic views of Busan at night, head up to the 100th floor of Busan X the Sky, the tallest building in Busan and the second largest tower in South Korea (after the Lotte World Tower in Seoul).
Take the Sky Cruize to the 100th floor in less than 1 minute (your ears might pop) – the multimedia graphics in the Busan X the Sky lift are also great entertainment for big kids and small kids alike.
As well as the incredible views of Haeundae Beach and the whole of Busan, there is an indoor glass walkway – the Shocking Bridge where you can see Haeundae Beach directly below your feet (if you are feeling brave).
Busan X the SKY is open daily from 9am until 9pm in the evening.
Book a discounted BUSAN X the Sky ticket here >
Busan X the Sky is also included as part of the Visit Busan pass >
---
You might like – things to do in Hongdae, Seoul >
---
13. Songdo Cable Car / Busan Air Cruise
A very cool way to 'get high' at night in Busan; the Busan Air Cruise is a brilliant cable car that journeys over the sea – stunning seaside views come as standard!
Around 40 cabins (of which a dozen are totally transparent) run back and forth over the ocean on a 2 km line, from Songdo Beach (Songrim Park) to Amnam Park with lots of themed attractions to enjoy.
Best of all, the Songdo Cable Car / Busan Air Cruise is open until 9pm daily so you can easily time your trip to coincide with sunset, or even a journey into darkness if you are a night owl.
Book your discounted Busan Air Cruise tickets here >
---
14. Millac The Market
Overlooking the harbor at Gwangalli Beach with huge bay windows facing towards the ocean and Millak Port, Millac the Market is a modern food market that opened in 2022 on the site of the old fish market.
The set-up at Millac The Market is really nice, with all types of street food kitchens and restaurants with cuisine from all around the world plus a few upmarket gift shops and a craft beer brewery bar courtesy of Naked Ape.
Millac at the Market is a great place for late night street food and snacking in Busan and is open until midnight every day – individual restaurant opening hours may vary.
---
You might like – Guide to Gwangjang Market in Seoul >
---
15. Millak Waterside Park
One of the best places to see the sunset in Busan, Millak Waterside Park is Korea's first waterfront park and a popular (free) local place to take street food or picnics and enjoy ocean views (possibly with the odd soju or cold beer for good measure).
Thousands flock to Millak Waterside Park to see the Gwangalli sunset every evening (it can accommodate up to 40,000 people) and you'll find benches, shade huts, flower gardens and a colorful pathway with rainbow blocks – you can even dip your toes in the ocean at high tide.
---
You might like – the best South Korean street-foods >
---
16. Haedong Yonggungsa Temple AKA the Busan temple by the sea
A short bus ride from Haeundae Beach, Haedong Yonggungsa Temple is described as the most beautiful temple in Korea (well so says the sign on the wall).
Incredibly popular (especially with coach groups), the original temple was built in the 14th century but later destroyed by bombing and rebuilt in the 1930s.
Haedong Yonggungsa Temple looks out over the sea and is open until 8pm most evenings, meaning it is a unique way to 'sea' in..sorry see in the sunset over the ocean in Busan.
Join our Facebook South Korea Travel Planning and Tips Group! (New for November 2023)
Need help with your itinerary or have any South Korea related questions? Head on over to our Facebook group!
Click here to join our group >
17. Lotte World Busan
Busan's biggest and newest theme park and following in the footsteps of Lotte Adventure World in Seoul, Lotte World Busan opened last year (in 2022).
It is actually about a fifth bigger than the Seoul Lotte theme Park – go Busan! Lotte World Busan is also one of the best evening activities in Seoul at night.
Lotte World Busan features several special themed zones including Joyful Meadows and Rainbow Springs) with 17 rides and attractions including the Giant Digger rollercoaster with three 360 degree loops – the magical Lotte World Busan castle also lights up at night
As well as rides for all ages, there are daily parades and shows at Lotte World Busan including the Lotus Magic Forest Parade and the Magic Fairy Band.
Book your discounted Lotte World Busan tickets via Klook >
Tip – evening tickets to Lotte World Busan are cheaper than daytime admission. You just need to book Lotte World Busan tickets for 4pm onwards to get a 12,000 Korean Won reduction per adult and 9,000 Won discount per child / youth – price discounts correct as of July 2023.
---
You might like – how to save money with the Discover Seoul pass and Go City Seoul pass
---
18. Korean Selfie Booths
One of the most fun things to do in Busan at night, Korean selfie booth stores are dotted all throughout the city.
Selfie kiosks are brightly coloured stores in Busan where you can borrow clothes and fun props (like vegetable hats, big sunglasses, animal paw gloves etc) and then pose for selfies or take photos in booths for a small fee.
Often these Korean selfie photo booths allow you to print out stickers as a lasting reminder – one of the most popular Korean selfie photo booths in Busan is the Photo Drink High Self Photo Studio in Gwangalli Beach.
---
You might like – things to do in Seongsu-dong, Seoul >
---
19. Ryan Holiday in Busan
Located just next to Haeundae Beach, Kakao Friend's 'roarsome' Ryan the Lion now has his own holiday home set-up in Busan, which is open until late.
From Ryan the Lion to Choonsik the Cat, Con the Crocodile to Frodo the Dog, you'll find all the Kakao Friends here – you can enjoy 4DX indoor rides and trick arts in this immersive fun space.
There is a super cute cafe and Kakao Friends gift-shop too. Ryan Holiday in Busan is open daily from 10am to 10pm.
Book Ryan Holiday in Busan here >
---
You might like – things to do in Ikseon-dong, Seoul >
---
20. Go to a Busan Baseball Game
Baseball is a BIG hitter in Busan – it is in fact South Korea's most popular sport! Better yet, did you know baseball is in fact one of the cheapest things to do in Busan at night?!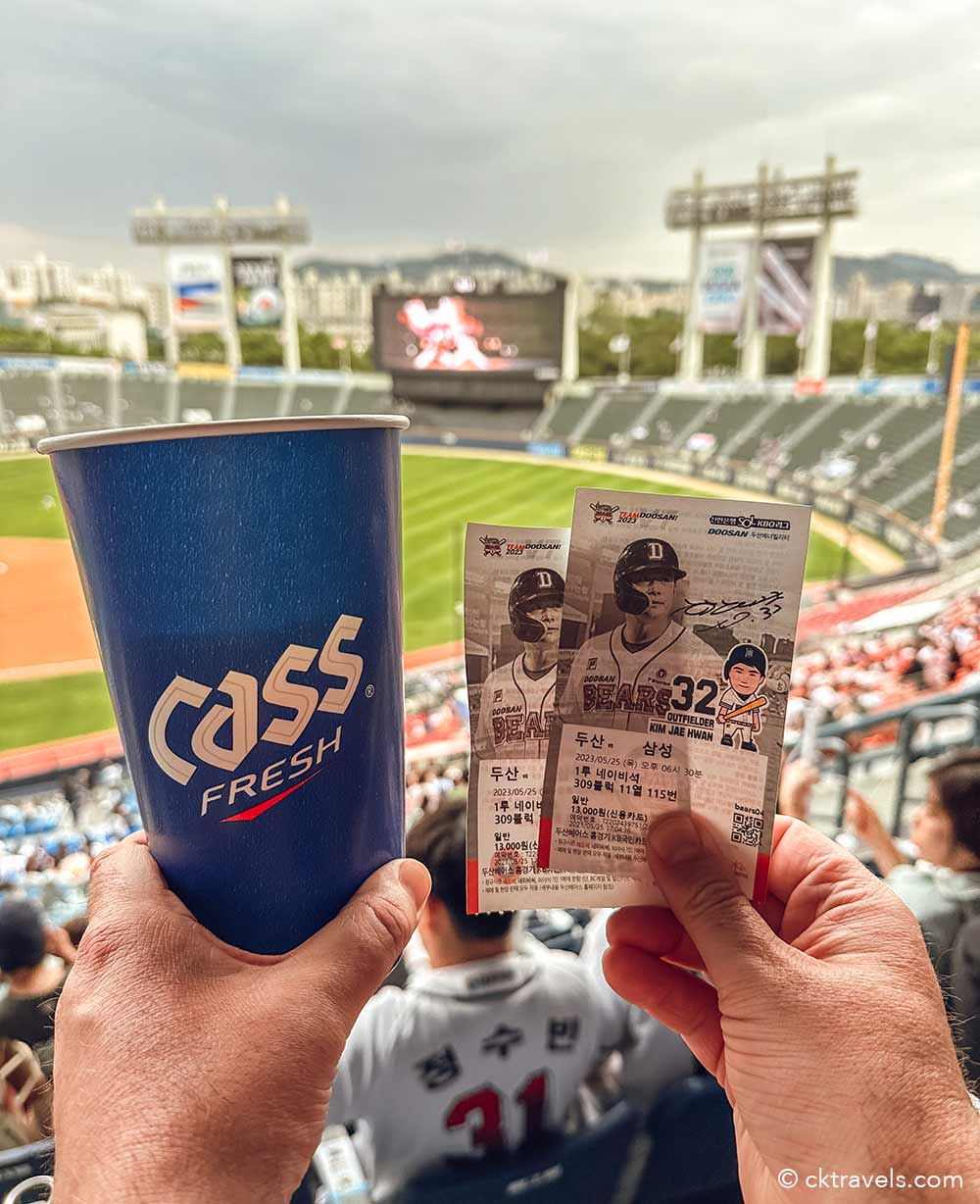 Baseball tickets at Busan's Sajik Stadium can be bought for as little as 13,000 Korean Won (around £8 / $10 USD) at the box office on the night of the game.
Sajik Stadium is home to the Lotte Giants and baseball games are often played several nights a week in Busan during the South Korean / KBO baseball season (usually April to September).
The stadium is easy to get to via Sajik station on Busan Metro Line 3.
---
You might like – guide to going to a KBO baseball game in South Korea 2023 >
---
21. Pojangmacha food stalls
Head to the night-life district of Seomyeon in Busan at night to enjoy an epicurean experience in these street-tents, open until the wee small hours.
All manner of South Korean street food is served in these Pojangmacha food stalls plus alcoholic beverages like soju and beer. Given Busan's proximity to the coast, seafood pojangmacha stalls are popular – chicken and pork trotters are other typical Korean dishes available.
Such is there popularity, these late night Busan stalls often appear in Korean dramas and TV programmes – they are also popular in Jeju and Seoul.
There is a dedicated street in Busan nicknamed Seomyeon Pojangmacha Street (just to the rear of the Lotte Hotel Busan) where these types of stalls are set up from the early evening (usually around 5pm to 6pm).
A word of caution – sometimes the prices aren't displayed at Pojangmacha food stalls or if they are, they might be based on weight, not per dish so make sure you know what you are buying.
---
You might like – Korean cooking class in Busan >
---
22. Dadaepo Sunset Fountain of Dreams
Music and water in the evening – children will love this free night time activity in Busan, especially splashing in the fountains.
Dadaepo Sunset Fountain of Dreams is a musical fountain set-up with lots of LED lights that usually runs from April to October.
We'd rate Dadaepo Beach as one of the best 5 beaches in Busan >
---
23. Enjoy an evening coffee in the tallest Starbucks in the world
Like a little caffeine at night? We are back to Busan X the Sky as it is home to the world's tallest / highest Starbucks.
Open until 9pm at every evening, Starbucks atop BUSAN X the Sky is a top spot for late night lattes or mid evening mochas
To get to Starbucks Busan X the Sky, you need to alight on the 98th floor and walk up the flight of stairs to level 99.
To visit Busan X in the Sky Starbucks at Haeundae Beach, you must purchase an admission ticket to Busan X in the Sky first.
Read more about Busan X the Sky Starbucks here >
---
24. Busan Bar Crawl at Night
Coffee not your thing? Then try a Busan pub crawl that includes 3+ free shots and visits 4 to 5 late night venues and bars in Busan.
Meet fellow travellers and local drinkers in this unique Busan bar crawl trip which takes place every Friday night in Haeundae and every Saturday evening in Seomyeon – dancing is optional (probably).
Book your Busan late night bar crawl here >
---
25. 7-Eleven South Korea
7-Eleven in Busan is big business – there are now over 11,000 (!) 7-Eleven stores in the Republic of Korea. In fact, worldwide, only Thailand and Japan have more 7-Elevens than South Korea.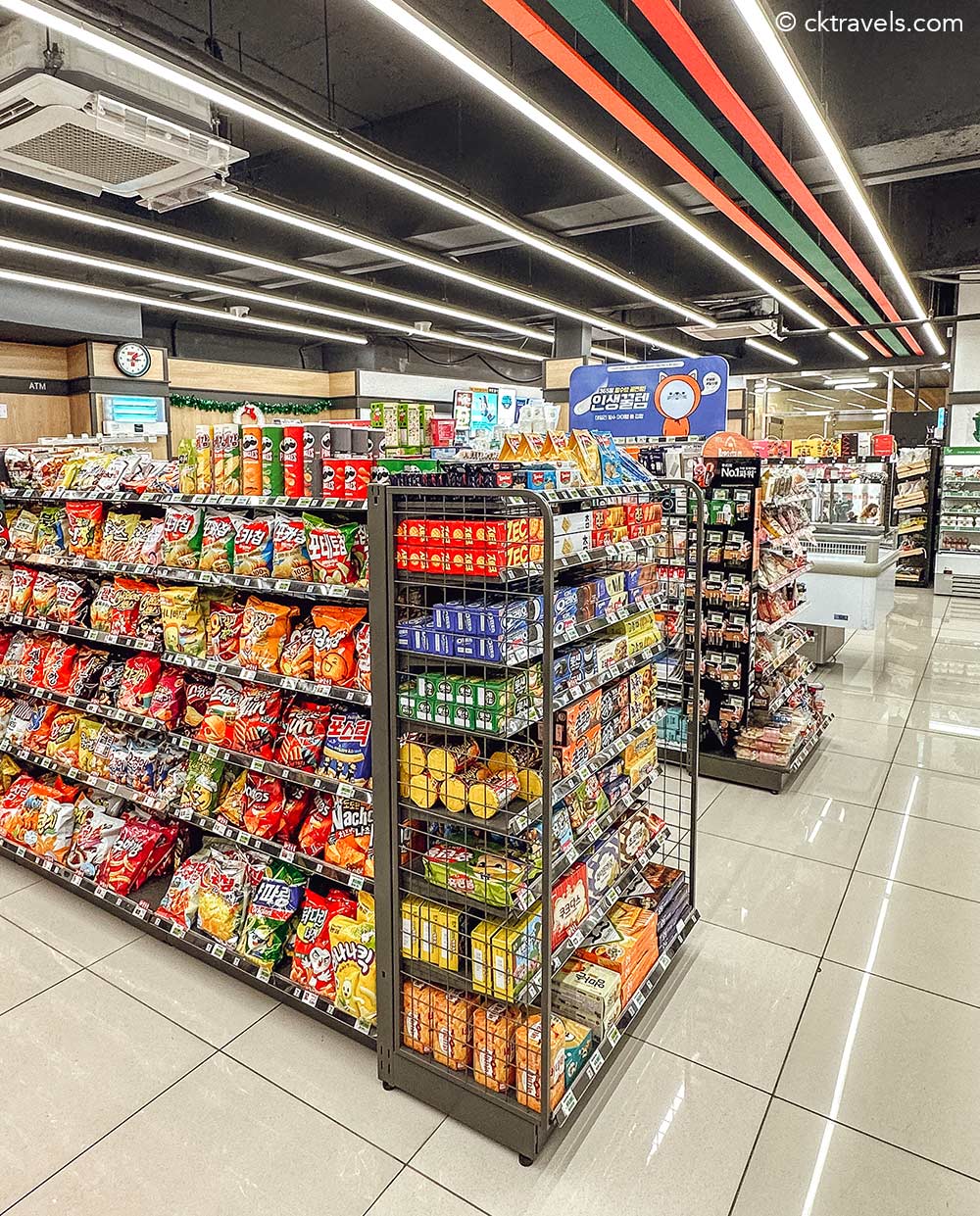 Most (but not all) 7-Elevens in Busan are open 24 hours so if you want a late night snack or oodles of instant noodles, 7-Eleven is the best place to cure your midnight munchies.
From banana milk to bento boxes and fried chicken to fruit sandwiches, read our guide to all the food you can buy at night in South Korea's 7 Eleven stores >
---
Love 7-Eleven even more? Check out the cutest themed 7-Elevens of Taiwan >
---
26. Jagalchi Fish Market
Although predominantly a day-time activity, many of the interior stalls and restaurants within Jagalchi Fish Market are open until early evening.
The biggest seafood market in the whole of South Korea, Jagalchi Fish Market allows you to purchase your own fresh fish on the ground floor (or via the stalls outside) and then have it cooked by one of the restaurants on the upper levels.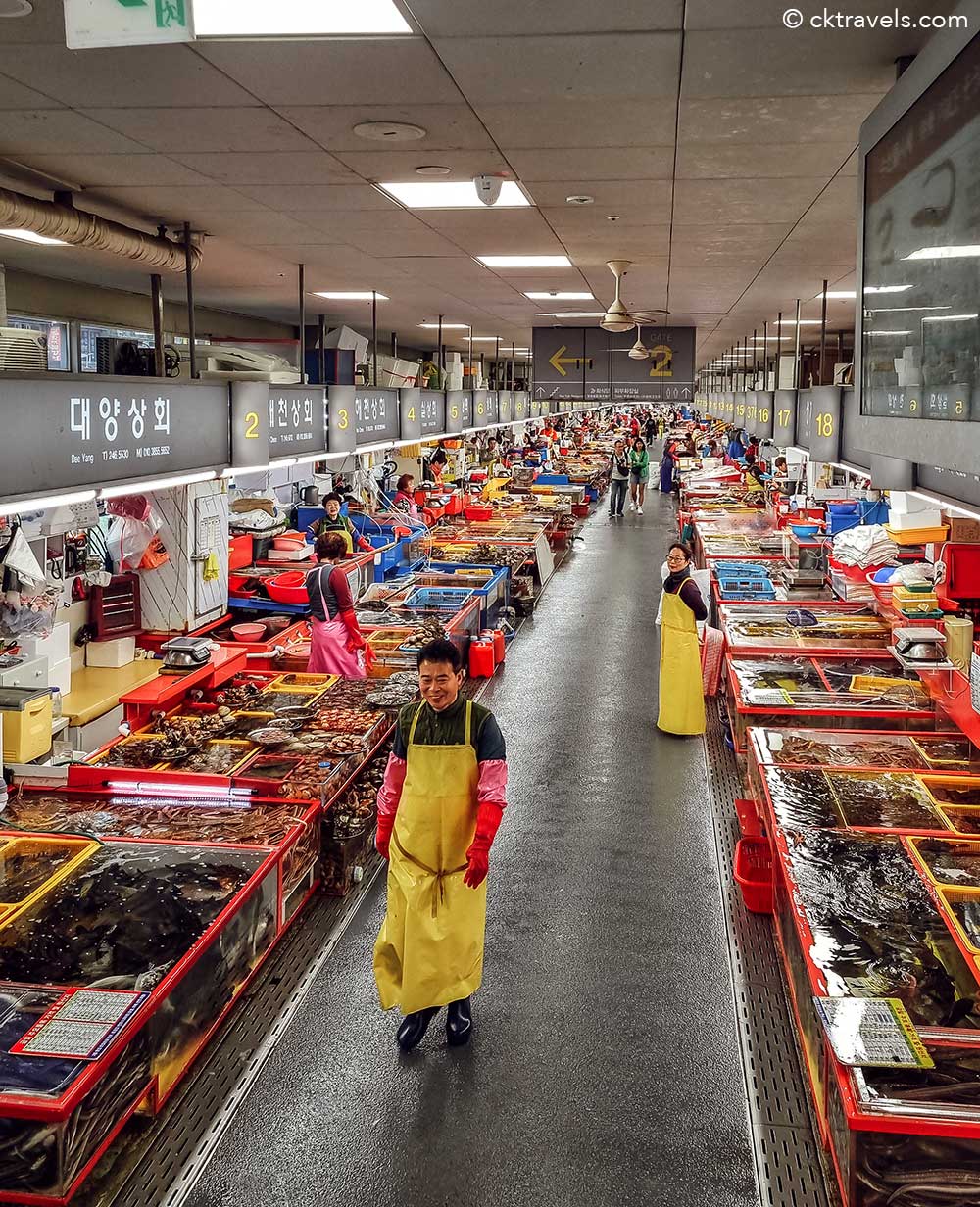 If you aren't feeling as adventurous, there are also seafood buffets Jagalchi Fish Market where the fish is already selected and prepared.
Jagalchi Fish Market in Busan is open (closed first and third Tuesday of every month) from 5am until 10pm – please be aware individual restaurant opening times and fish auction times may vary.
Tip – there is an incredible roof terrace at Jagalchi Fish Market that is free to visit and offers stunning views of Busan port and the hillside towns and villages.
You might like – Jagalchi Fish Market & Korean Food Market Tour in Busan with Local Chef >
---
27. Seven Luck Casino
Located in Lotte Hotel Busan, Seven Luck casino is a late night Seomyeon venue and gambling palace that is only able to be used by overseas visitors to Busan. The casino is open 24 hours a day and there is a bar and restaurant area.
Unlike say Las Vegas or Macau, gambling isn't that big in South Korea with only a handful of casinos operating in the country. Games available at Seven Luck Casino include Blackjack, Roulette, Baccarat and Tai Sai plus over 100 slot machines.
---
Accommodation in Busan
Mid Range
Kent Hotel Gwangalli by Kensington
Highly rated hotel located on the shore of Gwangalli Beach. Rooms are modern with city views or sea views. Check out prices and availability for Kent Hotel Gwangalli by Kensington
Hotel Kyungsung
Highly rated minimalist style hotel located 700 metres from Seomyeon Medical Street. Selected rooms feature a terrace Check out prices and availability for Hotel Kyungsung
Luxury
Lotte Hotel Busan
Luxury hotel located a 5 minute walk from the metro. Facilities include an on-site duty-free store, department store, movie theatre, indoor and outdoor pool, sauna, fitness centre and restaurants. Check out prices and availability for Lotte Hotel Busan
Signiel Busan
Luxury hotel located between the 3rd and 19th floors of the LCT Tower. Rooms have panoramic views and facilities include an infinity pool, luxury spa, kids outdoor activity garden and dim sum restaurant. Check out prices and availability for Signiel Busan
---
Visit Busan Pass
Save money on Busan attractions with the Visit Busan Pass.
Newly launched in 2023 and very similar to the highly successful Discover Seoul Pass (read our review here), the Visit Busan Pass provides 'free' access to a selection of 30 tourism attractions in Busan for 24/48 hours.
Visit Busan tourist attractions included on the pass include Lotte World Busan, Busan Tower, Skyline Luge Busan, Busan X the Sky, Songdo Cable Car and free hanbok rental.
Incredibly good value for money, read our guide to using the Visit Busan Pass >
---
Visiting Seoul? You might like the Discover Seoul pass (our review) or our Go City Seoul Pass Guide (is it worth it)?
---
Other South Korea posts you might like
Did you enjoy our Things to do in Busan at night? Let us know in the comments or by sharing it on social media.
You can follow CK Travels on:
Instagram
Facebook
TikTok
YouTube
Pinterest