This post may contain affiliate links to tours and hotels. These help us earn a small commission at no additional charge to you.
Many of our food and travel adventures are inspired by food documentaries, none more so than the recent Netflix series Street Food: Asia. We'd been to Seoul previously (and Gwangjang Market) but once we saw this Netflix series, we knew we were keen to seek out Cho Yonsoon's Kalgaksi knife-cut noodle stall.
We were not disappointed and were fortunate enought to get the prime spot in front of Cho herself. We could watch her legendary knife-cut noodle skills up-close, before tasting steaming bowls of sublime Gohyang Kalgaksu dishes. We visited in December 2022 on a day of snow and minus 9c temperatures!
Here is our guide to visiting Cho Yoonsun's Gohyang Kalgaksu knife-cut noodle stall in Gwangjang Market, Seoul: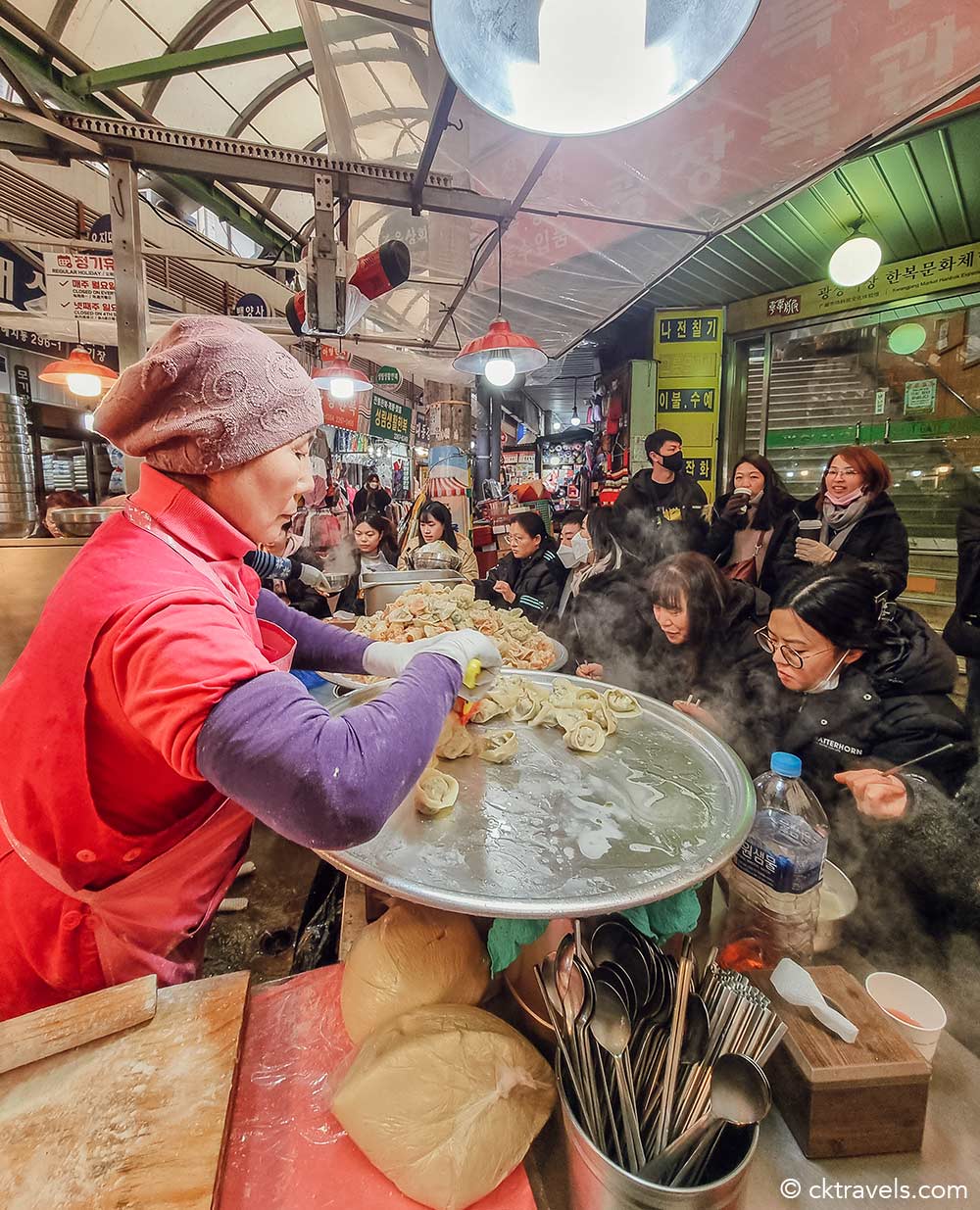 Our Netflix knife-cut noodle lady video
Cho Yoonsun's story
As told on Netflix's Street Food: Asia programme, Cho Yoonsun first learned to make knife-cut noodles (Gohyang Kalguksu) from her mother. She spent most of her life bringing up her family but then her husband got the family into some financial difficulties. To help pay off debts, Cho Yoonsun took a job working on her in-laws blood sausage stall at Gwangjang Market.
Cho really didn't like selling blood sausage (the smell repulsed her) so she decided to put the Gohyang Kalguksu / knife-cut noodle skills her mother had told her to good use and start a stall selling specifically this.
At first, the other traders at Gwangjang Market did not take kindly to this and made her life very difficult, including putting rubbish in front of her stall every day to make it look dirty.
Cho perfected her culinary art over the years and the stall became very popular with locals (and now more so since she was featured on Netflix's Street Food: Asia Seoul edition).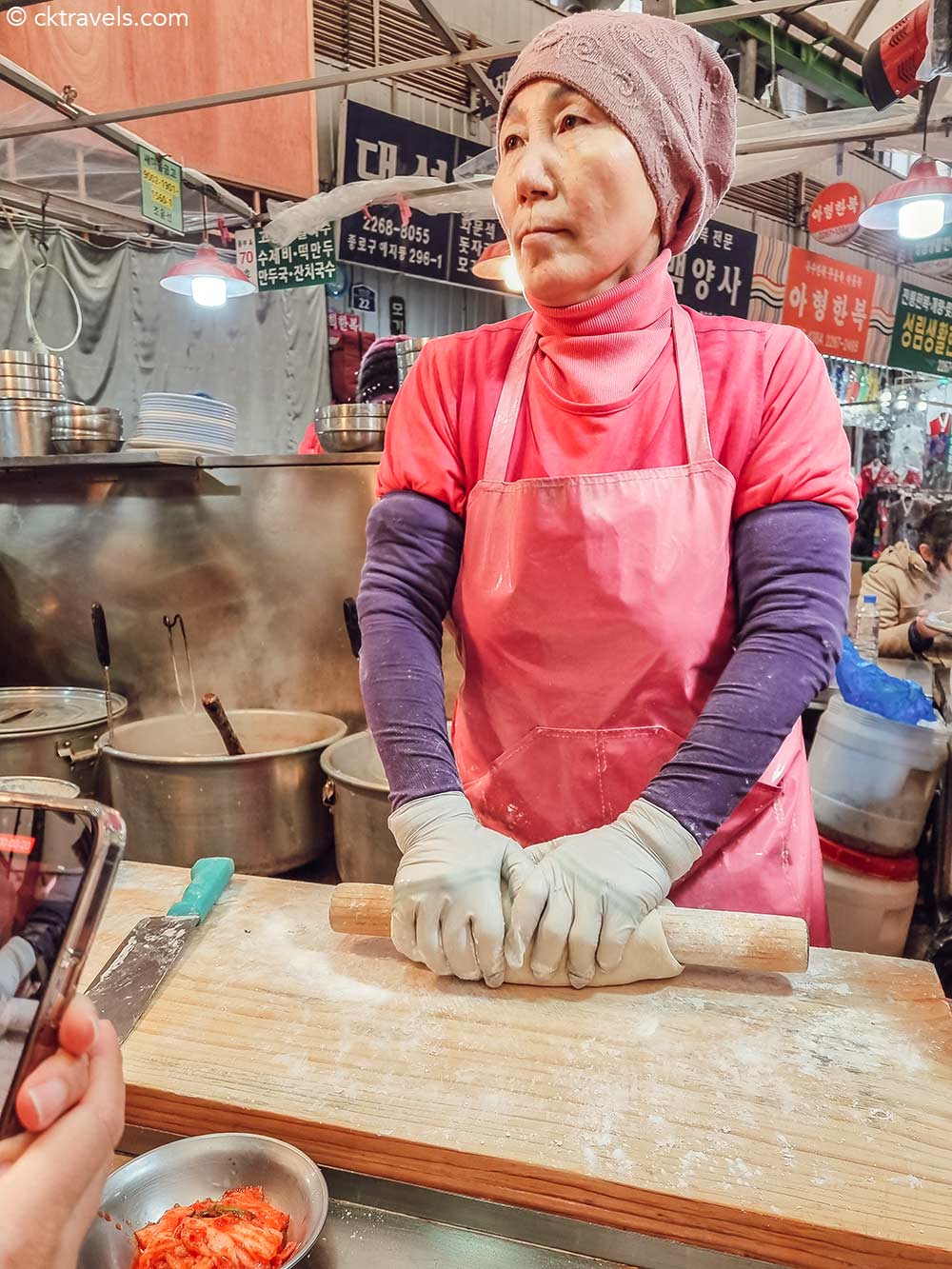 Cho Yonsoon isn't just famous because of her appearance on episode 6 of Street Food Asia – her food is just oh so delicious and she is warm and welcoming to all her guests, both local and from afar.
In the Netflix episode, food author Daniel Gray explains how delicious Cho Yoonsun's broth is (very rich with flavour) and how 'sublime' her home-made kimchi is.
When to visit Gwangjang Market
Gwangjang Market is officially open seven days a week but most stalls close on Mondays (including Cho's stall). If you visit on a Monday, there will be a handful of stalls open still but the choice will be more limited.
Peak hours are around lunchtimes (noon to 3pm) and also any time at the weekend. Many stalls open from around 11am but this is specific for each stall. When we visited at 10am on a weekday, Cho Yoonsun's stall was open (likely due to demand) but many others were not.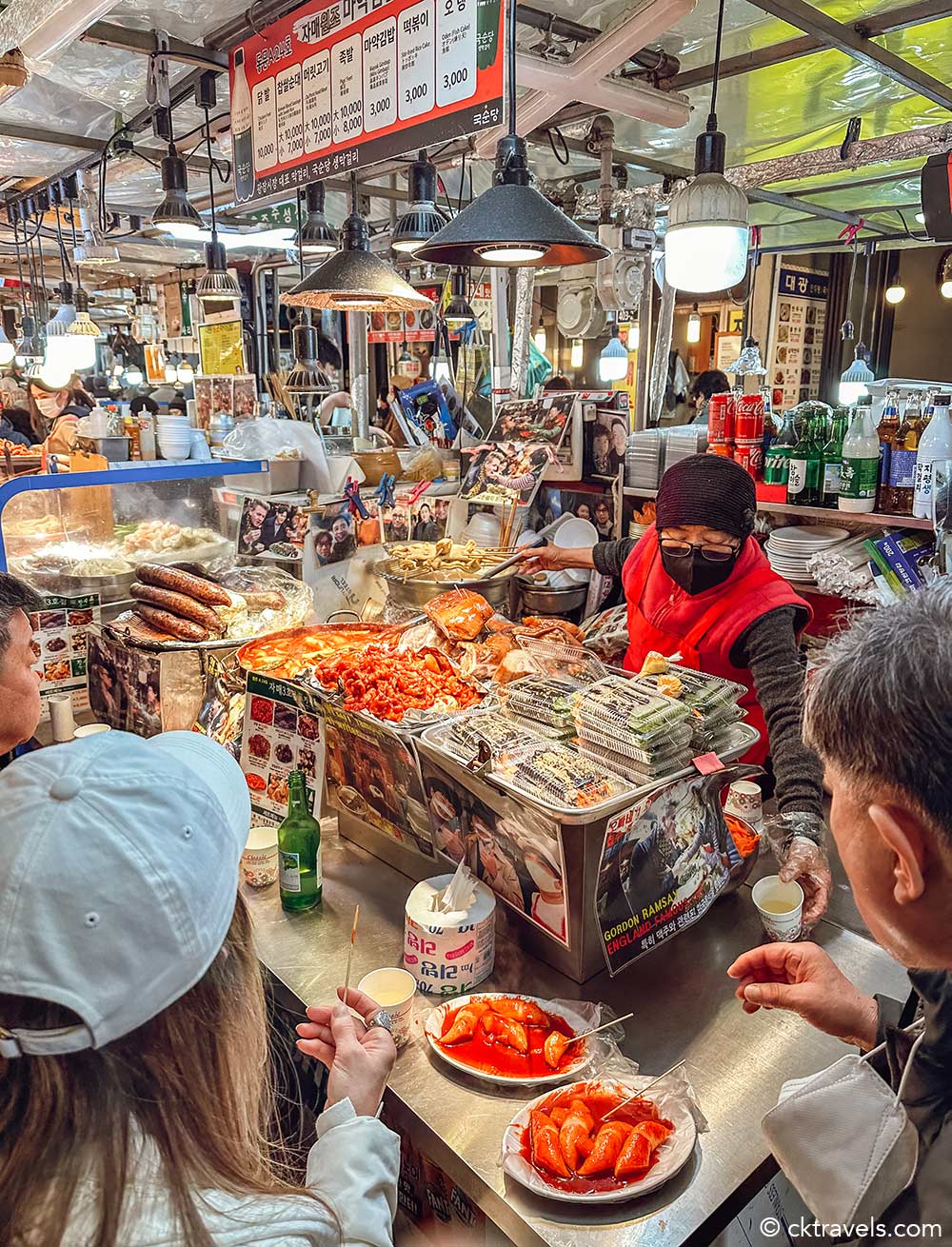 When is the Netflix Noodle Lady / Cho Yoonsun's Gohyang Kalgaksu knife-cut noodle stall open at Gwangjang Market?
Cho Yoonsun's knife-cut noodle stall at Gwangjang Market is usually open 6 days a week – it is closed on Mondays plus the fourth / last Sunday of every month.
Cho Yoonsun's Gohyang Kalgaksu knife-cut noodle stall is usually open from around 9.30am / 10am until the early afternoon.
How to find and when to queue for Cho Yoonsun's Gohyang Kalgaksu knife-cut noodle stall in Gwangjang Market
We stayed at a hotel very close to Gwangjang Market and tried to visit Cho Yoonsun's knife-cut noodle stall several times – just look for the huge Netflix signs dotted all around her stall (or just look for the biggest queue inside the market). The stall itself is pretty much in the centre, at a cross-ways section.
We found the shortest queue to be at around 10am, just after the stall had opened. It took us around 15 minutes of queuing to get a seat when we visited at 10.15am one freezing cold Thursday morning in December 2022.
We also checked in on the Cho Yoonsun's Gohyang Kalgaksu knife-cut noodle stall as featured on Netflix on a weekend (Sunday afternoon) and the queue was huge, snaking half way down the market (likely a 1 to 2 hour wait) – so if you want the shortest queue, best to visit early doors, from around 10am onwards.
Tasting Cho Yoonsun's Gohyang Kalgaksu knife-cut noodles in Gwangjang Market, Seoul
By the time we reached the front of the queue at the noodle stall, we'd spent about 15 minutes watching a steady stream of happy customers eat their way through dozens of bowls of warming knife cut noodle dishes and dumpling soups.
It was -9 temperature when we visited (thank god for the heated seats at the hand-cut noodle stall!) so we were ready for our warm noodle dishes.
We were not disappointed – the soup broth was rich and full of flavour; the dumplings (two types; kimchi dumplings and pork/ chive dumplings) were melt in the mouth delicious.
We ordered two bowls of knife-cut noodles and dumpling soup which were 7000 Won a bowl as at December 2022 (£4.40, $5.35; 5 Euros) plus a separate dish of Cho's dumplings alone – 3 kimchi dumplings, 3 pork and chive dumplings for 6000 Won (4.30 euros / £3.75 / $4.50).
We were also given sides of a bowl of soy and scallions / spring onions plus kimchi. As we were sitting right in Cho Yoonsun's eye-line, she could see we were enjoying the kimchi so much that she ended up giving us two extra bowls during our visit – nom!
---
YOU MIGHT LIKE: Foods and drinks you must try at Gwangjang Market, Seoul
---
Watching Cho Yoonsun at work
We were lucky enough to be seated in the best spot at the stall (pure luck) so we were located right in front of Cho and her legendary chopping skills. She was very hospitable and asked us where we were from, also very much appreciated us saying how delicious her food was in our poor Korean ("mashisoyo").
We were privileged to watch her cut her legendary noodles up close, within inches of her working – it incredible to see, especially as she chopped her noodles at such speed but without looking at her board; how she didn't chop off her figures is a miracle (well, that or years of experience!)
Netflix Noodle Lady's / Cho Yoonsuns knife-cut noodle prices
The cost of a bowl of knife cut noodles (Gohyang Kalgaksu) from the Netflix Noodle Lady Seoul (Cho Yoonsun) costs 6000 South Korean Won ( 4.30 euros / £3.75 / $4.50) as of December 2022.
A bowl of steamed dumplings and knife-cut noodles combined costs 7000 South Korean Won ( £4.40, $5.35; 5 Euros) as at December 2022.
Dishes available at the Netflix Noodle Lady's / Cho Yoonsun stall
As you sit down at the stall, you are given a two sided laminated menu with about 20 dishes, all with pictures and the Netflix logo emblazoned all over them (not sure how the Netflix brand police feel about this). The menus at Cho Yoonsun's Cho Yoonsun's Gohyang Kalguksu knife-cut noodle stall look really good and are easy to follow.
When ordering, you just point at the menu with the quantity of each dish you want and Cho or one of her staff (she has a team of four or five) will take your order.
Other dishes available at the Netflix noodle / Cho Yonsoon stall in Gwangjang Market included hand pulled dough soup, sliced rice cake soup, spicy noodles, cold buckwheat noodles, banquet noodles and noodles with young summer radish kimchi – all 6000 Korean won as at December 2022.
At the end, ask to pay (cash only is accepted) and then watch as people dive for your seat as you vacate the stall.
Other knife-cut noodle stalls / Gohyang Kalguksu in Gwangjang Market, Seoul
The Netflix lady's noodle stall isn't the only hand-cut noodle stall in Gwangjang Market – there are several noodle and dumpling stalls all within close proximity to Cho Yoonsun's stall (Gwangjang Market's stalls are laid out in sections so all the similar restaurants are together).
For instance, there is a mung bean pancake alley at Gwangjang Market plus a side alley with just beef tartare / steak american stalls and restaurants.
Is Cho Yoonsun's the best Gohyang Kalgaksu knife-cut noodle stall in Gwangjang Market?
Obviously it is hard to say without visiting all the stalls and Netflix Street Food: Asia episode has boosted her popularity to stratospheric proporitions. We managed to go to several knife-cut noodle stalls at Gwangjang and Cho's were definitely the best, but we have had better dumplings (in our own humble opinion).
It is good to support other Gwangjang Market food traders so if you don't fancy the queue at the 'Netflix Noodle stall', you'll be equally rewarded in terms of delicious noodle and dumpling soup at other stalls nearby.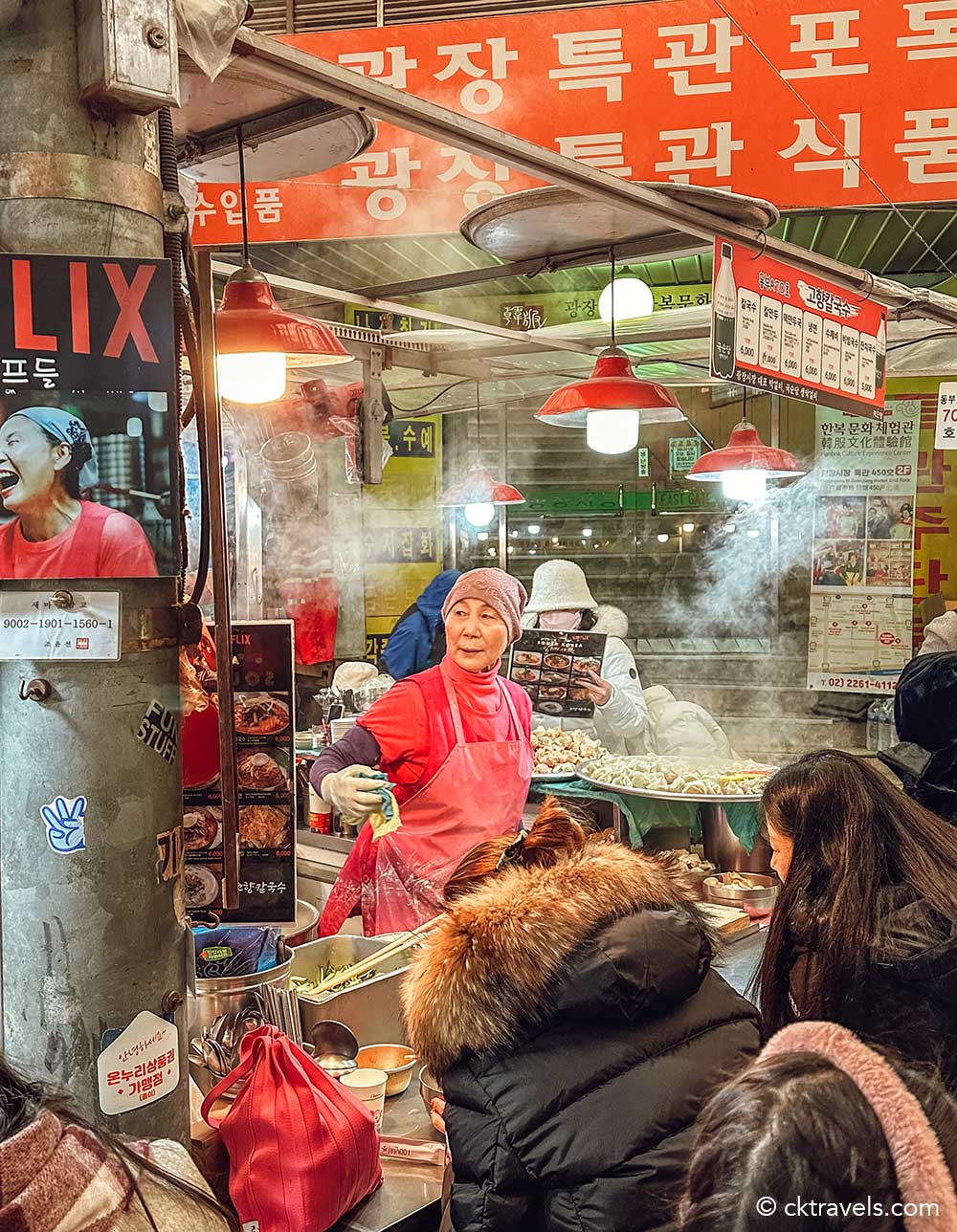 How Gwangjang Market has changed
We've been to Gwangjang Market several times, a couple of times in 2016 and a few more in 2022 – the difference in the number of people visiting Gwangjang Market now compared to previous is noticeably different.
We found it quite easy to navigate Gwangjang Market in 2016 and it was never that difficult to get a seat at most stalls. When we visited in December 2022 it was densely packed with lots of queues for the most popular stalls – all this made it very atmospheric, like it was an event (note we visited at the weekend so many locals would not have been at work).
---
YOU MIGHT LIKE: top things to do in Myeongdong, Seoul
---
How to find the Cho Yoonsun Street Food: Asia (Seoul) episode
Street Food Asia: seoul (episode 6, season 1) is available to watch on Netflix worldwide – a subscription is required. We have a UK Netflix log-in but were still able to watch whilst travelling around Asia including in South Korea, Thailand and Japan.
Other South Korea posts you might like
Did you enjoy our Netflix knife-cut noodle lady at Gwangjang Market Seoul blog post? Let us know in the comments or by sharing it on social media. Follow us on Instagram!