This post may contain affiliate links to tours and hotels. These help us earn a small commission at no additional charge to you.
All set for Seoul? South Korea's capital is terrific by day but Seoul at night is sublime for night owls.
Seoul at night comes alive with many things to do – from the bright neon lights to night market street-food bites, Seoul is a sprawling, world-class city and one of east Asia's best places to explore in the evening.
If your traveller tastes are gastronomic or curious, cultural or sporty, we have some Seoul at night evening activities and sundown suggestions for you. You can even catch a movie on the world's largest cinema screen or see a baseball game for less than $10 USD / £8.
Get the best out of Seoul at night with our guide to night-time Seoul activities (2023):
Looking for cheap Seoul day-trips, attractions or group/private tours? We recommend visiting Viator, GetYourGuide, and Klook!
Seoul at Night – top things to do
1. Myeong-dong Night Market
One of Seoul's most popular night markets and easily accessible by the Metro, Myeongdong Night Market is a tasty, treasure trove of cheap street food and evening eats.
By day, Myeongdong is a bustling Seoul neighbourhood chock full of shops and restaurants, but by night, it really comes into its own with its night market of over 150 stalls of incredible street-food, fashion items and souvenirs.
From K-Pop to pork belly, Busan fish cakes to beauty products, there is plenty to suit all tastes (and budgets) at Myeongdong Night Market.
Open 7 days a week until late, read our full 2023 guide to Myeongdong Night Market here >
---
2. See a Seoul Theater Show at NANTA Theatre
Culture vultures rejoice – there are many theatre shows to see in Seoul at night but perhaps the most famous (and long-running) is the NANTA theatre show.
This world renowned comedy cooking show has been packing in audiences worldwide since 1997. Possibly the best known Korean theatre show, NANTA Theatre has been performed over 50,000 times in over 60 countries and is a fun mix of slapstick and physical comedy.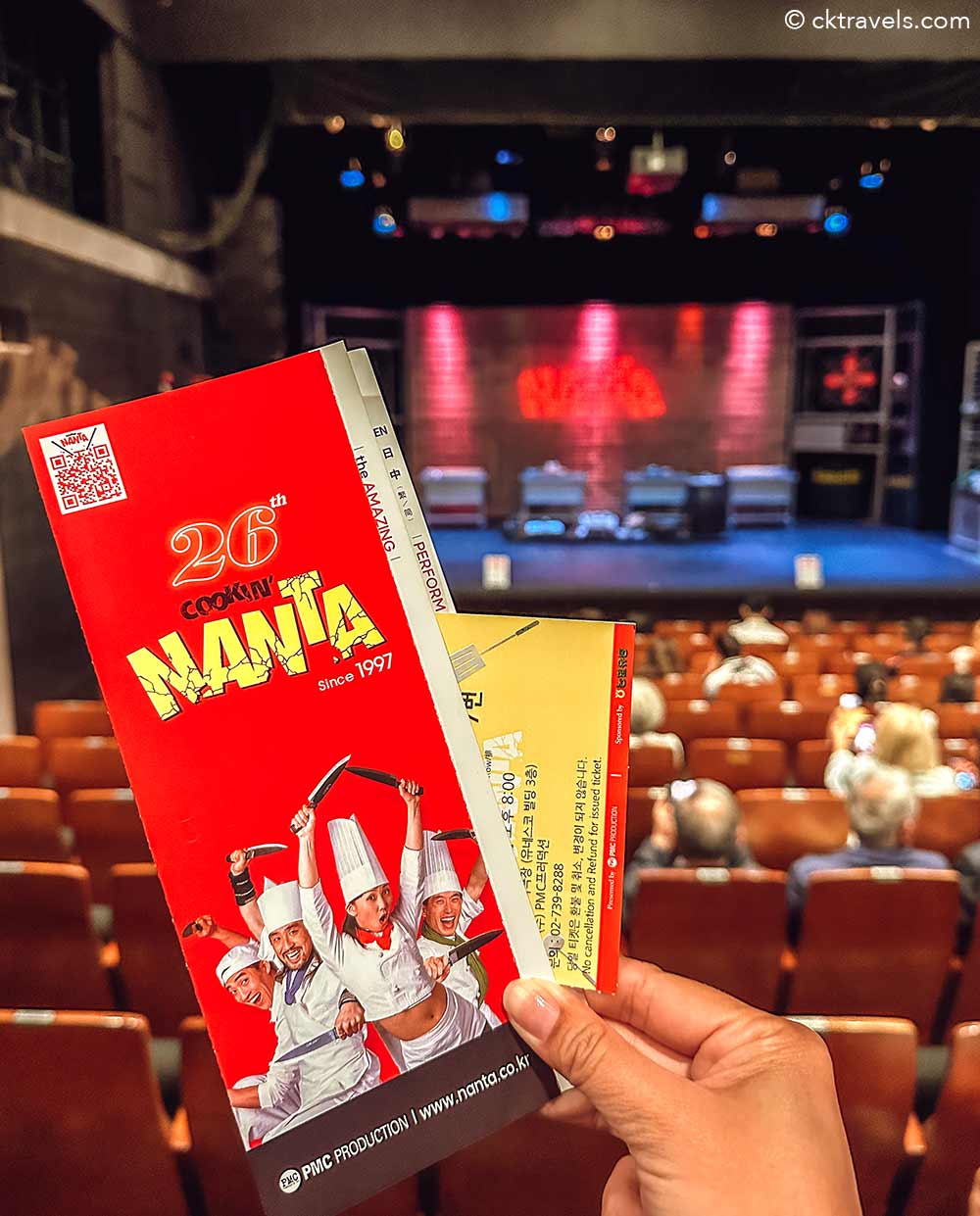 There are very few spoken words used throughout so not understanding Korean (or English) won't be an issue. There is also some audience participation and several audience members get to take part – luckily when we went, we didn't get dragged on stage!
Myeongdong NANTA Theatre is located on the third floor of the UNESCO building along Myeongdong Walking Street. There are at least two NANTA performances every day, with evening shows held at 5pm and 8pm Monday to Saturday (on Sundays, it is 2pm and 5pm).
BOOK IT: Myeongdong Nanta Theater Show Ticket >
We visited the Myeongdong NANTA Theatre using the Go City Seoul Pass. Read more about our experience using the pass here >
---
You might like – Where to stay in Seoul / Best Neighborhoods Guide >
---
3. Korean Selfie Booth
"Sunglasses at night…" is not only a popular song by one hit wonder Corey Hart, but also is an apt description of what goes on in the Seoul selfie booths in South Korea in the evenings.
Usually open 24 hours, Selfie booths and shops are a super big business in Korea (mainly to fill all the empty shops that were left after COVID).
The selfie kiosks are usually brightly painted small shops where you can borrow clothes and all sorts of fun props (like big sunglasses, animal heads etc) and then pose for selfies or take photos in booths for a small fee.
Often these Korean selfie photo booths allow you to print out stickers as a lasting reminder – popular selfie booth locations include Gangnam, Hongdae, Itaewon, Ikseon-Dong and Seongsu-Dong.
---
4. N Seoul Tower
There are a couple of observation decks in Seoul that remain open until the evenings – N Seoul Tower and 63 Art (more on this later).
The most popular viewing tower in Seoul in the evening is N Seoul Tower, located in Namsan Park. The views of Seoul and the surrounding park are stunning plus there are two levels to explore, one with a rather nice cafe looking out over Seoul.
Almost 800 metres high, the N Seoul Tower is open until 10pm on weekdays and until 11pm on weekends (times correct as of June 2023) – so you can even enjoy the Seoul sunset or Seoul at night.
There are also several restaurants at the top of the N Seoul Tower open until 10pm including n. Grill (fine French dining) and Hancook Korean Restaurant – talk about elegant evening eating up high in Seoul at night.
Book your N Seoul Tower ticket here with Klook >
N Seoul Tower is also one of the included attractions of the Discover Seoul Pass and Go City Seoul Pass.
---
5. Seoul Shopping Centres
Seoul is shopping heaven, from high end fashion to cute and quirky malls – South Korea's capital city Seoul is packed full of big shopping, many of which have incredible opulent interiors (plus incredible food halls to 'reward' yourself afterwards in). Better yet, most of the malls in Seoul are open until at least 8.30pm.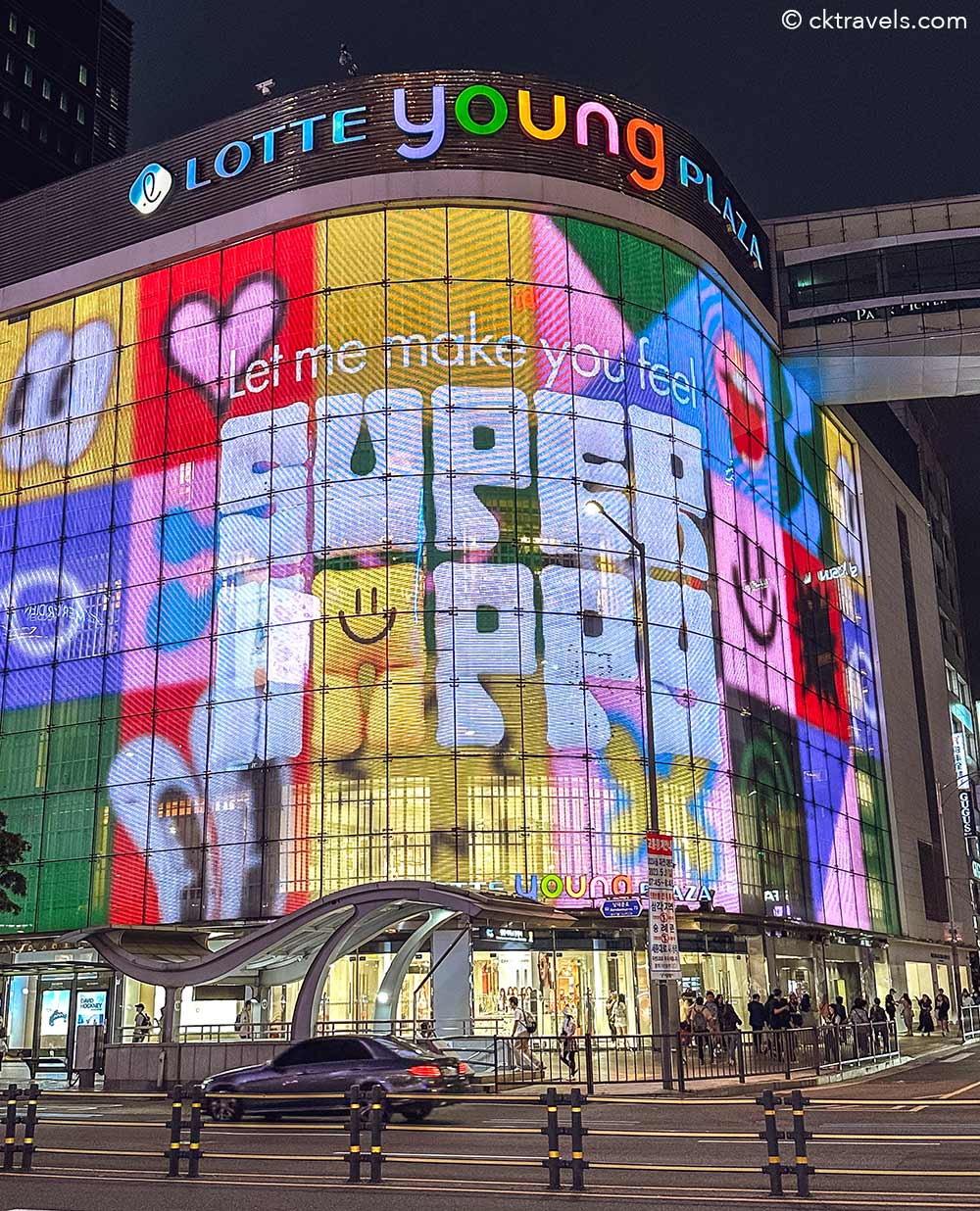 For instance, one of our favourite malls in Seoul, Starfield COEX Mall near Gangnam is open until 10pm every night of the week – Starfield Mall has over 200 stores plus around 100 eating places.
You'll also encounter Starfield Library at Starfield COEX Mall, one of the most well designed spaces and stunning we've ever encountered in South Korea (definitely one of the most Instagrammable places in Seoul).
Read our guide to the best malls and shopping centers in Seoul here >
---
6. Lotte World Adventure Theme Park
Lotte World is an epic theme park on the edge of Seoul near the river Han that has a huge indoor area plus outdoor Magic island area. It is also one of the best evening activities in Seoul at night.
There are attractions for all ages from a sedate monorail that goes around the park through to log flumes, pirate ships plus a brand new for 2023 VR walkthrough ride 'Battlegrounds World Agent' based on the hit video game.
Lotte World Adventure Park has several character parades every day but if you are in Seoul by night, Lotte World also have a night-time parade usually around 8pm; Let's Dream Night Parade.
Lotte World Adventure Theme Park in Seoul costs around $44 per adult (as of summer 2023) and is open until 10pm most evenings (last entry at 9pm).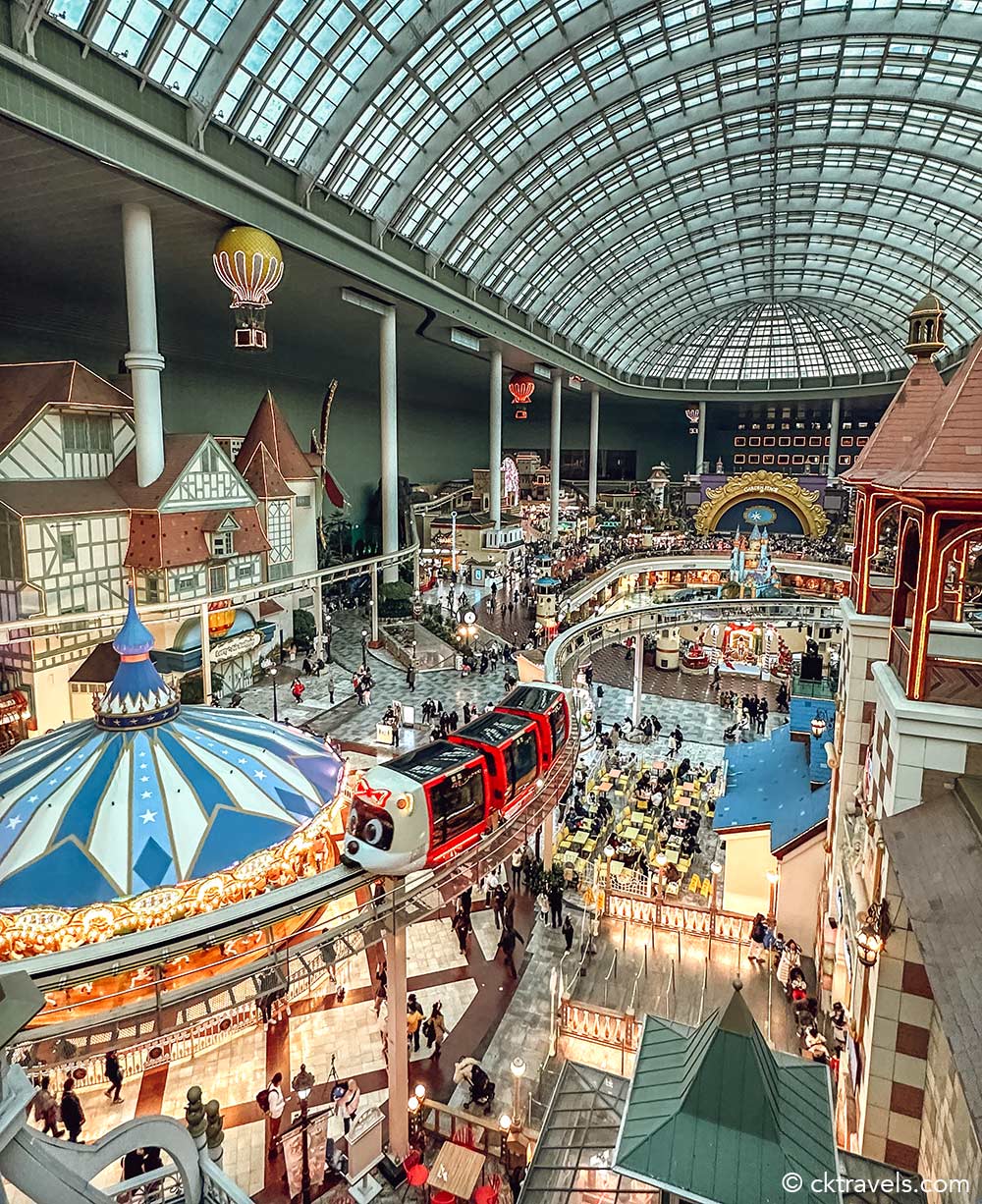 CK Travels Tip – if you want to visit Lotte World and save money, Lotte World is the highest value Seoul attraction included on both the Discover Seoul Pass and Go City Seoul Pass.
If you combine Lotte World with any other activity on either pass, you are saving money straight away, even if you just buy the cheapest one day pass.
Learn more about our visit to Lotte World Adventure Park with Go City Seoul Pass here or the Discover Seoul Pass here.
---
7. Fried Chicken and Beer ('Chimaek')
One of the best foods in South Korea, no trip to Seoul at night is complete without some 'clucking good' fried chicken (and possibly beer).
Known locally as 'Dakgangjeong', Korean Fried Chicken usually consists of chicken wings or boneless chicken covered in a spicy and sweet sauce glaze with additional seasonings like cut up peanuts or sesame seed.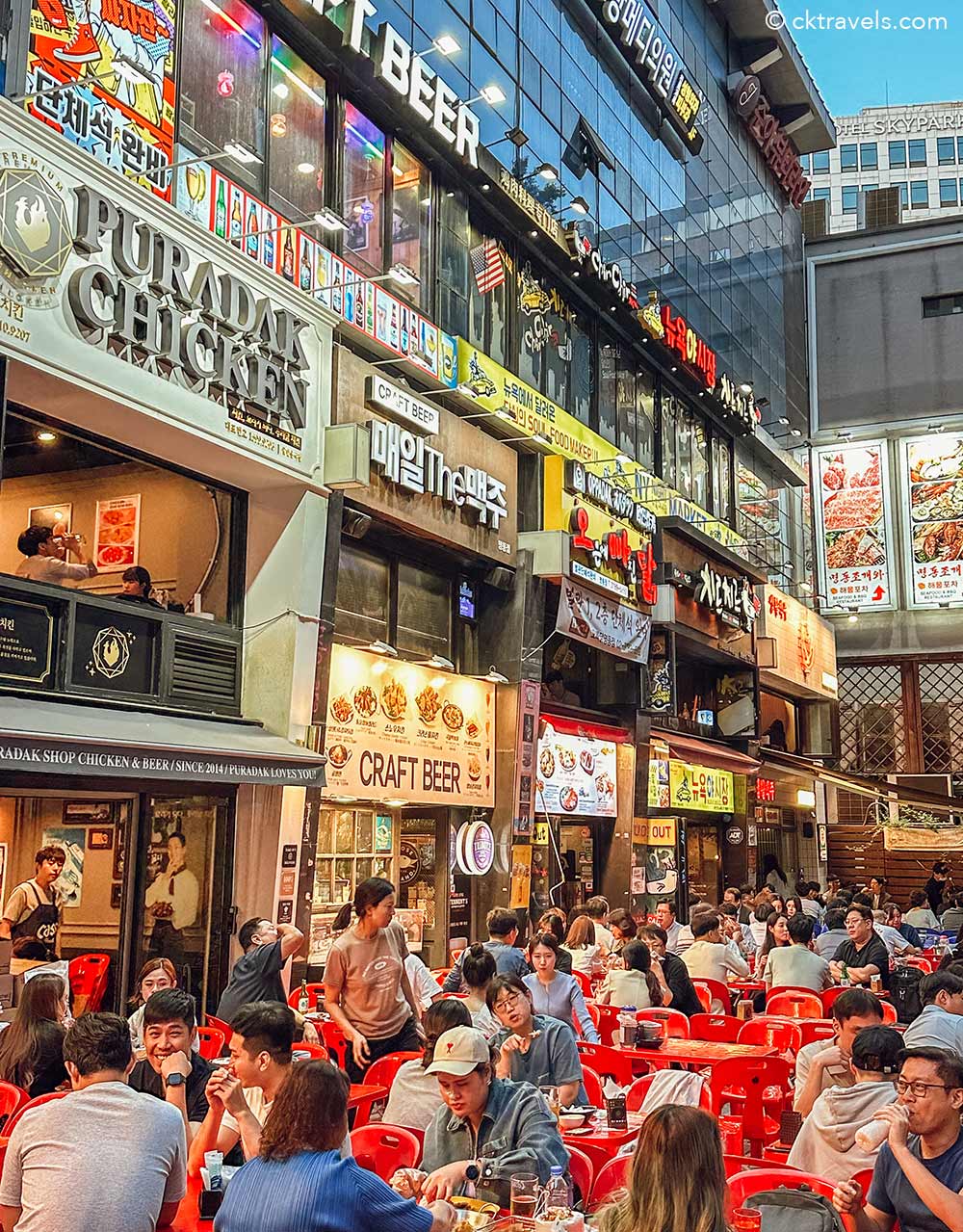 It can be bought from street food stalls but we'd recommend trying Dakgangjeong / Korean fried chicken with a nice pint of cold Korean beer (like Cass) in a craft beer bar. Fried chicken and beer combined is known as 'Chimaek' in Korean – so cheers to Chimaek at night!
One of the best places to have Korean fried chicken in Seoul at night is beer and chicken street in Myeongdong or in Hongdae or Gangnam.
---
Have you ever tried fried chicken ice-cream? Read more about it here >
---
8. Buy Socks
Forgot your usual souvenirs of magnets or postcards – Seoul is all about sock shopping!
Like, shed loads of socks! Literally every other stall in Myeongdong (ish) – including Myeong-dong Underground Mall – sells funky, quirky pop socks or cartoon character socks.
Mainly made in South Korea, the socks are cheap too with cutesy colourful ankle socks starting from 1,500 Korean Won (less than a £1) a pop.
From Hello Kitty and Doraemon to slightly non legit branded socks like Starbucks or 7-Eleven, sock shopping in Seoul at night is a rite of passage when visiting South Korea (well, maybe).
---
You might like – Things to do in Busan, South Korea >
---
9. See a late night movie at the largest cinema screen in the world
Most of the biggest movie theatres in Seoul can be found at shopping malls – IMAX screens are second nature in Seoul meaning you can see the latest releases with incredible picture and sound quality.
One of the best cinemas in Seoul is the CGV Starium movie theatre located in Times Square Mall, CGV Starium is home to the largest cinema screen in the world, as listed in the Guinness World Record Book.
With almost 3,000 seats and 12 screens spread over 5 floors, you'll be spoilt for cinematic choice here. You can even hire a private cinema or go Gold Class!
The Megabox Cinema COEX at Starfield COEX Mall in Gangnam is also recommended.
---
10. River Han Sunset Cruise
Take a sunset cruise on the River Han with E-Land Cruises.
This is a short Seoul river cruise on the Han River with an audio commentary. There are several cruises per day, starting from early afternoon with a sunset cruise at 6pm in the summer – there are sometimes later cruises that include dinner and live music.
We joined a packed river cruise (they're very popular with tour groups) and enjoyed a trip down the river. As we joined the cruise on a warm sunny evening, the parks along the River Han were packed with picnickers and street food stalls so it was a really nice sight; we were so close you could smell the BBQs!
Book a River Han sunset cruise with Klook >
Feeling flush? Take a private catamaran yacht tour on the River Han that includes sunset >
The cruise is also included 'free' as part of the Discover Seoul Pass or Go City Seoul Pass.
---
11. Karaoke Time in Hongdae
Time to let off a little steam after traipsing around the streets of Seoul all day – Hongdae is the go-to place in Seoul for karaoke.
With dozens of private karaoke booths in huge high-rise karaoke 'towers', sing to your heart's content in Hongdae without fear of anyone hearing you (unless you want to be heard).
A lot of the karaoke rooms here have huge glass windows meaning you can watch people sing (and dance!) from the streets.
Private karaoke booths in Seoul at night are charged on an hourly rate (prices vary depending on the time of day) and they sometimes do special tourist discounts if you show your overseas ID or passport. Also daytime karaoke rates are generally cheaper than at night in Seoul.
There is an extensive food and drink menu (note there is a minimum spend on food and drink on top of the karaoke booth hire). English, Japanese and Korean songs are usually available as part of the karaoke song selection.
---
YOU MIGHT LIKE: Best Things To Do In Hongdae, Seoul
---
12. Late Night Seoul Craft Beer Bars and Breweries
The craft beer scene and brewery bars are on the rise in Seoul, South Korea, it (thankfully) isn't just about the bland mass produced beers like Cass or Terra.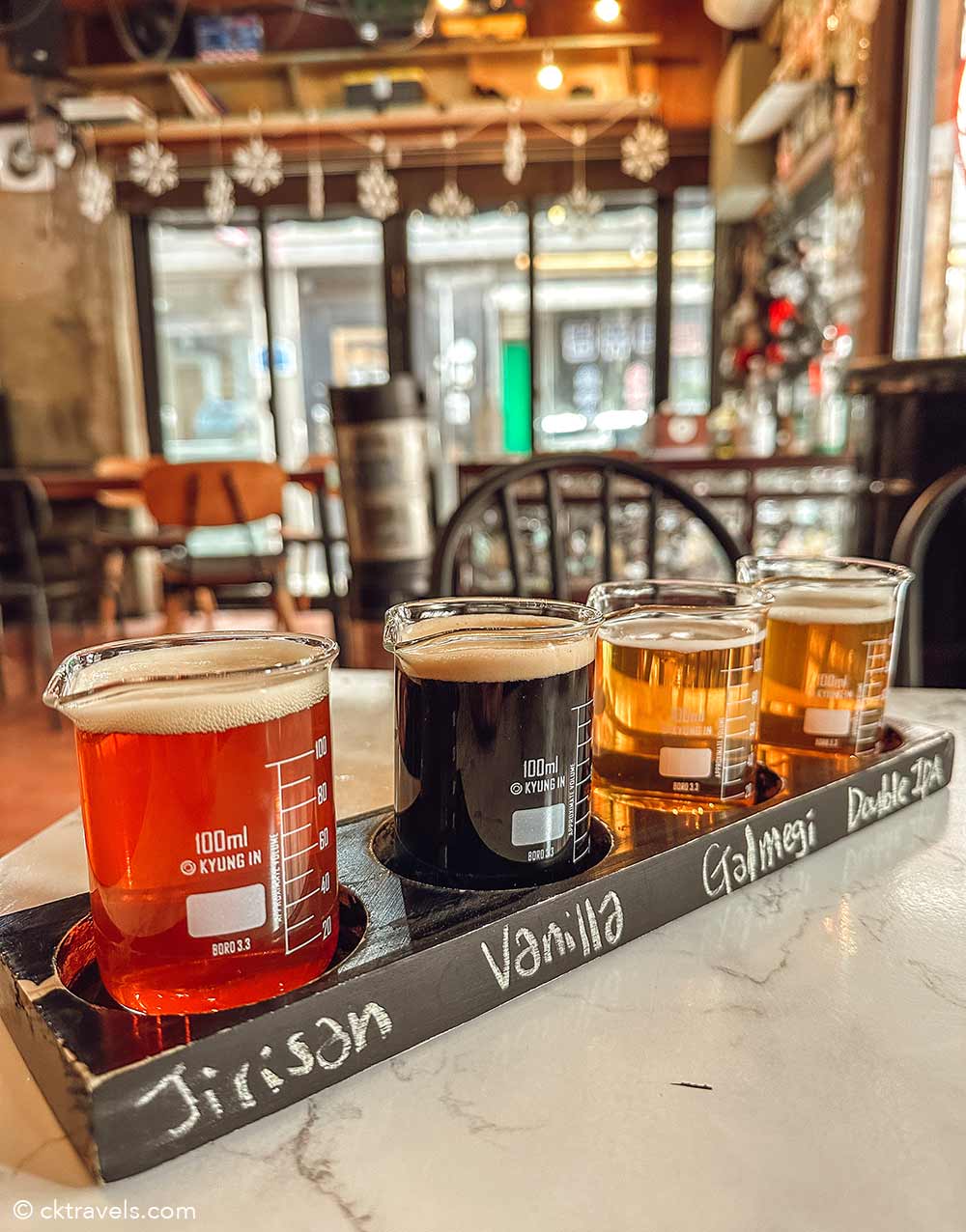 From the bright lights of Gangnam's brewery bars to Itaewon's 'craft beer valley' via hoppy hangouts in Ikseon-dong and Euljiro, there is much craft beer goodness to enjoy in Seoul at night.
One of the best looking bars in Seoul at night has to be be the Gangnam Artmonster bar. The entrance is packed full of Hong Kong style neon lights plus once inside, you are free to pour your own craft beers via very nifty and clever wristband technology.
Check out our guide to the best late night craft beer bars and breweries in Seoul >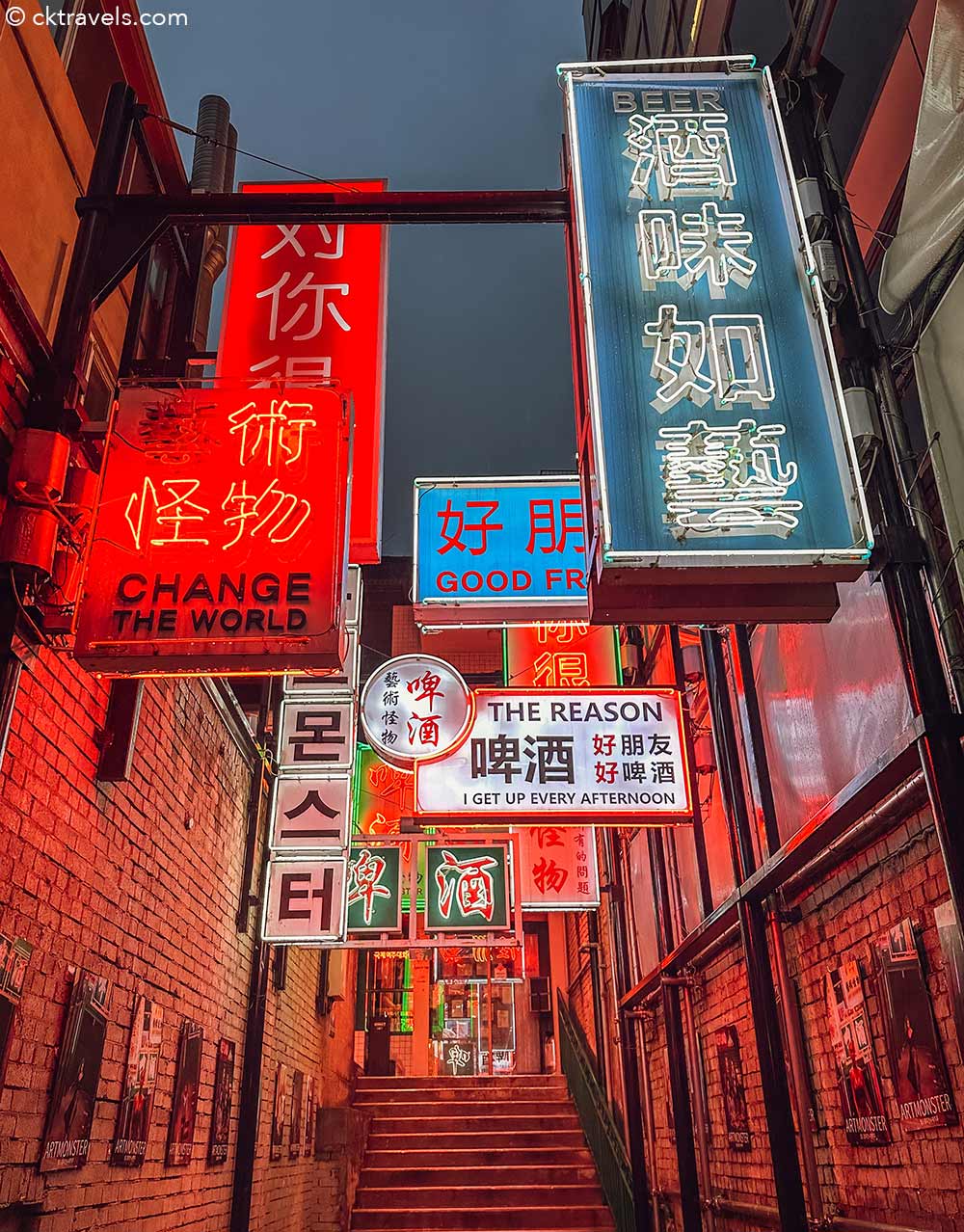 ---
13. Go to a Seoul Baseball Game
Baseball is a BIG hitter in Seoul – it is in fact South Korea's most popular sport! Better yet, did you know baseball is in fact one of the cheapest things to do in Seoul at night?
Baseball tickets at Jamsil Stadium can be bought for as little as 13,000 Korean Won (around £8 / $10 USD) at the box office on the night of the game.
As Jamsil Stadium is home to two Seoul baseball teams (the Doosan Bears and LG Twins), this means that baseball games are often played several nights a week in Seoul during the South Korean / KBO baseball season (usually April to September).
From purchasing Seoul baseball tickets through to what to eat and drink at Jamsil stadium, read our guide to all things baseball in Seoul in 2023 >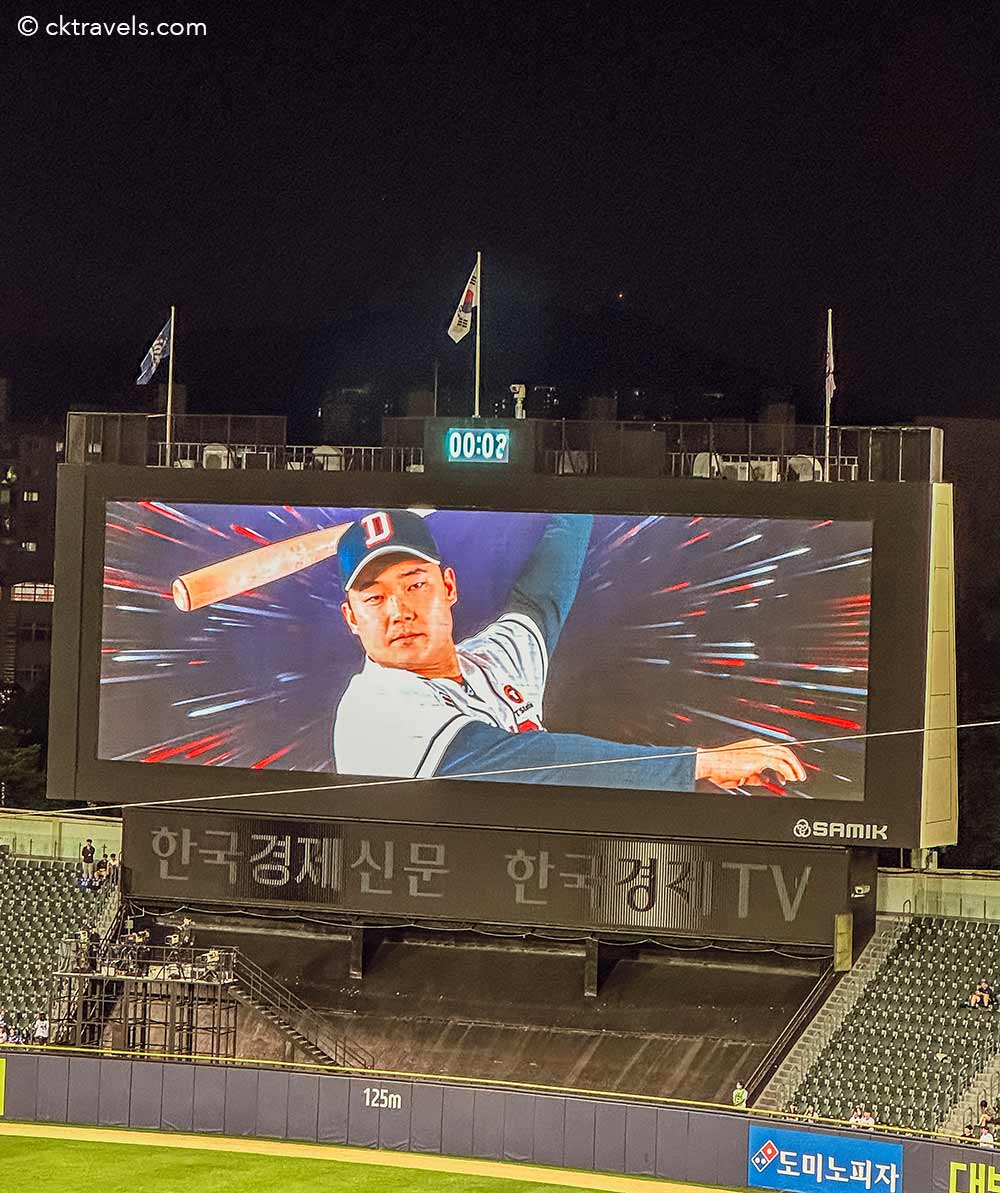 ---
14. 63 Art Observatory Deck & Aqua Planet 63
This Seoul at night activity is actually three attractions in one – an observation deck, a superb art museum and an awesome aquarium.
Billed as the world's highest art gallery, 63 Art is located on the 60th floor of the '63 Building', a stone's throw from the River Han, meaning incredible panoramic views of the city and riverside area.
Also as part of the 63 Art Observatory ticket, you can visit Aqua Planet on the basement level. This subterranean seascape features many aquatic exhibits including sting rays, otters and penguins plus an hourly mermaid show when someone dons a costume and swims with the fishes.
As of June 2023, last entrance to 63 Art is 8pm (closes 8.30pm) and last admission to Aqua Planet 63 is 7pm – so head there first if you buy a combo ticket).
Book 63 Art Observatory Deck & Aqua Planet 63 on Klook >
You can also visit 63 Art Observatory Deck & Aqua Planet 63 as part of the Discover Seoul Pass or Go City Seoul Pass.
---
15. Late night shopping for Korean Skincare and Beauty Stores
There are many places to buy beauty products late at night but Myeongdong is the ultimate shopping destination if you are looking for some K-beauty and skincare products and the newest beauty trends.
We noticed at the airport that lots of tourists fill suitcases with beauty products from Seoul as well as the tourist favourite, HBAF nuts.
There are several flagship shops to check out in the neighbourhood and popular places include Olive Young, Nature Republic, Holika Holika, Skin Food, Laneige, Innisfree and StyleNanda 3CE.
For instance, the Olive Young Myeongdong Flagship is open until 10.30pm every evening, 7 days a week.
---
16. Catch a fish auction at Noryangjin Fish Market
One of the more unusual Seoul at night activities, Noryangjin Fish Market is open 24 hours a day to buy fresh fish and have it cooked upstairs in one of the numerous restaurants on level 2.
As featured in the Seoul episode of the Netflix series Somebody Feed Phil (series 3 episode 4), Noryangjin Fish Market is an interesting place to visit although possibly not for the squeamish.
Many of the fish and sea creatures here like octopus and crabs are still alive – the octopuses seem very keen to escape and often make a dash for it.
Noryangjin Fish Market often has very late (or should that be very early) fish auctions at around 3am. Note that whilst the site is open 24 hours, most of the stalls and restaurants close for large chunks of the day so check in advance before visiting.
YOU MIGHT LIKE: An evening food tour at Noryangjin Fish Market >
Like Netflix food series? Check out our guide to the Netflix hand-cut noodle lady in Gwangjang Market >
---
17. Dongdaemun Design Plaza (DDP) night light show – winter months
The Dongdaemun Design Plaza (DDP) in Seoul lights up in the winter months (especially around Christmas time in Seoul) with a free, festive winter light show.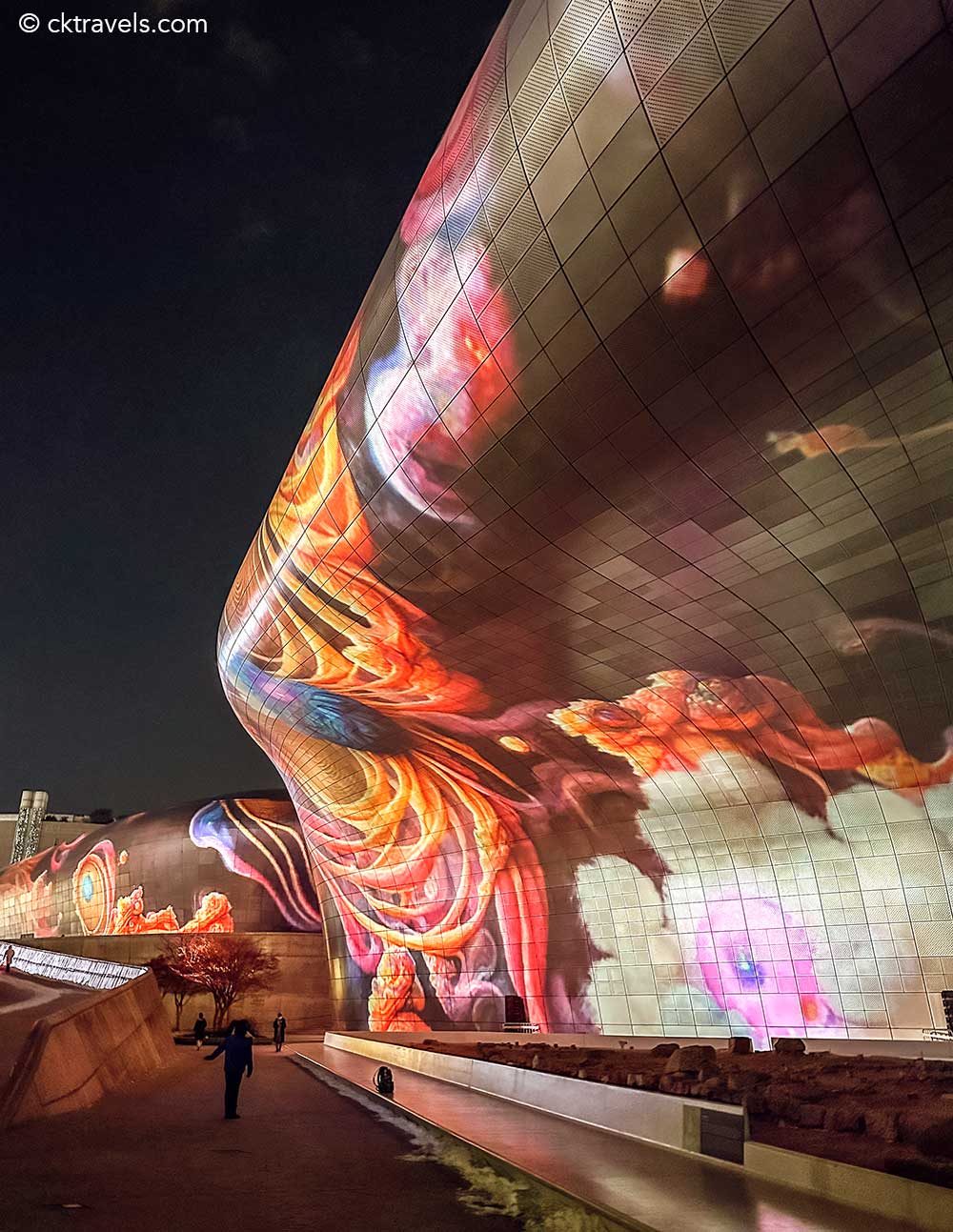 The DDP Seoul Light show features illuminations and projections on the side of the curved and ultra sleek building.
Since its first edition in 2019, the DDP light show has attracted over 1 million visitors and is one of the most popular free, evening activities in Seoul.
Visit the official Dongdaemun Design Plaza (DDP) site for more information.
---
18. Gwangjang Market
Gwangjang Market is Seoul's most famous street food market, a maze of market stalls and late night restaurants selling some of the best food you'll likely taste in Seoul.
Gwangjang Market has bags of character, from the numerous (and competitive) stallholders who beckon you over ("Sit. SIT"!) to the wide variety of different street food available.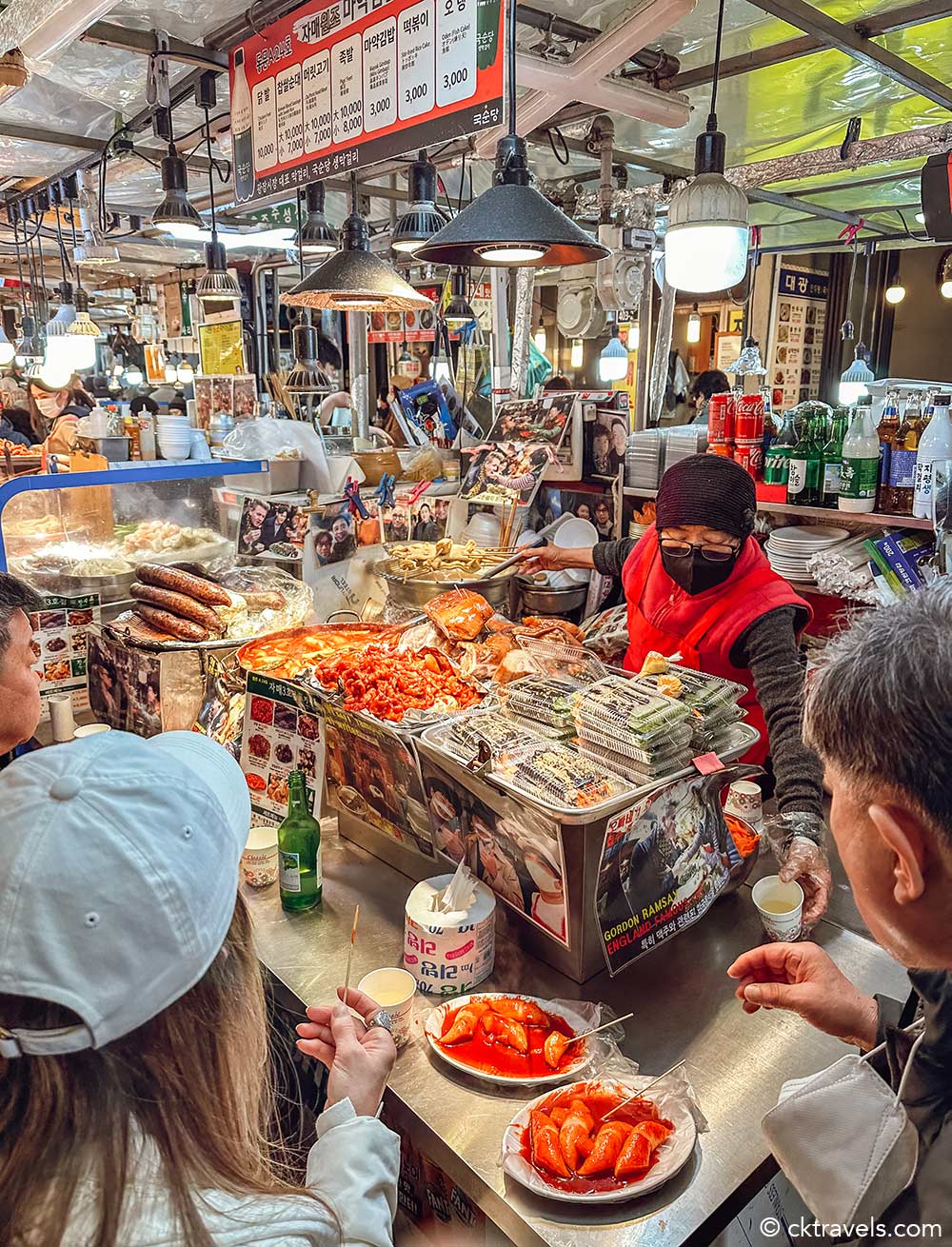 Boiling hot in the summer and bitterly cold in the Winter, Gwangjang Market is a foodie's dream and a must visit when in Seoul.
Although it is at its busiest in the day-time and most food stalls close in the early afternoon, most of the Gwangjang Market restaurants stay open until around 10pm. That said, for the full street food experience, it is best to visit Gwangjang Market by day.
Read our guide to all the Gwangjang Market street food stalls here >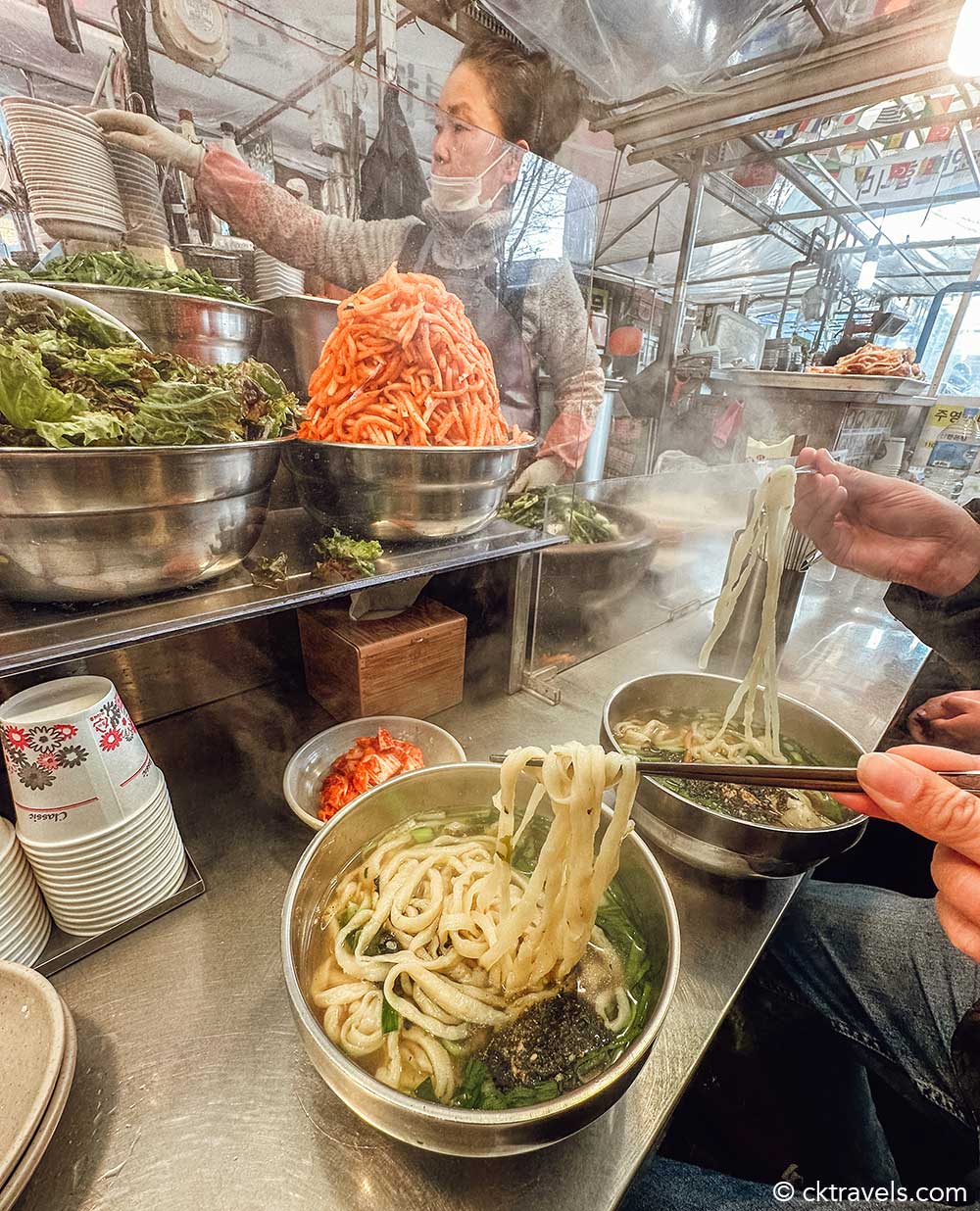 ---
19. Walk along the floodlit Cheonggyecheon River Walk
One of the best walks in Seoul at night, the Cheonggyecheon is a downtown public park and river walk that is it up and open 24 hours (just be careful not to fall in, especially on the stepping stones).
Cheonggyecheon is an example of urban regeneration whereby this formerly neglected and run down riverside area was transformed in the early 2000s into a wonderful walk along a river, complete with benches, stepping stone bridges and a long concrete walkway (also ideal for jogging).
During festivals and Christmas, the Cheonggyecheon stream sometimes has special lights and pop-up events.
---
20. Namdaemun Night Market
Located just a few hundred metres from the main Myeongdong action, Namdaemun Night Market is a sprawling shopping area frequented by locals and tourists alike in search of bargains.
There are thousands of market stalls and shops in Namdaemun Market, spread across several blocks so navigating it can seem quite tricky when you first arrive.
Handily, Namdaemun Market is handily broken down into several sections where the same types of shops and products are grouped together – for instance, Hardware Street or Children's Wear Street.
Namdaemun Night Market 2023 update – we revisited Namdaemun Market in June 2023 and it is very busy by day but we can't verify if this is truly a night market as most stalls and areas – including Kalguksu Alley – seem to close early in the evening. Google Maps currently says Namdaemun Night Market closes seven days a week at 5.30pm
---
21. Myeongdong Cathedral
South Korea's oldest Roman Catholic Cathedral was consecrated in 1898 and can be accessed via a steep flight of steps a short walk from the main Myeongdong Walking Street.
Although Myeongdong Cathedral usually closes around 7pm (8pm on Sundays), they sometimes stay open late for special services (although photography is forbidden).
If you visit Seoul at Christmas or in the winter months, the Myeongdong Cathedral gardens are normally awash with classic white LED lights plus Christmas phrases in many languages from all over the world appear in neon above the Church shop.
---
22. 24-hour shopping at 7-Eleven
7-Eleven in Seoul is big business – there are now over 11,000 (!) 7-Eleven stores in the Republic of Korea. In fact, worldwide, only Thailand and Japan have more 7-Elevens than South Korea.
Most (but not all) 7-Elevens in Seoul are open 24 hours so if you want a late night snack or oodles of instant noodles, 7 Eleven is the best place to cure your midnight munchies.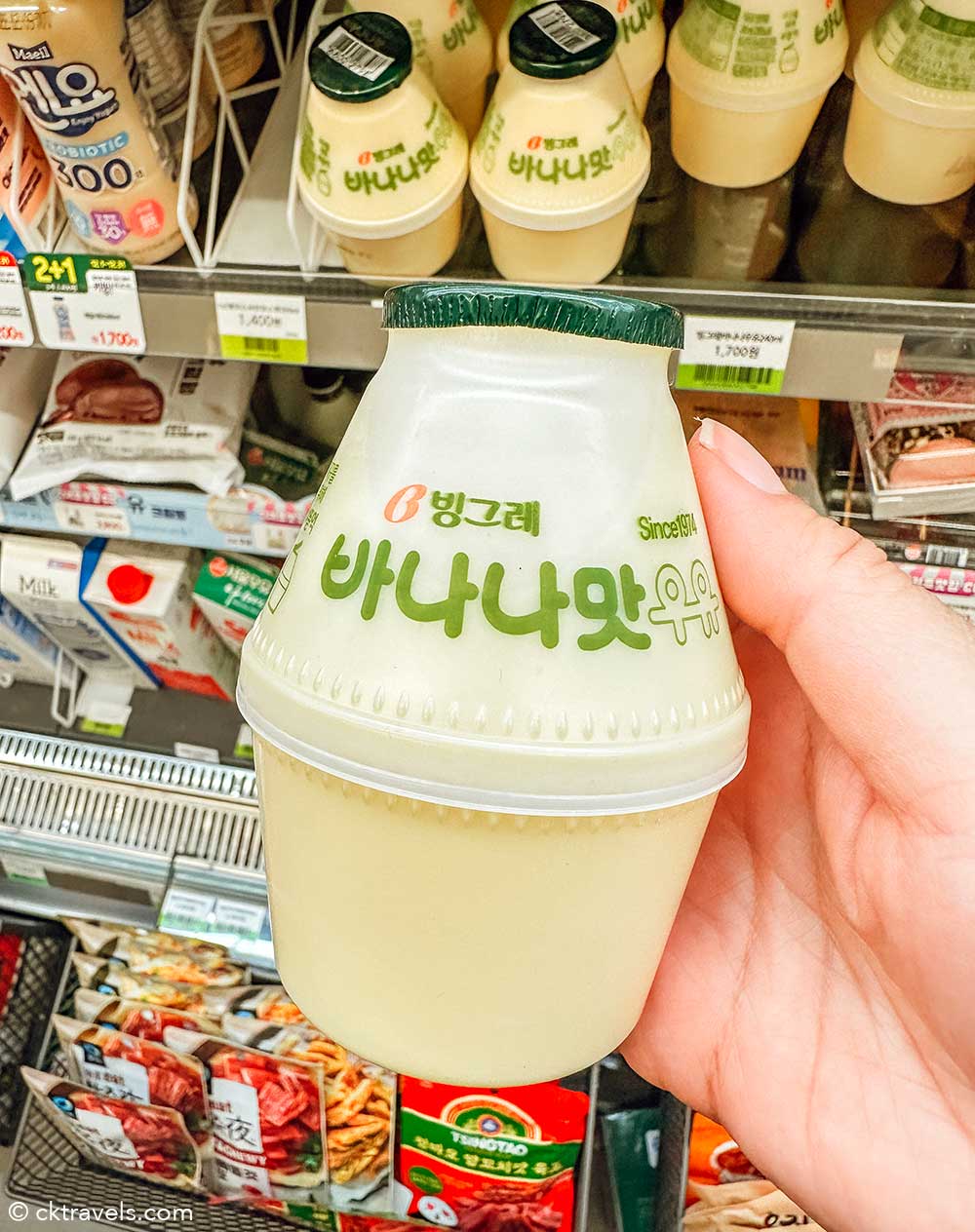 From banana milk to bento boxes and fried chicken to fruit sandwiches, read our guide to all the food you can buy at night in Seoul's 7 Eleven stores >
Like 7 Eleven? Check out guide to the world's largest 7-Eleven in Pattaya >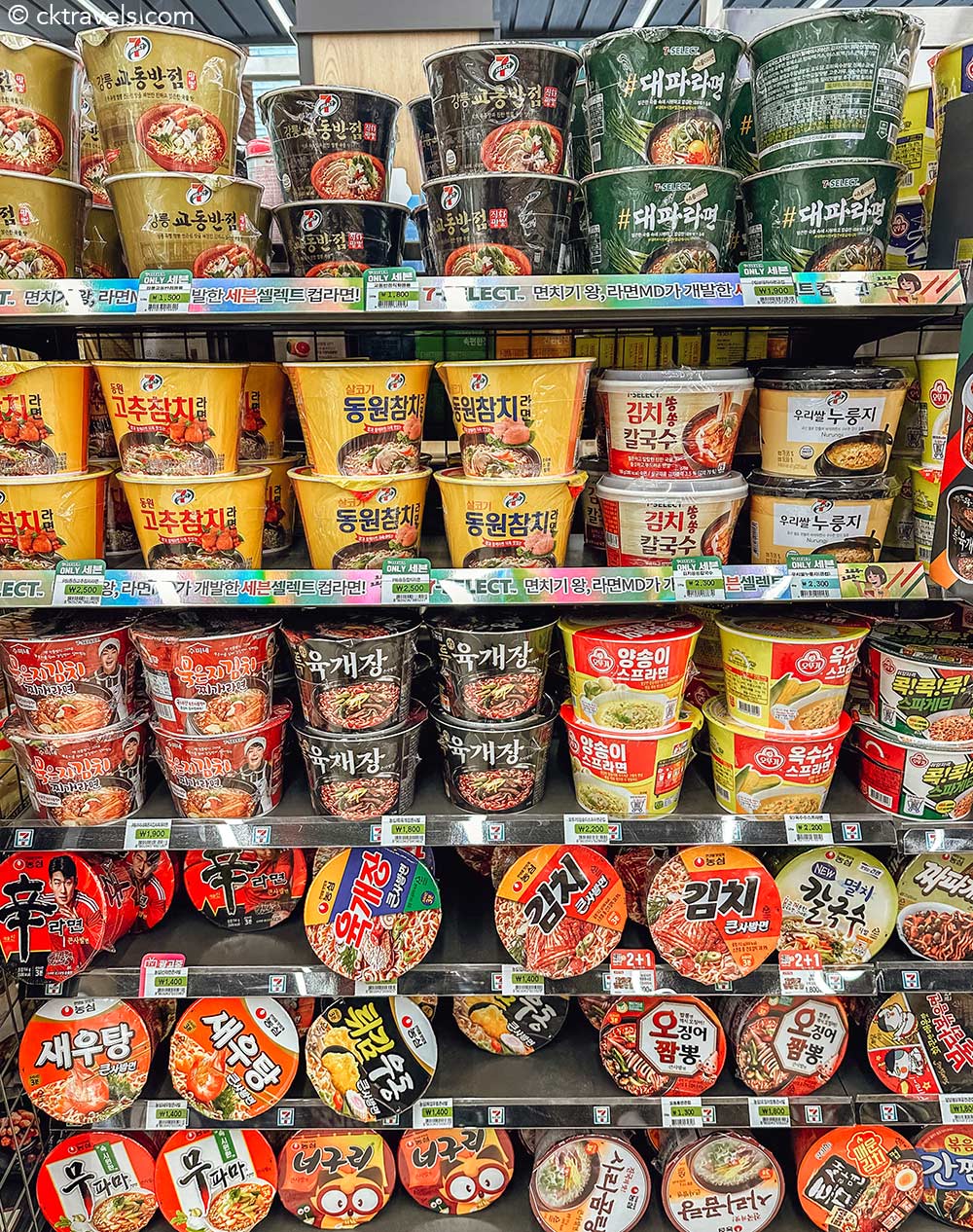 ---
23. Take a tour bus at night
We've done hop on hop off buses in Seoul as part of the Discover Seoul Pass and it is a good way to see the city from the comfort of a bus (especially when it is raining).
As well as daytime tour buses, you can now take a Seoul City Tour Bus and Seoul at night – buses depart year round every evening and you'll see the Han River and N Seoul at night.
The night time tour bus departure time varies depending on the time of year but it is usually 7.30 pm or 8pm in the warmer / lighter summer months and 7pm in the darker / winter months.
Book a Seoul City Tour Bus Night View pass here >
---
24. Seoul at night tours
If you'd rather someone else lead the way with their local knowledge and expertise, there are lots of good tours of Seoul by night including:
---
Our final thing to do in Seoul at night…
25. Night-time Christmas lights and events in Seoul
Seoul comes alive every Christmas and New Year with night-time Christmas lights and events.
Seoul has countless Christmas events from shopping mall Christmas light displays to huge Christmas trees plus skating rinks, snow-covered winter villages and special Christmas markets.
Whilst the winter nights in Seoul may be cold, these South Korean Christmas lights and events warm the heart and see in both Christmas and celebrate the end of the year.
Read our updated guide to Seoul's best Christmas lights, displays and events in 2023 >
---
YOU MIGHT LIKE – Bangkok at night, top things to do >
---
Where to stay in Seoul
Here are some highly recommended Seoul hotels near to Myeongdong Night Market (we always get hotels in Myeongdong or very nearby as the public transport links are very good and there are lots of bars and restaurants):
Budget
Hotel 8 Hours
This budget hotel is located a 5 minute walk from Myeongdong subway City Hall station exit. Rooms are compact but modern and hotel facilities include TV, refrigerator, shower booth, hairdryer and free toiletries. Check out prices and availability for Hotel 8 Hours.
Mid range
Sotetsu Fresa Inn Seoul Myeong-dong
We stayed at this popular chain hotel for 5 nights and really loved the comfortable room and the location was perfect – right in the heart of Myeongdong. Check out prices and availability for Sotetsu Fresa Inn Seoul Myeong-dong.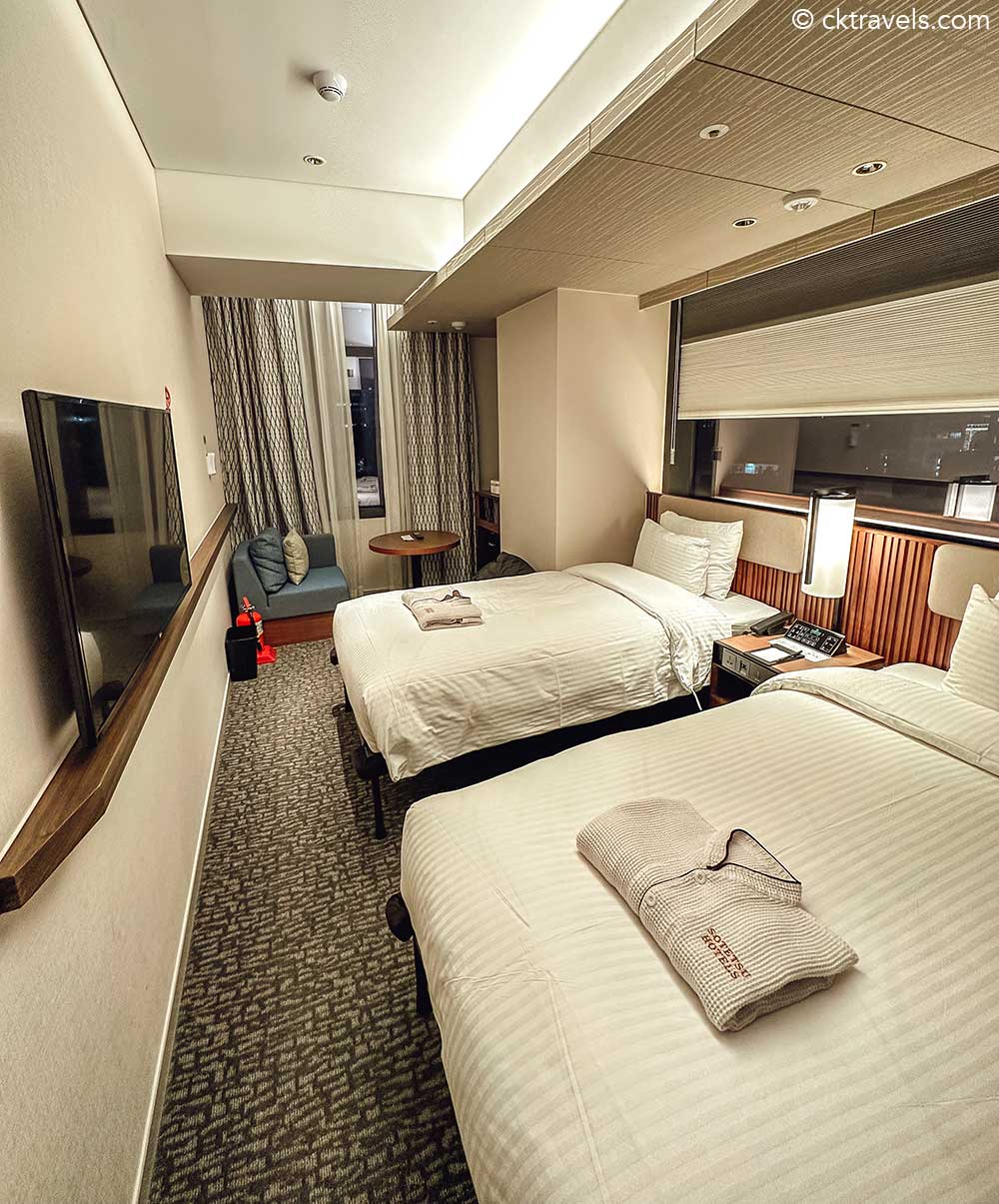 Luxury
L7 Myeongdong by LOTTE
This trendy 4-star hotel is located right by the subway station and within a few minutes of the shopping areas. Facilities include a rooftop bar which has views of the city and Mount Namsan. Check out prices and availability for L7 Myeongdong.
---
Other South Korea posts you might like
Did you enjoy our Best things to do in Seoul at Night blog post? Let us know in the comments or by sharing it on social media.
You can follow CK Travels on: 
Instagram
Facebook
TikTok 
YouTube
Pinterest