This post may contain affiliate links to tours and hotels. These help us earn a small commission at no additional charge to you.
Gangnam style! Although arguably most famous outside of Seoul as the title of Psy's global K-pop hit, Gangnam in Seoul (South Korea) has a unique identity of its own. This trendy neighbourhood is an urban utopia of high-end shopping, traditional temples and choice cultural spots (plus K-Pop references galore).
There are lots of things to do in Gangnam but if you are looking for luxury goods, Gangnam is your one stop shop for handbags, shoes and all your fine fashion, including Gucci, Louis Vuitton, Jimmy Choo and Cartier.
From the beautiful teddy bears of K-pop Avenue to the traditional temple of Bongeunsa temple, there are a multitude of activities in Gangnam (including a huge Psy / Gangnam Hands statue – amazing).
So on your next visit to Seoul, these are the top things to do in Gangnam, South Korea: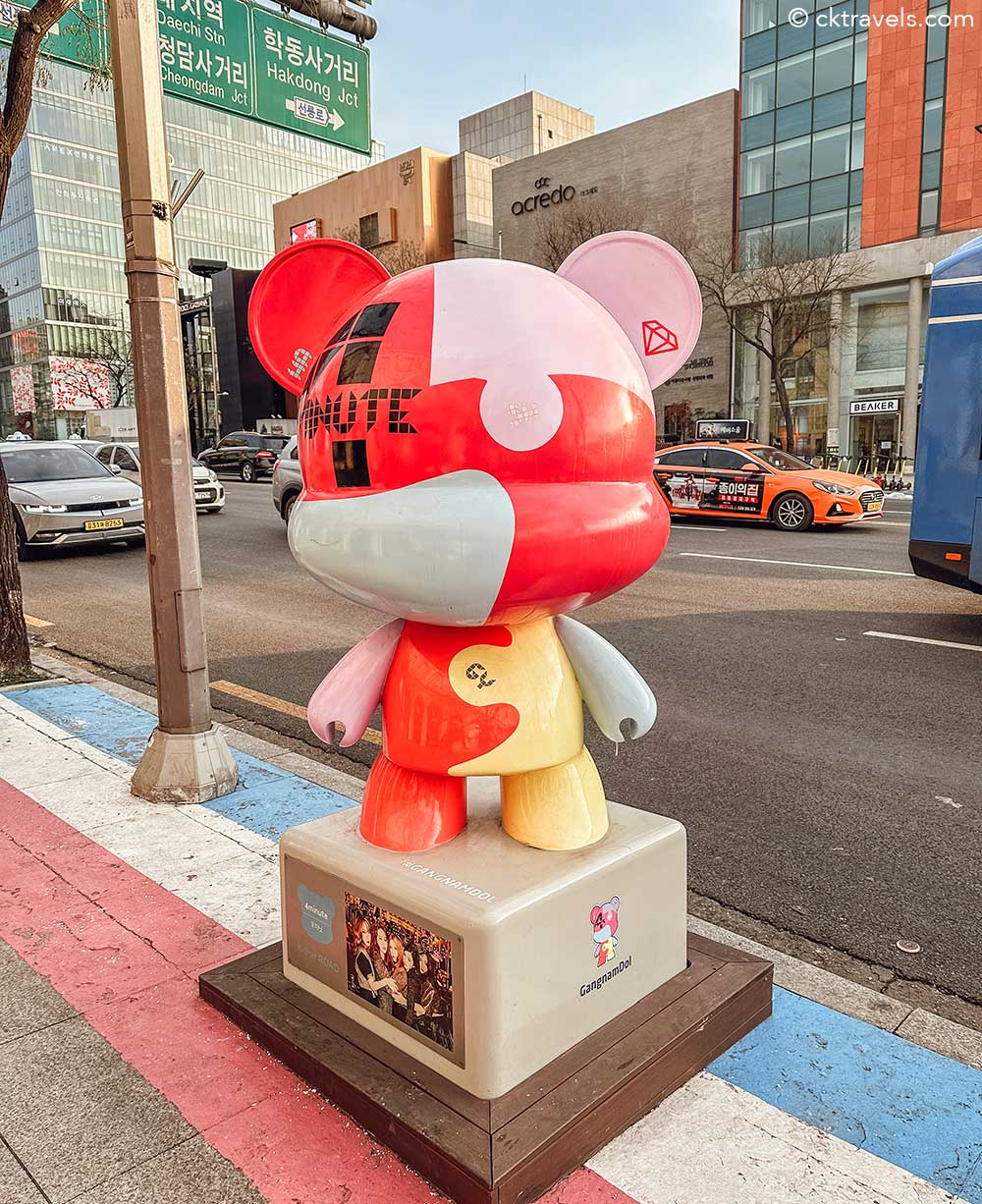 CLICK TO SKIP TO THINGS TO DO IN GANGNAM >
Where to stay in Gangnam
Budget
Upflo Hostel
Budget accommodation with 19 individually decorated guest rooms – each with flat-screen televisions and a private bathroom. Facilities include a rooftop terrace and garden, shared lounge, kitchen and WIFI. Check out prices and availability for Upflo Hostel
Mid range
Stay Hotel Gangnam
Modern and comfy hotel with bright and spacious rooms. Located a 3 minute walk away from Yeoksam subway station with many restaurants and coffee shops nearby. Check out prices and availability for Stay Hotel Gangnam
Expensive
InterContinental Seoul COEX, an IHG Hotel
Located inside the World Trade Centre, this luxurious 5-star hotel includes four restaurants and bars (including an Italian restaurant with a skyline view), casino, golf practice room, outdoor spa pool and indoor pool. Check out prices and availability for InterContinental Seoul COEX, an IHG Hotel
---
Things to do in Gangnam, Seoul
1. Statue of Gangnam Style
Fittingly, we start with the statue of Gangnam Style, a bronze style sculpture located just outside the East Gate of COEX Mall and COEX exhibition centre – and yes, we and several other bystanders during our visit felt it only appropriate to recreate Psy's iconic dance in front of the giant pair of hands.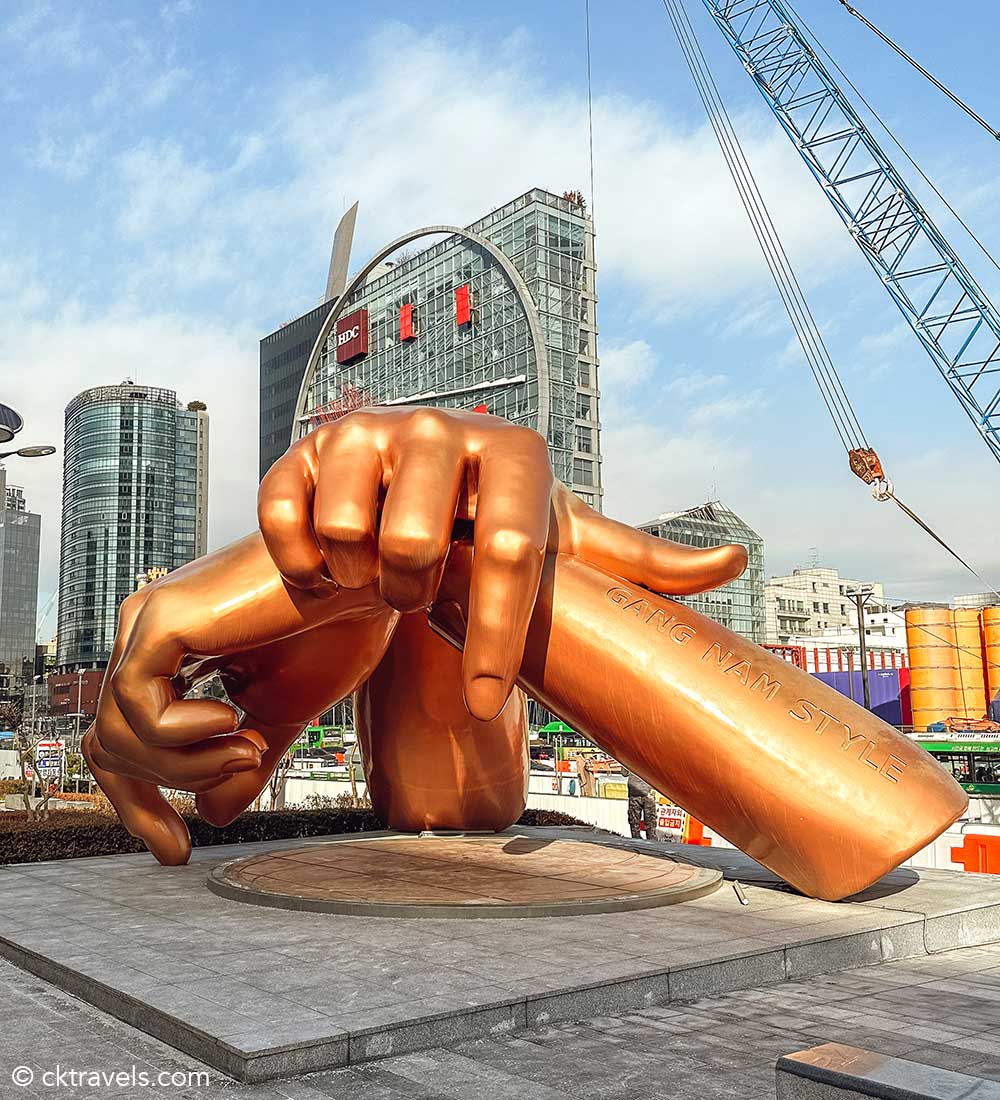 Unveiled in 2015, the Statue of Gangnam style is the ultimate tribute to Psy and his global 'Gangnam Style' hit (part of Psy's Gangnam Style video was filmed here).
Fact fans – Psy's legendary dance moves were partly filmed outside exit 5 of Gangnam Station.
We've also read that Psy's Gangnam Style music track plays when you stand beside it or on the platform in the middle of the statue but alas it didn't seem to be working when we last visited in December 2022 (hit us up if it has been fixed when you visit!).
YOU MIGHT LIKE: Discover the Korean Wave in Gangnam private tour >
---
2. Starfield COEX Mall
For us, Starfield Mall is definitely one of our favourite shopping experiences in Seoul and this retail nirvana is one of the best shopping malls / centres in Seoul; especially due to the presence of the incredible Starfield Library in the centre of the complex (more on this later).
A good mix of fashion, culture, food and entertainment, Starfield COEX Mall is located over several levels and could easily be a day trip in itself if you take your shopping seriously. Flagship stores at Starfield Coex Mall include Zara, H&M and ABC Mart.
Starfield Mall has over 200 stores plus just under 100 eating establishments and dining options to choose from. What we really liked about Starfield COEX Mall is that they had clearly marked 'food alleys' on the map meaning you could easily find something to eat.
Read about the 8 best shopping malls and shopping centres in Seoul here >
---
3. Bongeunsa temple
Easily one of the most beautiful temples in Seoul, Bongeunsa is a Buddhist temple that originally dates from the 8th century – although most of the current site dates back from the 20th century as much of it was destroyed during the wars. It has a huge complex of memorials, places to worship plus even has its own home stay in a temple scheme.
Bongeunsa temple is free to visit (donations are appreciated) and we were blown away by how big this place of worship is.
One of the many highlights was the serene hillside location whereby a huge 100ft stone statue of Maitreya, the Future Buddha looks out over Gangnam-su. Just below it, there is a square with thousands of smaller versions of the Buddha; an incredible site.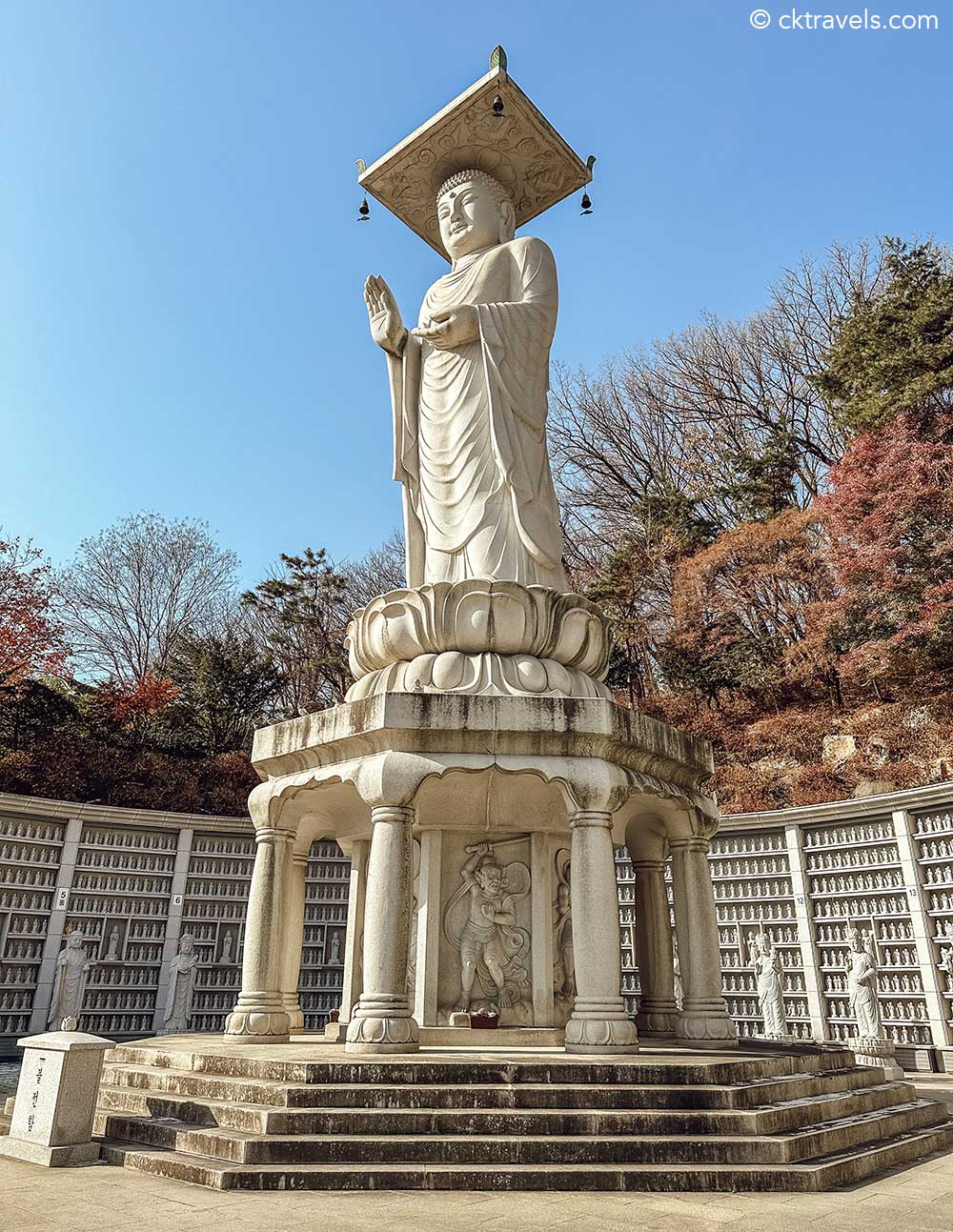 ---
YOU MIGHT LIKE: Best Korean street foods you must try in South Korea
---
4. K Star Road (AKA GangnamDol bears)
A complete contrast to the aforementioned serene Bongeunsa temple, one of the most frequently visited things to do in Gangnam are the brightly coloured K-pop bears of K Star Road.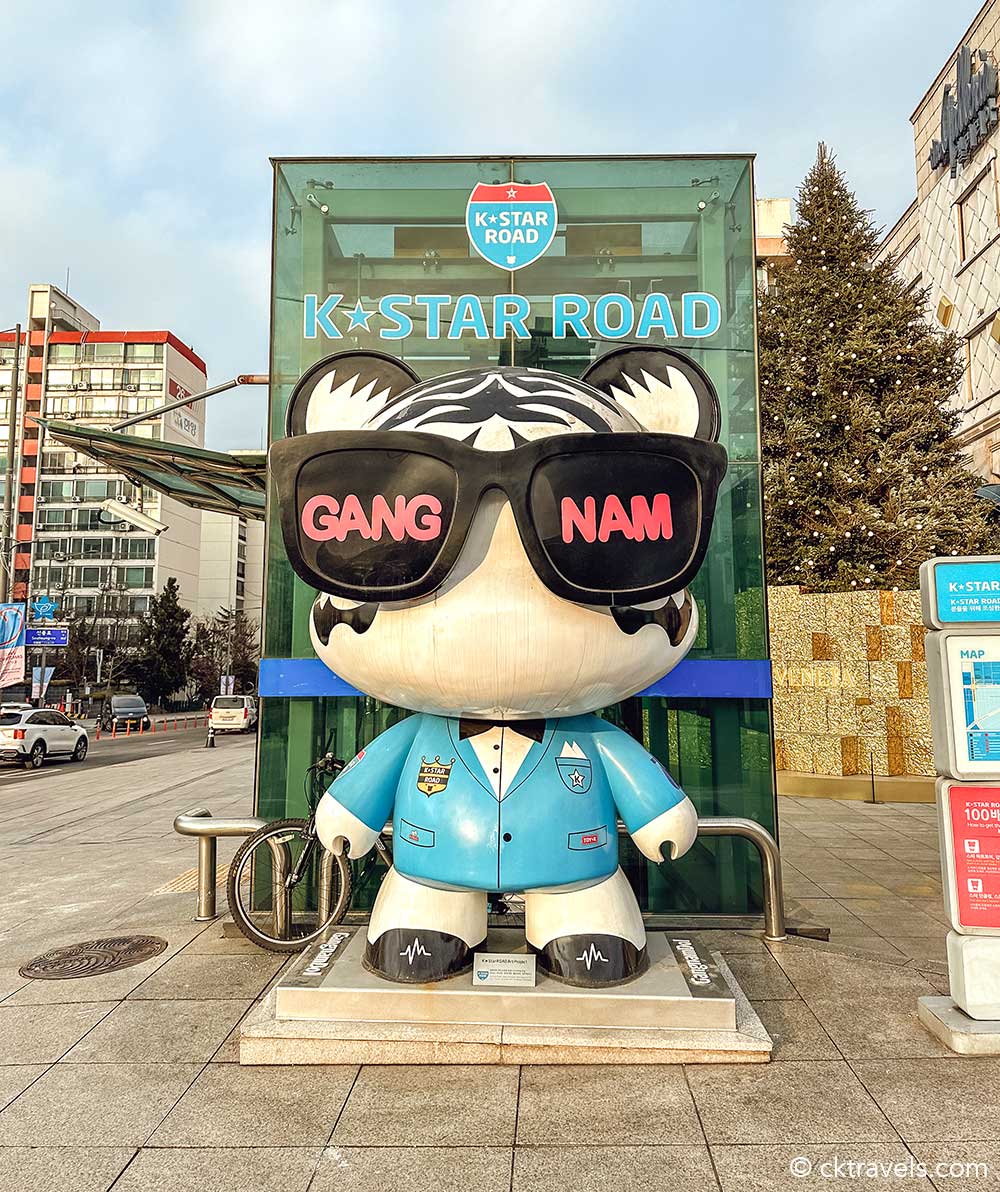 These 'GangnamDols' (brightly coloured bear dolls) line a 1 km stretch of road with around 20 big bears representing the cream of K-pop talent and famous K-pop dolls.
As you'd expect, the 'star' of K Star Road is a huge Psy bear / GangnamDol (near Apgujeong Rodeo Station exit 2), but other bears include Girl's Generation, Miss A and 4Minute – and yes, the BTS Gangnam-su bear is incredibly popular.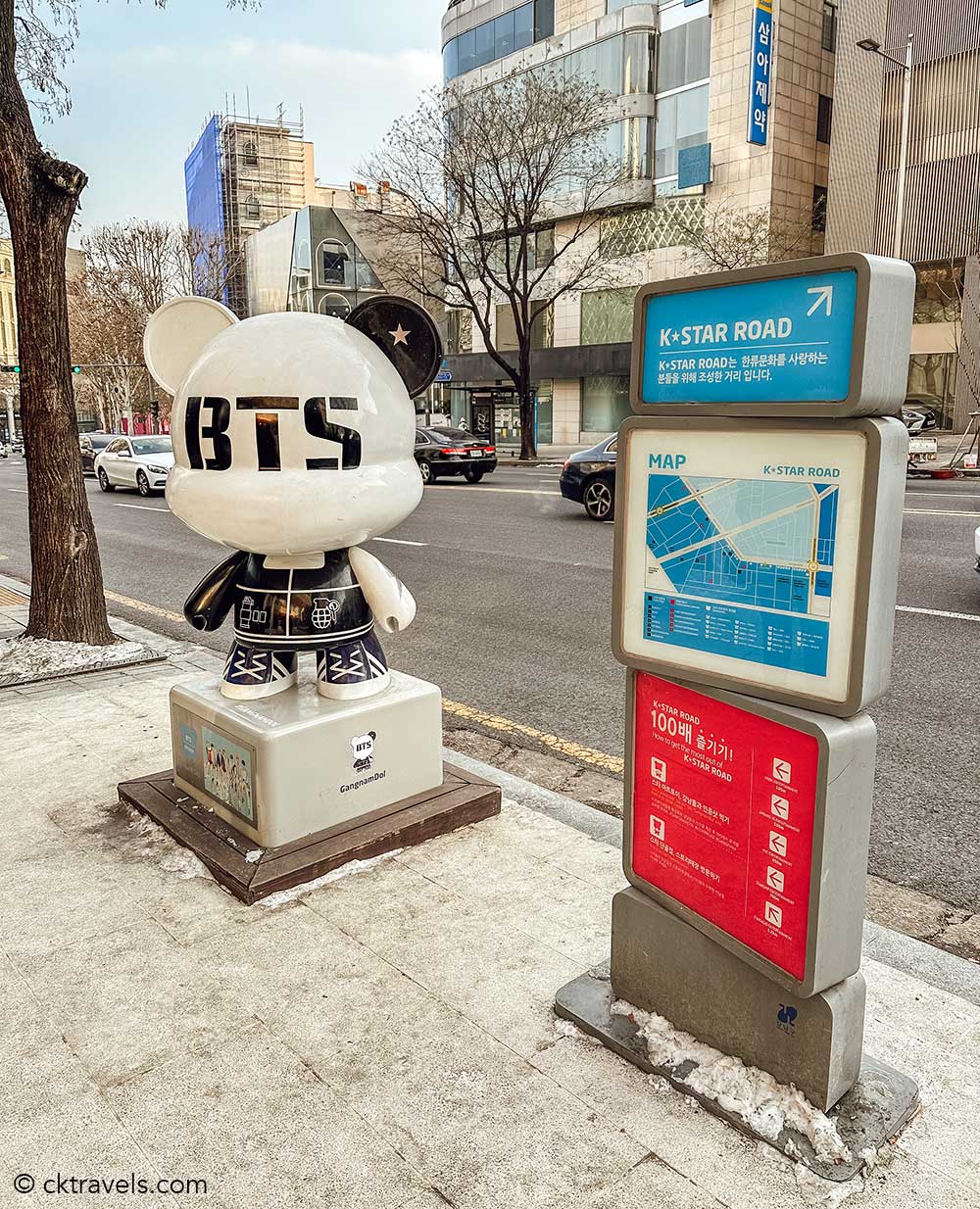 ---
5. Craft Beer Bars in Gangnam
Seoul is renowned for its craft beer bars and is one of the best things to do in Gangnam is to grab a pint of beer direct from a brewery or taproom. This could also be a nice way to reward yourself after a hard day's shopping.
Craft beer highlights in Gangnam include the Mikkeller Bar in the Garuso Street neighbourhood, a terrific looking taproom that combines the best of Danish design with local Seoul flourishes (and up to 30 craft beers on tap at any one time).
Hidden away in the side streets of Sinsa-dong, Garosu Brewing has a beer garden and taproom with their own range of core craft as well as craft beers from all over the world. The brewing action takes place right next door (smell the hops!).
A special mention to Artmonster's Gangnam bar – very hipster with a whole array of neon strip lights and signs reminiscent of Hong Kong (and which has featured in several K-pop music videos).
Read more about Artmonster in Seoul and the other best craft beer bars in Seoul / best Seoul breweries here >
---
6. Garosu-gil street
Garosu-gil is a tree-lined avenue in Gangnam renowned for its shopping and retail stores, which has Gingko trees dotted along the street that bloom into bright colours during the Autumn months.
This has led to Garosu-gil street becoming one of the most popular daytime activities in Gangnam as well as a popular filming location for Korean TV series and teen dramas.
Given the aesthetics and design led nature of the businesses in and around Gangnam's Garosu-gil street, it also apparently goes by the local nickname of 'Artist's Street'.
---
7. Cute character stores galore in Gangnam
If you like your cartoon characters charming and cutesy, one of the best things to do in Gangnam is to visit the plethora of character shops. The best known of these in Gangnam is the Line Friends Flagship Store where you can create your own merchandise as well as pose with your favourite friends.
Whilst in Gangnam, we also visited the Kakao Friends Gangnam Flagship Store, another famous chain of stores in Seoul that feature ever so cute and fluffy adorable animals across a variety of merchandise.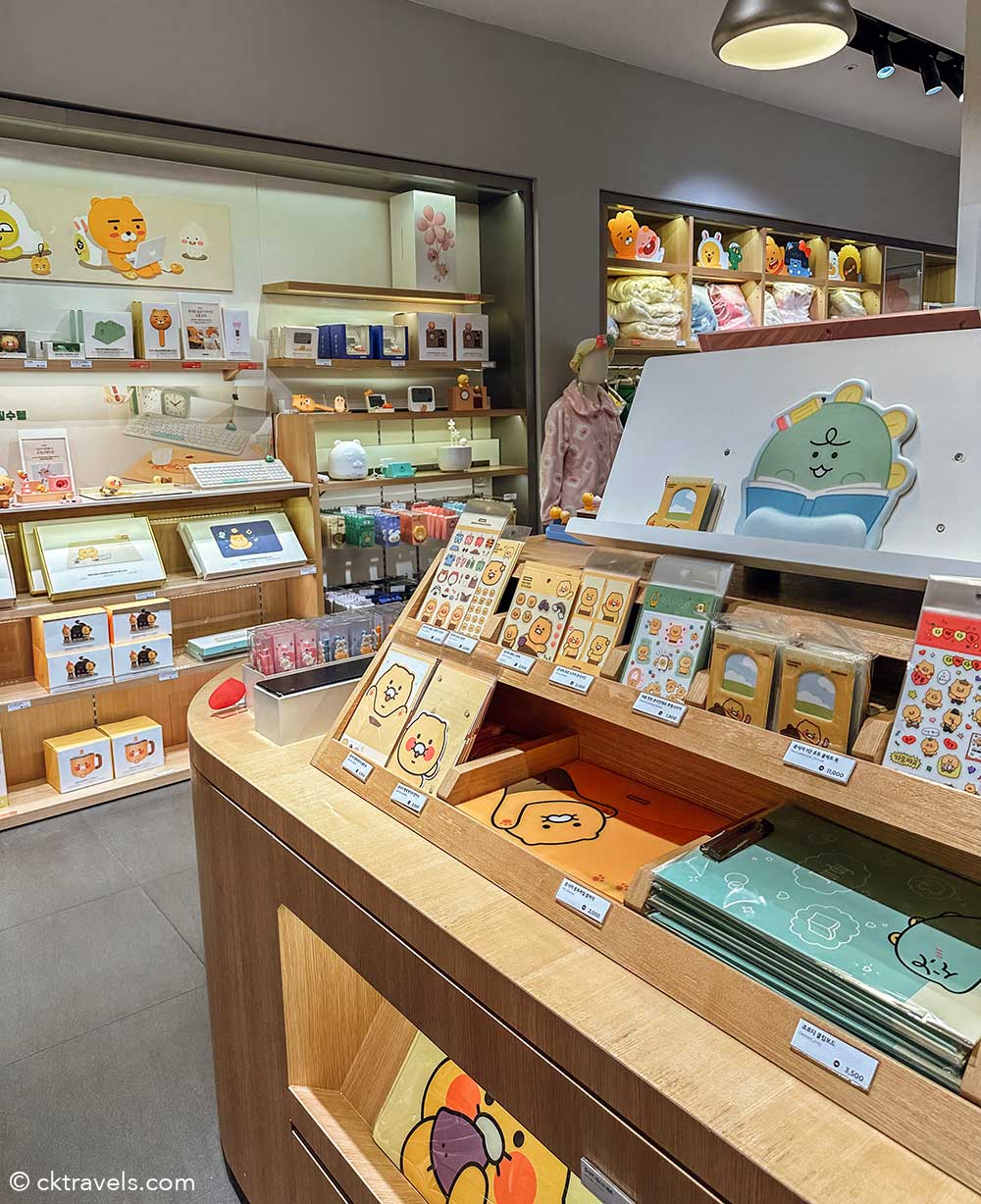 ---
---
8. Starfield Library at COEX Mall (our favourite thing to do in Gangnam)
As well as shopping at Starfield COEX Mall, you'll also see Starfield Library, one of the most memorable and aesthetically pleasing spaces we've ever encountered in a Seoul shopping mall.
Surely this has to be the best looking and most accessible library in the world? So much so that it can be hard to get a book from the shelves with all the posing and photography going on (for real).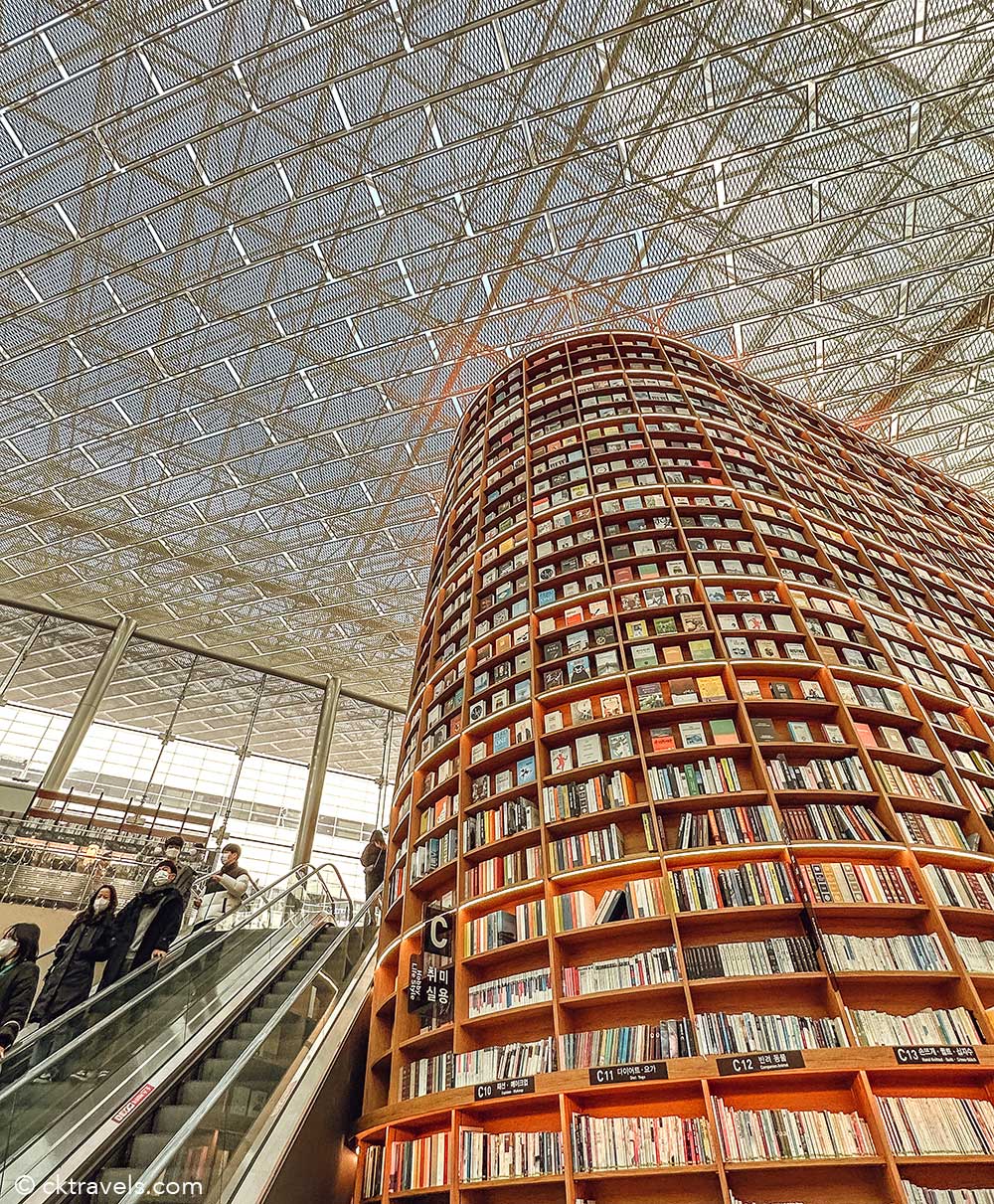 Unlike other libraries, you don't need to be a registered user to read the books, and several cafes and coffee shops are 'hidden' amongst the gigantic bookshelves.
---
9. COEX Aquarium
Located within the COEX Mall, this awesome aquatic adventure is a welcome respite from the shops and boutique stores that surround it.
With 16 themed zones and a huge number of sea species (including sharks), the COEX Aquarium is the largest aquarium in Seoul. Highlights include a 'real-life' mermaid, a parade of penguins plus jelly-fish galore.
Prices start from $18.65 per child and $19.45 per adult as at February 2023 when booked in advance.
---
YOU MIGHT LIKE: things to do in Myeongdong, Seoul
---
10. Apgujeong Rodeo Street / Cheongdam Fashion Street
A firm fashion favourite on the Seoul shopping scene, Apgujeong Rodeo Street is a trendy treasure trove of boutique stores and bling (putting the 'style' into 'Gangnam style').
It is also signposted by a 'I <heart> Rodeo' golden statue man (they love interesting statues in Gangnam, eh).
As well as independent and artisan stores, you'll find the famous Galleria Department Store and iconic luxury brands like Prada, Gucci and Armani.
We were surprised too by the sheer number of luxury sports cars and cabriolet cars driving along Apgujeong Rodeo Street when we visited; kinda reminiscent of Knightsbridge in London.
---
11. Cheongdam Food Street
Handily signposted along K Star Road, Cheongdam Food Street is a Gangnam gourmet delight with over 50 restaurants located along it or very near it.
From the healthy fare of Granology (a premium granola eatery – how Gangnam!) to Japanese style Izakayas and coffee shops galore, you can get your foodie fix along Cheongdam's Food street.
---
12. Lotte World
What a Lotte fun! One of Seoul's largest theme parks and Disney-esqe in style, Lotte World is on the outskirts of Gangnam and well worth a visit.
With a huge indoor amusement centre and outdoor Magic Island, Lotte World is fun for all ages and also includes various entertainment like daily parades and live music shows.
We last visited Lotte World in December 2022 so much of the park was themed with Christmas activities (read more about Seoul Christmas lights and Christmas events).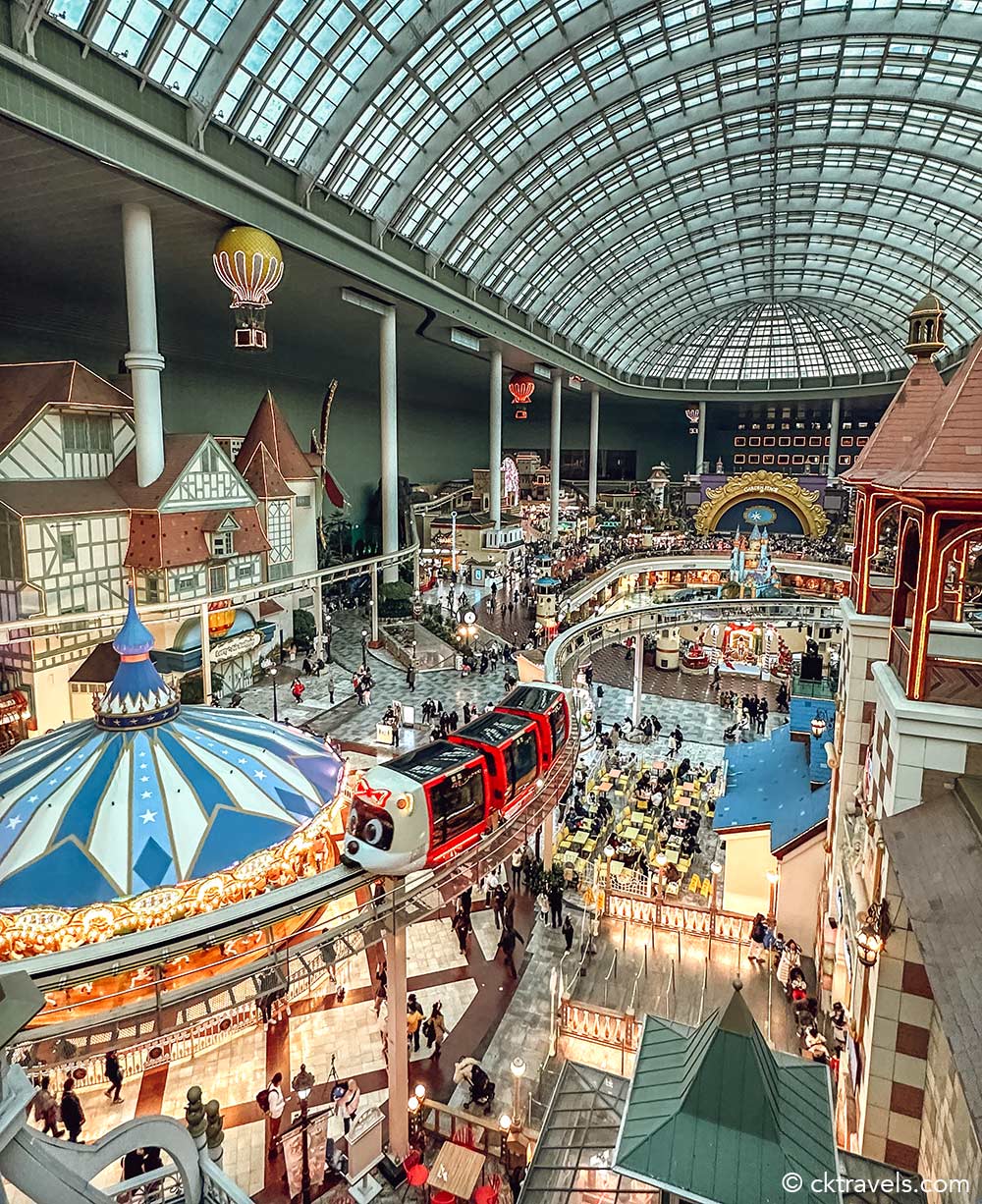 Note that Lotte World gets incredibly busy after school with students visiting in large groups making some of the ride queue times hours long – so try and arrive at Lotte World early to tackle the bigger rides.
Tip – if you have a Discover Seoul Pass, Lotte World is the best value / biggest discount attraction featured on the pass so make sure you include it as part of your Discover Seoul Pass itinerary. Read our review of the Discover Seoul Pass here >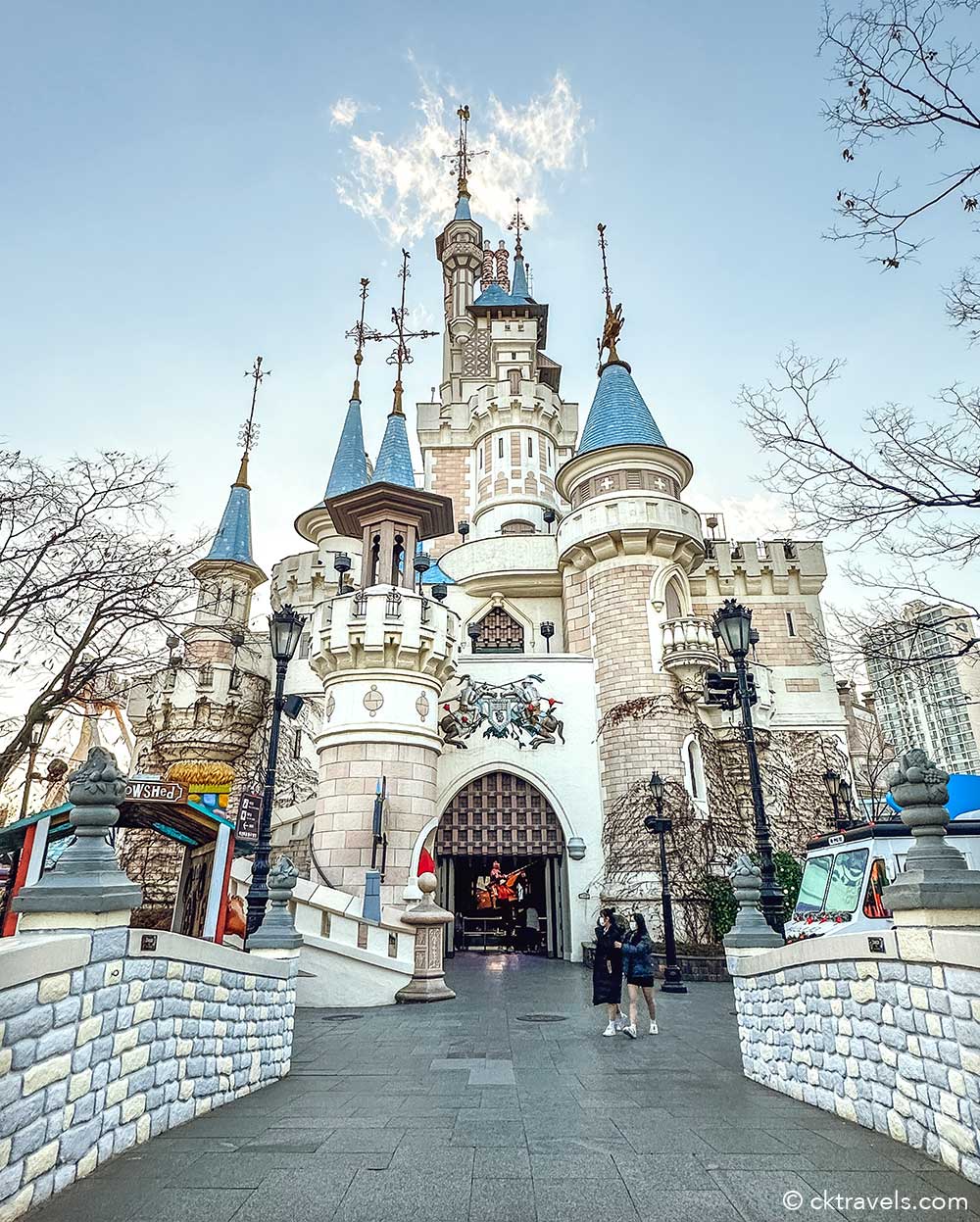 ---
13. Megabox Cinema Gangnam
The best place to catch the latest South Korean movie or Hollywood thriller is at the Megabox Cinema in Gangnam, located in the basement area of COEX Mall.
This good-looking Gangnam movie theater has 17 screens plus one hell of a beautiful coffee shop in its lobby. Megabox COEX cinema screens a variety of movies including arthouse fare and occasional live streams of events.
---
14. Seoul Sky Observation Deck / Lotte World Tower
As well as having the Lotte World theme park in Gangnam-su, nearby, you can also visit the huge Lotte World Tower, the tallest building in South Korea (and one of the top 10 tallest buildings in the world).
You can see Lotte World tower from all over Gangnam-su. Comprising 123 storeys – Seoul Sky is located across the top 6 levels and includes the Sky Friendly Cafe, the Sky Terrace and a bar on the top floor (the 123 Lounge). Click here to book your Lotte World Tower Seoul Sky Ticket with Klook.
If you are feeling particularly brave, you can climb the external Sky Bridge for 100,000 South Korean Won (price includes two pictures and general admission to Seoul Sky as of March 2023).
General access to the Seoul Sky Observation Deck starts from 29,000 Korean Won as of spring 2023.
---
Our final things to do in Gangnam…
15. Hyundai Department Store Apgujeong Main Store
Giving off Roman Colosseum vibes from its exterior (check out the arch main entrance), the Hyundai Department Store Apgujeong Main Store is a mainstay of shopping in the Gangnam neighbourhood and one of the biggest malls here.
Based across seven floors (with restaurants on the 6th floor and a Sky Garden on the top floor), luxury boutiques located in Gangnam's Hyundai store include Gucci, Chanel, Hermes and Tiffany & Co.
---
Other South Korea posts you might like
Did you enjoy our things to do in Gangnam, Seoul guide blog post? Let us know in the comments or by sharing it on social media. Follow us on Instagram!