This post may contain affiliate links to tours and hotels. These help us earn a small commission at no additional charge to you.
One of Seoul's most popular shopping and restaurant districts, Myeongdong is a lively and vibrant neighbourhood popular with locals and tourists alike. A retail mecca by day and bustling street food destination by night, Myeongdong has many things to do and see.
From historic buildings like Myeongdong cathedral to the colourful comic characters on Cartoon Road, Myeongdong is one of the best places to visit in Seoul.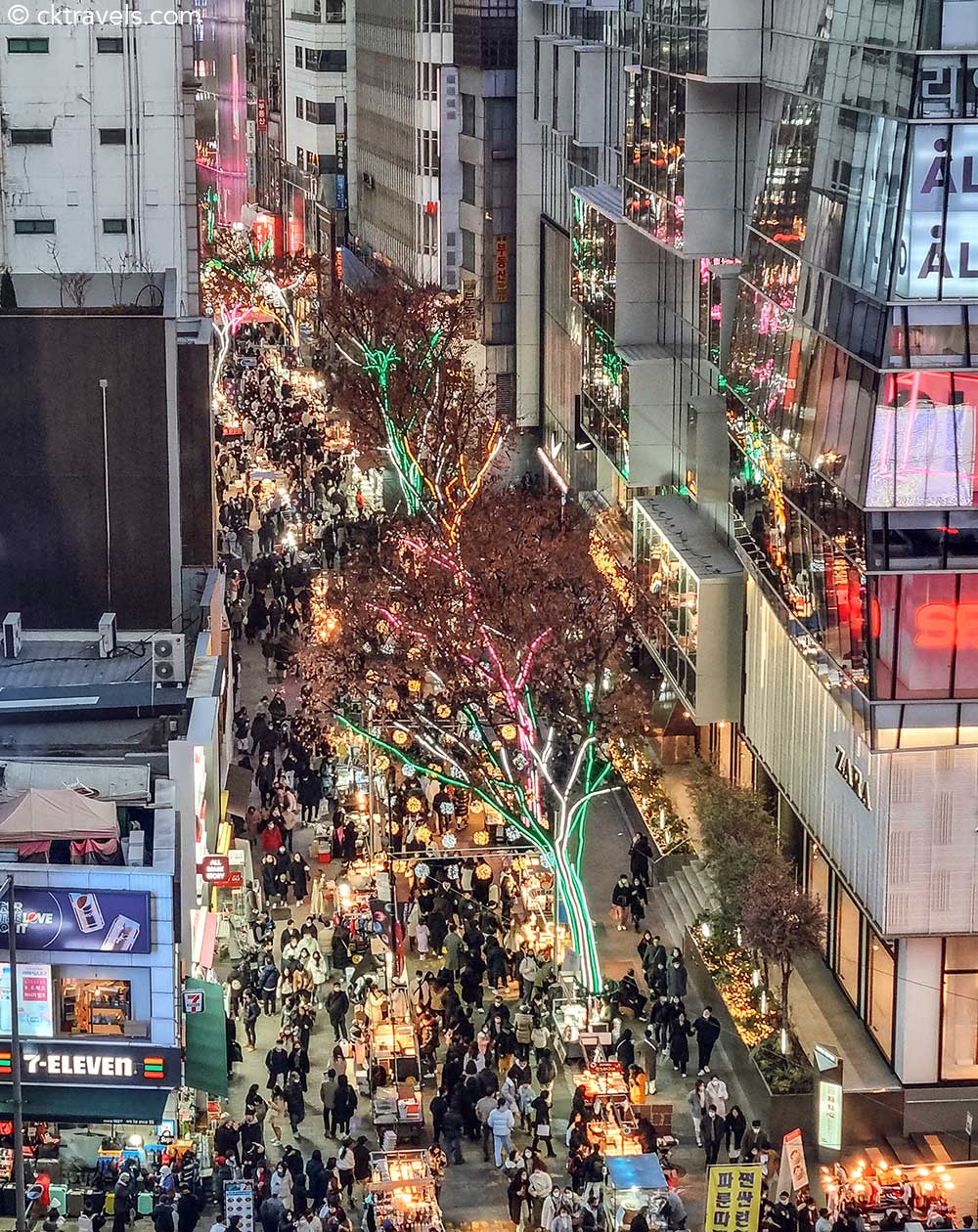 Make sure you arrive on an empty stomach; the side streets are awash with restaurants galore, plus a whole street dedicated to fried chicken and beer establishments – heaven.
Here is our guide to the best things to do in Myeongdong, Seoul in South Korea:
Where to stay in Myeongdong, Seoul
Here are some highly recommended places to stay in the Seoul neighbourhood of Myeongdong:
Budget
Hotel 8 Hours
Budget hotel is located a 5 minute walk from Myeongdong subway City Hall station exit. Rooms are compact but modern and hotel facilities include TV, refrigerator, shower booth, hairdryer and free toiletries. Check out prices and availability for Hotel 8 Hours.
Mid range
Sotetsu Fresa Inn Seoul Myeong-dong
We stayed at this popular chain hotel for 5 nights and really loved the comfortable room and the location was perfect – right in the heart of Myeongdong. Check out prices and availability for Sotetsu Fresa Inn Seoul Myeong-dong.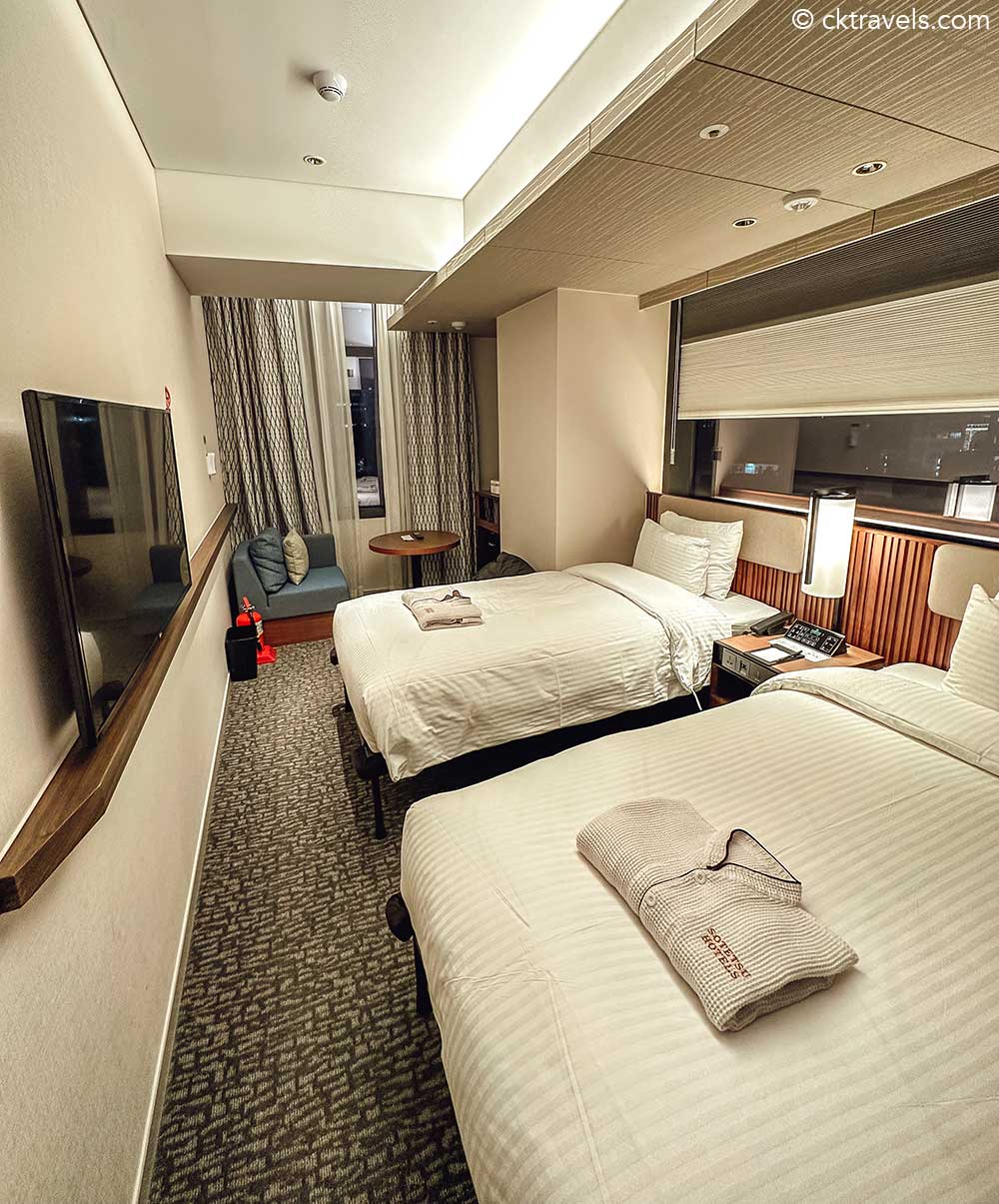 Luxury
L7 Myeongdong by LOTTE
This trendy 4-star hotel is located right by the subway station and within a few minutes of the shopping areas. Facilities include a rooftop bar which has views of the city and Mount Namsan. Check out prices and availability for L7 Myeongdong.
---
Where to stay – Where to stay in Seoul / Best Neighborhoods >
---
Things to do in Myeongdong, Seoul
1. Myeongdong Walking Street
A UNESCO listed street no less, Myeongdong Walking Street is the epicentre of Seoul's retail and fashion world, with hundreds of shops to choose from, plus numerous bars and restaurants hidden along its alleys.
Designated a special tourist zone and pretty much pedestrianised other than the occasional taxi trying to do a hotel drop off, Myeongdong Walking Street is a must do when visiting Seoul.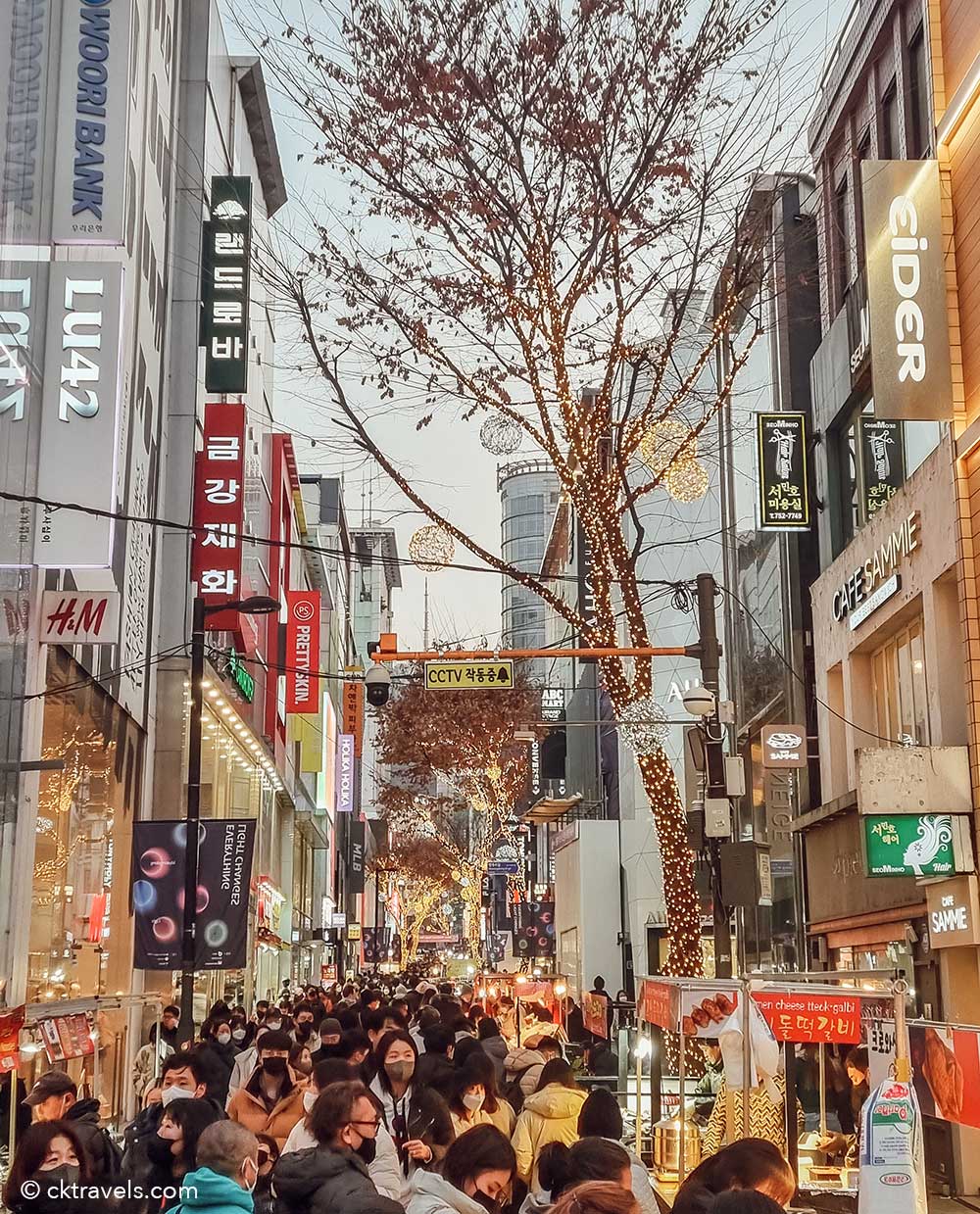 It is also worth a visit both in the day and at night, as in the evening, all the streets are lit with an array of neon signs and bright lights – very cool to see.
With around 4 million visitors a year, Myeongdong Walking Street can get very busy (especially at night when the street food vendors start) so it may be worth planning several visits here whilst in Seoul so you can see it all.
---
YOU MIGHT LIKE: things to do in Gangnam, Seoul
---
2. Myeongdong Night Market / Street Food Market
Each night, Myeongdong Night Market hosts a huge food market that begins from around 3pm until 11pm (although many stalls start to pack up from around 10pm).
Around 400 street food and souvenir traders are in operation at Myeongdong Walking Street Market but generally alternate each night, meaning at any one time, you'll get around 150 to 200 street food stalls to choice from (tip – arrive on an empty stomach!).
There is so much choice of street food at Myeongdong Walking Street in the evenings – foods available included tarot potatoes, grilled squid, fishcakes, tteokbokki rice cakes and lobster.
In terms of sweet and dessert stalls, some of the most popular stalls at Myeongdong night market included strawberries on a stick coating in a sugar glaze, plus sweet pancakes (the biggest queue always is for a stall called 'fancakes' which we think was essentially a hotteok variant).
YOU MIGHT LIKE: Myeongdong Night Market in Seoul Guide >
---
YOU MIGHT LIKE: Best Korean street foods you must try in South Korea
---
3. Seoul Comic Book / Cartoon Road Seoul (Zaemiro)
Across the road from Myeongdong Station and on the edge of the Walking Street, Seoul's Comic Book / Cartoon Road comes to life with a colourful cavalcade of street art and murals adorning many buildings (with many cartoon statues and public art thrown in for good measure).
Also known as Zamiro, Seoul's Cartoon Street begins from Myeongdong Station and extends to Seoul Animation Center / Centre.
Literally a street of fun, there are several posing and photo spots along the route and can be visited any time of the day.
As part of Cartoon Road, also look out for the quirkiest bus stop in the whole of Seoul (it is a huge cartoon bus).
Looking for cheap Seoul day-trips, attractions or group/private tours? We recommend visiting Viator, GetYourGuide, and Klook!
4. Myeongdong Cathedral
South Korea's oldest Roman Catholic Cathedral was consecrated in 1898 and can be accessed via a steep flight of steps a short walk from the main Myeondong Walking Street.
If you visit Seoul at Christmas, the Myeongdong Cathedral gardens are normally awash with classic white LED lights, plus Christmas phrases in many languages from all over the world appear in neon above the Church shop.
Below the cathedral, you'll discover a rather nice underground shopping shopping centre with cafes, bookshops, restaurants, a Subway plus one of the biggest 7-Elevens in Seoul – thank you Lord!
---
5. The Stylenanda Pink Hotel and Cafe
Pink as! Hard to miss given its bright pink exterior, the Stylenanda Pink Hotel and cafe is actually a very cleverly designed retail shop that resembles the layout of a hotel (so for instance, one floor is designed like a laundry, another like a bedroom, another a cafe etc).
Stylenanda is a fashion brand that has two beautifully designed stores in Seoul, one in Hongdae and this one in Myeongdong (the former has the bigger cafe).
The Pink Pool Cafe and Stylenada Pink Hotel Cafe is open daily from 11am to 11pm and is an Instagrammer's wet dream (it also reminded us slightly of the Wes Anderson movies).
---
6. Cat's Playground – Myeongdong Cat cafe
Fur real. A 'purrfect' way to spend a rainy afternoon, Seoul has several cat cafes and Myeongdong is no exception.
Promising over 50 cute as kitties (although many will likely be taking a cat nap when you visit), the Cat's Playground is hidden on the second floor of a small side street building – just look for the flashing a-boards or person in a cat suit.
The Cat's Playground in Myeongdong costs around 10,000 Korean won to enter which includes a drink and access to the cats. Note that the cat food is an additional cost and is around 2,000 Korean Won.
---
7. Korea Mart, Myeongdong
The best place in Myeongdong for cheap souvenirs, tasty sweets and all manner of Seoul and South Korean goodies, Korea Mart in Myeongdong was an excellent discovery.
Compared to the likes of 7-Eleven and the CU stores that Seoul is famous for, we found Korea Mart a lot cheaper (e.g. 600 Korean Won for a Lotte Iced coffee can compared to 1,000 in 7-Eleven) plus had some quite cute and quirky gifts like cartoon socks, fridge magnets plus chocolate galore!
---
Want to try lots of South Korean food in Seoul? Visit Gwangjang Market >
---
8. Isaac toast
Isaac Toast is a top toasted sandwich store, with two branches in Myeongdong (both are small kiosks meaning no indoor seating).
Isaac Toast can be found all over South Korea (700 outlets and counting) and is a cheap and popular toasted sandwich chain.
Their classic sandwich consists of ham, cheese, egg, pickle and diced cabbage covered in swathes of sauce, covered in toasted butter sweet bread.
Whilst not gourmet cuisine, most sandwiches cost around the 3,000 to 4,000 Korean Won mark and each toastie is cooked fresh, so it is perfect for a cheap eat.
Like toasties? – read our guide to 7 Eleven toastie flavours in Thailand here >
---
YOU MIGHT LIKE: Brilliant things to do in Insadong, Seoul
---
9. Myeongdong Kyoja
Divine dumplings and a beautiful broth is all we can say about Myeongdong Kyoja restaurant – one sup and we were hooked.
We first discovered Myeongdong Kyoja purely by chance when we saw a HUGE queue snaking down one of Myeongdong's side streets – these people clearly were onto something good so we decided to come back another day and try their dishes for ourselves.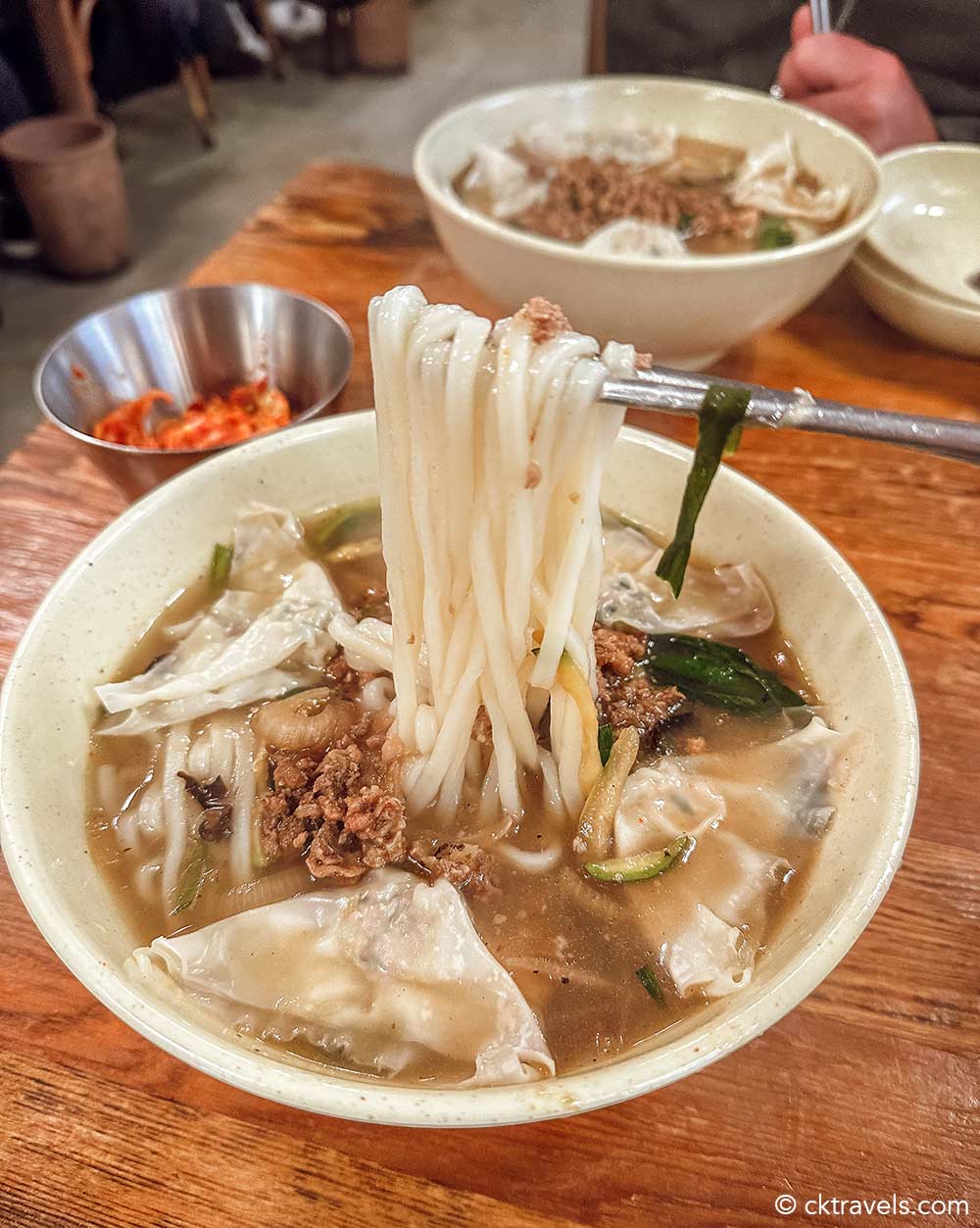 The thing is, we went back multiple days but the queue was always huge so it took a massive snowfall one mid afternoon for us to get in, such is the popularity of Myeongdong Kyoja.
Why so popular? Perhaps it is because they only offer four dishes? Maybe it is because it is pretty cheap? Or possibly it is the robot waiters that bring the food to your table (often with the help of waiting staff).
We really liked Myeongdong Kyoja Branch – whilst we found their noodles a little slimy compared to other restaurants, their meaty broth was spot on and their dumplings delicious.
We also liked how you order on a vending machine at the start before you go in so that food is delivered to you very promptly – we can see why people are willing to queue now. If you can avoid peak lunch and dinner hours, you should be OK.
Read more in our guide to Myeongdong Kyoja >
---
YOU MIGHT LIKE: Things to do in Seoul at night >
---
10. Korean Selfie Booths
Selfie booths and shops are a super big business in Korea.
One of the newest things to do in Myeongdong,selfie booths seems to have cropped up a lot more in recent years, to replace shops and restaurants that closed down during COVID-19 when there was less visitors and tourists.
The selfie kiosks are usually brightly painted small shops where you can use all sorts of fun props and then pose for selfies or take photos in booths for a small fee.
Often the photo booths in these selfie booths in Myeongdong allow you to print out stickers as a lasting reminder. We also recently noticed how popular they'd become in Ximending, Taiwan.
---
11. Lotte Department Stores Myeongdong
Lotte dominates many of South Korea's markets, from food and beverage to entertainment and amusements, and has huge malls all over South Korea.
Myeongdong actually has three Lotte malls, including its flagship Lotte Department store.
Lotte Young Plaza has six levels of shopping including Muji and Uniqlo stores inside plus a basement level dedicated to K-Pop and cartoon characters.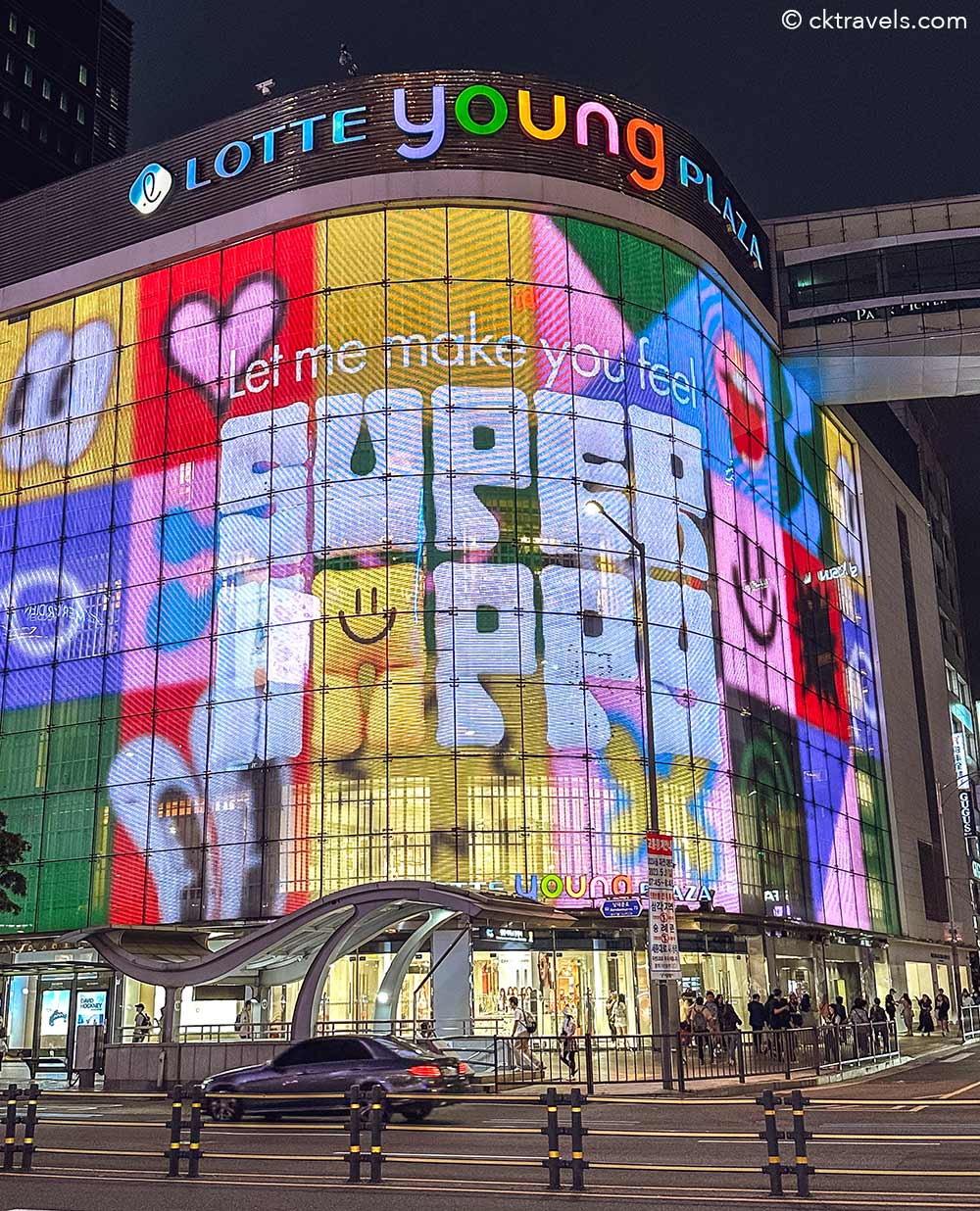 Lotte Department Store Avenue branch has premium and upmarket stores whilst Lotte Department Store Main has numerous fashion, electronics, homeware and jewellery stores plus a rather good food court and luxury food store in the basement level.
Tip – for a fantastic (and free) aerial view of Myeongdong Walking Street and Namsan Park, head up to the top floor of Lotte Young and take the air-bridge towards Lotte.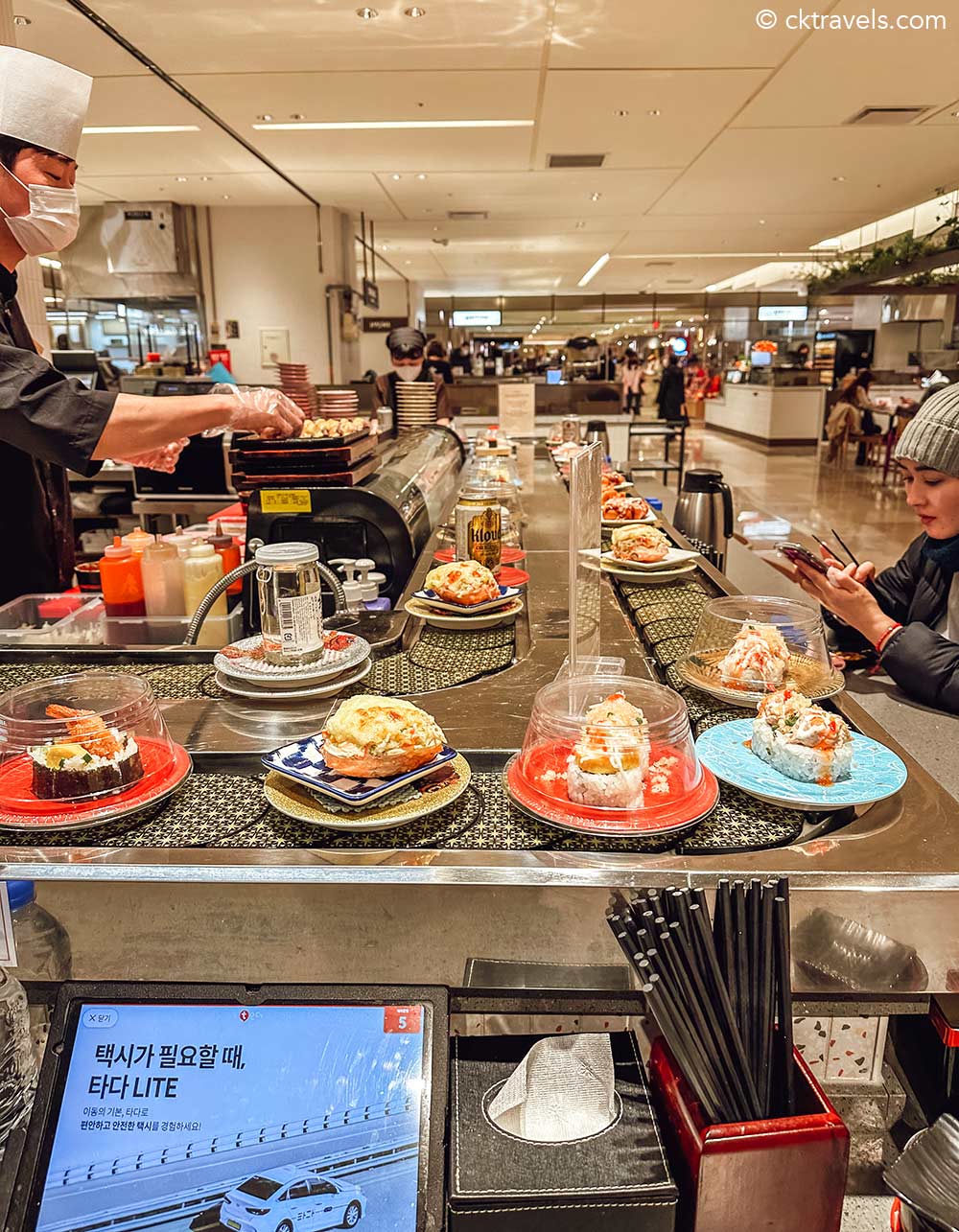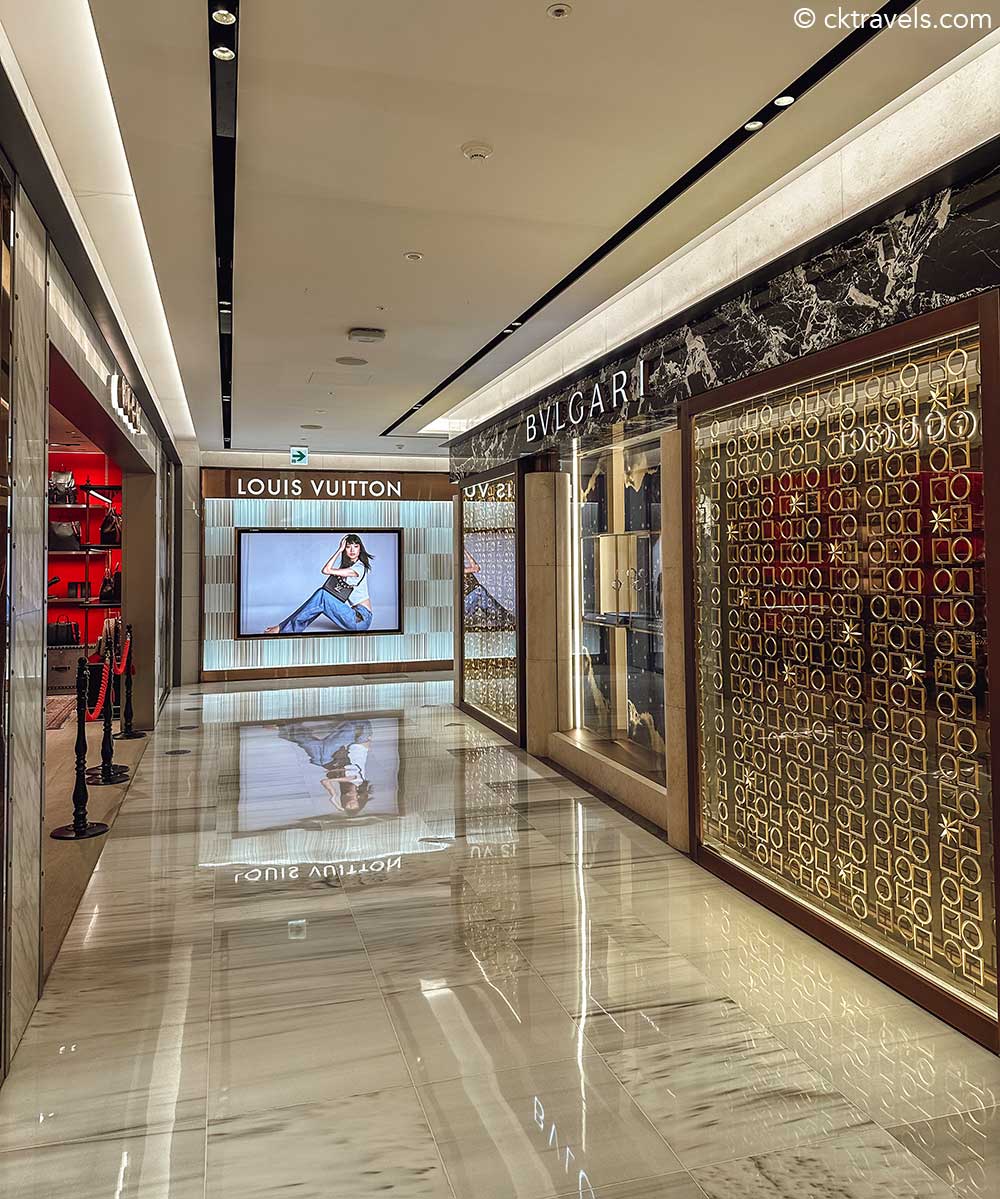 ---
YOU MIGHT LIKE: the best shopping malls and shopping centres in Seoul
---
12. Shinsegae Shopping Mall Myeongdong
Similar to Lotte, Shinsegae has several malls and shopping complexes located within Myeongdong (and puts on an incredible light show at Christmas).
Shinsegae as a brand was the first to introduce the notion of shopping malls in South Korea and is well regarded by locals. This is their flagship store (in Myeongdong) with other department stalls in Busan and at Incheon Seoul international airport.
Shinsegae operates a Shinsegae Duty Free complex on the 8th to 12th floors. If you aren't into shopping, there is a roof garden and cafe on the top floor of Shinsegae Myeongdong too.
---
YOU MIGHT LIKE: Foods and drinks to try at Gwangjang Market, Seoul
---
13. Korean Skincare and Beauty Stores
Myeongdong is the ultimate shopping destination if you are looking for some K-beauty and skincare products and the newest beauty trends.
There are several flagship shops to check out in the neighbourhood and popular places include Olive Young, Nature Republic, Holika Holika, Skin Food, Laneige, Innisfree and StyleNanda 3CE.
---
14. Myeongdong 'Chicken and Beer' Street
Myeongdong has a whole host of chicken and fried beer restaurants dotted in and around the neighbourhood.
However, for the best choice of beer and chicken within a short distance and all next door to each, head to the Myeongdong Fried Chicken and Beer street (found on Google maps at Myeongdong 7ga-gil).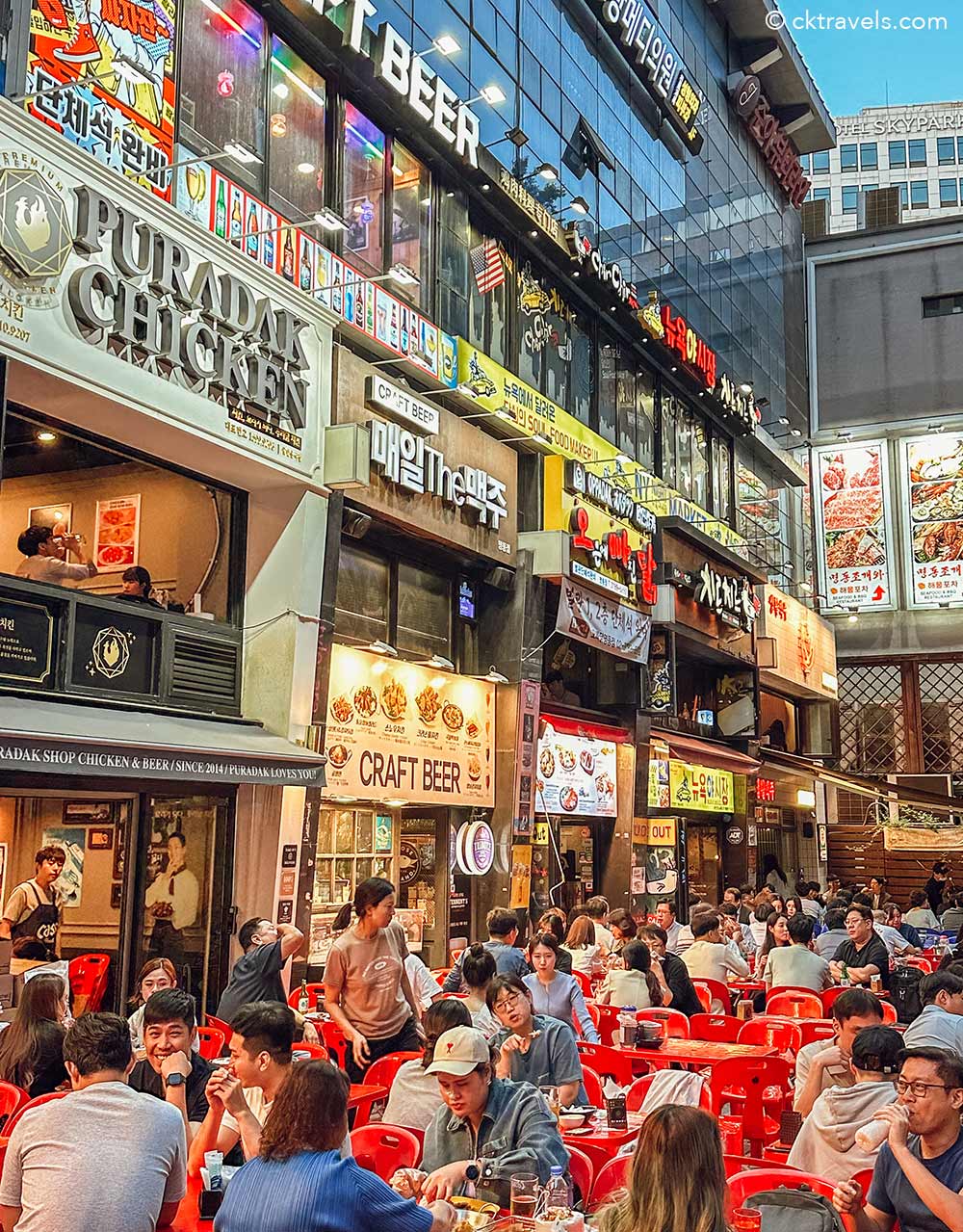 Here, you find a neon-lit street chock full (or should that be 'chick full'?) of the best and most authentic fried chicken and beet restaurants and pubs in Myeongdong. Most have a menu outside on display so you can see prices and what beer / chicken is on offer before going in.
Restaurants include BHC Chicken Myeongdong, Chir Chir Chicken, Daily Beer, Puradak Chicken and Fusion Chicken Factory – quite a lot of chicken and beer to choose from.
Chir Chir Chicken Myeongdong
On Myeongdong's beer and chicken street, we tried Chir Chir chicken, an American diner style chicken joint where you could get a huge plate of chicken (enough for two people) for around 20,000 Korean Won – various chicken flavours were available like honey and soy, garlic and spicy.
Whilst not a Seoul craft beer bar per se, Chir Chir Chicken Myeongdong had a few draft beers on tap and several cans.
The best value option was around 5,000 Korean Won for a medium Cass beer (1600ml jugs were available for around 15,000 Korean Won). Chir Chir was popular with big groups and the American / NYC style theming was quite good.
---
15. Myeongdong NANTA Theatre
Myeongdong NANTA Theatre is located on the third floor of the UNESCO building along Myeongdong Walking Street and is known for its comedy cooking shows which are performed several times a day, seven days a week
The renowned NANTA Theatre comedy and cookery show, which has been packing in audiences worldwide since 1997.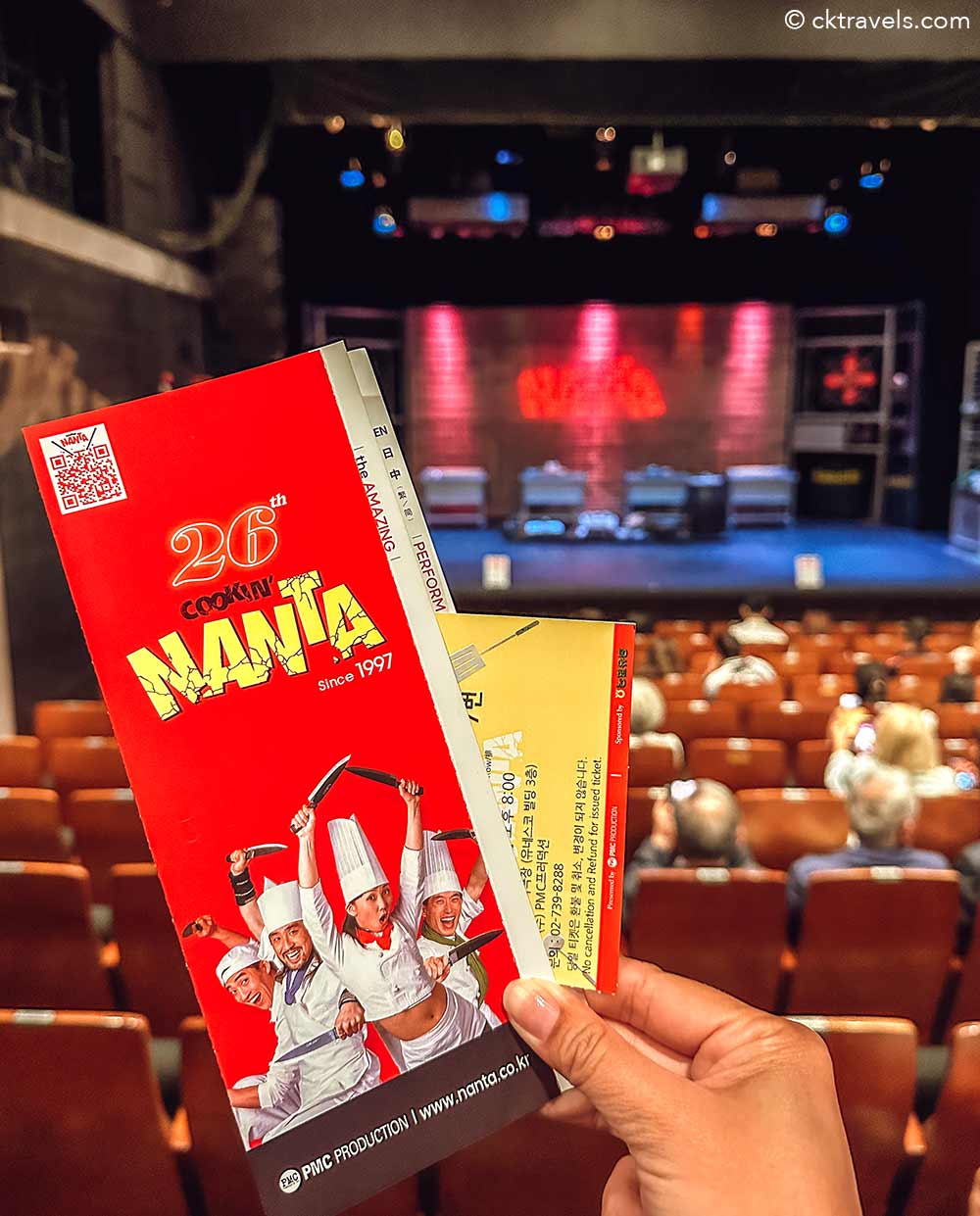 Possibly the best known Korean theater show, the NANTA cooking show has been performed over 50,000 times in over 60 countries.
This 90 minute high energy performance is the tale of 3 highly skilled chefs and a new rookie, fighting with a kitchen manager whilst trying to simultaneously prepare a sumptuous meal for a big wedding banquet; the whole experience unfurls in real time.
NANTA Theatre is a mix of slapstick and physical comedy – there is also very few spoken words used throughout so not understanding Korean (or English) won't be an issue. It is suitable for all ages too.
Knives, kitchen utensils and real food are used as props and turned into musical instruments by the performers. High octane and very enjoyable, you might also become part of the show!
We visited the Myeongdong NANTA Theatre using the Go City Seoul Pass. Read more about our experience using the pass here >
BOOK IT: Myeongdong Nanta Theater Show Ticket >
---
16. Myeongdong Underground Mall
Reminiscent of the underground shopping scene in Montreal, Canada, Myeongdong's subterranean shopping mall network is a much appreciated shopping center in Seoul on a rainy summer or cold winter's day.
This underground maze of shops (located around Myeongdong Metro station) are awash with sock shops, K-pop stores plus vinyl LP stores.
In fact, we think this (and possibly Namdaemun Market) has the sweetest selection of sock shops anywhere in Seoul (try saying that after a few craft beers).
The popularity of vinyl LPs in Seoul and South Korea has had a huge resurgence in recent years – there are lots of vinyl record stores plus vinyl LP cafes like the Music Complex Seoul in Insadong.
---
YOU MIGHT LIKE: Buying a Discover Seoul Pass – is it worth it?
---
17. Artmonster Myeongdong Craft Beer Pub
The craft beer scene in Seoul is legendary and it isn't just about fried chicken and beer – well, it kinda is but you can also pair that delicious fried chicken with some craft beer (not just Cass and Terra beer).
Artmonster in Myeongdong is a craft beer bar, situated above a jewellery shop. Artmonster is a Seoul based brewery known for its retro as, vintage styled craft beer bars and have several bars including another in Gangnam.
We liked our two trips to Artmonster Myeongdong – we had a tasting flight of 5 x 220ml beers from their core craft beer selection (around 19,000 Korean Won) so we could get a taste for their craft beers (very good especially the IPAs).
We also popped by a second time to try one of their pizzas which were a little average.
YOU MIGHT LIKE: best craft beer bars and breweries in Seoul
---
18. Buy socks in Myeongdong
Like, shed loads of socks! Literally every other stall in Myeongdong (ish) sells funky, quirky pop socks or cartoon character socks – and they are cheap too with cutesy colourful ankle socks starting from 1,500 Korean Won (less than a £1) a pop.
From Hello Kitty and Doraemon to slightly non legit branded socks like Starbucks or 7-Eleven, this is sock Heaven.
For the best choice and highest concentration of sock shops in Myeongdong, 'hot foot'* it either the Myeongdong Underground shopping mall or the stalls and shops along Myeongdong Walking Street.
*sock joke, you are welcome!
---
19. Noon Square Fashion Mall
Whilst not as big as the neighbouring Lotte and Shinsegae malls, Noon Square Mall situated along Myeongdong Walking Street is fashion focussed shopping centre with several big brand shops like Nike plus a fifth floor dedicated to fashion and garments from new and up and coming designers.
There is no food court as such at Noon Square in Myeongdong but there are several cafes and restaurants including a sushi conveyor belt restaurant and a BBQ restaurant on the lower levels.
Noon Square Fashion Mall is open daily from 11am to 10pm.
---
You might like – Things to do in Busan, South Korea >
---
20. Customize and create your own NIKE gear
Myeongdong Nike (located inside the Noon Square Mall) is one of the most popular stores in the area and attracts shoppers from all over Seoul.
It is one of a growing number of Nike stores in South Korea that allow you to customise and create your own Nike clothing, unique to you and personal tastes.
Once in store at Myeongdong Nike, pick your own Nike transfers and graphics from thousands on display and create your very own Nike range!
To customise your own Nike merch, you are best to head to Myeongdong in the morning and grab a 'Nike Make Your Own' ticket as they usually run out by lunch time.
---
YOU MIGHT LIKE: Things To Do In Hongdae, Seoul
---
21. HBAF Stores
We were H-Baffled at first by the sheer number of these stores in and around Myeongdong Walking Street. We lost count after five and even a new one was shopfitted from scratch and opened in the two weeks we spent in and around Myeongdong – some HBAF stores in this area were also like only four shops apart.
HBAF is a food / snacking company that sells all manner of nuts, snacks and coated goodies like honey butter almonds, wasabi almonds, mini caramel salted pretzels – apparently it is mainly tourists in Myeongdong that buy them to take back home.
The HBAF stores are brightly lit with huge nut like cartoon character malls and rammed to the rafters with colourful food packaging and sachets. The HBAF products are also stocked in many big stores like Olive Young and Korean Mart.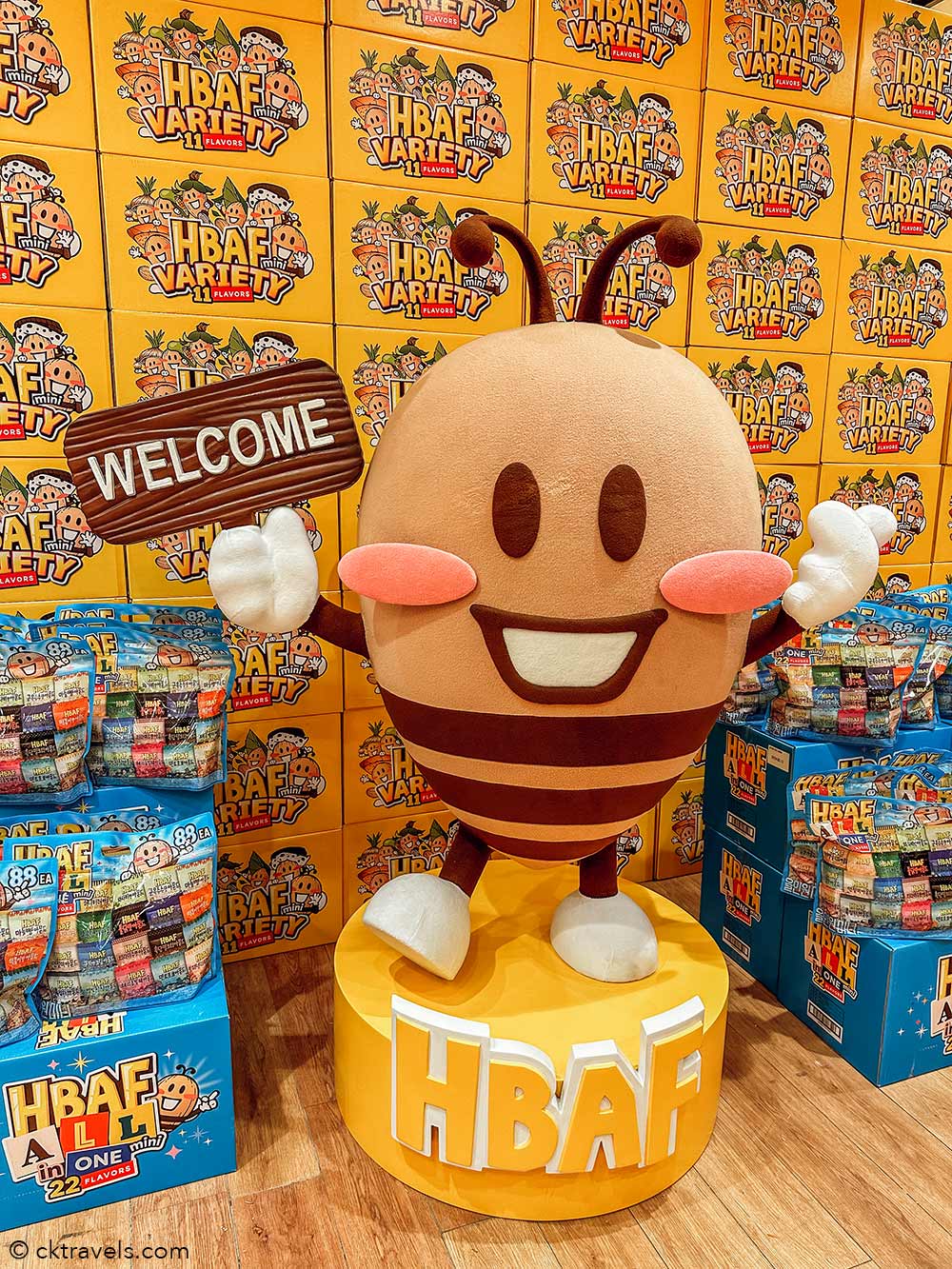 On our first HBAF visit, we bought the chick peas covered in a garlic bread butter coating and they weren't really to our liking.
But since then we've discover the flavoured HBAF almonds and they are AMAZING! Our favourites included HBAF tiramisu almonds, cookies and cream almonds plus mint chocolate chip almonds.
Most HBAF stores in Myeongdong have samples to taste so make sure you try before you buy. This was how we discovered that the coated almonds tasted so moorish, we bought five different packets there and then – a top (and tasty) Seoul souvenir too.
---
22. Korean Shaved Ice Cream Shops (Bingsu)
Myeongdong has a lot of foodie things going on, particularly when the Myeongdong Night Market starts to set up late afternoon.
Earlier in the day, the best way to cool down is to grab some Korean shaved ice cream (known locally as 'Bingsu' or 'Bingsoo').
This is a sweet milk-based ice dessert with a variety of sweet toppings to choose such as coconut, condensed milk, red beans or sugar syrup
There are several bingsu stalls and shops in Myeongdong that sell this delicious dessert.
One of the most popular spots is the "Myeongdong Bingsu' stall with the bright red hoarding. Its name is in Korean but the their strapline is in English so it easy to spot – 'Korean Snow Flake Ice Cream'. Bingsu costs around 5,000 Won.
---
23. Seoul Animation Centre
Seoul Animation Centre is easy to spot as the front entrance is adorned with a huge army of cartoon character statues (a very good and fun photo opp).
Seoul Animation Center is a huge cultural complex launched in 1999 by the local Government to help promote the South Korean animation industry.
It has a cartoon library, cinema and hosts temporary exhibitions as well as housing a permanent Ani Land / Town cartoon park for children, and is located across from Myeongdong Station.
Whilst visiting Seoul Animation Centre, also check out Cartoon Street (Zaemiro).
---
24. Namdaemun Market
Located just a few hundred metres from the main Myeongdong action, Namdaemun Market is a sprawling shopping area frequented by locals and tourists alike in search of bargains.
There are thousands of market stalls and shops in Namdaemun Market, spread across several blocks so navigating it can seem quite tricky when you first arrive.
Handily, Namdaemun Market is handily broken down into several sections where the same types of shops and products are grouped together.
Key shopping sections that are signposted at Namdaemun Market near Myeongdong include:
Bedding Street
Hardware Street
Children's Wear Street
Fashion Street
Camera Street
Grocery Street and
Watch Street
---
25. Kalguksu Alley
Also located in Namdaemun Market, Kalguksu alley is an alleyway hot-bed (emphasis on the 'hot') of inexpensive noodle and dumpling stalls.
In fact, when we first tried to visit Kalguksu Alley, we realised we'd walked past the entrance several times without spotting it (Naver maps comes in very handy here). Failing that, just look for a unassuming wooden door with many people streaming in and out, plus steam bellowing out.
Inside, you find an alley with two parallel lines of small food and drink stores, each with several chairs around them – think Gwangjang Market but in a much more compact space.
When the food stalls at Kalguksu Alley are full, it can be be very hard to walk down the central walk way – we also visited on a 28c degree summer day and it was incredibly hot in there.
The food stalls at Kalguksu Alley all looked incredible with noodles, dumpling and bibimbap the most popular Korean street food dishes to try – you can eat really well here for around 6,000 to 8,000 Korean Won a dish.
---
26. Famous Asian Chain Restaurants
Although Korea food is some of the best cuisine in the world (fact), if you fancy a different type of food or cuisine one night, you might be pleased to know that a couple of renowned Asian food chains have opened up in Myeongdong recently.
Originally hailing from Hong Kong, head to Tim Ho Wan's Myeongong for a cheap and delicious dim sum meal.
You MUST order the baked BBQ pork buns from Tim Ho Wan – they are incredible and we still dream about them to this day.
Another popular chain restaurant is Din Tai Fung. Now one of the most famous dumpling restaurant chains in the world with outposts as far afield as Australia and the UK. It all started back in 1958 in Taiwan.
Best known for its xiao long bao soup dumplings, Din Tai Fung is affordable and generally very good (we've been to several branches in and around Taiwan and always had first class fodder).
---
27. 12 Storey Daiso in Myeongdong
Most people have been to a branch of the famous Japanese discount store Daiso before but did you know a 12 storey Daiso recently reopened in Myeongdong in early 2023 after a major renovation?
Said to be either the tallest Daiso in South Korea, the 12 storey Myeongdong Daiso takes over an entire building with a different theme / range on each floor.
The one downside is that it takes forever to reach the top floor in the elevator if you don't want to use the stairs. It took us 15 minutes of queuing to use the lift (which is always packed and seemingly stops at every floor). However, this is a small price to pay for having a rather cool 12 storey Daiso store!
Each of the 12 Daiso stories is themed e.g. one floor is food and drink, one travel and sports etc. We also saw some of the most random things you can buy there. We even saw heavily discounted BTS dolls on the first floor of Daiso for 5,000 Won each; a BTS bargain!
Make sure you bring an empty suitcase to take home your Daiso bounty – skin care products are also really cheap here.
---
28. Supy Myeongdong
S'up Seoul! Supy is a super cool South Korean concept and fashion store with branches in Myeongdong, Hongdae and Seongsu.
Launched in 2015, each of Supy's three stores has its own unique identities and the great thing is they aren't just your standard clothes shops.
Each store is almost like an art museum with clothes, chock full of hip items, sports gear and unique sculptures – even their entrance ways are generally quite hidden away.
See those windowless bright red wooden doors in the centre of Myeongdong's main shopping street – that'll be the secret entrance to Supy.
Once inside, as well as fashion to browse and air conditioning to enjoy, there is also a stylish Supy Cafe on the upper levels that has a tucked away outdoor terrace looking out over Myeongdong.
---
29. Bank of Korea Money Museum
A quick mention about the Bank of Korea Money Museum, as it is one of the free things to do in Myeongdong, open Tuesdays to Sundays (although a reservation is required for weekend visits).
Built in the early 1900s and a very grand building, The Money Museum at the Bank of Korea was classified as one South Korea's National Historic Sites in 1981.
Learn about the history of the Korean currency and get hands on with money related exhibits. Free tours of the Bank of Korea Money Museum are available – 11am and 3pm daily for tours in Korean (English tours are held every Tuesday, Thursday, Saturday and Sunday).
---
30. Myeongdong Walking Street Police Station
Seoul (and South Korea generally) is known for its cute cartoon characters in all walks of life, from on the Metro to mobile phone company markets.
So why should the Seoul police force be any different? The Myeongdong Walking Street police station has two policeman and policewomen characters outside.
Not so much a Myeongdong thing to do (as you won't be able to enter the station unless you've been up to no good – probably).
---
31. Myeongdong Christmas Markets and lights
We were lucky enough to spend a Christmas in Seoul so basing ourselves in Myeongdong, we got to see all the Myeongdong Christmas Markets and lights dotted around the area.
We'd recommend Myeongdong at Christmas as it has a lot of Christmas lights and displays in close proximity.
At one end of Myeongdong Walking Street, you have Myeongdong Cathedral (Catholic) all brightly lit up with white lights and a nativity scene (the only Christmas nativity scene we saw in Seoul).
At the other end of Myeongdong Walking Street, you have the bright lights and festive window displays of the Lotte mall and Shinsegae malls respectively.
At Christmas, Myeongdong Walking Street also has a huge tree outside Myeongdong Theatre plus a trail of lights in the trees and above some of the streets in the Myeongdong Walking Street area.
Myeongdong is a firm fixture on the Christmas light night bus tours that many Seoul hop-on hop-off bus tours operate.
Read our dedicated Seoul Christmas lights, Seoul Christmas markets and Seoul Christmas events blog here >
---
32. Try traditional Korean Taffy-Ta-Ra / Dragon's Breath Candy
Myeongdong Night Market has lots of tasty street food stalls but a couple of stalls in particular are famous for their 'dragon's breath candy' and fun storytelling tales (very popular with children).
Traditionally known as Korean Taffy Ta Ra or Korean court cake Ta Ra, it is made of ripened honey and malt (which was once presented to the King and the Korean Royal Family hence the name 'court cake').
Taffy-Ta-Ra comprises thousands of cold fluffy strands (it looks like candy floss) although not too sweet and less sticky to your teeths and gums– many Koreans also enjoy it with tea, given it is so cold and often frozen.
---
Other attractions near to Myeongdong
N Seoul Tower and Namsan Park
For the best views of downtown Seoul from Namsan Mountain, head up to the top of N Seoul Tower. The views of the city and the surrounding park are stunning plus there are two levels to explore, one with a rather nice cafe looking out over the green hills and the River Han.
Almost 800 metres high, the N Seoul Tower in Namsan Park is open until 10pm most days so you can even enjoy sunset or night time views. Love locks also adorn all the fences in and around the immediate area – quite the romantic place!
Namsan Park also hosts free cultural shows several times a day. Our visit to Namsan Park coincided with the 3pm cultural show where we saw traditional musicians and martial arts – there was lots of audience participation too!
The N Seoul Tower usually costs 16,000 Korean Won per adult or is included as part of the Discover Seoul Pass. Read more about our experiences with the Discover Seoul Pass here >
---
Insadong
Seoul in South Korea is a joyous mix of the old and new, and no more so than Insadong, one of Seoul's most popular neighbourhoods and shopping streets with a historic heart.
From traditional tea-houses hidden down back alleys and ancient pagodas to modern shopping centres and even retro vinyl LP bars, Insadong has got it going on.
Read our full guide to the top things to do in Insadong, Seoul in 2023 >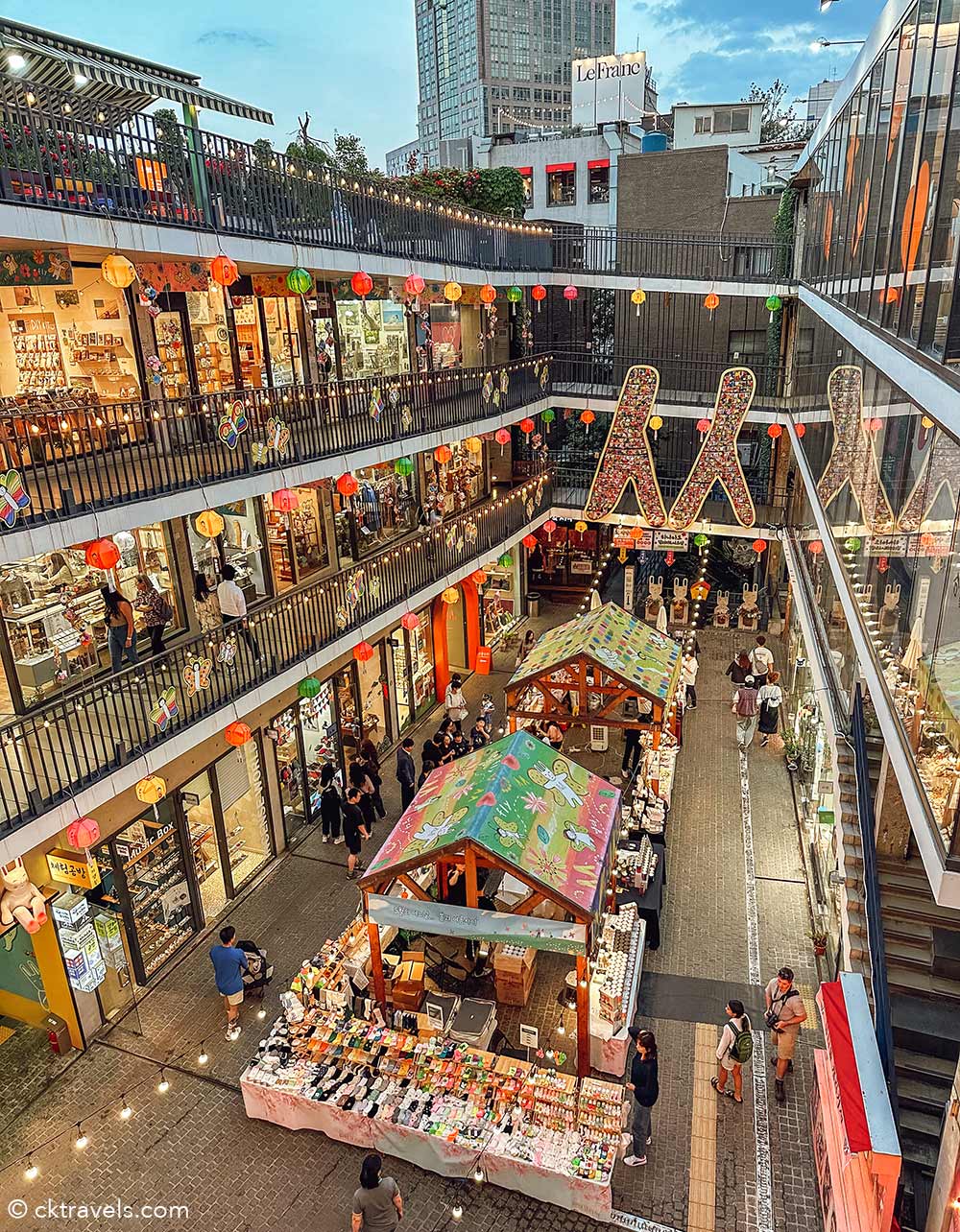 ---
Ikseon-dong Hanok Village
A nice neighbourhood near Myeongdong, Ikseon Dong Hanok Village is a cute and quirky area packed full of alleyways and lots of prime photo spots.
Built around 100 years ago in the 1920s, Ikseondong has awesome street, cafes and coffee shops plus some of the best restaurants in the area. Keep an eye out for Cheongsudang Cafe, a Hanok style cute café with a charming garden and traditional decor.
Read more in our Ikseon-dong Hanok Village guide >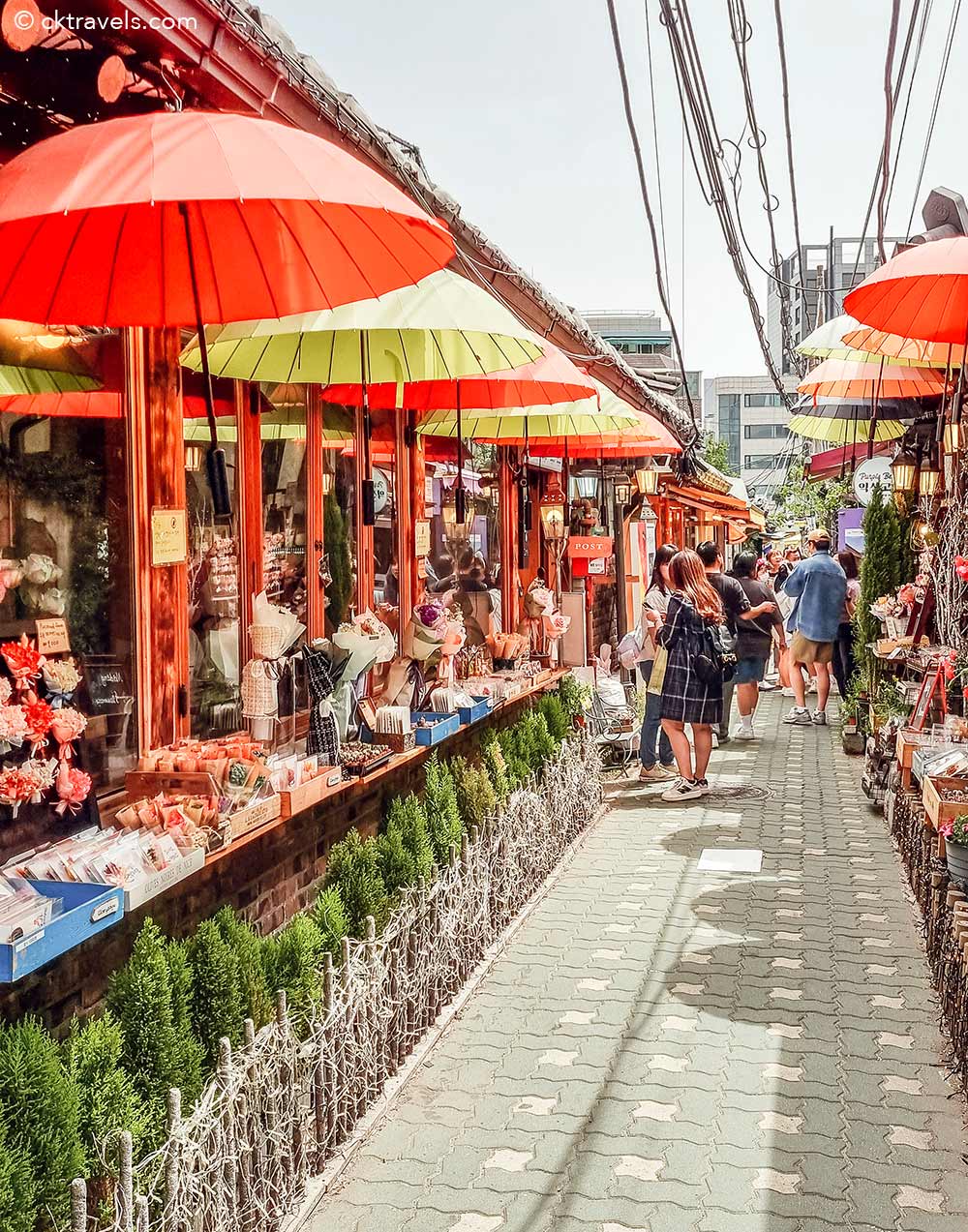 ---
Euljiro
Just a few minutes walk from Myeongdong, Euljiro is one of hippest neighbourhoods in Seoul, packed full of dive bars, speakeasy style sipping joints and incredible foodie adventures.
You can easily spend a day around the Euljiro neighbourhood as there is a great food and drink scene among Euljiro's alleyways including a dedicated 'pub street' (this former industrial neighbourhood is now quite hipster).
Read about some of Euljiro's craft beer bars in our guide to Seoul's best brewery bars (including a 'secret' bar hidden behind a fridge door…) and read our guide to all the best things to do in Euljiro >
---
Namsangol Hanok Village
A free to visit village of traditional houses in the shadow of Namsan Mountain and N.Seoul Tower, Namsangol Hanok Village is one of Seoul's hidden gems and a superb way to get a sense of what life used to be like in Seoul, prior to the tower block boom.
Open daily (except Mondays), the Namsangol Hanok Village was officially opened in the late 1990s and has several restored hanok houses, a tranquil traditional garden, performance stages and an ornate pavilion.
There is also a 'Time Capsule Plaza' nearby where a treasure trove of items has been buried for future generations to discover. Although to us, the latter feels quite jarring and 'Brutalist' when located so close to the historical and pretty Namsangol Hanok Village.
---
Other South Korea posts you might like
Did you enjoy our things to do in Myeongdong, Seoul guide blog post? Let us know in the comments or by sharing it on social media.
You can follow CK Travels on: 
Instagram
Facebook
TikTok 
YouTube
Pinterest