This post may contain affiliate links to tours and hotels. These help us earn a small commission at no additional charge to you.
A historic and happening neighbourhood packed full of cute cafes, craft beer bars and tea-houses, Ikseon-dong Hanok Village is a must-visit when 'Seoul searching'. From rooftop terraces to beautiful bakeries, there are so many things to do in Ikseon-dong Hanok Village (and eat!).
Seoul is a marvellous mix of the old and new and none more so than Ikseon-dong Hanok Village – a cute and charming combo of old buildings and tiled low rooftops (watch your head!) that has reinvented itself with the coolest bars and best new restaurants.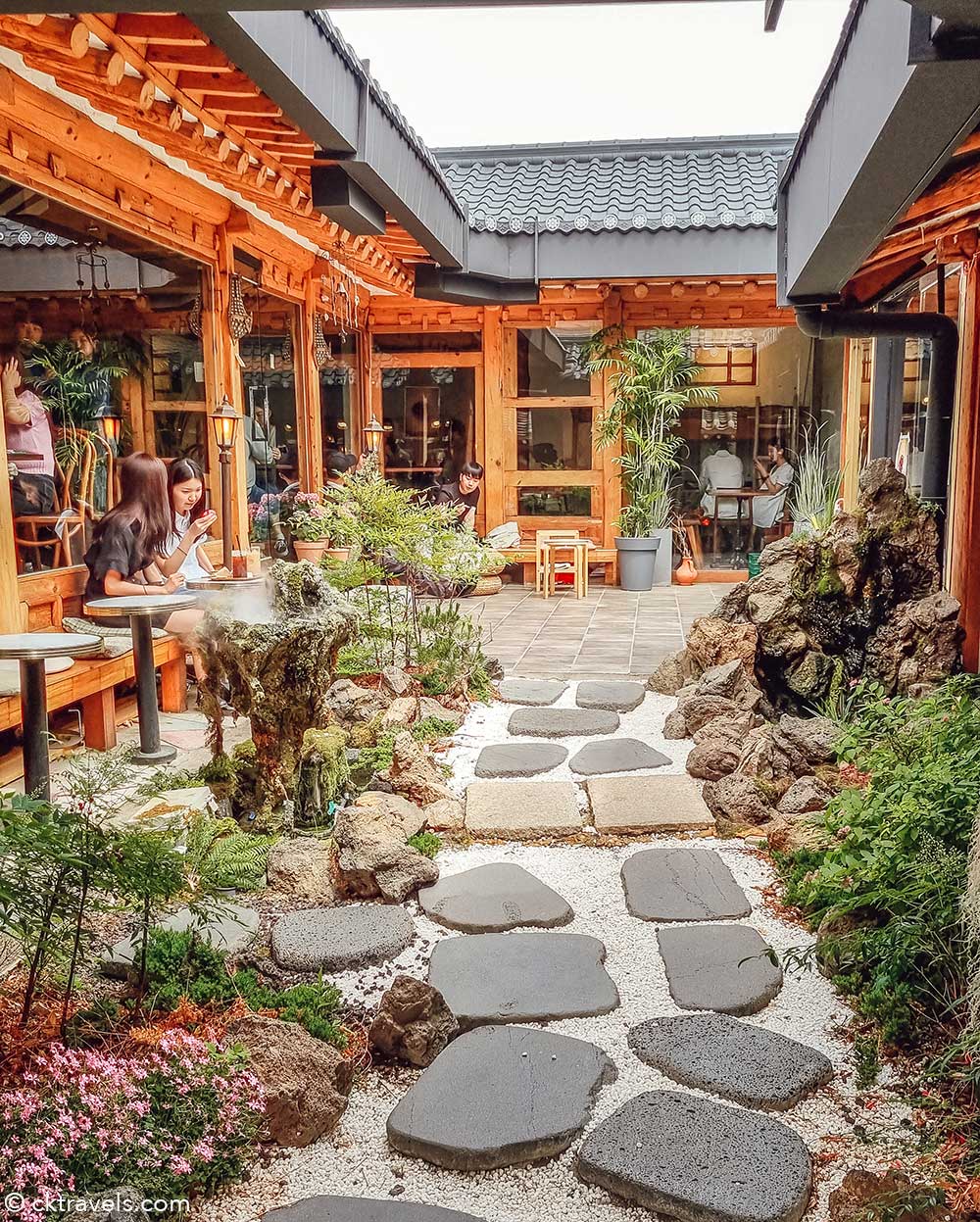 From stress relieving shooting ranges to selfies shops, Royal palaces to retro gaming arcades (and the most Instagrammable ice-cream and doughnuts you'll ever see in Seoul), there are so many things to do in Ikseon-dong Hanok Village and around its historic streets.
Here is our guide to the top things to do in Ikseon-dong Hanok Village , Seoul (2023):
Make a day of it – Ikseon-dong is also easy to combine with nearby Insadong >
How to get to Ikseon-dong Hanok Village
Located close to Insadong and also walkable from Myeongdong, the best way to get to Ikseon-dong Hanok Village and the Ikseon-dong area is by the Seoul subway system / Metro network.
To get to Ikseondong, take Seoul Subway lines 1, 3 or 5 and alight from Jongno 3-ga Subway Station.
You can also reach Ikseon-dong Hanok Village by taxi or public bus.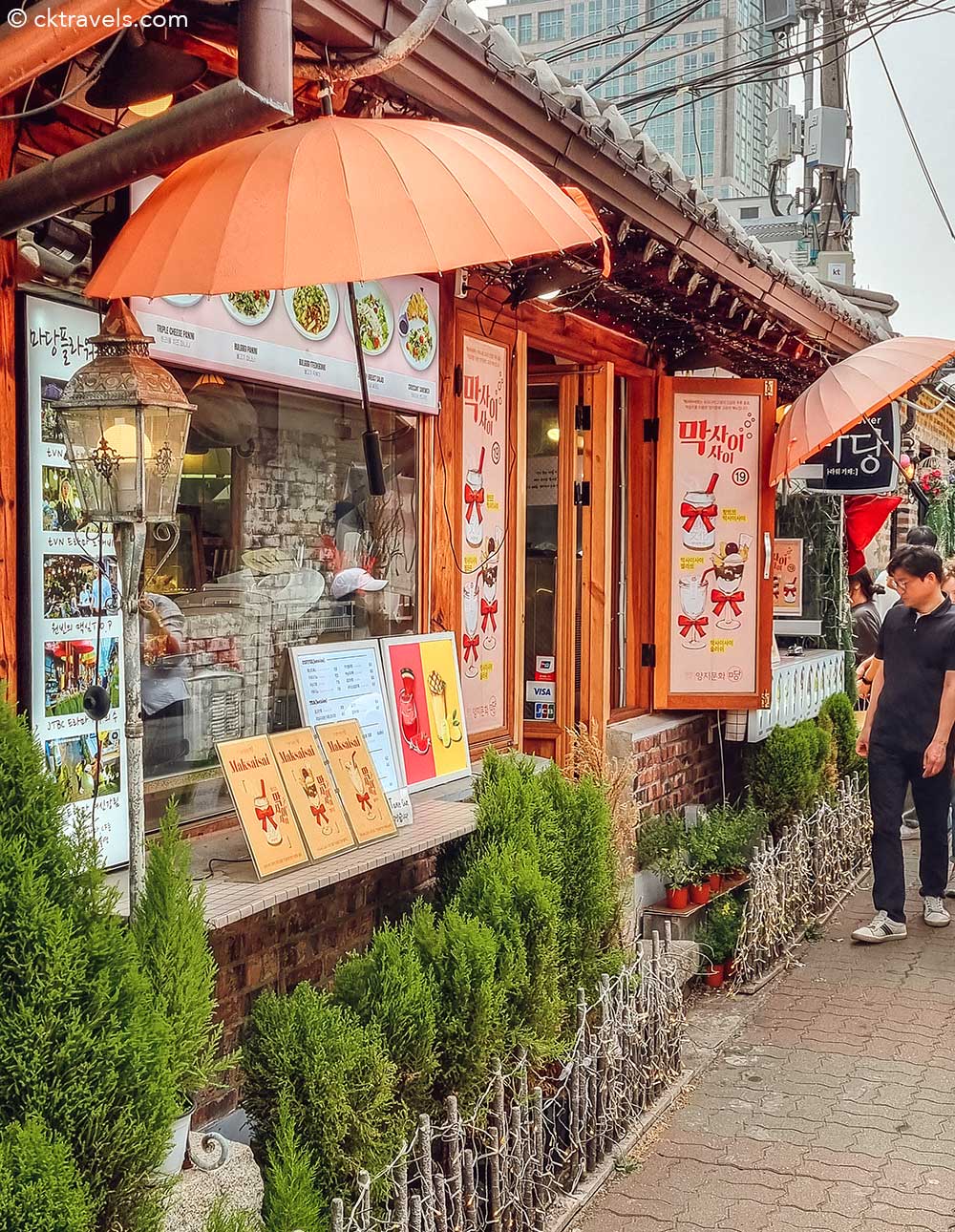 ---
Our first thing to do in Ikseon-dong
1. Donut Jungsu Ikseon
A decadent and delicious donut place that makes full use of its homely hanok setting, Donut Jungsu Ikseon was one of our favourite cafes to visit in Ikseon Dong Hanok Village.
The choice of makgeolli donut here is incredible from choco banana donuts to udo peanut butter donuts and of course matcha tea donuts – we opted to try the Nonsan Strawberry donut (4,300 Won as at June 2023) with an iced coffee.
Given how colourful several of the makgeolli donut types are here, Donut Jungsu must be one of the most Instagrammed places in Seoul – this is one cute cafe (they have several branches in Seoul).
We sat in the wooden panelled ground floor cafe section of Donut Jungsu Ikseon as not only could you see the fresh donuts being brought out, but there were also nice views of the garden and nearby pedestrianised streets.
Donut Jungsu Ikseon has seating over several levels plus one of the best rooftop views in Ikseon-dong. Highly recommended.
---
2. Ikseon Goro Purpleberry ice-cream
Surely one of the n-ice-est things to do in Ikseon-dong Hanok Village?
This famous Ikseon-dong ice-cream shop may give you a sense of deja-vu when you first arrive as it is likely one of the most popular Instagram spots in Seoul – seriously, half the people visiting Ikseon Goro let their ice-creams melt as they take numerous pics (we were guilty too).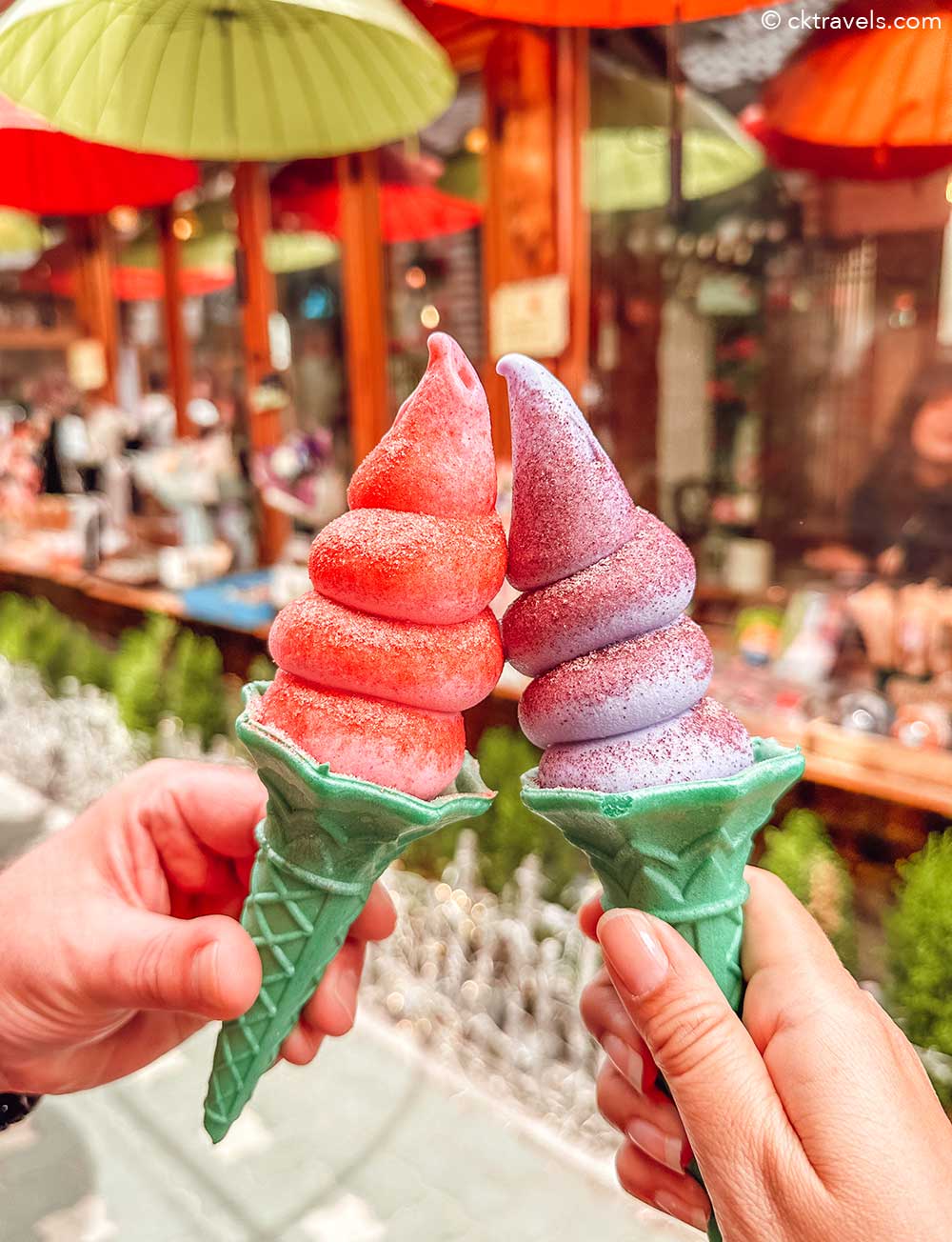 For once, the hype is justified as not only do the Ikseon Goro ice-creams look the part (complete with green cones), they also taste incredible and are really cheap compared to many of the other dessert offerings in Ikseon-dong – soft whip ice-creams are only 2,500 Won (as at 2023).
We tried a blueberry / purpleberry ice-cream and a pink berry / strawberry ice-cream. Both Ikseon Goro ice-cream tasted amazing (although the purpleberry just pipped it for us).
---
YOU MIGHT LIKE: Things To Do In Hongdae, Seoul
---
Craft beer bars in Ikseon-dong
Love visiting craft beer bars in Seoul? Ikseon-dong has you covered for craft beer, with several Seoul brewery bars.
Our favourite craft beer bars in Ikseon-dong include:
3. Brew 3.15 (and 3.14)
Popular for its pizza (and craft beer, naturally), Brew 3.15 is a small but perfectly formed Seoul brewery bar (located just down around the road from its neighbouring bar, Brew 3.14).
On our visit to Brew 3.15, there were 10 different craft beers on tap including Jirisan Moon Bear IPA, Magpie Brewery Pale Ale and a Budnami Double IPA – so plenty to keep you drinking there for a good few hours.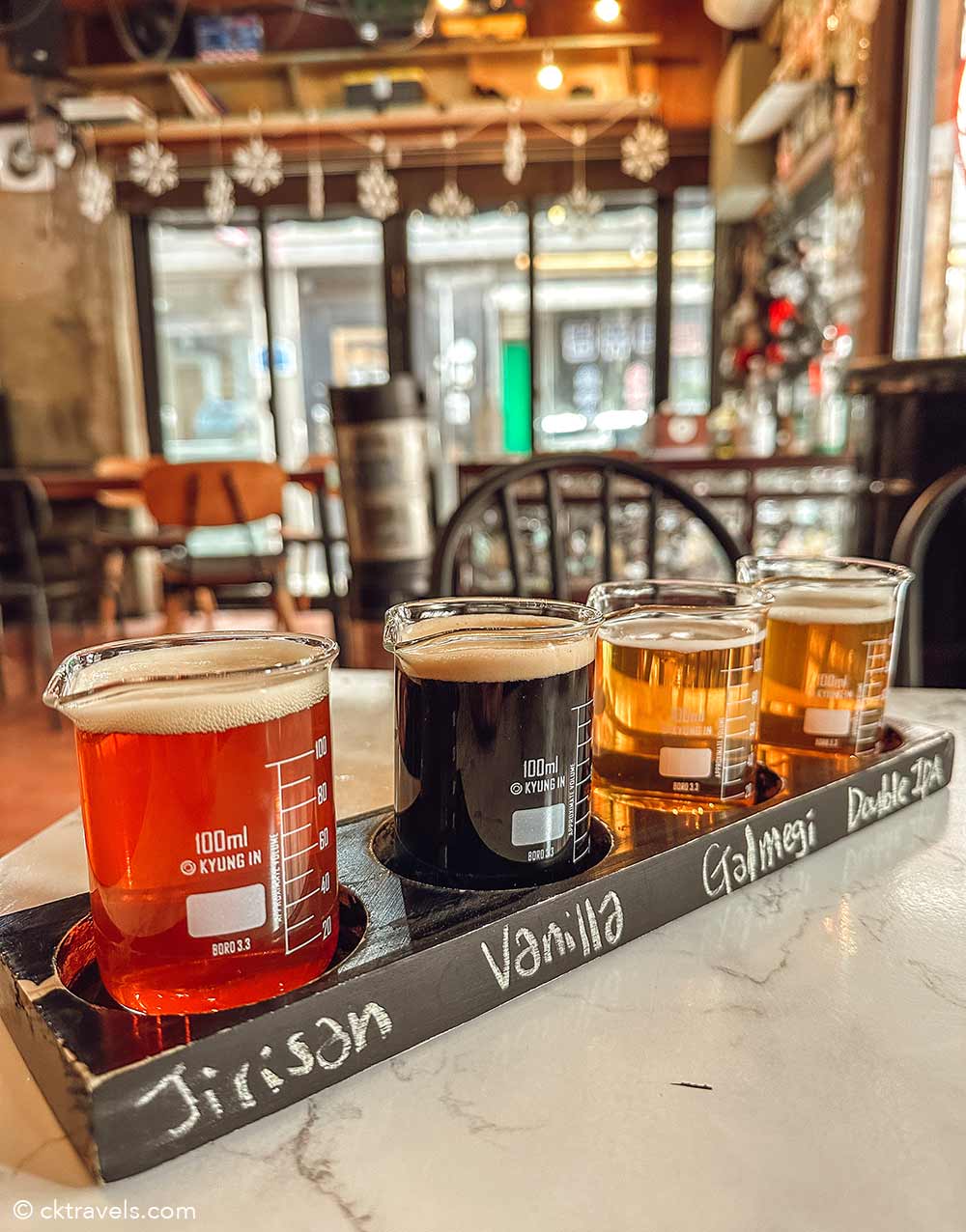 We opted to try a tasting paddle of 4 different craft beers at Brew 3.15 – as well as getting to try a wide selection of craft beers (some very strong too!), it also looks quite cool served in miniature Pyrex style measuring jugs.
Read more about Brew 3.15 here >
4. Artmonster Ikseon-dong
Hot on the heels of Artmonster Gangnam (one of the best looking craft beer bars in Seoul), Artmonster Ikseon-dong feels quite a different set-up compared to the other Artmonster bars, given its setting in a historic hanok.
Unlike the other Artmonster bars, there are no self pour craft beer taps or tablet ordering here this is a back-to-basics Artmonster where you order at the bar and relax with your craft beer of choice.
Given its location, this is a peaceful pub with window views of the people walking through the quiet Ikseon Dong neighbourhood streets. There are a few nods to the normal Artmonster motifs like a scattering of neon signs and cool posters but this feels quite different from their other bars.
Read more on Artmonster Ikseon-dong here >
5. Craft Roo(t)
Located in the heart of historical and hipster Ikseon-dong, Craft Roo(t) is one of the most interesting bars in Seoul. With around 10 beers on tap at any one time, Craft Root's core line includes Sokcho IPA, a Daepo Port Stout, Abai Weizen and Gaetbae Pilsner.
Small and elegant, Craft Roo in Ikseon dong has a couple of tables inside right next to the bar plus a covered outdoor terrace.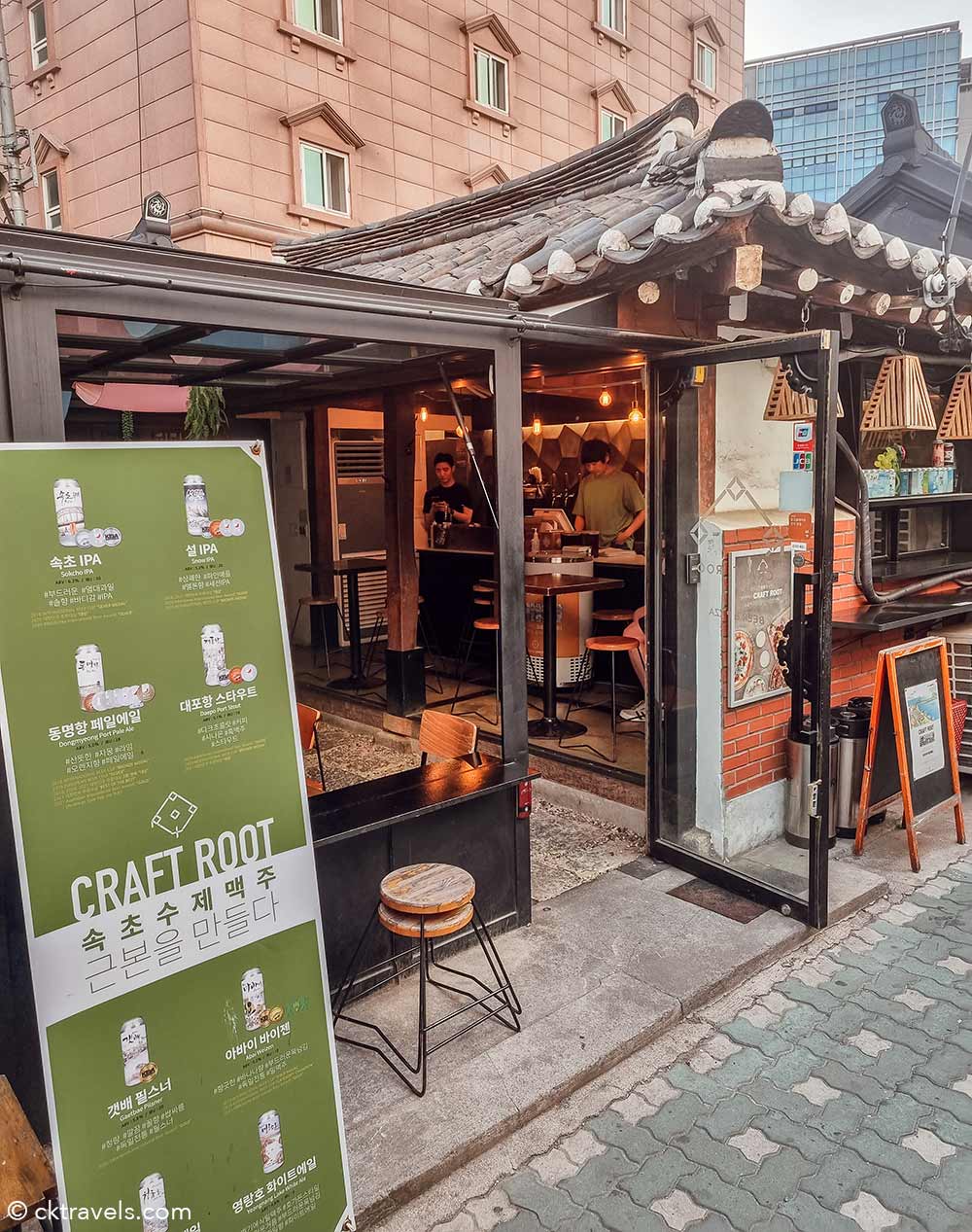 Please note that as at 2023, both Aledang Ikseon and Caligari Brewing Ikseondong are both closed down (but still listed on Google) – Caligari brewing Ikseondong taproom closed in 2022 and has now become Artmonster Ikseon-dong mentioned above.
---
6. Unhyeongung Palace
Dating back to the 1860s, Unhyeongung Palace is a short walk from the main Insa-dong Cultural street and free to visit. It is a peaceful spot to explore with a huge courtyard in the centre – it often hosts artwork exhibitions and temporary exhibitions.
Unhyeoongung Palace was the former house of Yi Ha-eung and his family – it was then expanded to become the residence of King Gojong. This former Korean Royal residence went through a period of neglect and so the residence was taken over by the Japanese administration in 1912.
Since the 1990s, Unhyeongung Palace has had significant restoration work to try and return it to its former glory – it is now a designated 'Historic Site' of Seoul and traditional Korean music performances are regularly held here.
---
You might like – Things to do in Busan, South Korea >
---
7. Insadong
Seoul in South Korea is a joyous mix of the old and new, and no more so than Insadong, just a short walk from Ikseon-dong and one of Seoul's most popular neighbourhoods and shopping streets with a historic heart.
From traditional tea-houses hidden down back alleys and ancient pagodas to modern shopping centres and even retro vinyl LP bars, Insa-dong has got it going on.
Read our full guide to the top things to do in Insadong, Seoul (2023) >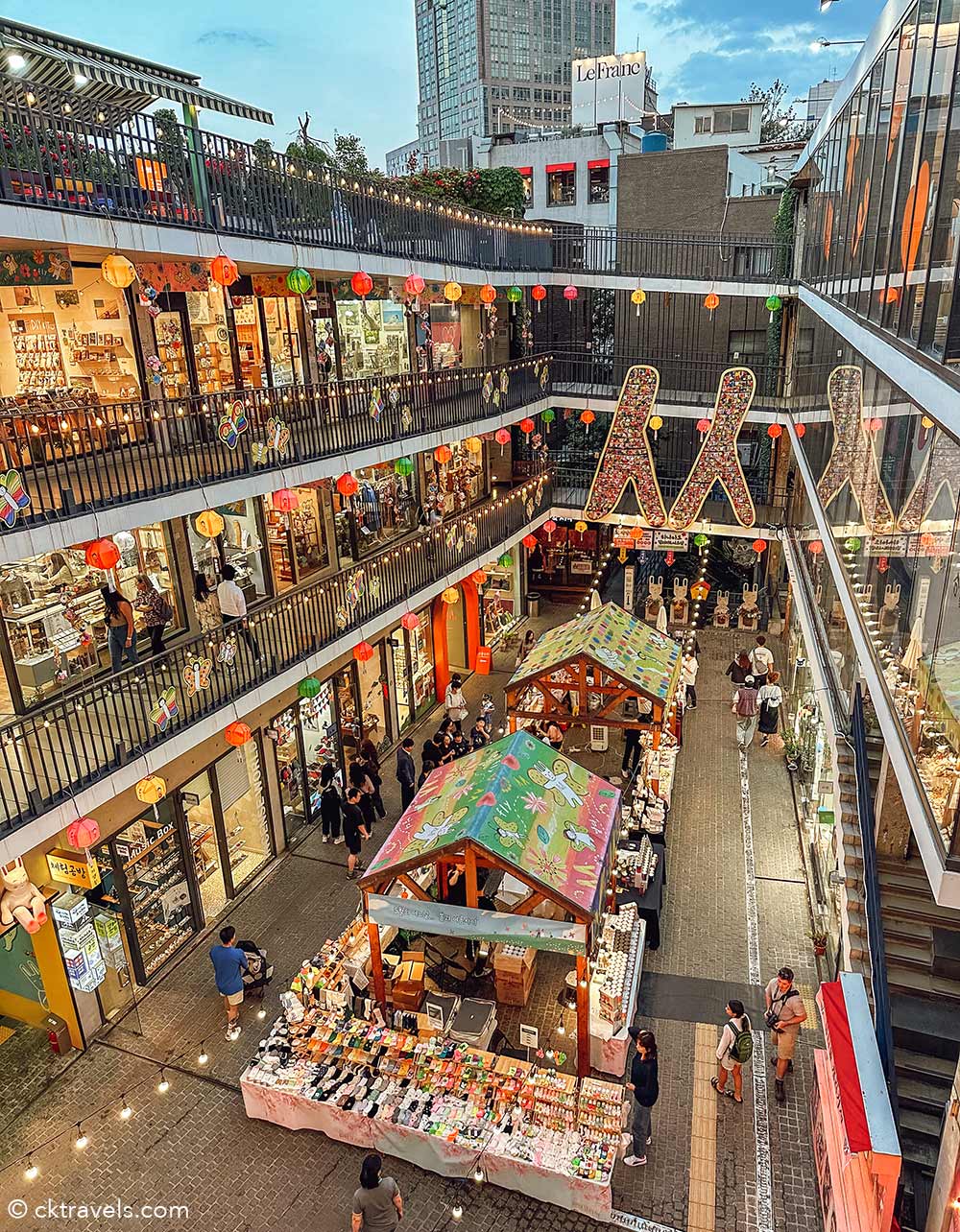 ---
8. Cheong Su Dang dessert cafe
See the massive queue that runs halfway around Ikseon-dong Hanok Village – that'll likely be the entrance to Cheong su Dang Dessert cafe, one of the most popular hanok style cafes in Ikseon-dong (and in Seoul).
Entering via a lush garden stepping stone walk-way surrounded by lanterns, walk into a world of cool, dark interiors and relaxing water features (plus top notch air-con). You can choose to sit in the outdoor garden / pond area or in the inner sanctum which also has lots of plants and greenery
Cheong Su Dang dessert cafe is a place for decadent desserts and coffee or matcha tea. The most famous dessert at Cheong Su Dangis their wonderful and wobbly souffle castella cakes.
One minor annoyance when visiting Cheong Su Dang dessert cafe is that the entrance to the cafe is so beautiful, it has become the go-to place in Ikseon to do Instagram poses and Insta Stories – so you may need to push past the flowing dresses and phone tripods to lay claim to your castella cake.
---
9. Get a cute cartoon caricature in Ikseon-dong
A nice family thing to do in Ikseon-dong, the village area is home to a couple of quirky cartoon caricature studios, where street cartoonists have set up a studio to draw family portraits or individual illustrations.
Caricature prices vary in Ikseon-dong Hanok Village but at 'Beautiful Caricature' in Ikseon-dong, you can get a quick 10 minute illustration completed for as little as 6,000 Won (price correct as of May 2023).
The illustration prices in Ikseon-dong seemed to be a little cheaper than those we'd see at the nearby Ssamziegil complex in Insadong.
---
10. Rami Scone
A small chain of Seoul bakeries and cafes that grew from a thriving online bakery, Rami Scone has a brilliant bakery and cafe in Ikseon-dong that is a 100% whole-grain – their window display full of freshly baked bread, scones and other treats does an incredible job of enticing you in.
Rami Scone Ikseon-dong also has huge bay windows meaning it is the perfect place to people-watch as you chow down on wholegrain goodness with an iced coffee or sweet tea.
Rami Scone is also a very good place if you have any dietary requirements (which can sometimes be a problem in other Seoul cafes) – they have various gluten-free and vegan cakes, cookies and scones and their mission statement is 'No Sambaek' ie no white flour or refined sugar).
Note they also request that you purchase a drink with any bakery product you buy if you want to eat in.
---
YOU MIGHT LIKE: top things to do in Myeongdong, Seoul
---
11. Cheese Industry Ikseon
A very 'gouda' thing to do in Ikseon-dong (sorry not sorry…)
Cheesy does it – we love a good cheese shop (and cheese pun TBH) and there is NOTHING finer in life than a cheese board (well, it depends on our mood).
Cheese Industry is a cute and charming Ikseon-dong cafe that's mission in life is to make and serve the best cheese in Seoul (and we ain't talking those rubbish cheese slices that you get in the likes of Isaac Toast!).
Cheese Industry even has its own daily cheese timetable which tells you which cheese is being made that day at what time – so on the day we visited Ikseon-dong Hanok Village, the craft cheese being made at Cheese Industry was early morning Emmental at 10am, burrata at 10.30am and 3pm and, Gouda at 12.30 – now that is our kinda timetable!
As the produce at Cheese Industry Seoul is so brie-illant (doh), expect to queue for a table during the busier peak periods, particularly at the weekends. Cheese Industry is also renowned for its cheesy drinks like Chai Cheese Tea and cheese latte – raise a glass and say 'cheese'…sorry… 'cheers'!
Like this? – check out the sushi style cheese conveyor belt (yes really) in Covent Garden, London >
---
12. Com Com Play, Ikseon retro gaming arcade
As you approach Com Com play, the title above the doorway states this is a 'World Best Korean Style Game Centre' so you know you are in for a treat (the huge glitter ball when you first enter also helps set the scene!)
Fitting right in with the hipster Ikseon-dong bars and hanok hang-outs, Com Com Play Ikseon has two floors of modern and gaming machines dating from the 1980s to present day.
The first game we spotted when we first entered Com Com Play was a super cool Go Fish / Go Fishing arcade table, which a cute couple were really getting into.
Other arcade machines in Ikseon Com Com Play include Speed Hockey (Air Hockey), baseball hoops and multiple Konami Bishi-bashi booths.
Seoul's Com Com Play retro game arcade in Ikseon-dong (located in the heart of the Ikseon Hanok Village) is free admission, with games charged individually. There is a change machine when you first enter.
---
YOU MIGHT LIKE: Visiting the Netflix knife-cut noodle lady at Gwangjang Market in Seoul
---
13. El Carnitas Mexican Restaurant
After a busy afternoon of exploring Ikseon-Dong, we discovered El Carnitas Mexican restaurant quite by chance – rated as one of the best Mexican restaurants in Seoul, we really enjoyed our Mexican meal in Ikseon (possibly because the cerveza / beer was served in frosted beer glasses).
The interior of El Carnitas is bright and colourful with bunting galore and a wide menu – we went for the steak tacos and the chicken quesadilla.
The guacamole here is freshly made and there is a help yourself condiment and sides stand that includes fresh coriander / cilantro and other tasty toppings.
---
14. Soha Salt Pond Bakery
Salt bread is a savoury snack that is pretty popular in South Korea and one of Seoul's most famous salt bread bakeries can be found in Ikseon-dong Hanok Village.
Soha salt bakery is very easy to spot – just look for the (slightly fake looking) salt flats outside the store (a very quirky signpost).
The bread at Soha Salt Bakery is a thing of beauty and surprisingly doesn't cost too much 'dough' – signature Soha salt bread bakery items include truffle salt bread, melted cheese salt bread and soft salt bread.
You can buy their salt bread to takeaway or they have a small courtyard and indoor seating area – such is the popularity of Soha salt bakery, you may need to queue up to get a table.
---
15. Flippers Ikseon Pancakes
Looking for the fluffiest pancakes in Seoul? Your 'Seoul searching' can stop – legendary Japanese pancake brand 'Flippers' Pancakes now has an outpost in Ikseon-dong, serving up light and fluffy souffle pancakes in Seoul, with all manner of toppings
As well as sweet souffle pancakes, Flippers Ikseon also serve savoury pancakes – it is also quite easy to get several of your 'five fruit a day' serving here with all the fruit toppings here (well, that is our excuse anyway for visiting Flippers pancakes in Ikseon!)
Love Japan? Check out our sister site, Plan My Japan >
---
16. Ikseon shooting club / Ikseon-dong shooting ranges
After a busy day of exploring, it might be time to relieve some stress in Seoul! You might be surprised to hear that amongst all the sleepy side streets and historic tea-rooms here, there is a very popular shooting range in Ikseon-dong; Ikseon Shooting Club.
An indoor shooting range where you shoot at targets using BBQ guns, Ikseon Shooting Club is popular with the younger crowds who often hold mini competitions in groups to see who is the sharpest shooter.
Better yet, you can win prizes at Ikseon Shooting Club if you are on target plus you can either take home your hopefully 'holey' target or decorate it and add it to the walls of the shooting club.
Prices at Ikseon shooting club start from around the 10,000 Won mark for a pouch of pellets, BB Gun hire and use of the targets (bragging rights if you win are free of charge!)
There is also a second shooting range and club in Ikseon-dong called Broken Man's Revolutionary Shooting Zone – so two shooting clubs in Ikseon-dong to see who is the quickest draw in town!
---
Our final thing to do in Ikseon-dong Hanok Village, Seoul (2023)
17. Selfie studios / Korean selfie booths
Selfie booths and shops are a super big business in Seoul …one of the newest things to do in Ikseon-dong Hanok Village (which seemed to have cropped up a lot more in recent years, to replace shops that closed down during the pandemic), there are many selfie shops in Ikseon-Dong plus two or three located right in the heart of Ikseon-dong Hanok Village
The photo selfie shops are usually brightly painted with enticing neon signs and are often unmanned. Once inside, you can borrow clothes and all sorts of fun props and then pose for selfies or take photos in booths for a small fee (using an electronic kiosk).
Often the photo booths in these selfie shops in Ikseon-dong allow you to print out stickers as a souvenir to take home or share with friends. We noticed how popular selfies booths are in Myeongdong and Gangnam (plus super popular in Ximending, Taiwan too).
Some of the most popular booths in the Ikseon area are Broom Studio, Photoism Ikseon-Dong and Photo Booth; Broom Studio selfie shop even has a roof terrace with glorious views of the historic rooftops.
---
Recent closures in Ikseon Dong / Ikseondong
Note that the following bars and restaurants have recently closed in Ikseon Dong but still included in many Ikseon Hanok Village articles
Aledang Ikseon (now closed) – now Artmonster Ikseon-dong
Caligari brewing Ikseondong taproom (closed in 2022)
---
Other South Korea posts you might like
Did you enjoy our Ikseondong / Ikseon-dong Hanok Village Seoul blog post? Let us know in the comments or by sharing it on social media.
You can follow CK Travels on:
Instagram
Facebook
TikTok
YouTube