This post may contain affiliate links to tours and hotels. These help us earn a small commission at no additional charge to you.
Talk about 7-Eleven Heaven. The world's largest 7-Eleven (and of course Thailand's largest) can be found in Pattaya.
Better still, the world's largest 7-Eleven is in the shape of a boat, with maritime theming throughout, making it feel like you are aboard a cruise ship.
We recently visited this prodigious store (Thara Pattaya) to see what it was like and how it compared to other Thailand 7-Elevens.
So join us on a 'voyage' of discovery as we visit the world's biggest 7-Eleven in Pattaya…perhaps we should call it their flag 'ship' store?
Visiting the World's Biggest 7-Eleven
Ship happens! The first thing that strikes you at the world's biggest 7-Eleven in Thailand (South Pattaya) is the nautical theming and the fact the outside resembles a huge ship!
Given Pattaya is a coastal resort in Thailand full of weird and wonderful beach attractions, this store is designed as a ship is so on the money.
On the outside of this store, there are several life saving rings dotted around the fencing plus a HUGE anchor out front – the 7 Eleven car parking spots also have a huge anchor painted into each of them.
And of course, the best bit of the world's largest 7-Eleven is the huge ship exterior – it is so striking when you first arrive and genuinely like no other 7-Eleven we've been to anywhere else. You could easily think this was a docked cruise ship when you first approach.
The world's largest 7-Eleven opened in south Pattaya in 2018 (Thara Pattaya) so everything still looks pretty new – and during our visit, there were 2 cleaners onsite continually cleaning so this store is pretty spick and span, gleaming throughout.
---
You might like – Pattaya ultimate guide – top things to do >
---
Inside the World's Biggest 7-Eleven (Pattaya)
As you go 'aboard' the 7-Eleven 'ship' (well, through the sliding doors), the first thing that hits you is the ice-cold air conditioning – very good for those hot Pattaya days especially if you've walked all the way here (like we did – fools!).
Once inside the world's biggest store themed as a yacht, everything is suitably 'ship-shape'. All the shelves are fully stocked and the fridge doors sparkle. As you first walk in, you'll also see a service counter that is themed like a ship's cabin deck, with lots of nautical items on the shelves above.
Look up and you'll see a HUGE HD TV screen showing fish swimming so you feel like you could be underwater or at the ocean.
This particular 7-Eleven in Pattaya is split over two levels with a second storey mezzanine area for sitting and eating – this also provides a great view of the overall store layout.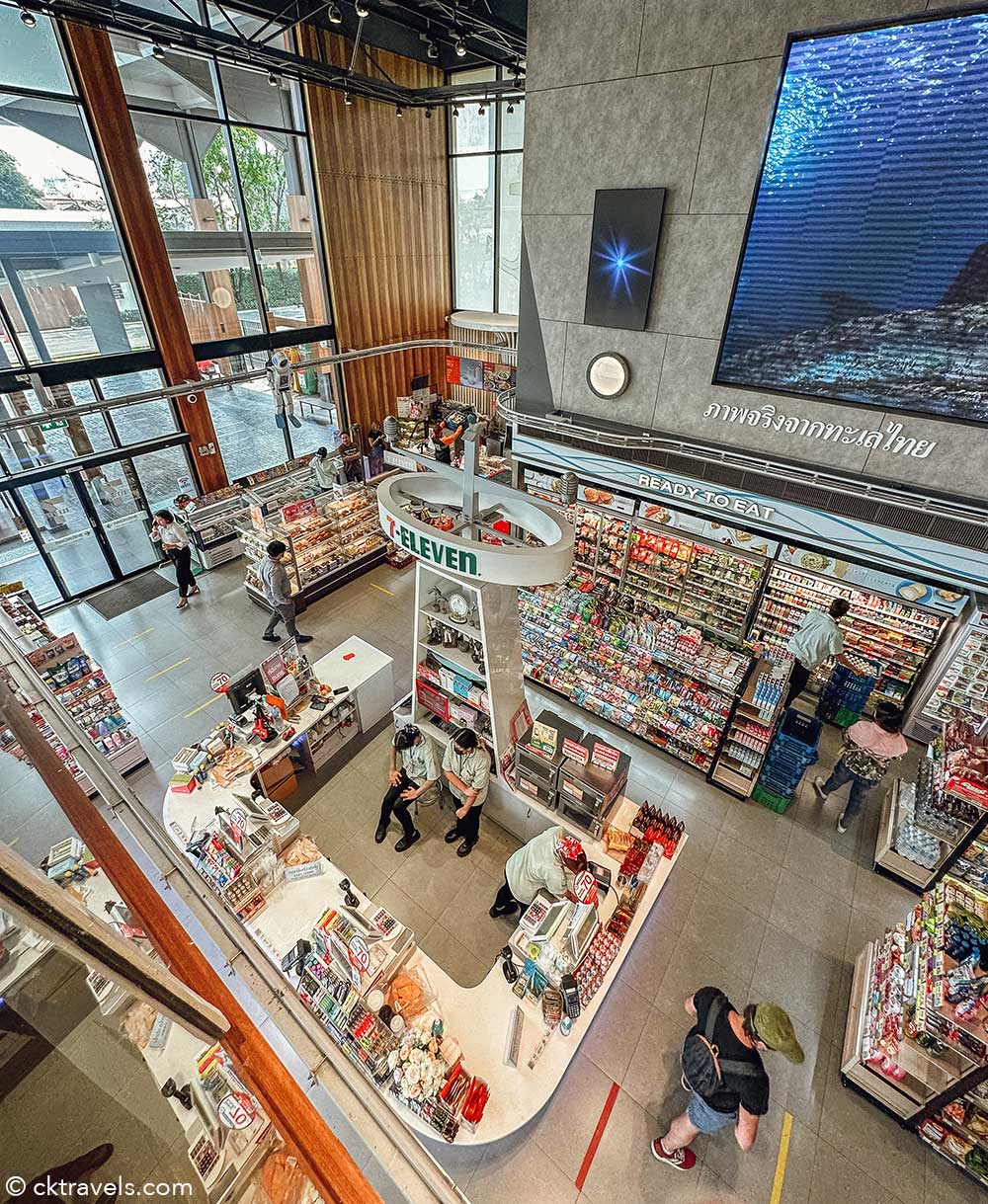 ---
Cafes at the World's Largest 7-Eleven
There are two cafes at this particular Pattaya 7-Eleven – a cafe on the ground floor that does all the usual hot and cold drinks (with sweet treats) plus a second cafe and serving area upstairs on the mezzanine level.
When we visited (early 2023), the upstairs cafe serving area was closed (but you could take drinks up there from the downstairs cafe).
Outside the world's largest 7-Eleven, there was also a shaded alfresco eating area with about 6 tables and sets of chairs with 7-Eleven branded parasols. That said, we preferred to eat on the mezzanine level inside due to the awesome air-conditioning and view of the 'sea' TV.
---
Introducing the 7-Eleven Robot
One of the unique attractions at the world's largest 7-Eleven in Pattaya, Thailand is the 7 Eleven robot (apparently called 'Sinsamut').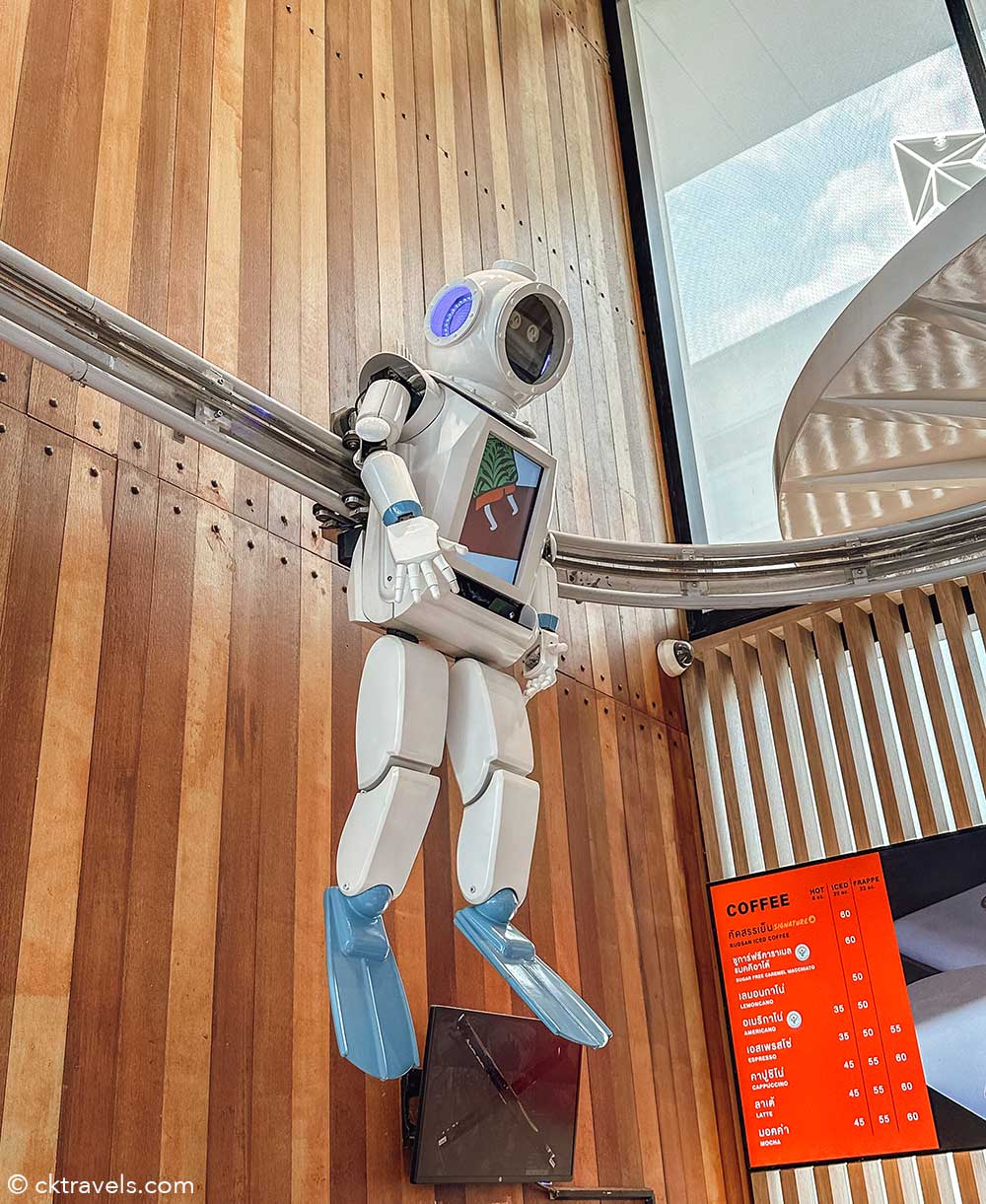 The robot moves around the outer wall of the store on a fixed track greeting customers (saying Hello back to anyone who talks to him) – this is beautifully bonkers and bizarre to watch.
For the best views of the robot and its interactions, head up the dining space on the second level.
---
Food and Drink
Inside Thailand's largest 7-Eleven in Pattaya, you'll find all the usual treats like toasted sandwiches, chilled drinks, a coffee stand and alcoholic drinks.
Microwave meals purchased can also be heated for you. Behind the ship themed counter, they had four microwaves which we think might be a record for a single 7-Eleven store
Also inside this Thai convenience store was a dedicated bakery stand with two aisles of bread products and sweet treats.
During our visit, we noticed there were 2 or 3 staff stocking the shelves at any one time so all the fridges and shelves always looked full. Very different from some of the beachfront 7-Elevens in Pattaya which seem to have bare shelves sometimes, depending on when you go.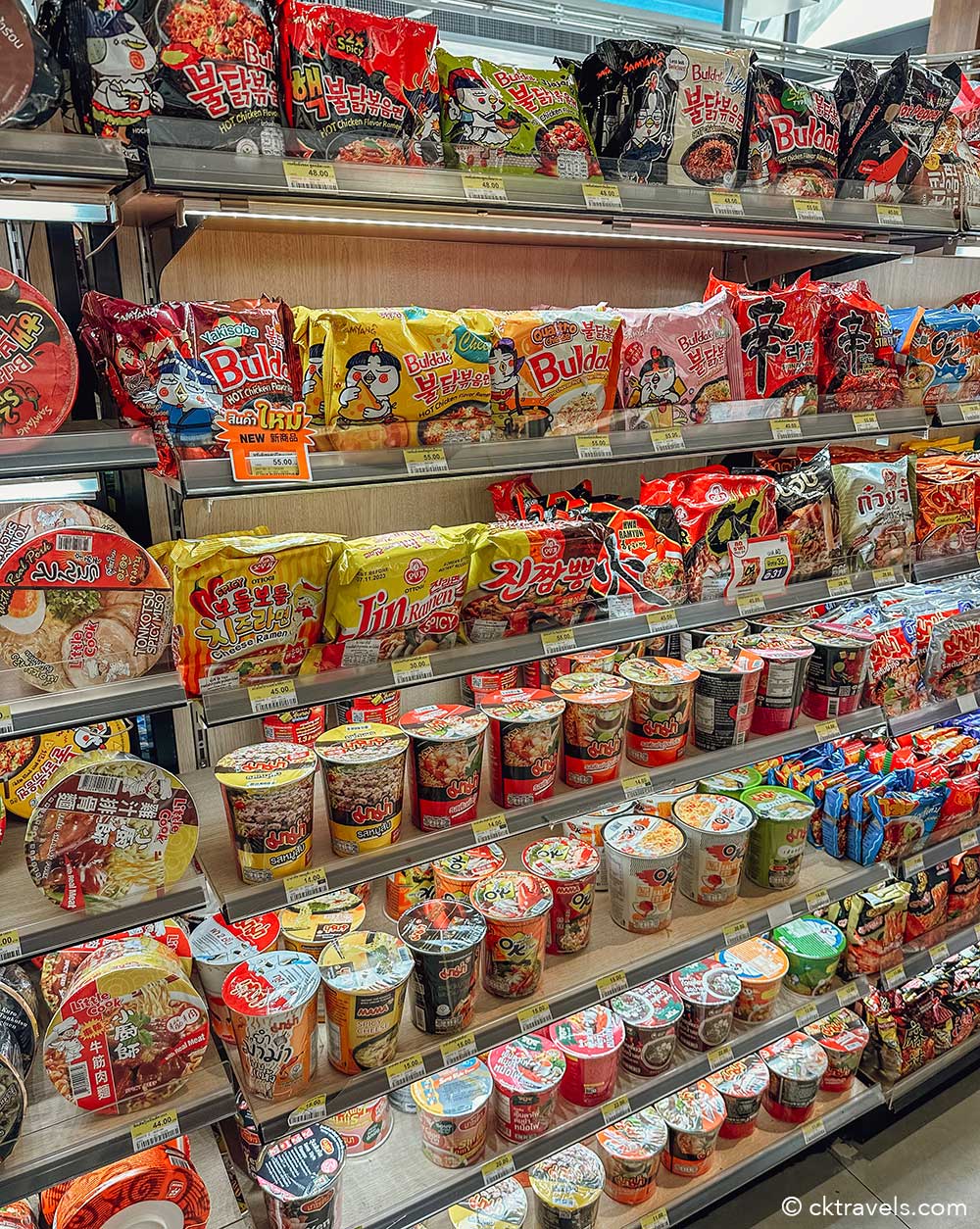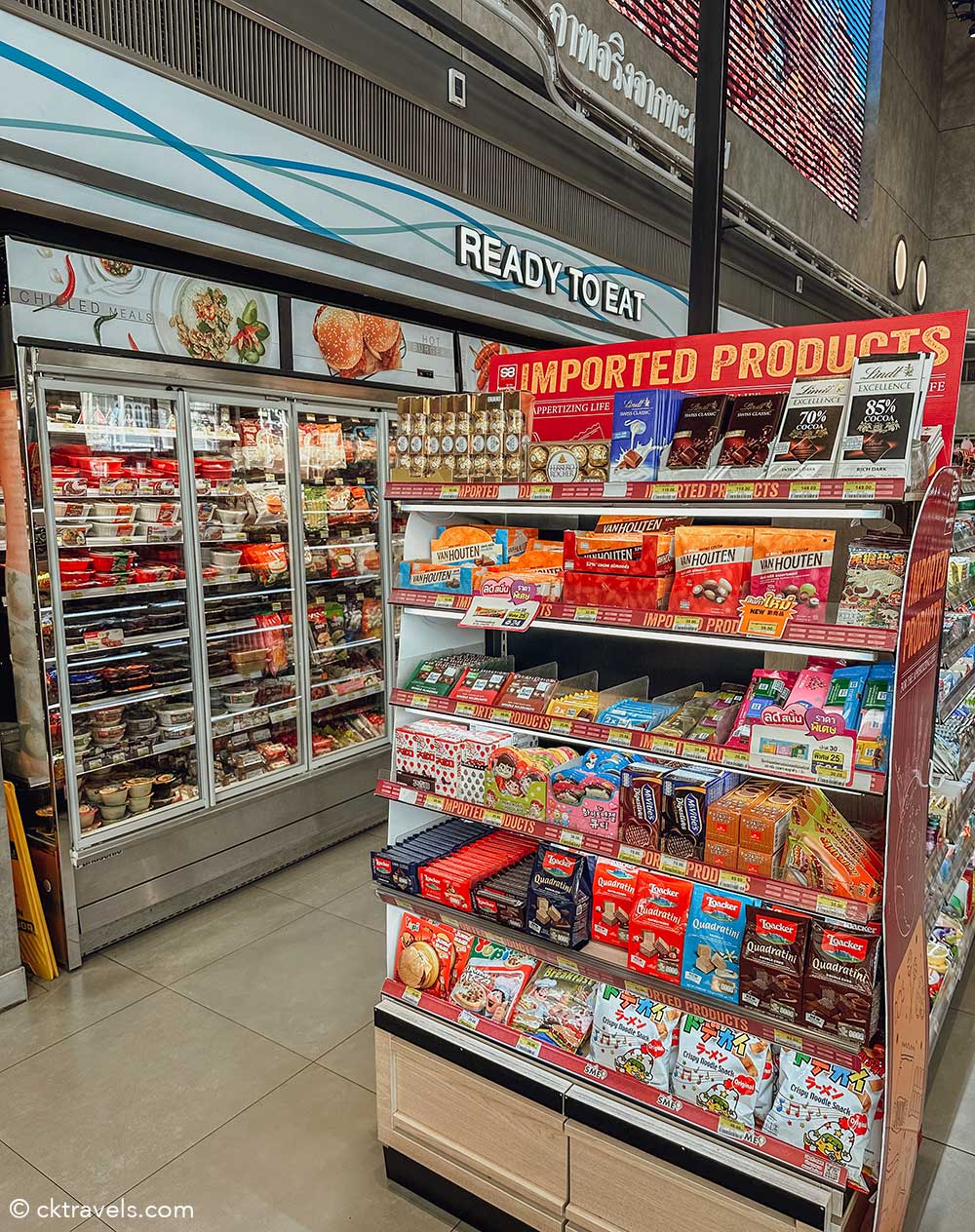 ---
YOU MIGHT LIKE: Best themed 7-Eleven stores in Taipei, Taiwan
---
7-Eleven Thailand Toasties
Love 7-Eleven toasties whilst travelling in Thailand? So do we. You could almost say we are a little obsessed having worked our way through almost 30 toastie flavours (many of which are available at the world's largest 7-Eleven).
Read our dedicated Thailand 7-11 toastie guide – it'll make you hungry reading it, we promise!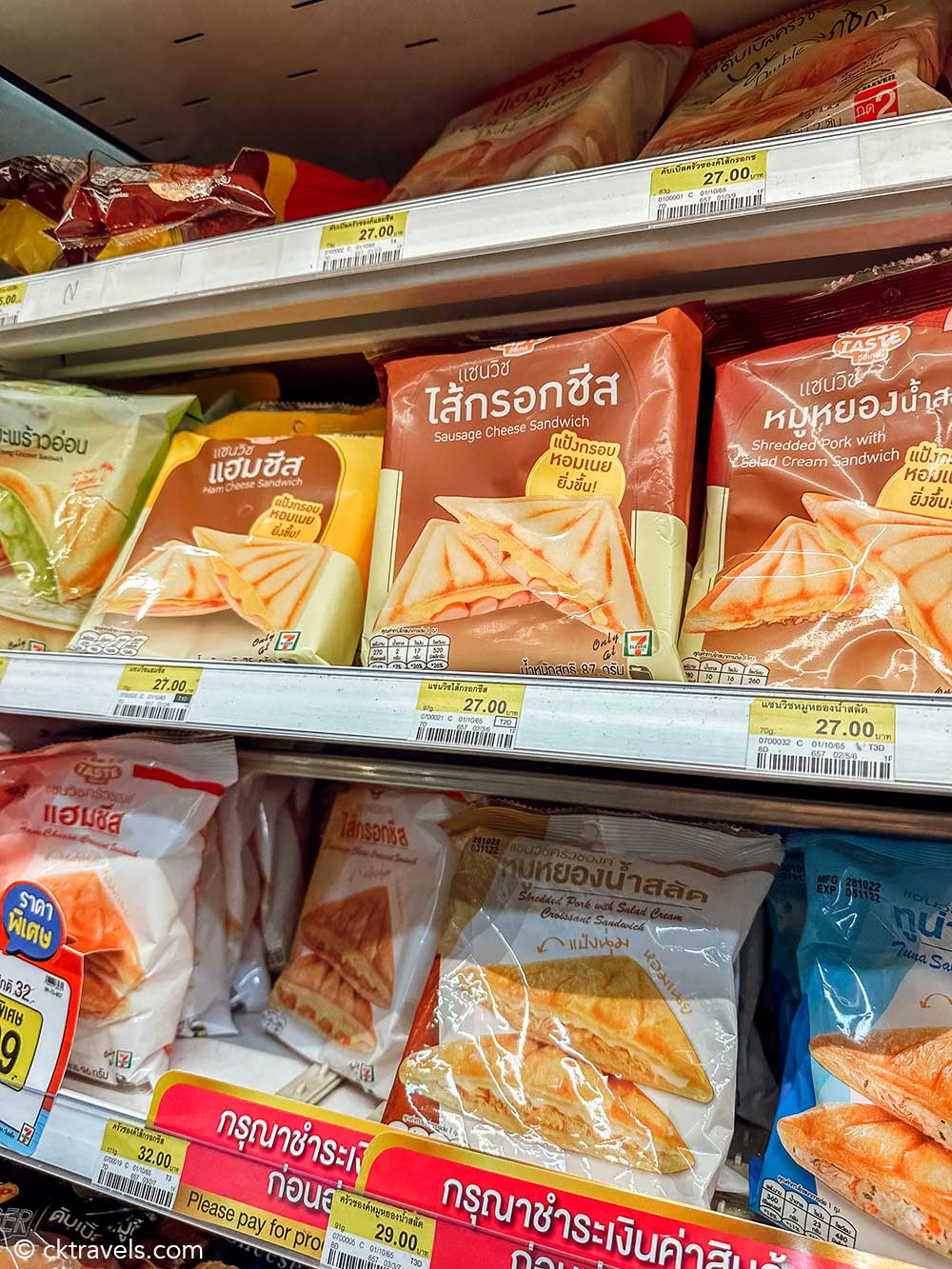 ---
YOU MIGHT LIKE: Best things you can buy in Thailand's 7-Eleven stores
---
Thara Pattaya Unique Merchandise
As well as the usual food and drink mentioned above, we noticed the world's largest 7-Eleven also had a range of nautical themed merchandise like children's sailor outfits and maritime themed headrests, in-keeping with the store ship theme.
Upstairs, in the dining area, there is also a book stand that had copies of a 'celebration' book written by CEO of 7-Eleven Thailand, Korsak Chairasmisak.
On the front of the book, it has a picture of 7-Eleven Thara Pattaya on it. As we found the book in the very same store, it all felt very meta so we put it down before our heads hurt and continued drinking our coffees.
---
Themed Toilets
Finally, the last thing we noticed on our trip to Thara Pattaya 7-Eleven was the themed toilets – we hadn't seen anything quite like this before in Thailand.
There were toilets inside (ladies) plus toilets outside (male and female) which had maritime theming (so should they be called poop decks?). We loved the attention to detail! And this was very handy after several coffees at the upstairs seating area.
---
Getting to the World's Largest 7-Eleven in Pattaya
Whilst there are many 7-Elevens in Pattaya, the world's largest 7-Eleven is actually a little way out of the main city and around a 20 minute walk along a busy road from the Pattaya seafront, where Pattaya's (in) famous Walking Street starts.
If you plan to visit the ship themed 7-Eleven in Pattaya, we'd recommend getting a Grab taxi if you aren't staying nearby.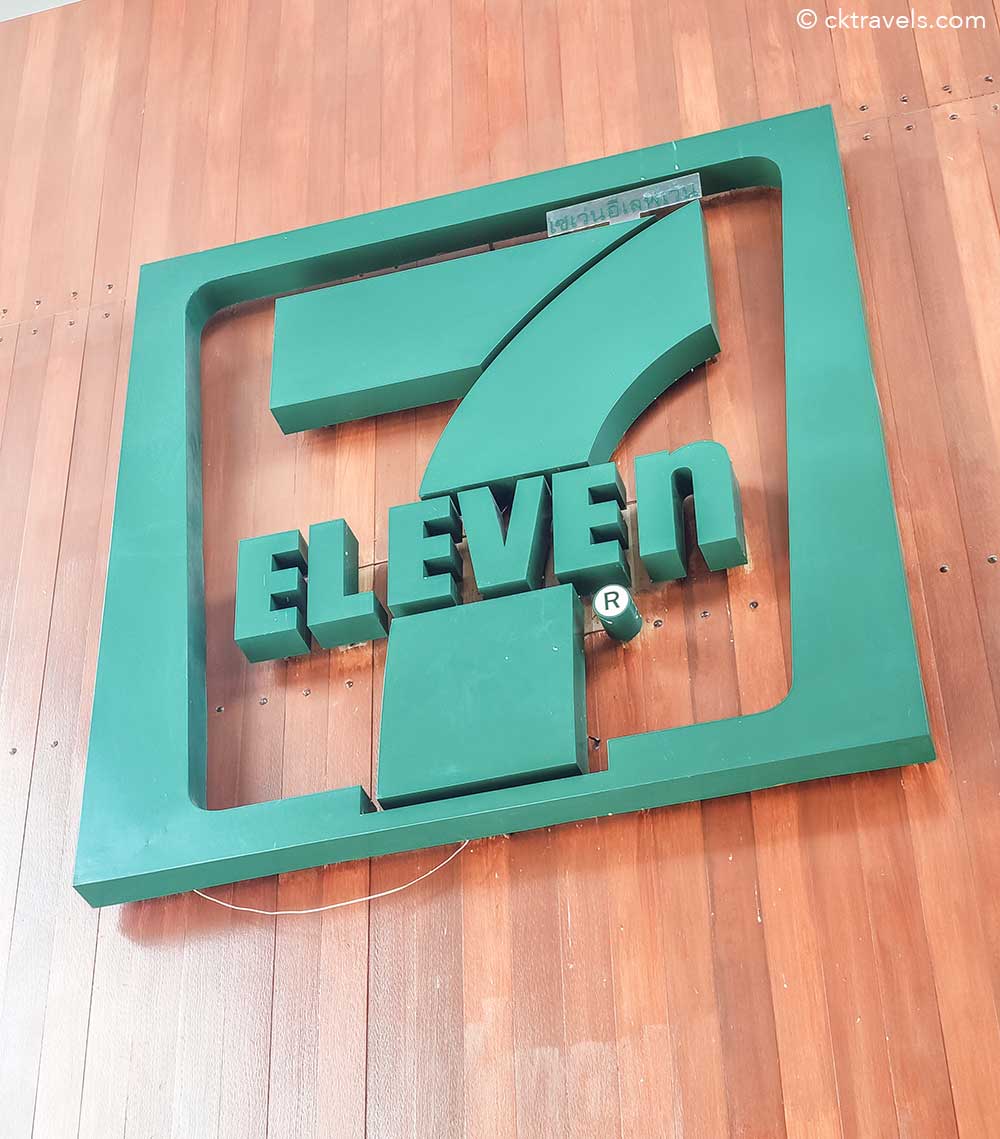 ---
YOU MIGHT LIKE: Taiwan 7-Eleven Toasted Sandwiches – Complete Guide
---
Address and Opening Hours
The world's largest 7-Eleven can be found in Pattaya – the address is 585, 13, South Pattaya Rd, Bang Lamung District, Chon Buri 20150, Thailand.
This 7 Eleven (and most others in Pattaya) is open 24 hours. Times correct as at February 2023.
Did you enjoy our World's Biggest 7-Eleven in Pattaya blog post? Let us know in the comments or by sharing it on social media.
You can follow CK Travels on: 
Instagram
Facebook
TikTok 
YouTube
Pinterest
Other Thailand posts you might like