This post may contain affiliate links to tours and hotels. These help us earn a small commission at no additional charge to you.
One of Seoul's most popular night markets and easily accessible by the Metro, Myeongdong Night Market is a tasty, treasure trove of cheap street food and evening eats.
By day, Myeongdong is a bustling Seoul neighbourhood chock full of shops, restaurants and even some cute cat cafes – there is even a whole street dedicated to beer and fried chicken!
However, the area really comes alive when the Myeongdong Night Market opens for business. Myeongdong Night Market is open seven days a week and is enjoyed by locals and tourists alike (although the prices are geared more towards tourists).
And it isn't just about street food; you can also find fashion items, beauty products and souvenirs in and around Myeongdong Night Market.
From socks to grilled squid, K-Pop to pork belly and baked cheese to Busan fishcakes, there is plenty to suit all tastes (and budgets) at Myeongdong Night Market.
Here is our guide to visiting Myeongdong Night Market in Seoul in South Korea (2023):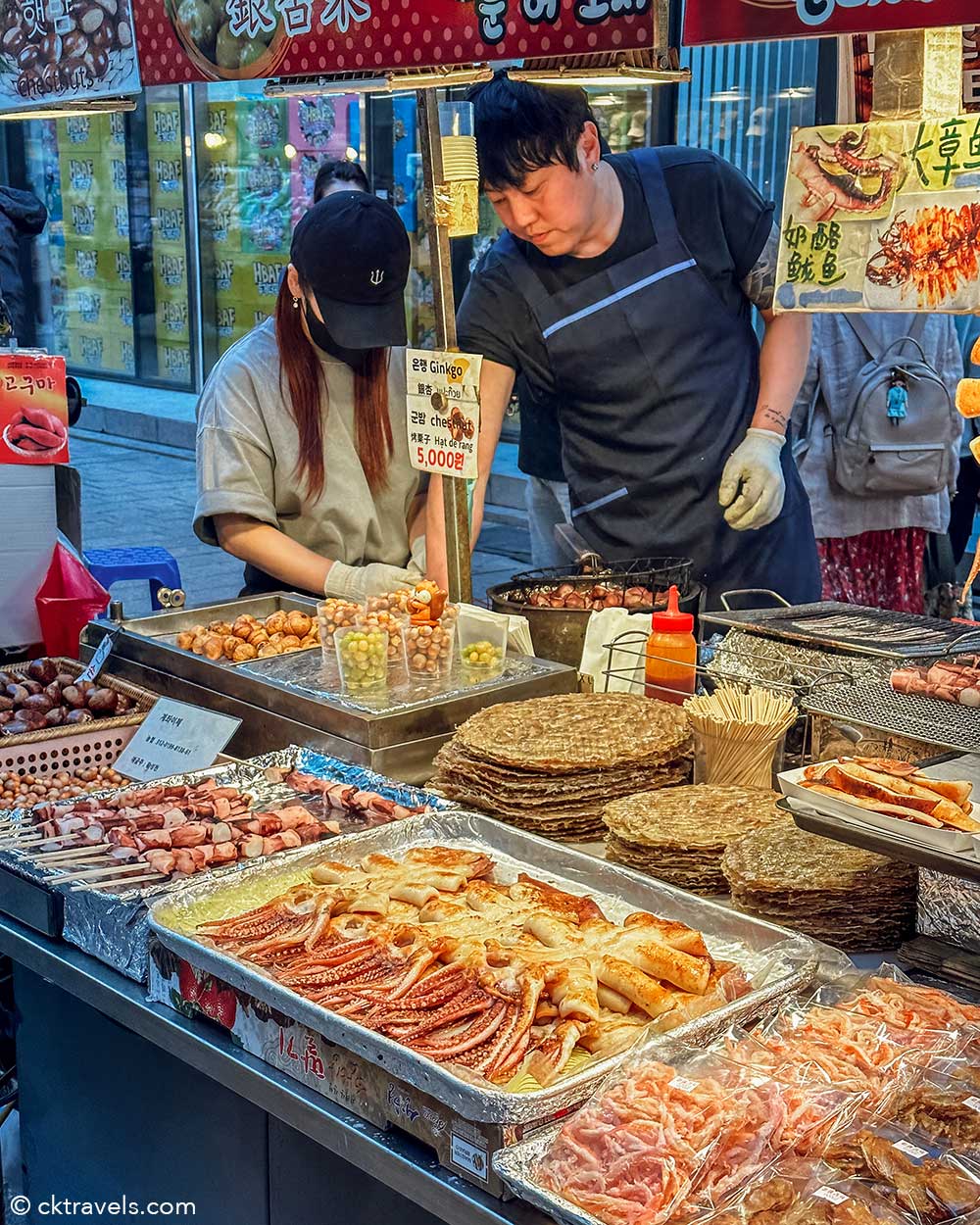 Looking for cheap Seoul day-trips, attractions or group/private tours? We recommend visiting Viator, GetYourGuide, and Klook!
How to get to Myeongdong Market in Seoul
To get to Myeongdong Night Market in Seoul by public transport, you can take the metro / Subway Line No.4 to Myeong-dong station and leave via exit 8. Alternatively, exits 6 and 7 of Myeong-dong station also come up near to Myeongdong Night Market.
There are also several bus routes which also stop nearby Myeongdong Night Market – alternatively grab a taxi.
We recommend downloading the Korean Naver Map app to plan your journey to Myeong-dong Night Market as Google Maps does not function very well in South Korea.
---
You might like – Weird and unique Seoul attractions >
---
Where to stay near Myeongdong Night Market, Seoul
Here are some highly recommended Seoul hotels near to Myeongdong Night Market (we always get hotels in Myeongdong or very nearby as the public transport links are very good and there are lots of bars and restaurants):
Budget
Hotel 8 Hours
This budget hotel is located a 5 minute walk from Myeongdong subway City Hall station exit. Rooms are compact but modern and hotel facilities include TV, refrigerator, shower booth, hairdryer and free toiletries. Check out prices and availability for Hotel 8 Hours.
Mid range
Sotetsu Fresa Inn Seoul Myeong-dong
We stayed at this popular chain hotel for 5 nights and really loved the comfortable room and the location was perfect – right in the heart of Myeongdong. Check out prices and availability for Sotetsu Fresa Inn Seoul Myeong-dong.
Luxury
L7 Myeongdong by LOTTE
This trendy 4-star hotel is located right by the subway station and within a few minutes of the shopping areas. Facilities include a rooftop bar which has views of the city and Mount Namsan. Check out prices and availability for L7 Myeongdong.
Myeong-dong Night Market opening times
Myeong-dong Night Market is officially open seven days a week but during the week (Monday to Thursday), there are often a few less stalls – it gets a lot more crowded with extra stalls Friday through Sundays.
Myeong-dong Night Market begins every day from around 3pm to 4pm in the afternoon until around 10pm (some stalls set up / close etc earlier than others). This is correct as of June 2023 and what we witnessed during our most recent visit to Seoul.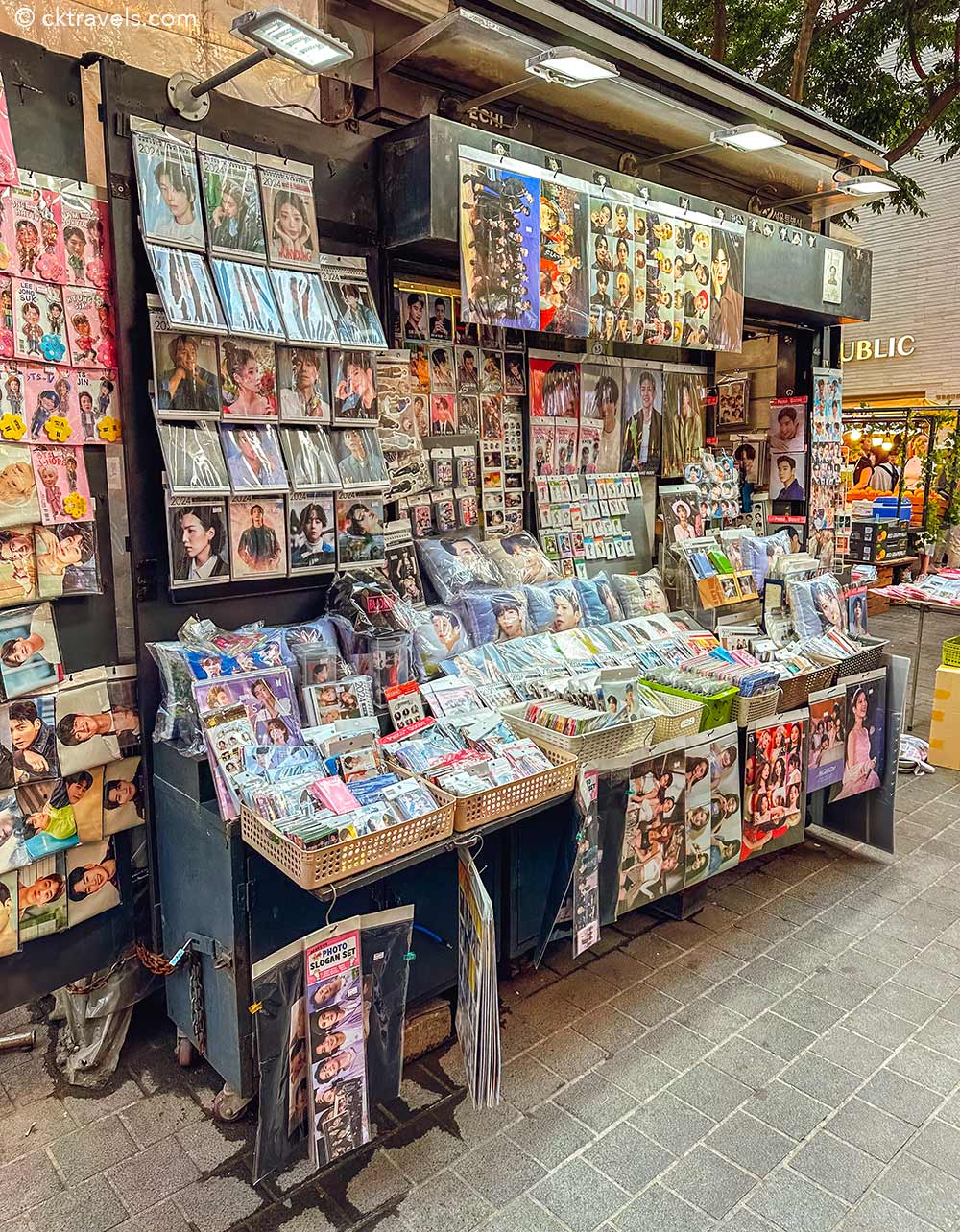 Incidentally, Google currently says that Myeong-dong Night Market closes at 1am but this is not correct – if you go after 10pm, you will be bitterly disappointed (but the bars along beer and fried chicken street will still be open!).
Note that if you are looking for delicious Korean street food in the day-time near to the Myeong-dong shopping area, we'd recommend trying either Gwangjang Market or Kalguksu Alley in Namdaemun Market (both serve up excellent cheap eats and delicious Korean food).
How many stalls are there at the market?
It varies (and numbers dropped during the height of COVID-19) but Myeongdong Night Market usually has around 100 to 150 stalls each night (there are more at the weekends and Fridays than there are earlier in the week).
Around 300 street food and souvenir traders have licences to operate at Myeongdong Night Market but they rotate, meaning at any one time, you'll get around 100 to 150 stalls, the majority of which sell street food (tip – arrive on an empty stomach).
We've read articles about Myeongdong Night Market not being what it once was but things definitely seem to be better in 2023 post pandemic and international travel resuming.
We visited Myeongdong Night Market several times in both December 2022 and more recently in summer 2023 so can vouch it has around 100 to 150 stalls most nights.
Better still, the main shopping street / walking street in Myeong-dong closes to traffic at nights, so Myeongdong Night Market is pedestrianised and safe to work around. It is also generally traffic free in the day-times save for a few mopeds and taxis doing hotel drop-offs.
---
You might like – Where to stay in Seoul / Best Neighborhoods Guide >
---
Food Stalls at Myeong-dong Night Market
There is so much choice of street food at Myeongdong Night Market in the evenings – foods available included grilled squid, fishcakes, tteokbokki rice cakes, baked cheese, soup dumplings and lobster.
The food at Myeong-dong Night Market is less so your typical Korean traditional food so there are no stalls selling the likes of bibimbaps or hand-cut noodles / mung bean pancakes etc – it is more modern Korean and international street-food.
In terms of sweet and dessert stalls, some of the most popular stalls at Myeongdong night market included sugared candied fruit, hotteoks (Korean sweet pancakes) and Dragon's beard candy.
Some of the food available at Myeong-dong Night Market includes:
Rice Cakes (Tteokbokki)
Served in a sweet syrupy spicy anchovy sauce, tteok-bokki is a small circular rice-cake (albeit sometimes quite chewy) and retails for around 5,000 Korean Won at Myeong-dong Night Market.
Korean Taffy-Ta-Ra
Also known as Korean court cake or Dragon's Beard candy, Taffy Ta Ra is made of thousands of strands of ripened honey and malt (which was once presented to the King and his important guests hence 'court cake').
It is very popular with children and the staff on the stall often tell tall tales of dragons when they make the candy-floss treat. Dragon's Beard candy retails from around 10,000 Won at Myeong-dong Night Market for a large portion.
Korean Sweet Pancake (Hotteok)
This is a sweet and sticky Korean dessert pancake that comes in various flavours including honey, chocolate and red bean – we LOVE the honey hotteok.
As the hotteoks are often served straight out of boiling fat (you could call it a VERY HOT-teok!), we'd recommend you let it cool a little first before devouring it.
Korean Hot Dog
A very popular fast-food in South Korea, Korean Hot Dogs are basically a traditional hot dog sausage wrapped in panko bread crumbs with cheese served with mustard and sometimes ketchup.
A basic essential Korean hot dog with no other toppings sells for 2,500-3,500 Korean Won at Myeongdong Night Market.
Fried Crabs
Yes, you can get crabs at Myeongdong Night Market (obviously we are talking about the food!).
Buckets of small crabs are on display which are deep-fried in front of you with various flavourings and sauces to choose from. Fried crab starts from 5,000 Won a portion at Myeongdong Night Market.
Egg Bread / 'Gyeran-ppang'
This is one of our favourite cheap eats at Myeongdong Night Walk – Gyeran-ppang; essentially Korean sweet bread (it uses a vanilla essence) with an egg cracked and baked on top.
Delicious and filling, there are several stalls selling Korean Egg Bread at Myeongdong at night for 2,000 Won (although the first egg bread stall towards Myeongdong Cathedral sells their Gyeran-ppang for 1,500 Won).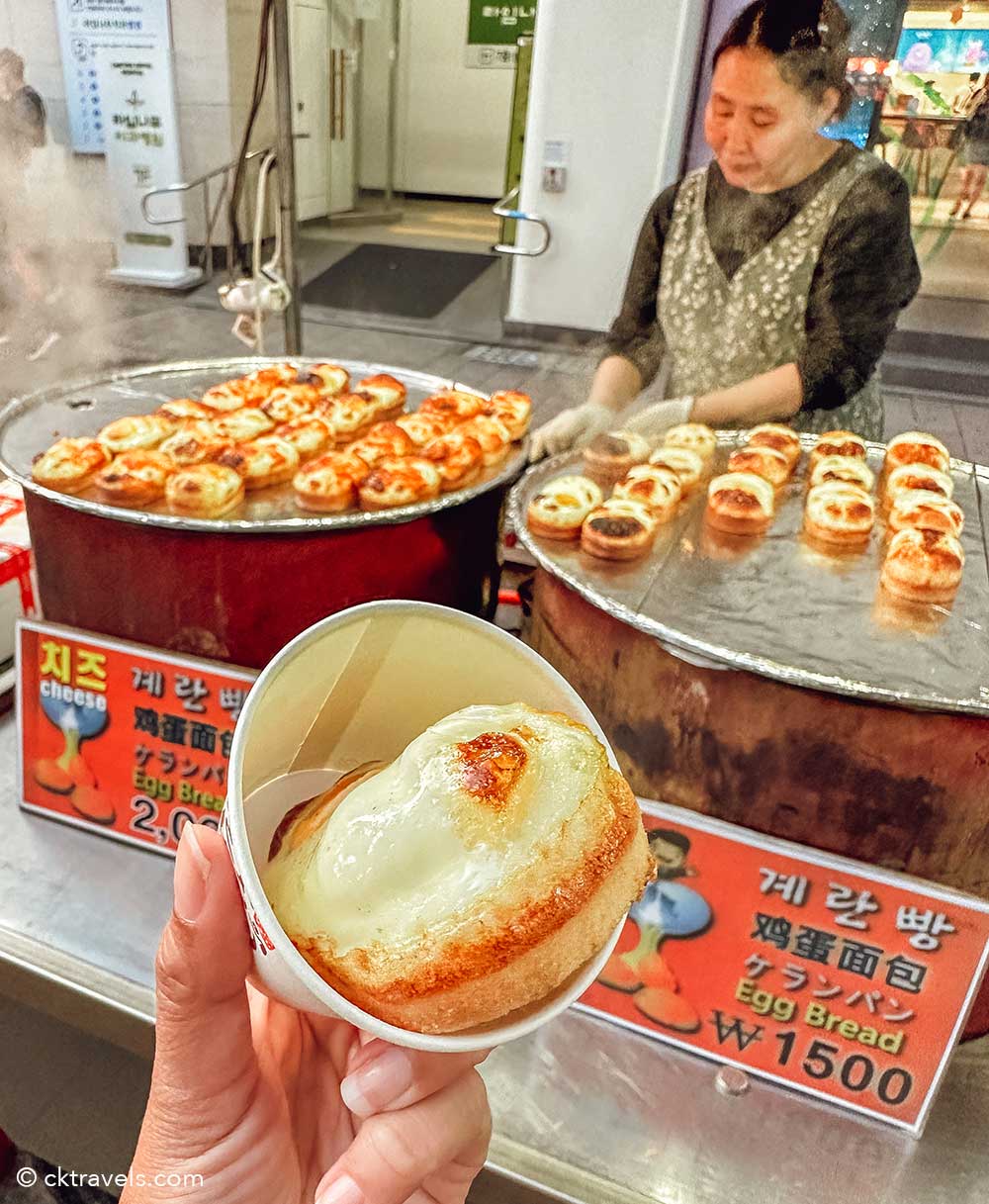 Dumplings (Mandu) / Soup Dumplings
There are a couple of stalls selling dumplings – one selling kimchi dumplings for 7,000 Won, bulgogi dumplings for 8,000 Won plus vegetable dumplings for 6,000 Won. Another stall was selling soup dumplings for 8,000 Won a portion.
---
YOU MIGHT LIKE: Things To Do In Hongdae, Seoul
---
Tornado Potato / Twisted Potatoes / Hweori Gamja
Originally from Korea but now found worldwide (even flipping Jamie Oliver has his own tornado potato recipe), Tornado Potatoes (known locally as Hweori Gamja) are basically spuds cut into a thin spiral shape and then deep fat fried.
Not exactly healthy but tasty, yes. Various Tornado Potato flavours are available including spicy pepper or cheese.
Grilled Squid
One of the most popular Korean street foods available to buy at Myeongdong Night Market is grilled squid. There are several stalls selling grilled squid – just follow your nose (it is one of the more pungent foods here).
A portion of grilled squid at Myeongdong Night Market costs around 12,000 Won.
Grilled Lobster with Cheese
More grilled seafood at Myeongdong Night Market – treat yourself to a roasted lobster with cheese (go on, you are on holiday after all!).
There are two or three grilled lobster stalls on any given night and most of them seem to have a large fake plastic lobster to entice people in – claw-some!
Chocolate Oreo Churros
This is one decadent sweet treat at the market – deep fried Oreo churros for 4.500 Won or 6,500 Won to have it served with Korean ice-cream.
Croissant Taiyaki / Bungeoppang
A Japanese style fish shaped filled croissant packed full of sweetness, with fillings such as red bean, chocolate, sweet potato or cheese. Bungeoppang are very popular as a winter dessert and are very filling.
The price for a croissant Taiyaki at Myeongdong Night Market starts from 4,000 Won.
Korean Fried Chicken (Dakgangjeong)
Sprinkle cuts of fine boneless chicken covered in a spicy and sweet sauce glaze with additional seasonings like cut up peanuts or sesame seed and et voila, you have Dakgangjeong.
One of the more interesting (and busy) Korean fried chicken stalls at Myeongdong Night Market was Star Chicken, whose logo was a funny rip-off of Starbucks. Kudos to the chicken stall!
We had Dakgangjeong countless times in South Korea and it has to be one of our top 5 Korean street food dishes to eat, especially with a nice cold craft beer from a Seoul brewery.
---
YOU MIGHT LIKE: Things to do in Ikseon-dong Hanok Village, Seoul
---
Skewered Meats
Fact – meat always tastes better on skewers, especially when it has been flame-grilled. There are around half a dozen skewered meat stalls in and around Myeongdong Night Market.
They are always fun to eat at, especially when the stall holders crank out the blow torch – quite the spectacle and smoky smell. Skewered lamb starts from 7,000 Won – salted chicken skewers are also a common sight.
Mayak Kimbap / Gimbap
Get there early to watch stall holders wrapping up their gimbap rolls. Similar to sushi rolls, the literal meaning of 'mayak' in Korean is drugs or dope, so highly addictive are these street food snack rolls!
Versions differ from place to place but at Myeong-dong Market, most seem to consist of carrot, yellow pickled radish and green leaves.
---
You might like – Things to do in Busan, South Korea >
---
Baked Cheese
What is better than cheese? Baked cheese of course – melting marvellous premium Korean cheese on sticks starts from 5,000 Won.
Okonomiyaki
A little different from the okonomiyaki in London and Japan we'd eaten before, the Myeong-dong Okonomiyaki were quite small and packed with toppings. The 'cheese bomb' okonomiyaki was 5,000 Won and 7,000 Won for the shrimp okonomiyaki.
---
YOU MIGHT LIKE: Best things to do in Myeongdong, Seoul
---
Grilled scallops
You can smell the scallops being seared by a blowtorch quite far down the Myeong-dong Walking Street, almost acting like a beacon to entice you in. Five grilled scallops with cheese cost 10,000 Korean Won.
Blowtorched Beef
Staying on the blowtorch theme (never a sentence we thought we'd write), several stall holders are pretty nifty with their mini flame-throwers, blowtorching bits of beef to perfection – always a spectacle to watch.
Ddalgi Satang (fruit hard candy)
Super popular in many Asian night markets, ddalgi satang are pieces of fruit such as grapes and strawberries which have been glazed with a sugar coating and skewered on a stick like a kebab. They are sweet and crunchy on the outside and soft and fruity in the inside.
Other foods and drinks available
Busan fishcakes
Strawberry souffle cake
Charcoal fired pumpkin sweet potato
Fresh juices like orange juice and pomegranate juice
Cheese kimchi rolled pork belly
Non Food Stalls at Myeongdong Night Market
Whilst the vast majority of the 100 to 150 stalls at Myeongdong Night Market were street food, there were around 20 to 30 non food stalls.
These included:
K-Pop stalls
Sock stalls
Jewellery stalls
T-shirt stalls
South Korean souvenir stalls
Phone accessory stalls
Handbags* and tote bag stalls (possibly counterfeit luxury brand handbags)
Face mask and beauty product stalls
Other things to do in Myeong-dong at night:
Myeongdong NANTA Theatre
Myeongdong NANTA Theatre is located on the third floor of the UNESCO building along Myeongdong Walking Street and is known for its comedy cooking shows which are performed several times a day, seven days a week
The renowned NANTA Theatre comedy and cookery show, which has been packing in audiences worldwide since 1997.
BOOK IT: Myeongdong Nanta Theater Show Ticket >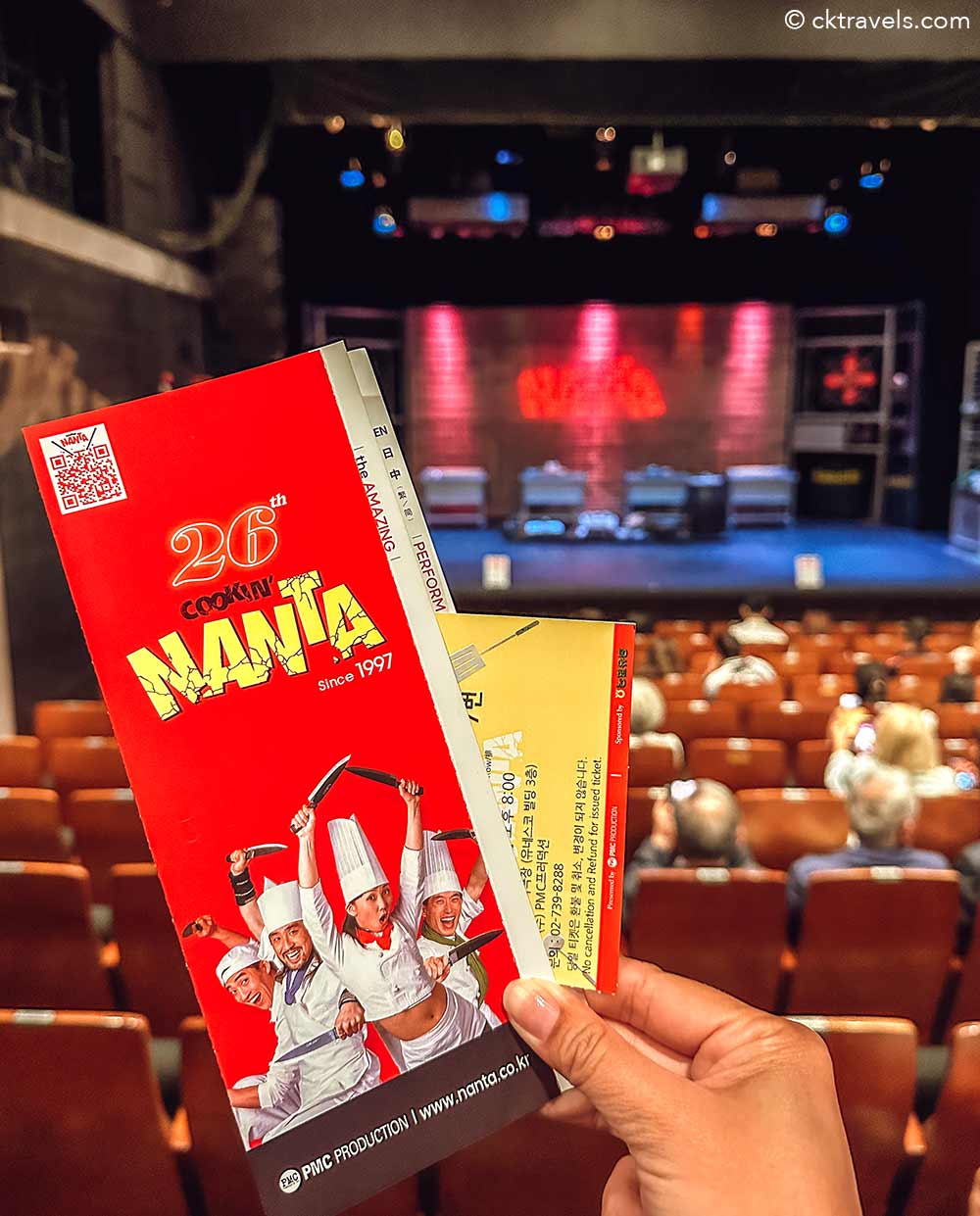 Myeongdong Underground mall
Reminiscent of the underground shopping scene in Montreal, Canada, Myeongdong's subterranean shopping mall network is a much appreciated shopping centre in Seoul on a rainy summer or cold winter's day.
Thanks for checking out our blog!
As of Autumn 2023 we are currently digital nomading / travelling around Asia (Thailand, Malaysia, Singapore and South Korea). Check out our daily travel diaries on Instagram @.c.k.travels >
Artmonster Myeongdong Craft Beer Pub
The craft beer scene in Seoul is legendary and it isn't just about fried chicken and beer – well, it kinda is but you can also pair that delicious sometimes fried chicken with some craft beer (the Korean beer scene isn't just about Cass and Terra beers).
Artmonster in Myeongdong is a craft beer bar known for its retro as, vintage styled craft beer bars and has several bars including another in Gangnam.
YOU MIGHT LIKE: best craft beer bars and breweries in Seoul
Korean Skincare and Beauty Stores
Myeongdong is the ultimate night-time shopping destination if you are looking for some K-beauty and skincare products and the newest beauty trends.
There are several flagship shops to check out in Myeong-dong at night and popular places include Olive Young, Nature Republic, Holika Holika, Skin Food, Laneige, Innisfree and StyleNanda 3CE.
Most beauty stores in Myeongdong close around 10pm to coincide with when Myeong-dong Night Market shuts.
---
YOU MIGHT LIKE: Things to do in Seoul at night >
---
Myeongdong 'Chicken and Beer' Street
Myeongdong has a whole host of chicken and fried beer restaurants dotted in and around the neighbourhood.
However, for the best choice of beer and chicken within a short distance and all next door to each, head to the Myeongdong Fried Chicken and Beer street (found on Google maps at Myeongdong 7ga-gil) – most bars here are open until very late.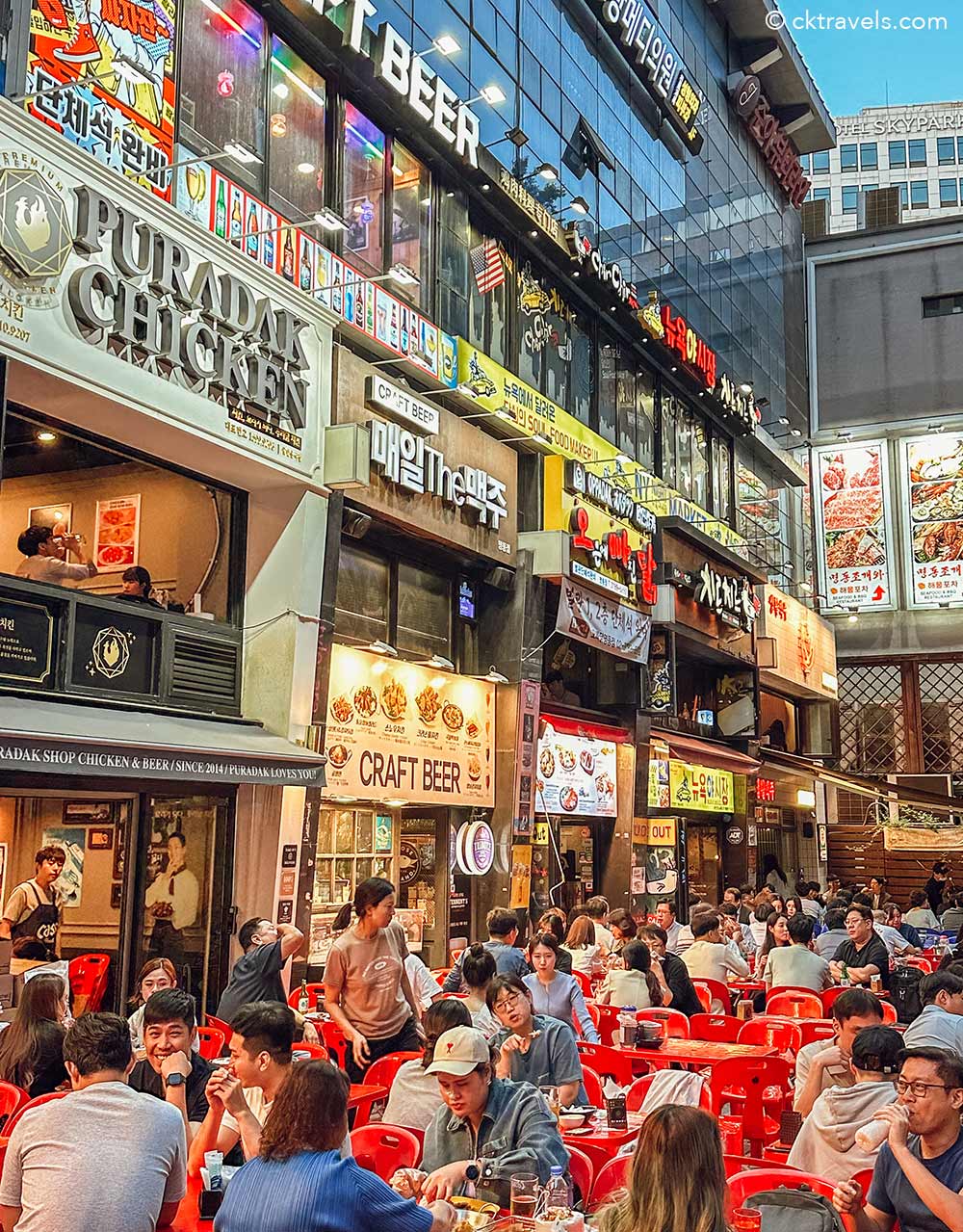 ---
You might like – Guide to Myeongdong Kyoja restaurant in Seoul >
---
Myeong-dong Korean Selfie Booths
Selfie booths and shops are a super big business in Korea and no more so than in Myeong-dong. The selfie kiosks are usually brightly painted small shops where you can borrow clothes and all sorts of fun props and then pose for selfies or take photos in booths for a small fee.
Often the photo booths in these selfie booths in Myeongdong allow you to print out stickers as a lasting reminder.
These are a great night-time thing to do in Myeongdong to coincide with Myeongdong Night Market as some selfie stores are open 24 hours.
Late night shopping malls in Myeong-dong
There are several Seoul shopping malls open until late in the local area within walking distance of Myeong-dong Night Market including Lotte Young, Shinsegae and Noon Square Fashion Mall.
YOU MIGHT LIKE: the best shopping malls in Seoul >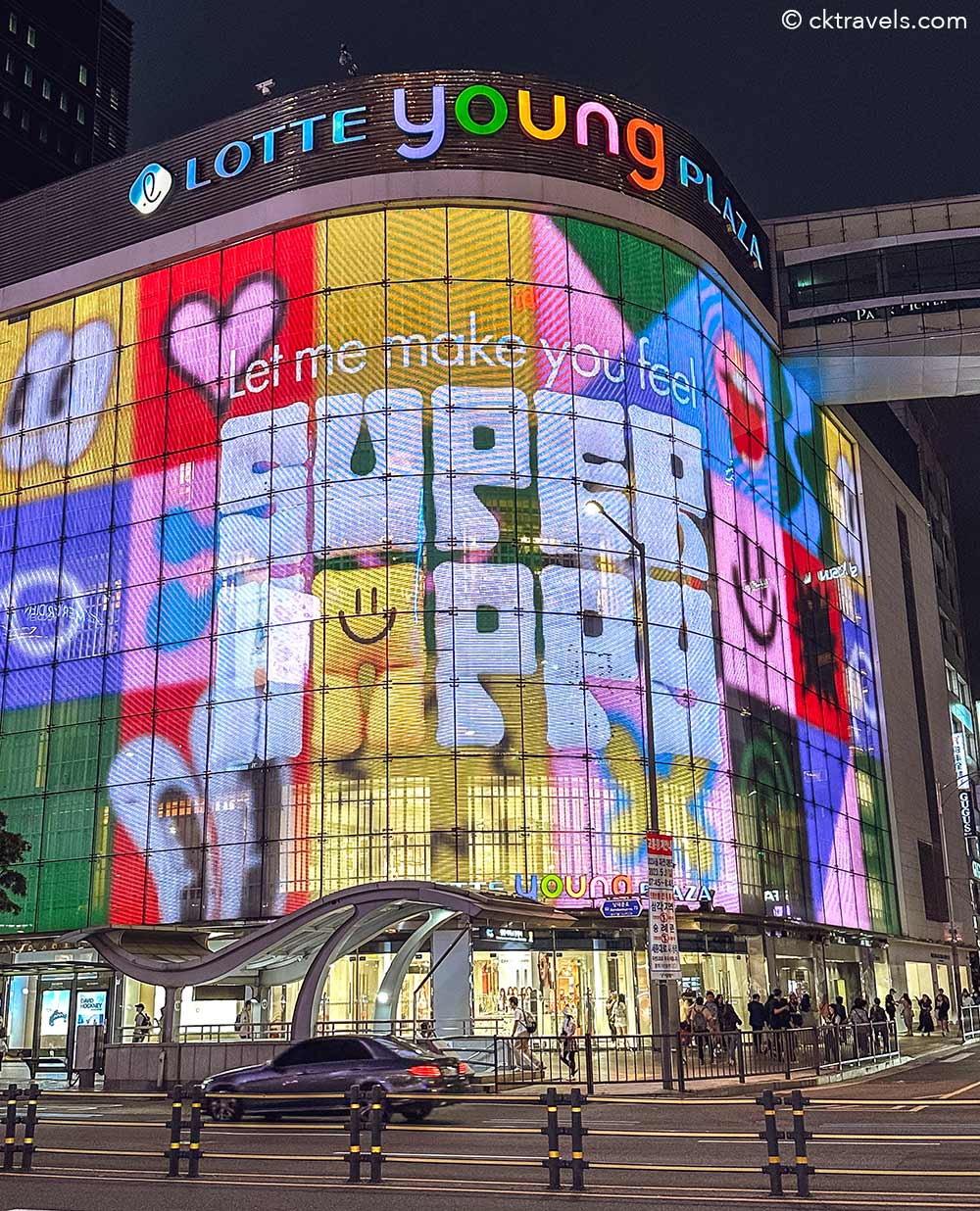 Other things to know about Myeongdong Night Market
Unlike Gwangjang Market, there are no seating areas or stall-side chairs and tables at Myeongdong Night Market – it is very much a grab and go affair.
It is very rare but do be aware of pickpockets in busy areas of Seoul particularly Myeong-dong. We ourselves have never seen any pickpocketing in Seoul (and there is even a police station right next to Myeongdong Night Market) but is it always a good idea to be mindful of your valuables in busy surroundings.
All in all, Myeongdong Night Market is a tasty night out in Seoul and one of the best things to do in Myeongdong.
Other South Korea posts you might like
Did you enjoy our Myeongdong Night Market Seoul blog post? Let us know in the comments or by sharing it on social media.
You can follow CK Travels on: 
Instagram
Facebook
TikTok 
YouTube
Pinterest