This post may contain affiliate links to tours and hotels. These help us earn a small commission at no additional charge to you.
"Mashisoyo" as they say in South Korea – this is the word for 'delicious' that you'll continually be using when you try Korean street food straight from the source.
South Korean street-food is some of the world's best street food, which will keep you coming back for more (and more, and MORE…)
From oh so spicy dishes to decadent desserts and oodles of noodles, there is so much good food to try in South Korea.
All of the street food we tried whilst in South Korea was generally inexpensive and readily available in multiple street food markets like Gwangjang Market or Myeongdong night market.
A foodie's dream and suitable for all travel budgets, this is the best street food to try in South Korea in 2023. Remember to leave your accommodation hungry as there are sooo many good foods to eat when travelling around South Korea.
Korean street food you must try in South Korea
1. Bibimbap
For us, bibimbap was one of the most delicious foods we tried during our time in South Korea.
A dish which is served in a bowl with a whole heap of vegetables, barley, kimchi and usually a fried egg on top (and sometimes with meat), bibimbap is bloody tasty. And also blimmin hot – half the fun is holding the red hot iron skillet with a metal handle as the bibimbap continues to simmer.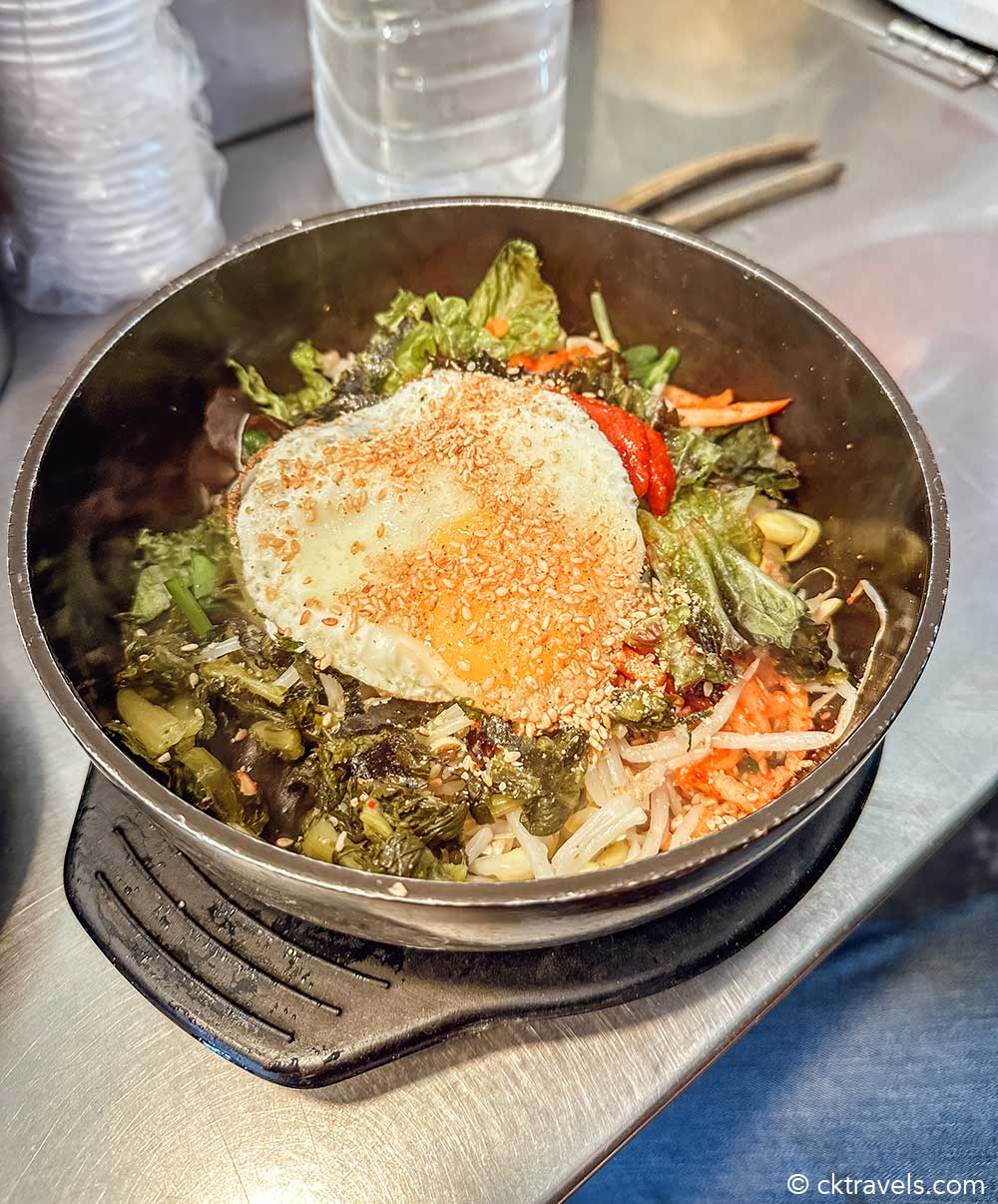 ---
2. Rice Cakes (Tteokbokki)
A South Korean foodie institution and a nice rice cake to boot, Tteok-bokki is incredibly popular either as a main dish or a side dish (and often served with eomuk – like a thin starchy fishcake).
Served in bright red anchovy sauce (sweet AND spicy), tteok-bokki is a must try street food. We tried it on multiple occasions and some versions were a tad more thicker and gloopy than others.
We found our personal preference was the smaller Tteok-bokki 'cakes' as often, the larger ones are quite difficulty to chew, especially without a drink.
---
3. Korean Corn Dog
A very popular fast-food in South Korea (now widely exported), Korean Corn Dogs are a traditional hot dog sausage wrapped in panko bread crumbs and a cheese filling.
They are often served with mustard and tomato sauce (ketchup) but we've also seen versions where the sauce is already inside with the cheese.
---
4. Korean Sweet Pancake (Hotteok)
After leaving South Korea, we are still hungry for hotteoks. Possibly our favourite dessert whilst in South Korea, this is simply a sweet and sticky Korean dessert pancake that comes in a variety of flavours like honey, brown sugar or chocolate.
---
5. Fruit Hard Candy (Ddalgi Satang)
Whilst certainly not unique to Korea, this is super popular in many Asian night markets and particularly so in Korean night markets (although a little expensive compared to other street food so possibly aimed more at tourists).
Ddalgi satang are pieces of fruit such as grapes and strawberries which have been glazed with a sugar coating and skewered on a stick like a kebab. They are sweet and crunchy on the outside and soft and fruity in the inside.
We also saw single strawberries on skewers blinged with sugar coating and all manner of treats like chocolate sprinkles, marshmallows and icing.
Other sugary and candied fruit is available like grapes are also available but strawberry seemed to be the most popular and the one that most street food vendors sold.
---
6 Knife-Cut Noodles (Gohyang Kalguksu)
There is something very hearty about home-made knife-cut noodles which are rolled, kneaded and then cut up in front of your very own eyes, before being added to a soupy broth. Sometimes served with vegetables and meat dumplings, devour them all whilst still hot.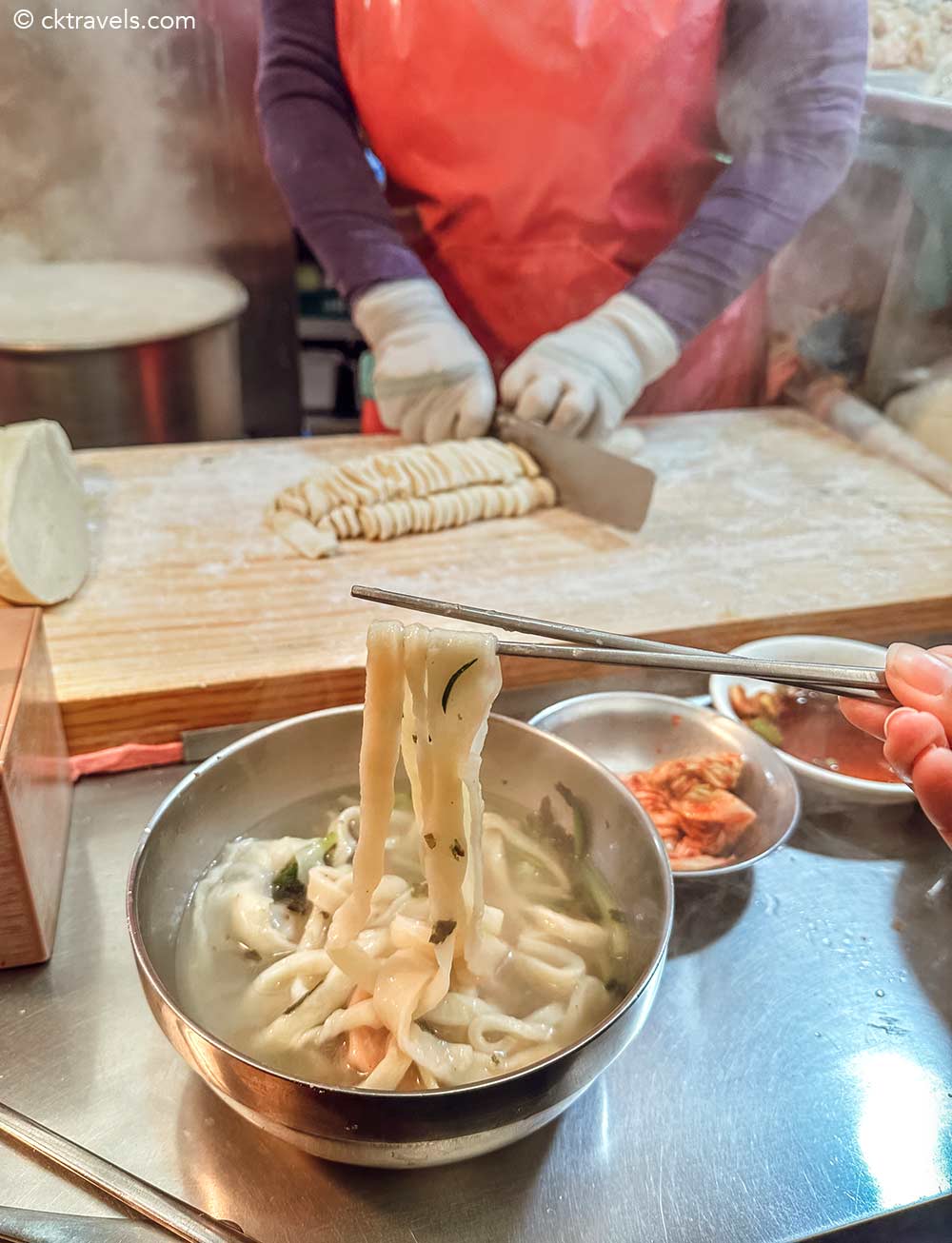 There has been a resurgence in the interest of gohyang kalguksu in recent years (especially in Seoul) in part thanks to them being featured on the Netflix series 'Street Food: Asia'.
Expect to pay around 6,000 to 7,000 Korean Won for a dish of knife-cut noodles from a street food cart or night market in South Korea.
Two of the best markets to eat Kalguksu include Kalguksu Alley in Namdaemun Market and Gwangjang Market.
Read about the Netflix knife-cut noodle ladies stall at Gwangjang Market here >
---
You might like – Myeongdong Kyoja in Seoul – A Popular Kalguksu Restaurant >
---
7. Dumplings (Mandu)
Mandu are Korean dumplings and widely available from street food stalls and night markets. You usually order them swimming in a noodle soup or served steamed just by themselves.
The two most common versions of mandu are usually kimchi (spicy cabbage) or minced pork.
---
YOU MIGHT LIKE: Seoul: Korean Cooking Class at a Local Home and Market Tour >
---
8. Korean Fried Chicken (Dakgangjeong)
Sprinkle cuts of fine boneless chicken covered in a spicy and sweet sauce glaze with additional seasonings like cut up peanuts or sesame seed and et voila, you have Dakgangjeong.
We had Dakgangjeong countless times in South Korea and it has to be one of our top 5 Korean street food dishes whilst there.
It can be bought from street food stalls but we'd recommend trying Dakgangjeong / Korean fried chicken with a nice pint of cold Korean beer (like Cass) in a fried chicken pub.
YOU MIGHT LIKE: The best craft beer bars in Seoul >
---
You might like – Kalguksu Alley in Namdaemun Market Seoul Guide >
---
9. Mung Bean Pancake (Bindaetteok)
Hear that crunching noise whilst at a night market in South Korea?! That'll be the Bindaetteok (mung bean pancakes) being prepared! Witness grinding mills and wheels crushing up mung beans, ready to be dropped into a batter mix, usually with kimchi and some serious spices.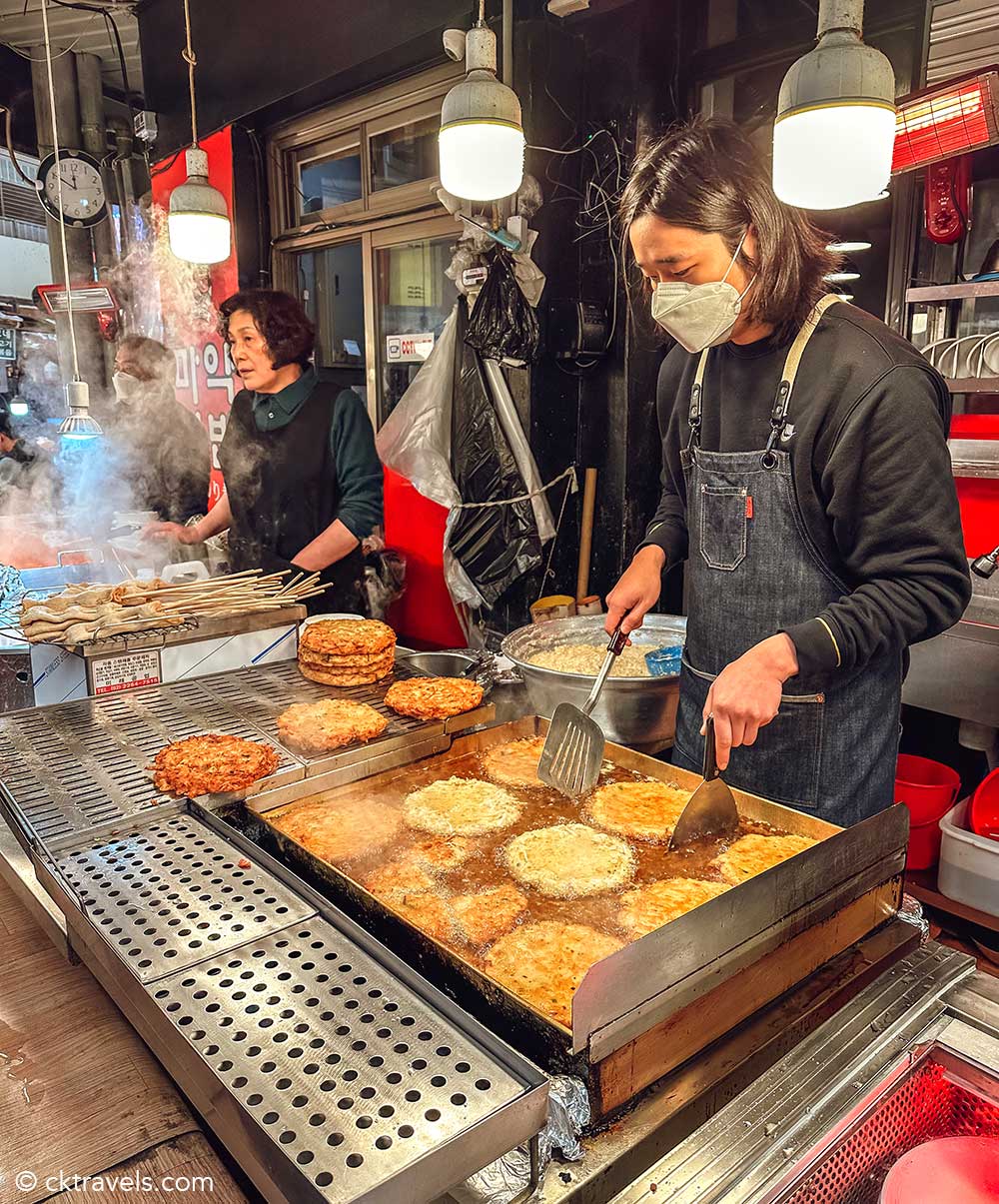 The final touch is a sprinkle of seasonings like garlic or pepper before being boiled in hot oil.
Greasy as but pretty tasty, expect to pay 5,000 Korean Won for a huge Korean street food pancake (you can sometimes buy smaller ones too).
---
10. Korean Street Toast (Gilgeori Toast)
Korean street toast is a hugely popular and iconic breakfast street food (or daytime snack). It is a sweet and savoury sandwich made from thick slices of buttered bread which are toasted on a grill, and then filled with meat, omelette, cheese, ketchup, sugar and crunchy shredded cabbage.
Gilgeori Toast can be found at many street food vendor stalls, but we tried several varieties from a chain street food stall called Isaac Toast which we highly recommend.
---
11. Fish Shaped Pastry Waffles (Bungeoppang)
Hello little fishy! Next time you are in South Korea, chow down on these carp like waffles, shaped in a piscine shape (but not containing any actual seafood or fish).
A Korean take on a Japanese classic street-food, this is a fish shaped filled croissant packed full of sweetness, with fillings such as red bean, chocolate, sweet potato or cheese. Bungeoppang are very popular as a winter dessert and are very filling.
---
YOU MIGHT LIKE: Drinking and Eating through the Alleys of Seoul tour >
---
11. Korean Blood Sausage (Ssondae / Ssundae)
Ssondae / Korean blood sausage is usually made from pig blood and noodles / rice served in a cow or pig intestine, making for a slightly chewy texture.
They are generally sliced into small pieces before serving. This is often served as a combo with the above mentioned Tteokbokki rice cakes.
---
12. Deep Fried Vegetables, Meats and Seafood (Twigim)
Twigim is the Korean version of Japanese tempura, and are a popular greasy treat! Vegetables, seafoods or meats are deep fried in a light, crispy batter and served with a soy sauce or spicy dip.
This Korean street food is often found at night markets and is great when paired with tteokbokki!
---
13. Korean Pancakes (Buchimgae)
Buchimgae is a crisp, hearty Korean savoury pancake, made by frying a thick batter into a thin flat pancake shaped fritter.
There are a few different buchimgae types such as green onion, chives or kimchi. The pancake is cut up before being served with a dipping sauce.
We tried various versions of Korean pancakes and found them a bit hit and miss – if you can get fresh ones, go for that as those buchimgae that seem to be reheated often tasted quite greasy and lacklustre.
---
14. Twisted Donuts / doughnuts (Kkwabaegi)
Classic Korean doughnuts twisted are popular in night markets, street food stalls and bakeries across South Korea. Candy-floss like inside (soft, sweet and fluffy) with a golden outside, these sweet treats are served with a sugar glaze. 'Donut' visit South Korea without trying Kkwabaegi.
---
YOU MIGHT LIKE: Traditional Cooking Experience in Korean Style House in Seoul >
---
15. Chicken Feet (Dakbal)
Marinated chicken feet are incredibly popular and often a cheaper alternative to the traditional Korean fried chicken (the latter is usually made from chicken breast or chicken thigh).
As well as being popular at street food markets and night markets, dakbal is popular as a deep fried snack food in pubs and bars.
---
YOU MIGHT LIKE: things to do in Gangnam, Seoul
---
16. Mayak Kimbap / Ggoma Gimbap
Similar to sushi rolls you'd get in Japan, Mayak Kimbaps are widely available and pretty cheap .
'Mayak' in Korean is slang for 'drugs', so highly addictive are these savoury snack rolls! Versions differ depending on the region but most mayak kimbaps contain pickled radish, carrots and greens.
---
17. Egg Bread (Gyeran-ppang)
This is one of our favourite cheap eats in terms of Korean street-food (some would say 'eggs-cellent street food in South Korea; sorry not sorry…) – Gyeran-ppang; essentially Korean sweet bread (it uses a vanilla essence) with an egg cracked and baked on top.
Definitely one of the more frequent street food stalls you'll see (especially in Seoul and at Myeongdong Night Market, as gyeran-ppang is fairly easy to make, has few ingredients and best of all, tastes delicious.
Expect to pay around 1,500 Won to 2,000 Won per piece of egg-bread in South Korea.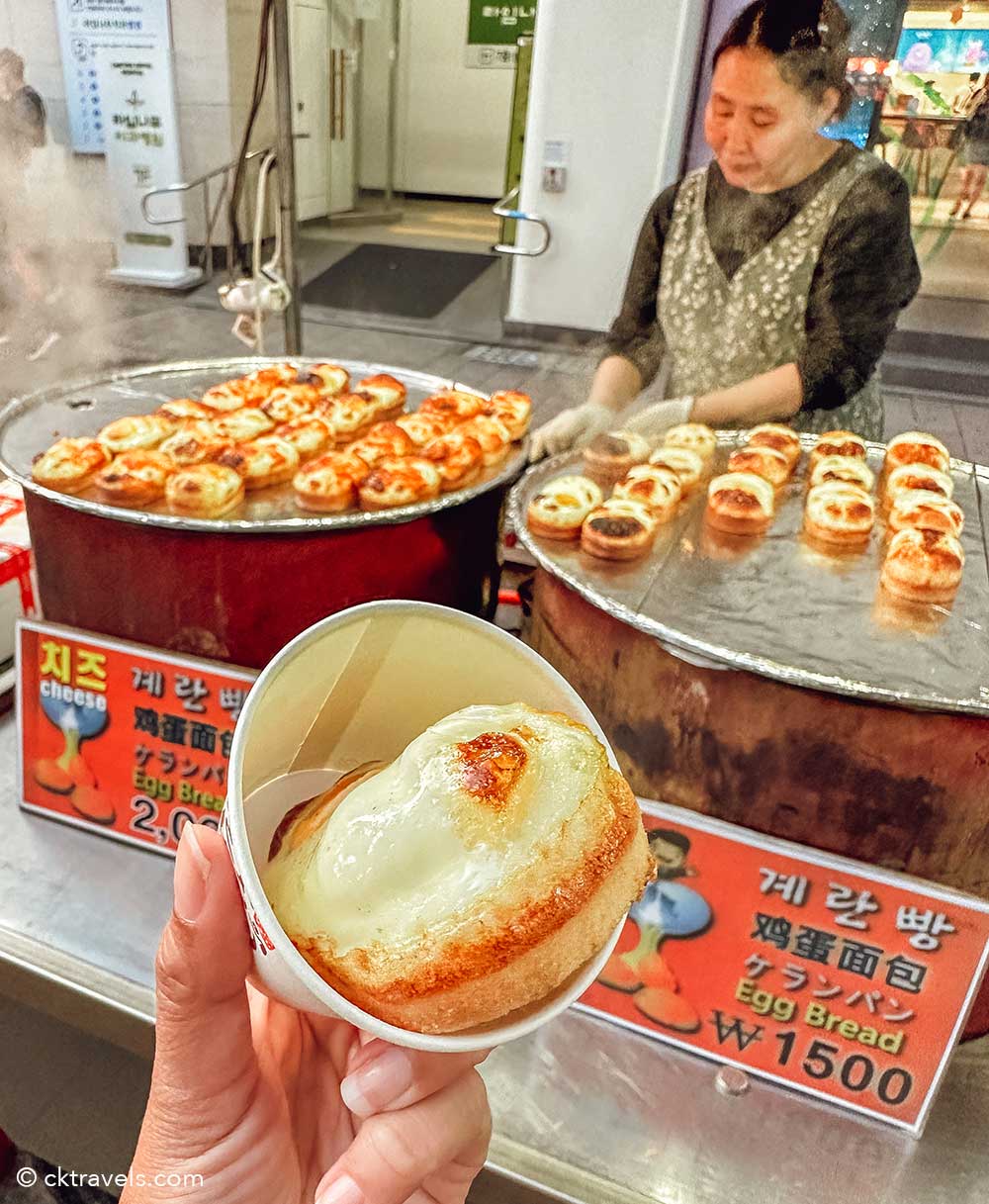 ---
18. Pan-fried Rice Cake (Bukkumi)
Another South Korean pancake variant, bukkumi is a pan-fried tteok made with glutinous rice flour that comes in a multitude of flavours like pumpkin or sweet potato.
---
19. Korean Honeycomb Candy (Dalgona or Ppopgi)
Popularised overseas by its appearance in Netflix's global streaming hit Squid Game, many street food vendors in South Korea now sell the honeycomb biscuit (dalgona) with big placards showing the Squid Game characters (hopefully the Netflix copyright team aren't skulking in the shadows).
Dalgona is made with sugar and baking soda. As in the Netflix show Squid Game, many street food vendors sell versions with shapes ready to be carved out by you (if you dare!).
---
20. Korean Fish Cake (Eomuk)
Korean fish cakes are a very popular Korean street food snack during the winter months and are made from minced white fish and flour. They are available in different shapes (long or zigzagged) and the most common way to eat them is on a skewer which has been boiled in a fish broth.
Street vendors will sell the skewered fish cake with some of the hot broth inside a paper cup for you to take away and eat. You can also find street food vendors selling tteokbokki and eomuk together on a stick!
---
21. Tornado Potato / Twisted Potatoes / Hweori Gamja
Street-food originally from Korea but now found worldwide, Tornado Potatoes (known locally as Hweori Gamja) are basically spuds cut into a thin spiral shape and then deep fat fried.
Not exactly healthy but tasty, yes. Various Tornado Potato flavours are available including spicy pepper or cheese.
---
22. Korean Taffy-Ta-Ra
Also known as Korean court cake or Dragon's Beard candy, Taffy Ta Ra is made of thousands of strands of ripened honey and malt (which was once presented to the King and his important guests hence 'court cake').
It is very popular with children and the staff on the stall often tell tall tales of dragons when they make the candy-floss treat – one of the most famous taffy-ta-ra stalls can be found in Insadong, Seoul.
---
23. Grilled Squid /'Ojingeo Gui'
One of the most popular Korean street foods available at most South Korean night markets is grilled squid – often served with a spicy coating / sauce.
Widely available on BBQ street food stalls – just follow your nose (it is one of the more pungent street foods in Korea).
---
24. Walnut Cookies (Hodugwaja)
We're 'nuts' about this Korean street food; warm and wonderful walnut cookies – made from cake batter mixed with chopped walnuts, these Hodugwaja street-food stalls can be seen (and smelt!) all over South Korea, particularly in winter time.
These cute cookies are baked in walnut shaped baking trays so that the finished Hodugwaja is even shaped like a walnut. Several Hodugwaja flavors are usually available including custard or red bean.
---
Our final Korean street food…
25. Skewered Meats
Pleased to 'meat' you – meat always tastes better on skewers (it is scientifically proven – probably), especially when it has been flame-grilled.
They are always fun to eat at, especially when the stall holders crank out the blow torch – quite the spectacle and smoky smell.
Skewered lamb skewers, salted chicken skewers and blow torched beef skewers are quite a common street-food in South Korea.
---
Other South Korea posts you might like
Did you enjoy our best Korean street food in South Korea guide blog post? Let us know in the comments or by sharing it on social media.
You can follow CK Travels on:
Instagram
Facebook
TikTok
YouTube
Pinterest