This post may contain affiliate links to tours and hotels. These help us earn a small commission at no additional charge to you.
From the simply sublime to the downright strange, there are some quite quirky Seoul attractions.
From 'crap' themed cafes to scary statues, robot restaurants to a secret side alley bar hidden behind a fridge door, there are lots of weird and wonderful things to do in Seoul both by day (and in Seoul at night).
With something to suit all tastes, here is our guide to unique and most weird and wonderful attractions in Seoul, South Korea in 2023:
---
You might like – the 85+ best things to do in Seoul >
---
Seoul Attractions – Unique, Weird and Wonderful
1. The Gangnam K-Pop Bears on K Star Road
Also known as the GangnamDol bears, K-Pop along to Gangnam for one of the most unique streets in Seoul if not the world.
K Star Road is home to the brightly coloured K-pop bears (including a huge Psy bear – check out its 'New Face', That That I like it the Doll etc).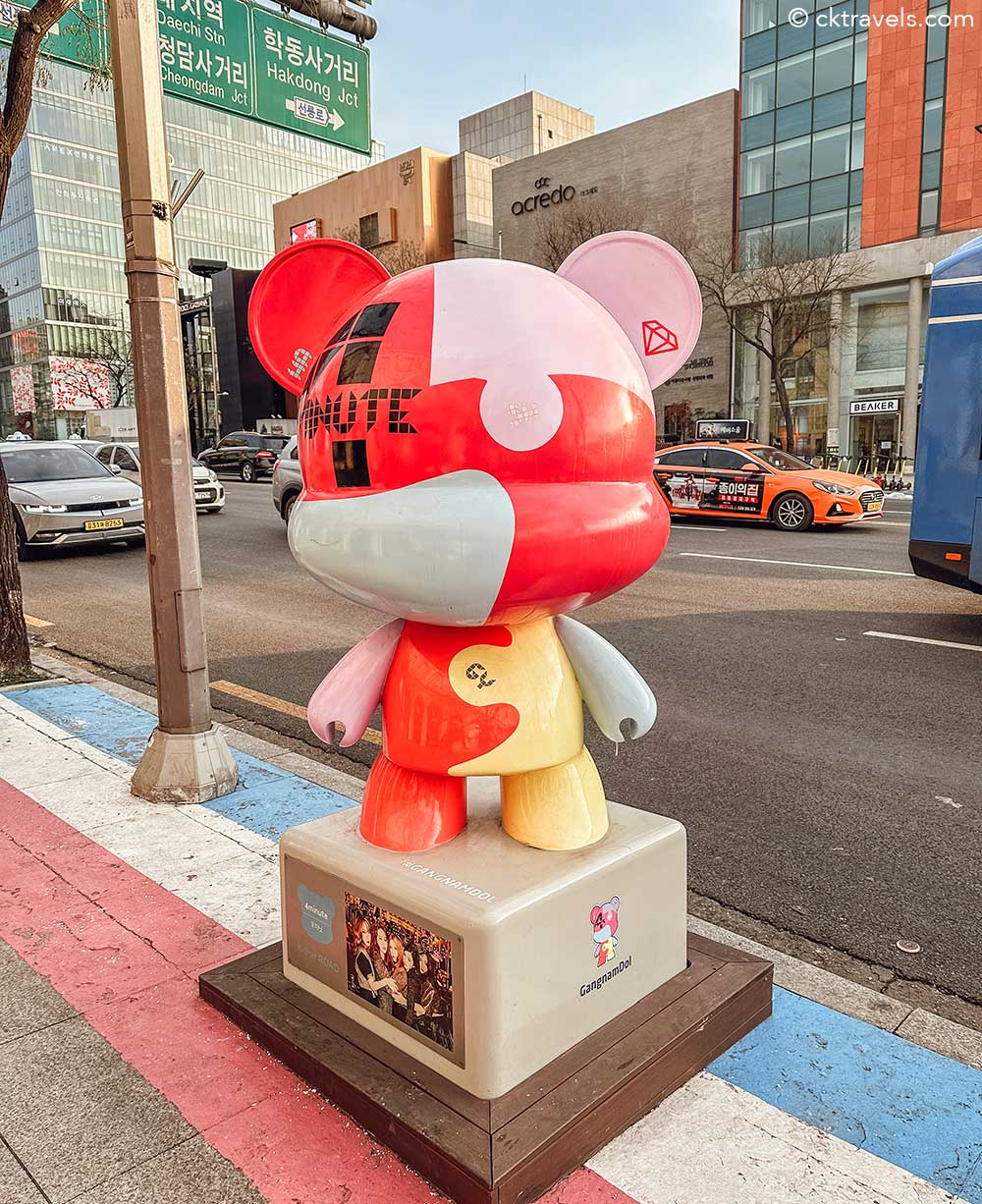 These 'GangnamDols' (brightly coloured teddy bear style dolls) line a 1 km stretch of road with around 20 colourful and cute / weird and wonderful (delete as appropriate) bears representing the cream of K-pop talent and famous K-pop dolls.
As you'd expect, the 'star' of K Star Road is the huge Psy bear / GangnamDol (near Apgujeong Rodeo Station exit 2), but other bears include Girl's Generation, Miss A and 4Minute – and yes, the BTS Gangnam-su bear is incredibly popular – sweet like Butter!
Try this Seoul Hallyu Kpop Tour >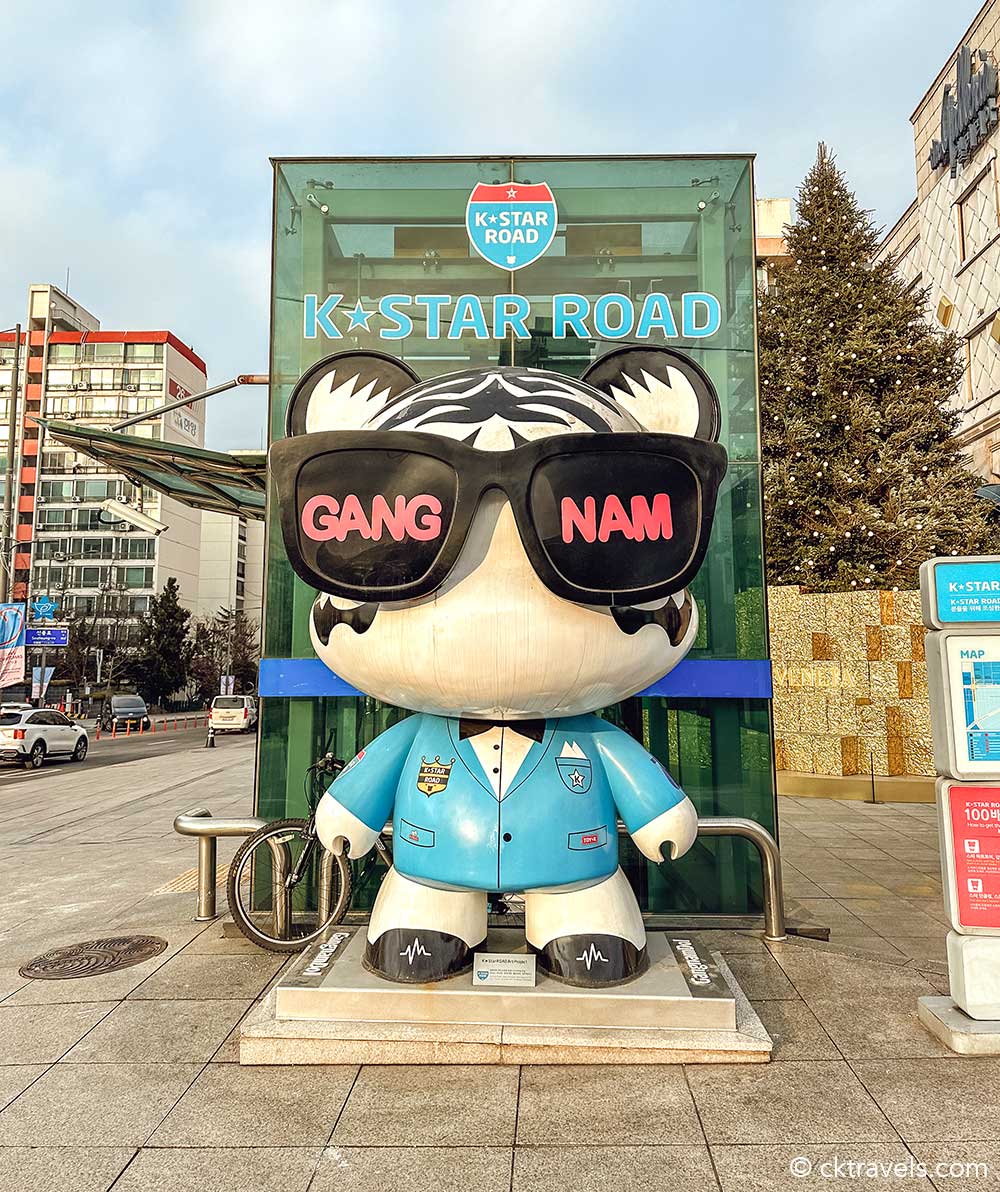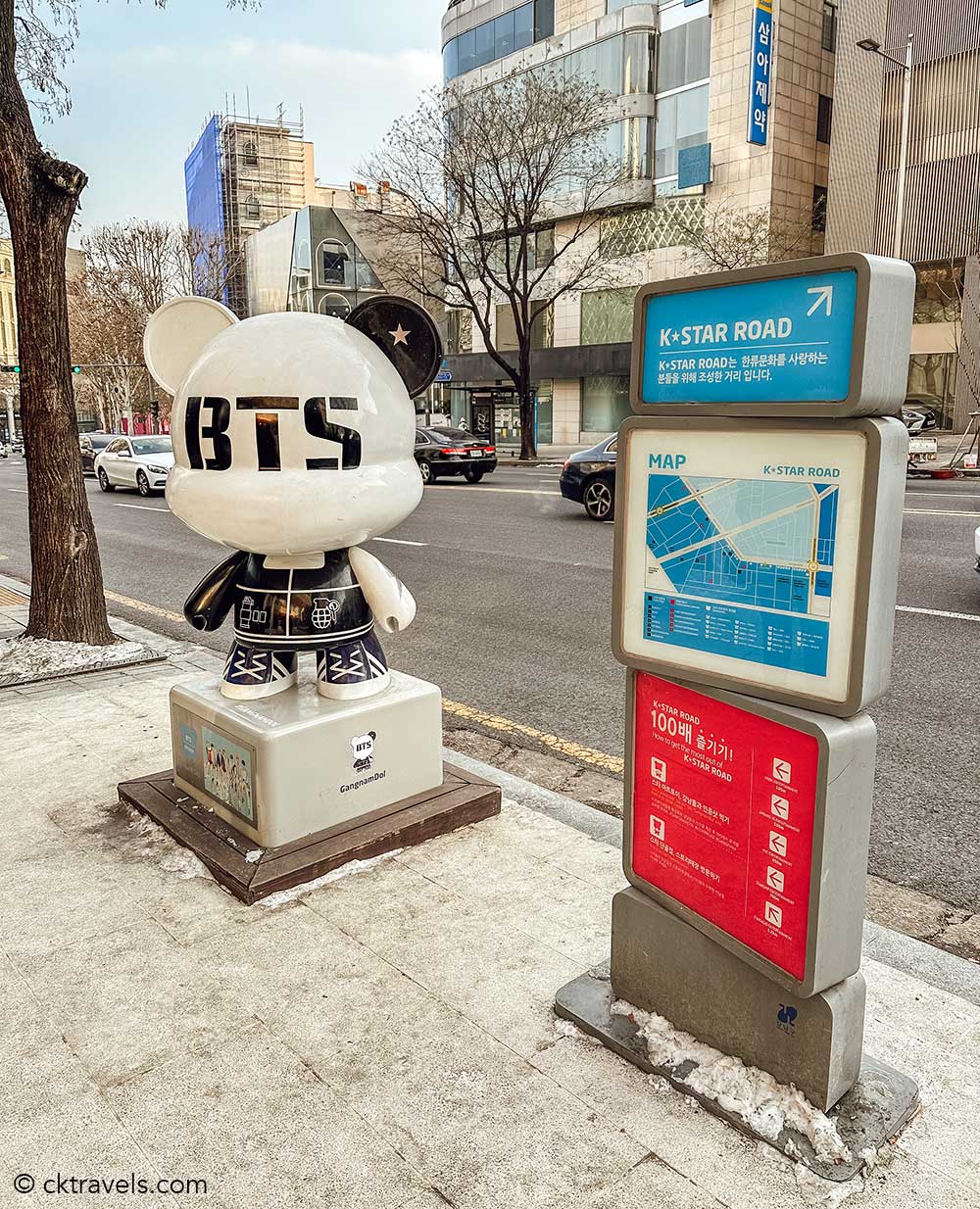 ---
Try this – Gangnam District tour >
---
2. A Weird Seoul Poop Cafe AKA Ddong Café
'Crap' thing to do in Seoul alert! First up, this is not be confused with Poop World – a similar 'sh*tty' themed attraction in Insadong that has now permanently closed (sh*t business eh).
Ddong Cafe is basically a weird and wonderful poo themed cafe located on the top-floor of the Ssamziegil complex, popular with all ages (although particularly kids).
From brown drinks and food served in toilet bowls to turd themed interiors, Ddong Cafe in Insadong is quite the unique epicurean experience.
Sitting amongst poo emoji cushion chairs and crap toilet cubicles with plastic poos (we ain't 'sh*tting you) – this weird and wonderful Seoul cafe may not be everyone's cup of tea (or crappy coffee even), but it is one of the more fun and unique attractions in Seoul.
Fan of all things 'crap'? Check out our 'Modern Toilet' restaurant review in Taipei, Taiwan >
You might like – more things to do in Insadong >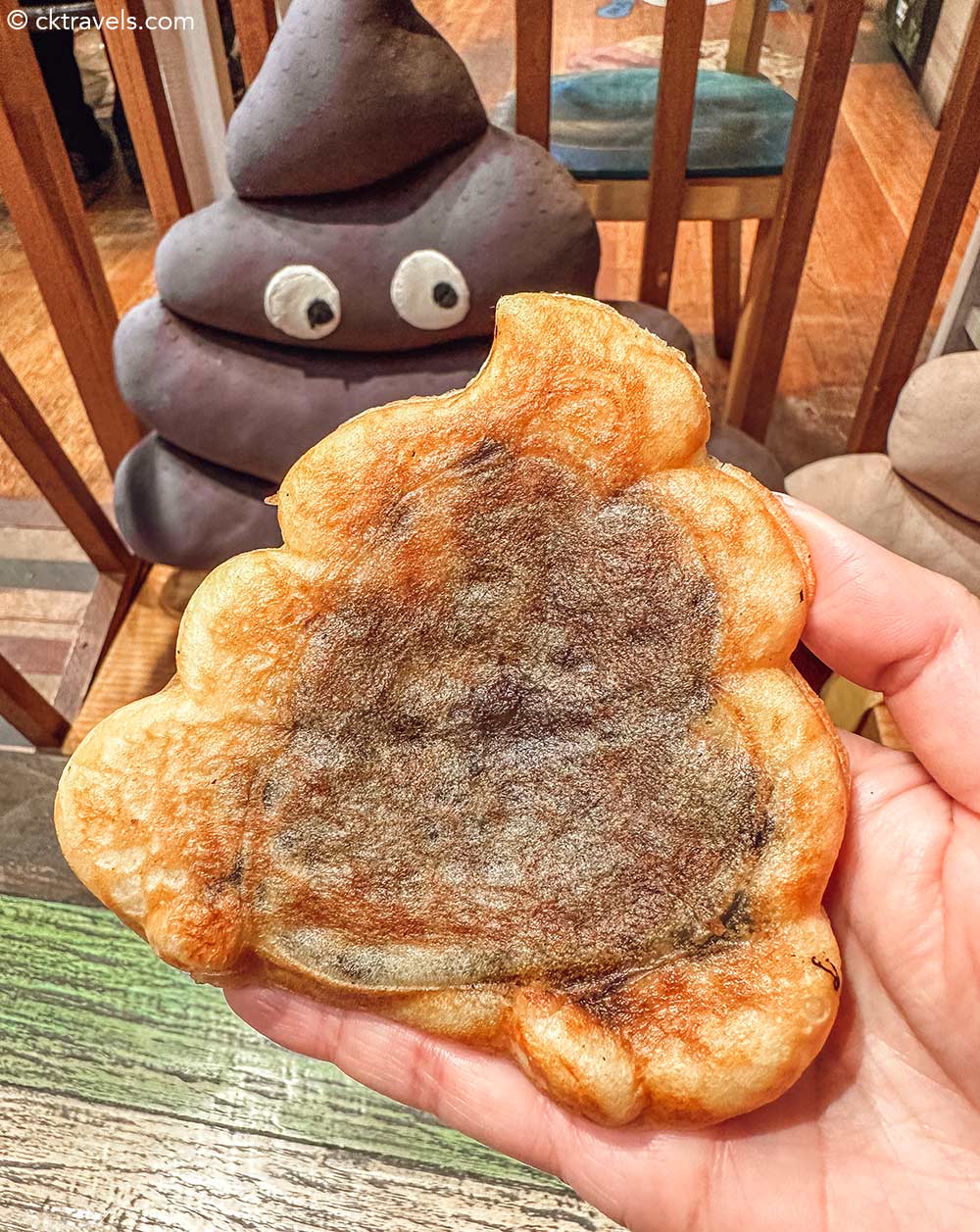 ---
You might like – Where to stay in Seoul / Best Neighborhoods Guide >
---
3. Get up close to 'The Host' monster by the River Han
Han(ds) down, this is the scariest encounter you'll have by the river in Seoul – one of the wackiest and most weird and wonderful attractions in Seoul.
This marvellous monster was unveiled in 2015, after the local Government wanted to create some big and bold artworks (although many of the locals seemingly aren't happy).
One of the best South Korean horror movies in recent years, Bong Joon-ho's The Host was a 2006 smash about a gigantic monster that inhabits the River Han and nearby sewer system (if you haven't seen The HOST movie, stream it NOW!).
This highly detailed 5-ton sculpture of the monster was installed in the park next to Yeouido Han River which apparently cost 108 million won (around £65,000).
Many locals are apparently not fans of this unique Seoul sculpture, but we when paid a visit in the summer of 2023, many people had sent up picnics nearby so it was quite the weird and wonderful attraction in Seoul.
A homage for any K-Film fan, pay a visit to see this 'horrible' Host sculpture (but don't get too close…)
Whilst you are there, why not explore the Han River on a cruise (there should be no monsters lurking in the water (probably).
Book a River Han sunset cruise with Klook. The cruise is also included 'free' as part of the Discover Seoul Pass or Go City Seoul Pass.
Feeling flush? Take a private catamaran yacht tour on the River Han that includes sunset >
Thanks for checking out our blog!
As of Autumn 2023 we are currently digital nomading / travelling around Asia (Thailand, Malaysia, Singapore and South Korea). Check out our daily travel diaries on Instagram @.c.k.travels >
4. The Secret Seoul bar hidden behind a fridge door
Possibly the most quirky brewery in Seoul, a visit to Euljiro's Ranch Brewing Company bar starts with a journey into the unknown.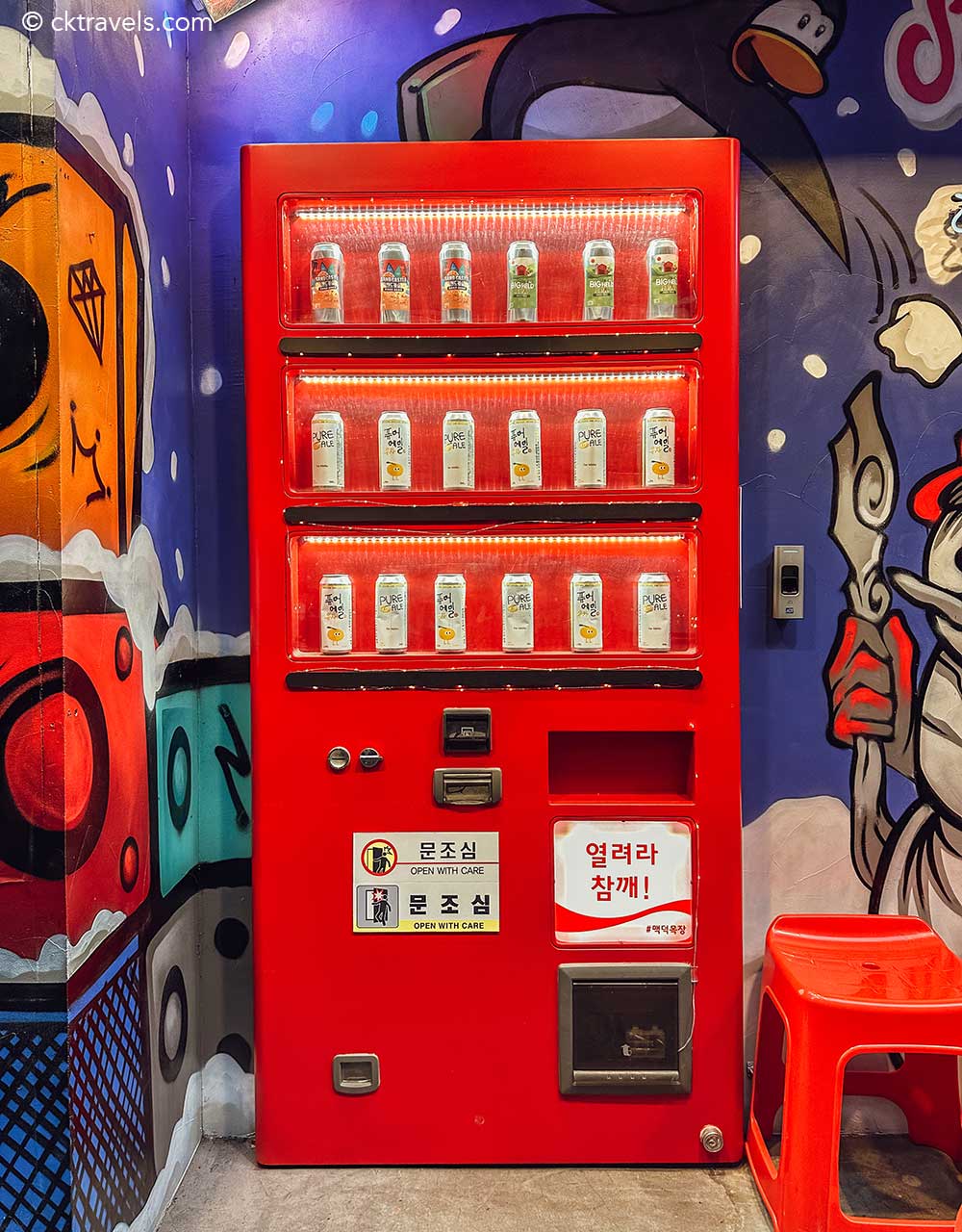 A bit like a modern day version of the secret wardrobe entrance in the 'The Lion, The Witch and The Wardrobe', this weird and wonderful Seoul adventure starts through a hidden fridge doorway (you'll notice 'secret' bars are a very popular thing to do in Euljiro – there is a trend emerging!)
Once you've pulled open the huge, metallic red fridge door, you walk out into a neon lit bar where the warmth and chatter that emanates from the other drinkers is a welcome sight – bring on the beers!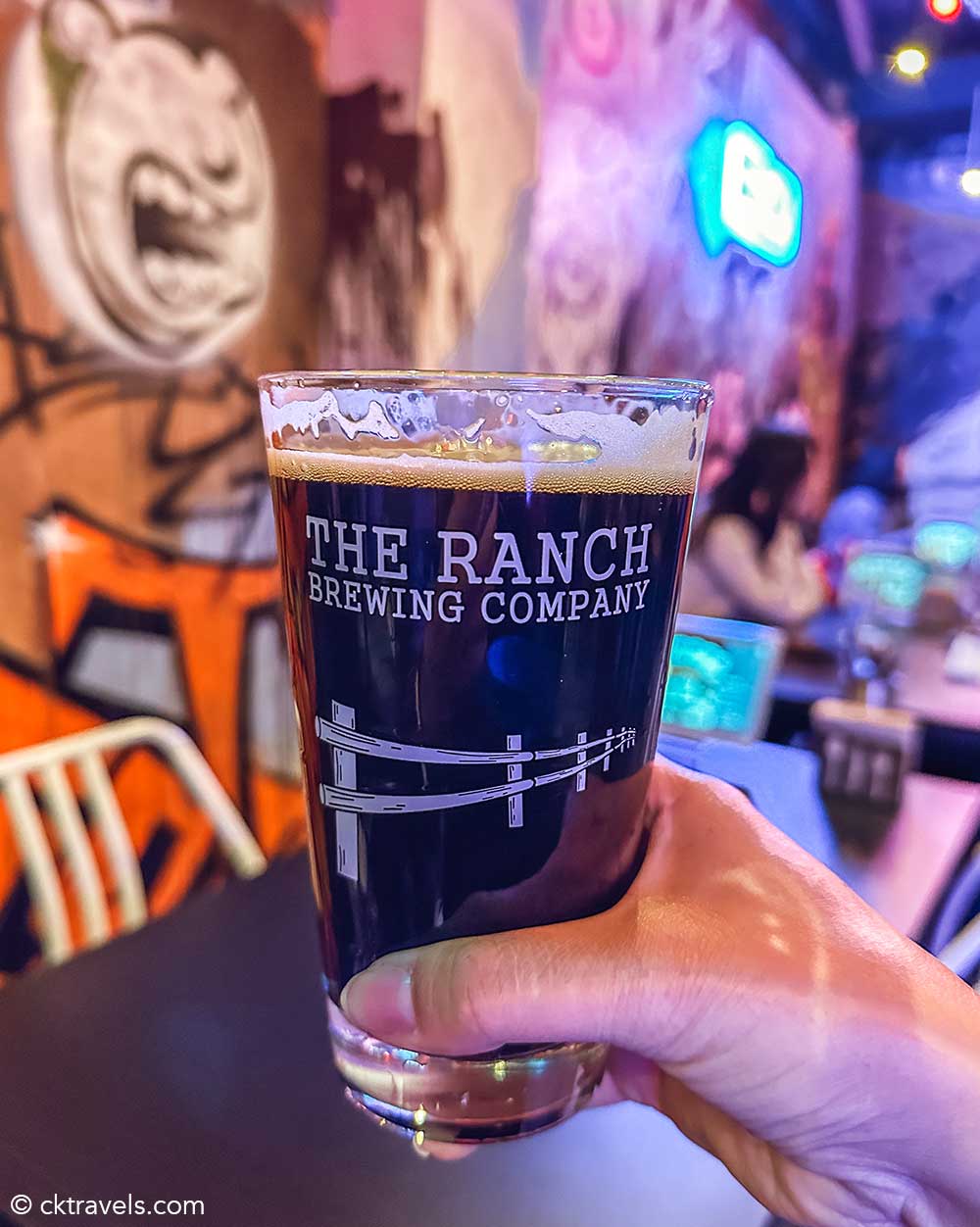 This unique Seoul bar and taproom hidden behind a vending machine door often quickly fills up (and is particularly popular with female groups) – there are over 10 taps of beer behind the bar too; cheers!
Read more about the Ranch Brewery in our top craft beer bars in Seoul guide >
You might like – A Seoul pub crawl >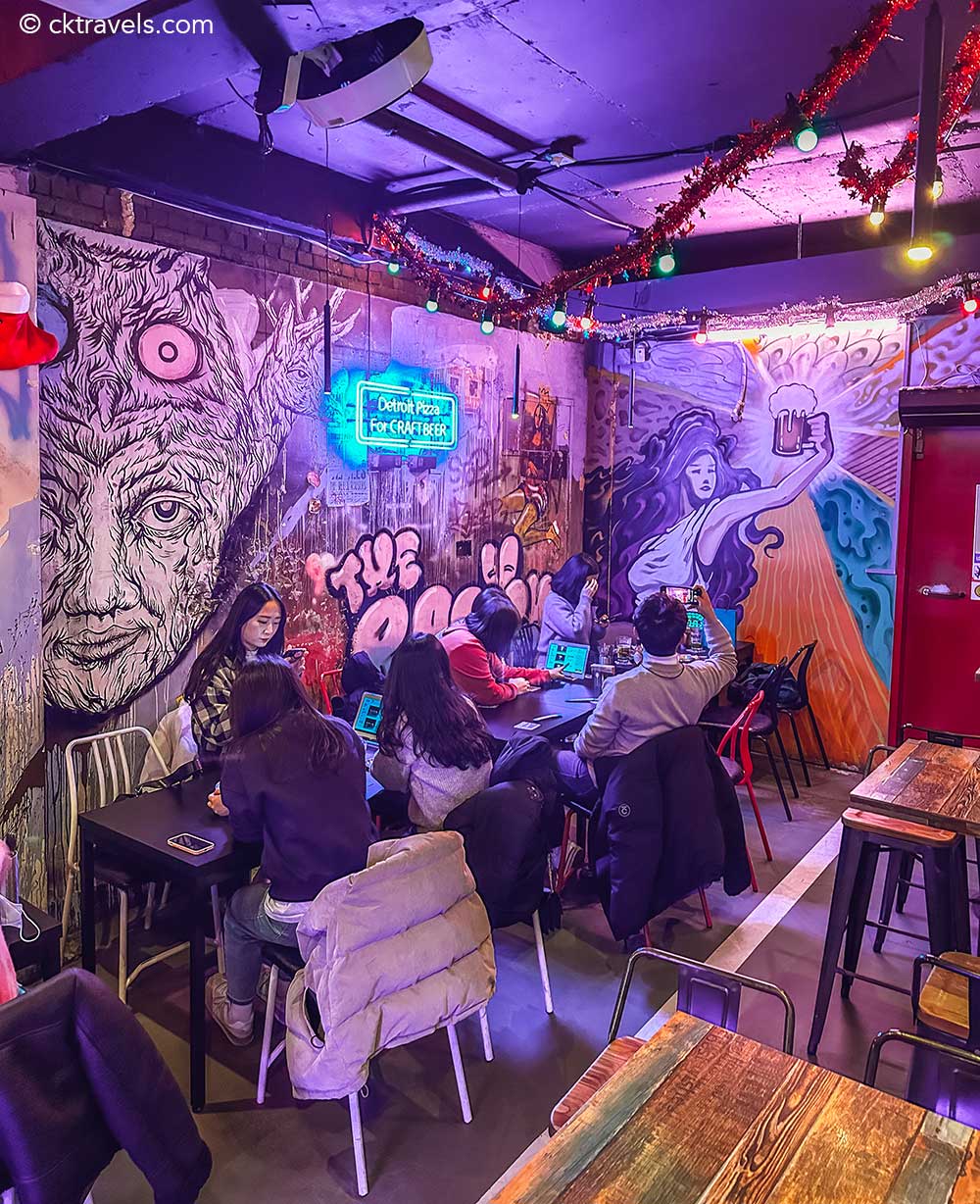 ---
5. The Alive Museum
Everyone loves selfie and trick art museums (or is it just us) – we went to this one as it was included as part of the Go City Seoul Pass.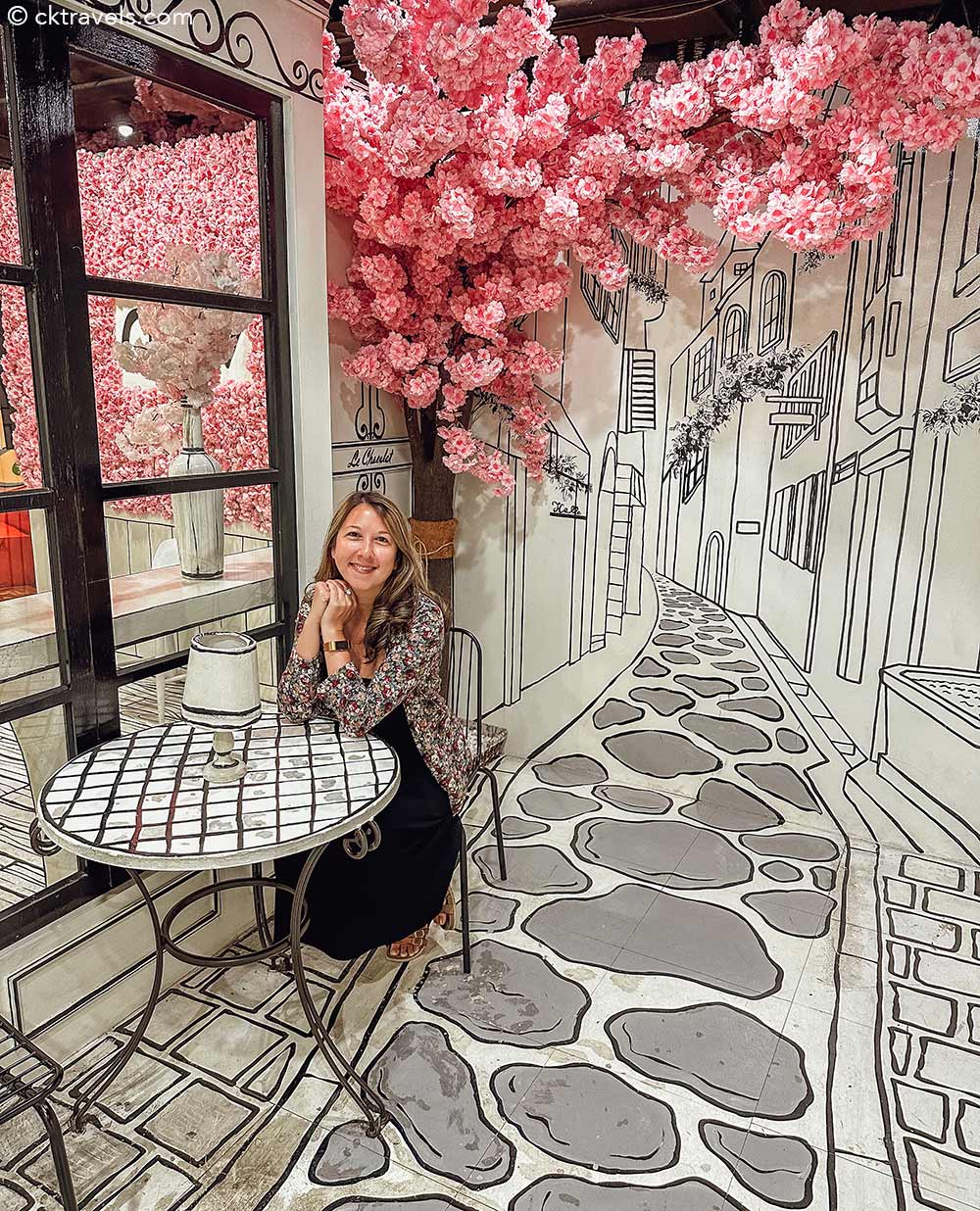 Alive Museum in Insadong is best described as a trick art selfie gallery where you can pose for some really fun photos in several zoned areas.
Fun for all ages, this weird and wonderful Seoul attraction is most popular with families and local young couples – sweet!
We particularly liked the gaming zone at Alive Museum where you could pop up like Super Mario in a huge pipe plus a 3d black and white illustrated cafe – it was also fun to become Superman or an astronaut in space.
Along the way at Alive Museum, collect stamps on your map and swap these for free candies and sweets at the end.
Even though this is aimed at kids, we had great fun fooling around and posing for pics – one of the more weird and wonderful attractions in Seoul.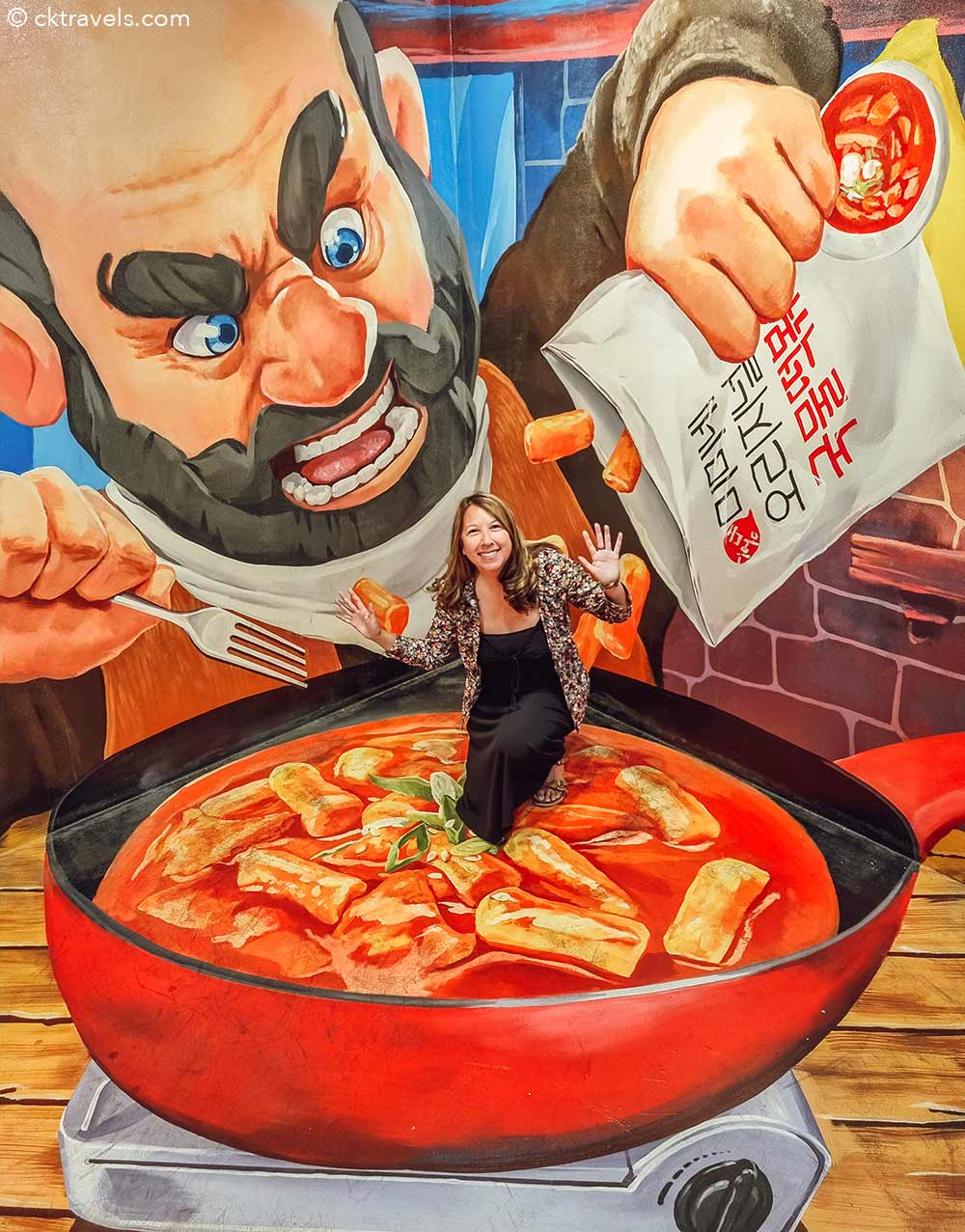 ---
You might like – things to do in Seoul with kids >
---
6. Robot Restaurant Servers in Myeongdong
One of the most popular restaurants in Seoul also has a weird and wonderful addition to the warm welcome you receive – your dishes are served by a robot waiter!
Weirdly for such a traditional restaurant that was founded in the 1960s, the juxtaposition of the old school dining area (with furnishings that don't seem to have been updated since they opened!) with the modern (ish) robots is a curious one.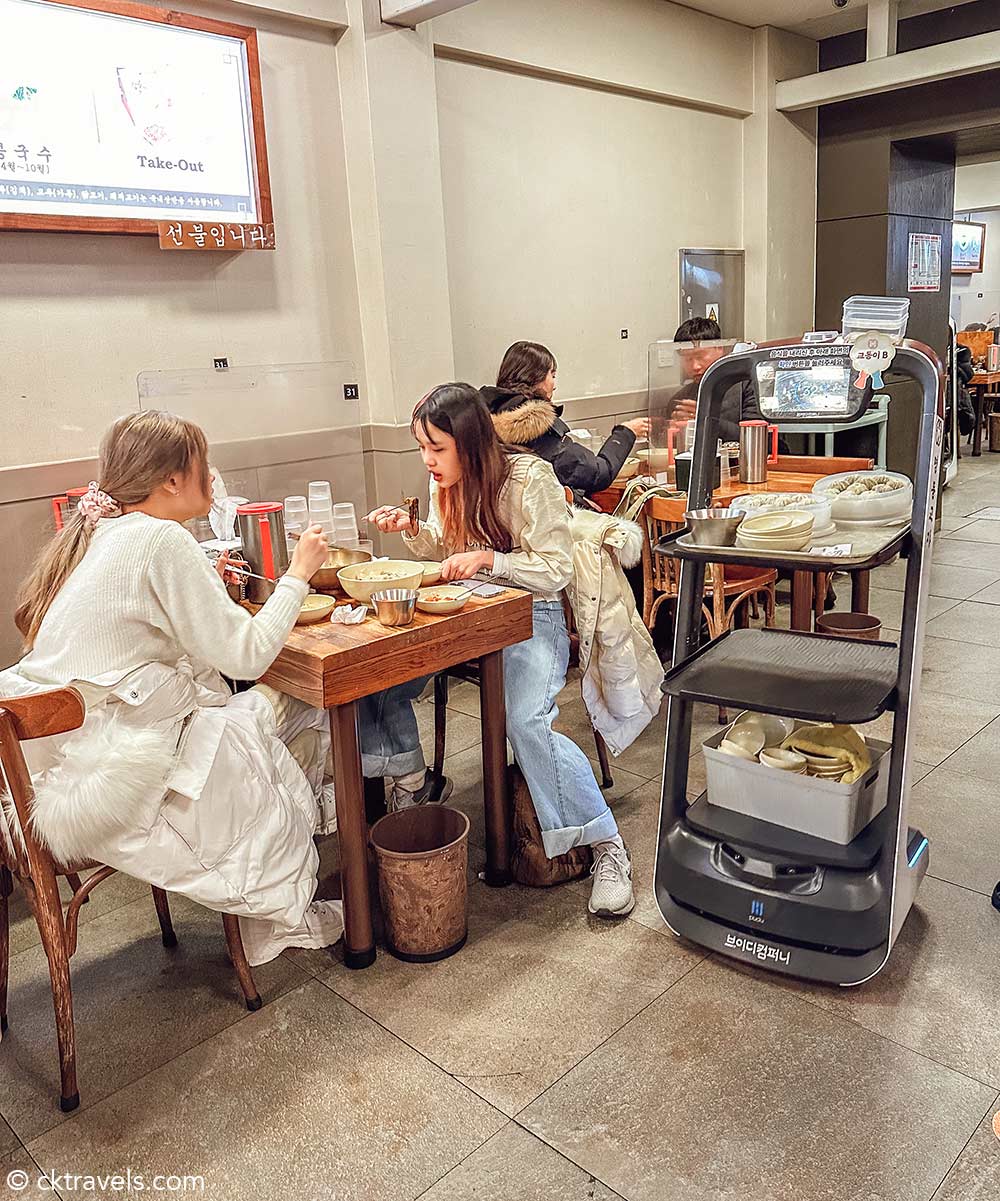 One of Seoul's most popular and inexpensive restaurants, Myeongdong Kyoja has a simple but succulent menu comprising just a handful of dishes which are then delivered to you by a roaming restaurant (or a human if the robots are busy).
Another weird and wonderful thing to know about Kyoja and other South Korean restaurants in Seoul – often the cutlery and chopsticks are hidden away below your table in a little side drawer, so if you can't see them on the table, check underneath.
If you're planning on visiting Kyoya (there are two branches in Myeongdong and one in Itaewon), check out our Kyoja Myeongdong guide here >
---
7. Korean School Uniform Rental
Hanbok and traditional costume rental in Seoul is big business, particularly around the five Royal Palaces (especially Gyeongbokgung Palace) or Bukchon Hanok Village.
But did you also know school uniform rental is quite popular in Seoul (and Busan), particularly with young couples who left school several years ago? The idea is to recreate scenes from popular K-drama.
So you can stroll around Seoul in a stylish outfit looking like a K-Pop star plus coordinate your own style and colour combination.
There are also lots of School uniform rental places near Seoul Lotte World with basic rental staring from around £12 (a deposit is also required).
Rent your Korean School Uniform here >
---
You might like – 70+ things to do in Busan, South Korea >
---
8. Banpo Rainbow Bridge Fountain
This fantastic fun fountain is a unique and wonderful attraction in Seoul and is in the Guinness Book of World Records as the "…world's longest bridge fountain".
The Seoul Banpo Rainbow Bridge Fountain has almost 400 water jets that light up and spout around five to six days a day between April to October – one of the most colourful and unique soggy attractions in Seoul.
By day, the Banpo Rainbow Bridge Fountain springs into life with a water show that is meant to be reminiscent of willow trees swaying in the wind.
However if you can, visit this attraction in Seoul at night as it becomes the ultimate light show (AKA the Banpo Bridge Moonlight Fountain Show) where the 1 km stretch of fountains on either side of the bridge illuminate.
---
You might like – Things to do in Seongsu-dong, Seoul's most hipster neighbourhood >
---
9. Museum Kimchikan / Kimchi Museum
The Museum Kimchikan (formerly Kimchi Museum – because even kimchi deserves a rebrand) is a uniquely South Korean museum and once named as one of the top 10 food museums in the world by CNN (hands-up if you can name the other 9).
The process of making kimchi is UNESCO designated, such is its cultural significance. At Museum Kimchikan, you can learn about the history of kimchi, the different types and how it is made.
Note the museum is closed on Mondays and admission price is 5,000 Won per adult (around £3) as of summer 2023.
Try this – Korean Kimchi making day experience in Seoul >
---
You might like – What to eat at Gwangjang Market in Seoul >
---
10. Love Locks in Namsan Park
Want to see a whole lotta love locks? Well head to Namsan Park where literally every spare surface is covered in love locks (colourful padlocks).
There are so many lovelocks (many with weird and wonderful romantic messages; some of which are too raunchy to repeat!) and you can even buy them in the 7-Eleven at the top of the park, in the shadow of the N Seoul Tower.
Alas as many of the love locks have been there in all weathers for many years, lots of have gone very rusty and orange, so the overall effect isn't as romantic as some may expect.
Book your N Seoul Tower ticket here with Klook >
N Seoul Tower is also one of the included Seoul attractions of the Discover Seoul Pass and Go City Seoul Pass.
---
You might like – The best things to in Seoul >
---
11. DMZ Tour from Seoul
Ok so everybody has pretty much heard of the daily DMZ tours from Seoul but did you know there are some very weird and wonderful Seoul attractions you can do whilst on the tour?
The DMZ is the heavily controlled border separating North and South Korea.
The tours to the DMZ from Seoul are usually half a day and start with a visit to Imjingak Pyeonghwa-Nuri Park.
Here, one of the more unusual things you can do is buy North Korean money (at a highly inflated rate) under the counter of a gift shop – no photos are allowed in this shop.
Also, there are weird cutesy cartoon character soldiers that you can pose with at various points including right next to the DMZ Bridge of No Return – one of the more unusual souvenir snaps you can take along the DMZ.
Given the history and complex relationship of North and South Korea, this is an interesting way to learn about this important piece of history and is an easy day trip from Seoul (many tours are available).
Another weird and wonderful attraction is to peer into North Korea from the Dorasan Observatory. Using telescopes and state of the art electronic cameras, you can see guards on patrol in North Korea plus farmers and local residents go about their daily work.
If you are planning on doing lots of activities and attractions in Seoul, this DMZ tour is available as part of the Go City Seoul Pass >
Fun fact – until recently, most tourists were 'forced' to visit ginseng museums and factories on the way home from the DMZ (because a captive audience is a shopping audience). Thankfully these days most DMZ tours don't include ginseng factory visits or shopping.
---
12. Mind Your Head Bar in Euljiro
See the small traffic cone with fairy lights and the small corrugated iron door next to it? This isn't an entrance to Narnia or Hobbiton, but in fact the weird and wonderful world of 'Mind Your Head', one of Seoul's most unique bars in the Euljiro district.
Head up the stairs through the industrial interiors and enjoy a beer or three – but given all the low ceilings, just remember to 'MInd Your Head'.
Check out our things to do in Euljiro guide >
---
13. HBAF Stores
This was one of the most unusual things we spotted in Myeongdong, not so much the product itself (damn tasty in fact) but the sheer number of HBAF stores in close proximity to each other.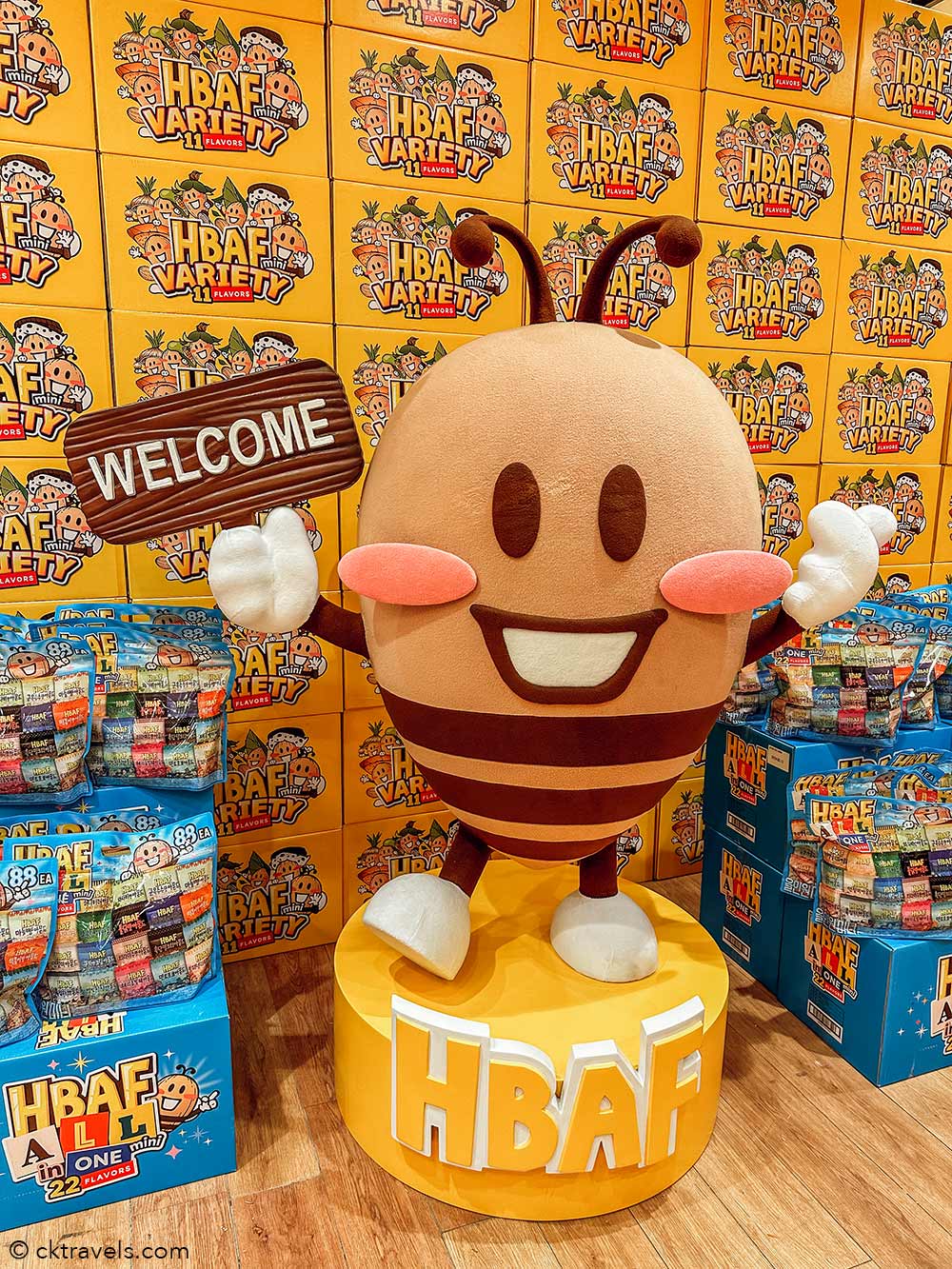 We were H-Baffled at first by the sheer number of these stores in and around the tourist areas of Seoul. We lost count after seeing five stores – some of which were also located only four shops apart.
HBAF is a food / snacking company that sells all manner of nuts, snacks and coated goodies like cookies and cream coated almonds, wasabi almonds, mini caramel salted pretzels etc.
Apparently it is mainly tourists that buy them to take back home (some even bring empty suitcase to fill them up – 'nuts' about HBAF we guess).
The HBAF stores are brightly lit with huge nut like cartoon character malls and rammed to the rafters with colourful food packaging and sachets. The HBAF products are also stocked in many big stores like Olive Young and Korean Mart.
Check out our things to do in Myeongdong guide or our guide to the Myeongdong Night Market
---
14. Thanks Nature Cafe
Have you 'herd' about the sheep cafe in Seoul? We couldn't baaaa-lieve there is a weird and wonderful Seoul cafe with sheep grazing in it.
Welcome to the Thanks Nature Cafe in Hongdae – join the flock and enjoy a coffee or waffle in a cute countryside setting – you can also feed the sheep but you need to ask and buy special food before you approach them.
---
You might like – things to do in Hongdae, Seoul >
---
15. Statue of Gangnam Style
No list of 'weird and wonderful attractions in Seoul is complete with a mention of the unique and glorious Gangnam Style statue, located just outside the East Gate of COEX Mall and COEX exhibition centre.
And yes, we and several other bystanders during our visit felt it only appropriate to recreate Psy's iconic dance in front of the giant pair of hands. It is the law of K-Pop!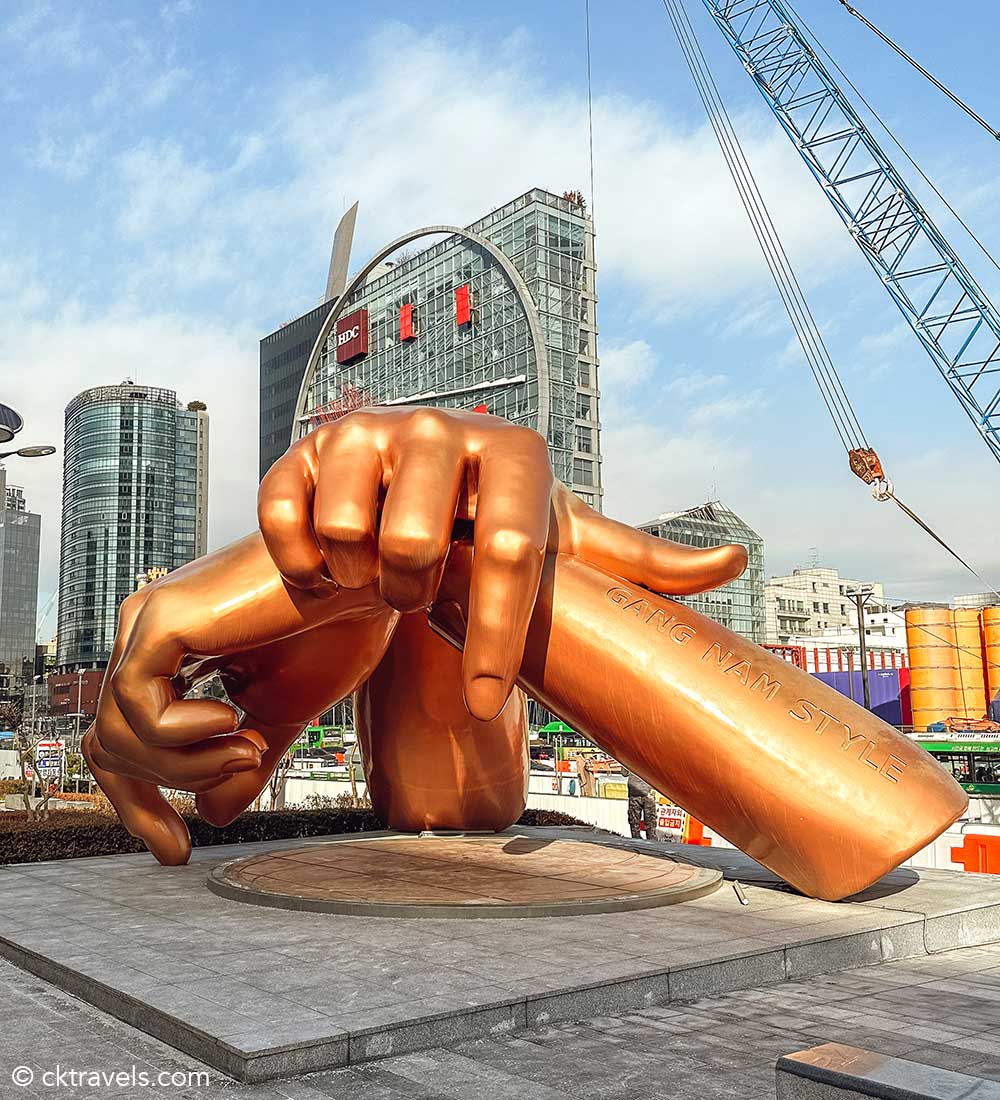 Unveiled in 2015, the Statue of Gangnam style is the ultimate tribute to Psy and his global 'Gangnam Style' hit (part of Psy's Gangnam Style video was filmed here).
We've read the statue cost over 4 million Korean Won and some people think the money could have been better spent – we aren't so sure as this is one unusual and slightly surreal Seoul attraction!
Psy's Gangnam Style music track sometimes blares out when you stand beside it but alas it didn't seem to be working when we last visited (hit us up if it has been fixed when you visit!).
Fact fans – Psy's legendary dance moves were partly filmed outside exit 5 of Gangnam Station.
---
You might like: Discover the Korean Wave in Gangnam private tour >
---
16. NANTA show
We've never seen a theatre show quite like the NANTA comedy and cooking show before – heavy on audience interaction and light on language (most of it is visual humour), this a fun and unique attraction in Seoul.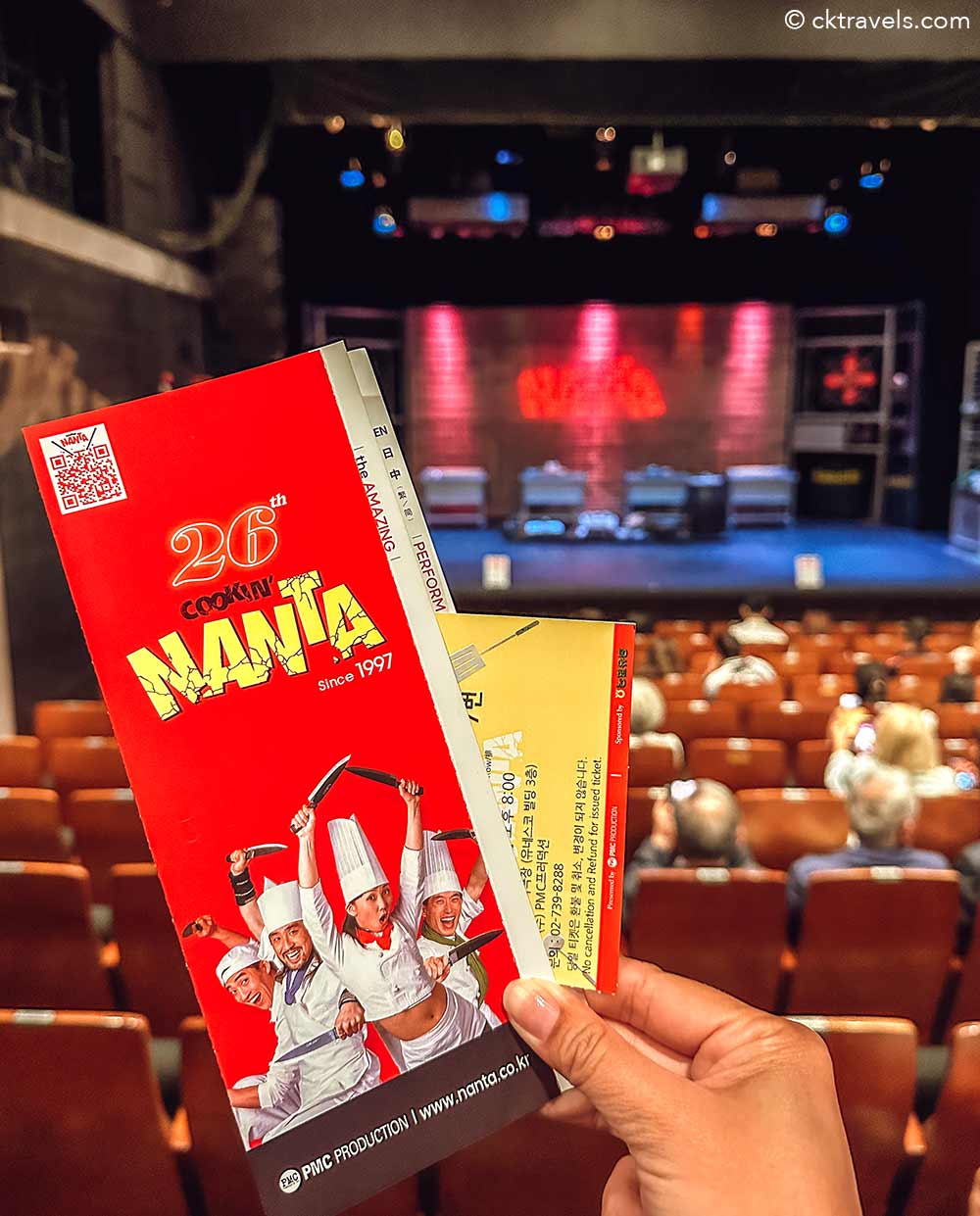 The renowned NANTA Theatre comedy and cookery show, which has been packing in audiences worldwide since 1997 and has been performed over 50,000 times in over 60 countries.
This 90 minute high energy performance is the tale of 3 highly skilled chefs and a new rookie, fighting with a kitchen manager whilst trying to simultaneously prepare a sumptuous meal for a big wedding banquet.
NANTA Theatre is a mix of slapstick and physical comedy. Knives, kitchen utensils and real food are used as props and turned into musical instruments by the performers. High octane and very enjoyable, you might also become part of the show!
We visited the Myeongdong NANTA Theatre using the Go City Seoul Pass.
Book your Myeongdong Nanta Theater Show Ticket with GetYourGuide >
---
Our final weird and wonderful attraction in Seoul suggestion:
17. Oil Tank Culture Park
This is one well 're-fine-ry' attraction to visit in Seoul.
A former oil storage depot facility in the Mapo-gu area of Seoul, the Oil Tank Culture Park is renowned for its pop-up exhibitions and performances and is a popular meeting place and picnic spot (you might even meet your Seoul-mate here).
A handful of huge oil tanks remain on site and they have been transformed into performance spaces and theatre stages – so the ultimate place in Seoul to literally see theatre 'in the round'.
---
You might like – Guide to things you can buy in 7-Eleven in South Korea >
---
Love weird and wonderful attractions? You might also like
Other South Korea posts you might like
Did you enjoy our Unique, Weird and Wonderful Attractions in Seoul guide blog post? Let us know in the comments or by sharing it on social media.
You can follow CK Travels on:
Instagram
Facebook
TikTok
YouTube
Pinterest