This post may contain affiliate links to tours and hotels. These help us earn a small commission at no additional charge to you.
Euljiro is one of hippest neighbourhoods in Seoul, packed full of dive bars, speakeasy style sipping joints and incredible foodie adventures.
Euljiro also has many historical landmarks and heritage buildings right on its doorstep, plus the bright lights of Myeongdong close by. Yet despite all this, Euljiro is generally unknown to travellers and tourists.
Often referred to as 'Hipjiro' (no, really!), you can easily spend a day around the Euljiro neighbourhood as there is a flourishing food and drink scene among Euljiro's alleyways including craft beer bars, cocktail joints and a whole street of outdoor dining.
This former industrial neighbourhood, Euljiro is hipster as and one of the most welcoming and accepting places in Seoul. Recently, Euljiro stepped in to host the 2023 Seoul Queer Culture Festival parade which had struggled to secure a route in other parts of the city – go Euljiro!
Just a few minutes walk from Myeongdong, here is our guide to all the best things to do in Euljiro, Seoul (2023):
How to get to Euljiro
Euljiro is easily walkable from both Myeongdong and Insadong.
If you are using public transport to get to Euljiro, you can take Subway line number 2 or 3 to Euljiro 3(sam)ga Station.
Alternatively, you can also start at Chungmuro station as this is very close to the main bar area of Euljiro and Namsangol Hanok Village.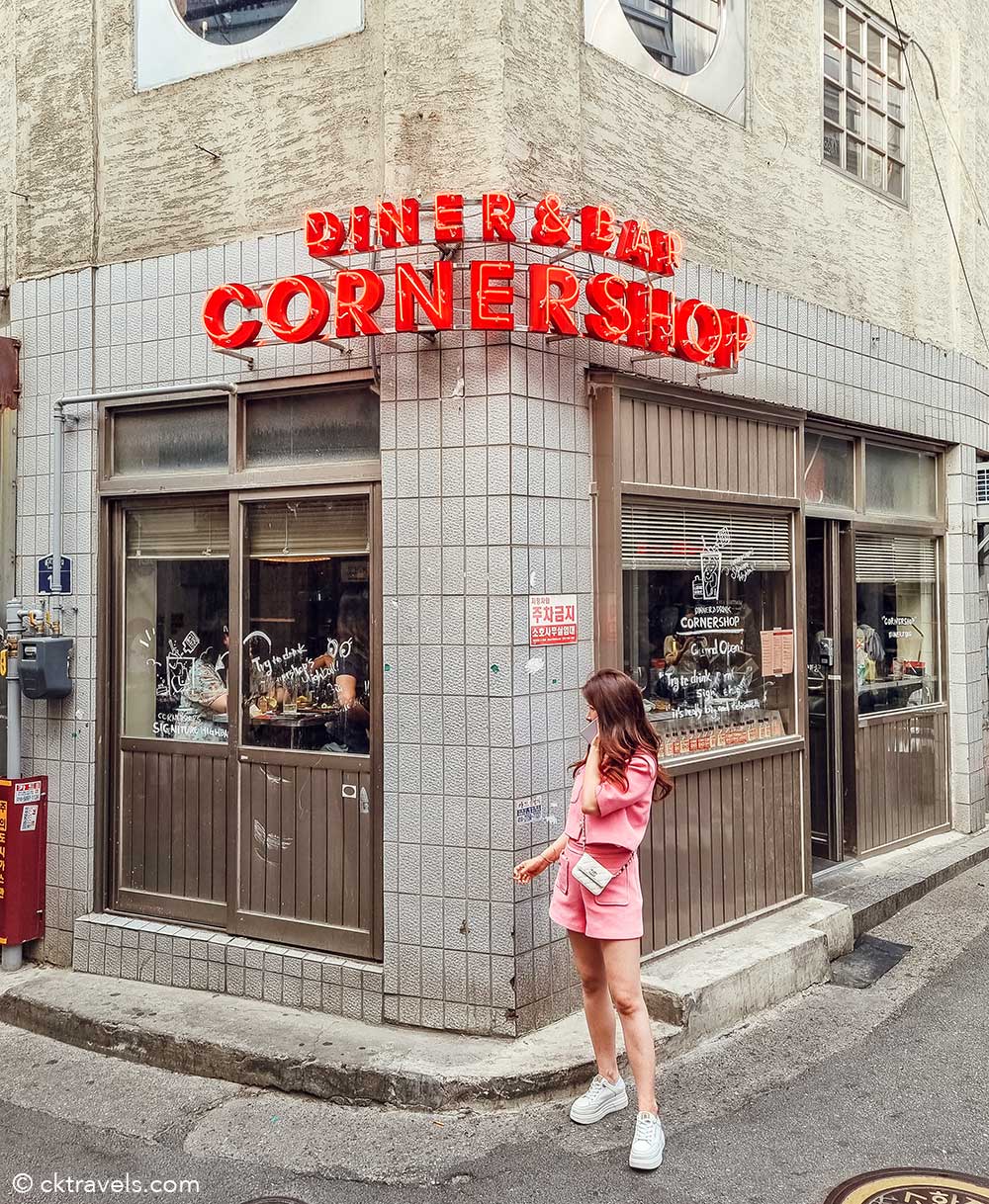 Looking for cheap Seoul day-trips, attractions or group/private tours? We recommend visiting Viator, GetYourGuide, and Klook!
Things to do in Euljiro, Seoul…
1. Namsangol Hanok Village
A free to visit village of traditional houses in the shadow of Namsan Mountain and N.Seoul Tower, Namsangol Hanok Village is one of Seoul's hidden gems and a superb way to get a sense of what life used to be like in Seoul, prior to the tower block boom.
Open daily (except Mondays), the Namsangol Hanok Village was officially opened in the late 1990s and has several restored hanok houses, a tranquil traditional garden, performance stages and an ornate pavilion.
There is also a 'Time Capsule Plaza' nearby where a treasure trove of items has been buried for future generations to discover (although to us, the latter feels quite jarring and 'Brutalist' when located so close to the historical and pretty Namsangol Hanok Village).
---
You might like: Things to do in Myeongdong, Seoul >
---
2. Euljiro Nogari Alley
We'll let our Euljiro Nogari Alley pictures speak for themselves but we'd best describe this as an 'epic enclave of Euljiro eateries' popular with locals, particularly the afterwork crowd.
Euljiro Nogari Alley is an L-shaped street packed full of local restaurants and hole-in-wall establishments that is open for business every night.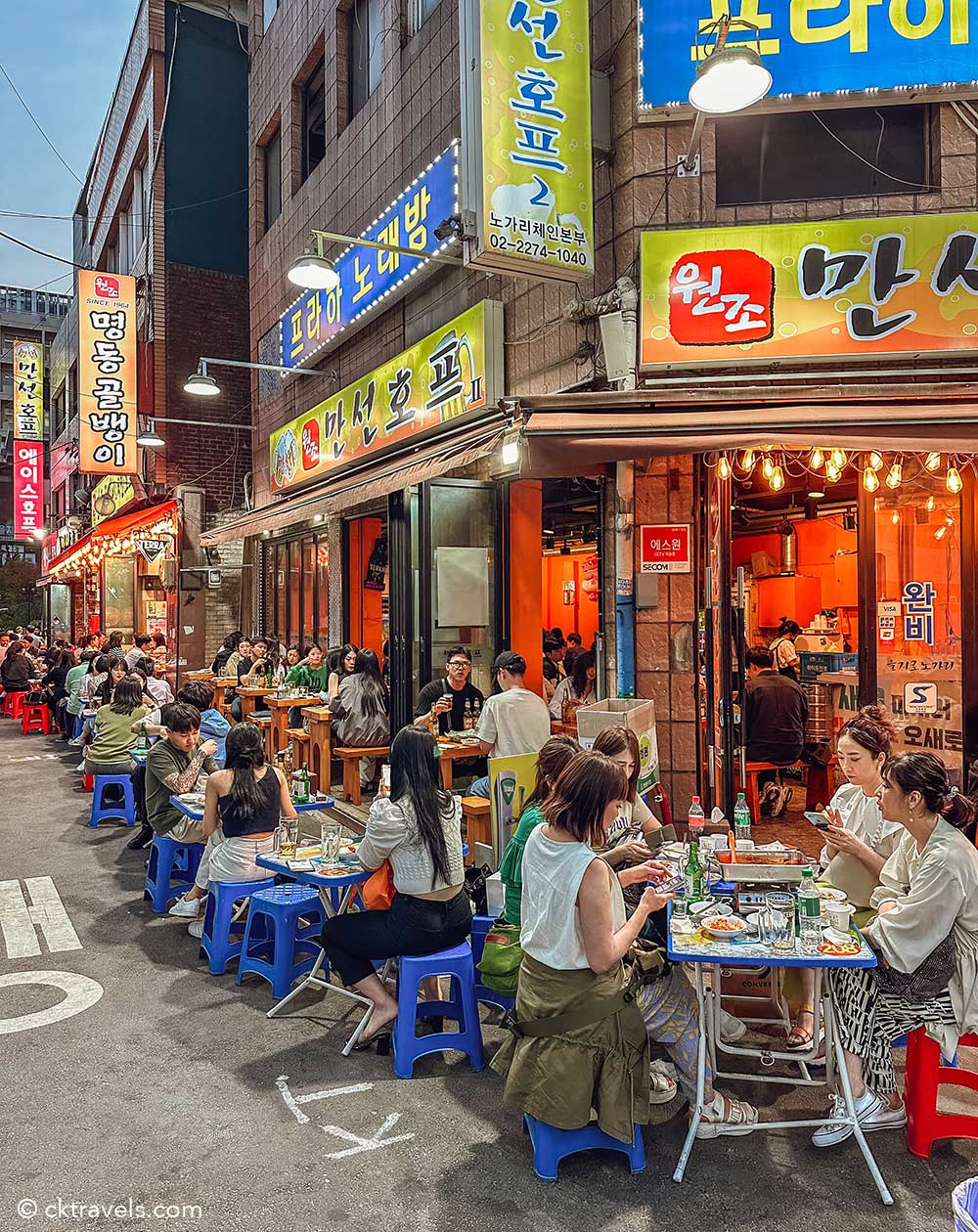 In the warmer summer months, hundreds of people pack out this alfresco alleyway, as the smell of fried food and sublime Seoul food wafts in the air. In winter, plastic tents and waterproof covers pop-up make this an all weather fine food affair.
Euljiro Nogari Alley is such a special Seoul street place, where you can eat with the locals and enjoy garlic crusted fried chicken with an ice-cold beer (or seven).
---
You might like – things to do in Gangnam, Seoul >
---
3. Enjoy the Cheonggyecheon River Walk
One of the best walks in Seoul and on the edge of the Euljiro district, the Cheonggyecheon is a downtown public park and river walk that is open 24 hours.
Along the way, you'll see an abundance of wildlife (especially birds trying to catch fish) plus joggers galore – it is also a popular way to walk to Gwangjang Market from the city.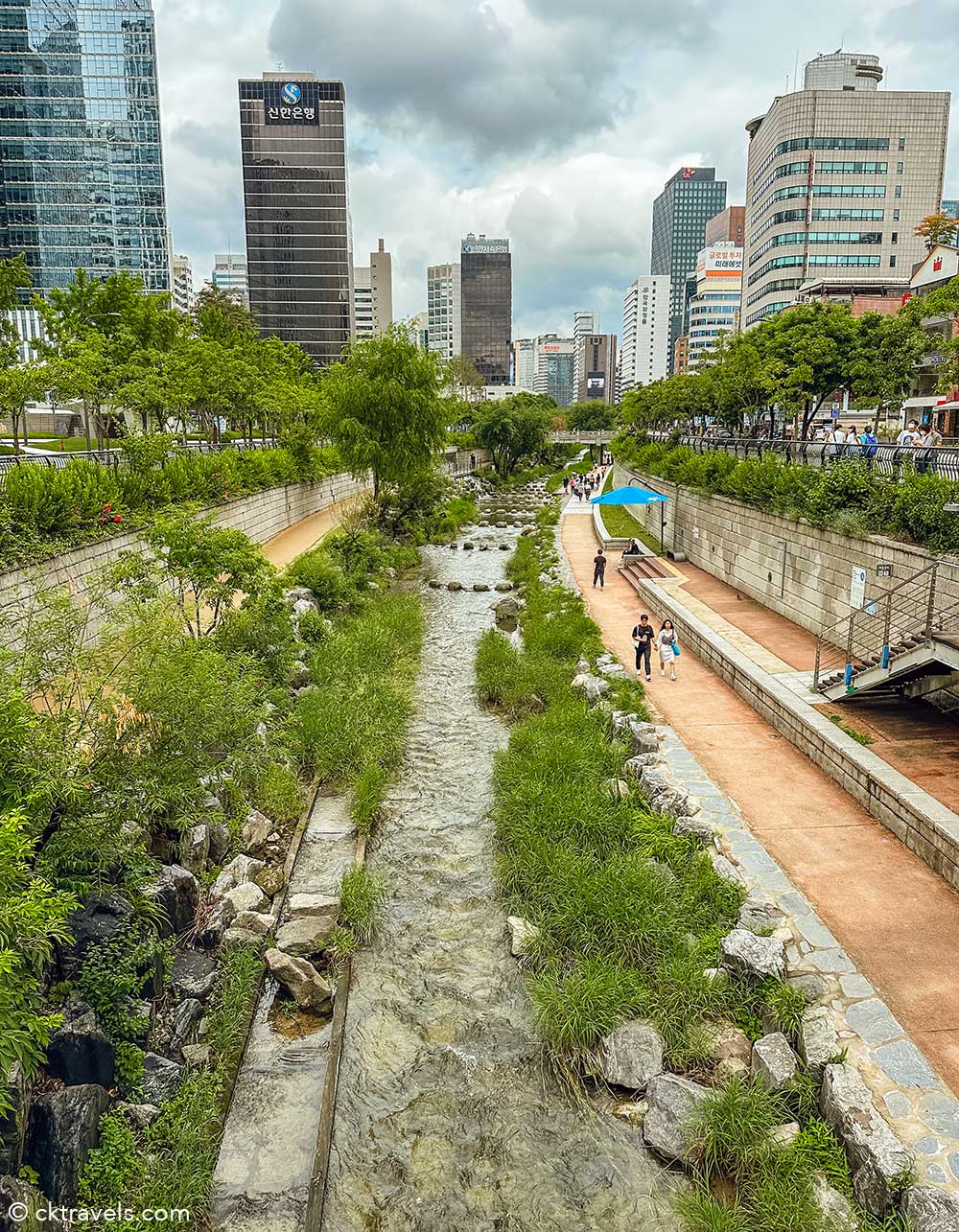 Cheonggyecheon is an example of urban regeneration in Seoul whereby this formerly neglected and run down riverside area was transformed in the early 2000s into a wonderful walk along a river, complete with benches, stepping stone bridges and a long concrete walkway.
The full stretch of the Cheonggyecheon stream through the city is around 10 km but the best bit to walk is between Cheonggye Plaza (in downtown Seoul) and Gwangjang Market.
During festivals and Christmas in Seoul, the Cheonggyecheon stream sometimes has special lights and pop-up events.
---
Cheonggyecheon River Walk features in our 'Seoul at night' guide
---
Breweries and Craft beer bars in Euljiro
There is a super-cool beer scene in Seoul. Discover Euljiro's epic craft beer bars including a 'secret' bar hidden behind a fridge door…
4. Euljiro Brewing
Literally a 'sick' logo – is this the best Seoul brewery logo EVER?
Hidden down a neon soaked alley in the Euljiro district of Seoul, this is a brilliant brewery taproom with some awesome interiors and neat neon design features.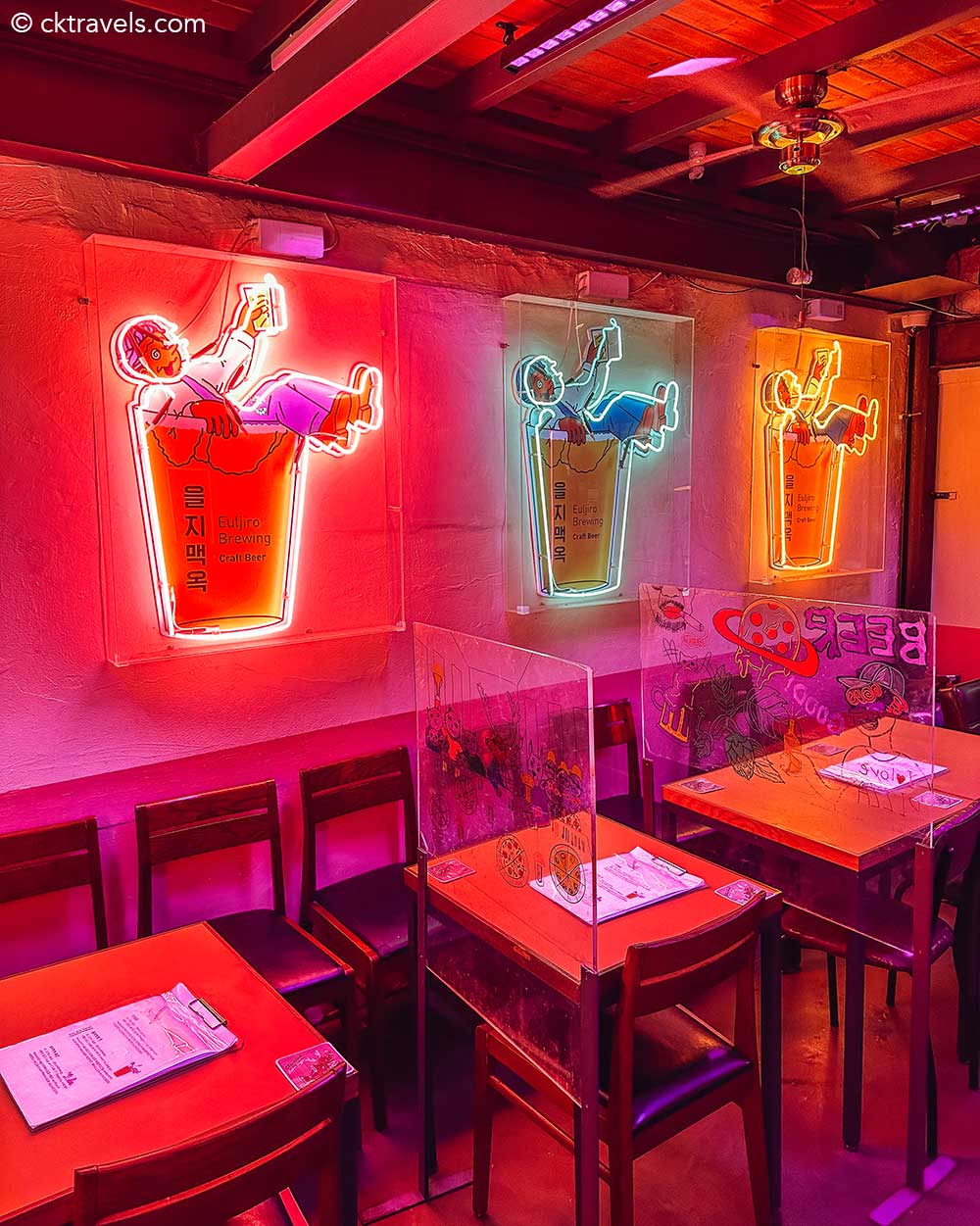 Euljiro Brewing has two tap-rooms and craft beer bars in the same Euljiro alley practically across the road from each other so if one Euljiro Brewing taproom is full, you can always try the other.
The neon soaked alleyway also reminds us a little of the entrance to the Artmonster craft beer bar in Gangnam.
The craft beer connoisseurs at Euljiro Brewing were mainly a young crowd, a nice mix of groups and pairs. Beer prices are pretty good too – a large Euljiro Brewery beer costs around 7,500 Korean Won (as of summer 2023).
Address: Euljiro Brewing, 48-16 Supyo-ro, Euljiro 3(sam)-ga, Jung-gu, Seoul
---
You might like – Things to do in Hongdae, Seoul >
---
5. The Ranch Brewing Euljiro
Possibly the most quirky brewery in Seoul, a visit to Euljiro's Ranch Brewing Company bar starts through a hidden fridge doorway (you'll notice 'secret' bars are a very popular thing to do in Euljiro – there is a trend emerging!)
Once you've opened the huge, metallic red fridge door, the warmth and chatter that emanates from the taproom is a welcome sight – bring on the beers!
Ranch Brewing Company is a Daejeon based brewing company with a decadent draft craft beer range that you order via a table tablet (there is an English language setting on the tablet too). Hit the 'order' button and your beer will likely arrive in less than a minute (we know because we timed it)!
Staff at the Ranch Brewing taproom were also super helpful on both of our visits and we always try to pop by when we are in Euljiro.
This taproom hidden behind a vending machine door often quickly fills up (and is particularly popular with female groups) – there are over 10 taps of beer behind the bar too; cheers!
Most Ranch Brewing Company beers were generally between 7,000 to 8,500 Korean Won for a large beer (slightly smaller than a pint) so this makes it one of the better value craft beer breweries in Seoul.
Address: The Ranch Brewing Euljiro, 11 Eulji-ro 12-gil, Jung-gu, Seoul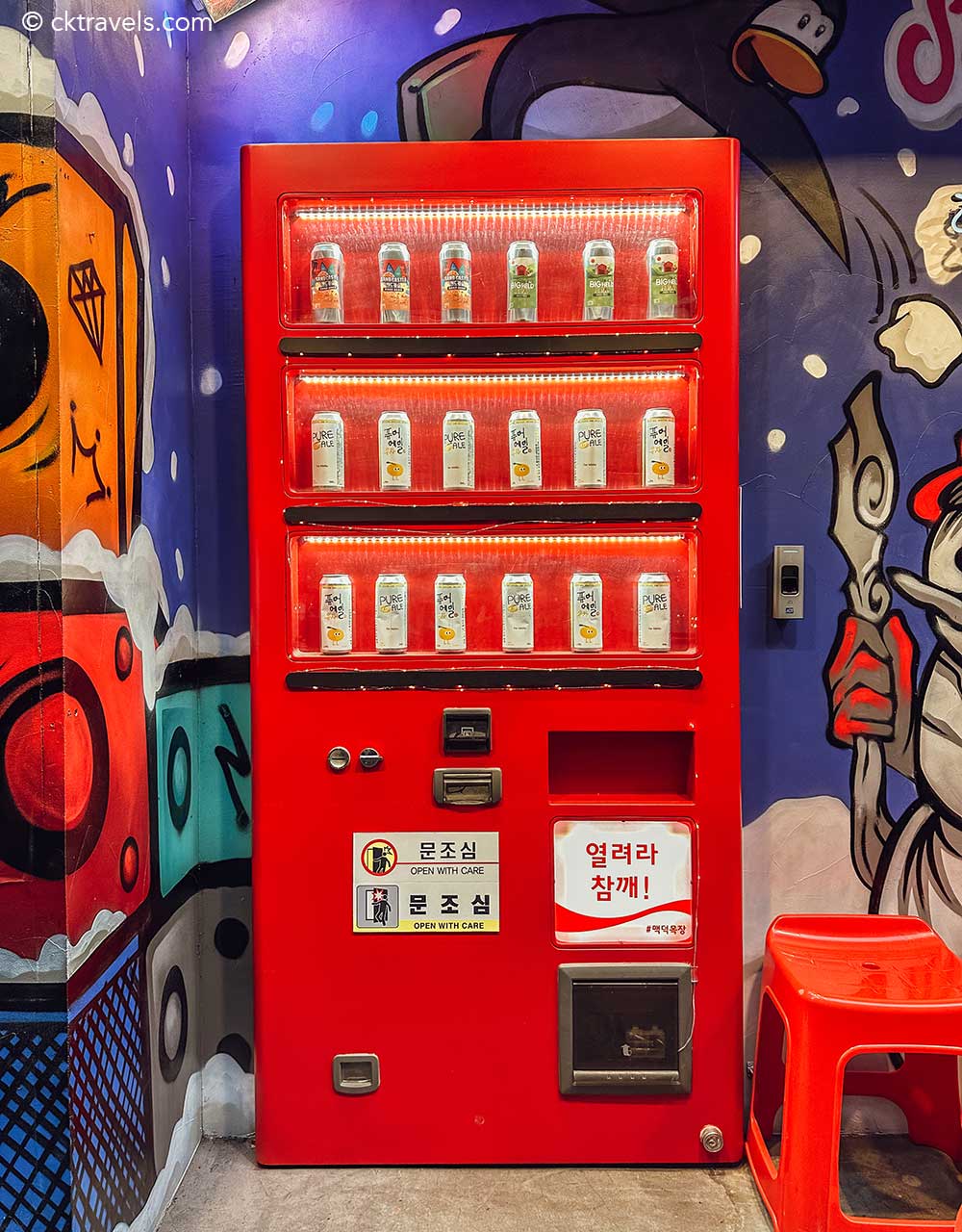 ---
You might like – the best craft beer bars in Seoul >
---
6. Hooked Poke
If you want something a little healthier than all the fried food fare and beer culture of Euljiro Nogari Alley, we'd highly recommend a trip to Hooked, one of Seoul's best poke eateries which serves up sliced fish and salads (such is there success, they now have 8 stores and counting in Seoul).
In typical Euljiro fashion, Hooked is located down a dimly lit alley and has a cute and cosy interior – we visited Hooked Poke one night after craving something packed full of goodness and grains and were not disappointed.
Very popular especially with the younger after work crowd, you can order using an electronic terminal (they have an English menu) and also tailor your poke dish with your preferred ingredients and dressing; go for the wasabi mayo dressing; you will not be disappointed!
Address: Hooked Poke Euljiro, 18 Samil-daero 12-gil, Jung-gu, Seoul
---
You might like – a guide to the best South Korean street food >
---
Cocktail Bars in Euljiro
There are many cocktail bars and late night venues to explore in Euljiro.
7. SookHee Bar
Euljiro's suavest speak-easy bar with roaring 1920's theme, Bar Sook Hee is discrete as it is decadent.
Enter through a wooden door (marked only by a small sign) and emerge into a 'Seoul-ful' world of opulence, a traditional Korean bar with smartly dressed waiting staff and one of the largest whiskey menus in the city.
A cosy and charming Euljiro experience, Sookhee Bar is open daily from 6.30pm to 2.30am.
---
You might like – visiting Jamsil Stadium how to get Seoul baseball tickets >
---
8. The Edge Cafe & Bar
The Edge Euljiro is one of those hidden 'Hip-jiro' gems you'll keep hearing about, tucked away in the side streets. A coffee shop by day and cocktail bar by night, you could easily be forgiven for thinking you've walked into a vintage vinyl store.
During the weekends (Fri & Sat), Euljiro's Edge has two floors open – their newer Edge restaurant and bar from 7pm to 11:30pm and their third floor music venue and bar (which often hosts DJs) from 8pm until late Tuesday through Sundays.
Address: SookHee Bar, Seoul, Jung-gu, Toegye-ro 44-gil, 3 1층
---
You might like – trying the Go City Seoul pass and Discover Seoul pass? Are they worth it?
---
9. Mind Your Head
See the small traffic cone with fairy lights and the small corrugated iron door next to it? This isn't an entrance to Narnia or Hobbiton, but in fact the weird and wonderful world of 'Mind Your Head', one of Euljiro's most entertaining bars.
Head up the stairs through the industrial interiors and enjoy a beer or three – but given all the low ceilings, just remember to 'MInd Your Head'.
Address: Mind Your Head, 4F, 25-2 Eulji-ro 18-gil, Inhyeondong 1(il)-ga, Jung-gu, Seoul
---
You might like – things to do in Seongsu-Dong, Seoul >
---
10. Oldies Tacos
We stumbled across Oldies Tacos quite by chance when staying in Euljiro – a new (ish) taco stand with a very cool retro and vintage interior (kinda like an American diner feel).
Incredibly popular, Oldies Tacos is easy to spot as there is usually a huge queue outside (oh and the external neon sign is a giveaway too).
Inside, there are spaces for several diners so they also do a brisk takeaway taco trade (try saying that after a few tequilas).
Oldies Taco menu is small but this means they can concentrate on incredible food – the main dishes are taco rice, Birria tacos and their signature Korean beef brisket Oldies Taco; wash it down with a Corona beer and lime. Eat and repeat. Simple – 'tacos' back there to Euljiro now!
Address: Oldies Tacos, 17-4 Cho-dong, Jung-gu, Euljiro, Seoul, South Korea
---
You might like – a visit to the Netflix Knife-cut noodle lady in Seoul >
---
11. Sewoon Arcade
A popular period K-drama filming location given its vintage vibes, Sewoon Arcade Makercity was once South Korea's premier electronics hub, where you could buy all the top of the range electrical appliances and homeware.
Although it has now fallen out of favour given all the newer Seoul shopping malls, Sewoon Arcade has its diehard DIY fans and is still worth a visit to take a trip down memory lane – it also reminds us of the Brutalist buildings and architecture in London.
Address: Sewoon Arcade (Makercity Sewoon), Jongno-gu, Seoul, South Korea (open Monday to Friday 8:30am to 6:30pm)
---
You might like – things to do in Ikseon-dong Hanok Village >
---
Other things to do close to Euljiro, Seoul
Myeongdong
Myeongdong is a lively and vibrant Seoul neighbourhood that is incredibly popular with tourists – it is also only a ten minute walk away from Euljiro.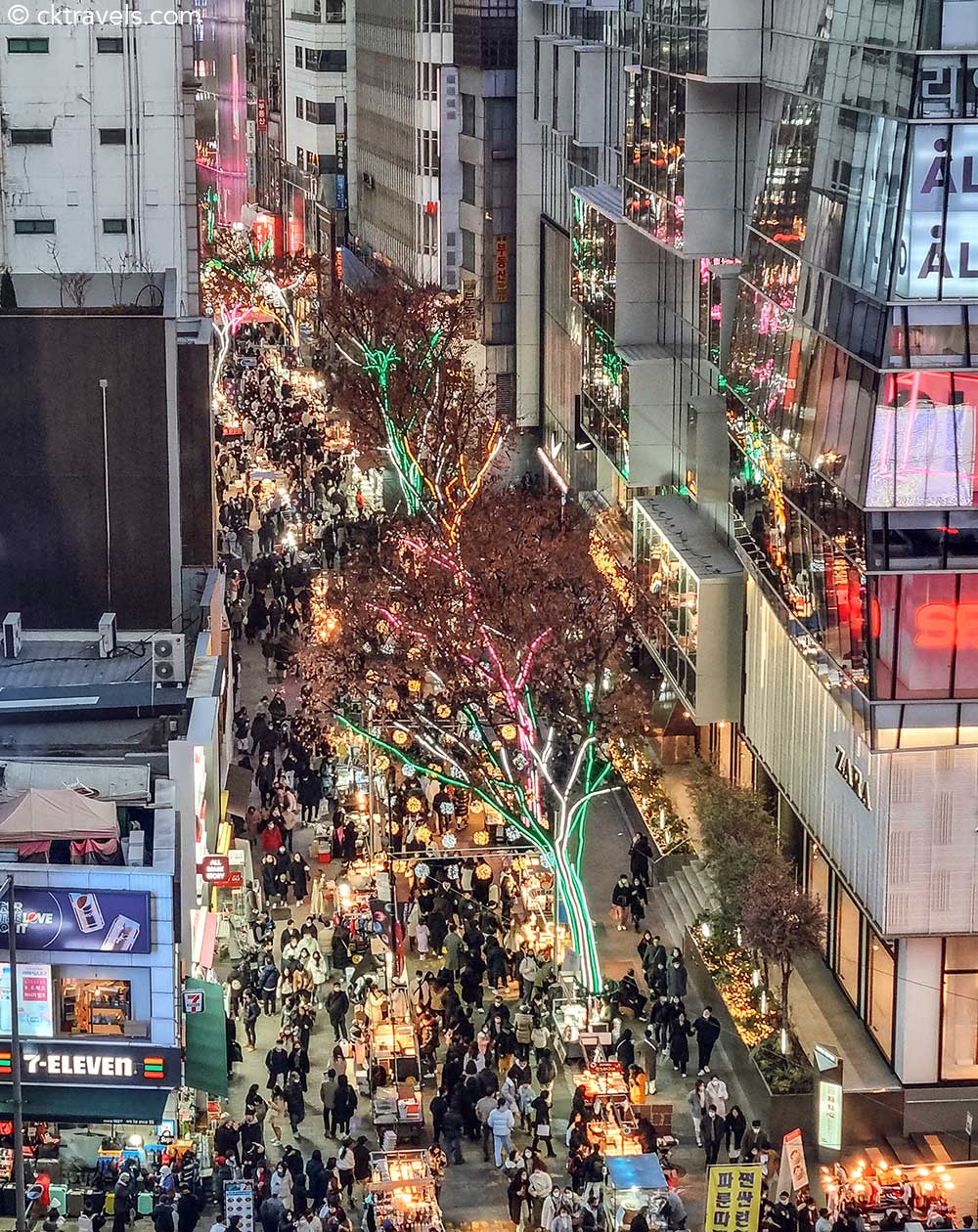 A retail mecca by day and bustling street food hub and restaurant destination by night, Myeongdong has many things to do and see including the famous Myeongdong night market, the NANTA theatre show and shopping malls galore.
Read our guide to things to do in Myeongdong, Seoul here >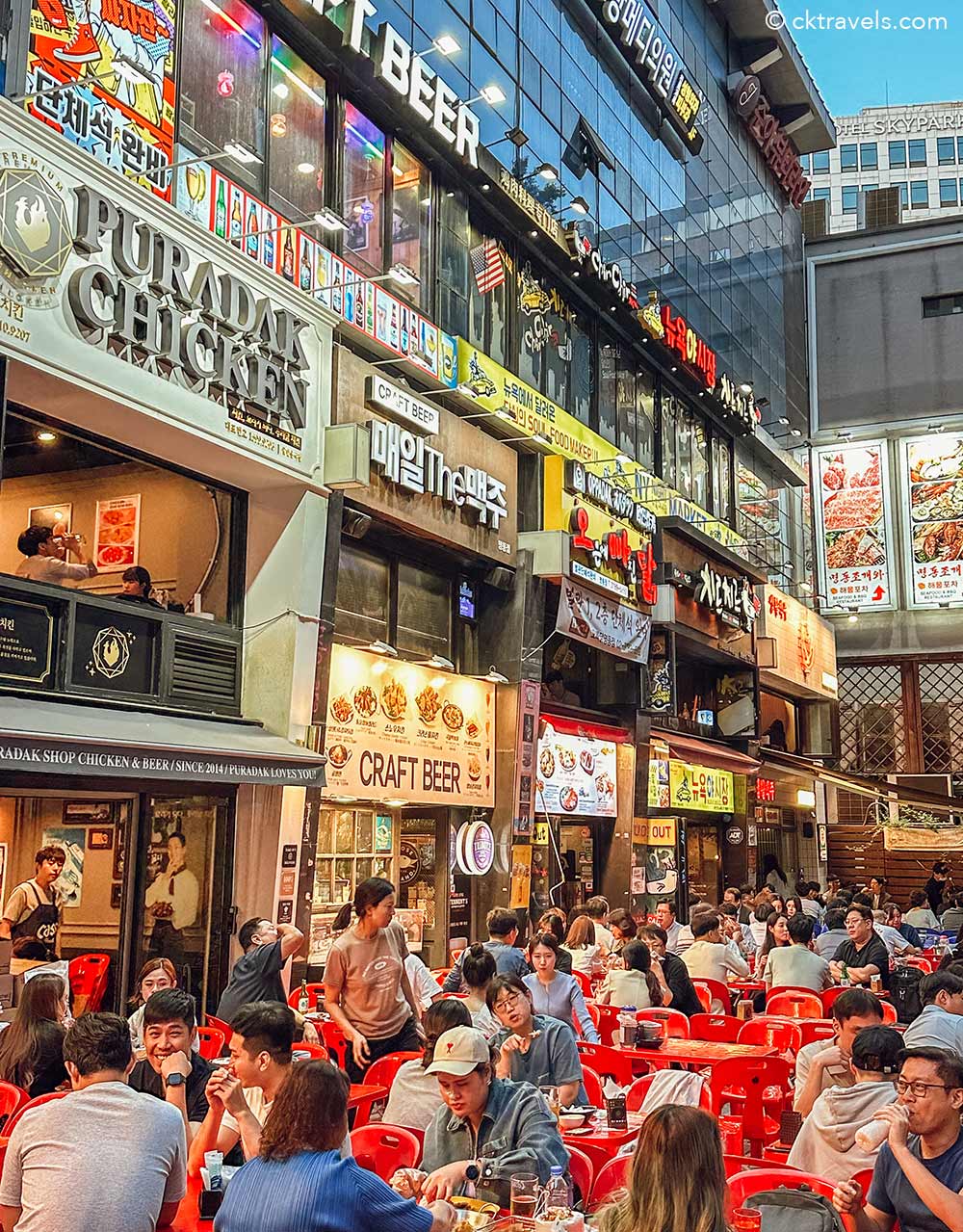 ---
You might like – Things to do in Busan – Ultimate Guide >
---
N Seoul Tower and Namsan Park
For the best views of downtown Seoul from Namsan Mountain, head up to the top of N Seoul Tower. The views of the city and the surrounding park are stunning plus there are two levels to explore, one with a rather nice cafe looking out over the green hills and the River Han.
Almost 800 metres high, the N Seoul Tower in Namsan Park is open until 10pm most days so you can even enjoy sunset or night time views. Love locks also adorn all the fences in and around the immediate area – quite the romantic place!
The N Seoul Tower usually costs 16,000 Korean Won per adult or is included as part of the Discover Seoul Pass. Read more about our experiences with the Discover Seoul Pass here >
---
You might like – Where to stay in Seoul / Best Neighborhoods Guide >
---
Insadong
Seoul in South Korea is a joyous mix of the old and new, and no more so than Insadong, one of Seoul's most popular neighbourhoods and shopping streets with a historic heart.
From traditional tea-houses hidden down back alleys and ancient pagodas to modern shopping centres and even retro vinyl LP bars, Insa-dong has got it going on.
Read our full guide to the top things to do in Insadong, Seoul in 2023 >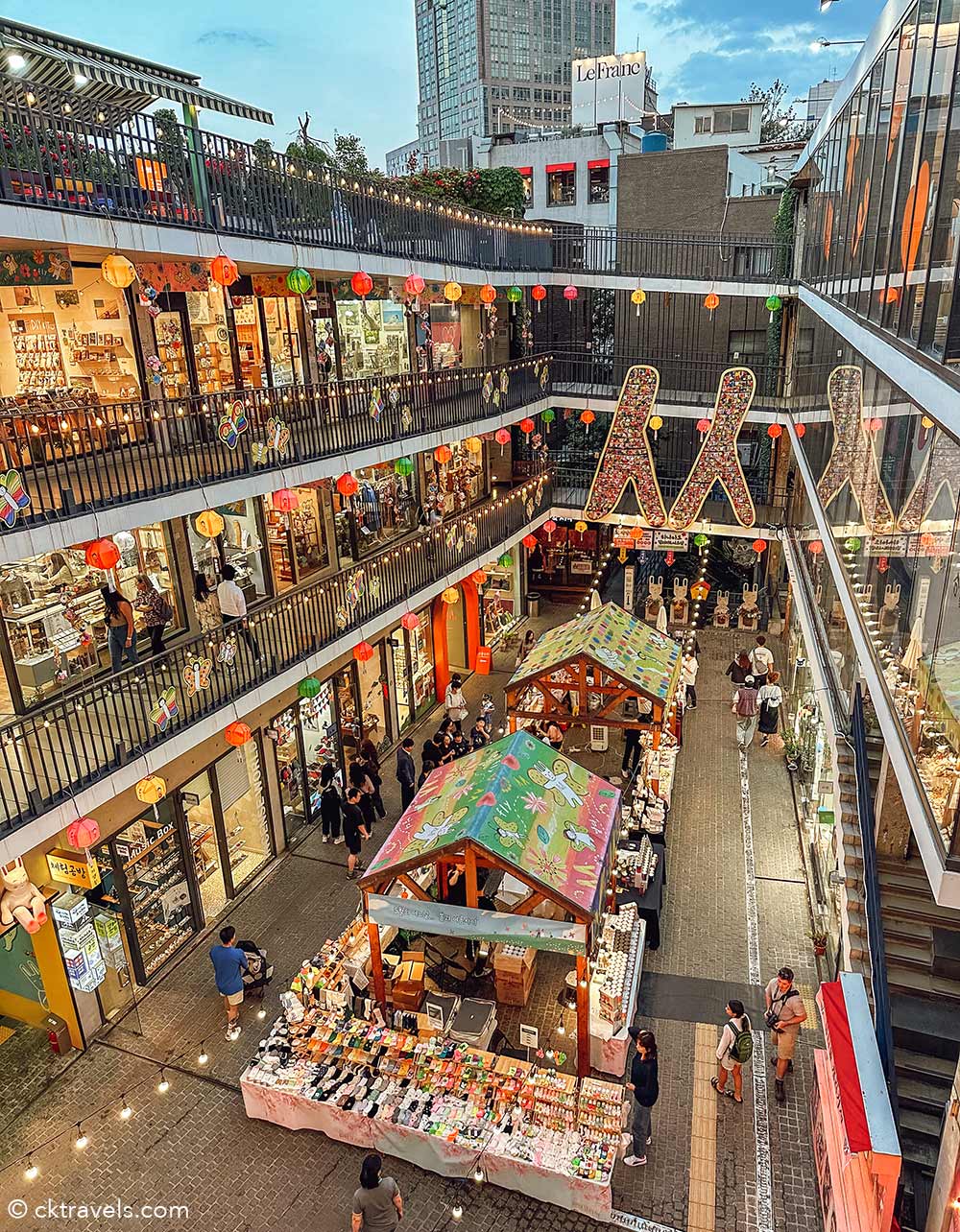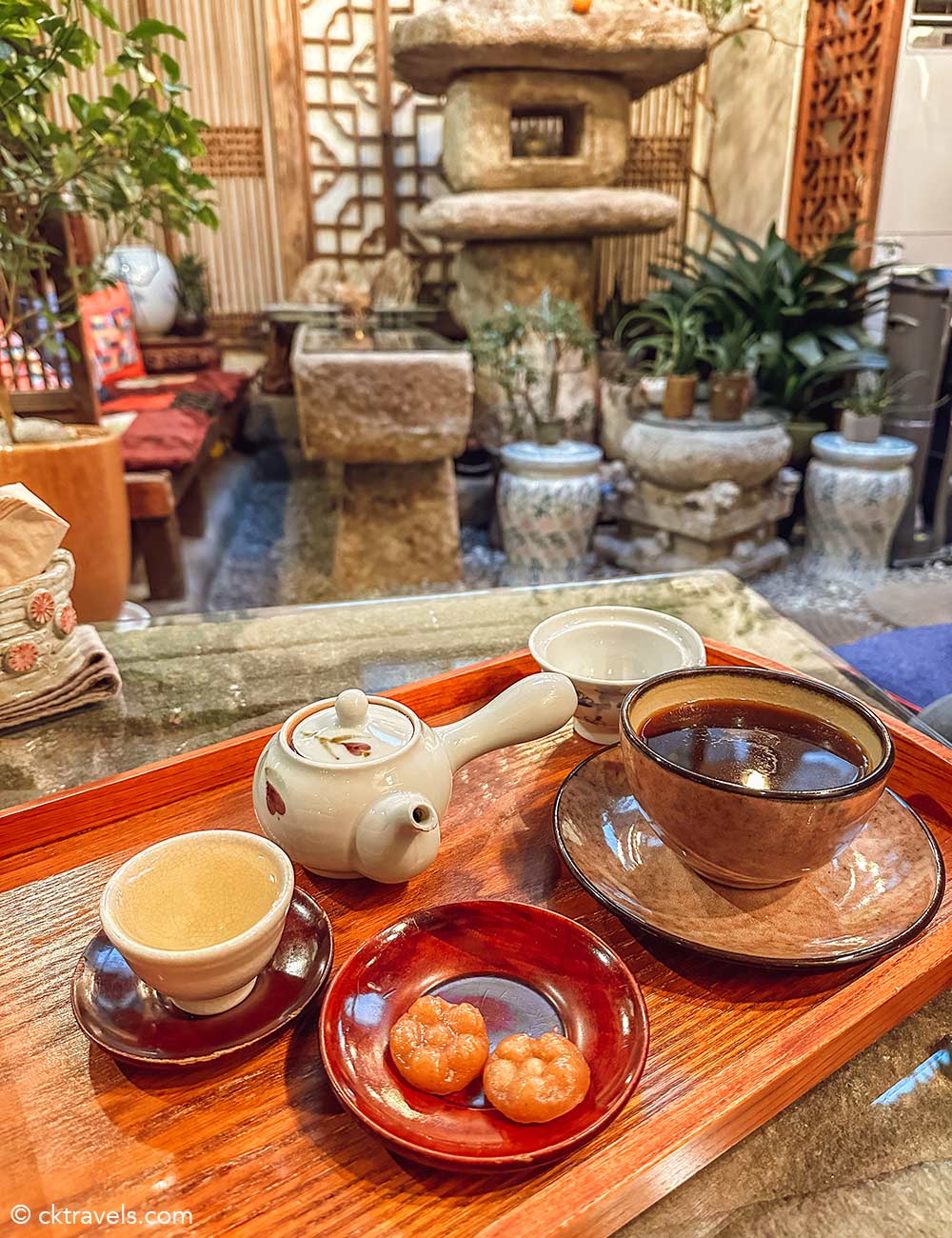 ---
Gwangjang Market
Around a 10 minute walk from Euljiro Nogari Alley along the Chec stream brings you to Seoul's most famous street-food market.
Gwangjang Market is a myriad of market street food stalls selling some of the best food you'll likely taste in Seoul.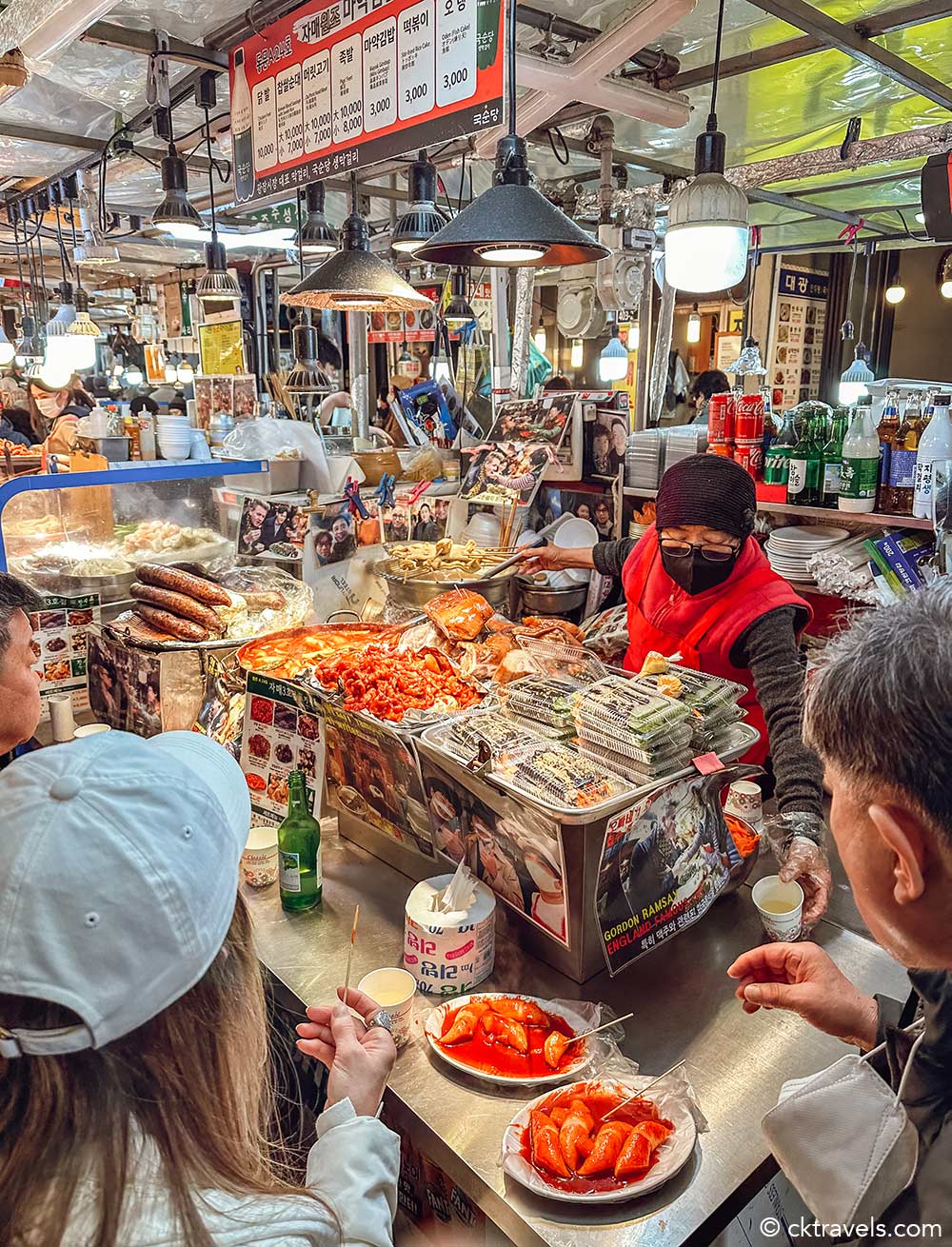 Gwangjang Market food has featured in numerous TV shows including Korean's Running Man and Somebody Feed Phil on Netflix, but is perhaps best known to tourists from the Netflix Street Food: Asia show, whereby the story of Cho Yonsoon and her knife-cut noodles thrilled millions.
Read our guide to Gwangjang Market in Seoul here >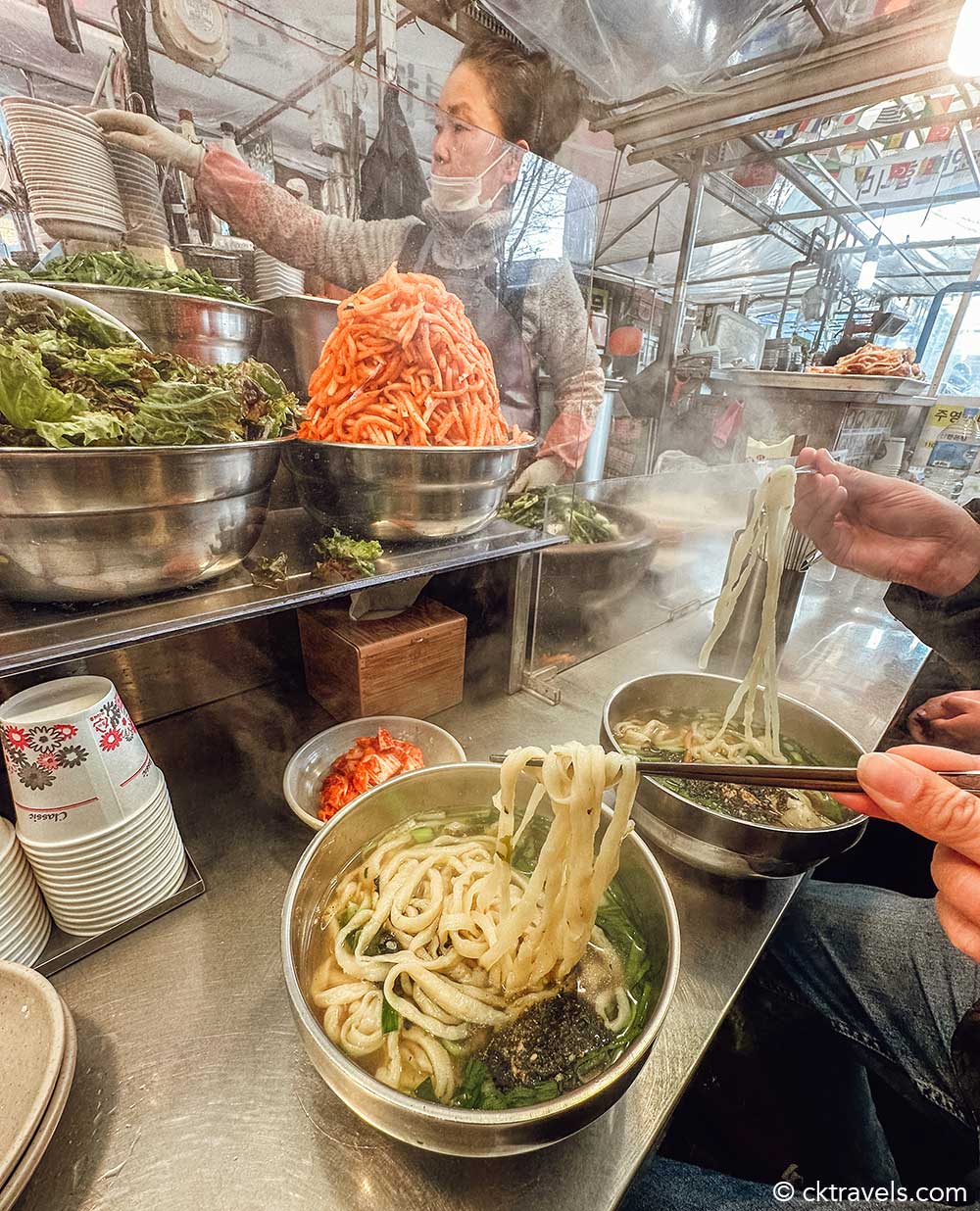 ---
Ikseon-dong Hanok Village
A nice neighbourhood near Myeongdong, Ikseon Dong Hanok Village is a cute and quirky area packed full of alleyways and lots of prime photo spots.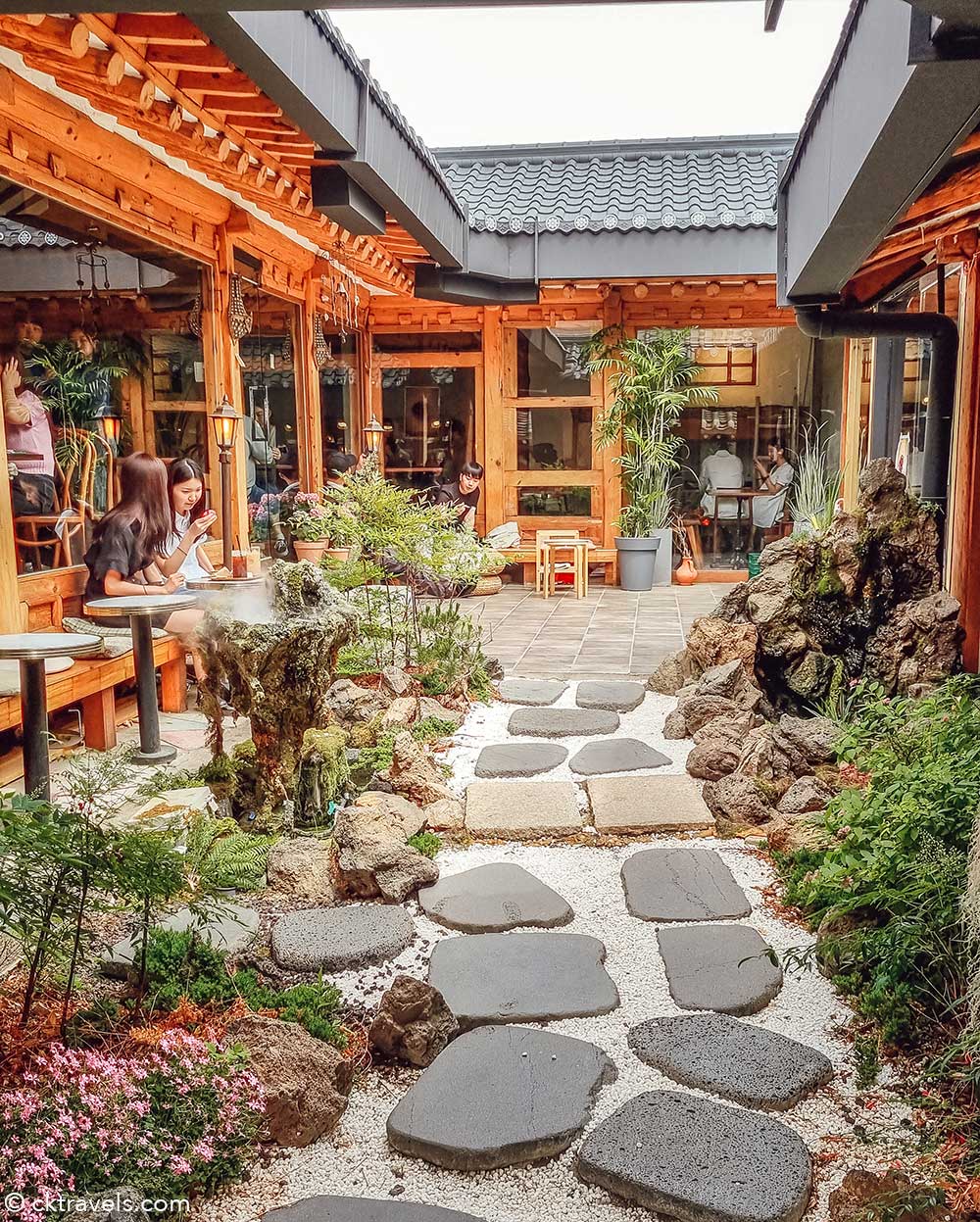 Built around 100 years ago in the 1920s, Ikseondong has awesome craft beer bars, cafes and coffee shops plus some of the best restaurants in the area.
Keep an eye out for Cheongsudang Cafe, a Hanok style cute café with a charming garden and traditional decor.
Read our guide to Ikseon-dong Hanok Village here >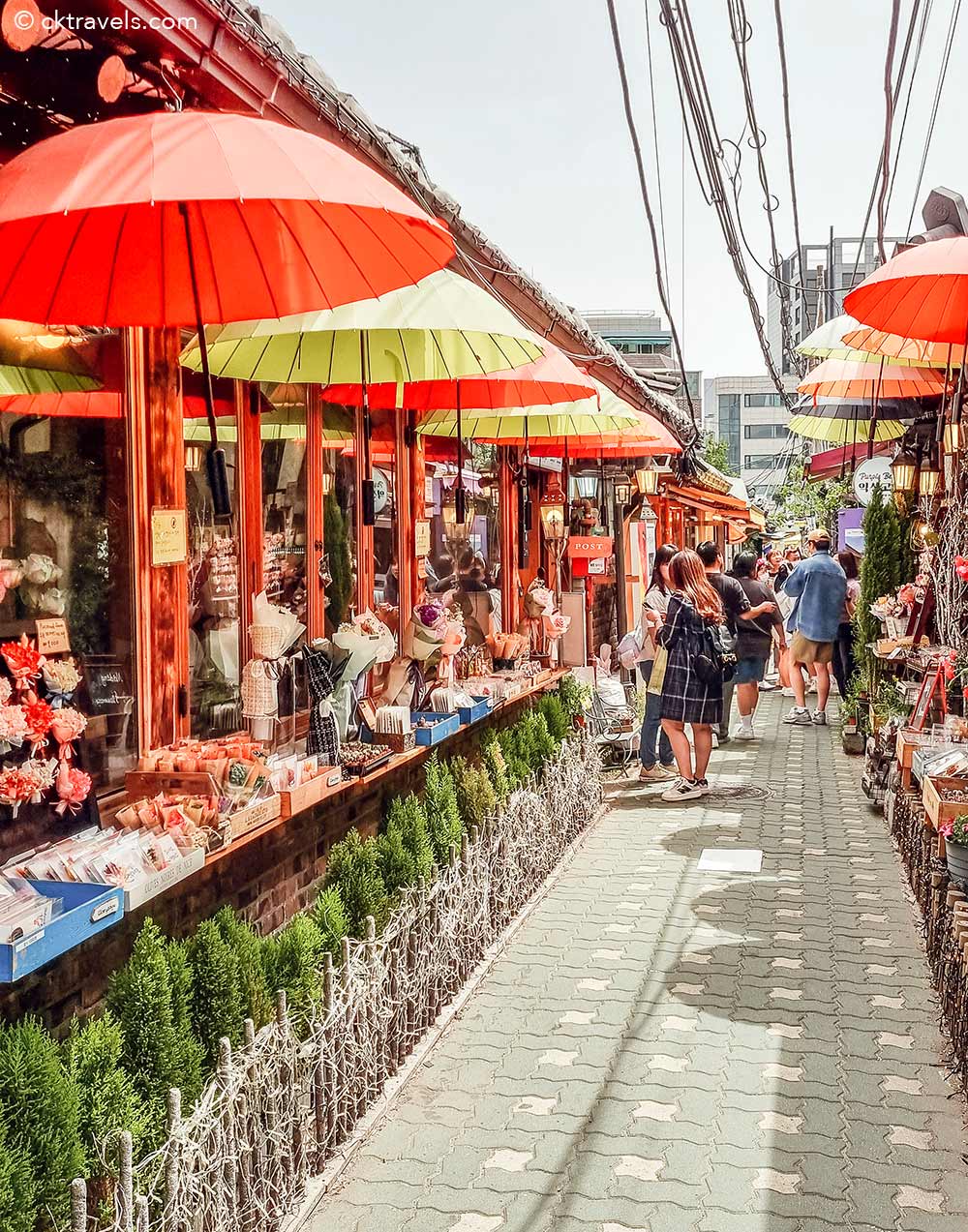 ---
12-Storey Daiso in Myeongdong
Most people have been to a branch of the famous Japanese discount store Daiso before but did you know a 12 storey Daiso recently reopened nearby Euljiro (in Myeongdong) in early 2023 after a major renovation?
Said to be either the tallest Daiso in South Korea, the 12 storey Myeongdong Daiso takes over an entire building with a different theme / range on each floor.
Each of the 12 Daiso stories is themed e.g. one floor is food and drink, one travel and sports etc. Make sure you bring an empty suitcase to take home your Daiso bounty – skin care products are also really cheap here.
---
Euljiro Things to do Recap – the best place in Seoul to stay for
Bar hoppers and craft beer lovers
Budget travellers who want more for their money
Meeting and eating with locals in Euljiro Nogari Alley
---
Accommodation in Euljiro, Seoul
Hotels and accommodation in Euljiro, Seoul include:
Budget
Hostel Kpop
Highly rated hostel with air-conditioned rooms, flat-screen TVs and a private bathroom. Check out prices and availability for Hostel Kpop
Mid Range
Travelodge Myeongdong Euljiro
Budget chain hotel located a 1 minute walk from the subway. Facilities include a self-service laundromat, parking and a modern communal space. Check out prices and availability for Travelodge Myeongdong Euljiro.
Luxury
LOTTE City Hotel Myeongdong
Spacious and modern hotel within walking distance of many shops and restaurants. Facilities include an in-house fitness centre and a café. Check out prices and availability for LOTTE City Hotel Myeongdong
As briefly mentioned, Seoul hotels and accommodation are often cheaper in Euljiro given all the business hotels in the area – and yet it is only a short walk away from Myeongdong meaning you can still be fairly central but save lots of money.
---
Other South Korea posts you might like
---
Did you enjoy our Things to do in Euljiro, Seoul blog post? Let us know in the comments or by sharing it on social media.
You can follow CK Travels on: 
Instagram
Facebook
TikTok 
YouTube
Pinterest