This post may contain affiliate links to tours and hotels. These help us earn a small commission at no additional charge to you.
Hanging out in Hongdae is a happy way to spend a sublime time in Seoul. There are so many things to do in Hongdae both day and night, from street performers to sharp shooting, 24/7 karaoke to Korean selfie booths.
Hipster Hongdae is where all the cool kids, cafe connoisseurs and craft beer geeks hang out – there is something to suit all budgets and tastes, from thrift stores to late night theatre, K-Pop treatments to tranquil parks.
A sweet slice of Seoul life and one of South Korea's coolest neighbourhoods, here is our guide to the best things to do in Hongdae, Seoul (2023):
Getting to Hongdae in Seoul by subway and bus
The best way to reach Hongdae is to take the subway line 2 (dark green) to Hongik University Station, and take exit 9. It is just a short walk to the main shopping area.
Alternatively there are several different bus routes that will take you to Hongdae – use the Naver app to plan your journey.
---
You might like – Best things to do in Seoul, South Korea >
---
Hongdae things to do
1. Gyeongui Line Forest Park / Yeonnam-dong
A pleasant way to start your trip to this epic Seoul neighbourhood and one of the best free things to do in Hongdae, the Gyeongui Line Forest Park is a peaceful walk that transforms an urban area into a gorgeous green space.
As well as luscious lawns and babbling streams, the Yeonnam-dong section of the Gyeongui Line Forest Park is surrounded by cute cafes, craft beer bars and all manner of boutique shops and independent stores – you can easily reach here as it is right next to Hongik University Station on the Subway (exit 3).
A former disused Seoul railway line now transformed into a verdant green walkway, the full park stretches over 6km (that said, we'd recommend exploring the first 1km Yeonnam-dong section where all the bars and cafes are).
Popular with picnickers, families and joggers, Gyeongui Line Forest Park is a gorgeous gem of a green space with ample seating areas and plenty of trees to escape the sun.
---
YOU MIGHT LIKE – visiting Ikseon-Dong Hanok Village >
---
2. Line Friends Flagship Store
Line Friends characters are ever so popular in South Korea and in most parts of Asia (these are cutesy cartoon characters that help promote the Line messaging service).
Located in Hongdae's L7 building, the Line Friends Hongdae Flagship Store is one of the best Line Friends stores to visit in Seoul, as it is split over two levels and even has a cute little BT21 Cafe.
As well as being able to buy Line Friends merchandise by the bucketload, there are several huge Line Friends characters you can pose with like a BIG Brown the Bear right by the front entrance (so fluffy!).
Line Friends Flagship Store is open daily from 12:30pm to 8:30pm.
---
YOU MIGHT LIKE – the best shopping malls in Seoul >
---
3. Hongdae Street and Festival Street
The heart and 'Seoul' (ahem) of Hongdae, this is the central area where many street performers, pop-up stalls and chicken and beer restaurants congregate. The busiest area in Hongdae (and possibly what you'd call tourist central), there are sights and food to enjoy 24/7 here.
In the summer, both streets are home to pop-up markets and scores of street performers and singers.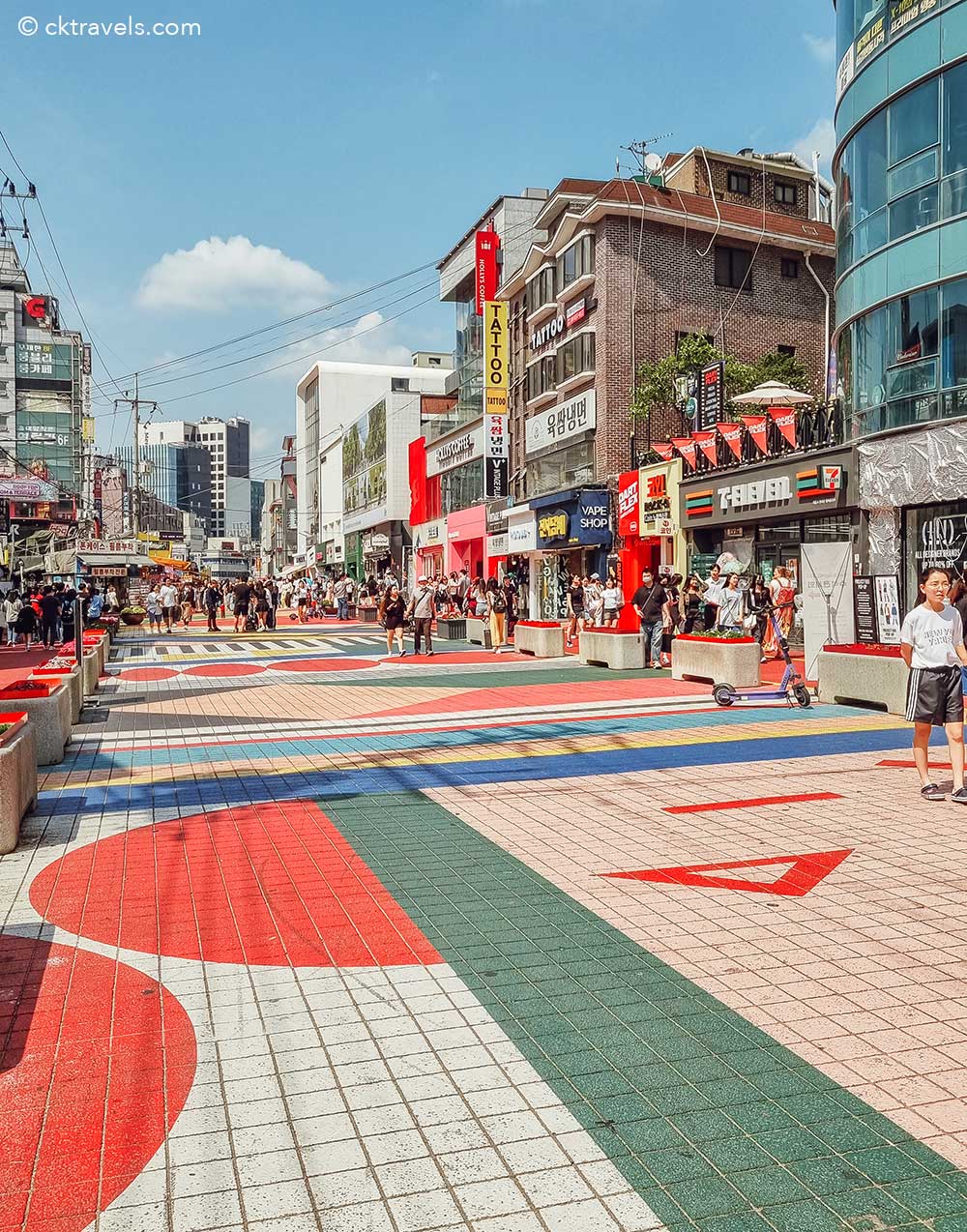 In the winter months, Hongdae Street has several Christmas light and Christmas displays (one of the many Christmas activities in Seoul).
There is also a nice selection of street art along the benches in Hongdae Street (although much of it has been vandalised or fly posted over). You can find a helpful Seoul Tourism tourist information shop here too which has maps of Hongdae in English plus many other languages.
---
YOU MIGHT LIKE – things to do in Myeongdong >
---
4. Watch Hongdae Street Performers
The K Pop stars of tomorrow all have to start somewhere and Hongdae is a breeding ground for up and coming street performers.
On all of our daytime visits to Hongdae (particularly at the weekends in summer), we've seen dozens of street performers from girl groups to accordionists, street-rappers to beatboxers.
Wannabe K-Pop girl groups in Hongdae seem particularly popular especially with young and old men who bring out their large cameras and telescopic lenses – eek!
Huge crowds gather to watch impromptu performances or join in singalong sessions; we've even seen fans bring along K pop light sticks to support their favourite street performers.
The best places to catch street performers are along Festival Street or Hongdae Street.
---
YOU MIGHT LIKE – things to do in Insadong, Seoul >
---
5. Hongdae Thrift and Vintage Stores
Second hand shops in Seoul are big business and none more so than in Hongdae. Popular with students and Hongdae hipsters, thrift stores offer second hand clothing, upcycling and fine fashion wear at lower prices – Hongdae is the best area in Seoul for second-hand shops.
From baseball shirts to hand-made hand-bags, tie-dye tidbits to rock band denims, get your fashion fix for a fraction of the price.
One of the best looking Hongdae thrift stores is called Back to the Vintage, overlooking Gyeongui Line Forest Park with a basement full of thrift bargains and upcycled goodies.
Other popular Hongdae thrift stores include Vintage Santa and Wow Vintage.
---
YOU MIGHT LIKE – the Discover Seoul attractions pass – is it worth it? >
---
6. Hongdae 'Chicken and Beer' Street
Hongdae has a whole host of fried chicken and beer restaurants dotted in and around the neighbourhood.
Beer and fried chicken is such a popular combo in South Korea that they even have a special term for it – 'Chimaek' – combining 'chikin' (Korean fried chicken), and 'maekju' (beer) – cheers to that!
However, for the best choice of beer and chicken within a short distance and all next door to each, head to the Hongdae Chimaek central along the bright lights of Hongdae Street – labelled as Hongik-ro 6-gil on Google Maps and Naver (the local and much better version of Google maps).
There are 'clucking' loads of beer and chicken / chimaek bars and restaurants along Hongdae Street including BHC Chicken, BBQ Chicken and Beer and Kyochon Chicken.
We stopped in at Noonaholdak Hongdae – Oven Baked Chicken and Beer mainly because it had good reviews but also because they had pictures all over the window of a recent visit by Gordon Ramsay so we were very intrigued – turns out Gordon filmed a commercial here for 'Cass Beer' ("Bloody Fresh").
At Noonaholdak Hongdae (and most other fried chicken restaurants in Hongdae), you can have chicken wings or boneless chicken plus try half and half flavours if you can't decide on what to have.
---
YOU MIGHT LIKE – a guide to South Korean street-food >
---
7. NANTA Show
2023 update: The Nanta Show in Hongdae is temporarily closed – Myeongdong Nanta Show is still open
Hongdae has a lot of night-time entertainment going on, but perhaps the most famous (and long-running) show to see is the NANTA theatre show.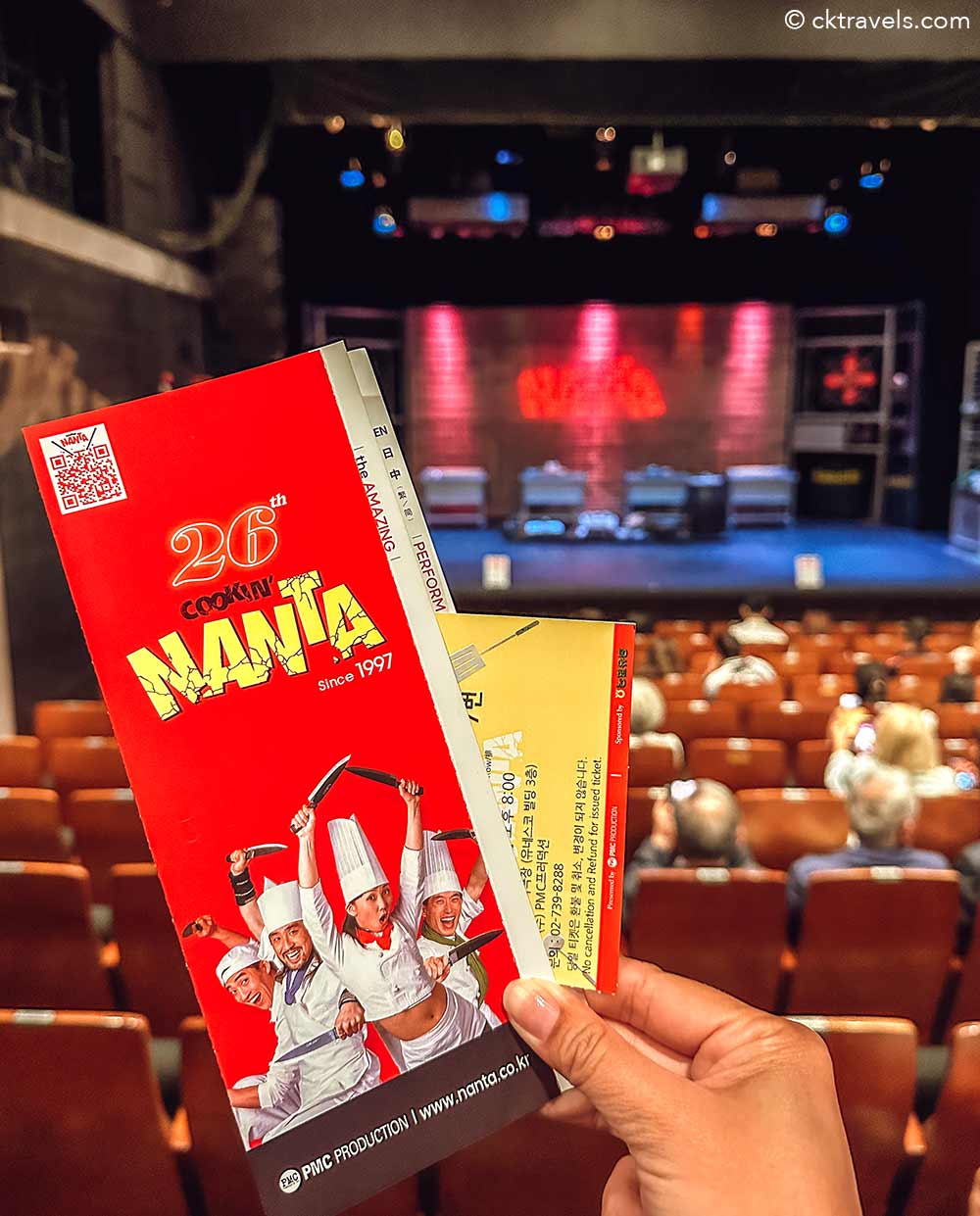 This world renowned comedy cooking show has been packing in audiences worldwide since 1997. Possibly the best known Korean theatre show, NANTA Theatre has been performed over 50,000 times in over 60 countries and is a fun mix of slapstick and physical comedy.
There are very few spoken words used throughout so not understanding Korean (or English) won't be an issue. There is also some audience participation and several audience members get to take part – luckily when we went, we didn't get dragged on stage!
You can also catch the NANTA Theatre show in Jeju or the Nanta show in Myeongdong.
Looking for cheap Seoul day-trips, attractions or group/private tours? We recommend visiting Viator, GetYourGuide, and Klook!
8. Korean Selfie Booths
One of the most fun things to do in Hongdae (and in Seoul at night), selfie booths and shops are dotted all throughout the neighbourhood (mainly to fill all the empty shops that were left after COVID).
These Korean selfie kiosks are generally brightly painted small shops where you can borrow clothes and all sorts of fun props (like big sunglasses, animal heads etc) and then pose for selfies or take photos in booths for a small fee.
Often these Korean selfie photo booths allow you to print out stickers as a lasting reminder – popular selfie booth locations include Gangnam, Itawon, Ikseon-Dong and Seongsu-Dong.
Some of the most popular selfie photo booths in Hongdae are Photo Signature, Life Photo and Photoism.
We also spotted a few limited edition photo booths on our last visit to Hongdae where you can pose with graphic novel or anime characters – expect a longer queue for these limited edition photo booths in Seoul.
You might like – Look like a film-star in a Hongdae Photo Studio Experience >
---
You might like – Where to stay in Seoul / Best Neighborhoods Guide >
---
9. Karaoke Time in Hongdae
Time to let off a little steam after traipsing around the streets of Seoul all day – Hongdae is the go-to place in Seoul for karaoke.
With dozens of private karaoke booths in huge high-rise karaoke 'towers', sing to your heart's content in Hongdae without fear of anyone hearing you (unless you want to be heard).
A lot of the karaoke rooms in Hongdae have huge glass windows meaning you can watch people sing (and dance!) from the streets – or have your very own audience if you are performing in the booth.
Private karaoke booths in Hongdae and Seoul at night are charged on an hourly rate (prices vary depending on the time of day) and they sometimes do special tourist discounts if you show your overseas ID or passport. Also daytime karaoke rates are generally cheaper than at night in Seoul.
There is usually an extensive food and drink menu (note there is a minimum spend on food and drink on top of the karaoke booth hire). English, Japanese and Korean songs are usually available as part of the karaoke song selection.
---
YOU MIGHT LIKE – things to do in Seoul at night >
---
Hongdae Markets
Seoul is famous for its markets from Gwangjang Market to Myeongdong Night Market. Hongdae also has several smaller scale markets:
10. Hongdae Free Market / Art Free Market
We include the Hongdae Free Market reluctantly in this 'things to do in Hongdae' guide as what we saw when we arrived (in May 2023) was VERY different from how it had been described previously online.
We presume Hongdae Free Market has got a lot smaller since COVID and is hopefully on the road to recovery. It now also appears to be called the Art Free Market.
Hongdae Free Market / Hongdae Art Free Market is open every Saturday afternoon from 1pm to 6pm (don't believe some of the travel articles or Google reviews that say it is a night market) – it is located in a quiet and shaded park called Hongdae Children's Park.
Based on our experience of the Hongdae Art Free Market, we found around 10 or so flea market stalls selling traditional goods, hand-made items and an artisan array of small jewellery items.
Whilst a pretty setting and with nice looking stalls, the Hongdae Free Market / Art Free Market isn't really worth a special trip to Hongdae for.
---
YOU MIGHT LIKE – a guide to Gwangjang Market in Seoul >
---
11. Dongjin Market
Another Hongdae market, Dongjin Market is located in a quiet side-street of Yeonnam-dong, where local artists and students sell their artworks and handmade goods.
You'll also find food stalls here and cartoon caricature artists – note this is one market on our Hongdae things to do guide we didn't get to visit ourselves (but we intend to when we return later in the year).
Dongjin Market is open Friday 5pm to 9pm and weekends noon to 7pm.
---
YOU MIGHT LIKE – the Go City Pass Seoul – is it worth it? >
---
12. Kakao Friends flagship store
As well as the previously mentioned Line Friends flagship store, Hongdae is also home to a Flagship Kakao Friends store, with three floors of furry fun and cute characters galore – one of the cutest places to visit in Seoul with kids.
From Ryan the Lion to Choonsik the Cat, Con the Crocodile to Frodo the Dog, you'll find all the Kakao Friends here, both in terms of huge cartoon models or rows upon rows of branded products – everything from phone chargers to kids clothes and even super cute humidifiers.
On the 3rd floor of Kakao Friends flagship store Hongdae, there is also a rather swish eating place called Cafe Gongmihak Pub which features no Kakao Friends (boooo!) but some of the best looking desserts and sweet treats you'll ever see (or eat) in Hongdae.
---
YOU MIGHT LIKE – Things to do in Gangnam, Seoul >
---
13. Fell & Cole Ice-Cream
A n-'ice' thing to do in Hongdae is visit the Fell & Cole ice-cream parlour, hidden away in the back-streets.
Famous for both their flavourful ice-cream and sublime sorbets, we paid a visit to Fell & Cole one sunny Saturday afternoon and tried their lemon sour ice-cream plus the more traditional stracciatella.
Prices are 6,000 Korean Won (around $4.50 USD / £3.70) for a large scoop or 11,000 Won for two scoops.
The inside of Fell & Cole is quite small, with around half a dozen tables inside so it can get quite busy in the warmer months.
Other fantastic ice-cream flavours available at Fell & Cole when we visited included cafe au lait, pink rose, perilla leaf, red bean, M&M's vanilla plus a vegan 'raspberry rose' sorbet.
---
YOU MIGHT LIKE – going to a Seoul baseball game and how to buy tickets >
---
14. Craft Beer in Hongdae
There are many fine craft beer places and breweries in Seoul – and Hongdae is no exception. Whilst many of the bars along the famed Hongdae Street are all about main-stream south Korean beers like Cass and Terra (often served with fried chicken), look a bit further and you'll find some cracking craft beer bars.
One of the best craft beer bars in Hongdae is Craft Hans (which has several branches in Seoul including Gangnam). However, the Hongdae Craft Hans is the best of the bunch as not only does it have a super craft beer selection on tap, but it also has a great location overlooking Gyeongui Line Forest Park.
Based over several levels, there is a small beer terrace out front (ideal for brews with views) plus a balcony on the first floor bedecked with faux greenery – a bit like the Romeo and Juliet of the craft beer scene.
---
YOU MIGHT LIKE – the best craft beer brewery bars in Seoul >
---
15. Zzang Games Arcade
A very 'amusing' thing to do in Hongdae, Zzang Games Arcade is a four floor palace of new and retro games, from electronic darts machines to dance mats, claw machines to driving simulators.
Seriously, Zzang Games was buZzing when we visited (and great to see the sport of darts taking 'flight' in Seoul, especially given Seoul baseball is so popular).
Open until 2am every morning (and until 3am on Friday nights), Hongdae's Zzang Games Arcade is located on Festival Street and offers free admission, with games charged individually.
Zzang Games is close to lots of 24 hour karaoke places and all night bars so this could make one helluva a late night combo when in Hongdae.
Thanks for checking out our blog!
As of Autumn 2023 we are currently digital nomading / travelling around Asia (Thailand, Malaysia, Singapore and South Korea). Check out our daily travel diaries on Instagram @.c.k.travels >
16. Hongdae Street Art / Fashion Street
Like many Seoul neighbourhoods, Hongdae is awash with superb street art from small scrawls in the side-streets to colossal canvases on the sides of buildings.
We found the best areas for street art in Hongdae were the side streets especially Fashion Street.
Ironically, Fashion Street in Hongdae seems to have fallen out of fashion and is only worth a fleeting visit to see the street art – we visited Fashion Street on a Saturday afternoon and most of the shops (and bars) appeared to be closed down (possibly permanently).
We've also heard about 'Picasso Street' in Hongdae (AKA Hongdae Mural Street) near the back of Hongik University although we don't think it still exists in 2023, as we couldn't find it – please hit us up in the comments if we need to fix this.
---
YOU MIGHT LIKE – Eating at the Netflix Knife Cut Noodle Lady stall at Seoul's Gwangjang Market >
---
17. Be a Seoul Sharp Shooter – try Hongdae's Shooting Galleries
After a busy day of exploring, it might be time to relieve some stress in Seoul! As well as gaming arcades with electronic shoot em ups, you can actually try target practice for real as shooting ranges are a popular past-time in Seoul.
There are several indoor shooting ranges where you shoot at targets using BBQ guns in Hongdae – popular with the younger crowds who often hold mini competitions in groups to see who is the sharpest shooter.
---
Shopping in Hongdae, Seoul
There are several outstanding and unique stores and shopping centers in Hongdae including:
18. Gentle Monster Hongdae Flagship Store
Hongdae never fails to surprise us in terms of how extravagant and epic some of the fashion stores are – this is proven none more so than at the Gentle Monster Hongdae Flagship Store which is part art gallery, part glasses and optical wear shop.
Most of the Gentle Monster Hongdae shop interior is white and grey in colour and each floor has a centrepiece installation where the eye is drawn – in one instance, it is literally a huge eye-ball (very meta!).
Gentle Monster is one of the best known Korean optical brands famed for its oversized glasses with low bridge noses which help create a smaller face effect. Gentle Monster glasses are often worn by K Pop artists and Korean celebrities – it is definitely not your typical eyewear store!
---
YOU MIGHT LIKE – a private tour of Hongdae with a local >
---
19. AK& plaza
One of the best known department stores in Hongdae, AK& Plaza has five storeys of shopping including well known brands such as Artbox, Nike, Spao and MUJI. Better still, the top floor is devoted to comic book stores, anime, manga and other creative stores.
Located very close to Hongik University Station, exit 4 and Gyeongui Line Forest Park, this superb Seoul mall is popular with all ages but particularly with students and trendy teens.
---
20. KT&G Sangsangmadang Design Square
We discovered KT&G Sangsangmadang Design Square in Hongdae, totally by chance after wandering over to Festival Street to watch some Hongdae street performers.
This is a super cool, multi-story shop chock full of nicely designed character goods and nifty homeware items – there is none of your standard tourist tat or shocking souvenirs here.
From spring onion phone cases to lobster ceramic wear, this is Hongdae's home of nice things – inside there is a cultural centre too where various activities, classes and exhibitions take place. A cute cafe can also be found on the upper levels.
KT&G Sangsangmadang Design Square is free to visit and open seven days a week excluding some public holidays.
---
You might like – Things to do in Busan, South Korea >
---
21. M Playground Hongdae
One of the best looking and most colourful fashion shops to be found in Hongdae is M Playground. There are several branches across Seoul but their flagship Hongdae M Playground branch has a container park exterior (not real) with several floors of affordable fashion.
The rooftop also has some cool views of Hongdae and there are often mid-season sales.
---
22. Gyeongui Line Book Street
Calling all culture vultures – this is one 'novel' thing to do in Hongdae that you don't need to 'book' in advance…sorry not sorry.
A long line of book shops and open air libraries located along a disused stretch of railway, this Gyeongui Line Book Street consists of around 10 different book shops and kiosks located in a quiet park area close to all the bars and restaurants Hongdae Street.
This also means it is a nice place to escape the hustle and bustle if you are in need of some respite.
Whilst is a nice, calm place to browse some small book stores, personally we don't think Gyeongui Line Book Street is really worth a visit in itself but OK as part of a day out in Hongdae.
Talking of books…why not bookmark our South Korea section, packed with lots of useful Seoul travel tips >
---
23. Coconut Box Hongdae
Hongdae is quite hipster so there aren't so many tourist traps and museums here – but Coconut Box is one of the few – an optical tricks and digital space where you can take selfies with fun backgrounds and enjoy a drink at the same time. There are themed booths to sit in too.
There used to be other attractions in the same building like a trick eye museum and love museum but these appear to be now closed (as of summer 2023).
The reviews are quite mixed but you can find out more about Coconut Box here >
---
24. Other Things to do in Hongdae, Seoul
25. Our final thing to do in Hongdae, Seoul in 2023
What's cooking? How about a K-BBQ Party Experience with Local Koreans – nice to 'meat' you! Click here to book >
---
Other South Korea posts you might like
Did you enjoy our things to do in Hongdae Seoul blog post? Let us know in the comments or by sharing it on social media.
You can follow CK Travels on:
Instagram
Facebook
TikTok
YouTube
Pinterest