This post may contain affiliate links to tours and hotels. These help us earn a small commission at no additional charge to you.
For unique views of Busan's pristine coastline and a fun way to travel, hop aboard the Busan Haeundae Blueline Park Sky Capsules and Beach Train.
The Haeundae Blue Line Park is one of Busan's newest tourist attractions – it opened in late 2020 and consists of the iconic Sky Capsules and a separate Beach Train that follows the Busan Green Railway coastal walking trail.
Both the Sky Capsules and Haeundae Beach Train offer opulent ocean views and this is a unique way to get between several of Busan's best beaches.
You might get a sense of deja-vu when you first see the Haeundae Blue Line Park – the brightly colored Sky Capsules (monorail) that travel along the coast with incredible sea views are very popular on Instagram.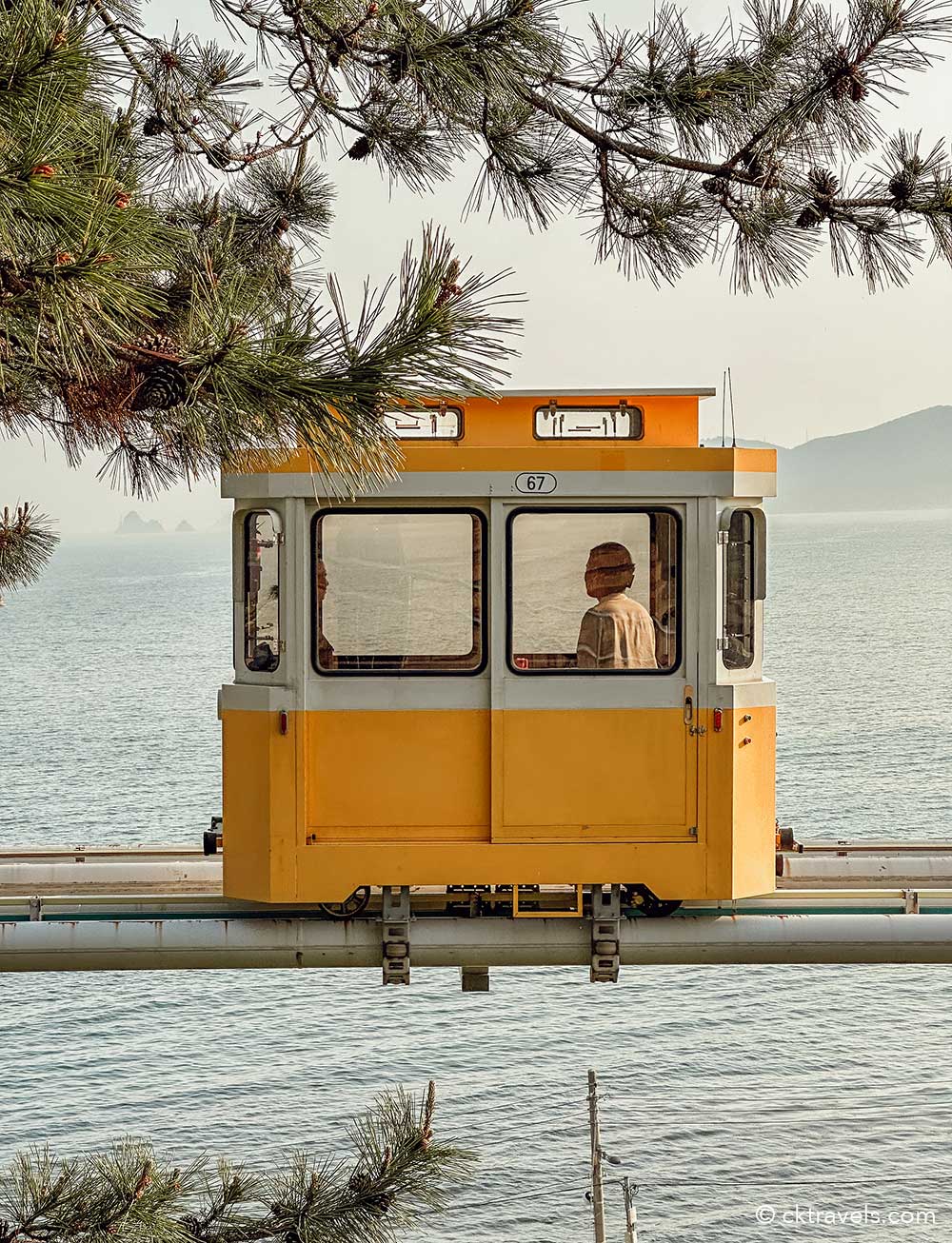 ---
You might like – Guide to the top 75+ things to do in Busan, South Korea >
---
Where does the Haeundae Blueline Park go in Busan?
Following the old Donghae Nambu Line, the 5km coastal Beach Train journey starts from Mipo Station (near Haeundae Beach) to several stations including Dalmaji Tunnel, Cheongsapom Daritdol Skywalk (a very cool and free ocean observation deck), Gudeokpo and finally terminating at Songjeong Station.
The journey takes about 30 minutes, and gives stunning unspoilt views of East Busan's coastline.
The Sky Capsule runs non stop from Mipo Station to Cheongsapo Station along an aerial railway – this is approximately half the length of the Haeundae Beach Train track that runs in parallel to it
You can also walk alongside the Beach Train and Sky Capsules on the Busan Green Railway Coastal Walking Trail from Mipo Station to Songjeong Station, although a section of the track is partially closed and re-diverted through a forest due to maintenance work.
---
You might like – things to do in Haeundae Beach, Busan >
---
How to get to Mipo Station on the Haeundae Blueline Park
The nearest Busan Metro station to the entrance/start of the Haeundae Blueline Park (Mipo Station) is Haeundae Station on the Metro line 2. Take exit 7 and from there, walk along the beach to the park entrance.
Or alternatively, alight at Jangsan Station on Metro line 2 and take bus 200 and get off at Mipo – Moontan Road Bus Stop.
---
You might like – Busan Premium Yacht Tour exploring the eastern beaches >
---
Do you need to book the Haeundae Blueline Park Beach Train in advance?
No, based on our experience, we were easily able to hop onto the Busan Haeundae Beach Train without a prior reservation.
There are several carriages per journey and you can usually get a seat – although the front seats next to the window facing out to the ocean usually go first.
We turned up at Songjeong Station and were able to purchase a Beach Train ticket from the station ticket counter and get on the next available train.
Manned counters for the Haeundae Beach Train are only available at the start and end stations – Mipo Haeundae Station or Songjeong Station.
If you want to jump on along the way at Dalmaji Tunnel, Cheongsapo Daritdol Skywalk or Gudeokpo Stations, you must buy tickets from an unmanned ticket machine using a debit or credit card.
---
You might like – Special Oedo Island Day Trip from Busan >
---
Do you need to book the Busan Sky Capsules in advance?
Yes, given its popularity, it is recommended you book the Haeundae Blueline Park Sky Capsules in advance especially during peak periods – although you can easily jump on the parallel Beach Train without pre-booking.
We also noticed there were large group bookings for Sky Capsule either in terms of school groups or organised Busan tours.
If you want to guarantee a place on the Busan Sky Capsule, we'd recommend you book in advance online or as part of a Busan tour like the one below:
Busan Must-visit 1 Day Tour: Blue line Sky Capsule & Beach Train >
---
How much is the Haeundae Beach Train and Busan Sky Capsules at Blueline Busan Park?
Haeundae Beach Train
The Haeundae Beach Train costs 7,000 Korean Won for a one way trip (approx £4.30 / $5.50 USD) – no reboarding is allowed. Two rides cost 12,000 Won or a pass for all stops is 16,000 Won.
| | | |
| --- | --- | --- |
| One ride | Two rides | 1-Day pass |
| 7,000 won ($5.50 USD / £4) | 12,000 Won ($9 USD / £7) | 16,000 Won ($12.50 USD / £9) |
| One way trip (Re-boarding is not allowed after getting off) | Round trip (Re-boarding is allowed once) | Pass can be used for all stations (Boarding at the same station twice is not allowed) |
The best value way to do this is get the one ride 7,000 Korean ticket and do the whole route in one go, either starting at Mipo Station and finishing at Songjeong Station or vice versa.
If you are Busan for a few days and intend to do several attractions, the Haeundae Blue Line Park Beach Train is also included as one of 30+ activities on the newly launched Visit Busan pass.
Busan Sky Capsules
The Haeundae Blueline Park Busan Sky Capsules cost 35,000 Won one-way for two people, 45,000 Won for 3 three people or 50,000 Won for four people.
Ticketing counters are available at both Mipo Station and Cheongsapo Station, but it is best to book the Sky Capsules in advance online.
| | | | |
| --- | --- | --- | --- |
| How many people | 2 People | 3 People | 4 People |
| One-way | 35,000 Won ($27 USD / £21) | 45,000 Won ($35 USD / £27) | 50,000 Won ($39 USD / £30) |
Package fare (Sky Capsule + Beach Train)
You can also book a package deal with a one-way Sky Capsule ride, plus a beach train ride.
| | | |
| --- | --- | --- |
| 2 People | 3 People | 4 People |
| 59,000 Won ($46 USD / £36) | 78,000 Won ($61 USD / £48) | 94,000 Won ($73USD / £57) |
All Haeundae Blueline Park Busan Beach Train and Sky Capsule prices are correct as of August 2023.
---
You might like – things to do in Busan at night >
---
Haeundae Blueline Park Opening Hours in Busan
Sky Capsule and Haeundae Beach Train opening hours vary depending on the time of the year but usually start operating at 9.30am every day.
During the summer months (July and August), the last Sky Capsule departs at 20:30, in May, June and September at 20:00 and in the winter months at 18:30.
The last Busan Beach Train leaves Mipo at 21:30 and Songjeong at 21:00 during July and August and at 19:00 and 18:30 respectively in the winter months.
Last Beach Train
leaving Mipo station
Last Beach Train
leaving Songjeong station
Last Sky Capsule
Winter Season
(November, December, January, February)
19:00
18:30
18:00
Off-Season
(March, April, October)
19:30
19:00
18:30
High Season
(May, June, September)
20:30
20:00
19:30
Polar Season
(July, August)
21:30
21:00
20:30
All Haeundae Blueline Park Busan Beach Train and Sky Capsule times are correct as of August 2023.
---
You might like – East & West Busan Exploration with Busan Skywalks, Gamcheon Culture Village, and Haedong Yonggungsa Temple Day Tour >
---
How long is the journey at the Blueline Park for Sky Capsules and Beach Train?
It takes the beach train around 30 minutes to visit all 6 stations, around a 5km distance along the eastern Busan coastline.
Departing from Mapo Station, the train goes through Dalmaji Tunnel then Cheongsapo Station.
Next it goes past the Daritol Skywalk and Gudeokpo stop before finishing at Songjeong Station – the train then repeats the journey in reverse starting at Songjeong and finishing at Mipo near Haeundae Beach.
The Sky Capsules also take around 30 minutes one way although they only cover half the distance (2.5km) and go half as fast as the Beach Train. Unlike the train, these are private capsules that allow up to four guests to travel together at any one time.
---
Busan Green Railway Coastal Walking Trail
AKA the Haeundae Green Railway – partially closed as of July 2023
This is a 5km coastal walking trail on a wooden deck built alongside the Sky Capsule monorail track and Beach Train route along the former Donghae Nambu Railway Line.
It offers sublime views of the Busan coast and out towards the ocean but please note at the time of our visit / writing (July 2023), a large part of the Busan Green Railway walking track is closed for repair work.
Instead you have to head into the forest on a trail the far side of the Beach Train track away from the ocean.
Looking for cheap Busan day-trips, attractions or group/private tours? We recommend visiting Viator, GetYourGuide, and Klook!
Other things to do near to do on or near Haeundae Blueline Park in Busan:
Cheongsapo Daritdol Observatory
Easily accessible from Haeundae Beach when taking the Beach Train from Songjeong or Mipo (it has its own stop), Cheongsapo Daritdol Observatory is a unique glass walkway that curves over the ocean, 20 metres up from the sea.
As of summer 2023, Cheongsapo Daritdol Observatory is free to visit but under maintenance when we visited (so partially open) – we hope they fix the cracked panels on the glass walkway – eek!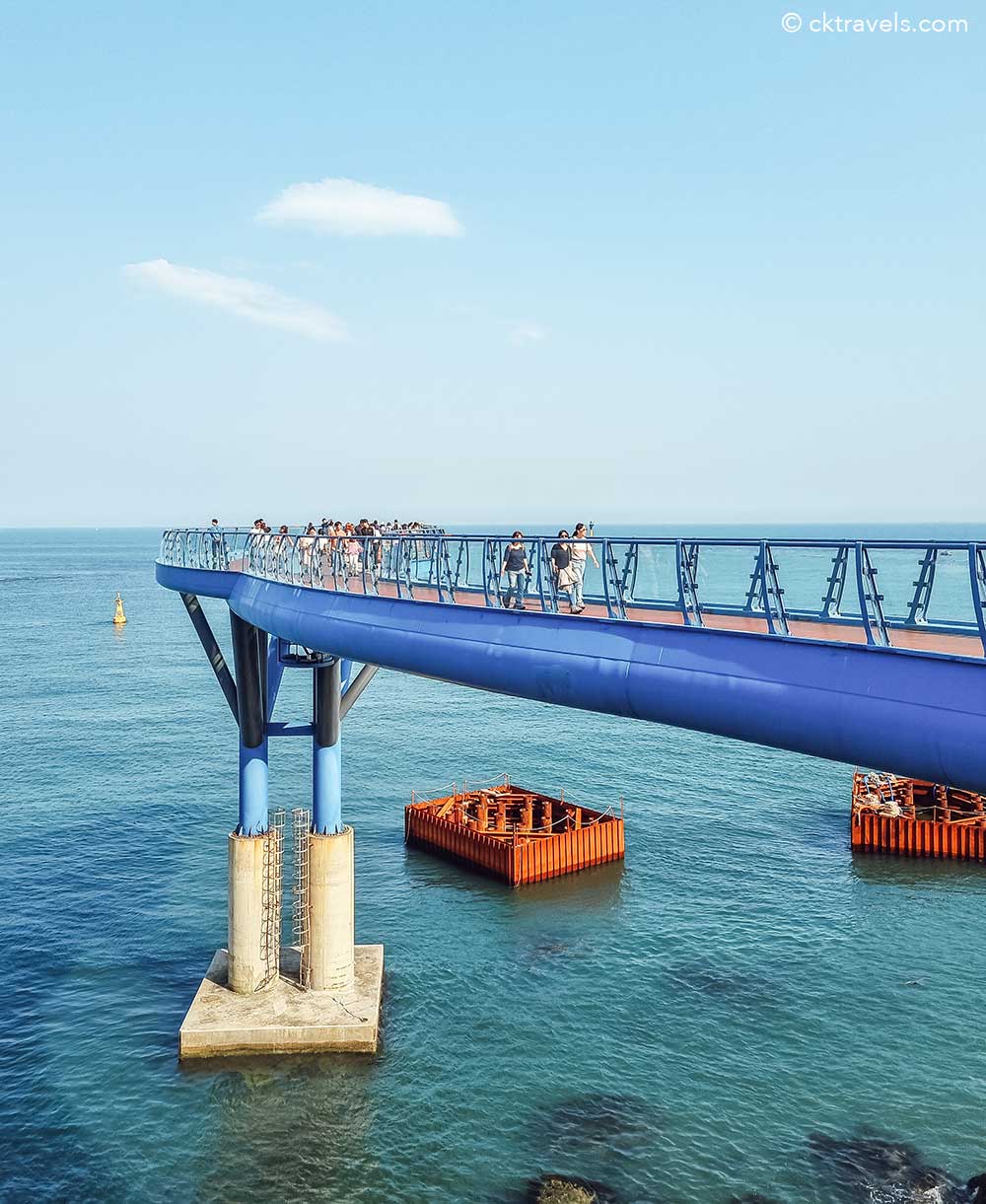 ---
You might like – Busan's top 5 tourist attractions one Day & Night tour >
---
Songjeong Beach
Often referred to as the best surfing beach in Busan, Songjeong Beach is the perfect place for watersports and seaside action – this is also a terminus station for the Haeundae Blueline Park.
Given its location a little further north of the main city, Songjeong is a stunning yet less well known beach in Busan meaning it feels a little less busy than the likes of Haeundae and Gwangalli.
With relatively shallow waters and waves all year round (as this is where the south sea meets the east sea), Songjeong Beach is popular year round with the surfing community and paddle boarders.
Try this – Busan Main Attractions One Day Tour >
---
Haeundae Beach
Haeundae Beach is not only one of the best beaches in Busan but also one of the best beaches in South Korea – with its vast ocean views, sprawling sandy beach and towering skyscrapers immediately behind, Haeundae Beach is world-class.
Brilliant for swimming and water sports, Haeundae Beach stretches over 1 mile and is also famous for its annual Busan Sand Festival whereby dozens of huge sandcastles are built on the beach by artists from all over the world.
Mipo station Blueline Park is a short walk from Haeundae Beach and a terminus for the Sky Capsules and Beach Train.
---
Haedong Yonggungsa Temple
A short bus ride from Seongjong Beach, Haedong Yonggungsa Temple is described as the most beautiful temple in Korea with stunning panoramic views of the sea.
Incredibly popular, the original temple was built in the 14th century but later destroyed by bombing and rebuilt in the 1930s.
You might like – the top 10 Busan day trips with Viator >
---
You might like – Things to do in Gamcheon Cultural Village, Busan 
---
Busan X The Sky
For the best panoramic views of Haeundae Beach and the Busan coast.
The observation deck is located on the 100th floor and it is the tallest building in Busan, and second tallest in South Korea. The world's tallest Starbucks can also be found at Busan X The Sky. ​
Book a discounted BUSAN X the Sky ticket here >
---
Save money on Busan attractions with the visit Busan Pass
Newly launched in 2023 and very similar to the highly successful Visit Seoul pass (read our review here), the Visit Busan pass provides 'free' access to a selection of 30 tourism attractions in Busan for 24/48 hours.
Visit Busan tourist attractions included on the pass include Lotte World Busan, Busan Tower, Skyline Luge Busan, Busan X the Sky, Songdo Cable Car and free hanbok rental.
Incredibly good value for money, buy your Visit Busan pass here via Klook >
---
You might like – the best craft beer bars and breweries in Busan >
---
Busan Transportation
Busan bound? There are several ways to get to Busan in South Korea:
Fly to Busan
You can fly directly to and from Busan Gimhae International Airport (PUS) from Japan, Thailand, the Philippines, Vietnam, Taiwan, Singapore, China and Malaysia.
There are dozens of domestic daily flights to Busan from Seoul and Jeju – we found these to be very cost effective, often the same price as cross-country coaches but much quicker.
Ferry to Busan
Go by sea! There is a direct ferry from Fukuoka in Japan to Busan.
Book the Queen Beetle One-way Jet Ferry between Fukuoka and Busan here >
Train to Busan
Unlike the movie of the same, there are no zombies on this particular train to Bus (well, probably…) – the train to Busan is a quick and efficient way to get to the southern part of South Korea from Seoul.
The KTX train Korea is the fastest train to get to Busan, often taking less than 3 hours and running one or two times an hour. Zoom zoom!
Alternatively, foreign travellers can benefit from discounted rates with a Korea Rail Pass – this is also better value if you are travelling long distances by train in South Korea for two or more days.
Book your Korea Rail Pass (2, 3, 4, or 5 Days) here >
Busan Private Tour
Given how big Busan is, if you are short on time, you can organise your own customised private tour of Busan or do a Premium One Day Private group Tour from Busan to 10 cities.
---
Highly Rated Busan Accommodation and Hotels
Here is our pick of the best hotels in Busan to suit all budgets:
Lotte Hotel Busan
Luxury hotel located a 5 minute walk from the metro. Facilities include an on-site duty-free store, department store, movie theatre, indoor and outdoor pool, sauna, fitness centre and restaurants. Check out prices and availability for Lotte Hotel
Kent Hotel Gwangalli by Kensington
Highly rated hotel located on the shore of Gwangalli Beach. Rooms are modern with city views or sea views. Check out prices and availability for Kent Hotel Gwangalli by Kensington
Mipo Oceanside Hotel
Highly rated hotel offering both Western and Korean-style rooms. Some rooms have sea views. Check out prices and availability for Mipo Oceanside Hotel
Signiel Busan
Luxury hotel located between the 3rd and 19th floors of the LCT Tower. Rooms have panoramic views and facilities include an infinity pool, luxury spa, kids outdoor activity garden and dim sum restaurant. Check out prices and availability for Signiel
---
You might like – Busan: Day Trip with Gamcheon Culture Village and Sky Walk >
---
Did you enjoy our Haeundae Blueline Park Sky Capsules and Beach Train blog post? Let us know in the comments or by sharing it on social media.
You can follow CK Travels on:
Instagram
Facebook
TikTok
YouTube