This post may contain affiliate links to tours and hotels. These help us earn a small commission at no additional charge to you.
One of Seoul's most popular and inexpensive restaurants, Myeongdong Kyoja has been serving up delicious hand-made dumplings and hand cut noodles to hungry locals for decades.
Founded in the 1960s, Myeongdong Kyoja has a simple but succulent menu comprising just a handful of dishes.
Whilst the food at Myeongdong Kyoja is traditional, the service is a much more modern affair with automated ordering machines in several languages, plus food often delivered by robot servers – Myeongdong Kyoja truly is a marvellous mix of the old and new.
South Korean street-food is amazing and if you are planning to visit all the classic Seoul street food places like Gwangjang Market or Kalguksu Alley, make sure you also visit Myeongdong Kyoja whilst in Myeongdong.
From marvellous freshly steamed mandu (dumplings) to brilliant bibimguksu (cold spicy mixed noodles), here is our review and guide to all things Myeongdong Kyoja Restaurant in Seoul:
---
You might like – things to do in Myeongdong, Seoul >
---
Accommodation Near Myeongdong Kyoja:
Here are some highly recommended places to stay in the neighbourhood of Myeongdong, Seoul:
Budget
Hotel 8 Hours
This budget hotel is located a 5 minute walk from Myeongdong subway City Hall station exit. Rooms are compact but modern and hotel facilities include TV, refrigerator, shower booth, hairdryer and free toiletries. Check out prices and availability for Hotel 8 Hours.
Mid range
Sotetsu Fresa Inn Seoul Myeong-dong
We stayed at this popular chain hotel for 5 nights and really loved the comfortable room and the location was perfect – right in the heart of Myeongdong. Check out prices and availability for Sotetsu Fresa Inn Seoul Myeong-dong.
Luxury
L7 Myeongdong by LOTTE
This trendy 4-star hotel is located right by the subway station and within a few minutes of the shopping areas. Facilities include a rooftop bar which has views of the city and Mount Namsan. Check out prices and availability for L7 Myeongdong.
Myeongdong is a great Seoul neighbourhood to base yourself as not only does its have fantastic restaurants like Kyoja, but it also has Myeongdong Night Market plus some of the best malls in Seoul.
---
You might like – Guide to Myeongdong Night Market >
---
How to get to Myeongdong Kyoja Restaurant
If you are staying in the Myeongdong, Insadong, Dongdaemun or Euljiro neighbourhoods in downtown Seoul, Myeongdong Kyoja Restaurants in Myeongdong are easily walkable from all these areas.
If you are staying in areas further afield like Gangnam, Hongdae, Ikseondong or Seongsu-dong, you are best to get the Seoul Metro to Myeongdong Kyoja Restaurant.
The nearest Metro stations to both Myeongdong Kyoja Restaurants are either Myeongdong station (take exit 8) or Euljiro 1(il)-ga Metro station (exit 5 or 6).
Note there is another branch of Myeongdong Kyoja on the outskirts of Itaewon.
---
Arriving in Seoul? Skip the queues and book your AREX Incheon Airport Express Train One Way Ticket in advance >
---
The History of Kyoja Restaurants in Seoul
Kyoja was established in 1966 (something they state proudly on their ordering machines) and is reputedly the 'founder' of kalguksu noodles (hand-cut) in Korea.
Myeongdong Kyoja began life in Suha-dong, Jung-gu, Seoul. The kalguksu signature special restaurant soon moved to Myeong-dong, one of the busiest areas of Seoul.
Their restaurant name was originally 'Myeongdong Kalguksu' but many other restaurants copied their hand-cut noodles style (often using cheap ingredients) so they renamed themselves Myeondong Kyoja in the 1970s to differentiate themselves.
So popular is Myeondong Kyoja with locals and tourists, you'll often (but not always) find huge queues of hungry diners at peak hours (but it is so worth the wait!).
There are currently three branches of Kyoja in Seoul – two Kyojas can be found in Myeongdong – Kyoja Myeongdong Main Store and Kyoja Myeongdong (both along Myeongdong 10-gil).
We also discovered another Kyoja branch in the neighbourhood of Itaewon, near to Antique Street.
---
You might like – Seoul: Korean Cooking Class at a Local Home and Market Tour >
---
How to order at Myeongdong Kyoja Restaurant
How you order at Myeongdong Kyoja seems to depend on how busy the restaurant is.
The usual way to order at Myeongdong Kyoja Restaurant is via an electronic ordering booth at the front of the restaurant.
You will see a picture screen with Myeongdong Kyoja's fairly limited (but very delicious) menu. This seems to be the standard way to order at Kyoja when the store is very busy, with long queues snaking out of the building.
Most of the dishes have pictures next to them so you know roughly what you are ordering, plus there is the ability to show menus in English (via the American flag icon), Japanese and Chinese as well as Korean.
Failing that, use a translation device like the Google Translate phone app or just go with what food looks nice on the screen!
When we have visited Seoul Myeongdong Kyoja Restaurant on quieter occasions, the ordering kiosks were switched off and the serving ladies took us to a table and gave us a laminated menu and paper ordering form with an English translation.
---
You might like – Top Seoul food tours with Viator >
---
Kyoja food dishes in English
It also helps to know the Korean words in English for the Myeongdong Kyoja Restaurant main dishes so you know what you are ordering:
Kalgaksu = hand cut noodles (usually served in a warm broth / soup)
Mandu = dumplings (usually steamed)
Bimbimguksu = a cold spicy wheat noodle dish (generally eaten in the summer)
Konguksu = Cold bean soup in a cold (often milk) broth garnished with cucumber.
Once you've selected your food, pay for it at the kiosk machine, then hand your receipt to one of the waiting staff and they will then show you to an available table.
---
You might like – A visit to the famous Netflix Kalguksu stall at Gwangjang Market >
---
Robot Table Service at Myeongdong Kyoja Restaurant
The service at Myeongdong Kyoja Restaurant is pretty brisk, mainly because it has a small menu with only several dishes available.
If you haven't been to South Korea before, you might be surprised (amazed even) to see robot servers bringing the food to your table at Myeongdong Kyoja Restaurant (and most other Kyoja branches).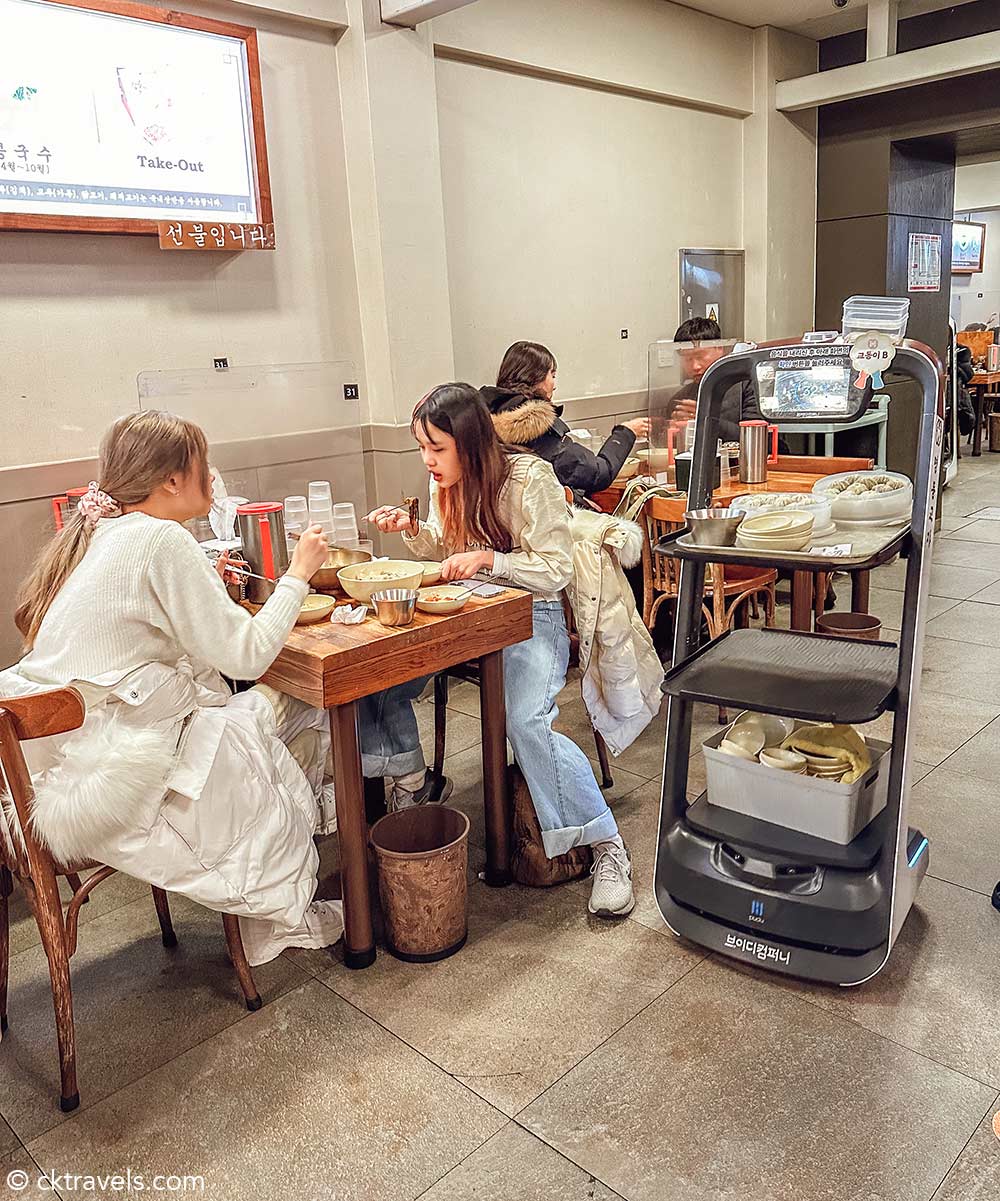 These robot services arrive at your table and you take your own plates of food of the robot itself – or sometimes one of the serving staff will accompany the robot.
If you have to take the food off the robot by by yourself, remember to hit the enter key on the robot screen at the end so that it leaves your table.
Robot servers are very popular in South Korean and Japanese chain restaurants – if you are visiting Seoul with kids, they will love to see these serving robots trundle along in Myeongdong Kyoja.
---
You might like – From Seoul: DMZ, 3rd Tunnel & Suspension Bridge Guided Tour >
---
The Hidden Cutlery Drawer & more!
Once seated at your table in Myeongdong Kyoja, you may start to wonder where your chopsticks and cutlery are – these are actually discreetly tucked away in a small drawer under your table.
Inside the 'hidden' compartment, you'll find metallic chopsticks and forks to enjoy your meal with.
These are usually well stocked but if you do find anything lacking, the waiting staff will happily top up your drawer or napkin dispenser.
Under your table at Kyoja Myeongdong, you'll also find a small waste bin to put in your used napkins.
Condiments are available on the table like soy sauce and kimchi (pickled cabbage) – add according to personal taste!
---
You might like – our guides to the Discover Seoul Pass and the Go City Seoul Pass – dozens of superb Seoul attractions for one low price.
---
Kyoja Myeongdong Menu / Kyoja Dishes
Unlike many other South Korean restaurant menus, Kyoja has a limited menu of usually four dishes, honed to perfection over several decades.
Locals have been coming back to Kyoja Myeongdong for decades as the dishes are tasty and delicious (and the Kyoja prices are pretty reasonable – more on this later).
Specialising in hand cut noodles and homemade dumplings, the main food to try and signature dishes at Kyoja Myeongdong are:
Kalguksu
This is Kyoja's famous hand cut / knife-cut noodle dish, served in a warm thick chicken broth.
If we were to 'review' Kyoja Myeongdong, this would definitely be our favourite dish!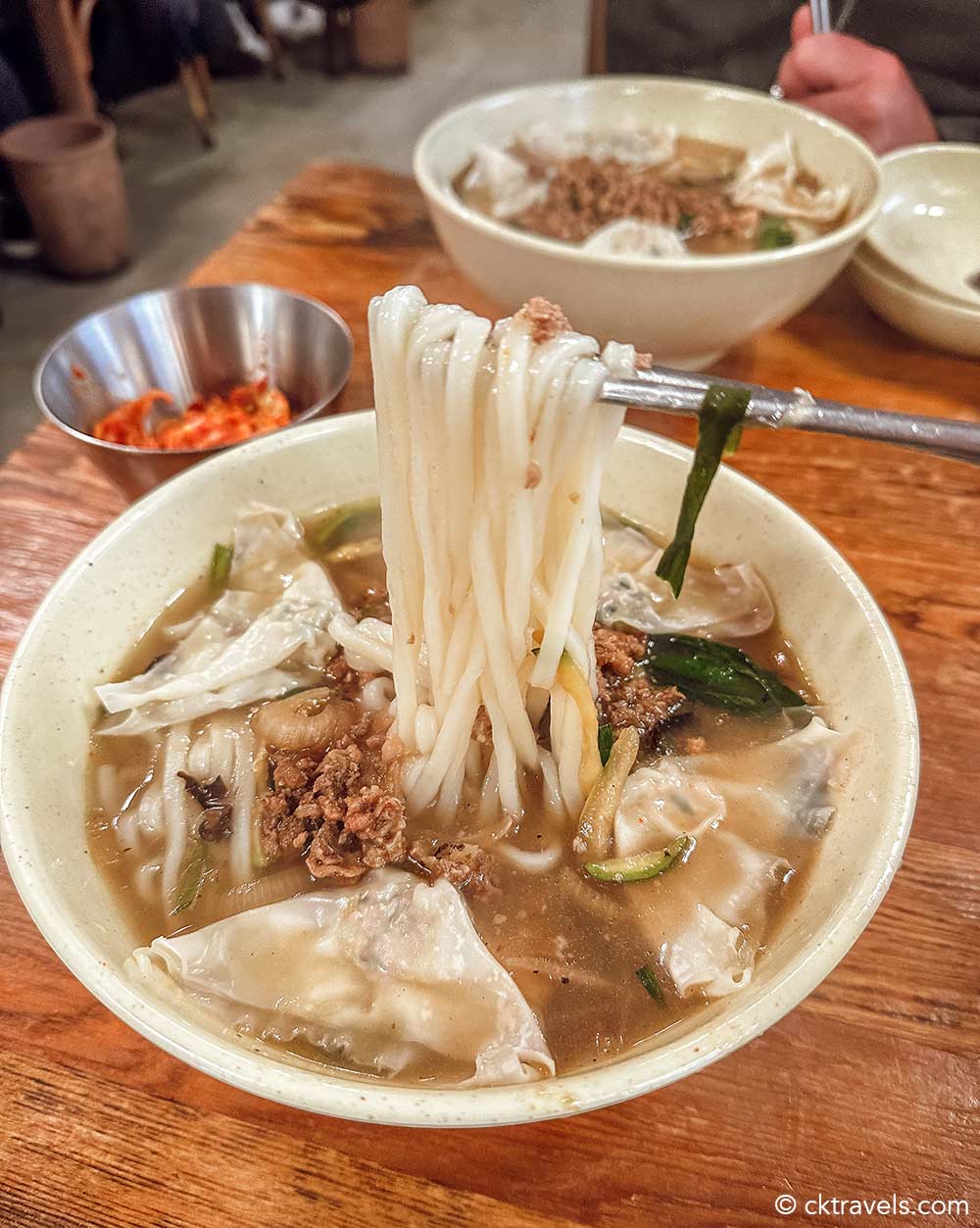 Flavourful and topped off with minced meat and dumplings floating on top, this is a hearty way to warm up in Seoul on a cold winters days. Best slurped, Myeongdong Kyoja's Kalguksu is the dish we keep returning to time and time again.
You can also add kimchee and soy sauce to the chicken broth for extra flavour as both are provided as condiments on the table.
---
You might like – Guide to watching baseball in Seoul >
---
Mandu
Served as a portion of ten steaming dumplings, Kyoja Myeongdong's moist dumplings are most excellent.
The Kyoja dumplings are made from pork (supposedly always female pigs for extra tender pork), leeks, fresh vegetables and extra sauce – all combined and then wrapped up by hand.
Portion sizes are huge and if there are two of you dining, you probably won't need more than one portion of dumplings at Kyoja if you are also trying other noodle dishes.
You might like these Seoul neighbourhood guides:
Hongdae
Myeongdong
Insadong
Ikseon-dong 
Gangnam
Seongsu-dong
Euljiro
Bimbimguksu
Possibly the best looking (prettiest) dish at Kyoja, Bibimguksu is a cold spicy wheat noodle dish (generally eaten in the summer) that has been made for decades.
Green wheat noodles are topped with a (very) spicy red pepper paste (gochujang), shaved cucumbers and sesame. This is a fabulous cooling dish for a hot summer's day in Seoul, especially with the cooling properties of the cucumber.
Personally, for us, this wasn't our favourite dish at Kyoja as the cucumber taste lingered but if you love flavourful cold noodles, you can bet on Bibimguksu at Kyoja to deliver a delicious dinner.
Kongguksu
'Bean' to Kyoja to try this? Kongguksu is a cold bean soup in a chilled milk broth served with green chlorella noodles and cucumber on top.
Billed as a 'healthy food' for summer, the black and regular beans are soaked for a long time before being ground and added to a soup stock that punches with flavour. The cucumber strands also give this a fresh taste.
Note that Kongguksu is seasonal and not always available at Kyoja.
---
You might like – Full Day Small-Group Royal Palace and Seoul City Tour with Lunch >
---
Drinks at Myeongdong Kyoja Restaurant
As the main emphasis is on their moorish mandu and their hand-cut noodle dishes, the drinks menu at Myeongdong Kyoja Restaurant is quite limited. Drinking water is provided.
Soft drinks like Coca-Cola cans are available as well as green tea but no alcohol is available to buy at Myeongdong Kyoja.
If you fancy a beer after lunch or dinner at Myeongdong Kyoja, check out our guide to the best craft beer bars and breweries in Seoul.
---
You might like – Mount Seorak + Nami Island + Garden of Morning Calm Day Trip from Seoul >
---
Prices at Myeongdong Kyoja Restaurant
The price of dumpling and noodle dishes at Myeongdong Kyoja restaurants is reasonable.
On our last visit to Kyoja in Myeongdong in summer 2023, all main dishes cost between 10,000 and 11,000 Korean Won – around £6 to £6.60 / $7.50 to $8.30 USD / 6.90 to 7.60 Euros / $10 to 11 SGD.
Kyoja Kalguksu cost 10,000 Won
Kyoja Mandu cost 11,000 Won per portion of 10 dumplings
Bibimguksu cost 10,000 Won per bowl
Kongguksu cost 11,000 Won per bowl
---
You might like – 75+ epic things to do in Busan, South Korea >
---
Myeongdong Kyoja Main Store Opening Hours
Myeongdong Kyoja Main Store is normally open 7 days a week from 10.30am to 8:30pm week days and until 9:30pm at weekends (although they sometimes close earlier if they sell out so try to get there early.
Please note last orders are usually a little before closing time so best to arrive at Kyoja at least one hour before closing.
Myeongdong Kyoja Main Store and Myeongdong Kyoja are open every day except for public holidays on New Year's Day and Chuseok (Korean Thanksgiving).
Myeongdong Kyoja Store Addresses and Itaewon
The Myeongdong Main Store branch of Kyoja restaurant can be located at 29 Myeongdong 10-gil, Jung-gu.
The second Kyoja Myeongdong restaurant can be located a little further along the same street at 8 Myeongdong 10-gil, Jung-gu.
There is another popular branch of Kyoja in Seoul located on the edge of Itaewon near Antique Street – Myeongdong Kyoja Itaewon, 136 Noksapyeong-daero, Yongsan-gu, Seoul.
---
You might like – the best beaches in Busan, South Korea >
---
Best Time to Visit Myeongdong Kyoja Restaurant
We would recommend not dining at peak times as based on our experience, you can expect to see a huge queue during the lunchtime rush (the inexpensive noodles and dumplings are very popular with workers and families) and early evening / straight after work hours.
We also found Myeongdong Kyoja Restaurant busier in the winter months than summer months, possibly because the dishes are hearty and warm you up in winter.
---
You might like – the best things to do in Seoul at Christmas >
---
Other things to do Near Kyoja Myeongdong
There are many things to do in Myeongdong. Some of the best options all within five minutes walk of Kyoja Myeongdong include:
Myeongdong Night Market
One of Seoul's most popular night markets, Myeongdong Night Market is a tasty, treasure trove of cheap Korean street food and souvenirs.
From socks to grilled squid, K-Pop to pork belly and baked cheese to Busan fishcakes, there is plenty to suit all tastes (and budgets) at Myeongdong Night Market.
Read our full guide to visiting Myeongdong Night Market in Seoul in South Korea >
Myeongdong Walking Street
A UNESCO listed street no less, Myeongdong Walking Street is the epicentre of Seoul's retail and fashion world, with hundreds of shops to choose from plus numerous bars and restaurants hidden along its alleys.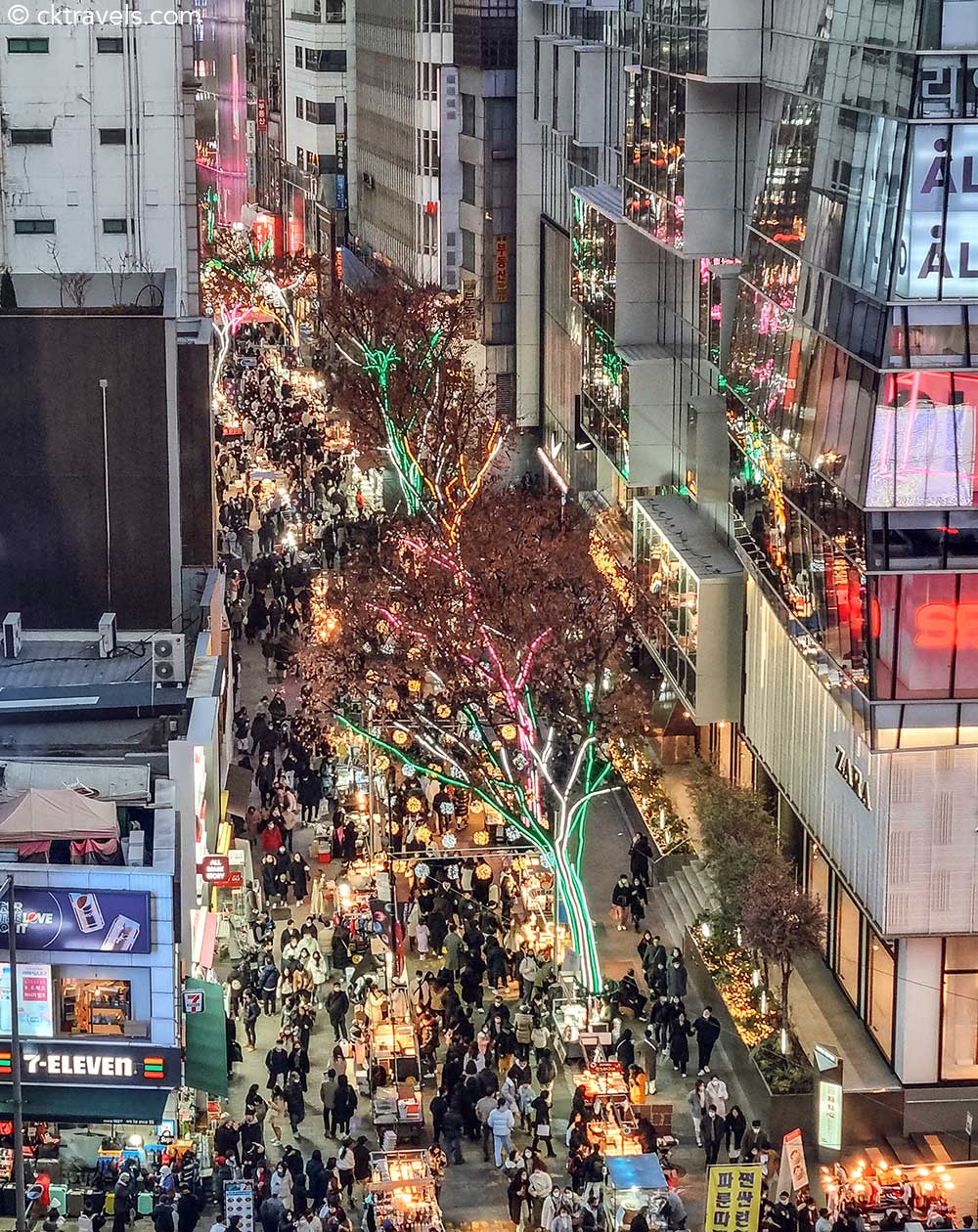 Designated a special tourist zone and pretty much pedestrianised other than the occasional taxi trying to do a hotel drop off, Myeongdong Walking Street is a must do when visiting Seoul.
It is also worth a visit both in the day and when visiting Seoul at night, as in the evening, all the streets are lit with an array of neon signs and bright lights.
Myeongdong NANTA Theatre
The renowned NANTA Theatre comedy and cookery show has been packing in audiences worldwide since 1997.
Myeongdong NANTA Theatre is located on the third floor of the UNESCO building along Myeongdong Walking Street and is performed several times a day, seven days a week.
BOOK IT: Myeongdong Nanta Theater Show Ticket >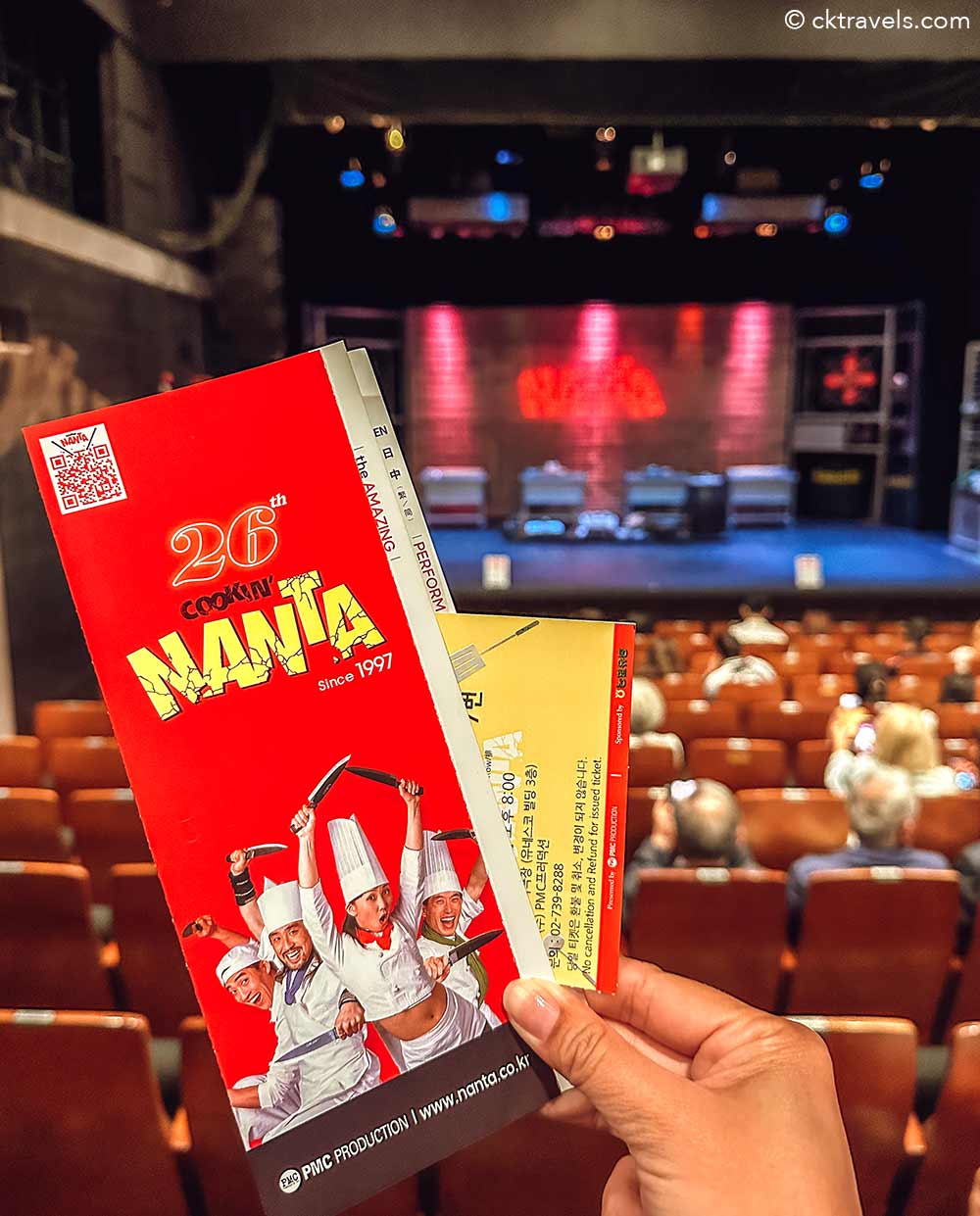 Korean Skincare and Beauty Stores
Myeongdong is the ultimate shopping destination if you are looking for some K-beauty and skincare products and the newest beauty trends.
There are several flagship shops to check out in Myeong-dong and popular places include Olive Young, Nature Republic, Holika Holika, Skin Food, Laneige, Innisfree and StyleNanda 3CE.
Most beauty stores in Myeongdong close around 10pm to coincide with when Myeong-dong Night Market shuts so you can easily head to them after dining in Kyoja Myeongdong.
Myeongdong 'Chicken and Beer' Street
Still hungry after your Kyoja Myeongdong mandu?! Myeongdong has a whole host of chicken and fried beer restaurants dotted in and around the neighbourhood.
However, for the best choice of beer and chicken within a short distance and all next door to each, head to the Myeongdong Fried Chicken and Beer street (found on Google maps at Myeongdong 7ga-gil) – most bars here are open until very late.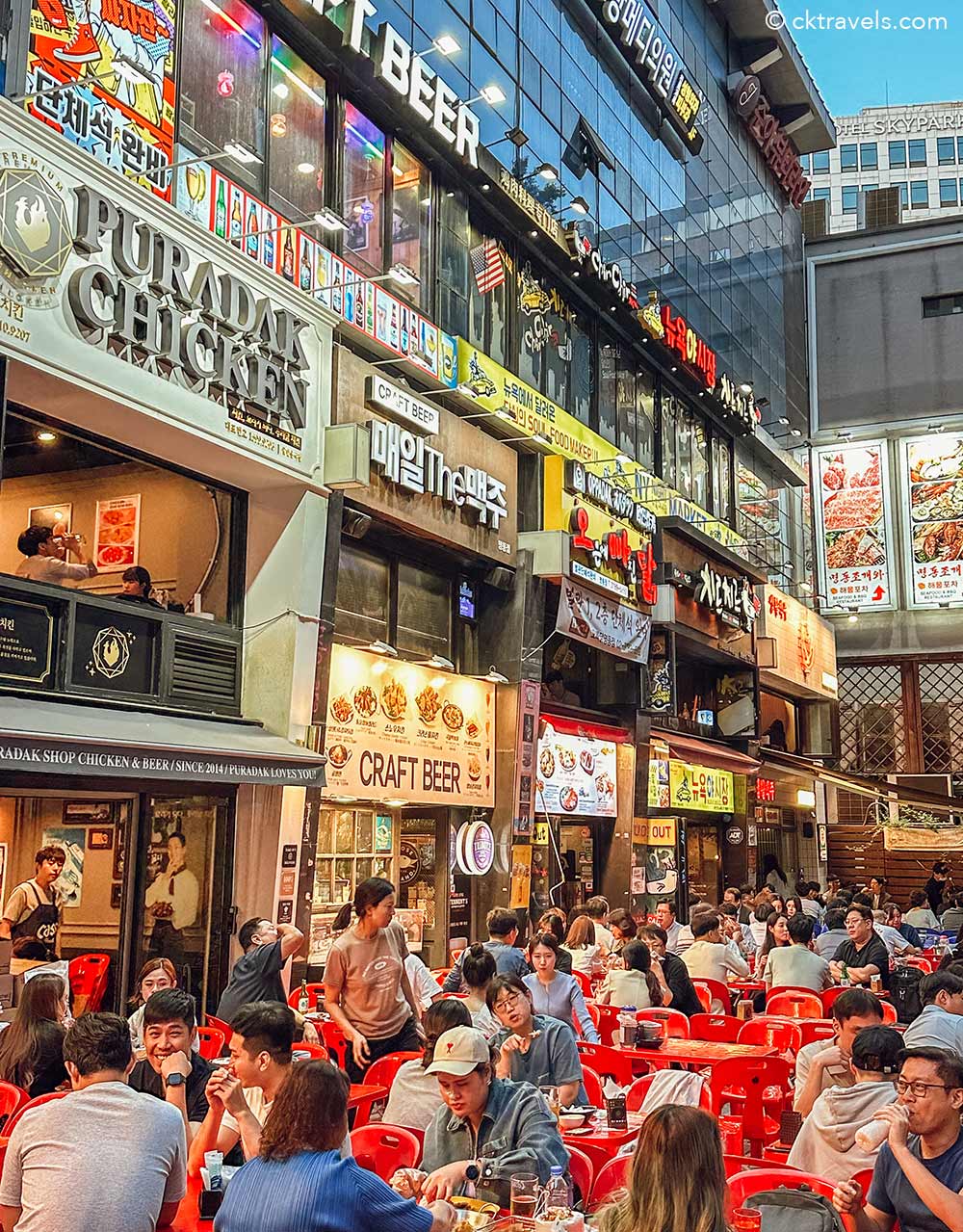 Late night shopping malls in Myeong-dong
There are several Seoul shopping malls open until late in the local area within walking distance of Myeongdong Kyoja Restaurant including Lotte Young, Shinsegae and Noon Square Fashion Mall.
Check out our guide to the best shopping malls in Seoul >
Other South Korea posts you might like
Did you enjoy our Myeongdong Kyoja Restaurant in Seoul blog post? Let us know in the comments or by sharing it on social media.
You can follow CK Travels on:
Instagram
Facebook
TikTok
YouTube