This post may contain affiliate links to tours and hotels. These help us earn a small commission at no additional charge to you.
A booming blend of high rise, retail and restaurants located on the waterfront, Canary Wharf and Docklands may not be at the top of everyone's London to do list, but it isn't just for city workers or big spenders.
With frequent restaurant openings and temporary pop-up art installations, there are new things to do in Canary Wharf and Docklands every time you return – and you can now reach Canary Wharf via the new Elizabeth Line.
Combined with great transport links including London's only cable car, here is our guide to the best things to do in Canary Wharf and Docklands in East London:
---
You might like – Things to do in Greenwich, London >
---
Recommended Canary Wharf Hotels and Docklands Accommodation
With good TFL Underground and Docklands Light Railway links into Central London plus restaurants and bars galore (plus several shopping centres), Canary Wharf and Docklands are an excellent place to base yourself during your trip to London.
Hotels in Canary Wharf and Docklands include:
Wombats City Hostel
Highly rated award winning hostel with both private rooms and dorms, onsite bar and a courtyard.
Novotel London Canary Wharf
A four star Canary Wharf hotel with a roof terrace that has 360 views across the London skyline. It is also home to the famous The Bōkan Restaurant and Rooftop Bar.
Hilton London Canary Wharf
Five minutes walk from Canary Wharf Station and just one stop from the iconic O2 in Docklands – there are several bars on site at this four star hotel plus a steam room and sauna.
Radisson Blu Edwardian New Providence Wharf Hotel
Contemporary hotel with rooms and suites that have river views, onsite restaurant, cocktail lounge and a terrace bar. Other amenities include a fitness centre, a spa and a business centre.
London Marriott Hotel Canary Wharf
A fine 5* star hotel in Canary Wharf with views of London's skyline plus a Manhattan Grill Bar and Marriott Health Club.
Look at more Canary Wharf hotels on Booking.com here >
Things to do in Canary Wharf
1. Crossrail Roof Garden
Although overshadowed in popularity by the Sky Garden, the fact not so many people visit Crossrail Roof Gardens is actually a blessing as there is no need to book in advance and whilst the views aren't as spectacular, it is a jarring and joyous juxtaposition of nature against the sleek sky-scrapers of Canary Wharf.
Opened in 2015 and accessible seven days a week, Crossrail Roof Gardens also have a varied series of events from half term programmes for families through to pop up art installations or trails.
---
Like this? Discover London's best panoramic views here >
---
2. Crossrail Place at Canary Wharf
Below Crossrail Roof Gardens on the ground level, you'll find Crossrail Place, an eclectic mix of retail shops, cinemas, gyms and restaurants.
There are some really good foodie places to try here from the diner style food at Breakfast Club to Taiwanese Tea at Yi-Fang as well as the asian flavours of ramen joint Ippudo.
---
You might like – the best pubs on the river in London >
---
3. Pergola on the Wharf, Canary Wharf
Pergola's latest dining space (replacing the sadly defunct Street feast / Giant Robot site), Pergola on the Wharf is a fine London food court located right next to the Crossrail botanical garden at Canary Wharf, with the floral theme continuing as you step inside.
With ample indoor and outdoor dining space, Pergola on the Wharf is a swish casual dining affair, with brunch and dinner options, plus two bars at the rear with a good craft beer selection on tap and lots of cocktails to choose from.
For us, this is one of the best restaurant spots in Canary Wharf. The balcony at the back of the Pergola is a particular favourite with stunning cityscapes of the docks and nearby Billingsgate Market.
It is also nice to a real mix of people here from family lunches to birthday bashes and city workers all enjoying the cuisine and cityscapes through the huge windows.
---
You might like – Top London Street Food Tours with Viator >
---
4. Market Halls Cargo Canary Wharf
Canary Wharf's newest street food emporium is hot on the heals of Street Feast's recent transformation to a new branch of Pergola.
Market Hall's latest food foray on the capital's culinary scene is a shiny, spick and span food hall with opulent interiors, a beautiful island bar and large bay windows looking out on the waterfront.
With 8 street food kitchens including tasty tortillas from DF Tacos (around £8 for two), splendid spaghetti from Pasta Evangelists and on the money dim sum from Baoziin.
We'd also highly recommend the lamb murtabak or roti from Gopal's Corner, magnificent Malaysian food from an offshoot of beloved Euston restaurant Roti King.
Other branches of Market Hall can also be found near Victoria Station and Oxford Circus.
---
YOU MIGHT LIKE: The best street food markets and food courts in London >
---
5. MMy at Wood Wharf / Mercato Metropolitano at Canary Wharf
Mercato Metropolitano's newest branch recently opened in Wood Wharf, the newest neighbourhood and waterside living area at Canary Wharf.
We've already been to Mercato at Elephant and Castle and the rather impressive church based one in Mayfair so in terms of stature and size, MMy Wood Wharf falls somewhere in the middle.
As we first approached, we could see a really busy outdoor seating area, lush and green and just a few metres away from the water's edge (so a perfect location for takeaway food and views)
Inside MMy Wood Wharf, there were around 10 different street food stalls, a central seating area plus a craft beer bar and Ethika cocktail bar.
One of the highlights is the beautifully laid out fresh produce store (think cheese, meat, preserves and all manner of foody goodness) – plus we popped our heads into the basement jazz bar; stunning!
A welcome addition to the Wood Wharf neighbourhood, Mercato Metropolitano deliver again in Canary Wharf.
---
6. Museum of London Docklands
Many people visit the main Museum of London in the city centre (now closed until 2026 for a makeover), but they also have a smaller outpost in London Docklands, which is one of the best free things to do in London and is open seven days a week.
Focusing on the River Thames and the development of the docks and local area, the Museum of London Docklands is suitably located in a former port warehouse. It opened to much fanfare in 2003, featuring artifacts from the main museum as well as the Port of London Authority archives – it all looks ship-shape!
---
YOU MIGHT LIKE: Guide to the best free things to do in London >
---
7.Go Boats and floating BBQ boats / hot tub boats
Canary Wharf with its surrounding quays and docks is the perfect place to hire a boat (of sorts) and experience the modern metropolis from the water – there are a couple of hire places, Skuna and Go Boats.
Go Boats have several sites across London including Paddington, Kingston and now Canary Wharf.
Based in Bellmouth Passage, Go boats at Canary Wharf can be hired for an hour or more with prices starting from £85 for one boat for one hour as of summer 2023. You are allowed to take your food and drink on board (including booze, within reason).
Skuna offer something a little different – floating BBQ boats and hot tub boats. Many is the time have we've alighted at the Docklands Light Railway at West India Quay to see a hot-tub hen party of BBQ boat bucks party float on by, much to the bemusement of people on the footbridge and quayside.
Although a more unique experience than GoBoats, prices are more expensive with a floating hot tub rental starting from £225 and BBQ boats from £149.
They also offer guided tours on a shared hot tub boat – you can book a Hot Tub Boat Guided Sunset Docklands Cruise or a Hot Tub Boat Guided Historical Docklands Cruise.
---
You might like – Speedboat 'Canary Wharf Experience' to/from Embankment Pier >
---
8. Big Easy Canary Wharf
The Big Easy Canary Wharf is a laid-back American style restaurant is one of the most popular places to eat in Canary Wharf and specialises in home smoked BBQ, fresh lobster, cocktails and ice cold beers.
This Canary Wharf restaurant has a huge roof terrace with views over the water plus live music every night.
During the week they have daily specials such as unlimited BBQ, chicken wings or shrimp, and on weekends they have a boozy brunch menu where you can drink bottomless prosecco, beer or frozen cocktails with your meal for a set price.
Big Easy Canary Wharf is located in Crossrail Place and advance booking is highly recommended. You'll find three other branches of Big Easy in nearby Stratford, plus Covent Garden and Chelsea.
London Travel Planning Facebook Group by CK Travels
Need help with your London travel itinerary or have any questions about your upcoming trip? Join our brand new online community! Click here to join our London Travel Planning and Tips Facebook group
9. Electric Shuffle Canary Wharf
When we first heard about Electric Shuffle in Canary Wharf, we thought it might be some form of retro discotheque but it is in fact related to the classic 'shuffleboard' game.
As you'd expect from the team that also brought you dart-astic Flight Club, Electric Shuffle is all about having fun, with ten shuffle-board playing areas and one of the most beautiful bar interiors you'll find in Canary Wharf, if not East London.
Every Thursday to Sunday, Electric Shuffle also offers bottomless pizza and prosecco brunch sessions (definitely a surefire way to improve your shuffleboard skills).
Based in Canary Wharf's Cabot Square, Electric Shuffle also has a summer pop-up terrace and bar that opens up for an alfresco cocktail, nibbles and brunch experiences – just look for the bright pink bar and orange seats.
---
You might like – things to do in Soho, London >
---
10. The Breakfast Pub
Sssssh – we aren't sure if we are meant to tell anyone but we'd recommend drinking in the 'secret' snug at the back of the Breakfast Club in Canary Wharf (AKA The Breakfast Pub).
The scene is set as you walk through the busy diner out front and along the dimly lit, red corridor (complete with zig-zag floor) a la Twin Peaks (damn fine coffee) – as you gingerly push open an unmarked red door, a wood panelled pub awaits outback with a huge disco ball (yes!).
The Breakfast Pub is a fun place to hang out at Canary Wharf, particularly after work with their weekday 4pm – 7pm Happy Hour consisting of £4 pints of Camden Town Brewery's beer or £6 cocktails (we loved their espresso martini).
The Breakfast Pub at Breakfast Club Canary Wharf might be one of London's best kept secret bars – make a night of it and order a huge plate of all day breakfast grub or fried chicken to keep you going.
The Breakfast Club has several branches throughout London including Hackney Wick, London Bridge and Camden. We'd rate this as one of the best American style bars in London.
---
YOU MIGHT LIKE: best things to do in Covent Garden, London >
---
11. Fairgame Canary Wharf
A new gaming and entertainment immersive experience to arrive at Canary Wharf (it opened in October 2022), this is the most fun we've had in London since Hijingo Japanese bingo in Shoreditch and one of the best first dates ideas in London.
How best to describe Fairgame at Canary Wharf? All the fun of the fair without the rubbish circus acts. A carnival of fairground attraction style games with oodles of eating and drinking options – we'd actually recommend eating after the activities as some of them can be energetic if you really get into them!
And yes, there is a candy floss stall too alongside delicious street food fare from Rudy's Pizza, Burger & Beyond and Taco Dos Mas (their loaded nachos were incredible).
There are various options / packages available at Fairgame Canary Wharf and we opted for the £25pp package which included 70 minutes of gaming activities (you get to do each game twice) plus two drinks each (wine, pints of beer, prosecco etc).
All of the gaming action is recorded by your electronic card which you register at the start and tap each time you play a new game – your best score from the two rounds is then added to your overall score so you can see where you rank in your team. It is fair (game) to see we became quite competitive!
The gaming activities are all a lot of fun, from water pistols filling up clown's faces to horse-racing and a shooting alley – handily there is also a beer holder below each game seat so you don't spill your pint when you get way too into the games. Fairgame is a neat and fun concept and definitely one we will play again in the future.
---
YOU MIGHT LIKE: Best Immersive Experiences in London >
---
12. One Canada Square
One of the most iconic skyscrapers in London which can be seen from all over the capital. It is the third largest in the UK and whilst not open to the public (stick to the Shard), it is pretty cool seeing it close up, especially as you approach via the DLR.
A financial powerhouse and beacon of industry, this whole area of the Docklands was once the main seat of commerce in the capital outside of the Square Mile so you can see how the money has been spent as waterfront bistros jostle for space with boutique stores.
---
13. Open Swimming at Canary Wharf
A new alfresco activity at Canary Wharf, the Middle Dock is now the first open swimming venue at Canary Wharf – dare you take the plunge?
This is some serious swimming action with stunning cityscape views – where else in London can you swim (legally) surrounded by skyscrapers and the sounds of cappuccinos being supped from nearby waterside cafes?
Literally 'soak' up views of One Canada Square and the new Newfoundland building. Note that membership is required (£15 for one year) and that sessions start from £8 for 3 to 4 hours, with regular free events too.
---
14. Jubilee Park, Canary Wharf
A little oasis of calm hidden away below the looming towers and skyscrapers, Jubilee Park is a little like Kyoto Gardens in Kensington, West London with long, snaking waterways and fountains with several statues and art installations.
Popular with city workers on their lunch-break, this is suitable serene spot to eat your takeout, if you don't fancy sitting inside the mall directly.
---
15. Canary Wharf Malls
Reminiscent of the underground malls of Montreal, the shopping centres in Canary Wharf are practically all underground making it probably the best place for wet weather or Christmas shopping in London (it also never gets too crowded, unlike say Oxford Street on a hot summer's day).
There are several interconnecting Canary Wharf malls including Jubilee Place Mall and Churchill Place Mall. On your first visit, it can be a little easy to get lost as all the tunnels and walkways can look quite similar after a while.
You'll also find lots of regular high street chains like Waitrose, M&S and Boots, as well as one off chocolate shops and high end clothing companies, plus one of our favourites – Crosstown Doughnuts.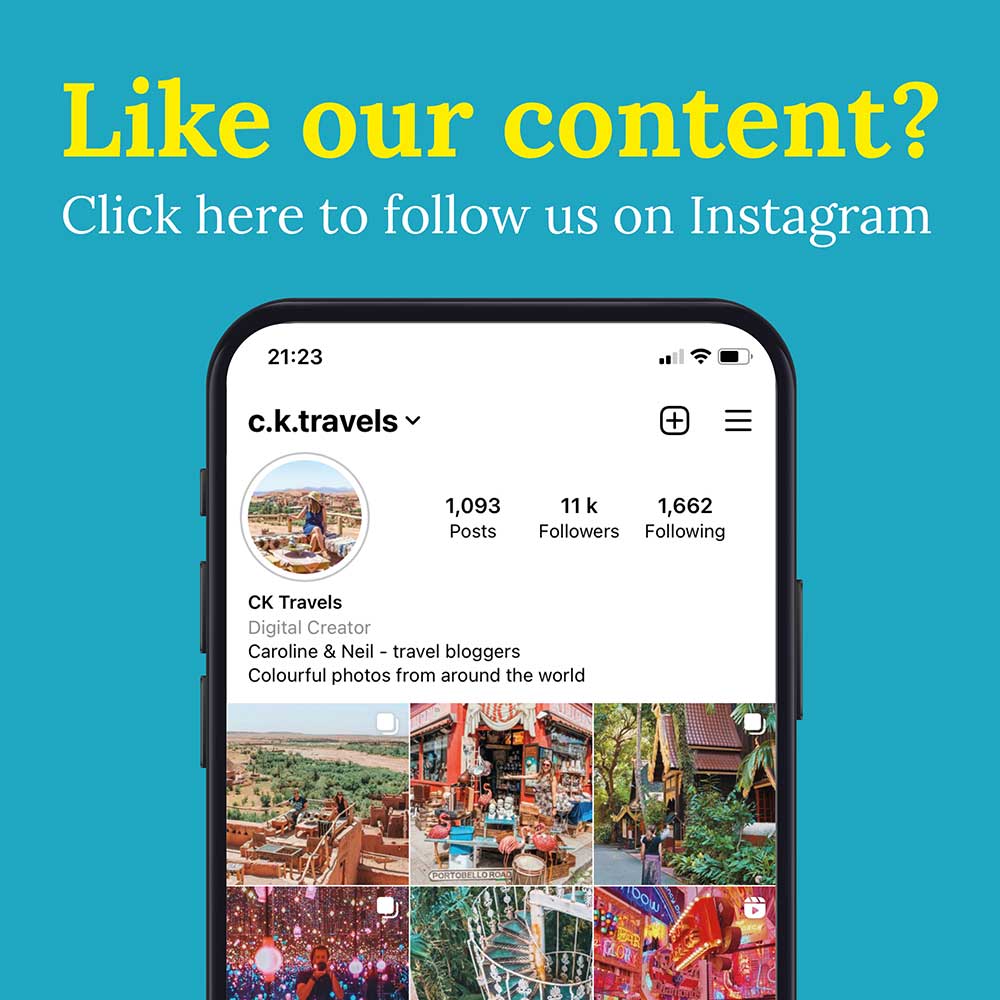 16. Canary Wharf Art Installations and Art Trail
Canary Wharf is proud of its parks and gardens as well as of its permanent art collection and statues dotted all around.
There are over 100 pieces of permanent Canary Wharf art making it one of the largest free outdoor collections of public art anywhere in London. It also regularly hosts temporary installations and pop-ups.
During our last visit to Canary Wharf, we stumbled across an incredible installation by Camille Walala, Captivated By Colour, which had taken over a whole walkway tunnel (sublime!).
Find out more about the Canary Wharf art trail with a map here >
---
17. West India Quay / London Quayside Quarter
Located just north of Canary Wharf, West India Quay has a row of 19th century Grade I listed warehouses along the waterfront that were once used to store imported goods from the West Indies, such as tea, sugar and rum.
Nowadays the area (also known as London's Quayside Quarter) has been redeveloped with bars, restaurants, a multiplex cinema, hotel and the Museum of London Docklands.
---
18. Bokan 38 Bar and 39 Rooftop
Who doesn't love a bit of outdoor rooftop and bar action? Here at CK Travels we are big fans of alfresco drinks with altitude.
Located across the 37th to 39th floors with sprawling views of Canary Wharf, London city and the docklands, Bokan has to be a contender for one of the best rooftop bars in London (and certainly one of the highest rooftop bars in London).
Located atop the Novotel London Canary Wharf, this (very) high-end hang-out boasts a specialist gin bar, daytime sun beds plus an epic terrace.
As at summer 2023, signature cocktails start from £11.50 (not sure about asking the bar man for the 'Pleasured'). For food at Bokan, their bar meu consists of tacos, cheese-boards and bruschetta style dishes with a full menu served in the Bokan restaurant.
---
You might like – London cheese crawl with fizz >
---
19. Wood Wharf
Whilst it can be hard to keep track of all the new 'neighbourhoods' and residential areas in Canary Wharf, certainly the largest and most up and coming area is Wood Wharf.
With a sprawling 23 acre waterside estate, Wood Wharf boasts beautiful boardwalks, parks with public art and multi-million pound high rise luxury apartment complexes, with stunning city views.
Wood Wharf also welcomes several news bars and restaurants including a floating branch of Hawksmoor (more on this later), Mercato's latest street food and dining venture MMy Wood Wharf (opening soon) and local Italian restaurant, Emilia's Crafted Pasta.
---
20. Hawksmoor and the Lowback Bar, Wood Wharf
Time to 'Steak' out fine dining at Hawksmoor in Wood Wharf, Canary Wharf's chic new floating bar and restaurant, with a lower level (and slightly cheaper) bar called the Lowback below deck.
Famed for its best of British steaks and prime meat cuts along with sublime and sustainably sourced seafood, this is one floating steak house you can really …push the boat out (sorry, we really couldn't resist!).
Hawksmoor Wood Wharf is one good looking restaurant, a combination of classic interiors and futuristic exteriors.
We are very intrigued by Hawksmoor's first ever outdoor eating area here too, with a terrace (and sun loungers!) out the front, and a prime view of the wharf and nearby wildfowl.
Hawksmoor also currently have a kind of Happy Hour promotion in Canary Wharf – known as the Hawksmoor Monday Wine Club, you can bring your own wine (BYO) and just pay £5 corkage. Cheers!
If Hawksmoor is a little out of your price range, the Lowback Bar is pretty reasonably priced with say a top notch double cheeseburger starting at around £15.
---
You might like – things to do in Richmond, London >
---
21. Wharf Kitchen, Jubilee Place
A subterranean street-food joint located in the Lower Mall area of Jubilee Place, this dining outlet has a boujie basement vibe with low light interiors (yep, it is pretty dark in there) and a subtle as location tucked away in the corner of a mall.
Street food vendors at Wharf Kitchen in Canary Wharf include Rainbo Gyoza, vegan favourite the Vurger Co, Mama's Jerk Caribbean food and Poke House.
---
22. Eat Korean street food
If you are a fan of fried chicken then you simply cannot miss out on Canary Wharf's latest restaurant offering – Seoul Bird.
Here you can try buckets of delicious Korean Fried Chicken which we recommend you pair with a spicy gochujang mayo and some homemade Korean iced tea. This is a popular spot so food waiting times can be a bit long at peak hours.
Like South Korean food? Read our guide to the best street food in South Korea, or check out all our South Korean travel guides.
---
23. Everyman Cinema Canary Wharf
Catch a movie at Crossrail Place in Canary Wharf at the Everyman Cinema, located on level 2 of the lower mall, within the same building as a gym (so you can work off the popcorn indulgence afterwards).
Canary Wharf's Everyman Cinema has 3 screens showing a variety of movie genres and often holds events like movie Q&As and music performances – there is also a bar inside open to all.
Note if you are looking for other Canary Wharf cinemas, there is also a Cineworld Cinema West India Quay in Docklands.
---
You might like – Get your London cinema tickets with Fever >
---
24. Capital Karts, Canary Wharf
Like go karting in London? Canary Wharf has you covered for karting!
Billed as 'London's best indoor go karting experience', Capital Karts at Canary Wharf is the UK's fastest indoor go karting tracks.
Located on level four of Cabot Place shopping centre in the heart of Canary Wharf, this go-karting track is also for private hire or you can join in a group session. You can also unwind (or celebrate your win) at the onsite bar.
Capital Karts Canary Wharf prices start from £36pp for a 20 minute go-karting race, fastest lap wins. Junior and Family sessions from £26pp.
Go karting prices at Canary Wharf correct as at April 2023. Capital Karts at Canary Wharf is open daily from 9am to 11pm.
Read more about London go-karting here >
---
25. Platform Esports Bar
New for 2023 at Canary Wharf and joining other immersive experiences here like Fairgame and Electric Shuffle, Platform Esports bar is a two level bar with over 20 games booths and consoles that hosts esports tournaments and gaming parties!
Not to mention classic cocktails and drink specials inspired by retro arcade games (make ours a Pac-Manhattan!).
Platform Esports bar at Canary Wharf has a cinema like interior with gamers able to order drinks and snacks to their upmarket booths at the press of a button.
---
Book the latest London exhibitions with Fever >
---
26. Canary Wharf Christmas Ice-Skating Rink
Get your (ice) skates on this Christmas to Canary Wharf! Christmas ice skating comes to Canada Square Park during the winter and festive period (Canary Wharf ice skating rink dates for Christmas 2023/ 24 are still TBC).
The usual hustle and bustle of bankers (not rhyming slang) and city workers transforms to a festive fair of hot chocolate, ice-skating and sparkling Christmas lights.
Given the location, you also have a huge choice of family friendly restaurants (or bars) to unwind in after skating including popular restaurant chains like Roka, Five Guys and Wahaca.
Also, there is usually a themed alpine style pop up bar with Czech beer, cosy fireside tables and blankets for all.
YOU MIGHT LIKE: The best Christmas events in London guide >
---
27. Tian Tian Market Canary Wharf
An artisan Asian food store, this modern, new supermarket in the ground floor of Canada Square shopping mall (very near to the Waitrose Supermarkets) sells all manner of food from South Korea, Japan, Taiwan, Vietnam and China.
From pastes to pickles and noodles to nuts, Tian Tian is a one stop shop for fresh and dried food from South East and East Asia.
The Canary Wharf branch of Tian Tian Asian supermarket has two floors, with dried goods like noodles and Lay's crisps (so many flavours of crisps!) on the first floor, plus fresh food and street food stalls like sushi on the second floor.
---
You might like – Bang Bang Oriental, London's largest Asian food hall >
---
28. Boisdale of Canary Wharf
A little bit of Scotland in Canary Wharf, Boisdale is one of Canary Wharf's best known live music and restaurant complex with several bars, dining rooms and a garden terrace looking out over the London skyline.
As well as the UK's largest whiskey bar (with over 1000 whiskeys!) and an accompanying cigar shop, Boisdale of Canary Wharf offers dining and live music packages most nights.
They also do special themed celebrations like a big Burns Night bash (to mark the anniversary of Scottish Poet Robert Burns' birth)
The Boisdale decor is quite the sight to behold (tartan inspired red and green furnishings with a touch of gold) and various meal packages are available like a three course Sunday lunch, or lobster and rock oyster sumptuous seafood spreads.
---
29. Dishoom Canary Wharf
One of the newest restaurants to open in the Wood Wharf part of Canary Wharf, Dishoom's latest London restaurant opened close to Hawksmoor Canary Wharf in late 2022 (they opened their first Dishoom restaurant in 2017 in Kensington).
Serving dishes served by the cafes of Bombay, their Canary Wharf restaurant is spread over two levels overlooking the water. One of our favourite breakfasts in London is the bacon naan and chai tea that Dishoom serves up – nom!
One thing we love about Dishoom (apart from the food, obviously) is the opulent interiors and elegant marble bar – so this is a welcome addition to the Canary Wharf and Wood Wharf dining scene.
---
One final thing to do in Canary Wharf
30. Billingsgate Market
Although it may sound (or even smell) a little 'fishy', this historic wholesale fish market is also open to the public, although the regular traders may not appreciate you getting in the way to walk with caution. It is the largest inland fish market in the country.
Be warned that the main trading period is usually around 4am to 6am (closes at 8am) so you have to be up with the lark to catch Billingsgate Market in full swing – open Tuesday to Saturday inclusive.
---
Things to do in Docklands
31. The Gun pub, Docklands
One of London's best riverside pubs with unrivalled views of the Greenwich peninsula and giant O2 arena, the historic Gun pub is a fantastic Fuller's Brewery outpost with vintage interiors, waterside dining and a large beer garden overlooking the River Thames.
Hidden in the backstreets and just a 5 minute walk from the shiny skyscrapers of Canary Wharf, this beautiful bar offers excellent all day dining and a pop-up bar in the beer garden.
The pub is named after the cannon which celebrated the opening of the West India import Quay in 1802.
Lord Nelson also used to live nearby and the story goes that he'd often meet Lady Hamilton for secret rendez-vous' at this very establishment (the toilets are named in their honours, with the gents becoming the Nelsons.
---
YOU MIGHT LIKE: The best riverside pubs in London >
---
32. Sunborn Floating Hotel
A luxury liner being used as a permanent hotel moored in Royal Victoria docks, this beautiful boutique boat dwelling is one of the more unusual accommodation offerings in East London.
Billed as a romantic getaway in the heart of the city, the Sunborn Floating Hotel is 108 metres long and has over 130 bedrooms – on board, dine in the Land's End restaurant or consume cocktails with views of Canary Wharf and the city of London at the Sundown bar.
TheSunborn Floating Hotel also offers midweek afternoon teas and overnight stays as well as regular romantic break offers (expect to pay a pretty premium around Valentine's Day) – and remember, if the boats a rocking, don't come a knocking!
Check rates and availability for the Sunborn Floating Hotel >
---
You might like – things to do in King's Cross, London >
---
33. Crossharbour and Harbour Exchange
One of the more established areas in and around Canary Wharf, Crossharbour isn't so much a destination in its own right but has good transport links (there is a Crossharbour DLR station), plus several nice waterside eating establishments and walking paths.
It is a little more peaceful than the main hustle and hubris of say Jubilee Place or Cabot Square.
Harbour Exchange is one of main hubs of Crossharbour and best accessed via South Quays DLR. Head towards Millwall Inner Dock.
---
34. Traffic Light Tree by Pierre Vivant
Art in the heart of Docklands – the Traffic Light tree is a popular piece of public art in Poplar (try saying that after several beers) by the French artist Pierre Vivant, located on a roundabout just outside Billingsgate Fish Market.
Comprising multiple traffic lights (75 in total) all blinking and flashing at random times, this illuminating installation has been located in various parts of London city centre before finding a permanent home in London Docklands.
It was also once voted as one of the UK's favourite roundabouts by motorists in an insurance company survey – hopefully this means no-one has crashed here yet!
---
35. Mudchute Farm
A day on the farm doesn't necessarily need to take place outside of London. Along with Hackney City Farm (also in East London), you can see farm animals and other livestock at Mudchute Farm on the appropriately namely Isle of Dogs, based over 30 acres of parkland.
It is free to visit and there is also a cafe called Mudchute Kitchen where you can dine overlooking the stables and courtyard.
YOU MIGHT LIKE: Free Animal Farms in and around London
---
36. IFS Cloud Cable Car, Docklands
Not an airplane as such but more of a cable car in the capital.
A bit of a transport anomaly in London, the IFS Cloud Cable Car opened in 2010, ready for the 2012 London Olympics to transport punters from the Royal Docks to the Greenwich Peninsula over the River Thames (or vice versa).
It is also the closest thing we have to a funicular or cable car that London possesses, and is a distracting diversion albeit in a rather odd location.
After the initial flurry of inquisitive visitors, the IFS Cloud Cable Car never really ''took off" (sorry not sorry) and its future is still to be determined (it reportedly operates at a loss) so go before it closes down.
The IFS Cloud Cable Car also features in our things to do in East London guide >
---
You might like – things to do at the O2 and Greenwich Peninsula >
---
37. The Thames Barrier
An engineering marvel opened in 1982 to protect London from flooding, the Thames Barrier located just across from the Royal Docks consists of several interlocking barriers that open and close depending on the water flow and tide of the river Thames.
It is a great place to visit on your bike or walk as part of the epic Thames path. It also has a free to visit viewing deck (and cafe) on the far side of the Thames (alas not so easy to visit by the Tube or public transport).
Whilst it isn't necessarily an attraction, it is worth a visit if in the area, if only as it looks like something out of a sci-fi movie and it has featured in several films and TV shows including Doctor Who, Spooks and Top Gear.
---
38. Trinity Buoy Wharf
Similarly to Greenwich Peninsula, this oft-overlooked outpost in London Dockland's has had a renaissance in recent years, with a huge investment in new housing developments here – we just hope the bohemian nature and regular art pop-ups experienced in Trinity Buoy Wharf doesn't suffer as a result.
As well as incredible views of the Greenwich (the best spot to get pics of the O2), they have a retro American diner here called Fatboy's Diner, plus in the summer, there is sometimes a beer garden overlooking the Thames. Visit Trinity Buoy Wharf now before gentrification ruins it.
Read more in our guide to Trinity Buoy Wharf >
---
39. The O2
Located within the Docklands area and just a short 10 minute ride on the Jubilee Line, the O2 and Greenwich Peninsula is easily a day out in itself now one of the most popular attractions to visit in London.
From luxury shopping to an aerial adventure on the roof plus some of the best gig venues in London.
Better yet, it is free to visit the O2 to enjoy shopping and dozens of restaurants and bars under one roof. Plus there are a whole host of outdoor activities along the Thames path including incredible sculptures by Damien Hirst.
From London's only cable car to the Design District canteen and the biggest cinema in London, find out more about the O2 in Greenwich Peninsula, North Greenwich here >
---
40. Lotus Floating Chinese Restaurant
Time to try some Dim sum in Docklands aboard a beautiful floating restaurant. The Lotus Floating Chinese Restaurant is London's largest floating restaurant and located close to CrossHarbour DLR station. Given its amazing exterior, it is very easy to spot when approaching.
Renowned for its dainty dim sum and classic Cantonese dishes, the Lotus Floating Restaurant also has a specialities menu that includes interesting dishes like sea slug.
With skyline views and an extensive menu, this Canary Wharf restaurant may 'float your boat'.
---
41. Surrey Docks Farm
A working city farm located close to the River Thames (with views of Canary Wharf), we discovered Surrey Docks farm quite by chance one winter when walking the Thames path from Deptford to Rotherhithe. It was incredible to see a city farm in London right on the river's edge.
Surrey Docks Farm also has a cafe (The Barn) looking out towards the river so you could easily spend a whole morning or afternoon here.
One of the largest free to visit animal farms in London, Surrey Docks Farm is home to sheep, goats, pigs, donkeys and a pony. Plus in the school holidays, Surrey Dock Farm has a holiday club which teaches children about how to handle and look after animals (fees apply).
Surrey Docks Farm is free to visit and open every day from 10am to 4pm.
---
42. London Line Sculpture Trail
If you are after something a little different whilst in Docklands, how about taking in some alfresco art? You can explore The Line Sculpture trail London's only outdoor exhibition space and sculpture trail along the river Thames from Greenwich Peninsula.
As you get the IFS Cloud Cable Car across from Royal Docks, you'll see Antony Gormley's 2000 piece of work Quantum Cloud, which is part of the London Line Sculpture trail.
The Line Sculpture trail was created in 2015 as an outdoor exhibition space to encourage Londoners and tourists to discover lesser well known parts of London and admire the interesting artwork in open spaces.
Its name stems from the fact that it roughly follows the Greenwich Meridian line from Greenwich all the way to Stratford, between the Greenwich Peninsula and the Queen Elizabeth Olympic Park.
Check out our London Line Sculpture Trail blog post here >
---
43. Eighteen Sky Bar
A chic cocktail with panoramic views of London Docklands and the North Greenwich and Peninsula area, Eighteen Sky Bar is located in the Intercontinental Hotel at the O2. Funnily, as well as 360 degrees of east London, you can also watch the Up at the O2 climbers as you sip your sauv or chug your Cosmopolitan.
As well as a lush and opulent outdoor bar, the Eighteen Sky Bar in North Greenwich has an outdoor terrace. Dress smart casual and booking in advance is recommended – and yes, you guessed right, it is on the 18th floor of the InterContinental Hotel at the O2.
---
44. Damien Hirst's Outdoor Art and Sculptures in Docklands
Greenwich Peninsula is blessed with some incredible (and valuable!) outdoor alfresco art and sculptures, most notably work by Damien Hirst.
Renowned artist Damien Hirst is a former North Greenwich resident so it is perhaps fitting that several of his most famous artworks are on display outdoors near to the 02 Greenwich and along the Greenwich Peninsula.
Artworks from Damien's The Wreck of the Unbelievable series are dotted around Greenwich Peninsula – Hydra and Kali, The Divers and Mermaid.
New for 2023 in North Greenwich Damien's Hirst's newest installation was unveiled at Greenwich Peninsula, next to the IFS Cable Car.
Entitled 'The Demon with Bowl' this colossal 60 foot / 18 metre sculpture is one of the largest sculptures to ever be unveiled in London, having been created for a previous art biennale in Venice.
---
45. The Grapes Pub (maybe see the real Gandalf)
Renowned for riverside restaurants and residential living overlooking the Thames, Limehouse is a short walk from Canary Wharf and has a historic heart with several sublime riverside pubs the best of which is The Grapes.
Located in Limehouse Basin, The Grapes, which has no less than Galdalf (Sir Ian McKellen) as the owner. The pub itself dates back to the 1580s and is cosy as inside with a small balcony directly overlooking the Thames – get there early to bag a prime spot.
---
YOU MIGHT LIKE: Guide to the best London pubs on the river >
---
Our final thing to do in Canary Wharf and Docklands
46. Chrisp Street Market
In the shadow of Canary Wharf's towers and supposedly the oldest covered street-market in the UK, this is a world away from the high end spending you'll see in the shopping malls nearby.
A genuine and authentic East-end market that is open 6 days a week (closed Sundays), this traditional market sells mainly fruit and veg and fresh goods.
The streets around the market also have some burgeoning urban graffiti / street art layouts including a giant chihuahua on the side of a nearby tower block – read more about East London's best markets >
---
Did you enjoy our Things to do in Canary Wharf and Docklands blog post? Let us know in the comments or by sharing the blog on social media.
You can follow CK Travels on:
Instagram
Facebook
TikTok
YouTube!
London blog posts you might like
---