This post may contain affiliate links to tours and hotels. These help us earn a small commission at no additional charge to you.
Arriving to see the bright lights and city sights of the capital via London Bridge Station? Whether you are planning a day-trip to the area immediately around London Bridge or just have some time to spare waiting for a train, there is plenty to see and do. From the country's only pub run by the National Trust to a culture fix at The Scoop or White Cube Gallery, here are the top things to do in and around London Bridge station.
Things to do near London Bridge station
1. The Bermondsey Beer Mile
Comprising around 20 brewery taprooms all within easy walking distance of each other, this is a geographic-ale challenge like no other.
If you are walking directly from London Bridge Station, you are best to start at Southwark Brewing Company, approx a 10 minute walk away from the station (although we aren't suggesting you try all of the Bermondsey Beer Mile in one session – drink responsibly like).
We completed the Bermondsey Beer Mile over several weekends so here is our rundown of all the breweries that you can visit.
YOU MIGHT LIKE: UK Brewery Tours run guided beer tasting tours along the Bermondsey Beer Mile. Check out their tours here >
---
YOU MIGHT LIKE: the best brewery taprooms in London >
---
2. Bermondsey High Street
South London at its finest, Bermondsey High Street is a quirky and independent cavalcade of coffee shops, pubs and art galleries, all within the shadow of the Shard and a stunning cityscape view.
Pop along at the weekend and you'll see the area come alive with buzzing bars, throngs of people coming out of the fresh food shops and people having picnics in Tanner Street Park. A great place to start your day with a quick caffeine fix or bite to eat, Bermondsey High Street is a bohemian delight.
---
3. Maltby Street Market
For our money (and palette), the Maltby Street Market is one of the best food and drink markets in London. Not only is the street food selection spot on and varied, the setting itself is quite different from most other other food markets, tucked away in an industrial alleyway that gets transformed into a foodie gem at the weekend.
Read our full guide to Maltby Street Market here >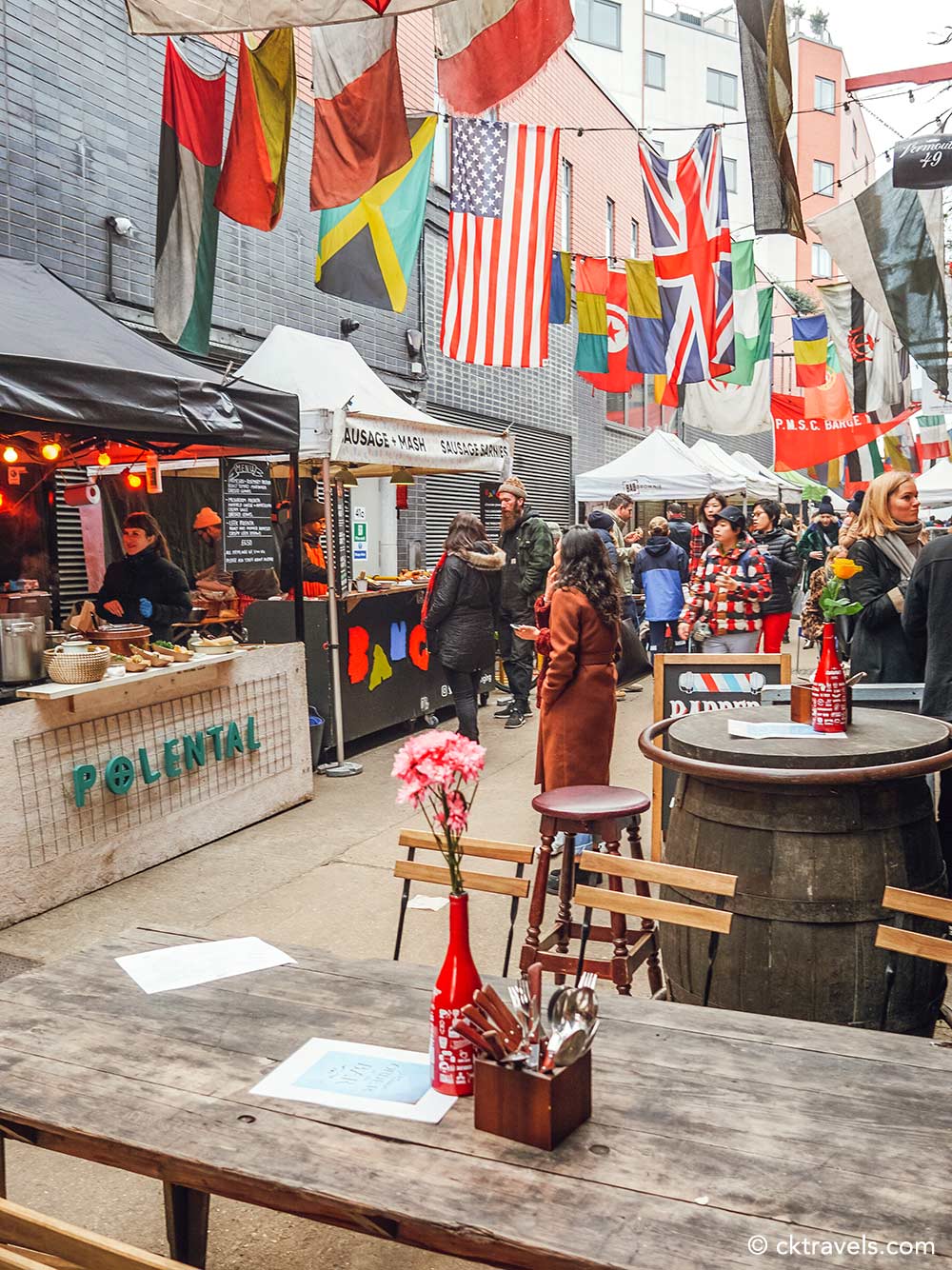 ---
---
4. Borough Market
One of the finest foodie (if not ubiquitous) experiences in London and a lot busier than Maltby Street Market. Whilst some may say this is a tourist trap, they are missing the point as it is so popular because it is a culinary gem; delicious dishes abound.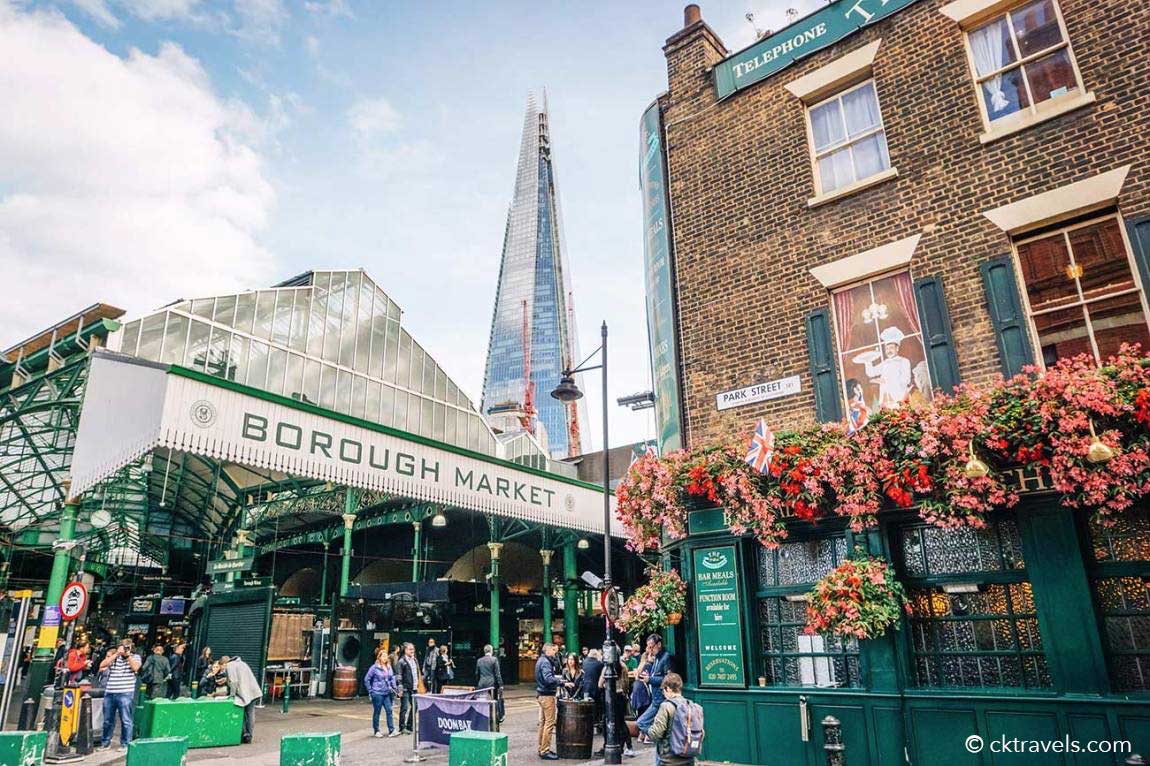 Half the fun is the hustle and bustle, ducking and diving amongst the food stalls to try some sublime savour or sweet samples before deciding where to splash your cash.
All tastes are catered for and the sheer range of food stalls to choose from is superb – make a day of it and explore the London Bridge area afterwards.
Read our full guide to Borough Market here >
---
YOU MIGHT LIKE: The 10 best markets in London >
---
5. Historic pubs
When 'Inn' London and based around London Bridge Station, take some time out to sup a few pints in some of the capital's most historic and best preserved pubs.
One of the closest and best old pubs to London Bridge Station is The George Inn, Britain's only pub managed by the National Trust and the last remaining galleried inn in the capital.
Dating from the 17th century, Charles Dickens visited here when it was a coffee house and it also features in his novel Little Dorrit. The best way to imbibe at the George Inn is wandering around (with a pint in hand of course) all the various old rooms and walkways spread around the several floors of this former coaching house.
Nearby Anchor Bankside pub also had several starring roles over the last few centuries, including in 'Mission Impossible' with Tom Cruise, plus it is reputedly where famous diarist Samuel Pepys witnessed the onset of the Great Fire of London from. The Old King's Head is also worth checking out and is very close to London Bridge Station.
The Horniman at Hays pub too serves good fish and chips, with an alfresco seating area directly overlooking the River Thames.
---
BOOK IT: London Historical Pub Walking Tour >
---
6. Tower of London
Built in the 11th century,the Tower of London is the secure location of the Crown Jewels, the famous Beefeaters and once home to the Royal Mint and Royal Armouries. Legend has it that if the ravens fly away, the Tower of London will crumble. A bit like the tower itself, admission prices are quite steep – £30 per adult and £15 for children as at October 2021.
BOOK IT: Tower of London and Crown Jewels Exhibition Ticket >
---
7. River Thames / South Bank walk
Take a walk along the River Thames, approximately 5 minutes away on foot from London Bridge Station. One of the best walks in London (if not the UK), it is wonderful to see the backdrop of the new skyscrapers and apartment blocks juxtaposed against such historic and significantly important buildings like Tower Bridge or the infamous Tower of London.
We'd suggest you duck into Hays Galleria to see the steampunk-esque ship sculpture The Navigators (designed by David Kemp) and possibly grab a bite to eat or drink. If you have time, see a show at the Bridge Theatre (in the shadow of Tower Bridge) – their foyer is warm and welcoming with more light-bulbs than a hardware store.
If you have time, continue your stroll all the way along the Thames towards the city via South Bank – read our South Bank walking guide here >
---
YOU MIGHT LIKE: things to do in Elephant and Castle. London
---
8. Vinegar Yard
One of the most recent additions to the London pop-up bar and food market scene, Vinegar Yard launched in a disused lot in Spring 2019 and consists of a boutique, bijou market and several bars and food outlets with ample outdoor seating.
We've visited Vinegar Yard in both the summer and winter and whilst obviously more popular in the hotter, sunnier months (check out that postcard perfect Shard background!), there are lots of outdoor heaters and indoor spaces here so it can be visited year-round and is an ideal activity close to London Bridge station.
---
9. The Shard Building
No trip to London Bridge is complete without visiting The Shard, the UK's tallest building. Loved and loathed by locals in equal parts (it dominates the capital's skyline), there are several ways to visit including the viewing gallery at the top. On our last visit, we decided to save ourselves the (rather expensive) viewing platform admission fee and went for a drink in Aquashard, located on the 32nd floor.
BOOK IT: The View from The Shard: Direct Entry Ticket >
---
10. Play Crazy Golf at Plonk!
Crazy golf, a colourful course with some of London's best loved landmarks as holes and a fully loaded bar?! 'Fore' real – we are in!
This superb subterranean 9-hole course is just a stone's throw away (or should that be petite putt?) from Borough Market and Southwark Cathedral, making good use of the railway arches beneath London Bridge and Borough High Street.
The Plonk Golf peeps have really gone to (London) town with this course, a neon nirvana of some of the capital's most famous spots like Thames Barrier, HMS Belfast (a surprisingly serpentine and struggle of a shot to complete on par) and the London Eye. Upon entry, you are given your putters, balls and all important score-card as well as access to bar (the only time it is cool to 'drink and drive').
The attention to detail at Plonk Borough Market is superb and the illustrations and designs make this London's best looking urban golf-course – and remember, the loser buys the drinks at the end!
As of July 2022, Plonk Golf at Borough Market prices start from £9.90 per adult for off-peak slots which includes all equipment – under 18 prices start from £5.50.
---
11. HMS Belfast
Found your sea legs and feeling 'ship'-shape? Then head aboard HMS Belfast, a former naval ship that is no longer in operation. The permanently moored vessel is a surviving Second World War Royal Navy warship that was originally launched in 1938 and saw service and conflict all over the globe before being decommissioned in the 1960s.
As at October 2021, admission is £25 for adults and £12.50 for children.
---
12. Flat Iron square
Similar to the previously mentioned Vinegar Yard but on a slightly smaller scale, Flat Iron Square is a street food court style affair, with several cheap (ish) eats and a huge outdoor beer garden.
They regularly host events here (we attended a Mexican beer festival here once but can't remember too much so it must have been good) and whilst busier in the summer months, this is an all year round event.
---
13. Tower Bridge
If you don't know Tower Bridge, you don't really know London. Likely London's most well known landmark (well, with the possible exception of Primark on Oxford Circus ;), the iconic Tower Bridge was built over 120 years ago and is the jewel of the River Thames (Mary Poppins is quite the fan too!)
Tower Bridge still opens up occasionally when the tall ships come through, and you can visit the inner workings via the Tower Bridge Experience (£10.60 admission per adult as at October 2021).
---
14. Potter's Field
A prime, picnic spot overlooking the Thames with Tower Bridge looming lushly over the London landscape, this is one of the most popular sitting spots along the Thames and it often hosts food festivals or pop-up events.
You can grab food from the nearby food outlets like Five Guys burgers or if you are on a budget, grab some cold cans and snacks from the nearby Tesco or Marks and Spencer and enjoy them on the grass. You're welcome.
---
15. Shad Thames
In the shadow of the Tower Bridge, this historic shipping and dock yard area has been transformed into a multi-million, mainly residential area with several nice bars and restaurants overlooking the River Thames.
Most of the establishments have outdoor terraces with incredible views and this is a perfect place for a sundown session. Note the Design Museum which this area used to be famous for has now relocated to High Street Kensington.
---
16. Crossbones Graveyard
Not so much an attraction as a moving memorial shrine and an important piece of London's history, this is a burial ground dedicated to the medieval paupers that is tucked away in the back streets, close to Borough Market.
Reminiscent of the torii gates and ribbons found in Japan, by the time it shut in the 1850s, it held the remains of over 15,000 paupers and it was once one of the poorest and most violent areas of London – a timely reminder of how much London has changed.
---
YOU MIGHT LIKE: things to do near Liverpool Street Station >
---
17. The Scoop / City Hall
City Hall on the River Thames is currently home to the Mayor of London and whilst it cannot be visited normally by the general public, they occasionally do guided tours for special events or Open House weekends.
During the summer, the next-door Scoop area is a performing arts space that sometimes hold free outdoor stage productions or live performances, surrounded by pop-up bars and food trucks.
---
18. White Cube Gallery
One of London's foremost art museums, the White Cube has a smaller outpost on Bermondsey Street with free admission and a rotation of temporary installations and exhibitions.
---
YOU MIGHT LIKE: Things to do in London's historic Square Mile >
---
19. Southwark Cathedral
Dating back to the early 12th century (1106) but largely rebuilt and reconstructed over the last several centuries, Southwark Cathedral is a beautiful place of worship with incredible stained glass windows. Iit is free admission but donations are appreciated and there is a £2 fee if you wish to take photos inside. Breadahead run a cute little coffee-shop inside Southwark Cathedral too.
---
20. Shakespeare's Globe
Will Shakespeare once said that 'All the world's a stage' and none more so than at the Globe on the River Thames, a short walk from London Bridge Station.
Shakespeare's Globe is actually an accurate remodelling of the original 16th century Globe Theatre (alas destroyed) which (re)opened at the current site in 1997.
Staged in the round, most plays here are Shakespearian (naturally) and you can often get £5 standing seats if you book in advance. If you don't have a ticket, you are still allowed to visit the gift shop and info centre for free, as well as use the public toilets, or book onto a guided tour.
---
21. Millennium Bridge
Although the grand opening in 2000 was a 'shaky' start (literally -they closed it soon after to make repairs) the 'wobbly bridge' has become one of London's most famous, free attractions; it even has a starring role in films like Harry Potter and Guardians of the Galaxy.
If you so desire, do a detour across and visit St Paul's Cathedral. Whilst walking along the bridge, check out the tiny illustrations by Ben Wikson scattered along the metal walkway; he uses people's discarded chewing gum as his canvas and repurposes it into street art. Smart!
---
BOOK IT: Magical London: Harry Potter Guided Walking Tour >
---
Other London blog posts
---
Did you enjoy our things to do near London Bridge station blog post? Let us know in the comments or by sharing it on social media. You can follow CK Travels on Instagram and YouTube!