This post may contain affiliate links to tours and hotels. These help us earn a small commission at no additional charge to you.
East London's edgiest enclave, Shoreditch is a creative playground and hedonistic hipster hangout bursting with bars, street art, quirky stores, restaurants and clubs (with the odd bit of history and nature thrown in for good measure).
Gentrification and regeneration were the key catalysts of change for Shoreditch and whilst some places are now unrecognisable, scratch beneath the layers and you'll still find some of its original charm. Here is our guide to the top things to do in Shoreditch.
Things to do in Shoreditch
1. Shoreditch street art
East London is renowned as being the best street art area in London (followed closely by Camden), with huge swathes of wall space dedicated to artistry, transformed into huge outdoor canvases.
The best areas in Shoreditch to see street art are King John Court, New Inn Yard, Holywell Lane and Ebor Street. There is also street art in and around the railway tunnel at Shoreditch station but this area can get a little 'sketchy' and less salubrious at night. Check out our self guided Shoreditch street art tour blog >
Book an alternative London 2 hour street art walking tour >
---
2. Shoreditch BOXPARK
BOXPARK is London's first shipping container retail park, and also supposedly the very first in the world that kickstarted the entire container mall trend.
There are lots of small retail stores on the ground floor, and a wide selection of bars, food kiosks and outdoor seating areas on the upper level. The events schedule here is always eclectic, often with live music of special one-off themed events (BOXPARK now has outlets in Croydon and Wembley too).
---
YOU MIGHT LIKE: things to do near Liverpool Street Station
---
3. Columbia Road Flower Market
If you happen to be in Shoreditch on a Sunday, head over to Columbia Road Flower Market, a London institution and the capital's best public flower market.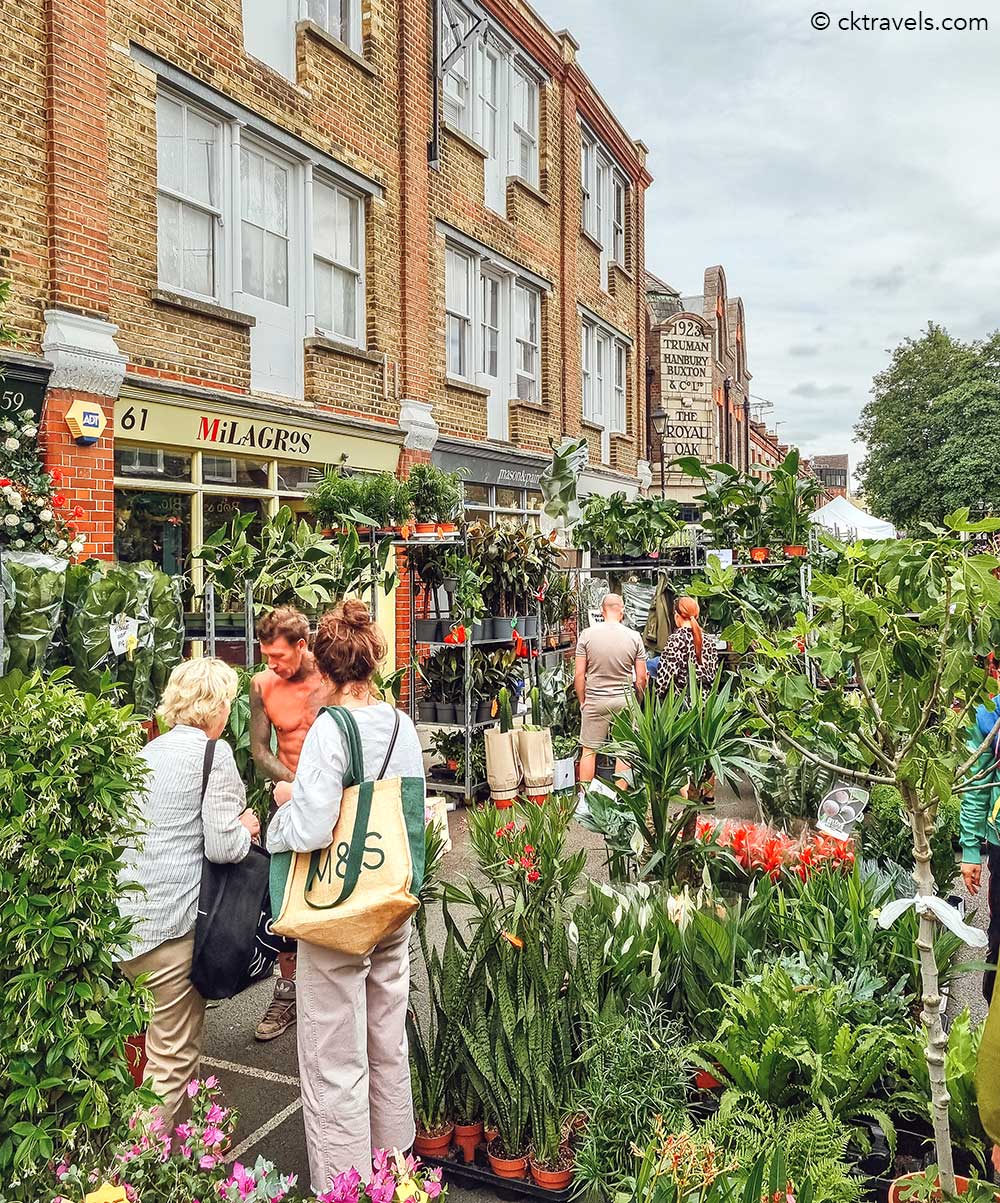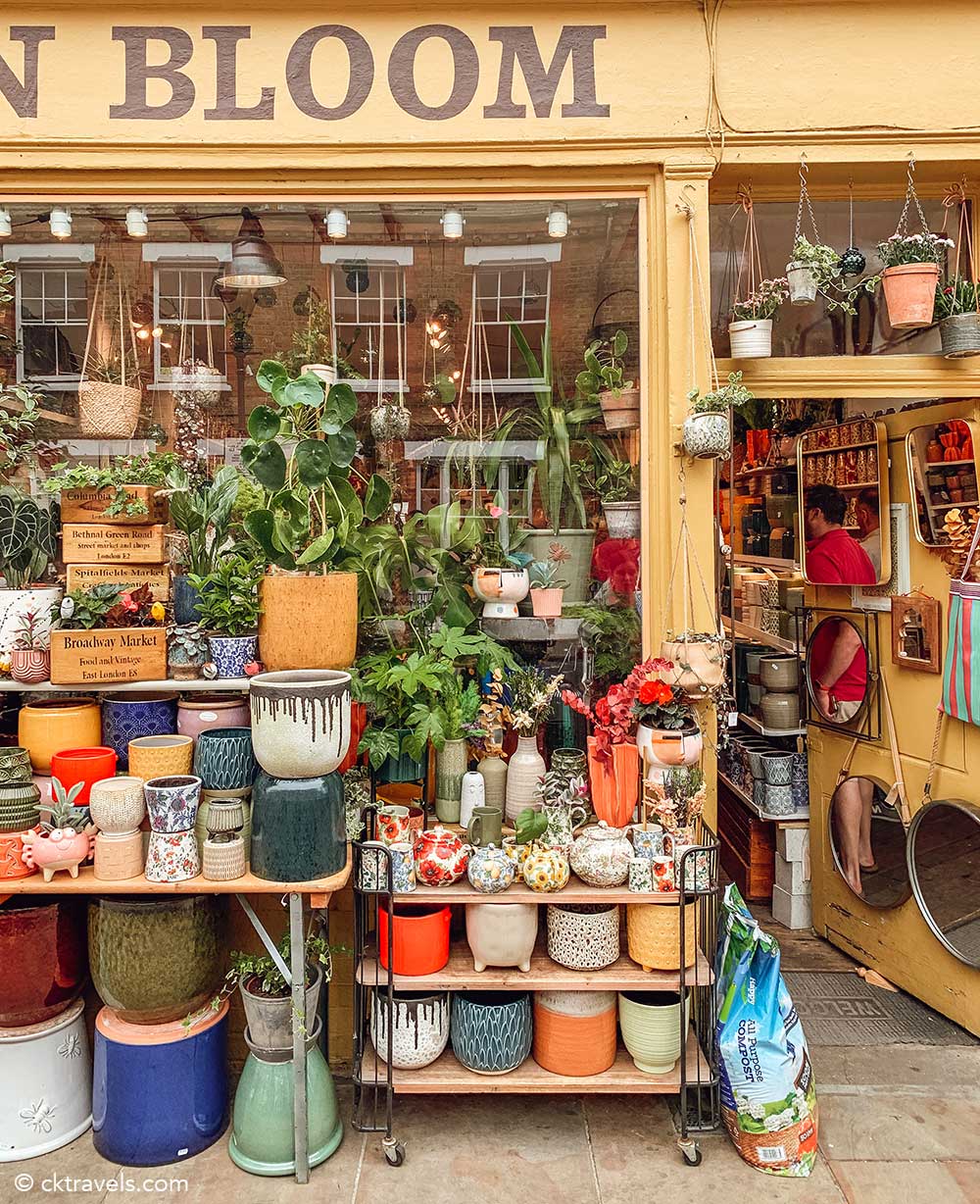 Whilst there are cafes, bars and bakeries to explore here during the week, it truly comes alive with the boisterous banter of traders on a Sunday – check out our full guide to Columbia Road Flower Market >
---
YOU MIGHT LIKE – The 10 best markets in London
---
4. Dinerama
UPDATE – Dinerama is now permanently closed
The street food scene in London is alive and well and Dinerama in Shoreditch is no exception.
From the Street Feast team who are the foodie creative force behind several other street food set-ups including Giant Robot in Canary Wharf and Hawker House in Canada Water, this is a former truck bullion warehouse that has been transformed into a two storey culinary cargo container caper.
The building boasts around 10 bars and a dozen dining establishments to choose from – wing your way (buffalo or chicken) there soon!
---
5. Elder Street
A stone's throw away from the shiny and sleek buildings dotted around Liverpool Street Station is Elder Street, one of London's finest preserved Georgian streets. We walked around here early one Sunday morning and couldn't believe such a historic street still existed in this way, especially in this area full of new buildings.
The houses here are all listed which means they won't get swallowed up by all the development that is transforming Shoreditch – it almost felt like a historical theme park and the icing on the cake was the couple of old classic cars that were parked on the street.
---
YOU MIGHT LIKE: The best areas in east London
---
6. Old Spitalfields Market
As you'd expect from the name, this is one of London's oldest markets (originally founded over 350 years ago) and comprises of market stalls, bars and restaurants all under one roof, making it the perfect retail experience, no matter if it is rainy or the sun is shining – open seven days a week, read our things to do in Old Spitalfields Market guide >
---
YOU MIGHT LIKE: Things to do in Bethnal Green
---
7. Hackney City Farm
Have you 'herd' about the animals here? A little bit of the country in inner city London, Hackney City Farm is free to visit and has all manner of farm animals including goats, sheep, horses and chickens. As well as a paddock to graze in, there are several stable buildings you can visit, plus there is a cafe and a small shop selling organic produce.
Lots of fun especially for a family, our only advice would be to not wear nice shoes here, especially on rainy days as the ground can get quite messy with lots of animal poo and mud (although that could be the perfect excuse to buy new ones from Old Spitalfields Market or Boxpark…?)
---
8. The Queen of Hoxton
One of our go-to rooftop bars in this area has always been the Queen of Hoxton, a slightly grungy but good live entertainment bar and club based over several floors. We usually visit here in the summer for the rooftop set-up (a couple of bars plus a food hatch) as they host an outdoor cinema and the view at sunset of the twinkling skyscrapers is always a nice way to end a day of exploring.
---
9. Hoxton Square
Nearby, Hoxton Square is a hip and verdant hang out with several bars and restaurantsall dotted around the public garden in the centre (Hoxton Square Bar and Kitchen is particularly fine). It is one of the oldest squares in London and dates all the way back to the 1680s – so how about a little history with your highball?
---
10. Brick Lane
The best way to describe Brick Lane? Street art and shopping, with the best bagels and curry houses in London. Shoreditch's Brick Lane is a glorious mix of gentrification and ghetto.
Whilst it can sometimes be a little rough around the edges in the side-streets, the main thoroughfare has heaps of hipster hangouts, good shopping and lots of good street food, especially at the weekend when several of the warehouses that encroach Brick Lane open up their doors to host food markets.
Also well known for its Curry Mile, Brick Lane boasts a plethora of retro and vintage stalls, especially around the Old Truman Brewery. On Sundays, there is also a flea market (a bit meh) selling second hand clothes and books.
---
11. The Old Truman Brewery
The Old Truman Brewery was once home to London's largest brewery, but nowadays the building and surrounding areas just off Brick Lane are home to a hive of creative businesses.
You'll find arty independent shops, galleries, markets, bars and restaurants, plus Sunday UPMARKET – which has more than 140 creative traders selling everything from fashion, accessories, art, interiors, music and loads of Asian/south American street food traders.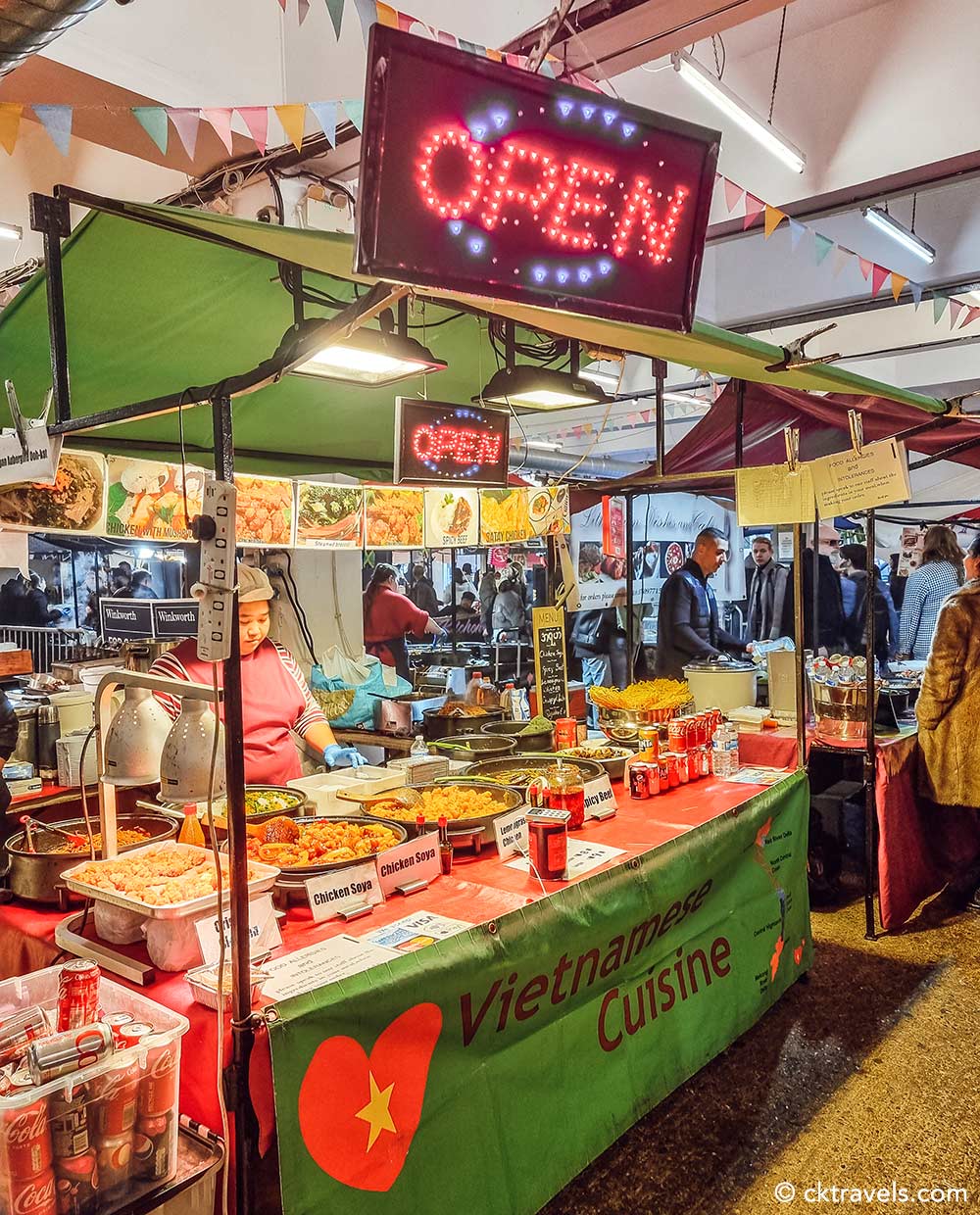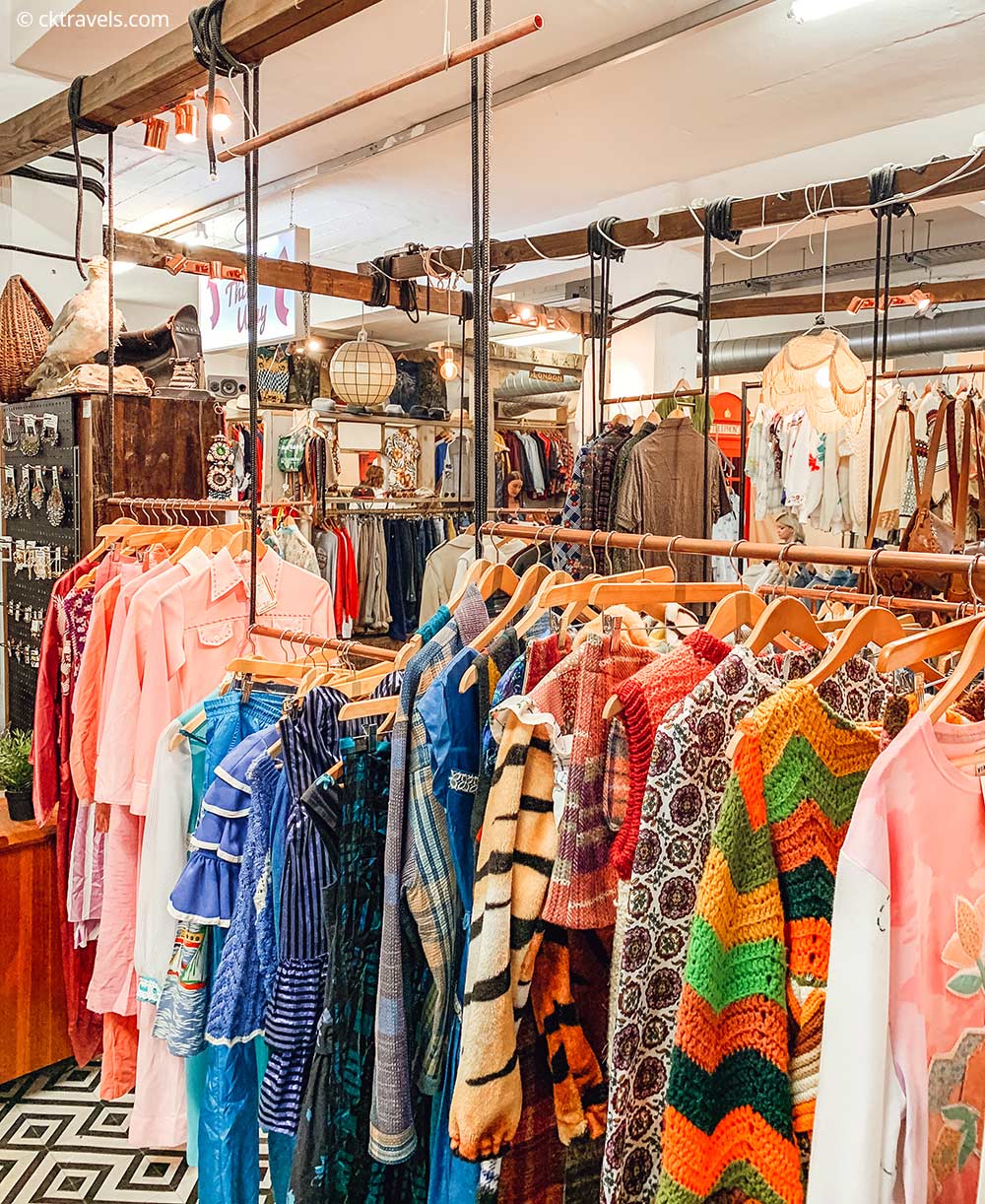 Just outside the Old Truman Brewery is Ely's Yard which is also great for street food – we recommend the Nepalese Momos from Tibet Kitchen, the dumplings are amazing! There is also Juju's Bar and Stage for innovative cocktails and live music.
The Truman Brewery also hosts regular pop-up events such as beer festivals, fashions shows and vintage clothing sales.
---
12. Rough Trade East
This indie music label has its own awesome independent record store which is also a live music venue (I saw a Vampire Weekend play here in 2010). Stop by and check out their huge range of records, books and other merchandise, and grab a coffee from their cafe.
---
13. Beigel Bake, Brick Lane
Founded in 1974, this famous and iconic 24-hour bakery is known for cheap traditional Jewish-style filled bagels such as salt beef and smoked salmon/cream cheese.
The bagels are boiled before being baked which gives it its crispy crust and moist chewy interior. Expect to see long queues snaking out of the door, especially late at night when the nearby bars and nightclubs are closing.
---
14. Shoreditch High Street
The commercial heart of Shoreditch and an interesting mix of independent shops and high street chain stores and restaurants, all based along the busy A10 road.
The best way to explore Shoreditch High Street is to have no firm plan in place – just explore or follow your nose, ducking and diving into the various side-streets to see what establishments you'll discover. An added bonus is that there are always new places popping up all the time so you'll likely find something new to do (or eat!) every time.
Although a lot of the historic buildings here have now been demolished, at the top of Shoreditch High Street you'll find the rather grand 18th century Shoreditch Church (St Leonards), which is also where all of the Roman roads used to converge – you could once apparently travel from here directly to Chester, Bath and York along the old and dusty roads.
---
15. Boundary Gardens, Arnold Circus
Once you've explored Shoreditch High Street, take a walk to nearby Boundary Gardens in Arnold Circus to dine at Rochelle Canteen, a cafe / restaurant housed in an old bike shed that gets rave reviews for its food and outdoor dining area, as visited by both Anthony Bourdain and Phil Rosenthal as part of their televised London eating escapades.
Just off Boundary Gardens is Calvert Avenue, which is lined with cute boutique shops.
---
16. Shoreditch Pho Mile
Dubbed the Pho Mile by many locals, Kingsland Road which runs between Shoreditch High Street station and Hoxton has several cheap and authentic Vietnamese restaurants (many of which are bring your own booze). Check out the highly rated Bunbunbun and Mien Tay.
---
Where to stay in Shoreditch
citizenM London Shoreditch
Highly rated and trendy hotel located a 3-minute walk from Shoreditch High Street Station. Rooms lights and other features can be adjusted using an app, plus there are complimentary movies and pod-like showers. Check out prices and availability for citizenM London Shoreditch
Point A Hotel London Shoreditch
Located 650 yards from Hoxton Square, this affordable hotel has compact and well designed rooms with comfortable Hynosis beds and blackout curtains. Check out prices and availability forPoint A Hotel London Shoreditch
Montcalm Royal London House – City of London
5 star luxury hotel located in a mid-century listed building just a short walk from Liverpool Street station. Facilities include a rooftop bar with amazing views of the city, a brasserie and coffee area, a spa, fitness centre and an indoor pool. Check out prices and availability forMontcalm Royal London House
---
More London blog posts
---
Did you enjoy our things to do in Shoreditch blog post? Let us know in the comments or by sharing the blog on social media. Follow us on Instagram and YouTube!
---
Things to do in Shoreditch – add to Pinterest!