This post may contain affiliate links to tours and hotels. These help us earn a small commission at no additional charge to you.
A London rite of passage and a mecca for the culinary curious, Borough Market London is one of our foodie favourites in the entire capital. Loved by locals and tourists alike – it is one of the best free things to do in London.
With something to suit everyone's budget (and tastes!) at London Borough Market, there is no better way to spend a few hours than exploring all the food stalls, sampling dishes from all over the world.
From oysters oozing with tabasco to the perfect paella, we guarantee you won't go hungry (best to head to London Bridge with a full wallet and empty belly, definitely not the other way around!).
Borough Market London is one of the oldest (and most cherished) food markets in the UK, with the original market here dating back to at least the 12th century (and some of the cheese stalls smell like they still have cheeses from back then…).
One of London's best food markets, here is our guide to getting the best out of Borough Market in south London: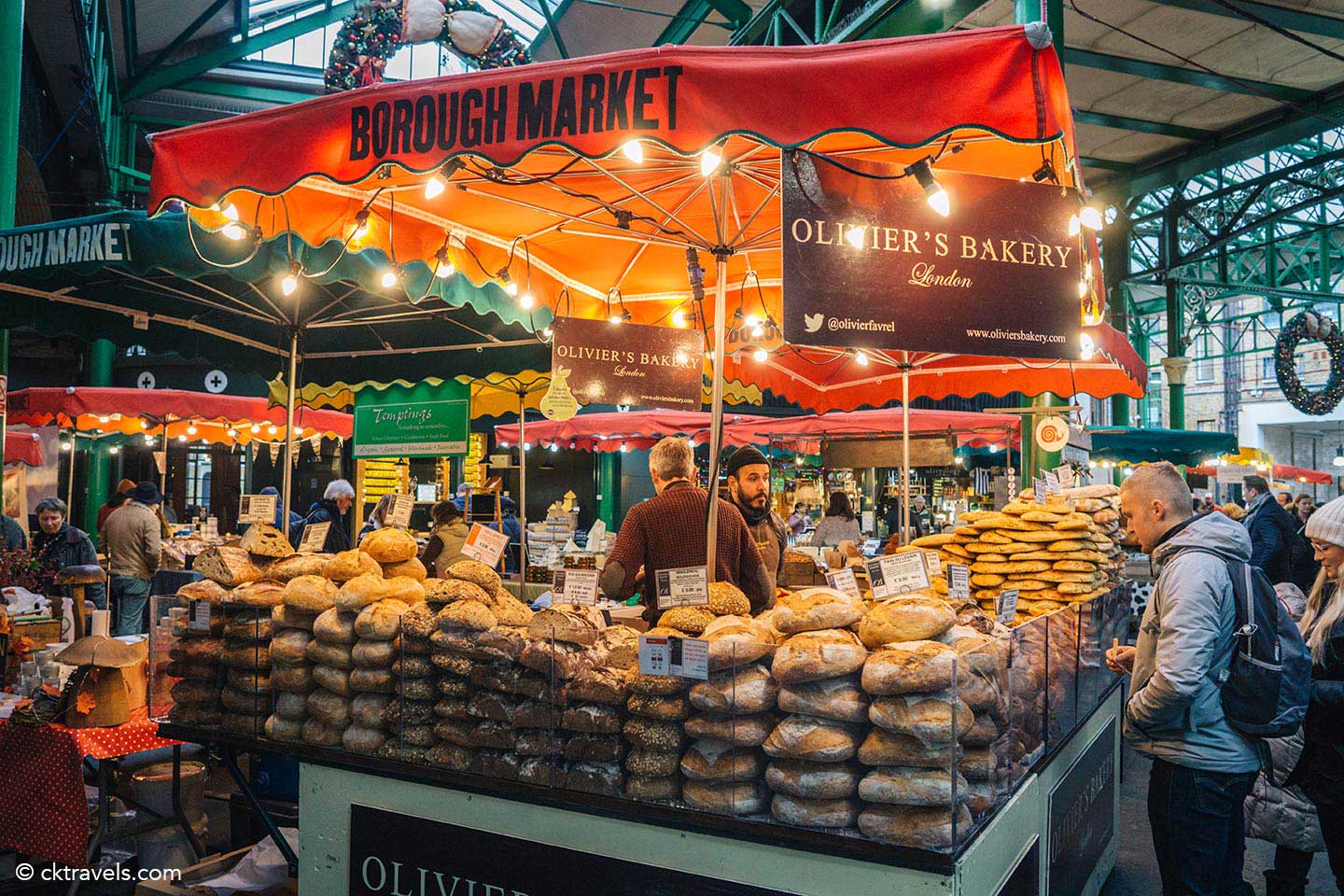 Go early to Borough Market
The one downside to Borough Market London being so good and damn delicious is that it gets loads of visitors (mainly tourists and day trippers) so it can get very busy, especially around lunchtime.
Borough Market queues can be quite long so if you want to explore unencumbered, visit early for your epicurean experience – especially on a Saturday.
---
YOU MIGHT LIKE – Top Saturday markets in London (with map) >
---
Try before you buy at Borough Market
Not sure what to eat at Borough Market London? Then no problems as lots of the market stalls offer samples for you to 'try' before you buy.
On our last visit we tried everything from mushroom pate to paella, goat's cheese to gouda. Obviously don't take the p*ss and keep going back for more, but this is a great way to have a taster before you commit to buying something.
This is how we discovered our love of olive bread and now always buy some whenever we return to Borough Market.
London Travel Planning Facebook Group by CK Travels
Need help with your London travel itinerary or have any questions about your upcoming trip? Join our brand new online community! Click here to join our London Travel Planning and Tips Facebook group
Cheesy does it
The famous Neal's Yard Dairy has an outpost at Borough Market London, and there are many fromageries and cheese stalls in the main Hall.
Borough Cheese Company in particular has some standout cheeses including Comté and Sparkenhoe Blue plus another famous cheese shop is Mons Cheesemongers.
Just make sure your hotel or hostel room has a fridge before you buy a whole wheel of cheese – otherwise you'll be gobbling gouda all night.
Big cheese fan? Cheesed off you can't find what you want at Borough Market? Check out Neal's Yard Dairy in nearby Covent Garden too.
Is London's best coffee at Borough Market?
Well, based on the snaking queue that goes halfway around the block outside, the Monmouth Coffee Shop at Borough Market has to be one of the most popular cups of coffee in London.
Famous for their beans and roasting heritage, Monmouth Coffee roast is one of the most awesome Americanos in the capital.
You can choose your beans (and many do purchase coffee here by the Kilo to take home) – a standard filter coffee at Monmouth Coffee costs around £3 as at 2023.
---
YOU MIGHT LIKE: UK Brewery Tours run a guided craft beer tasting tour around Borough Market. Check out their tour here >
---
Bridget Jones lives in Borough Market!
Well, sort of! Helen Fielding's literary and loveable singleton Bridget Jones lives in Borough Market (well, in the movies at least). Her (fictional) flat entrance can be found above Borough Market's Globe Tavern, on Bedale Street (No. 8).
We won't ask how someone working as an office assistant can afford one of the most expensive places to live in London…
Borough Market is a bit of a movie star itself having featured in movies like Entrapment, Lock, Stock and Two Smoking Barrels plus Disney's 101 Dalmatians.
---
YOU MIGHT LIKE: Things to do near London Bridge Station >
---
Go on a food tour
A half day tasting tour around London Bridge and Borough Market – get a taste of traditional English food from fish and chips to Lincolnshire sausage and cracking cheeses and chutneys – wash it all down afterwards with a pint in a local pub.
Book a half day Borough Market and London Bridge food tour with Secret Food Tours here >
---
YOU MIGHT LIKE: The best street food markets, food halls and food courts in London
---
Play Crazy Golf
Crazy golf, a colourful course with some of London's best loved landmarks as holes and a fully loaded bar?! 'Fore' real – we are in!
This superb subterranean 9-hole course is just a stone's throw away (or should that be petite putt?) from Borough Market and Southwark Cathedral, making good use of the railway arches beneath London Bridge and Borough High Street.
The Plonk Golf peeps have really gone to (London) town with this course, a neon nirvana of some of the capital's most famous spots like Thames Barrier, HMS Belfast (a surprisingly serpentine and struggle of a shot to complete on par) and the London Eye.
Upon entry, you are given your putters, balls and all important score-card as well as access to bar (the only time it is cool to 'drink and drive').
The attention to detail at Plonk Borough Market is superb and the illustrations and designs make this London's best looking urban golf-course – and remember, the loser buys the drinks at the end!
As of February 2023, Plonk Golf prices start from £12.50 per adult for off-peak slots which includes all equipment – under 18 prices start from £10.
---
Banking
The ATM queues at the market can be a little 'testing' (read 'long') so if possible, try to get your cash out somewhere else beforehand. These days, most traders also accept contactless payments too but take a little cash, just in case.
---
Borough Market Pubs
Fancy a pint in a Borough Market pub? All that street food tasting can be tiring eh
Luckily, it is never too early to have a pint in the Borough Market pubs, as many of the local bars and pubs are open all day and night, to provide tipples to the market-traders.
One of the best pubs is The Market Porter, a glorious Victorian boozer that feels like you are stepping back in time as you enter.
Often bedecked with flowers outside during the summer months (as well as drinkers), film fans will also be pleased to hear the Market Porter featured in a Harry Potter movie (The Prisoner of Azkaban), as the Third Hand Book Emporium.
Another of the closest and oldest Borough Market pubs is The George Inn, Britain's only pub managed by the National Trust and the last remaining galleried inn in the capital.
Dating from the 17th century, Charles Dickens visited here when it was a coffee house and it also features in his novel Little Dorrit.
The best way to imbibe at the George Inn is wandering around (with a pint in hand of course) all the various old rooms and walkways spread around the several floors of this former coaching house – this Borough Market pub is literally one minute walk away from the market entrance.
Check out our guide to the best pubs in Borough Market >
---
Padella Pasta
Time to get your pasta fix at Padella restaurant in London!
Every time we visit Borough Market, we generally always spot a long line of people snaking around the outside of Padella, London's most popular pasta place (try saying that several times after a negroni).
Named after the Italian word for 'Pan', Padella pasta restaurant is a fixture of the Borough Market dining scene.
Padella restaurant is proud of its relatively simple yet delicious menu and inexpensive prices (for London) – you can easily see Padella's 'recipe' for success.
Read our guide to Padella pasta >
Borough Market London – Useful Information for your visit
How to get to Borough Market London
Borough Market is within a short walking distance of London Bridge mainline train station, and northern and jubilee London underground lines.
Opening hours 2023
Borough Market in London is open seven days a week; 10am to 5pm Monday to Friday. 8am to 5pm on Saturday and 10am to 3pm on Sunday. Opening times are correct as of 2023.
Address: 8 Southwark Street, London SE1 1TL, UK
Accommodation near Borough Market
Shangri-La Hotel at The Shard
5 star hotel occupying levels 34-52 of The Shard, and has breathtaking views of the city. It features an exquisite restaurant and serves cocktails until late at the highest bar in London. Check out prices and availability for Shangri-La Hotel at The Shard
London Bridge Hotel
Modern hotel located near the river with elegant rooms, contemporary restaurant, bar and gym. Check out prices and availability for London Bridge Hotel
Locke at Broken Wharf
Micro studio accommodation with a bar, a shared lounge and a 24-hour front desk. Check out prices and availability for Locke at Broken Wharf
---
Other London posts you might like
---
Did you enjoy our Borough market blog post? Let us know in the comments or by sharing the blog on social media.
You can follow CK Travels on: 
Instagram
Facebook
TikTok 
YouTube
Pinterest
---
Borough Market London guide – add to Pinterest