This post may contain affiliate links to tours and hotels. These help us earn a small commission at no additional charge to you.
Covent Garden is one of central London's crown jewels, a magnificent mix of museums, markets and all manner of visitor attractions. From fine dining to London's top theatres, there are many things to do in Covent Garden and this central district is a wonderful way to start your visit to London's West End.
Whilst Covent Garden itself is less grassy and more cobbled streets than you might expect from the name, it is one of the capital's cultural hubs, with spirited street performers, historic streets plus some of London's oldest and best pubs.
From the world's first cheese conveyor belt food hall to a myriad of musicals and a treasure trove of vintage vehicles, here is our guide to the best things to do in Covent Garden, London in 2023.
---
You might like – the best things to do for free in London >
---
Things to do in Covent Garden
1. Covent Garden Piazza
Our first thing to do in Covent Garden is unsurprisingly Covent Garden Piazza itself!
A little bit of Italy in central London, Covent Garden's central piazza consists of a picture perfect square and cobbled streets surrounding Covent Garden's market buildings. We'd rate it as one of London's best markets too.
Busy by day and bustling at night, Covent Garden Piazza is THE place for alfresco fine dining and pop up bars during the summer months (best served with a side of street performers on the West Piazza).
If you don't want to dine or visit one of the numerous pop-up bars, Covent Garden Piazza is wonderful just to walk around and people watch.
Until the 1970s, this area used to be a wholesale fruit and veg market but is now one of the most visited places in central London.
Covent Garden Piazza oozes history, dating from the 1630s and is often referred to as the first modern square in the capital – whilst it can be a tourist trap (and many locals avoid it given the crowds), this is definitely one Covent Garden must do.
---
You might like – Guide to walking along Southbank (the best free walk in London) >
---
2. Pick & Cheese; The Cheese Bar at Covent Garden
Did someone say cheese conveyor belt?! Take our money now! Whilst you may have had sushi from a conveyor belt before (especially in Japan), Covent Garden's Seven Dials is home to the world's first cheese conveyor belt – what a brie-illant idea and so gouda to try; we could cheesily eat here every week.. (sorry not sorry – no more cheesy puns).
The Pick & Cheese concept is simple; choose your cheese from the conveyor belt (all British cheeses), with prices around the £1.50 to £5 mark per plate of cheese. With around 20 varieties of cheese to choose from – each comes with an accompanying and complimentary treat (think figs or cornish fudge). You also have access to unlimited crackers.
Paired with wine, this is one of the most fun (and delicious) nights out in Covent Garden – you can often just walk up and grab a seat at Pick and Cheese, although you may have to wait on busy nights.
YOU MIGHT LIKE: London Cheese Walking Tour with Tastings or London Cheese Crawl with a glass of fizz
Watch our Pick & Cheese Tik Tok video
---
You might like – Covent Garden tours with Viator >
---
3. Neal's Yard
One of London's most colourful areas, Neal's Yard in Covent Garden is a treasure trove of fine food, artisan restaurants and cute craft stores.
The main yard itself is painted brightly and has an outdoor dining terrace for alfresco dining. Many of the restaurants and cafes in Neal's Yard specialise in healthy foods and sustainable ingredients, with many vegan options too.
As you'd expect, Neal's Yard is also home to the flagship store of Neal's Yard Remedies, selling a range of skin care goods and cosmetics (which make for a perfect souvenir from Covent Garden to take back home).
Just off Seven Dials, head down a seemingly inauspicious alleyway from Monmouth Street to find Neal's Yard (wear sunglasses on a sunny day; it is that bright).
Neal's Yard is actually quite compact and cosy inside so expect to queue for tables at most restaurants during busy periods.
---
You might like – Things to do in Soho, London >
---
4. Catch The Lion King
Very much at the heart of London's 'Theatreland' and West End, there are several theatres / theaters in and around Covent Garden.
One of the longest running and most famous musicals shows in Covent Garden is Disney's The Lion King, with lyrics by Sir Tim Rice and music by Sir Elton John.
A magical West End London show and musical based on the original Disney animated movie where the characters not only appear on the stage but in the audience too, this is an ambitious production (which incredible animal animatronics) and suitable for all ages.
Book your Lion King theatre tickets in Covent Garden with Klook >
YOU MIGHT LIKE: London Iconic Theatres Walking Tour >
---
You might like – the best immersive experiences in London >
---
5. Royal Opera House
Home to The Royal Ballet, The Royal Opera and the Orchestra of the Royal Opera House, Covent Garden's Opera House is one of the capital's cultural highlights, producing world-class productions featuring opera legends such as Pavorotti and Maria Callas.
As with most London shows, it is best to check their schedule in advance of your trip to London / Covent Garden and book tickets in advance.
Even if you aren't planning on seeing a performance, it is still worth taking a look at the beautiful exterior of the Covent Garden Royal Opera House, dating back from the 1850's.
---
You might like – things to do in Oxford Circus, London >
---
6. London Transport Museum
From vintage Routemaster buses to the ins and outs of the London Underground, the London Transport Museum in Covent Garden is a fascinating foray into all things public transport.
Get up close to various transport methods including various vintage vehicles like an 1890s train carriage. Our personal favourite is the Design To Travel gallery featuring classic TFL campaigns.
To note even if you only want to visit the London Transport Museum once, a one day ticket is the same price as an London Transport Museum annual pass so you can visit multiple times if you so wish. This is possibly not that helpful if you only want to visit once but we guess great if you are visiting more than once or live locally).
Single ticket admission / annual pass prices at the London Transport Museum start from £24 per adult or £22 per adult at off-peak times (weekday entry after 2pm). London Transport Museum admission prices correct as of summer 2023.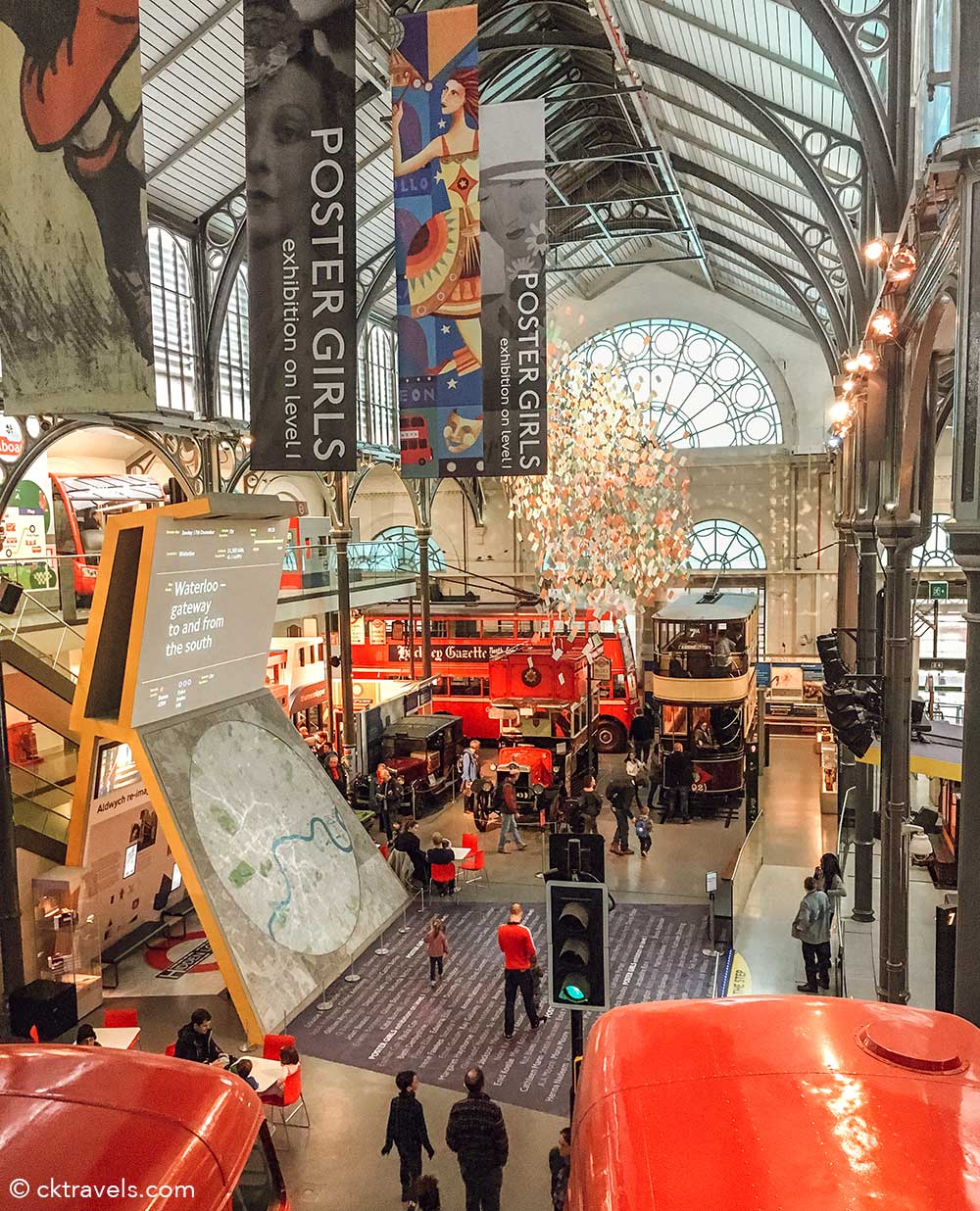 We also really love the shop at London Transport Museum (free admission) – you can purchase some really cool and potentially quite geeky gifts such as socks that replicate some of the London Underground Tube seat covers or retro reproduction posters of old TFL campaigns.
New items in the London Transport Museum shop include bags that use the same fabric as the new Elizabeth Line trains.
We'd also rate the London Transport Museum gift shop as one of the top places for unusual Christmas gifts in London.
Beat the queue and buy your London Transport Museum with Get Your Guide or Viator.
---
7. Seven Dials Market
Once the centre of London's import and export trade, Seven Dials Market in Covent Garden is a former fruit warehouse that has now become one of London's best food courts and street-food hubs
From cheese conveyor belts to spicy fries and Chai Guys plus Michelin starred chefs, you'll find all manner of local grub and international foods at Seven Dials Market.
The upstairs area of Seven Dials Market has mainly seated casual restaurants and a chic bar (Bar Nana!) whilst downstairs, a huge food court awaits with ample seating and a rather stylish bar.
Always busy and never boring, this 'dials' up Covent Garden's culinary credentials. We'd rate this as one of the tastiest things to in Covent Garden!
---
You might like – things to do in Leicester Square, London >
---
8. Covent Garden Apple Market
A former fruit and veg market (hence the name Apple Market), Covent Garden's best shopping spot for artisan crafts and cute curiosities is chock full of barrows and stalls.
On our last visit to the Apple Market, handmade soaps, gorgeous jewellery and vintage framed posters seemed to be the order of the day. The general stalls are open every Tuesday to Sunday at Apple Market, whilst on Mondays, it is generally more antiques based.
Fun fact – Cockney rhyming slang for the word stairs is apple and pears – you are most likely to here Cockney Rhyming slang in east London.
Apple Market is open daily from 10am to 6pm (opens at noon on Sundays).
---
YOU MIGHT LIKE: The best Sunday markets in London >
---
9. SUSHISAMBA Covent Garden
Fusion cuisine combining the best of Japanese, Peruvian and Brazilian cuisine, SUSHISAMBA Covent Garden is one of the prettiest restaurants in central London with incredible food to match.
Open daily from 12pm and located at the Opera Terrace, historic Grade II listed building, SUSHISAMBA Covent Garden not only offers delicious food but also delightful views of Covent Garden's piazza.
Other branches include the sky high SushiSamba near Liverpool Street station.
---
10. Top Secret Comedy Club
Ssssh – we aren't sure if we are meant to be telling you about this but the Top Secret Comedy Club in Covent Garden is a lot of laughs and a good way to see up and coming comedians at cheap prices (plus some very famous comic acts try out their new material here).
Hidden away in a basement on Drury Lane, many of the UK's best and most popular comedy acts have played at the Top Secret Comedy Club at some stage of their career, including Jack Whitehall, Dara O Briain, Michael McIntyre and Ross Noble.
---
You might like – a look at London's top comedy shows >
---
11. Jubilee Market
Located in Covent Garden's Jubilee Hall and just to the immediate right of the London Transport Museum, Jubilee Market is a jumble of stalls selling various trinkets like retro road signs, tarot cards and huge hot-dog sausages several days a week (Tuesdays to Fridays).
On Saturdays and Sundays, Jubilee Market is more arts and craft focused whilst on Mondays, it becomes an antiques market (as does nearby Apple Market).
---
YOU MIGHT LIKE: Things to do near Liverpool Street Station >
---
12. Broad Court telephone boxes
You haven't visited London until you've seen a red telephone box or been in a black taxi cab (probably).
The former is easy to fix with a trip to Broad Court, to see a row of five red telephones that are around 100 years old.
Whilst not as mobile as today's new phones, they sure do look good and here you can also see Italian born British sculptor Enzo Plazzota's enchanting 'Young Dancer' statue.
A word of warning – red London phone boxes are generally decreasing in number as they are expensive to maintain and most people obviously have their own mobile phones too.
Sadly many are used as toilets by inebriated idiots so if you really do feel the need to open the doors to pose for a photo, hold your breath and be careful what you touch!
---
You might like – London Best of the City Fully Customized Private Tour >
---
13. Cecil Court
Also known as Bookseller's Row, this lovely looking street has around 20 second hand and specialist book shops along it.
Cecil Court is a bibliophile's best day out and hard to believe it is only a few steps away from loud, large and looming Leicester Square (we know which we prefer!).
TS Eliot once lived in Cecil Court and you may recognise as a key filming location in several movies including Last Christmas (2019) and 84 Charing Cross Road (1984).
YOU MIGHT LIKE: London Tour of Classic Romantic Comedies Filming Locations >
---
14. Floral Street
Covent Garden's fashion street, Floral Street has a number of independent stores and high end boutiques as well as high street brands – from Peloton to Paul Smith and Serac to Skechers, you can easily do some damage to your credit card here.
New for 2023, Uniqlo Covent Garden has opened an amazing multi-level store on Floral Street in Covent Garden (it opened in April 2023); more on this later.
---
You might like – Warner Bros. Studio Tour London: The Making of Harry Potter with Round Trip Transport >
---
15. The Porterhouse – the biggest pub in Covent Garden
We are happy to stand corrected but based on our trips to the Porterhouse and as lovers of London craft beer, we *think* the Porterhouse may have the largest number of craft beers on tap anywhere in central London.
Cavernous and based over multiple levels (we lost count, it really is that big and maze-like inside) – The Porterhouse Covent Garden is ALWAYS an experience (well, the bits you can remember) and particularly popular with backpackers and tourists.
The Porterhouse is your quintessential central London pub experience – a good crowd from all over and a little pricey but worth it for the fun you'll have.
As well as the huge indoor area sprawling over several levels, there is also a small beer garden out the front – all in all, this is a pleasant Covent Garden pub to spend an afternoon in (or even the whole day!)
Open every day from noon until late (except Mondays), your next Covent Garden pub oughta be the Porterhouse.
Check out our guide to the 20+ best craft beer brewery tours in London >
---
You might like – London pub crawls and bar tours with Get Your Guide >
---
16. The Strand
Home to London's West End theatres and the nearest thoroughfare to Covent Garden, the Strand is a pleasant stroll with numerous bars and restaurants to choose from.
You can catch glimpses of the River Thames as you walk away and notable buildings along the Strand include the world famous Savoy Hotel (alas we can't afford to stay here but the cocktails are nice in the American Bar).
Plus the historic Coal Hole pub is gorgeous gem of a London pub (getting its name from the fact it used to the be the coal bunker for the The Savoy).
The Strand has also had its fair share of famous literary residents including Charles Dickens and Virgina Woolfe.
YOU MIGHT LIKE: Historical Pub Walking Tour >
---
You might like – the best American bars in London >
---
17. St Paul's Church and Garden
Designed by pioneering architect Inigo Jones (as was nearby Somerset House), St Paul's Church is perfect for a little moment of calm and as a place for reflection, given how crazy and chaotic Covent Garden can sometimes be.
Famously also known as the 'Actor's Church', this beautiful Baroque place of worship opened in 1633 and is free to visit both inside and out. The gardens at the front of St Paul's Church are low-key and lovely to sit in on a summer's day.
And remember, St Paul's church is not to be confused with St Paul's Cathedral (it has been done!).
YOU MIGHT LIKE: Secret Walking Tour of Central London >
---
You might like: Things to do in London's historic Square Mile >
---
18. Museum of Freemasonry at the Masonic Hall
Another popular filming location in London (featured in Assassin's Creed, Sherlock Holmes, Jonny English to name but a few), the famous Freemasons' Hall is grade II listed and and home to the Museum of Freemasonry and Freemasons' Hall.
You'll learn about Freemasonry which is a fraternal society dating back to the 13th century, formed from the local guilds of stonemasons.
Hour long guided tours of the Masonic Hall run Monday to Saturday twice daily (11am and 3pm) as at February 2023, costing from £12 although access to the Grand Temple is not guaranteed (in case a Freemasons meeting is going on).
Masonic Hall is open to the public everyday (except Sunday),
---
YOU MIGHT LIKE: Things to do in Camden >
---
19. Somerset House
Although not strictly part of Covent Garden itself, Somerset House is a short, straight downhill walk from Covent Garden so it is well worth a visit if you have time, and is one of the best free things to do in London.
The Somerset House courtyard often has free events in their central square like pop-up markets (and at winter, you hire ice skates and enjoy one of London's most magical Christmas skating rinks).
Inside Somerset House, visit the Courtauld Gallery, home to one of the largest collections of fine art in the UK or visit one of the numerous pop-up art and craft studios and shops.
The oldest parts of the current Somerset House date back to the 1770s and parts of it have stunning views of the River Thames.
If you have a sense of deja vu visiting, it is because Somerset House is a very popular filming location, featuring in several James Bond movies and more recently, London Has Fallen, Sherlock Holmes and Harry Potter.
---
You might like – Stonehenge Tickets and Tours options from London >
---
20. Radio Rooftop Bar
For superb aerial views of central London and the streets around Covent Garden, head to the Radio Rooftop on the 10th floor of ME London.
Combining classic cocktails with tasty tapas, Radio Rooftop is open all day for breakfast and brunch and all day dining, and offers stunning views of the River Thames and South Bank as well as St Paul's and the Square Mile.
---
You might like: Top London Movie Tours with Viator >
---
21. The Maple Leaf pub
Oh Canada! Whilst we aren't saying this is the classiest pub in Covent Garden / London, the Maple Leaf is a bit of fun and perfect if you're a homesick Canadian or just want to try a pint of Sleemans with a side of poutine (do it! You will not be disappointed).
The Maple Leaf is a popular pub and one of Covent Garden's busiest bars as it often shows live American and Canadian sports on their numerous big TVs, plus has Canadian theming galore like sports shirts, loose mooses and beavers (!) aplenty.
A little bit of Canada in Covent Garden, check out the Maple Leaf's tiny terrace outfront too (great for the afternoon sun with a pint of Sleeman's Canadian lager) – cheers eh!
---
YOU MIGHT LIKE: Top things to do in Notting Hill >
---
22. Mamma Mia; ABBA The Musical at Novello Theatre
Mamma Mia. Here we go again. How can I resist you? Or so they say. The original ABBA musical in London, this is one of London's longest running shows, opening in 1999 and performing in the West End ever since.
The Novello Theatre is just a couple of minutes walk from Covent Garden and night after night, Mamma Mia packs them in. Deals are to be had on last minute Mamma Mia tickets saving you money, money, money!
Whilst Mamma Mia The Musical may now have been superseded in popularity by the ABBA Voyage experience in Stratford, this is one fun night out, guaranteed (probably) to make you singalong.
Guarantee your Mamma Mia tickets in Covent Garden here >
Read about our trip to ABBA Voyage in our things to do in Stratford guide >
---
Book tickets to ABBA Voyages in Stratford London >
---
23. Covent Garden Street performers and buskers
Some of the best free* street entertainment in London can be found in Covent Garden (and also in nearby Leicester Square).
Located on the world famous Covent Garden Piazza (right in front of The Punch and Judy pub and the Apple Market), a steady stream of world-class street performers go through their well established and crowd pleasing routines daily.
You'll generally find street performers in Covent Garden at the West Piazza performing in front of the St Paul's Church, from lunch-time into the late hours.
*Free to watch but donations are appreciated as this is often their main job.
---
YOU MIGHT LIKE: Silent Disco Walking Tours West End Boogie Shoes >
---
24. The Punch and Judy pub
Punch drunk? Hopefully not but this Covent Garden pub is one of the best bars in central London. Whilst the inside bar itself is nothing to write home about (cramped if anything, given all the tourists), the Punch and Judy pub in London is all about their outdoor balcony.
One of the best views in London, grab a (not so cheap) pint and head out onto their terrace directly overlooking the piazza and enjoy people watching and the street performers. Cheers to Covent Garden!
Incidentally, for those not familiar with the concept of Punch and Judy, it relates to a traditional British puppet theatre show, dating back to the 1820s and generally performed at seaside venues like Brighton and Whitstable.
---
25. Covent Garden pop-up events 2023
Keep an eye on the official Covent Garden events page for incredible pop up events all through the year including the annual pancake race (21st February), Christmas markets and one off events like silent movie screenings – pictured is the Covent Garden silent cinema screening of Mary Poppins we caught a few years ago.
Most of the official Covent Garden events are free to attend but can get quite busy, especially any Christmas events in London.
---
26. Things to do in Covent Garden at Christmas
Covent Garden looks incredible any time of the year, but at Christmas, Covent Garden is covered in Christmas lights including huge disco balls and giant mistletoes. It also is home to one of the best looking Christmas trees in London.
If you've seen the movie Last Christmas (2019) starring Emilia Clarke and Henry Golding, you may recognise Covent Garden as the location of the Christmas shop (alas a cafe in real life). This also gives you a feel for what a Covent Garden Christmas looks like.
Read our London Christmas events guide >
---
You might like – Colourful crazy golf / mini golf courses in London >
---
27. Stanfords Bookshop
Looking for travel books or maps whilst in Covent Garden? May we direct you to Stanfords, an iconic bookshop established in the 1850s (but recently taking up residence in a brand spanking new store in Mercer Walk – so no expecting Harry Potter style olde worlde book shelves).
Stanford's Collection of travel books, atlases and globes, and maritime charts is one of the world's largest. This is a nice, light and bright bookshop to browse and buy at, with many interesting travel tomes.
---
28. The Big Easy, Covent Garden
Arrive hungry as these portions are huge! London's biggest and best barbeque BBQ chain, The Big Easy has restaurants in Chelsea, Canary Wharf, Stratford and Covent Garden.
Boasting BIG BBQ dishes and special offers like happy hours and all you can eat shrimp sessions, The Big Easy is also renowned for its use of lobster and seafood.
The Big Easy Covent Garden branch looks lovely split over three levels with an accompanying bar. The transformation is superb, housed in a former 'power station' that used to provide the electricity for London's first electric street-lights in Victorian times.
We'd also rate the express lunch deal at Big Easy Covent Garden as one of the best value lunchtime deals in London (it is also available at all other London Big Easys).
For £10 on weekdays between 12pm and 4pm, you can have a massive BBQ platter and an alcoholic drink – or go large and have a half lobster and chips with prosecco for £15 – surely this is one of the best happy hours in Covent Garden?
You might like our guide to the best American bars in London >
---
YOU MIGHT LIKE: Top things to do in Soho >
---
29. Chandos pub
A London pub institution and well frequented by locals and tourists alike, Chandos is a good value central London bar just a few minutes walk away from Covent Garden. The amount of time we've spent in this pub over the last few years, we only wish we'd bought shares in it.
Beer prices at Chandos are pretty good – some lower alcohol pints like Taddys start from around the £4 mark. Chandos is run by the well established Samuel Smiths pub chain (a bit like Wetherspoons but generally nicer pubs), who operate many of the more historic pubs in London.
Chandos is a popular haunt of London actors too – we've spotted the likes of Simon Callow and Tom Baker here over the last couple of decades.
---
30. The Lamb & Flag
Fuller's Brewery runs the Lamb and Flag pub in Covent Garden, one of the oldest pubs in London and hidden down a small alleyway. With beautiful Georgian interiors (it feels like it hasn't changed in decades), this snug pub is a popular haunt with city workers and gets full quite quickly.
Upstairs in the Lamb & Flag, there is another bar plus you enjoy traditional pub grub like fish and chips or steak and ale pie.
Try a pint of Fuller's Pioneer or a bottle of Fuller's Honey Dew – you won't regret it!
YOU MIGHT LIKE: Covent Garden Historic Pub Tour >
---
You might like – Literary tours of London >
---
31. BrewDog Covent Garden (Seven Dials)
BrewDog Seven Dials is a Covent Garden craft beer hotspot located in between Seven Dials and Soho.
Warm and welcoming with an industrial interior (plus a nice line in arcade machines), the best thing about this BrewDog bar is the sheer choice of draft beers both on draft and available to buy or take away from the fridges.
BrewDog Seven Dials is in a prime spot overlooking Charing Cross Road and often gets rammed so if you want to bag one of the booths in the windows with views of the street, try to get there early.
One of Covent Garden's coolest pubs, BrewDog offers weekly specials like Wing Wednesday and 2 for 1 burger nights – they also do a nice line in vegan food.
---
You might like – things to do in Canary Wharf, London >
---
32. The Lowdown
A serious contender for Covent Garden's brightest bar (and one of London's most instagrammable places), the vivid pink exterior of The Lowdown gives you a clue as what to expect from this cute coffee shop by day and chic cocktail bar by night.
If you time it right, you might even get to see the pretty in pink cabriolet car parked up outside (it must cost the owners a fortune to park there all day as Covent Garden parking ain't cheap!)
From breakfast muffins to mochas, cappuccinos to cosmopolitans, get the Lowdown on this Covent Garden cocktail bar.
---
You might like – London supper club based on an old Tube carriage >
---
33. Balthazar Covent Garden
Easily one of Covent Garden's best loved restaurants, Balthazar is bold, bold and brassy brasserie (ironically, we love this fine French place as it serves one of the best mac and cheeses in London).
Popular with Covent Garden tourists and London locals alike, Balthazar lies just off the heart of the square and is usually packed with London theatre diners before the shows start.
Signature dishes at Balthazar include steak tartare, oysters, rabbit croquette and sea bass a la nicoise. Alternatively check out their weekend brunch menu or capacious cocktail range.
---
You might like: Things to do in Camden, London >
---
34. UNIQLO Covent Garden
New for 2023, London's flagship Uniqlo store has opened in Covent Garden, along Long Acre and Floral Street.
We've been to many Uniqlos in our time (including the world's largest Uniqlo in Tokyo with 12 storeys) but this new Covent Garden Uniqlo is truly one of the best and most unique clothing stores in London.
Sprawling across several floors with a Japanese tea-room (KATSUTE100) on the second floor and even a garden terrace, there is no other fashion store in Covent Garden quite like it.
You can even create your own personalized Uniqlo t-shirts here at the Uniqlo Studio Covent Garden (a bit like Nike do in Ximending, Taiwan) and there are even some unique clothing collaborations like the Uniqlo x TFL (Transport for London) designs, a world exclusive range for Uniqlo in Covent Garden.
---
You might like – things to do in Battersea, London >
---
35. Monmouth Street, Covent Garden
The centre of coffee culture in Covent Garden, this Seven Dials street is one the nicest places to hang out (and escape the tourist hordes of the piazza).
Chock full of cafes, chocolate shops (Hotel Chocolat) and luxury London hotels. You'll also find nice boutique shops along Monmouth Street like Nappa Dori.
This is also the original location for the Monmouth Coffee Company, who set up here in the late 1970s and is now renowned as one of the best coffees in London (you should see the queue for Monmouth Coffee Borough Market).
---
You might like – Take a private tour in a London Black Cab >
---
36. Fopp Covent Garden
Like most places in the world, there are very few actual record and music stores left in London – all the famous record store chains like HMV and Tower Records have pretty much disappeared from the High Street.
Luckily for London record lovers and vinyl collectors, one of the few remaining music stores is Fopp Covent Garden (which is actually owned by HMV).
Based over two levels, this is one your one stop (music) shop in central London for vinyls, DVDs, Blu-ray and CDs.
Fopp Covent Garden is also one of the cheapest bookshops in London with many two books for £5 deals plus has an excellent collection of arthouse movies in the basement.
One of the last bastions of British music stores, Fopp has around 100 stores in the UK and is open daily in Covent Garden / Seven Dials from 10am to 9pm (12pm to 6pm on Sundays).
---
You might like – London Rock Legends tour and other musical tours >
---
37. Apple Covent Garden
Fittingly located just across from Covent Garden's historic Apple Market, this Apple Store is a little more modern in its approach.
Packed to the rafters with iPhones, Apple Macs and Air Pods, this is your best bet for Apple products in central London.
Most days at Apple Covent Garden, there are in-store demonstrations and product displays – for instance when we last visited, there was a free talk about how best to manage online storage and other space saving tips.
You can also ask questions at the Genius Bar (not the usual type of Covent Garden bar or pub!).
---
You might like – Where to go Go karting in London >
---
38. Covent Garden Infinity Chamber / Light Tunnel
Possibly the most 'lit' way to get from Covent Garden to Long Acre via Floral Street, this is a small tunnel (AKA the Covent Garden Infinity Tunnel) that combines mirrors with dozens of little LED lights.
Popular with small children and selfie takers, this is a fun albeit overrated free thing to do in Covent Garden – and the infinity effect works better at night.
---
You might like – the most instagrammable places in London >
---
39. Matilda the Musical
One of the longest running musicals in London, Matilda the Musical is produced by the Royal Shakespeare Company, based on the Roald Dahl character with new music and lyrics written by Tim Minchin.
Matilda the Musical tells the tale of a 5 year old with magical telekinesis powers and has been running in the London West End for over 12 years and has won numerous awards including Olivers and Tonys.
See the smash hit Covent Garden theatre show Matilda the Musical >
---
You might like – things to do in Bethnal Green, London >
---
40. Covent Garden Walking Tours and Bicycling Tours
There are many London walking tours available including several that include Covent Garden and nearby Soho.
Several Covent Garden walking tours (that include other parts of central London) are available:
Covent Garden Cycling Tour
Or if cycling is more your thing, you can join a Classic London Landmarks Bicycle that includes Covent Garden >
---
41. The Play What We Wrote
A 'Royally' good Covent Garden comedy located at the Duchess Theatre, The Play What We Wrote is a classic, calamity filled fun stage show suitable for ages.
The longest running comedy in the West End, The What We Wrote is a play within a play, packed with stunts and funny accidents – who will get it next?
Slapstick and silly, this British comedy play takes place 6 days a week (closed Monday) on the edge of Covent Garden.
Book your 'The Play What I Wrote' theatre tickets here >
---
42. Covent Garden Corpus Christi Catholic Church
One of Covent Garden's hidden gems, not many people would even know this sublime Corpus Christi Catholic Church exists, just a stone's throw from the main piazza on Maiden Lane.
Surrounded by bustling Covent Garden pubs and restaurants like the Big Easy and the Porterhouse, this is THE most peaceful place and thing to do in Covent Garden and is free to visit
Built in the 1870s, Corpus Christi on Maiden Lane has also become known as the Actors' Church, providing a home for Catholic Actors performing in the West End and Covent Garden.
Maiden Lane Corpus Christi is open 7 days a week open, 8am until 7pm Monday to Saturday and 9am until 6pm on Sundays.
---
Our final thing to do Covent Garden
43. Avobar
Avo had enough of Covent Garden yet? If not, try out this Avocado inspired restaurant located along Henrietta Street in Covent Garden – it's all about superfood (and a super bright green decor!)
Given their avocado heavy menu, Avobar is one of the best places for vegetarian and vegan food in Covent Garden and their signature dishes include smashed avo sweet potato toast and an avo acai bowl – round off your meal with an avo chocolate brownie!
---
Bonus
Finally, a fun Covent Garden fact – the shortest Tube distance in London and biggest money spinner for TFL is the London Underground ride between Covent Garden and Leicester Square.
The distance between Leicester Square and Covent Garden is only 0.3km and can be walked in a few minutes but hundreds of thousands of unwitting travellers take the Tube between the two. Unless you have a travel card, save your cash and enjoy the walk!
---
Coming soon to Covent Garden in 2023
Guinness at the Old Brewer's Yard. Likely the biggest new opening in Covent Garden in 2023, Dublin's Guinness brewery plan to open a new microbrewery and visit centre in the heart of London. Due to open in Autumn 2023, we'll visit and include Guinness at the Old Brewer's Yard once it opens – can't wait!
---
Where to stay in/near Covent Garden
Budget
Astor Museum Hostel
Located in the heart of central London – opposite the British Museum and a 10 minute walk away from Covent Garden. Astor Museum has both private and dorm rooms, WIFI, a kitchen and shared common areas.
Mid range
Radisson Blu Edwardian Mercer Street Hotel
Stylish boutique hotel located in Covent Garden's Seven Dials quarter, with onsite bar and restaurant serving Italian and Peruvian dishes.
The Z Hotel Soho
4 star Contemporary hotel located in Soho, just a five minute walk away from Covent Garden. Facilities include the Z Café, plus a summer outdoor courtyard where you can enjoy food and drink.
Expensive
Cove St Martin's
Located a two minute walk from Covent Garden tube station, these spacious apartments have a contemporary décor, floor-to-ceiling windows, lounge and kitchen.
Covent Garden Hotel
Centrally located contemporary boutique hotel, with onsite bar, all-day brasserie, gym, film screening room and a day spa.
The Piccadilly London West End
Located in the heart of London's Theatreland on the edge of Covent Garden, this 5-star hotel has boutique bedrooms, a fitness centre, bar and refreshment lounge.
---
Other London posts you might like
---
Did you enjoy our things to do in Covent Garden blog post? Let us know in the comments or by sharing it on social media.
You can follow CK Travels on: 
Instagram
Facebook
TikTok 
YouTube
Pinterest