This post may contain affiliate links to tours and hotels. These help us earn a small commission at no additional charge to you.
There are lots of wonderful London walks and rewarding rambles – from high on Hampstead Heath to East London's canalways, Londoners really are spoilt for choice. That said, the stroll that we keep coming back to time and time again (particularly on sunny weekends) is the South Bank London walk.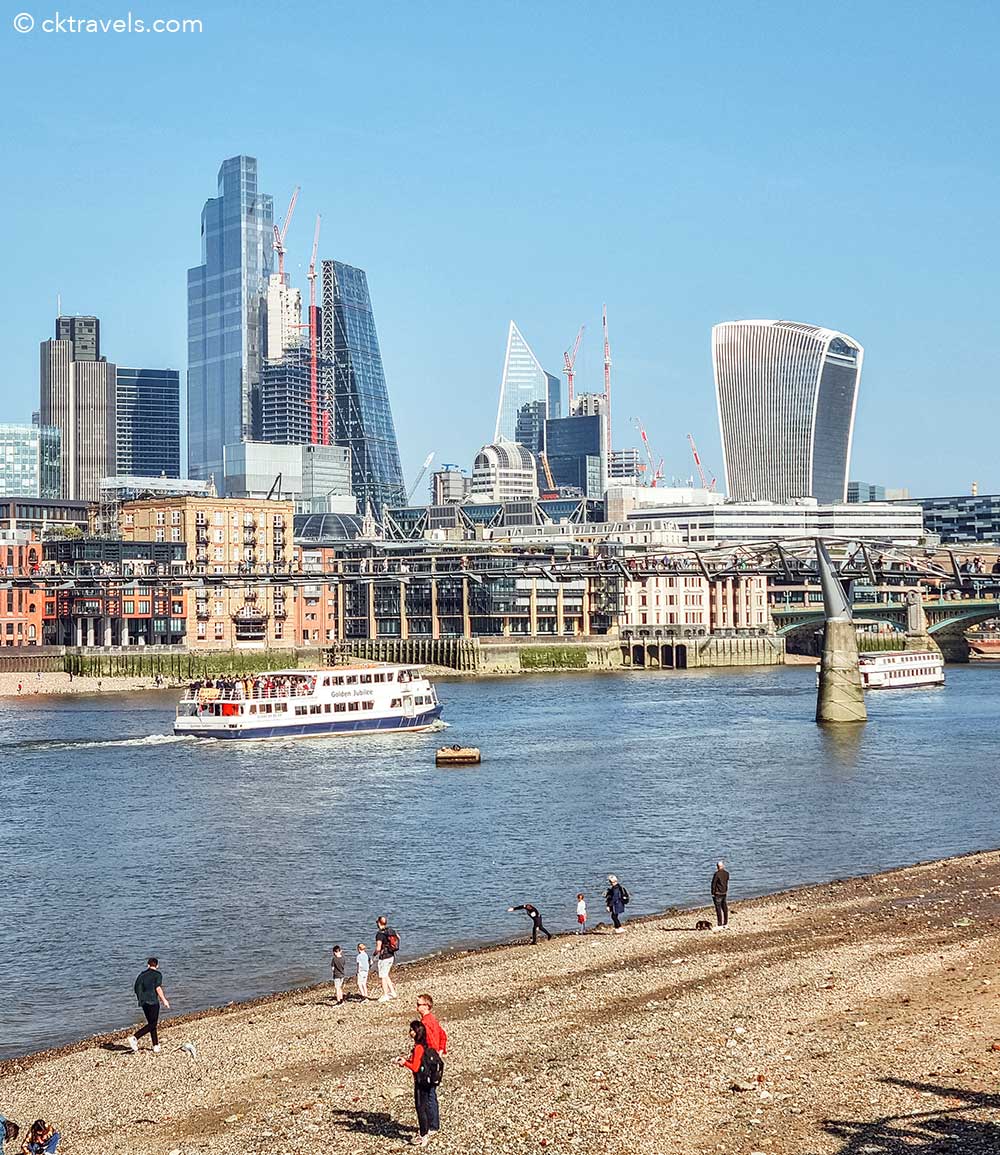 We rate the South Bank walk as one of London's best walks because there is so much to see and enjoy here. History, attractions, riverside views, South Bank restaurants and markets, old pubs and more.
So join us as we wander along the Thames South Bank for what we believe is one the best walks around London. With several pit stops to eat and drink along the way; why not have a pint in each of the pubs listed. This is the perfect way to spend one day in London:
London's South Bank Walk Summary
One of the best River Thames walks, the South Bank London walk starts at Westminster Bridge, looking towards the Houses of Parliament, and is an easy walk all the way to Tower Bridge (approx 2.5 miles / 4km in total).
Walks around London – South Bank Walk map
Walks Around London – South Bank Walk Attractions
1. The Houses of Parliament and Westminster Bridge
The South Bank walk starts at the southern end of Westminster Bridge, looking towards The Houses of Parliament / Palace of Westminster (the nearest London Underground station is Westminster).
The Houses of Parliament were built in the late 1800s (Grade I listed) and they are where all the important Government decisions are (supposedly) made.
Until recently, Parliament and Big Ben were covered in scaffolding for a major refurbishment, which isn't due to finish until around 2028.
Did you also know one that the Houses of Parliament are one of the best free things to visit in London? UK residents can request a free 75 minute long 'Inside UK Parliament' guided tour via their local MP (or a member of the House of Lords).
Find out more information about taking a free guided tour of the Houses of Parliament or book a paid Houses of Parliament tour >
YOU MIGHT LIKE: Westminster Abbey Tour and optional visit to Houses of Parliament in London
---
2. County Hall and its attractions
As you head east on your South Bank walk, you can see County Hall to your right.
Built in 1922 in a baroque style, this used to house the London Council but now is home to various amusements, including Shrek's Adventure London (Shrek got his green colour from swimming in the Thames – fact!) and a Sealife Centre, plus a couple of South Bank hotels.
---
YOU MIGHT LIKE: Sky Garden London guide and how to get free tickets
---
3. London Eye
Originally only intended to be here to usher in the millennium (in the year 2000, hence why it is also known as the Millennium Wheel), this is now one of London's most iconic landmarks and Europe's largest observation deck wheel (although the Shard's observation deck is now actually higher).
Step into one of the 32 pods to do a loop over the Thames, with views for miles around (you can see Hyde Park and Buckingham Palace for example).
The South Bank London Eye rotation lasts 30 minutes and we'd recommend you book in advance, especially during peak season. The London Eye also sometimes has special events in the capsules like pop-up pubs or yoga sessions.
We once went to a comedy gig in one of the capsules but the comic was terrible and we obviously couldn't walk out!
This is also a nice way to get an aerial view of the London South Bank walk you are about to undertake and all the South Bank restaurants.
Bonus London South Bank Walk activity
If you have time and don't mind veering off course a little, head to the Leake Street Graffiti Tunnel towards Waterloo Station.
We'd rate the Leake Street Graffiti tunnel as one of the most Instagrammable places in London.
London's best subterranean street art can be found a short walk away from Waterloo Train Station in the form of Leake Street Arches – it is also one of our favourite free things to do in Waterloo.
The longest legal street art area in the capital, Leake Street Arches is an awesome, creative area in Waterloo where burgeoning and established street artists can hone their street art skills and create awesome artwork.
This also means the Leake Street graffiti tunnel arch artwork changes regularly so there is something new to see every time you return. Leake Street tunnel is approximately a 5 min walk away from the London Eye on this London Southbank walk.
---
YOU MIGHT LIKE: Top things to do near Waterloo station, London
---
4. Between The Bridges
After the London Eye, you'll likely next come across the Between the Bridges pop-up food court and performance area which contains lots of bars, food kiosks and amusements.
Between the Bridges on South Bank even has a huge outdoor TV screen so is the perfect place to watch big sports games like Wimbledon tennis or the World Cup. We watched the Wimbledon's men singles final at Between the Bridges in summer 2023 and the atmosphere was electric!
Entry is free to Between the Bridges and DJs play most weekends. Sometimes, there are also paid for shows including comedy and music gigs.
This is a nice little spot to enjoy a beer in the 'secret garden' during the summer months or if you are visiting England in winter, grab a mulled wine or hot cider in the back bar which is suitable for all weathers.
Between the Bridges is open six days a week (closed Mondays) from lunchtimes until midnight on Fridays and Saturdays and 11pm at all other times.
On our last visit to Between the Bridges, there were several bars including a Pimm's pop up plus seven street food stalls – Made of Dough (pizza), The Duck Shed (duck wraps), Bang Bang Burger, La Cocinita (churros), BBQ Dept (grilled meat), Chick 'n Sours (fried chicken sandwiches) and Meat Head Mexican (tacos and nachos).
A nice way to take a break during your Southbank walk.
---
5. Southbank Centre and Festival Hall / Food Market
Your London South Bank walk now takes in the Southbank Centre and Royal Festival Hall, two of London's foremost performance venues.
Often, there will be free festivals and London events taking place outside the Southbank Centre (we've often seen choirs performing on the outside stage).
The Southbank Centre fountains are also one of the best places to cool off in London during the summer.
During the summer, there is also a rather nice roof garden – the Queen Elizabeth Hall Roof Garden and Cafe / Bar (just look for the brightly coloured luminous yellow concrete steps going up – subtle as).
On Fridays to Sundays, the Southbank Centre also hosts one of London's best food markets, home to street food from all over the world, plus the cheapest pint of cider in London (from…erm… Somerset).
It is located behind the main Southbank Centre, just look for people holding delicious food – it is easy to find.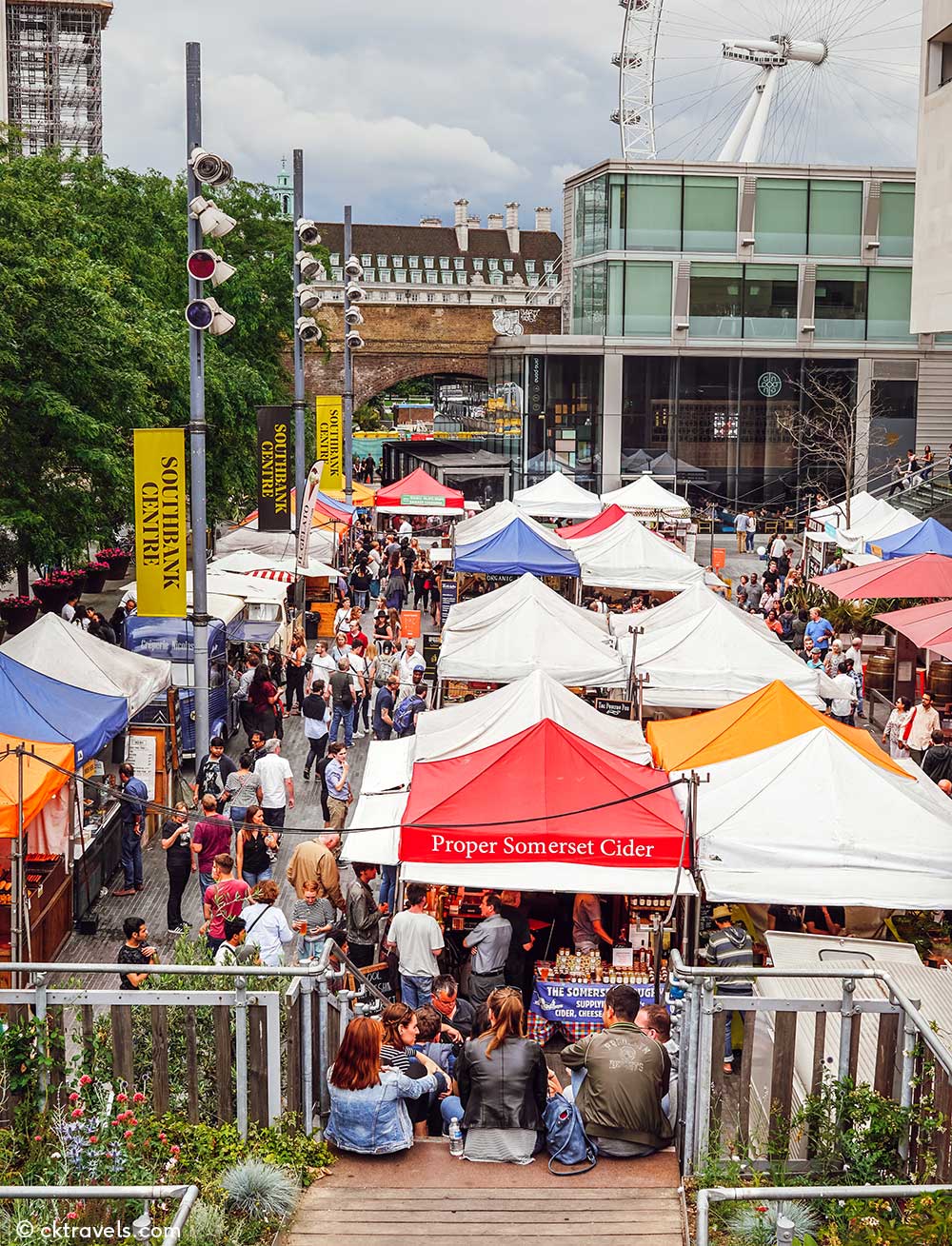 Finally, more entertainment or potential street photography along this London South Bank walk comes in the form of Southbank Skate Space, a world-famous skate park bedecked in colourful graffiti and currently under threat from development (progress eh).
---
YOU MIGHT LIKE: The best London Christmas markets 2023 >
---
6. The BFI / Southbank Centre Book Market
Fancy a flick? The BFI (British Film Institute) Southbank is a four-screen rep cinema showing a varied catalogue of classic and modern movies, with a nice bar and restaurant set-up at the front.
Just outside, you'll find several book sellers set-up underneath Waterloo Bridge seven days a week, selling all manner of old books, comics and the usual Harry Potter fare.
7. National Theatre
A few steps from the book-sellers, you'll come across a statue of Sir Laurence Olivier, which means you've arrived at the National Theatre. The jury is still out on the building exterior but the inside is warm and welcoming and the shows here are some of the best you'll ever see.
We were fortunate enough to see Bryan Cranston perform in 'Network' at the Southbank National Theatre and to this day, it remains our best ever theatre experience in London. Several bars and Southbank restaurants are also located inside as well as outdoor drinking areas.
---
YOU MIGHT LIKE: Christmas events in London 2023 guide
---
8. Gabriel's Wharf
Gabriel's Wharf was named after a woodworking family business founded by Christopher Gabriel that used this site in the early 19th century as a timber yard.
Their wharf lives on today as a Southbank restaurant and cafe complex that has bags of character – there are beautiful illustrations on the wharf wall and lots of colourful kiosks and delis.
Gabriel's Wharf South Bank is a lively courtyard and remains one of our firm favourites for alfresco dining and drinking along the River Thames.
An eclectic mix of food stalls, bars and arts and crafts, Gabriel's Wharf feels almost like a mini Italian village – we'd also recommend this as a free toilet stop.
---
You might like these South Bank London tours from Viator >
---
9. Oxo Tower / Wharf
A few metres from Gabriel's Wharf brings you to the Oxo Tower, formerly a powerstation that now houses a fine restaurant on its upper levels with stunning balcony views.
The Oxo Tower name came about as a quirk to get around a ban of skyline advertising back in the 1920s – the Oxo company bought the building so they could add the 10ft high Oxo letters on the side, cheeky!
The Oxo Tower also houses several arts and crafts shops (and a gallery) on its first two floors. The wharf outside is also a nice place to get a snapshot.
We'd also rate the Oxo Tower as one of the best panoramic views in London.
London Travel Planning Facebook Group by CK Travels
Need help with your London travel itinerary or have any questions about your upcoming trip? Join our brand new online community! Click here to join our London Travel Planning and Tips Facebook group
10. Doggetts Coat and Badge Pub
Enjoy a pint on the River Thames in the popular Doggett's Coat and Badge pub, by Blackfriars Bridge.
Set over several floors with terrific Thames views, this is a nice traditional pub. In the summer months, the Doggetts Coat and Badge Pub also has a small beer garden directly on Southbank/ the Thames path – alfresco sessions have never been so good.
YOU MIGHT LIKE: Historical Pub Walking Tour of London tour
---
11. Blackfriars Mystery / Vanishing Bridge
A little London oddity now along this Southbank walk along the River Thames. Look back towards the Thames after you walk under Blackfriars bridge and you'll see rows of red pillars in the river, which look like a bridge has vanished.
These in fact are the remnants of a railway bridge built in 1864 but dismantled in the 1980s when it became too weak for modern, heavier trains.
---
12. The Founder's Arms pub
After passing Blackfriars Bridge, you'll see the (very) busy Founder's Arms, one of the best riverside pub in London – and very popular with the pigeons too. Bide your time and try to bag an outdoor table, and enjoy brunch or fish and chips with fantastic views of the Thames.
Popular with tourists given its incredible views of St Paul's cathedral and London's Square Mile, The Founder's Arms also does well with the after work crowd and is popular for sunset sessions
---
13. Tate Modern
Located in a former power station, the Tate Modern has transformed into a modern art powerhouse, with permanent galleries and temporary exhibitions.
It is free admission to get in, but some of the exhibitions do charge entrance fees (the large scale installations in the entrance hall are always spectacular and free to visit).
Check out the upper balconies for incredible views – the Terrace Bar is one of our favourites (with reasonably priced beer and wine).
Head on up to the top floor of the Tate's Blavatnik Building for 360 degree views of London (and also the neighbour's flats, although you aren't supposed to peer in).
The Tate Modern viewing deck is temporarily closed to the public as at 2023.
---
You might like these South Bank London tours from GetYourGuide >
---
14. Millenium Bridge
After a shaky start (literally) when it opened in 2000, the 'wobbly bridge' was fixed and became one of London's best known free attractions; Southbank's Millenium Bridge even features in movies like Guardians of the Galaxy and Harry Potter.
If you so fancy, do a little diversion across and visit St Paul's Cathedral in the historic Square Mile.
Whilst on Millennium bridge, check out the tiny illustrations dotted along the metal walkway by street artist Ben Wilson, who uses people's discarded chewing gum as his canvas.
---
15. Shakespeare's Globe
Look to your right on this Southbank Walk to see a circular black and white timber building – this is Shakespeare's Globe.
Shakespeare's Globe is actually a reconstruction of the original Globe Theatre (1599 to 1644) which opened in 1997. Staged in the round, many productions here offer £5 standing seats which is waaaayyyy cheaper than the price of a West End / Leicester Square cinema ticket.
You really can see world class theatre at Shakespeare's Globe 'in the round' for just a fiver (as at 2023) – this is why London's theatre scene is the best in the world.
If you don't have a ticket, you can visit the information centre and gift shop for free, as well as use the public toilets, or book onto a guided tour.
YOU MIGHT LIKE: Shakespeare's Globe Guided Tours with Optional Shakespearean Afternoon Tea
16. Anchor Bankside
A short 5 minute stroll from the Globe is the historic Anchor Bankside pub (there has been some form of pub on this site for over 800 years).
Dependent on your outlook Anchor Bankside is either most famous as the pub where Samuel Pepys watched the Great Fire of London from in 1666, or where Tom Cruise had a pint in the closing scenes of the Mission Impossible film.
Either way, it is a olde world inn (rebuilt in the 19th century) that is cosy during the colder months with a warm fireplace, or resplendent in summer with its outdoor beer garden for a nice cold pimms. They also do a mean (i.e. good) fish and chips.
Pre pub days, the Old Thameside Inn bar was a former spice warehouse on Pickford's Wharf docks, dating back to the 16th century – the original Clink Prison was also located just behind the pub.
---
17. South Bank's Shakespeare mural
Pass by chain restaurant staples Nandos and Wagamamas and you'll be greeted by a huge Shakespeare wall mural (located just before you reach the Clink Museum) which was painted by Australian street artist Mr C (you can see more of his street art in Shoreditch).
In the summer months, you'll often see a street-performer busking next to the Shakespeare mural with a fire-breathing tuba – it has to be seen to be believed.
---
18. Winchester Palace
A 12th century former palace that used to be the home of the Bishops of Winchester, this Scheduled Ancient Monument is now unfortunately in ruins after a fire largely demolished most of it.
What you can see now is all that is left of the former Great Hall showing the rose window and the remains of the kitchen area and adjoining rooms.
---
19. The Golden Hinde
Like Shakespeare's Globe, this London landmark is actually a replica of the original ship, built in 1973 and docked here in 1996 after travelling the world. The original Golden Hinde, captained by Sir Francis Drake was launched in 1577 and best known for sailing around the world in the 1570s.
If all this history or walking is making you thirsty, the Old Thameside Inn next to the Golden Hinde has stunning views of the Thames and city, with ample outdoor beer garden space.
YOU MIGHT LIKE: London Bridge Ghost Walking Tour
---
YOU MIGHT LIKE: Things to do near London Bridge Station >
---
20. Borough Market
In a word, delicious – make a hard right either just before or just after the Golden Hind from this London South Bank walk to discover Borough Market, one of London's most historic markets, packed with incredible food stalls.
One of our top food markets in London, we can't do it justice with just a paragraph so read our dedicated guide about all the things to do in Borough Market >
Tip – feeling hungry on your walk? Get your pasta faster at Borough Market's most popular pasta place Padella.
YOU MIGHT LIKE: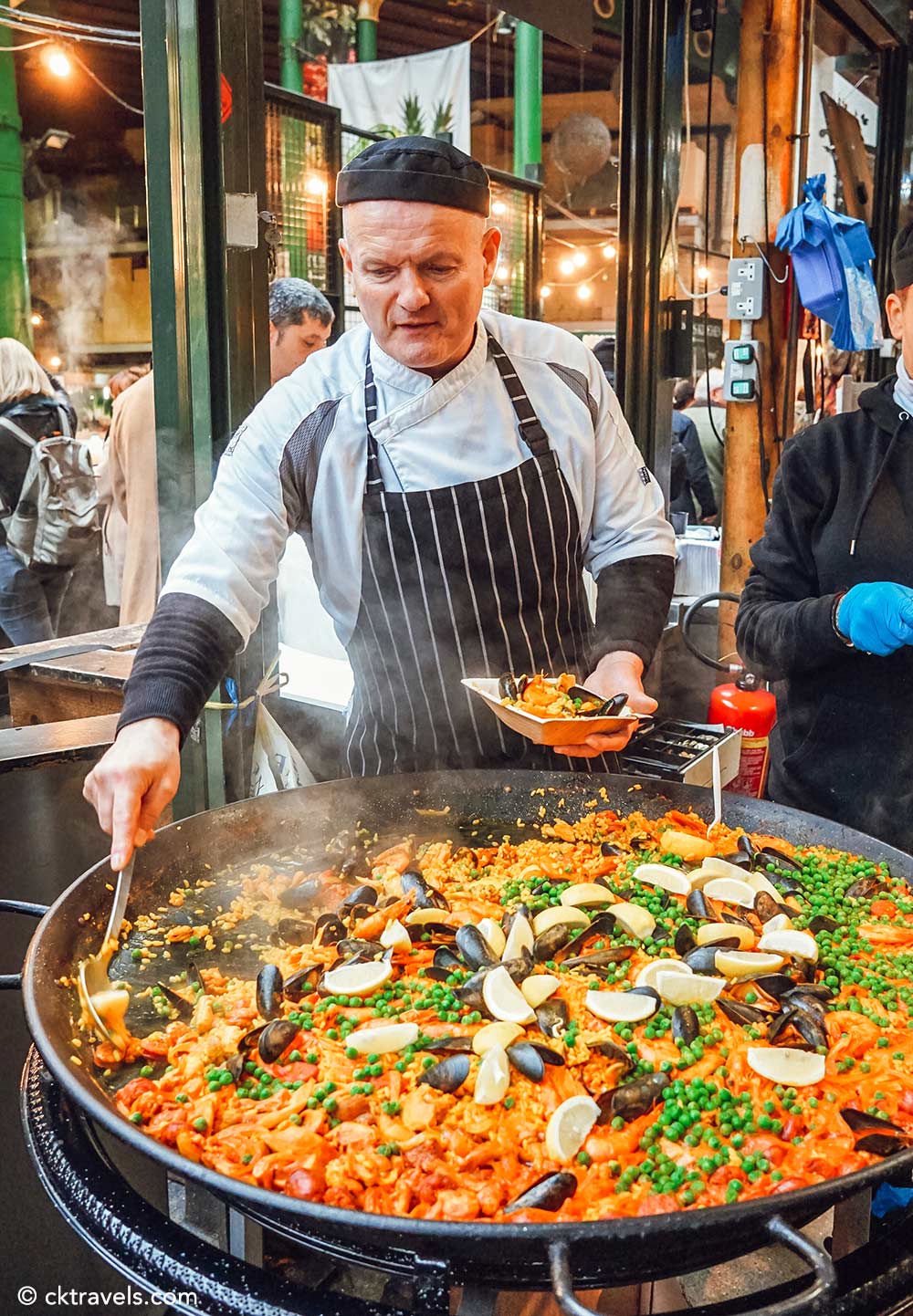 ---
21. Southwark Cathedral
Dating back to 1106 but extensively rebuilt and added to over the last few centuries, Southwark Cathedral is a free to visit place of worship with incredible stained glass windows (but admission donations are always welcomed) – there is also a little cafe inside.
YOU MIGHT LIKE: The Cloak and Dagger Tour
---
22. Hays Galleria
A curious hotchpotch of shops, bars, restaurants and businesses, Hays Galleria is a small-scale outdoor shopping centre that overlooks the Thames and has a couple of interesting features.
In addition to the boules / petanque area, the centrepiece is the 60ft huge, bronze moving statue The Navigators by David Kemp, a nod to the maritime history of the area; and a little piece of London steampunk in Southwark.
---
23. HMS Belfast
The permanently moored vessel is a surviving Second World War Royal Navy warship that was originally launched in 1938 and saw service and conflict all over the globe before being decommissioned in the 1960s.
As at March 2023, the HMS Belfast admission price is £24.50 for adults and £13.50 for children (both without donations).
Like IWM's HMS Belfast? Also visit IWM London, a free war museum in Elephant and Castle.
YOU MIGHT LIKE: Westminster to Greenwich Sightseeing Thames Cruise in London
---
24. The Scoop / The Tower of London
The penultimate leg of London's best walk (in our humble opinion) takes you past City Hall (built in 2002). During the summer, they sometimes hold free stage plays and performances in the 'scoop' area here.
To your left across the river, gaze at the Tower of London, built in the 11th century and the secure location of the Crown Jewels, the famous Beefeaters and once home to the Royal Mint and Royal Armouries.
---
25. The Bridge Theatre
If you have time and you are in London for a few days, see a show at the Bridge Theatre (in the shadow of Tower Bridge) – their foyer is warm and welcoming with more light-bulbs than a DIY 'flash sale'.
Even if you haven't got show tickets, the opulent Bridge Theatre interiors are home to their St. JOHN bar and you can pop in for a drink after your London Southbank walk.
Spending Christmas in London? The Bridge Theatre often has special Christmas productions like A Christmas Carol.
---
You might like: Best Immersive Experiences in London (with prices)
---
26. Potter's Field
A prime picnic spot overlooking the Thames with Tower Bridge looming lushly over the London landscape, Potter's Field is one of the most popular sitting spots along the Thames and it often hosts food festivals or pop-up events.
You can grab food from the nearby food outlets like Five Guys burgers or if you are on a budget, grab some cold cans and snacks from the nearby Tesco or Marks and Spencer and enjoy them on the grass. You're welcome.
---
Our Final South Bank Walk Stop
27. Tower Bridge
If you don't know Tower Bridge, you don't really know London. Likely London's most well known landmark, the iconic Tower Bridge was built over 120 years ago and is the jewel of the River Thames.
Tower Bridge still opens up occasionally when the tall ships come through, and you can visit the inner workings via the Tower Bridge Experience (£11.40 admission per adult as at March 2023).
If you can (or you don't want to spend money on the Tower Bridge Experience), try and get a bus over the Tower Bridge to see it up close (especially on the London double decker buses) – routes 15, 42, 78,100, 343 all go across or near.
Or try getting aboard a Thames Clipper boat that goes below (best to view it from all angles!).
YOU MIGHT LIKE: Best of London Including Tower of London, Changing of the Guard, with a Cream Tea
---
If you have finished this London South Bank walk and still have energy – how about now continuing across Tower Bridge, into London's historic heart and explore the 'Square Mile'? Read our full guide to the City of London, or try one of these 40+ pubs on the river in London?
---
Check out our other London blog posts
---
Did you enjoy our South Bank walk – one of the best walks around London blog post? Let us know in the comments or by sharing it on social media.
You can follow CK Travels on:
Instagram
Facebook
TikTok
YouTube
Pinterest
South Bank walk – best walks around London – add to Pinterest