This post may contain affiliate links to tours and hotels. These help us earn a small commission at no additional charge to you.
Once one of the more dreary and notorious parts of London, King's Cross in recent years has transformed itself with some serious redevelopment money being poured into the neighbourhood and now has loads of fun things to do in the area.
Housing the headquarters of technology luminaries like Google and YouTube, new investment has been a catalyst for King's Cross transformation with numerous new bars, restaurants and cultural spots all being par for the course, combined with the nearby heritage highlights like The British Library and the historic St Pancras Renaissance hotel. Here is our top things to do in King's Cross guide:
Things to do in King's Cross
1. Coal Drops Yard
A new shopping and dining destination set amongst the backdrop of restored railway arches, this characterful culinary and retail space is a welcome addition to King's Cross. Opened in October 2018, the area springs into life at night as the workers stream out of their nearby office blocks for a cheeky tipple or three.
This developed area has real potential, with some nice alfresco bars overlooking nearby Regent's Canal and an interesting events programme.
We are looking forward to returning later in the year when the Goods Way space opens in Kings Cross which promises a 600 capacity music venue Lafayette, plus The Courtyard – comprising of coffee shops, cafes and all manner of awesome activities. We also hear talk of a New Orleans inspired food-hall… (nom!)
---
2. King's Cross restaurants
There are are heaps of foodie and fizz options in and around King's Cross, all only a few mins walk from the main transport hubs.
As well as the usual fast-food dining options like Wasabi, Tortilla and Leon (mainly for the lunch-time crowd), there are many delicious and well reviewed dining spots.
Try German Gymnasium – a historic former gym and once England's first dedicated gymasium which now serves modern European fare and a fine line in wine. Maple & Kings serves healthy and hearty meals, whilst Kimchee is a South Korean inspired restaurant and one of our favourite places to eat (their Korean fried chicken is to die for, as is their bulgogi).
Another place we recommend is Hoppers which serves Sri Lankan food.
One of the first bars to open in the area, The Lighterman is a self-styled gastro-pub with a prime position on Granary Square, overlooking the canal. With outdoor dining areas overlooking both the square and canal, this is one of the more popular pubs in the area, especially in the summer.
---
3. Little Creatures Brewery
The London outpost of one of Australia's most famous breweries and having once visited their brewery site in Fremantle (near Perth in Western Australia), we can confirm the beer tastes as good here as it does at the source.
They also currently do £2.80 pints during a special happy hour every Monday evening and their signature Little Creatures Pale Ale (5.2%) hits the spot perfectly.
---
4. The Rooftop at The Standard Hotel
This brand new New York themed rooftop bar (opened 2021) is located on the 11th floor of the The Standard hotel and has epic views of the iconic St Pancras's clock tower and the city. Expect weekend bottomless brunches, classic cocktails and New York-style hot dog carts! Click here to book a table >
---
YOU MIGHT LIKE: Things to do near Euston station
---
5. Two Tribes Campfire
Billed as 'Beer + Music + Art', Two Tribes Brewery and Taproom is open Tuesday to Saturday and is about a ten minute walk from Lewis Cubbit Square.
Situated in Tileyard Studios (a rather random industrial estate), this is a low-key taproom with a lively roster of events – as well as their core range of several beers and lagers, they also have an extensive collection of collaborations and guest beers on tap.
We visited one Saturday morning and surprisingly had the whole taproom to ourselves – this meant the guy working the bar (friendly as) was able to recommend what to drinks and recommended other London breweries.
If you're into your beers, we'd recommend combining a trip to Two Tribes taproom with Little Creatures, and another nearby brewery called Hammerton (in Islington); hopefully they all get on so that Two Tribes (don't) go to war…
---
YOU MIGHT LIKE: The best brewery taprooms in north London
---
Kings Cross Street Food
6. KERB King's Cross
Open Monday to Friday lunchtimes and aimed at the local working community, this pop-up area usually comprises of 5 to 10 food trucks located on the far left of Granary Square.
---
7. Canopy Market
As suggested by the name, this market is located under a large roof so is all weather, should you be looking to satisfy your foodie fix on a rainy day.
Unlike KERB Kings Cross, this isn't just food-truck focused, with half the space given over to various arts and crafts stalls (the combined aromas from the candle, food and mulled wine stalls are distinctly divine).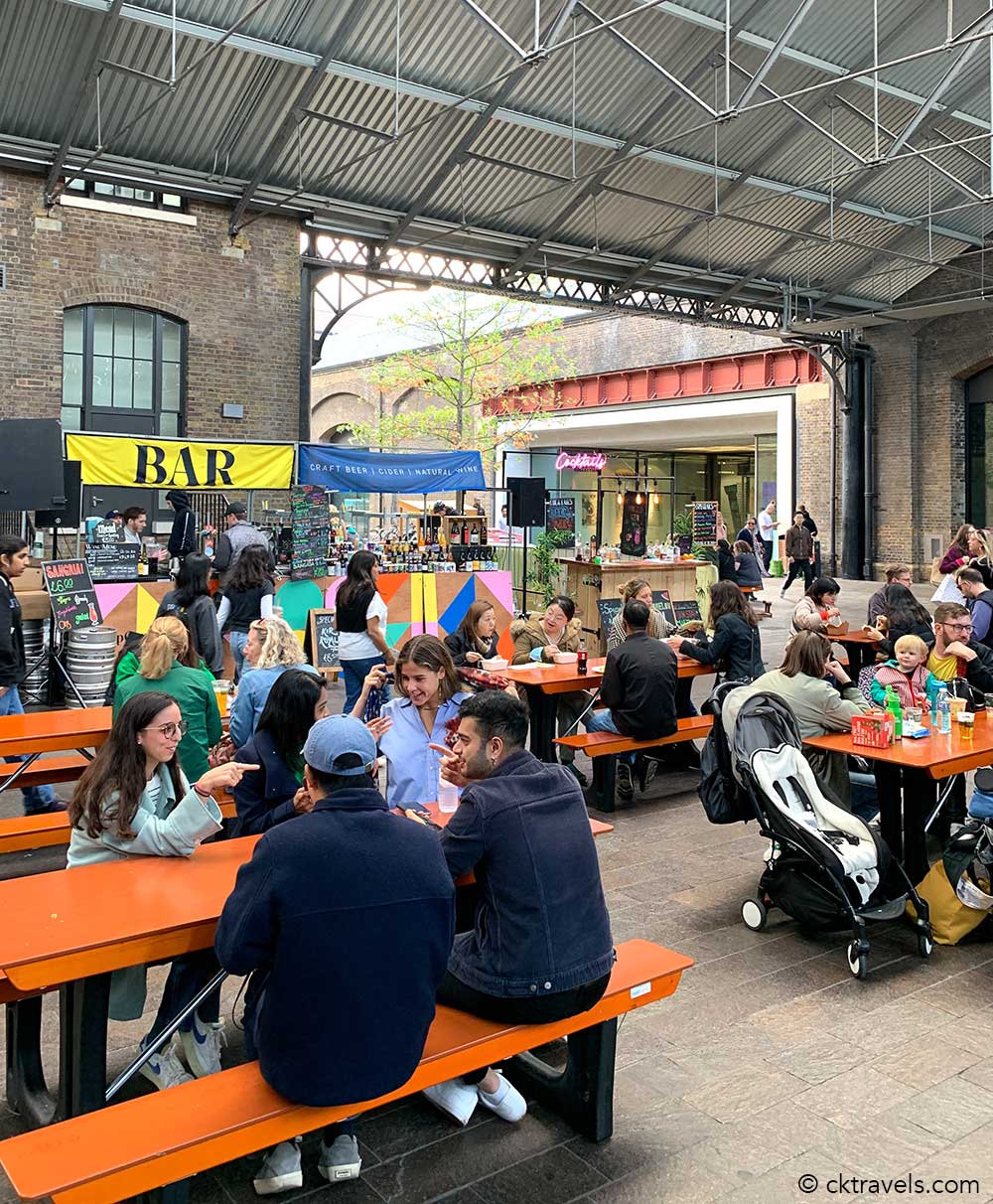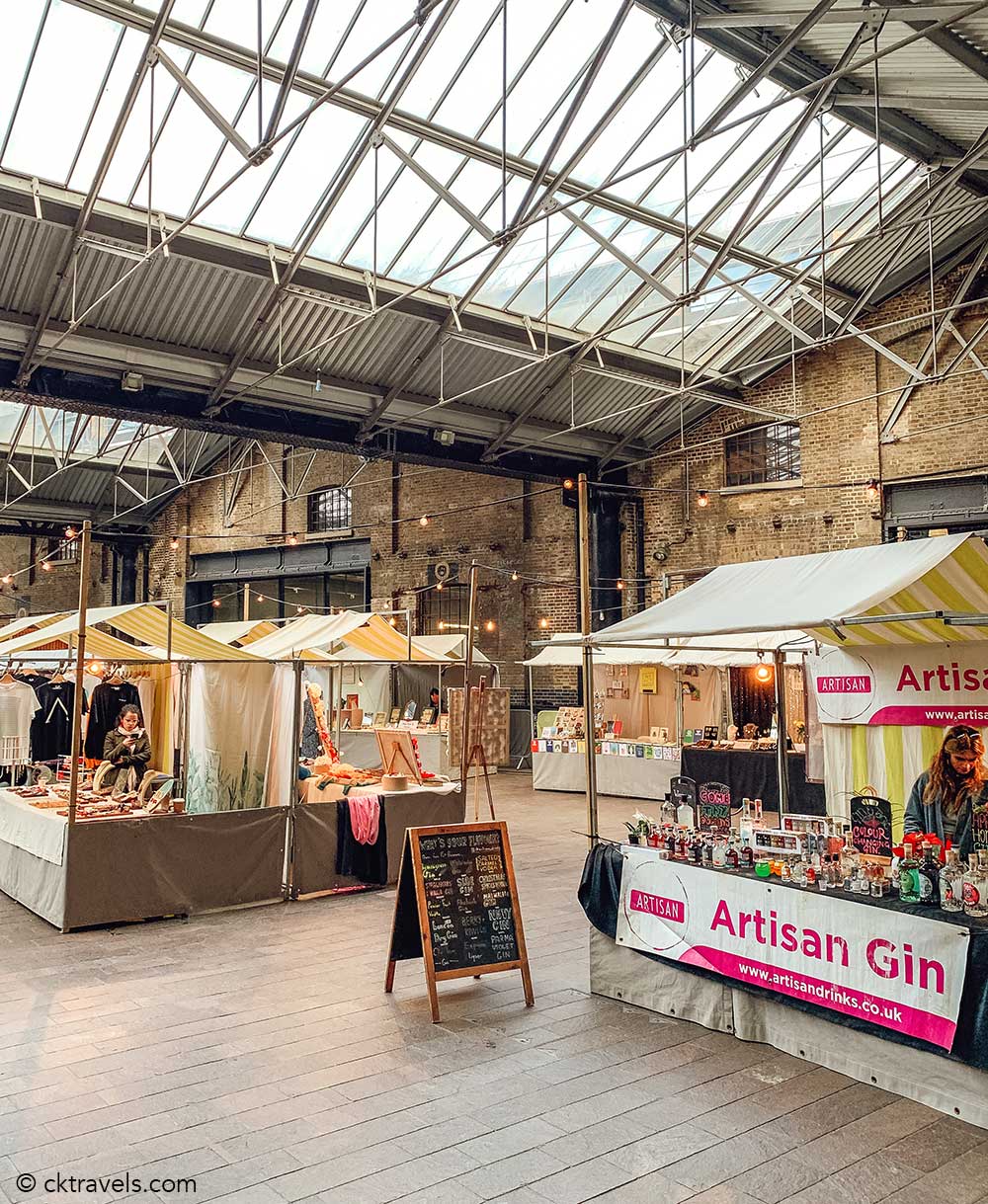 ---
YOU MIGHT LIKE: The best Christmas markets in London 2022 guide >
---
8. The Real Food Market King's Cross
Located directly in front of King's Cross Station on King's Cross Square, this food market operates Wednesday to Friday from 1pm-7pm, selling a variety of foodstuffs from Polish pierogis to fresh artisanal bread. Crosstown Doughnuts (one of our fave London sweet treats) also has an outpost here.
---
9. Word on the Water Canal Boat
Bookworms can get their fix by visiting this quirky floating bookshop, located on a barge on Regent's Canal.
Open seven days a week from noon 'til 7pm, this 1920's Dutch barge has been transformed both inside and out, and sometimes plays host to jazz performers at the weekends and on bank holidays.
---
YOU MIGHT LIKE: The best Christmas events in London 2022 guide >
---
10. Gasholder Park
Frequently used as a filming location (BBC's The Apprentice seem to love it!), you may have already seen this through a train window if you are getting the Eurostar or any other train from St. Pancras International.
Famous for its curved mirror display, the park comprises of a circular lawn with a refurbished gas holder around its perimeter. From here, you can also walk along St Regent's Canal all the way to Camden Markets.
11. The Gas Station bar and restaurant
King's Cross best-looking outdoor area overlooking the water has to be Gas Station (you'll be 'pumped' to hear). With canal side views, a huge alfresco deck and a menu that specialises in beautiful brunch dishes and seafood, you'd be mad not to 'fill up' at this Gas Station. 
Boasting three bars over two floors and from renowned hospitality group Bar Works, Gas Station at King's Cross also works a nice indoor space on those colder days or when the great British summertime weather doesn't want to play ball.  A new opening in December 2021 in a space that has seen many different come and go, hopefully the new owners make a go of it and are cooking on gas.
---
12. Beer + Burger King's Cross
Bring on the craft beer and burgers! This burger taproom joint in Kings's Cross (located between Waitrose Wine School and The Star Kings – now that has the making of a mini bar crawl) has an awesome American style menu of burgers, loaded dirty fries, and salivating sides such as slaw, gravy and mac and cheese balls.
There are several large refrigerators jam packed with hundreds of colourful cans of craft beer as you enter plus ample craft beer on draft (they often have a house special on for around £4 a pint).
Head to Beer + Burger on the last Tuesday of the month for 50% off food. You can also find other branches of Beer + Burger in Dalston and Willesden Green and Walthamstow.
---
13. Queer Britain
The first dedicated LGBTQ+ museum to open in the UK (housed in the former House of Illustration building), Queer Britain opened at King's Cross Granary Square in the spring of 2022, to coincide with the 50th anniversary of Britain's first Gay Pride March. 
With temporary exhibitions located across four galleries and with free admission (donations are encouraged), Queer Britain is open to all and a welcome addition to King's Cross burgeoning arts and culture scene.
---
14. Lewis Cubbit Square
Across from Coal Drops Yard and around the corner from Granary Square is Lewis Cubbit Square – which plays host to temporary sculptures and installations, as well as events on the green lawn here such as the KERB King's Cross food market. The temporary sculpture shown below – Palm Temple by Luke Jarram, was on display in early 2020.
---
15. St. Pancras Renaissance Hotel
Zig a zag ah! Opened in 1873 and renovated in 2011, this hotel is renowned for its lush Victorian architecture.
We should be telling you about how this is one of London's most historic hotels with opulent bedrooms and beautiful boutique bars, however, we also want to draw your attention to the fact that the Spice Girl's 1996 debut video Wannabe was entirely filmed at the St Pancras Renaissance Hotel.
Recreating key scenes from the video at the hotel is not recommended (but is good fun, especially after several 'spicy' cocktails from the onsite Hansom bar…).
Check out prices and availability for St. Pancras Renaissance Hotel.
---
16. St Pancras Champagne Bar by Searcys
Located on the upper concourse of the Victorian Gothic London St Pancras train station is this elegant bar which is also the longest Champagne bar in Europe!
Before you board your Eurostar train to Paris, take a seat in one of their cosy leather booths decorated with Art Deco lamps, and order a glass of bubbles, a meal from the full restaurant menu or afternoon tea.
Click here to book a table at Searcys >
---
17. The British Library
I may be biased as I (Neil) used to do marketing for The British Library but this is an essential place to visit if you are in the area.
This is one of the best free things to do in London and I cannot rave enough about how wonderful the permanent Treasures of the British Library exhibition is – from original hand-drawn Beatles lyrics to Jane Austen's bureau, this is an eclectic ensemble of history that is unmissable and free for all to see.
Also worth seeing at the British Library is the King's Library (a glass tower of historic books, manuscripts and literary works that are kept in a huge temperature controlled room).
Combine your trip with a caffeine fix as it is a really atmospheric place to grab a quiet coffee (there are several cafes dotted around the site including one on the main concourse outside).
---
18. Camley Street Natural Park
Just across from Coal Drops via the newly opened Somers Town Bridge brings you to Camley Street Natural Park, recently reopened in 2021 with a new coffee shop (Kingfisher Cafe) and visitor information complex overlooking Regent's Canal.
A former coal yard that has been transformed into a canal side nature park and meadows with a boardwalk and wooded walks, with all the rejuvenation and new developments in and around Kings Cross, it is fantastic to see somewhere remains for flora, fauna and wildlife and so lovingly looked after.
On our first visit in November 2021, we were warmly greeted by London Wildlife Trust volunteer who told us about the site's history and recent changes (more work is planned). We also learned the woodland and wetland areas encourage butterflies, birds and pond life and more seeding work is planned by the main entrance.
Camley Street Natural Park is open Wednesdays to Sundays 10am to 4pm with free admission (although donations are gratefully appreciated)
---
19. Granary Square Fountains
Possibly the most well-known free attraction at King's Cross (and particularly loved by kids), the Granary Square fountains are a huge hit all year round, and often themed with installations dependent on the time of a year, from an urban beach in summer to Christmas installations in Winter.
It also benefits from being right next door to Central St Martins / University of the Arts London as many of their arty pop-up installations appear in and around here.
The Granary Square fountains comprise of over 1000 jets installed into the square itself and often on timed displays with lights (and if they aren't are on, you wouldn't even know it existed). With so many restaurants and bars overlooking Granary Square, they also serve as a nice backdrop in the evening.
---
20. Platform 9 ¾ at King's Cross Station
We aren't Harry Potter fans (there – we said it; please don't hate us!) so whilst we haven't made a Potter pilgrimage here deliberately, we have walked past the thronging tourist masses here many times.
In the book / movie, Harry and company get to a train platform (we're told) by dashing through a brick wall between platforms 9 and 10. However, in the real King's Cross station, they are separated by tracks, but you can still find a platform 9¾ on the wall in the station.
It is free to take a photo here holding the trolley that is disappearing into the wall, but the queue to take your picture can be long. There is also a Harry Potter gift-shop next door selling all manner of weird and wonderful wizardy merchandise. Magic stuff, apparently!
---
21. Waitrose Cooking School
Located within a former Grade II-listed Midlands Goods Shed on Granary Square is this awesome cookery school that hosts a range of workshops from short hour long taster sessions to full day masterclasses.
Each of the cooking classes are themed around a different cuisine and you can expect experiences such as World Street Food, Mexican and Mojitos, Bread making for beginners, Korean Kitchen, Turkish Delight, Feast from the Middle East or Dinner for Friends. Check out their full events itinerary online here >
---
22. The Hardy Tree at St Pancras Old Church
One of England's oldest places of Christian worship is a spooky and unique place to visit in London. The site originates from around 314 AD but the current church was rebuilt in 1814. It also lays claim to one of London's most striking but no-so-well known historical features, The Hardy Tree – an ash tree circled by hundred of old gravestones in close proximity.
It came to be after the graveyard had many graves exhumed to make way for a new railway line in the 1860s.
Before becoming a famous author, Thomas Hardy worked for an architecture firm and came up with the solution of putting them all below this one tree, away from the railway line extension.
Over time and with subsidence, the graves have started to merge and become partially buried, leading to this poignant and slightly surreal memorial.
---
23. Scala King's Cross
This former 1920s cinema is now a converted live music venue with three bars, two dance floors and a large stage for live performances. The Scala has played host to several artists over the past 20 years including Foo Fighters, the Killers and Nine Inch Nails, (we've seen M83 play here).
The Scala also hosts regular themed weekend club nights including garage, reggae, rock and 80s. Check out their events calendar here >
---
How to get to King's Cross London
King's Cross has excellent transport links with two large train stations in the area – King's Cross Station and St Pancras International (home to the Eurostar, with direct services to and from France, Belgium and the Netherlands). Plus there is a large London Underground station where you can connect to six different tube lines.
King's Cross accommodation
King's Cross is a great place to base yourself for your London trip, here are some highly recommended accommodation options for all budgets:
Backpacker
YHA London St Pancras
Dormitory style rooms across the road from St.Pancras station with 24 hour reception and laundry facilities. Check out prices and availability for YHA London St Pancras.
Treat yourself
St. Pancras Renaissance Hotel
As mentioned above, this elegant hotel is housed in a spectacular building with immediate access to Eurostar services. This hotel was featured in the Spice Girls 'Wannabe' music video and includes a tea lounge, 2 restaurants and bars, a spa and relaxation pool. Check out prices and availability for St. Pancras Renaissance Hotel
Great Northern Hotel, A Tribute Portfolio Hotel
Stylish hotel located in the heart of King's Cross with hand-crafted furniture, restaurant, cocktail bar and artisan sandwich shop. Check out prices and availability for Great Northern Hotel
---
More London blog posts
---
Did you enjoy our things to do in King's Cross blog post? Let us know in the comments or by sharing the blog on social media. Follow us on Instagram!