This post may contain affiliate links to tours and hotels. These help us earn a small commission at no additional charge to you.
You're spoilt for choice with Sunday shopping in London. Yes, you could head to retail mainstays like Oxford Street or Westfield Shopping, but why not do something with a little more character and head to one of the Sunday markets in London. From foodie fare to fantastic flowers, we've rounded up the best markets in London that you can visit (and a lot – but not all – are also open on other days of the week).
So pack your bags (in a good way) and fill your stomachs at these Sunday Markets in London:
Sunday markets in London
1. Columbia Road Flower Market
London's biggest and best dedicated flower market comes to Columbia Road in East London every Sunday. During the week, it is a charming combo of cafes, craft shops and delis but come Sunday, it transforms and bursts into colour for the weekly Columbia Road Flower Market.
Located near Bethnal Green and Shoreditch, this is where most Londoners in the know get their plants as it is much cheaper than garden centres and nurseries – plus it is quite the experience with lots of market stall trader howls and hollers (who are also always very keen to pass on advice on how to look after your plants). Remember, try to get there early on Sunday morning; ideally before 8am – it gets very busy from 9am onwards. Grab a brekkie roll or bagel and coffee when you arrive and then explore the market on the go.
Check out our full guide to the Columbia Road Flower Market >
---
2. Greenwich Market
One of the most historic markets in England, Greenwich Market originally opened in 1737 and moved to its current site a few years later, located in the heart of Greenwich, just across the road from the main maritime museums and sites.
Situated in what can only be described as an undercover square and surrounded by more permanent shops and food outlets, this is an easy to navigate and enjoyable market experience – it specialises in arts, crafts, antiques and collectables as well as an eclectic selection of food stalls.
Greenwich itself is a charming riverside neighbourhood in South East London that has significant maritime history (go see the Cutty Sark whilst you are there) – make a day of it and read our things to do in Greenwich blog >
---
3. Maltby Street Market
Possibly the almost appetising market on this entire list, Maltby Street Market is one of our favourite foodie experiences in the capital and the one we return to time and time again. Possibly because the South East London setting is so unconventional (an unassuming industrial laneway tucked away amongst the railway arches in Bermondsey), it feels a rather unique (and delicious!) experience – the choice of food stalls here is incredible and international in flavour; from oysters with champagne to bao and raclette, you won't go far wrong with the food here.
We'd also recommend a Maltby Street tasting and tipple session as it rubs shoulders with the Bermondsey Beer Mile – one of the breweries themselves (Hiver) sits right next to the market. You can visit Maltby Street during the week as several of the restaurants and wine bars are open most days, but the main street food market itself is only open Friday to Sundays.
Read our Maltby Street market guide >
---
CHECK OUT: The best Saturday markets in London with map >
---
4. Alexandra Palace market
Known locally as 'Ally Pally', Alexandra Palace in North London has superb skyline views of London, a boating lake, a weekend beer garden as well as being able to explore inside the 'Palace' itself – we go there so often that we wrote a dedicated Alexandra Palace guide.
Alexandra Palace is also home to a weekly farmers market, held every Sunday between 10am and 3pm. It is one of North London's best weekly food and organic produce markets, serving everything from sweet treats to cured meats.
---
5. Southbank Food Market
Open Friday to Sunday and located just behind the iconic Southbank Centre, one of London's leading performing arts centres, Southbank Food Market is home to street food from all over the world, plus traditional British foods like Cornish Pasties and scotch eggs. There are several craft beer stalls as well as a Somerset cider stall that we *think* sells the cheapest pint of cider in London – eat some food, grab a takeaway pint and then go for a stroll along Southbank towards Southwark.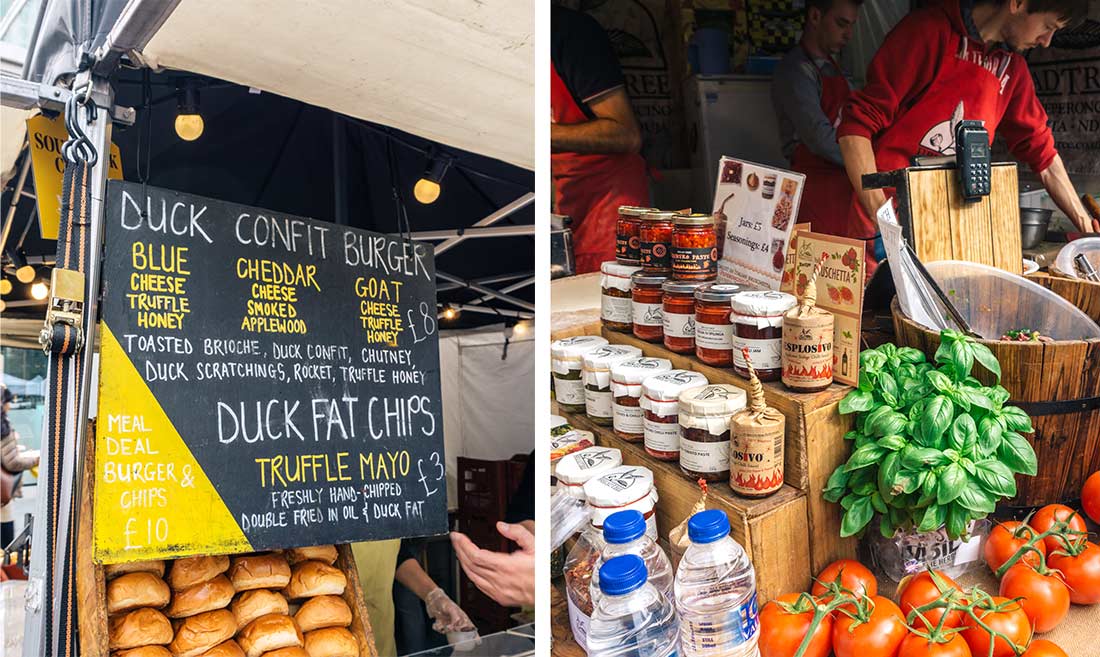 ---
6. Camden Market
Camden has transformed over the years – a gamut of gentrification and expensive canalside apartments is starting to make the area feel a little more mainstream and commercial; fear not though as it is a top spot for Sunday shopping, especially the retro and quirky fashions around the Stables area.
Across the whole canalside site, you'll discover hundreds of stalls and shops selling everything from vintage, goth and punk clothing (Hello, Cyberdog!) through handmade crafts, bric a brac and street food.
Read more about Camden in our things to do in Camden post >
---
YOU MIGHT LIKE: Christmas events in London 2021 guide
---
7. Brick Lane Market / Truman Brewery
Sunday shopping, street-art and sublime bagels – East London's Brick Lane is a glorious mix of grunge and gentrification – you'll still likely be asked if you want to score but save your wallet for the weekend markets or one of the uber famous 24 hour bagel shops.
There are several food markets, some located indoors like at Truman Brewery or others along Brick Lane itself (usually the most interesting food stalls are located near the railway bridge). Truman Brewery also hosts the weekly Sunday Up Market selling vintage and new clothing, arts, crafts and loads of food stalls. Furthermore, there is a Shoreditch / Brick Lane flea market held Sunday in the Sclater Street car-park, selling second hand books, army uniforms (!) and the like.
Brick Lane is also a short walk from the Columbia Road Flower Market mentioned above so look to combine the two. Get more ideas about to do in East London with our things to do in East London blog >
---
YOU MIGHT LIKE: The best Christmas markets in London in 2021 >
---
8. Old Spitalfields Market
One of London's most enduring markets (originally founded over 350 years ago), Old Spitalfields Market near Liverpool Street station is a colourful, covered market (open seven days a week, not just Sunday) chock full of independent arts and crafts stalls, street eats and a few restaurants and bars dotted around the internal perimeter.
For us, as fans of budget bites, Old Spitalfields Market is all about the food fare available – we pass by the permanent restaurants and head straight for the food kiosks (although you may have to queue for a while if you go during peak times, like early afternoon around lunch).
Read more in our Old Spitalfields market blog here >
---
9. Victoria Park Farmers Market
Our local Sunday market, the Victoria Park Farmers Market takes place every Sunday between 10am and 4pm along the Nightwalk section of the park, a pedestrianised area a stone's throw away from the canal, located between Gore Gate and Bonner Gate.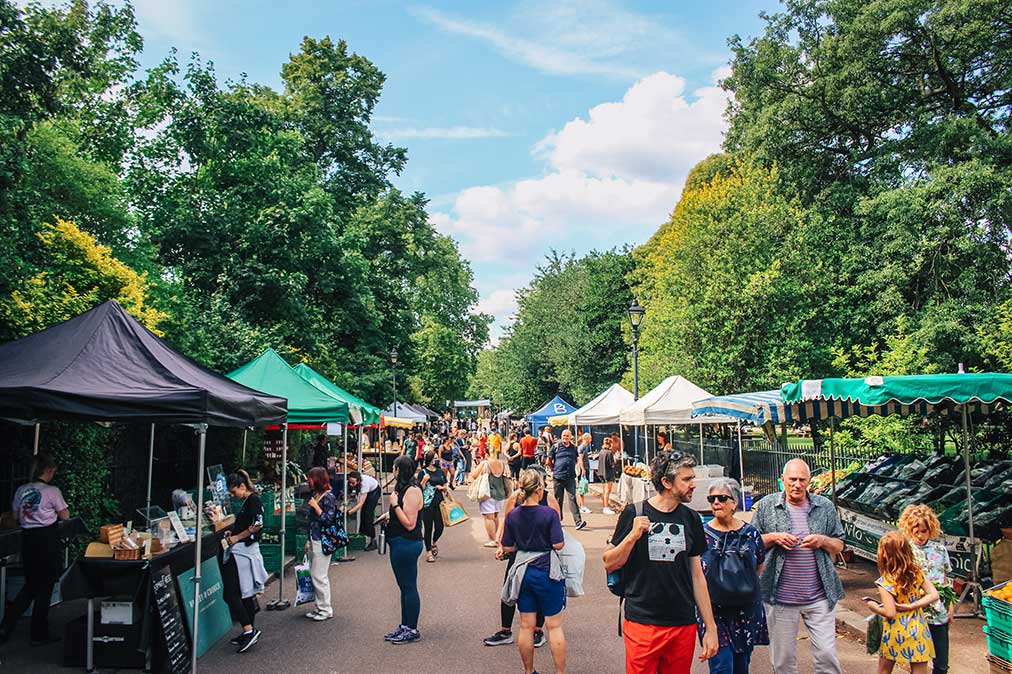 The stalls sell all kinds of organic and gourmet goodness, such as international street food, seasonal fruit and veg and sweet treats – we also recall seeing a doggy bakery here once (i.e. for dogs, not to be confused with 'dodgy'…)
Spend an afternoon here and head into one of London's most enchanting enclaves afterwards, Victoria Park Village, home to bakeries, delis and all manner of sublime shops.
Read our guide to Victoria Park and Victoria Park Village >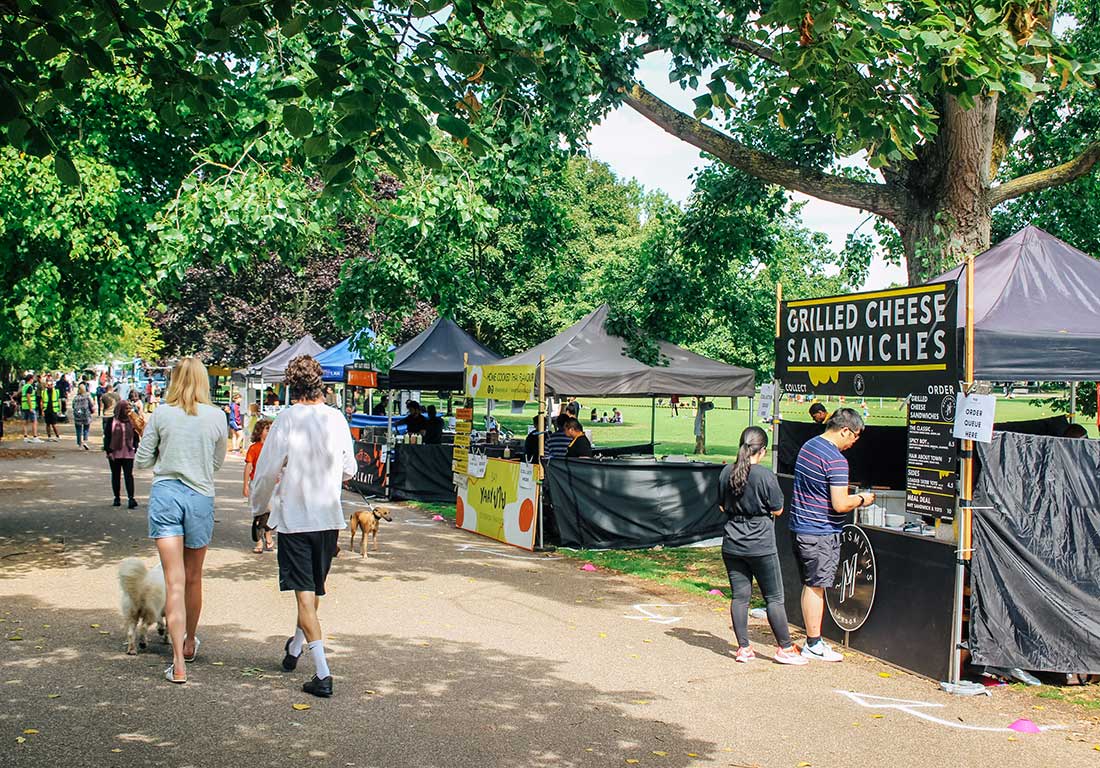 ---
10. Chatsworth Road Market
Held every Sunday and located near to Hackney Marshes and Homerton, Chatsworth Road Market is an authentic East End street market, running up and down the length of the road. Whilst it has decreased in size over the years, this also means you know that all the stalls that are there serve amazing food and have a loyal and dedicated customer base.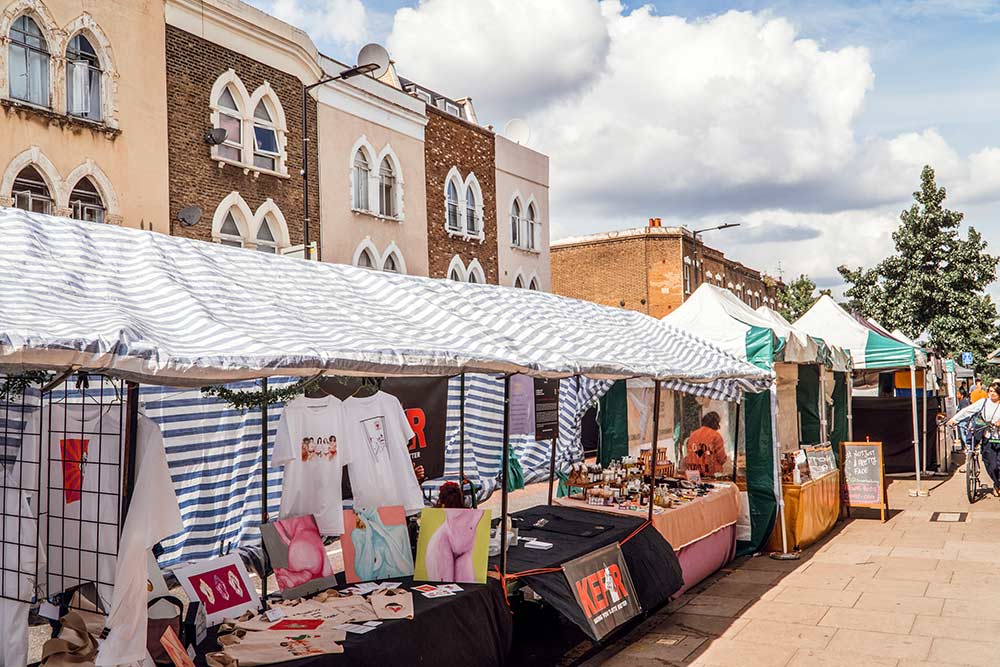 It is also quite near Victoria Park Sunday Farmers Market (a 30 minute stroll between the two) so this could be a combined Sunday afternoon activity.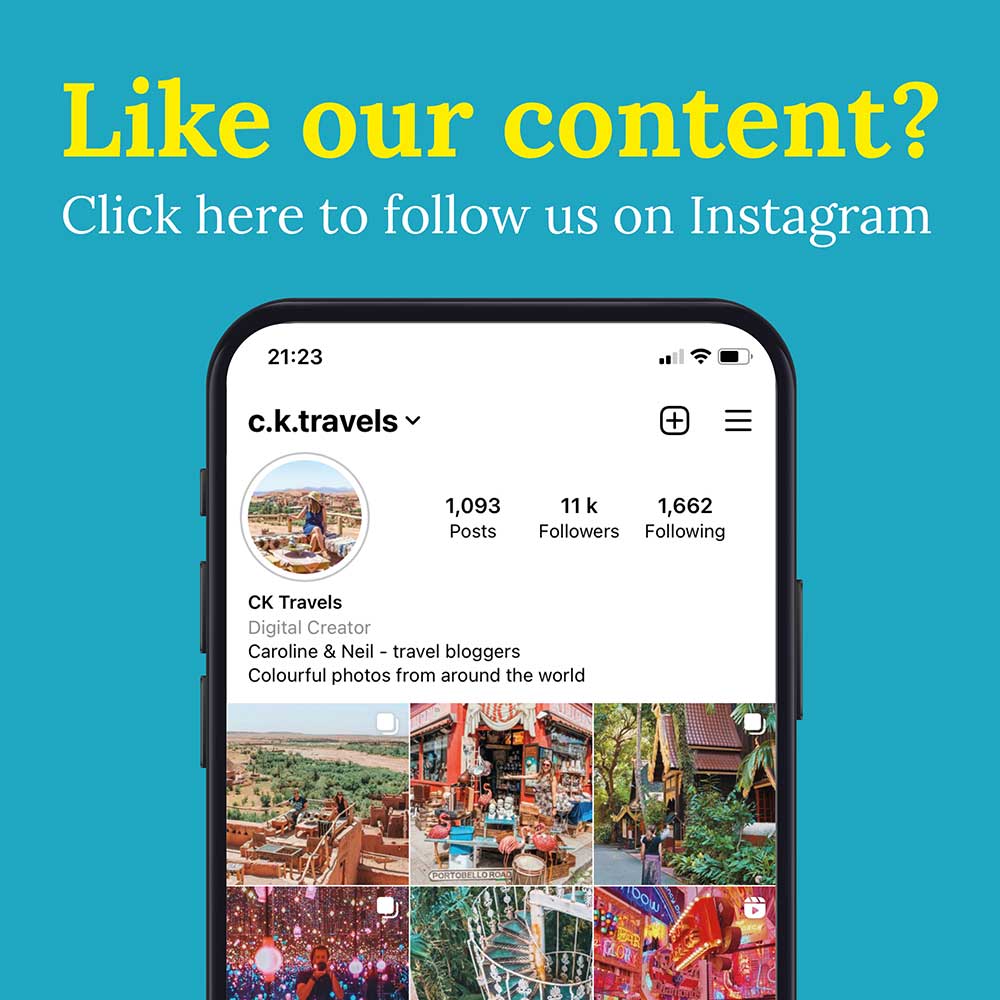 ---
11. Canopy Market, King's Cross
As suggested by the name, Canopy Market is located under a large roof so is all weather, should you be looking to satisfy your foodie fix on a rainy day. This isn't just food-truck focused though, with half the space given over to various arts and crafts stalls (the combined aromas from the candle, food and mulled wine stalls are distinctly divine).
Located next to Central St. Martin's college campus, this market is open several days a week including Saturdays. Famed for its independent stalls the likes of which you won't see anywhere in London, Canopy Market is more about quality than quantity. It is quite small compared to the likes of nearby Camden but as part of a day out exploring the King's Cross neighbourhood, this is a superb way to spend a Sunday.
Read more about King's Cross in our area guide >
---
12. The Eccleston Yards Sunday Market, Belgravia
This former warehouse and industrial setting in Belgravia very near to Victoria Station has recently been transformed into a cultural hub, full of bars, cafes, independent shops and a gym / yoga studios.
Every Sunday between 11am and 5pm, around 10 to 15 artisan craft stalls pop up in the central courtyard (think candles, jewellery, hand bags) plus there is a live music stage with alfresco, acoustic vibes. Accompanied with all the outdoor street art and hustle and bustle from the outdoor restaurant terraces, this is a nice way to spend a Sunday afternoon.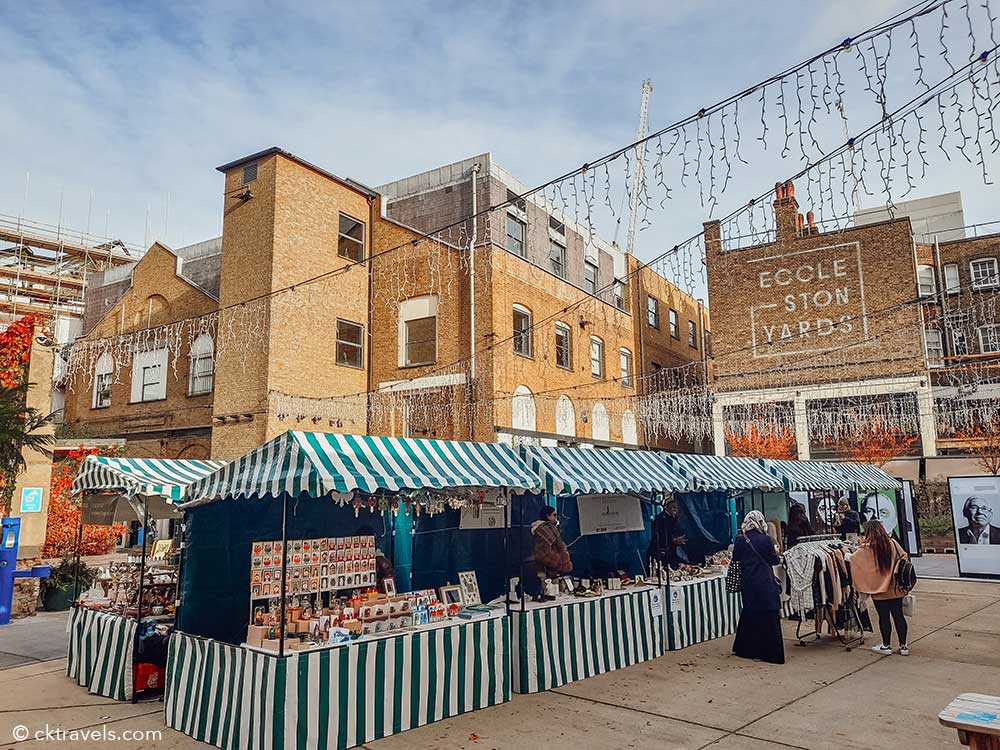 A destination for dining and drinking, Ecclestone Yards is an eclectic enclave of creative studios and small businesses. Check out all the things to do in and around Victoria station here >
---
13. Horniman Museum and Gardens Farmers Market
So this is the only Sunday market on this entire list we haven't been to ourselves (hence no picture of the Horniman Farmers market below) – however, we've included in this list of London Sunday Markets as the setting is incredible, and we really like the gardens and park at the Horniman Museum. The park itself is around 120 years old and it offers not only incredible views of downtown London (it is set on a hill) it also has a free farm, a picture perfect bandstand, not forgetting the Horniman Museum itself, with its 350,000 objects and free admission
Read more about London's best panoramic views >
---
14. Herne Hill Market
Located a stones throw from Herne Hill train station, this south London market has a local village atmosphere with over 50 traders selling locally-produced foods, arts and crafts, vintage clothing and records.
The market is open every Sunday from 10am-4pm, and the nearest tube station is Brixton – a 20-minute walk away. It is also located right next to Brockwell Park so you can take all your yummy street food and eat it there!
---
15. Petticoat Lane Market
Petticoat Lane is a traditional clothing and fashion market located very close to London Liverpool Street. Whilst the Petticoat Lane Market is open six days a week on Wentworth Street, the bigger (and better) market is open along Middlesex Street on Sundays only.
Whilst not really a tourist market, the clothing here is really cheap with everything from t-shirts from £1 or brand-new pairs of shoes from £2. If you browse hard enough, you'll also find some high fashion branded bargains plus there are fabric stalls and the occasional souvenir stall.
One of London's oldest and most historic markets, Petticoat Lane market is one of Britain's oldest surviving markets (although there are less stalls now than in its heyday). The last time we visited (Autumn 2021), there were approximately 50 to 60 clothing stalls to explore (so not as big as you may expect but still worth a visit).
---
Other London blog posts
---
Did you enjoy our Sunday markets in London blog post? Let us know in the comments or by sharing it on social media. Follow us on Instagram and YouTube!
---
Sunday markets in London – add to Pinterest!