This post may contain affiliate links to tours and hotels. These help us earn a small commission at no additional charge to you.
At the heart of the hustle and bustle in central London, the bright lights and city sights of Piccadilly are always worth a visit.
Located close to Leicester Square, Covent Garden and Soho, Piccadilly is a prime purveyor of luxury shopping, fine food and historic streets and buildings.
There are many fantastic things to do in Piccadilly from visiting Europe's largest bookshop to retail therapy in one of several 'Royal' shopping arcades plus cinemas, theatres and pubs galore – and it isn't just about Piccadilly Circus!
From cheese shops to the Crystal Maze or art galleries to Green Park, here is our guide to the best things to do near Piccadilly Circus, London.
---
You might like – best free things to do in London >
---
Things to do near Piccadilly Circus Station, London
Getting to Piccadilly Circus
Piccadilly Circus station is the best London Underground Tube station to exit from (Leicester Square, Green Park and Oxford Circus stations are also quite close).
Piccadilly Circus is also around a 10 minute walk from Charing Cross train station.
Recommended Hotels Near Piccadilly Circus Station in London
These London hotels are very close to Piccadilly Circus station:
The Piccadilly London West End
A superb 5* Shaftesbury Avenue Hotel in the heart of the West End. Check rates and availability for The Piccadilly London West End
W London
Less than 5 minutes walk from Piccadilly Circus, W Hotel is luxury 5* hotel just a stone's throw from Leicester Square and Chinatown. Check rates and availability for W London
Ham Yard Hotel
Offering a restaurant, bar and fitness centre, Ham Yard Hotel is one of central London's newest hotels, just 3 minutes' walk from Piccadilly Circus. Check rates and availability for Ham Yard Hotel
The Stafford
Just off Piccadilly and next to Green Park, The 5* Stafford London has bags of character and is a charming place to stay – the main house even comprises three 17th-century town houses. Check rates and availability for The Stafford
Brown's Hotel, A Rocco Forte Hotel
Between Piccadilly and Regent Street, this elegant 5-star hotel has a sumptuous spa and award-winning fine dining. In exclusive Mayfair, guests are just metres from galleries and designer shops. Check rates and availability for Brown's Hotel
Things to do near Piccadilly Circus Station, London
1. Piccadilly Circus billboards
Often when we walk through Piccadilly Circus, we think about the classic quote from Wayne's World 2 – "Here we are, at Piccadilly Circus. Wow, what a sh*tty circus. There's no animals or clowns".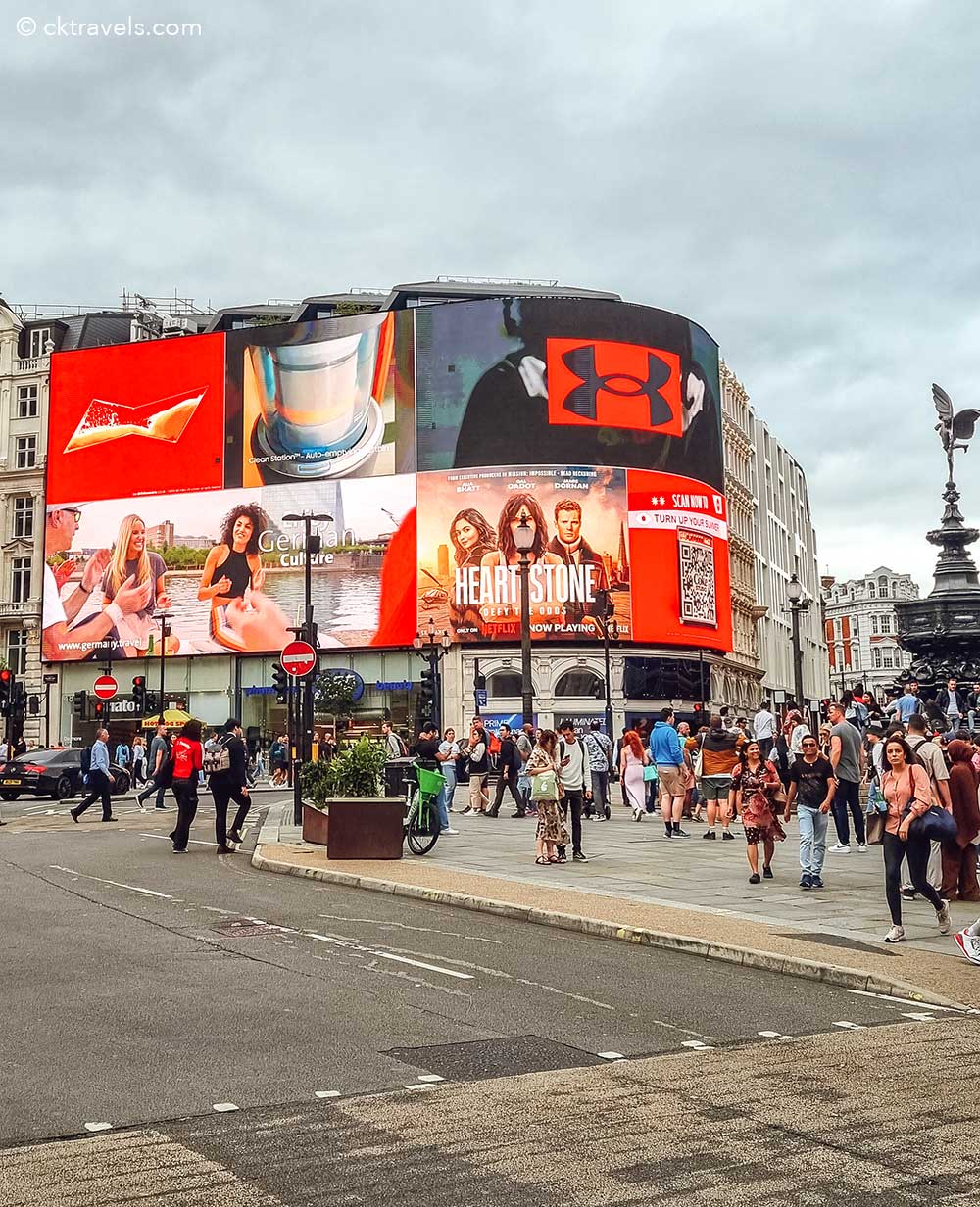 Whilst there may indeed be no zoo animals at this circus, Piccadilly Circus is best known for its huge billboards and advertising panels that light up the night sky.
In their heyday, these big signs were all neon but these days, they are all LED TV screens which have a constant rotation of ads.
Occasionally, there will also be interactive campaigns run by advertisers or local London organisations where you see people's messages appear on screen.
You might like – London sightseeing tours by night >
---
You might like – Things to do in Greenwich, London >
---
2. Fortnum & Mason
Home to several storeys of sublime shopping and fine foods, Fortnum & Mason is the official grocer to the Royal Palace and has its original, flagship store in Piccadilly.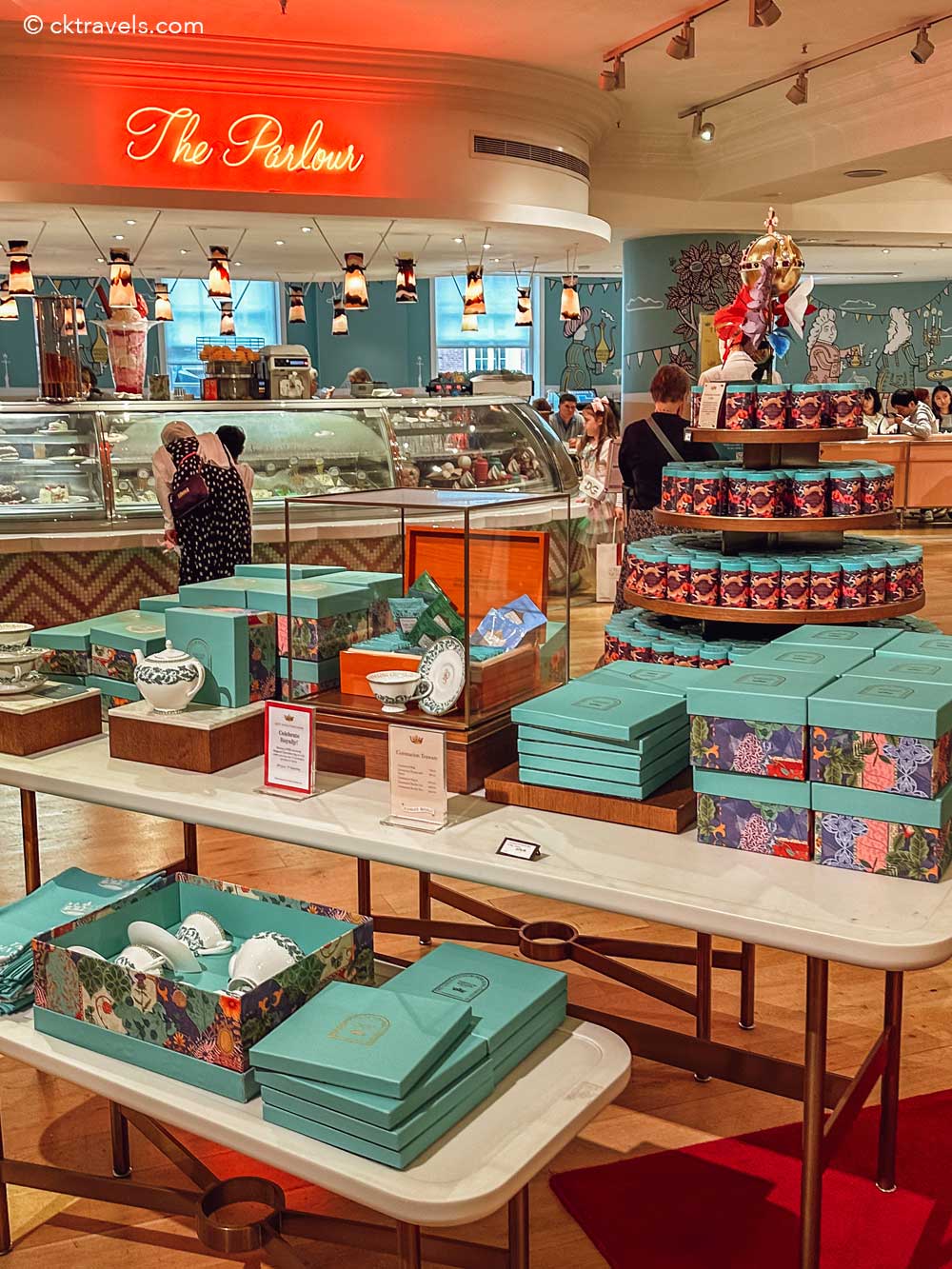 Founded in 1707, Fortnum & Mason is a food-lovers dream with everything inside from a cheese counter, fine wines and even its own gin distillery on the top floor (go and try and a free sample).
Take the wood panelled elevator to the fourth floor to enjoy fine afternoon teas in its Platinum Jubilee salon where specialist 'tearistas' will explain to you the art of tea-tasting with access to 100s of teas from all over the world.
Fortnum & Mason is also one of the best places in London to buy a hamper chock full of amazing goodies (which you could always enjoy in nearby Green Park).
---
3. Burlington Arcade
A boutique shopping lane which runs between Piccadilly and Bond Street, Burlington Arcade was established in 1819 and is home to luxury fashion stores, fine jewellers plus top tea-rooms and champagne bars.
Burlington Arcade is perhaps best known for Laduree, one of the most instagrammable places in London with its glorious golden interiors. Laduree is a bling bakery and decadent delicatessen that specialises in colourful macaroons.
A little bit like the Royal Guards, the Burlington Arcade is also famous for its well dressed guards, The Beadles (not to be confused with The Beatles!).
The Beadles guard and monitor the arcade (sometimes described as "…the oldest and smallest police force in Britain…)" and private tours with The Beadles can also be arranged.
Stores and brands at Burlington Arcade include Manolo Blahnik, Bollinger Burlington champagne bar, The Royal Mint and Lalique Art Gallery.
---
You might like – Guide to the Square Mile, London's most historic district >
---
4. Theatre shows and Shaftesbury Avenue
You are spoiled for choice with many theatres in close proximity to Piccadilly.
As well as several historic theatres in close proximity along Shaftesbury Avenue, there are other theatres dotted along the neighbourhood including the Piccadilly Theatre (the home of 'Moulin Rouge'), His Majesty's Theatre and the Criterion Theatre.
One of the longest running shows in Piccadilly is The Book of Mormon which is currently at the Prince of Wales Theatre.
Purchase your Book of Mormon London theatre tickets here >
Book your West End London Theatre tickets here >
Sign up for our London Travel Tips email newsletter!
---
5. Green Park
By Royal Appointment, Green Park is one of the 8 Royal Parks, and just a few short steps away from Piccadilly and Buckingham Palace.
It is one of the best parks in central London (plus the smallest Royal Park), with a host of activities and walking tracks to enjoy, including deck-chairs in the summer plus year round cafes.
Whilst it literally is a gorgeous Green Park with views fit for a King (you can see Buckingham Palace), it isn't the most floral of London parks.
This is because Queen Catherine, wife of King Charles II, ordered that every flower in the park be pulled up after the King once gave flowers to another woman – and this has remained ever since.
---
You might like – London Royal Parks Bike Tour >
---
6. Japan Centre
A little piece of Japan near Piccadilly, Japan Centre on the edge of Leicester Square is a basement food hall and retailer of Japanese goods like books and cute character toys to bring out your inner 'otaku'.
As well as a comic book and gift section, Japan Centre Leicester Square London has a small but perfectly formed Japanese food court here selling fresh sushi and oodles of noodle dishes.
Check out our guide to the best Japanese shops in London over at our sister site Plan My Japan >
---
7. The Royal Academy of Arts
In the heart of Piccadilly, the Royal Academy of Arts is one of the finest galleries in London with free to visit permanent collections and temporary blockbuster exhibitions (with entry fee).
The Royal Academy was founded in the 1760s by a collective of artists, academics and architects, with a huge statue of the first president Sir Joshua Reynolds on display in the courtyard.
Even if you don't have time to go in, it is worth popping your head into the square outside the RA / Burlington House as they sometimes have pop-up sculptures and commissions outside.
---
You might like – the best London stadium and sporting museums >
---
8. Princes Arcade
A boutique shopping arcade fit for Royalty, the Princes Arcade runs between Piccadilly and Jermyn Street. Opened in the early 1930s and owned by the Crown Estate, the Princes Arcade is home to fine fashion stores.
Shops in the Princes Arcade include Prestat Chocolates (top truffles), Christys', and Grenson.
---
You might like – things to do in Richmond, London >
---
9. Waterstones Piccadilly
The biggest bookshop not only in London but also in Europe, Waterstones Piccadilly is said to have over 8 miles of bookshelves over its six floors.
We'd also rate it as the best place in central London to buy travel guides as the whole basement section has thousands of travel books plus a travel themed cafe.
As you walk up the wooden staircase between floors, you'll also see dozens of pictures of all the famous book signings that have taken place at Waterstones Piccadilly over the years, including leaders of state.
Incidentally, if you love London book-shops, take the short stroll to either Charing Cross Road (the famous thoroughfare of London bookshops) or nearby Cecil Court.
---
You might like – things to do in Battersea, London >
---
10. Redemption Roasters Piccadilly
A popular Piccadilly coffee shop with branches across London, Redemption Roasters has a Piccadilly branch in the foyer of St James's church.
Dare we say the coffee here is a 'religious' experience, plus you can enjoy you drink on the upstairs mezzanine level or on the tables outside in the church yard.
Redemption Roasters is billed as the UK's first 'prison based coffee' with a roastery and training academy manned by prisoners – they set up a roastery in a prison to train residents and reduce reoffending rates.
---
You might like – Things to do in Stratford, London >
---
11. St James's Piccadilly
Built and designed by Sir Christopher Wren (who also built St Paul's Cathedral in London's Square Mile), St James's Piccadilly was consecrated in 1864 and is a peaceful place to escape the hustle and bustle of nearby Piccadilly and Mayfair.
Also known as St James's Church, Westminster, and St James-in-the-Fields, the church is open to all to visit and admission is free (although donations are much appreciated).
As well as regular services in the church, the courtyard at St James's Piccadilly is also put to good use with a street food market held here every Monday to Thursday 11am to 3pm.
There are also regular alfresco events like gin and jazz evenings in the summer months.
London Travel Planning Facebook Group by CK Travels
Need help with your London travel itinerary or have any questions about your upcoming trip? Join our brand new online community! Click here to join our London Travel Planning and Tips Facebook group
12. Bond Street
Running in parallel to Piccadilly, London's Bond Street is perhaps best known as THE best place in central London for luxury shopping. Bond Street is famous for designer goods, exclusive boutique stores, high end jewellers and art galleries.
It also has incredible examples of Georgian architecture and along with neighbouring Mayfair, has some of the most expensive property / real estate in central London.
All the major international luxury brands can be found here from Prada to Gucci, Tiffanys & Co to Alexander McQueen, Rolex and more.
Based on what we observed, Bond Street must have the highest concentration of security guards per square foot than anywhere is London!
Cartier is known for its annual annual London Christmas lights and decorations – given there is a red London phone-box right outside too, this makes it one of the most Instagrammable locations in London.
---
Love luxury shopping? Also try The Village at Westfield London in Shepherd's Bush, West London – just a 30 minute journey from Piccadilly Circus.
---
13. Maison Assouline
One of the most beautiful bookstores in London, Piccadilly's Maison Assouline is a creative hub and concept store that shows off their couture coffee table books in an opulent setting.
Celebrating the store's tenth anniversary in 2024, Maison Assouline set up shop in an old bank that dated back to the 1920s.
Inside Maison Assouline Piccadilly, you'll also find Swans Bar which combines cocktails and champagne with culinary creations from all over the world, inspired by the Maison Assouline travel guides.
'Town & Country' have also named Maison Assouline as one of the world's most beautiful bookstores – how 'novel'.
---
You might like – Small-Group Tour: Historical Pub Walking Tour of London >
---
14. Shaftesbury Memorial Fountain ('Eros')
Central London's most popular meeting point, the Shaftesbury Memorial Fountain stands at the middle point of Piccadilly Circus and is one of the best places to watch the bright lights of the nearby billboards (although it often gets congested with both traffic and tourists!).
The focal point is the famous aluminium statue of Anteros, brother of Eros the God of Love. Although most people think it is Eros and refer to it as such – the statue is dedicated to philanthropist Lord Shaftesbury.
It was first erected elsewhere in the 1890s and moved to its current Piccadilly Circus location after the Second World War.
Street performers often put on shows here but given all the crowds, this is a Marmite thing to do in Piccadilly London – you'll either love it or hate it. As ever with big crowds, keep an eye on your belongings here especially your phone.
---
You might like – things to do in Notting Hill, London >
---
15. Chinatown (one of the best free things to do near Piccadilly)
As you head away from Piccadilly towards Leicester Square, you'll occasionally catch a glimpse of Chinese lanterns or the huge, iconic Chinatown gate (next to W Hotel), denoting the start of Chinatown London.
Surprisingly, this area of London didn't have a Chinatown until the 1970s so it isn't historic. What it lacks in legacy is made up by the sheer number of restaurants and Chinese supermarkets.
Chinese New Year in London is a particularly wonderful time to visit. Apart from the Chinatown Gate, our favourite bit of Chinatown to visit is the alleyway known as Newport Court – there are several authentic bakeries around here and as the area is so enclosed, it often smells delicious.
---
You might like – things to do in Camden, London >
---
16. Regent Street
Similar to Oxford Street, Regent Street is packed full of shops galore, but is a little more sedate (and possibly more upmarket).
Flagship stores in Regent Street include an incredible Apple store, Hamleys toy shop (more on this later) and fashion brands like REISS, Arket, Burberry, Tommy Hilfiger, Hollister and Kate Spade.
Regent Street was originally designed by renowned architect John Nash, one of the best known British architects who also designed Buckingham Palace.
In the summer months, Regent Street is regularly closed to traffic on selected Sundays so you can enjoy shopping without the congestion.
You might like – London Christmas shopping guide >
---
You might like – Best of Royal London including Tower of London, Changing of the Guard and Cruise >
---
17. Paxton & Whitfield Cheese Shop
One of the more 'cheesy' things to do in Piccadilly – but in a good way!
Paxton & Whitfield Cheese Shop on Jermyn Street has been around for over 200 years and is one of the best looking cheese shops and fromageries in London (so gouda!).
There has been a Paxton & Whitfield Cheese Shop on Jermyn shop since 1835 (the current store opened in 1896 after moving a little up the street) and oozes history as soon as you walk in – plus quite a wonderfully whiffy smell!
Paxton & Whitefield has a Royal warrant so supplies cheeses to the Royal Palace and usually has over 150 cheeses to try and buy (now that would make one EPIC cheese board).
You might like: London Cheese Walking Tour with Tastings or London Cheese Crawl with a glass of fizz
---
You might like – A stroll along the River Thames on South Bank, London's best walk >
---
18. Picturehouse Central Piccadilly
Located on the corner of Shaftesbury Avenue, Picturehouse Central is a modern 7 screen cinema with a restaurant that opened in the former Trocadero Centre near Piccadilly.
The lush foyer has a nice cafe and white tiled walls plus an old school cinema listing board.
Upstairs you'll find a restaurant and bar, plus a members bar with a roof terrace that looks out over Piccadilly.
---
You might like – the best games bars and activity bars in London >
---
19. Piccadilly Circus Pubs
Looking for a good bar or fun night out in central London? Piccadilly is a prime pub place with a good mix of classic British boozers, traditional taverns and modern cocktail bars.
Popular Piccadilly pubs include St James's Tavern, The Queens Head (a veritable Victorian inn), the Red Lion (on Duke of York Street) and the Swan's Bar at Maison Assouline (for cocktails) .
You might like – Historical Pub Walking Tour of London >
---
You might like – the best pubs in Borough Market or the best pubs in Notting Hill
---
20. Leicester Square
The bright lights of Leicester Square London are a constant calling card for the capital and the heart and soul of London's West End.
No trip to Piccadilly is complete with at least a short stroll around Leicester Square (although it can be a little 'grubby' at night).
From the beautiful Leicester Square lawns bedecked with deckchairs in the summer months to the Bavarian Christmas market in Leicester Square that pops up in the winter, there are so many things to do in Leicester Square, London.
Read our guide to the top things to do in Leicester Square, London >
---
You might like – English Afternoon Tea Bus with Panoramic Tour of London >
---
21. Hard Rock Cafe Piccadilly Circus
With over 250 locations worldwide, Hard Rock Cafe is one of the biggest worldwide chain restaurants, with their flagship London restaurant located in Piccadilly.
A popular place for American style diner fare accompanied by rock and roll theming and music memorabilia, Hard Rock Cafe may not be gourmet cuisine but they know how to bang out a brilliant burger or bottomless brunch.
Check out the on-site gift shop but be prepared to queue in the summer months during the busy lunchtime service.
Skip the Queue at Hard Rock Cafe Piccadilly Circus with this dining deal >
---
You might like – the best American bars in London >
---
22. The Crystal Maze LIVE Experience, Piccadilly
The Crystal Maze comes to central London. Crystal Maze is based on an old UK quiz challenge show and is now one of the most fun things to do in Piccadilly, London – we'd also rate is as one of the best immersive experiences in London.
We've 'dared' to play the Crystal Maze several times and it is one of the most fun team activities, with a bar to enjoy at the end.
A classic British game show recreated in Piccadilly complete with huge sets, you and your teammates scamper around four themed zones completing challenges to win crystals which determine how much time you have in the actual Crystal Maze at the end.
The attention to detail and theming is superb – prices for the The Crystal Maze LIVE Experience in London start from £59 per person (playing in teams of 8) as of summer 2023.
---
You might like – the best immersive experiences in London or the best games and activity bars >
---
23. Scenes from the Square (a free activity)
Want to get up close with Paddington Bear or sit next to Mr Bean? Or get into a tight spot with Indiana Jones or shelter under Mary Poppins umbrella?
Befitting for all the film premieres Leicester Square hosts, it recently unveiled its Leicester Square Scenes from the Square statue trail, a series of bronze film character statues representing different decades in the cinema.
From Wonder Woman and Laurel & Hardy to Mr Bean and Bugs Bunny, these film statues in Leicester Square celebrate different decades of cinema.
'Scenes from the Square' in Leicester Square is a one minute walk from Piccadilly Circus and one of the best free things to do in London Piccadilly, launching in 2021 to coincide with Leicester Square's 350th anniversary.
Read our guide to London Leicester Square's 'Scenes from the Square' film statue trail >
---
See many London attractions and landmarks for one price with the Go City London pass >
---
24. The LEGO® Store
Time for fantastic plastic in Piccadilly – 'block' out some time to visit central London's only LEGO store, on the edge of Leicester Square and just a four minute walk from Piccadilly Circus.
Chock full of thousands of Lego sets to suit all ages (and budgets), you can combine your shopping in Central London with a look at all their huge Lego models including a massive brick recreation of a London Underground carriage or the James Bond 007 vintage Aston Martin.
---
You might like – Guide to Spitalfields Market in London >
---
25. Jermyn Street
For us, Jermyn Street is Piccadilly's most pleasant shopping experience and famous for its men's fashion shops, shaving sundries and tailors.
Jermyn street runs in parallel to the main Piccadilly road but is much quieter and packed full of traditional tailoring, gourmet food shops and classic British boozers / pubs hidden away in the side streets.
Jermyn Street was established in the 1660s when Charles II authorised Henry Jermyn to develop residential and commercial space close to St James's Palace.
Jermyn Street famous stores include Harvie & Hudson, Thomas Pink, Hilditch & Key, Davidoff and Charles Tyrwhitt.
---
You might like – London Shopping tours >
---
26. Leicester Square Cinemas
Perhaps best known for its red carpet premieres and glitzy Hollywood parties, London Leicester Square has several cinemas dotted around its edges including Odeon Leicester Square (the largest), a Cineworld Leicester Square and Vue Leicester Square.
As you'd expect from movie theatres that are smack bang in the centre of London, Leicester Square Cinemas aren't the cheapest cinemas in London – expect very little change from £30 if you are also buying popcorn and drinks.
---
27. Comedy Shows and Clubs in Piccadilly
One of London's most famous comedy clubs, The Comedy Store (Leicester Square) is located within a couple of minutes walk of Piccadilly Circus. It was founded in the late seventies, originally making its name as the home of 'alternative comedy'.
The Comedy Store launched the careers of many popular British TV personalities such as Rik Mayall, Jennifer Saunders and Ben Elton, and popular stand up shows are held here seven nights a week. Check out the line-up at thecomedystore.co.uk.
Also just a few doors down from the Comedy Store, The Stand-Up Comedy Club has its flagship venue in Piccadilly, based in the upstairs area of the The Coach House pub.
Check out Fever for a whole range of comedy gigs and shows in and around Leicester Square >
---
28. Blue Plaques in Piccadilly
Whilst in the area, one of the more interesting things to do in Piccadilly is look out for the blue plaques of several prominent figures who lived in or around the area.
The London blue plaques scheme celebrates figures of historical significance and outstanding achievement.
Blue plaques in Piccadilly include Isaac Newton at 87 Jermyn Street (his former residence) and Ada Lovelace (computing pioneer) at 12 St James Square.
---
29. Savile Row
One of Mayfair's most visited streets and just a five minute walk from Piccadilly Circus, Savile Row is renowned for smart shirts and men's suits tailoring (similar to Jermyn Street).
Established in the 1730s, Savile Row is the best place for bespoke suits in London, in terms of over a dozen tailors all along the one street.
Famous tailoring shops on Savile Row include Gieves and Hawkes and Kilgour and Scabal. The oldest tailors is Davis and Son, who started tailoring in 1803.
---
You might like – things to do in Canary Wharf and Docklands >
---
30. Beau Brummell Statue
Considered by many to be the pioneer of British men's fashion, the well dressed dandy that is Beau Brummell was born in the 1770s and was a confidante of Prince Albert.
Beau Brummel used to live in Chesterfield Street (a commemorative blue plaque adorns the home) and a rather fine looking statue of him was unveiled on Jermyn Street with the inscription: "..to be truly elegant, one should not be noticed".
---
You might like – the best London Saturday markets or Sunday markets in London >
---
31. Trocadero Piccadilly (now closed)
Please note that the London Trocadero Centre is now closed – formerly one of Piccadilly's best known things to do, it hosted various amusement parks and arcade bars over the decade evening including the world's only 007 James Bond simulator.
As of summer 2023, it has a few gift shops and notorious candy shops on the inside and most floors are due to open as a big hotel / hostel complex.
---
You might like – best London pubs on the river >
---
Things to do Near to Piccadilly Circus
32 Covent Garden
Covent Garden is one of central London's crown jewels, a magnificent mix of museums, markets and all manner of visitor attractions.
From fine dining to London's top theatres, there are many things to do in Covent Garden and this central district is a wonderful way to start your visit to London's West End.
Did you know the shortest Tube distance is Leicester square to Covent Garden, which takes less than 30 seconds on the train?
Check out our guide to the best things to do in Covent Garden, London >
---
33. Soho
At the very heart of London's West End, Soho has seen it all over the years. From the Algerian Coffee Stores (opened in 1887!) through the Swinging Sixties to today's gamut of gentrification, Soho has changed immensely.
A top theatre and dining destination and a vital part of London's LGBTQ+ scene, there are lots of things to do in Soho and it is a cultural hub that retains a little of its grittiness around the edges (if you look hard enough).
Check out our guide to the best things to do in Soho, London >
---
34. Oxford Circus
Oxford Circus and Oxford Street are known as central London's main shopping district but there are many more things to do around Oxford Circus.
Whilst not everyone is into 'retail therapy', there is something for all tastes (and budgets) near Oxford Circus from free museums and galleries to one of the most beautiful food courts in the whole of the UK (located in an old church).
From street food bites to vintage underground bar delights, here is our guide to to the best things to do in Oxford Circus and Oxford Street >
---
One avoidable thing to do in Piccadilly
A word of caution – a lot of unlicensed tuk-tuk drivers operate around Piccadilly and Leicester Square.
There are numerous tales of tourists jumping on board tuk-tuk to be pedalled a very short distance then be charged a fortune either through an erroneous fare on the card machine at the end, or by menacing behaviour if you don't pay up a hugely inflated fee.
Agree a fee upfront if you must use a tuk-tuk and take photos if you get into any difficulties. Local authorities are hopefully clamping down on the more unscrupulous tuk-tuk drivers – don't get ripped off.
---
Safety / Crime in Piccadilly London
A word of caution – Picadilly is fairly safe to visit, particularly during the daytime but it can be a little sketchy at night, especially after the pubs close so always keep an eye on your belongings and watch out for pickpockets.
The area around Eros Statue where crowds congregate are often targeted by bag snatchers, so do keep an eye out.
---
Other London posts you might like
Did you enjoy our Things to do near Piccadilly Circus station in London blog post? Let us know in the comments or by sharing the blog on social media.
You can follow CK Travels on:
Instagram
Facebook
TikTok
YouTube
Pinterest