This post may contain affiliate links to tours and hotels. These help us earn a small commission at no additional charge to you.
For the most authentic London market experiences, head to one of the many East London markets – they're always full of life, local characters and fresh fruit and veg (not to mention brilliant bargains galore!).
Generally doing away with the tourist trappings in favour of genuine bargains and larger than life colourful characters, visiting an East London market is definitely a London must do.
From foodie fests like Victoria Park or Broadway market through to local favourites like Roman Road Market and Watney Street Market, here is our guide the best East London markets (2023):
Best Markets in East London
1. Old Spitalfields Market
One of London's most well known and historic markets in east London (founded over 350 years ago), Old Spitalfields Market near Liverpool Street station is a covered market chock full of independent arts and crafts stalls, street eats and a few restaurants and bars chucked it for good measure.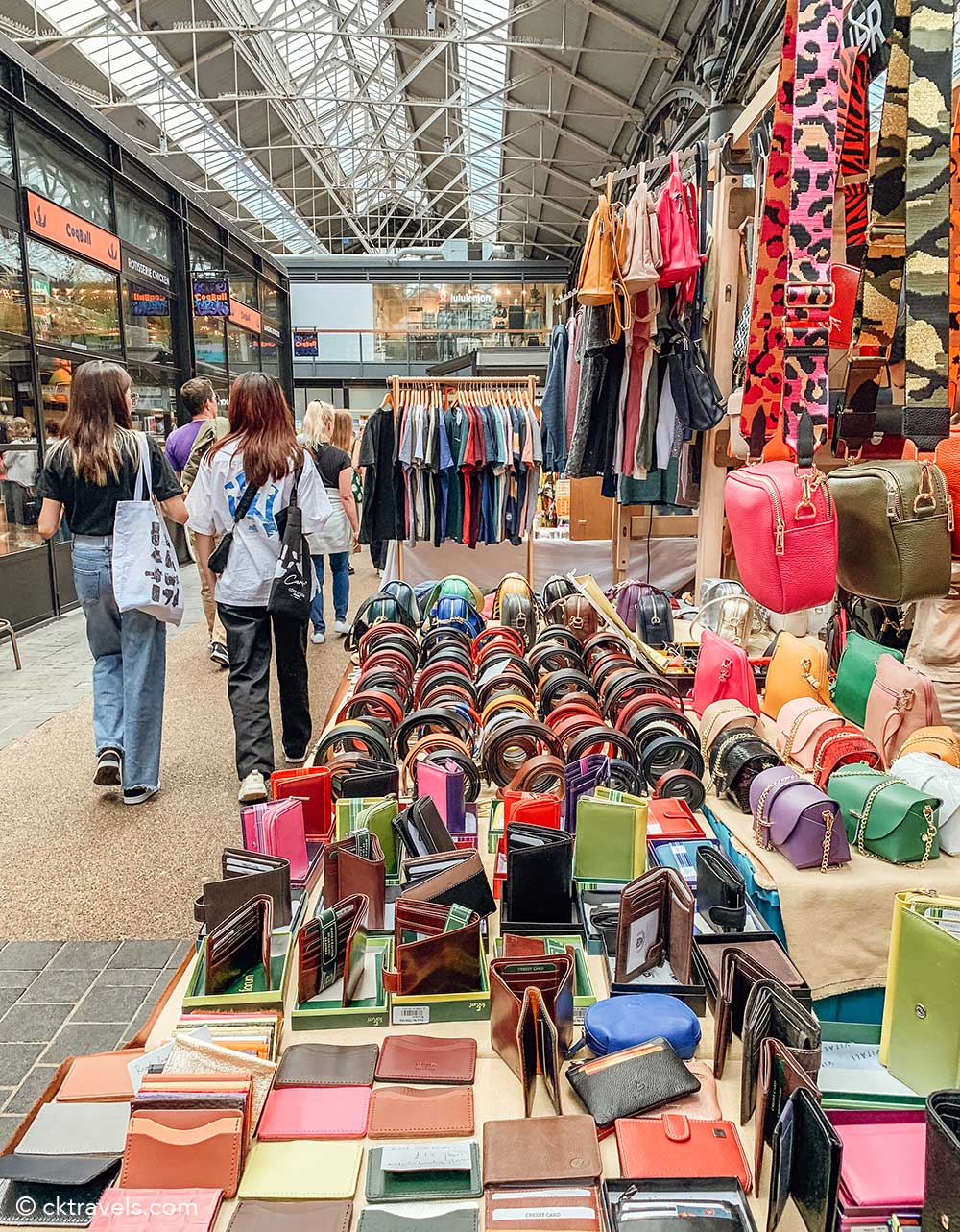 Open seven days a week, Old Spitalfields Market is all about the fine food fare available – we pass by the permanent restaurants and head straight for the food kiosks (although you may have to queue for a while if you go during peak times, like early afternoon around lunch).
Old Spitalfields are also renowned for their special events like beer festivals and their weekly antiques and record markets.
Read more in our Old Spitalfields market blog >
Address: Old Spitalfields Market, 16 Horner Square, London E1 6EW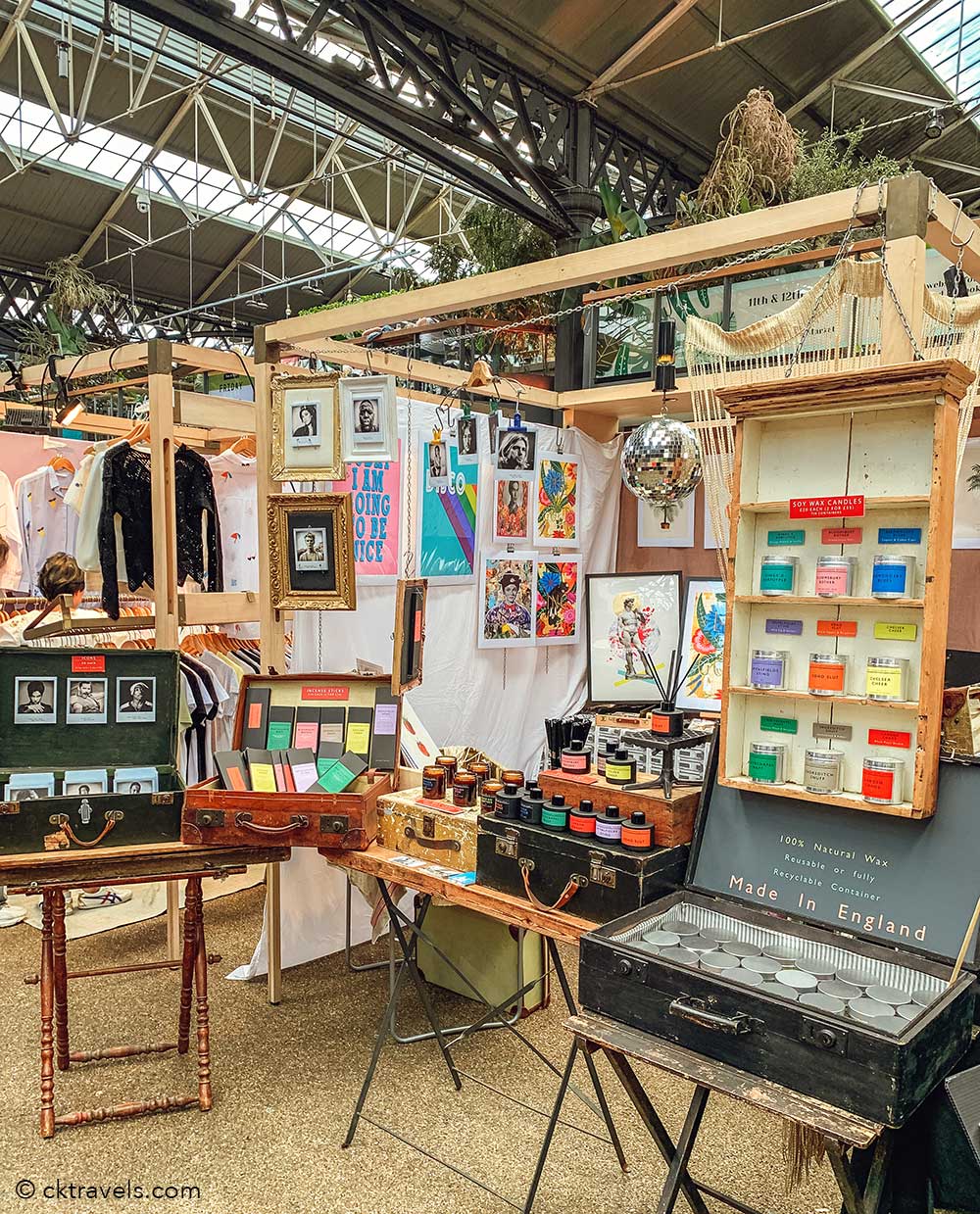 ---
YOU MIGHT LIKE: Guide to the best street food markets in London >
---
2. Brick Lane and Truman Brewery Markets
Shopping, street-art and salt-beef bagels – East London's Brick Lane is a glorious mix of gentrification and grunge. You'll still likely be asked if you want to buy drugs but save your wallet for the weekend markets or one of the two famous 24 hour bagel shops that are located a couple of doors down from each other.
There are several food markets, some located indoors like at Truman Brewery or others along Brick Lane itself (sometimes the better food stalls are located near the railway bridge, near to all the street art).
Truman Brewery also hosts the weekly Sunday Up Market selling vintage and new clothing, arts, crafts and loads of food stalls. Also on a Sunday is the Shoreditch / Brick Lane flea market held Sunday in the Sclater Street car-park, selling second hand books, vintage uniforms and the like.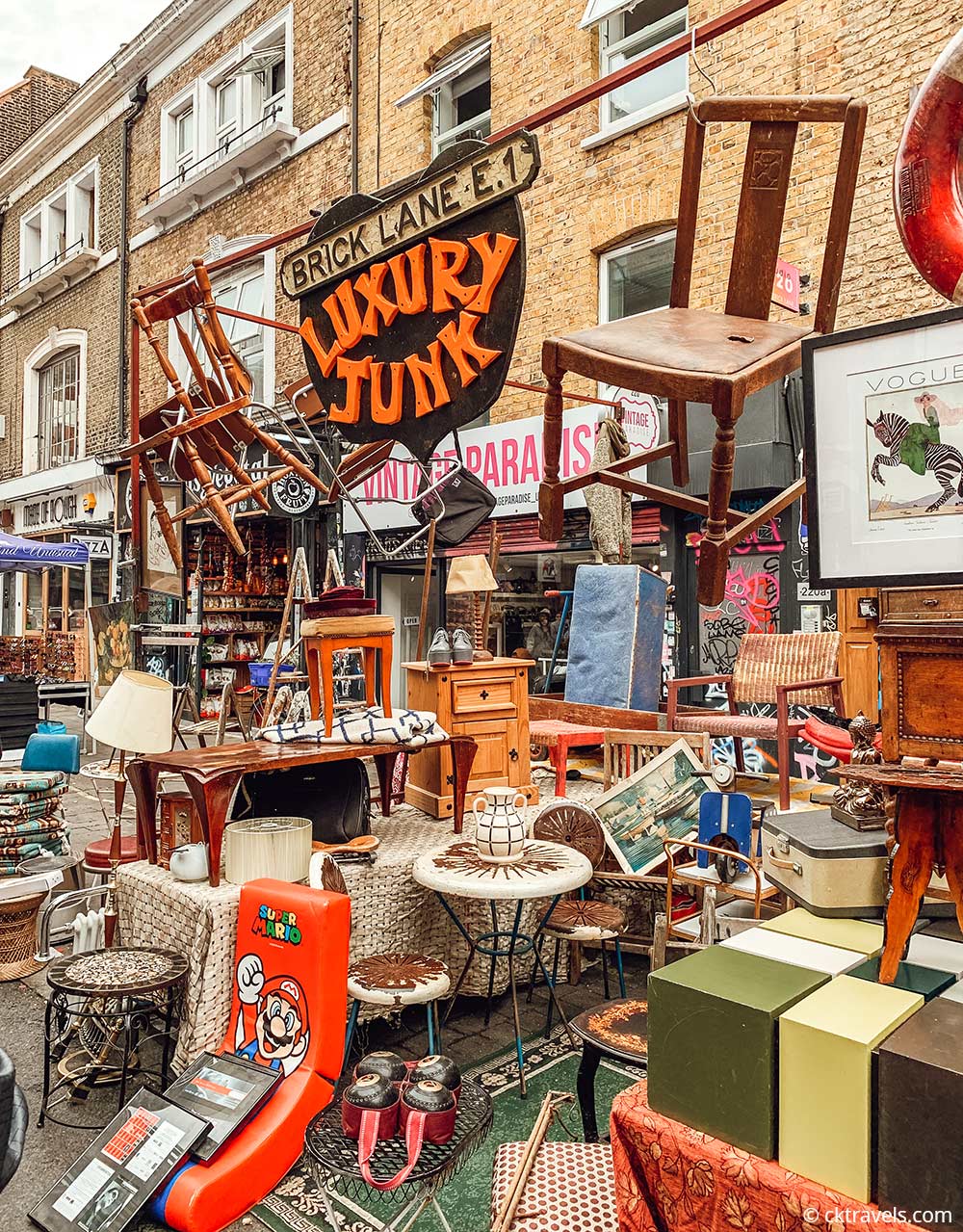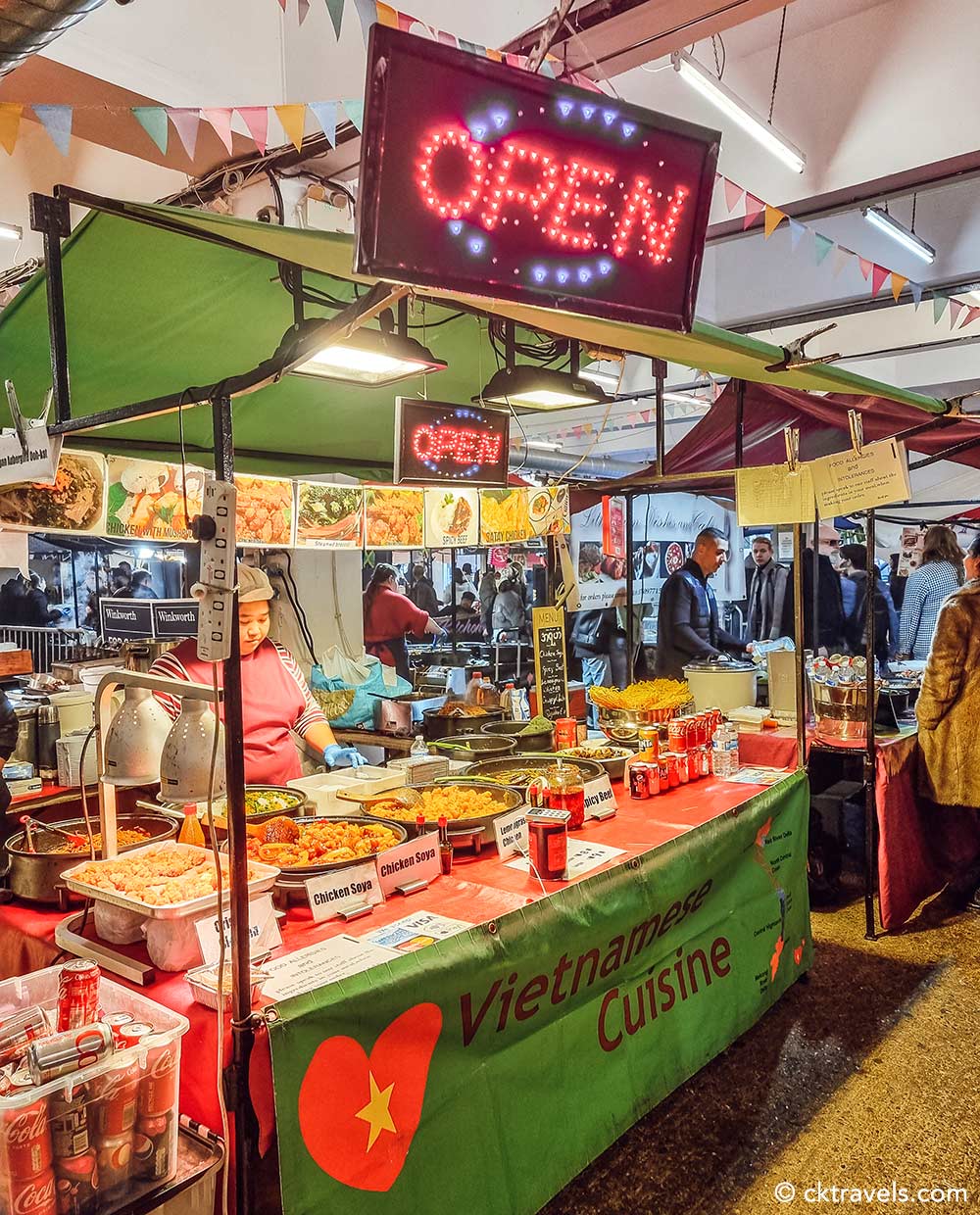 ---
Get more ideas about to do in East London with our things to do in East London blog >
---
3. Columbia Road Flower Market
London's biggest and brightest flower market comes to Columbia Road in East London every Sunday. During the week, it is a cute enclave of cafes, craft shops and delis but come the sabbath, it bursts into colour for the weekly Columbia Road Flower Market.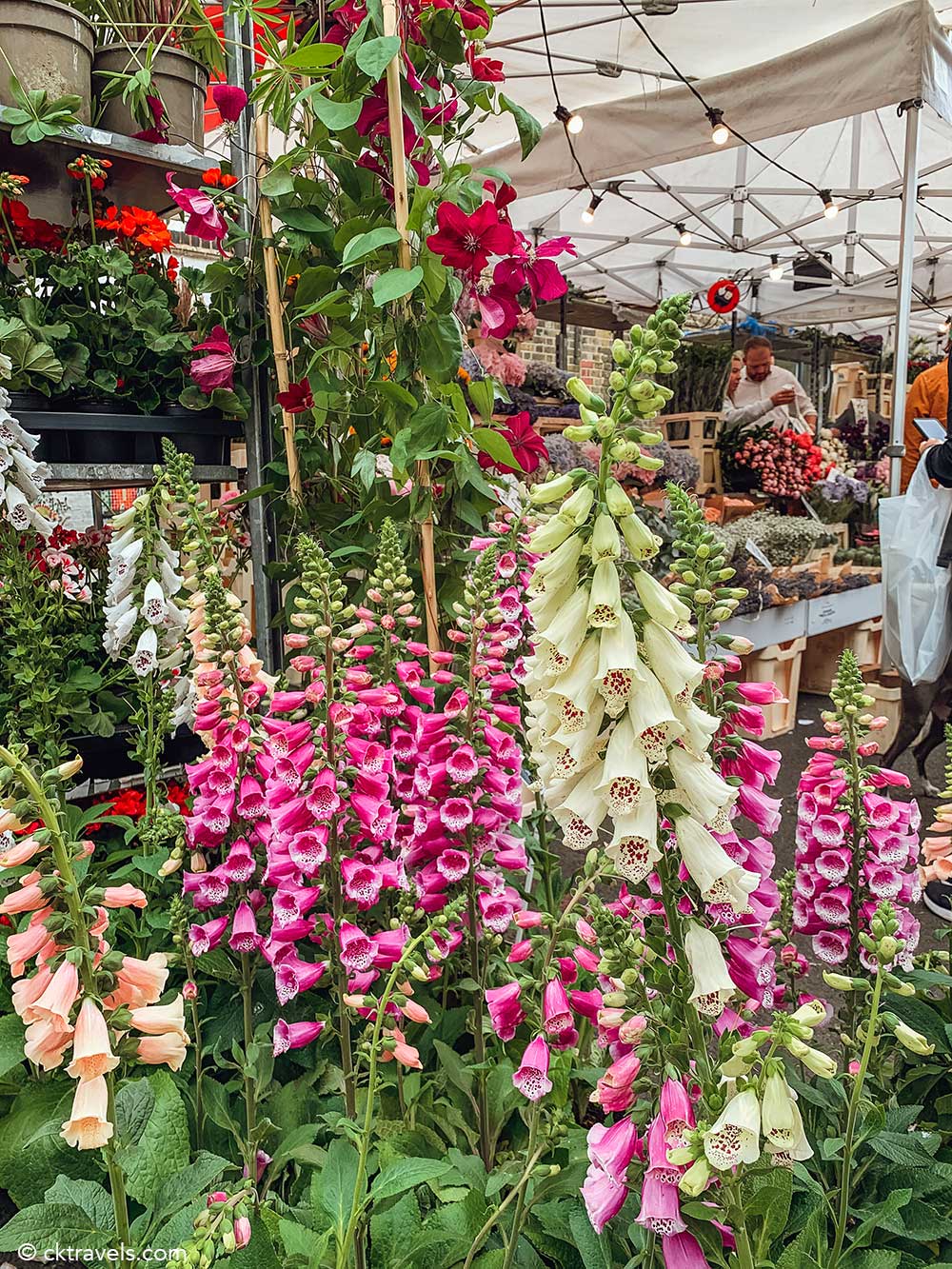 Located near Hackney and Bethnal Green, this is where most Londoners get their plants as it is much cheaper than the usual high street garden centres and nurseries. Plus it is quite the experience with lots of market stall trader banter (who are also always very keen to pass on advice on how to look after your plants).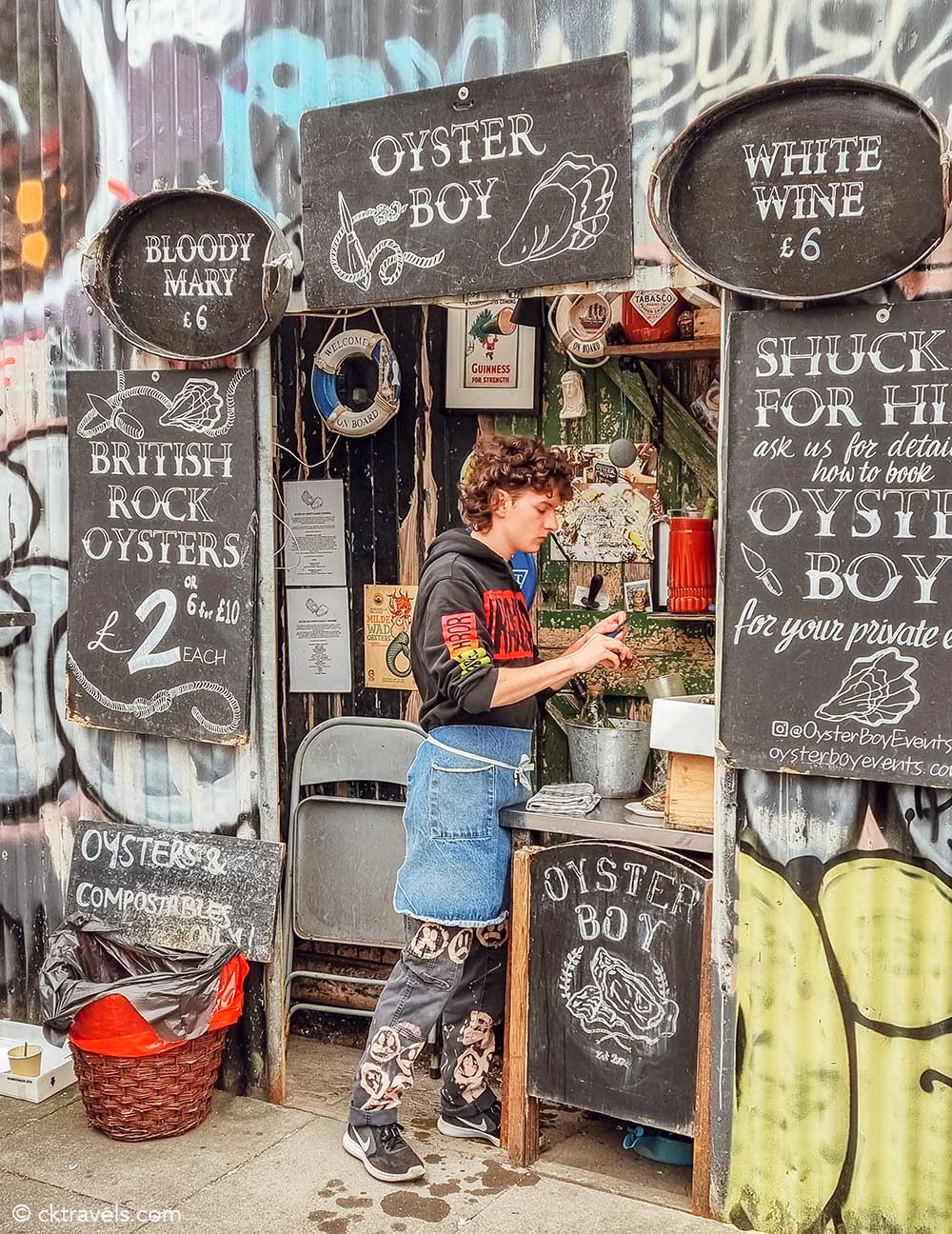 Our best advice (other than to take plenty of your own reusable shopping bags) is try to get there early on Sunday morning; ideally before 8am – it gets very busy from 9am onwards as it is all located down one thing street.
Grab a bagel and coffee when you arrive and then explore the market before it gets packed with plant perusing punters.
Check out our full guide to the Columbia Road Flower Market >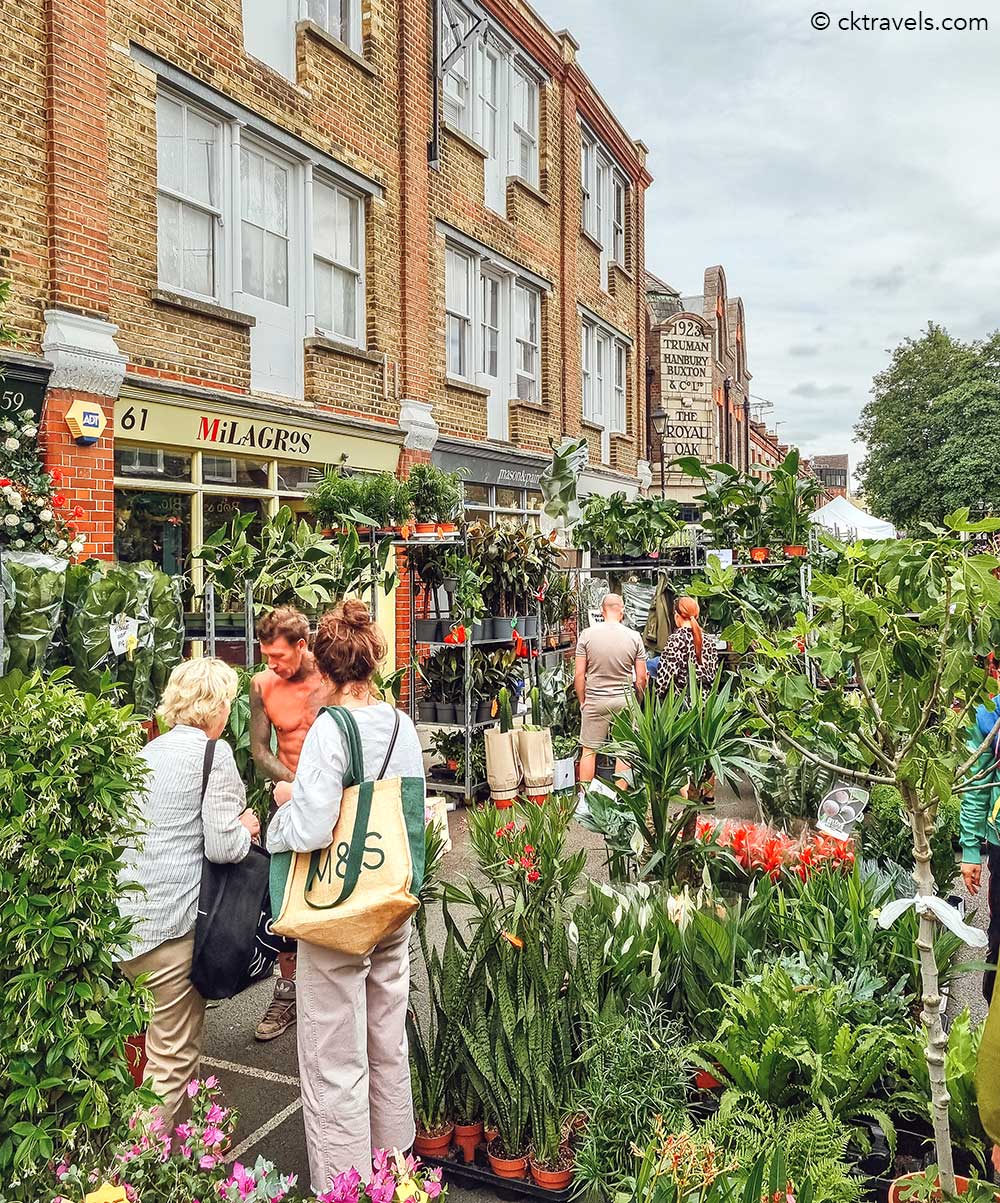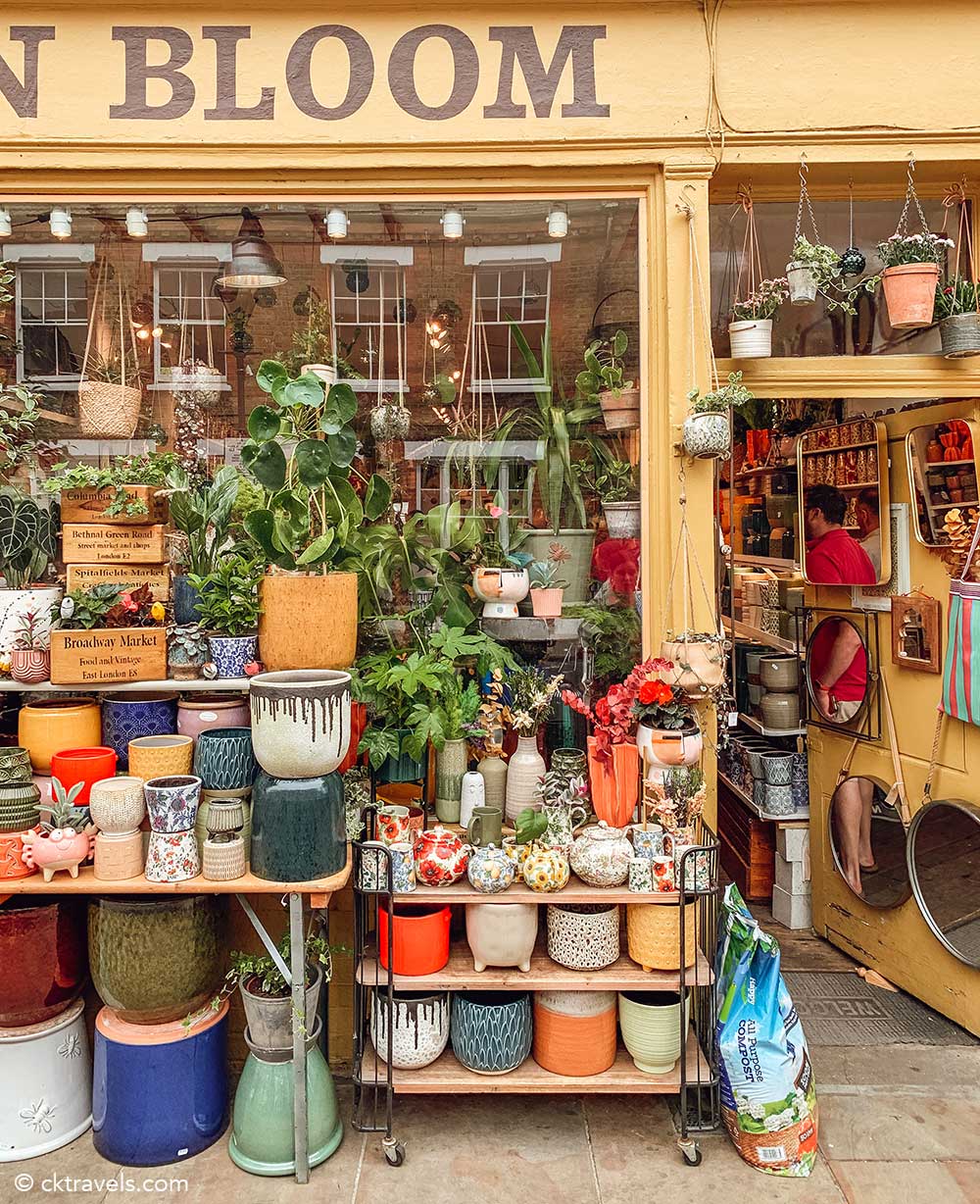 ---
YOU MIGHT LIKE: The best Sunday markets in London >
---
4. Victoria Park Market
Once our very own local east London market, the Victoria Park Farmers Market is a weekly affair that takes place every Sunday between 10am and 4pm along the Nightwalk section of the park, located between Bonner Gate and Gore Gate.
The produce stalls sell all kinds of organic and gourmet goodness, such as international street food, seasonal fruit and veg and sweet treats.
Spend an afternoon here and head into one of East London's most vibrant villages afterwards, Victoria Park Village, home to bakeries, delis and all manner of splendid shops.
Address: Victoria Park Farmers Market, between Bonner Gate and, Gore Road, London E2 9JW
Read our guide to Victoria Park and Victoria Park Village >
---
5. Roman Road Market, Bow
We first discovered Roman Road Market one weekday lunchtime, when we were heading to G Kelly's pie shop to indulge in some traditional pie and mash and liquor (a London culinary rite of passage). Make sure you try a dish, especially as a lot of the historic pie and mash shops seem to be closing down.
A form of market has taken place along Roman Road in East London for over 100 years (and is one of London's oldest and most enduring street markets open to all on Tuesday, Thursdays and Saturdays.
From cloth to carrots, you'll find lots of items on sale along the Roman Road East London market.
Address: Roman Road Market, 536 Roman Road, Bow, London E3 5ES
---
YOU MIGHT LIKE: Top things to do in East London
---
6. Petticoat Lane, Aldgate
Although not as big as you'd expect (it has decreased in size and popularity over the last few years), Petticoat Lane is mainly a clothing and textile market where many a fabric bargain can be bagged (although you may need to do lots of rummaging).
Half of the appeal of Petticoat Lane market is the mixture of the old and new in this area, as the sleek and shiny skyscrapers serve as a modern backdrop to the Victorian elements of the east end.
Petticoat Lane market is open Friday to Sunday every week and is best combined with a walk exploring East London favourites like nearby Brick Lane or Old Spitalfields. It is also a short walking distance from Liverpool Street station and Shoreditch.
Address: Petticoat Lane Market, 119-121 Middlesex Street, London E1 7JF
---
7. Broadway Market, Hackney
A traditional tangle of food and craft stalls (sometimes described as a 'Victorian working street market'), Broadway Market up the stakes on Saturdays with a huge mix of market stalls along the main high street.
During the week, Broadway Market is coffee culture central with lots of nice bars, cafes and deli style sops to choose from.
However, head along on a Saturday and your appetite will be rewarded with an alfresco treasure trove of tasty tidbits. Once you've grabbed your gourmet grub, enjoy it in nearby London Fields park, one of East London's most popular and welcoming green spaces.
Craft beers can also be bought from the The Cat and Mutton pub or from the London Fields Pub in the Park.
---
YOU MIGHT LIKE: Things to do in Hackney Wick >
---
8. Watney Street Market, Commercial Street, Shadwell
Another east end market we discovered quite by chance whilst cycling along the Cycle Superhighway from Canary Wharf to the Tower of London, Watney Street Market is the real deal and is a busy, crowded affair with locals vying to get all their ingredients and food stuffs in quick succession.
As Watney Market is housed between two big housing estates, it can feel quite congested and cramped but this just adds to its character – and some of the food stuff cooking smells are amazing and out of this world.
Locals have been coming back to Watney Street Market in East London for years for their weekly shop so time to come and have a walk around Watney Street for yourself.
Address: Watney Street Market, Watney Street, London E1 2PR
---
9. Netil Market, Hackney
An awesome and artisan array of artist studios and food stalls tucked away in the corner of London Fields, this is a cute courtyard with a handful of carefully curated stalls (plus a few more pop-up ones on Saturdays).
Top draws include Bao Bar (tasty Taiwanese fare) and Oli Baba, supposed creator of London's halloumi fries frenzy. Sounds yum – back of the net(il)!
Address: 13-23 Westgate Street, London E8 3R
---
YOU MIGHT LIKE: The best Saturday markets in London >
---
10. Chrisp Street Market, Poplar
In the shadow of Canary Wharf and purportedly the UK's oldest covered street-market, this is as far away from tourist central as you'll find and is a genuine and authentic East-end market.
Open every day of the week except Sunday, this traditional market sells mainly fruit and veg, clothes and a few trinket stalls plus there are lots of nearby shops with all the usual chain stores you'd expect (the latter also attract swarms of hungry pigeons).
The streets around this East London market also have some burgeoning street art layouts including a giant chihuahua on the side of a nearby tower block. Also keep an eye out for the Grade II listed Chrisp Street Market Clock, which was built in the 1950s as part of the Festival of Britain celebrations.
Address: Market Square, London E14 6AQ
---
11. Walthamstow Market
Europe's longest street market pretty much covering the entire length of Walthamstow High Street and then a little more for good measure, Walthamstow Market is easily accessible and just a short walk from the Walthamstow tube station, situated at the eastern end of the Victoria Line.
This is in fact our local east end market (well, strictly it is north east London but some peeps still classify Walthamstow as east London so we'll run with it) meaning we visit quite regularly.
Of all the markets on this list, Walthamstow Market is definitely the most spread out and will take the longest amount of time to walk around (perhaps combine it with a trip to Walthamstow Village).
All of the market traders are characters and constantly bellow and holler and are well known by the local community. And the stores are quite eclectic with everything from discount confectionery to cheap eat street food stalls.
Walthamstow Market is a wonderful weekend trip – also on Sunday's only, there is a Walthamstow Farmers Market at the upper end of the high street.
Read more about Walthamstow in our things to do in Walthamstow guide >
---
12. Bethnal Green Market
Rolling along Bethnal Green Road, this local market in east London has been around for years and comes straight out of an episode of Eastenders. There are lots of cheap bargains to be had (lots of hardware and clothing stalls) plus several fruit and veg stalls.
The Bethnal Green Market can be a little crowded as it runs alongside the main road and a lot of traffic, so you often have to duck and dive between other pedestrians on the pavements to browse the stalls.
Authentic as and a local institution, the Bethnal Green Market is open 6 days a week (it is closed on Sundays) during normal working hours but many stalls pack up in the early afternoon.
---
YOU MIGHT LIKE: Top things to do in Bethnal Green >
---
13. Wentworth Street Market
Operating next to Petticoat Lane, Wentworth Street Market is the bigger (and better) market of the two, open along Middlesex Street on Sundays only.
Whilst not really a tourist market, the clothing here is really cheap with everything from t-shirts from £1 or brand-new pairs of shoes from £2. If you browse hard enough, you'll also find some high fashion branded bargains plus there are fabric stalls and the occasional souvenir stall.
There are approximately 50 to 60 clothing stalls to explore at Wentworth Road Market in East London – very VERY cheap too as London markets go.
---
14. Chatsworth Road Sunday Market, Lower Clapton
Held every Sunday and located near to Hackney Marshes and Homerton, Chatsworth Road Market is an authentic East End street market, running up and down the length of the road.
Chatsworth Road Sunday Market in London has decreased in size over the years, but the stalls serve amazing food and have a loyal and dedicated customer base.
Chatsworth Road Market is also located quite near Victoria Park Sunday Farmers Market (a 30 minute stroll between the two) so this could be a cruisy, combined Sunday afternoon activity.
Address: Chatsworth Road Market, Chatsworth Road, Lower Clapton, London E5 0LH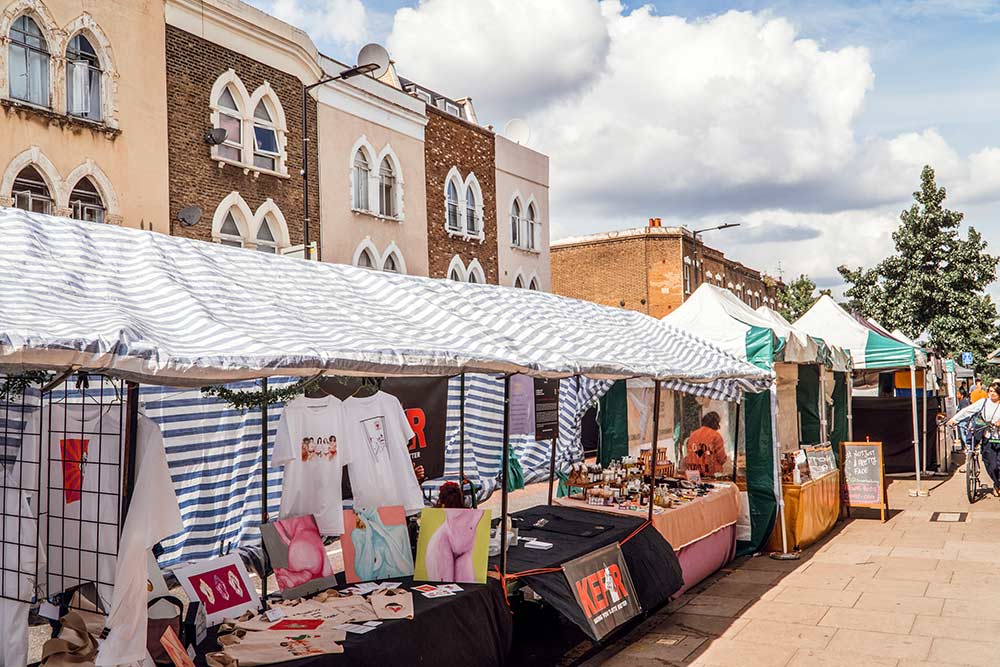 ---
Our Final Market in East London…
15. Whitechapel Road Market
We round out our 'best markets in East London Guide' with the famous Whitechapel Market, which has been operating in East London since 1904 and well loved by locals.
Selling all manner of fresh fruit, fish, meat as well as spices, herbs and linens, Whitechapel Market is also an ideal place to pick up cheap lunches with several stalls selling curries, roti and hot sandwiches for cheap as chips prices.
Open daily from 8am to around 4pm (approx – closed Sundays).
Address: Whitechapel Road Market, Whitechapel Road (Vallance Road to Cambridge Heath Road), London, E1 1DT
---
Other London blog posts you might like
---
Did you enjoy our markets in east London blog post? Let us know in the comments or by sharing it on social media. You can follow CK Travels on Instagram, TikTok, Facebook and YouTube!