This post may contain affiliate links to tours and hotels. These help us earn a small commission at no additional charge to you.
East London's neighbourhoods may sometimes seem a little more edgier and under the radar than other better known areas but scratch beneath the surface and you'll uncover a wealth of creativity, culture and history plus some of the friendliest and most helpful locals in the whole of London.
We cannot rave enough about all the places in East London enough and whilst possibly not high on every traveller's to do list when exploring the capital, most of the East London neighbourhoods are epic and exciting in equal measures.
From the sublime (and sometimes secret) street art of Shoreditch to the historic hidden gems like Abney Park Cemetery or Roman Road market in Bow, here is our guide to the best East London neighbourhoods and things to do in the East End:
Best places in east London / best east London areas
1. Bethnal Green
Our best advice for Bethnal Green is to arrive on an empty stomach and soak up the sights and smells of Bethnal Green Road.
There are numerous pubs and breweries (breweries like Boxcar and Five Points are all located along the railway sidings) along with some incredible ethnic and delicious restaurants and stalls.
Possibly the most famous place to eat in Bethnal Green and synonymous with East End London's checkered history is E Pellici, a family-run cafe that the Kray Twins used to frequent.
Compact and cosy inside and still as it was decades ago (in terms of the decor, not the prices), this is one of London's best and most famous English breakfast places – we cannot rate it enough.
At the eastern end of Bethnal Green road, you'll find the Young V&A (formerly known as the V&A Museum of Childhood) – a fantastic museum and day out in itself for families. Note it is currently closed and due to reopen this summer (2023) after two years' of renovations.
One of Bethnal Green's area highlights is Columbia Road, a charming mix of cafes, bakeries and craft shops during the week, but on Sundays, it blooms (literally) with a massive ensemble of flower stalls, becoming London's largest public flower market.
It is good value too compared to your standard gardening centres. Opening hours are 8am to 3pm every Sunday.
Read our complete guide to Columbia Road flower market here and our ultimate guide to Bethnal Green.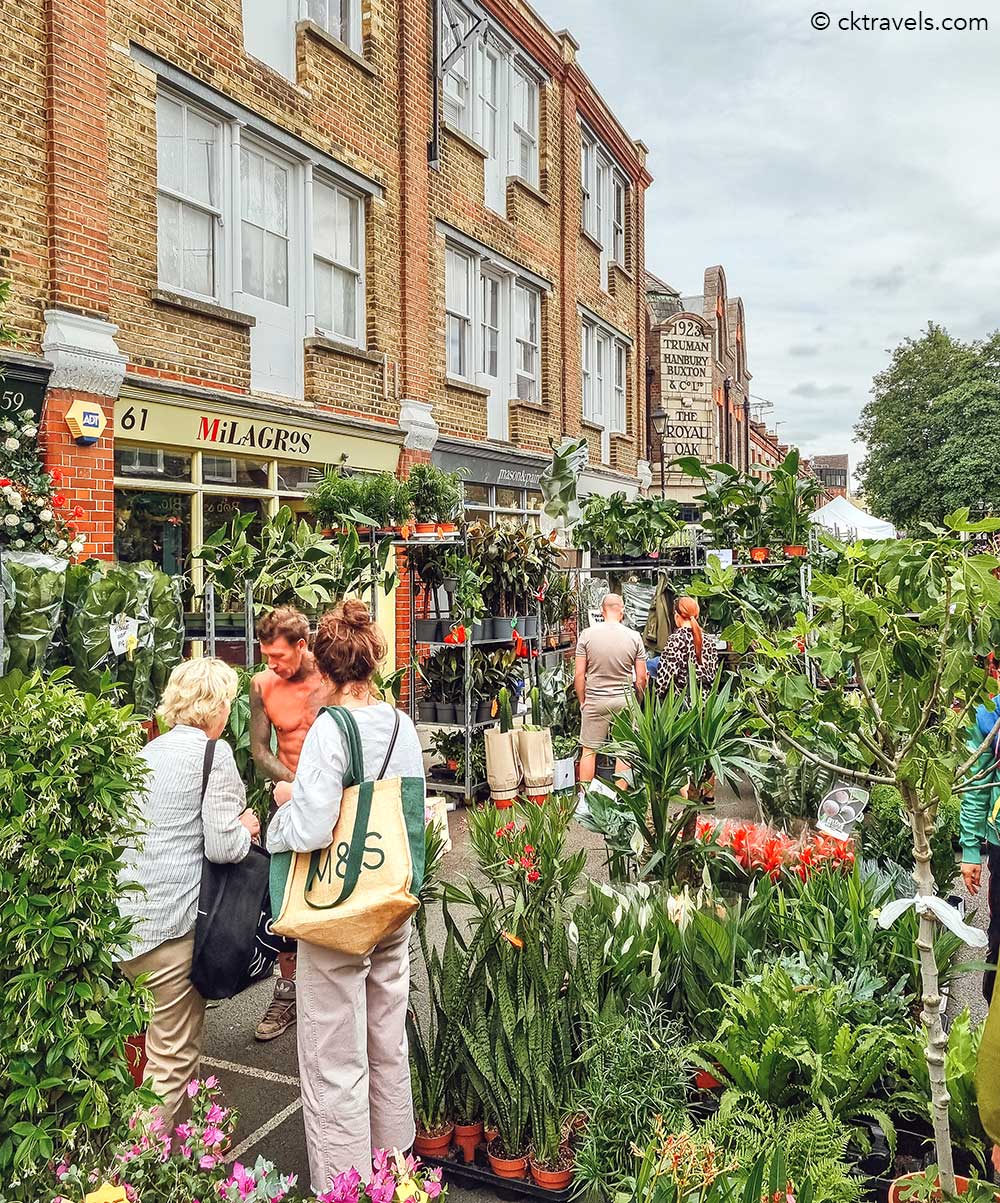 ---
2. Shoreditch
Likely East London's edgiest and most well-known enclave that kick started the east end revival, Shoreditch is a creative canvas and hipster hangout bursting with bars, clubs, street art and retail (BoxPark Shoreditch was London's original shipping container shopping mall).
Regeneration and gentrification were the key catalysts for change in Shoreditch and whilst some places are now sleek, shiny and barely recognisable, dig below the veneer and you'll soon (re)discover the original Shoreditch .
Read our guide to the top things to do in Shoreditch, East London
---
3. Wapping
Wapping has a 'whopping' (ahem) amount of things to do and is one of the best places in east London to explore on foot.
A wander through Wapping's historic heart is a wicked way to spend a day in the east London area offering stunning views along the River Thames and oozing history wherever you go.
Given its river setting and naval / dock history, Wapping was once one of London's most dangerous neighbourhoods but it is now safe as (within reason), with glitzy new apartments repurposed out of old warehouses and 'awash' with coffee shops, River Thames walkways and some of the best, historic pubs in the whole of London.
Nestled between the shiny metropolis of Canary Wharf and the landmark Tower Bridge, Wapping has a plethora of activities and things to do, from weekend artisan markets to Thameside walking paths with million pound views (but free to you!).
Read our dedicated guide to the best things to do in Wapping.
---
4. Canary Wharf and Wood Wharf
The financial heart and second CBD of London, Canary Wharf's new and sleek skyscrapers reflect the money made (and lost) here with several banks having their European and international headquarters in the area, located in the Isle of Dogs.
Given all the headquarters and apartment complexes in the area here, there are lots of waterside bars and restaurants and food courts to indulge in, with some good shopping options in the malls and an incredible amount of public art and installations found in the numerous parks and green spaces.
The latest development in the area is Wood Wharf, with numerous high rise apartment buildings and riverside restaurants including the new floating Hawksmoor restaurant and a branch of the famous London food hall chain, Mercato Metropolitano at MMy Wood Wharf.
Read more in our guide to Canary Wharf >
---
5. Hackney and Hackney Wick
Hackney is a top spot to hangout and one of our favourite places in east London.
In particular, London Fields and Broadway Market have a laid back village vibe during the week before becoming a epicentre for socialising at the weekend, with its famous Saturday food market, in-the-park beers combined with a whole host of craft breweries and pubs (with more to found in nearby Bohemia Place just of Hackney Central High Street).
Read our London Fields and Broadway guide here >
A little away from Hackney itself brings you to riverside Hackney Wick, a nice way to spend an afternoon in vibrant East London.
Once an enclave of industry and grimy estates, Hackney Wick is a wonderfully hipster hangout. Canalside culture, new apartment complexes, oodles of waterfront bars and restaurants combine with some of London's best street art.
Read our dedicated Hackney Wick guide here.
---
6. Stoke Newington
Possibly one of thebest places in east London for cafe culture, sassy Stoke Newington boasts a high street with mainly independent or small chain stores with ample artisan coffee shops to choose from.
Two of the most popular brunch and lunch spots in the area are The Good Egg, a Jewish deli-style cafe famous for its Middle Eastern / New York inspired dishes and The Spence Bakery (just look for a bright orange bakery on the corner with a huge queue of people!).
Nearby Clissold Park is also a nature lover's delight, one of the best parks in East London which also contains a deer park enclosure (!), riverside walks and a charming cafe at Clissold House, a beautiful 18th century manor house.
---
7. Dalston
Whilst not as well known as some other east London areas, Dalston more than makes up for it with its rich mix of awesome Asian restaurants (Vietnamese in particular), pop up-bars and breweries (40FT Brewery is the most well known).
It is also renowned for local cultural institutions like Rio Cinema and Arcola Theatre – we once visited the latter to see a show in the round in a huge pop-up marquee, you'd never get to do that in central London!
Dalston has also been home to the Ridley Road Market since the 1880s, a neighbourhood favourite selling everything from handbags to halibut (also the cheapest place in East London to buy gozleme – fact!).
Ridley Road Market in Dalston is open daily (except Sunday) from 9.30am to 4pm.
---
8. Bow
A largely residential east London area and neighbourhood, Bow has one of the best markets in East London.
Roman Road Market, which has been taking place for over 100 years is one of London's most enduring and oldest street markets and open on Tuesdays, Thursdays and Saturdays.
From turnips to trolleys, you'll find lots of items on sale along the historic neighbourhood street.
Whilst exploring Roman Road, head to G Kelly's pie shop to try some traditional pie and mash and liquor (a London culinary rite of passage, up there with E Pellici in Bethnal Green).
Many travellers may be aware of the historic saying that a true Cockney (someone from the East End of London) can only be born within the sound of 'Bow Bells' although this actually relates to the St Mary-Le -Bow church at Cheapside in the Square Mile of London, not Bow in east London.
---
9. Wanstead and Snaresbrook
Wanstead in east London is often recognised as 'one of the top places to live in London' in various neighbourhood guides and property lists.
Wanstead is a warm and welcoming community with a village vibe and oodles of gorgeous green spaces and parks, a marvellous mix of coffee shops and craft cafes plus some of the best beer gardens pubs in East London.
Snaresbrook High Street and Wanstead High Street blend into one, a pleasant tree lined area of shops and cafes.
Make a beeline to Snaresbrook Pond, around a five minute walk away from Snaresbrook High Street and a picture-perfect oasis of calm.
We'd recommend visiting nearby Hollow Pond too, which feels like 'London On Sea' with its sandy dunes and traditional, wooden rowing boats for hire.
Want to know more about Wanstead and Snaresbrook? Read on for our things to do in Wanstead guide:
---
10. Leytonstone
Leytonstone's once less salubrious side has now given way to a heady mix of bars, restaurants and cafes.
Our own highlights in Leytonstone include Singburi, possibly the best Thai food in London (for our money), and the Leytonstone Beer Mile which includes a wonderful brewery called Mammoth Tap, plus the Filly Brook pub which has an incredible and regularly changing food menu.
Stone Mini Mart is also one to watch and a recent Time Out award winner for most popular independent shop in London.
Leytonstone also is famous as the birthplace of revered British film-maker Alfred Hitchcock, and Leytonstone Tube station has a series of beautifully tiled mosaics depicting the 'master of suspense' at work.
---
11. Spitalfields
Spitalfields in one of East London's best neighbourhoods to explore and shop, as it is home to Spitalfields Market, one of London's oldest markets (over 350 years old) plus still has an incredible array of historic and heritage buildings.
Our favourite historic street in Spitalfields is Elder Street, an incredible preserved residential area that is like stepping back in time and often used as a filming location.
Close to Liverpool Street Station, it is easy to spend a whole day exploring the east London area of Spitalfields – read our dedicated guide to Spitalfields Market here >
---
YOU MIGHT LIKE: things to do near Liverpool Street Station
---
12. Whitechapel
Like Bethnal Green, Whitechapel has a notorious history, not only because it was the hunting ground for Jack The Ripper in Victorian times but also as the hang out of notorious East End gangsters like the Krays.
So much so that even today, there are numerous Jack The Ripper or crime-related tours of the area plus a supernatural crime TV series of the same name.
Whitechapel highlights include Whitechapel Market, one of the most famous and historic markets in East London (so many delicious foods on offer, as well as fabrics and fresh fruit and veg) and the Whitechapel Gallery, a free to visit, world-class gallery.
Whitechapel is home too to Tayyabs, a legendary London Punjabi restaurant that allows you to bring your own booze (BYO) – try the lamb chops, amazing!
---
13. Brick Lane
Take a stroll along London's famous Brick Lane, an eclectic East London neighbourhood that is known for its street-art (check out all the artwork in and around Allen Gardens) and bagels.
Two bagel stores here are well known: Beigel Bake and Brick Lane Bagel Shop – both open 24 hours but expect huge queues during the day.
Brick Lane truly is a total mix of gentrification and grunge, which also means it is still a little seedy around the edges and daytime drug taking is rife (we are only addicted to the bagels!).
Brick Lane is how Camden used to be, before Camden became Disney-esque and a tad tacky tourist trap.
As well as its 24 hour bagel stores, Brick Lane is also renowned for its assortment of curry and international food restaurants, known as London's curry mile. Also explore the Old Truman Brewery for weekend food stalls and retro / vintage clothing stores.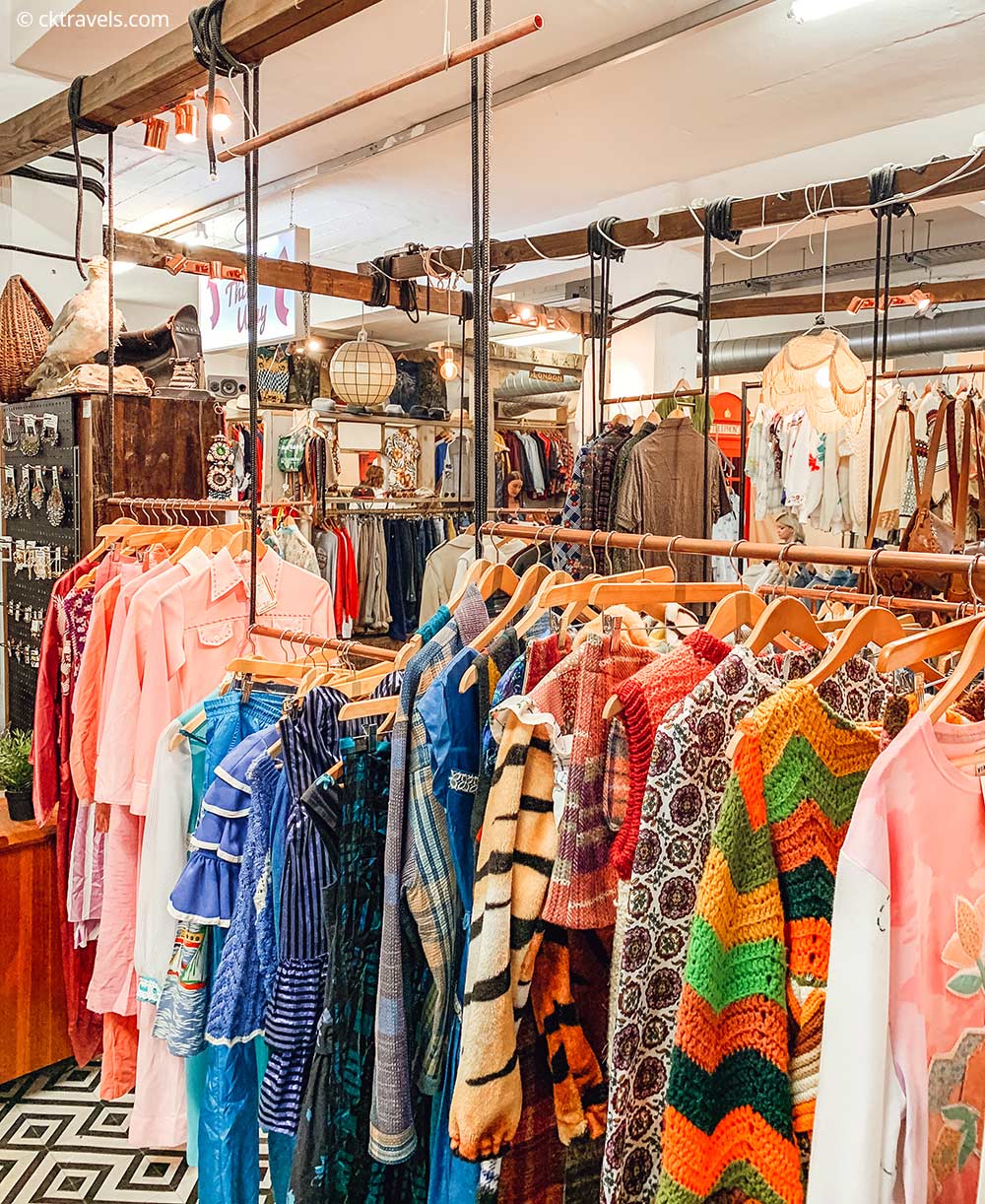 ---
---
14. Victoria Park and Victoria Park Village
One of East London's best public parks and a lush slice of London life, Victoria Park is home to a stunning boating lake and two cafes as well as it's very own Chinese pagoda, which moved from Hyde Park to Victoria Park after the famous Chinese Exhibition in the 1840s.
You can truly escape the hustle and bustle of the city here, with numerous walks along the canal towpath or in the park.
And as an added bonus, if you visit on a Sunday, you'll find the acclaimed Victoria Park Farmer's Market, selling all kinds of fine foodie goodness as well as numerous street food trucks.
Verdant Victoria Park Village itself is one of east London's best kept secrets in terms of somewhere to shop, eat and drink in lovely, leafy and sublime surroundings (or to grab delicious food and take in picnic form to Victoria Park).
The story goes that the area used to be better known by its street name Lauriston Road and Victoria Park Village was conjured up as a ploy by local estate agents to drum up more business in the area – it clearly worked…
Check out our detailed guide to Victoria Park Village and park >
---
15. Walthamstow
Found at the end of the Victoria Tube line and possibly best known previously for the boy band East 17 and it's greyhound racing stadium (both now defunct!), the east London area of Walthamstow has undergone a lot of regeneration and is now one of London's most vibrant places to visit and live.
This is especially true of Walthamstow Village, home to a handful of brewery taprooms and gourmet goodness with all the restaurants along Orford Road – no wonder it is known locally as 'Awesome Stow'.
Read our top things to do in Walthamstow
---
16. Blackhorse Road
Once an indistinguishable industrial district and often overlooked area located between Tottenham Hale and Walthamstow, Blackhorse Road is now a burgeoning and blooming local neighbourhood, thanks to a swathe of new apartment buildings and student accommodation.
It is now most famous for its recently christened Blackhorse Beer Mile consisting of Big Penny Social (formerly Truman's Social Club), Exale Brewery, Beerblefish Brewery, Pillars Brewery, Pretty Decent Beer Co and Signature Brew.
Luckily there are lots of new coffee shops in the neighbourhood too to help with post- brewery sessions before hopping on the Tube home at Blackhorse Road or exploring nearby Walthamstow Wetlands.
Read our top things to do in Blackhorse Road
---
17. Limehouse Basin
Renowned for riverside restaurants and residential living overlooking the Thames, Limehouse also has a historic heart with several sublime pubs including The Grapes, which has no less than Galdalf (Sir Ian McKellen) as the owner.
The pub itself dates back to the 1580s and is cosy as inside with a small balcony directly overlooking the Thames – get there early to bag a prime spot.
Every which way you look in Limehouse gives you magnificent marina views of lush London lookouts over the river – Gordon Ramsay has also opened a (rather average) bar and restaurant here called The Narrow.
---
18. Isle of Dogs
Supposedly getting its title from the amount of dead dogs that used to wash up on the banks of the Thames here in the 16th century (charming), the Isle of Dogs is a industrious area surrounded by water that has seen huge investment in recent times largely thanks to the regeneration spurred on by the Canary Wharf development.
We often visit the Isle of Dogs area, particularly because many of the bars and restaurants here have stunning views of the River Thames. We'd recommend The Gun beer garden overlooking the Greenwich Peninsula.
Equally stunning views can be found at Island Gardens, overlooking the Cutty Sark and all the magnificent maritime buildings. Mudchute Farm is also the best urban farm in East London with a huge array of farm animals including adorable alpacas (free to visit but donations are appreciated).
---
19. Hoxton
North of Shoreditch, Hoxton High Street is a great example of a East End neighbourhood high street, a curious mix of independent stores and the usual big brand chains. Every Saturday, Hoxton Market lines the high street selling all manner of wares and is one of the oldest street markets in London.
Other Hoxton highlights include the Victoria Miro Gallery (housed in an old furniture gallery – how East end), the Museum of Home (formerly the Geffrye), heaps of Vietnamese restaurants and other Asian food delights plus one of our favourite rooftop bars and cinemas in London, Queen of Hoxton.
---
20. Stratford
Spurred on by the Olympic sized transformation that Stratford has undergone in recent years in preparation for the 2012 London Olympic Games, you'll be in for a pleasant surprise when visiting, particularly in terms of the legacy of the games in terms of how the area is continually being developed.
From huge open green spaces to a burgeoning arts and culture scene and one of London's biggest shopping centres (Westfield Stratford), Stratford in East London has an edge and deserves to be enjoyed by more than just the locals.
Read our dedicated guide to the top things to do in Stratford:
---
21. Trinity Buoy Wharf, Poplar
Billed as 'Docklands most exciting arts quarter', the entrance to Poplar's Trinity Buoy Wharf is barely recognisable these days as it becomes East London's next property hot-spot.
Still, this is still an exciting East London area to explore, with a couple of iconic cafes (including Fat Boy's Diner) and numerous art-installations and container based exhibits.
The Longplayer project is located in an old lighthouse and is a musical composition that can play without any form of repetition for hundreds of years.
The views of the Thames here are spectacular, especially looking towards Greenwich Peninsula and the Millenium Dome / O2 arena. Nearby, walk off the burgers consumed in Fatboy's Diner at Bow Creek Ecology Park, which has boardwalks throughout.
Read our guide toTrinity Buoy Wharf
---

Best areas in east London – Other London blog posts you might like
Did you enjoy our best places in east London blog post? Let us know in the comments or by sharing it on social media. Follow us on Instagram, TikTok and YouTube!