This post may contain affiliate links to tours and hotels. These help us earn a small commission at no additional charge to you.
Nestled on the banks of the Thames in west London, Richmond is a riverside gem with many things to do including historic houses, superb shopping and one of London's biggest green spaces (with deer freely roaming around!).
From the wonderful woodland delights of the Isabella Plantation to the riverside views and historic lane ways along the High Street, there are so many things to do in Richmond, London.
Easily accessible from central London and Heathrow Airport, Richmond is one of our favourite waterside spots in West London. Better still, there are numerous pubs, bars and riverside restaurants – you can even have a pint at TV's Ted Lasso pub. Cheers!
Here is our 2023 guide to the top things to do in Richmond, London:
Things to do in Richmond
1. Richmond Park
One of London's eight Royal Parks with a whopping 2500 acres of parkland to explore, Richmond Park is a peaceful place to roam or cycle around for hours at a time without a care in the world.
If you're lucky, you'll also encounter the park's most famous inhabitants, the deer who roam around freely (and can often be spotted snoozing in the shade). The last time we visited, the Richmond Park Deer set themselves up in the paddock next to the Pen Pond Cafe.
Even if you don't have a car or bicycle, Richmond Park is walkable from the High Street and / or main train station.
The best route to the park is via Richmond Hill Road, so you can also enjoy the Richmond Hill Viewpoint on your walk up.
If you are only visiting for a short time, this would be our number 1 thing to do in Richmond, west London.
YOU MIGHT LIKE: Wildlife Photography Workshop in Richmond Park, London
---
2. Richmond Green
Popular with picnicking families (and weekend cricketers), Richmond Green is one of the prettiest parks in the whole of London.
Nestled amongst the Victorian splendour of Richmond and surrounded by old buildings and pubs, Richmond Green has been a focal point of the area since the Middle Ages, when jousting tournaments were often held here.
Given how gorgeous it is, the Green is a popular London filming location; most recently starring in the Netflix series 'The Sandman'.
Nowadays, although the peace and tranquility can be disturbed by the overhead flight path (Heathrow is in the vicinity), Richmond Green is used by lots of locals as a meeting point as there is lots of shade and all the main shops and bars are very close by.
For the quintessential English experience, visit Richmond Green during the summer months at the weekend; you'll likely encounter a game of cricket on the grass – just keep an eye out for any cricket balls hurtling your way.
---
3. Have a pint at the Ted Lasso pub
One of the best looking pubs in Richmond, The Princes Head pub on Richmond Green doubles as the fictional 'Rose and Crown' pub in the Apple TV series Ted Lasso starring Jason Sudeikis. Ted Lasso plays for the fictitious Richmond AFC football / soccer team.
The exterior of The Princes Head pub is quintessentially english with a red telephone box outside and a beer terrace with views of Richmond Green (where they often play cricket).
Whilst the Fullers beer and views at The Princes Head pub are superb, it should be noted the the pub is only used as an external Ted Lasso filming location and the pub interiors are filmed in a studio.
If you like your pint at the Ted Lasso pub, it is run by the nearby Fullers Brewery in Chiswick, one of London's oldest breweries. You can even take a Fullers Brewery Tour and finish with a pint or two – find out more here >
---
4. Church Court and Church Walk
Church Walk in Richmond, London is located just off the main George Street thoroughfare and is a cute, cobbled street home to a nice Fullers pub – The Angel and Crown, with an outdoor area within Church Walk itself.
In addition there are several independent shops such as The Alligator's Mouth childrens book shop. Continue through to Church Walk to see the St Mary Magdalene Church in all its glory.
---
5. Riverside and Richmond Bridge
Probably our favourite thing to do in Richmond, the riverside is also its star attraction. Locals and tourists flock here in their hundreds on warm sunny days, with ample space to sit on the lawns or benches.
If you want to head out on the water and row, row row your boat merrily down the Thames, you can hire a boat from the boathouses beneath Richmond Bridge.
Alternatively, you can peddle along the towpath all the way to Twickenham or beyond by hiring a bike from the punnily titled Blazing Saddles Bike Hire (great name!).
Richmond riverside also has lots of neighbouring bars and restaurants overlooking the water. Several of the Richmond riverside pubs feature in our 'best London pubs on the river' list >
---
YOU MIGHT LIKE: Richmond Classic Walking Tour
---
6. Richmond Laneways – Brewers Lane and Golden Court
There are two equally charming laneways worthy of your time in Richmond, both leading to Richmond Green from George Street – Brewer's Lane and Gold Court.
They each have cafes, pubs (the Prince's Head is a particularly nice pub) and sweet treat stalls hidden down their narrow lanes and are a nice traffic free diversion, away from the smog of the high street.
---
7. Isabella Plantation
Pretty in Pink. Other than the Richmond Park Deer, the likely other natural highlight here will be a visit to Richmond Park Isabella Plantation, a wonderful wooded area and glade popular with families and walkers famous for its bright pink flowers and shrubs.
Isabella Plantation can be visited for free throughout the year but blooms best in April and May across its 40 acres of woodland and park area.
Renowned for its evergreen Azaelas and bright coloured flowers like Camellias and Rhododendrons, Isabella Plantation is home to many species of wildlife plus various ponds, springs and streams.
---
8. Old Palace Lane / White Swan Pub
Village life in the heart of Richmond, the Old Palace Lane, accessible from Richmond Green or the riverside, is home to a host of cute cottages covered in wisteria (giving Fulham Palace a run for its money in the wisteria hysteria stakes).
It also has a charming and cosy inn bedecked with flowers, the White Swan Pub.
---
Richmond Pubs and Bars
Richmond has lots of bars and pubs to drink in, from sunny riverside spots to outdoor terraces overlooking Richmond Green. In fact, we'd go as far as saying Richmond has some of the best pubs on the river in the whole of London.
The best historic pubs and riverside pubs in Richmond include:
9. The White Cross
A Victorian boozer situated right on the River Thames, with a beer garden and terraces overlooking the water. It can get incredibly busy in the summer so arrive early if you want to bag a prime outdoor spot.
10. The Cricketers
One of Richmond's oldest inns, a pretty pub overlooking Richmond Green built in the 1770s, getting its name from the cricketing activity that takes on the green – 'howzat for a delightful drinking spot?
11. The Roebuck
We'd recommend the Roebuck for its incredible views of the river from Richmond Hill – the fact they serve cold beer is purely a bonus for us.
12. Piano & Pitcher
A chain pub that makes up for its so-so service with good views of Richmond River, especially if you bag one of the coveted balconies, like we did in the picture below.
---
13. Richmond Terrace Gardens and Hill Viewing Point
High on the hill overlooking Richmond and the River Thames, you'll come across Richmond Terrace Gardens, a public park (free to visit) with lots of colourful flowers in the summer, a greenhouse and cafe but most importantly, wonderful views of the river and surrounding meadows.
Richmond Hill Viewing Point
Head to the very top of Richmond Terrace Gardens (or walk the steep slope up Richmond Hill from the town centre) and you'll discover a lovely shaded spot with lots of park benches.
Richmond Hill Viewing Point is a superb viewing point where you can see all the boats on the river and aerial views of such spots as Ham House. One of the best free things to do in Richmond, you won't be disappointed after making the hike up to this hillside spot.
Richmond Terrace also features in our best panoramic views in London guide >
Enjoy the views even more by grabbing a pint from the aforementioned Roebuck Pub located right next to the Richmond Hill Viewing Point and supping it on one of the benches here.
---
YOU MIGHT LIKE: Richmond Classic Walking Tour >
---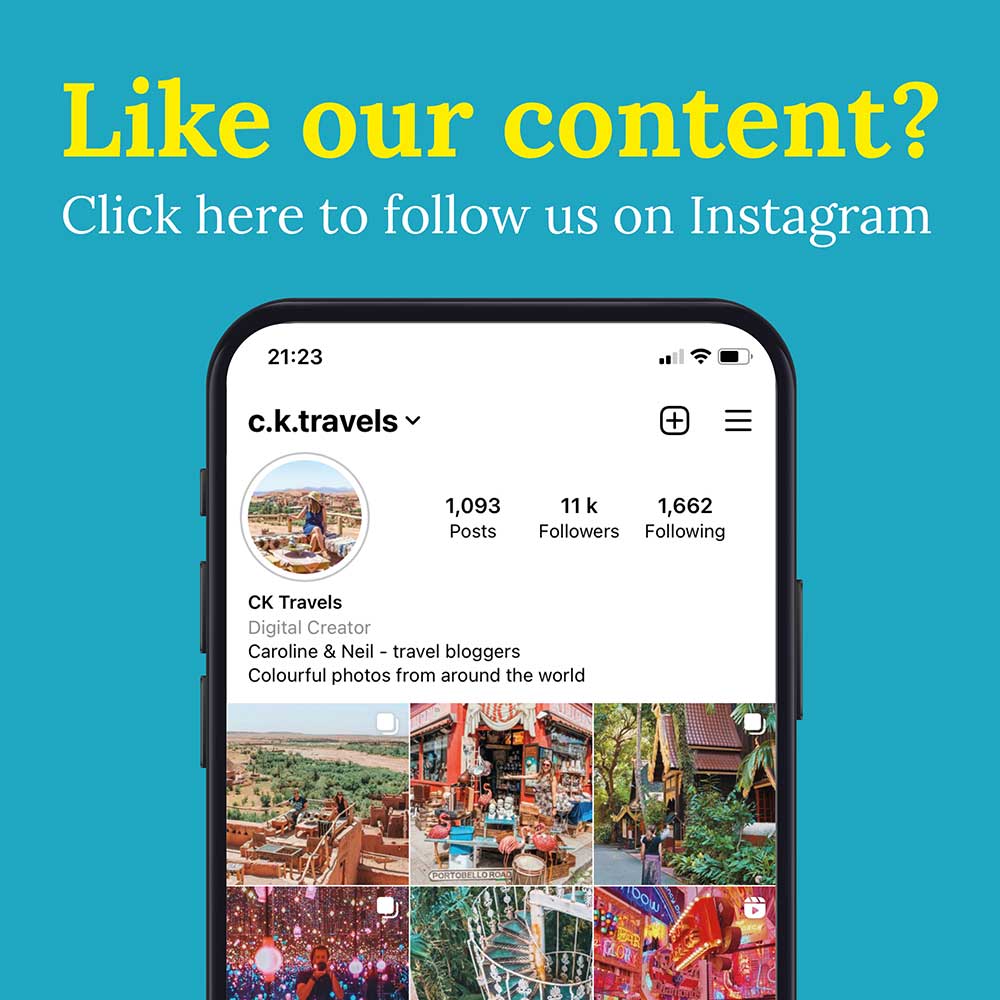 14. Richmond shops
The High Street is a good mix of chain and independent stores – you'll certainly find all your retail needs here, from organic goodness at Whole Foods through to the beautifully dressed Petersham Nurseries, a 10 minute from the High Street.
Whilst visiting the town on our most recent trip, we discovered Bramble & Moss – an elegant florist with a beautifully laid out store and sublime store front and Danieli On The Green – an artisan Italian chocolate shop.
---
15. Richmond Cinemas
There are two main Richmond cinemas – the larger more mainstream cinema in Richmond is the 7 screen Odeon Richmond (72 Hill Street).
If you're after more independent or arthouse films, the Curzon cinema is nearby, tucked down Water Lane.
---
16. Richmond Theatre
Overlooking Richmond Green and entertaining Londoners with all manner stage shows and their annual pantomimes for over a century, Richmond Theatre opened in 1899 and is one of the best preserved Victorian theatres in the whole of London (Grade II listed).
Spending Christmas in London? Richmond Theatre is popular for its pantomimes – the Richmond Theatre pantomime for Christmas 2023 / 24 will be Snow White and the Seven Dwarves.
---
17. River Walk from Richmond to Twickenham
If you are planning to make a day of your trip to the Richmond area, one option once you've finished exploring Richmond is to walk along the banks of the Thames to Twickenham and continue your journey from there.
A very easy riverside walk along the Thames, this 4km (2.5 mile) trek is flat all along the way and takes in several stately homes and regal buildings including Marble Hill House, Ham House and the Orleans House Gallery.
---
17. Marble Hill House
Also known as the 'White House' in Richmond, Marble Hill House and Park is a Grade I listed Palladian villa built in the 18th century by King George II for his mistress Herietta Howard.
It is set in almost 70 acres of riverside parkland with stunning views of the surrounding countryside.
As at 2023, the house at Marble Hill is free to enter from Wednesdays to Sundays, from April to October.
---
18. Orleans House Gallery
A free public art gallery in Richmond near to the river's edge, the Orleans House gallery was recently restored to its original Baroque beauty.
A former Palladian villa built in 1719, Orleans House Gallery also had a large what's on programme, live events, a cafe located in a former stables plus a woodland glade to explore.
---
19. Ham Village and Ham House
Nearby to Richmond you'll find the charming village of Ham and Ham House, one of London's finest historic houses, built in the early 1600s and boasting one of the most ornate gardens in the country.
Read our full guide to things to do in Ham here >
---
20. Messing about on the river at Richmond
If you actually want to explore the River Thames whilst in Richmond, there are several ways to get out onto the water.
By Richmond Bridge, you can hire rowing boats by the hour. If you are feeling a little more adventurous, you can even hire paddle-boards or kayaks from the Richmond Bridge Boathouses.
If you'd rather someone else do all the hard work for you, there is a relaxing river cruise that does a 45-minute circular tour of the Richmond river Thames area.
So there are plenty of things to do in Richmond out and about on the River Thames – rewards yourself in a riverside pub afterwards.
---
Our final thing to do in Richmond, London
22 Richmond Duck Pond / Farmer's Market
Just a stone's throw away from the River Thames, the Richmond London Farmer's Market / Duck Pond Market is held at Heron Square every Saturday and Sunday.
The Duckpond Market has a focus on sustainable and environmental artisan products with everything from deli meats to doughnuts, bunting to bandanas.
Most weekends, around 20 to 30 stalls cram into to Heron Square (we have to say the smell from some of the hot stalls is amazing).
The Duckpond Market in West London is open from 10.30 to 4pm every Saturday and from 11am to 4pm every Sunday.
---
YOU MIGHT LIKE: Guide to London's best farmers markets >
---
Richmond Station
Transport links with Richmond are all really easy as it connects with the Underground and Overground trains along with a mainline train station meaning you can get here with no difficulties from pretty much any part of London.
Richmond Station is also within walking distance of all of the Richmond attractions listed in this article, plus amongst all the main bars and restaurants. Most buses to connecting destinations stop outside Richmond Station too.
---
Things to do near Richmond, London
If you are staying in Richmond for several days, there are several other things to do in West London, all within a 20 minute drive:
Visit Notting Hill, West London's most famous neighbourhood >
Take a stroll through cosmopolitan Chiswick >
Shop at Europe's biggest shopping centre in Shepherd's Bush >
Go for a pint of beer on the river Thames in Hammersmith >
Take part in the UK's only official BBC Sherlock Holmes interactive escape room >
Pour a pint at one of London's oldest breweries >
Visit Chiswick House and Gardens (free admission) >
Visit the Design Museum on Kensington High Street >
Shop til you drop at London's most famous shopping street, Oxford Circus >
---
Did you enjoy our Things to do in Richmond London blog post? Let us know in the comments or by sharing the blog on social media. Follow us on Instagram, TikTok and YouTube!
---
Things to do in Richmond – add to Pinterest!