This post may contain affiliate links to tours and hotels. These help us earn a small commission at no additional charge to you.
Fact – we love London. We've lived there most of our lives and whilst it sometimes seems expensive, there are still dozens of free things to do in London that won't cost you a single penny.
From free walks around London's biggest urban wetlands to sky high views in the Square Mile, there is plenty to see and do for free in London.
Do a little research into the best free things to do in London and you could save a fortune – there are oodles of free activities in London. For instance, if you are a Harry Potter fan, avoid the high priced Harry Potter Studios tour and see for free the Harry Potter Platform 9 ¾ recreation at King's Cross – another way to save a few quid-ditch.
As they say (probably), the best things in life are free'…and in London. Here is our 2023 to the best free things to do in London:
P.S. like tips on the best free activities in London and more? Follow CK Travels on on Instagram:
---
You might like – the best 20+ immersive events in London >
---
Free things to do in London map
Best free things to do in London
1. God's Own Junkyard, Walthamstow (our favourite free thing to do in London)
We start our 'free things to do in London' list with the neon nirvana that is God's Own Junkyard, perhaps the most unique free activity in London.
Yes, there are countless and incredible national museums that are free to visit included on the list but God's Own Junkyard is a truly one-off!
Located on an unassuming industrial estate in East London (Walthamstow). this may not sound like the most promising of locations but God's Own Junkyard is an Aladdin's cave of quirky, cute and often subversive neon lights and sculptures. And their cafe is called 'The Rolling Scones' – how good?!
Read more God's Own Junkyard here >
---
YOU MIGHT LIKE: Best Immersive Experiences in London >
---
2. The Barbican and the Barbican Conservatory
London's beautifully Brutalist housing estate in central London was initially conceived as an experiment in inner city living and is an interesting place in itself to walk around.
It is also home to the Barbican Arts Centre, which puts on exhibitions and incredible stage shows (we were lucky enough to see the stage adaptation of 'My Neighbour Totoro' at the Barbican recently and it was superb).
But did you know you can visit the Barbican Conservatory for free, London's second biggest conservatory? A huge (and hot!) greenhouse home to hundreds of species of tropical plants and waterfalls, it is hard to believe you are still in central London.
Free tickets for the Conservatory are released one week in advance online on Thursdays at 10am, click here to book your Barbican Conservatory ticket >
London Travel Planning Facebook Group by CK Travels
Need help with your London travel itinerary or have any questions about your upcoming trip? Join our brand new online community! Click here to join our London Travel Planning and Tips Facebook group
3. South Bank Walk
Our favourite free walk in central London is along the Southbank, taking in the stretch along the River Thames starting from Westminster Bridge, looking towards the Houses of Parliament all the way to Tower Bridge.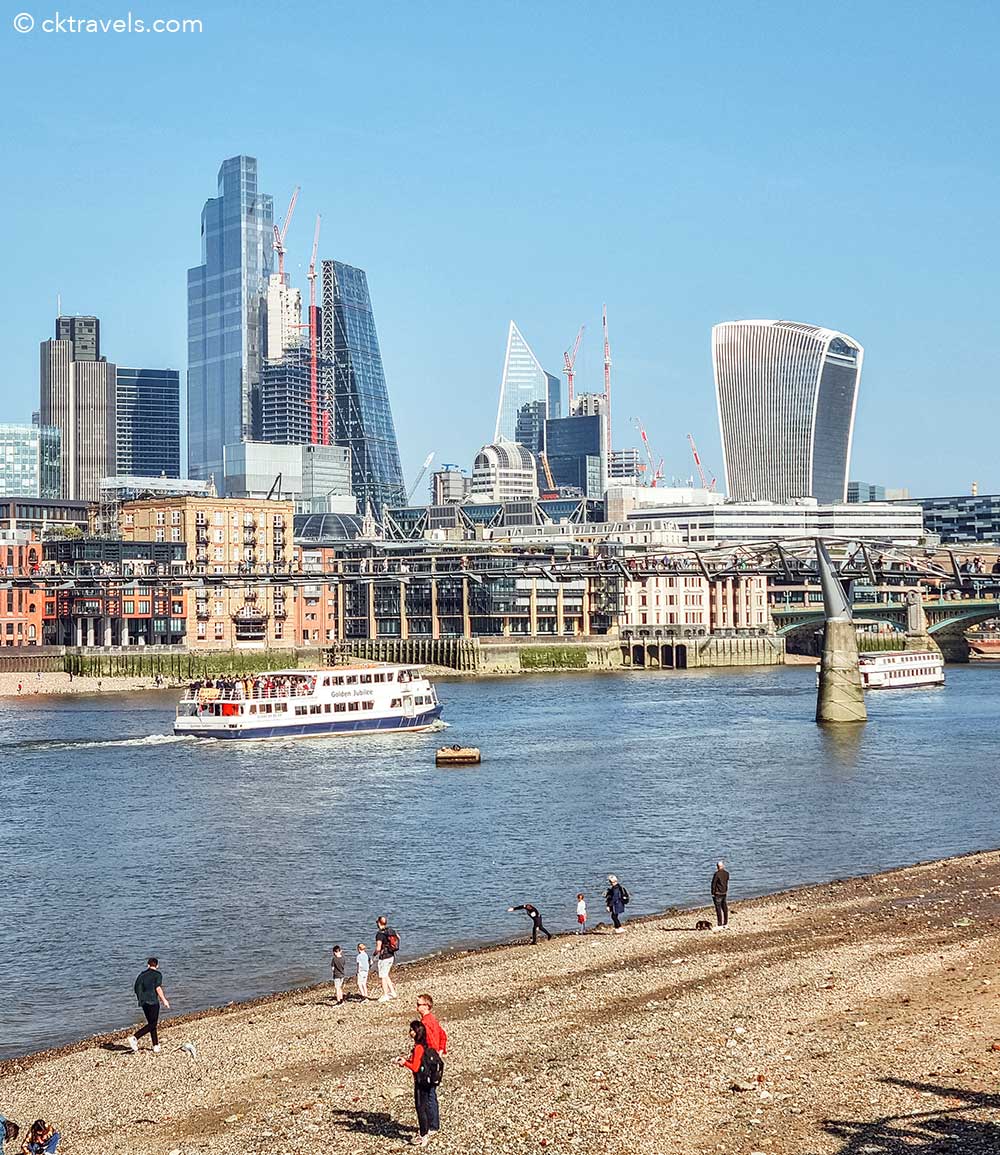 Around 2.5 miles in length (4km), this is a level walk with million pound views for free, taking in such historic and notable sites as the Globe theatre, Tate Modern and Borough Market.
With so much to see for free, here is our guide to the Southbank walk in London >
---
4. Leadenhall Market
Leadenhall Market, originally constructed in the 14th century is one of London's most beautiful and historic market places. Free to visit any time of the day, Leadenhall Market's interiors are exquisite and ornately painted. Look up at the ceiling too – kind of like the Sistine Chapel of the Square Mile and central London.
Walk along the cobbles and lanes in Leadenhall Market and browse the stalls. In addition, Leadenhall Market has been a filming location in several big movies including Harry Potter and the Philosopher's Stone, Tomb Raider and the Imaginarium of Doctor Parnassus.
Read our dedicated Leadenhall Market blog here >
---
5. Walthamstow Wetlands
It is hard to believe that Walthamstow Wetlands, Europe's largest urban wetlands is only a five minute walk from a London Underground station (Tottenham Hale) and just 15 minutes by train from Liverpool Street station in London.
The Walthamstow Wetlands offer over 200 hectares of nature reserve and lakes for wildlife to call home and visitors to explore.
Walthamstow Wetlands still comprises around a dozen reservoirs that produce much of London's drinking water and it is the biggest fishery in London. A walk around Walthamstow Wetlands is a terrific free London activity suitable for the family.
Read more about the Walthamstow Wetlands >
---
6. Columbia Road Flower Market, Bethnal Green
London's biggest flower market rocks up to Columbia Road in east London every Sunday. During the week, Columbia Road is a charming and historic terraced street chock full of delis, cafes and craft shops but every Sunday, it blooms and bursts into colour for the weekly Columbia Road Flower Market.
Located near Bethnal Green and Shoreditch, this is where most Londoners in the know get their plants as it is much cheaper than most garden centres and florists.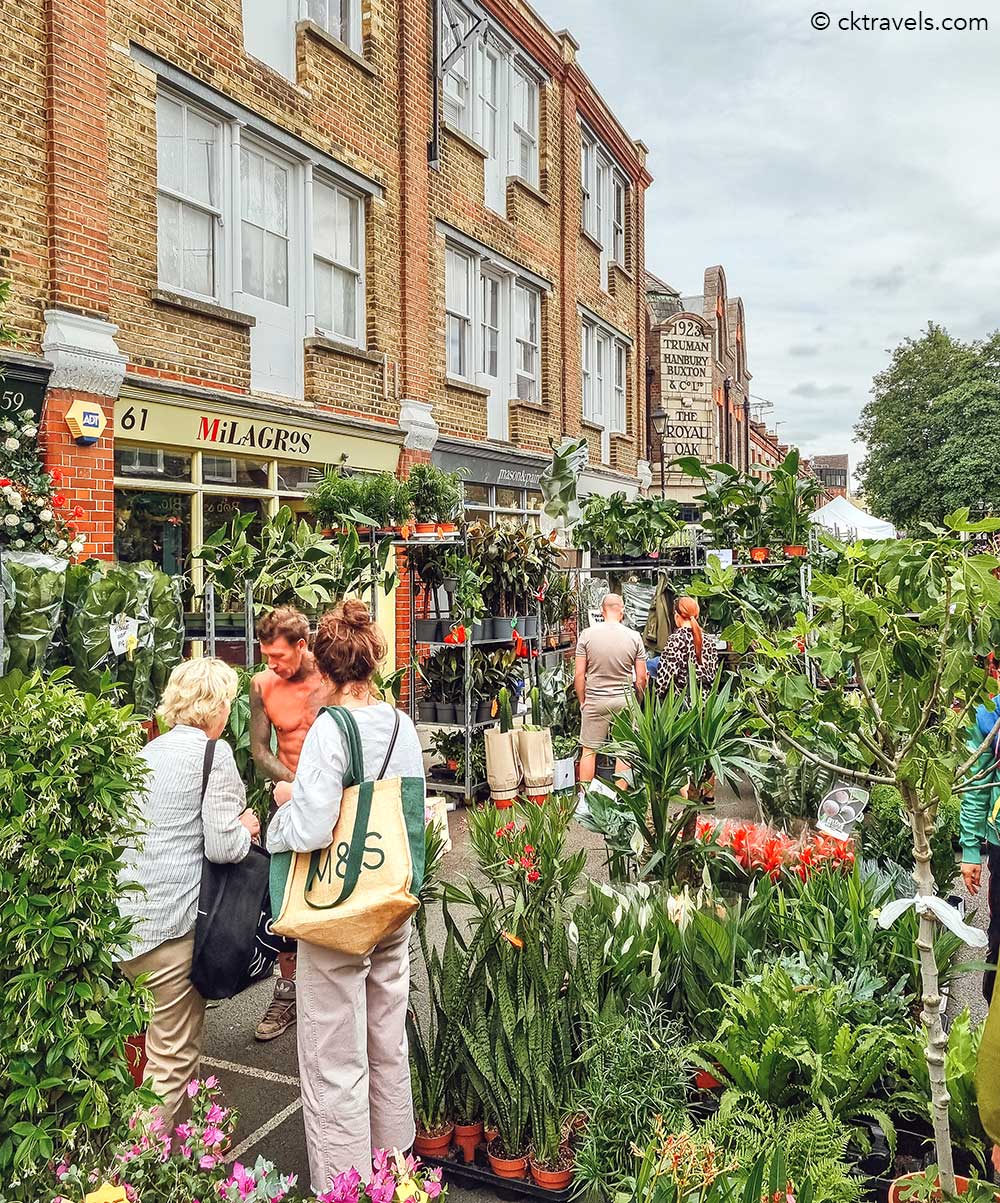 If you don't want to spend money, it is fun to just watch the hustle and bustle of the market, or listen to the banter between stall holders. We'd recommend arriving at Columbia Road Flower Market before 9am as it gets pretty busy after.
Read more about Columbia Road Sunday Flower Market here >
---
7. The V&A Museum
The Victoria and Albert Museum (or V&A) is based in Kensington and is billed as the world's leading museum of art, design and performance.
Whilst most of its temporary exhibitions are around the £20 mark (free to members), you can walk the V&A's hallowed halls and enjoy their permanent collection exhibitions, or just sit in the sun in their delightful Madejski Gardens complete with water features and coffee shops.
Whilst at the V&A, we'd also recommend popping into the V&A William Morris Cafe on the ground floor, surely the most beautiful cafe interior in London plus the world's oldest museum cafe.
Bonus free thing to do in London – inspired by the V&A William Morris Cafe? You can visit the William Morris Gallery for free in Walthamstow.
---
8. Free views from the Sky Garden London (one of the best free things to do in London)
The Sky Garden is one of London's newest and best free attractions (and the city's highest public garden too).
It is a very popular spot for strolling around the gardens and dining at one of the several rooftop bars and restaurants in and around the Sky Gardens.
Unlike other viewing platforms in London that cost a fortune in admissions or require a costly restaurant reservation (a la Shard), you can enjoy the stunning view from the Sky Garden for free if you book in advance.
Read our guide on how to book Sky Garden free tickets here >
---
9. The Leake Street graffiti tunnel
London's best free 'modern art' gallery? Possibly!
Ever changing and always interesting, The Leake Street Graffiti Tunnel is the longest legal street art area in the capital and just a short walk from Waterloo Train station.
This subterranean street-art spot provides a unique, creative canvas to established and up and coming street artists to spray paint their modern masterpieces (plus peeps who just want to give it a try for free).
The only downside to the popularity of Leake Street Graffiti Tunnel is that most artworks only last a couple of days as they are soon painted over by another artist.
Check out our guide on all the best things to do near Waterloo Station >
---
10. Buckingham Palace – Changing of the Guards
Whilst an official tour of the official King's residence in London can cost a lot (Corgi dog food ain't cheap), you can enjoy the spectacle of Buckingham Palace's Changing of the King's Guard's for free.
As at 2023, the Changing of The King's Guard takes place in front of Buckingham Palace every Monday, Wednesday, Friday and Saturday from 10:45am and lasts for about 45 minutes. Arrive early to grab a good spot.
You can also see the Changing of the Guard ceremony at Windsor Castle for free – find out more in our things to do in Windsor guide here >
---
11. Imperial War Museum
One of the best free museums in London (and most well known), the Imperial War Museum London at Elephant and Castle has permanent collections and temporary exhibitions relating to skirmishes from WWI through to the present day.
Founded in 1917 and housed in this former hospital since 1936, the Imperial War Museum is a London institution. Look out for the huge Naval guns, previously used on Royal Navy battleships – definitely one of the most memorable signposts in London!
Inside, permanent displays include WWI and WWII galleries, a Holocaust gallery and an incredible array of military vehicles and aircraft. The atrium area ('Witnesses to War') with an actual spitfire hanging from the roof is very impressive and thought provoking.
---
12 Visit the 8 Royal parks
London's Royal Parks comprise of Kensington Gardens, Hyde Park, Regent's Park, Greenwich Park, St James' Park, Green Park, Bushy Park and Richmond Park (more on the last two later).
All are pretty as a picture and popular outdoor spots in London to walk, play sports or spot wildlife. They are all really nice and free to visit but if you only have time for one, we'd recommend St James' Park. Plenty of wildlife and wildfowl, pretty views of Buckingham Palace plus lush lawns where you can sit in deck-chairs.
---
13. Shoreditch street art
East London's Shoreditch neighbourhood is home to some of the most sublime street art in London, an alfresco art gallery that is ever changing.
Showcasing internationally renowned street artists as well as local painters, Shoreditch's streets are awash with an awesome array of artwork in practically every type of space you can imagine, from the picturesque to the political.
Read our dedicated Shoreditch Street art guide here >
YOU MIGHT LIKE: Shoreditch Street Art Tour London or Street Art Walking Tour with Spray Painting Session
---
14. Borough Market
You can't beat a bit of Borough Market. Busy as at the weekends and with a slightly smaller layout on the weekdays, Borough Market is one of London's best food markets (and at the top of our London Saturday Market list).
Whilst you can expect queues at the weekend, half the fun of Borough Market is the hustle and bustle.
Also many stalls at Borough Market offer free samples to entice you in. On our last visit to Borough Market, we got to try for free some paella, mushroom pate, goat's cheese and other street food dishes.
Read our guide to Borough Market here >
YOU MIGHT LIKE: Borough Market and beyond small group tour >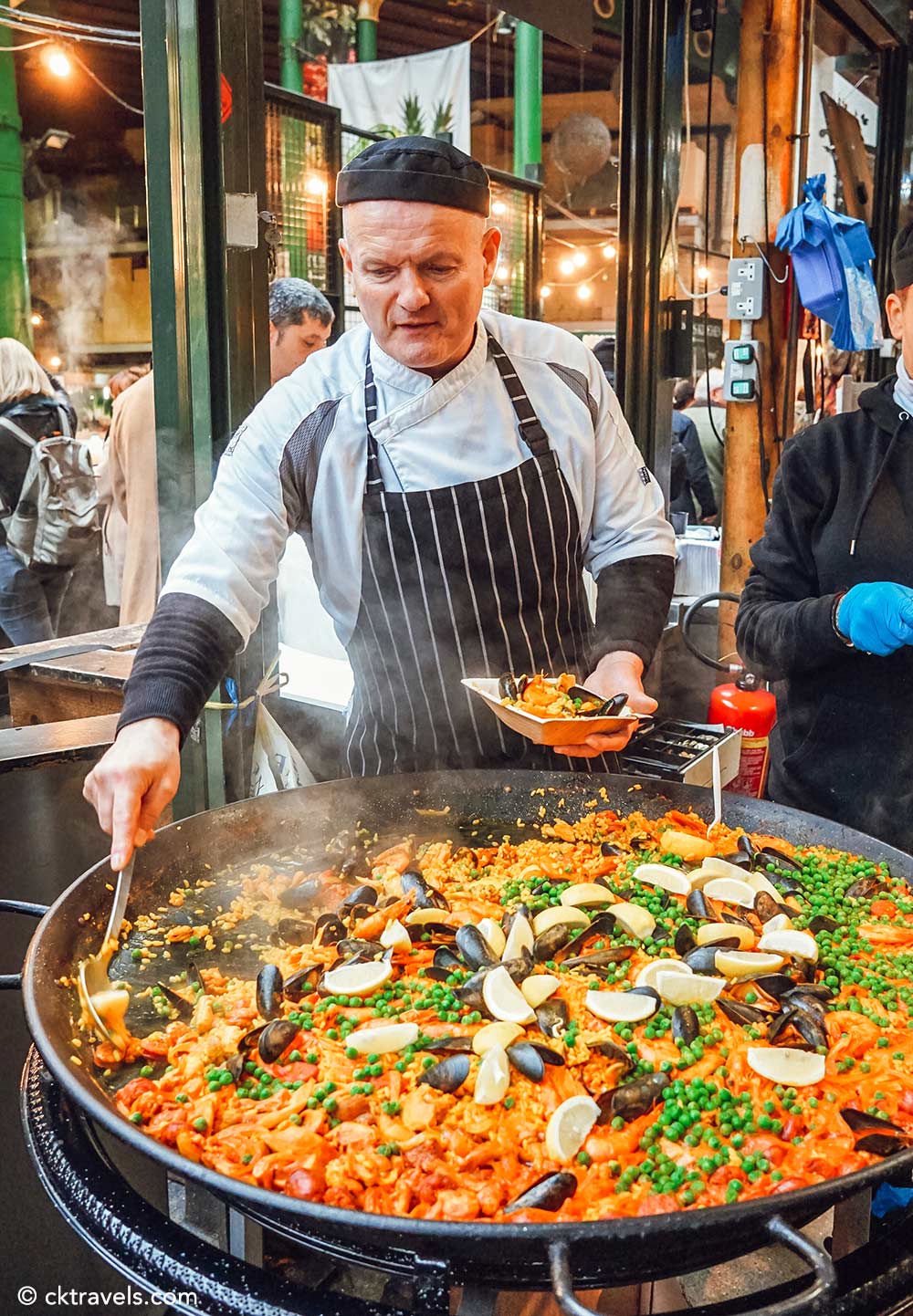 ---
---
15. St Dunstan in the East Church and Garden
A little slice of solitude and utterly peaceful place the church of St. Dunstan in the East church garden, offers respite, tranquillity and a place to worship.
Amazingly is in right in the heart of London's hustle and bustle and city traders, located in the Square Mile and close to Liverpool Street station.
Looking like no other church in central London, St Dunstan in the East Church and Garden survived severe damage caused by both the Great Fire of London in 1666 plus bombing in 1941 – it is mainly ruins but the gardens are all the more beautiful for it.
Read our dedicated guide to St Dunstan in the East >
---
16. Fulham Palace and Gardens (a lesser known free thing to do in London)
West London's historic Fulham Palace and Gardens is a hidden gem and incredibly, it is free to visit.
Located on the banks of the River Thames near Putney Bridge, Fulham Palace is the former home of the Bishop of London and has undergone a huge Heritage Lottery funded restoration project recently.
As well as the Fulham Palace's Tudor courtyard and Great Hall, the star of the show is Fulham Palace's Walled Garden, the second oldest in London and also home to Europe's first wisteria (previous Bishops were keen gardeners)!
Keep an eye out for resident Fulham Palace cats Edmund and Pamunkey who roam the grounds as if they own Fulham Palace.
Read our guide to visiting Fulham Palace and Gardens here >
---
17. Portobello Road Market
Portobello Road is definitely worth a visit for the free market held every weekend. During the week, Portobello Road is a nice mix of chic cafes and independent stores but come the weekend, Portobello Road Market sets up to welcome an array of antique, flea market and food stalls.
Read more about the best things to do in Notting Hill London >
---
18. The Natural History Museum
The second most visited free museum in the UK after Tate Modern, London's Natural History Museum is a treasure trove of natural artefacts and unique items that document the history of our world.
Delve into the history of planet Earth in the Natural History Museum's galleries, which house unique treasures from the museum's collection of more than 80 million objects spanning 4.5 billion years including dinosaur relics, ancient meteor fragments and huge animal skeletons like a massive blue whale.
You can spend a day combining free trips to the Natural History Museum, the Science Museum and the V&A as they are all within a few metres of each other (AKA the Museum Quarter) – so that is three of the best free activities in London ticked off by visiting South Kensington.
---
19. Explore Brompton Cemetery
West London is home to Brompton Cemetery, a Grade I listed historic graveyard and sacred place that is open to visitors all year round.
Brompton Cemetery opened in 1840 and is one of the 'Magnificent Seven' London cemeteries, with over 30,000 gravestones and 200,000 burial sites across the 40 acre site.
In the warmer months, Brompton Cemetery is sometimes open late in the evenings for special events like outdoor cinema screenings showing horror movies, or late night spook-taculars.
Find out more about Brompton Cemetery here>
---
20. Watch a free TV show recording in London
Catching a show in London with big names doesn't necessarily need to be about an expensive theatre show in the West End – you can register to attend TV show recordings for free via sites like sroaudiences.com or theapplausestore.com.
Just remember you usually need to register for the bigger shows months in advance and join a 'wait list' (such as Have I Got News For You, Michael Mcintyre's Big Show and The Jonathan Ross Show).
Many British TV show recordings are free to attend and many of the big chat shows record at Television Centre in Shepherd's Bush, or Riverside Studios in Hammersmith (both in West London).
As an example of a free show in London, we've seen several recordings of the Graham Norton Show at Television Centre in West London and saw stars such as Ricky Gervais, Lady GaGa, Bradley Cooper and Rod Stewart for free.
Read more about Television Centre and Shepherd's Bush here >
---
21 Visit London's most colourful street for free
Lancaster Road in Notting Hill surely has to be London's most colourful street. This terrace row of rainbow houses is a popular photography and selfie spot.
We'd recommend heading to Notting Hill's Lancaster Road in the morning as the sun shines on the houses then making them even more vibrant and brightly coloured. This can also be combined with Portobello Road Market if you are visiting at the weekend
Please remember this is a West London residential street so be respectful of people's properties when visiting.
YOU MIGHT LIKE: Instagrammable photos in Notting Hill experience >
---
22. The Design Museum
Kensington may not be known as one of the least expensive areas in West London, but you can visit the superb permanent collection of the Design Museum for free (although some of the temporary exhibitions may charge a fee).
Conceived by Sir Terence Conran, the Design Museum moved to its Kensington site in 2016 (from London Bridge) and since received numerous awards for its adventurous architecture – half the experience is exploring the building itself.
---
23. Catch a free gig at London's Rough Trade stores
One of the best places to catch a free gig in London has to be Rough Trade, one of the longest established and most respected independent music shops in London.
Rough Trade have two London stores, one in Notting Hill and one called Rough Trade East, near to the Truman Brewery in Brick Lane. Both stores regularly host in-store signings and sometimes bands will play a free gig too after the signings. Check Rough Guide listings for details.
---
24. Read a book at the British Library
A national institution and centre for learning, The British Library is easily one of the best free things to do in London.
As well as temporary exhibitions (recent subjects have ranged from Alice in Wonderland to Paddington Bear), there are permanent free galleries including the Treasures of the British Library.
The Treasures of The British Library features an array of historic tomes and noteworthy journals including Jane Austen's original bureau and Beatles lyrics handwritten by Lennon and McCartney.
Whilst there, take a look at King's Library, a temperature controlled glass tower at the heart of the British Library, home to historic first editions, famous literary works and old manuscripts.
Check out our things to do near Euston Station guide >
---
25. Crystal Palace dinosaurs
Now that Dippy The Dinosaur is no longer on display at the Natural History Museum (the display closed in January 2023), the next best place in London to get up close to a dinosaur for free is Crystal Palace Park's Dinosaurs!
Who needs Jurassic Park when London has its very own phenomenal lake full of dinosaurs that are totally free to visit? This Grade I listed treasure was one of the original attractions from when the park first opened in 1854.
---
26. Neal's Yard
Neal's Yard in Covent Garden is a colourful courtyard and veritable feast of fine food, artisan restaurants and cute craft stores.
Neal's Yard itself is painted brightly and has a cute and cosy outdoor terrace for alfresco dining. Many of the restaurants and cafes in Neal's Yard specialise in healthy foods and sustainable ingredients, with vegan options galore.
---
27. Tate Modern (the most popular free thing to do in London)
Housed in a former power station, the Tate Modern has transformed into a modern art powerhouse, with permanent galleries and temporary exhibitions.
The Tate is free admission although some of the exhibitions charge entrance fees. However, the Tate's Turbine Hall is free to visit and often has large scale displays and immersive soundscapes that are unique to the space it inhabits.
Check out the upper balconies for incredible views – the Terrace Bar is one of our favourites (with reasonably priced beer and wine). Note that as at 2023, the top floor of the Tate's Blavatnik Building is closed due to complaints raised by nearby apartment owners – it used to have incredible (and free) 360 degree views of London and the River Thames.
---
28. Attend a free film screening in London
Most of the big UK and London film premieres are held in one of the several cinemas dotted around Leicester Square, in London's famous West End.
With red carpets regularly graced by Hollywood actors, some of these UK film premieres often allow members of the public to line the red carpets to make the event look busy and get the star's signatures.
But did you also know there are several free websites you can sign up for to attend film premieres or attend fan events?
In the past, we've been able to attend UK film premieres like The Wolverine (Hugh Jackman appeared), Marvel's Eternals and Marvel's Shang-Chi and the Legend of the Ten Rings (complete with full main cast and directors attending) by registering for free with ShowFilmFirst.
---
29. Relive the 2012 Olympics at Queen Elizabeth Olympic Park in Stratford
Undergoing an incredible transformation from an industrial wasteland to world class Olympic stadium, the Queen Elizabeth Olympic Park in Stratford is a lasting legacy to the success of the 2012 London Olympic games and how such a site can be reimagined for all to enjoy.
With a marvellous mix of arts, attractions, nature (plus a sprinkling of 'ABBA'), discover why Queen Elizabeth Olympic Park is one of East London's best free places to explore.
---
30. London Christmas Markets (a festive free thing to do in London)
From Christmas crafts to festive fare, London always comes good at Christmas with a wide array of cracking Christmas Markets in London to choose from (and most have mulled wine to enjoy– a boozy bonus!)
From riverside pop-ups at Tower Bridge to South Bank's winter wonderland, read our guide to London's best free Christmas Markets here (it will be updated for 2023 once London Christmas Market dates are available).
---
31. London Line Sculpture Trail
The Line Sculpture Trail is London's first free dedicated public artwork trail – essentially a London sculpture walk along the River Thames.
The Line Sculpture trail was created in 2015 as an outdoor exhibition space to encourage Londoners and tourists to discover lesser well known parts of London and admire the interesting artwork in open spaces.
Its name stems from the fact that it roughly follows the Greenwich Meridian line from Greenwich all the way to Stratford, between the Greenwich Peninsula and the Queen Elizabeth Olympic Park.
Comprising around 10 or so artworks (The Line Sculpture Trail roster of public art changes every year or so), here is our to dedicated guide to walking the 8km / 5 mile London Line Sculpture trail >
---
32. Visit the canals of Little Venice
One of the nicest neighbourhoods in London is a popular filming location – it had a starring role in the Paddington Bear movies! Little Venice is as tranquil and picturesque as it sounds (spoiler alert – there are no gondolas, just plenty of canal barges).
The Little Venice name was supposedly coined in the 19th century by one-time local resident and famous poet Robert Browning in the 19th century.
This charming canalside neighbourhood marks where several waterways meet (Regent's Canal, Paddington Basin and the Grand Union Canal) and is a wonderful way to spend an afternoon or take a stroll from Paddington station.
Read our things to do near Paddington Station guide and our guide to Little Venice
---
33. British Museum
The British Museum is one of the most visited museums in the UK (and amazingly still free). Founded in the 1750s, the British Museum has one of the largest collections of objects in the world, covering over two million years of human history, culture and art across over 50+ galleries.
For us, the British Museum is as equally about the building itself as the collection objects. The central atrium is an architectural feat and just a joy to walk around; here you can also see a huge collection of ancient Egyptian artefacts and the Rosetta Stone.
---
34. Street performers in Covent Garden
Some of the best free* street entertainment in London can be found in Covent Garden. Located on the world famous Covent Garden Piazza (right in front of The Punch and Judy pub and the Apple Market), a steady stream of world-class street performers go through their well established and crowd pleasing routines daily.
You'll generally find street performers in Covent Garden at the West Piazza performing in front of the St Paul's Church, from lunch-time into the late hours.
*Free to watch but donations are appreciated as this is often their main job.
Check out our things to do in Covent Garden guide >
---
35. View St Paul's for free from One New Change
Entry to St Paul's Cathedral is quite expensive (but so worth it if you can afford it) – the St Paul's Cathedral 2023 admission fee is £23 per person (or £20.50 if you book in advance online).
If you are on a tight budget, the best free views of St Paul's Cathedral can be found by going to the nearby One New Change shopping centre. Here, get the elevator to Madison rooftop bar on the top floor, to enjoy the free St Paul's viewing platform and observation deck.
---
36. The Millennium Bridge
After a shaky start (literally) when it opened in 2000, the 'wobbly bridge' was fixed and became one of London's best known free attractions; it even features in movies like Guardians of the Galaxy and Harry Potter.
Whilst on the Millenium Bridge, keep an eye out for tiny sketches dotted along the metal walkway by street artist Ben Wilson. Unlike other street artists, Ben uses people's discarded chewing gum as his canvas.
---
37. Platform 9 ¾ at King's Cross Station
Even if you aren't the biggest Harry Potter fan (like us), you can make a Harry Potter pilgrimage to King's Cross station to have a free photo with the luggage trolley disappearing into the wall at Platform 9 ¾.
Note the queues to actually have a picture taken at the Platform 9 ¾ Harry Potter installation can take a while but not always. There is also a King's Cross Harry Potter gift shop next door selling all manner of Harry Potter presents and magical gifts.
---
38. Free stand up comedy in London
Did you know you can watch stand up comedy in London for free at numerous comedy clubs? No joke (actually, hopefully there are some).
Top free stand up comedy clubs* in London include the Top Secret Comedy Club on Drury Lane (where the likes of Michael McIntyre and Ross Noble have performed, Angel Comedy and the Comedy Grotto.
*To note not all the gigs at these venues are free (selected shows) and if you do attend a free comedy show in London, show your support to the venue(s) by buying pints – it'll also make you more likely to laugh as some of the free comedy in London can be a little hit and miss.
---
39. The Museum of London* and the Museum of London Docklands
*currently closed until 2026 for renovations
The best free museum in London's Square Mile, the Museum of London has a curious combination of permanent galleries depicting London's interesting history, through to temporary exhibitions on all manner of subjects.
We are also rather enamoured by the former Selfridges department store lift from the 1920s, made entirely of bronze. If you are fascinated by London's history, you could easily spend a whole day here.
Whilst the main branch of the Museum of London is now closed until 2026 for a massive transformation, there is a second free Museum of London Docklands site near Canary Wharf, that details London's maritime history.
---
40. Scenes in the Square at Leicester Square
Want to get up close with Paddington Bear or sit next to Mr Bean? Leicester Square's newest attraction is a series of bronze film statues (entitled 'Scenes in the Square') dotted in and around the gardens, to coincide with Leicester Square's 350th anniversary.
Get up close to all your favourite film characters at London's Leicester Square, at a sculpture trail launched in the heart of the city in the West End in 2020.
Recent additions to Scenes in the Square include Batman (high up on the roof of the Odeon looking down over Leicester Square) and Wonder Woman.
Read our detailed guide to visiting Scenes in the Square here >
---
41. Become one of The Beatles at Abbey Road Crossing
Recreate the iconic Beatles album cover at the famous Abbey Road pedestrian crossing, just up the road from world famous Abbey Road Studios.
The Fab Four posed for a picture at Abbey Road that became part of their legendary 1969 Abbey Road album cover.
These days, countless tourists still make the journey to recreate the Fab Four's pedestrian crossing pose. Do watch for traffic though as it is a busy road. There is even a viral video in 2023 of Sir Paul McCartney recreating the pose on Abbey Road and almost being knocked over by an irate driver!
---
42. London New Year's Eve Fireworks
We braved the crowds in 2017 along the River Thames to welcome the New Year in – one of the best free things we ever did in London – but it is a LONG night as you have to get there several hours before if you want to get a spot at the front.
Incredibly, other than a small viewing area near the Thames in Westminster which is ticketed, it is free to watch London's New Year Eve Fireworks.
The best spots to watch the London New Year's Eve fireworks include the riverside near Cannon Street and Monument, and from one of the London bridges that aren't part of the ticketed area such as Vauxhall Bridge or Lambeth Bridge.
To get a much sought after spot up close and along the Thames, you have to spend around £15 to get a London New Year's Eve Fireworks ticket.
---
43. Postman's Park
Dating back to the 1880s, Postman's Park (named as it was the former site of the Post Office HQ) is a glorious, garden retreat in the heart of London.
It is home to George Frederic Watt's Memorial to Heroic Self Sacrifice, a series of plaques and tablets honouring members of the public who tragically lost their lives trying to save others.
A poignant and haunting tribute, this is generally quite a quiet spot, popular with city workers on their lunch break (it also features as a key location for the movie Closer, starring Jude Law and Natalie Portman).
---
44. Free city farms in London
Grab your wellies and get up close to various farm animals for free at city farms all around London. The best free city farms for us are Hackney City Farm and Mudchute City Farm.
In addition, you can also visit free city farms at Waterloo Oasis Farm, Surrey Docks farm (close to the River Thames) and Vauxhall City Farm.
Whilst free, all of London's City Farms rely on charitable donations to keep them going so please dig deep and donate when you visit.
---
45. The Science Museum
Get hands on at the Science Museum, Europe's most popular science and technology museum suitable for ages with free admission.
With over 15,000 objects and items to discover, there is lots to see and do at the Science Museum including a piece of Moon rock (to confirm it is not made of cheese!) and real-life space ship modules.
An IMAX screen also brings to life stories of science and adventure.
---
46. Take a stroll around Somerset House
The Somerset House courtyard often has free events in their central square like pop-up markets (and in winter, you hire ice skates and enjoy one of London's most magical Christmas ice skating rinks).
Inside Somerset House, visit the Courtauld Gallery, home to one of the largest collections of fine art in the UK or visit one of the numerous pop-up art and craft studios and shops.
The oldest parts of the current Somerset House date back to the 1770s and parts of it have stunning views of the River Thames.
If you have a sense of deja vu visiting, it is because Somerset House is a very popular filming location, featuring in several James Bond movies and more recently, London Has Fallen, Sherlock Holmes and Harry Potter.
---
47. Crossrail Place Roof Garden
Although overshadowed in popularity by the Sky Garden, the fact not so many people visit Crossrail Place Roof Gardens is actually a blessing as there is no need to book in advance and whilst the views aren't are nowhere near as spectacular, it is a jarring and joyous juxtaposition of nature against the sleek sky-scrapers of Canary Wharf.
Opened in 2015 and accessible seven days a week, Crossrail Roof Gardens also have a varied series of events from half term programmes for families through to pop up art installations or trails.
---
48. Regent's Canal walk
London is full of free, charming canal walks and one of the best is in Camden. The Regent's Canal (named after Prince Regent) towpath passes straight through the middle of Camden, right to the market and high street.
If you want to make a whole day of it, you could start your trip to Camden by walking there along the canal, starting in Little Venice and passing by Regent's Park and London Zoo on the way (you can even see some of the zoo animals from the canal towpath!).
As well as graffiti and street-art, you also encounter Camden Pirate castle (a rather cool looking recreation centre) and the occasional narrow boat, raft or paddle-boarder.
There are also lots of nice bars when you arrive in Camden Lock, in case you need a pint to cool off (or a mulled wine in winter).
Other fine, free canal walks in London include Hackney Wick and King's Cross.
---
49. Crossbones Graveyard
Not so much an attraction as a moving memorial shrine and an important piece of London's history, this is a burial ground dedicated to the medieval paupers that is tucked away in the back streets, close to Borough Market.
Reminiscent of the torii gates and ribbons found in Japan, by the time it shut in the 1850s, it held the remains of over 15,000 paupers and it was once one of the poorest and most violent areas of London – a timely reminder of how much London has changed.
Crossbones Graveyard is open on selected weekends – check the Crossbones website for details.
Check out our things to do near London Bridge station guide >
---
50. Take a free guided tour of the Houses of Parliament (UK residents only)
In the heart of Westminster and on the banks of the River Thames, the Houses of Parliament are (supposedly) where all of the important political decisions are made.
UK residents can request a free 75 minute long 'Inside UK Parliament' guided tour via their local MP (or a member of the House of Lords).
Find out more information about taking a free guided tour of the Houses of Parliament here and click here to book a paid Houses of Parliament tour >
---
51. Brixton Black Cultural Archives
The UK's national heritage centre for Caribbean and African people's histories (including detailed information about the Windrush scandal), the Black Cultural Archives (BCA) is open Thursdays to Saturdays in Brixton with free entry for the permanent exhibitions (charges may apply for the temporary exhibitions).
With a huge archive and collection plus regular events and educational activities, Brixton's Black Cultural Archives are very much invested in the local community and preserving the history of African and Caribbean immigrants.
---
52. Primrose Hill picnic views
The vantage point on top of Primrose Hill Park is one of our best views in London and around a 10 minute walk away from Camden High Street.
Offering incredible panoramic views over Regent's Park (including London Zoo) and possibly the widest, free, unspoilt views of downtown London anywhere in the city, this is one to relish and make an afternoon of.
Pack your picnic blanket and Pimms and enjoy Primrose Hill's downtown vistas; the best place to get supplies is nearby Regent's Park Road.
---
53. The Wellcome Collection
Welcome to the …ahem… Wellcome Collection, a free museum and library near to Euston Station that has permanent displays and temporary large scale exhibitions whose mission is to connect medicine, science. life and art.
Increasingly relevant in these trying times with the recent pandemic, the Wellcome Collection shines a scientific spotlight on healthcare matters in an interesting and accessible way.
---
54. Visit a London beach / Walk along Wapping at low tide
During low tides, there are plenty of areas along the banks of the Thames in Wapping that become accessible during low tides for walks. That said, Thames 'beaches' are quite pebbly so they are most suitable best for dog-walking or a pleasant stroll next to the water – you won't be sunbathing on this London 'beach'.
You'll also often see people digging away looking for artefacts ('mudlarkers') as many incredible historical finds had been both along the banks of the Thames in Wapping (although any significant finds are meant to be reported to the relevant authorities).
One of the best ways to access the shore in Wapping is down the passageway, next to the Prospect of Whitby pub – film fans will also recognise this as the setting for the final scene in the 2020 Charlize Therzon movie The Old Guard (on Netflix).
Check out our things to do in Wapping guide >
---
55. Go deer spotting in Richmond Park and Bushy park
With a whopping 2500 acres of parkland to explore, for us, Richmond Park is a peaceful place to roam or cycle around for hours at a time without a care in the world.
If you're lucky, you'll also encounter Richmond's most famous inhabitants, the deer who roam the park and can often be spotted snoozing in the shade. The last time we visited Richmond Park, they'd set themselves up in the paddock next to the Pen Pond Cafe.
The best route to take is via Richmond Hill Road, so you can also enjoy the Richmond Hill Viewpoint on your walk up. Isabella Plantation is also home to woodlands, ponds and a variety of wildlife you won't see elsewhere in Richmond Park.
You can also see deer roaming freely in nearby Bushy Park or at the free to visit deer enclosure at Clissold Park in Stoke Newington, East London.
---
56. Chiswick House and Gardens
One of the most beguiling and beautiful house and gardens in West London, Chiswick House is an 18th century palladian villa once residence to Lord Burlington, set in 65 acres of stunning park land, with river views and hidden statues.
Chiswick House Gardens are free to visit (no booking required) although there is an admission fee to go into the house itself.
You could easily spend a whole day exploring Chiswick House and Gardens by having a picnic on the lawn or lunch in the Chiswick House cafe.
Check out our top things to do in Chiswick guide >
---
57. Battersea Power Station shopping centre and free exhibition
Battersea Power Station mall is all about shopping in style and is definitely one of the best looking and more high-end retail experiences south of the river.
Opened in October 2022 with a lot more promised in 2023 and making good use of the lower levels of the former power station, this is a slick architectural affair where the building itself looks as good as the shops.
Spread over several levels and with predominantly fashion stores in situ at the time of opening (think Tag Hauer, Uniqlo, Tommy Hilfiger etc) with more promised over the next few months, Battersea Power Station is a must visit shopping destination with more restaurants and bars opening soon (including the Arcade Food Hall and a Gordon Ramsay pizza restaurant).
Whilst exploring in and around the Art Deco Turbine Hall, check out the free Battersea Power Station exhibition on the ground floor which explores the history of the building and how if things had been different, it could have been one of the UK's biggest theme parks in the 1990s!
Find out more things to do in Battersea, London here >
---
58. Gunnersbury Park
Gunnersbury Park is a gorgeous and green gem, packed full of history and a beautiful recently restored house that is free to visit inside and out.
A grade II listed Georgian mansion built in the 1660s with gardens that includes a museum, an orangery, shell grotto and a boating lake (with an 18th century temple and swan pedalos – how Disneyland!).
This is a fine day out for all ages, even if you don't appreciate the historic majesty of the site.
Gunnersbury Park has some of the best walking trails in West London, with wild flower meadows, a Gothic tower hidden in the woods and a cafe to grab a much deserved drink in after.
---
59. Listen to the world's longest 'record' at Trinity Buoy Wharf Lighthouse
Also known as Bow Creek Lighthouse and built in the 1860s, the Trinity Wharf lighthouse was originally used for testing purposes (prominent scientist Michael Faraday even did some research here) before being decommissioned.
It is now open to the public (free admission) and home to Longplayer, a musical composition featuring Tibetan 'singing bowls' that play without any repetition for over 1,000 years (beat that Spotify shuffle!)
Faraday's former work at the lighthouse is also fondly remembered here in one of London's smallest exhibitions, The Faraday Effect, another free, interactive display hosted in a converted wooden shed.
---
60. Take a walk along Brick Lane
Finally, for our final 'best free things to do in London' inclusion, take a stroll along London's famous Brick Lane, an eclectic East London neighbourhood.
You can browse various flea markets for free and see incredible street arts in the side street. Curry restaurants galore are also dotted around Brick Lane (it smells sublime).
Also, one of London's best cheap eats is a boiled salt beef bagel, available for not much moolah from Beigel Bake and Brick Lane Bagel Shop. Both Brick Lane bagel stores are open 24 hours but expect huge queues during the day.
---
61. Damien Hirst's Outdoor Art and Sculptures at Greenwich Peninsula
North Greenwich and Greenwich Peninsula is blessed with some incredible free outdoor alfresco art and sculptures, most notably work by Damien Hirst.
Renowned artist Damien Hirst is a former North Greenwich resident so it is perhaps fitting that several of his most famous artworks are on display here.
Artworks from Damien's The Wreck of the Unbelievable series are dotted around Greenwich Peninsula – Hydra and Kali, The Divers and Mermaid and Demon With Bowl.
The Demon is a colossal 60 foot / 18 metre tall sculpture, and one of the largest sculptures to ever be unveiled in London, having been created for a previous art biennale in Venice.
---
62. Chinatown
As you walk around exploring Soho, you'll occasionally catch a glimpse of Chinese lanterns or the huge, iconic Chinatown gates denoting the entry of Chinatown London.
Surprisingly, this area of London didn't have a Chinatown until the 1970s so it isn't that historic. What London's Chinatown lacks in legacy is made up for by the sheer number of restaurants and Chinese supermarkets.
Chinese New Year in Soho and London is a particularly wonderful time to visit (usually January – February).
Apart from the Chinatown Gate, our favourite bit of Chinatown to visit is the alleyway known as Newport Court – there are several authentic bakeries around here and as the area is so enclosed, it often smells delicious.
---
63. Notting Hill Carnival
An annual celebration that takes usually takes place over the long Bank Holiday weekend in August, this is Notting Hill at its most liveliest and also one of the world's five biggest street carnivals (up there with the Rio carnival).
A process of colourful floats and street parties run over three days, with Sunday usually being the Family Day and Monday being the main carnival.
Street sound systems are set up all over the area and neighbours compete for the loudest and best set-ups. Local entrepreneurs open street food stalls in every place imaginable as well as their toilets (usually for £1 or £2 a time). All in all, quite the party experience and something everyone must do at least once in their lives.
The dates for the 2023 Notting Hill Carnival in west London have now been announced – the Notting Hill Carnival takes place on Sunday August 27th, 2023 (family day) and Monday August 28th, 2023.
---
64. Carnaby Street
One of London's most popular and well known fashion streets (especially in the swinging sixties), Carnaby Street in Soho to this day continues to be a hive of activity.
It is renowned for its riot of colour, particularly during festivals and special events when bright banners are hung across the street. Carnaby Street is certainly one of the most colourful places in London.
---
Our final free thing to do in London…
65. The Wallace Collection
Founded in 1897, a visit to the Wallace Collection is equally about the works of art on display and the museum layout itself.
This truly is a unique museum setting with almost 30 rooms of exhibits and paintings to visit, located in an iconic London townhouse. To us, a visit to the Wallace Collection kind of feels as though you are visiting a countryside stately home but in the middle of London.
The museum is named after Sir Richard Wallace, who was responsible for starting the collection of items from the 18th and 19th centuries. It is famed for its painting collection, including works by such revered artists as Rembrand Canaletto and Rubens.
The Wallace Collection is a free national museum located in luxurious Manchester Square – it feels a world away from the business of Oxford Street.
---
These are our top free things to do in London list – do you have other free things in London for us to include or try? Let us know in the comments below!
Other London posts you might like

Did you enjoy our free things to do in London blog post? Let us know in the comments or by sharing the post on social media.
You can follow CK Travels on: 
Instagram
Facebook
TikTok 
YouTube
Pinterest