This post may contain affiliate links to tours and hotels. These help us earn a small commission at no additional charge to you.
Looking for some American bars in London? We've got you covered.
London's bar scene is legendary but if you're visiting from the USA or pining to see an American sports game, there is a wide range of London American bars, from cheap and cheerful craft beer joints to sleek and sophisticated cocktail bars.
Whether you're accompanying your American Ale with aged rib eye or your pumpkin pie with pumpkin beer, this is our guide to the best American bars in London.
Best American Bars in London
1. Passyunk Avenue (Waterloo)
One of the coolest American bars in London, Passyunk Avenue bar is located in Waterloo's Leake Street tunnel, perhaps London's number 1 spot for subterranean street art.
Passyunk Avenue Waterloo is an American dive bar in London that prides itself on its Philly Cheese Steaks and Buffalo Wings. It often does happy hour specials plus events for big NFL screenings (and is possibly the best American bar in London to watch the NFL final).
American Bars in London bonus tip – just 30 seconds away from Passyunk Avenue, you'll find Brewdog's largest London bar underneath Waterloo Station. Brewdog Waterloo serve many American inspired beers including Brewdog Saint American Red Ale.
Check out our things to do in Waterloo guide >
Address: Passyunk Avenue Waterloo Leake St, London SE1 7NN
---
2. The American Bar at the Savoy
Once crowned the 'Best Bar in the World and likely the most famous American bar in London (because it is LITERALLY called The American Bar), this swanky Savoy hotel establishment boasts some of the UK's best bar-tenders.
Opened in the 1890s, this is the oldest surviving cocktail bar in the country (the American Bar in London has so many accolades) and has had distinguished drinkers such as Sir Winston Churchill and Ernest Hemingway visit over the years.
'A New Beginning' awaits you (ione of their signature cocktails) at the American Bar.
From Hanky Panky Highballs to Pocket Rockets, no two American Bar cocktails are the same.
Reservations at Savoy's The American Bar are only open to hotel residents, but non-guests can try and bag a coveted walk-in slot.
Address: The American Bar, The Savoy, Strand, London WC2R 0EU
---
3. The Breakfast Club (Breakfast Pub)
You may have already heard about the American style diner food available at The Breakfast Club, one of London's best brunch, lunch and dining spots – but have you heard about their 'secret bar' that is straight out of the set of Twin Peaks? Nice as cherry pie too.
The Breakfast Club has branches across London from Battersea to Hackney Wick but Breakfast Club Canary Wharf is more of a breakfast pub than Breakfast Club.
Through a hidden doorway (complete with stripy floor and red walls a la Twin Peaks), you'll be transported to a wood-panelled American bar serving dishes like American pancakes, Nashville Fried Chicken Benedict and Winner Winner Buffalo Dinner.
Check out our things to do in Canary Wharf guide >
Address: Breakfast Pub at the Breakfast Club, 1 Crossrail Place, Canary Wharf, London, E14 5AR
---
4. Werewolf Beer, Camden
An American Werewolf in London – well, Camden to be more precise.
Definitely one of the more unique (and slightly spooky) bars we've been to in London – Werewolf Beer strives to brew American style beer in the railway arches near Camden Town overground station.
You know you are for quite the experience as you first approach Werewolf's Camden taproom – a ghostly ghoul mannequin points you into Werewolf's Beer freaky but fun brewery beer garden chock full of scary spooky ghost-train style props (apparently from a genuine 1950s ghost-train; cool!).
Billed as 'An American Brewery in London' (nice), Werewolf Beer opened its taproom doors in April 2022. Werewolf Beer American bar style beers include Kadillac Coffee Stout, Creepster American Brown Ale and when we last visited near Halloween, Pumpkin Ale.
Check out our things to do in Camden guide >
Address: Werewolf Beer, Arch 87 Randolph Street, London NW1 0SR
---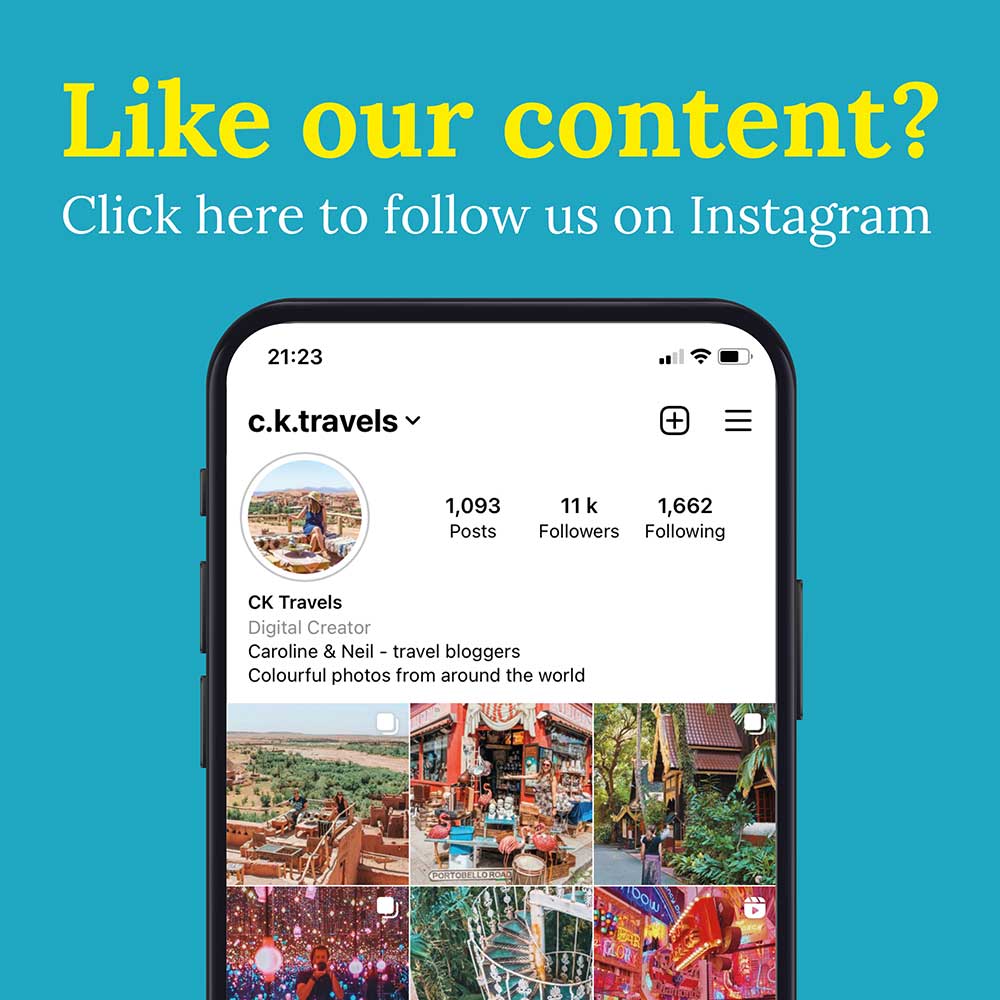 5. The Big Easy
Another American bar in London, The Big Easy is a laid-back American style bar and restaurant that specialises in home smoked BBQ, fresh lobster, cocktails and ice cold American beers (Bud Light, Goose Island, Budweiser etc).
The Big Easy has several branches in London including Stratford and Covent Garden but our favourite Big Easy has to be in Canary Wharf at Crossrail Place. The restaurant has a huge roof terrace with views over the whole of Canary Wharf, plus live music every night.
During the week, Big East have daily specials such as unlimited BBQ, chicken wings or shrimp, and on weekends they have a boozy brunch menu where you can drink bottomless prosecco, beer or frozen cocktails with your meal for a set price.
Big Easy is definitely one of the best value American bars in London.
Big Easy Canary Wharf is located in Crossrail Place and advance booking is highly recommended.
Address: Big Easy – Canary Wharf; Crossrail Place, London E14 5AR
---
6. The American Bar at The Stafford
Luxurious St James's hotel The Stafford is home to The American Bar, a classy and convivial cocktail bar and not be confused with the other London American Bar at The Savoy hotel. If you are getting a taxi, make sure you say which American Bar (London cabbies are always very helpful though).
The American Bar at The Stafford Hotel has an American inspired menu with dishes such as Cobb Salad, Caesar Salad, Mac & Cheese and club sandwiches.
One of the oldest American Bars in London, their newly launched cocktail menu – The Alchemy of Equilibrium (!!) – is based around the Earth's four elements so you'll be able to seek 'Solis' here and make many 'Mamoris' (yes, their cocktail names are a little pretentious but the taste makes up for it).
Address: The American Bar at The Stafford, 16-18 St James's Place, St. James's, London SW1A 1NJ
---
7. The Lexington
A vintage Victorian 'boozer' (another name for a traditional British pub if you didn't know), the Lexington combines the best of British with American hospitality and a hint of Kentucky charm.
Serving one of London's biggest and best collections of bourbon, The Lexington is an iconic Islington institution with a colossal American craft beer collection on tap – we'll drink to that.
Address: The Lexington, 96-98 Pentonville Road, Islington, London N1 9JB
---
8. The Brick Lane Tap Room
We love a London taproom (we even have a guide to the best London taprooms here) – whilst the Brick Lane Tap Room doesn't make the cut, this American style tap-room just off Brick Lane (and near to Liverpool Street Station) has bare brick walls, neon beer signs galore plus heaps of American IPAs and local London brewery beers on tap.
The Brick Lane Tap Room stays open late (or should that be early) every year for the NFL Super Bowl with American dining and drinks packages available.
Address: The Brick Lane Tap Room, 91 Brick Lane, London E1 6QL
---
9. Dirty Bones London
New York comfort food meets classic cocktails and American craft beers – and may we say Dirty Bones hotdogs and fries are legendary on the American bar in London scene (we used to visit the original Kensington Dirty Bones every week when we worked nearby).
Dirty Bones American bar and restaurants serve up hearty American style fare like NY strip steak and eggs, blueberry pancakes and tater tots.
Plus at the weekends, Dirty Bones Soho and Shoreditch do a bottomless brunch where you can pick any brunch items and 90 minutes of alcohol for around £40pp (as at February 2023).
As well as Dirty Bones Kensington (temporarily closed as at February 2023), Dirty Bones have their London American bars in Soho, Covent Garden and Shoreditch (plus one in Oxford too).
London Travel Planning Facebook Group by CK Travels
Need help with your London travel itinerary or have any questions about your upcoming trip? Join our brand new online community! Click here to join our London Travel Planning and Tips Facebook group
10. Maple Leaf Covent Garden (yes, a Canadian Bar but…)
Ok, OK, bear with us. WE KNOW the Maple Leaf in Covent Garden is a Canadian bar BUT it is a popular bar in central London that many Americans flock to with their Canadian chums. Plus this is the best bar in central London to show lots of American and Canadian sports like NFL and NHL.
As well as typical Canadian beers on tap like Sleemans, Covent Gardens Maple Leaf bar also has a wide array of American beers to enjoy.
Address: Maple Leaf Covent Garden, 41 Maiden Lane, London WC2E 7LJ
---
11. Huckster Paddington
A little piece of Americana comes to Paddington with this 1980's inspired Manhattan/ NYC street food hall and karaoke bar – think Greenwich Village but not the London one!
Billed as a '…bustling all-day dining and drinking urban market', Huckster offers fun, fast food (think burgers, fries and pizza) in a fun setting, with graffiti walls, diner style booths and copious amounts of booze (happy hour specials and bottomless brunches are particularly popular).
YOU MIGHT LIKE: Things to do near Paddington Station >
---
Our final American bar in London…
12. Evans and Peel Detective Agency, Earl's Court
One of the first ever immersive and 'secret' American bars in London you need to track down is the Evans and Peel Detective Agency, a stalwart of the secret bar scene in London. We first went to Evans and Peel bar for a work Christmas party years ago and everyone had such a fun night.
Evans & Peel Detective Agency is a speakeasy American style bar with regular live music events and one of the best cocktail menus in London. Once you've walked past the detective agency entrance (a little role play is encouraged), you are free to enjoy the bar and live music.
Bookings in advance are recommended with a deposit of £20 required to secure a table – a £5 live music fee is also requested per person. Evans and Peel Detective Agency prices are correct as at April 2023.
Address: Evans & Peel Detective Agency, 310c Earls Court Road, London SW5 9BA
---
YOU MIGHT LIKE: The best immersive experiences in London >
---
An honourable mention…
…goes to our former favourite of all the American bars in London – the Cheers Bar. As fans of the American sitcom Cheers (and subsequently 'Frasier'), it was always fun to go to the Cheers themed American bar in central London and drink American beers but this closed down years ago. Cheers Bar – we miss you!
Enjoyed our guide to American bars in London ? Have we missed any other awesome American bars in London? Let us know in the comments below.
---
Other London posts you might like
Did you enjoy our American bars in London blog post? Let us know in the comments or by sharing the post on social media.
You can follow CK Travels on:
Instagram
Facebook
TikTok
YouTube!