This post may contain affiliate links to tours and hotels. These help us earn a small commission at no additional charge to you.
Into your Instagram? Want to add some flashy colours to your feed? Whilst London may not always be the most 'social' of places, its neighbourhoods and attractions can be a carnival of bright colours and perfect pastel shades – perfect for that instagrammable shot.
From a subterranean graffiti arch very close to the River Thames to a neon nirvana on an unlikely industrial estate in east London, here is guide to the most Instagrammable places in London:
Instagrammable Places in London – Best Photo Spots Map
Instagrammable Places in London – Best Photo Spots
1. Mercato Mayfair Food Hall
Based on our own Instagram experiences (check out our Instagram feed here), our Insta snap of Mercato Mayfair Food Hall was one of our most popular London posts in a while. So we can categorically say that it is definitely one of the most Instagrammable places in London.
Located in an old deconsecrated church, Mercato Mayfair is the best looking street food market / food hall in London, plus surprisingly reasonable prices given it is located in Mayfair.
Mercato Mayfair is our go to food hall in central London when we are taking guests from overseas. There are around 15 or so delightful food stalls based over two floors.
The Mercato Mayfair church setting with street food stalls all around is just incredible – there is even a Kraft Brewery bar where the font and altar used to be.
Worship at the font of Mercato Mayfair – once a church, now the finest looking food court in London.
Address: Mercato Mayfair food court, St. Mark's Church, N Audley Street, London W1K 6ZA
Nearest station: Bond Street station
---
2. Hijingo Bingo
If we had to describe Hijingo in two words, it would have to be 'beautifully bonkers'. Hijingo in essence is Japanese inspired bingo, a neon nirvana of bright lights and an attack on the senses. Jeez, Hijingo is just unadulterated fun, like Gala bingo on acid.
As previous visitors to Tokyo, we really enjoyed the Hijingo experience and whilst it isn't quite up there with Robot Restaurant (to be fair, what is?!), this is one of the best nights and most Instagrammable places in London we've been to recently.
With prices starting at £16pp for two games, this is futuristic fun and works well on the 'gram. Popular with work crowds, Hijingo is a modern bingo hall with state-of-the-art video screens, neon lights and a huge stage.
Each Hijingo session consists of three games and prizes up for grabs on our night including a retro games console, mini drone plus the chance to win £250 cash or a European city break; swish!
Address: Hijingo Bingo, 90 Worship Street, London EC2A 2AP
Nearest stations: Shoreditch High Street station and Liverpool Street Station
Check out our Hijingo Instagram video below:
---
3. Chiswick Flower Market
Chiswick Flower market is the first open-air flower market to open in London for 150 years and blooms into life the first Sunday of every month, come rain or shine.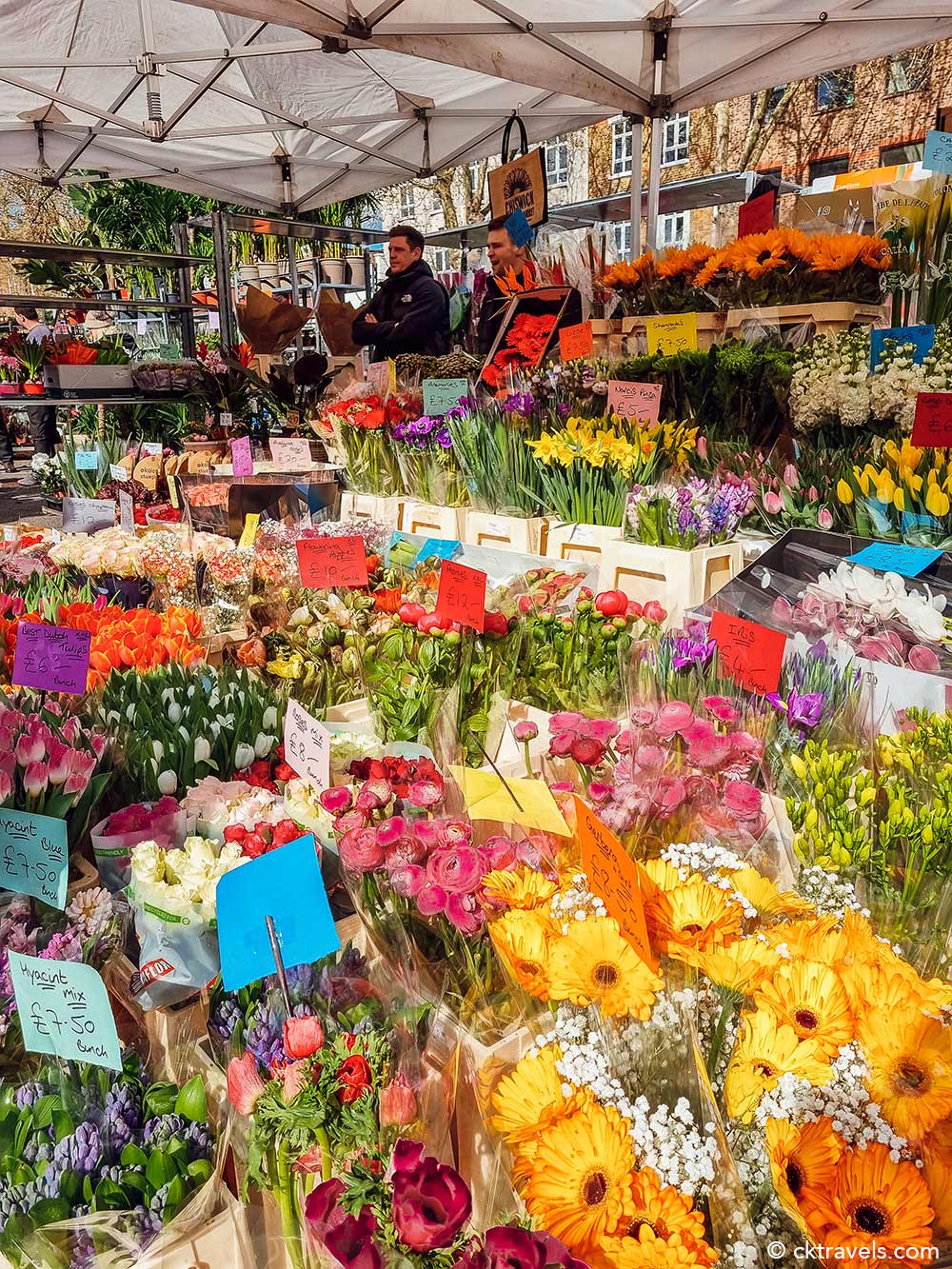 Like a smaller version of Columbia Road market but equally as bright and photographable, The Chiswick Flower Market has around 20-30 stalls from local garden centres, the Chiswick Horticultural and Allotment Society and London House Plants.
The Chiswick Flower Market is held on the 1st Sunday of every month, from 9am-3pm along Chiswick High Road, just outside the stretch of bars and restaurants that includes Chiswick Fire Station and the George IV pub.
Address: Old Market Place, Chiswick High Road, Chiswick, London W4 2DR
Nearest station: Turnham Green station
---
4. God's Own Junkyard
It is rare to say in London that a place is '…like no other', but in this instance, it is fair to say that not only is God's Own Junkyard the most Instagrammable place in Walthamstow, but possibly in the whole of London.
Located on an industrial estate, this may not initially sound like the most promising of locations but God's Own Junkyard is an Aladdin's cave of quirky, cute and often subversive neon lights and sculptures.
An explosion of neon, like Soho has relocated to Walthamstow, God's Own Junkyard is a warehouse packed to the rafters with all manner of neon signs and art works (as featured in countless movies like Batman and Eyes Wide Shut).
From religious statues holding guns to go-go dancers and strip joint signs, God's Own Junkyard is the most entertaining photo spot in London.
Read more in our guide to God's Own Junkyard >
Address: Unit 12, Ravenswood Industrial Estate, Shernhall Street, London E17 9HQ
Nearest station: Walthamstow Central station and Wood Street station
---
5. Fulham Palace Walled Garden
The second oldest botanical garden in London (after Chelsea Psychic Garden) and one of London's most Instagrammable gardens when in full bloom.
Fulham Palace was also the first place ever in Europe where wisteria was grown, introduced by Bishop Compton in the 17th century.
Fulham Palace is the former home of the Bishops' of London, with some form of residence on the site since 704AD.
Arrive in style via the restored Tudor Courtyard entrance and browse the new museum detailing Fulham Palace's history (free admission). You can also enjoy an afternoon tea overlooking the lawn here – bubbles are available too. Cheers!
Read more about the walled garden in our Fulham Palace guide >
Address: Bishop's Avenue, London SW6 6EA
Nearest station: Putney Bridge station
---
6. Leadenhall Market
Leadenhall Market was originally constructed in the 14th century and is one of London's most beautiful and historic market places, perfect for taking social media pics (especially late or early in the day when no-one is around).
The Leadenhall Market interiors are stunning and intricately painted (just look up at the roof).
Walk along the covered, cobbled streets and lanes in Leadenhall Market, browse the shops, pose for pics or simply grab a beer or wine at one of the old pubs here and wonder in awe at the architecture, imagining all that has happened here over the last several hundred years.
Read our dedicated Leadenhall Market blog here >
Address: Gracechurch Street, London EC3V 1LT
Nearest stations: Liverpool Street station, Fenchurch Street station and Aldgate station
---
7. Churchill Arms, West London
Kensington's Churchill Arms is one of the most famous pubs (and Instagrammable places) in London, mainly due to the exterior being festooned with flowers during the summer months, and the super photogenic Thai restaurant inside.
The Churchill Arms also continue the trend at Christmas, bedecking the outside of the pubs with hundreds of Christmas trees and fairy lights.
Read our full guide to Churchill Arms >
Address: 119 Kensington Church Street, London W8 7LN
Nearest station: Notting Hill Gate station
---
8. Neal's Yard, Covent Garden
A colourful corner of Covent Garden with its wildly painted walls and shockingly bright shutters, Neal's Yard is home to several cafes, restaurants and organic shops, all committed towards their environmental cause.
Visit at any time of the day and the courtyard is full with people dining or browsing, and generally enjoying their kaleidoscopic surroundings.
YOU MIGHT LIKE: Best things to do in Covent Garden >
Address: Neal's Yard, Covent Garden, London, WC2H 9DP
Nearest station: Covent Garden station
---
9. Fair Game Canary Wharf
A new Canary Wharf gaming experience designed with social media snaps in mind, Fair Game Canary Wharf is the most entertaining and immersive experience we've had in London since Hijingo Bingo Japanese in Shoreditch (also on our most Instagrammable places in London list).
How best to describe Fair Game? All the fun of the fair without the rubbish circus acts. A carnival of fairground attraction style games with oodles of eating and drinking options and great photo spot opportunities.
And yes, there is a candy floss stall too alongside delicious street food fare so smart looking street food shots can also be achieved.
YOU MIGHT LIKE: Best things to do in Canary Wharf guide >
Address: 25 Fishermans Walk, London E14 4DH
Nearest stations: Canary Wharf station and West India Quay station
---
10. St Lukes Mews
An attractive and alluring side road, St Lukes Mews is one of the most famous streets in London and is a charming residential dwelling with pretty houses.
Rom-com fans will recognise this mews from the British film Love Actually – the scene where Andrew Lincoln declares his love silently for Keira Knightley!
YOU MIGHT LIKE: Best things to do in Notting Hill Guide >
Address: St. Lukes Mews, London, W11 1DF
Nearest stations: Ladbroke Grove station and Westbourne Park station
---
11. Mayfield Lavender Field, Banstead
Looking lovely in lavender – we couldn't leave out a lavender field from our guide of London's most Instagrammable places.
Although lush lavender fields are more numerous outside of the capital, there are a few that are just a short train ride from central London, including Mayfield Lavender Field.
The best way to get to Epsom Down's Mayfield Lavender Field is to go to East or West Croydon station then get the No. 166 bus; you can use your TFL Oyster card. A detailed guide of ways to reach Mayfield is listed on their website >
With attractions including a lavender shop, small cafe and traditional red phone box placed within the field, you can see why Mayfield Lavender Field is one of the best photo spots in London.
There are also plans for an outdoor theatre to open at Mayfield Lavender Farm this summer. The 250 seater Lavender Theatre launches in July with Annie Get Your Gun until August 2023.
Address: 1 Carshalton Road, Banstead SM7 3JA
---
12. Kyoto Gardens / Holland Park
Just across from Notting Hill brings you to one of London's most Instagrammable spots, Holland Park.
Renowned for its oriental style Kyoto Garden (glorious in Spring, London's very own sakura / cherry blossom spot), Holland Park is also home to Holland House and its glorious Formal Gardens.
The Kyoto Gardens contain a beautiful waterfall too and if you are lucky, you might spot a peacock – not your typical find in a London park.
Address: Holland Park Avenue, London W11 4UA
Nearest station: Holland Park station
---
13. St Dunstan in the East Church and Garden
A little slice of solitude, the church of St. Dunstan in the East church garden, offers respite, tranquillity and a place to take incredible Instagram photos.
Amazingly it is right in the heart of London's hustle and bustle and city traders, located in the Square Mile and London's historic heart.
Looking like no other church in central London, St Dunstan in the East Church and Garden survived severe damage caused by both the Great Fire of London in 1666 plus bombing in 1941. It is mainly ruins but the gardens are all the more beautiful for it.
Read our dedicated guide to St Dunstan in the East >
Address: St Dunstan's Hill, London EC3R 5DD
Nearest stations: Monument station, Tower Hill station and Fenchurch Street station
YOU MIGHT LIKE: Alleyways and Courtyards of London walking tour >
---
14. Tower Bridge
If you don't know Tower Bridge, you don't really know London. Likely London's most well known landmark, the iconic Tower Bridge was built over 120 years ago and is the jewel of London's most instagrammed places.
Take snaps along the River Thames with the Tower Bridge in the background or if you want to get up close, you can visit the inner workings via the Tower Bridge Experience.
Tower Bridge still opens up occasionally when the tall ships come through too so you may be able to capture this if you're lucky.
Address: Tower Bridge Road, London SE1 2UP
Nearest stations: London Bridge Station, Tower Gateway station and Tower Hill station
---
15. Columbia Road Flower Market
Columbia Road is a cute side street filled with cafes, bakeries and craft shops during the week, but on Sundays, it bursts into a sea of colour with a massive ensemble of flower market stalls. One of the best photo spots in east London!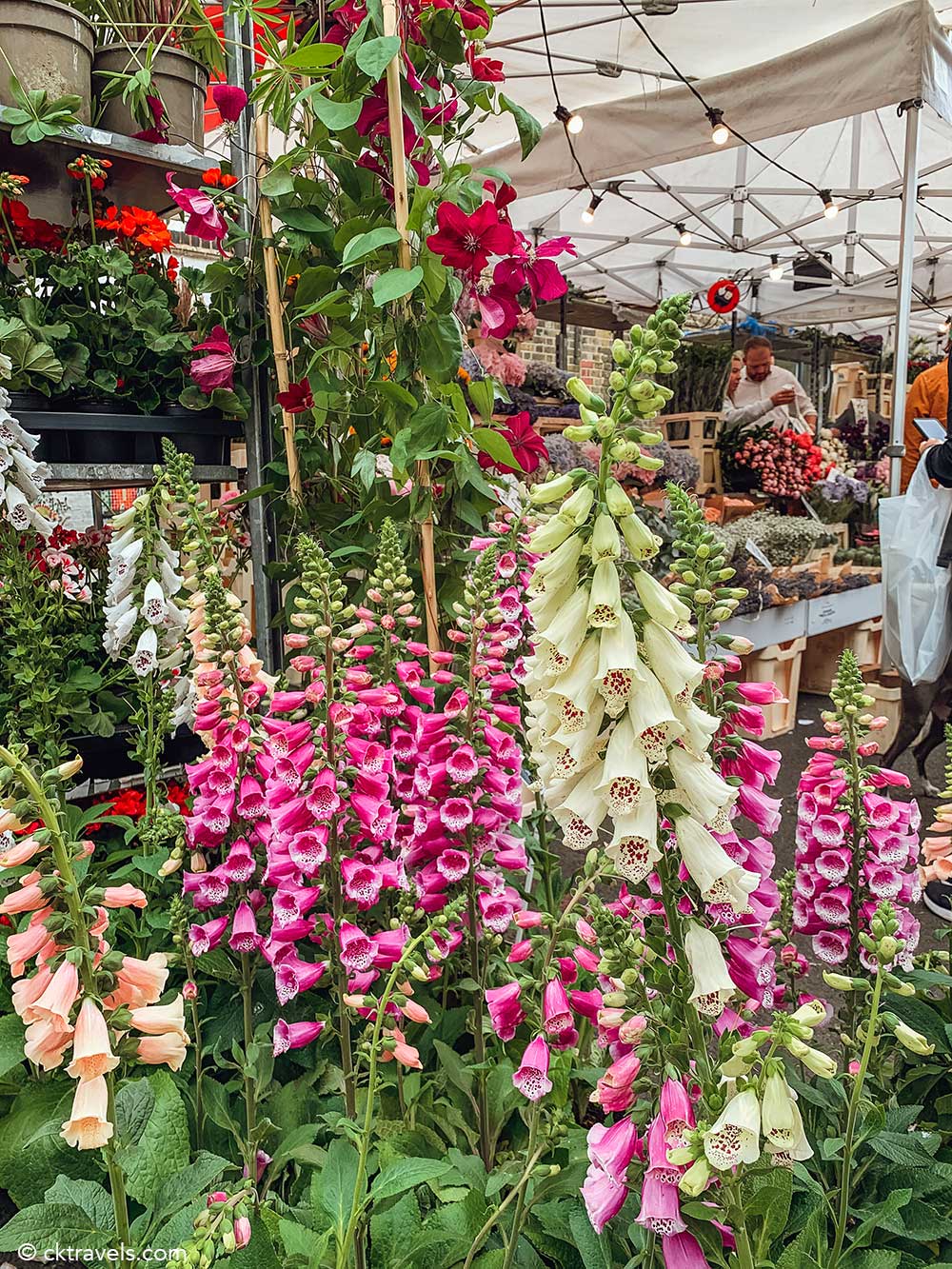 This is London's largest public flower market and is open between 8am and 3pm every Sunday, located between Bethnal Green and Shoreditch.
Read our complete guide to Columbia Road flower market here >
Address: Columbia Road, London E2 7RG
Nearest stations: Hoxton station, Cambridge Heath station and Bethnal Green station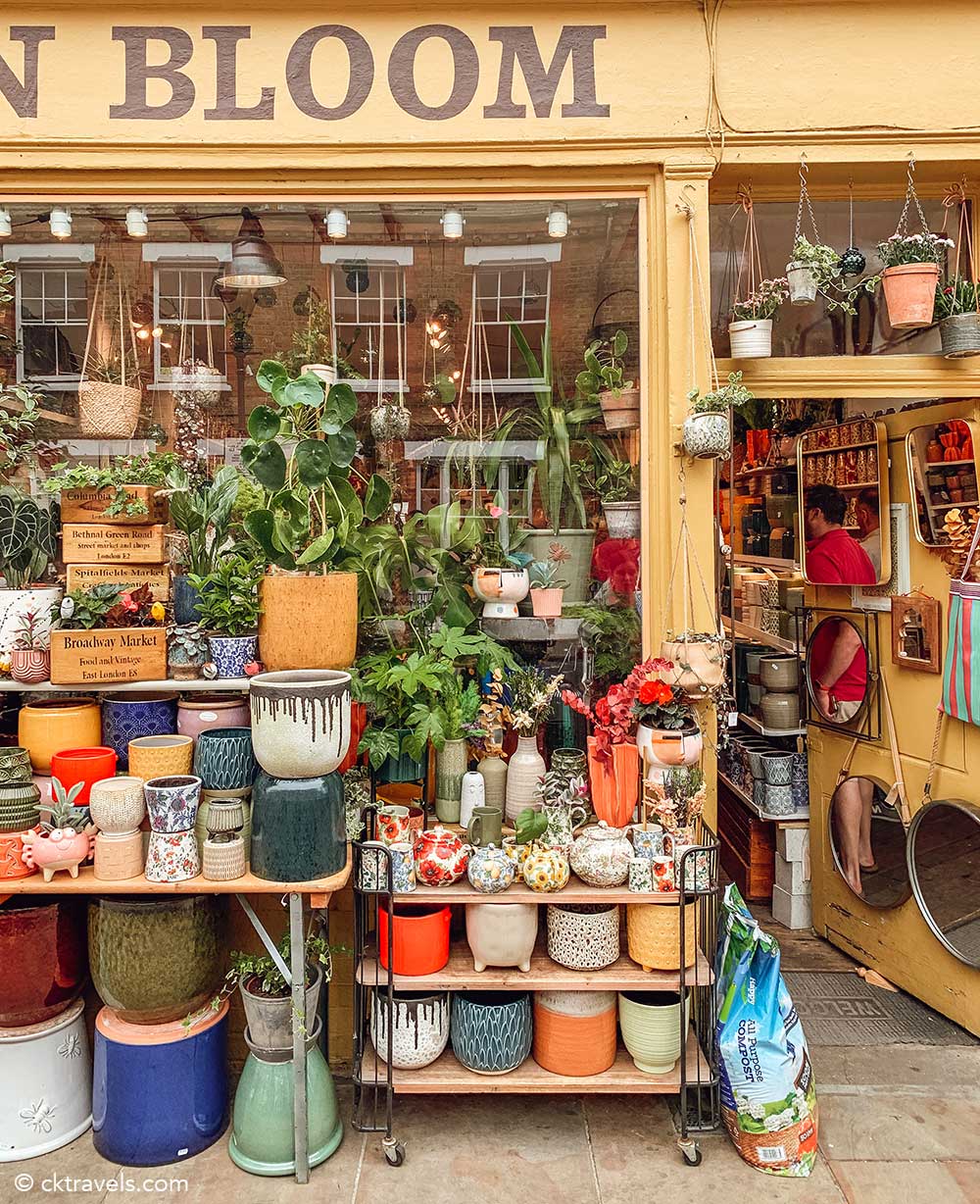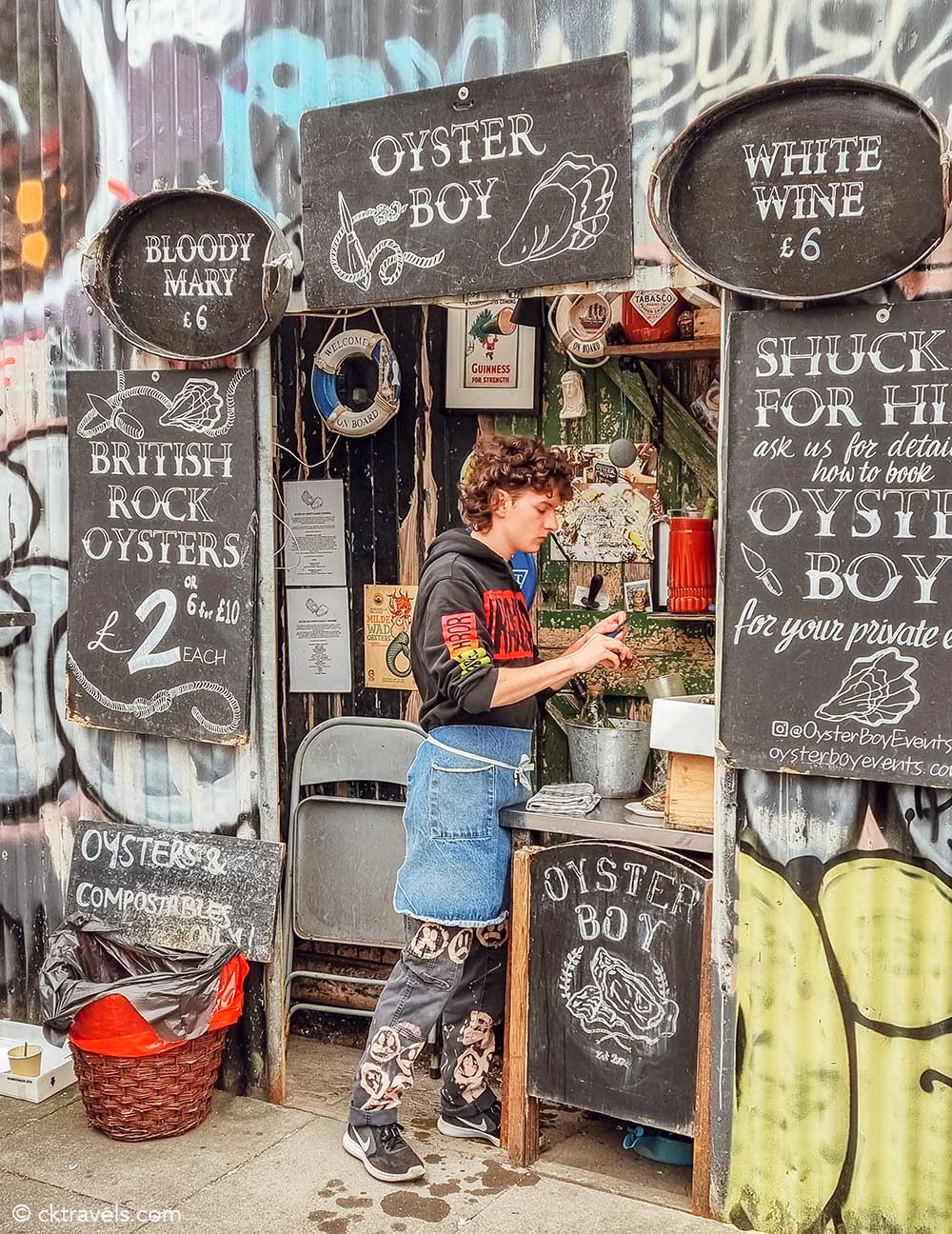 ---
16. Lancaster Road, Notting Hill
Dropping by Notting Hill for Portobello Road Market, or to savour the tasty street food stalls at Acklam Village Market? Whilst there, visit Lancaster Road, home to a terrace of multicoloured painted homes. They must have all agreed beforehand about the collaborative paintwork so it is nice to see such community spirit in the area.
And obviously it becomes even more colourful and vibrant during Notting Hill carnival, welcoming over 1 million visitors to watch the parades and floats, and generally party.
Address: Lancaster Road, Notting Hill, London, W11 1QJ
Nearest stations: Ladbrook Grove station
---
17. Colourful Camden
The streets in Camden are full of bright colours and the quiet residential Hartland Road boasts some sublime street art that spills over from nearby Hawley Mews.
It also has a row of multicoloured terrace houses, that gives Lancaster Road in Notting Hill a run for its money in terms of being competition for London's most Instagrammable place and street.
Camden's High Street also has some massive colourful murals and bright oversized objects / artwork. Make sure you also check out the 'sea of umbrellas' just across the road in Camden Market.
Nearest stations: Camden Road station and Camden Town station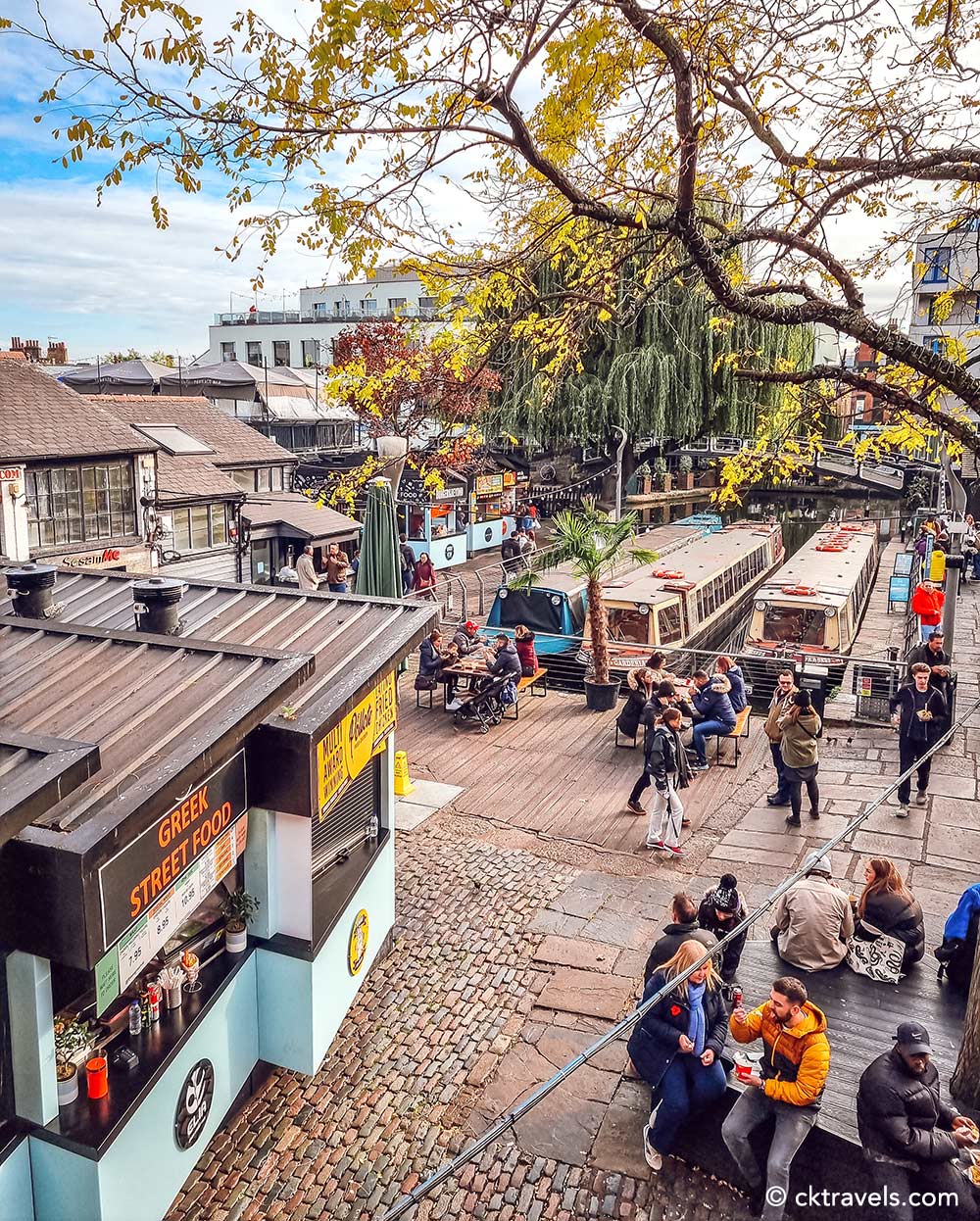 ---
18. Leake Street Arches Graffiti Tunnel / Street Art
This 'underground' art scene in central London is most instagrammable!
London's best subterranean street art can be found a short walk away from Waterloo Train Station in the form of Leake Street Arches.
The longest legal street art area in the capital, Leake Street Arches is a colourful and creative area in Waterloo where street artists can add their own unique street art.
This also means the Leake Street Arches art changes regularly so there is something new to see and Instagram every time you visit.
Remember, look up! Some of the best street art in Leake Street Arches can be found on the roof space (just watch out for the skateboarders). Leake Street arches is also home to several bars, including Passyunk Avenue, one of the best American Bars in London.
Address: Leake Street Arches, Waterloo, London, SE1 7NN
Nearest stations: Waterloo station
---
19. Heddon Yokocho Ramen Restaurant, Mayfair
We just love visiting this Instagrammable retro Japanese ramen bar located in London's trendy Mayfair neighbourhood!
The decor is inspired by Tokyo's 'yokocho' alleyways from the 1970s, and the restaurant is packed from floor to ceiling with glowing neon street signs, Japanese adverts, sake barrels and colourful paper lanterns, plus a funky moving bowl of ramen at the entrance.
As well as being one of the best photo spots in London, the food is also great with many delicious traditional Japanese dishes.
Address: 8 Heddon Street, London W1B 4BU
Nearest stations: Piccadilly Circus station
---
20. Biscuiteers Baking Company
You may recognise this charming boutique biscuit shop/cafe from your Instagram feed – its pretty black and white exterior is one of the most recognisable shop fronts in London.
The Biscuiteers specialise in selling luxury hand-iced biscuits, chocolates and cupcakes, and also run themed biscuit icing workshops events in store. As you'd expect, all baked goods are very Instagrammable.
You can also check out the Biscuiteer's Belgravia branch at Ecclestone Yards near Victoria Station.
Address: 194 Kensington Park Road, London W11 2ES
Nearest stations: Ladbrook Grove station
---
21. Covent Garden Apple Market
A former fruit and veg market (hence the name Apple Market), Covent Garden's best shopping spot for artisan crafts and cute curiosities is chock full of beautiful barrows and sublime stalls, often with seasonal theming.
Along with the Covent Garden piazza, the Apple Market is your best bet for Instagram pictures in central London. Covent Garden Apple Market is open daily from 10am to 6pm (opens at noon on Sundays).
Address: Cranbourn Street, London WC2H 7AR
Nearest station: Covent Garden station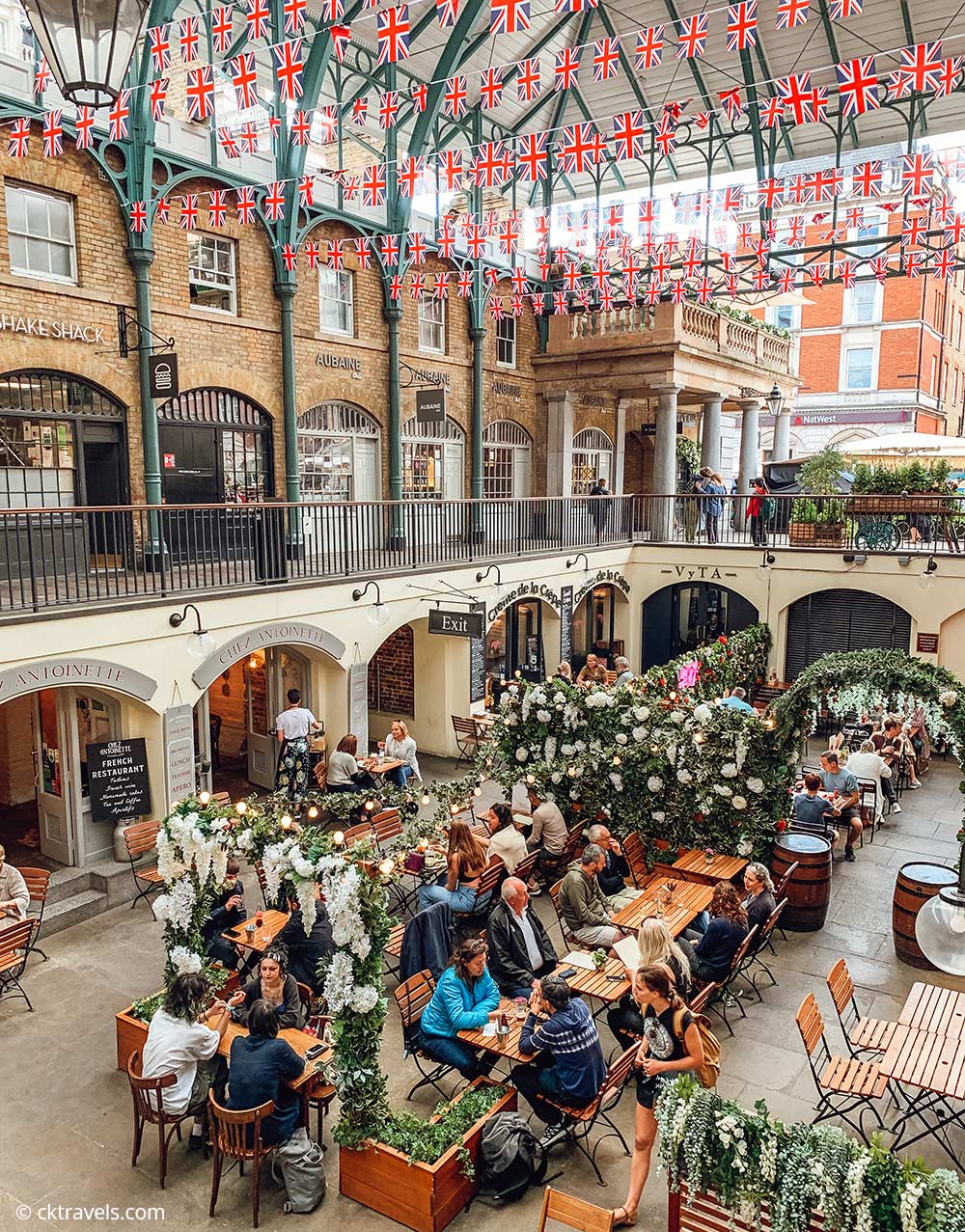 ---
22. Sky Garden
If you're planning your trip into the capital to visit some of these most Instagrammable places in London, we'd highly recommend booking free tickets to visit the Sky Garden, on the 35th floor of the Walkie Talkie building.
Whilst most of the building is used for commercial purposes, part of the reason planning permission was granted by the authorities was that they had to include a public space that all visitors could access – thus the Sky Garden was born (or should that be bloomed)?
One of the capital's newest attractions and the city's highest public garden, it is a nice spot for taking photos of both the gardens themselves plus the city of London from up high. The viewing deck is the perfect place to pose for social media pictures.
Sky Garden free tickets go super quickly so make sure you plan well – free tickets usually get released 3 weeks in advance.
Find out more about the Sky Garden here including how to book your free tickets >
Address: 1 Sky Garden Walk, London EC3M 8AF
Nearest stations: Liverpool Street station, Fenchurch station and Monument station
---
23. Peggy Porschen, Belgravia
A 'porschen'… sorry, portion of pink in Belgravia, Peggy Porschen is a super famous and super cute cafe near Victoria Station.
Whilst there, try some of the legendary Peggy Porschen cupcakes – they look amazing on the 'gram. Our favourite flavours were strawberry and champagne, salted caramel and banoffee pie.
The one downside to Peggy Porschen being so damn cute and one of the most Instagrammable places in London is that it means there are people constantly posing in the doorway. So please remember to be respectful when taking photographs (and considerate of the other diners) and definitely buy something.
Address: 116 Ebury Street, London SW1W 9QQ
Nearest stations: Victoria station and Sloane Square station
---
24. Carnaby Street
One of London's most popular and well known fashion streets (especially in the swinging sixties), Carnaby Street continues to be a hive of activity and is renowned for its riot of colour, particularly during festivals and special events when colourful banners are hung across the street.
The colour continues in Kingly Court, home to Cahoots, Dishoom and several other worthy food and drink joints.
At Christmas, Carnaby Street is an Instagram hotspot as it always has incredible Christmas decorations (often made from colourful sequins that shimmer) – read our Christmas guide to London >
Address: Carnaby Street, London, W1F 9PS
Nearest stations: Oxford Circus station and Piccadilly Circus station
---
25. Painted Hall at Old Royal Naval College, Greenwich
Featuring stunning and sublime painted interiors, the Painted Hall at Old Royal Naval College showcases around 40,000 square feet of illustrations and fine art.
Created in the early 18th century by  Sir James Thornhill, Painted Hall, the regal rooms ooze heritage and the walls depict over 200 scenes including kings, queens and other dashing dignitaries. The Painted Hall is £12.50 to visit as at March 2023 (or £5 during the first Sunday of every month).
YOU MIGHT LIKE: The best things to do in Greenwich >
Address: King William Walk, London SE10 9NN
Nearest stations: Cutty Sark station and Maze Hill station
---
26. Shoreditch Street Art
The Shoreditch street art scene is like no other in London and we'd rate it as one of the BEST free things to do in London AND one of the most instagrammable places in London.
Most of the best street art in Shoreditch can be seen within a 10 minute walk of Liverpool Street Station so it is easy to discover and take snaps of.
Showcasing internationally renowned street artists as well as local painters, Shoreditch's streets are awash with an awesome array of artwork in practically every type of space you can imagine, from the picturesque to the political.
The best Shoreditch street art areas are King John Court, New Inn Yard, Holywell Lane and Ebor Street. If you do take Instagram pics, always try to credit the street artist (there are often tags).
Read our dedicated Shoreditch Street art guide here >
Nearest stations: Shoreditch High Street station and Liverpool Street station
YOU MIGHT LIKE: Shoreditch Street Art Tour London or Street Art Walking Tour with Spray Painting Session
---
27. The Barbican Estate and Barbican Conservatory
Beautifully brutalist or a concrete carbuncle? Who knows but there is no doubt that a walk around Barbican Estate is a slightly dystopian but delightful experience – all the symmetry makes it one of the best places to post on Instagram in London.
Now home to over 2,000 residents (so be respectful when exploring the Barbican), this was designed as an experiment in inner city living after WWII. It now wouldn't feel out of place in a sci-fi movie and is grade II listed.
The Barbican estate is also home to the Barbican Centre, a theatre, cinema and performing arts space. Try to visit when the Barbican Conservatory is open – the second biggest conservatory in London. The Barbican Conservatory gardens are free to visit (although donations are appreciated).
Address: Silk Street, Barbican, London EC2Y 8DS
Nearest stations: Barbican station and Moorgate station
---
28. Bywater Street, Chelsea
Just off classy King's Road lies Bywater Street, another terrace of brightly coloured houses and very popular for Instagram pictures and posing.
The smallest residential street on this 'most Instagrammable places in London' list by a country mile, this means it can be quite cosy when you arrive so try not to linger too long and upset the residents.
Bywater Street can also be combined with a walk to the aforementioned Peggy Porschen cupcake shop in Belgravia (15 minutes walk away) or the nearby Chelsea cupcake branch on Kings Road.
Address: Bywater Street, London, SW3 4XH
Nearest station: Sloane Square station
---
29. Little Venice
One of the most beautiful neighbourhoods in London (and a popular filming location – check out the Paddington Bear movie), Little Venice is as tranquil and picturesque as it sounds and spot on as one of the most instagrammable places in London.
Whether you want to get out on the water or just admire the canals from, there is plenty to do and 'float' your boat and take snaps of whilst in Little Venice (although no actual gondolas alas).
Read our dedicated guide to all the Little Venice things to do here >
Nearest station: Warwick Avenue station
YOU MIGHT LIKE
---
30. Gunnersbury Park
Gunnersbury Park is a gorgeous and green gem, packed full of history and a beautiful recently restored house that is free to visit inside and out.
A grade II listed Georgian mansion built in the 1660s with gardens that includes a museum, an orangery, shell grotto and a boating lake (with an 18th century temple and swan pedalos – how Disneyland!).
This is a fine day out for all ages, even if you don't appreciate the historic majesty of the site. The boating lake with the villa is our top Instagram spot at Gunnersbury Park.
Gunnersbury Park has some of the best walking trails in West London, with wild flower meadows, a Gothic tower hidden in the woods and a cafe to grab a much deserved drink in after.
Address: Gunnersbury Park, Popes Lane, London W3 8LQ
Nearest stations: Gunnersbury station and Acton Town station
---
31. Battersea Power Station shopping centre
Battersea Power Station mall is all about shopping in style and is definitely one of the best looking and more high-end retail experiences south of the river.
Opened in October 2022 with a lot more promised in 2023, this former power station is a cool looking architectural gem where the building itself looks as good as the shops.
There are so many good photo opps and Instagrammable places around the new Battersea Power Station including its Art Deco Turbine Hall plus its new Control B Bar, a cocktail lounge featuring the original controls and dials of the power station (a unique setting).
Check out our guide to all the best things to do in Battersea >
Address: Circus Rd W, Nine Elms, London SW11 8AL
Nearest station: Battersea Power Station station
---
32. Lift 109 at Battersea Power Station
Whilst still in Battersea, for aerial Insta pics of London and the Thames, take the Battersea 109 glass lift. Named after the fact the promised 360 degree viewing platform is 109 metres up, this is one flight of fancy that will look swell on your social media.
The Lift 109 trip to the top begins in Battersea Power Station's Art Deco Turbine Hall, with interpretation panels and displays detailing the building's rich history. Panoramic views await.
Address: Circus Rd W, Nine Elms, London SW11 8AL
Nearest station: Battersea Power Station station
---
33. Silent Disco at The View at the Shard
This silent disco location is just stunning and a unique way to see London! Attendees are able to access 2 floors of the viewing platform for incredible panoramic views of the city at night.
Dance on top of the world! The last Silent Discos at The View at the Shard took place in December 2022 – hopefully more dates will be announced for 2023.
Address: 32 London Bridge St, London SE1 9SG
Nearest station: London Bridge station
---
34. Trinity Buoy Wharf
Incredible views of the river Thames and the Greenwich O2 plus one of London's most scenic beer gardens – this is Trinity Buoy Wharf in east London.
As well as stunning views, at Trinity Buoy Wharf there are several very interesting art installations – like a tree growing out of a taxi on a cafe rooftop plus an old historic lighthouse that contains the long player; an instrument which plays a continually changing tune.
Add to the mix and American diner that is often used as a film location – you can see why Trinity Buoy Wharf is so darn Instagrammable.
Read more in our guide to Trinity Buoy Wharf >
Address: Trinity Buoy Wharf, 64 Orchard Place, London E14 0JW
Nearest station: Canning Town station
---
35. Supperclub.tube, Walthamstow
Eating food on the London Underground is normally frowned upon but not at Walthamstow's Supperclub.tube – in fact, it is actively encouraged, an Instagrammable experience like no other in east London.
Taking you on a literal fine foodie journey, the supperclub.tube experience takes place inside an old Victoria Line London Underground Tube carriage, transporting the best of South American inspired cuisine to Walthamstow.
Unique, tasty and great fun, Walthamstow's Tube supper club experience takes place three times a week (Thursdays to Saturdays).
Read about our tasty journey aboard the London Underground Supper Club here >
Address: Walthamstow Pumphouse Museum, 10 S Access Road, London E17 8AX
Nearest station: St. James Street station
---
36. Covent Garden Broad Street Telephone Boxes
You haven't visited London until you've seen a red telephone box (probably).
We have a quick fix with a trip to Broad Court, to photograph a row of five red telephones that are around 100 years old.
A word of warning if you are taking Instagram pics – red London phone boxes are generally decreasing in number as they are expensive to maintain and most people obviously have their own mobiles / cells. Sadly red London phone boxes are used as toilets by inebriated idiots so if you really do feel the need to open the doors to pose for a Instagram pic, hold your breath and be careful what you touch!
Address: 5 Broad Court, London WC2B 5QH
Nearest station: Covent Garden station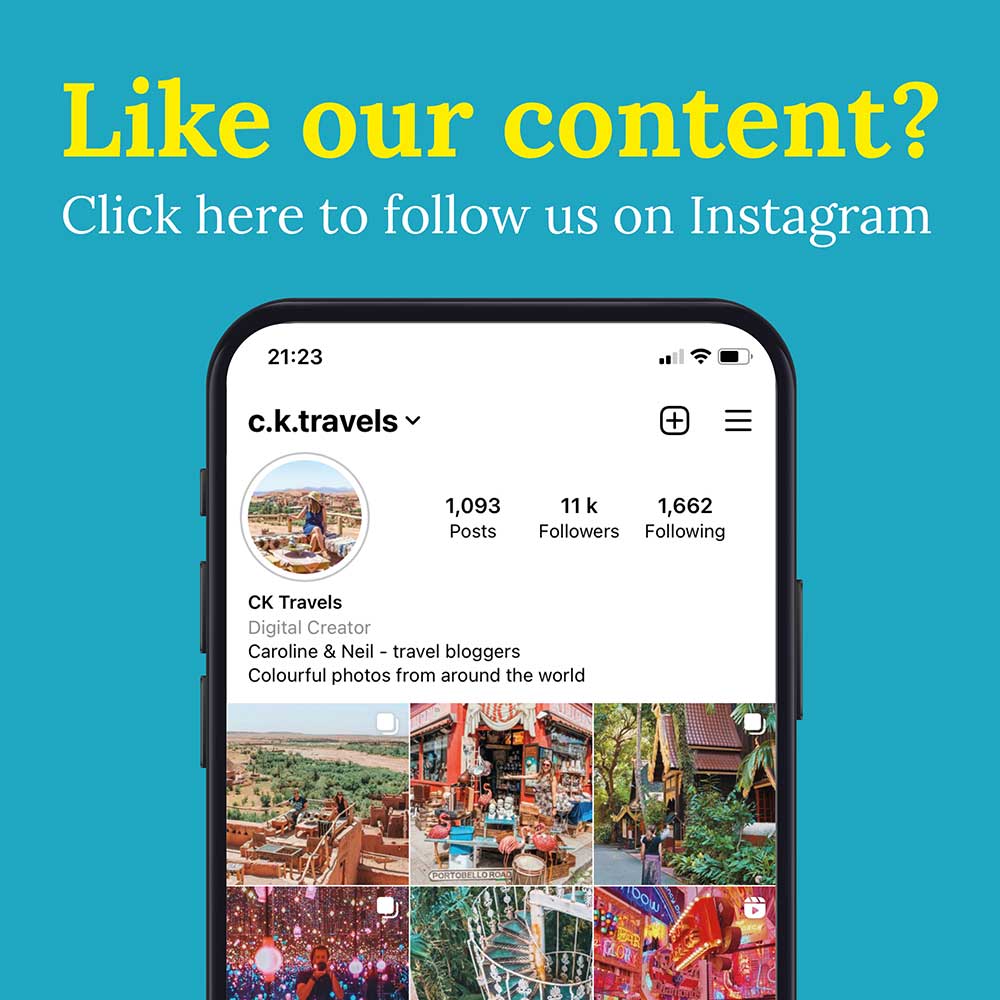 ---
37. The London Eye
Originally built as a temporary visitor attraction that ushered in the year 2000 (it used to be also known as the 'Millenium Wheel'), the London Eye is now easily one of London's most instagrammed places and tourist attractions – well it is Europe's largest observation deck wheel after all.
Amazing views of London come as standard – in fact, the vista over the capital is terrific (the Royal Parks and River Thames look particularly wonderful) and there are 32 observation pods in total, with a complete rotation taking around half an hour.
The London Eye also occasionally do special events or pop-ups in the capsules (at an extra cost). We've been to see a comedy gig in a London Eye capsule previously and other experiences include yoga sessions and photography skills (which may help you finesse your Insta feed).
YOU MIGHT LIKE: The London Eye Ticket with Fast-Track Option >
Address: Riverside Building, County Hall, London SE1 7PB
Nearest station: Waterloo station
---
38. The Gherkin
If you are one for taking snaps of your food and putting them on social media, this next 'most Instagrammable place in London' may make you feel on top of the world.
Given the unique location of this restaurant (the Gherkin is one of the few iconic restaurant locations in London), try a Sunday brunch at the Searcey's Helix restaurant or an evening cocktail at the Iris bar – just don't forget your phone to take snaps (or your wallet too).
Address: 30 St Mary Axe, London EC3A 8BF
Nearest stations: Liverpool Street station and Aldgate station
---
39. Alice's Antique Shop, Portobello Road
Located in the heart of Portobello Road is this iconic vintage shop which has been selling antiques since 1887! You also may recognise Alice's from the recent Paddington Bear 2 film.
The shop display sprawls out onto the outside pavement, making a fabulous backdrop for your Instagram photo.
Address: 86 Portobello Road, London W11 2QD
Nearest station: Notting Hill Gate station
---
40. London Chinatown
Chinatown in London is an explosion of colour and there are many great photo spots in this London neighbourhood.
The best time to visit is during the Chinese New Year celebrations where there are hundreds of red paper lanterns.
There are tonnes of great dessert cafes and restaurants in Chinatown which have super photogenic cuisine or decor. Check out Bun House, Taiyakaya, Mamasons, TSUJIRI, Plum Valley, Hefaure, Yatay and Bubblewrap.
Address: Chinatown, London W1D 5QA
Nearest station: Leicester Square station
---
41. Elder Street
A stone's throw away from the shiny and sleek buildings dotted around Liverpool Street Station, Elder Street is one of London's finest preserved Georgian streets and a great hidden photo spot in London.
The houses along Elder Street are all listed which means they won't get swallowed up by all the development that is transforming Shoreditch. It almost felt like a historical theme park and the icing on the cake was the couple of old classic cars that were parked on the street.
Address: Elder Street, London, E1 6BT
Nearest stations: Shoreditch High Street station and Liverpool Street station
---
42. St Pancras Brasserie and Champagne Bar by Searcys
Located on the upper concourse of the Victorian Gothic London St Pancras International train station is this elegant and photogenic bar, which is also the longest Champagne bar in Europe!
Before you board your Eurostar train to Europe, take a seat in one of their cosy leather booths decorated with Art Deco lamps, and order a glass of bubbles, a meal from the full restaurant menu or their stunning and Instagrammable afternoon tea set.
Click here to book a table at Searcys >
Address: St Pancras International Station, London N1C 4QL
Nearest station: St Pancras International Station
---
43. The Upside Down House, Shepherd's Bush
If you are leaving Westfield White City one day and stumble across an upside down house, don't worry (unless you've been to the pub for a long session)… the upside house is meant to be inverted.
Already popular in Asia and with another one on Brighton seafront, this is London's very first upside down house, located very near to Wood Lane Tube.
With interior furnishings by John Lewis & Partners (how West London!), this is a unique photo opportunity spot and a fun thing to do in Shepherds Bush. Prices start from £5 per person as at March 2023.
Address: Westfield Square, Ariel Way, London W12 7SL
Nearest station: Wood Lane Station
---
44. Woburn Walk, Bloomsbury
This gorgeous Georgian street is one of London's prettiest streets and yet surprisingly, it isn't that well known.
One of London's first ever pedestrian shopping streets and precincts built in the 1820s, Woburn Walk oozes charm with its terraced independent shops, old lamp posts and rows of trees that are covered with blossom in the spring months.
Many of the buildings in Woburn Walk are listed and given it is often quiet, it is easy to take Instagram and social media pictures here.
Address: Woburn Walk, London WC1H 0JL
Nearest station: Euston Station
---
45. Primrose Hill
Take some pictures for Instagram at the vantage point on top of Primrose Hill Park, around a 10 minute walk away from Camden High Street.
Offering incredible panoramic views over Regent's Park (including London Zoo) and possibly the widest, free, unspoilt views of downtown London anywhere in the city, Primrose Hill is one iconic Instagrammable place to relish and make an afternoon of.
Address: Primrose Hill Road, London NW1 4NR
Nearest station: Chalk Farm Station
---
46. The British Museum Great Court Glass Roof
The British Museum is one of the most visited museums in the UK. Founded in the 1750s, the British Museum has one of the largest collections of objects in the world and is amazingly still free to visit.
As well as the exhibits themselves, what makes The British Museum so photographable is the incredible Great Court glass roof.
Since it opened, over 100 million have walked underneath the Great Court Glass Roof and it has been featured in multiple movies.
Address: Great Russell Street, London WC1B 3DG
Nearest station: Holborn Station
---
47. Frank's Cafe at Bold Tendencies, Peckham (seasonal)
Although a car-park roof in Peckham may not sound like the most Instagrammable of places, Frank's Cafe is a hip hangout and perfect for an alfresco summer's evening with one of the best views in London.
The reason we've included is because of the bright pink stairway that leads up to the rooftop – definitely pack your sunglasses! Once you've accustomed your eyes to the staircase, grab a drink from the bar and enjoy the views of London (dreamy at sunset).
Address: 7th-10th Floor Multi Storey Car Park, 95A Rye Lane, London SE15 4ST
Nearest station: Peckham Rye Station
---
48. Greenwich Park and Observatory (Free)
Gorgeous Greenwich is always one of our favourite riverside spots to visit, and also provides South East London's best vantage point.
One of the most popular spots on this list, Greenwich Park roffers unspoilt views of historic Greenwich and the River Thames, alongside the shiny and modern metropolis that is Canary Wharf and Greenwich Peninsula.
One of London's Royal Parks that has oodles of green space, you can also combine your trip with a visit to the Royal Observatory which is located immediately next to the main Greenwich Park viewpoint or nearby Blackheath.
Address: London SE10 8QY
Nearest stations: Cutty Sark Station and Maze Hill station
---
49. Wingate Road, West London
Wingate Road is likely the least well known of the most Instagrammable places in London on this list. So how did we find it?
We only know it as we actually used to live on the very end of Wingate Road, so we used to gaze at the pastel colours of the houses from our bathroom window! During the spring months, you'll also see lots of cherry blossom in this part of London (as well as nearby Brackenbury Village).
The terraced houses on one side here are as colourful as anything you'd see in Notting Hill, plus the Anglesea Pub on the corner is divine (keep an eye out for their neighbour's cat, who often just strolls into the bar).
Check out our guide on the best things to do in Hammersmith >
Address: Wingate Road, London W6 0UR
Nearest stations: Goldhawk Road Station and Ravenscourt Park station
---
50. London Line Sculpture Trail
The Line Sculpture Trail is London's first free dedicated public artwork trail – essentially a London sculpture walk along the River Thames with lots of Instagram opportunities.
The Line Sculpture trail was created in 2015 as an outdoor exhibition space to encourage people to discover lesser well known London spots and admire alfresco artwork.
Comprising around 10 or so artworks (The Line Sculpture Trail roster of public art changes every year or so), read our to dedicated guide to walking the 8km / 5 mile London Line Sculpture trail >
---
51. The V&A Museum
The Victoria and Albert Museum (or V&A) is based in Kensington and is billed as the world's leading museum of art, design and performance.
Whilst most of its temporary exhibitions are around the £20 mark (free to members), you can walk the V&A's hallowed halls and enjoy their permanent collection exhibitions, or just sit in the sun in their delightful Madejski Gardens complete with water features and coffee shops.
Perhaps the most instagrammable place in London's V&A, we'd also recommend popping into the V&A William Morris Cafe on the ground floor, the world's oldest museum cafe and definitely London's prettiest museum cafe.
Address: Cromwell Road, London SW7 2RL
Nearest station: South Kensington Station
---
52. Go deer spotting in Richmond Park
With a whopping 2500 acres of parkland to explore, for us, Richmond Park is a peaceful place and perfect Instagrammable place in London
If you're lucky, you'll also encounter Richmond's most famous inhabitants, the deer who roam the park and can often be spotted snoozing in the shade. The last time we visited Richmond Park, they'd set themselves up in the paddock next to the Pen Pond Cafe.
Nearest station: Richmond Station
---
53. Chiswick House and Gardens
Imagine a free to visit Instagrammable place where you include a historic house, river and swans in one shot? Welcome to Chiswick House and Gardens.
One of the most beguiling and beautiful house and gardens in West London, Chiswick House is an 18th century palladian villa once residence to Lord Burlington, set in 65 acres of stunning park land, with river views and hidden statues.
Address: London W4 2QN
Nearest station: Chiswick Station
---
54. Dickens Inn
This former 18th warehouse was never actually ever frequented by Charles Dickens himself, but this doesn't stop The Dickens Inn in St Katharine's Dock (Tower Hill) being one of the most Instagrammable places and photographed pubs in London.
Indeed, in peak tourist season, it can be nigh on impossible to get a table outside and there could possibly be a queue outside the door. It is however one of the prettiest pubs in London (and expensive!), with its cottage style exterior and rows of flowers and hanging baskets adorning the frame.
The views of Marble Quay and the River Thames from the upper levels of The Dickens Inn are pretty special so if you can bag yourself a coveted outdoor spot, stay for some sunset snaps.
Address: Marble Quay, St Katharine's Way, London E1W 1UH
Nearest station: Tower Hill Station
---
Our Final Place in our Instagrammable Places in London List
55. London at Christmas
Our final inclusion on the most Instagrammable places in London list is actually London at Christmas.
There are SO MANY incredible festive favourites to photography, from ice skating at Somerset House to huge mistletoe models that pop up at Christmas in Covent Garden.
Get your festive Christmas in London instagram inspiration here >
---
Did you enjoy our Instagrammable places in London – best photo spots blog post? Let us know in the comments or by sharing the post on social media. Follow us on Instagram, TikTok and YouTube!
Other London posts you might like