This post may contain affiliate links to tours and hotels. These help us earn a small commission at no additional charge to you.
A marvellously messy muddle of markets, music venues with a side of street art / food, Camden is the spiritual home of London's counterculture (you'll still see the odd mohican punk here today). Whilst it may have become a little glam and gentrified in recent years, it still boasts an eclectic mix of activities both by day and night.
It may be most famous today for Camden Market, but exploring this North London neighbour doesn't just have to be about shopping (although you can shop 'til you drop if you so desire). From canalside walks to rainbow roads of terraced houses, here are our top things to do in Camden Town:
Things to do in Camden Town
1. Camden street art
Camden is a colossal canvas of street art, most of which you can find within a 5 minute stroll of Camden Market. Highlights include Hawley Mews, a dedicated but unofficial backstreet alfresco art gallery (the artistry here is incredible), Kentish Town Road and Bayham Street.
Looking for street art is one of our favourite things to do in Camden Town, and if you also like street art – check out our 20 top street art cities in the world blog >
---
2. Camden Market
Easily one of London's most famous and popular markets (and rightly so), Camden Market is a wicked warren of arts and crafts stalls, bars, restaurants and clothing shops. Housed in former stables, there are loads of alleyways, nooks and yards to discover, including an aladdin's cave retro stalls in the basement.
Open seven days a week (although some stalls only open at weekends), there are over 1000 stalls of various shapes and sizes to explore. Incidentally, if anyone mentions Camden Stables or Camden Lock Market to you, these are now both classed as Camden Market collectively.
YOU MIGHT LIKE:
---
3. CyberDog
One of our favourites and a must visit when in Camden Market is Cyberdog, a futurist clothing and dance accessory shop, which has two giant robots at its entrance – as you descend the stairs into its neon basement, you'll be amazed at the goth gear and steampunk shizz they sell.
---
FURTHER READING – The 10 best markets in London
---
4. Camden Stables Umbrella Street
A utopia of umbrellas is one of the highlights of Camden Stables Market especially on a sunny day when the light shines through and one of our most colourful places in London. Reminiscent of an Asian alleyway, this bevy of brollies is one of the most visited attractions in Camden (you may well have seen them on Instagram before as they are very popular).
---
5. Regent's Canal walk
London is full of charming canal walks, such as Hackney Wick or King's Cross. Camden is no different as the Regent's Canal (named after Prince Regent) towpath passes straight through the middle of Camden, right to the market and high street. If you want to make a whole day of it, you could start your trip to Camden by walking there along the canal, starting in Little Venice and passing by Regent's Park and London Zoo on the way (you can even see some of the zoo animals from the canal towpath!).
 As well as graffiti and street-art, you also encounter Camden Pirate castle (a rather cool looking recreation centre) and the occasional narrow boat, raft or paddle-boarder. There are also lots of nice bars when you arrive in Camden Lock, in case you need a pint to cool off.
YOU MIGHT LIKE: Regent's Canal Waterbus Boat Trip to Camden
6. Primrose Hill
One of London's best views, Primrose Hill Park is around a 10 minute walk away from Camden High Street / Chalk Farm Road and offers incredible panoramic views over Regent's Park (including London Zoo) and downtown London, although be prepared to share the space as it can get incredibly busy, particularly with picnickers and the Pimms set.
To walk from Camden, it is best to walk via Regent's Park Road, as it is a really nice neighbourhood street with lots of cute bars, cafes and restaurants plus several stops where you can pick up drinks and snacks for the park, such as Bottle Apostle (craft beers and wines). Fancy a pint in a proper boozer? The Queen's (also on Regent's Park Road) is a nice place to sip on a sauv or sink an ice-cold beer.
---
7. Gig at The Roundhouse
Camden's iconic music and performance venue The Roundhouse opened in 1966 and we've been back many times over the years, to events such as the summer 'beach' that take places on the rooftop through to the annual Roundhouse Rising gigfest. theatre performances here are also fantastic as some are staged in the round, a little like Shakespeare's Globe. The architecture inside is just as interesting as the performances as the building is an old converted railway engine shed that was built in 1847 (now a listed building).
Camden Live Music
Other great live music venues in the area include the Electric Ballroom, Camden Assembly, Koko and the Jazz Café. Check out Time Out London's gig listings >
---
8. Camden High Street
An eclectic mix of chain stores and independent shops, Camden High Street is a retail rite of passage in London – from tourist tat (souvenir stalls) to artisan arts and crafts, Camden High Street is unique in so much that many of the shops have massive murals and oversized objects / artwork adorning them (definitely the biggest pair of Converse sneakers you'll ever see in London)!
We've also noticed lots of tourists taking pictures of all the sewing machines in the window in the All Saints clothing shop by the canal – we're not sure why!
---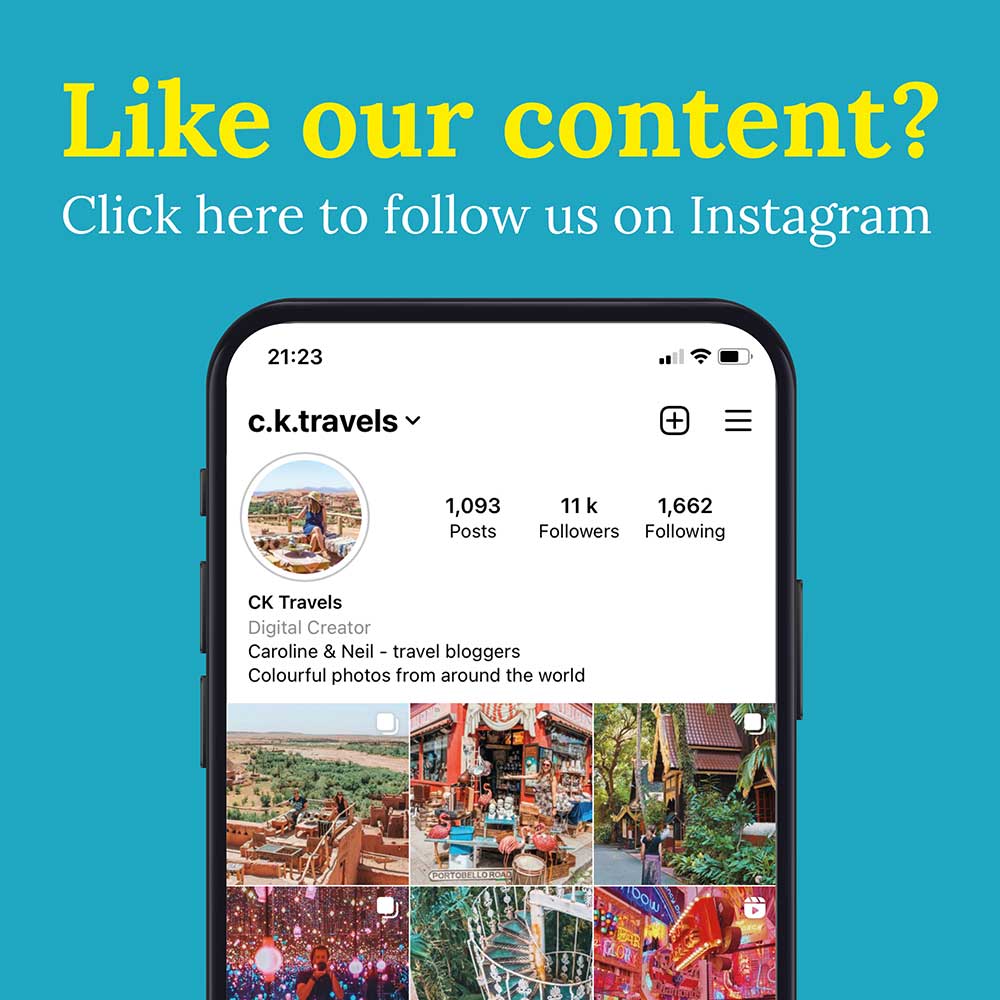 9. Buck Street Market
Recently, the old school market along Chalk Farm Road (Camden Market's less salubrious sister market, which we actually kinda liked) has made way for the new Buck Street Market container mall (progress eh) – a collection of colourful shipping containers mainly consisting of street food stalls and several boutique and craft shops, this still feels like work in progress and yet to find its feet compared to the other markets in Camden.
---
YOU MIGHT LIKE: Things to do near Euston station
---
10. Camden Pubs
Camden is renowned for its nightlife and the pub and club scene here knows no bounds. From gastropubs to good old British boozers, every type of drinking establishment can be found here (and the live music scene is particularly good).
Our preferred pubs include:
Dingwalls
A well established live music venue located right on the canal in Camden Market, with a lush rooftop bar.
The Hawley Arms
A cosy as pub located just across the road from Camden Lock (and where Amy Winehouse used to work as a young girl), the Hawley Arms, tucked down a side-street right next to the famous Camden railway bridge sign is a gem of a boozer, with fireside arm chairs, snug sofas and a focus on live music (in the upstairs bar) and hearty pub fare. Saved from development recently after a lengthy battle with property developers, this is one of Camden's best bars and a great pub to pop into if you're visiting Camden Stables Market.
Brewdog
Now a massive chain, the Camden branch of this craft beer hangout was London's first Brewdog pub – drink selections change regularly and you can see what is on offer by looking at the massive cinema style menu board behind the bar. Jet Black Heart, a 4.7% ABV milk stout is highly recommended.
Dublin Castle
Having hosted bands and artists such as The Killers, Blur and Amy Winehouse, the Dublin Castle pub has some serious music credentials – whilst not glam, it is a real and authentic Camden experience.
The Lock Tavern
As you'd expect from the title, this pub is located on the canal and also boasts a lively rooftop area – live music is performed several nights a week.
YOU MIGHT LIKE: Camden Pub Crawl group tour
---
11. Camden Kerb street food
Located in Camden Market with a charming canal side setting (several narrowboats are moored in between the food kiosks), Kerb Camden is a street food extravaganza, with around 30 stalls and kiosks selling all manner of cheap eats, from dutch pancakes to halloumi fries. Try to get here before the lunchtime rush as it can get busy and the area is quite compact.
---
12. Camden Brewery
The home of Hell's Lager (which you now see on tap in most of London's pubs) offers brewery tours plus tasters in their taproom – their incredible new beer hall (located in nearby Kentish Town) has over 20 different beers on tap plus a walk-in fridge and merchandise shop.
On our last visit to the Camden Brewery Beer Hall, we tried a couple of beer paddles plus took home some Marmite beer cans – the verdict is still out on the latter!) Over the years, Camden Brewery has become increasingly popular and recently expanded into new production premises in Ponders End near Enfield Town so more tap-rooms may beckon (which is great as we all know beer at the source always tastes better).
---
13. Hawley Wharf
Camden's newest addition to the street- food and shopping scene and retail , located just across the road from Camden Lock and Holiday Inn Camden, Hawley Wharf has several floors of delicious and damn fine food stalls, with views and seating areas overlooking the canal. On the lower levels and around the renovated railway arches, you'll find independent and artisan craft and fashion stalls plus at the weekend, Hawley Wharf hosts a weekend market.
Hawley Wharf highlights include beautiful buns and dumplings from Baozilnn, Filipino flavours from Spoon and Rice plus Wonton and Char Siu Lo Mein from Three Uncles.
---
14. Camden's Colourful Houses – Hartland Road
Just across the road from Camden Stables, you'll discover Hartland Road, a quiet residential side-street that boasts some sublime street art that spills over from nearby Hawley Mews plus a row of multicoloured terrace houses, that gives Lancaster Road in Notting Hill a run for its money in terms of being competition for London's most colourful street.
---
15. Amy Winehouse Statue
Camden's most famous daughter Amy Winehouse sadly died at the age of 27 in 2011 and a lasting tribute in the form of a bronze statue now resides in the Camden Stables Market area (at 407 Chalk Farm Road) – it was unveiled three years after here death in 2014 by sculptor Scott Easton, near to one her regular hangouts The Lock Tavern.
---
Accommodation in Camden
Holiday Inn Camden Lock
If you are planning a visit to Camden and want to focus your stay in the very heart of all the hustle and bustle, Camden Lock Holiday Inn is ideally situated, with selected rooms overlooking the canal itself and just steps away from Camden Market.
From midweek stays to weekend getaways, Camden Lock Holiday Inn has an onsite bar and restaurant. Rooms include a full English breakfast (check out full list of traditional english foods here), plus some penthouse suites have their own private terrace.
Check out Holiday Inn Camden Lock's rates and availability >
---
Check out our other London blog posts
---
Did you enjoy our things to do in Camden blog post? Let us know in the comments or by sharing it on social media. You can follow us on Instagram and YouTube!
Our stay at the Holiday Inn Camden Lock was gifted.
Things to do in Camden Town – add to Pinterest!