This post may contain affiliate links to tours and hotels. These help us earn a small commission at no additional charge to you.
Best of British – we aren't saying you'll enjoy this list of traditional English foods but we made ourselves very hungry writing and need to eat a traditional English breakfast right now!
Traditional English food is some of the best in the world and is literally a 'home' comfort to us (and yes, we 're biased). After several months away, when we arrive back to England, we crave Cornish pasties and track down traditional english breakfasts.
If you don't know your 'bangers' from your 'bacon butty' or your Scotch Egg from your Yorkshire Pudding, then dive into the best traditional English foods including a traditional English breakfast (you are most welcome!):
Traditional English food – best dishes to try in the UK
Traditional English food – Afternoon Tea
No trip to the UK is complete with having an afternoon (or high) tea.
Most hotels and rural cafes offer their own versions but generally, this teatime treat consists of small sandwiches, scones with clotted cream and jams, cakes and pastries served on a silver stand, accompanied with a choice of tea types (or …our favourite…a glass of champagne or similar bubbles). Indulge, enjoy and drink like 'nobili-tea'.
---
Traditional English Breakfast
Comprising (usually) of fried eggs, bacon, sausage, baked beans, mushrooms, buttered toast and sometimes black pudding (fried pig's blood no less!) a traditional English breakfast is hearty and wholesome fare.
A Traditional English Breakfast is also pretty calorific so not something to eat everyday (this is why it is also called a traditional full English 'fry-up' breakfast; it is quite fatty).
Traditional English breakfasts are also generally served with condiments – either tomato sauce (ketchup) or brown sauce (quite tart – a bit like a thick Worcestershire sauce).
In our opinion, the best traditional English breakfast in London can be found at E Pellicci Cafe in Bethnal Green, east London. The other best English breakfast in London is at the Regency Cafe cafe near Victoria Station.
Although their standard pub grub fare is so-so, the Wetherspoons chains of pubs also do one of the best traditional English breakfasts at very cheap prices. You can get a hearty breakfast for less than £4 (as at 2023) .
Incidentally, we are always on the look–out for more of the best English traditional breakfasts in London – let us know if you have any fancy 'fry-up' tips.
---
Fish and chips
Quite simply our favourite traditional English food and takeaway meal – fish and chips!
Yes, you can get fish and chips elsewhere in the world but nowhere does it like the UK. Some of the best places to get them in London include Kerbisher and Malt, Poppies and The Hook in Camden.
And make sure you have your traditional fish and chips with mushy peas (better than it sounds – you won't regret it…)
London fish and chips connoisseurs also sometimes have their fish beer-battered, a delicious boozy fish and chip dish. Cheers to fish and chips with beer!
---
Pork Pie
Originally from Melton Mowbray in Leicester, pork pies for the first-timer can be quite an acquired taste as traditional English foods go, primarily due to getting acquainted to the glue like gelatine inside (not as bad as it sounds). The gelatine keeps the pork meat separate from the pastry.
Generally served as a cold snack (especially in pubs) or with a salad, this sounds a little odd but this slice of traditional English foods to try is definitely no 'pie in the sky'.
---
Scotch egg
Not from Scotland but actually from Yorkshire, this is a whole hard or soft boiled egg wrapped in sausage meat and then coated entirely in bread crumbs.
Although it doesn't sound that inviting, it is actually a rather delicious traditional english food (very rich though so sometimes best to share between two people).
Scotch eggs are undergoing a bit of a resurgence at the moment, quite trendy and often featured at farmers and organic food markets, with vegetarian scotch-eggs (using fake meat or mycoprotein) becoming increasingly popular.
Pictured below are scotch eggs from Maltby Street Market in Bermondsey, London.
---
Eton Mess
Believed to originate from Eton College at the end of the 19th century as a snack during cricket games, this is a sweet dessert comprising strawberries, whipped cream and meringue (have we piqued your interest yet?).
Generally served in the summer when fresh berries are available, Eton Mess is one of our perfect pudding picks and top traditional English food desserts.
---
Traditional English Sunday Roasts
Generally served on Sundays (and available at most UK pubs), traditional English Sunday roast dinners consist of meat (roast beef, chicken, pork or lamb – possibly even a mixture), potatoes, Yorkshire pudding, stuffing balls, roast vegetables such as carrots and parsnips, accompanied with gravy.
Vegetarian roasts are also very popular and increasingly common in terms of traditional English foods – a sunday nut roast or vegetable wellington are very popular vegetarian alternatives (try the Gate in Hammersmith).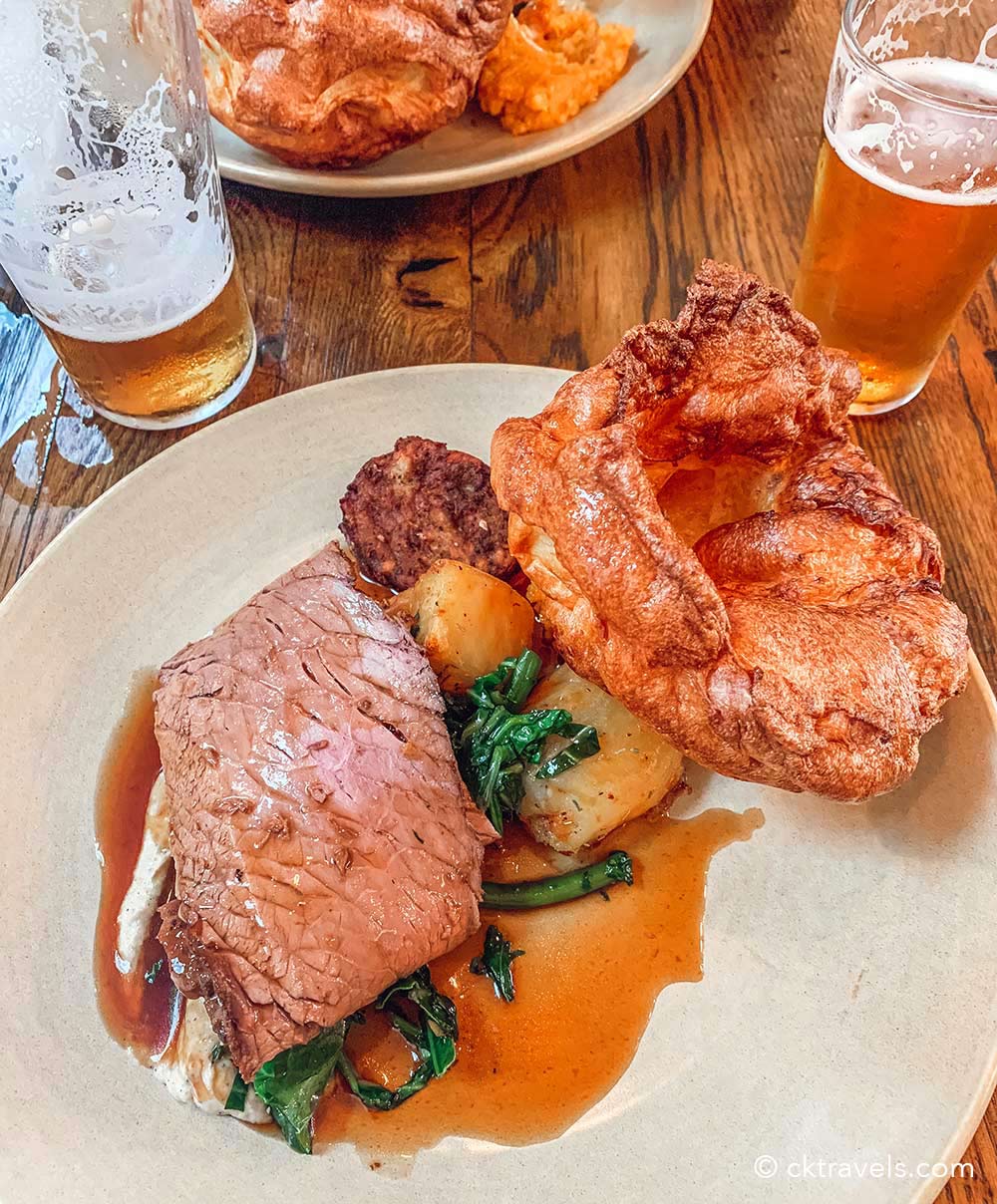 ---
Cornish Pasty
As expected by its name, this meat and potato pie is most closely associated with Cornwall in Devon but can be bought at bakeries and specialised chains (e.g. the West Cornwall Pasty Co have shops up and down the country).
A truly traditional Cornish Pasty is beef, diced potato, swede and onion, with a dash of salt and pepper – the outside of the pastry is then 'crimped' to give it a unique shape.
---
Scone with Clotted Cream and Jam
An afternoon favourite, scones and jam (sometimes also served with clotted cream) are subject to a big debate about whether you put the jam or cream on first.
In our opinion, the jam goes on first (the Queen also reportedly felt the same so we MUST be right by law!). Best enjoyed with a pot of tea on a delightful sunny afternoon (or roaring log fire if winter time).
---
Bangers and Mash
Essentially the traditional english sausage should be served with mash potato and onion gravy (nom!) but why are they called 'bangers?
There are several theories but the most common is that it relates to the sausages produced in WWI when there were meat shortages, meaning the water content in sausages was much higher then, causing them to pop when they were cooked.
---
British Bacon Butty
If you weren't sure, 'butty' is an informal / slang term for sandwich (generally used more in the north of England). Quite simply, two rashers of bacon in a white bread sandwich with some HP brown sauce – one of our favourite traditional english foods!
---
Bread and Butter Pudding
This is a classic and traditional English dessert dish consisting of layers of buttered bread, covered with sprinkles of raisins and then baked in a spiced egg custard.
Not something you see that often in restaurants, this is more of a home cooked dish (we're not a massive fan of it to be honest – kind of a waste of bread and butter in our unexpert opinion).
---
Shepherds Pie
Also known as Cottage Pie, this traditional English food has many regional variations, but generally consists of ground meat, onions, carrots and other vegetables with a mashed potato topping (don't get us started on whether a pie with a non pastry topping is actually a pie or not…).
Very filling, we also like to add a dash of Worcestershire sauce to our homemade version for a little extra zing.
---
Pie and Mash
A particular favourite of ours, the traditional dish of meat pies, mash and liquor (jellied eels with parsley – not alcoholic) are a staple of London history and dining tables.
Alas the traditional pie and mash shops in London are now sadly on the decline but there are still some around and definitely worth a visit – the interiors are like stepping back in time.
F Cooke is a famous pie and mash shop with several branches still open (particularly around east London).
---
Yorkshire Pudding / Toad in the Hole
Another seemingly oddly titled dish ('Spotted Dick', anyone?), Toad in the Hole is a Yorkshire Pudding with sausages served and set inside, usually served with onion gravy.
You will most likely see this served in pubs on a Sunday as one of the Sunday roast options.
---
Sticky Toffee Pudding
Sweet as and deliciously decadent, this is sticky and moist sponge cake, covered in a treacle-like toffee sauce and often served with ice-cream or whipped cream.
In Australia and New Zealand, they have it as Sticky Date pudding. A 'modern classic', this first came about in the 1970s, created in the Sharrow Bay Country House in the Lake District.
---
Our final traditional English food…
Traditional English Trifle
Trying to find a delicious dessert to accompany your traditional english food / dinner isn't a trifling matter…oh wait, it is – try a tasty trifle at the end of your oh so English meal.
An English trifle consists of layers of fruit such as raspberries and strawberries, whipped cream and sponge fingers.
Popular at children's parties, the adult version of trifle generally sees the sponge fingers being soaked in alcohol).
---
Did you enjoy our Traditional English foods blog post? Let us know in the comments or by sharing the post on social media. You can follow CK Travels on Instagram, TikTok and YouTube!
Other posts you might like
---
Traditional English foods – add to Pinterest